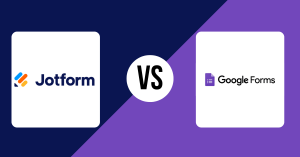 Well-designed forms can be a game-changer for collecting valuable information from an audience. 
Fortunately, there are numerous form builder tools you can utilize. However, the large selection of these tools can make the process of choosing a form builder cumbersome. 
Nevertheless, organizations often narrow down their selection to either Jotform or Google Forms. While both tools are highly regarded, there are some key differences to be aware of. 
In this post, we discuss the most important differences between Jotform vs Google Forms so that you can choose the best solution for your organization. 
About Jotform and Google Forms
Jotform is a very popular form builder and is used by companies large and small all over the world, including Facebook and the BBC. Jotform is very socially focused and offers discounts to nonprofits and schools.
With over 15 million users, it's one of the most popular form builders out there. They started in 2006 and have grown exponentially over that time.
Google Forms was created a little later (around 2008) and was just an extension of Google Sheets. However, it proved immensely popular, and because it's totally free and part of the massive Google ecosystem, it's likely to stay that way.
Templates
Jotform is one of the most impressive form builders out there when it comes to templates. They have over 10,000 templates, far more than just about any other form builder out there (including Google Forms).
They're organized into some simple categories:
Application

Booking

Requests

Feedback

Membership

Orders 

Registration 

Event registration

Signup

Surveys

Questionnaires

Consent

Payment

Contact
The templates are easily edited to your specifications, including the design, but they don't exactly look great. Unfortunately, design is one area where Jotform falls short.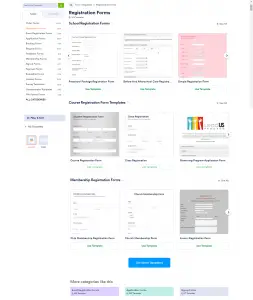 Google Forms doesn't have nearly as many templates, but it has enough for the average user —  17 to be exact:
Available Google Forms templates are as follows:
Personal:

The Google Forms gallery features six different personal templates and includes:

contact information form

find a time scheduling form

RSVP form

party invite

t-shirt sign up form

event registration form

Work:

The Google Forms gallery features six different work templates and includes:

event feedback form

order form

job application

time-off request

work request

customer feedback survey

Education:

The Google Forms gallery features six different education templates and includes:

exit ticket

assessment survey

worksheet

course evaluation survey

quiz
If you want to see what these templates look like in action, there are fortunately numerous live Google Forms examples out there to use for reference.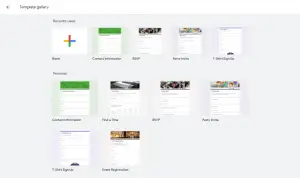 Editor
Jotform's editor makes up for its low-quality designs. You can get extremely detailed in the changes you want to make to any template, and just about any design you can think of is going to be possible if you want to put something together from scratch.
If you've got the skill, you can even modify the form using custom CSS.
Moving elements around is simple, as is changing the design, so most users will be able to immediately jump in and edit or put together a form. For the advanced user, there's plenty of utility to customize to your heart's content.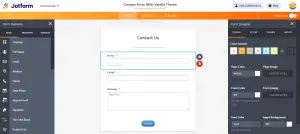 Google Forms, as you might expect from a free form builder, has a rather basic editor. That's not to say it's bad — it's super user-friendly — but it's just not going to blow you out of the water.
Unfortunately, making large changes to your forms isn't possible. You're locked into the templates for the most part. However, one big advantage of Google Forms is that you can easily connect it to other Google apps, like Google Drive and Google Sheets. This allows for some more complex functionality, like being able to directly access videos or images that you have saved in your drive.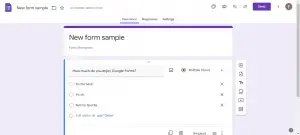 Related: 7 Best Payment Form Builders
Conditional Logic
Jotform's conditional logic editor is a traditional list of if-then statements that you can find in most form builders. This means that with mulit-step forms you can show certain questions based on a respondent's specific answers. For instance, you can set up multi-step forms so that if a user selects answer A they will get routed to form 2 and if a user selects answer B they will get routed to form 3.  It's pretty robust and allows you to set up as many conditions as you want. 
Some other examples of Jotform conditional logic uses include:
The ability to send emails to different email addresses according to respondent answers

The ability to skip pages in multipage surveys depending on a respondent's specific answers

The ability to offer various PDF downloads depending on a respondent's choice

The ability to show different messages based on a respondent's answers to a quiz

The ability to password protect forms

The ability to hide the submit button until the respondent makes a particular choice
Unfortunately, there's no visualizer for conditional logic (e.g. a flow chart of how users are routed through your form based on their answers). This can make it difficult to keep track of how users will flow through your forms.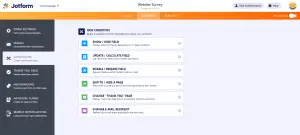 Google Forms also has simple conditional logic functionality. However, compared to Jotform and many other paid form builders, Google Forms' conditional logic is relatively basic.
To set up conditional logic, you have to go through each field for each question one by one and set the conditions (e.g. if a user selects answer A they will skip the next question, if a user selects answer B they will move on to the next question, etc.). 
Additionally, Google Forms doesn't have conditional logic visualizer of some sort to see how users are routed to different questions based on their responses from a bird's eye view. That being said, it can be difficult to keep track of how your conditional logic will affect users. 
Nevertheless, although Google Forms' conditional logic is relatively basic and isn't the most user-friendly, for those who don't want a paid solution, Google Forms might suffice.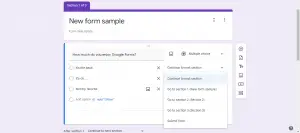 Reporting and Analytics
Jotform has great reporting and analytics right in the form, but you can also connect the form to Google Analytics if you want additional data. For example, if you have the form embedded in a web page and you want to find out where your visitors are coming from, Google Analytics will give you that data.
There are plenty of charts and graphs that are native to Jotform, and you can easily create more visualizations of your data.
One of the best parts about Jotform's reporting and analytics feature is that you easily convert data from forms into a series of presentation slides. In seconds, you can download all the data you have collected from your form(s) and display that data in a professional-looking PowerPoint presentation to share with other team members.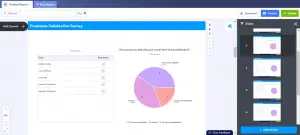 Google Forms has some semi-useful visualizations of your data, and of course, you can see the raw data. However, you'll probably get more out of the data if you download the responses as a CSV file and then put it into spreadsheet software where you can put together more complex charts and graphs.
All in all, Google Forms' data gives you the bare minimum data on your forms' performance. However, the ability to customize data visualizations by creating custom charts and graphs isn't an option.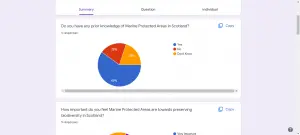 Integrations
Jotform comes with tons of integrations that make connecting the form builder to your app of choice easy. Because there are so many integrations, you can set up unique workflows that save you time and prevent errors due to manual data input.
It integrates with PayPal, so you can use it to collect payments, and it also integrates with Zapier and IFTTT. What's critical about those two integrations is that they in turn integrate with tons of other apps (thousands), effectively giving you a huge selection of apps and potential workflows.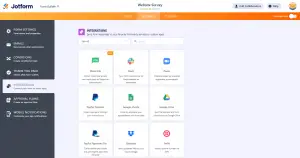 Google Forms can also be used to collect payments as they integrate with Stripe. It also has the critical Zapier integration, so just about any workflow you can think up can be created.

Dashboard Experience and Ease of Use
For all its flaws, Jotform does have a good user experience and is pretty user-friendly. You're not going to struggle to find anything, and even if you're brand new to form builders, you'll be able to figure out it right out of the box.
Google Forms similarly has a very easy-to-use dashboard. However, as you might expect, it's not as complex as Jotform and doesn't have as much functionality.
This isn't necessarily a bad thing — getting really good at using Jotform is going to take time. Google Forms is something anyone can pick up and start using right away.
Really the big difference between the two is that Jotform has a bigger learning curve once you get past the basics while Google Forms is only the basics.
Pricing
As form builders go, Jotform is pretty affordable. The free version is actually better than most competitors — you get up to 500 submissions and 1,000 views a month. However, you can only accept 10 "payment" submissions, so if you're thinking about getting Jotform as a payment acceptance tool, you'll have to get the paid version.
Once you get into the more expensive tiers, the limits fall off, and for only $80/month, you pretty much get unlimited everything. Of course, there's an enterprise option if you need even more than that, but for most businesses, the bronze and silver plans will be enough.
Google Forms is of course free with any Gmail account, with the only limit being the storage on the account. You can always pay for more storage if necessary, so in many cases, it's actually a great money-saving option.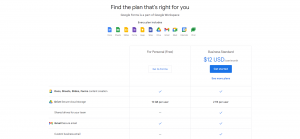 Related: Google Forms Pricing (Explained)
Customer Support
Jotform really shines when it comes to customer service. They have 24/7 support, which is as good as it gets, though it might take them a few hours to respond.
They also have plenty of content available to help you learn the software, including a lot of webinars, user guides, and blogs. There are also forums and FAQs, so you're really likely to find the answer you're looking if for some reason you don't want to go directly through customer service.
Google only has live customer support if you've paid for a Google Workspace plan, but their support is great, and they have a number of methods for getting in touch (phone, email, chat). 
For free users, there are only their help forums. Fortunately, these forums are extensive, and tons of previous users have probably asked whatever question you have in mind, so finding an answer on your own won't be difficult.
When to Choose Jotform vs Google Forms
Compared to a lot of form builders out there, Jotform is actually a really great option. It's pretty affordable, it's as robust as any form builder out there, the designs are on par with just about anything you'll find anywhere, and with its massive library of templates and all the integrations available, there are very few cases where Jotform is a bad choice.
Even the free version is going to be a good pick as it still allows for 100 monthly submissions, which may be enough for a teacher for a single class. And given the steep discounts for schools and nonprofits, both should consider using Jotform.
Google Forms, on the other hand, is impossible to beat on price, and because of that, it might be a better choice when there's just not a budget available for a form builder. It stands up well against Jotform and other form builders, so if you're not interested in spending money on a form builder, Google Forms will do in a pinch.
Still stuck choosing between Jotform vs Google Forms? Keep in mind that Google Forms is free and Jotform has a free version. That being said, you test both solutions out without paying a dime and move forward with the solution that works best for you. 
You can see how other form builders stack up to Jotform in the following comparisons:
You can see how other form builders stack up to Google Forms in the following comparisons:
Microsoft Forms vs Google Forms
Related: Google Forms vs Google Surveys