The ability to collect payments online in today's digital age is absolutely essential. 
That being said, it is critical to use a form builder with payment integrations and good payment templates as well. 
However, not all form builders are ideal for collecting payments. Some form builders are best for building questionnaires while others are best for capturing leads.
Only a handful of form builders have the features, integrations, and templates you need to seamlessly collect payments from customers at scale. 
In this post, you can discover 7 of the best payment form builders available today.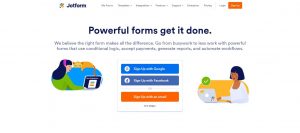 Jotform is a form builder that also includes several paid options. However, if you're looking for a free online payment form builder, Jotform also has a free version available. Unfortunately, the free version only allows you to take 10 payment submissions per month, so for this option, you're pretty much required to get the paid version if you want to accept payments online.
Jotform has many features that have become pretty standard for form builders across the board. This includes conditional logic, robust reporting and analytics, and a wide variety of integrations.
Jotform Payment Features
Like many form builders today, Jotform has a huge number of integrations that are pretty much required to compete in the form building space. There are some integrations that you would expect, like Google Drive and its associated apps, slack, and CRMs like HubSpot, but there are also several payment integrations that are integral to using any forms with payment integration.
If you're looking for online forms with payment integration, you're going to find just about every payment integration you need — there are more than 40, including big names like PayPal, Stripe, Square, Apple Pay, and Google Pay.
One thing that really stands out about Jotform is its huge library of templates. If you're only using Jotform as a payment option, the usefulness of all those templates goes down a bit, but even so, they have plenty of payment-based forms that you can use right out of the box.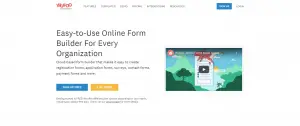 Wufoo is a cloud-based form builder that has a wide variety of use cases, including accepting payment. One thing that stands out about Wufoo is that they are award-winning, which makes sense because they have a great interface that is simple to use for the average user yet complex enough for experts to modify as much as they want.
While Wufoo does have a free plan, it's not exactly enough for most use cases. You're only able to accept 100 entries a month, and you only get 10 fields per form, which might not be enough for even a basic payment form. You'll need at the very least the basic plan to get started.
Wufoo also has tons of integrations, including payment integrations, which means you'll be able to integrate with your website or CRM etc as necessary.
Wufoo Payment Features
As far as payment integrations, Wufoo has some of the major ones, including Stripe, PayPal, and a few others. Unfortunately, it doesn't have some Apple Pay or Google Pay, which is pretty much a standard expectation for most customers today, so it's not the best option on the market. However, many of these options, like Stripe for example, do accept recurring billing.
Wufoo has a ton of different templates for what they term "Online Orders," which are just payment templates, so you're likely to find exactly what you need rather than trying to create a payment form from scratch.
You're able to easily customize these templates to your brand so that they'll look and feel unique.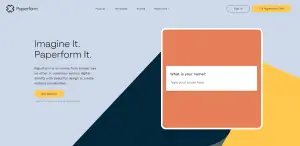 Paperform is an online payment form builder that has a free 14-day trial. It's designed for small business owners but can be expanded for enterprise use cases. It has the baseline that you'd expect from any form builder — an easy-to-use editor, beautiful templates, conditional logic, and complete customization options.
You also have access to about 2,000 integrations, including Zapier, which itself then integrates with thousands more apps, but this is pretty much standard for all modern form builders. Frankly, there's not much that sets Paperform apart from other online form builders, so choosing it just comes down to personal preference.
As far as pricing is concerned, it also falls into a pretty standard category. The basic option allows for 1,000 submissions a month and access to all integrations. However, one big drawback is it only allows you to include 1 payment account, which is a deal-breaker compared to many other options on the market.
Paperform Payment Features
Paperform has dozens of payment integrations, but many of them are pretty obscure and not that useful for most businesses. However, it does integrate with both Stripe and PayPal, which can be enough for many small businesses.
Its lack of integration with Google Pay and Apple Pay is a notable problem and, along with only being able to use 1 payment account, makes this not the greatest option on the market for accepting payments.
One standout feature of Paperform is that it does have many, many order form and payment collection templates available, and like all the other options on this list, they're fully customizable. You won't ever have a problem quickly deploying a payment collection form.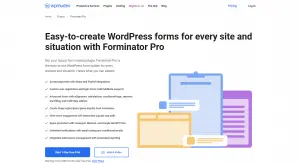 Forminator is much different from the other forms with payment integration on this list as it's specifically for a WordPress website. Most form builders can be put onto any website on any CMS, so you'll only want to consider Forminator if you have a WordPress website.
That being said, nothing really stands out about Forminator that you're not going to get with any other form builder solution. It's got drag-and-drop functionality (very standard), about 1,000 integrations (standard), pre-made templates (standard), conditional logic (standard), robust reporting and analytics (standard), etc.
There's just nothing that really stands out about Forminator, and since it's only available for WordPress websites, it's probably not a form builder you're going to want to use — there's simply many better options on the market.
Forminator Payment Features
All this being said, Forminator does accept payments through the standard integrations of Stripe and PayPal. They allow for one-time payments, and if you're using Stripe, you can set up subscriptions and recurring payments.
They have plenty of pre-made payment templates available to use, and unlike many other form-builder options, they have a simple pricing structure. However, the pricing structure is standard among WordPress plugins in that there's just one option — you don't have multiple payment levels. The pricing is much lower than most other form builder options, so if budget is a concern, this might be the way to go.
They also offer a free trial and a 30-day money-back guarantee.
FormAssembly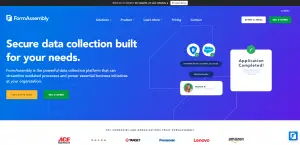 One thing that sets FormAssembly apart from other online forms with payment integration is that they're designed specifically for enterprises and large organizations (schools and large nonprofits).
The one feature they have to make this possible is that they're extremely security conscious. They're HIPPA compliant, which means that, unlike many other form builders, they can be used by the medical industry. They also have many government clients.
As with all the form builders on this list, they have a large number of integrations, including Zapier, which is pretty much required for most form builders these days as that connects to thousands more apps. If you need to connect your form data with your CRM, website, etc, then you'll be able to do this seamlessly.
FormAssembly Payment Features
FormAssembly doesn't have nearly as large a library of templates as many of the other form builders on this list, which is surprising given how much they bill themselves as a solution for large organizations.
That being said, they do have a few payment form templates, and they integrate with PayPal and Stripe, which is pretty much required to compete with other form builder options, and they integrate with a number of lesser-known payment options, but the lack of Apple Pay and Google Pay is notable.
However, the integration with Stripe means that you can take recurring payments and subscriptions.
The one thing that makes FormAssembly a form builder to avoid is the extremely high pricing, starting at almost $90/month and going up (way up) from there. Because not much really stands out compared to other options, this is probably going to be a hard pass for most organizations, large or otherwise, unless there's a really specific need for HIPPA compliance or other types of compliance.
Even then, there are other HIPPA compliant forms out there that are much more cost effective.
Formsite is another pretty standard form builder that has payment acceptance options. It is HIPPA compliant, which not all form builders are, but pretty much everything else is standard.
Like many of the form builders on this list, many large brands use Formsite, but this doesn't really set it apart from other options. They bill themselves as an effective solution for nonprofits, governments, education, and healthcare, and with a reasonable pricing structure, (starting $21/month for 500 results/form), they're actually a pretty good option.
There's a 14-day free trial available, and they do have excellent customer support. They also don't lock you into a plan. They have a large number of integrations (3,000), including the critical Zapier integration so that you can integrate with thousands more apps.
However, many other form builders offer just as many integrations, so this isn't really a standout feature.
Formsite Payment Features
As far as payment integrations are concerned, they have the standard PayPal and Stripe integrations, which allows for recurring payments and subscriptions. While they do have a lot of templates, they don't have a lot of payment-specific templates, so you might find yourself forced to create your own form, which can take a lot of time in the best of situations.
Formsite does allow you to directly accept credit cards, and notably, checks, through their forms, so this is a bit of a standout option. However, the number of customers who are paying with checks these days is likely so low that this doesn't make much of a difference for most users.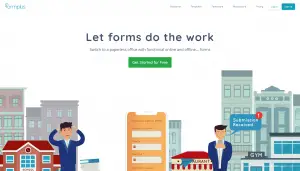 Formplus is yet another standard payment form builder. Whether you choose Formplus or another option probably just comes down to budget as there's nothing that makes them stand out.
As would be expected for any form builder these days, it's GDPR compliant. It isn't HIPPA compliant, so it's not a good solution for healthcare. Otherwise, pretty much anyone can use it.
Pricing is reasonable. It has a free option, though the free option isn't much use as it only allows 50 submissions a month and notably doesn't allow you to accept payments. You'd likely want to use the starter option.
Formplus Payment Features
Formplus has a robust collection of payment-specific templates, so you're really likely to find pre-made form that will suit your needs. It integrates with the standard PayPal and Stripe, which allows you to take recurring payments and subscriptions.
However, it only has two other payment integrations that are fairly obscure, so compared to many other forms with payment collection options, it's not much of a competitor.
If you want to accept recurring payments with Stripe, you have to sign up for the professional plan. That's pretty reasonably priced at $36/month.
Form Builders and Compatible Payment Processors
| | | | | | | | |
| --- | --- | --- | --- | --- | --- | --- | --- |
| | Jotform | Wufoo | Paperform | Forminator | Formassembly | Formsite | Formplus |
| Paypal | ✔️ | ✔️ | ✔️ | ✔️ | ✔️ | ✔️ | ✔️ |
| Square | ✔️ | ✔️ | ✔️ | ❌ | ❌ | ✔️ | ❌ |
| Stripe | ✔️ | ✔️ | ✔️ | ✔️ | ✔️ | ✔️ | ✔️ |
| Braintree | ✔️ | ✔️ | ✔️ | ❌ | ❌ | ✔️ | ❌ |
| 2Checkout | ✔️ | ❌ | ❌ | ❌ | ❌ | ❌ | ❌ |
| WePay | ❌ | ❌ | ❌ | ❌ | ❌ | ❌ | ❌ |
| Authorize.net | ✔️ | ✔️ | ❌ | ❌ | ✔️ | ✔️ | ❌ |
Conclusion
If you're looking for an online form builder that accepts payments, there are tons of options to choose from — even these 7 form builders are just a beginning. Accepting payments has become very standard for most form builders.
Basically, the form builder you choose just comes down to price, and in some cases, compliance, as not all forms are HIPPA compliant. Most forms are reasonably priced, so making a choice often just comes to personal preference.