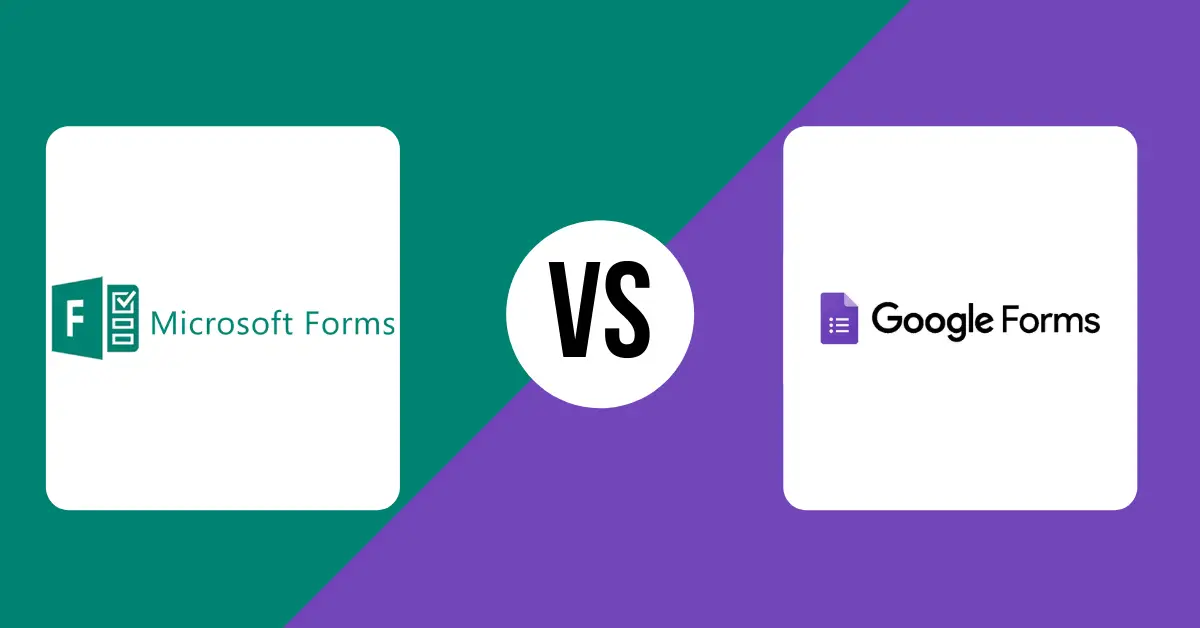 Practically every organization can benefit from using forms and surveys to collect valuable information from an audience.
However, some of the most popular form builder solutions are simply too expensive for some organizations. Fortunately, there are other options that are practically just as robust as the big players in the space, but are just a fraction of the cost, or completely free.
Microsoft Forms and Google Forms are two of these solutions.
In this post, you can discover the key differences between Microsoft Forms vs Google Forms so that you can choose the best solution for your organization.
About Microsoft Forms and Google Forms
Microsoft Forms is an online form-building software solution that is part of the Microsoft Office 365 Suite. First released in June 2016, Microsoft Forms allows users to create pools, quizzes, and surveys, that respondents can access utilizing any browser and mobile device.
With Microsoft Forms, users can view real-time submissions, evaluate responses using built-in analytics, and export results to Microsoft Excel.
Google Forms is a free versatile online form-building software tool that can be used for event registration, quiz creation, survey building, and much more.
Google Forms is part of Google's web-based applications suite, with Google Sheets, Google Docs, Google Slides, and others. It integrates seamlessly with all of those tools. Google Forms is available as a web app only.
Templates
Microsoft Forms Templates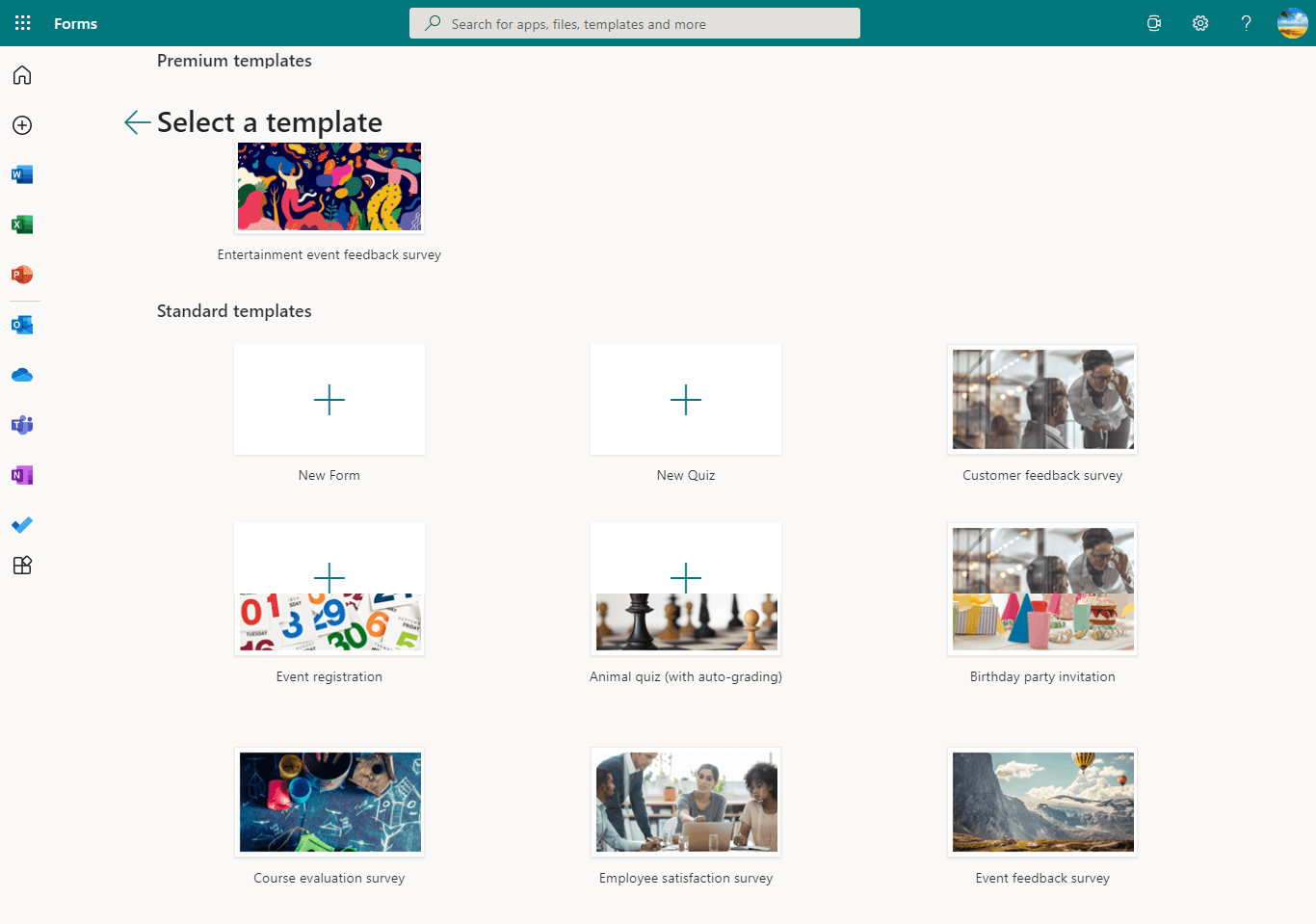 Microsoft Forms offers 26 fully-customizable form templates to create quizzes, surveys, feedback forms, registrations, RSVPs, and more.
The following is a list of these templates, each of which can be customized to meet a user's specific needs, opening up the possibility to create a form for nearly any occasion:
animal quiz (with automatic grading capabilities)

birthday party invitation (with RSVP)

community and cultural activities survey

course evaluation

consumer expectation survey

customer feedback form

employee satisfaction survey

event registration form

event feedback survey

food catering request form

holiday party invitation

fundraising feedback form

neighborhood feedback survey

nomination survey

new product survey

parental satisfaction survey

library satisfaction survey

software feedback survey

product pricing survey

remote learning sentiment survey

t-shirt sign-up form

volunteer satisfaction survey

wedding save the date form

website feedback survey
Google Forms Templates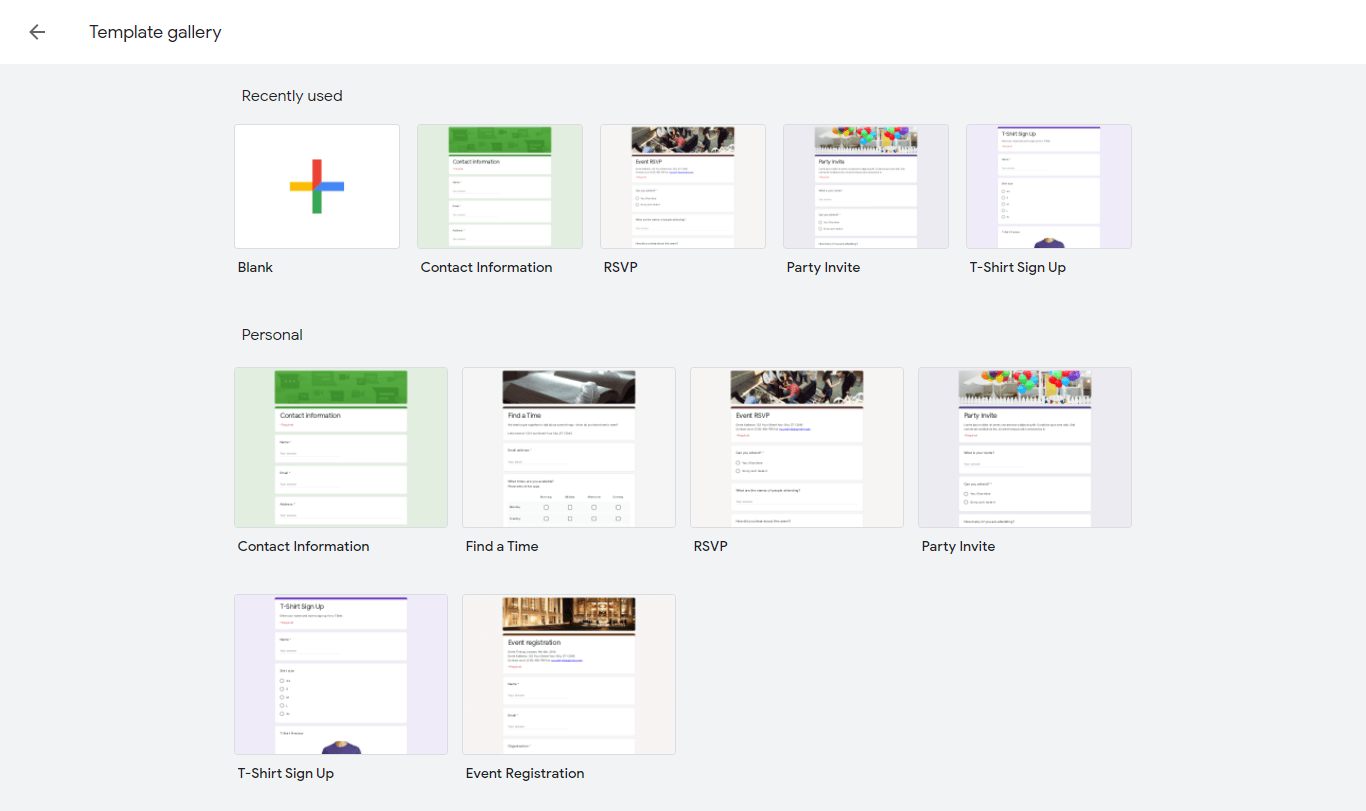 Google Forms offers 17 different templates in its forms template gallery. They are broken down into three main categories.
Just like the templates that are provided by Microsoft Forms, Google Forms templates are fully customizable and can meet nearly every possible need a user could have.
Available Google Forms templates are as follows:
Personal:

The Google Forms gallery features six different personal templates and includes:

contact information form

find a time scheduling form

RSVP form

party invite

t-shirt sign up form

event registration form

Work:

The Google Forms gallery features six different work templates and includes:

event feedback form

order form

job application

time-off request

work request

customer feedback survey

Education:

The Google Forms gallery features six different education templates and includes:

exit ticket

assessment survey

worksheet

course evaluation survey

quiz
If you want to see what these templates look like in action, there are fortunately numerous live Google Forms examples out there to use for reference. 
Editor
Microsoft Forms Editor
The Microsoft Forms editor is straightforward and easy to use. Using the Microsoft Forms editor, users can customize themes, add background images, and change colors without the ability to change its underlying design. However, users can edit and add questions with several question options, including ratings, radio buttons, and text entries.
One exclusive feature that Microsoft Forms offer that differs from Google Forms is the ability to add Likert inputs and reactions, which helps gather subjective opinions.
Google Forms Editor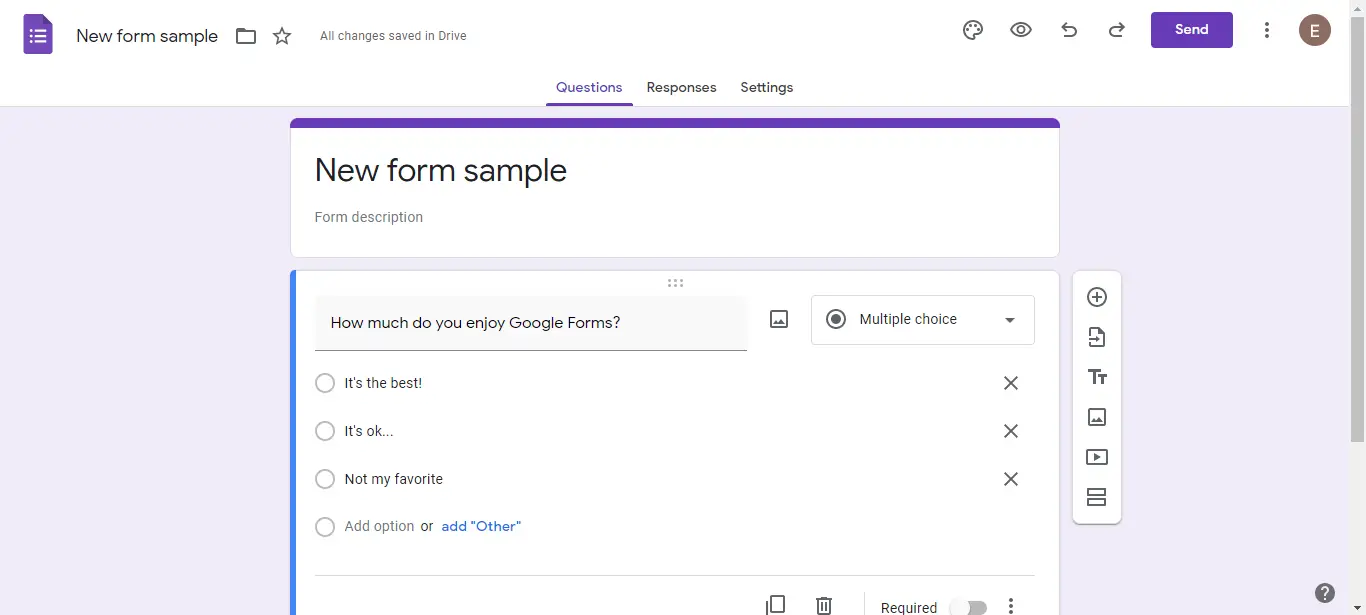 Google Forms is also an easy-to-use web-based form-building tool. It allows users to choose from one of its 17 form templates or create a new form from scratch. Users can change color palettes and background images inside the editor and customize their forms with up to nine field types.
Compared to Microsoft Forms, users of Google Forms have more options for question types and can choose from dropdowns, tick boxes, fill-ins, multiple-choice, and short answers. Users can easily customize forms for response limits and restrictions with the Google Forms editor. Using the Google Forms editor, users can have an online form up and running in minutes.
Although both offer limited customization, the Microsoft Forms editor allows for a more customized form look and feel than Google Forms.
Surveys and Conditional Logic
Microsoft Forms Conditional Logic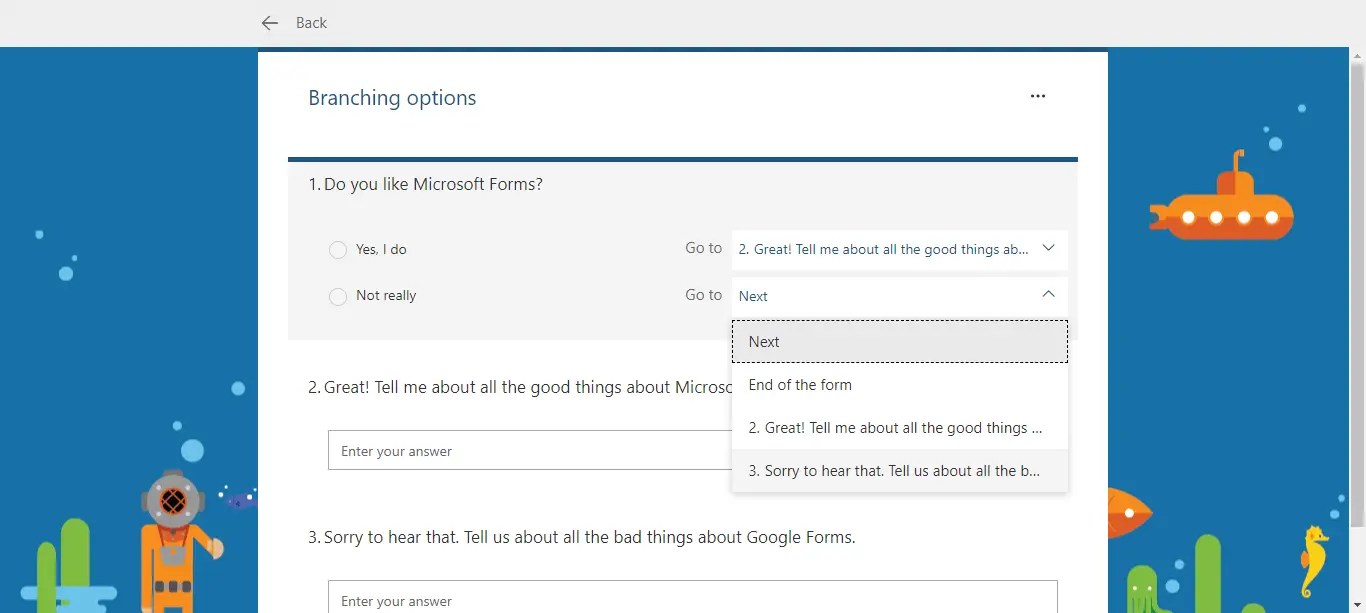 With Microsoft Forms, users can add branching logic to surveys and quizzes, allowing them to change according to responses to specific questions. When a quiz or survey branches, relevant questions can be tailored to the respondent. If a question does not apply, the respondent will be redirected to another set of questions, or an entire group of questions can be skipped altogether.
Both Microsoft Forms and Google Forms are limited in their conditional logic features compared to other premium form-building software tools.
Google Forms Conditional Logic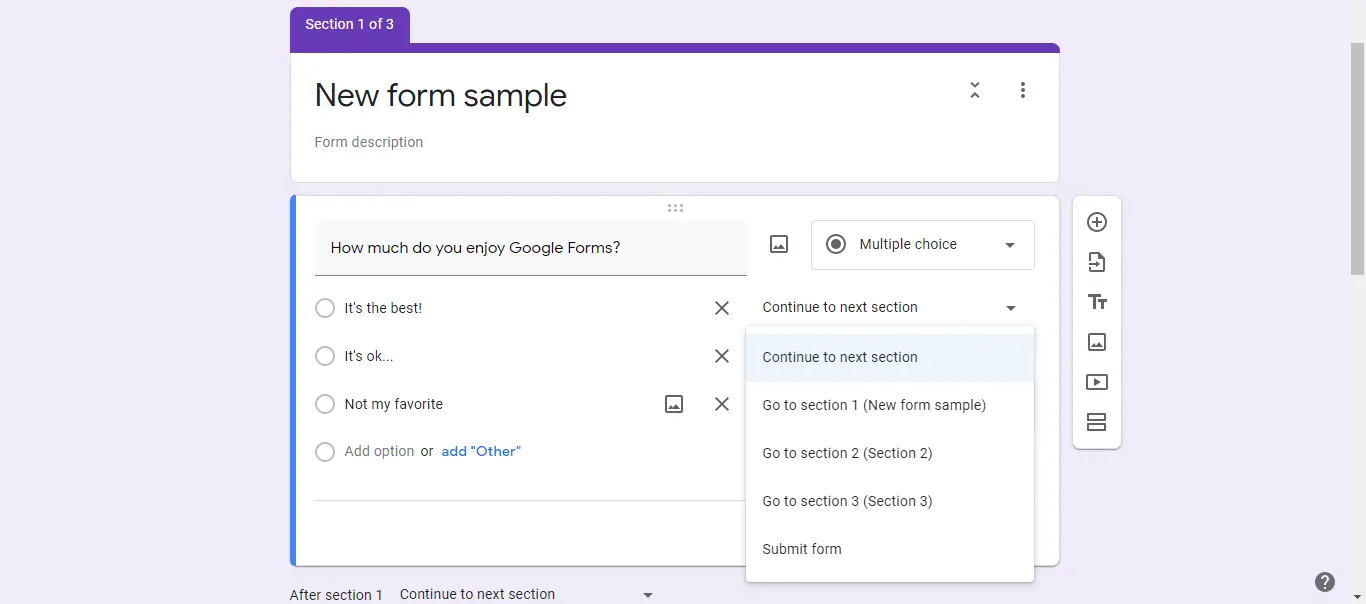 Although Google Forms also offers conditional branching and logic options, like Microsoft Forms, those options are limited. When you use Google Forms to create a survey, you can use conditional questioning features to send respondents to specific pages based on their response to a particular question.
The conditional logic feature from Google Forms only works with dropdown and multiple-choice questions. While the Google Forms conditional logic feature allows users to send respondents to specific pages, there is no option for hiding or showing particular form fields based on responses. Microsoft Form does have a conditional logic option for hiding and showing fields.
Reporting and Analytics
Microsoft Forms Reporting and Analytics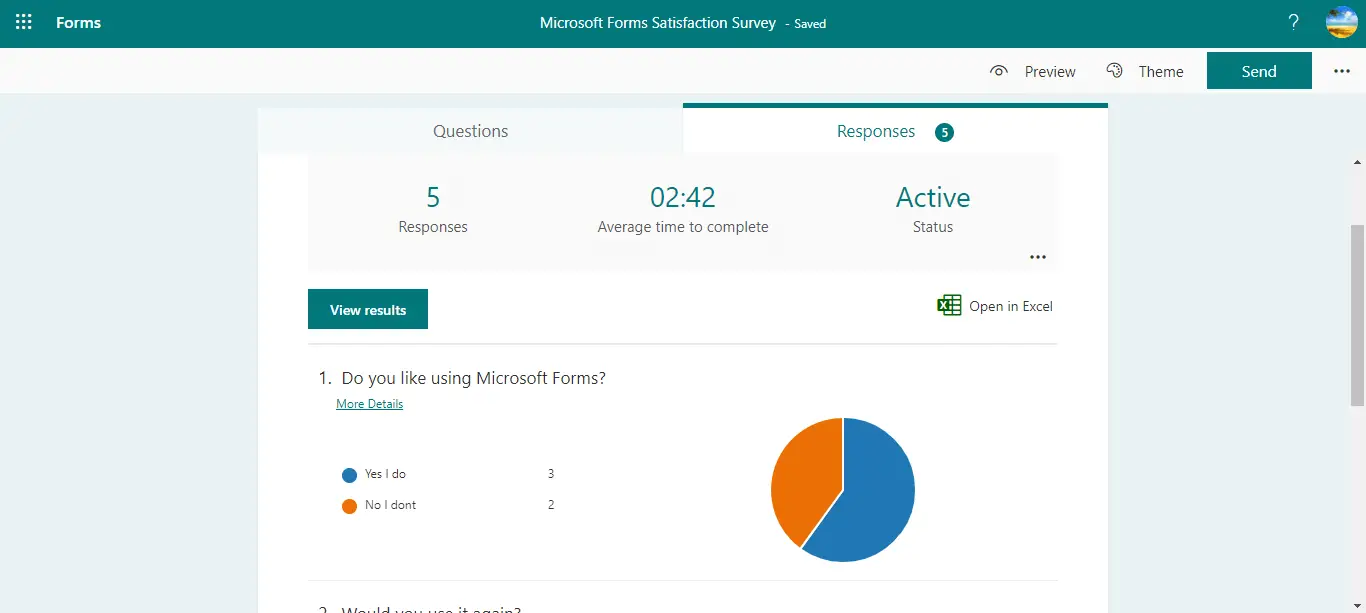 The Microsoft Forms reporting and analytics features rival premium form-building software. Microsoft Forms offers rich, real-time reporting that includes response summaries and individual results for surveys and other forms. Users also have access to intelligence-based data insight regarding responses to individual questions as well.
Form results can also be exported to Microsoft Excel and third-party applications for in-depth analysis. The Ideas feature from Microsoft Forms allows users can perform cross-distribution, association rule, correlation, and sentiment analysis.
Google Forms Reporting and Analytics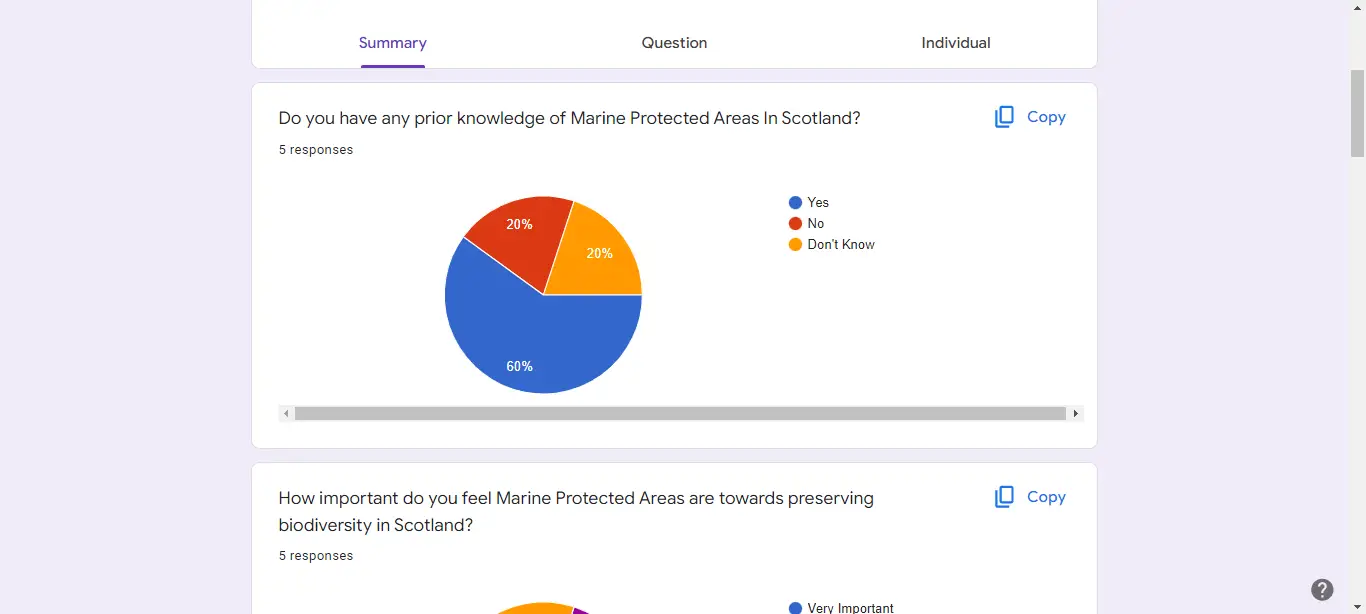 Google Forms relies heavily on its integration with Google Sheets for its reporting and analytics features. As responses to forms come in, Google forms users can view their results in real-time, and Google will automatically generate reports using charts and graphs as those results come in.
With Google Forms, users can view both individual responses and summary performance reports. Through Google Sheets, a form creator can view the Google Forms data in a spreadsheet format with the ability to filter responses based on specific parameters.
Google Forms also allows users to download answers using a CSV format which allows the data to be loaded into third-party software solutions for filtering and analyzing data.
Collaboration Features
Microsoft Forms Collaboration Features
With Microsoft Forms, users can invite others to collaborate on forms. Co-authors can add content, view and analyze responses, and share the documents with others. With Microsoft Forms, users can collaborate with colleagues on a particular form or share it as a template.
When using the Microsoft Forms collaboration feature, you will remain the form's owner, and it will stay in your personal Forms portal. However, co-authors will have view and edit access through the link you share. At the top of each shared form, the initials of any user currently making edits will be displayed. These initials will also appear next to specific sections that are being edited.
Google Forms Collaboration Features
With Google Forms, collaboration allows users to design and execute forms even faster. Like its entire suite of software tools, including Sheets, Docs, and Slides, Google will enable Forms users to collaborate with others in real-time.
When sharing a Google Form with a collaborator, you can give the collaborator full editing access, allowing them to make any changes they wish and complete control over the form itself, including determining where responses are collected.
Integrations
Microsoft Forms Integrations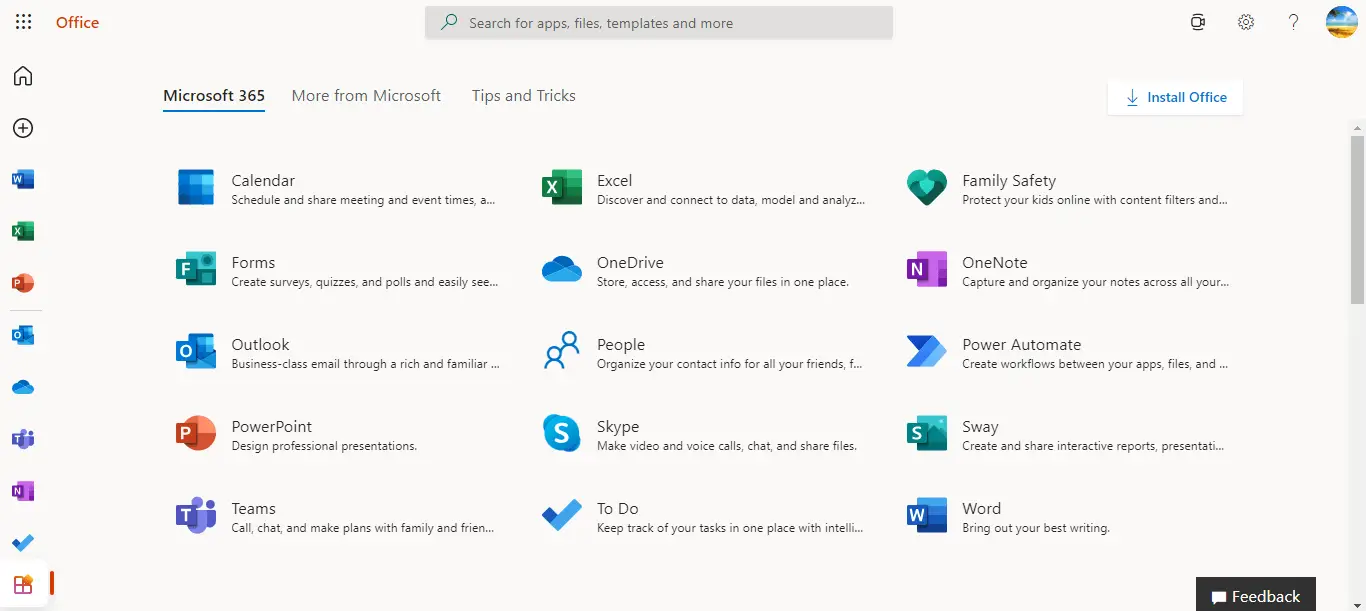 Microsoft Forms integrates deeply with the full suite of Office 365 applications providing a seamless experience for users to perform essential data collection tasks. For example, schools using OneNote as a teaching tool can embed Forms into class notebooks, evaluations, and quizzes as part of the online learning experience.
Similarly, a business can easily embed a forms-based pool into Outlook, allowing users to submit responses without leaving their email client. If that's not enough, Forms users can utilize Zapier to connect their Microsoft Office 365 with thousands of popular apps, including Calendly, WordPress, SanSan, Jotform, and more.
Google Forms Integrations
While Microsoft allows Forms users to embed forms into its productivity suite to enable the respondents to use them without changing context, Google doesn't offer that capability. That means that anyone using Google Forms will have to open the form in a web browser, which can be detrimental to overall engagement.
However, when it comes to Integration, Google Forms works well with all other Google Suite software tools, including Google+, Google Calendar, Google Slides, Google Sheets, Gmail, and Google Drive. Like Microsoft Forms, Google Forms users can take their form creation to the next level with Zapier, allowing integration with Hubspot, Mailchimp, Asana, Trello, Slack, and other applications.
Dashboard Experience and Ease of Use
Microsoft Forms Dashboard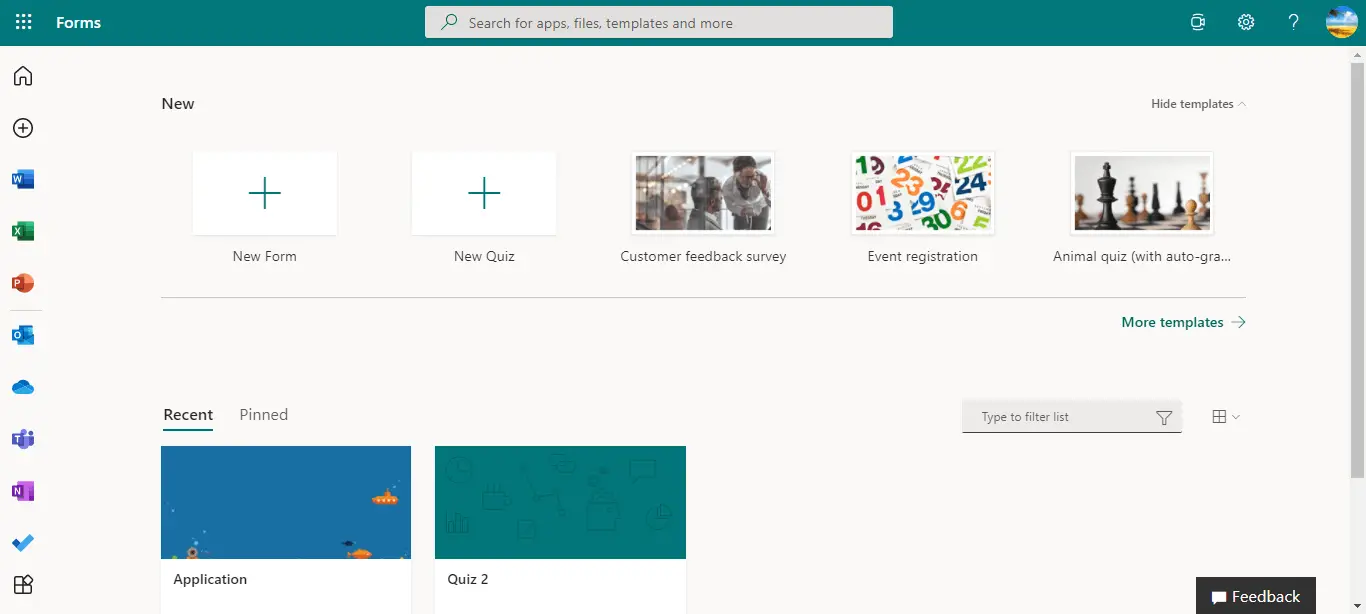 Unlike most premium form-building software tools, Microsoft Forms is not overly complicated. The Microsoft Forms dashboard experience is clean, straightforward, and easy to use. It offers users the ability to quickly create and launch surveys and other forms quickly and easily.
While it does lack a drag and drop interface, Microsoft Forms is still simple enough for even a child to navigate. The downside is that it does not offer many advanced features that you might find with premium software, but that's the trade-off for being incredibly user- and beginner-friendly. 
Google Forms Dashboard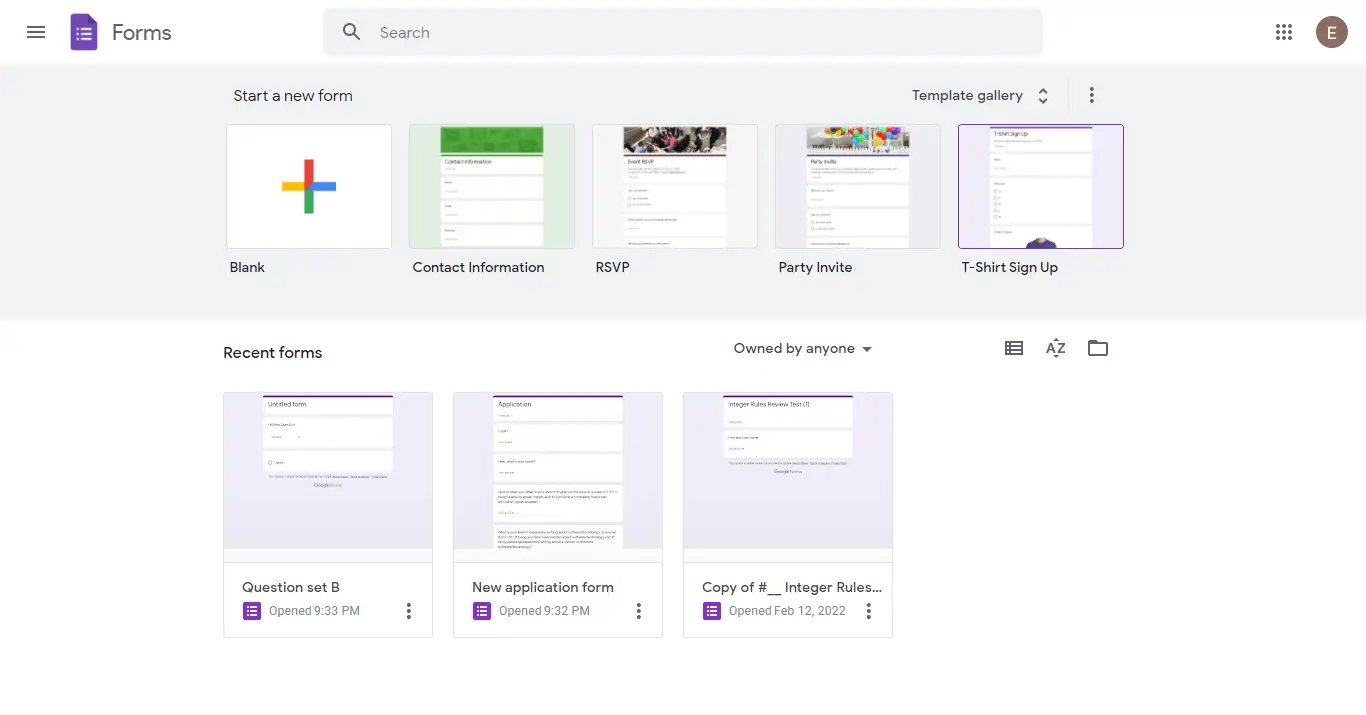 The Google Forms dashboard offers an experience that is just as clean and direct as the Microsoft Forms experience. Like Microsoft Forms, it has a minimalist interface that makes it simple to use but only allows for minor customizations.
Google Forms does have drag-and-drop capabilities, which is a bonus, but Microsoft Forms allows you to have better control over the look and feel of the forms that you create.
Although neither form-building tool will give you a polished look you might expect from a premium form builder, Google Forms is the most no-frills and basic of all the form builders, including Microsoft Forms.
Pricing
Microsoft Forms Pricing
Microsoft Forms is free for anyone that has a Microsoft account. Those with paid Microsoft 365 Personal, Family, Business, or Enterprise accounts can unlock premium features, such as additional templates and an expanded number of respondents. A Microsoft 365 Business Basic account starts at $6 a month per user.
Google Forms Pricing
Like Microsoft Forms, Google is also free for anyone with a Google account. While Google is free for individual users, it is also available through Google's G Suite for businesses, which starts at $6 per month. The only difference between the G Suite version of Google Forms and the free individual version is the storage space that Google gives the user for use with all Google products.
As mentioned above, both Google Forms and Microsoft Forms users can enhance their form-building experience by signing up for Zapier. Although a free version of Zapier is available, if you want to take advantage of crucial app integrations and use the power of this automation tool to its full potential, you'll want to choose a paid plan from Zapier, which starts at $19.99 per month.
Customer Support
Microsoft Forms Support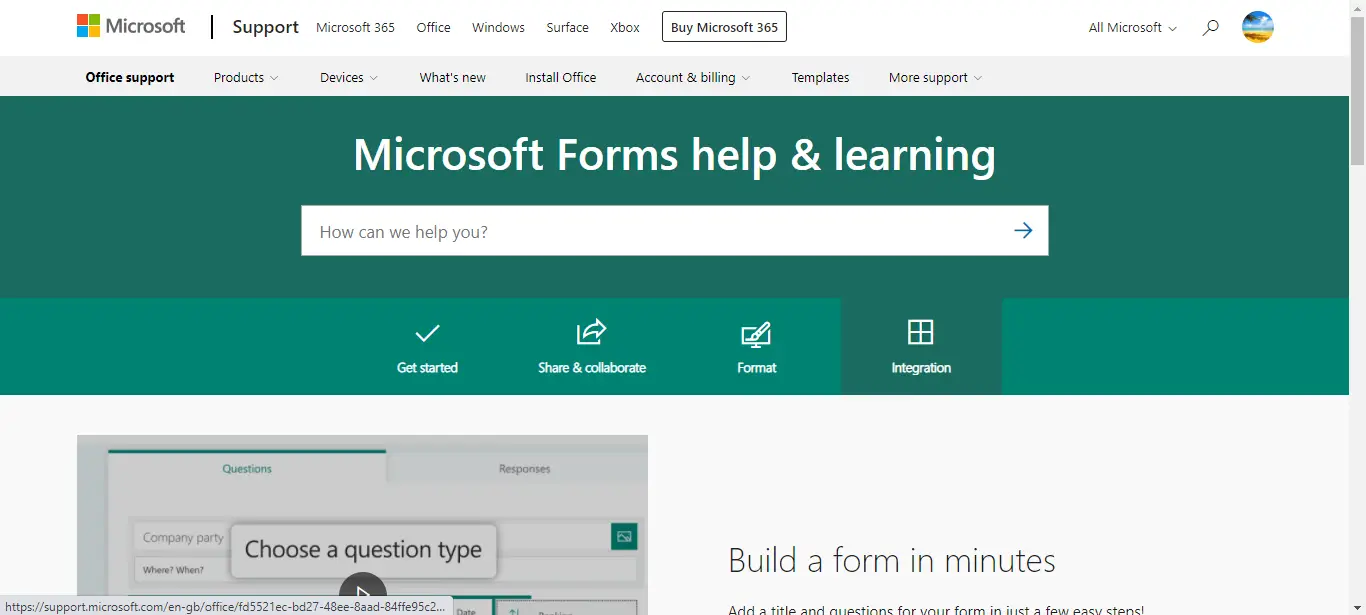 Microsoft offers a wide range of customer support options for all its products, including Microsoft Forms.
For one, there is a vast online database of valuable articles that provide solutions to users' most common problems. There is also a Microsoft community where users can rely on each other for support related to Microsoft products.  
There are also customer service phone numbers to call and online live chat support, but the best way to get customer support from Microsoft is by submitting an online help form.
Google Forms Support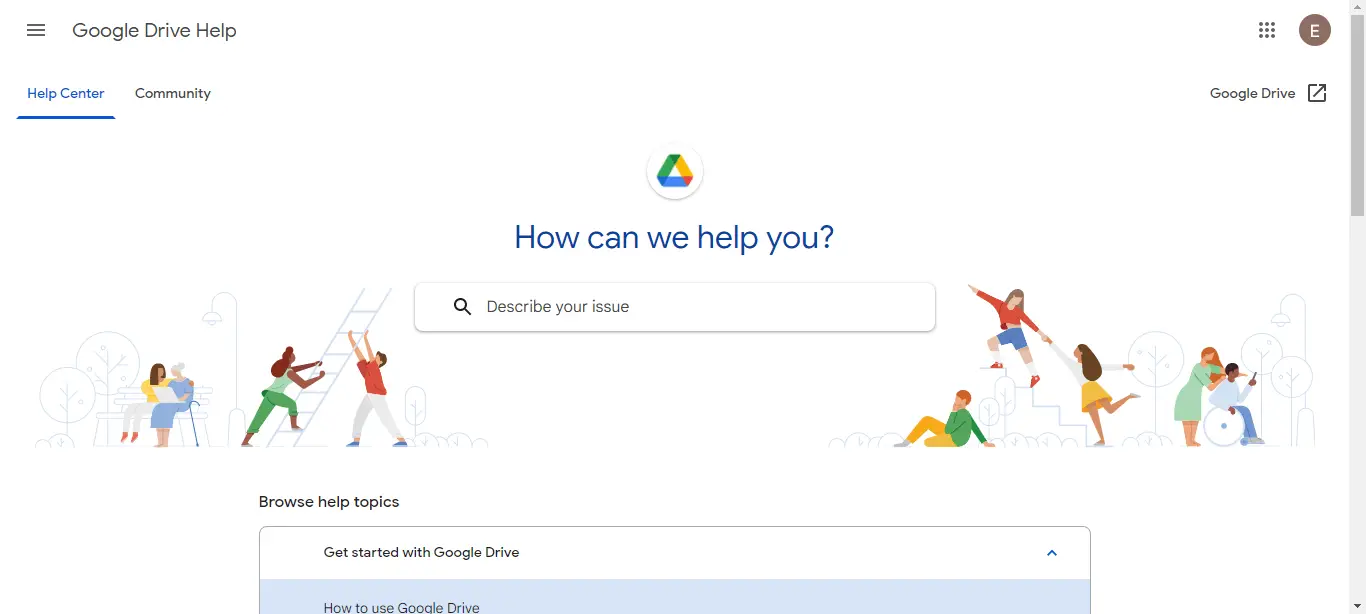 Google offers a great selection of online support tools for Google Forms through its community support forums and online tutorials. Here, you can find assistance in troubleshooting issues related to any Google product, including Google Forms.
Although Google offers a support telephone number, calling Google's customer support line will only lead you through an array of pre-recorded menu options and ultimately send you to its online tutorials and forums for help. So, to get the answer you need, starting there is your best bet.
When to Choose Microsoft Forms vs Google Forms
When it comes to choosing the right form-building software and deciding between Microsoft Forms vs Google Forms, both options have their strengths and weaknesses. Comparatively speaking, the two tools are very similar, making it hard to choose one as the clear winner in a head-to-head match-up.
Both offer free versions which are adequate for individual and small business use.
Microsoft Forms offers more design customization options, better integration features with other Microsoft products, and slightly more advanced conditional logic, reporting, and analytics features than Google Forms.
On the other hand, Google Forms offers more customization options for the design and delivery of survey questions, a more effortless collaboration experience, and an overall easier dashboard experience.
At the end of the day, the tipping point when choosing one or the other will ultimately depend on personal preference and which of the two developers a user relies on for other solutions. In other words, if you rely heavily on other Microsoft products to perform your tasks, it would make sense to use Microsoft Forms as your form-building platform. If you rely on Google's suite of products to do business, Google Forms would be your obvious choice. Since both tools are free, you can take each one for a test drive and any time and decide which one is going to be right for you. 
You can see how other form builders stack up to Google Forms in the following comparisons:
Google Forms vs Google Surveys 
You can see how other form builders stack up to Microsoft Forms in the following comparisons: