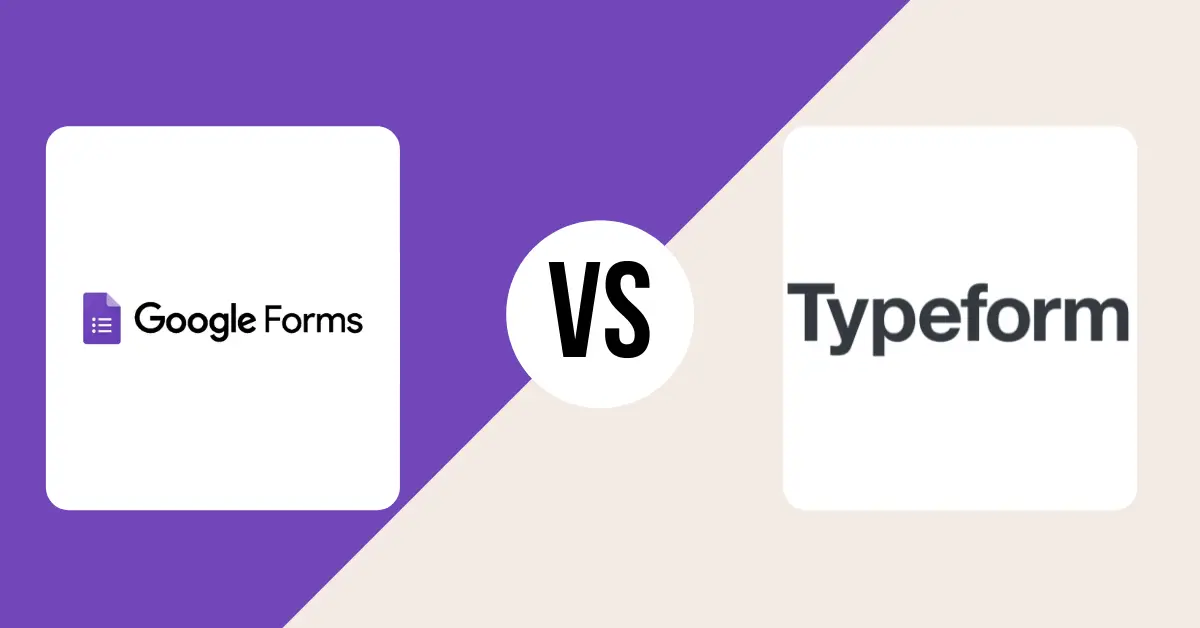 Forms and surveys can allow you to collect important information and glean valuable insights from employees, customers, or other audiences. 
However, choosing the best form builder for the job can be challenging. After all, there are numerous tools out there, and some of these tools are great for some organizations, but not necessarily all organizations. 
But what about Google Forms and Typeform in particular? How do these form builders compare?
In this post, we will discuss the key differences between Google Forms vs Typeform so that you can choose the best form builder for your organization. 
About Google Forms and Typeform
Google Forms began in 2008 as an offshoot of Google Sheets, which itself was launched in 2006. It's come a long way since then. It's become its own app, and it has extensive functionality — there are dozens and dozens of templates available for just about any use you can imagine.
Typeform came along a little later, in 2013, and was immediately seen as a strong newcomer because of its simple design and different approach to forms (their forms in their native state ask only a single question at a time.
Templates
Google Forms Templates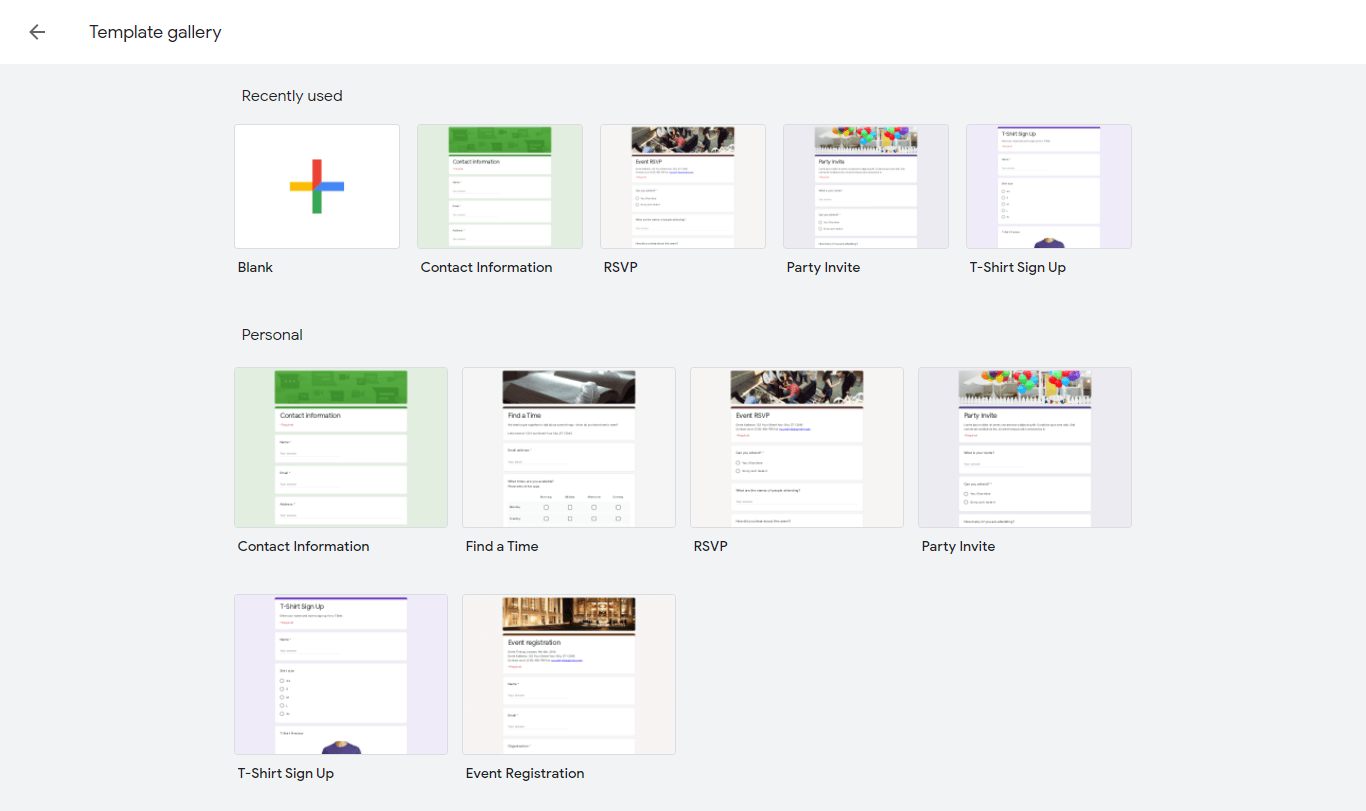 Unfortunately, Google Forms doesn't have as many templates as other form builders, though this does make sense given that it's a free form builder. The templates come in a few different categories, but there are only 20 available.
Here are a few of the templates you can use:
Job applications

T-shirt sign up

Exit ticket

Assessment

Contact forms

RSVP

Party invites

Even registration

Contact information

Worksheet

Find a time
As you might expect from a free form builder, the designs are pretty much as basic as they come.
Want to see a few Google Forms templates in action? Check out these 17 Google Forms examples.
Typeform Templates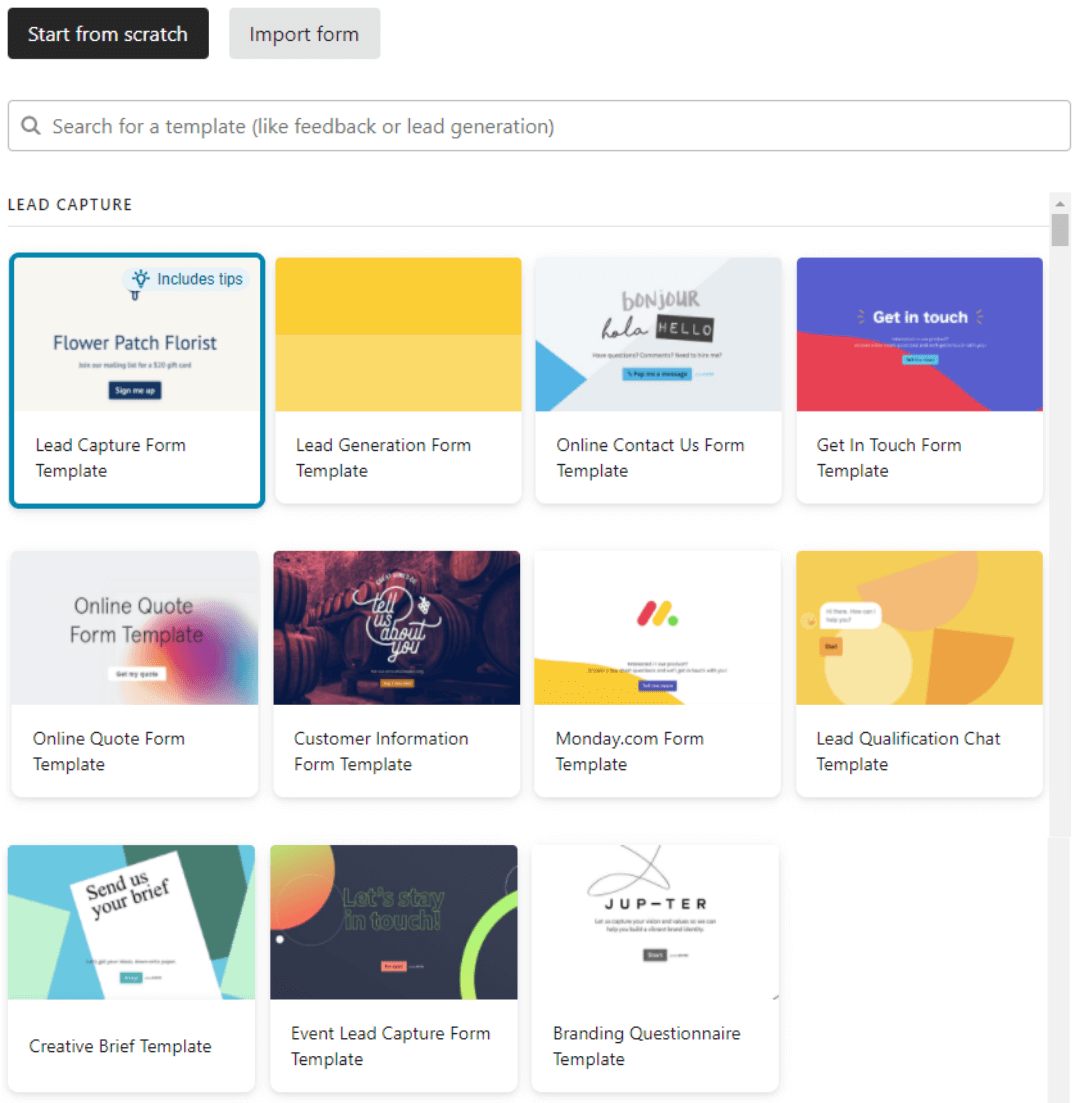 Typeform, on the other hand, has a pretty large library of templates. Though by no means massive, it's still got everything you need for just about any use case.
Here are some of the categories available:
Feedback

Request

Poll

Report

Research

Quiz

Lead capture

Registration

Application

Order

Giveaway
What really sets Typeform apart from the competition is that the templates natively have just one question at a time and are simply gorgeous. Unlike Google Forms, which look basic at best, Typeform forms always look amazing.
With so many customers of Typeform, it's not hard to find live Typeform examples to see how the templates look in action. 
Editor
Google Forms Editor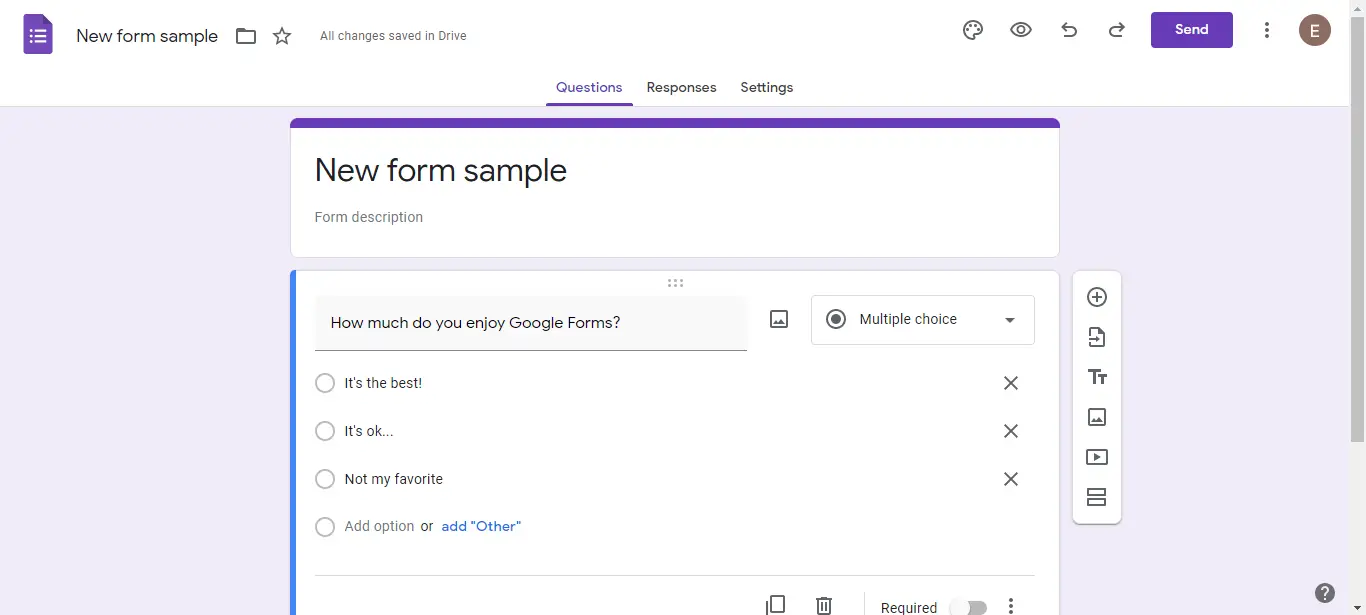 One of the great features of the Google Forms editor is that you can directly access images, files, and videos from your Google Drive. Though you won't always need this feature, it can definitely come in handy and save you some time.
The editor is very user-friendly, as you'd expect from Google, and it's not at all a problem to shift sections around, answers, etc. Changing your designs is also straightforward, and there are a variety of themes with pre-selected header images that you can replace the design with using only a single click.
Compared to the competition, it's probably the simplest form builder out there.
However, that's a double-edged sword because that simplicity means you can't make a lot of changes to the basic look and feel of the form. You're a bit locked in.
Typeform Editor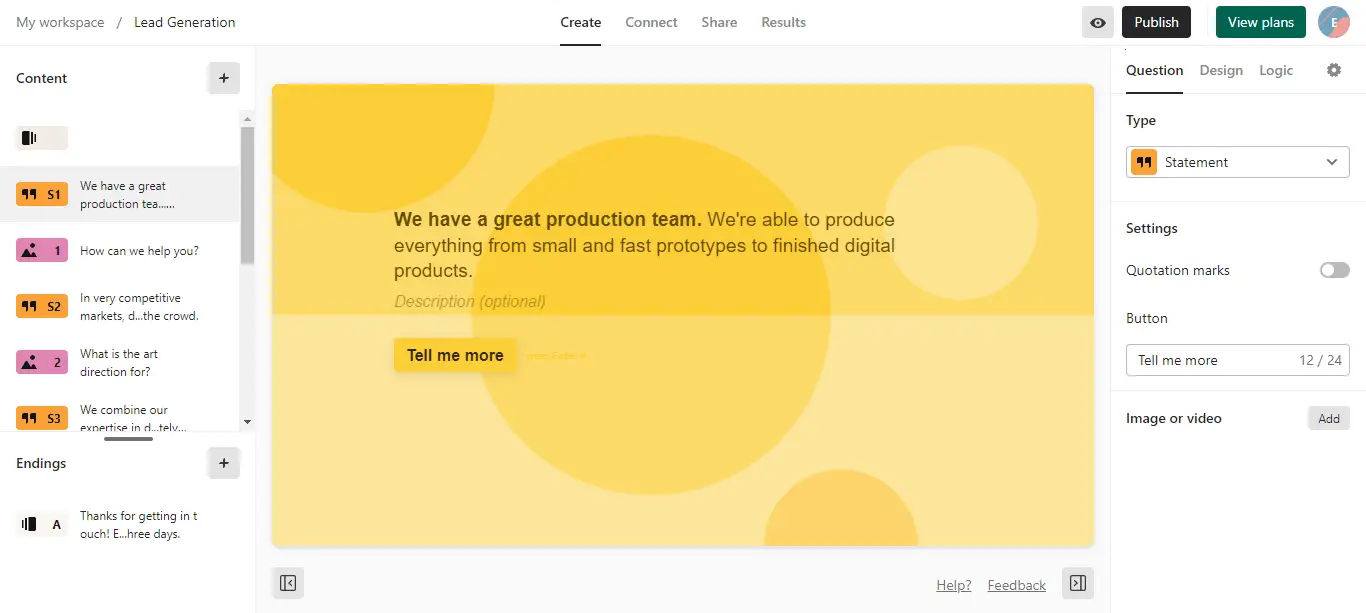 The Typeform editor is also a very smooth experience; however, it has a lot more features than Google Forms, which means a more complex editor with more options.
It's definitely what you'd call advanced, and it will take some time to get used to. What also makes it a little longer of an editing experience is that you have only a single question per page, which means you can edit each question separately (if you want to).
If you're very detail-oriented, then Typeform is going to be right up your alley, but definitely expect a higher learning curve than Google Forms.
Related: 7 Best Payment Form Builders
Conditional Logic
Google Forms Conditional Logic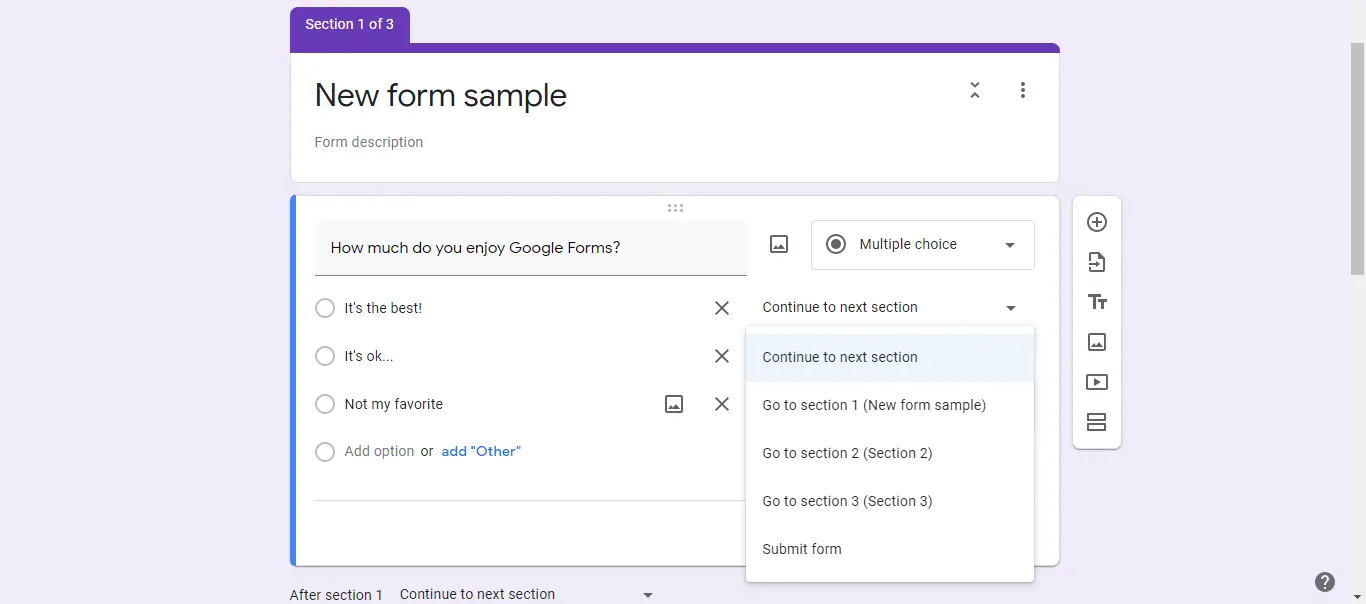 Here's where things get fun… and complicated. Conditional logic is just where you can choose a flow for the questions — if someone makes a particular choice, then they go to the next question in the flow, skipping unnecessary or inapplicable questions.
Google Forms, given its simple nature, has a fairly simple conditional logic editor. However, any conditional logic function is going to get complicated fairly quickly, so expect to spend a lot of time setting up your conditional logic.
This is because you have to set the logic for every single field on the form, so the longer your form, the longer this is going to take.
Typeform Conditional Logic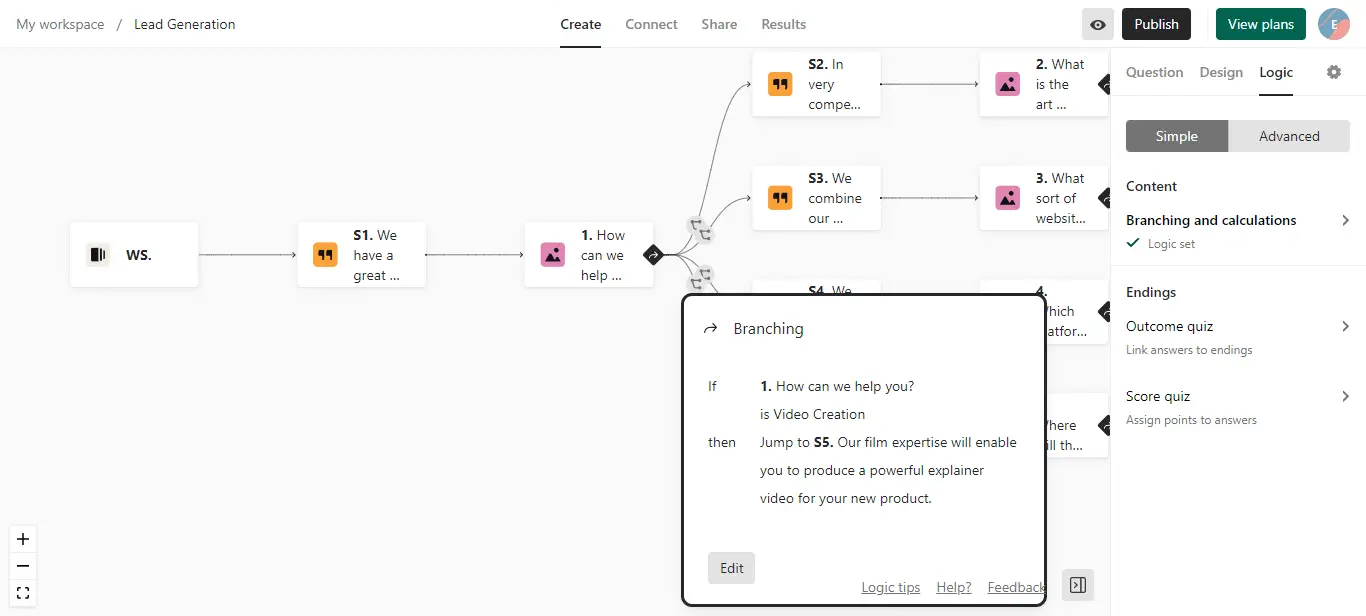 The conditional logic of Typeform is very similar in the way it works, but what sets Typeform apart is that you can look at a flowchart visualization that makes understanding exactly how the conditional logic works much easier.
You still have to enter in your if-then statements, but you can move the fields around on the flowchart view and quickly connect/disconnect fields from each other.
All in all, it's a great conditional logic editor for simple and complex forms alike.
Reporting and Analytics
Google Forms Reporting and Analytics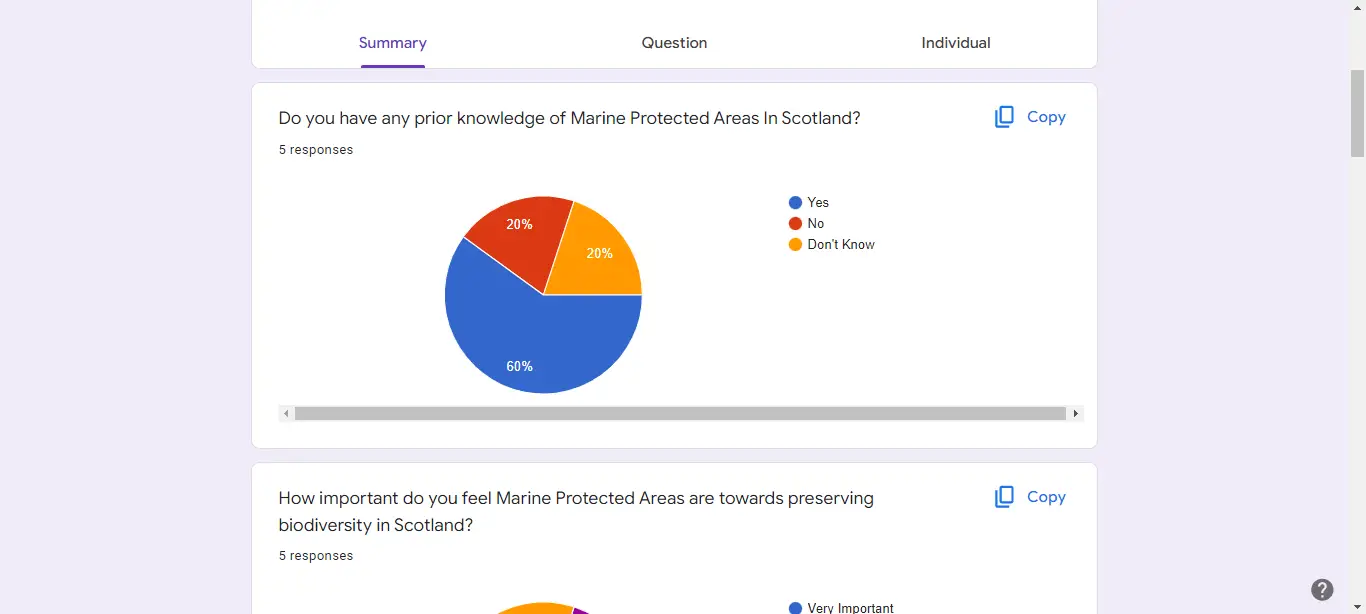 As you've come to expect, Google Forms has basic functionality, and the same can be said for its native analytics. You're going to be able to see some neat charts and graphs of your collected data, but it's not super useful.
You can easily download your responses to an Excel spreadsheet or into Google Sheets where you can set up some more complex visualizations of your data, and if you don't mind using some workarounds, you can even connect your form to Google Analytics.
This allows you to see your visitors to your forms, your conversions, and other useful data, like where your visitors are coming from.
Typeform Reporting and Analytics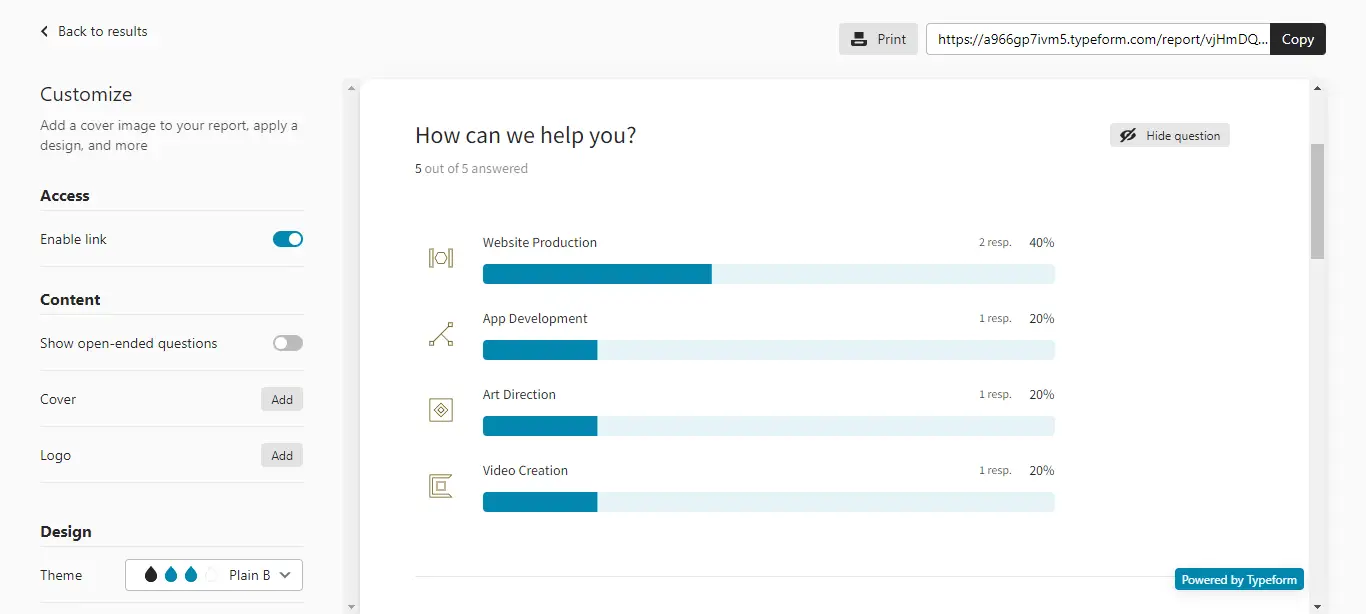 Typeform's analytics are more robust, as you'd expect from a paid form builder. You only get access to them with the paid version, but you can't do much with Typeform without paying for it, so that's to be expected.
Typeform has a lot of integrations, including Google Analytics and Facebook Analytics. You can get really granular with your understanding of your audience, which, depending on how large that audience is, might be very important for understanding conversions.
Integrations
Google Forms Integrations
Integrations (called add-ons for Google) abound for Google Forms. There are many native integrations for a wide variety of apps, but one of the major integrations that perhaps matters most is its integration with Zapier.
The reason this integration is so important is that Zapier will connect Google Forms to many, many other apps — literally thousands.
With Zapier, just about any integration is possible, so take your pick. The possibilities are endless.
Google Forms also integrates with some payment solutions, like Stripe, so you can use it as a method of collecting payments as well.
Typeform Integrations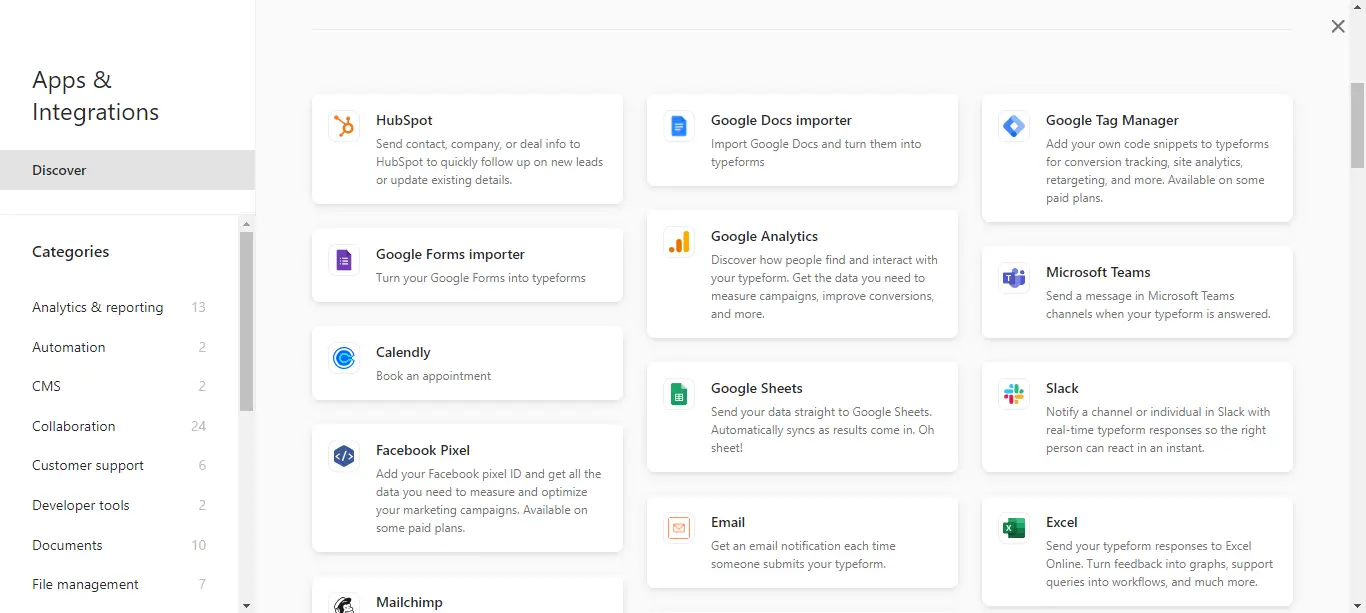 Zapier also integrates with Typeform, so you have the same wide range of possibilities. There are also plenty of native integrations, including:
Google Analytics

Google Docs/Forms

Microsoft Word/Excel

Slack

Canva

Microsoft Teams

Facebook Pixel

Salesforce

Active Campaign

Stripe
Just like with Google Forms, collecting payments with Typeform is fairly simple. You're also able to create your own integrations using Typeform's API if you're so inclined.
Dashboard Experience and Ease of Use
Google Forms Dashboard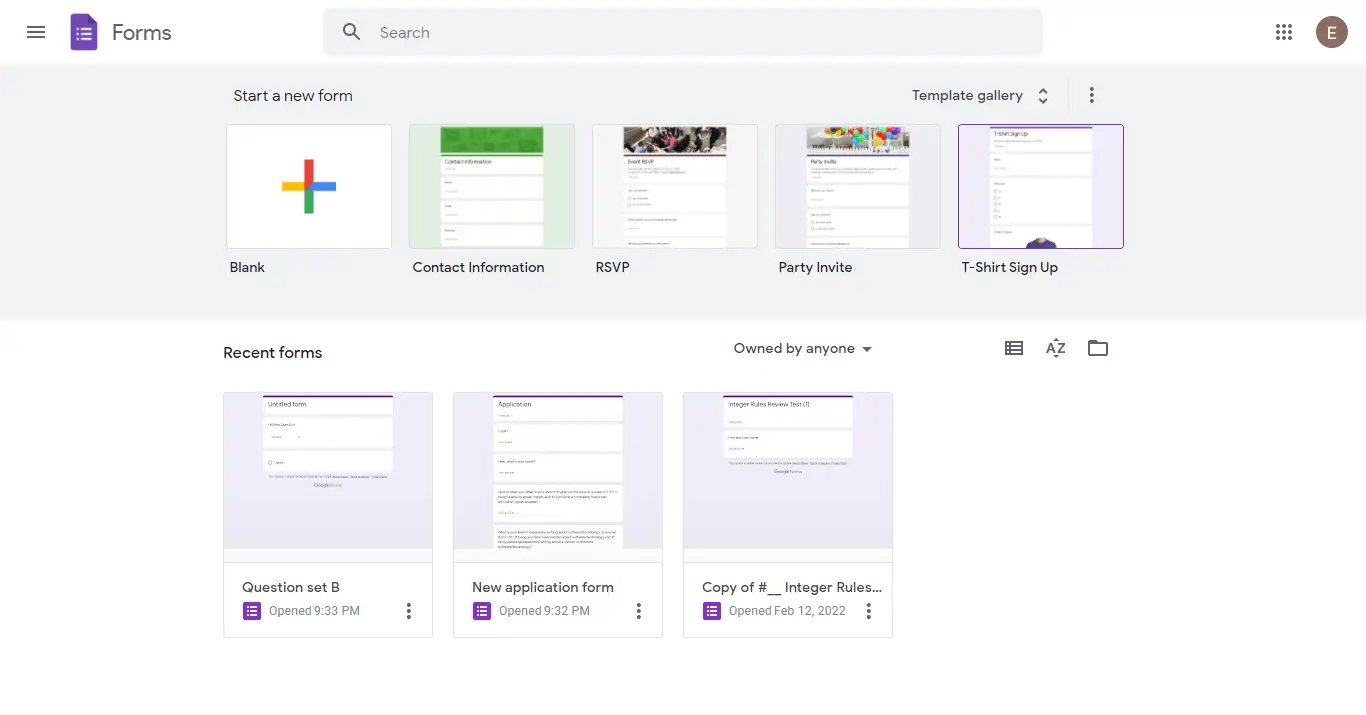 Google Forms has a low learning curve. Just about anyone can pick it up and start using it right away.
Because of the simplicity of the design, creating a form takes no time at all. You can easily find all available templates through the dashboard, and you can search through them with ease.
One unique feature of Google Forms' dashboard is that it's a part of the Google Workspace ecosystem, so you can easily switch from forms to Google Docs, Google Sheets, etc.
Typeform Dashboard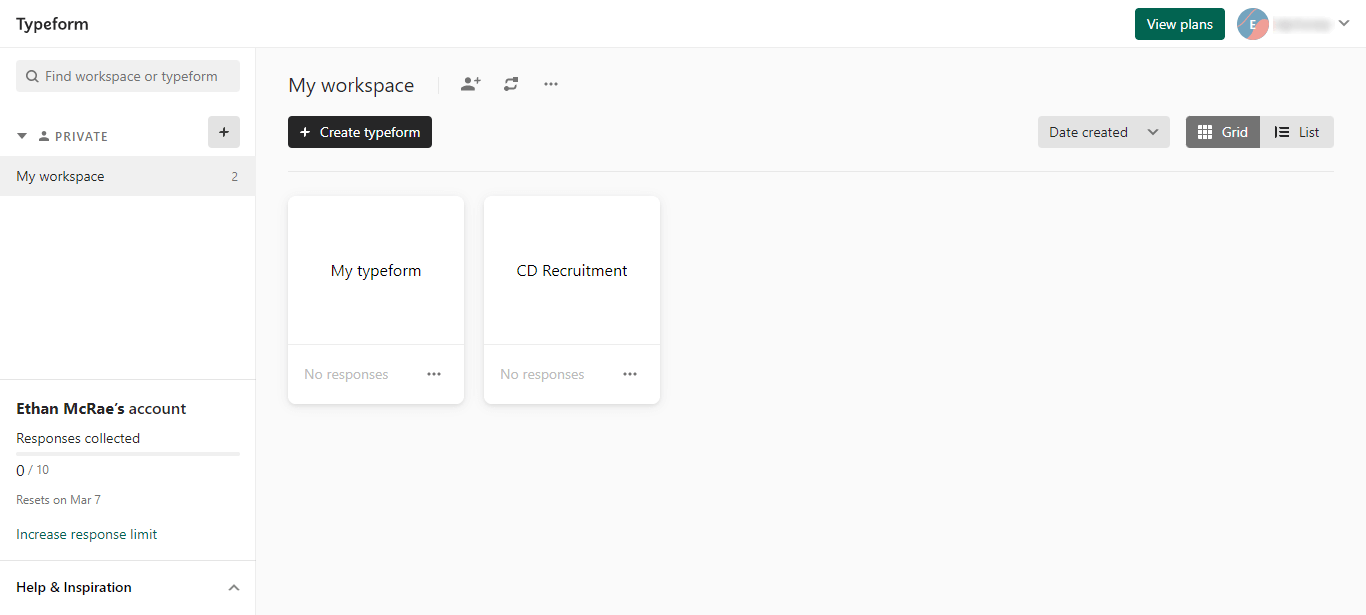 Typeform has a very user-friendly dashboard. It's extremely easy to create a form and to create what they call workspaces, where you can give specific users access to specific forms or sets of forms.
If you have a large team, it's a really helpful feature, or if you have multiple teams or multiple clients. You can also quickly access the help center and upgrade your plan (if you so choose).
You can also connect your apps directly from the dashboard, which is a big difference from how Google handles their add-ons, which can be hard to find.
Pricing
Google Forms is free, whether you have a free Google account or a Google Workspace account. The only real difference between the accounts as far as Google Forms is concerned is that you get a lot more storage space with a Google Workspace account, though you can always pay to upgrade your storage with a free Google Account.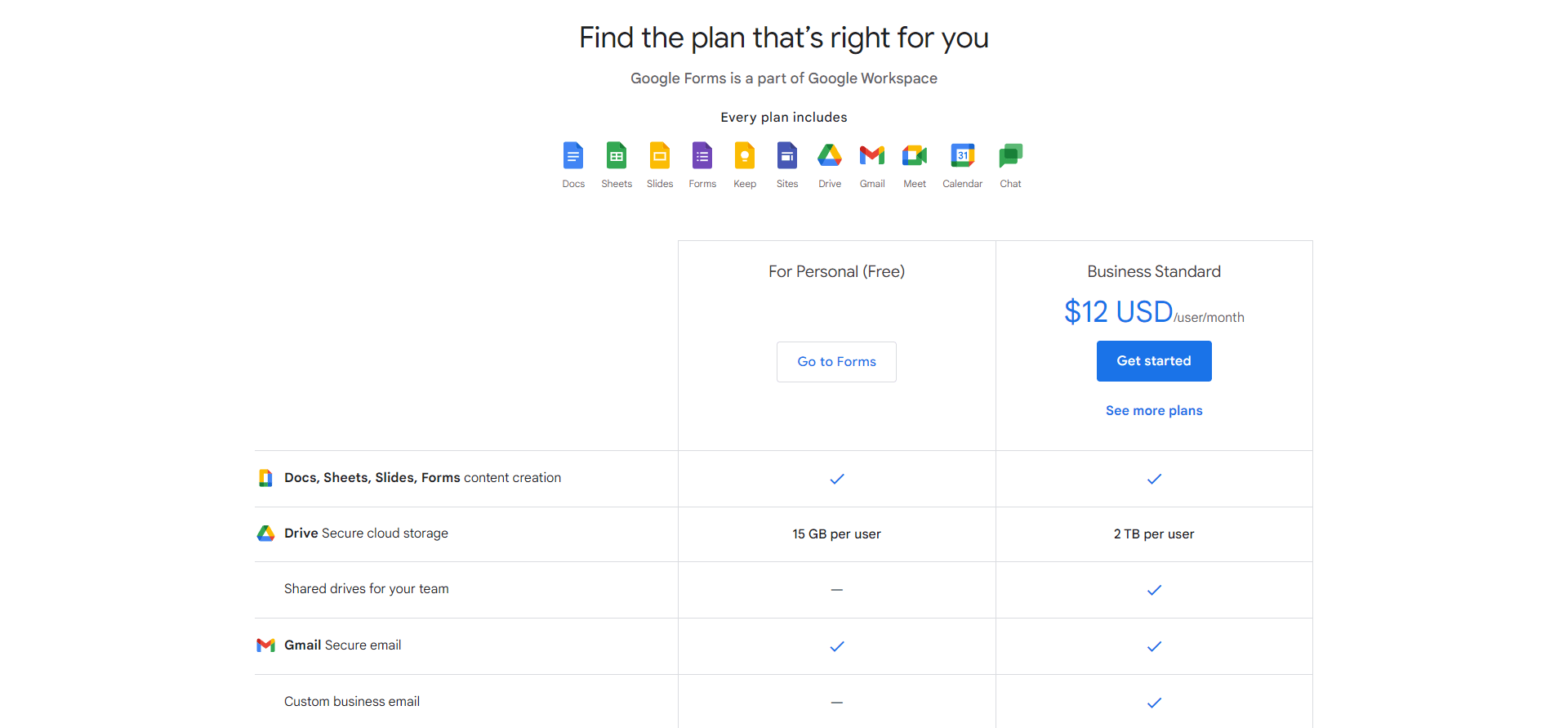 Typeform's free version is essentially useless as you can only get 10 responses each month. You're definitely going to have to pay for it if you want to get any functionality. There just aren't any use cases where 10 responses in a month are going to be enough.
Even with the basic plan, you're only getting 100 responses a month, which might be enough for a teacher who sets up quizzes with Typeforms every now and then, but for most people, it's just not going to be enough.
Essentially, Typeform is overpriced. You need to have a really good reason for choosing it.
Related: Form Builder Pricing: The Ultimate Comparison Table
Customer Support
Google Forms Support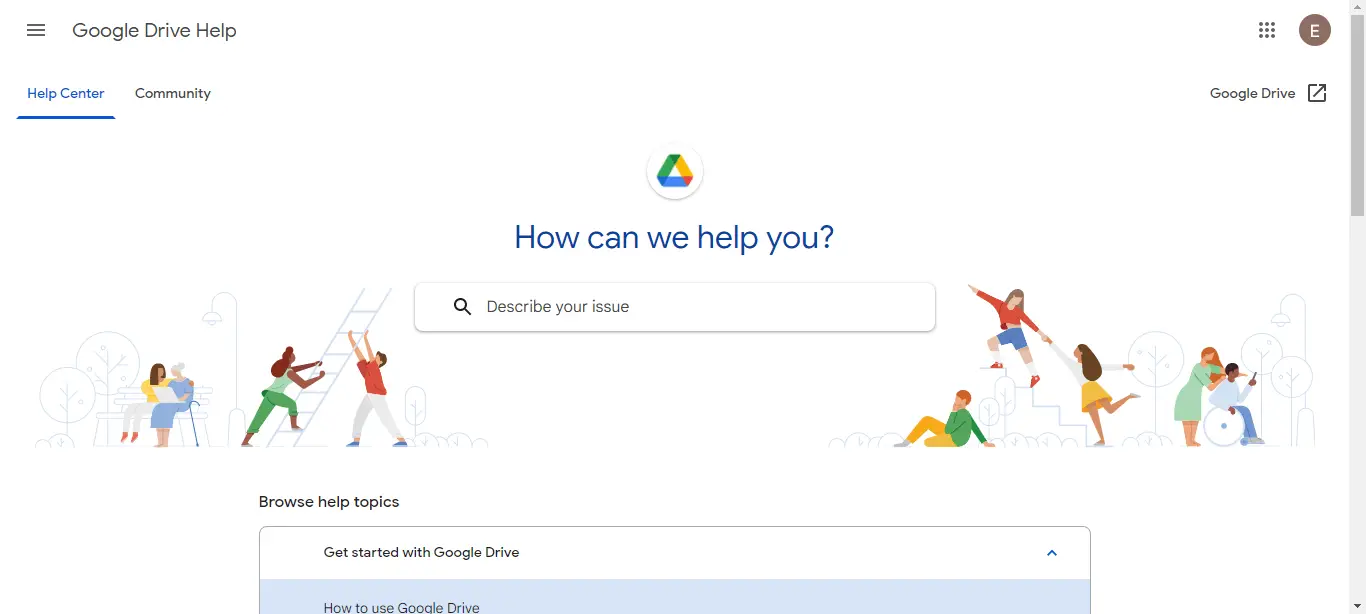 Google has a good customer support system — if you're on a paid Google Workspace plan. Otherwise, you're relegated to using their help database.
That being said, the help database is nothing to sneeze at. It's massive and has answers to any question that you might think of. Someone, somewhere has asked the question you have and gotten an answer, so it's actually pretty rare that you won't be able to find a solution to any problem you have with Google Forms.
If you've got Google Workspace, you can contact Google through phone, email, or chat.
Typeform Support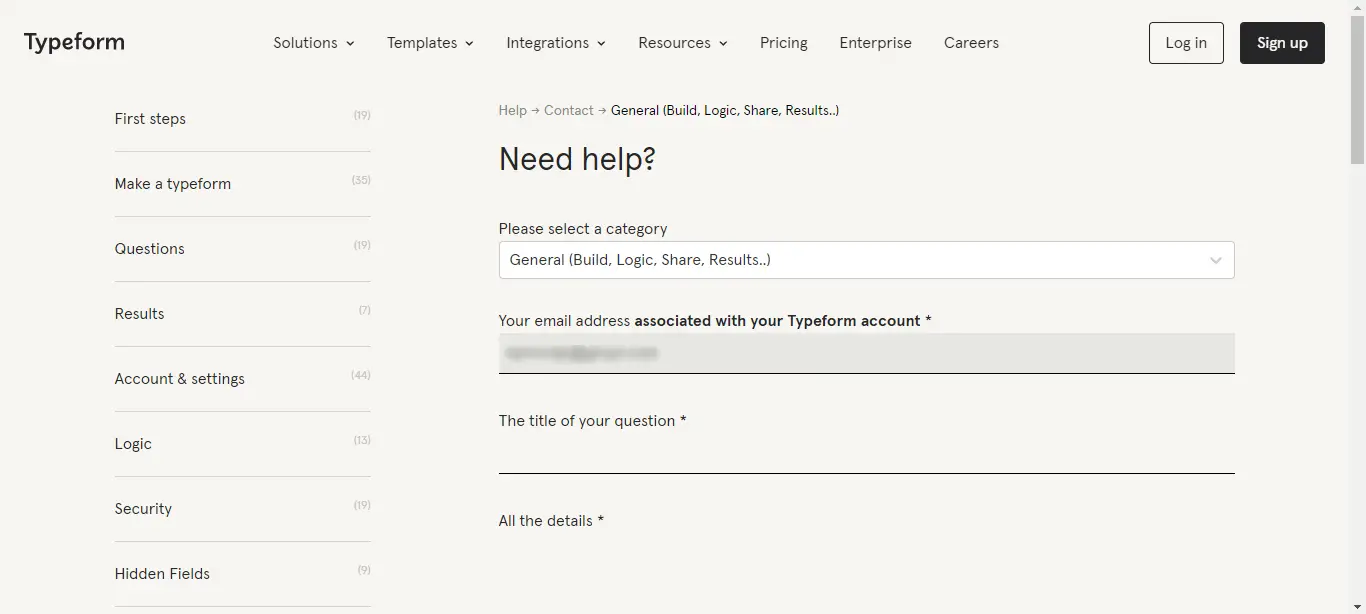 Typeform similarly has a robust help center that will get you an answer to most of your problems, but since just about anyone using Typeform is going to have a paid plan, you can bypass the help center and go with their customer service options, which are top-rated.
When to choose Google Forms vs Typeform
When choosing between Google Forms vs Typeform consider the capabilities of both. 
Google Forms is simple, straightforward, and yet robust at the same time. You can do a lot with it, and you don't have to pay a cent unless you're going to be storing a ton of data.
If you already have a Google account, which many, many people do, then you've already got access to Google Forms and can start using them right away.
With access to conditional logic and other features that you'll find in paid versions, along with tons of integrations, everyone can benefit from using Google Forms, from small businesses and teachers all the way up to large organizations.
However, if you are a large organization and you have the cash to spend (not to mention the need to have some really beautiful, really high-converting forms), then Typeform is probably for you.
Sure, with Google Forms, you can imitate Typeform forms and put together one-question-per-page forms, but Typeform simply does it better — and with more style.
So if the design is a top feature on your list, then go with Typeform, but in the vast majority of cases, Google Forms just makes more sense.
You can see how other form builders stack up to Google Forms in the following comparisons:
Microsoft Forms vs Google Forms
Google Forms vs Google Surveys 
You can see how other form builders stack up to Typeform in the following comparisons: