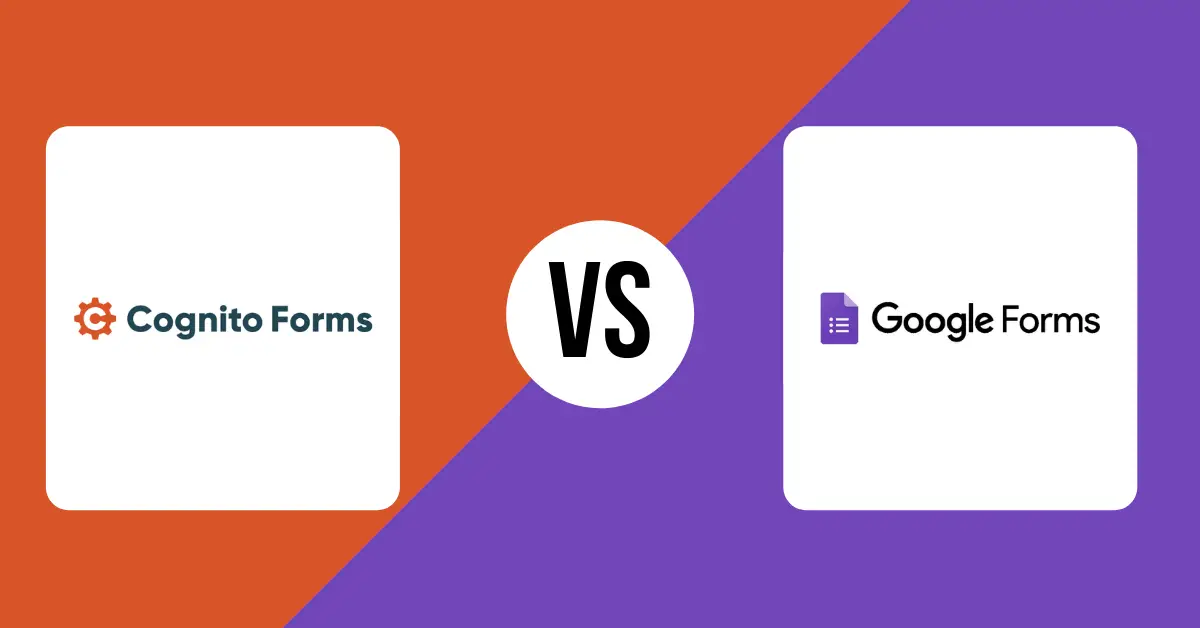 Practically every organization can benefit from a form builder. 
However, with so many options, narrowing down your search for the best form builder for your organization can be a challenge. 
Nevertheless, Cognito Forms and Google Forms are two popular options that numerous businesses and organizations utilize. 
In this post, we discuss the biggest differences between Cognito Forms vs Google Forms so that you can choose the best form builder to reach your goals. 
Let's dive in… 
Templates
Both Cognito Forms and Google Forms have a wide variety of templates available. No matter your industry or your needs, you're likely to find a template you can use.
Cognito Forms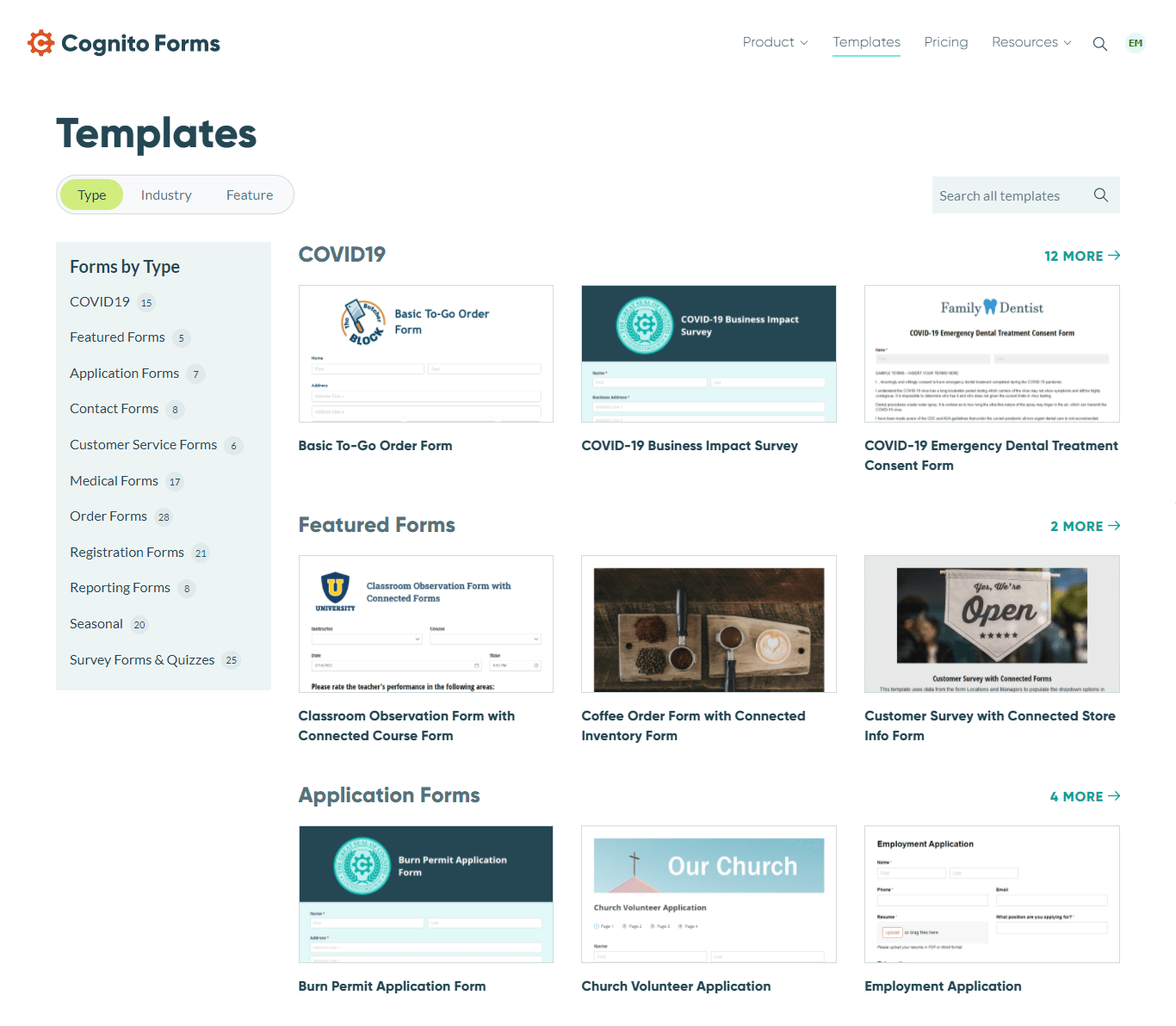 Cognito Forms has an impressive array of templates available — so many that you'll almost certainly be able to find what you need without having to create your own form from scratch (though you can certainly do that too).
What's great about Cognito Forms is that you basically have categories of templates, and then within the categories, you have anywhere from 5 to 28 (or even more) specific templates for a wide variety of uses.
Here are just a few of the categories of templates offered:
Jop applications 

Customer service forms

Medical forms

Order forms

Registration forms

Surveys and quizzes

COVID-19 forms

Contact forms

Reporting forms

Group/event forms
Cognito Forms also has a variety of forms by industry:
Church forms

Education forms

Healthcare forms

Human resources forms

IT forms

Marketing forms

Local government forms

Restaurant forms

Sales forms

Tax prep forms

Travel and hospitality forms

Veterinary forms
The big benefit of these templates is the sheer number of options. The designs are pretty basic, but so are the designs of Google Forms, so they're about the same in terms of design.
Google Forms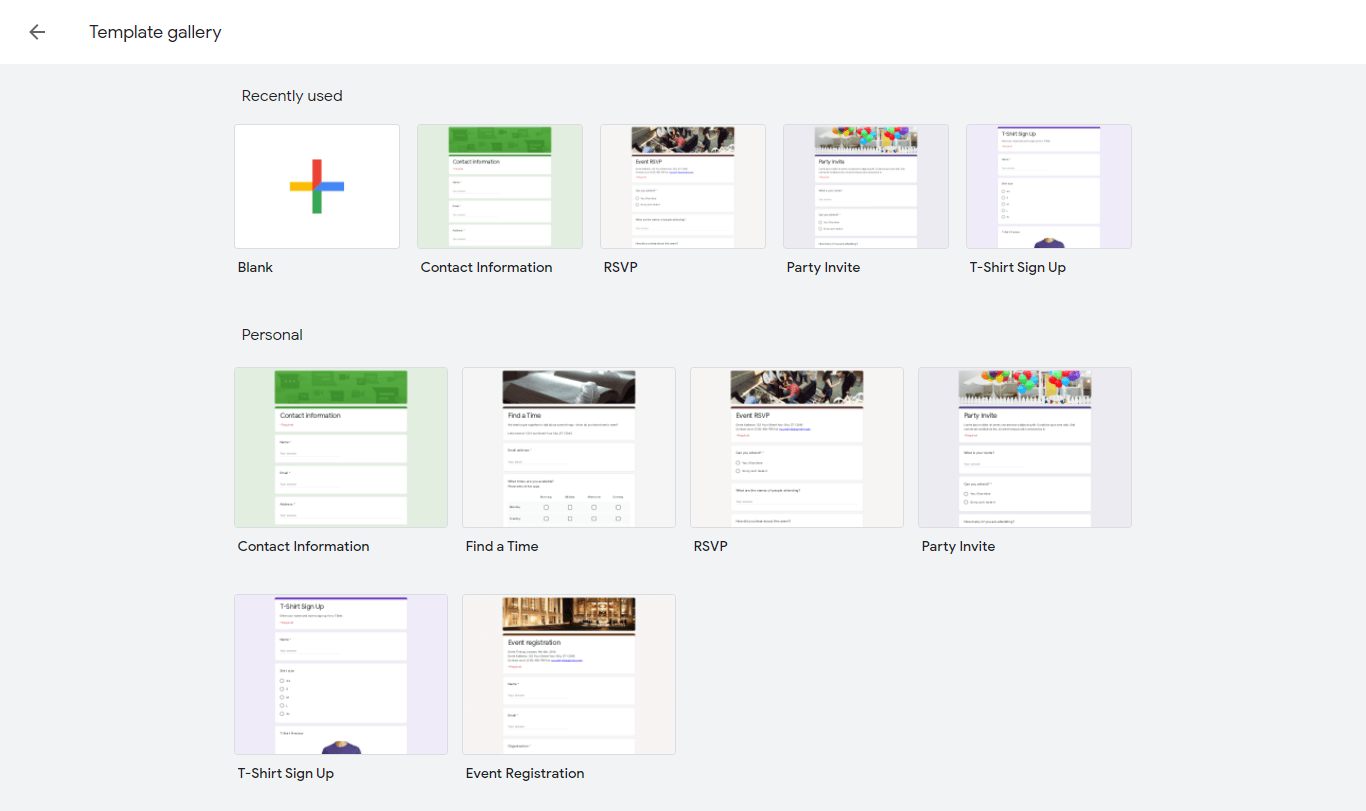 Google Forms doesn't have nearly as many templates as Cognito Forms, but there are enough basic templates for most organizations. Their main categories are education, work, and personal. You can always build your form from scratch as well.
Here's what they have to offer:
Job applications

Contact forms

RSVP

Party invites

Contact information

T-shirt sign up

Exit ticket

Assessment

Worksheet

Find a time

Even registration
The designs are pretty basic, but they're comparable to what you'll see in Cognito Forms. The biggest difference between the two is that there are fewer Google Forms templates.
To see how these Google Forms templates look live, check out these Google Forms examples. 
Editor
Both Cognito Forms and Google Forms have great editors. Here's what you can do with them.
Cognito Forms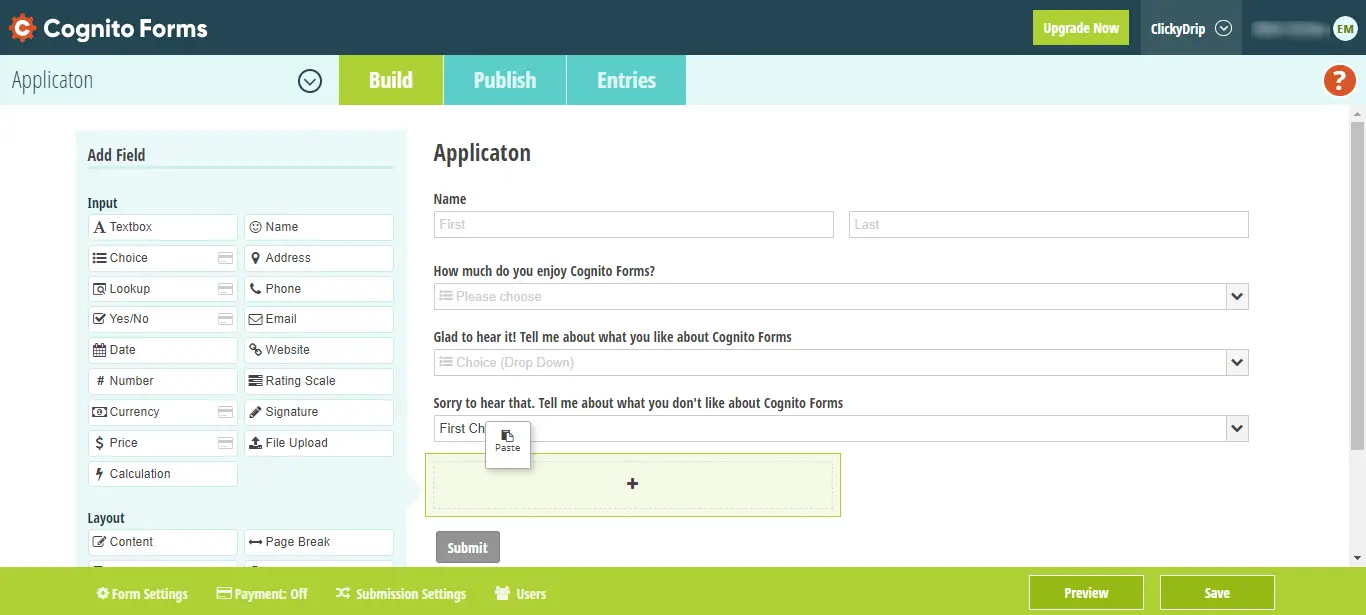 Whether you're creating your own form or using a template, you can pretty much customize your form however you want. There are so many options that it can actually be overwhelming, which is why having so many templates available is great — creating your own form will take a lot of time.
Each template comes with pre-chosen header images (which can be replaced with your own image). You can also change the background and text colors, the width of the form, typography, and more. It even has a developer mode that allows you to customize field names.
Google Forms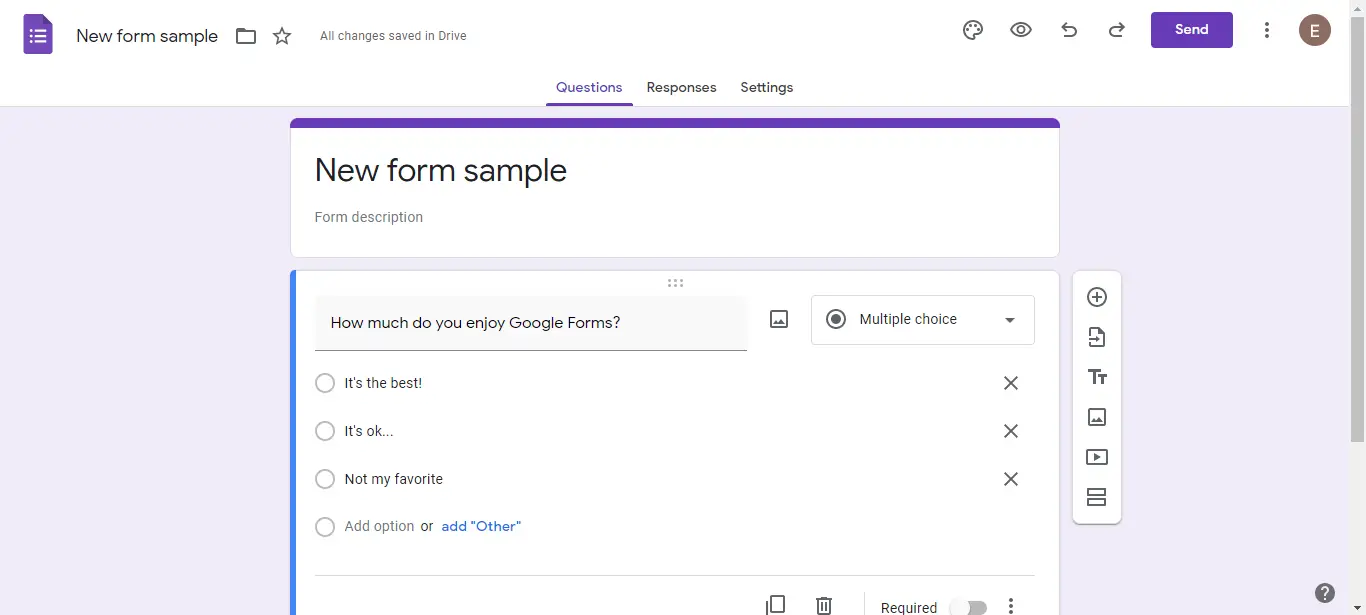 With Google Forms, each form can be easily edited, including typography and images, and you can even add videos. You also have direct access to files, images, and videos in your Google Drive, which saves some time when customizing the form to your needs.
Some other interesting features are the ability to show a progress bar, a confirmation message, a summary of their answers, and you can even shuffle the order of questions (for example, if you're creating a quiz for your students).
Related: 7 Best Form Builders with File Upload Functionality
Surveys and Conditional Logic
Both Cognito Forms and Google Forms are fairly robust in terms of creating surveys, feedback forms, quizzes, and polls.
Cognito Forms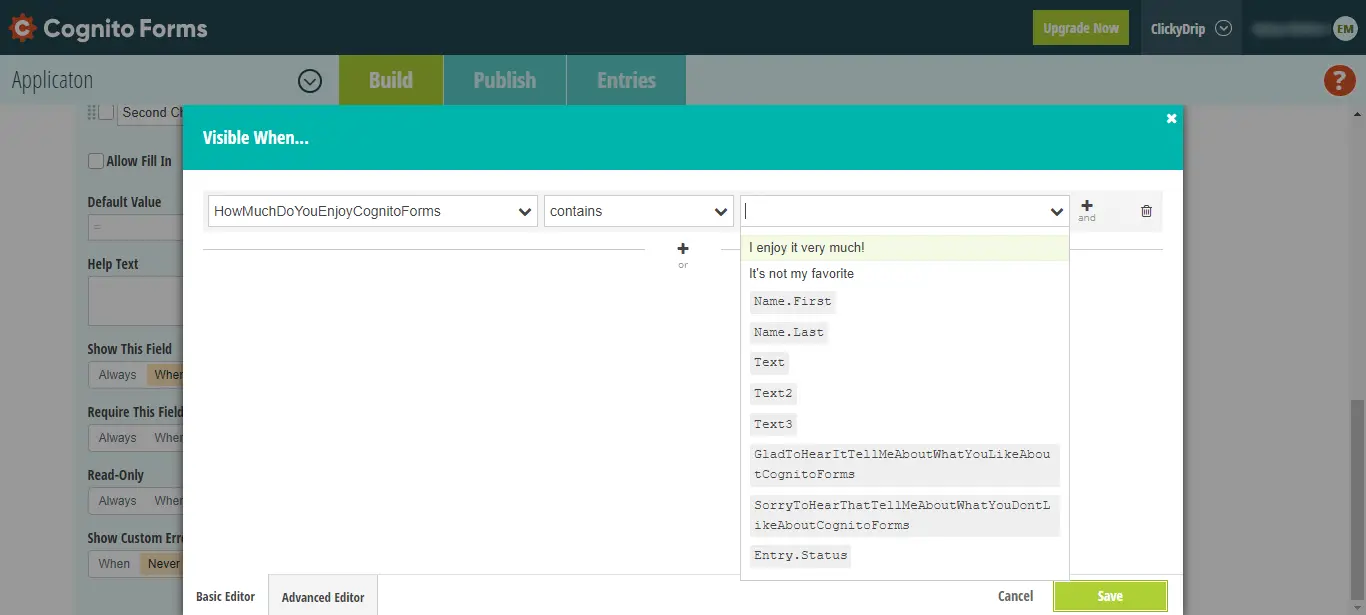 Creating everything from a simple survey, quiz, poll, or feedback form to one that's incredibly complex using conditional logic for your forms. You can send users on just about any path you choose.
For example, if you have a quiz, you can set up questions with multiple choices, and if the users make certain choices, you can skip other questions or send them to specific questions in a specific order.
You can also remove pages they don't need to see if they make certain choices, and you can use "text piping," where text from one field fills out another so they don't have to re-enter text (for example, address information).
While you can always set a field as required, you can also make it so fields are only required if other conditions are met. Those fields can also be set to only show up if the previous conditions are met.
But conditional logic is available for more than just surveys, quizzes, etc — you can also use it for payment options. For example, you can allow your users to choose to pay later and make the payment field no longer required, but you can also set it so that the payment field is required if they choose to pay now.
You have to set conditional logic for each field one by one, so it can take a lot of time to set up the form the way you want if you have some complex conditional logic you want to implement.
Google Forms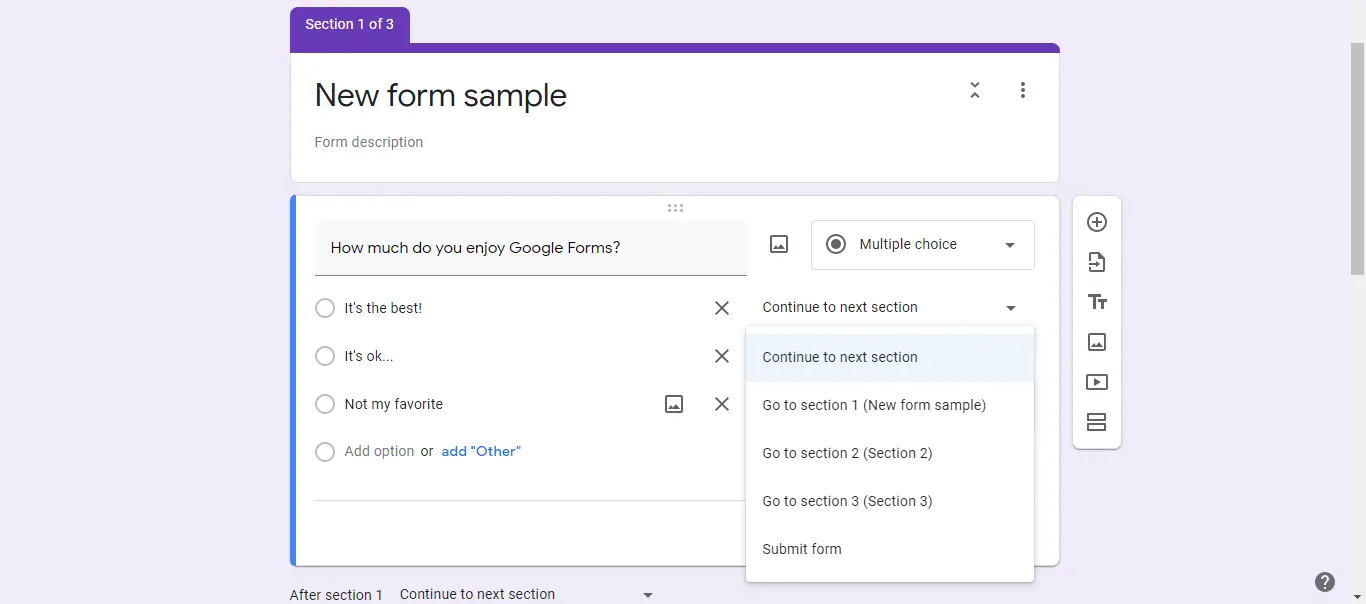 Google Forms also has conditional logic, however, it's not quite as robust as Cognito Forms.
Just like with Cognito Forms, you're able to set up each section to only show up when other choices have been made in other sections. For example, you could create a form collecting information for a demographics survey.
In the survey, you might only want information from applicants who are personal injury lawyers. Your first question could ask them if they're lawyers, and your second question could ask if they're personal injury lawyers. If they answer no to the section question, then you don't need to show them the following questions — you can send them directly to the submit button.
You can do the same on a quiz. If they give a certain answer on a quiz, you can then set the quiz to only ask them certain other questions (and to not show others).
Just like with Cognito Forms, you have to set conditional logic for each field.
Reporting and Analytics
Both Cognito Forms and Google Forms have reporting and analytics capabilities. Here are the differences between the two.
Cognito Forms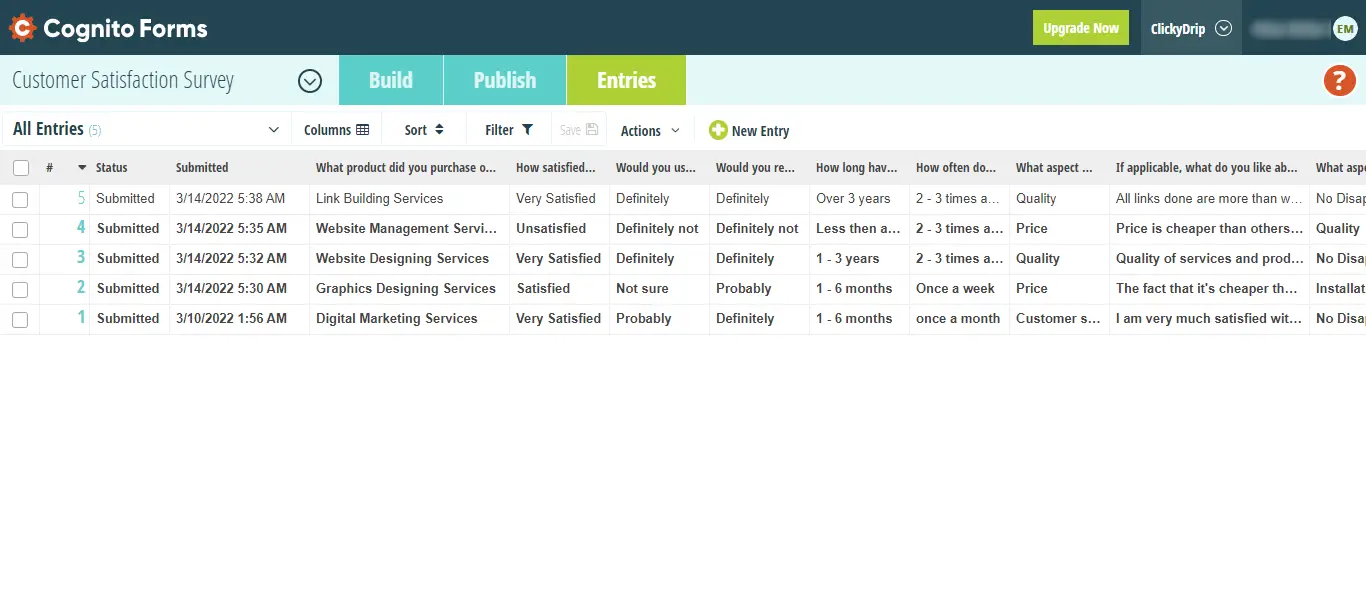 Cognito Forms has much more robust analytics than Google Forms for a simple reason — it can easily connect to Google Analytics natively and is designed to do so without a third-party app.
Once connected to Google Analytics, you can see information like pageviews to see how many people are looking at your forms on your website (you can embed your form on your website), and you can also set up goal tracking to see how many of those pageviews result in submissions.
This can be particularly useful if you have ads that are sending people to your page. You can see what your conversion statistics are and optimize your forms based on that info.
You can also export all your data into excel spreadsheets so that you can create charts and graphs based on the info. While you can see all your entries within Cognito Forms and can sort those entries, actual analytics aren't available within Cognito Forms — you have to use Google Analytics.
Google Forms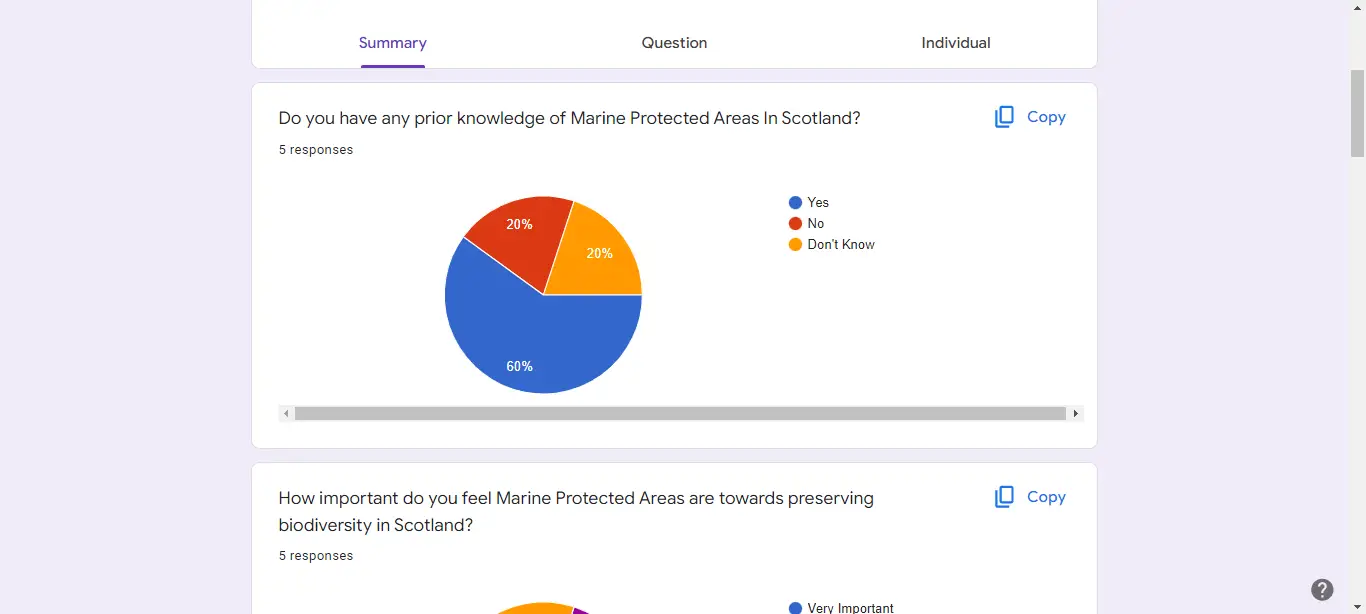 Google Forms allows you to see charts and graphs of the data you've collected in the Responses tab, but it's pretty basic — you're likely going to want more than the data that's natively presented.
Though it doesn't make much sense, Google Forms doesn't natively connect to Google Analytics, so you have to use a workaround.
Zapier does have some zaps that will connect Google Analytics with Google Forms, and there are other third-party apps as well. Another workaround is to embed the form into your website and then collect data that way, but you're mostly going to only be able to collect visitor data unless you put together some events in Google Analytics.
Thankfully, you can download your responses as a CSV file so that you can put them into your spreadsheet of choice. You can then create charts, graphs, etc. based on the responses you've collected.
Integrations
Both Cognito Forms and Google Forms have a variety of integrations that you can use to get the most out of each piece of software.
Cognito Forms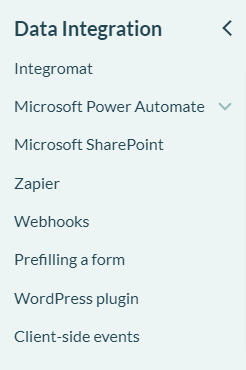 Cognito Forms has quite a few integrations, including Google Analytics as mentioned previously. One of the most important integrations is Zapier because it allows you to connect Cognito Forms to literally thousands of other apps.
However, there are plenty of other native integrations — you can connect to WordPress, Weebly, and Wix sites and embed the forms directly.
There are a number of payment platforms that you can embed to take payments directly in the forms, and the forms are even designed to quickly and easily connect to ERPs, CMSs, and HR management systems. It also integrates with Microsoft Office 365 and can automatically start workflows in those apps
Basically, Cognito Forms is designed from the ground up for integration, so no matter what software you want to connect, it's likely that Cognito Forms can make it happen.
Google Forms
Google Forms also has a wide variety of integrations, though within the Google ecosystem they're known as add-ons. There are a wide variety of add-ons that have been created by different software companies for their own software, like SurveyMonkey, to extend the functionality of Google Forms.
Just like with Cognito Forms, you can connect Google Forms to Zapier, which then has a ton of zaps and apps you can connect to — about 4,000 — so whatever your needs, you can probably find a zap that will connect to your software of choice.
Dashboard Experience and Ease of Use
The dashboard experiences of Cognito Forms and Google Forms differ significantly from each other, but both are fairly easy to navigate.
Cognito Forms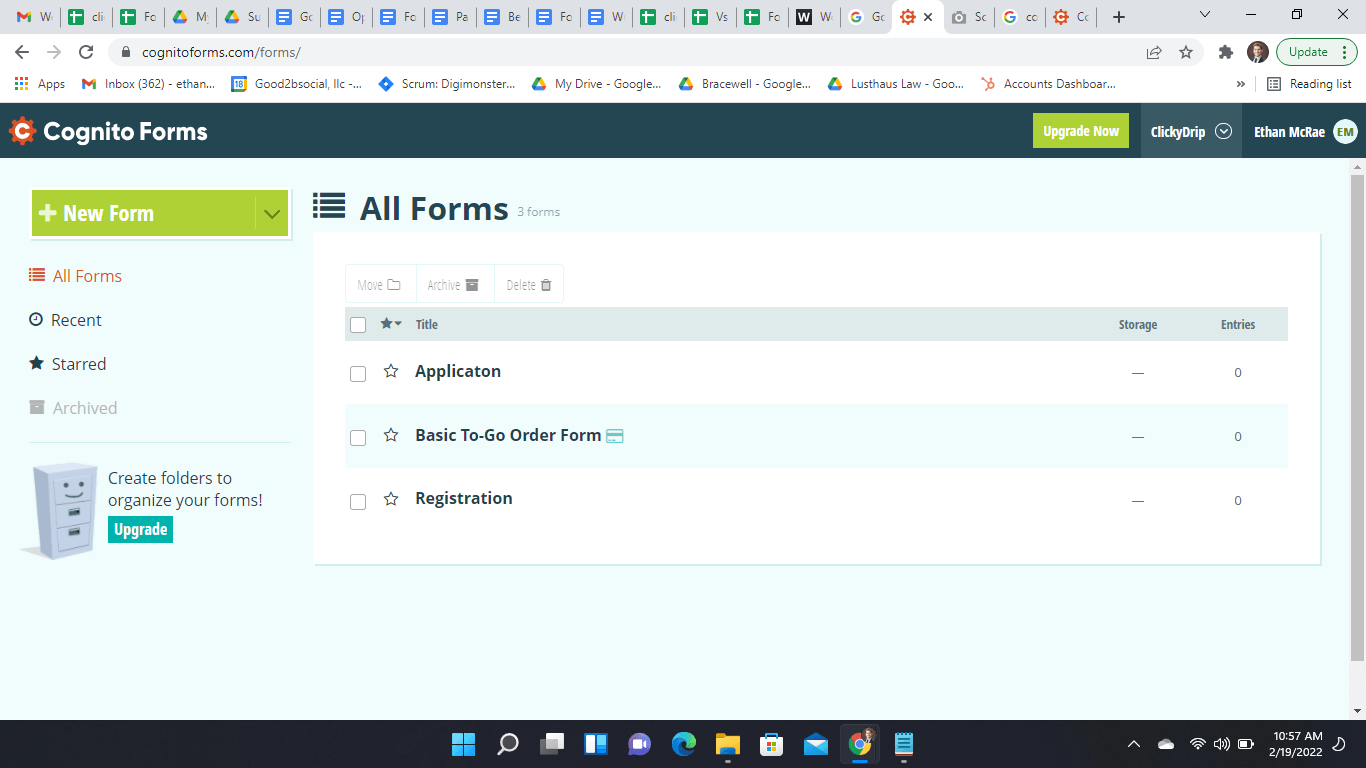 Cognito Forms is easy to use for the casual user while being complex enough for advanced users to modify the forms as much as they want. While it might be a little confusing at first because all the modifications need to be made in the sidebar, it won't take long to get the hang of it.
Because of the sidebar setup, editing the forms is actually pretty fast, and because so much of the advanced functionality is hidden in dropdown menus, casual users are unlikely to be overwhelmed.
Google Forms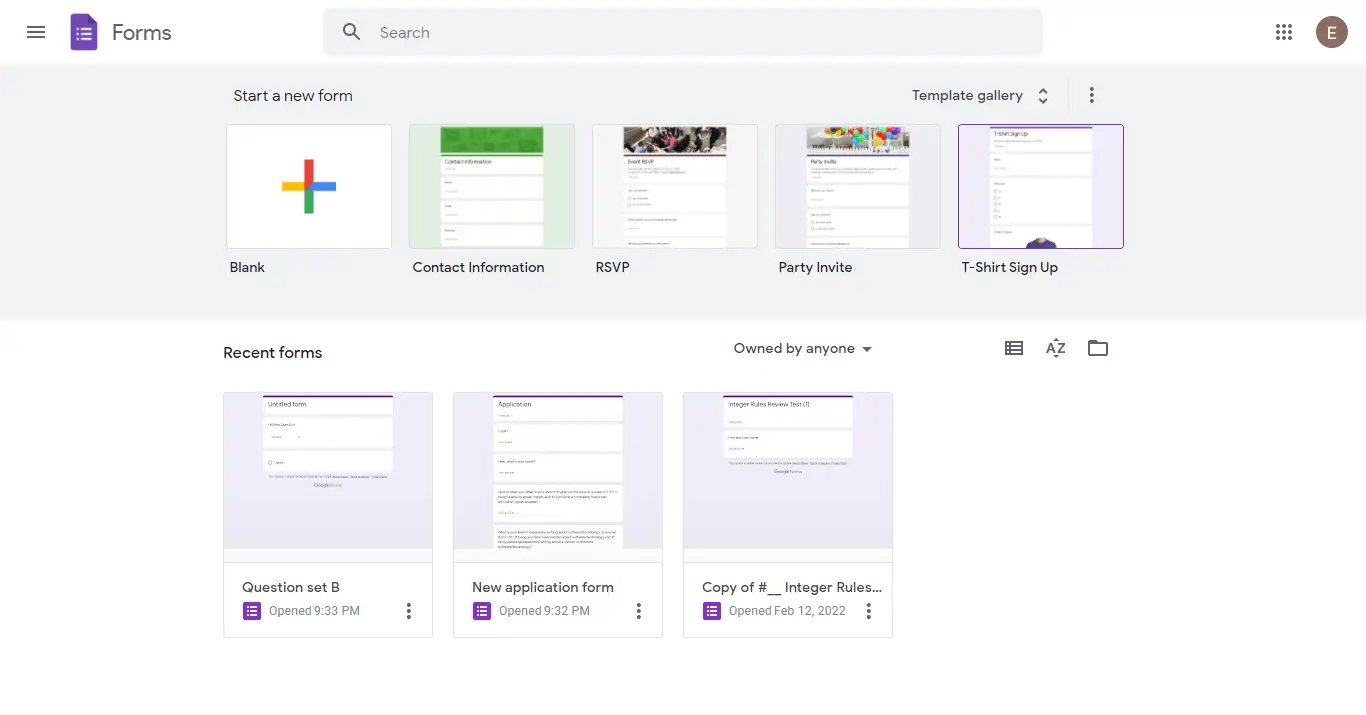 As you'd expect from Google, Google Forms has a very straightforward interface. The problem is that the functionality doesn't compare to Cognito Forms.
Still, Google Forms is in widespread use, so for the casual user, it's going to be even easier to use than Cognito Forms to use.
The biggest difference between the two platforms is that Cognito Forms has all its functionality right there on the page while Google Forms has some of it hidden behind tabs. There aren't a lot of tabs though, so in terms of usability, the platforms are pretty similarly easy to use.
Pricing
Both Cognito Forms and Google Forms have a free basic plan, but Cognito Offers paid plans.
Cognito Forms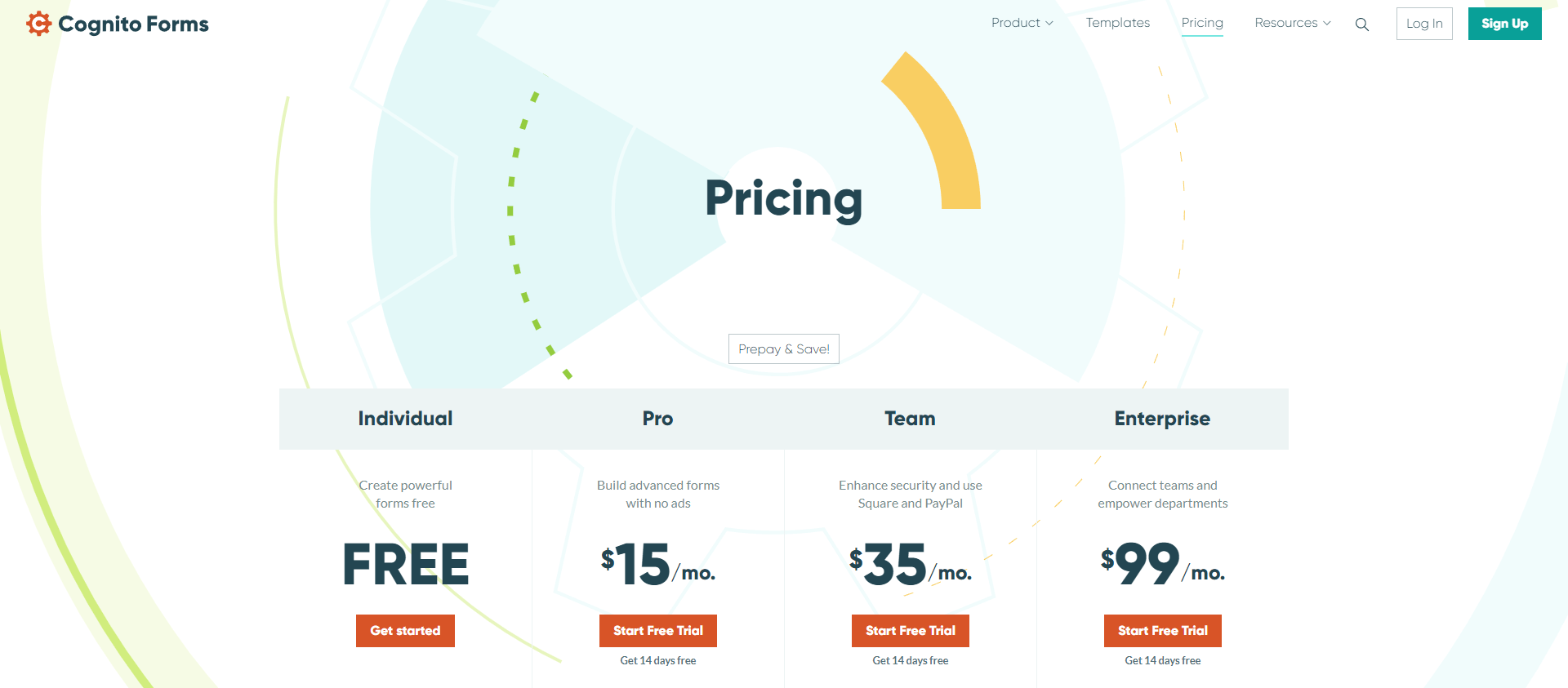 The free version of Cognito Forms is probably going to be enough for 90% of users. The only real difference between the plans is in the number of users and the number of entries allowed — there's no difference in functionality, but you do have to deal with ads in the free version.
The paid versions are comparable in price to similar offerings, so there's no real difference there, but if you are running a large organization and need lots of storage, users, and entries a month, you're going to have to get a paid plan.
Google Forms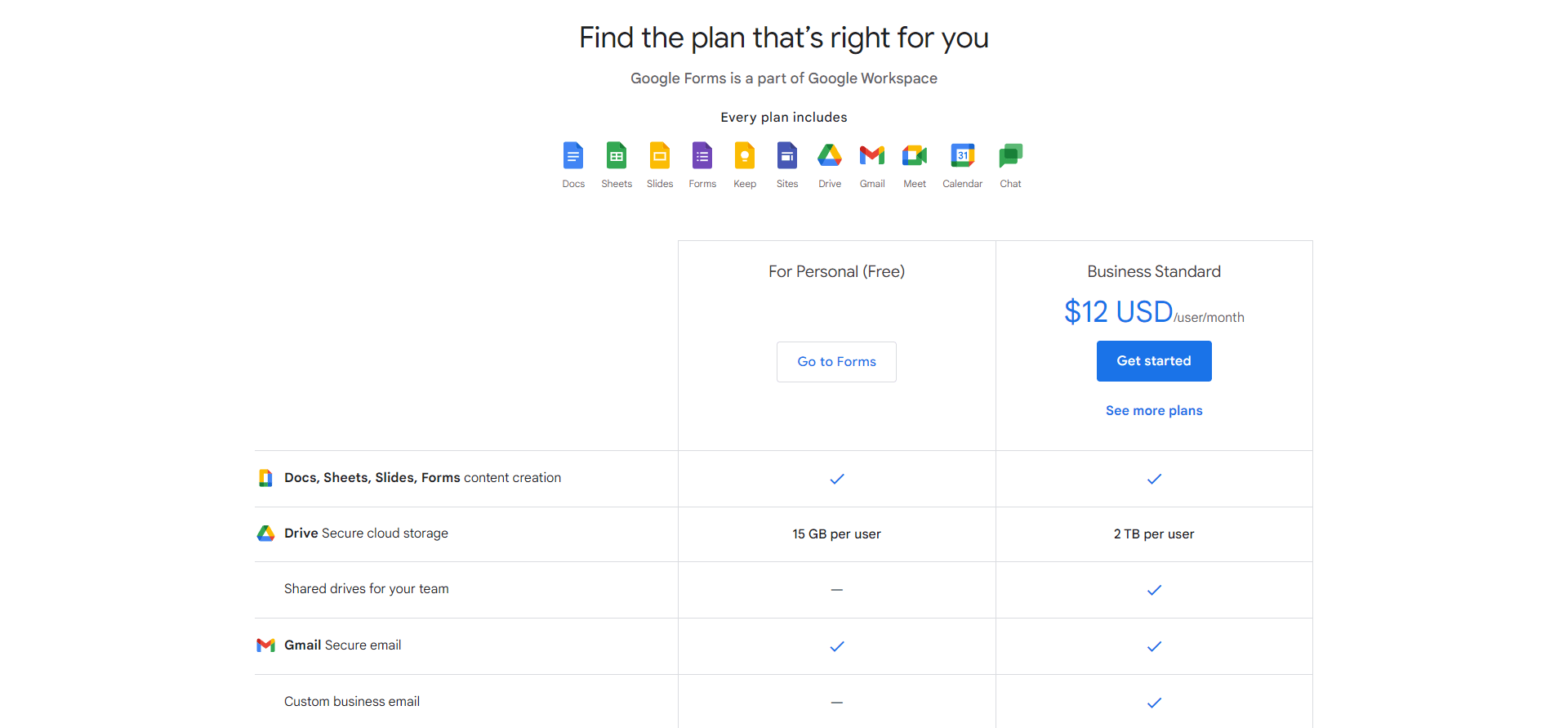 Google Forms is free with a free Google account and is also included in a Google Workspace account — there's no added functionality if you pay for a Google Workspace account, though you get a lot more storage. If you're running a lot of forms (a lot), then you might need the extra storage.
Customer Support
Both Cognito Forms and Google Forms have resources available for users who are experiencing problems, but only Cognito Forms has an actual help desk.
Cognito Forms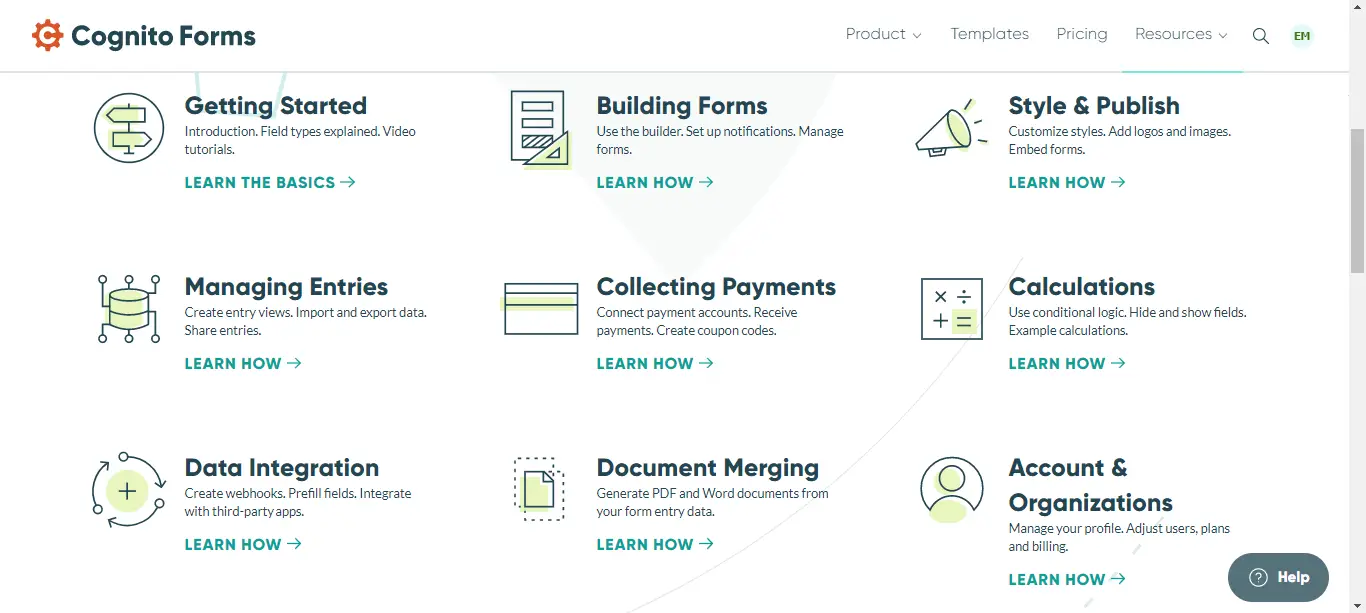 Cognito Forms has a wide variety of user guides and best practices guides that can help you make the most out of the software. They're very in-depth and have a lot of great information, so many questions can be answered by using the guides.
However, they also have a customer support team that you can contact with a form. They're only available during business hours, but that's more than you'll get with Google Forms.
Google Forms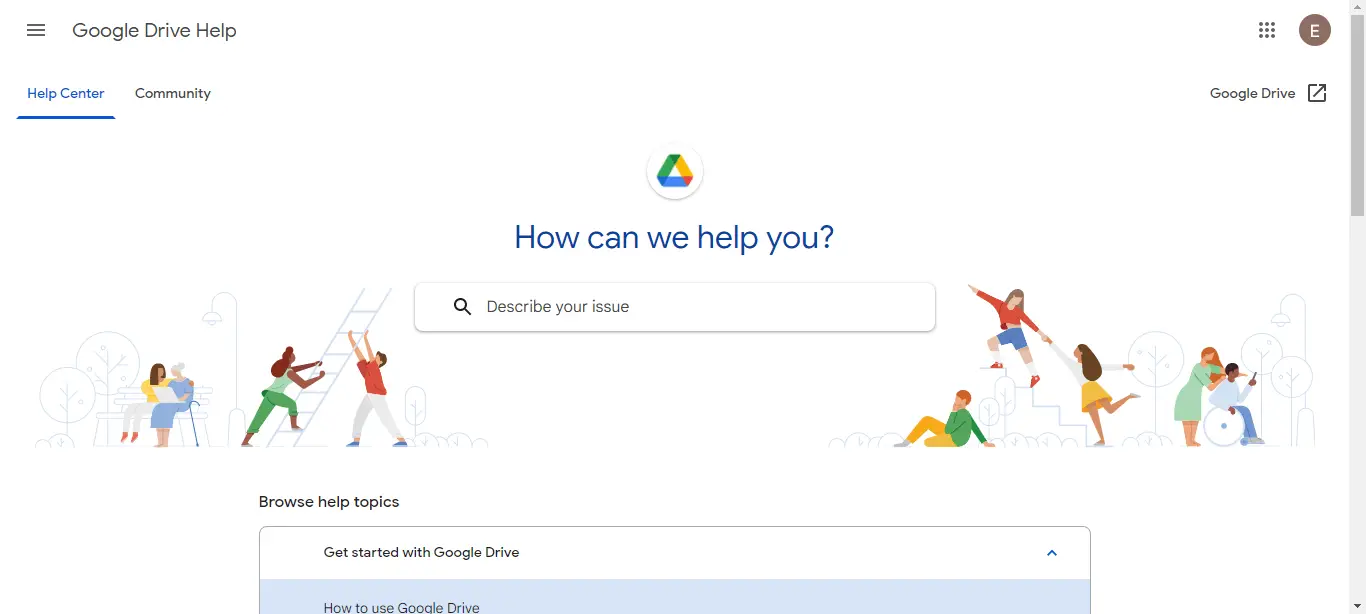 Google has a massive help database, and because it's in such wide use around the world, there are tons of articles on the web about how to do just about anything you'd want to do with a Google Form.
However, Google does not offer support for its free plans, but if you have paid for a Google Workspace for your company, then you can contact Google's support team through phone, email, or chat.
When to Choose Cognito Forms vs Google forms
Though there are many similarities between Cognito Forms vs Google Forms, each is going to be better for different businesses and different use cases.
Cognito Forms
If you need a form solution with a lot of functionality built-in, the ability to manipulate the forms in complex ways, and a form solution that has complex digital logic, then you're going to want to choose Cognito Forms.
Cognito Forms really does have it all, and though the user interface is more complex, that's to be expected given how much functionality it has. It's best for organizations with 5 or more employees that need to collect payments through a form or who need a large number of forms on a website.
Google Forms
If you just need a simple form to collect data — say from the students in your class or from your employees at a small organization — then Google Forms is going to be perfect for you.
If you need to collect payments through a form, Google Forms isn't going to be a good solution, and if you need a complex form with a lot of digital logic, Cognito Forms is probably going to be a better choice.
You can see how other form builder stack up to Google Forms in the following comparisons:
Microsoft Forms vs Google Forms