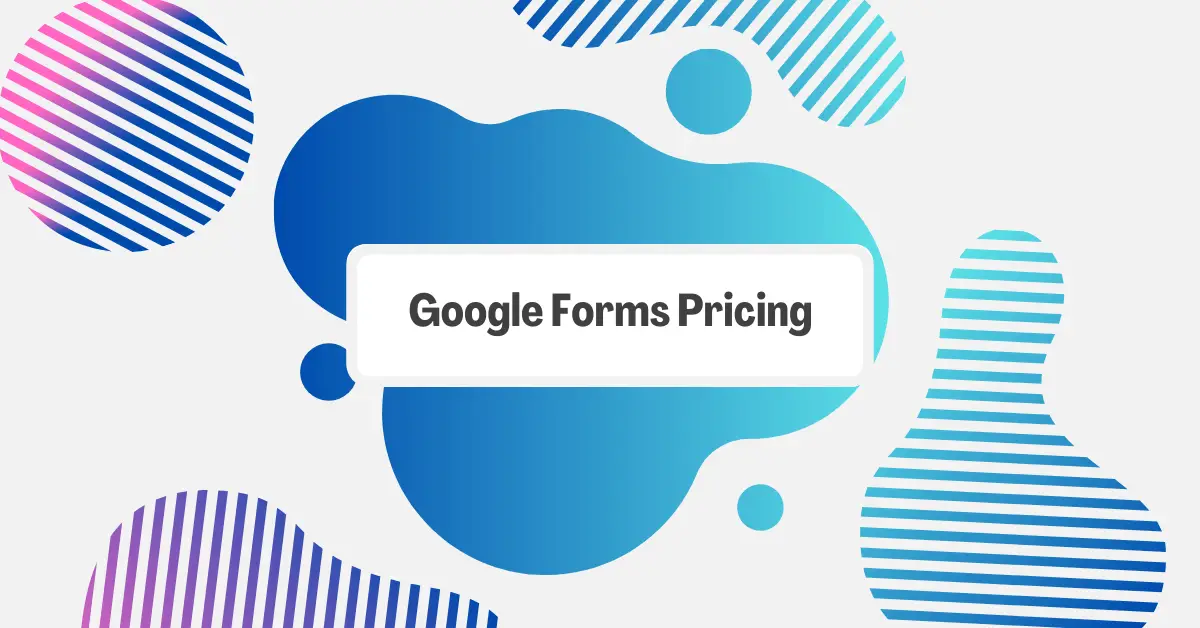 Google Forms is one of the most widely used form builder solutions available. 
And for good reason too. Google Forms is incredibly intuitive, and if you are working with a team, it is very easy to collaborate to build forms together. 
However, software can be costly and if you are evaluating Google Forms, chances are that you want to know how much Google Forms costs. 
In this post, you can learn everything you need to know about Google Forms pricing. 
Google Forms Pricing
Google Forms is 100% completely free. In fact, there are no paid versions of the Google Forms web application. In order to access Google Forms, you simply need a Google Account (which is also free). 
Google Forms is just one of the applications included in the free Google Docs Editors suite which also includes Google Docs, Google Slides, Google Sheets, and more. 
However, although the Google Forms application is free, there are certain limitations of Google Forms. By purchasing a paid Google Workspace plan, you can do away with those limitations. 
Google Workspace paid plans and Google Forms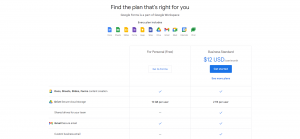 Google Workspace is a collection of productivity and collaboration tools. The applications included in Google Workspace aside from Google Forms include:
Google Drive

Gmail

Google Meet

Google Calendar

Google Chat

Jamboard

Google Docs

Google Sheets

Google Slides

Google Keep

Google Sites 
These applications can all be accessed for free, however, Google Workspace has paid plans for businesses that want additional features that don't come with the free version such as custom business emails, enhanced support, extra storage, and more. The most affordable Google Forms plan, Business Starter, costs $6/user per month, and the most expensive plan, Business Plus, costs $18/user per month. Enterprise pricing is custom. 
While many of the features in the Google Workspace paid plans pertain to Gmail, Google Meet, and other applications, there are a few features that are relevant to Google Forms in particular. 
A few of the features that you get with paid Google Workspace plans that can enhance Google Forms include custom branding for documents and form templates, extra storage, and shared drives for your team. Consider these features when deciding if Google Forms free vs paid makes sense for you: 
Custom branding for documents and templates 
By default, Google Forms come with Google branding. However, by upgrading to the Business Standard which costs $12/user/month or Business Plus which costs $18/user/month, you can get your own custom branding for your forms.  
By upgrading, you can brand all your forms with your company's logo so that your forms look personalized and professional. Custom branding is one of Google Forms' features with a paid account that's very valuable to many. 
It's important to note that while you can implement your business's branding, the format and look of Google Forms, in general, is pretty rigid. Relative to other form builders, you can't do much to change the design of Google Forms. On the bright side, the modern and minimalist style of Google Forms is appealing to most. 
Extra storage 
Google accounts come with 15 GB of storage by default. For many casual Google Workspace users, this is more than enough storage. However, for growing companies that collaborate on numerous documents, 15 GB might not cut it. 
Fortunately, the paid Google Workspace plans allow for more storage in Google Drive (where Google Forms are stored:
Business Starter ($6/user/month): 30 GB per user 
Business Standard ($12/user/month): 2 TB per user 
Business Plus ($18/user/month): 5 TB per user 
For Google Forms users who have numerous survey forms that may be collecting hundreds or thousands of responses from a large audience, it may make sense to upgrade to a paid Google Workspace plan. 
Shared drives for your team
By upgrading to Business Standard which costs $12/user/month or Business Plus which costs $18/user/month, you can get access to shared drives for your team. 
By allowing your entire team to access Google Forms on one drive, it is incredibly easy to collaborate on projects together and see survey responses all under one dashboard. 
Having this feature is particularly helpful if you are working with many team members on many projects. 
Limitations of Google Forms (and most other free form builders)
Although free access to a form builder is obviously a huge plus, there are certain limitations for Google Forms and other free form builder solutions. 
One of the biggest drawbacks is the lack of customizability in design. With Google Forms, you can change your form's theme, which is essentially swapping color schemes for your forms. However, as far as other changes to the layout, the customizability is limited. With most paid form builders, you have much more flexibility over design.    
Secondly, Google Form's has limited conditional logic capabilities. For advanced branching logic for routing respondents to certain questions based on previous responses to questions, paid form builder solutions would make more sense. 
Additionally, paid form builders are a bit more versatile in general. With Google Forms, you can build out surveys, and that's about it. Paid form builders, however, can be used to capture leads, collect payments, collect job applications, and more. 
Final words: Is Google Forms right for me? 
Google Forms is probably an excellent tool for you if a paid form builder solution just isn't in the budget for you, and you are predominantly interested in building out surveys.
Additionally, for those who have never used a survey builder or form builder in the past, Google Forms could be an excellent software to get started with. After all, the platform is incredibly easy to use, and although the lack of advanced features could be a drawback for some, Google Form's minimalism makes it very intuitive. 
If you want a paid form builder solution but you just don't like Google Forms, in particular, fortunately, there are many options. Cognito forms, Jotform, Typeform, Woofoo, and Formplus are all excellent form builder solutions that happen to have free versions. Try a few out to see which one might make sense for your organization.