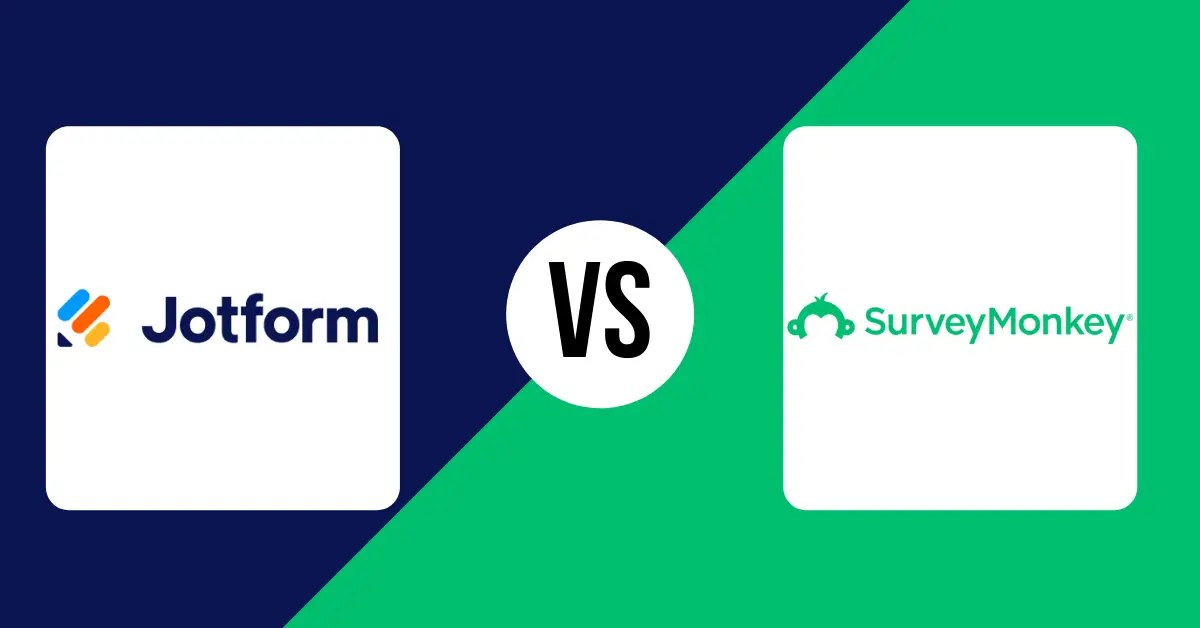 There is no better way to gain valuable insight into the outlook of an audience than using forms and surveys.  
Luckily, there are dozens of tools that you can use to collect feedback from prospects, customers, employees or any other audience. Jotform and Surveymonkey happen to be two of the most highly regarded platforms for forms and surveys. 
However, while these tools are used for the same purpose, there are some key differences that are important to understand. 
In this post, we explore the key differences between Jotform vs Surveymonkey in terms of features and capabilities so that you can choose the best option for your organization. 
About JotForm And SurveyMonkey
JotForm started out in 2006 as a WYSIWYG form builder. The builder was born out of the developer Aytekin Tank's frustration with coding forms from scratch. Since then, the platform has amassed more than 15M users worldwide and evolved into a robust form builder platform. You can integrate JotFrom with more than 100 apps and programs, use it on the web, embed it onto your website, and even create forms on the go with the mobile app. 
SurveyMonkey is a popular survey platform. The main purpose behind SurveyMonkey is to aid you in truly understanding your customers. What sets SurveyMonkey apart is the robust survey features. Thanks to these features, you can measure brand awareness, get customer and employee feedback, and even test product or service concepts before you spend a ton of money on developing them. 
Templates
JotForm Templates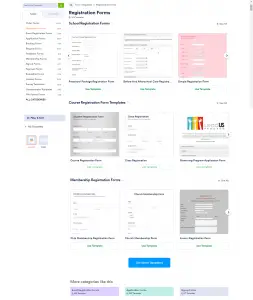 JotForm offers an impressive number of different form and survey templates. In fact, there are 800+ survey templates alone. You'll find templates for employee surveys, customer surveys, market research surveys, product surveys, and more. The templates are nicely organized into different categories so it's easy to find what you're looking for.
In addition to that, you can start using a template with a single click. Once you've selected your survey template, you can further customize it with your own content and style it to match your brand. 
Keep in mind that since JotForm is a form builder, you'll find many more different form templates. So, if you're looking to create other types of forms, JotForm might become your go-to solution.
SurveyMonkey Templates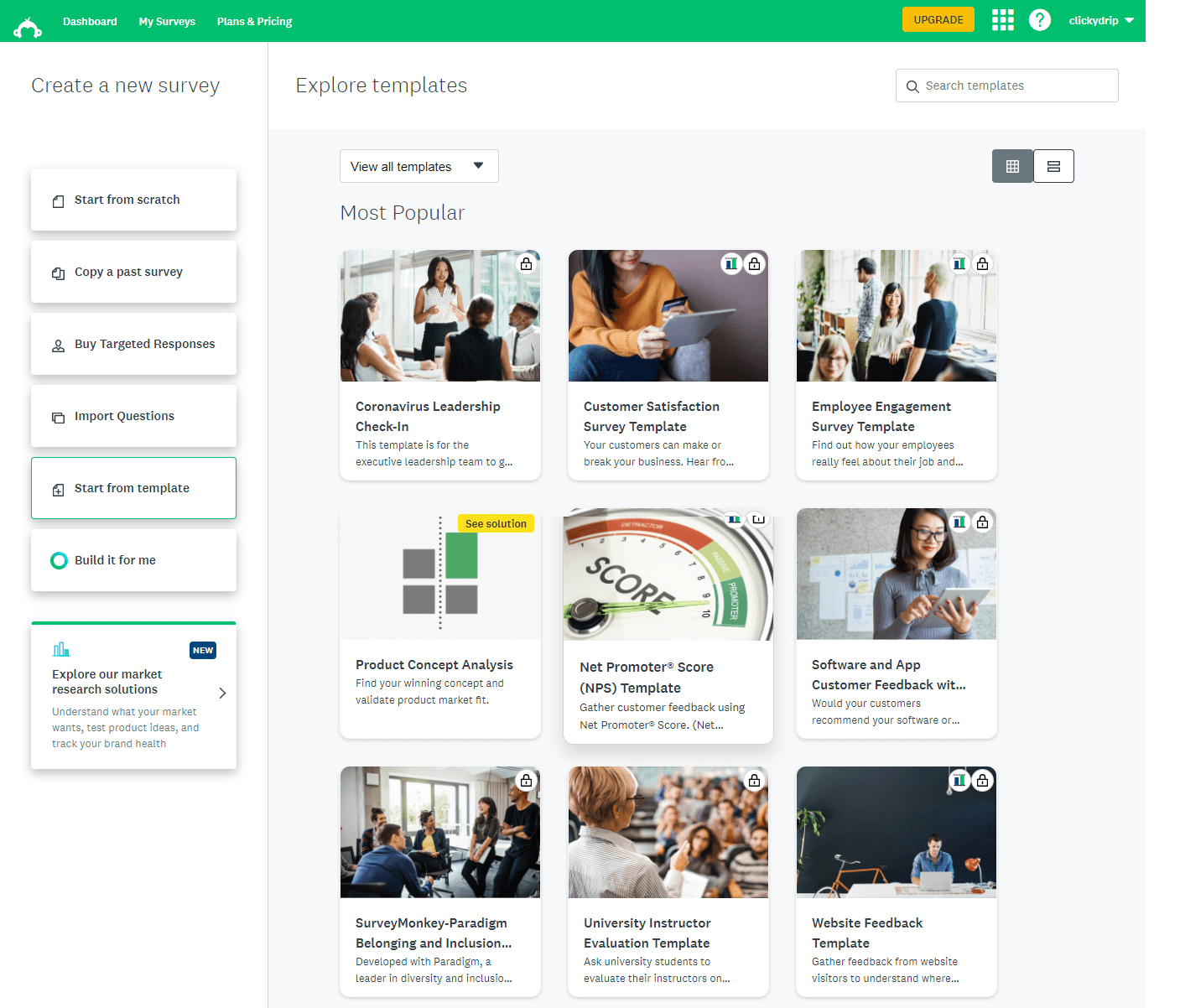 Similar to JotForm, SurveyMonkey has all kinds of premade survey templates. For example, you can create different customer or employee satisfaction surveys, build a survey to learn more about your Net Promoter Score, or test out a product idea. 
There are also templates for event feedback, website feedback, and many more.
SurveyMonkey does a great job of organizing templates into categories so you can narrow down your search. SurveyMonkey doesn't have as many templates as JotForm but the templates are nicely designed and have a modern look and feel.  
Editor
JotForm Editor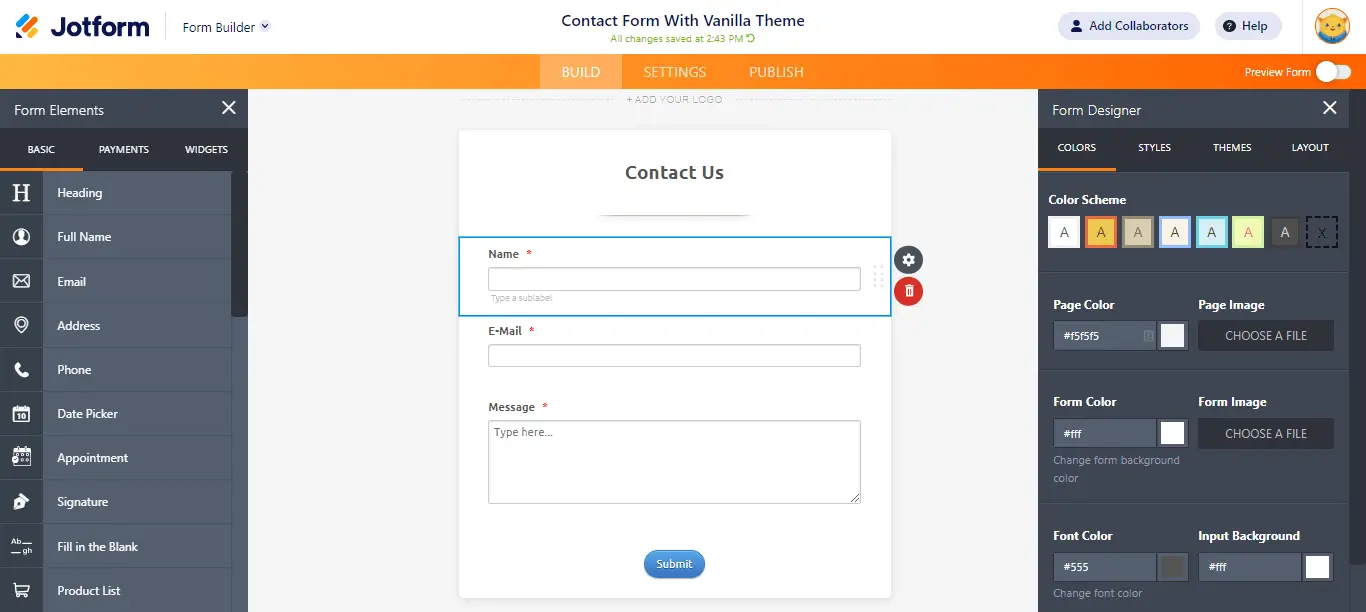 JotForm offers a simple and easy-to-use drag and drop builder to create your forms. The builder is logically organized. Clicking the + icon on the left allows you to add a new element to your form. This includes text, various form fields, product and pricing fields, and more. The paintbrush on the right is where you can customize the appearance of your survey and the menu at the top makes it easy to configure form settings. 
JotForm comes with a number of premade color schemes as well as themes for your forms. However, you can customize each theme to your liking. There's also an advanced form designer that offers a lot more control over the look and feel of your forms. 
Additionally, each form element has additional settings that you can configure, depending on the type of element. For example, the file upload field allows you not only to personalize the labels but also to limit the size of the files and file types that can be uploaded.  
SurveyMonkey Editor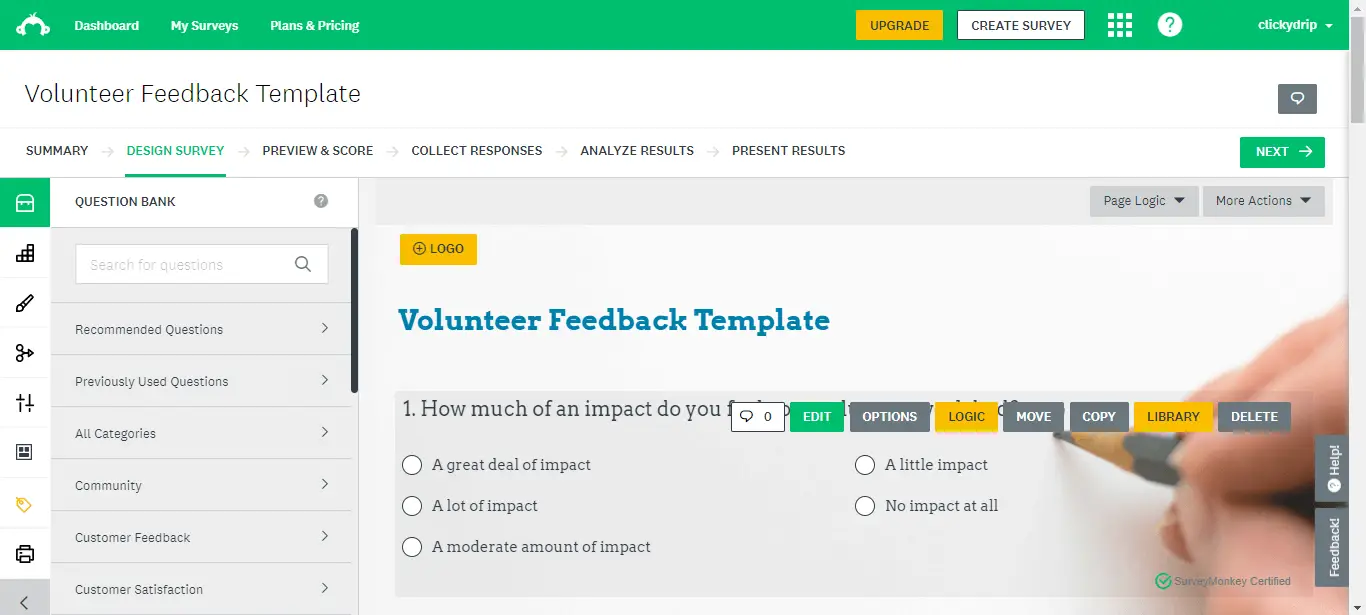 As far as the editing experience in SurveyMonkey goes, you'll use a point-and-click interface to build your form. The beauty of SurveyMonkey's interface is that you can easily see the changes you're making on your form. 
When it comes to design, you'll find a select number of pre-made themes. Each theme can be customized to your liking so you can easily brand your surveys.
SurveyMonkey also allows you to create a custom theme so you can create a custom and unique look.
Related: 7 Best Payment Form Builders
Survey And Conditional Logic
JotForm Conditional Logic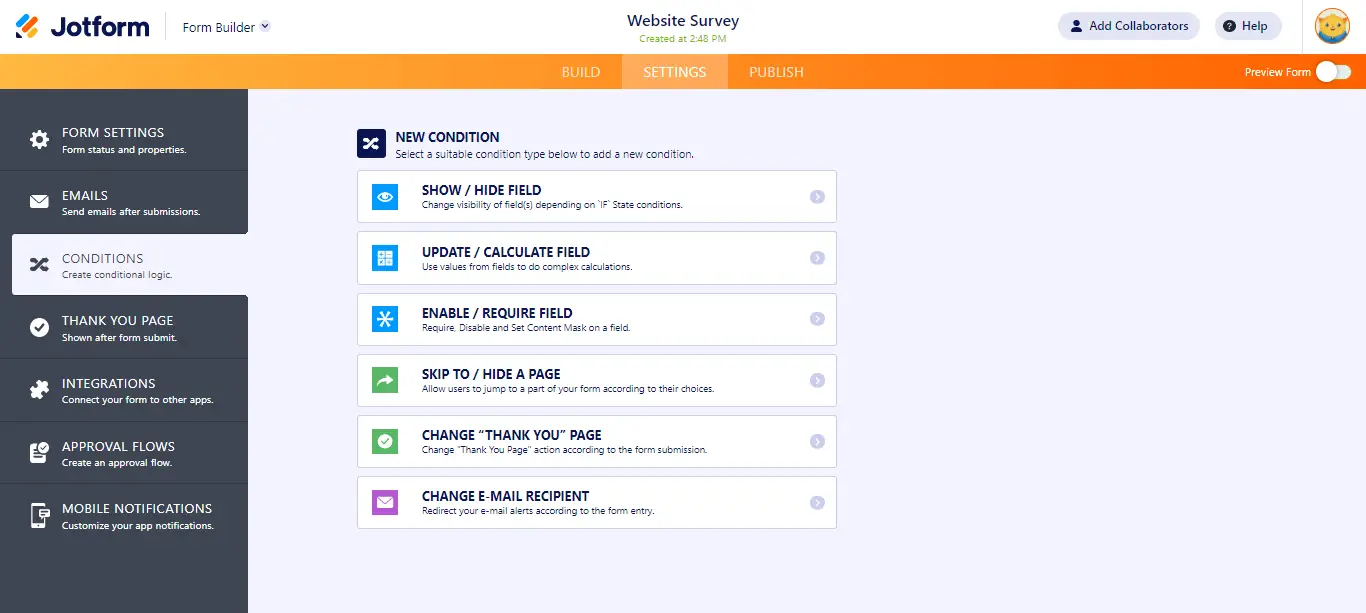 As far as survey features, this is one area where JotForm falls a little short. It offers only three survey elements: input table, star rating, and scale rating. However, they do offer support for conditional logic, although not on all form elements. More precisely, conditional logic is offered on card templates as well as single-choice questions.
Setting up conditional logic is very simple with JotForm. You have to select the correct response to the question and then you can adjust if the next question is visible or not. You can hide or show single or multiple questions that follow. Once you save, you can set conditions for other fields if necessary. 
SurveyMonkey Conditional Logic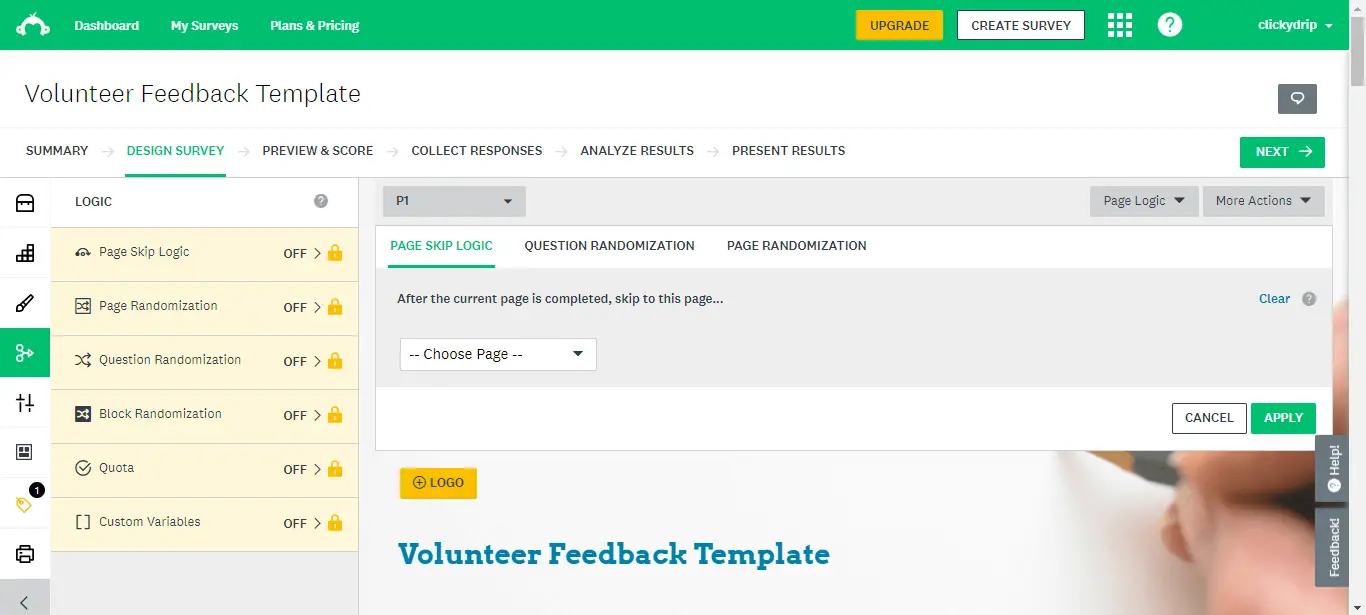 Contrary to JotForm, all of SurveyMonkey's features are centered around surveys. This is not surprising given that they are a platform dedicated solely to surveys. With that in mind, here are some of the interesting features they offer: 
Use their question bank to easily create your survey without having to start from scratch

Find respondents for your survey with their Audience feature. Keep in mind that you'll need to pay extra to be able to use this feature but it's well worth it if you're just getting started and need responses immediately. 

SurveyMonkey Genius score will automatically score your survey and suggest improvements before you send it out to increase the number of responses you get

Support for conditional logic so you can easily configure which questions should be shown or hidden based on earlier replies
In other words, SurveyMonkey makes it easy not only to design and build your survey but also to optimize it to increase the number of responses. 
Reporting And Analytics
JotForm Conditional Logic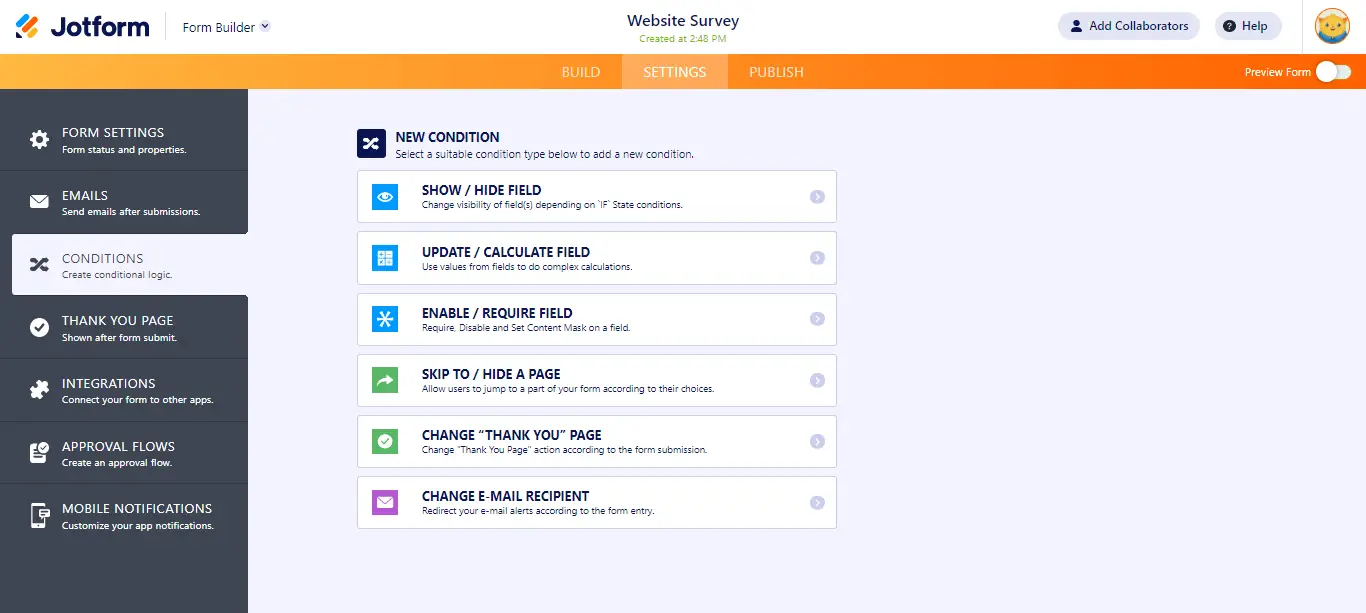 JotForm makes it easy to see the analytics for each of your forms. You can filter through weekly, monthly, all-time, and custom views. You can see stats about the devices used, location, platform, and overall traffic that your survey received. In addition to that, JotForm will show you how long on average it takes to complete your survey as well as the conversion rate. 
You can create PDF reports as well as a slideshow presentation directly within JotForm. This makes it easy to present important data and information to anyone who needs to see the results of the survey. 
SurveyMonkey Conditional Logic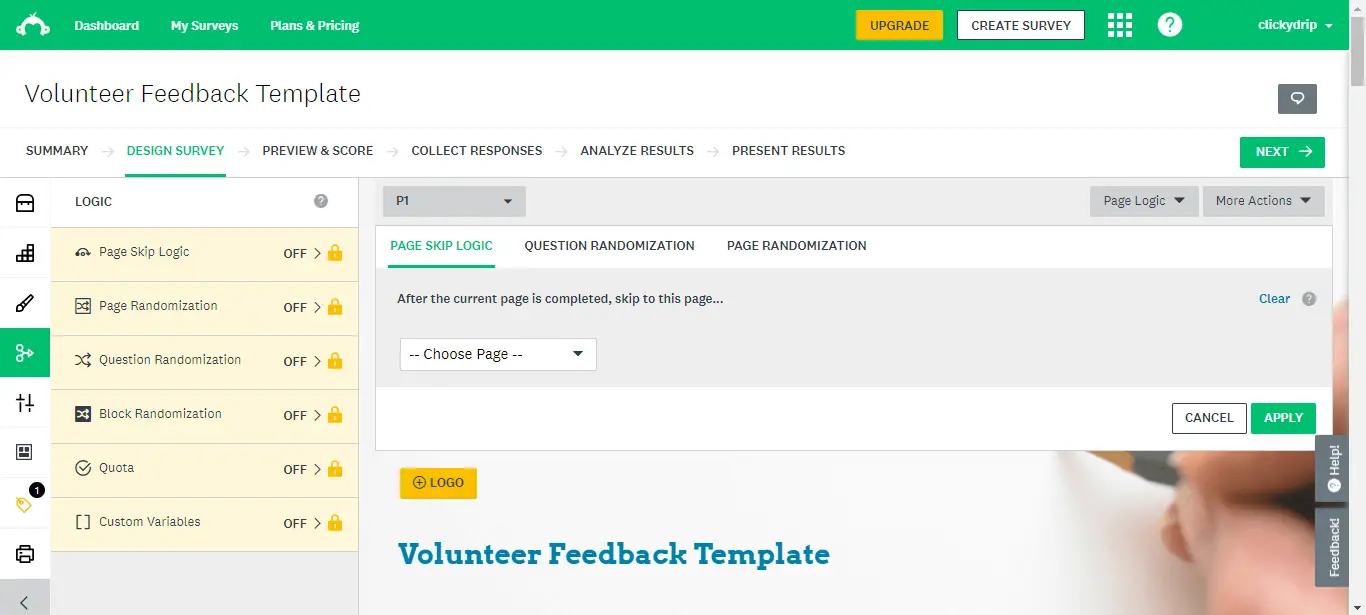 The reporting and analytics is another area where SurveyMonkey doesn't disappoint. You get detailed analytics for each survey you've built as well as a summary of questions and data trends to see how your survey is doing. 
You can also analyze individual responses and export the data into a variety of different formats such as PDF, CSV, and others. However, this is a paid feature which means you won't be able to use it on the free plan. 
Integrations
JotForm Integrations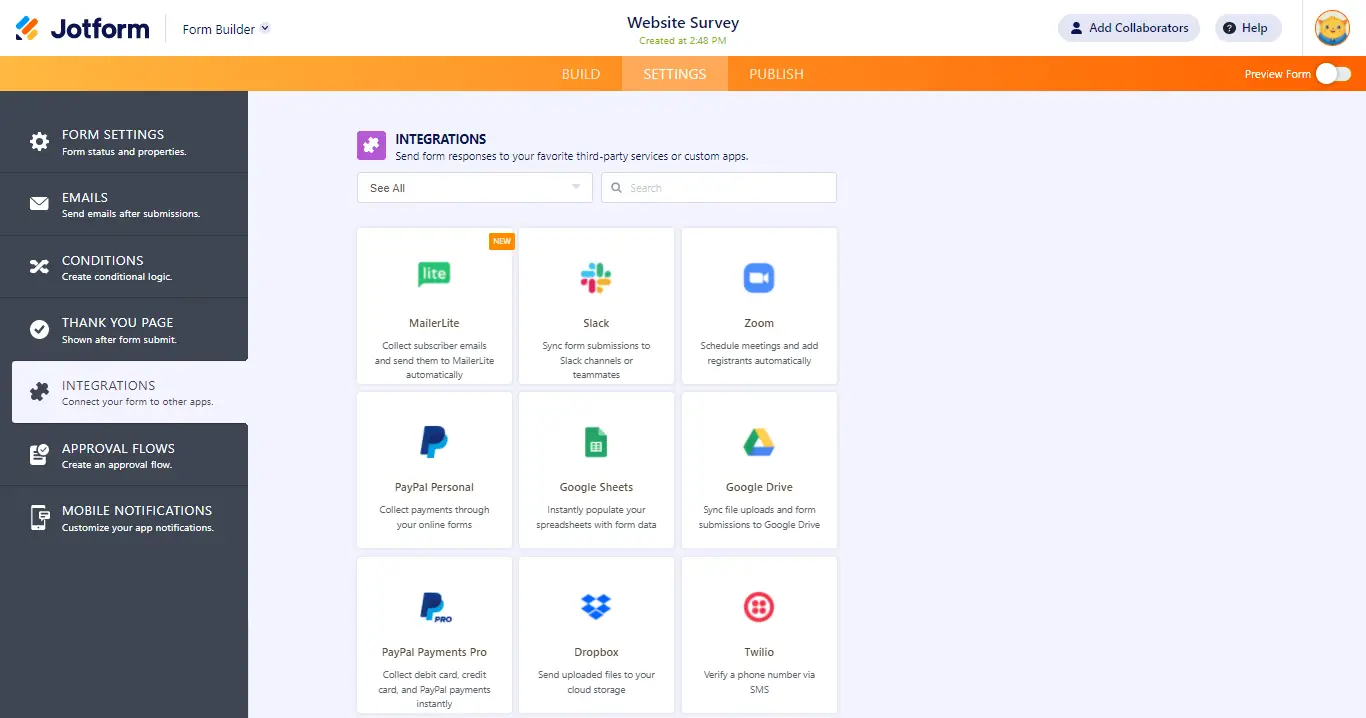 JotForm has more than 100 integrations available. Since the platform has been around since 2006, it's no wonder that they offer a plethora of integrations. These range from accounting, CMS, and CRM platforms to teaching platforms, file sharing and storage, data management platforms, and more. 
You can easily sort through the integrations using different filters and you can also search for integrations. If an integration you want isn't available, you can easily use Zapier or Integromat to connect your JotForm survey to thousands of other tools and apps.
SurveyMonkey Integrations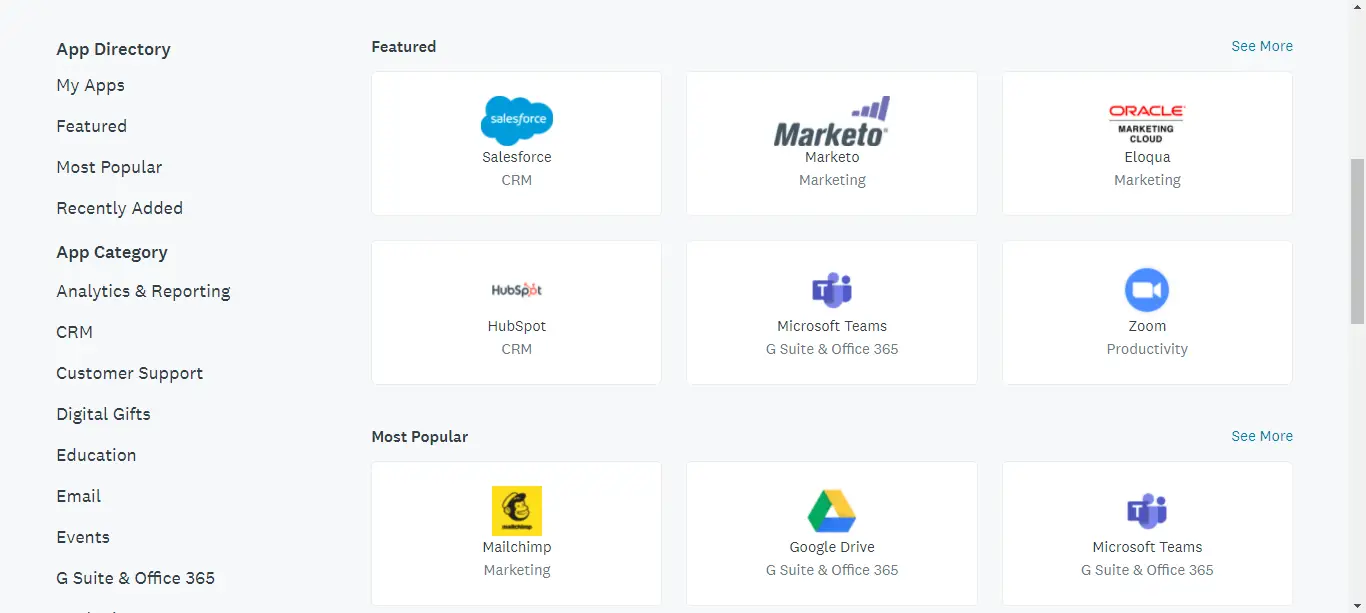 SurveyMonkey, like JotForm, integrates with a number of third-party tools and apps. Some of the integrations include SalesForce, Zoom, HubSpot, Mailchimp, Microsoft Teams, Google Drive, and more.
In addition to that, you can use Zapier, Pabbly, and Automate.io to connect your survey with any other tool you need and create custom automation.
Dashboard Experience and Ease Of Use
JotForm Dashboard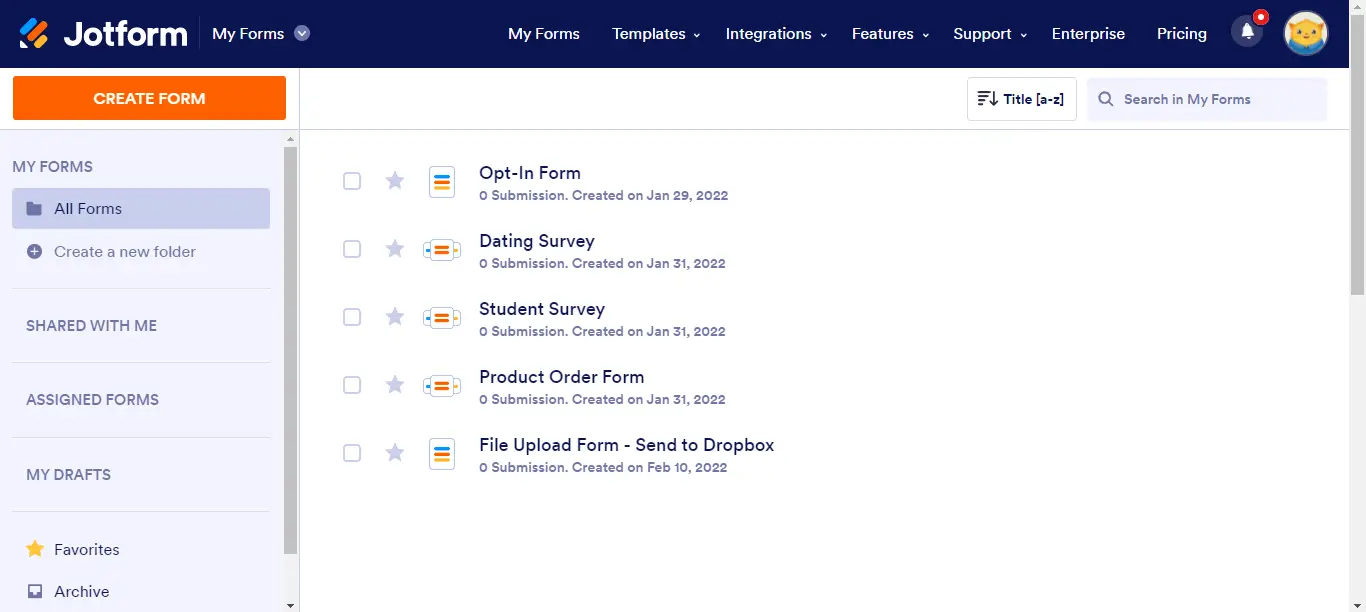 JotForm has a modern and easy-to-use interface. The menu at the top makes it easy to access different features and find what you need. You can also easily see if any forms have been shared with you and access them. 
The interface also makes it easy to star or favorite your surveys and forms. A few helpful tips are scattered throughout the interface but given how straightforward the dashboard is, you'd be hard-pressed to run into difficulties while creating or editing your forms. 
SurveyMonkey Dashboard
SurveyMonkey also has a polished and professional look that makes it easy to find different areas and features of your account. Creating new surveys and customizing templates is a breeze, even if you're a complete beginner.  
In short, both JotForm and SurveyMonkey are easy to use and feature a modern and professional interface. 
Pricing
JotForm offers 5 different pricing tiers that can be paid for on a monthly or yearly basis. Their pricing is comparable to SurveyMonkey and other similar builders. The main difference is that JotForm offers all the features even on the free plan. 
The caveat is that you can have a limited number of forms and form submissions and all your forms will have their branding at the bottom. So, it's a good choice if you're just building your first survey.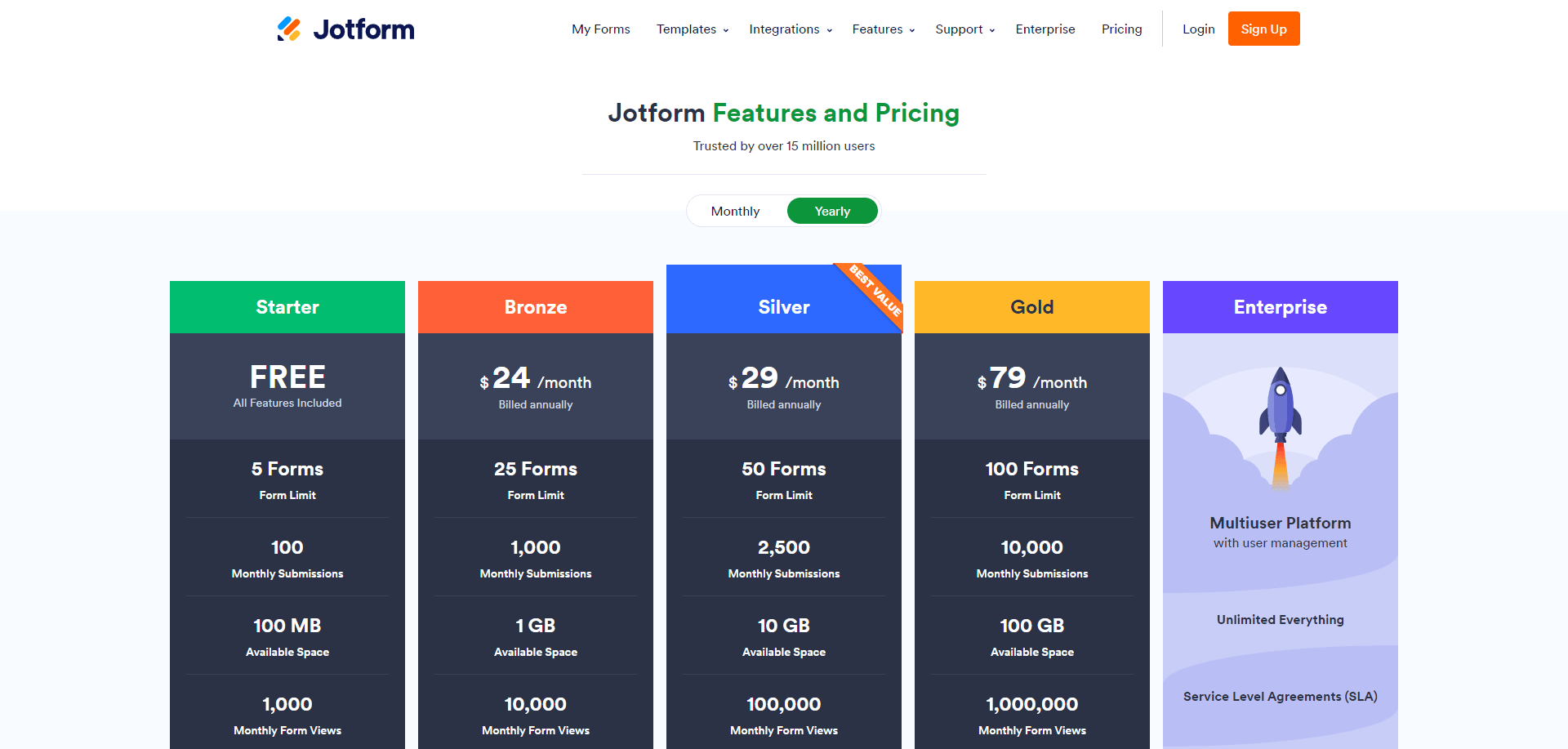 SurveyMonkey offers three different pricing plan levels: Team, Individual, and Enterprise. Each of those levels has several pricing tiers which can be a little overwhelming. 
The main difference between each plan is the number of responses you can collect, support type, and overall features. For example, not all plans support conditional logic and question/answer piping features, and more. 
There's also a free plan for SurveyMonkey but its features are very limited. It's a good way to try out the platform and see for yourself what SurveyMonkey can do before making the jump to a paid plan.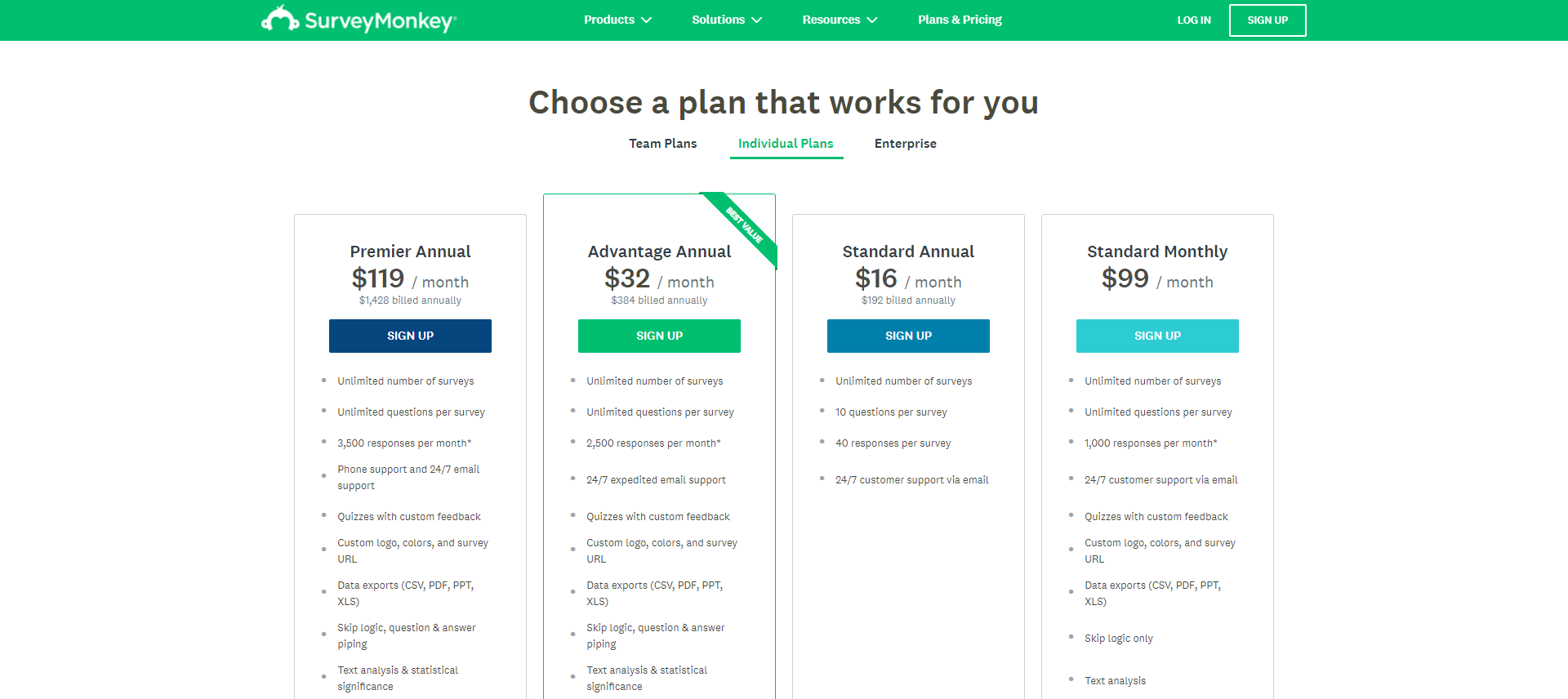 Related: Form Builder Pricing: The Ultimate Comparison Table
Customer Support
JotForm Support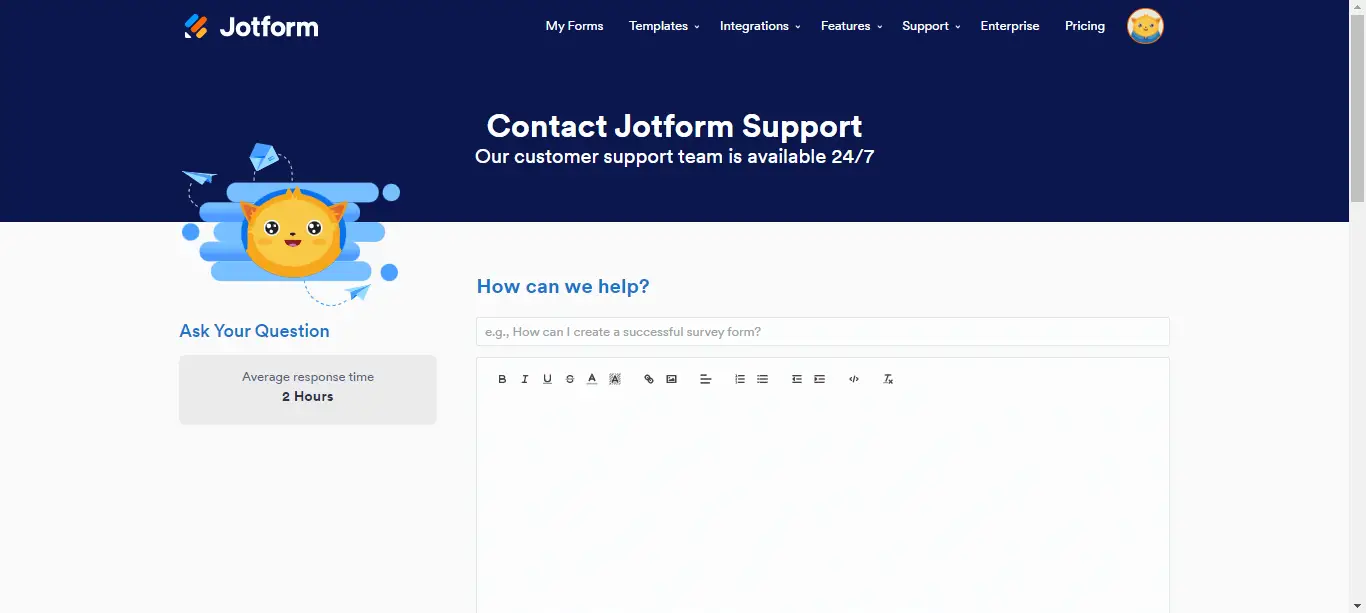 JotForm offers several support options. First of all, you can easily contact them 24/7 by submitting a support form directly through your dashboard. Secondly, if you need an answer immediately, you can browse through their FAQ section or read the user guide. 
The user guide and the FAQ are laid out logically and are easy to browse. You can also search for answers if you don't see your issue listed directly in the support section.
Thirdly, you can chat with other JotForm users through the official forums. Finally, they have a robust blog and video section that walk you through various features. 
SurveyMonkey Support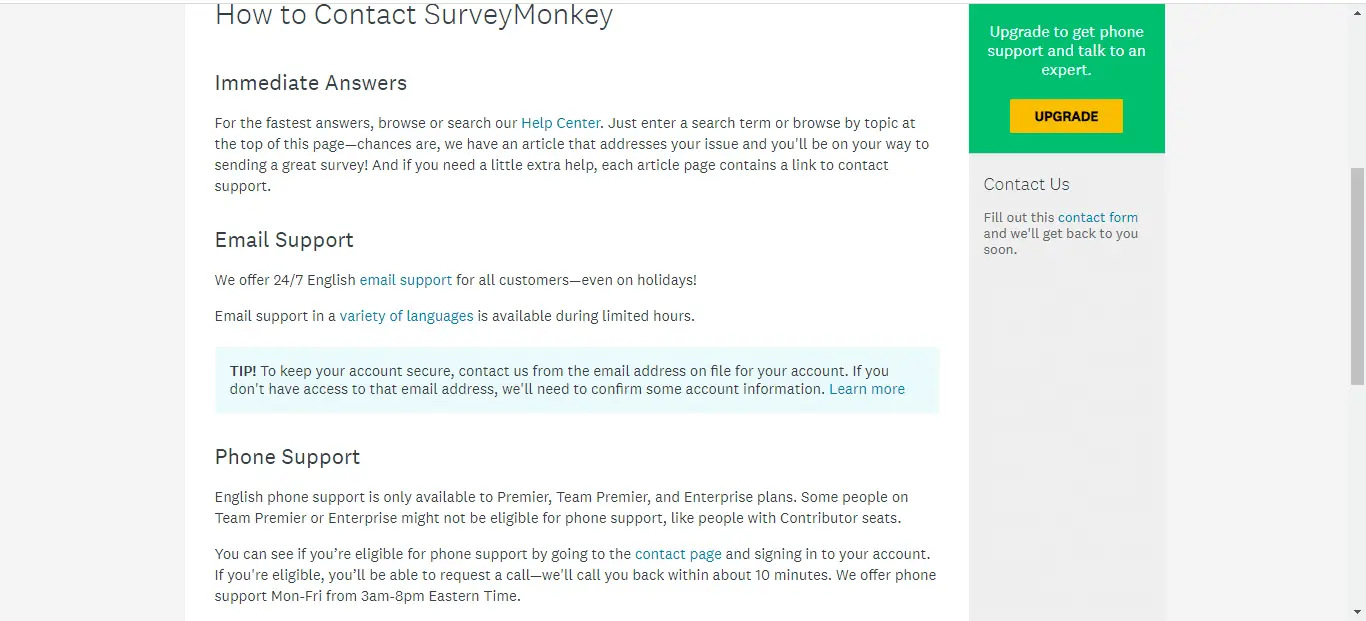 SurveyMonkey offers several support resources as well. For starters, they offer a help bot, email, and phone support. This depends on the plan that you sign up for. 
In addition to that, you'll find a detailed help center section that has dozens of articles and guides on everything related to using SurveyMonkey. 
When To Choose Jotform vs Surveymonkey
When comparing JotForm vs SurveyMonkey, you can tell that both platforms have attractive features that allow you to create powerful surveys. But which platform should you choose? 
If you want to be able to create surveys as well as other form types and need a robust platform with hundreds of integrations, JotForm is an excellent choice.
But if all you need is a robust survey platform, then you can't go wrong with SurveyMonkey. You'll benefit from an intuitive interface and tons of cool features designed to help you create and optimize your surveys.
You can see how other form builders stack up to Jotform in the following comparisons:
You can see how other survey builders stack up to SurveyMonkey in the following comparisons: