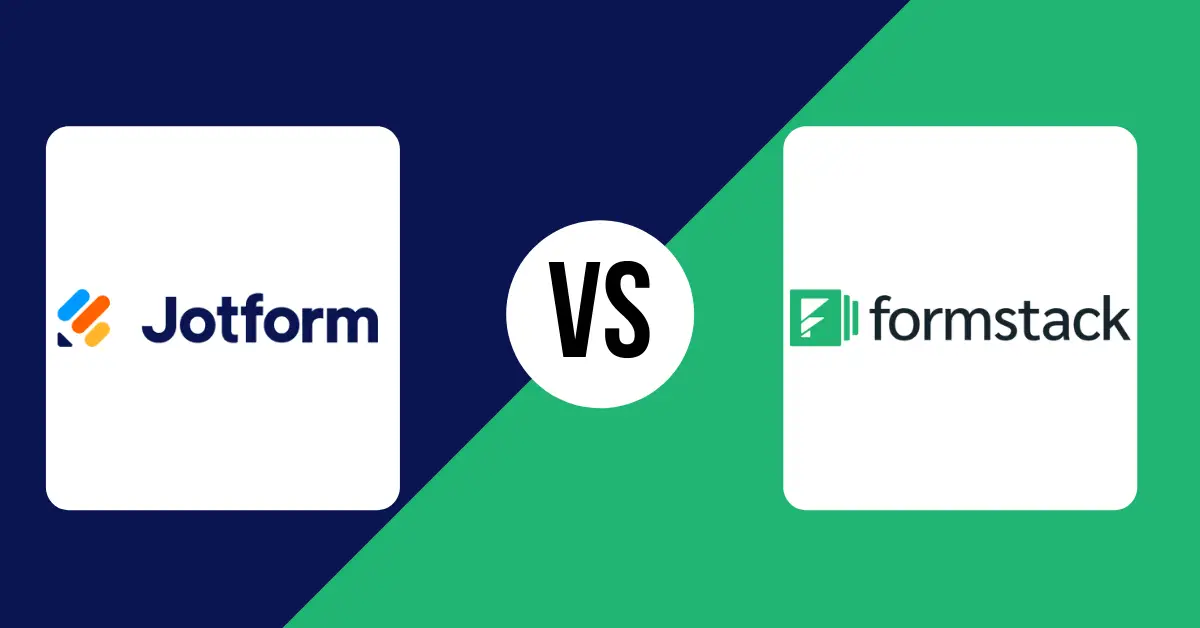 Forms and surveys are key to capturing valuable information from customers, employees, or virtually any other audience.
Fortunately, there are numerous solutions out there that you can take advantage of for building forms. However, while having options is great, narrowing down your selection can be challenging.
Of all the form builders out there, Jotform and Formstack happen to be two of the most highly regarded solutions. 
But what sets these solutions apart.
In this post, we explore the key differences between Jotform vs Formstack in terms of features and capabilities so that you can choose the best option for your organization.
About Jotform and Formstack
Jotform is an online form builder created by Aytekin Tank in 2006. By 2012, Jotform boasted more than 700,000 users worldwide and had published more than 2 million user-created forms. Today, San-Francisco-based Jotform remains a leader in form buildering software, allowing users to build and publish online forms, collect responses directly via email, and much more.
Formstack was also created in 2006, by Ade Olonoh, under the name FormSpring. Soon after, the company launched Formspring.me, an online social question and answer platform that allowed users to ask questions and share answers to learn more about their friends. Since then, the company changed its name to Formstack and has become a leader in workplace productivity as a platform that helps organizations streamline their work through online forms, documents, and signatures.
Templates
Jotform Templates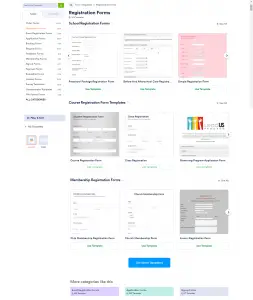 With its vast library of more than 10,000 templates, Jotform purports to offer the largest selection of available online form templates. Jotform offers templates tailored to various industries, including e-commerce, education, healthcare, human resources, IT, marketing, and more.
Within Jotform's massive template gallery, form templates are categorized not only by form type, industry, and profession, making it incredibly easy to find the right for to fit your specific needs.  
The following is a list of just some of the fully-customizable form types that are available through the Jotform gallery:
Order Forms

Registration Forms

Payment Forms

Application Forms

File Upload Forms

Booking Forms

Surveys

Consent Forms

RSVP Forms

Appointment Scheduling Forms

Contact Forms

Questionnaires

Signup Forms

Voting Forms
Formstack Templates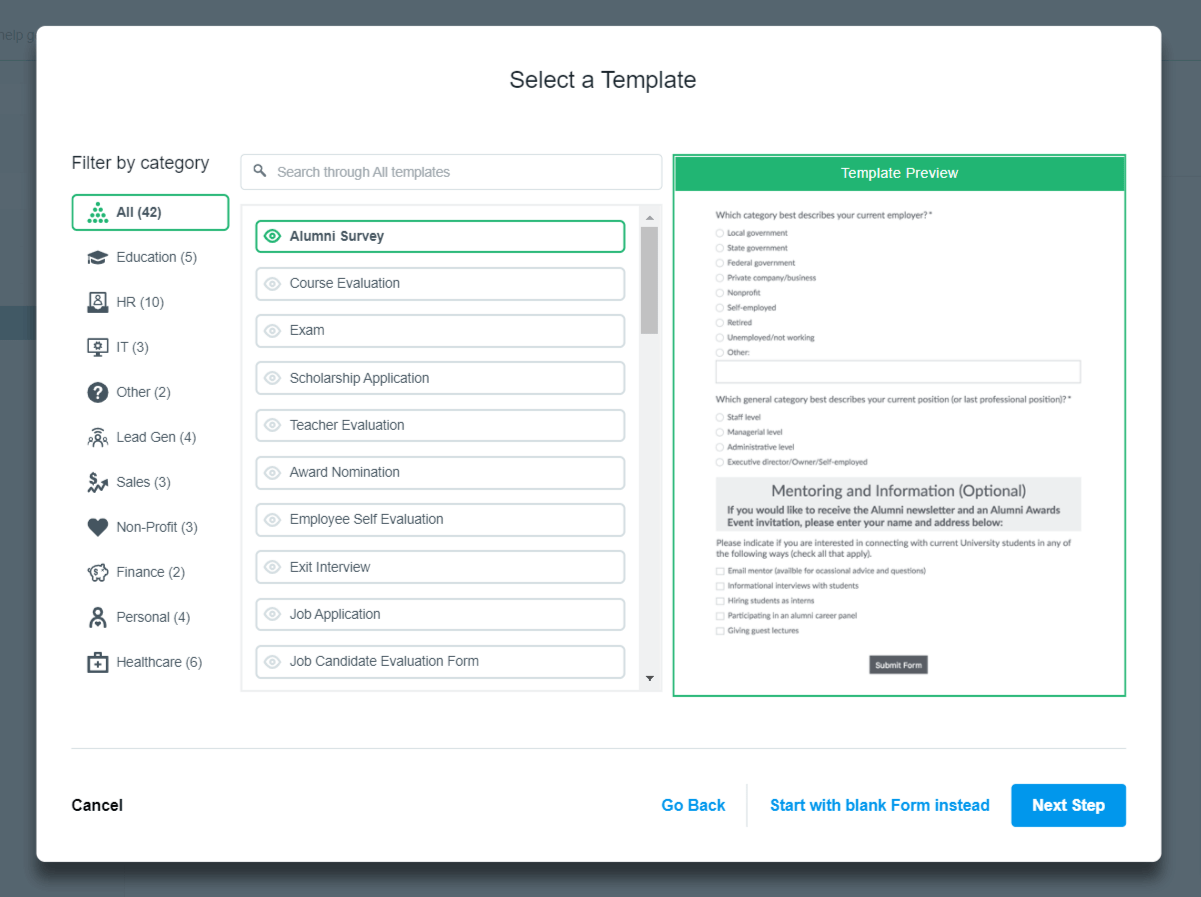 Formstack offers far fewer templates than Jotform, though its templates are fully-customizable.
This form-building software solution provides hundreds of customizable web-based forms and pre-built templates which can be embedded into websites, shared in emails, and used for data collection. Formstack templates can create seamless digital workflows, optimize marketing campaigns, collect payments, manage customer data, and more.
Formstack has customizable templates built for the following industries:
Therapy

Veterinary

College

Finance

Website & Blog

Business Operations

Nonprofit

Marketing

K-12 Education

IT

Human Resources

Home Healthcare

Healthcare

Government

Education

Real Estate & Property Management
Formstack form types include:
Legal

Applications

Patient Forms

Surveys

Registrations

Requests

Payments

Order Forms

Lead Generation

Field Service

Events

Evaluations

Customer Service
Editor
Jotform Editor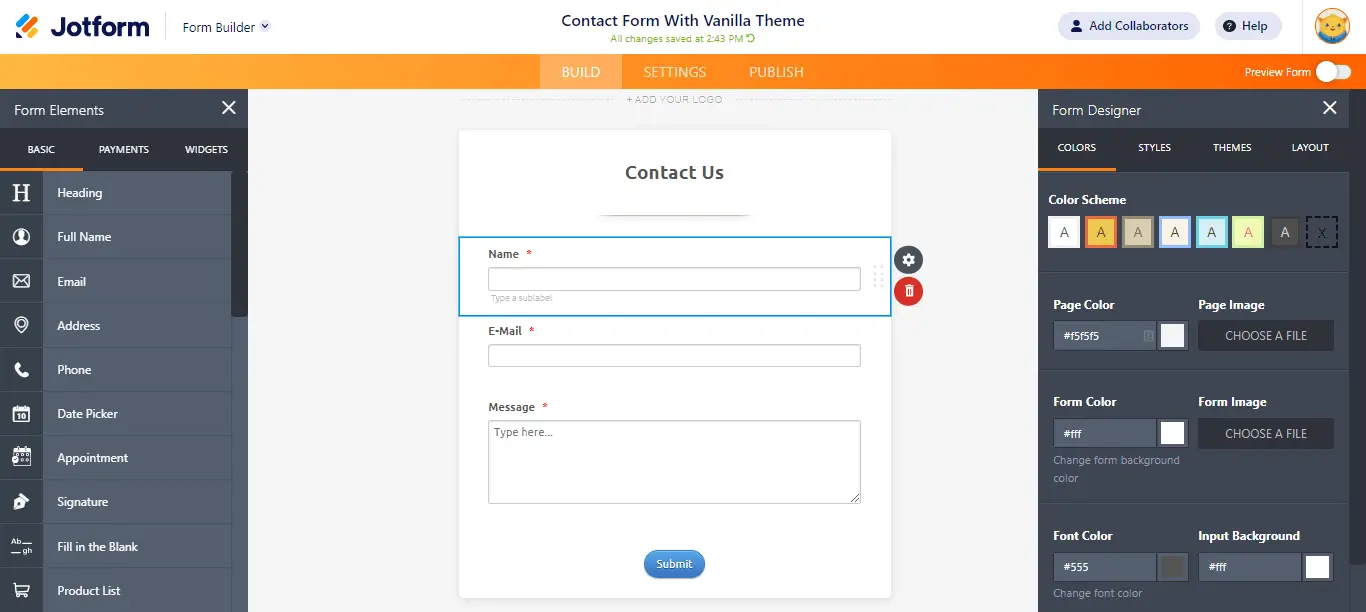 The Jotform editor features a drag-and-drop interface that is clean, clear, and incredibly easy to navigate. From the "designer" tab, users can edit the form's colors, theme, and layout. Users can easily add useful elements to any form, including payment options and third-party widgets for maximum engagement with respondents. Best of all, the addition of any element to a form built in the Jotform editor requires no coding. Users simply need to drag and drop the desired element into the form.  
Whether you use a pre-designed template or create a form from scratch, Jotform's easy-to-use editor makes form building a relative breeze.  
Formstack Editor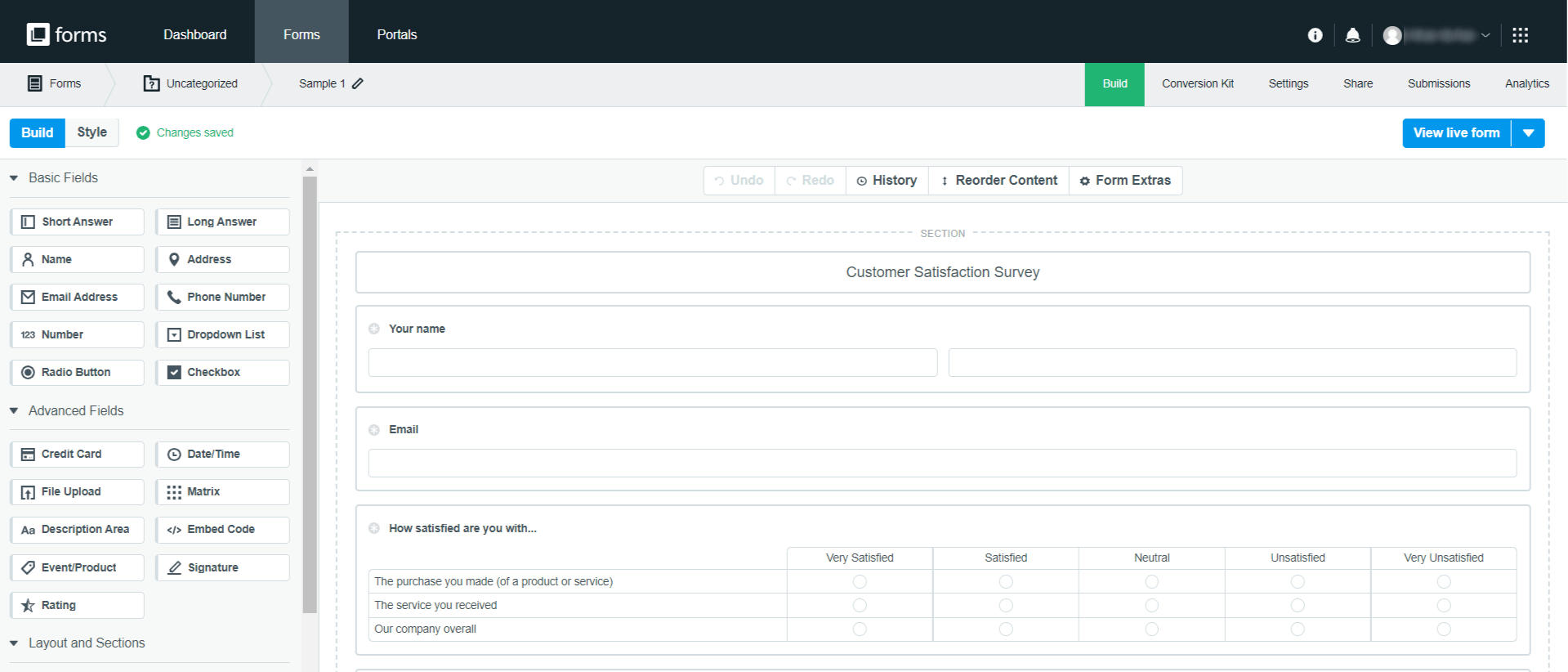 Formstack's editor also features a drag-and-drop interface, though its navigation is not as user-friendly as Jotform. However, once you get the hang of it, Formstack does become easier to use. From the Formstack "style" tab, users can choose from twelve different themes where colors, fonts, and other elements can be fully customized for colors.
Although Formstack's editor clearly labels important form elements and features, the nuts and bolts of creating your form are quite tedious. Compared to Jotform, Formstack's editor is more cumbersome and not as easy to use right out of the box.
Conditional Logic
Jotform Conditional Logic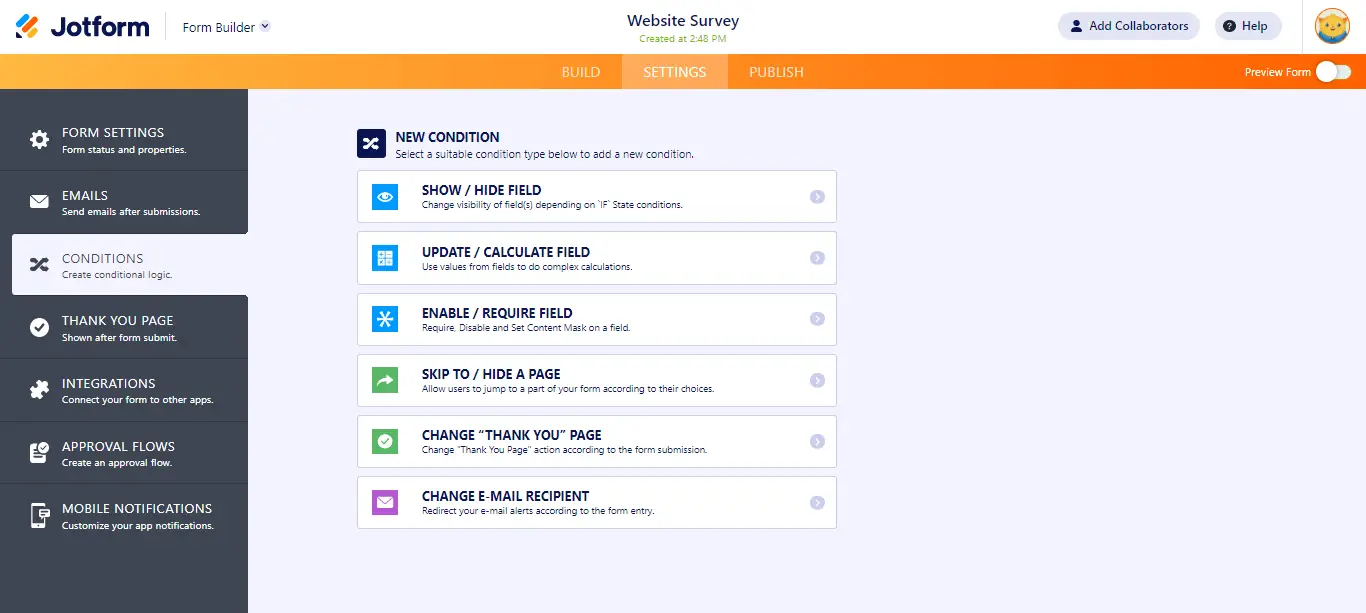 Jotform offers conditional logic features to create "smart forms" that are dynamic and can change based on answers to specific questions utilizing those conditional logic features. Smart forms from Jotform allow users to segment questions to different respondents and perform complex calculations.
Some of Jotform conditional logic uses include:
The ability to send emails to different email addresses according to respondent answers

The ability to show additional questions based on a respondent's specific answers

The ability to skip pages in multipage surveys depending on a respondent's specific answers

The ability to offer various PDF downloads depending on a respondent's choice

The ability to show different messages based on a respondent's answers to a quiz

The ability to password protect forms

The ability to hide the submit button until the respondent makes a particular choice
Formstack Conditional Logic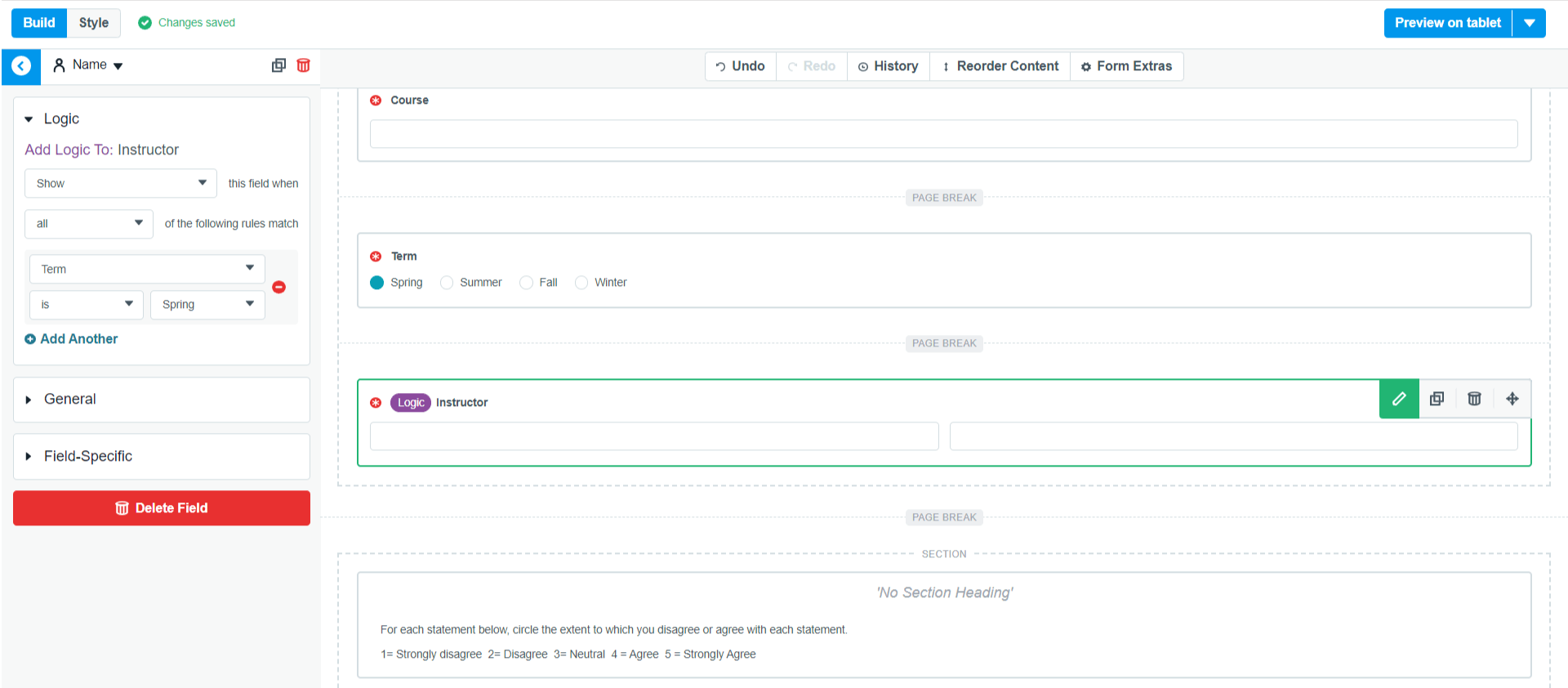 Formstack's conditional logic feature allows users to easily construct versatile forms which can automatically show or hide questions on forms based on the respondent's previous answers. Using this feature, users can create a more personalized experience by allowing respondents to skip irrelevant form questions.
In addition to using conditional logic for specific form fields, the feature can be applied to entire sections of forms, making it perfect for long forms with multiple sections that don't apply to every respondent.
Some reasons why Formstack's conditional logic feature is useful include:
Conditional logic can streamline online forms by making them more digestible and less confusing by hiding irrelevant fields.

Conditional logic can help keep forms from seeming too daunting by hiding fields until they are needed, keeping the forms seemingly short and less overwhelming, particularly for those with short attention spans.

Conditional logic allows for a more customized form experience, allowing users to display custom messages based on a respondent's interaction with the form, making the experience more engaging and personal.
Reporting and Analytics
Jotform Reporting and Analytics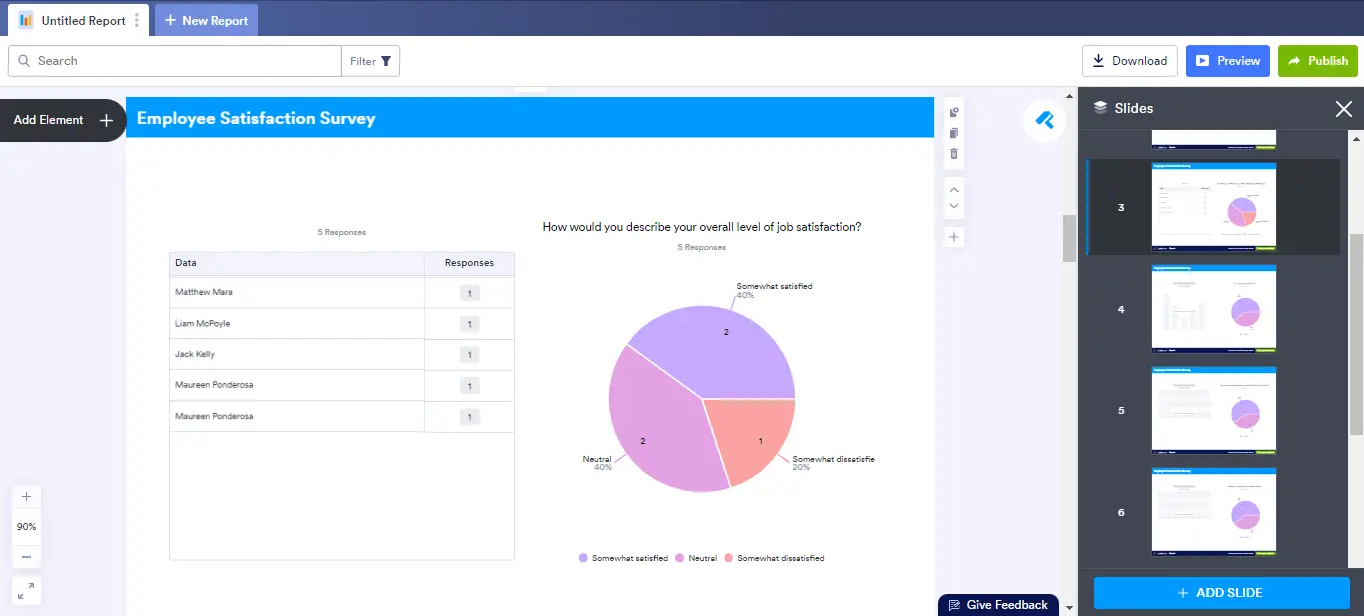 Jotform's form analytics feature allows users to analyze data, improve responses, understand customer behavior, and boost conversion rates.
With Jotform, users can see how many people viewed their forms, how many responded, and exactly where those individuals came from. Inside the Jotform traffic panel, a user can take a deep dive into where the visitors came from and which platforms or devices they used to get there.
All form data can be viewed visually in a clear timeline dashboard that can be filtered to include crucial data sets such as respondent operating systems, browsers, locations, devices, traffic sources, etc. This data is gathered to analyze respondent behavior and statistics over time. Jotform's reporting and analytics feature also helps users see and better understand conversion rates based on their forms.
Formstack Reporting and Analytics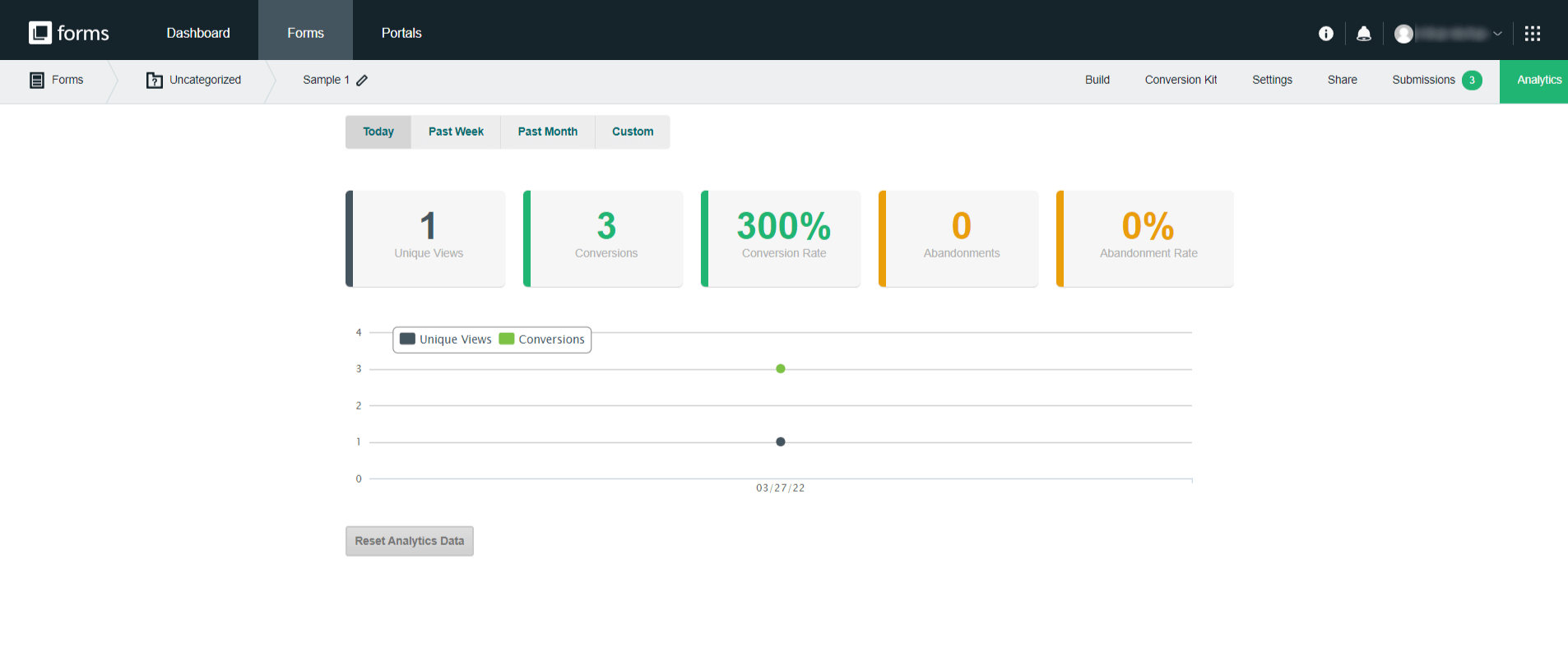 Formstack users can also easily access important stats and gather actionable insights from the data collected through their form analytics. Formstack allows users to view all kinds of metrics, including the number of unique views, conversion rates, and abandonment rates, to determine overall campaign effectiveness.
With Formstack's powerful reporting tools, users can use the data to create clean, visual presentations that can be shared with managers, team members, and other stakeholders.
Collaboration Features
Jotform Collaboration Features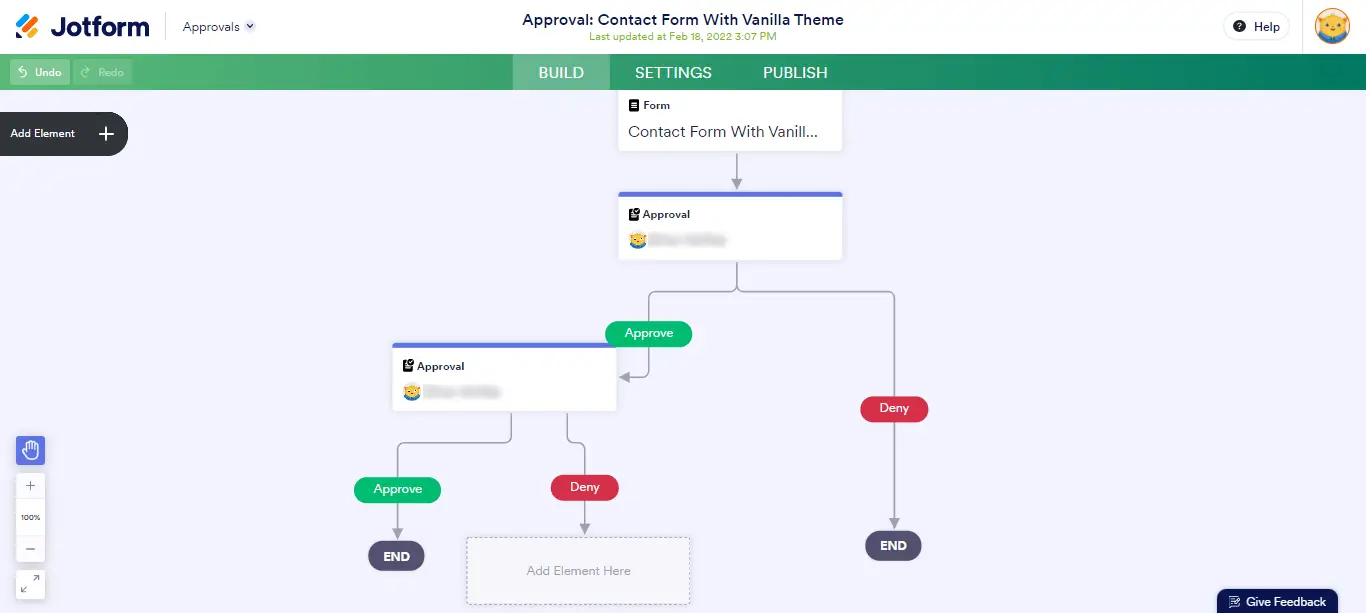 Jotform's built-in collaboration tools allow users to share forms and submissions with clients and colleagues using the form-building solution.
With these Jetform collaboration tools, users can add collaborators or sub-users and send shareable links, embed forms into webpages, generate PDF reports, create QR codes, and do so much more, all from the easy to use Jotform dashboard.
Jotform's collaboration tool offers a real-time, seamless experience where multiple individuals can work simultaneously on the same form. Every change that is made is automatically uploaded, so the most current version is always being edited.
Formstack Collaboration Features
Formstack's "workflow" feature combines the intuitive online form builder with enhanced workflow automation tools, allowing users to manage company processes easily. With Formstack workflow, multiple stakeholders can review, edit, and complete forms allowing anyone to track progress.
Other benefits of the Formstack workflow add-on include:
The ability to create automated workflows to help quickly complete repetitive tasks

The ability to eliminate errors by assigning workflow sections to different users

The ability to track the progress of user workflows to enhance efficiency

The ability to use resources effectively, accomplish more tasks, and keep important initiatives on track
Integrations
Jotform Integrations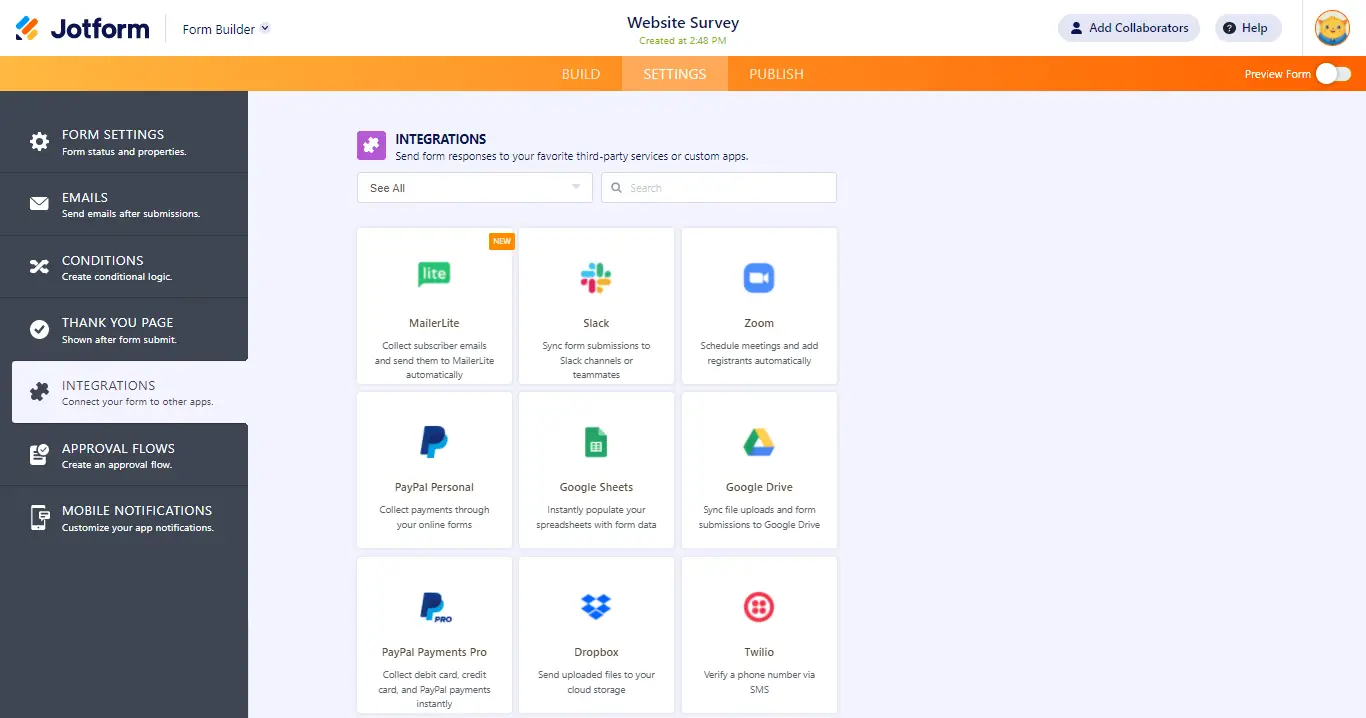 Jotform offers integration with more than 200 popular third-party software tools for analytics and reporting, automation, blogging, CMS, CRM, communication, data management, emailing, file sharing & storage, GEO & mapping, payment processing, social media, and more.
Jotform offers integration with popular software solutions that are commonly associated with industries like e-commerce, web design & development, and marketing & sales.
Some of the popular software solutions that Jotform integrates with include Asana, ActiveCampaign, Square, Paypal, Google products, Airtable, Constant Contact, Mailchimp, Stripe, OneDrive, and Zoom.
Formstack Integrations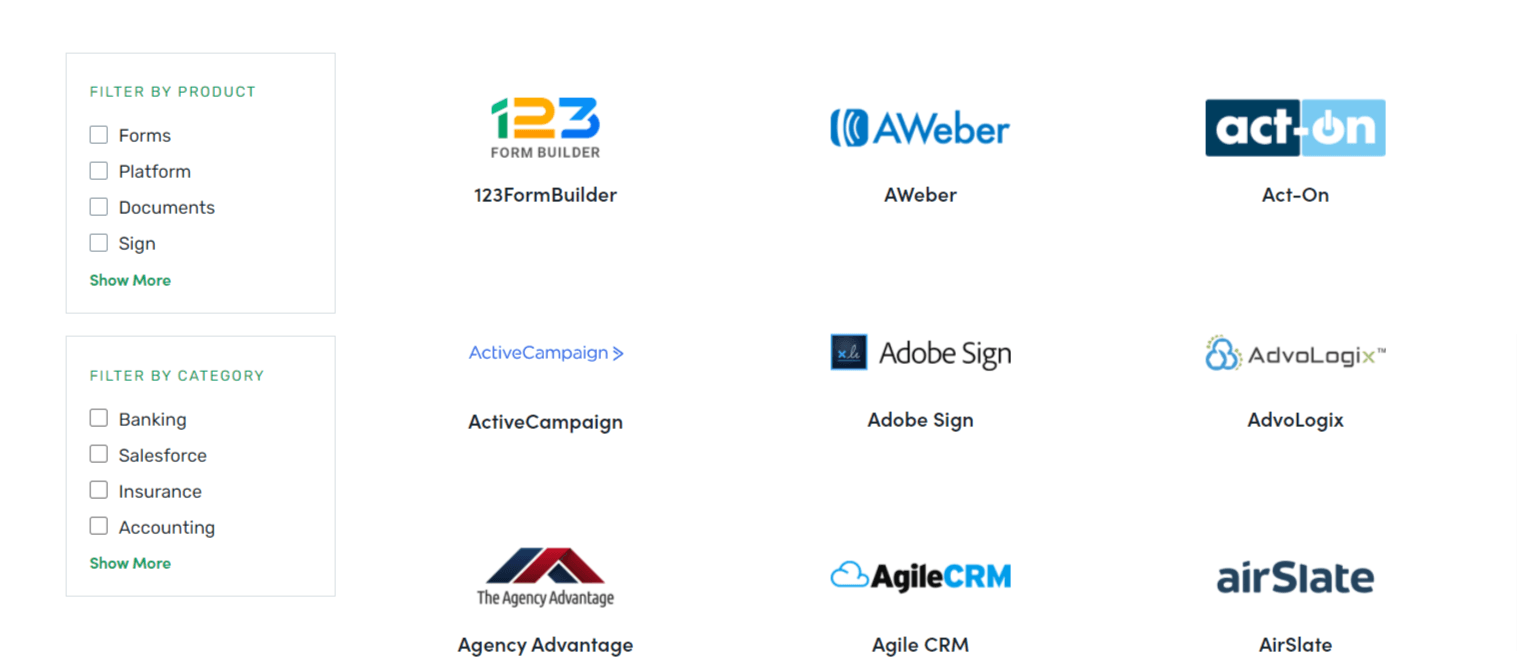 Formstack allows users to integrate the form building software with more than 260 third-party software solutions to connect their forms, documents, and signatures to the common technologies used to streamline processes and increase productivity. Formstack form integrations include CRM, payment, email, CMS, and document software solutions, to name a few.
Some of the most popular software solutions that Formstack integrates with include Salesforce, Amazon S3, Paypal, Stripe, HubSpot, Airtable, Microsoft products, and Mailchimp.
Dashboard Experience and Ease of Use
Jotform Dashboard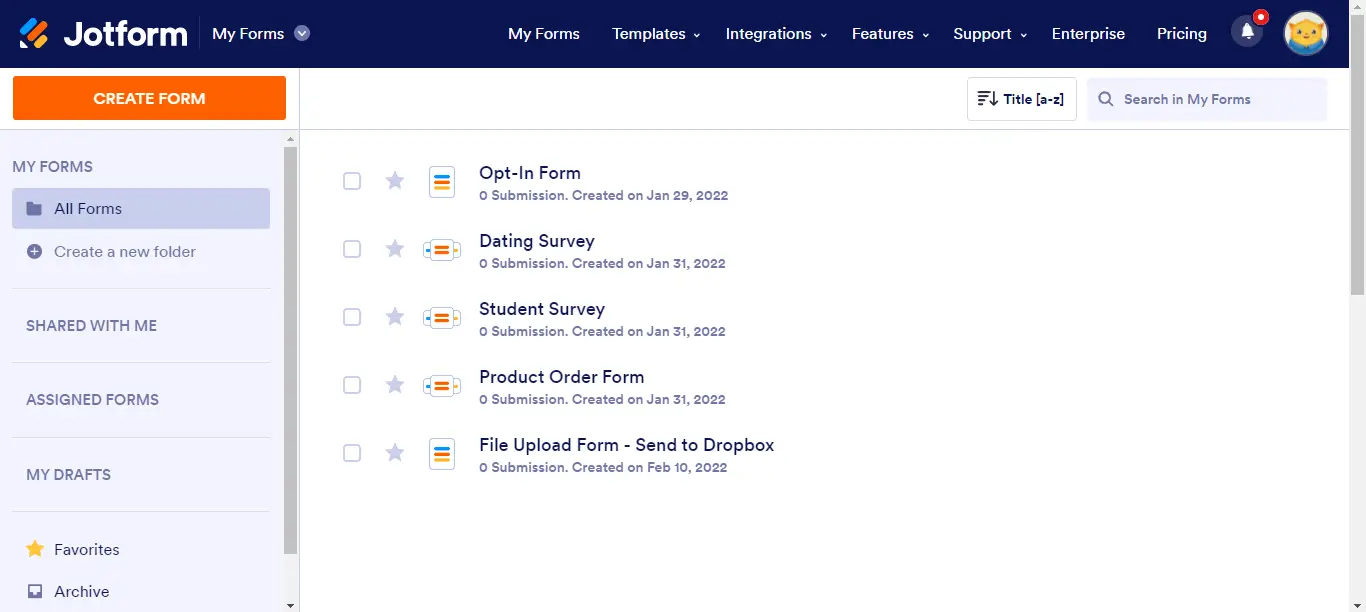 When it comes to the dashboard experience and ease of use, Jotform is perhaps one of the easiest form builders on the market. Its well-designed interface uses a simple drag-and-drop editor to rearrange form fields.
While editing, users can toggle the form preview slider and see how the form will look once it is complete. Users can add useful form elements, including widgets, payment options, and form fields, using the "add form elements" icon, which opens an easily-navigable sidebar from which to add these elements.
When users are inside the dashboard, they will be able to utilize helpful links related to the dashboard features, which link to useful articles in the Jotform help center associated with those features. These articles open in a separate tab so that users can explore the feature without ever leaving their form.
Regardless of whether you use one of Jotform's great templates or create a form from scratch, all of the options needed to create a successful online form are available in the dashboard's sidebars which are incredibly easy to navigate. Jotform's intuitive interface is easy to learn, with built-in help guides to move you through the process more easily, even for those who have never created a form before.
Formstack Dashboard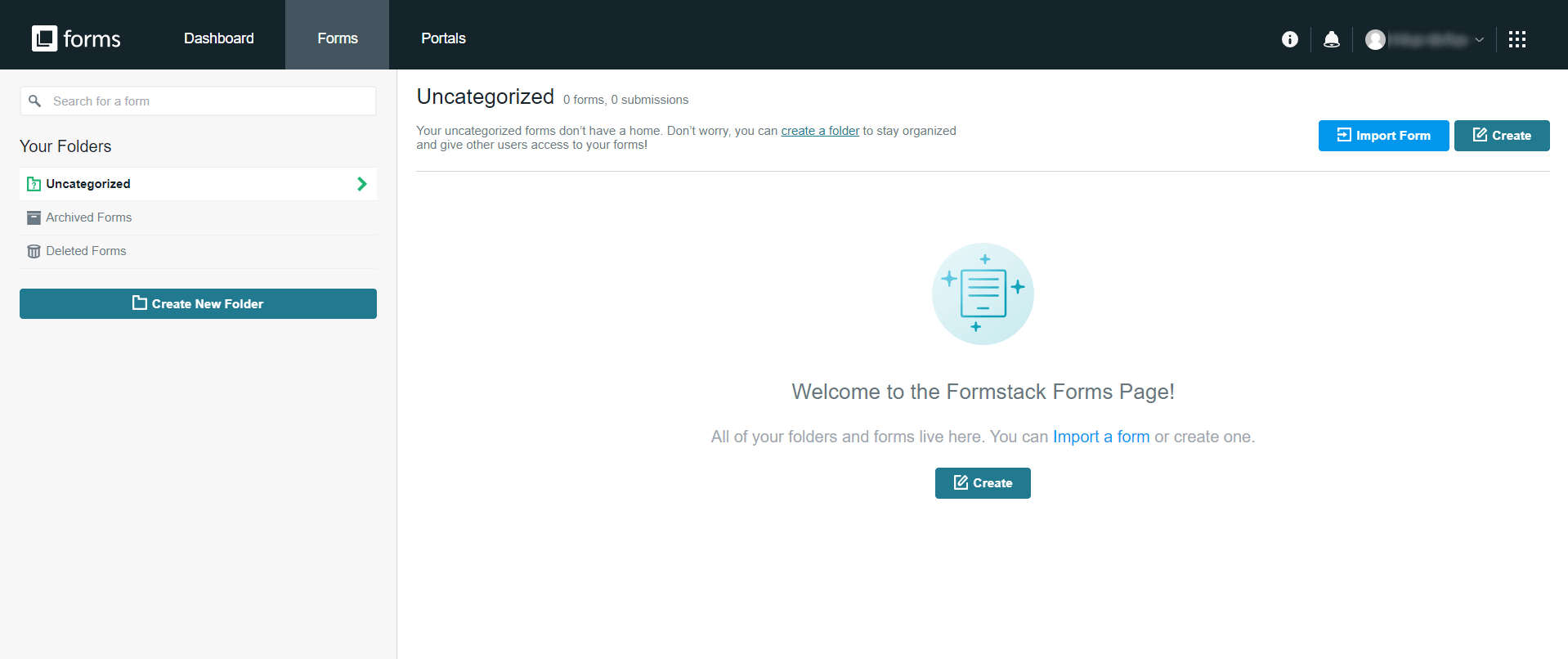 While not as easy to use as Jotform, by any stretch, Formstack is still relatively easy to navigate, especially after you've gotten the hang of using the popular form-building software. Like Jotform, Formstack uses a drag-and-drop editor to create forms, and it also has a "reorder content" button that simplifies the process of rearranging fields. Finding some of the less popular form templates in the Formstack library tends to be difficult.
The first time a user opens Formstack, they are offered a brief tour of the form builder, which points out essential features and allows them to get started on building their first Formstack form more easily. That is definitely a helpful feature in strengthening the Formstack dashboard experience.  
Pricing
Jotform offers three paid plan options and a forever free plan. All Jotform plans, including the free plan, allow unlimited collaboration on form creation. Only the Jotform Gold plan is unlimited in terms of form and payment limits, and the plans are more expensive than comparable plans on the market. However, Jotform includes features you won't find anywhere else, including many desirable integrations, form widgets, and payment processing options.
With its free plan, Jotform users are only permitted to receive 100 form submissions monthly, are limited to creating only five forms, and form views are limited to 1000 per month. However, the free plan allows for unlimited widget and application integrations and the ability to receive up to ten payments per month.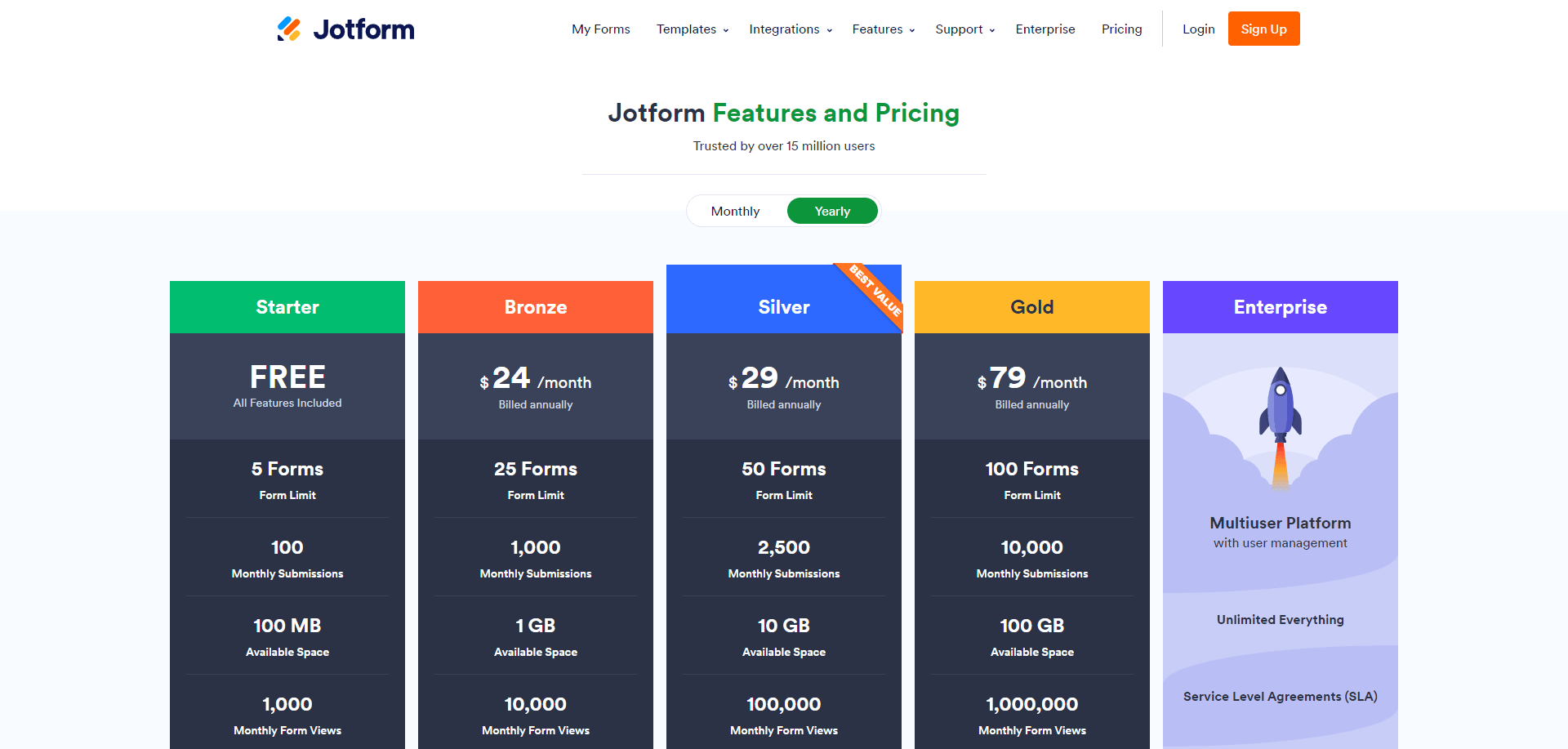 There is no free plan available from Formstack. However, the company does allow a 14-day free trial to test out the form-building software. If you decide that Formstack is right for you, you can choose from four pricing levels or an enterprise solution customized to your unique needs. Lower-tier plans from Formstack are relatively affordable but come with some serious limitations.
The Formstack Bronze plan, for example, does not permit custom branding, limits users to a maximum of five forms, and limits storage of responses to 700 per form. For HubSpot integration, users must upgrade to the Formstack Gold Plan, and for Salesforce integration, they must shell out for the Formstack Platinum plan. All of Formstack's paid plans limit the number of forms that a user is permitted to create.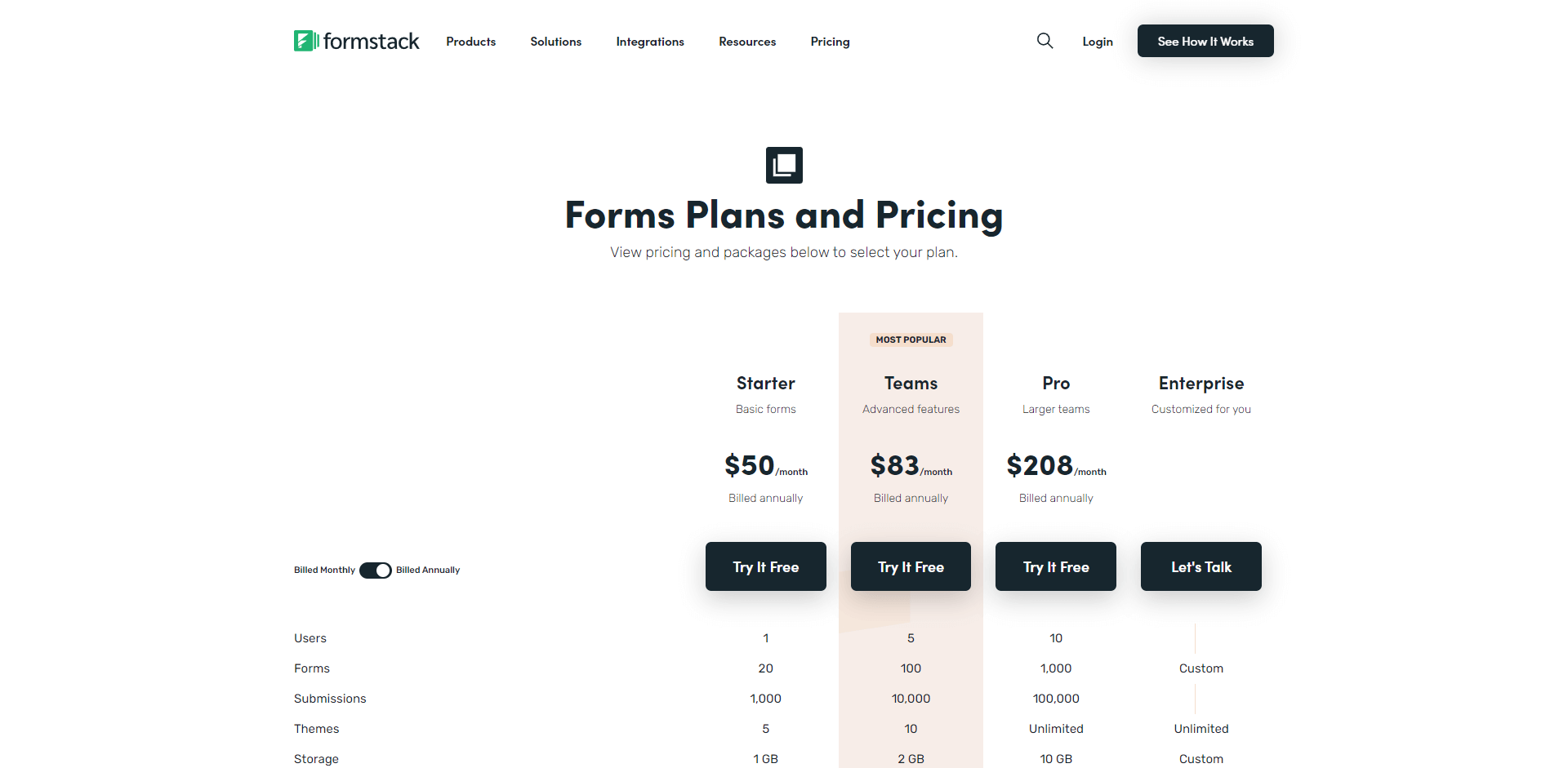 Related: Form Builder Pricing: The Ultimate Comparison Table
Customer Support
Jotform Support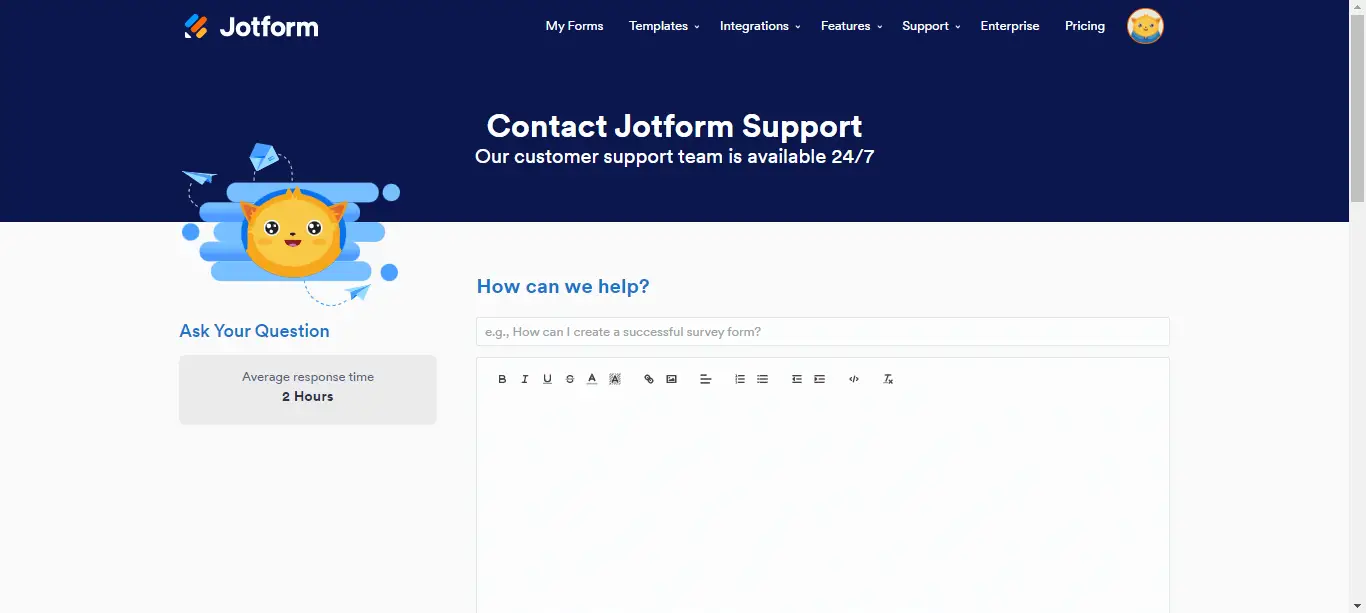 Jotform offers 24/7 support through an online form that allows users to upload form screenshots. Although help is available to all users regardless of pricing plan (including free users), and the turn-around is pretty fast, no live chat or phone support is available.
Formstack Support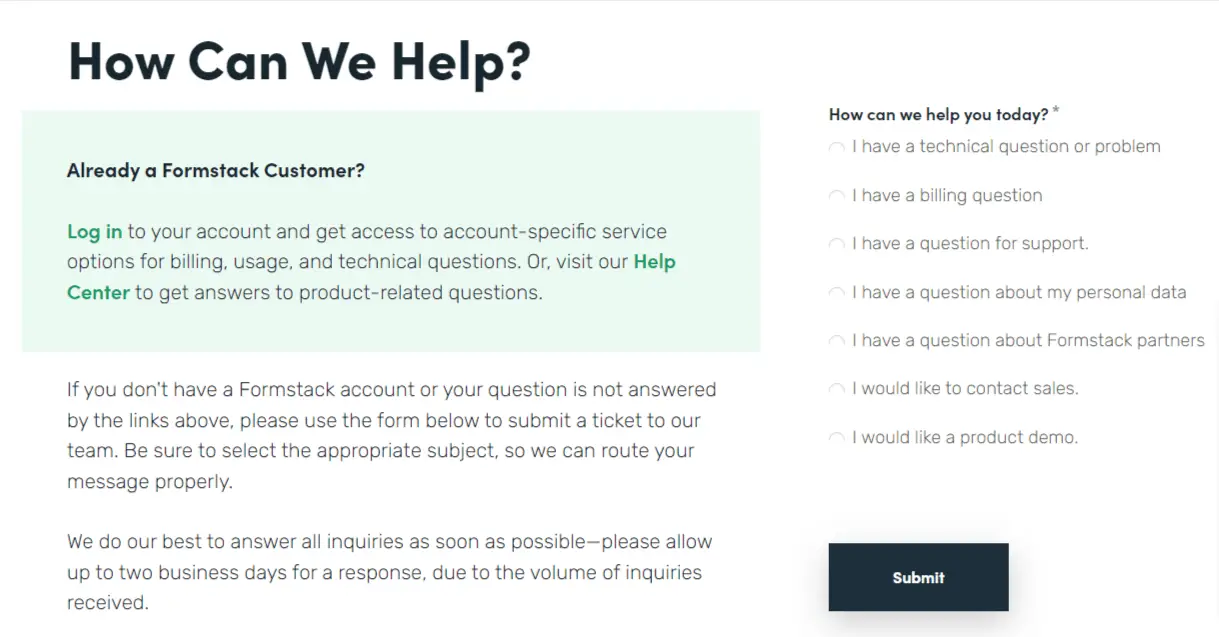 Formstack also offers support through an online help form and has a significant knowledge base which is quite helpful. Although Formstack has a community forum, more questions are there than answers. Direct contact with Forstack customer support using the online support form can take up to two business days. There are no live chat or phone support options available.
When to Choose Jotform vs Formstack
It can be rather difficult to choose between Jotform vs Formstack when comparing the two form-building software solutions since both have their strengths and weaknesses.
Jotform gives users more bang for their buck at the end of the day. Although its free version is limited, it allows users to take as much time as possible to determine whether it is the right software solution to suit their individual needs. The ability to use third-party integrations with the free version is also a significant bonus, especially when you consider the fact that Formstack only allows certain integrations to higher-tier paid users.
While Jotform and Formstack are relatively easy to use, Jotform has the edge over its competitor, with a smooth and clean user interface that is pretty much unrivaled throughout the market.
Ultimately, individual users will need to decide which form-building software solution will best fit their unique needs and their business needs. 
You can see how other form builders stack up to Jotform in the following comparisons:
You can see how Formstack alternatives stack up in the following comparisons: