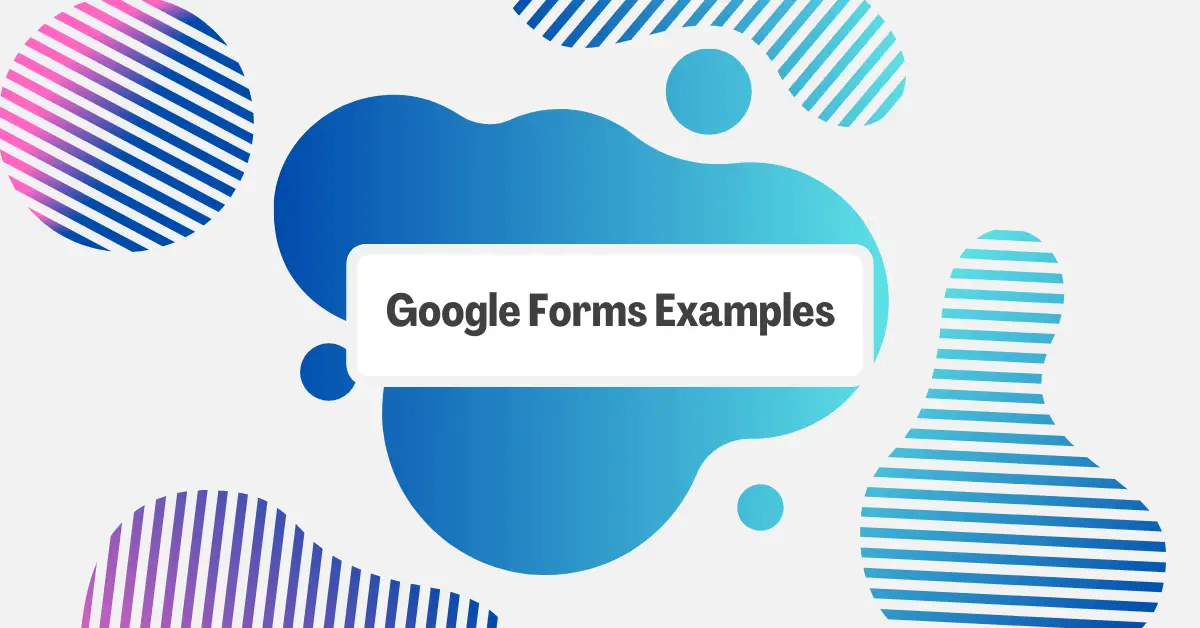 Google Forms may very well be the most widely used free form builder. 
However, the platform's popularity shouldn't come as a surprise. After all, Google Forms is incredibly easy to use, and because it's part of the Google Workspace, it's very easy to build forms and collaborate with other users who use Google applications. 
Regardless, if you are just getting started with Google Forms, chances are that you want to see some examples of Google Forms for inspiration.
Google Forms Examples for Business
There are a wide variety of Google forms use cases for business, from internal forms to better understand how well training programs work to customer satisfaction surveys and more.
Here are some great examples that you can use for your business. As long as you have a Google account, you can make a copy of each form and then edit it to better suit what you do.
Customer Satisfaction Survey

This customer satisfaction survey can be a critical tool for any business trying to improve its offerings and increase customer retention.

What we love about the survey is that it's simple. It takes a customer less than 2 minutes to fill out, which is extremely important as most people won't want to spend much time on surveys if they can avoid it.
Take a look at the questions to get a solid idea of what you can do with this survey. You basically just need to adjust them to your business and your offerings.
Consider taking off the "does not apply" option for some of the questions. This option makes the results less useful because you might get a lot of submissions that are essentially worthless.
Training Survey

For many businesses, training is a critical part of the onboarding process. Putting together systems and processes that facilitate training can take the burden of training off the trainer and allow management to step back from training somewhat and let it run itself.
But not all training programs are created equal, and new training programs are going to be subject to hiccups. That's why we like this training survey. It focuses on open-ended questions to get qualitative data that can then be used to improve the training programs.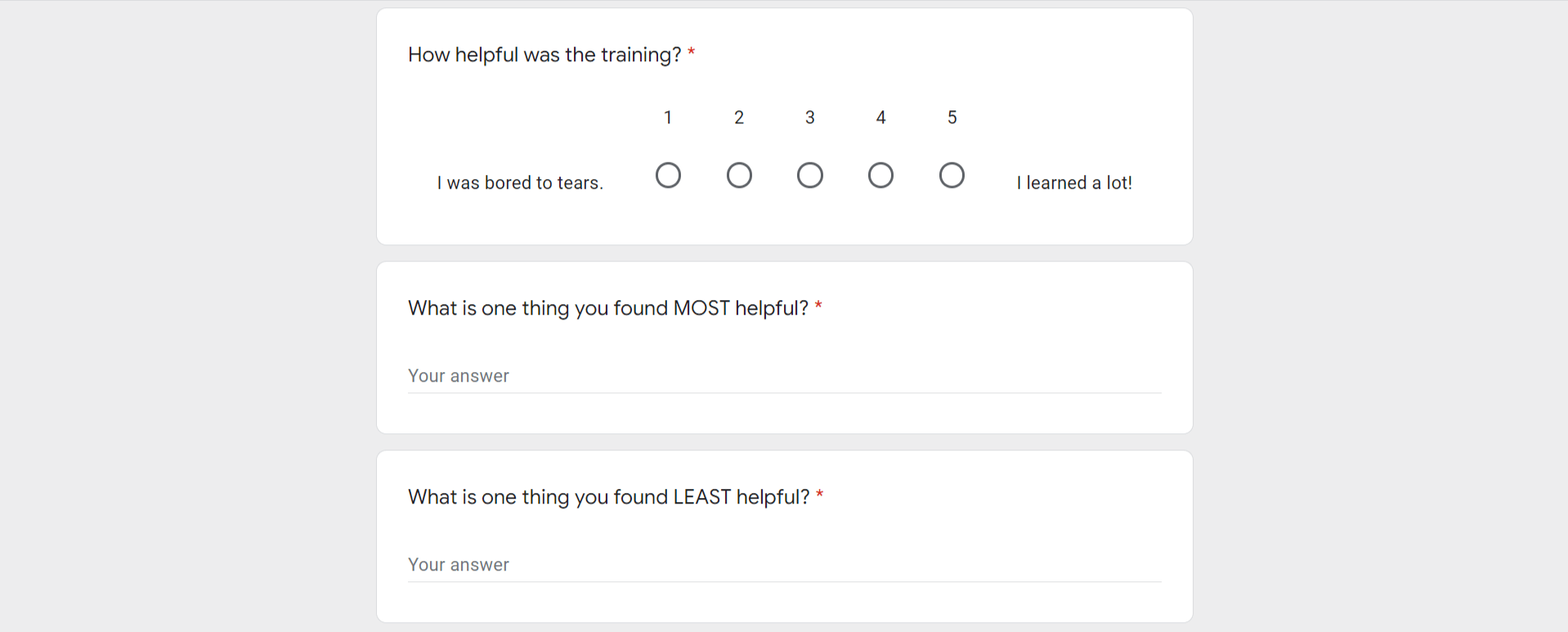 If you're able to get enough entries in the form, you'll have enough data points to potentially figure out ways to improve your training.
Consider asking more questions that have numeric answers rather than open-ended questions. This can help you get more quantitative data so that you can get a wider picture of how well the training is working.
Post-Travel Survey

The post-travel survey is another great example of a form that a business can use to find out how a customer's experience was with a product.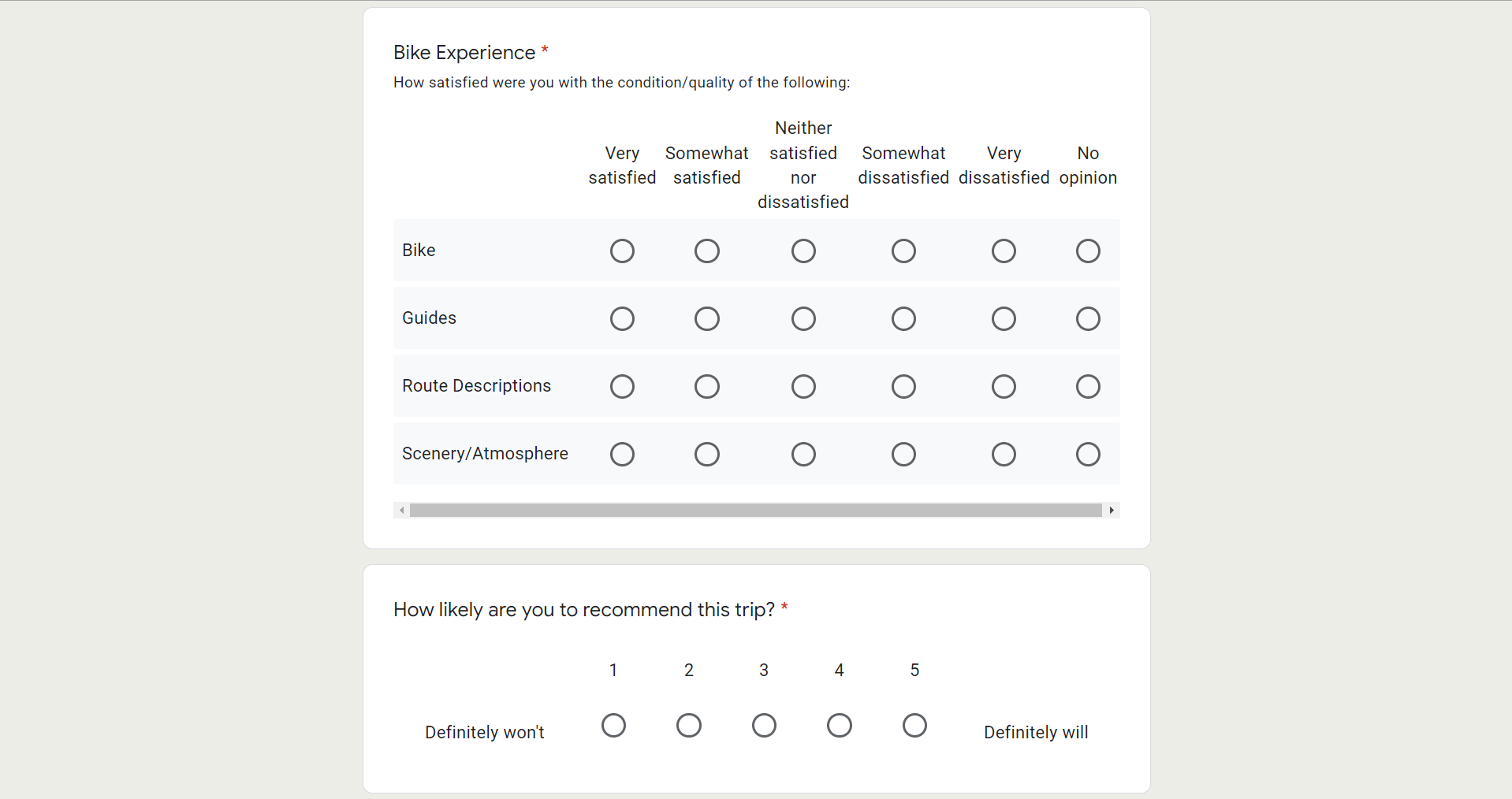 One problem with the survey is that it doesn't have any open-ended questions, so respondents aren't going to be able to give the business deep insights into what they thought and felt. Adding open-ended questions will make the survey take longer, but it also increases the value of the survey to the business.
Data Maturity Tool Feedback Form

This form is a good example of a multi-page form, which is rare on this list. Multi-page forms work well in terms of completion rates because users aren't overwhelmed by all the questions at once.

Instead, they get to slowly make their way through the form, answering questions in groups of 2-5. If all these questions were included in the form on a single page, you'd likely have a lower completion rate.
Thankfully, all Google Forms have the ability to have multiple pages, so try experimenting with different forms on this list to see how you can use multiple pages to create a more effective form.
Google Forms Examples for Education
In the modern age, students are going to be more comfortable taking quizzes online, and teachers are going to benefit more from quizzes that automate results, saving them time.
Here are some great examples of Google Forms that teachers and students can use.
Transportation Survey
This quick little survey can be expanded for a variety of use cases. It's something that can be used by the administration to gather information from staff and teachers, or it can be sent to parents to get their feedback on just about anything you can think of.

What this form does well is to have example answers for every question. This helps respondents to easily understand what's expected of them for each question.
Frustration with trying to figure out what questions are specifically asking can lead to form dropoff. Use this survey and its example text to ask questions and clearly define what an answer will look like.
TED-Ed Student Survey

Students are notoriously hard to get to fill out forms, so you have to work hard to position the form in such a way as to make it as easy and fast as possible for them to finish.
However, just setting up the form isn't sufficient. You need to explain in the beginning what is expected of the students and, critically, how long filling out the form is going to take.
This form has a great intro in which it explains what the program will get out of the student filling out the survey and reassures them that it won't take much time. What it could do better is to tell the students what they will get out of filling in the form, which in this case is specifics about how their answers will help improve the program.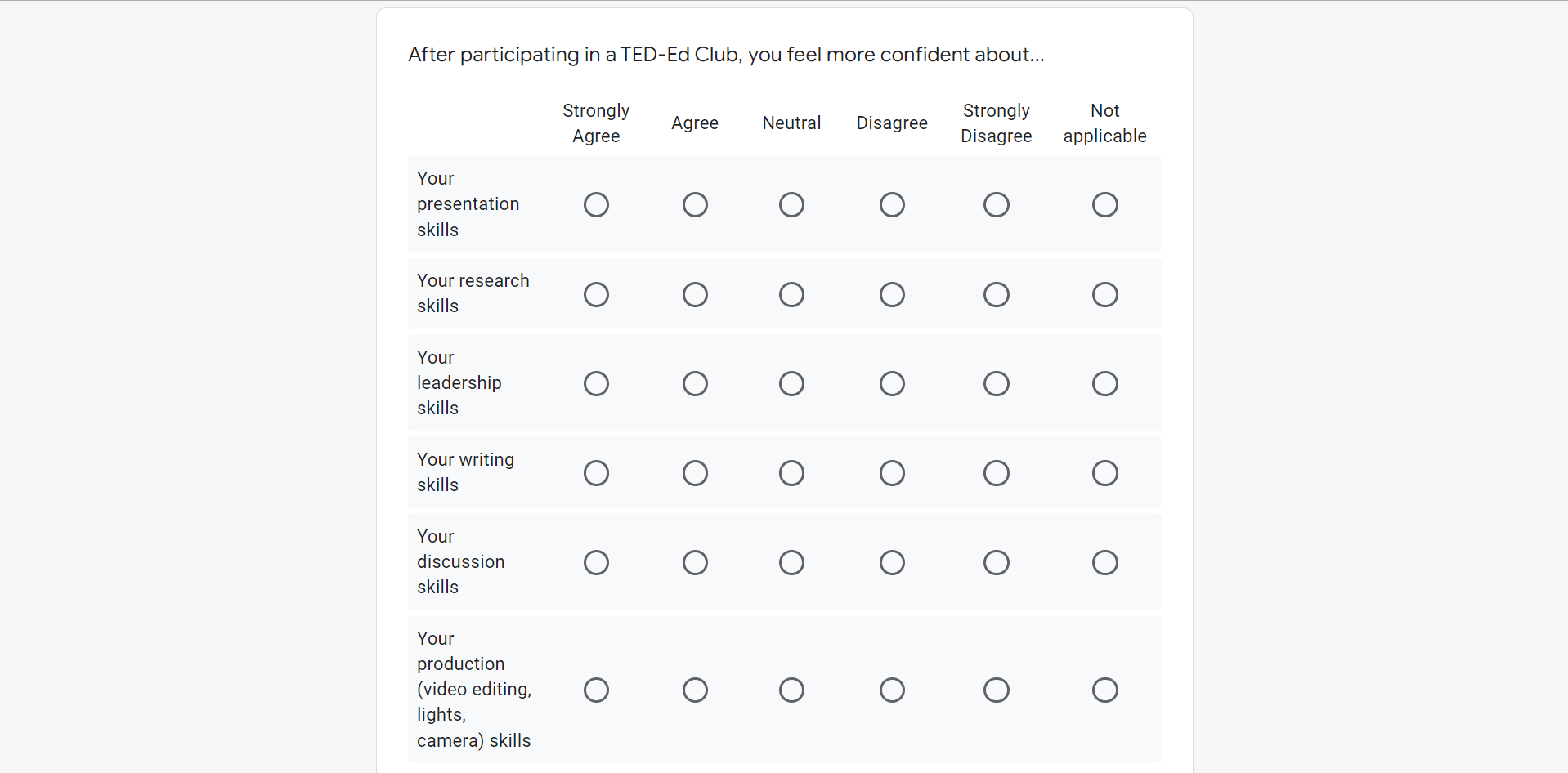 Registration Form

When it comes to school, registration for a wide variety of events is just a part of life. Getting parents' permission with physical permission slips being sent home just doesn't make sense in the modern world. Kids can lose them, parents can forget them, and it's just easier for everyone to use a form.

This registration form can be altered to be about any type of registration you can imagine for any kind of event. It allows you to quickly get the critical information you need, and by adding a section for permission, you'll have that permission safely stored online rather than on paper in a drawer.
Shakespeare Quiz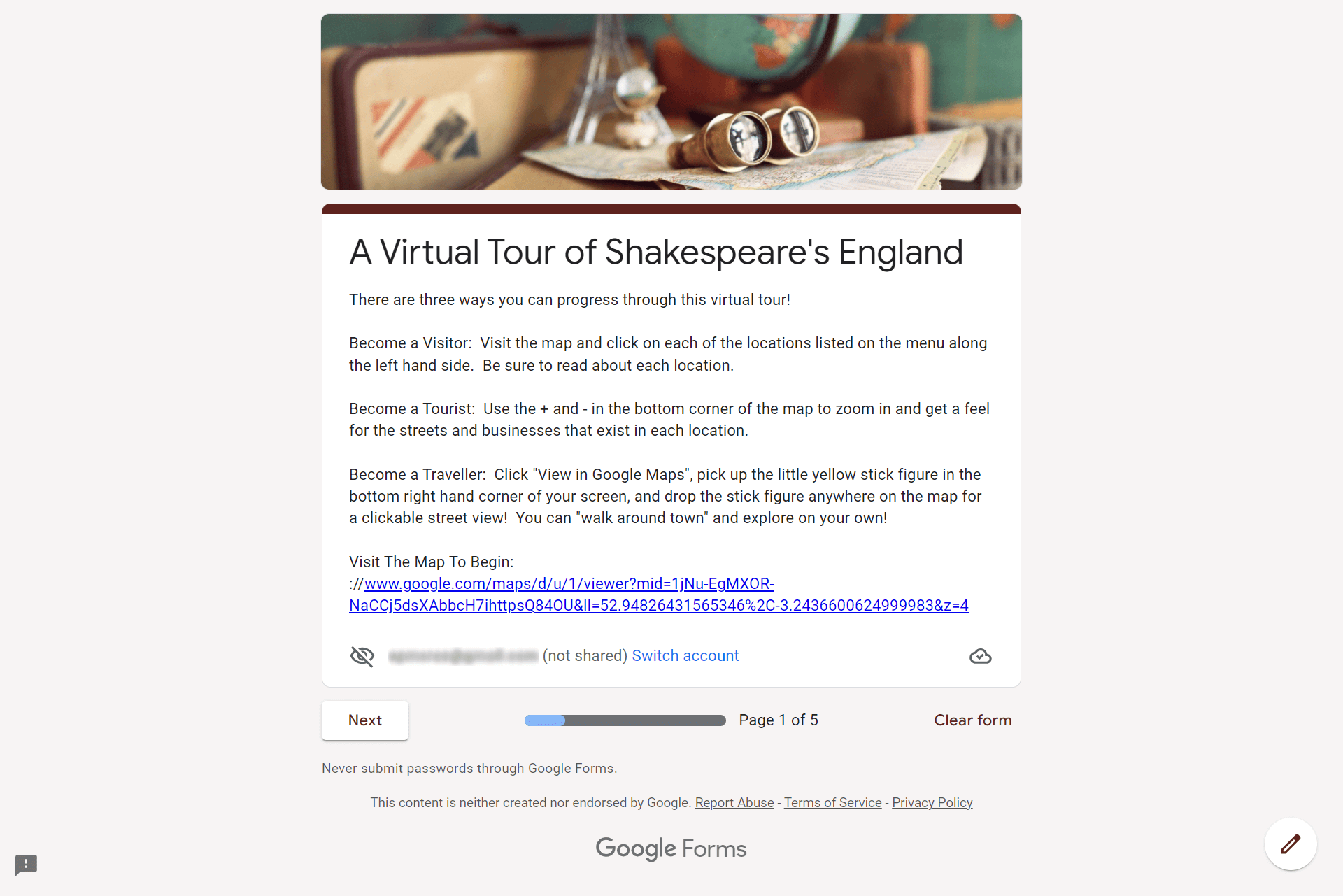 Google Forms is a powerful platform for generating quizzes. As a result, there are dozens of Google Forms quiz examples out there that you can use for inspiration. 
This is one of those quizzes that you just can't help but love. It leads you on a journey through the life of Shakespeare with tons of resources provided that contain the information needed to answer the questions that follow.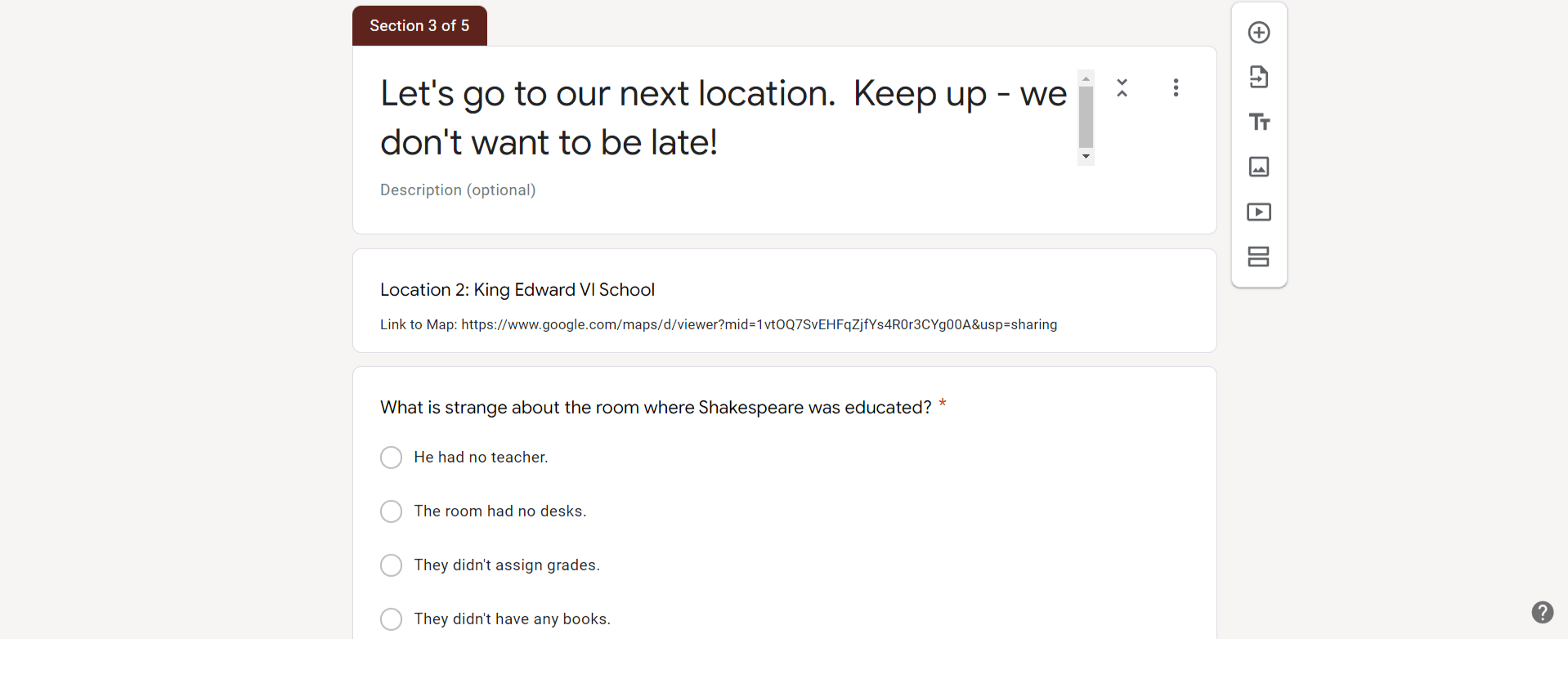 Unfortunately, this quiz is going to be pretty hard to edit beyond what's already set up because it's so complex and contains so much information. However, if you're teaching Shakespeare, it's an incredible resource.
Integer Rules Review Quizzes
Making up quizzes can take up an enormous amount of time for any teacher, not to mention how long it can take to grade them. By using Google Forms, teachers can put together quizzes that will automatically be graded and can easily be updated.
These integer rules quizzes can be easily used by any math teacher teaching in middle school to review integer rules with their students. You can make a copy; add, subtract, or edit questions; and get results fast.
The quiz can also be used as a template for any type of quiz in a classroom.
Cereal Survey
This is a fun little survey that you can give to students to learn more about what they like. It's a great way to get to know your students and then share the data so that they can see how graphs and charts work. It's an especially useful tool for a math class.

Logo & Mascot Survey
This survey is something that a university student or teacher might use (or even an administration) to gather more data on how a school logo is viewed.
In this survey, a controversial logo is shown, and then perceptions about the logo are gathered. You could easily replace the logo with your own.
Google Forms Survey Examples
Surveys can be used in a wide variety of ways and for many different types of institutions, including businesses, nonprofits, and schools.
Here are some of our favorite examples of Google Forms surveys.
Music Album Survey

This survey is particularly interesting because its aim is to understand the emotions and inward experiences of the survey takers. Focused on the survey taker's experience with a musical album, it asks questions that can be used by the artist to better understand the emotional impact of their work so that they can improve it in future albums.

For bands and other musical organizations, consider adding more open-ended questions that can give you a better idea of the qualitative experiences of the individuals. That someone cried when hearing the album is interesting, but why they cried can provide much deeper insight into what the artist did correctly.
Menu Training Series Survey
This survey is perfect for figuring out how well a particular product works. In the survey, there are some particularly useful questions that can help the brand to improve training and ensure their training series is more valuable.

For example, they have questions that ask what was simple/what was complicated about the series. This helps identify bottlenecks that would keep users from completing the series while also identifying where they did well when creating the survey.
Marine Protected Areas Questionnaire

This scientific questionnaire is designed to gather opinions from the general public about a specific subject. This form is great for gathering general attitudes from a specific population, and it can be tweaked to gather attitude information from any population.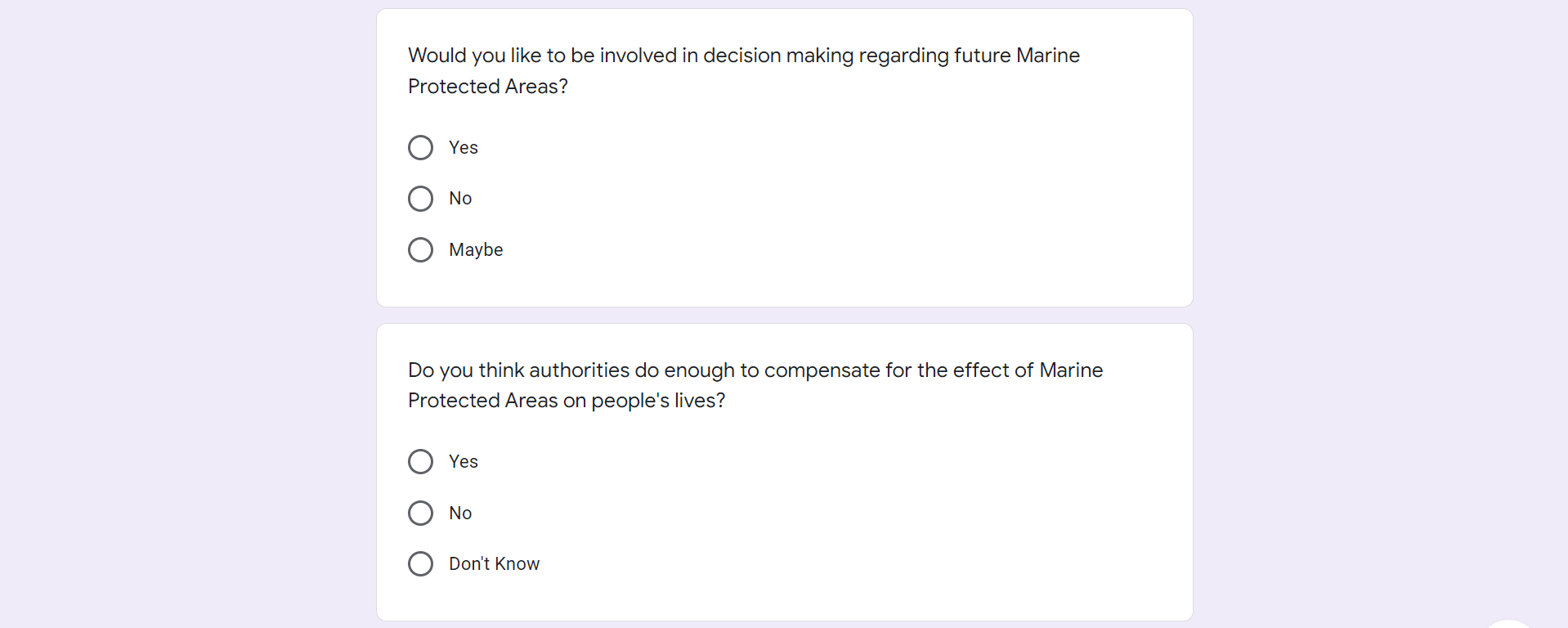 The form is a good mix of qualitative and qualitative questions. You can get deeper information on a specific attitude through open-ended questions, but you can also gather surface-level information in bulk that you can analyze quantitatively.
Survey for Health Supplements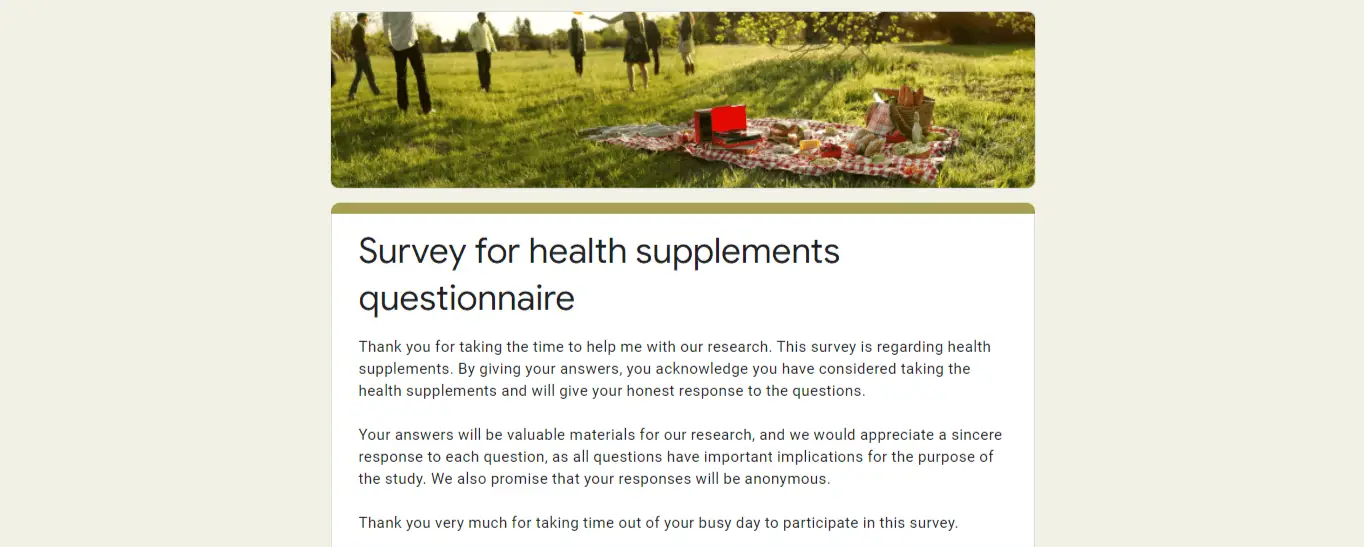 If you're looking for a long survey, this is the one for you. It's already set up with a ton of questions about health and supplements with a large number of potential answers.

What doesn't work about this survey is a few things. First, it could use conditional logic in a few places instead of asking participants to skip questions. Second, because it's so long, it really needs to have multiple pages. Finally, some of the questions have far too many potential answers, which will lead to form drop off.
Kingdom Come: Deliverance Survey
This survey is a great way to gather some simple information about the likes and dislikes of your audience.
If you just want to learn more about your audience so that you have a general understanding of who they are and what type of products/services/content you can create for them, this is the survey for you.
1,000 Games Milestone Feedback Survey 
This form is a great example of how Google Forms' can be used to create feedback surveys to gauge employee feedback after events. 
Long feedback surveys can be overwhelming, but one way to mitigate that is by having multiple pages on the survey so that participants aren't inundated with a huge number of questions.
However, when you break a survey into pages, and participants don't know how many pages are in the survey or how far they've progressed, they can find themselves frustrated and may quit the quiz even though they're almost done.
That's where a progress bar comes in. This feedback survey uses a progress bar to help participants understand just how much more work they have to do in the form.
This form also makes use of conditional logic, which is where certain pages are shown depending on the answer to the first question. This is also reflected in the progress bar, as, depending on your answer to the first question, you might end up on the third page.