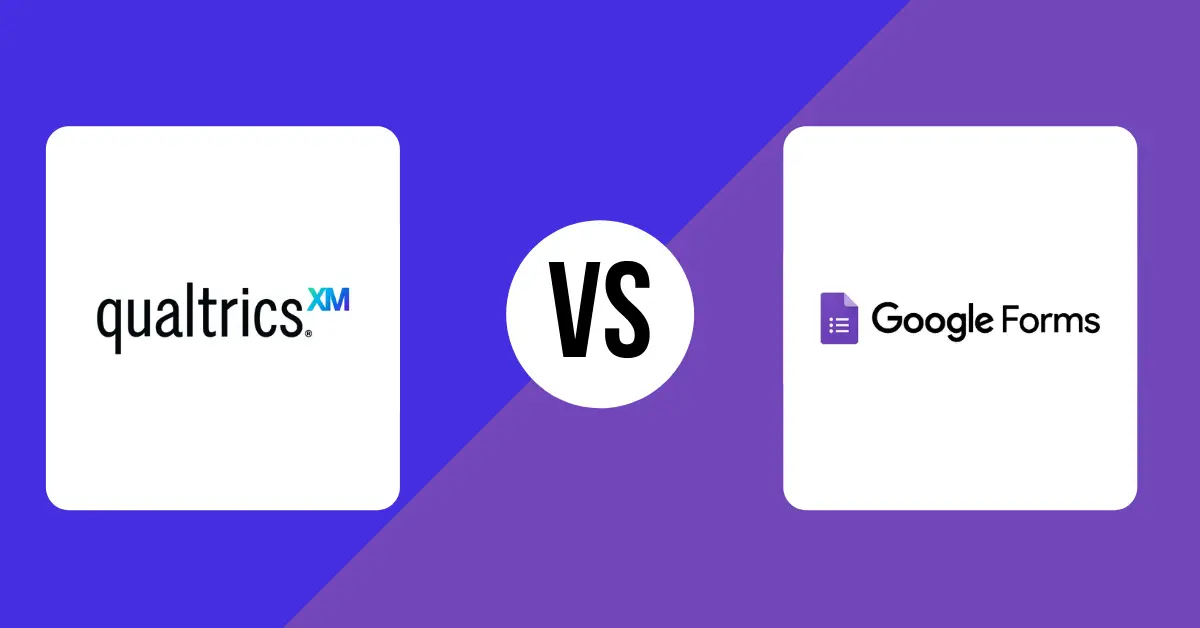 With so many form builder and survey solutions available, choosing the best tool for your organization can be a challenge.
After all, some solutions are best for enterprise-sized businesses while others are suitable for entrepreneurs and small organizations. Some solutions are best for building questionnaires while others are ideal for capturing contact information from leads.
Qualtrics and Google forms happen to be powerful form builder solutions. However, while they are both great tools, there are a few key differences that distinguish them.
In this post, we compare Qualtrics vs Google forms in terms of key features, so that you can choose the best solution for your organization.
About Qualtrics and Google Forms
Qualtrics is a web-based "experience management" software allowing users to build surveys and generate reports with little to no programming knowledge. With Qualtrics, users can create and distribute surveys, pools, and feedback forms that can be distributed in various ways. Form results can then be viewed and analyzed in useful downloadable reports.  
Google Forms is a free web-based form builder used to create surveys, polls, quizzes, and more. The Google Forms software is just one piece of the Google online applications suite. This versatile software tool can be leveraged for personal and business-related uses, from collecting event RSVPs to building customer satisfaction surveys and everything in between.
Templates
Qualtrics Templates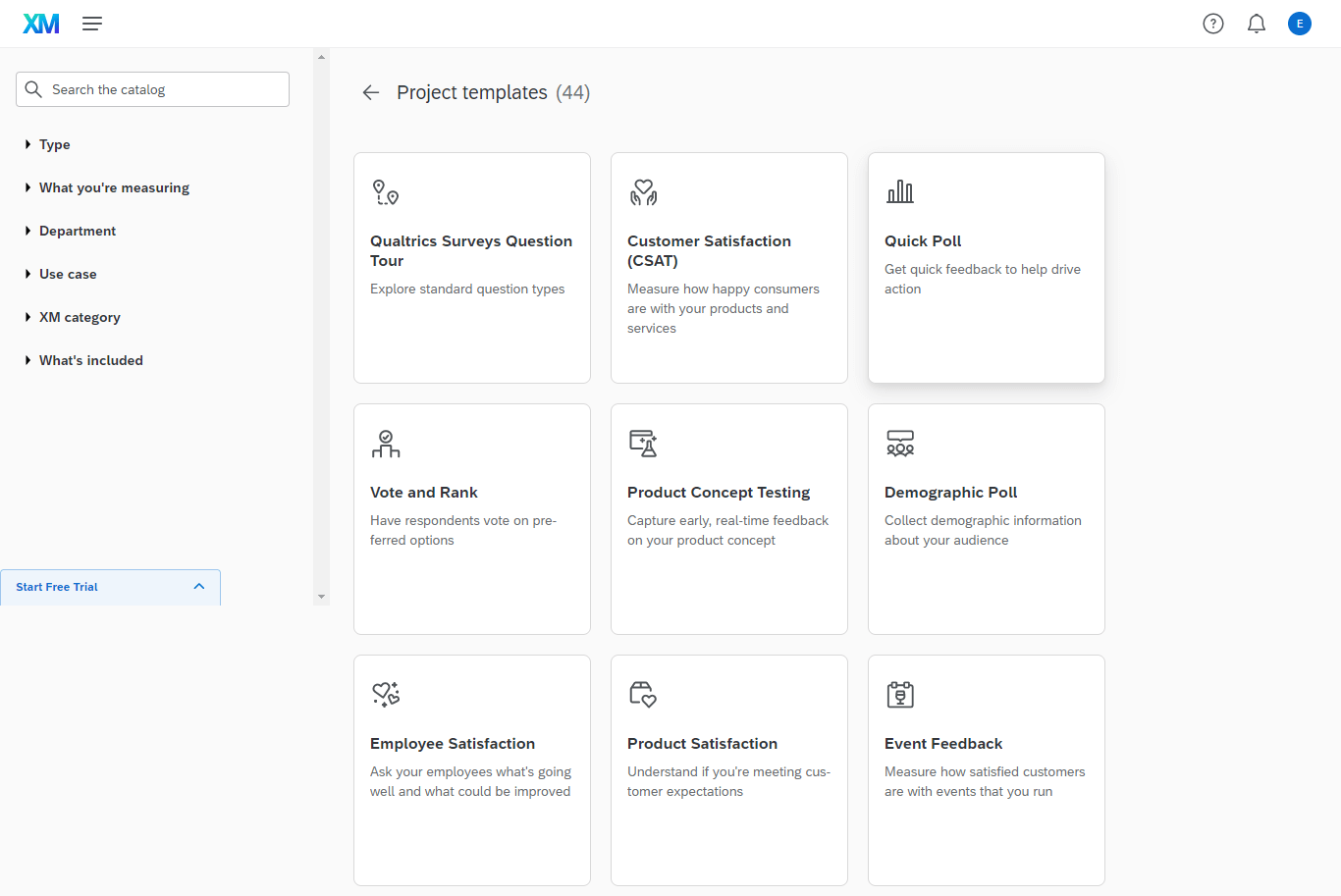 Qualtrics users are given access to more than 50 different survey templates that can be harnessed for guidance and inspiration. The free survey templates offered by Qualtrics are designed by the company's team of research experts who use industry best practices to create clear designs that can gather valuable data and increase user engagement.
Qualtrics templates are categorized using the following four categories:
Customer Experience (CX):

CX surveys allow your customers to tell you what they think about what you are doing and what you should be doing next. CX surveys include event feedback forms, net promoter scoring, and customer satisfaction surveys.  

Brand Experience (BX):

Using BX surveys from Qualtrics, users can determine the effectiveness of their marketing campaigns with logo testing surveys, brand awareness surveys, and more.

Employee Experience (EX):

Easily and quickly gain employee feedback about various topics from onboarding experiences to employee engagement.

Product Experience (PX):

Pricing and feature prioritization surveys can help you better understand your product's market potential and give you an edge over your competition.
Qualtrics templates are fully-customizable.
Google Forms Templates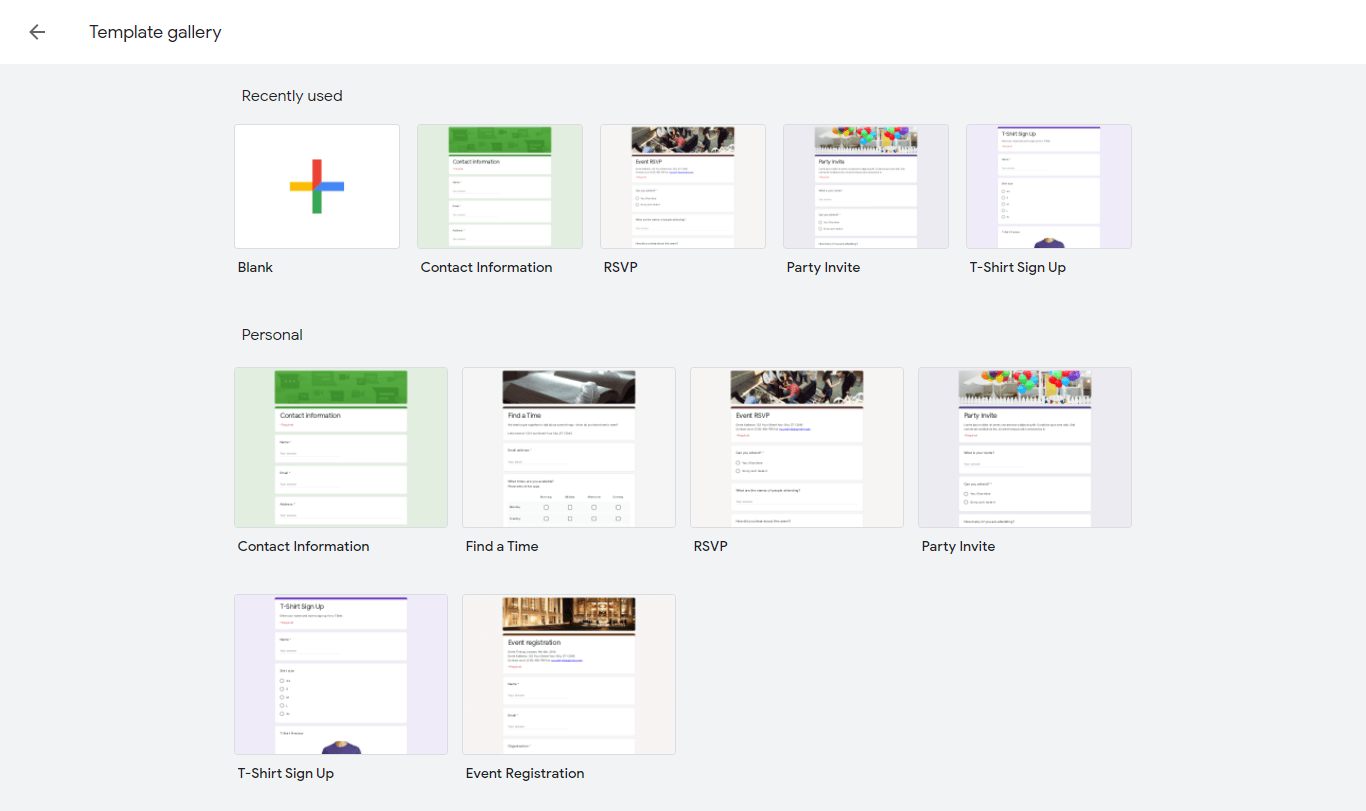 The Google Forms software offers users 17 choices from its forms template gallery, broken into three categories, as follows:
Personal:

Google Forms offers six "personal" form templates, including Contact Information, Find a Time, RSVP, Party Invite, T-Shirt Sign Up, and Event Registration

Work:

Google Forms offers six "work" templates, including Event Feedback, Order Form, Job Application, Time Off Request, Work Request, and Customer Feedback

Education:

Google Forms offers five "education" templates, including Exit Ticket, Assessment Worksheet, Course Evaluation, and Blank Quiz
The 17 templates in the Google Forms template gallery are fully customizable to meet nearly any need.
Need some inspiration when designing your Google Form? Check out these live Google Forms examples. 
Editor
Qualtrics Editor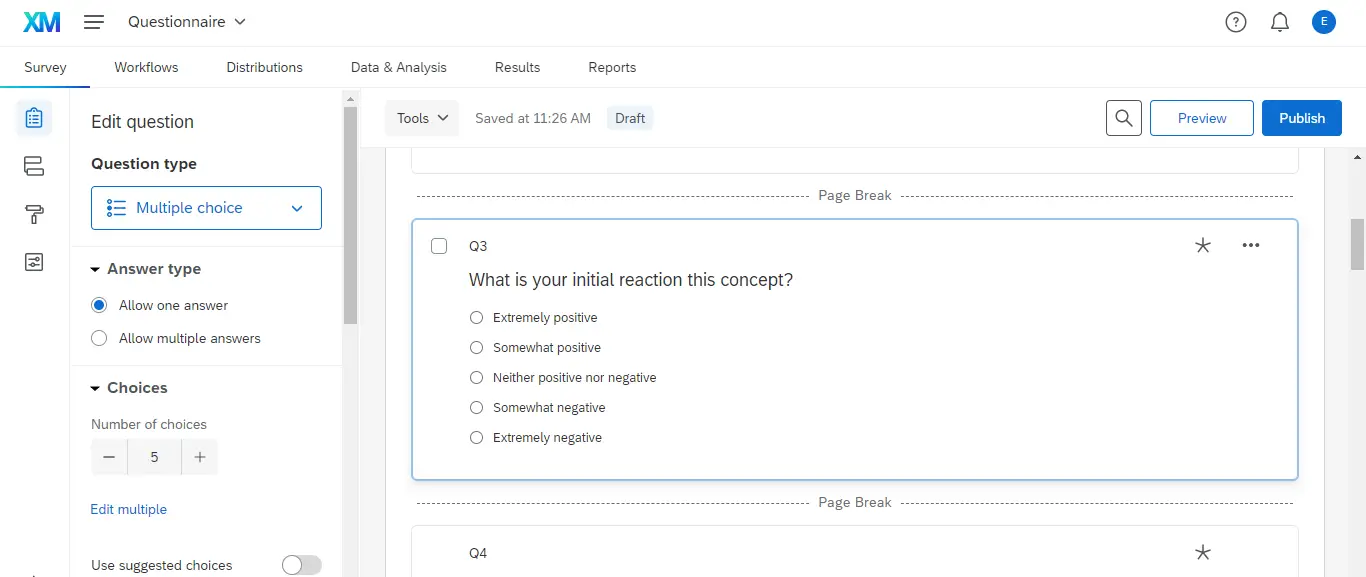 The Qualtrics editor is not only easy to use, but it offers an array of helpful features to help users build professional-looking surveys that are useful and engaging. The editor allows complete control of various aspects of your survey, including survey options, design, and logic.
Question editing is easy with the Qualtrics drag-and-drop block format. Once you have selected a block (question) to edit, you can easily edit answer choices, add validation, add display and skip logic, and so much more! You can also quickly move blocks around the survey as needed.
The "Look & Feel" section of the Qualtrics editor gives a complete overview of survey aesthetics and allows for full customization. From here, users can add headers and footers, choose fonts, select themes, and so much more.
Google Forms Editor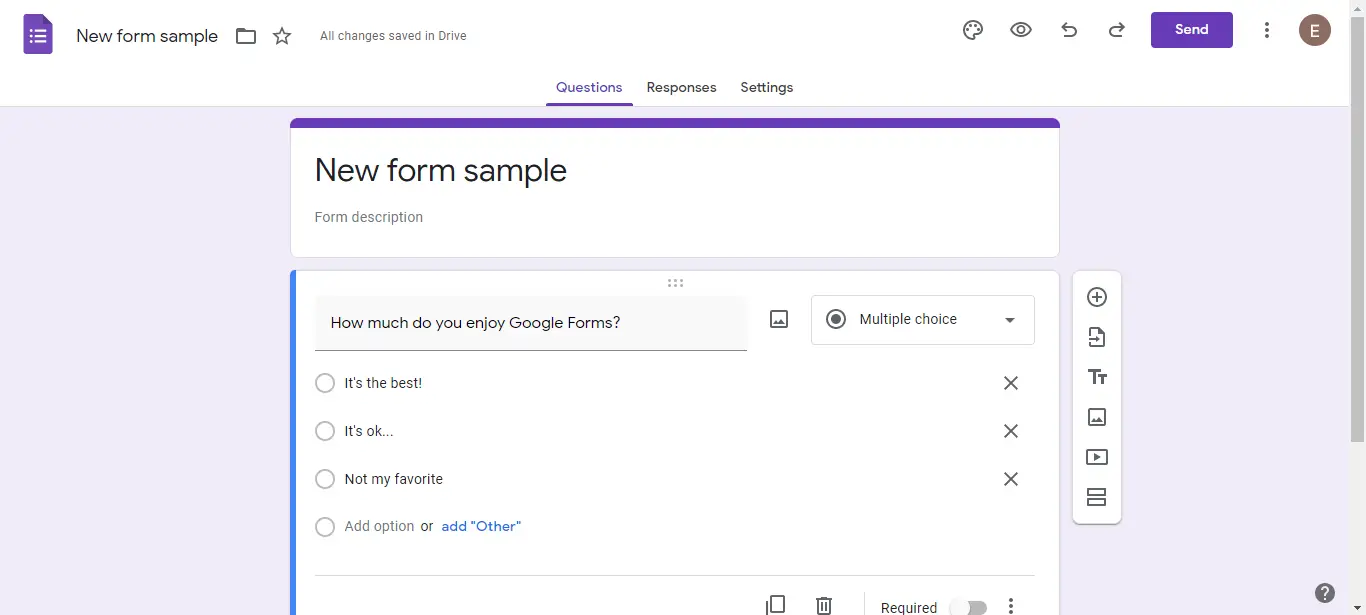 The Google Forms editor is so straightforward that even a child can use it. Using the forms editor, users can edit color palettes and background images and customize forms with a maximum of nine field types. With Google Forms, you can choose a template from the gallery or create your form from scratch. Within minutes, you can have a survey, quiz, or any other form fully active online.
Using the Google Forms editor, you can choose from a variety of question types, including dropdowns, tick boxes, fill-ins, multiple-choice, and short answers. You can also customize your forms to implement response limits and user restrictions.
Surveys and Conditional Logic
Qualtrics Surveys and Conditional Logic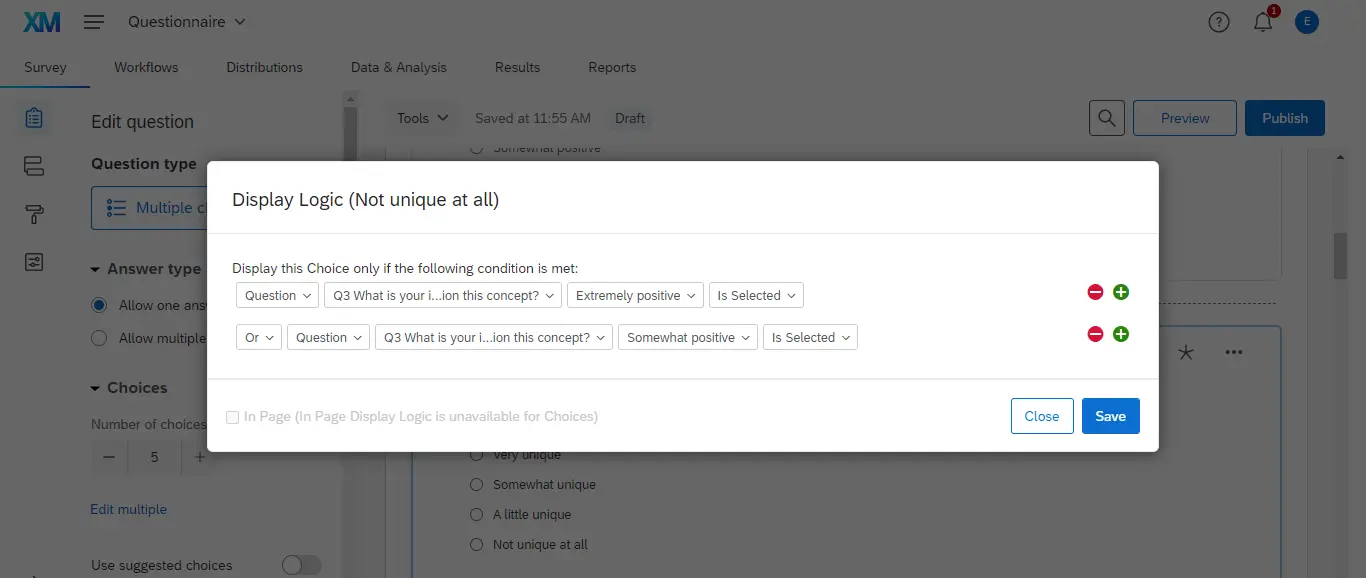 The Qualtrics conditional logic feature known as "Survey Flow" allows users to customize where the survey respondents will go, what they'll see, and what they won't see. The Qualitrics Survey Flow is a roadmap that dictates your respondents' path in your survey.
From here, users can customize a respondent's experience based on the order of your survey elements. In addition to ensuring that all of your survey elements are in the correct order, Survey Flow allows you to send your survey respondents down customized paths or even randomize the conditions of your survey.
Once a respondent follows a particular path, they can be assigned a special value, be sent in another direction, or even trigger an early end to the survey. With the Qualtrics Survey Flow section, you can efficiently and effectively manage conditional logic branching.
Google Forms Surveys and Conditional Logic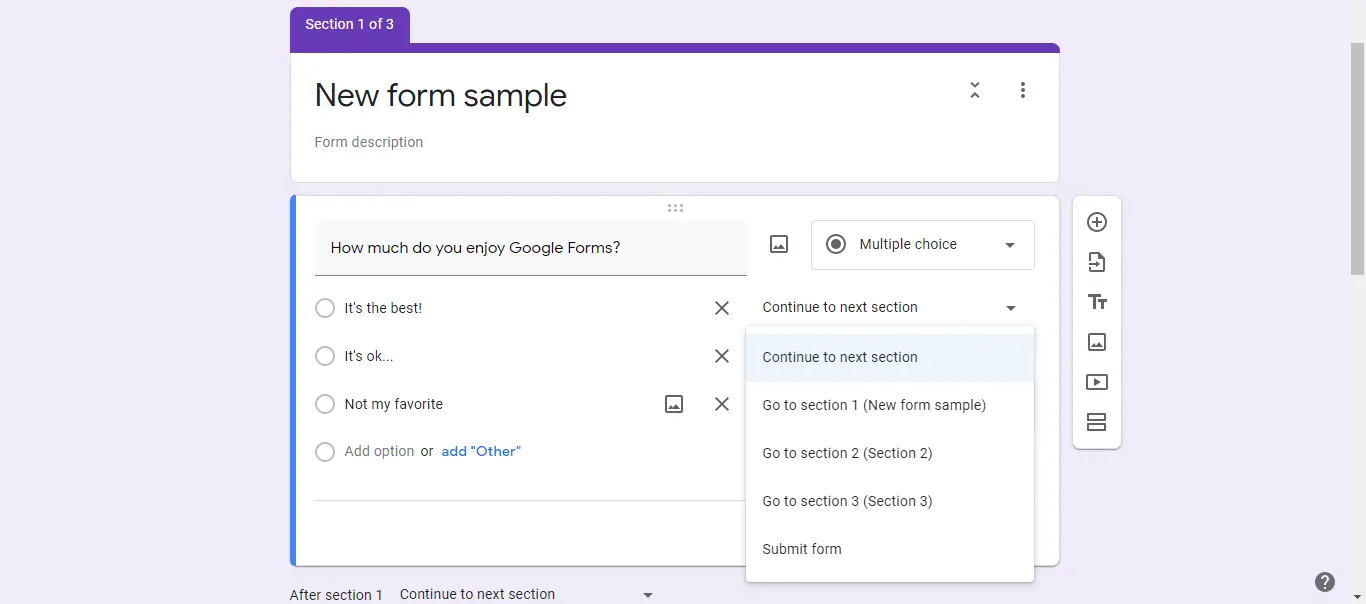 Google Forms does offer its users several useful conditional logic options. However, these options are minimal, particularly when compared with other popular survey-building software tools like Qualtrics. When you create a survey with Google Forms, you can utilize the conditional questioning feature to send respondents to a specific page based on their response to a particular question or set of questions.
The conditional logic feature within the Google Forms software only works with dropdown and multiple-choice questions. While the conditional logic options offered with Google Forms can send a user to a specific page based on their answer to a particular question, the ability to show or hide particular form fields automatically is not supported.
Reporting and Analytics
Qualtrics Reporting and Analytics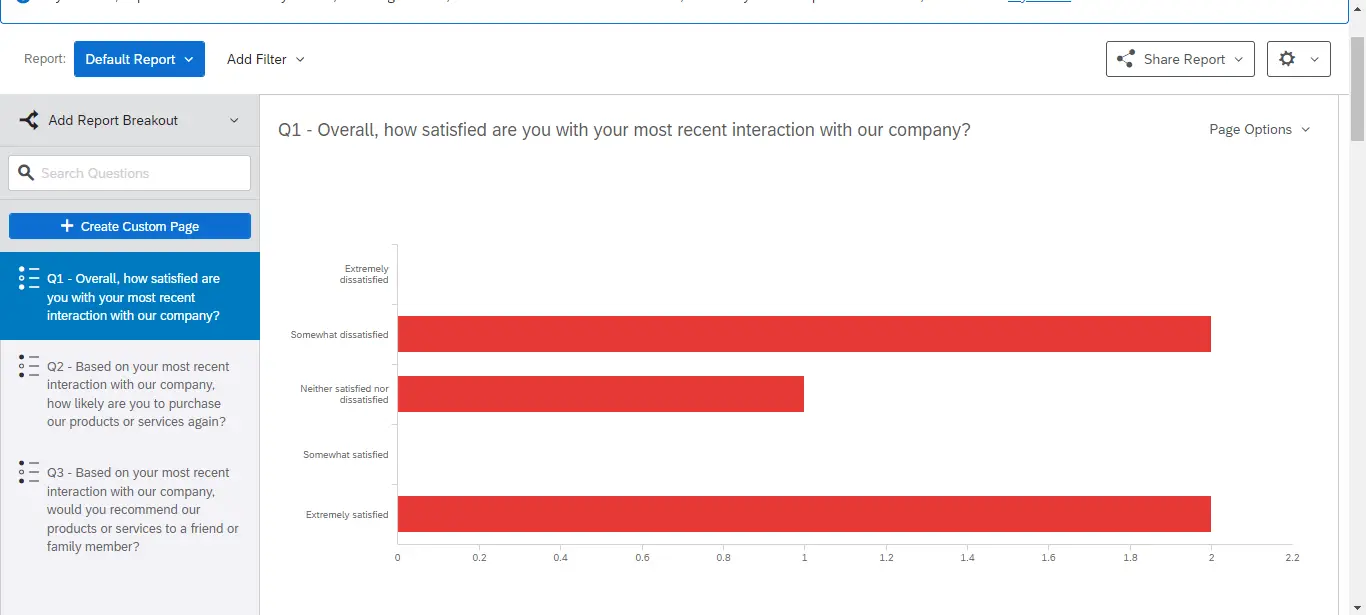 The Qualtrics software offers users an array of valuable reporting and analytics features. From the "Data & Analysis" tab in its dashboard, users can filter, clean, merge, classify, and statistically analyze response data, but the Qualtrics analysis and reporting options don't stop there.
Other reporting and analysis features include:
Text iQ:

With "Text iQ," users can tag text entry responses with topics for further insight. This feature generates widgets that display the frequency of specific terms appearing across survey responses.

Stats iQ:

The Qualtrics Stats iQ feature allows users to analyze trends and utilize predictive modeling.

Predict iQ:

This feature analyzes responses and embedded data to predict when customers will abandon the company. Once the software has configured a churn prediction model, collected responses can be evaluated for churn likeliness, allowing users to be more proactive in customer retention.

Crosstabs:

The crosstabs feature allows for more complicated, in-depth, multivariate analyses. It will enable users to examine T-Test, Chi-Square, and p-value stats.
Google Forms Reporting and Analytics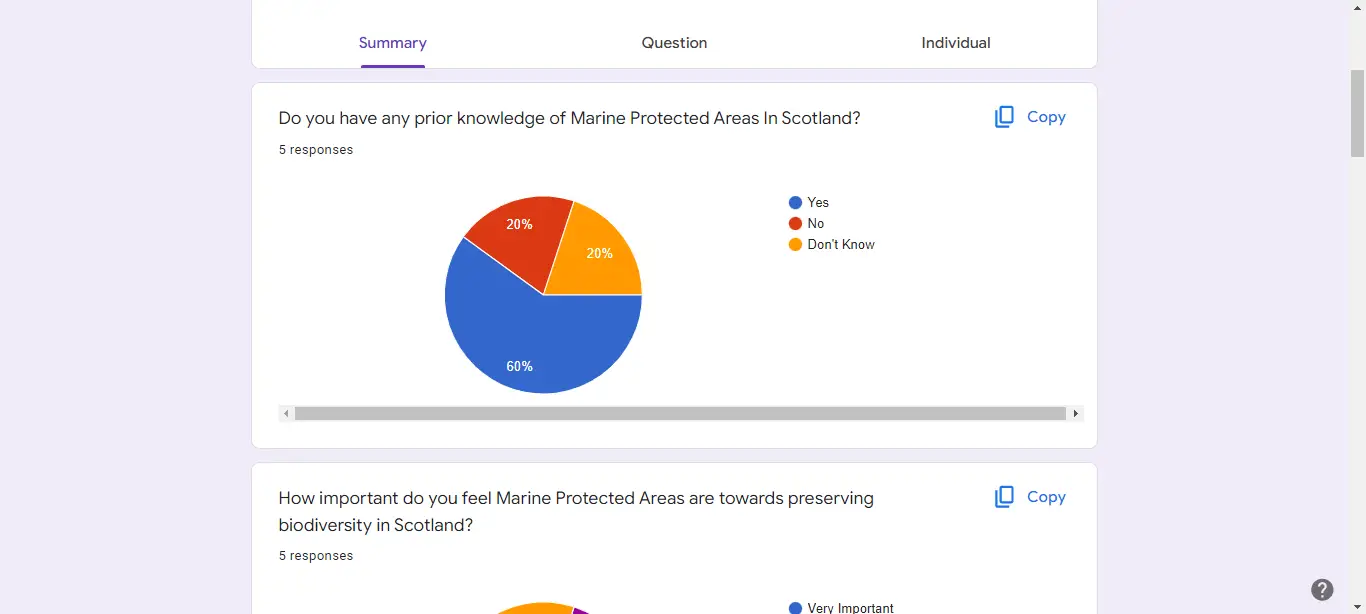 To properly create reports and analyze data from Google Forms, users can rely on the software's integration with Google Sheets. By combining the two, users can access their form results in real-time and automatically generate graphs and charts that can be used for reporting.
A creator can view individual and summary responses through the Google Forms software. Using Google Sheets, these users can view Google Forms data via spreadsheets, with the ability to filter responses based on specific pre-determined parameters. Although Google Forms does not offer advanced features like other survey-building tools, like Qualtrics, it will allow users to download form responses in a CSV format which can be loaded into other programs designed for advanced filtering and analysis.
Integration
Qualtrics Integration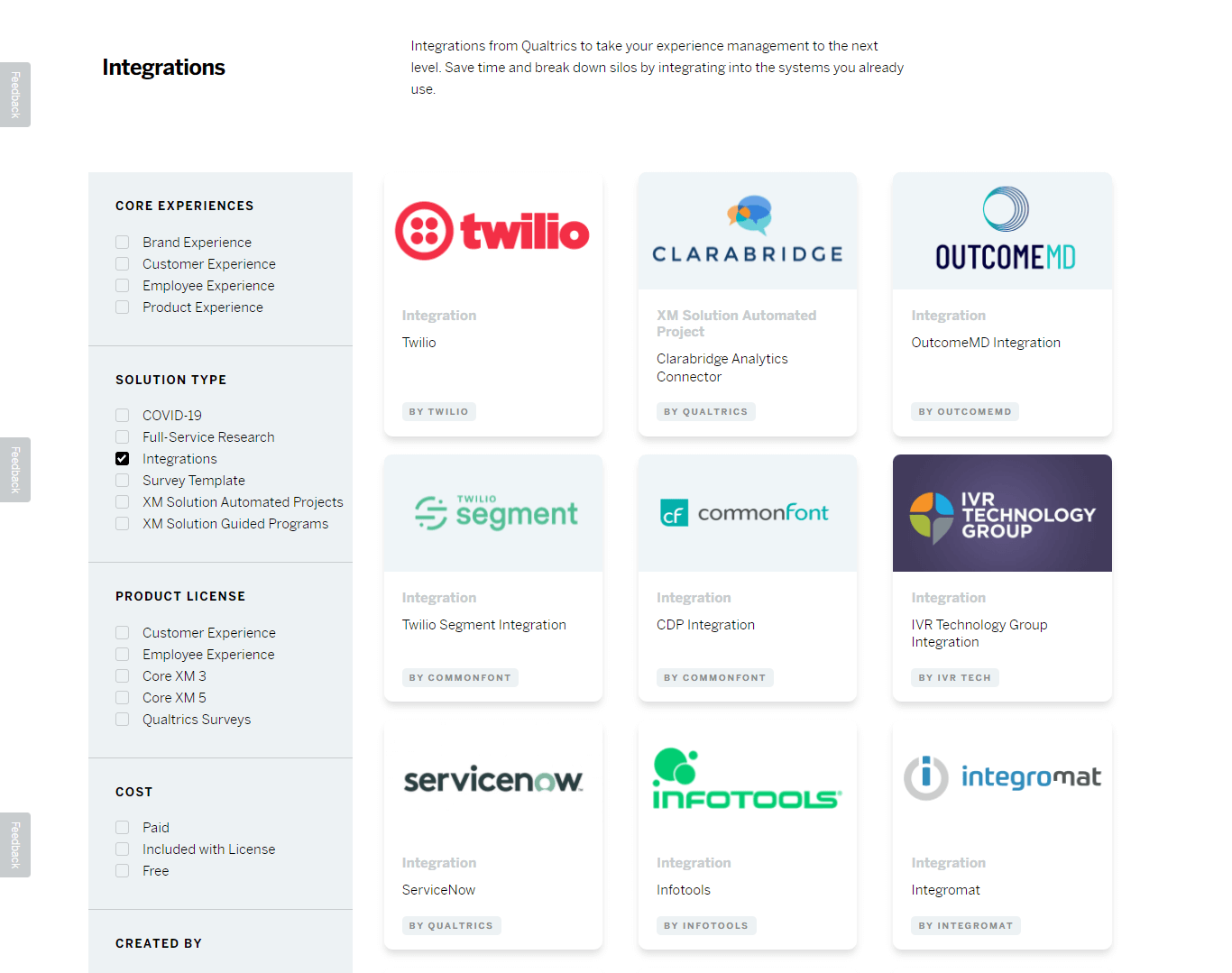 The Qualtrics software offers several out-of-the-box extensions for integration with popular software tools. These extensions allow users to integrate Qualtrics with helpful software tools for more effective insight and action. Integrations are only available as paid add-ons to the Qualtrics license.
Qualtrics add-ons include the following software: Salesforce, Tableau, Marketo, Slack, Adobe Analytics, Zendesk, Freshdesk, Hubspot, ServiceNow, Microsoft Dynamics, Zapier, Facebook Messenger, Jira, Microsoft Teams, Brandwatch, ReviewTrackers, WhatsApp, API, and Google.
Google Forms Integration
When it comes to integration with other software, Google Forms works best when combined with all of the tools offered through the Google Suite, including Google+, Google Calendar, Google Slides, Google Sheets, Google Drive, and Gmail.
Using Zapier Google Forms, users can bring their forms to the next level, allowing them to automate tasks between different apps. It is the perfect third-party option for users to connect Google Forms with popular applications like Hubspot, Discord, Mailchimp, Asana, Trello, Slack, and many more software solutions.  
Ease of Use
Qualtrics Ease of Use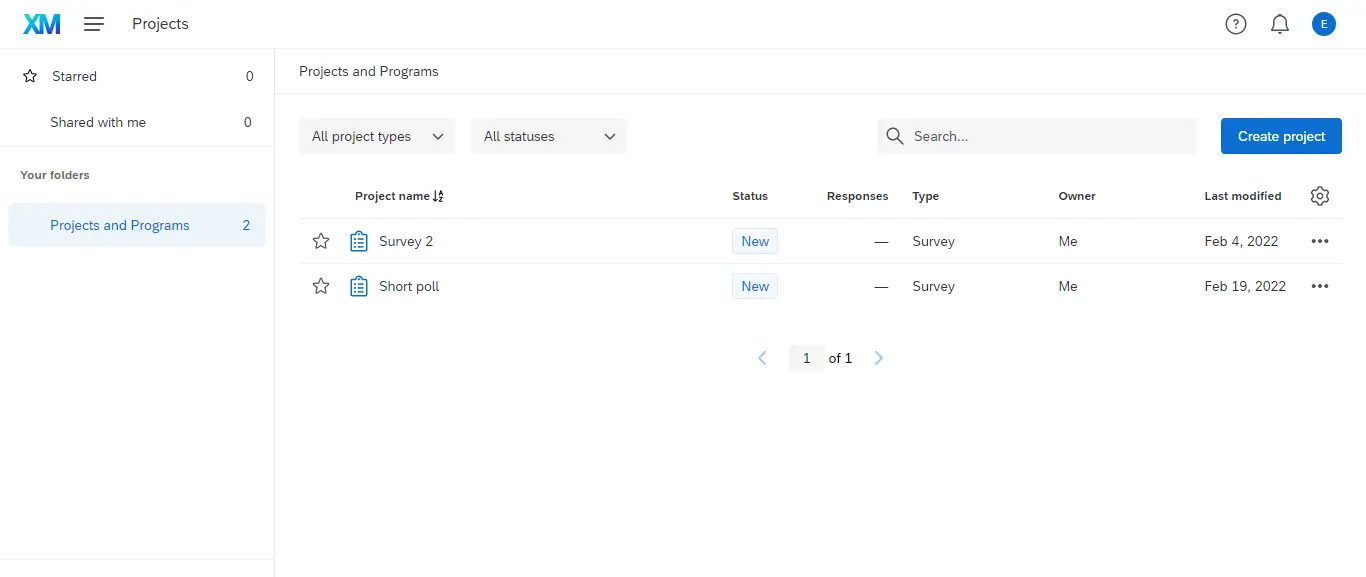 The Qualtrics dashboard is clean, clear, and incredibly easy to navigate. You can access an array of valuable options from its easy-to-use point and click dashboard to help create intuitive data-gathering projects. Graphics, randomization options, and complex logic branching solutions are all at your fingertips and easily managed from the dashboard experience. The software is versatile and user-friendly, with various question options and survey templates to choose from.
For anyone who has trouble using the Qualtrics dashboard, which seems unlikely considering how easy it is to navigate right out of the box, Qualtrics does a great job of offering step-by-step guidance on how to navigate its dashboard through its detailed support section.
Google Forms Ease of Use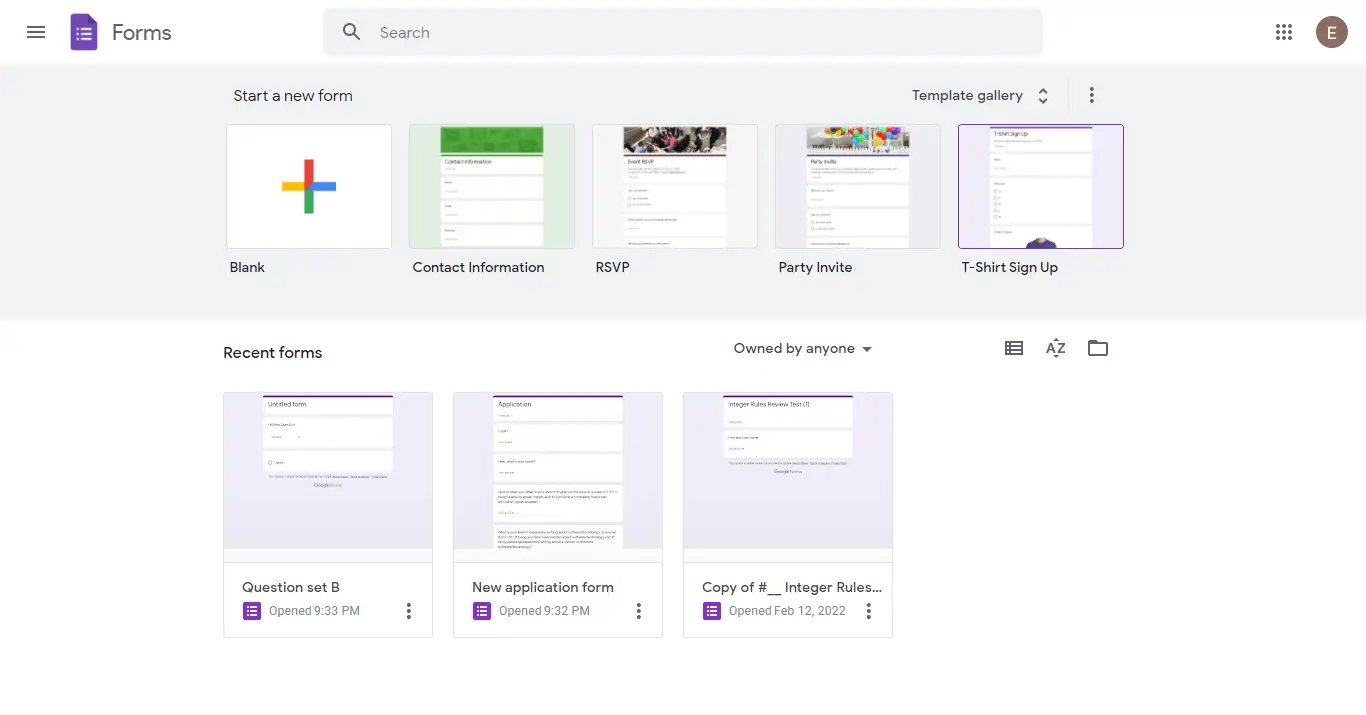 As we mentioned earlier, when it comes to form-building software, it doesn't get much easier than Google Forms, which offers users a clean, clear, and direct form-building experience at no cost. The minimalist interface of Google Forms software makes it the most simple-to-use product on the market. However, it is limited because it only allows for minor customizations, particularly compared to other software tools.
Furthermore, with Google Forms, users cannot create the polished look offered by premium form-building software solutions like Qualtrics. However, it still serves its purpose as a free, no-frills form builder.
Pricing
Qualtrics Pricing
Qualtrics offers a forever-free survey building account for prospective users considering a full license. Using a free Qualtrics account, users can utilize the point-and-click interface to build and distribute surveys, collect responses, and test drive the software's analysis and reporting tools. However, there are many limitations with the free account, including having only one active survey at a time, a limit of 10,000 outgoing emails across the life of the account, and many strict customization limits.
Qualtrics offers a subscription-based model for paid accounts, which requires annual renewal. Qualtrics starts at a whopping $1,500 per year and goes up to $5,000 a year. Pricing tiers are based on features, active team members, and business sizes.
Google Forms Pricing
When it comes to pricing, Google Forms is 100% free for individuals that have access to a free Google account. In addition to Google Forms being free to individual Google users, it is also available from G Suite for businesses, which starts at $6 a month. The only difference between the personal and business versions of the Google Forms software is how much storage space the user has across all G Suite products.
Of course, users can enhance their Google Forms software experience with Zapier. Zapier does have a limited free version of its software. However, for users to truly unlock the automation power of Zapier and allow for critical application integration, they can opt for a paid subscription plan that starts at just $19.99 per month.
Customer Support
Qualtrics Customer Support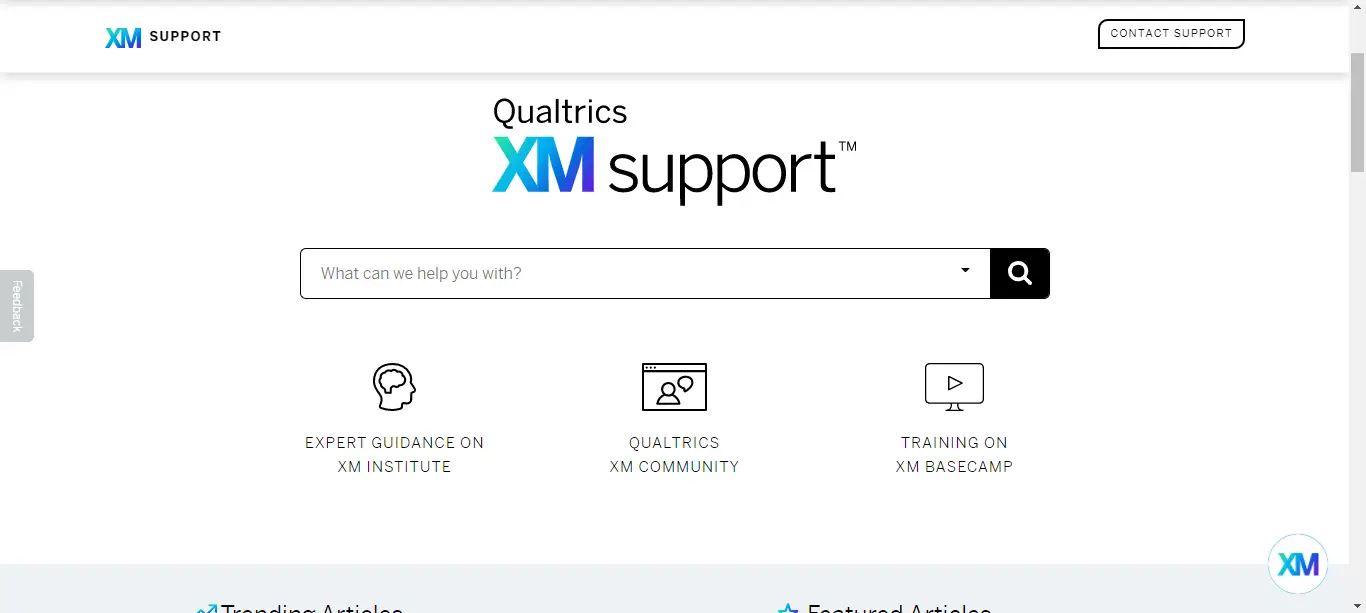 For support regarding the Qualtrics software, the company suggests visiting its detailed support pages, which offer quick answers to some of the most common questions from users. The Qualtrics support section also does an excellent job of providing step-by-step guides that make learning the software a breeze. However, if you still have questions, the Qualtrics customer support team is available 24 hours a day, seven days a week, and can be contacted through an online request form.
Google Forms Customer Support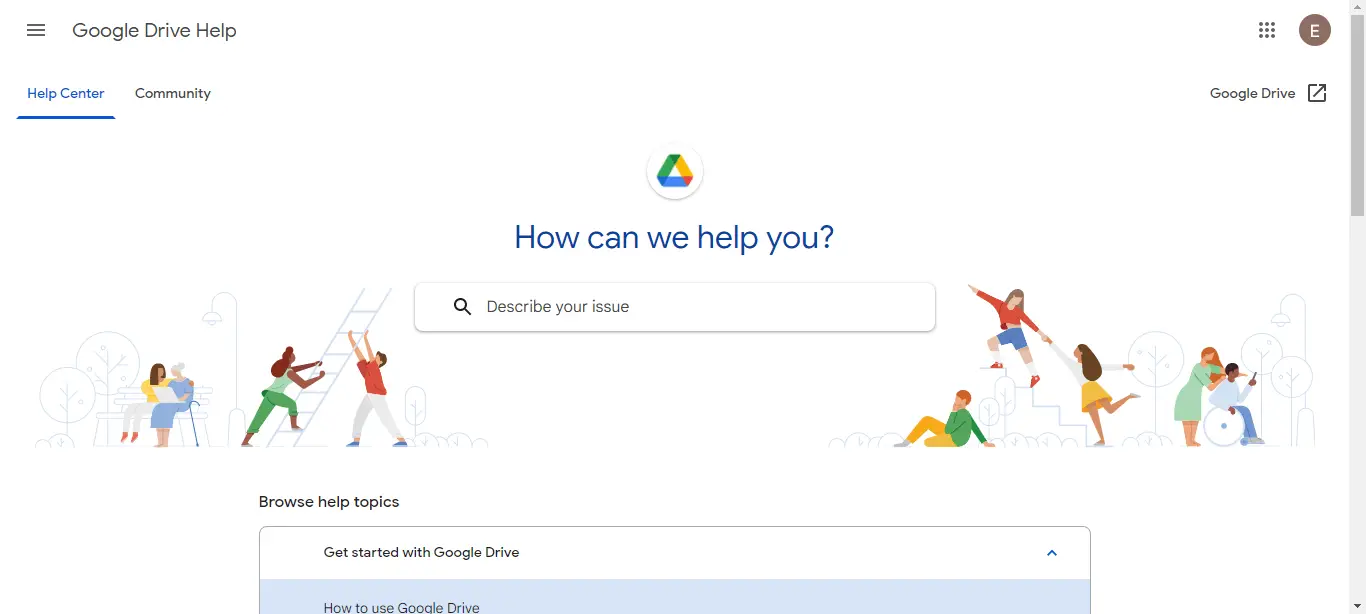 Although there is an active phone number that you can call to reach someone at Google, you're going to end up in a pre-recorded maze of menu options that will ultimately lead you to its online forums and tutorials. So, don't bother.
That said, Google offers a rich and valuable archive of online support tools through its community help forums and tutorials. These support tools will assist in troubleshooting Google Forms issues and dealing with any other Google product issues you might have.
When to Choose Qualtrics vs Google Forms
Qualtrics has become widely accepted as the go-to survey building tool throughout academia, and many higher learning institutions utilize the software for research and analysis. Qualtrics has also become a popular form-building tool for large and enterprise-scale businesses thanks, in part, to its helpful reporting and analysis features.      
At the end of the day, choosing between Qualtrics vs Google Forms will depend on your needs and how much you are willing to spend on survey building software.
The free version of Qualtrics and Google Forms will allow individual users and small businesses to achieve low-level engagement and data collection at little to no cost. In that case, it's going to come down to personal preference, and there is no harm in giving them both a test drive to determine which one is right for you.
For mid-size and enterprise-scale businesses, there is no comparison between Google Forms and Qualtrics. Qualtrics is much more than form-building software. It empowers companies to capture and then act on customer, product, brand, and employee experience insights all in one place. As reflected in its price tag, Qualtrics isn't child's play. It combines the best technologies for gathering feedback using automated, integrated workflows, driving action at every organization level.
You can see how other form builders stack up to Google Forms in the following comparisons:
Microsoft Forms vs Google Forms