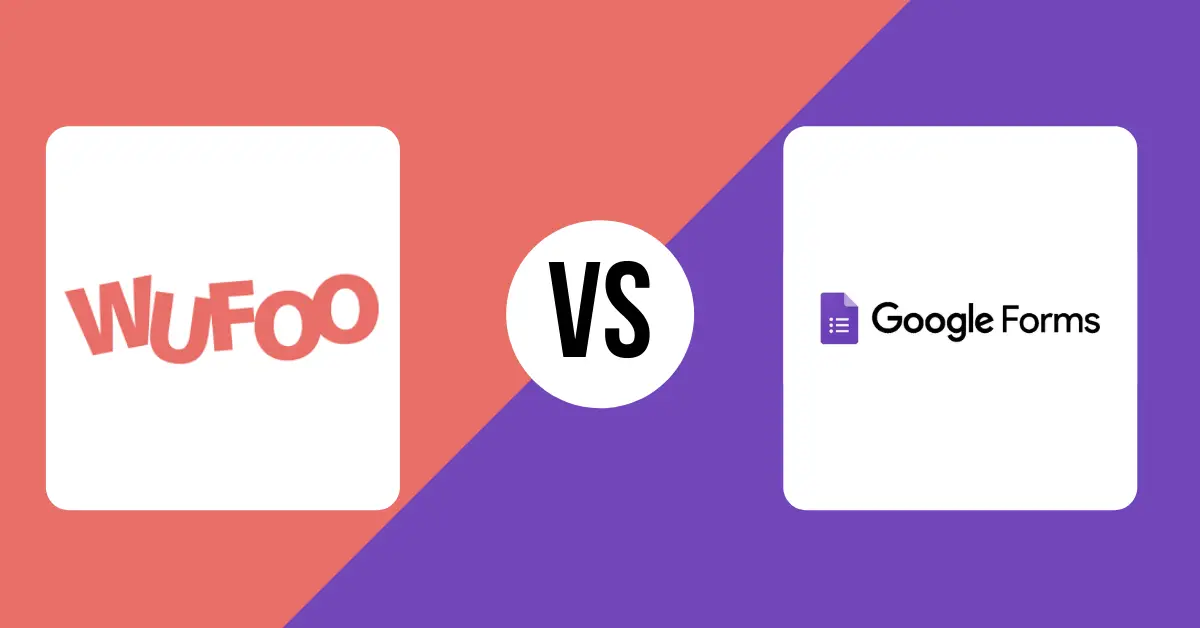 Forms are powerful tools for collecting information from customers, employees, or anyone else for that matter. 
Whether you want to create a contact form so that prospective customers can get in touch with you, or if you want to make an online survey to get employee feedback, a good form builder can make this process a breeze. Fortunately, there are many to choose from. Wufoo and Google Forms, in particular, are great choices. 
In this post, you will discover the key differences between Wufoo vs Google Forms in terms of features, user experience, and pricing. 
About Wufoo and Google Forms
Wufoo is a popular cloud-based form builder that allows users to easily create contact forms, surveys, application forms, registration forms, and so much more. Founded in 2006, the software got its name when company founders Kevin Hale, Ryan Campbell, and Chris Campbell combined the names of famous music legends, Wu-Tang Clan and Foo Fighters. The software tool was later sold to SurveyMonkey. 
Google Forms is a free online form builder that lets users create surveys, quizzes, and more. Google Forms is part of Google's web-based applications suite. It is a versatile software tool that can be used for everything from gathering event RSVPs to creating pop quizzes and surveys. 
Templates 
A software's template library should be an essential consideration when choosing the correct form-building software for your specific needs. Templates selection is significant when you are just starting with a forms tool to learn the lay of the land before creating forms from scratch.
Wufoo Templates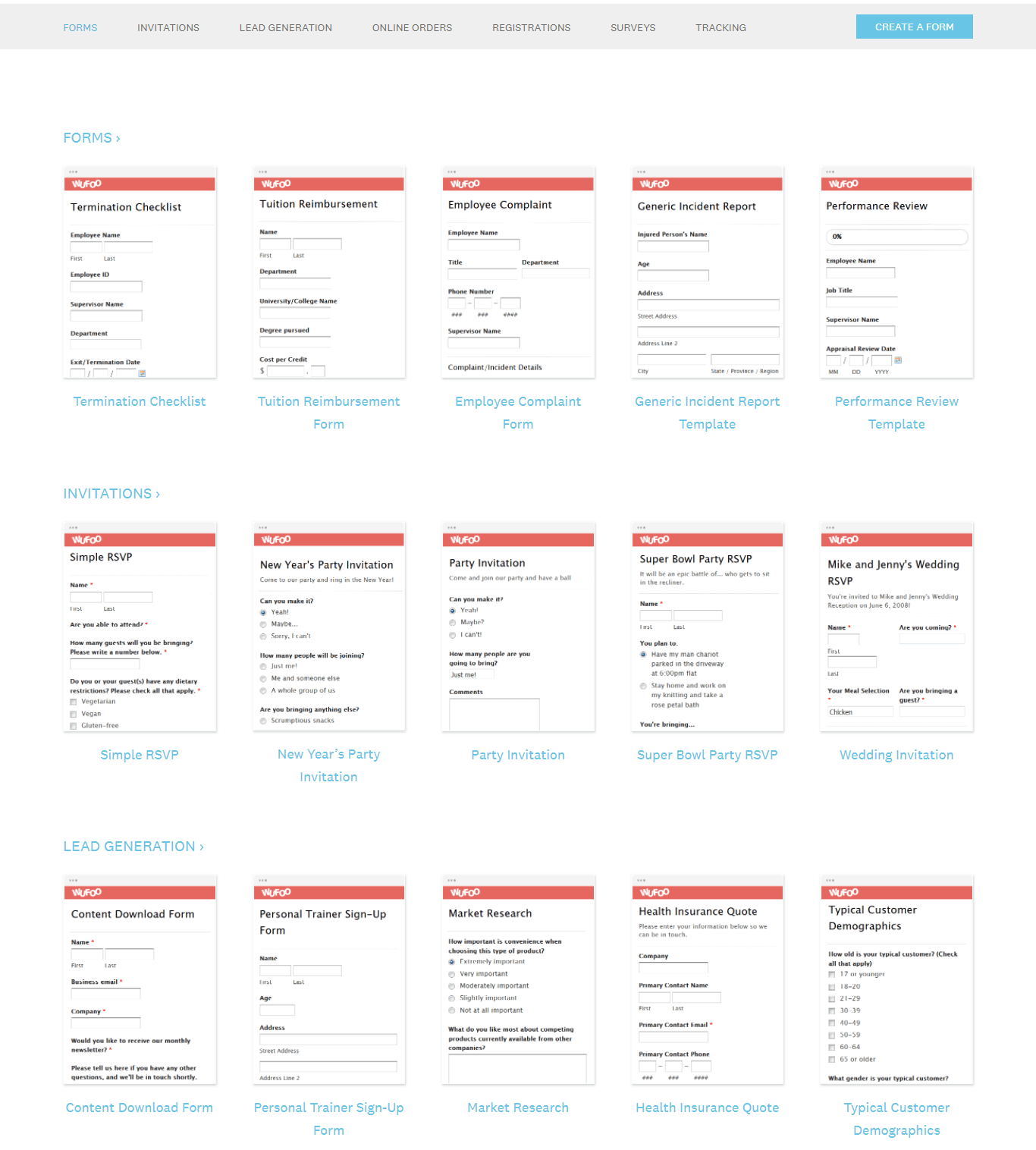 Wufoo offers more than 400 clean and straightforward templates in its forms gallery, covering nearly every topic and form type imaginable, broken into the following seven categories:
Forms:

There are more than 120 "form" templates. From contact forms to employment applications and everything in between, Wufoo has it all.

Invitations:

There are seven different online invitation templates that can be customized and gather all the information necessary to plan just about any party.

Lead Generation:

There are more than 25 different customizable lead generations forms available from the Wufoo template gallery, including customer service forms and sales lead forms. 

Online Order Forms:

More than ten online order forms in the Wufoo template gallery can collect details about any online order, gather customer information, and collect payments. These order forms can be used for purchases, donations, and more. 

Registration Forms:

There are more than 20 easy-to-use registration forms that can be used for various purposes, including event registration, voter registration, calls for proposals, and more.

Surveys:

There are more than 180 survey templates offered by Wufoo that can be customized with any question or field to suit the user's needs. They can even be customized to include logos and brand colors. 

Online Tracking Forms:

There are approximately 30 tracking forms in the Wufoo forms gallery that can be used to create to-do lists, home inventories, employee evaluations, and more. Like all of Wufoo's other form templates, they are fully customizable.
Of course, with Wufoo, users can create their own custom form to meet nearly every need imaginable.
Google Forms Templates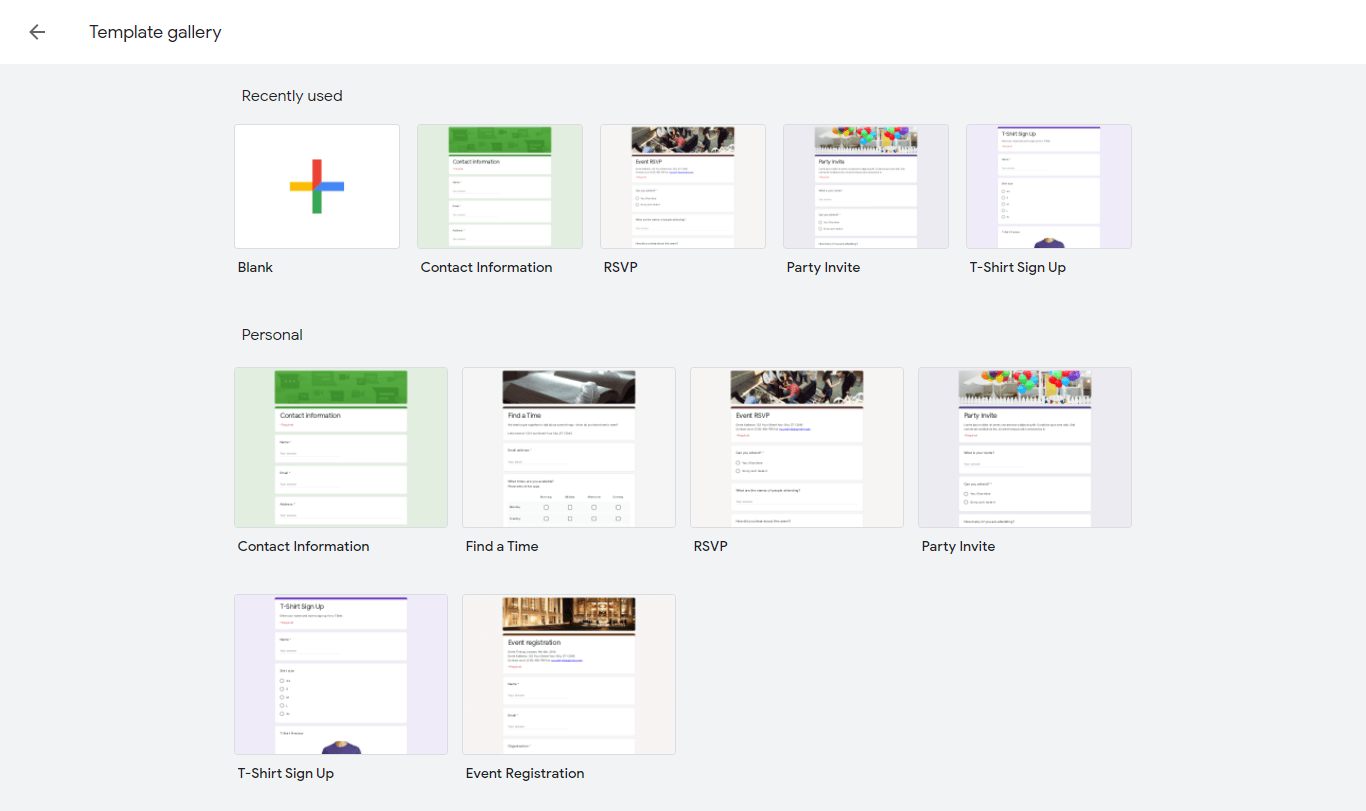 There are far fewer templates offered by Google Forms when compared to the sheer volume of different templates that Wufoo has to offer. Google forms offer 17 different templates in all through its forms template gallery. They are broken into the following categories:
Personal: There are six personal templates in the Google Forms gallery and include forms and include:
Contact Information

Find a Time

RSVP

Party Invite

T-Shirt Sign Up

Event Registration
Work: There are six work templates in the Google Forms template gallery, including:
Event Feedback

Order Form

Job Application

Time Off Request

Work Request

Customer Feedback
Education: There are five education templates in the Google Forms template gallery, that include:
Exit Ticket

Assessment

Worksheet

Course Evaluation

Blank Quiz
Although there are only 17 different templates in the Google Forms template gallery, they are fully customizable to meet just about any need.
If you want to see these templates in action, fortunately, with so many businesses using Google Forms you can find many Google Forms examples for inspiration. 
Editor
Both Wufoo and Google Forms offer an easy-to-use interface that allows users to edit and create online forms easily. In this section, we take a deep dive into the editing functions provided by both platforms. 
Wufoo Editor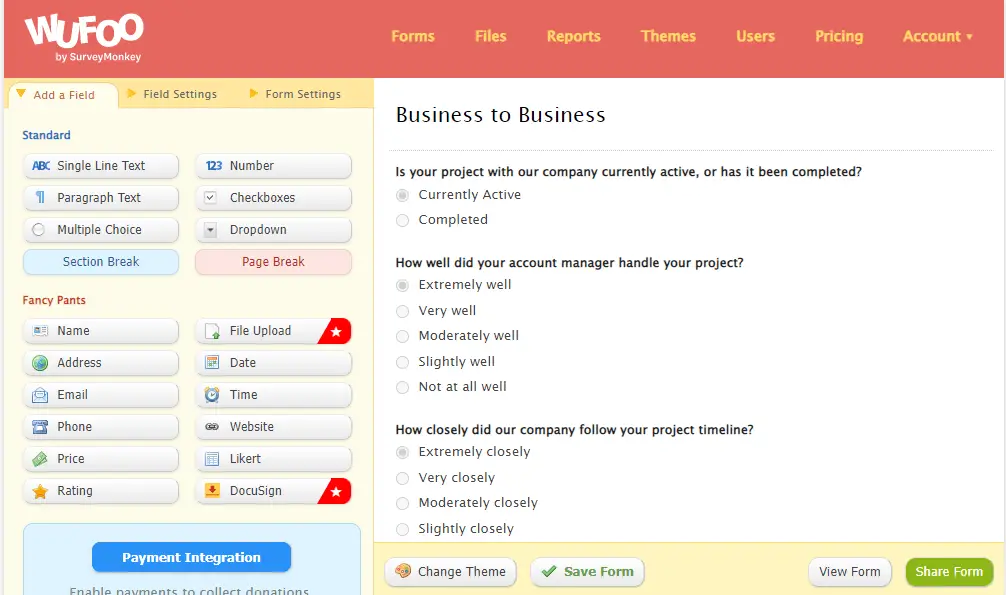 All of Wufoo's more than 400 customizable templates can be easily edited to create online forms that not only reflect your brand but meet all of your company's unique needs. With Wufoo's easy-to-use drag-and-drop interface, customization goes well beyond just choosing color palettes, themes, and background images. 
Using the Wufoo editor, which requires no code experience, a user can change fonts, set custom rules, customize forms with 18 field types, enable file uploads, and even collect payments. 
Google Forms Editor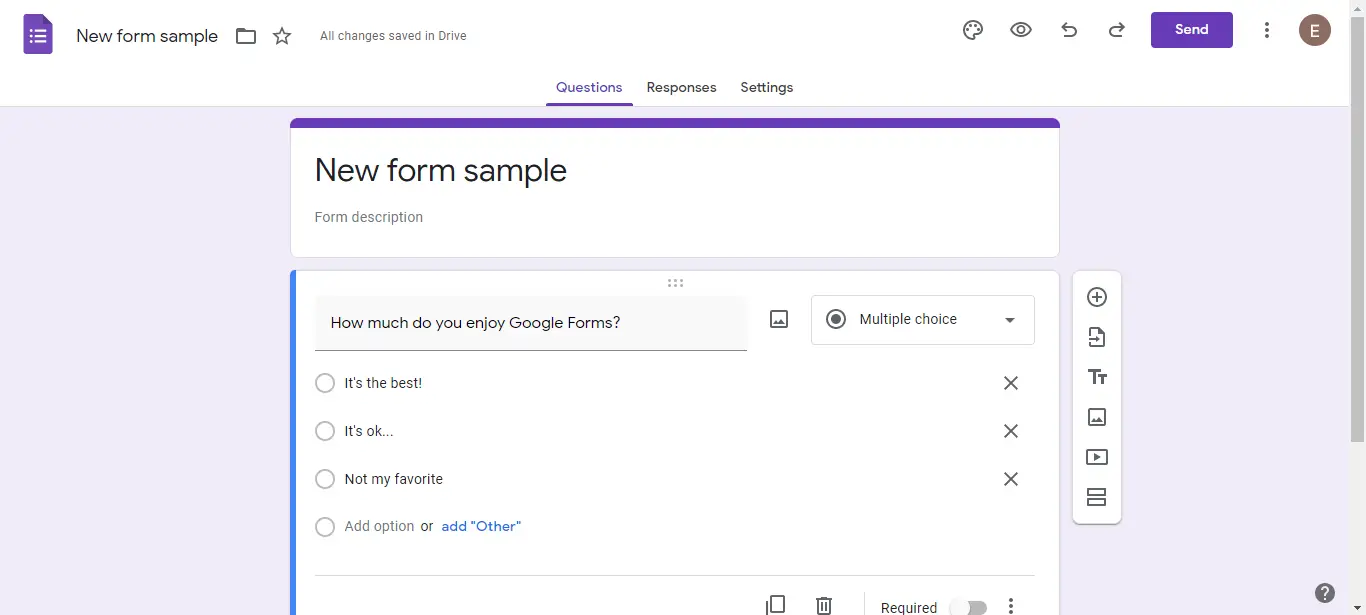 Google Forms is incredibly easy to use. Users simply choose one of its 17 templates or create a form from scratch, and they can have an online form up and active online within minutes. With the Google Forms editor, you can change background images and color palettes, customize your forms with up to nine field types and enable limited file uploads. 
Users can choose from various question types from the Google Forms interface, including short answers, multiple-choice, fill-ins, tick boxes, and dropdowns. The editor also allows easy customization for user restrictions and response limits.
Surveys and Conditional Logic
Conditional logic, also called "branch logic" or "conditional branching" is a critical survey element that creates custom survey pathways based on a respondent's answers. Both Wufoo and Google Forms allow users to define rules for conditional branching.
Wufoo Conditional Logic
Using the Wufoo "rules" feature, users can easily create rules that will allow them to build dynamic forms. Using the rules feature, you can show or hide certain fields, skip specific pages, and display custom messages based on a respondent's selections or specific answers when filling out a form. 
Wufoo offers the following three rule options:
Form Rules:

With Wufoo's form rules, you can redirect users to another website, display a custom confirmation message, or trigger an email, each time a user submits a form.

Field Rules:

Wufoo allows dynamic customization to show or hide form fields relevant to a specific user based on the rules you create. 

Page Rules:

Like field rules,

Wufoo's page rules will allow you to bring respondents to different form pages based on the rules you create. 
Users with a free Wufoo account can create limited field and page rules. Form rules customization is only available to users with paid plans. 
Google Forms Conditional Logic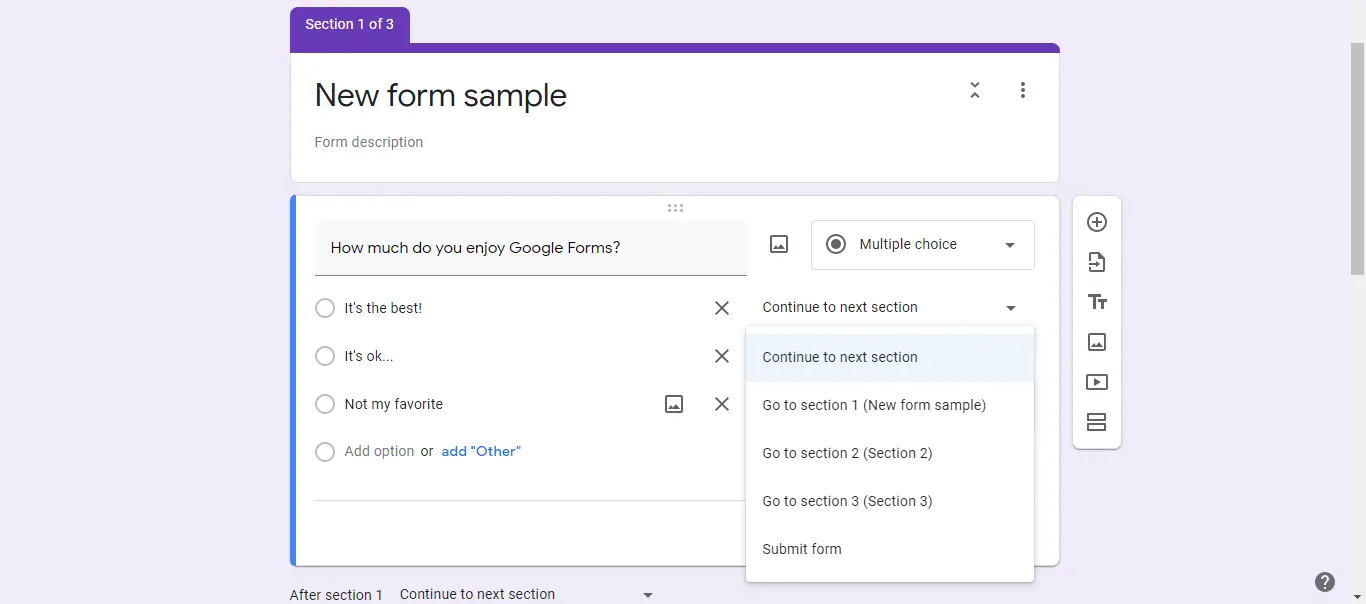 Although Google Forms offers users conditional logic options, those options are limited compared with other form-building software tools like Wufoo.
When creating surveys using Google Forms, you can use its conditional questioning feature to send a respondent to specific pages based on their response to particular questions. 
The Google Forms conditional logic feature will only work with multiple choice and dropdown questions. Although conditional logic options in Google forms can send users to specific pages, there is no option to automatically show or hide particular form fields based on the response.
Reporting and Analytics 
What good is a survey, or any other data collection form for that matter, without the ability to dissect, analyze, understand, visualize, and even present the results? Both Wufoo and Google Forms offer helpful reporting and analytics features and, in this section, we will break down and explain the similarities and differences between the two.
Wufoo Reporting and Analytics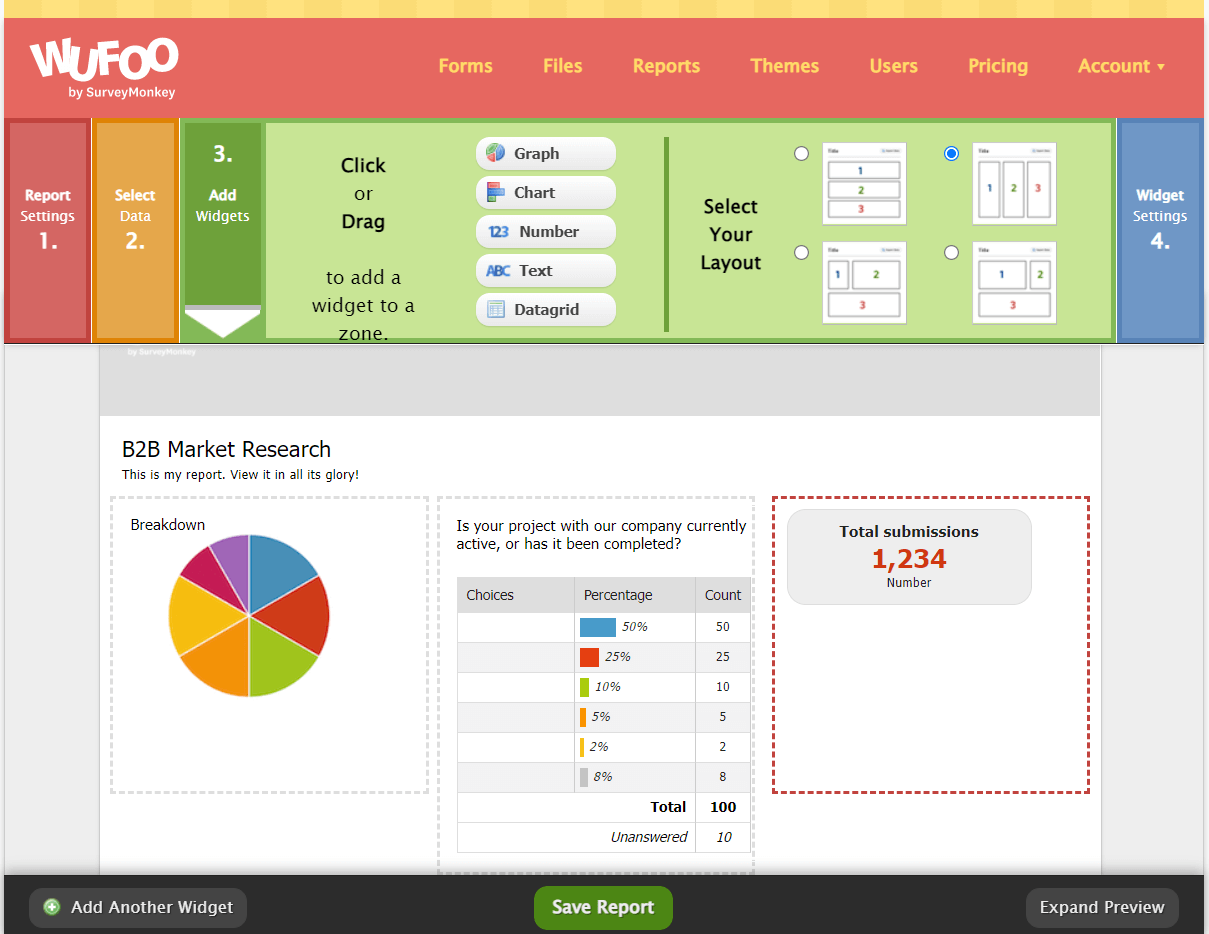 With Wufoo's reporting and analytics features, users can gather an array of vital statistics about their forms, including page views, entires, conversion rates, errors scores, and average form completion times, to name just a few. Users can track payment forms by views, submissions, and conversion rates.
Best of all, data collected through your Wufoo forms can be seamlessly transferred to your automated marketing and CRM systems and integrated with tools like Dropbox, Mailchimp, WordPress, CDocusign, Asana, and Salesforce. 
Wufoo also gives users the ability to customize reports, data grids, graphs, and charts to present and report to your team, your clients, or other stakeholders. Wufoo also allows users to export data to spreadsheets which can be filtered using whatever parameters they choose. 
Google Forms Reporting and Analytics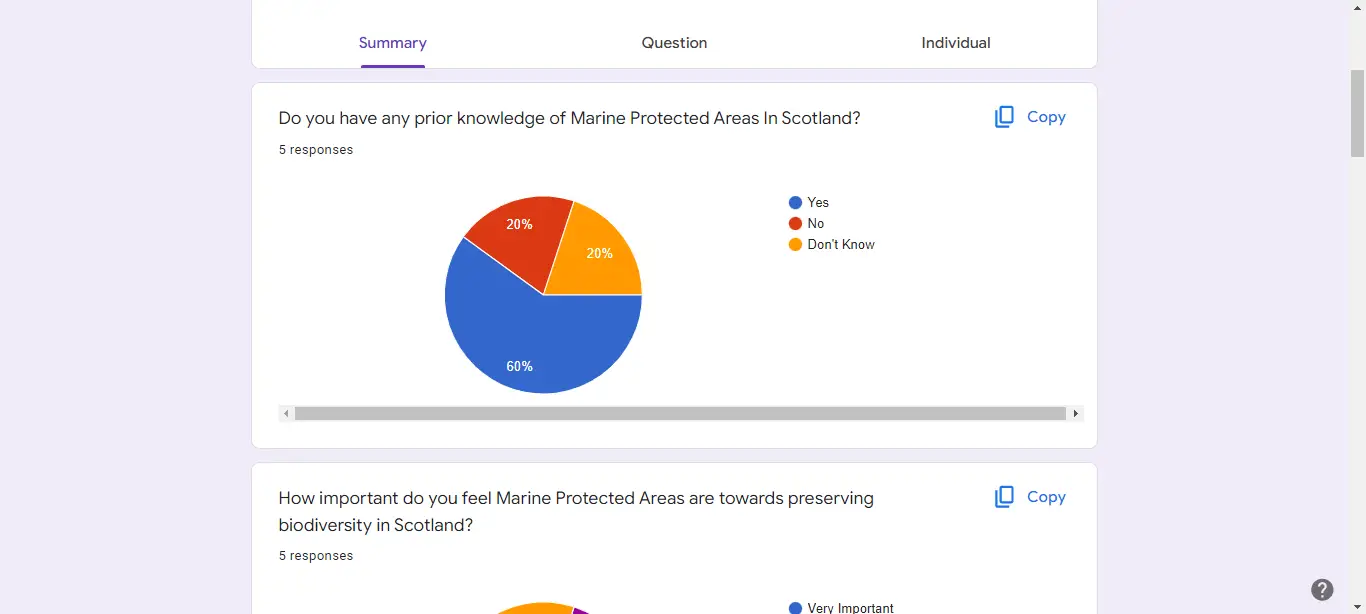 As for reporting and analytics, Google Forms allows users to see form results instantly, as they come in, and automatically generate reports through graphs and charts as you can see above.  
For more in-depth analysis of data, Google Forms relies on its integration with Google Sheets. 
Using Google Forms, creators can view summary and individual responses. In Google Sheets, users can view Google Forms data in a spreadsheet and filter any responses using specific parameters. Google Forms also allows users to download form responses in a CSV format that can be loaded into other programs for filtering and analyzing data. 
Integration
The ability to integrate with other types of software is an important consideration when it comes to any form builder. The ability to easily share data between tools and integrate capabilities is crucial for businesses and the customer experience they offer. 
Wufoo Integration Options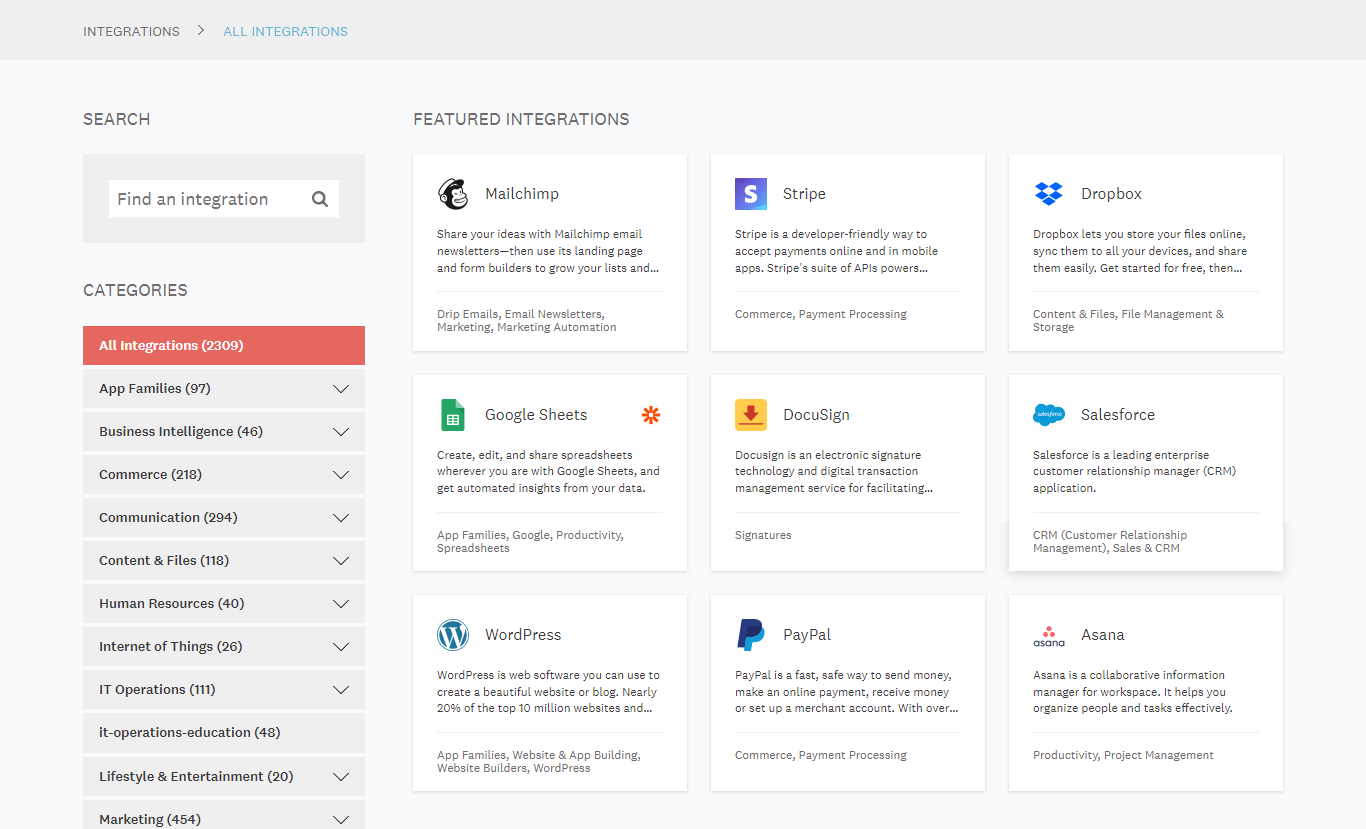 Wufoo offers integration capabilities with more than 2,300 tools and software solutions, including those built for marketing, communication, commerce, human resources, IT, productivity, scheduling & booking, signature, website creation, support, sales & CRM, and more. 
Popular applications that integrate with Wufoo include MailChimp, WordPress, PayPal, Stripe, DocuSign, Salesforce, Dropbox, and Asana.
Google Forms Integration Options
Google Forms works well with all of the tools offered in the Google Suite, including Gmail, Google Drive, Google Sheets, Google Slides, Google Calendar, Google+, and more. 
Users can take their Google Forms to the next level using Zapier, allowing users to easily automate tasks between apps. It serves as a third-party option that works with Google Forms to allow users to connect to popular practical applications, including Slack, Trello, Asana, Mailchimp, Discord, Hubspot, and more. 
Ease of Use
A software's ease of use is perhaps one of the most critical elements to be considered when determining which one is right for you, your business, and your unique needs. This section will compare and contrast the ease of use offered by Wufoo and Google Forms. 
Wufoo Ease of Use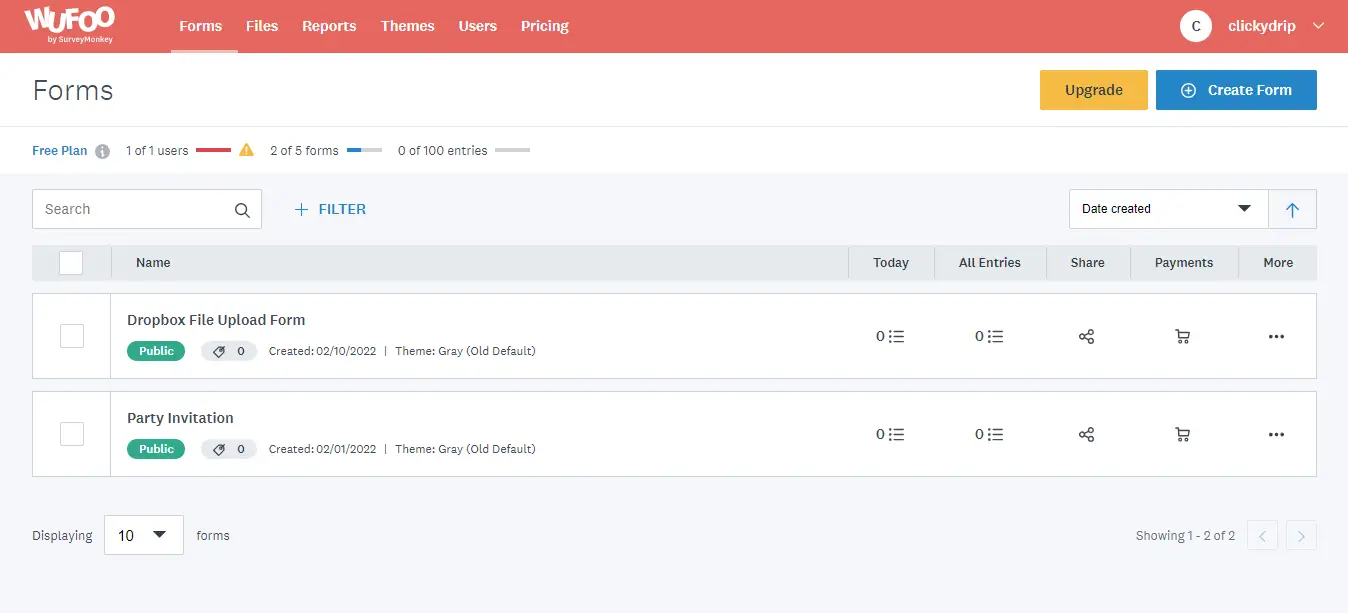 Wufoo's incredible ease of use is evident throughout its simple drag-and-drop interface, making creating customized forms for any occasion straightforward. Adding and customizing field and form settings is a breeze. The ability to add payment integration, trigger branching & logic features, and customize the overall theme is equally as simple. 
For those who have trouble figuring it out, the Wufoo Help Center offers step-by-step instructions on how to get the most from all that Wufoo has to offer. 
Google Forms Ease of Use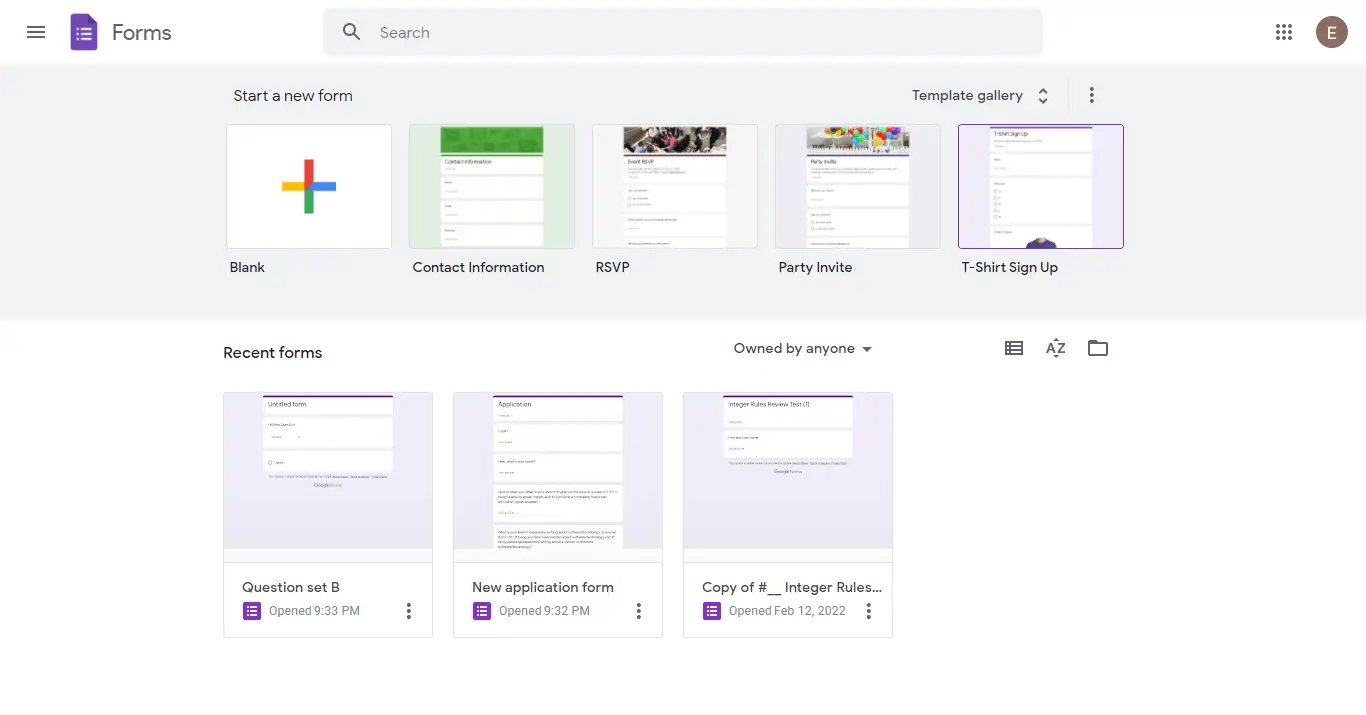 Google Forms offers an even cleaner and more direct experience than Wufoo, allowing users to create basic forms for free. Its minimalist interface makes it incredibly simple but allows for only minor customizations. 
Google Forms does not give users a polished look that they would expect from premium form building software like Wufoo, but it serves its purpose as a no-frills, free form builder. 
Pricing 
Google Forms is especially popular among individual users because it is entirely free to use. Wufoo also offers a free version. However, both Google Forms and Wufoo's free version pale compared to the premium versions available from Wufoo. 
We break it down below:
Wufoo Pricing
When it comes to pricing options, Wufoo's pricing plans are on par with most other premium forms builders on the market today. It offers an entirely free version to users that allows users to create up to five forms with ten fields each and the collection of 100 responses per month. However, the free plan offers a limited set of features. 
To unlock branding features and automate workflows, users will have to purchase the starter plan ($14.08/month). Its most popular plan (Professional) costs $29.08 per month and unlocks payment collection features and form security. 
When it comes to premium form building, particularly for business use, Wufoo is definitely worth the price. 
Google Forms Pricing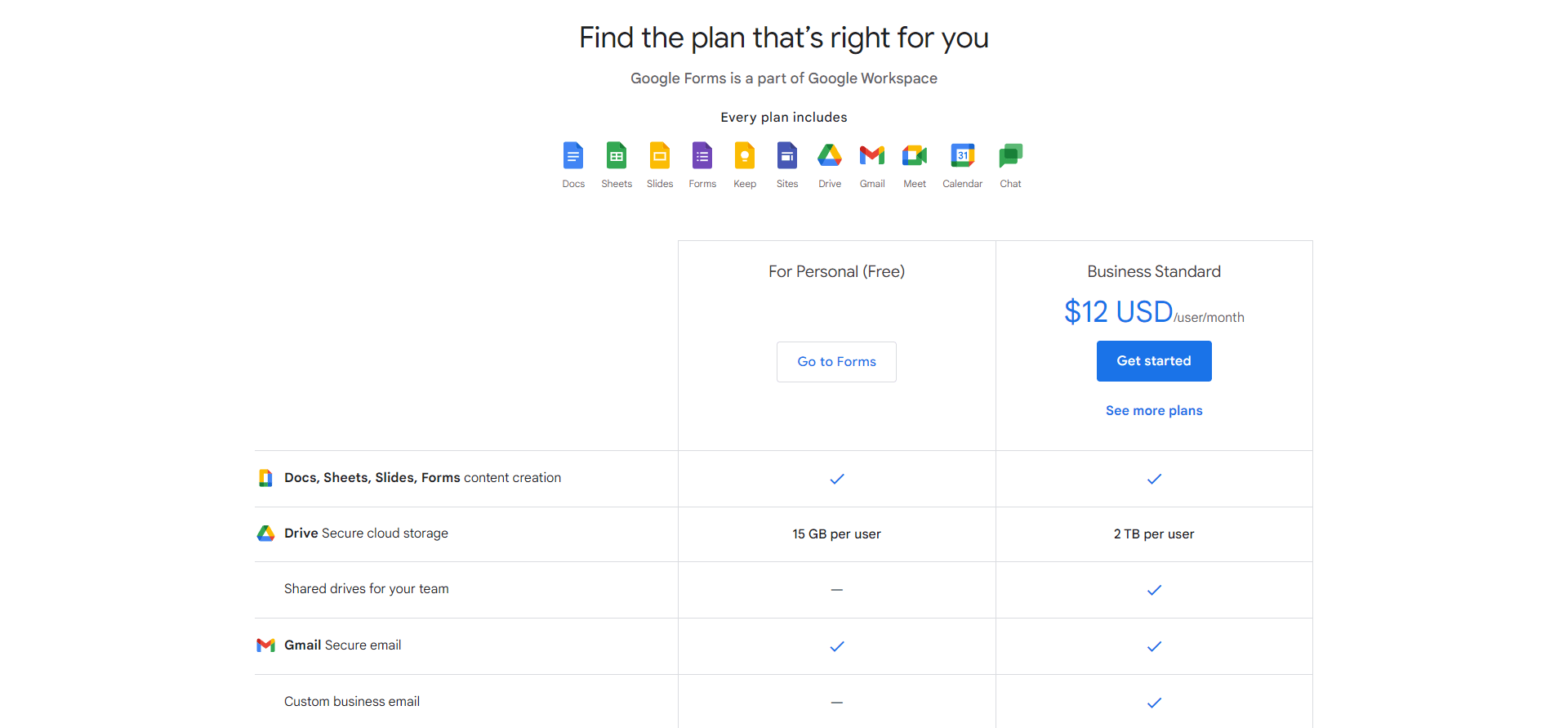 On the other hand, Google Forms is 100% free for individuals with a free Google account. In addition to being free to individual users, Google Forms is also an available Google Workspace feature for businesses, starting at $6 a month. A paid Google Workspace account comes with extra storage and a few other features.
As mentioned previously, users can enhance their Google Forms experience using Zapier. Although there is a free version of Zapier available, to truly unlock the power of this automation tool and allow for crucial application integrations, users will likely want to opt for a paid plan starting at $19.99 per month. 
Customer Support
With the ease of use being a prominent characteristic of Wufoo and Google Forms, customer support might be an afterthought, but it shouldn't be. Customer support is crucial if you want to get the most out of your form-building software, especially if you pay a monthly fee. 
Wufoo Customer Support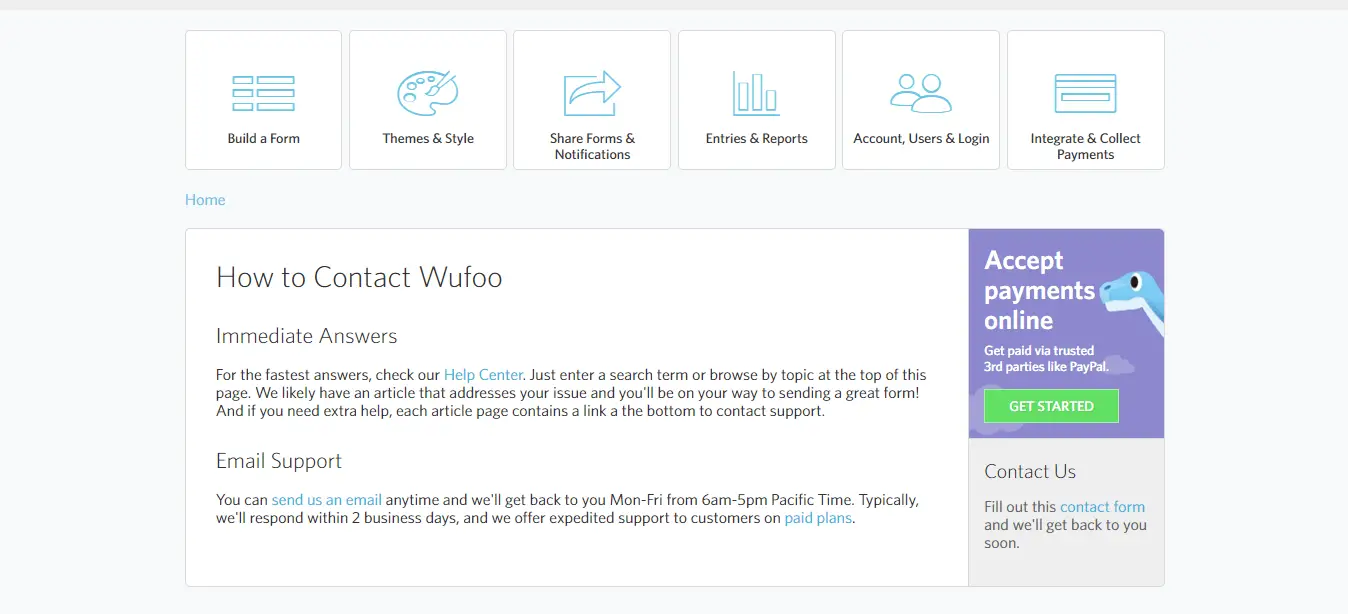 Wufoo's help center page features a vast database of solutions related to issues frequently encountered by users, which can probably answer just about any question you might have. However, if you can't find an answer to a question there, you can send the team at Wufoo an email anytime, and they will respond during regular business hours.
The typical response time from Wufoo staff is two business days, though they offer expedited support to users who have purchased a paid plan. 
Google Forms Customer Support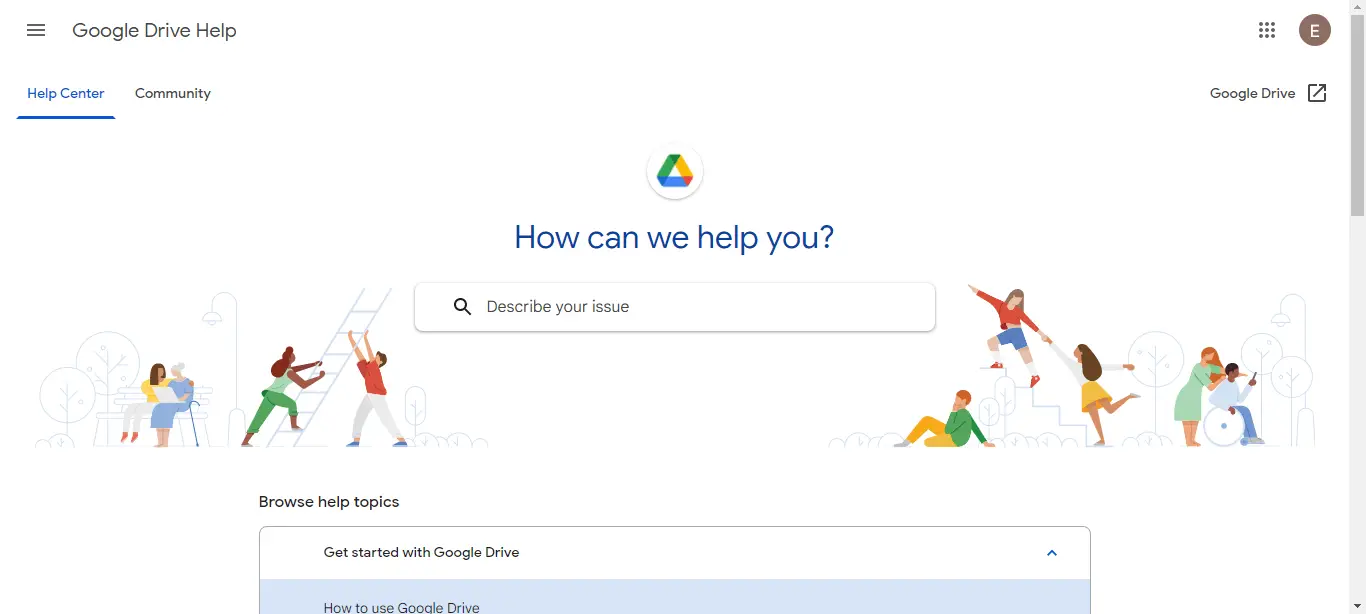 Google offers a robust archive of support tools online through its tutorials and community help forums, which can assist you in troubleshooting Google Forms issues and issues related to any Google product, for that matter. Although there is a support phone number you can call, it is a waste of time. Calling for customer support will ultimately lead you through many pre-recorded menu options, eventually instructing you to seek help from its online tutorials and forums. 
When to Choose Wufoo vs Google Forms
When it comes to deciding between Wufoo vs Google Forms, the best form builder for you comes down to your individual needs and how much you are willing to pay.
Both Wufoo and Google Forms can achieve the same goals across the board, especially for individual users and small businesses who are planning to use form-building software for the sole purpose of data collection and low-level engagement. In that case, it will likely come down to your personal preference between Google Forms and the free version of Wufoo.
For mid-sized businesses with large audiences, anyone processing online payments, or individuals interested in workflow automation, a paid plan from Wufoo will be your best option. While Google Forms will allow a certain level of customization, Wufoo offers a deeper level of customization that will not only create professional-looking forms but forms that can better match your brand identity. Another common complaint about Google Forms is that documents created with the software do not display well on mobile devices, which should be a deal-breaker for anyone looking to create professional-grade forms.
You can see how other form builders stack up to Google Forms in the following comparisons:
Microsoft Forms vs Google Forms