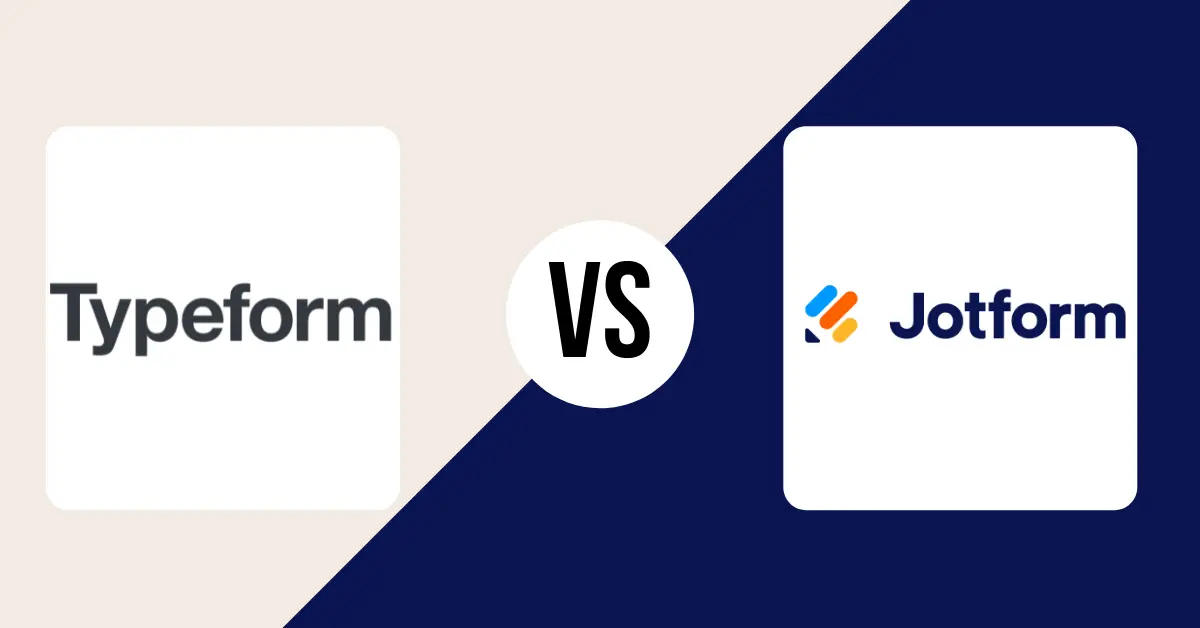 There is undoubtedly no better way to collect valuable information from your target audience than by using forms. 
Whether you are interested in creating registration forms for an upcoming event or capturing the contact information of prospective customers who are visiting your website, a good form builder can make this process easy. 
Typeform and Jotform happen to be two of the best in the industry. 
In this post, you will discover the key differences between Typeform vs Jotform in terms of features, user experience, and pricing. 
About Typeform and Jotform
Typeform is a beautiful form creator that lets you make forms, surveys, and quizzes. What's really interesting about Typeform is their approach to forms — they only show one slide at a time.
They say that these are forms, "made for humans," which is just a way to say that they're made with a great user experience (UX) in mind. It was launched in 2012 and has over 400 employees, so these forms are obviously pretty popular.
Unlike Typeform, Jotform is a form builder that is used to build traditional online forms that allow people to fill out the entire form from one page. The company has tons of integrations and numerous templates for all types of uses. For instance, Jotform can be used to build surveys to lead capture forms, and anything in between. As a solid payment form builder, there are also plenty of templates for payment forms as well. 
Templates
Both Typeform and Jotform have tons of templates to choose from, and they all look pretty darn good.
Typeform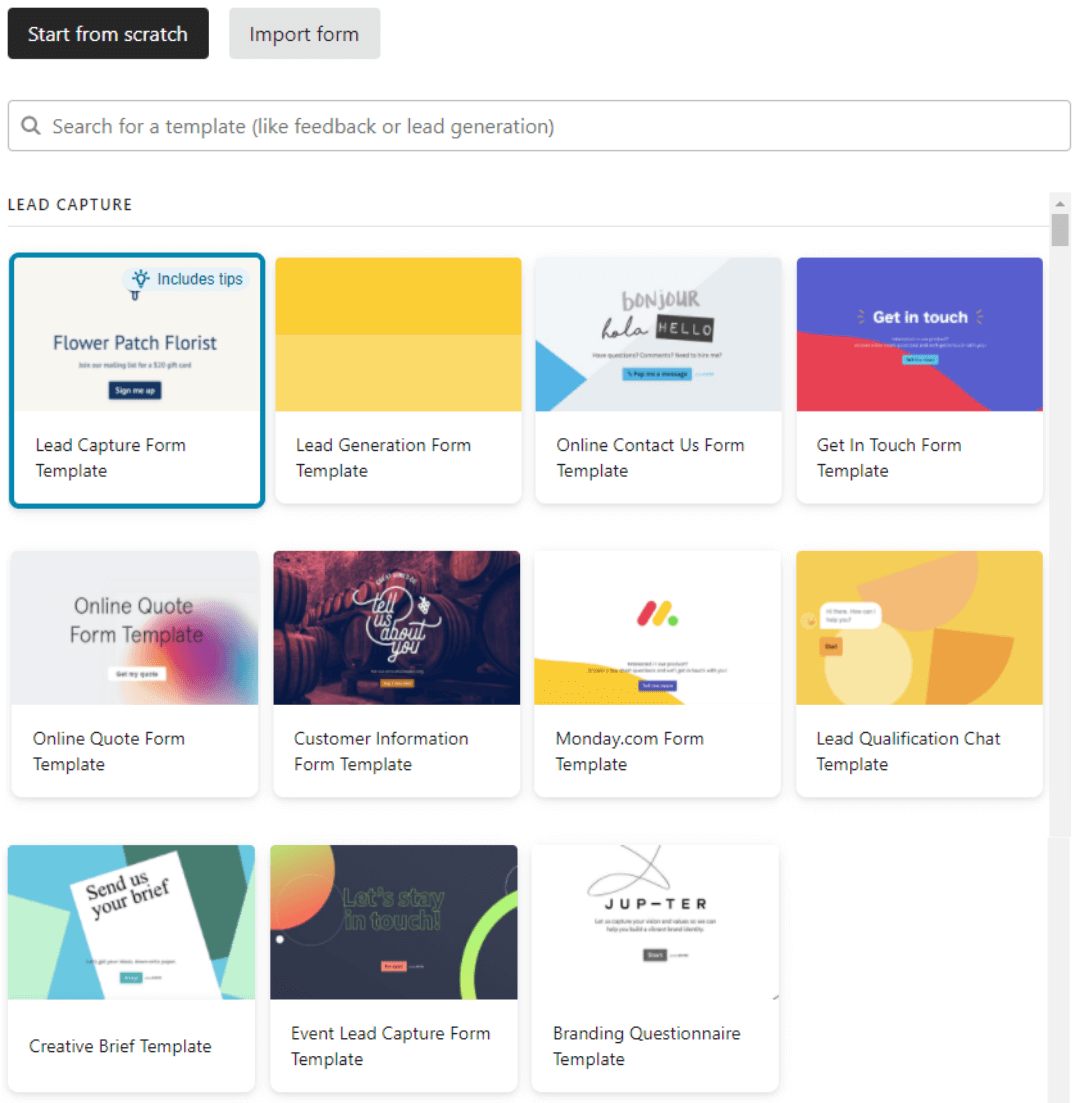 Typeform has plenty of templates for just about any need. Here are the major categories of templates they have:
Lead capture

Registration

Feedback

Application

Research

Quiz

Order

Giveaway

Request

Poll

Report
There's also an "other" category that has even more templates that don't fit neatly into those categories.
Typeform templates all look gorgeous, and that's probably what sets Typeform apart from just about any other form builder out there. You can preview the templates to see exactly what they would look like, and you can actually fill them out.
All their templates are designed with UX in mind: "Built using best-practice research by our data science team." You're not going to find a lot of form builders that can make that kind of boast.
Unfortunately, not all the templates are available in the free version, so if you want access to all of them, you'll need to pay.
Additionally, with so many customers of Typeform, it's not hard to find live Typeform examples to see how the templates look in action. 
Jotform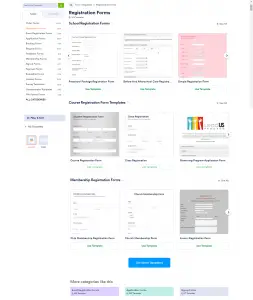 Jotform absolutely blows Typeform out of the water when it comes to templates. They literally have over 10,000. There are actually so many as to be overwhelming, so that might actually be a drawback.
They're searchable thankfully, and they're also broken up into types, industries, and professions, so searching for the perfect template will be a little less time-consuming than it might be otherwise.
Here are some of the different categories of templates:
Orders 

Registration 

Event registration

Application

Booking

Requests

Feedback

Membership

Signup

Payment

Contact

Surveys

Questionnaires

Consent
That's just a snippet of what's available. The forms all look good, though not as beautiful as Typeform. Some of them come with images that you can replace, while others don't.
Each template is pretty good at pairing design with the seriousness or playfulness of the subject, so for many users, using them as they are without any design changes is probably going to be fine.
Editor
Both editors provide a smooth user experience, but there are definitely some differences.
Typeform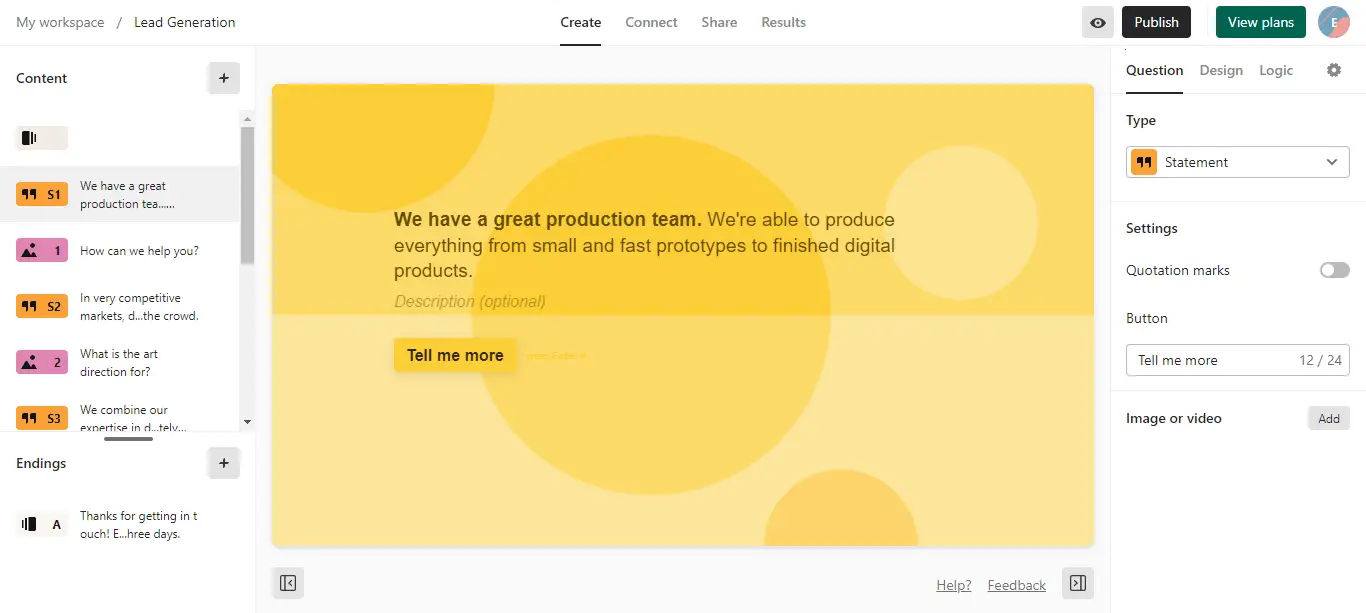 As you might expect from what we've already talked about with Typeform, it's about as smooth of an editing experience as you're going to get.
The editor is uncluttered, and it's easy enough to use that anyone can pick it up quickly. Adding questions or other types of content is as simple as clicking the plus button. The same can be said for the layout, and you'll see how your changes look in real-time.
Changing the colors and backgrounds is as simple as clicking a button and uploading an image, and while the free version has some sleek minimalist designs, the paid version has some truly beautiful ones.
Jotform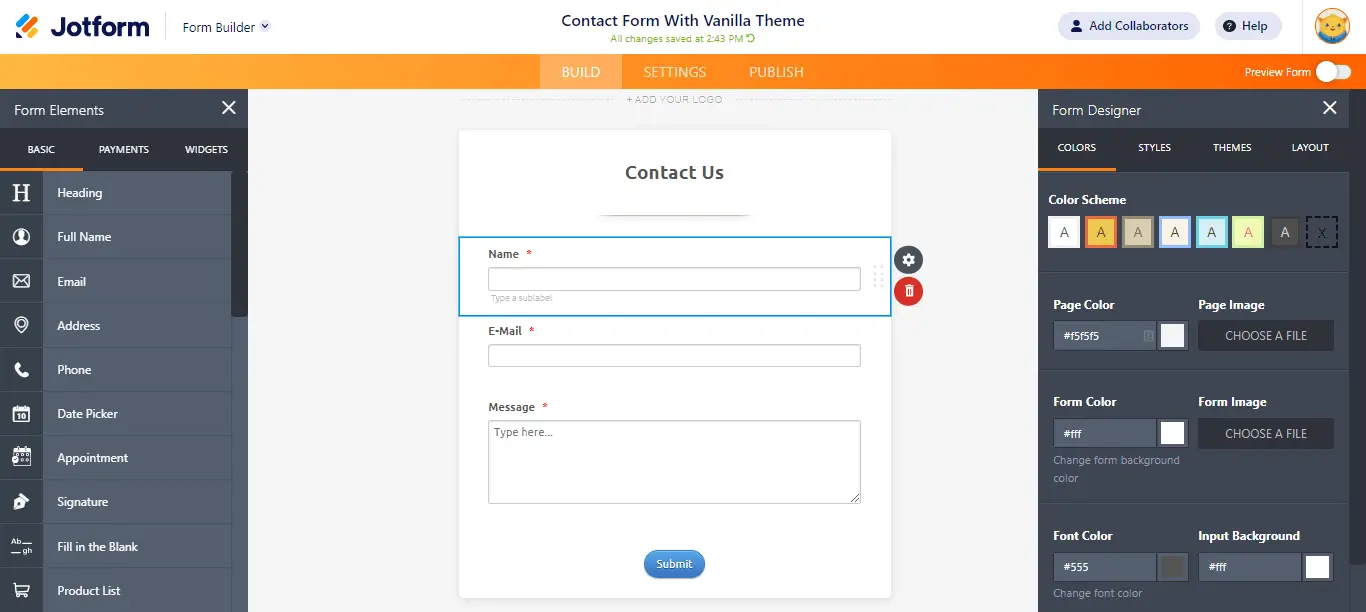 Jotform's editor also provides a clean, smooth editing experience. One of the biggest differences is that Jotform lets you get much more in-depth with editing. You have granular control over colors, layouts, background images, etc.
You can also edit each form using CSS in the advanced editor, a feature you're not going to find in Typeform's free version.
Adding form elements is also a smooth experience, and there are tons of options that are divided up into sections based on what they do.
Jotform is simple to use for beginners but advanced enough that developers who want a specific experience can manipulate the forms as much as they please.
Surveys and Conditional Logic
Both form builders have conditional logic options for surveys, quizzes, and polls.
Typeform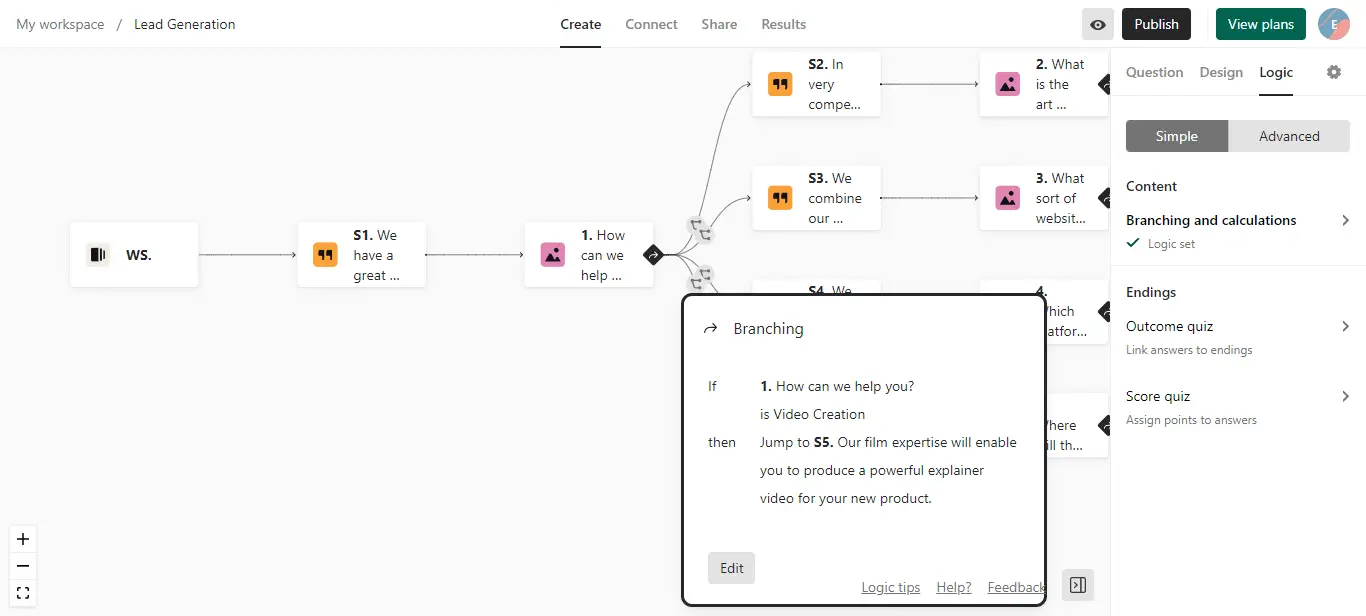 Typeform allows you to create forms that use conditional logic. This includes things like quizzes, where you might want to show the user whether they got the question right or wrong.
The conditional logic is built into many of the templates that are available, which is great because it gets pretty complex pretty quickly.
However, though it does get complex, the editor itself is simple to use. What's really great about it is that it shows you a flowchart visualization of how the questions will go. If you have a question that only shows up when other questions are answered a specific way, you'll be able to easily see that.
This makes the editor far superior to most of the other conditional logic editors in most other forms. Being able to visualize how it will all work saves a significant amount of time and requires much less testing to make sure the conditional logic is working.
To actually create the logic, you have to fill out cards that are essentially if-then statements, as you'd find in most form builders, but once you set up the statements, you can then look at them in the flowchart.
That lets you see if you set it up the way you wanted it and to easily edit each if-then statement as necessary to get it perfect.
Jotform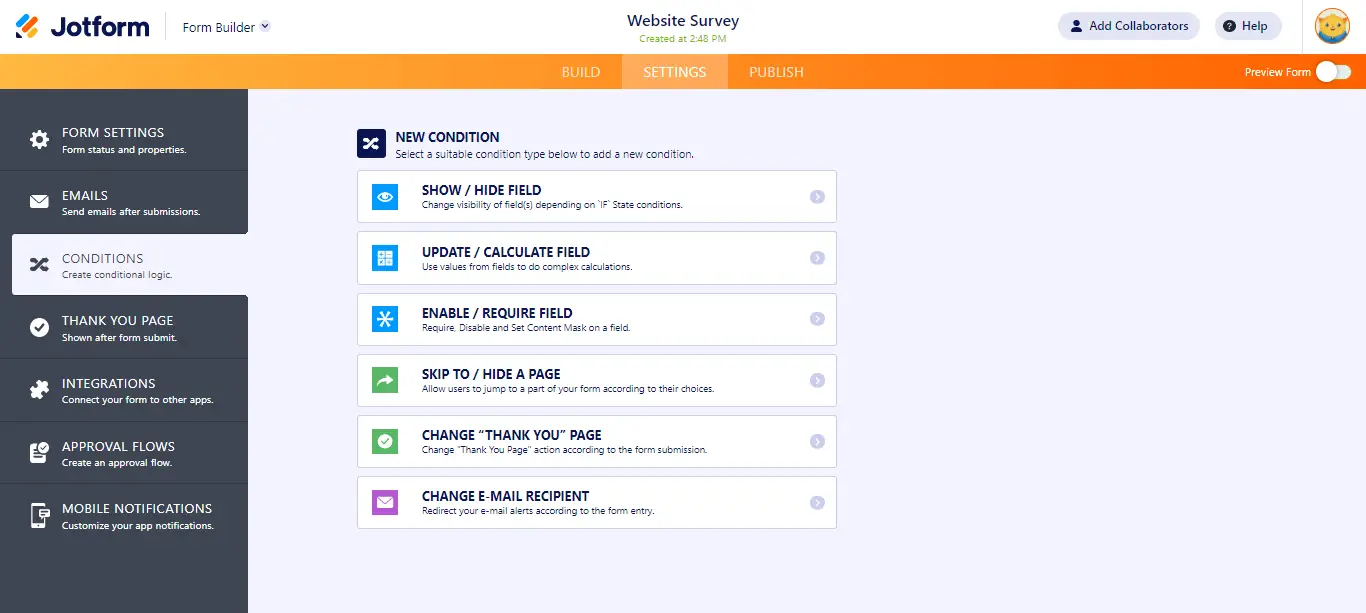 Jotform's conditional logic editor is a traditional list of if-then statements that you can find in most form builders. It's pretty robust and allows you to set up as many conditions as you want. 
What's great about Jotform's editor is that you can create multiple pages so that you can have a single question per page if you want. You can then have users skip questions depending on their answers or go through specific questions in a specific order.
Though you can't add randomization to the quiz, you can set up the questions to go through a faux randomization process by setting up questions that lead users to other specific questions depending on their answers. In essence, it's like setting up multiple versions of the quiz.
Reporting and Analytics
Both Typeform and Jotform have a few forms of analytics available.
Typeform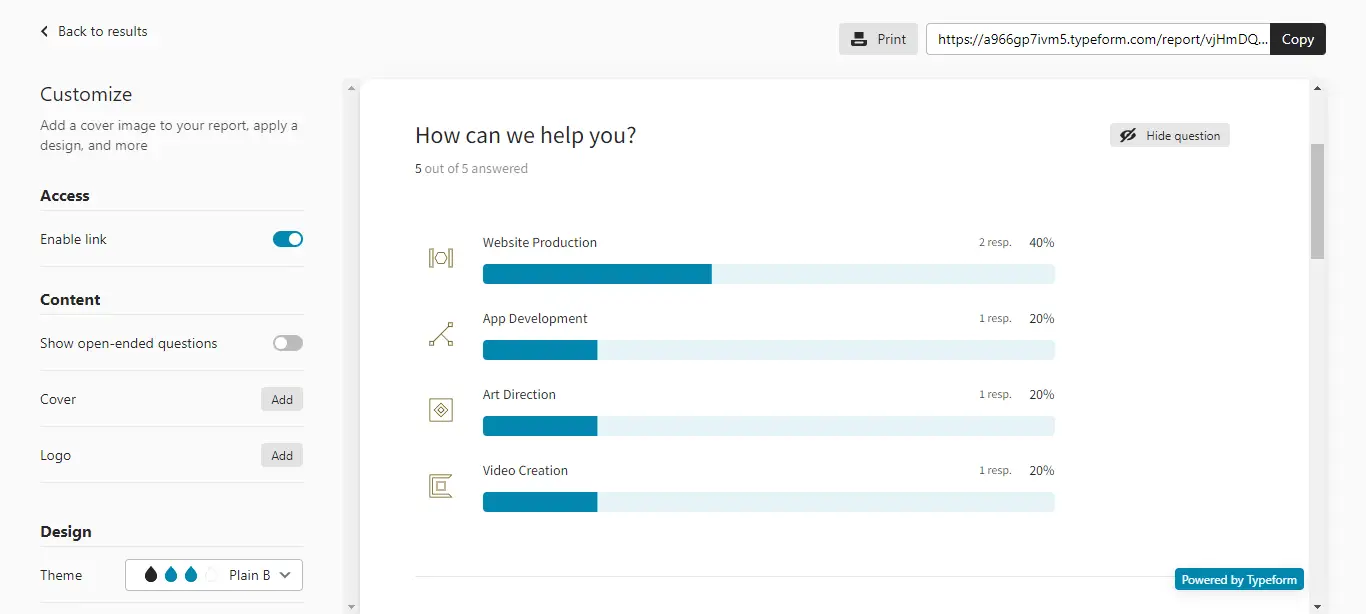 Typeform has a couple of different analytics options, but both require you to have the paid version.
First, you'll be able to see exactly how each individual form performed by using their "results" page. You can break down how users went through the form question by question.
This is great because you can see where in the form you lost users so that you can reevaluate those questions and change them if you want.
Typeform also integrates with Google Analytics and Facebook Analytics, which allows you to see even more info, like demographic/psychographic info, where your traffic is coming from, etc.
Jotform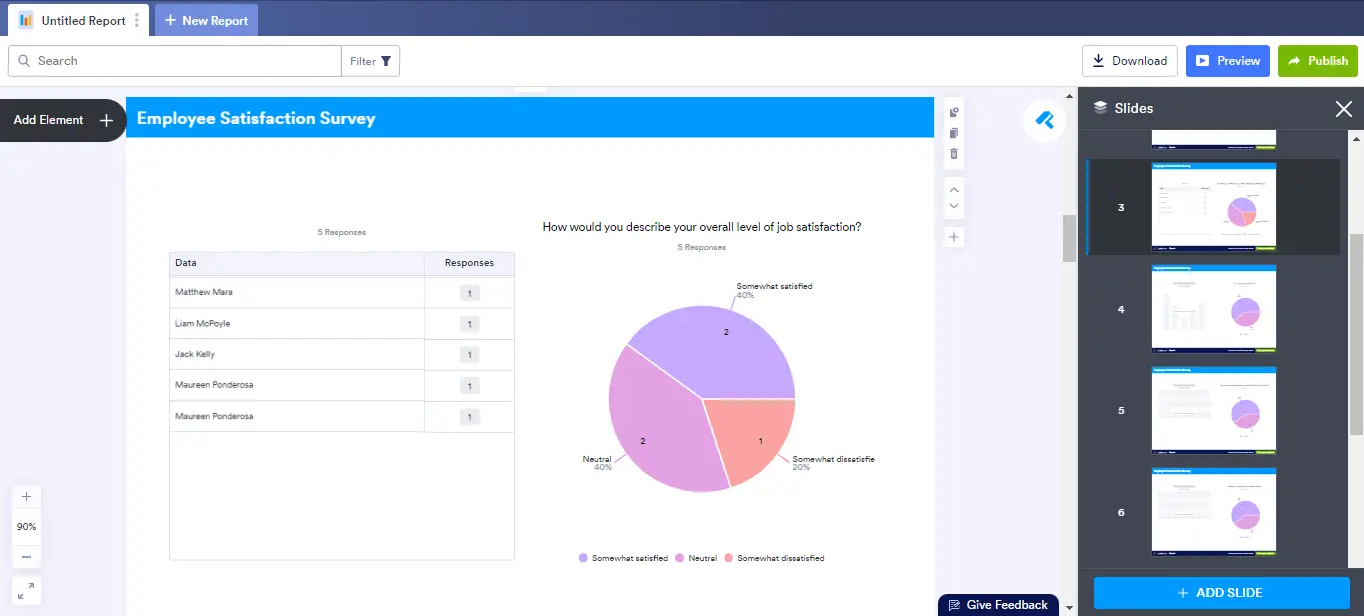 Jotform similarly has in-form analytics and the ability to integrate with Google Analytics. For most businesses, the in-form analytics are probably going to be sufficient. What's nice about Jotform is that you can easily convert your form data into visualizations.
The reports look and feel very professional, and they're also dynamic — they update as more and more responses come through the form.
You can either embed the reports on your website, share them with a simple link, or download them as a PDF.
Integrations
Both Typeform and Jotform have a number of integrations available.
Typeform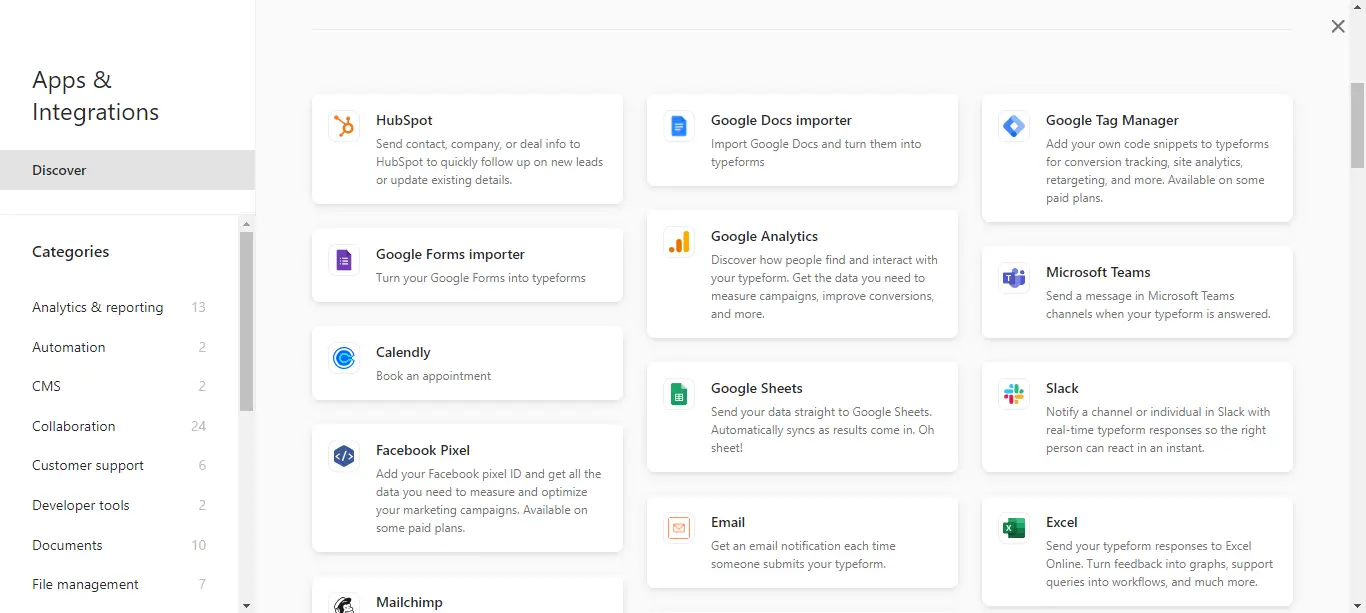 Typeform boasts a ton of integrations — dozens and dozens. If there's an app you want to integrate with, chances are it's available.
And if you're not able to find your app of choice on the list, which is unlikely, then you're able to build an integration using their APIs.
Some of the most popular apps being used today integrate with Typeform, including:
Google Analytics

Google Docs/Forms

Microsoft Word/Excel

Slack

Canva

Microsoft Teams

Facebook Pixel

Salesforce

Active Campaign

Stripe
One notably missing app is PayPal, but with Stripe available, you can take payments with your forms pretty easily.
Jotform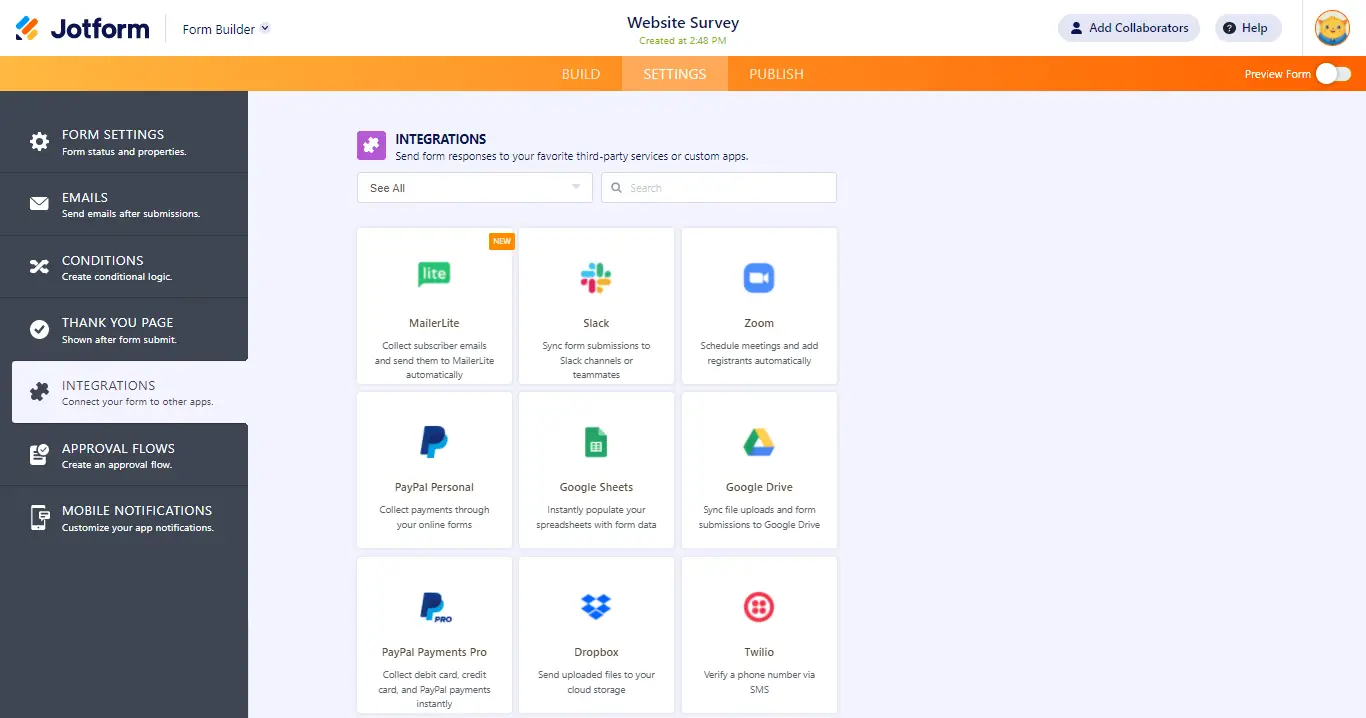 Jotform also has a big list of apps that it integrates with, so you'll easily be able to find your favorite app and integrate with it (unless you're using something really obscure). However, if you do have something that's not listed, you can add your own integration.
Here are a few notable apps that integrate with Jotform:
PayPal

Mailchimp

Zoho CRM

Dropbox

HubSpot

WordPress

Weebly

Joomla

Zapier

IFTTT
Dashboard Experience and Ease of Use
Both Typeform and Jotform have great user experiences, but they will require some practice to get used to them.
Typeform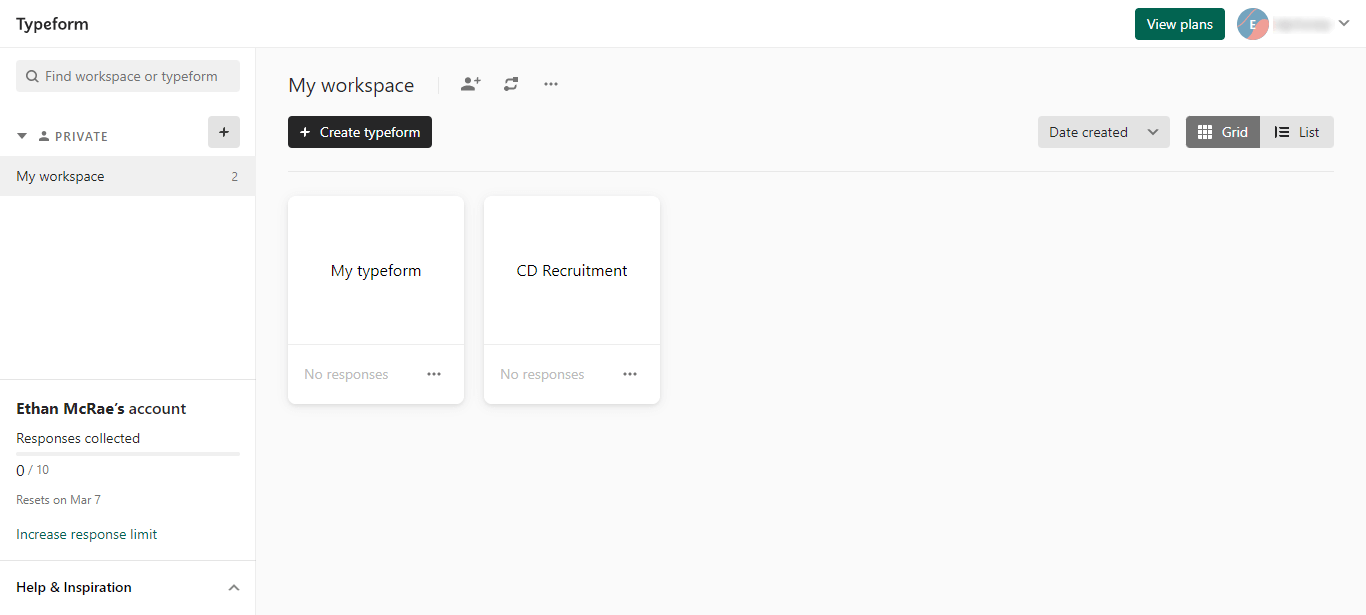 Typeform has the more intuitive user experience of the two, but not by much. That's a good thing because Jotform's user experience is excellent on its own.
What sets Typeform apart is style. It looks cleaner, and you can easily add forms, create new workspaces that are shared with specific people, and more.
Connecting apps right from the dashboard is also simple, as is adding users.
Creating forms is also very straightforward. You won't find too much of a difference in how easy the editors are to use between the two form builders, but one thing that stands out is the conditional logic.
The logic editor is relatively simple to use because it has a flowchart visualization. Being able to easily see how the conditional logic works makes a huge difference in usability.
Jotform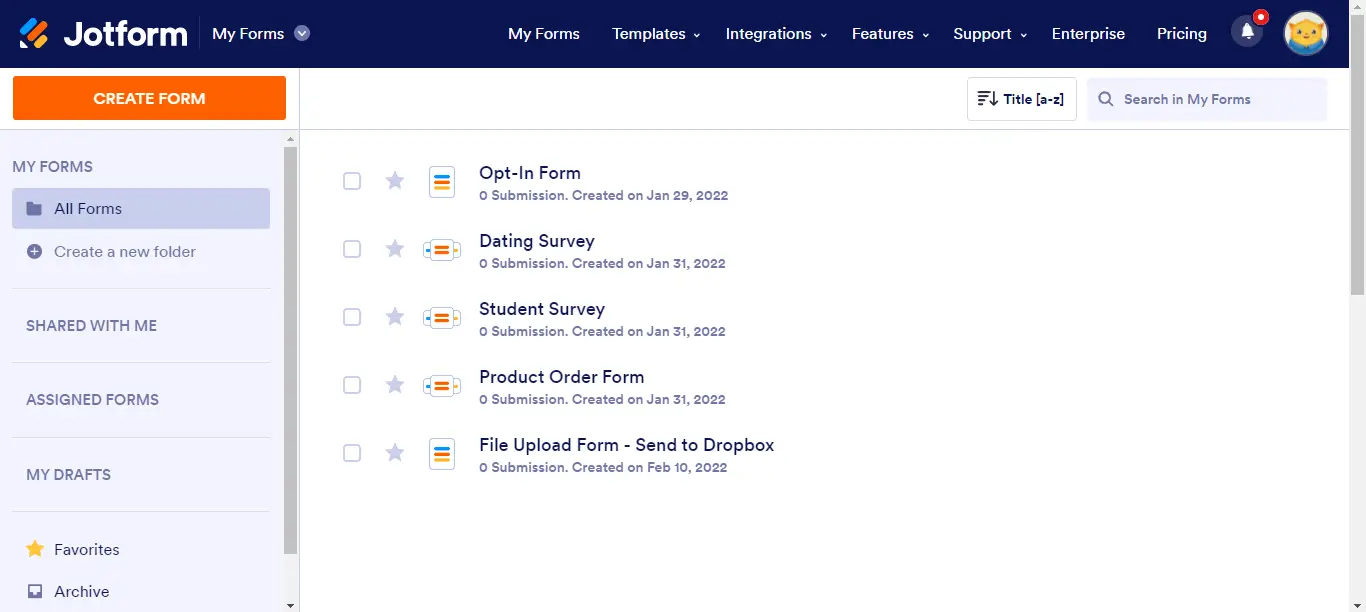 Jotform also has an excellent user experience on the dashboard. The main menu allows you to easily find and edit your form of choice, and you can also access reports right there. You have plenty of options without it feeling overwhelming.
The only drawback in terms of ease of use is the logic editor. You don't have a way to visualize how it works, so it's harder to tell if you've set it up correctly.
Pricing
| | | |
| --- | --- | --- |
| | Typeform | Jotform |
| Free version | ✅ | ✅ |
| Starter plan | $25/month | $24/month |
| Users | 1 | 1 |
| Form limit | Unlimited | 25 |
| Form submissions | 100/month | 1000 |
| 2nd tier plan | $50/month | $29/month |
| Users | 3 | 1 |
| Form limit | Unlimited | 100 |
| Form submissions | 1,000/month | 10000 |
| 3rd tier plan | $83/month | $79/month |
| Users | 5 | 1 |
| Form limit | Unlimited | Unlimited |
| Form submissions | 10,000/month | 100000 |
Both platforms have paid and free options.
Typeform
Typeform's free version is going to be great for a lot of use cases, but the big drawback is how many responses you can get per month.
In fact, this is what's most likely to drive your choice of plans. The number of responses available per plan goes up by 10x each time.
If you're using Typeform for quizzes in your class, a basic plan might be sufficient, but if you're using it for lead gen or anything business-related, it's unlikely that even the basic plan is going to be enough for your needs.
All that being said, Typeform is unique amongst form builders in terms of style and form, so the price, though a bit high, is definitely worth it if you want an amazing form builder.
Jotform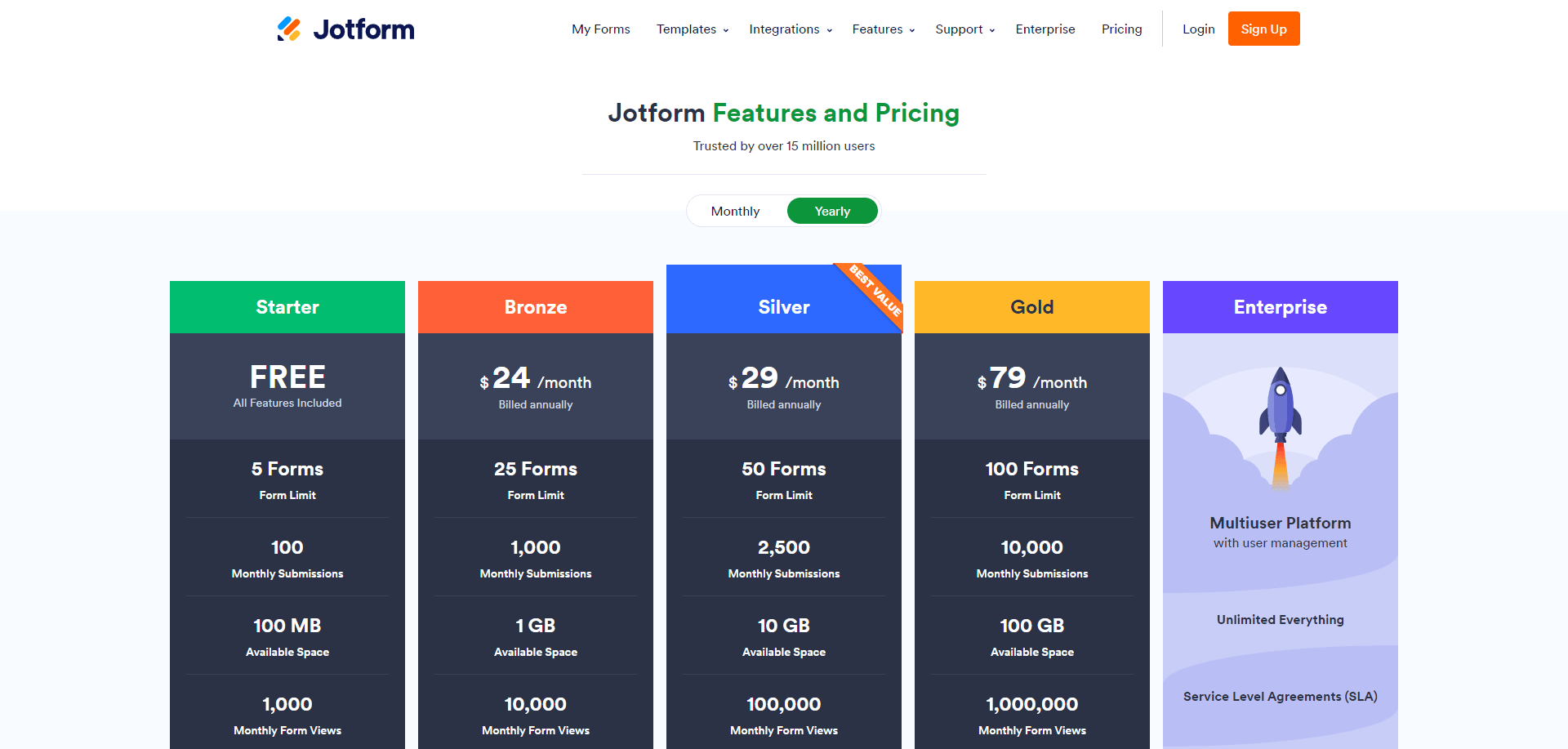 Jotform isn't quite as expensive as Typeform, so for many organizations, it's going to be the more cost-effective option.
While both Typeform and Jotform have free and paid plans, the lowest paid plan of Typeform only gives you 1,000 submissions a month while Jotform's similar plan gives you 100.
Another difference is that Jotform allows you to get up to 100,000 responses a month max while Typeform only goes up to 50,000.
Both form builders will give you a discount for paying yearly, and both have specials going regularly, so keep an eye out for one before making a purchase.
Related: Form Builder Pricing: The Ultimate Comparison Table
Customer Support
| | | |
| --- | --- | --- |
| | Typeform | Jotform |
| Email/help desk | | ✅ |
| Phone support | | |
| Chat | ✅ | |
| FAQ/Forums | ✅ | ✅ |
| Knowledge base | ✅ | ✅ |
| YouTube tutorials | ✅ | ✅ |
Both Typeform and Jotform have help centers and customer service.
Typeform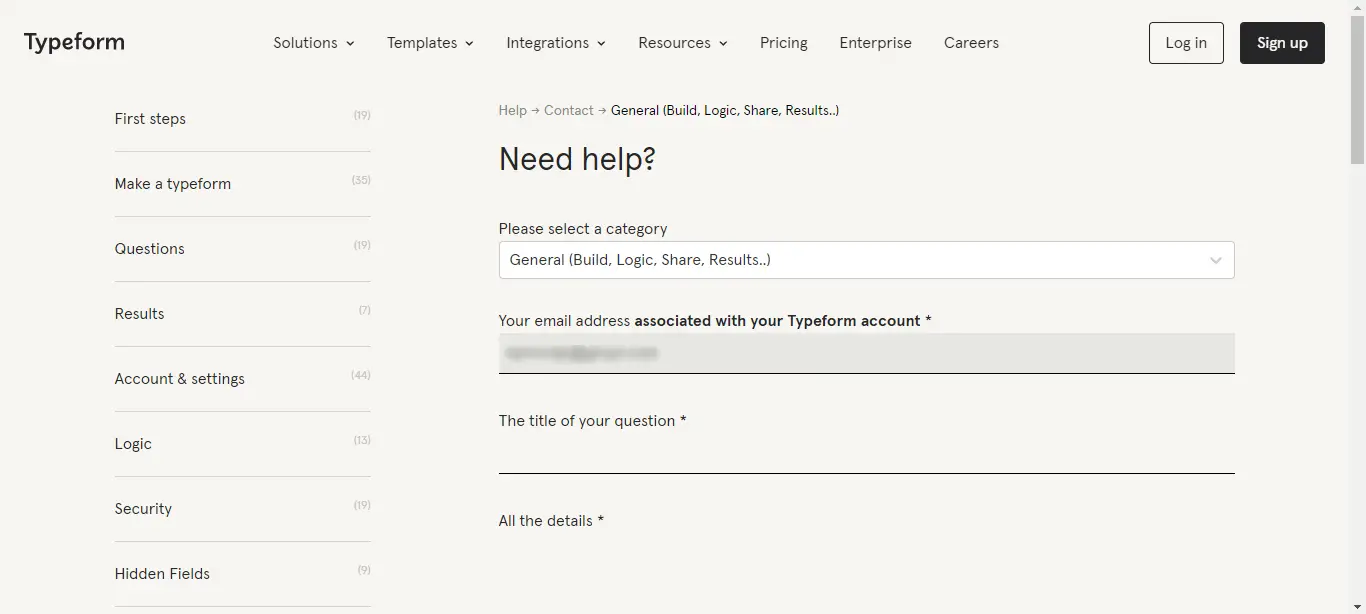 Typeform is definitely the stingier of the two offerings in terms of what you can get from the free plan. If you want help with a free plan, you're going to have to rely on the help center — customer support isn't available for free plans.
That being said, there are tons of community resources available, including videos and webinars, so there's no shortage of material out there to learn to do what you want to do. You'll just have to do it on your own.
Jotform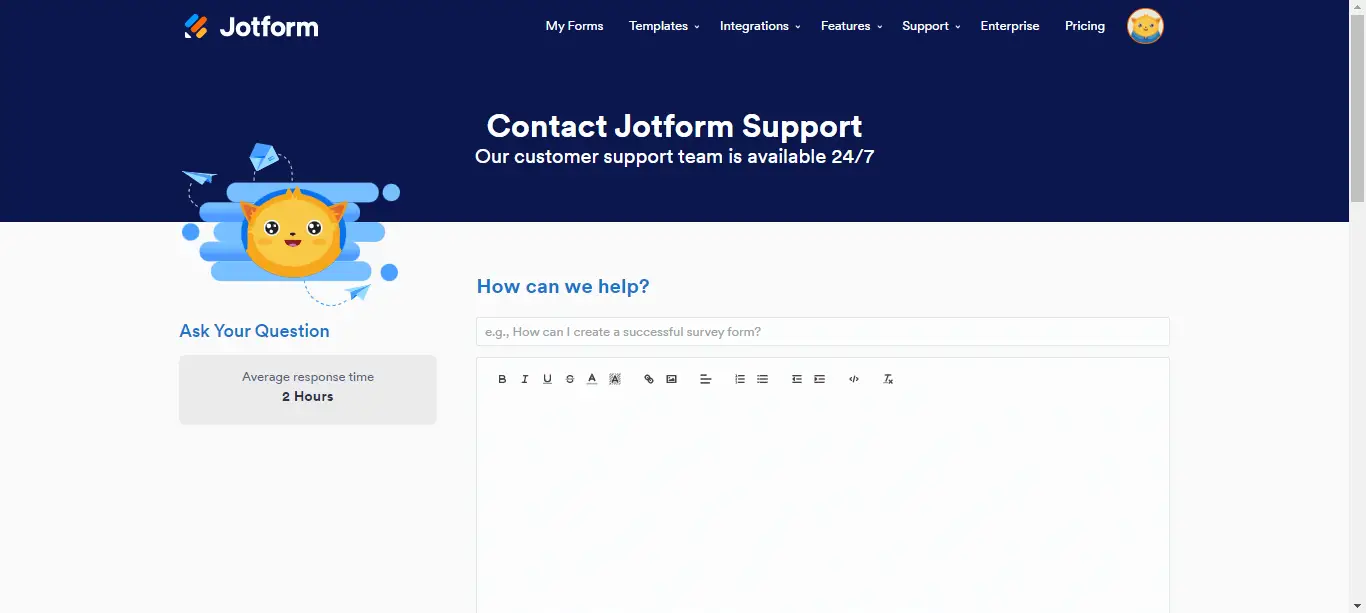 Jotform is a lot more giving when it comes to customer support, providing it for both paid and free users.
They're not super responsive — their average response time was around 2 hours — but they're available 24/7, and they'll talk to you no matter what plan you have, so they blog Typeform out of the water there.
What's interesting is that you can make your support ticket public so that you can get responses from the community. You might get quicker help from a community member than you would from a team member.
When to Choose Typeform vs Jotform
With both benefits and drawbacks to both platforms, choosing between Typeform vs Jotform depends on your business and your needs.
Typeform
Typeform is going to be best for users who want a truly beautiful, unique design to their form. Very few form builders can match how good Typeform's forms look.
Another big reason you might want to choose Typeform over Jotform is if you're going to be using a lot of conditional logic in your forms. The conditional logic of Typeform is simply superior to Jotform because of the visualization option.
Jotform
Jotform is going to be best for businesses and users on a budget. That's not to imply that it looks terrible or functions terribly, it's just more cost-effective. You get 10x the number of responses with the free version, and the max of 100,000 responses with the paid version is 2x what you get with Typeform.
The free version is actually going to be great for most small businesses, nonprofits, and teachers/students. It has everything you need while still allowing plenty of responses.
Ultimately, the one you pick is going to depend on budget and use cases. If you want a truly gorgeous form and budget is no object, go with Typeform. If you just want it for some simple quizzes in class or for lead gen for a small business, Jotform is the way to go.
You can see how other survey builders stack up to Typeform in the following comparisons:
You can see how other form builders stack up to Jotform in the following comparisons: