Direct feedback from an audience is likely the best way to gain valuable insight into their perspective. A well-designed survey is one of the best ways to collect this feedback.
Fortunately, there are numerous survey builder tools that you can utilize for this purpose. However, of all the survey tools out there, SurveyMonkey and Typeform are two of the most popular applications.
But what sets these tools apart? Look no further…
In this post, we discuss the key differences between SurveyMonkey vs Typeform in terms of features and capabilities so that you can make the best choice for your organization.
About SurveyMonkey and Typeform
Created in 1999 by Ryan Finley and Chris Finley, SurveyMonkey is a cloud-based tool that allows users to create, distribute and analyze surveys. SurveyMonkey Inc. was introduced as a publically traded company on September 25, 2018, and is currently known as Momentive Inc. It now offers a range of experience management products.  
Typeform is a Spanish software firm founded in 2012 by Robert Muñoz and David Okuniev. The company specializes in online form building and survey management. The Typeform software was initially released in the Alpha phase by invite only and launched in Beta in April 2013. It is currently used for many different interactions, including customer requests, event organization, content marketing, employee feedback, form management, and more.
Templates
SurveyMonkey Templates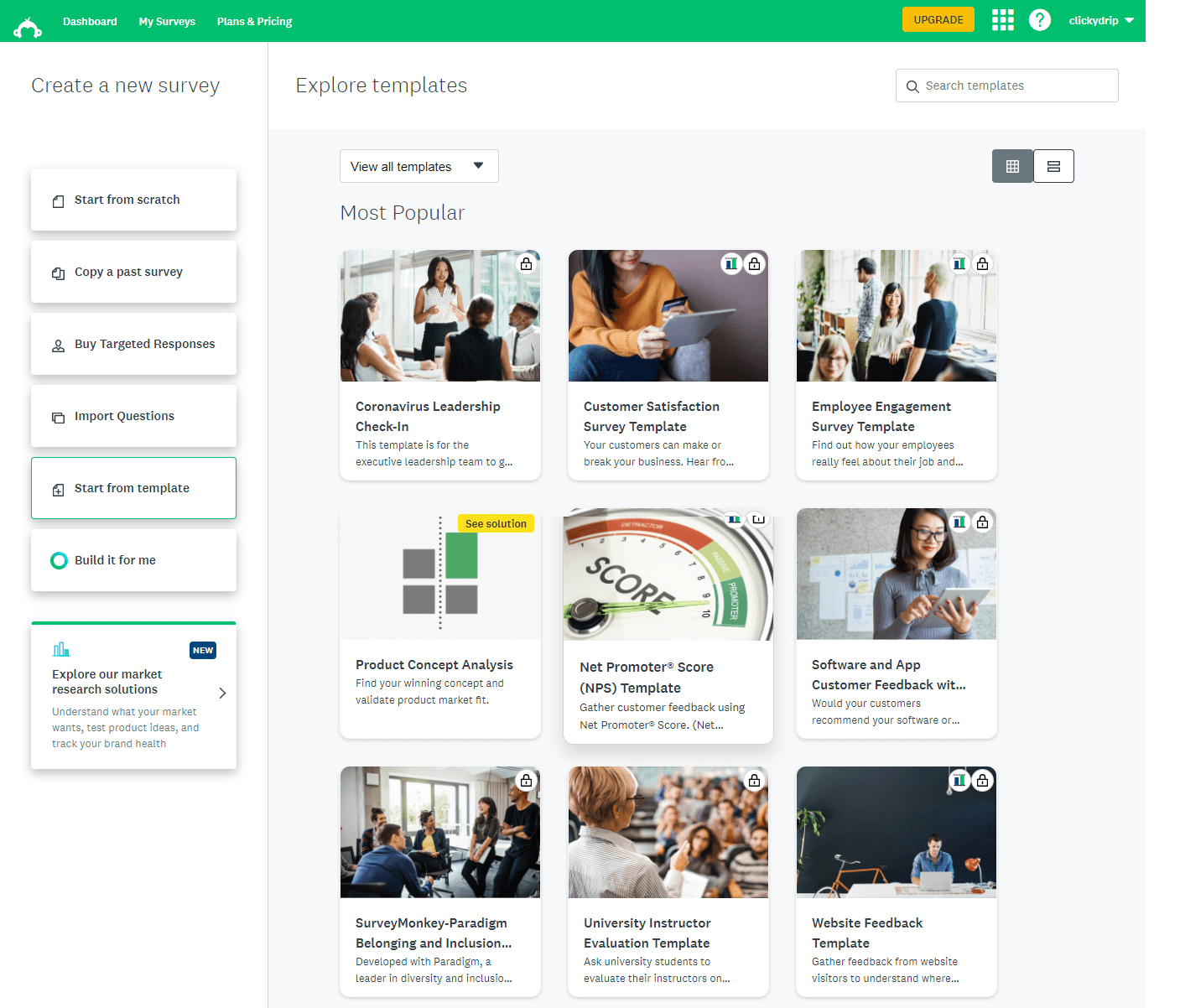 SurveyMonkey offers more than 250 easy-to-use templates that help users tackle an array of information-gathering tasks, from political polls and customer satisfaction surveys to market research and employee management. SurveyMonkey templates are divided into the following eight categories:
Employees:

More than 60 employee survey templates cover a wide range of HR-related topics, from employee evaluations and recruitment satisfaction polls to exit interviews and stakeholder satisfaction surveys.

Market Research:

There are 65 SurveyMonkey market research templates covering product surveys, brand awareness surveys, social media surveys, and much more.

Customers:

The nearly 30 customer templates focus on customer satisfaction and engagement. 

Education:

There are 29 SurveyMonkey education templates covering teacher evaluations, parental engagement, student engagement, course satisfaction, and more. 

Healthcare:

There are 24 healthcare surveys covering various healthcare-related topics, from mental health and personal hygiene to veterinary and personal fitness topics and more.

Events:

SurveyMonkey's ten event templates can be used for event planning, event feedback, and everything in between.

Nonprofit:

There are five templates created with nonprofit organizations in mind.

Other:

SurveyMonkey offers more than 40 different templates, categorized as "other," which target a range of users from political organizations, church groups, and neighborhood associations.
If one of these customizable templates does not meet a user's specific needs, SurveyMonkey allows them to create their own form from scratch.
Typeform Templates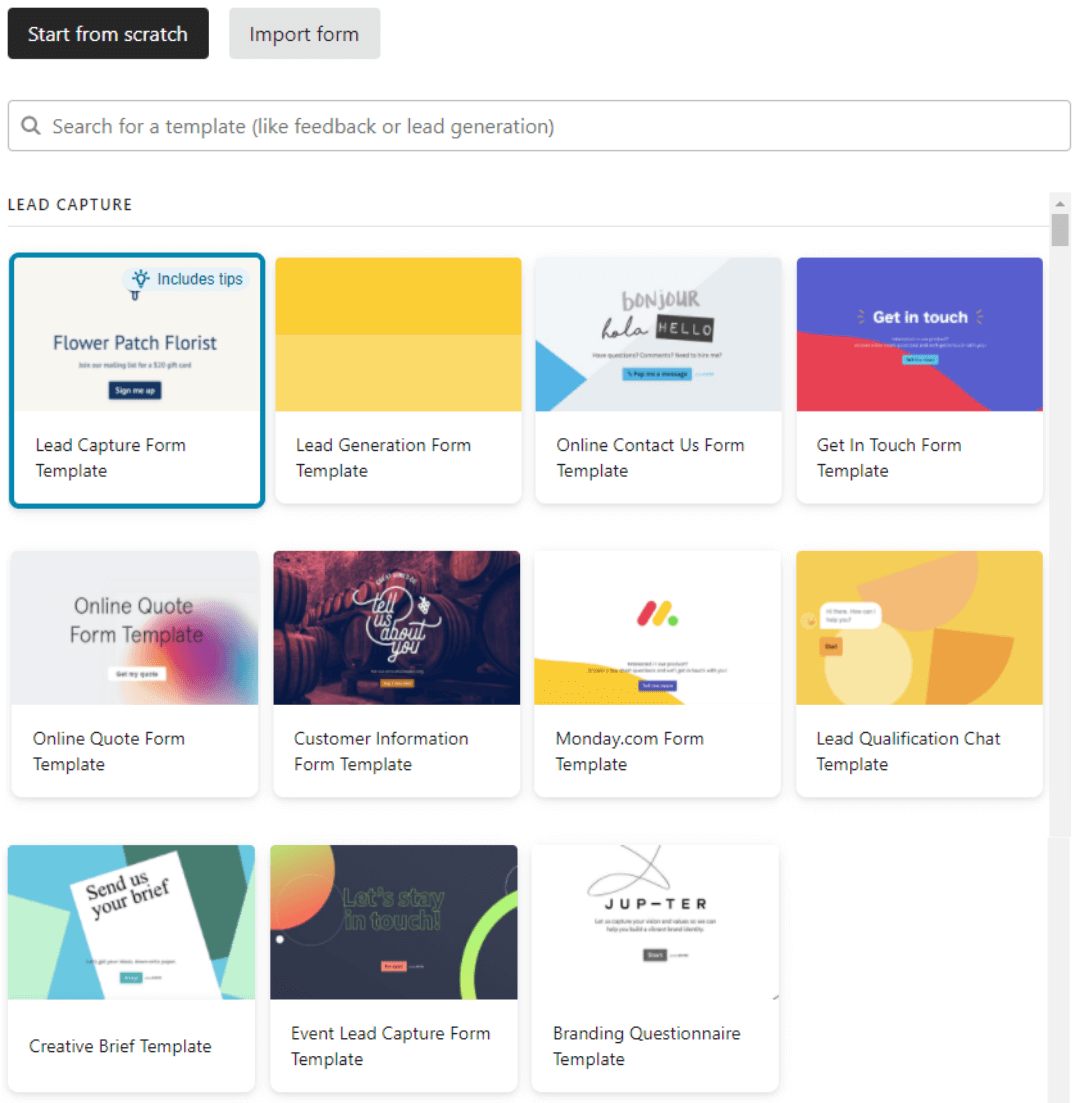 Typeform gives users more than 600 clean and concise templates which can be used to meet a range of needs from survey building, form building, lead generation, and more. Typeform templates are divided into six categories:
Surveys & Questionnaires:

Typeform questionnaires and surveys are personalized and interactive. The templates cover more than 15 topics, including employee engagement, market research, healthcare, nonprofit, education, and more.

Quizzes:

Typeform offers a range of interactive quiz templates that can be used for engagement, brand identity, lead collection, and increasing sales.

Lead Generation:

The lead generation templates utilize quizzes and forms to build relationships and collect data.

Forms:

Typeform offers many different "form" templates, including employment forms, membership forms, payment forms, donation forms, subscription forms, registration forms, and more.

Remote Working:

The remote working templates are unique and can engage teams while measuring success.

Polls:

Typeform has a few poll templates created to be easy and fun.
There are so many different Typeform templates that can be used for a range of tasks that it would be impossible to list them all. However, they are all customizable and, on the off-chance that one of the pre-designed templates cannot meet your specific needs, Typeform offers the ability to build your own from scratch.
Fortunately, with a variety of Typeform templates, there is a wide variety of live Typeform examples created by thousands of Typeform customers that you can use for inspiration. 
Editor
SurveyMonkey Editor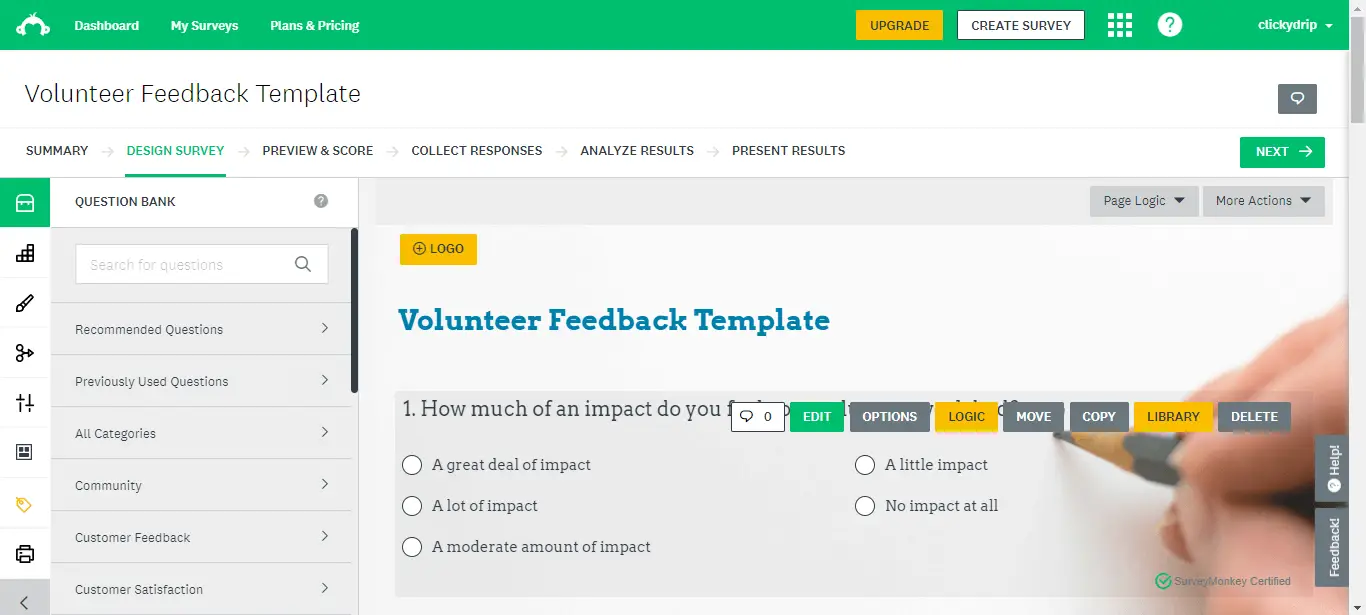 The SurveyMonkey editor allows users to create surveys either from scratch or one of the more than 250 survey templates in the SurveyMonkey library. Users can also choose from several survey formats, from classic to conversational.
SurveyMonkey surveys are highly-customizable, allowing the user to customize fonts, colors, and backgrounds. There is even an option to customize your surveys with your own branding. However, most custom features are only available with SurveyMonkey's paid plans.
Typeform Editor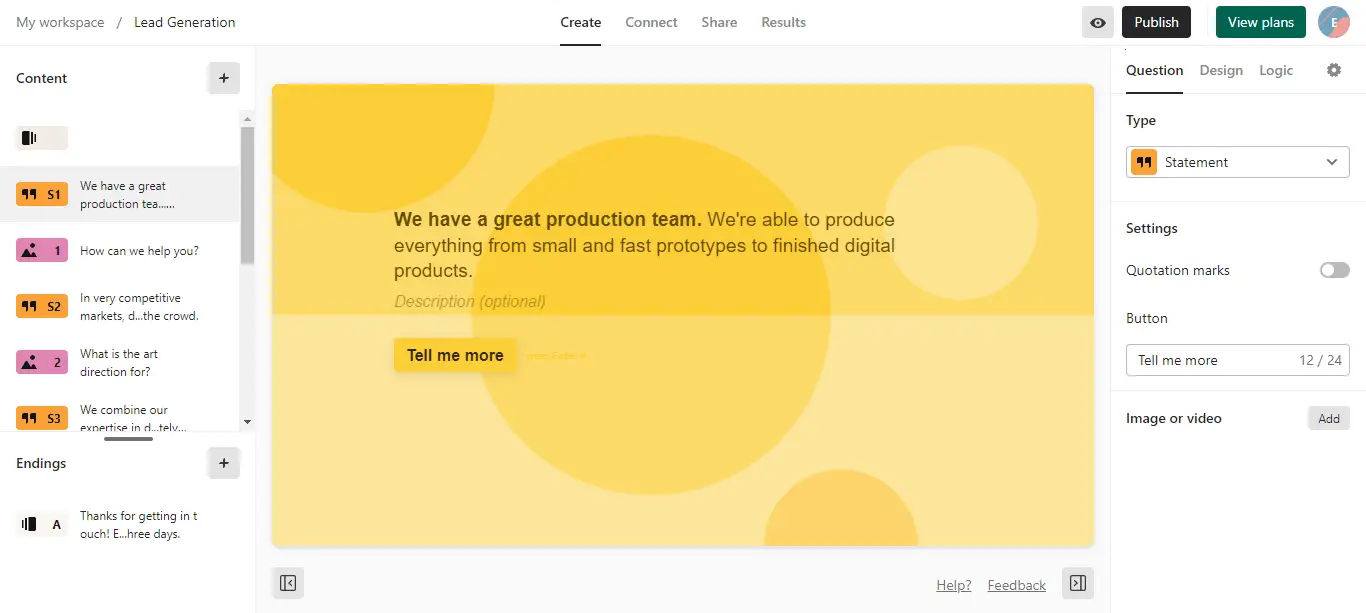 With the Typeform editor, users can create surveys from scratch or use one of its 600 templates and themes. Themes are highly-customizable with countless color, font, and layout options that will allow you to make each Typeform that you create uniquely yours.
One feature of Typeform's editor that sets it apart from SurveyMonkey is the ability to add icons, images, and video into your forms. They can be uploaded, embedded from popular sites like YouTube and Vimeo, or chosen from Typeform's vast media library.  
Surveys and Conditional Logic
SurveyMonkey Surveys and Conditional Logic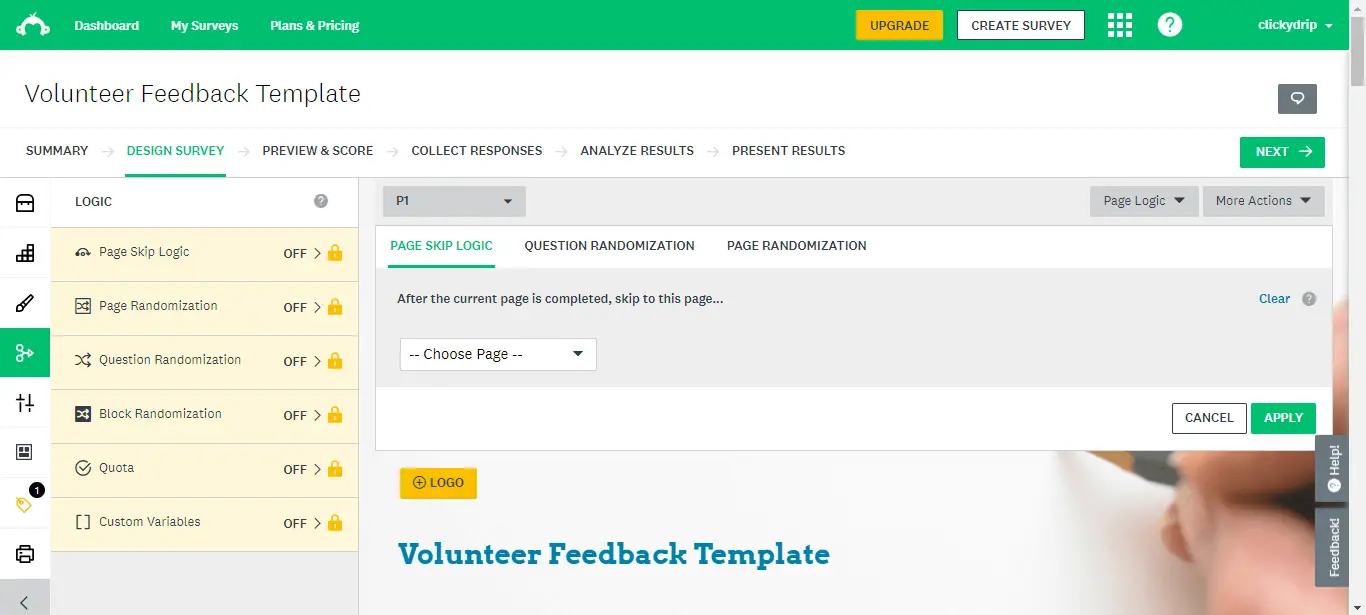 SurveyMonkey is the granddaddy of all survey creation programs, and the company essentially set the stage for what survey building software should look like. As such, SurveyMonkey has many unique features that help it maintain its status as a leader in survey-building software. 
For example, SurveyMonkey's Question Bank gives users a library of hundreds of pre-written questions which can be easily added to their survey in seconds. These relevant questions are written by SurveyMonkey's own survey methodologists and can help to ease the burden of finding relevant questions for your survey. Another great feature is the SurveyMonkey Genius which will score your survey and offer personalized recommendations to tweak it before sending.
SurveyMonkey also offers users a variety of conditional logic features that control survey behavior and enhance data collection. Notable logic features include Skip Logic, which changes the page or question a respondent sees next, based on their answer to the current question, and Advanced Branching, which applies logic based on multiple conditions, such as custom variables and data from contact information. SurveyMonkey's logic features make insight extraction easier by making the survey process smoother for respondents.
Typeform Surveys and Conditional Logic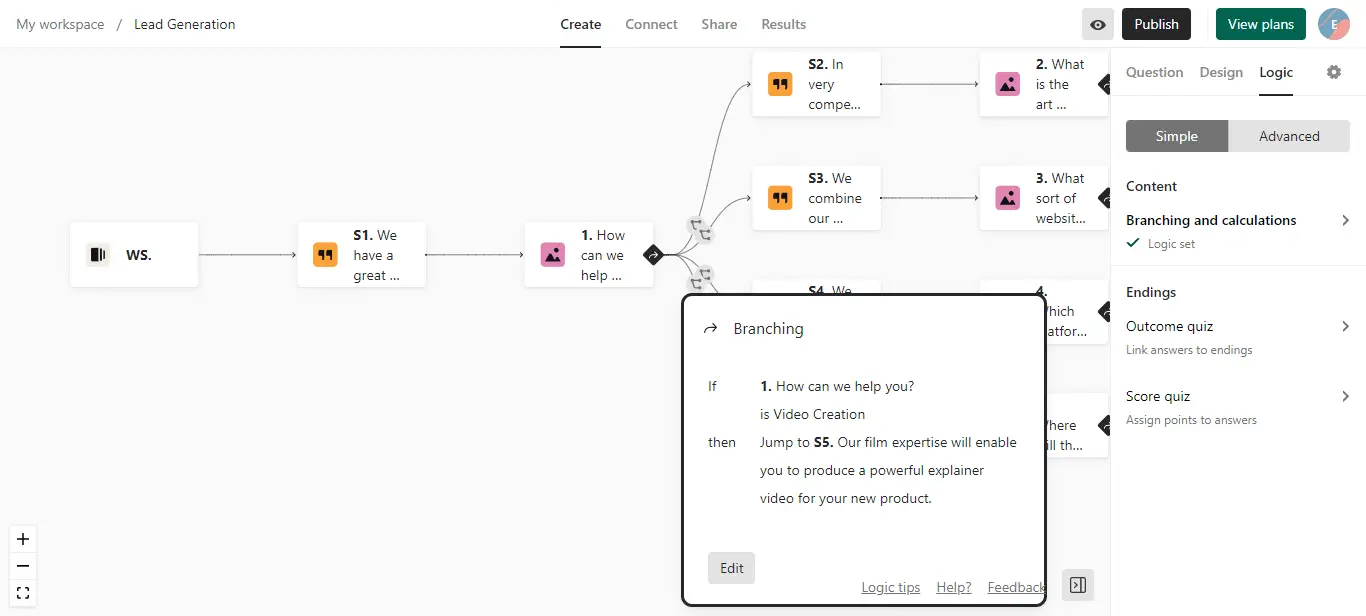 Typeform is useful for creating all sorts of forms, not just surveys. As such, it certainly does not have as many helpful survey creation features as SurveyMonkey. However, it is an excellent alternative for some users who rave about Typeform's minimalist design, easy survey setup options, and an array of features that focus on fostering end-user engagement.
Typeform's survey templates come pre-loaded with helpful questions that can be used "as is" or customized to meet your unique needs. That is useful, of course, if you are struggling to find the right questions for your survey, but it doesn't offer nearly the same range of question options as SurveyMoneky's Question Bank.
Typeform's "Logic" feature allows users to add question branching, forks, and conditional questions to their Typeform. With Logic, you can create responsive surveys. Your audience will never need to skip over irrelevant questions because they will never see them. Logic can also be used to segment your audience and make their experience as smooth as possible. Unfortunately, Logic is not available through the platform's mobile builder and can only harness the full power of Logic when editing a Typeform through the desktop application.
Reporting and Analytics
SurveyMonkey Reporting and Analytics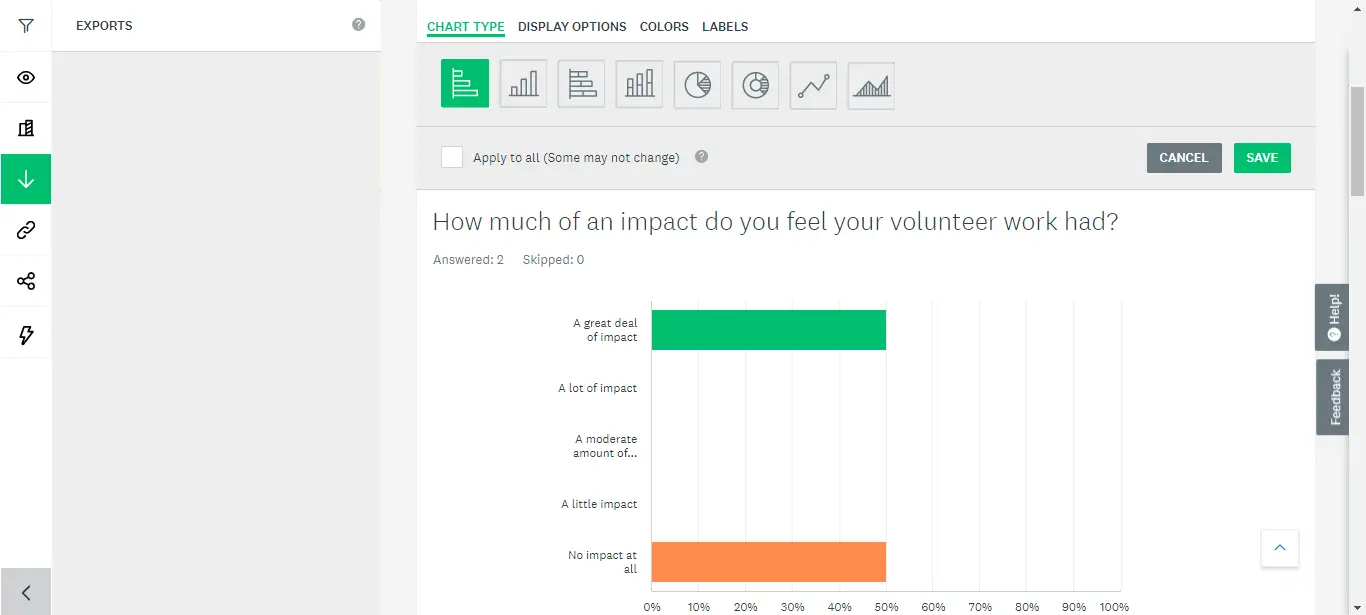 SurveyMonkey offers users a broad range of reporting and analytics features to help you make sense of your responses. These features include easy-to-digest results summaries that feature quick insights into a survey's overall results, results filtering, and crosstab reports, which allow users to compare multiple questions and answers. SurveyMonkey also includes advanced features like Sentiment Analysis, which automatically categorizes your text responses to indicate the emotion behind what people are saying. 
Typeform Reporting and Analytics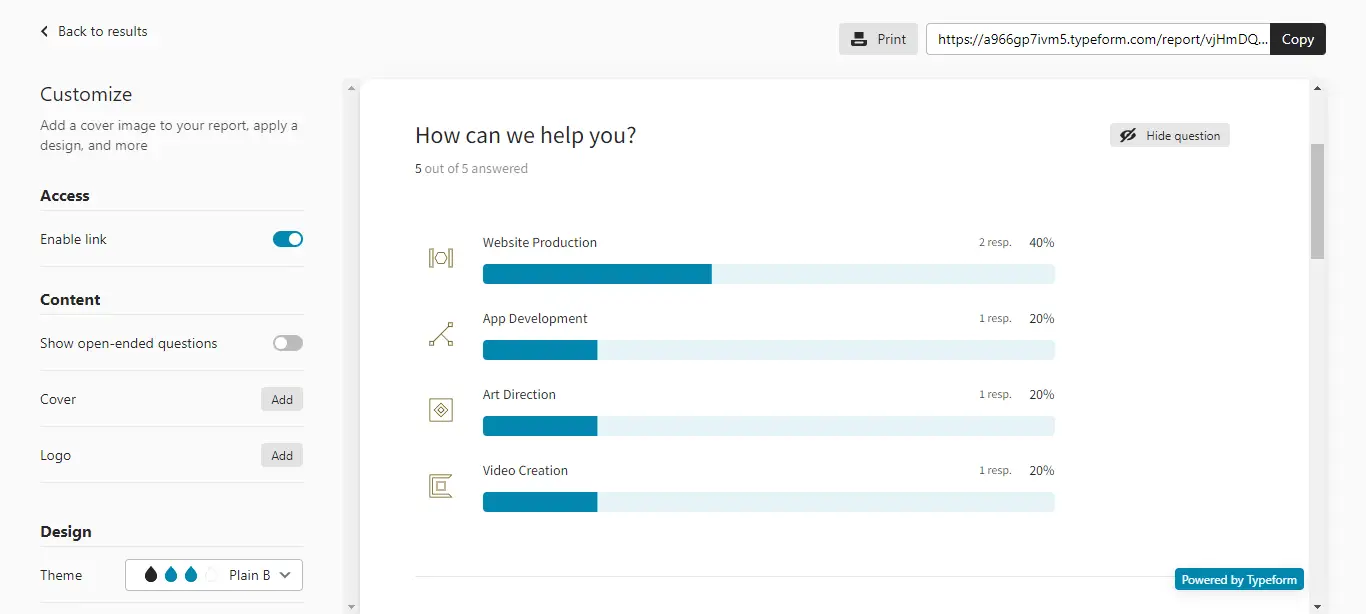 Typeform's Insights section gives users an extensive overview of performance and a question-by-question drop-off analysis with results that can be easily filtered to meet any specific need. Its "Big Picture" insights allow users to see views, starts, submissions/responses, completion rates, and average time to complete.
For a deeper dive into reporting and analytics, you'll want to integrate Typeform with another application, such as Google Analytics, for example, allowing you to track your Typeform performance alongside your other web activities. With Typeform's "Integration" feature, you'll be able to connect Typeform with a whole host of reporting and analytics solutions.
Integrations
SurveyMonkey Integrations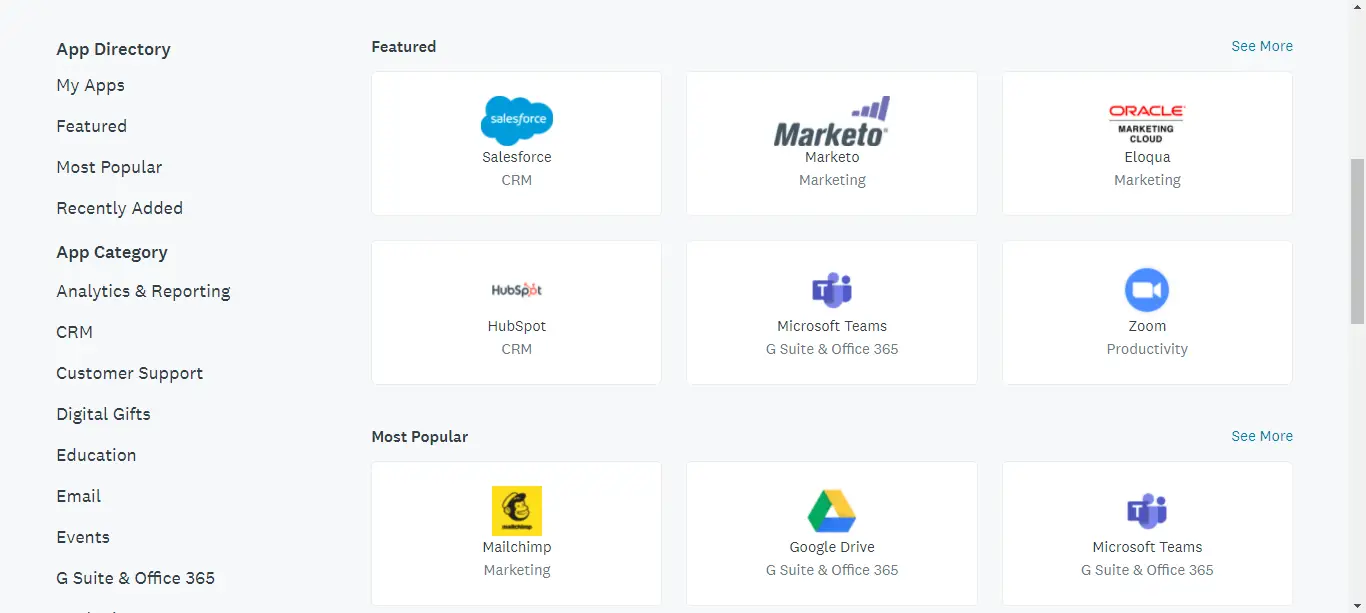 SurveyMonkey integrates with more than 100 apps and plug-ins to allow users to get the most from this survey building software. App and plug-on categories include CRM, analytics & reporting, customer support, email, productivity, marketing, social media, and more.
Some of the most popular apps that can integrate with SurveyMonkey include Salesforce, Oracle, Mailchimp, and Zoom, to name a few. Users can also incorporate SurveyMonkey with applications within G-Suite and Microsoft Office365. Its integration with Zapier opens SurveyMonkey up to connect with thousands more apps.
Typeform Integrations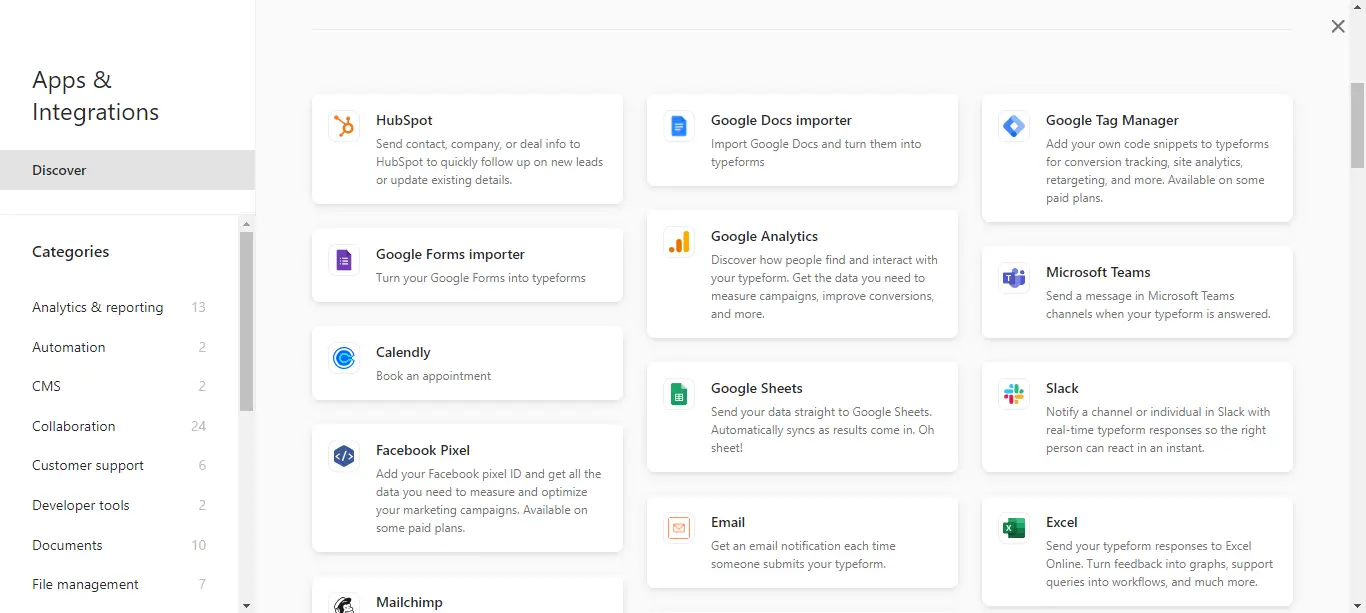 When it comes to integration, Typeform and SurveyMonkey both integrate pretty seamlessly with essential apps, making it incredibly difficult to distinguish between the two platforms from a pure integration standpoint. Integration categories offered through Typeform include apps related to analytics & reporting, CRM, file management, email marketing, marketing automation, lead generation, customer experience, and more.
Some of the most popular Typeform integration options include the ability to integrate with Klayvio, Calendly, HubSpot, Asana, Microsoft Office365 & G-Suite products, and Salesforce, among many others. Like SurveyMonkey, Typeform integrates with Zapier allowing users to integrate thousands of other applications as well.
Dashboard Experience and Ease of Use
SurveyMonkey Dashboard Experience
There is certainly a lot to unpack when creating a survey or form using the SurveyMonkey editor. That is especially true for novices who don't have much experience working with form-building software. They might find themselves pretty frustrated as they attempt to navigate the dash for the first time.
That said, as soon as you get the hang of its dashboard and editing features, creating a survey with SurveyMonkey is relatively easy, regardless of whether you use a template or build a survey from scratch.
Typeform Dashboard Experience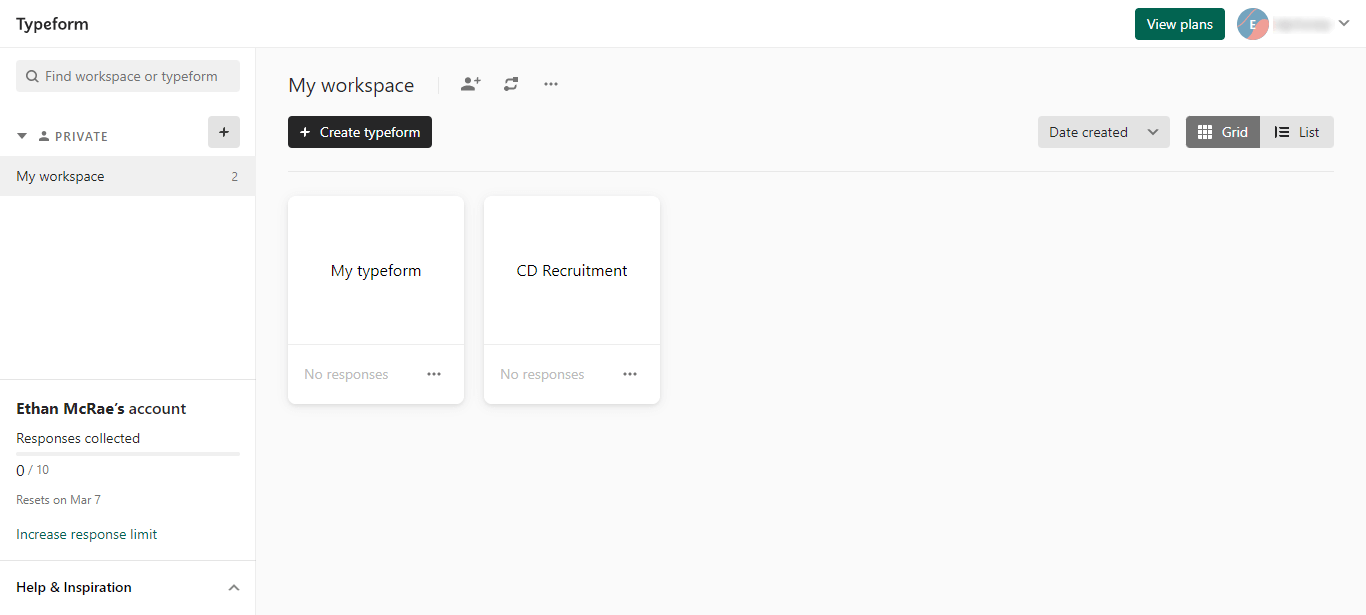 Once you take a quick tour of the platform, you'll find that the Typeform builder is insanely easy to use. Its user-friendly dashboard will have you creating surveys, forms, applications, and more in virtually no time.
Everything is easily customizable in a slick, clean interface, so you always get a visual representation of what your survey or form will look like to the end-user. The navigation options inside the Typeform editor are clear and concise. The logic feature is especially useful in offering a "big picture" view of your survey's conditional branching.
Pricing
SurveyMonkey Pricing Plans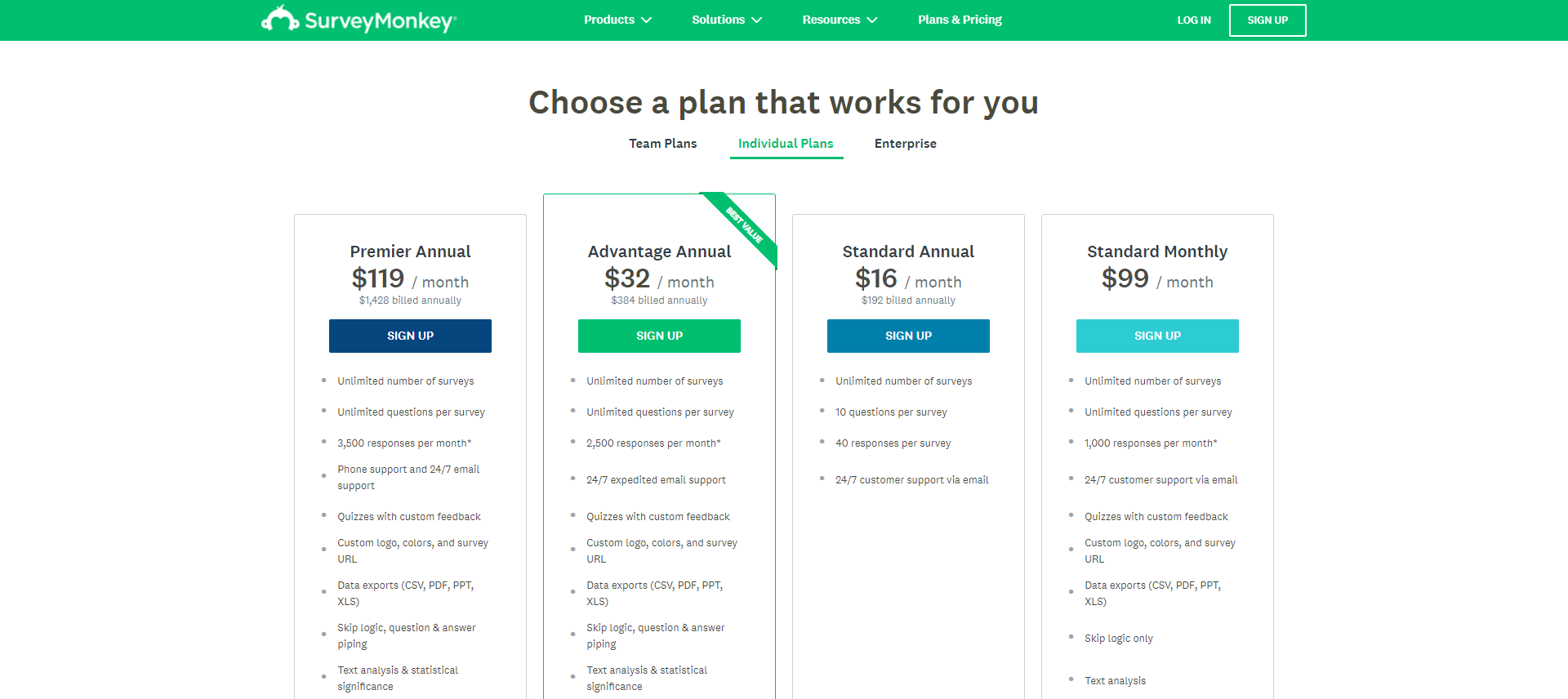 SurveyMonkey offers a range of pricing plans separated into individual, teams, and enterprise categories. It does provide a free (BASIC) plan with core features that include up to ten questions per survey, up to 40 responses per survey, and one "filter" or "crosstab" that can be added to survey data. Individual plans start at just $16 per month for the "Standard Annual" package, which offers the same features as the free plan, but includes 24/7 support and an unlimited number of surveys.
To unlock most of the valuable features that make SurveyMonkey so popular, such as customization, skip logic, and data exporting, users will have to sign on for the "Advantage Annual" package at $32 per month.
Typeform Pricing Plans
Typeform offers three different paid plans and a forever free plan. The Free plan allows users to take advantage of all of the great features that Typeform offers, absolutely free. With Typeform's free plan, users can create unlimited Typeforms, limited to ten questions per Typeform and ten total answers per month. The Free plan also includes Typeform's best features, including multiple Endings and Advanced Logic.  
Paid plans, which start at $25 per month, will unlock unlimited Typeforms, questions, branch logic, integrations, and more. As users move up in the price tier, they increase response limits and user limits and unlock priority support features.
Customer Support
| | | |
| --- | --- | --- |
| | Typeform | SurveyMonkey |
| Email/help desk | | ✅ |
| Phone support | | ✅ |
| Chat | ✅ | |
| FAQ/Forums | ✅ | |
| Knowledge base | ✅ | ✅ |
| YouTube tutorials | ✅ | ✅ |
SurveyMonkey Customer Support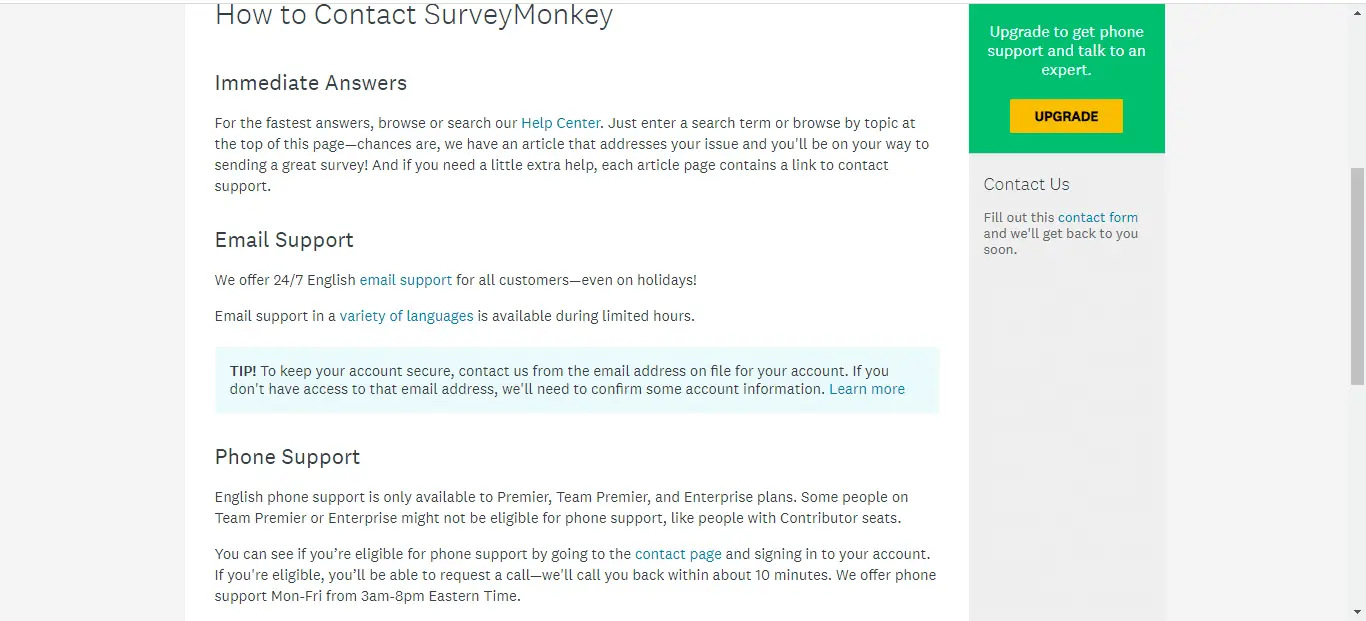 SurveyMonkey users can search for terms or browse topics in its help center for quick answers. There are countless articles available on their website that address the most common issues related to the program. If you can't find the answer there, each article page features a helpful link that allows you to contact support directly.
SurveyMonkey offers 24/7 English email support for all of its customers, regardless of pricing plan, and email support is available in several other languages as well, during limited business hours. Telephone support is available to Premier plan users and higher.
Typeform Customer Support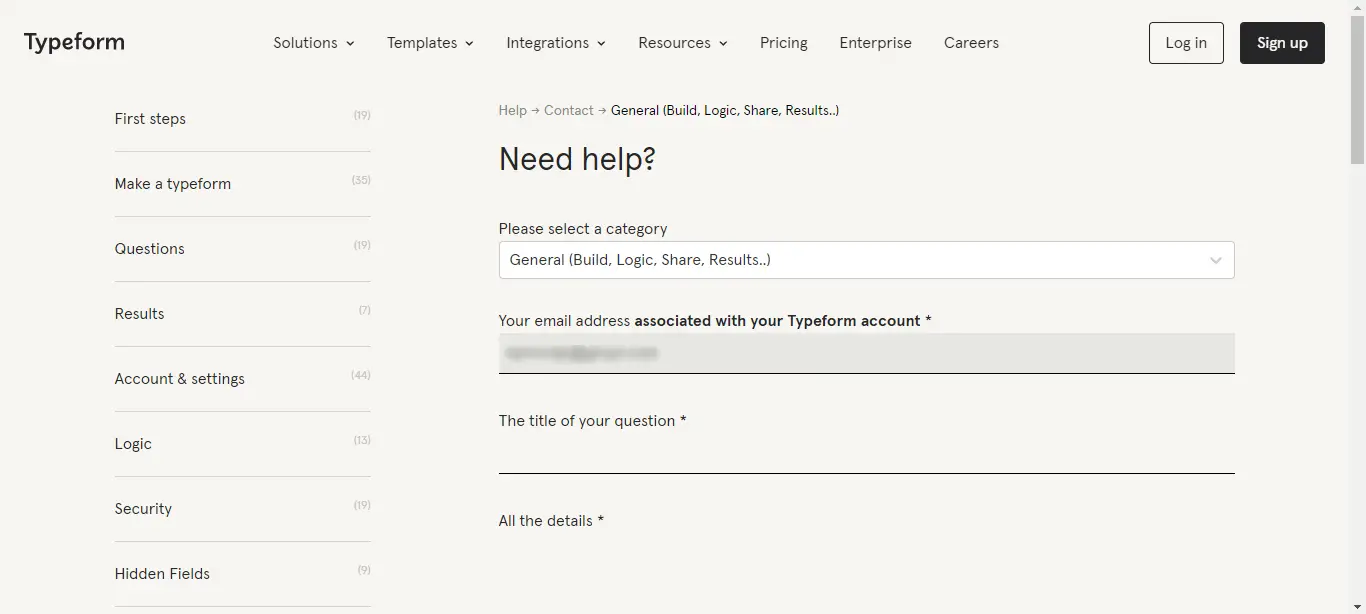 Like SurveyMonkey, Typeform has a robust, searchable help center page with step-by-step directions on how to perform every function imaginable. It also has an active Typeform community where users can tap into the software's vast knowledge get answers to some of the most frequently asked questions. If the community and the help center lack the information you are looking for, a "contact support" button is at the bottom of each help center article.
Anyone, regardless of plan level, can contact Typeform customer support via email and expect an answer in a timely fashion. However, Business Plan users receive priority support and live chat support.
When to Choose SurveyMonkey vs Typeform
When comparing SurveyMonkey vs Typeform, there is no clear winner: the best choice for you depends on your needs. 
Typeform is the clear winner from a pricing perspective, with many advanced features, including third-party brand removal and advanced logic available with its reasonably priced pro plan. Although both software platforms have a free version, Typeform's free version has far superior features compared to SurveyMonkey.
Regarding features, Typeform edges SurveyMonkey in its customization and branding. Still, SurveyMonkey takes the cake on advanced reporting and analytics capabilities, including its split testing feature. It also features better language support, with nearly 55 languages available. SurveyMonkey's integration features are also far more accessible and user-friendly than Typeform.
SurveyMonkey seems to be the more logical choice for large companies and enterprise users, while Typeform is probably better suited for relatively smaller businesses. In the end, you'll want to test drive both software tools using their free version to see which you're more comfortable with and which has the features that you need.
You can see how other form builders stack up to SurveyMonkey in the following comparisons:
Microsoft Forms vs SurveyMonkey
You can see how other form builders stack up to Typeform in the following comparisons: