About LimeSurvey and SurveyMonkey
LimeSurvey got its start back in 2006 in Hamburg, Germany. The platform is available as a cloud edition but you can also download its source code since the company behind it supports the open-source approach. LimeSurvey touts itself as a survey platform for everyone: small businesses, market researchers, students, and universities. 
SurveyMonkey is one of the best-known survey platforms that aims to help you understand your customers better. With a robust set of features and tools, SurveyMonkey goes beyond allowing you to create simple surveys. It helps you measure brand awareness, test concepts, get direct input from your employees, and more. 
Templates
LimeSurvey Templates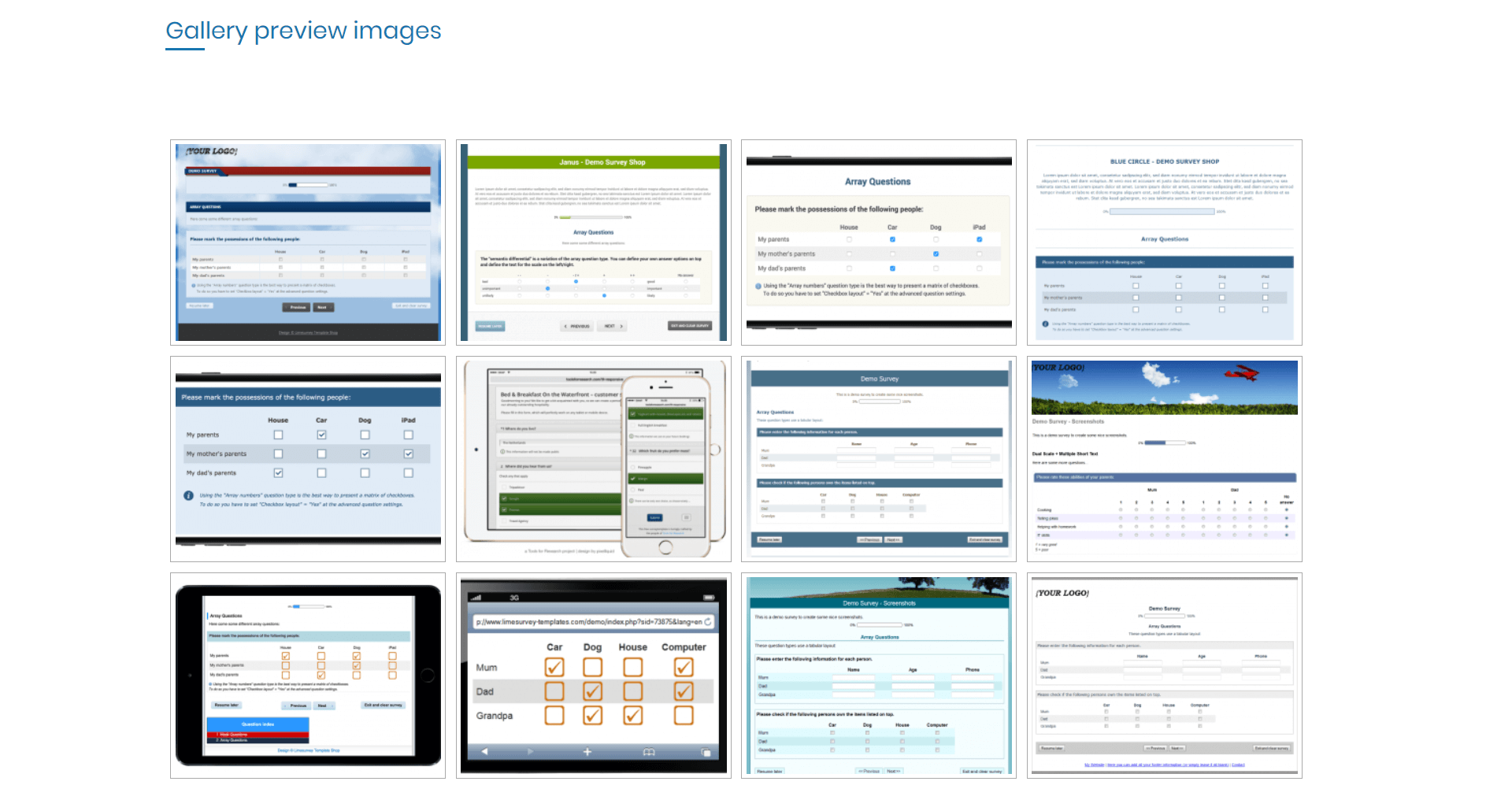 When it comes to survey templates, LimeSurvey offers templates created by other Limesurvey users. You can also import a pre-existing survey from a different platform or make a copy of a survey you've created with LimeSurvey. 
On top of that, LimeSurvey offers more than 30 different question types, including: 
Matrix

Numerical input

Yes/No questions

Ranking

Slider Control

Text fields

Data upload

Date input

List selection

Multiple choice

And more
What's really great about LimeSurvey is that you can get very granular with organizing your survey questions. You can assign a code to each question as well as organize questions into groups. This makes it easier to process your data and retrieve it when you need it. 
SurveyMonkey Templates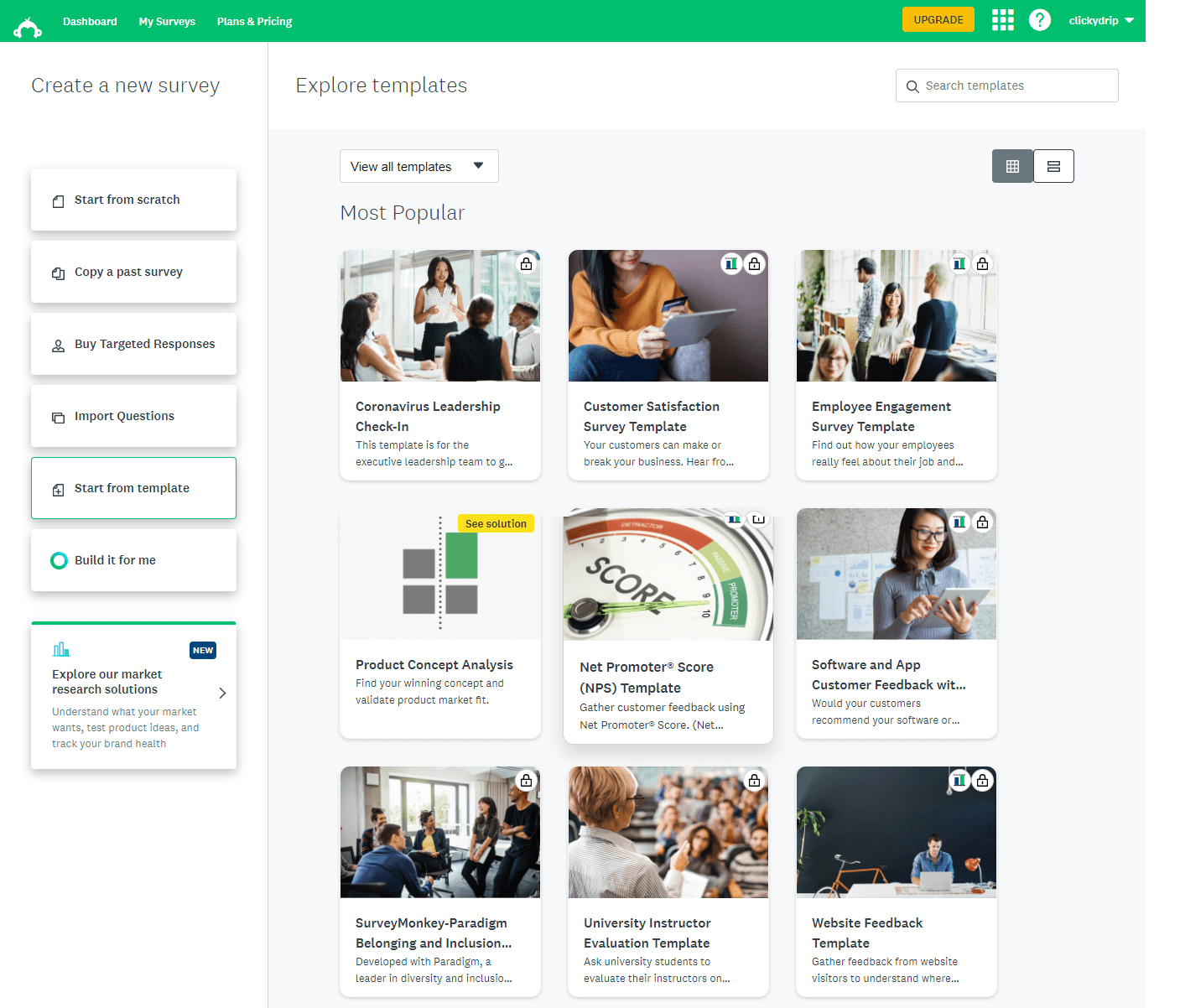 SurveyMonkey, on the other hand, offers a number of premade templates for all kinds of different surveys. These include: 
Customer or employee satisfaction survey

Net Promoter Score survey template

Product concept analysis

Website feedback template

Working from home check-in

Event feedback template

Security awareness survey

Non-profit organization information template

Fundraising feedback survey

Just for fun quiz templates

And many more. 
The templates are nicely organized into different categories so it's easy to use SurveyMonkey to create any type of business survey. In addition to that, the templates look modern and professional. 
Editor
LimeSurvey Editor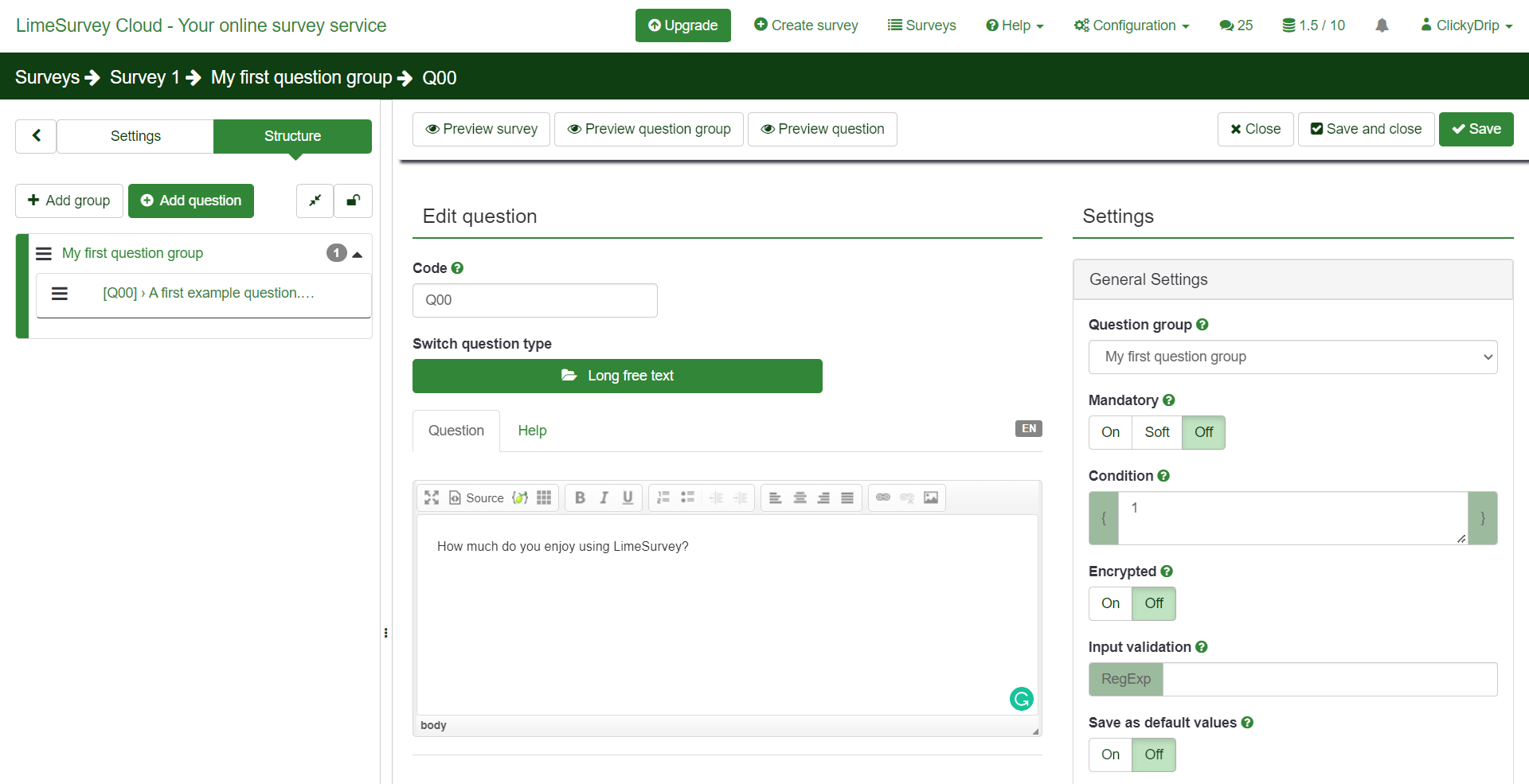 As far as the design experience goes, LimeSurvey offers a point-and-click interface. In other words, you can add a new question by clicking on a button. From there, you essentially have to click various elements to add them to your survey. 
You can preview each question by clicking on it. Once you add the question to your survey, you can customize individual questions, down to styling the fonts, colors, and more for each option. 
However, it's worth mentioning that LimeSurvey uses an HTML editor which makes it a bit difficult to see and understand the changes you're making if you don't have much coding experience. 
You can also customize the appearance of your survey page but given that it's not a visual editor, it makes it a bit difficult to see the changes you're making.
SurveyMonkey Editor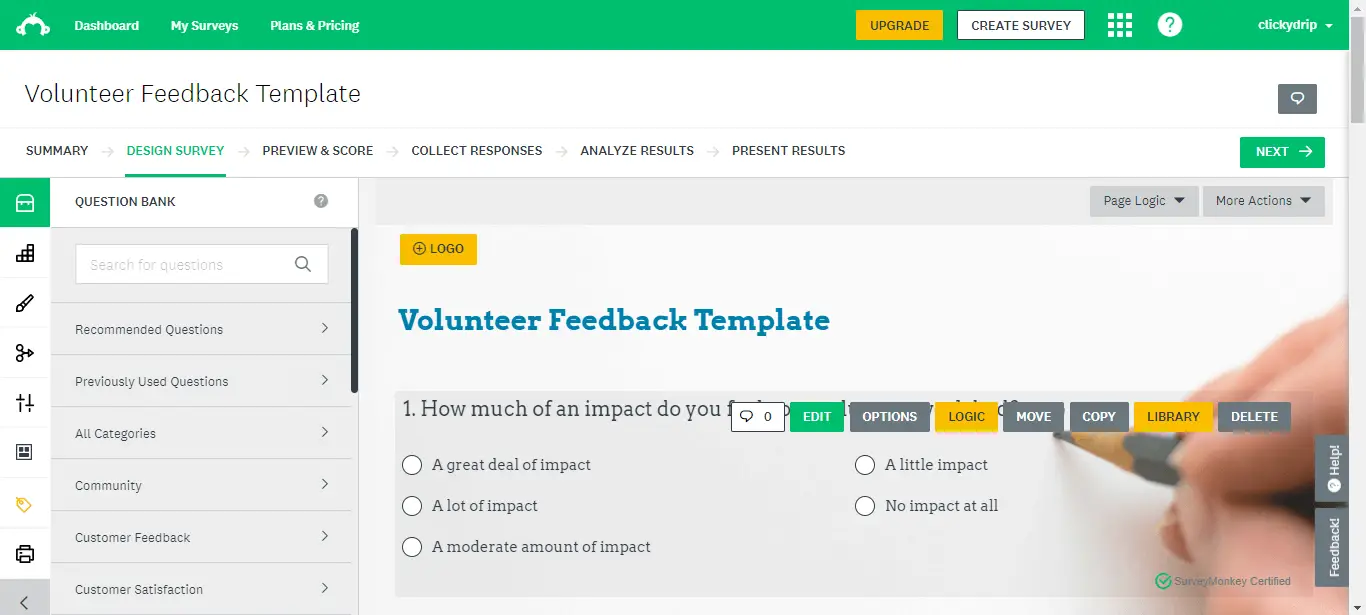 Like LimeSurvey, SurveyMonkey uses a point-and-click interface, however, you can instantly see the changes as you're making them. 
SurveyMonkey comes with a number of predefined themes that you can use as a starting point for your design. You can also further customize these themes by selecting your own fonts, uploading your own images, and colors. 
In addition to that, you can create your own custom theme from scratch and create a fully branded survey experience for your employees, customers, and clients. 
Related: 7 Best Form Builders with File Upload Functionality
Survey Features
LimeSurvey Conditional Logic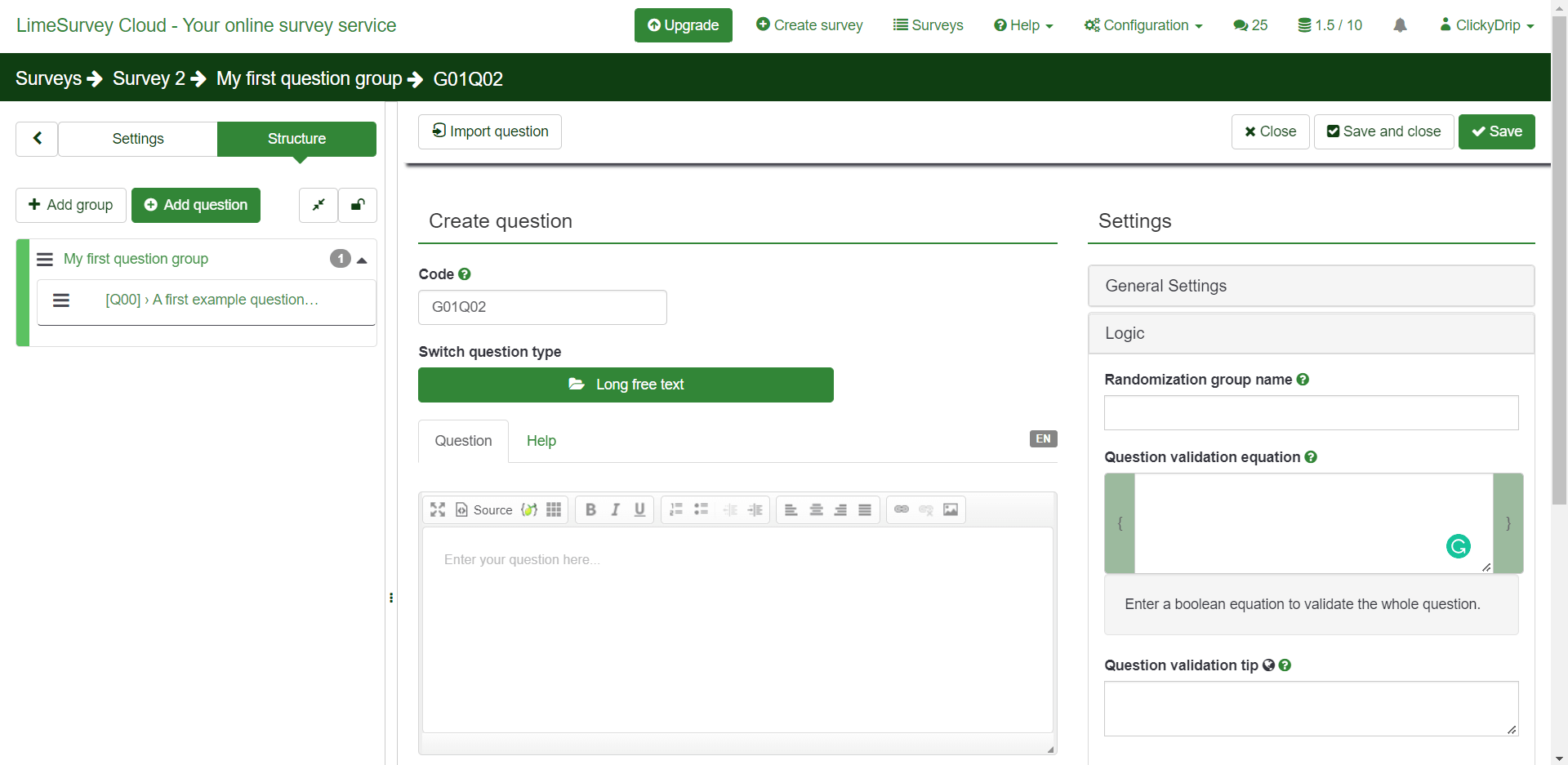 When it comes to different survey features, LimeSurvey offers an impressive number of different types of questions. It also offers conditional logic that makes it easy to create targeted surveys.
For example, you could set a conditional logic rule that if a survey taker chooses an answer A in a multiple-choice question, they are shown question #2 while those who choose answer B are shown question #3. 
LimeSurvey also supports answer piping, valuation rules, and the ability to create open and closed surveys. The editing experience for the conditional logic is a little overwhelming however they do offer extensive documentation that will help you learn the ropes quickly. 
SurveyMonkey Conditional Logic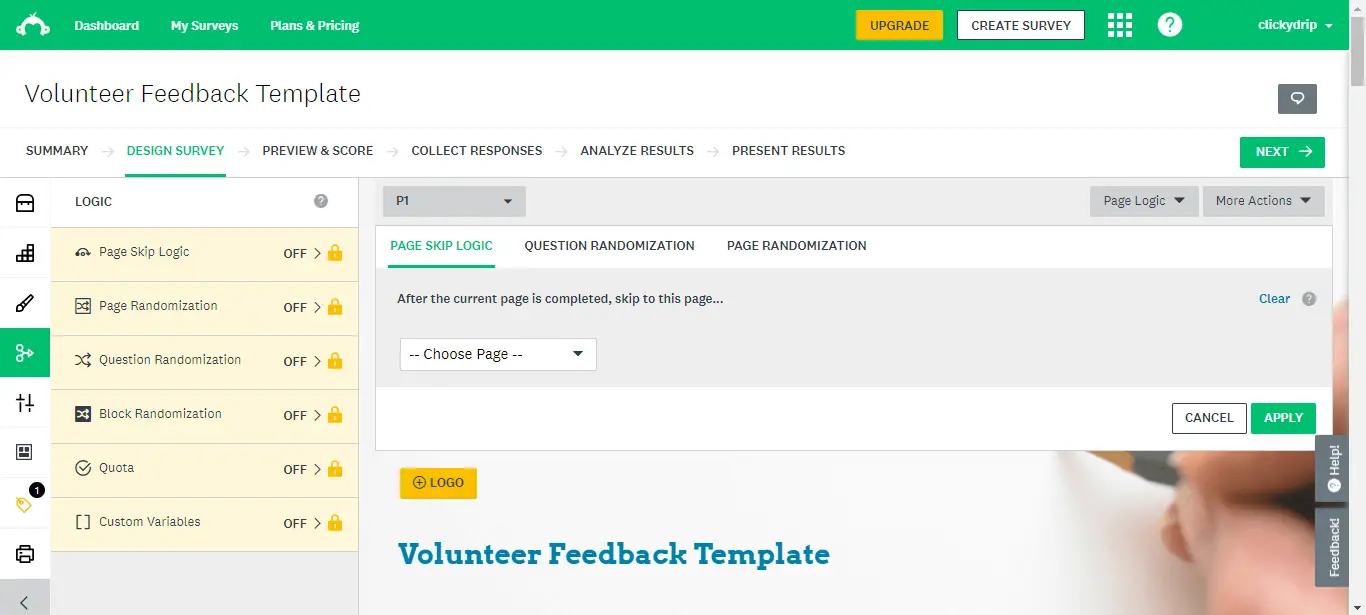 SurveyMonkey offers a lot of survey features. In fact, they have so many amazing features that we can't possibly cover all of them in this article. However, let's go over the few most notable ones. 
For starters, they do support conditional logic. The editing experience is definitely a lot smoother than with Limesurvey as all it takes is a couple of clicks to configure the logic for your survey questions. 
Another cool feature that SurveyMonkey has is the ability to use their question bank to get your survey up and running as quickly as possible. This means you don't necessarily have to have all your questions ready before signing up for the platform. 
SurveyMonkey also makes it easy to find respondents for your survey using their SurveyMonkey Audience feature. This feature allows you to pay SurveyMonkey to administer your survey to an audience. While this feature is paid for separately, it can be invaluable if you don't yet have an audience of your own. 
You can specify your audience's gender, age, income, or education level. You can also get more specific by selecting their preferences when it comes to shopping, lifestyle, websites and app usage, and more. 
Reporting And Analytics
LimeSurvey Reporting and Analytics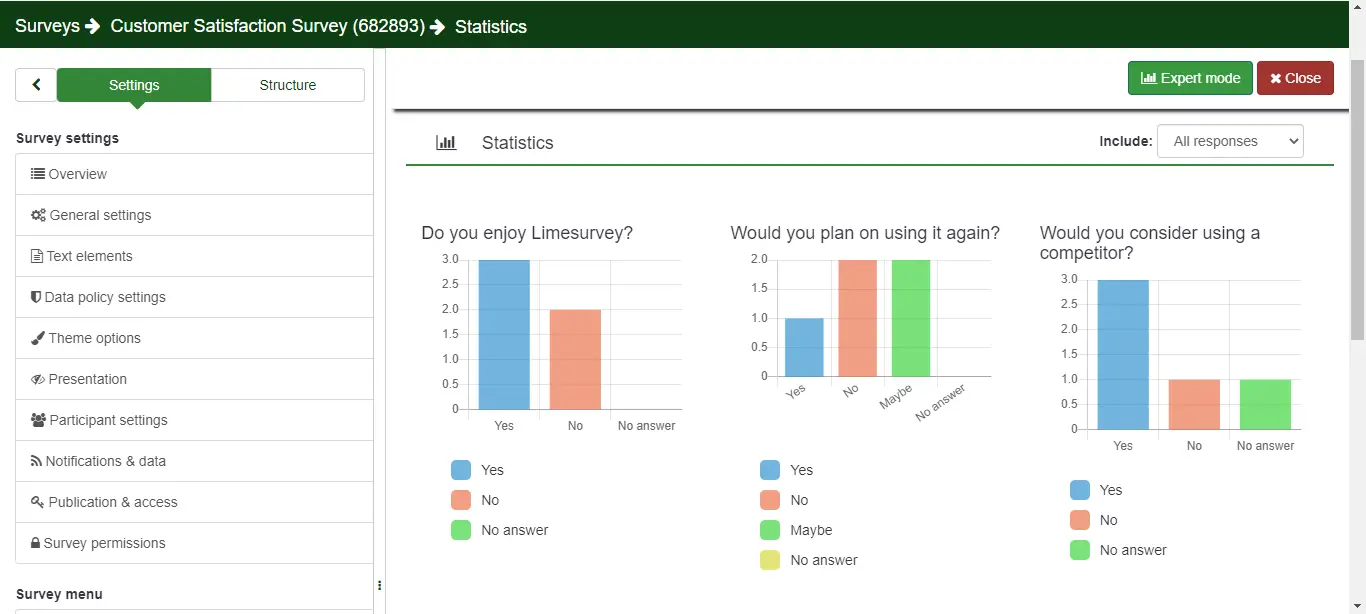 LimeSurvey gives you a detailed look at your survey's data and analytics. You can easily switch between expert and simple mode and export your data as an HTML, PDF, or Excel file so you can analyze them more in-depth. 
These options are available to you even on the free plan so you can easily see how many questions your survey takers are completing, where they're dropping off, and more. 
It's worth mentioning that you can also filter the statistics to only show you data for completed, incomplete or all questions. 
SurveyMonkey Reporting and Analytics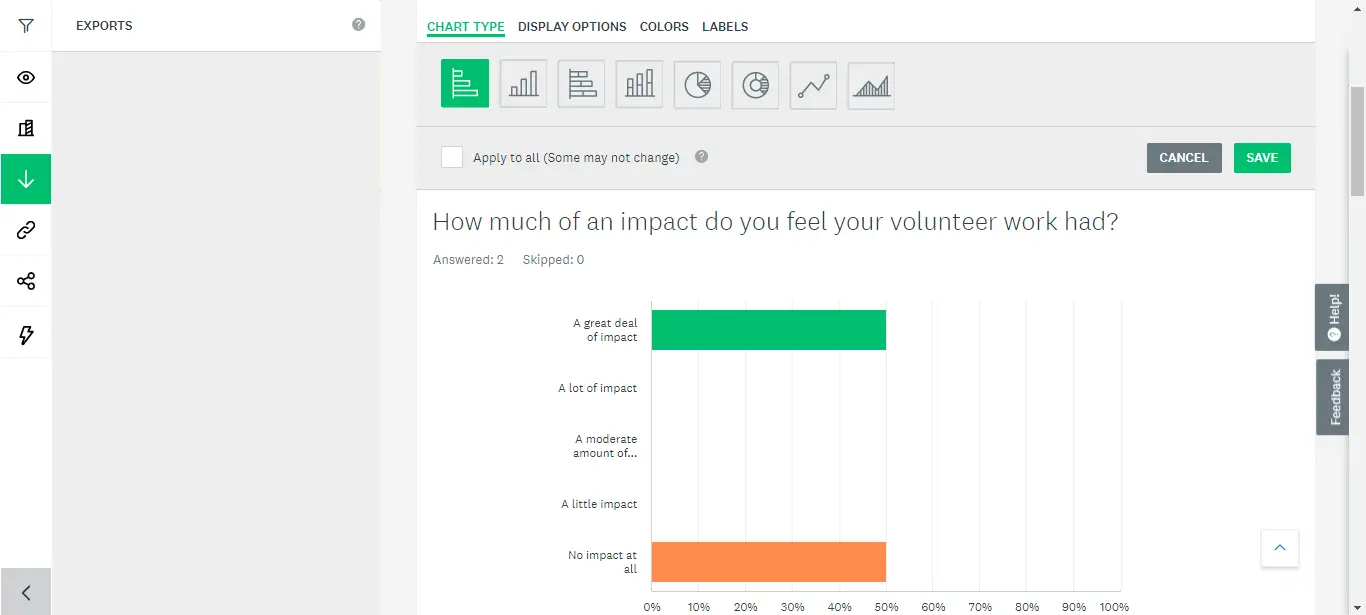 SurveyMonkey has in-depth analytics and reports just like LimeSurvey. You can see question summaries, analyze individual responses, and get insights and data trends to see how your survey is completed over time. 
The biggest difference between LimeSurvey and SurveyMonkey is that with SurveyMonkey, you can't export the data if you're using their free plan. This is a drawback as that means you cannot analyze the data more in-depth without logging into your SurveyMonkey dashboard. However, they do offer more export options on their paid plans so you can export your survey in .PDF, .XLS, .CSV, .PPTX, or SPSS format. 
Integrations
LimeSurvey Integrations
When it comes to integrations, there is no official documentation on what third-party platforms LimeSurvey integrates with. There are also no direct integrations listed on their website, however, there are some third-party plugins that you can use to export your data, mark surveys as templates, and more. 
You can also hire a vetted LimeSurvey partner that can help you integrate LimeSurvey into your existing workflows. These partners are listed on their integration page where you can visit each partner's website to learn more about their services.
SurveyMonkey Integrations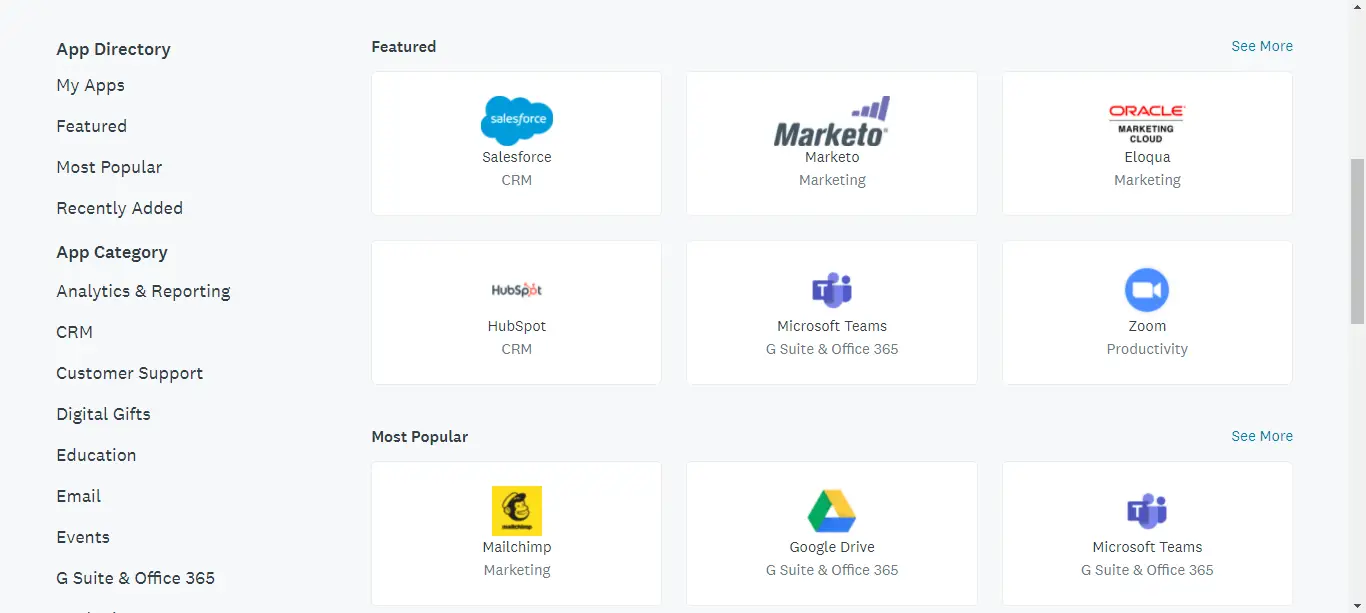 SurveyMonkey, on the other hand, integrates with a number of third-party tools and apps. These include apps such as SalesForce, Marketo, HubSpot, Mailchimp, Automate.io, Pabbly, and more. This makes it easy to export your data to an app you already use so you can create your custom workflow. 
Dashboard Experience And Ease Of Use
LimeSurvey Dashboard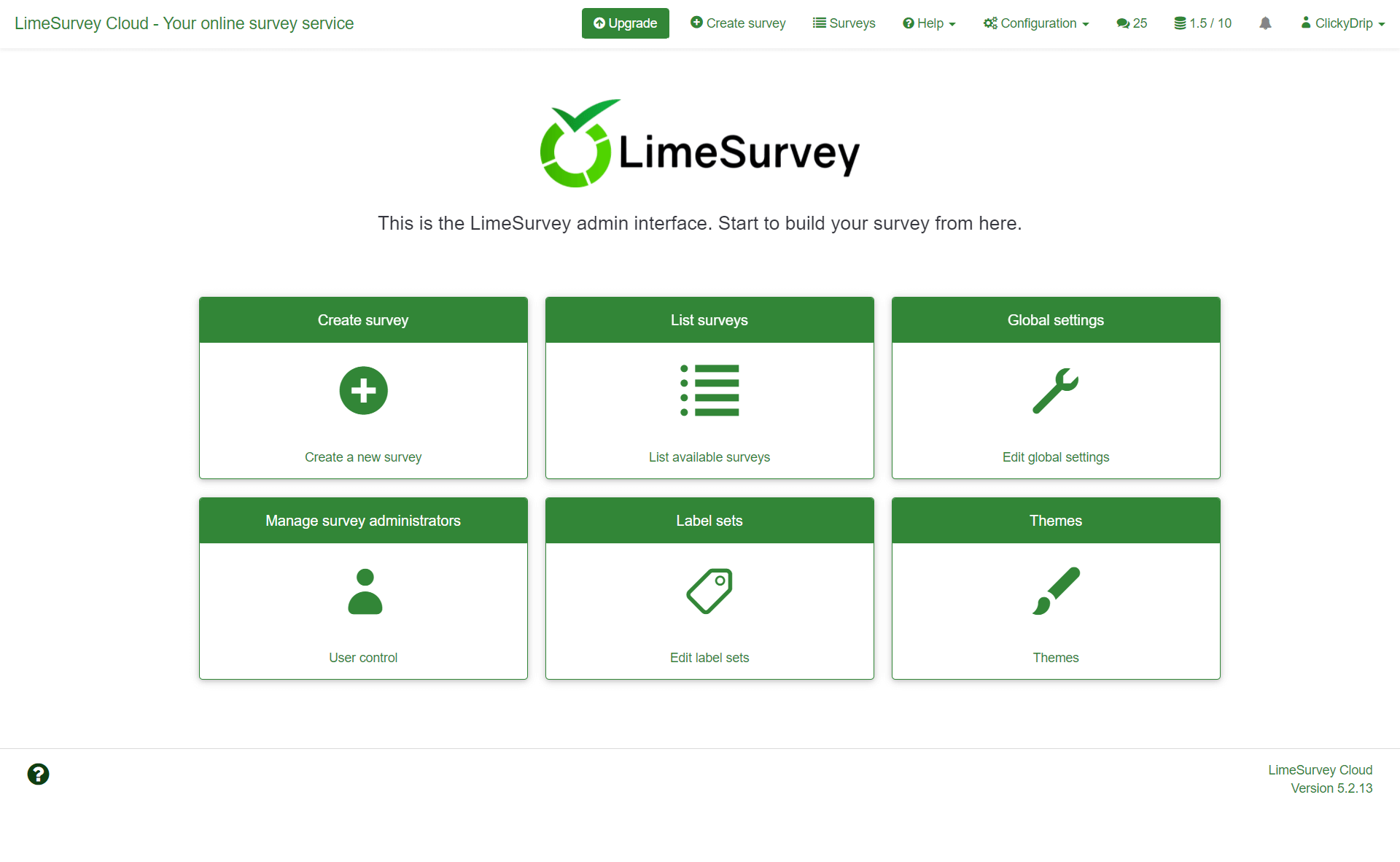 At first glance, LimeSurvey has a clean and minimal user interface and dashboard. It's relatively easy to find different areas of your account where you'll need to create the surveys, view your statistics, and edit your global settings. 
However, once you start digging a bit deeper, the interface is not as intuitive. If you're a beginner and you aren't familiar with open source applications, finding and understanding all the options can be somewhat tricky. 
SurveyMonkey Dashboard
In contrast, SurveyMonkey feels much more polished and straightforward. The options are nicely laid out in a modern-looking dashboard. It's easy to create your surveys from scratch as well as customize premade templates. 
It's worth mentioning that both platforms have helpful tooltips that can make navigating the dashboard easier. But while SurveyMonkey has a modern and polished look, LimeSurvey does feel a little dated in terms of design. 
As far as general ease of use, LimeSurvey takes some getting used to so it definitely has a somewhat steeper learning curve. But once you get past that and you're familiar with different options, creating surveys with LimeSurvey is not overly difficult.
Pricing
LimeSurvey Pricing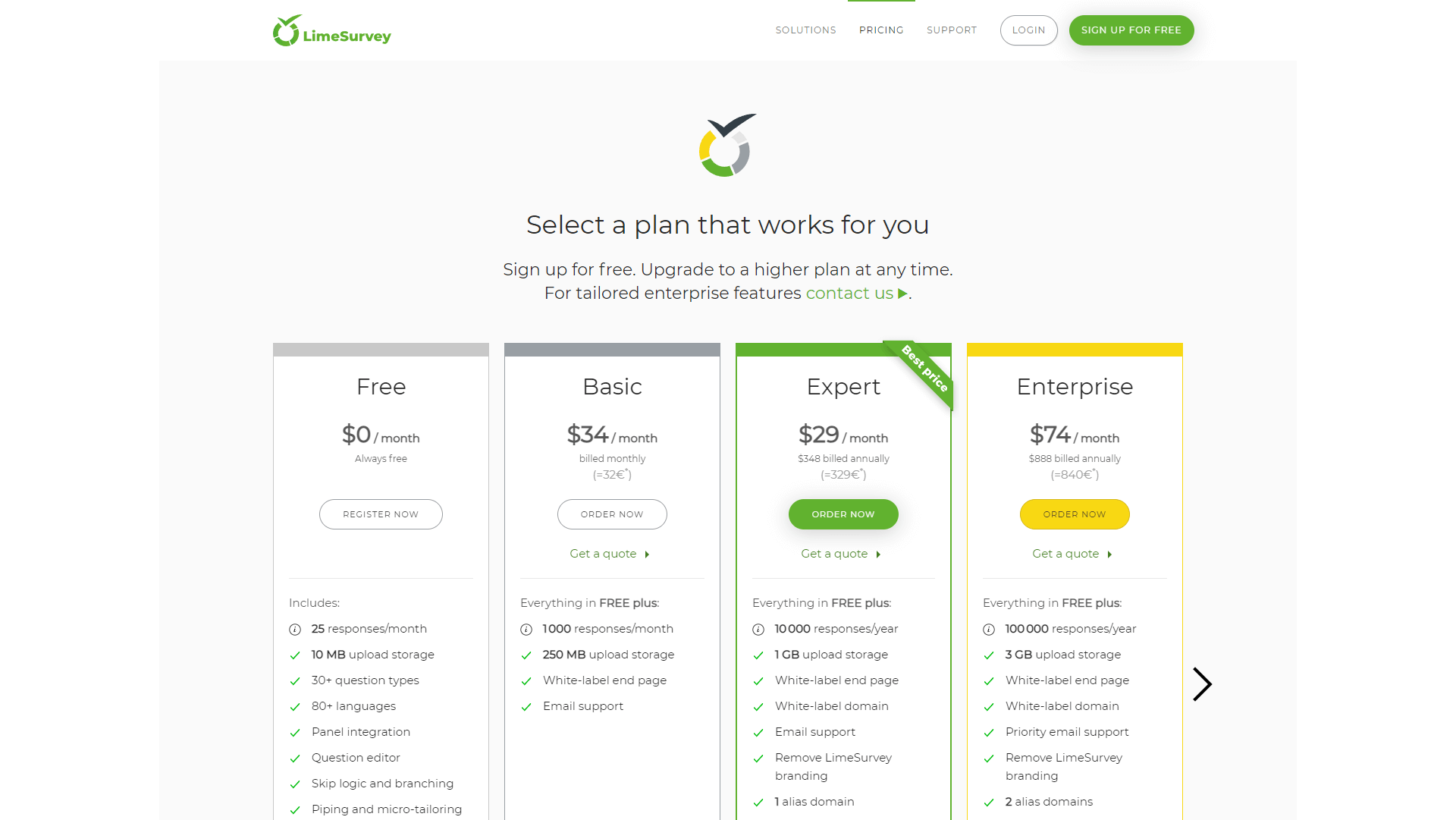 LimeSurvey offers four different pricing plans, one of which is a free plan. The differences between each plan lie in the number of responses and storage that you get as well as some advanced features such as the ability to use your own domain, white labeling, and more. 
Their free plan is rather generous when compared to some other providers. For example, the free plan includes conditional logic which is often reserved for paid plans with other survey platforms. 
The plans are also competitively priced when compared to SurveyMonkey or similar platforms. However, given that their free plan offers features that other platforms charge for, this is a great option to use if you're just getting started with surveys. 
SurveyMonkey Pricing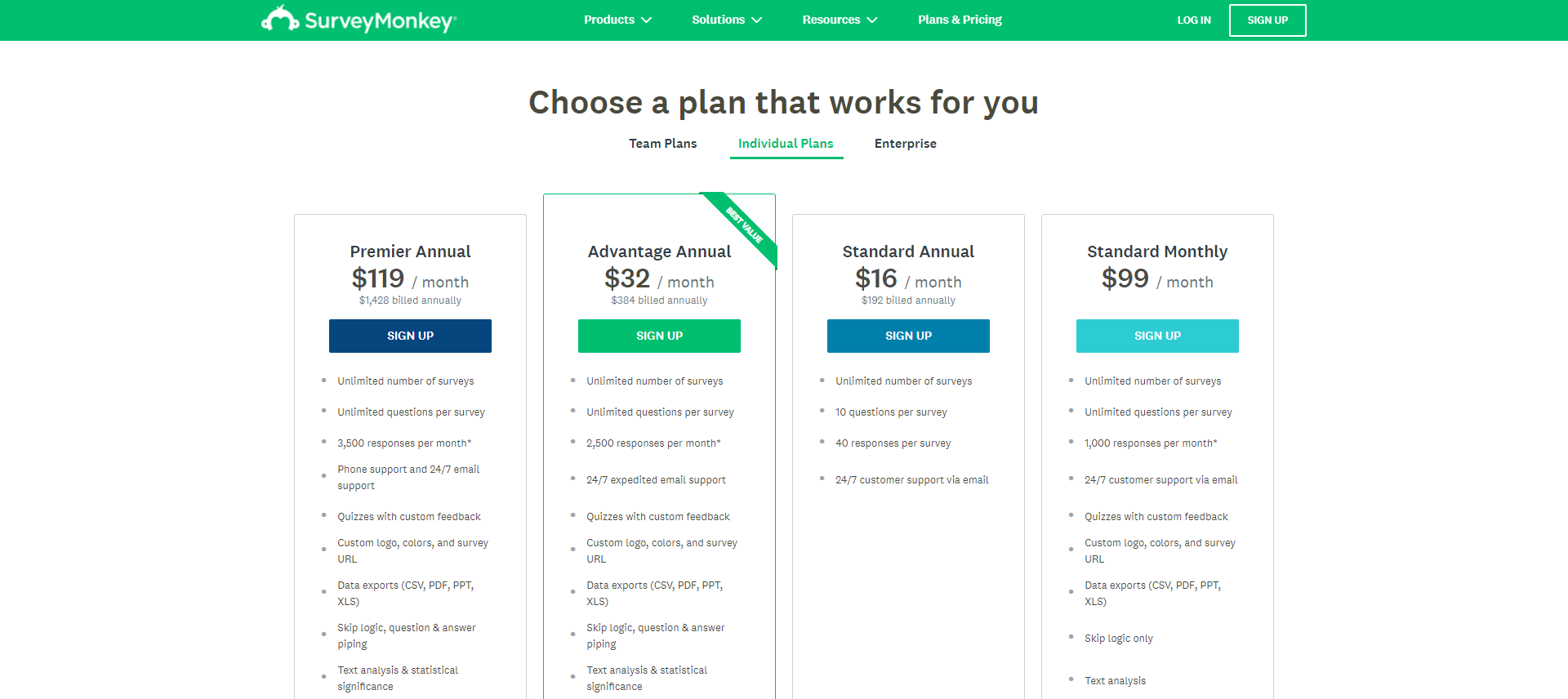 SurveyMonkey's pricing structure is slightly more complex as you can choose between Team, Individual, and Enterprise plans. Each of the different levels offers several pricing tiers. 
Here, the differences lie not only in the number of responses that you can collect but also in the type of support you get as well as the features you get. This includes whether or not you get conditional logic and question/answer piping features, and more. 
SurveyMonkey also offers a free plan but it's limited in terms of features. Think of it more as an opportunity to get a taste of what SurveyMonkey can do by creating a simple, basic survey. 
Customer Support
LimeSurvey Support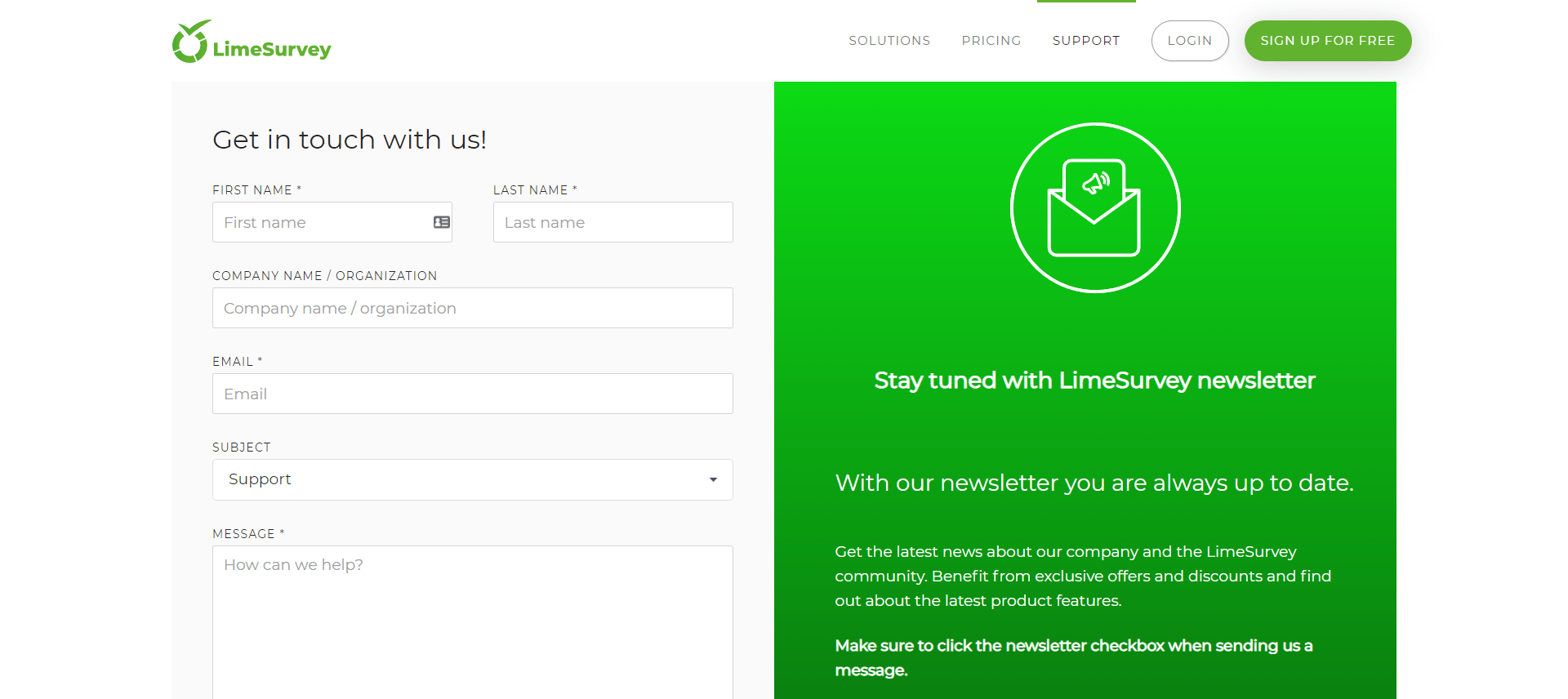 LimeSurvey offers community support on all plans and email support on paid plans. It's worth mentioning that their Enterprise pricing plan offers priority email support. There's also an extensive knowledge base of in-depth guides and tutorials that can help you set up your first survey. 
In addition to that, you can browse through their FAQ section to find answers to the most common questions as well as hire an expert partner to help you set up your surveys or integrate it with other tools. 
SurveyMonkey Support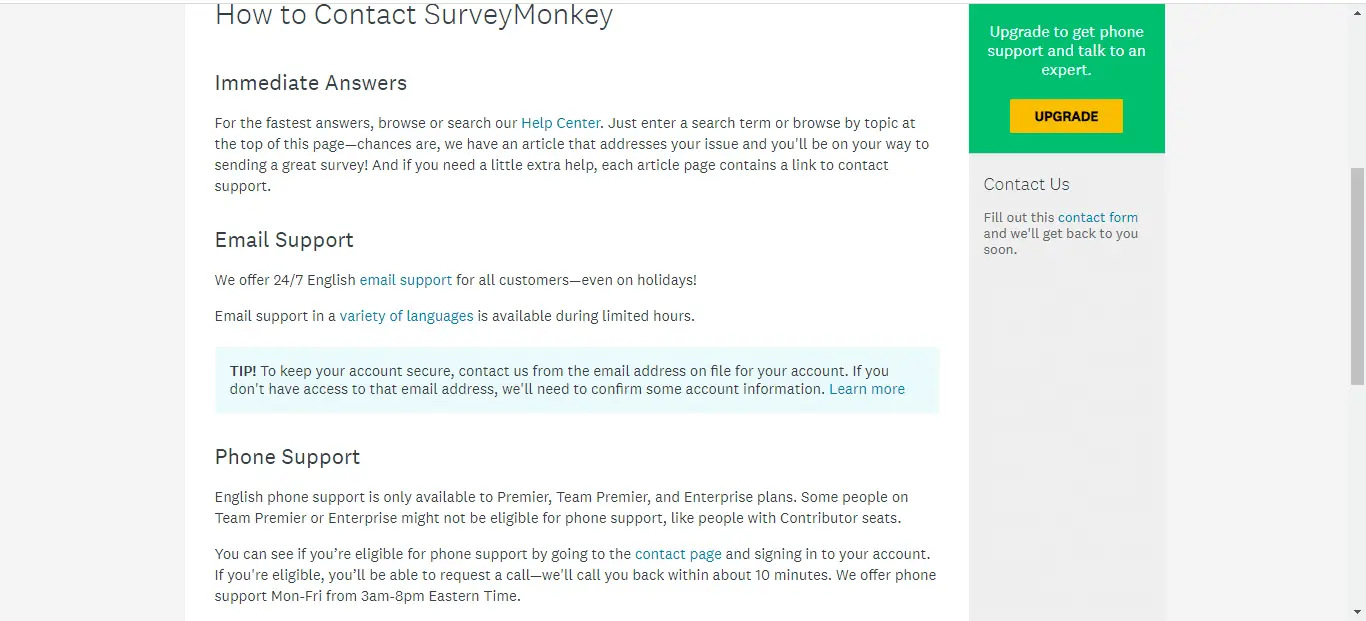 SurveyMonkey offers help bot, email, and phone support, depending on the plan that you have. They also have an extensive help center section where you can browse articles and guides on everything related to using SurveyMonkey. 
When To Choose Limesurvey vs Surveymonkey
When comparing LimeSurvey vs SurveyMonkey, you will find that both platforms have attractive features that allow you to create powerful surveys. But which platform should you choose? 
If you need a robust platform that offers all of the key survey features without the high price tag, LimeSurvey is a solid choice. However, keep in mind that it does have a steeper learning curve. 
SurveyMonkey, on the other hand, is a great choice if you want a more intuitive interface or if you want to conduct market research but don't have a large audience of your own.
You can see how other survey builders stack up to SurveyMonkey in the following comparisons:
Microsoft Forms vs SurveyMonkey
Related: 10 open source form builders