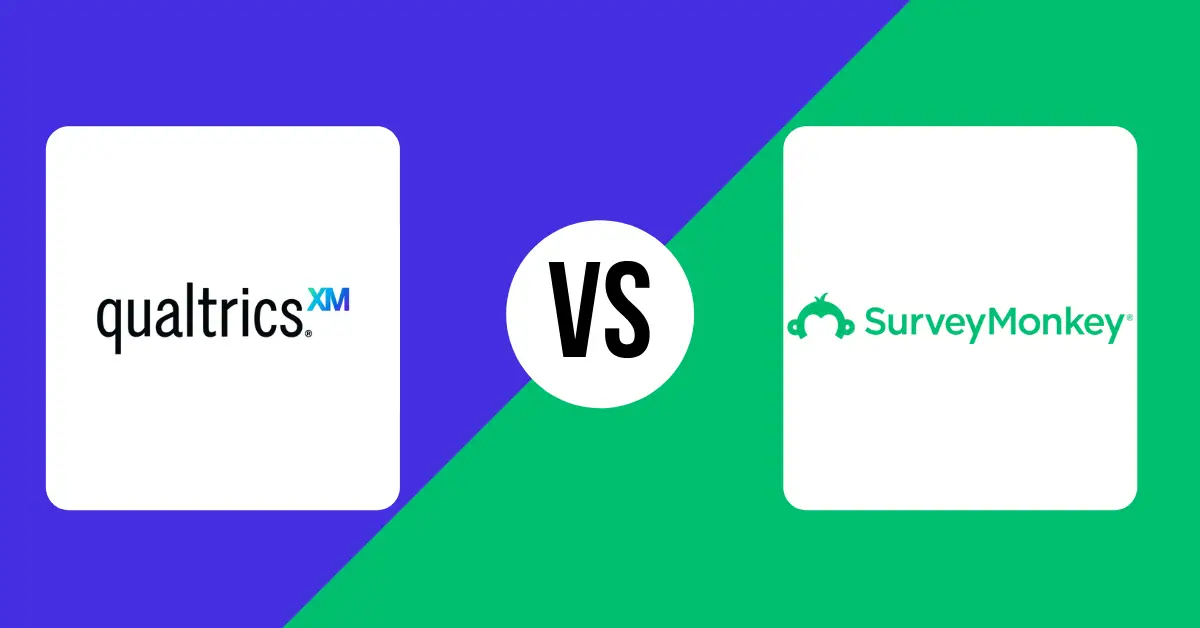 Survey builder tools make it incredibly easy to create and distribute surveys at scale. 
However, with so many survey tools to choose from, it can be challenging to narrow down your selection. After all, no two tools are the same. For instance, some are designed for enterprise-sized companies while others are better suited for smaller organizations. 
Qualtrics and SurveyMonkey are very popular survey building solutions. The question is, which is best for you? 
In this post, we compare Qualtrics vs SurveyMonkey in terms of features, user experience, and pricing so that you can choose the best solution for your organization. 
About Qualtrics and Surveymonkey
Qualtrics is a big company that acts more like a startup than an enterprise (and it's definitely an enterprise). Their brand is laid back and serious at the same time. They have a work-hard, play-hard attitude, and they describe themselves as "customer-obsessed," which basically means they provide stellar customer service.
They have locations on five different continents and work with over 16,000 brands, including big brands like Microsoft, IBM, Samsung, and Virgin. They're also deeply involved in corporate responsibility initiatives.
SurveyMonkey's parent company Momentive manages three different brands and has a more serious brand image. They put a special focus on diversity and equity, and they work hard to live by their values. It's also used by some huge brands like Cisco and Johnson & Johnson, so on the whole, they stack up to Qualtrics pretty well.
Templates
Qualtrics has a ton of templates available for a huge variety of use cases. They're pretty easy to sort through too. You can apply any number of filters to find the right templates for what you're trying to accomplish.
Some of those categories are:
Advertising and creative testing

COVID-19

Customer experience management

Human resources

Market research
You can also sort by what/who you're measuring:
Customers

Employees

Markets

Students

Website and app visitors
What's great about a lot of these templates is that they have both short and long descriptions so you can see if they're what you're looking for before starting a project.
SurveyMonkey also has a ton of templates that you can use right out of the box — over 180. What's kind of unique about these templates is that they're not just created by anyone — they have expert methodologists creating these surveys.
They also have a huge question bank of pre-written questions that you can employ immediately — 1,800 of them. Their surveys are 508 compliant.
Templates fall into the following categories:
Academic

Business

Community

Customer feedback

Demographics

Education

Events

Healthcare

Human resources

Nonprofit

Political

Market research

Quizzes
Each template is simple to use and has a number of useful facts about it in the sidebar, like how long it would take someone on average to fill out the survey. You can also see sample results. Unfortunately, many of the best templates are paid.
Editor
The Qualtrics editor isn't overwhelming on first glance — it's clean and straightforward. Finding everything you need can take a little getting used to, but it's intuitive — you don't have to be a tech whiz to start using it right away.
Editing each question is straightforward, but there are a ton of options for every question, so you're going to inevitably spend a lot of time putting together each survey, even when using a template.
The design portion of the survey is thankfully straightforward thanks to a number of beautiful templates, but those can be customized too if you want to put in the time.
If you want anything customized, expect a fairly steep learning curve. There are just so many options that you're going to have to dig into their educational content to figure out how to do anything more than the basics.
The SurveyMonkey editor is similarly clean and straightforward looking, but just as with Qualtrics, there are a ton of options to dig through for each question type. SurveyMonkey's editor is decidedly easier to use than Qualtrics though.
Something that really simplifies the process of putting together a survey is the huge question bank of pre-written questions. This can save you significant amounts of time.
Design is simple if you want it to be and complex if you want it to be. There are a number of customizable themes, and you can also create your own theme.
Related: 7 Best Form Builders with File Upload Functionality
Surveys and Conditional Logic
Creating a survey in Qualtrics is as simple as choosing a template and as complex as you want it to be. You can easily do things like choose how many questions appear on each page using a page break or use the vast survey question library to pick from hundreds of premade questions.
There's a great feature called "suggested choices" that will automatically populate some question types with answers so you don't have to write each choice yourself.
Qualtrics also has a conditional logic feature, allowing you to choose who will see a question, if they'll see a question at all, if an email will be sent when certain conditions are met, etc. The conditional logic is fairly robust and allows you to set any number of parameters on questions, so you can get some really complex forms.
Unfortunately, the visualizer isn't great — you can only see the logic on each question individually, so it's hard to get a handle on the entire flow.
SurveyMonkey similarly ranges from simple to complex depending on what you want to do. Conditional logic is complex, but adding it is easy — each question can be shown, randomized, not shown, etc., all based on the conditions you set. You can even send users to different pages or disqualify them from the survey entirely if they answer particular questions in a certain way.
A great feature of SurveyMonkey's conditional logic is that you'll get warnings when you've accidentally created a problem, like when you've created circular logic. Finally, SurveyMonkey lets you access and survey their pre-made audiences of people around the world. This is especially useful if you don't have a big audience to share the survey with.
Reporting and Analytics
Where things get really interesting with Qualtrics is their analytics and reporting. To put it simply, it's extremely robust. You can see the pre-made charts and graphs that Qualtrics starts with, and you can add any number of filters to dig deeper into the data.
If you want to make your own graphs/charts etc. in a program like Excel, there's the option to export your data. You can also import data if you need to, and you have access to survey metadata.
SurveyMonkey is a little bit more robust in terms of analytics. It also has the option to download survey data as a CSV file, and there are some basic charts/graphs that will autofill as responses come in.
However, digging deeper into the data is more possible with SurveyMonkey, and if you haven't collected enough responses, you can pay to get more people to take your survey.
Integrations
Like many survey solutions these days, Qualtrics integrates with a wide variety of applications and software, including HubSpot, Slack, Canvas, and more.
One of the most important integrations is Zapier because Zapier allows you to create all kinds of workflows and literally integrates with over 4,000 other applications. Through Zapier, you can do just about anything you want in terms of automation.
SurveyMonkey similarly has numerous integrations (over 100), including big names like HubSpot, Salesforce, and Zapier. Again, the integration with Zapier is key as it multiplies the number of integrations exponentially.
Dashboard Experience and Ease of Use
The UI of Qualtrics is pretty good as beginners with basic needs can put together simple surveys or use the high-quality templates to put together great surveys without a whole lot of work.
Once you start digging into it though, it becomes complex fast, which will almost certainly overwhelm even experienced users of survey builders.
If you're going to do anything remotely complicated with Qualtrics, you're going to want to spend a lot of time browsing their educational content. Once you understand where things are and how they function, picking it up will be easier.
Overall, don't expect to be an expert right away — there's a large learning curve.
Frankly, SurveyMonkey isn't much different. The templates are great and are going to be more than enough for most users, and making simple edits is easy and somewhat intuitive, but the sheer power of the application means it gets complex quickly.
The UI does its best to make things intuitive, but there's just too much going on — just like with Qualtrics, you're going to have to spend some time with their educational content before you can do anything even remotely complex.
Pricing
You know it's expensive when they won't list the pricing on the website.
Qualtrics requires you to sign up for a demo and give them your personal information before they'll give you a quote. Their most basic plan is $1,500 a year.
Is it worth it? It's powerful software for sure, but for most small-to-medium-sized businesses, it's just not going to make sense — there are more affordable form builders out there that will do the same thing at a fraction of the price (though with fewer features).
It's really enterprise software designed for enterprises. You have to have a big audience and the need to create complex surveys for it to make any sort of sense.
SurveyMonkey is much more affordable, and given the fact that the offerings are pretty similar, it's almost always going to be the case that you'll want to go with SurveyMonkey, especially since you can pay for an audience to take your survey (which most SMBs are going to need).
However, prices do tend to go up quickly (the middle plan with 3 users is almost $1,000/year), but few businesses are going to realistically need multiple users rather than just using a single login.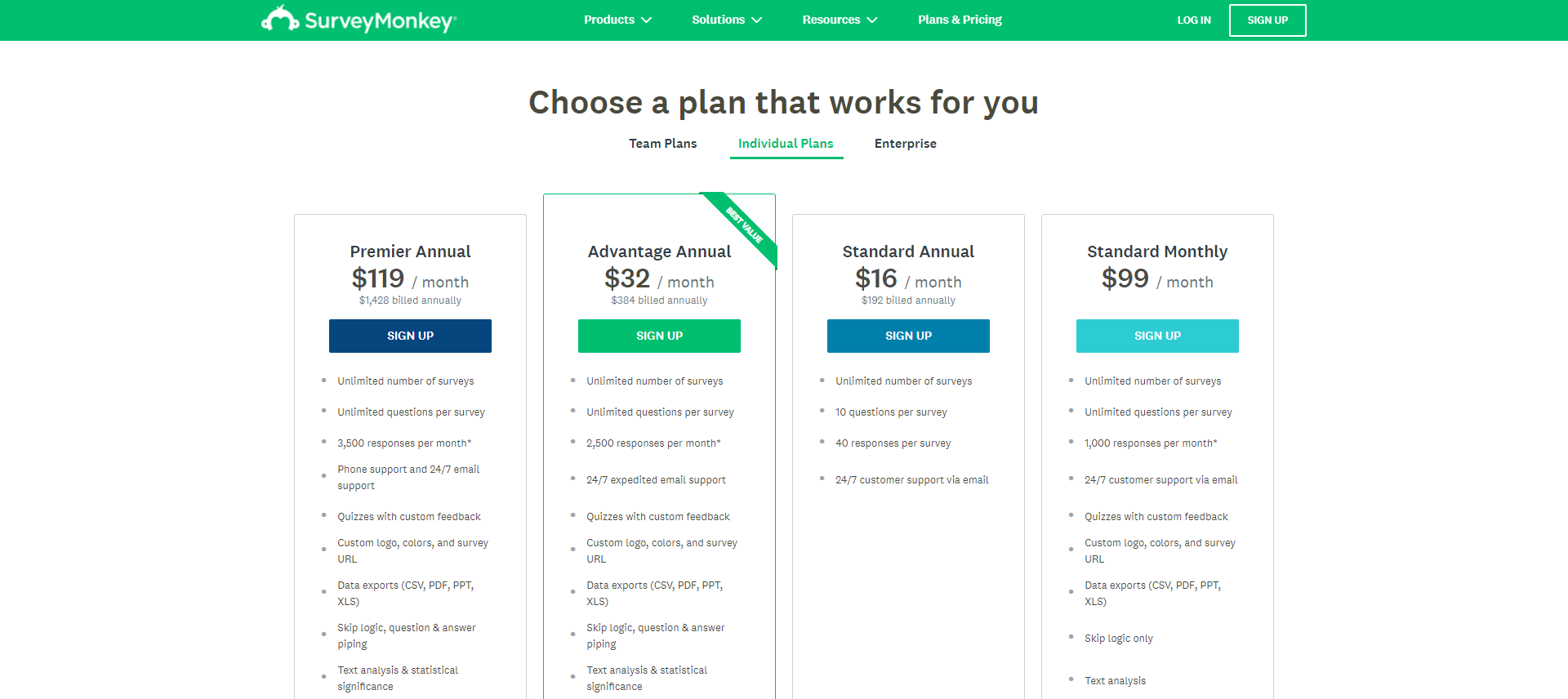 Customer Support
Qualtrics (thankfully) has a huge help library that you'll almost immediately need to access to figure out how to do anything beyond make very simple changes to templates. Once you dig in though, you'll be able to find an answer to any question you might have.
In terms of actual customer support, they mostly want you to contact them via email, though they do have a chat function if you're a higher level user.
SurveyMonkey also has an extremely robust library of resources that you can make use of to learn the software — and you'll have to because it's just about as complex as Qualtrics.
For customer service, they have 24/7 email support and help bots available. If the help bot can't help you, it will direct you to the support team.
When to Choose Qualtrics vs SurveyMonkey
Qualtrics is for enterprises — full stop. It just doesn't make sense for an SMB to pay for this software when there are so many other more affordable options out there.
Sure, they're not as robust and have fewer features, but you have to have a pretty large audience to need something as complex as Qualtrics, and even then, you need a good reason for putting together an extremely complicated survey.
In almost all cases when choosing between Qualtrics vs SurveyMonkey, SurveyMonkey is the way to go. It's just about as robust, it's more affordable, and most importantly, it gives you crucial access to audiences that you can survey (rather than having to rely on your own, which you may not even have).
You can see how other form builders stack up to SurveyMonkey in the following comparisons:
Microsoft Forms vs SurveyMonkey