Typeform is undoubtedly one of the most popular form builders. 
And for good reason too— the platform is incredibly powerful and versatile. 
However, if you are just getting started with Typeform, or if you are considering investing in the platform, you may be curious to know how other organizations are using it. Fortunately, with so many organizations using the platform, there are plenty of forms by Typeform floating around the web that you can check out. 
In this post, you can discover 17 Typeform examples from a variety of different organizations.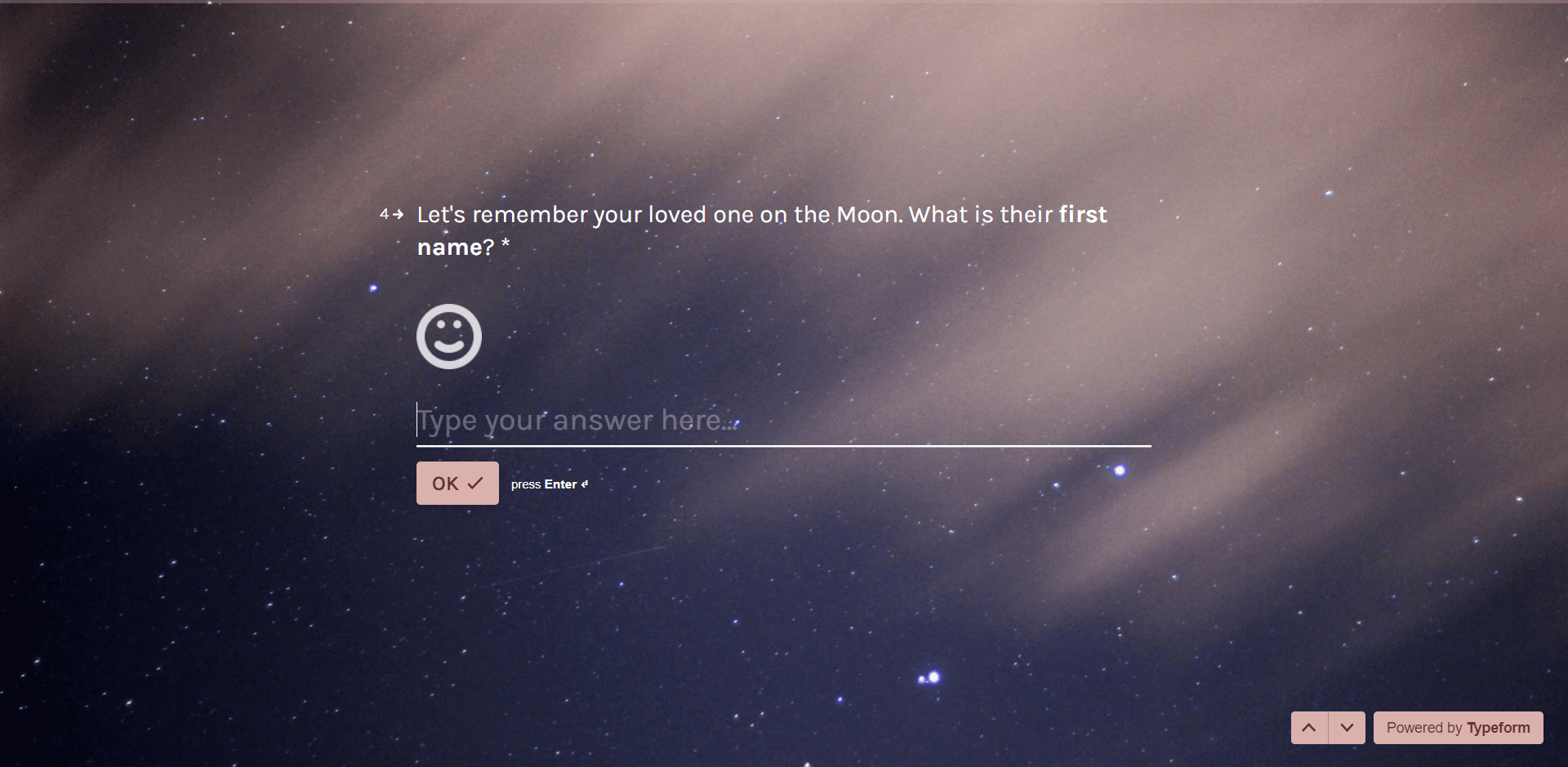 LifeShip's mission is to make outer space accessible to everyone. LifeShip aims to do this by creating a genetic record of the planet Earth on the Moon. Users can pay to have their DNA sent to the Moon or memorialize a deceased loved one in space through its Ashes Moon Mission.
That's where LifeShip's "Ashes to the Moon" Typeform comes in. When users purchase an "Ashes to the Moon" kit, they fill out this ten-question Typeform providing all their loved one's personal information before sending their ashes to the company for their journey into space.
This Typeform gathers information as part of a product/service already sold to the user. It's a great example of a simple information gathering Typeform. LifeShip had no problem finding a template to match its "out of this world" vibe when it chose Typeform's "Membership Application" template. This template features an outer space background perfect for this project. In fact, this Typeform appears to have been created with minimal customization.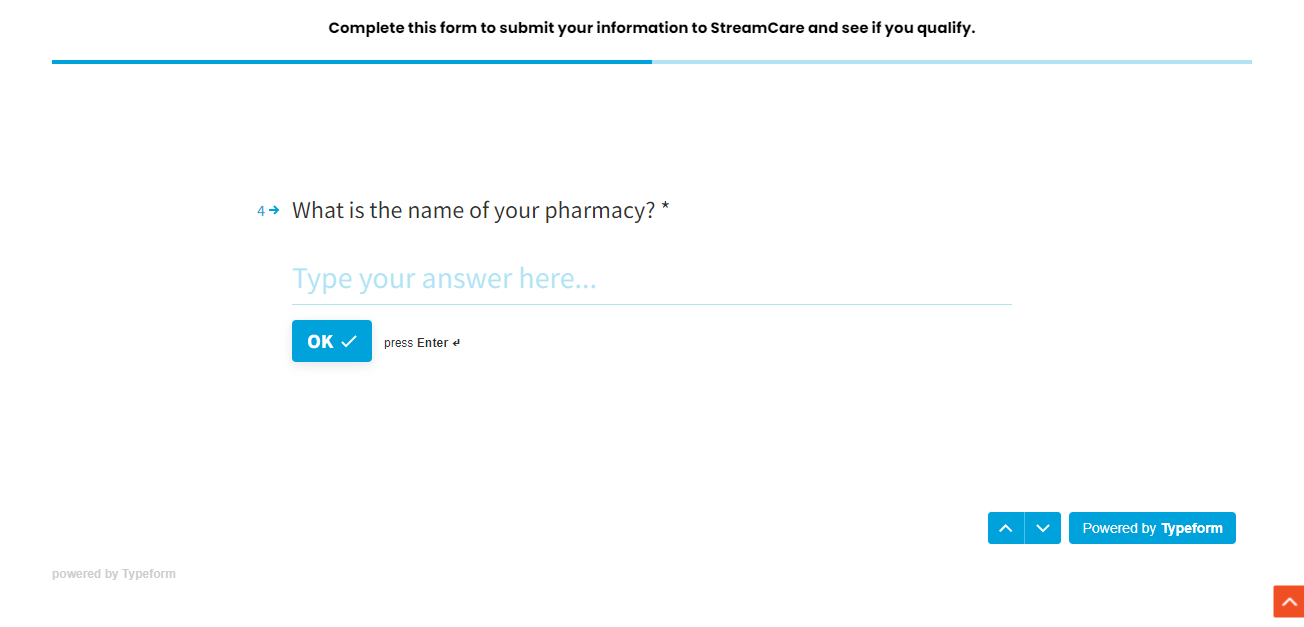 StreamCare is a company with a unique target market. It targets retail pharmacies and offers them a direct billing software solution that effectively eliminates the need for pharmacy benefit managers (PBM), which are companies that manage prescription benefits on behalf of insurers, thus cutting out the cost of using industry middlemen.
StreamCare's website uses the WordPress "Astra" theme and the popular Typeform plug-in to embed a typical Typeform survey into its landing page. The company collects data from prospective customers for lead generation with this in-page survey. It features six simple questions that the company uses to determine if the person filling out the form "qualifies" for the StreamCare service.
StreamCare's In-Page Survey is an excellent Typeform survey example embedded into a landing page using the popular WordPress Typeform plug-in.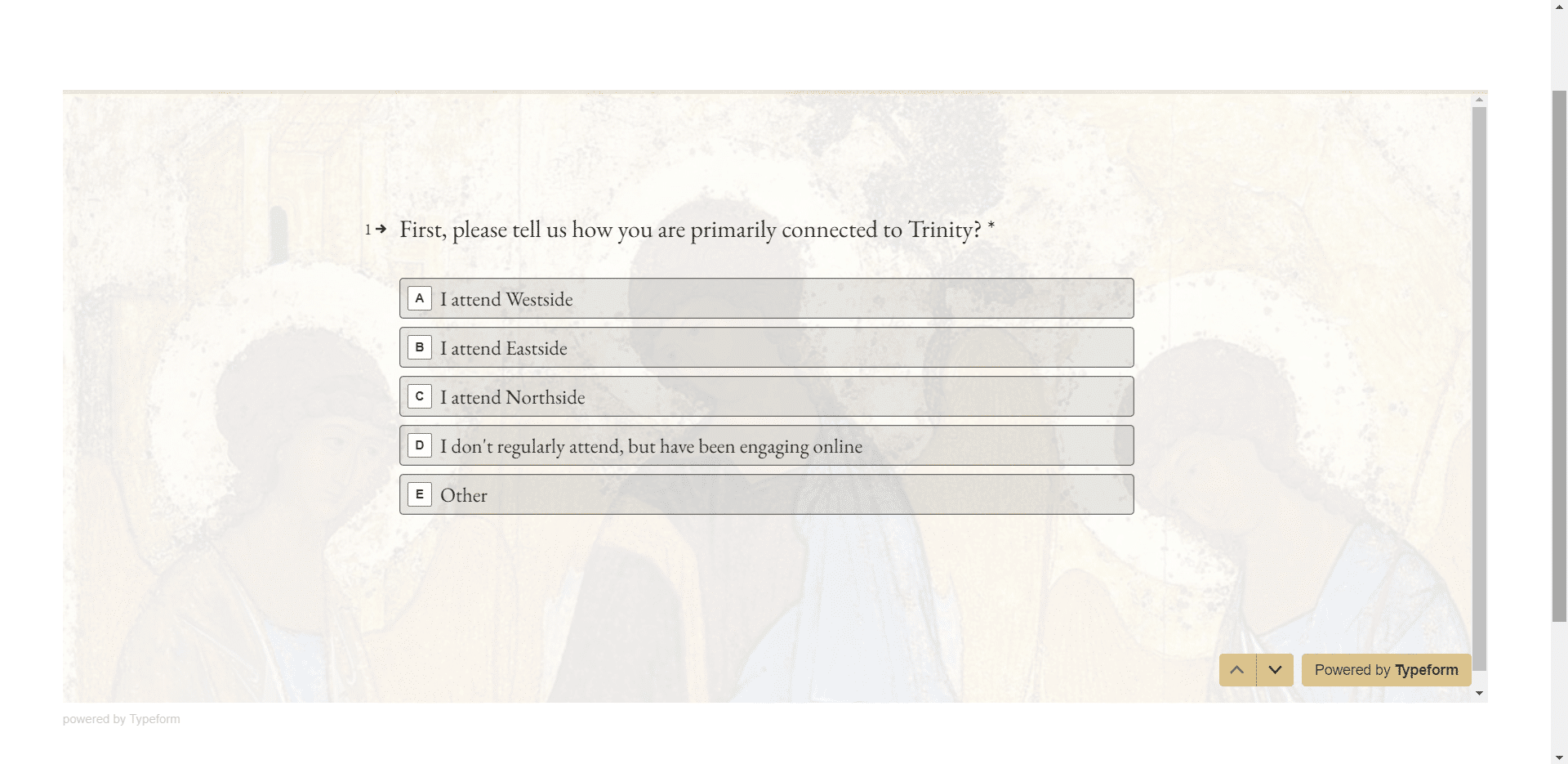 Trinity Anglican Church, based in Atlanta, Georgia, with three parish locations throughout the region, used Typeform to create its most recent survey, which it uses to gather parishioner satisfaction and feedback.
The Trinity Anglican survey is an excellent Typeform survey example that uses multiple-choice questions and conditional logic to gather customer satisfaction anonymously. Using Typeform's conditional branching features, respondents are shown different parts of the survey tailored to their responses to specific survey questions.
This particular Typeform survey has been customized to fit nicely with the Trinity Anglican Church's recently redesigned website.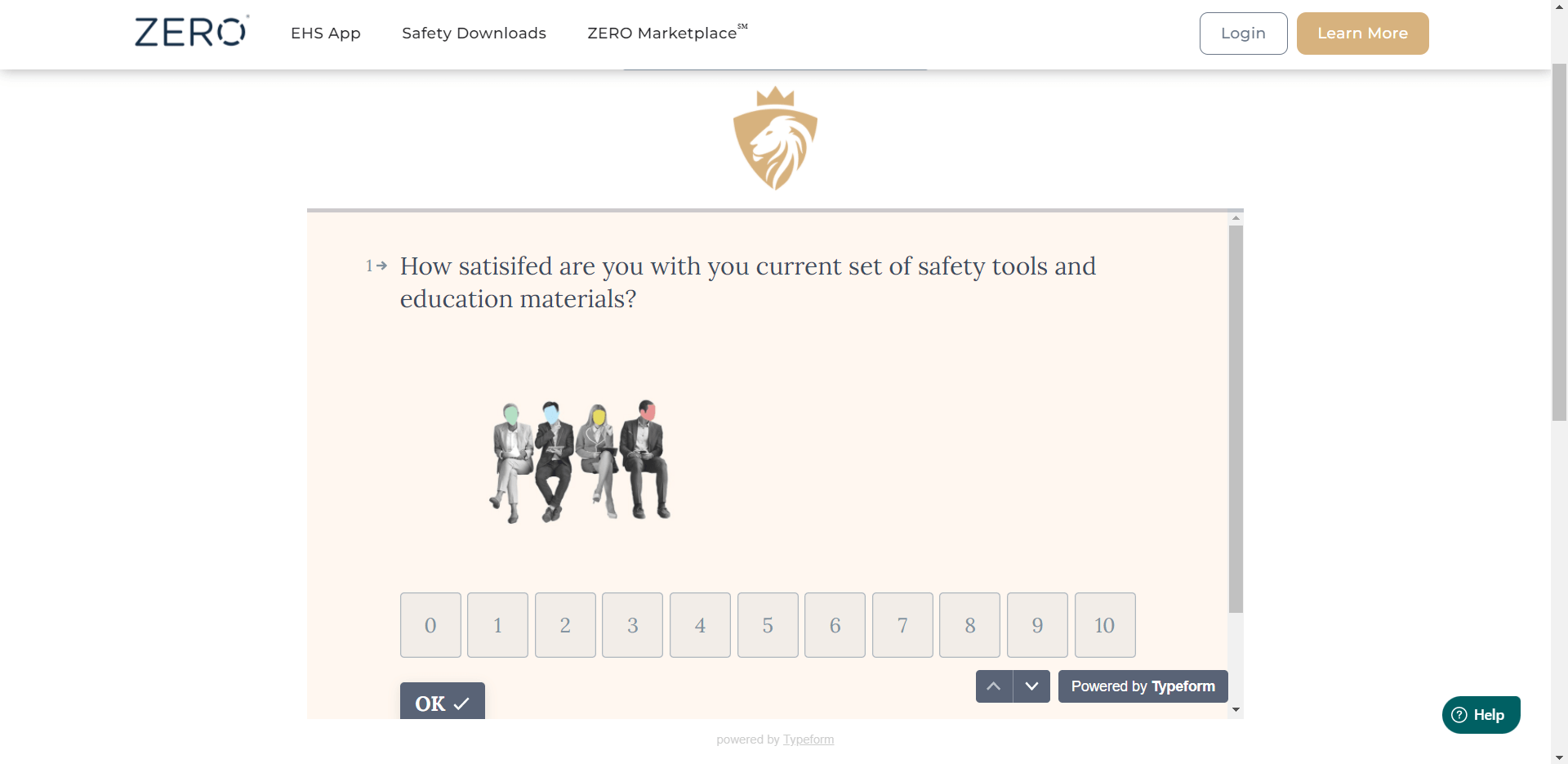 ZERO is a popular environment, health & safety (EHS) software solution that helps companies to mitigate preventable accidents and illnesses. ZERO combines core features of EHS software with modern collaborative tools to create a more holistic approach to addressing a company's needs.
ZERO uses Typeform's Candidate Experience Survey template on its website as a six-question lead generation Typeform. Although only the survey content of the Candidate Experience Survey template has been customized for use by ZERO, the survey, as it is presented, and embedded into ZERO's website, is quite shakey. However, this is likely the result of a website glitch and not an issue with the Typeform itself.
It is still a great example of how Typeform can be used for effective lead generation.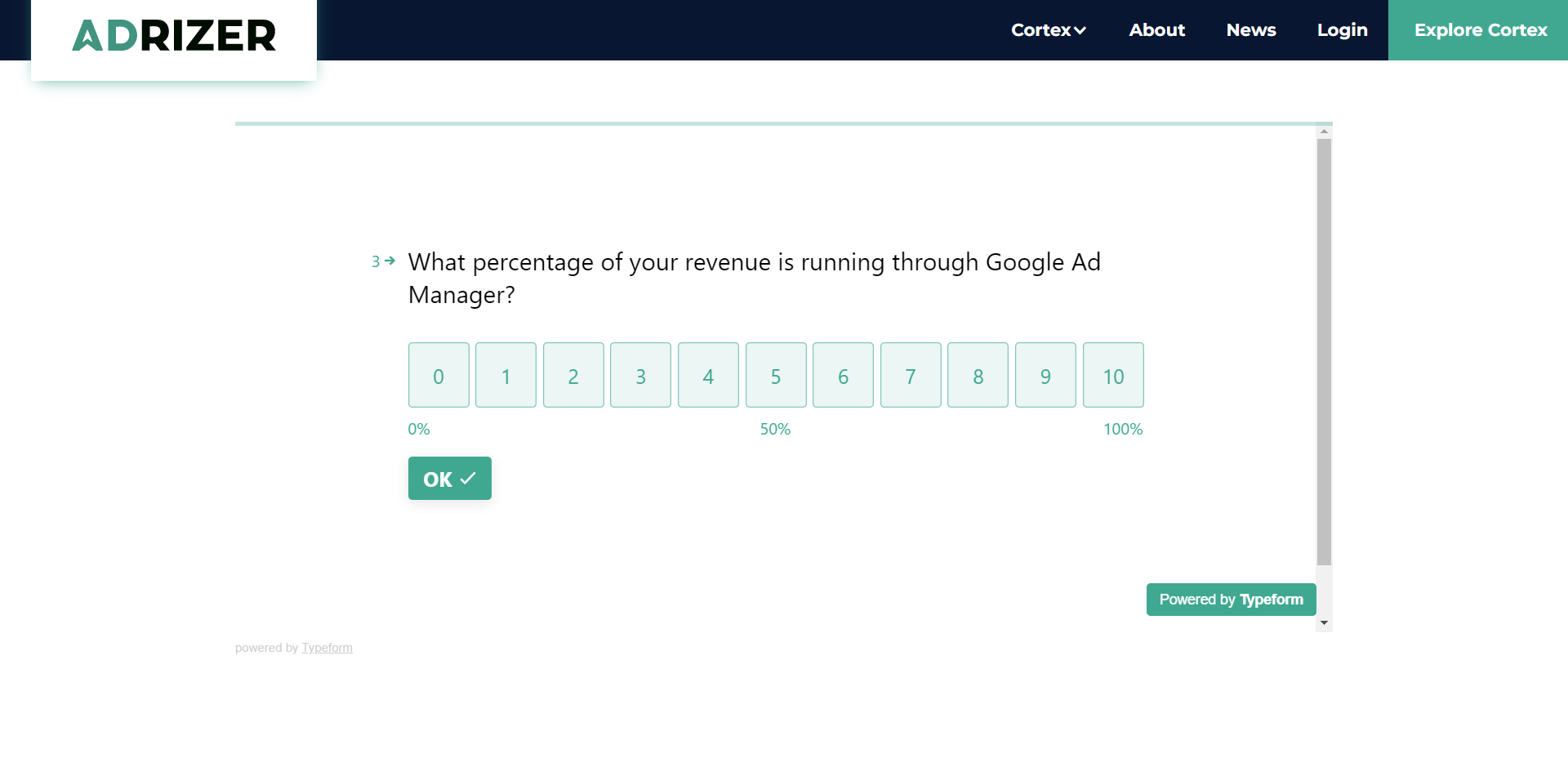 AdRizer is a full-service analytics and revenue tracking platform for advertisers. Its Cortex intelligence software is an affordable, easy-to-use SaaS (software as a service) solution that delivers rich, real-time attributions based on a broad range of brand and publisher metrics, including revenue by conversion event, article, author, and source.
AdRizer uses a customized Typeform to complete a Cortex user's onboarding process once they have chosen the software. The Cortex onboarding form is an excellent Typeform quiz example that gathers all relevant information necessary for users to maximize their results using the Cortex software.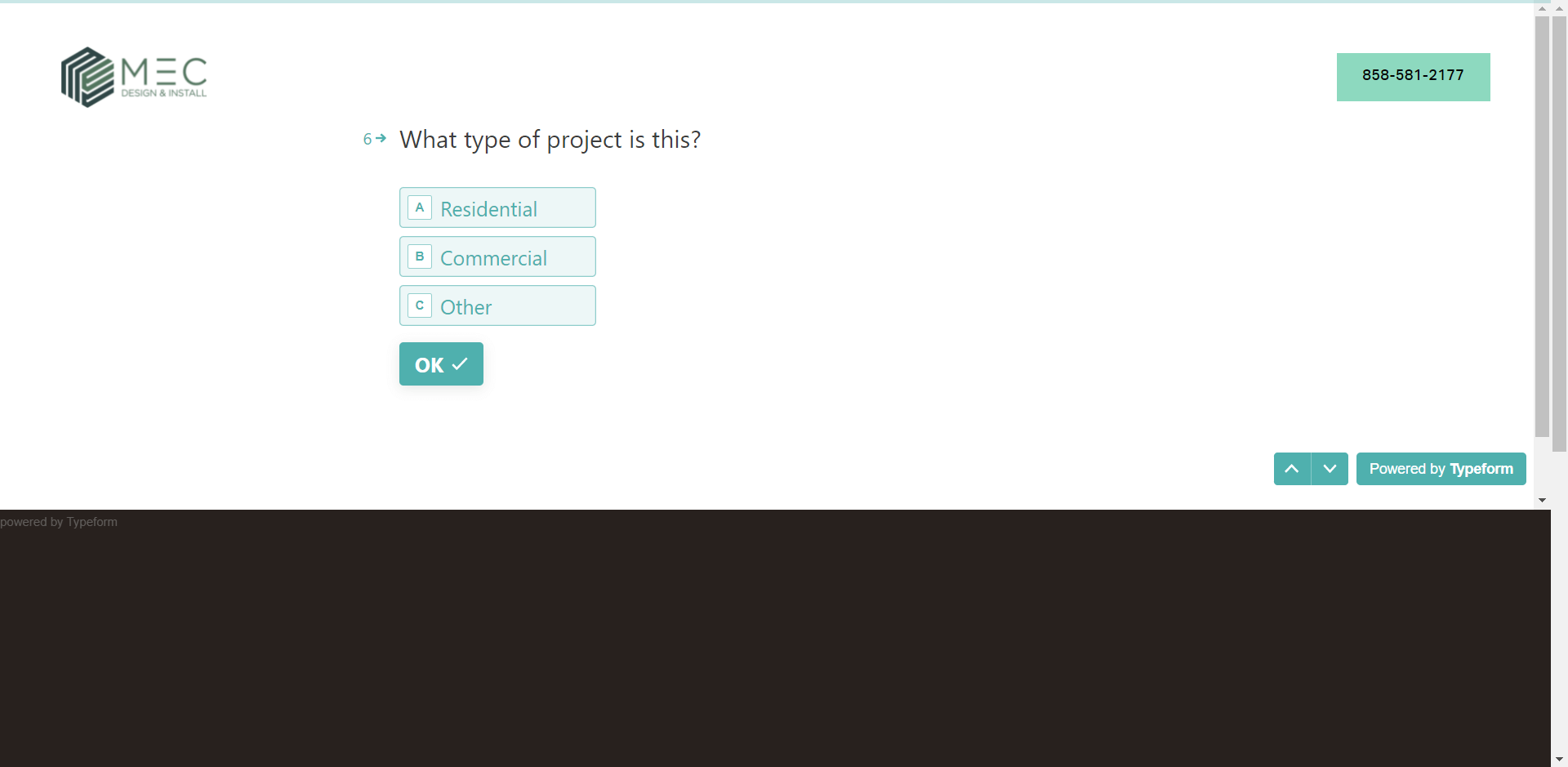 MEC Design and Install is San Diego's premier IKEA kitchen installer, specializing in the design and installation of IKEA kitchens. However, their work is not limited exclusively to IKEA or kitchens. The company also works with Semihandmade, BOXI, Nieu Cabinet Doors, and more in residential and commercial spaces, including bathrooms and offices.
MEC Design and Install uses a simple six-question type form to gather information about a potential customer's proposed project, which can be used as lead generation for the company. The MEC project information form is an excellent Typeform survey example that makes it easy for companies to generate leads and gather relevant information that can be used to target the potential client's unique needs.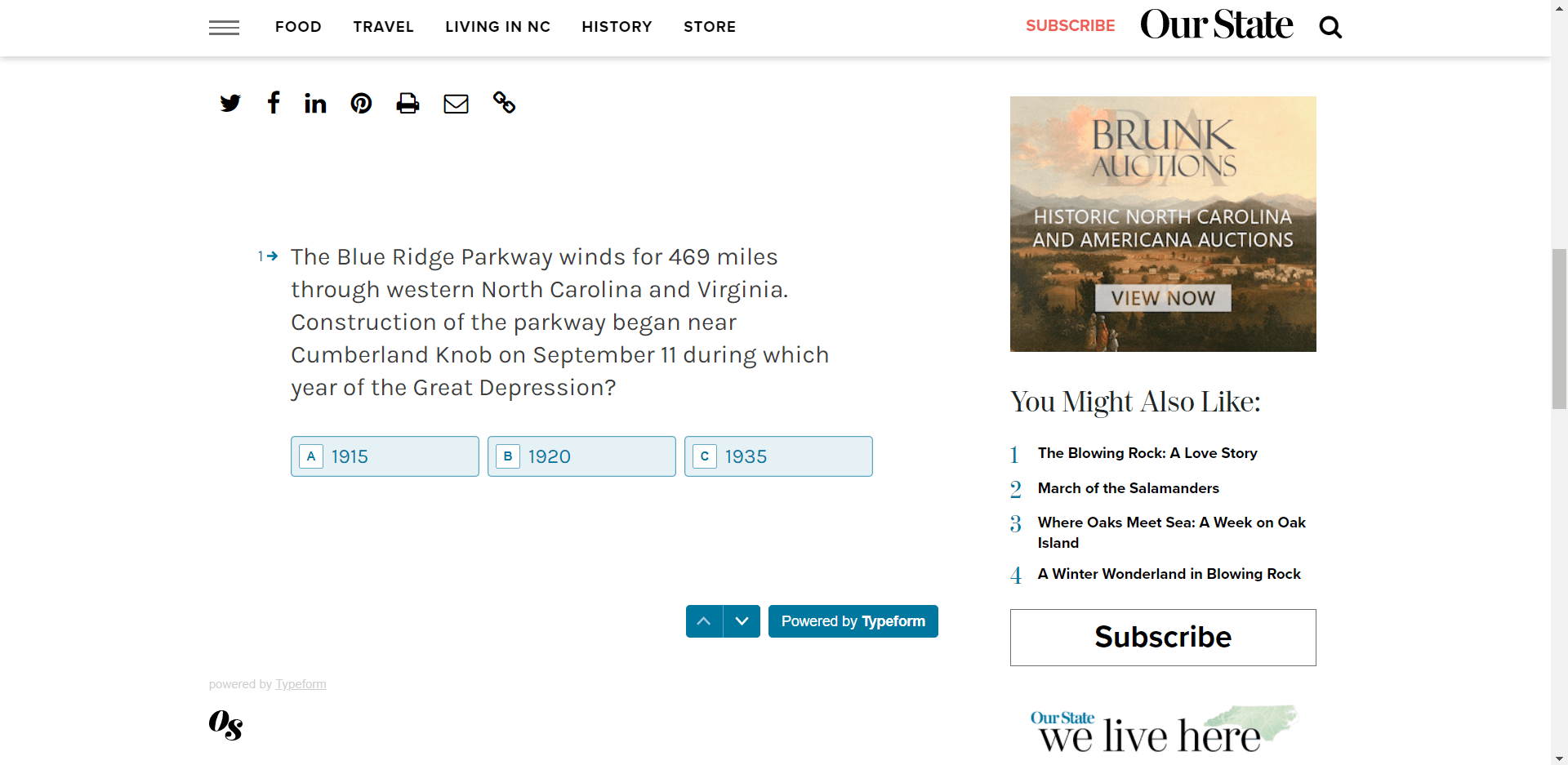 Our State Magazine is a monthly publication based in Greensboro, North Carolina, founded in 1933. It features history stories, photography, and travel articles about the State of North Carolina, its people, places, and events.
Our State Magazine used Typeform to create its Blue Ridge Parkway Quiz. The Blue Ridge Parkway quiz is an excellent Typeform quiz example and demonstrates how a Typeform quiz can be utilized for increased user engagement. Best of all, when a respondent completes the quiz, they can easily share their score with their followers on Facebook, Twitter, or LinkedIn, which is a win/win for everyone involved, but especially Our State Magazine.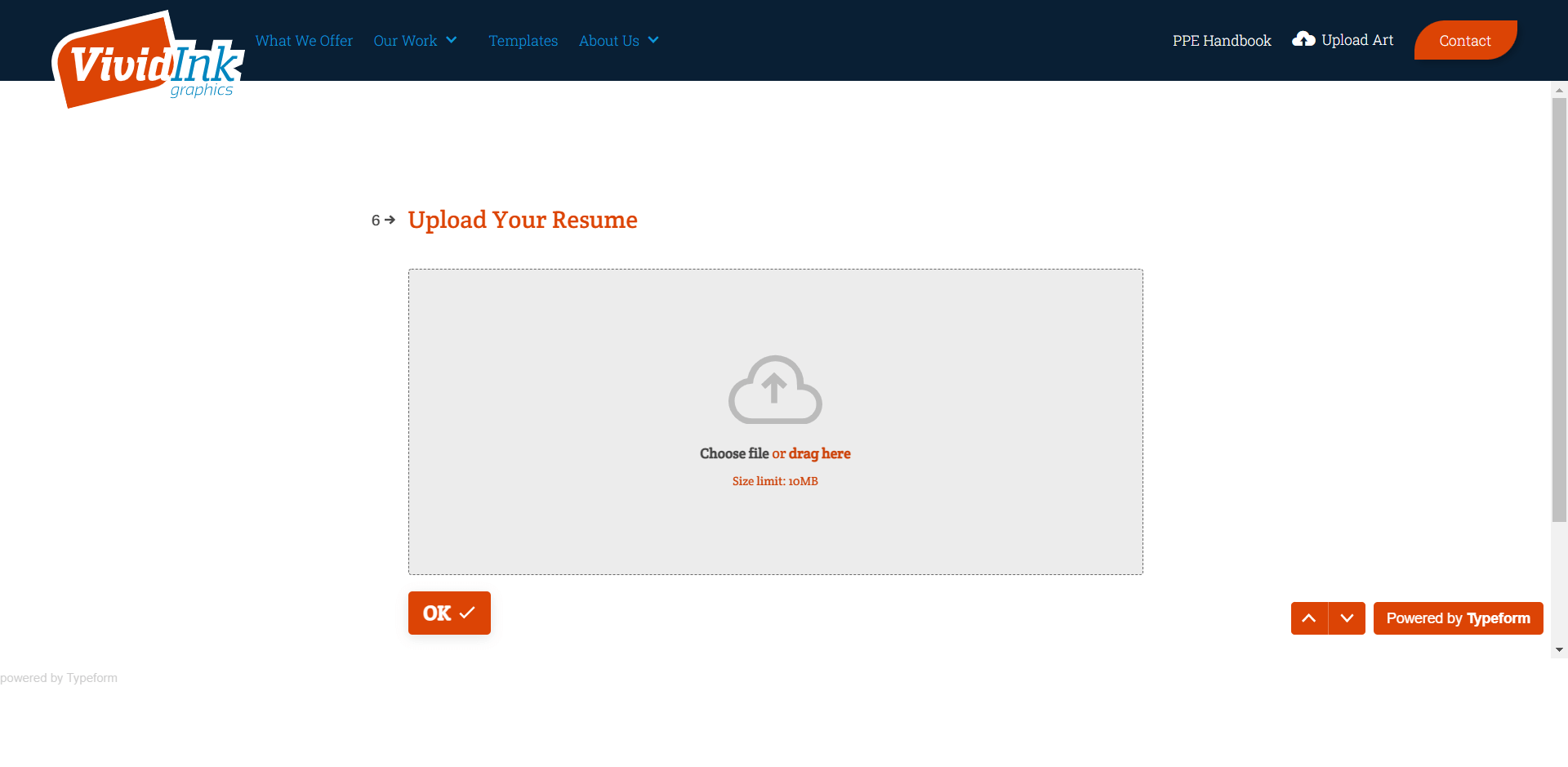 Vivid Ink Graphics is a full-service print shop founded in 1999 with two locations in New Orleans and Baton Rouge, Louisiana. The company used Typeform to create a job application for potential new hires.
The Typeform used in this example from Vivid Ink Graphics is an excellent example of how Typeform can be used for job and career applications. Candidates answer a few basic personal questions, and then they are allowed to upload their resume, limited to 10MB in size. Vivid Ink Graphics even collects data on who referred the applicant to the company, adding an extra personal touch.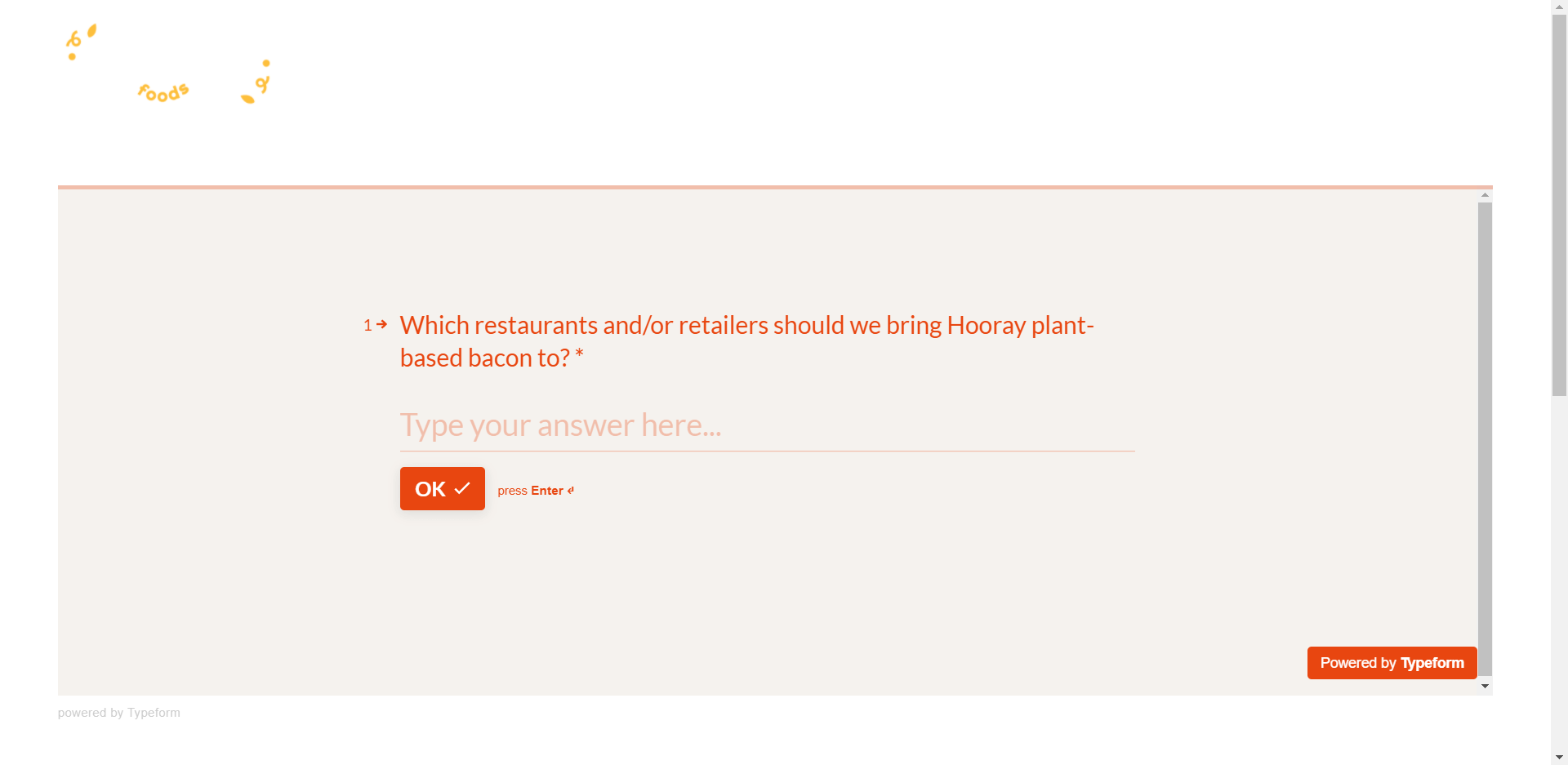 Hooray Foods makes plant-based meat products that look, cook, and taste like real meat. The company uses a simple Typeform for its plant-based bacon survey, which is used for lead generation and as a tool for Hooray Foods to expand its market.  
The Hooray Foods website is built using Squarespace with an embedded Typeform for its bacon survey. The main objective of the Hooray Foods plant-based bacon survey is to allow Hooray Foods fans to submit where they would like to see Hooray Foods sell its product, such as their favorite restaurant or grocery store. At the end of the survey, the respondent is asked to submit their email address.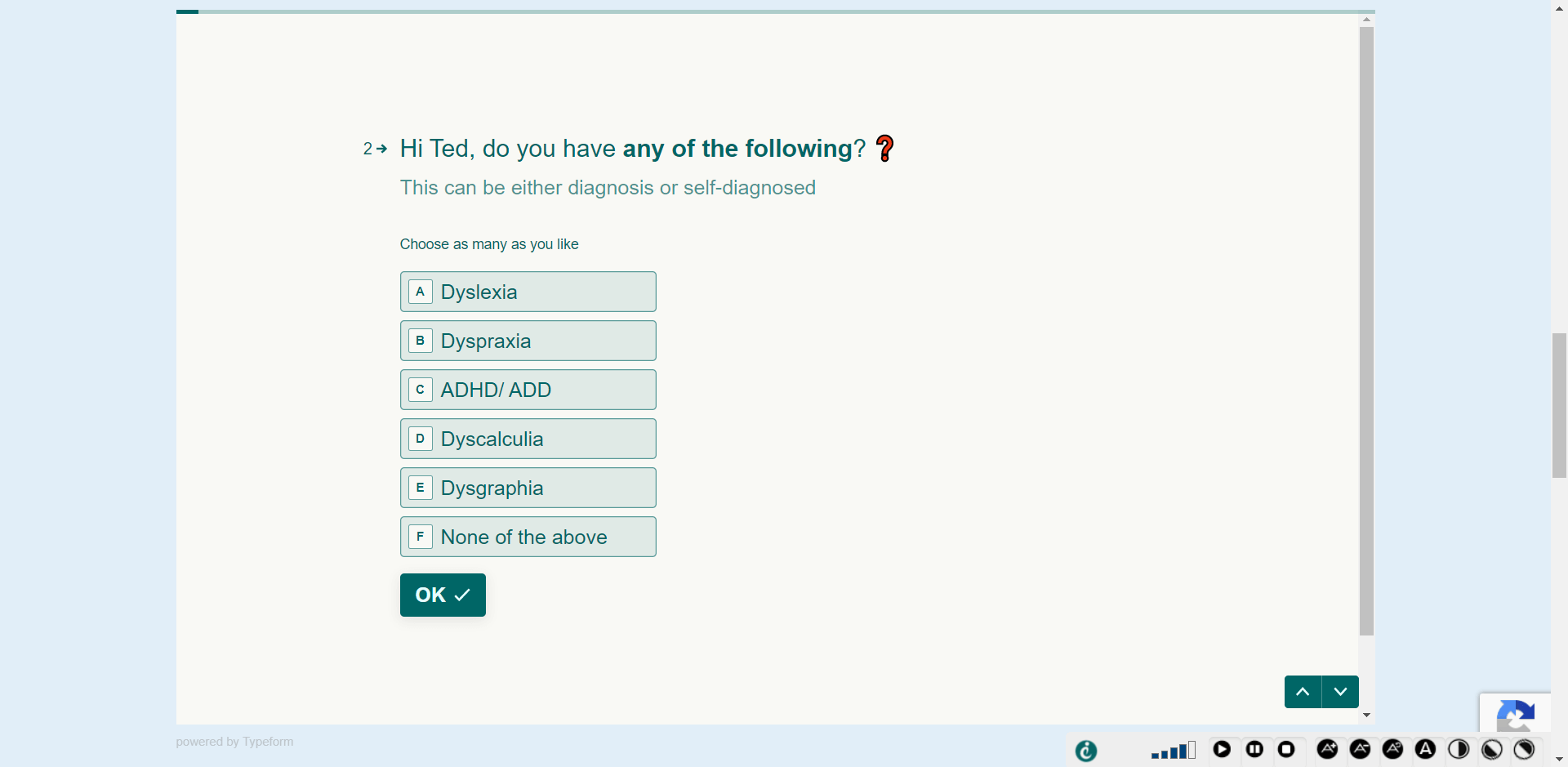 Exceptional Individuals is a company that provides consulting, recruitment, and employment support to employers and individuals with autism, ADHD, dyslexia, and dyspraxia. Exceptional Individuals uses several Typeform quizzes throughout its website. Its online autism test is the perfect Typeform quiz example.
This Typeform quiz is designed to help individuals determine whether or not they are on the autism spectrum. It features more than 50 questions and uses pictorial icons and emojis to create an exciting and fun quiz. The quiz is not meant to offer a diagnosis of autism. Still, it can provide adult respondents with insight into whether or not they may be on the spectrum before seeking an official diagnosis. To complete the survey and receive the results, respondents must enter a valid email address.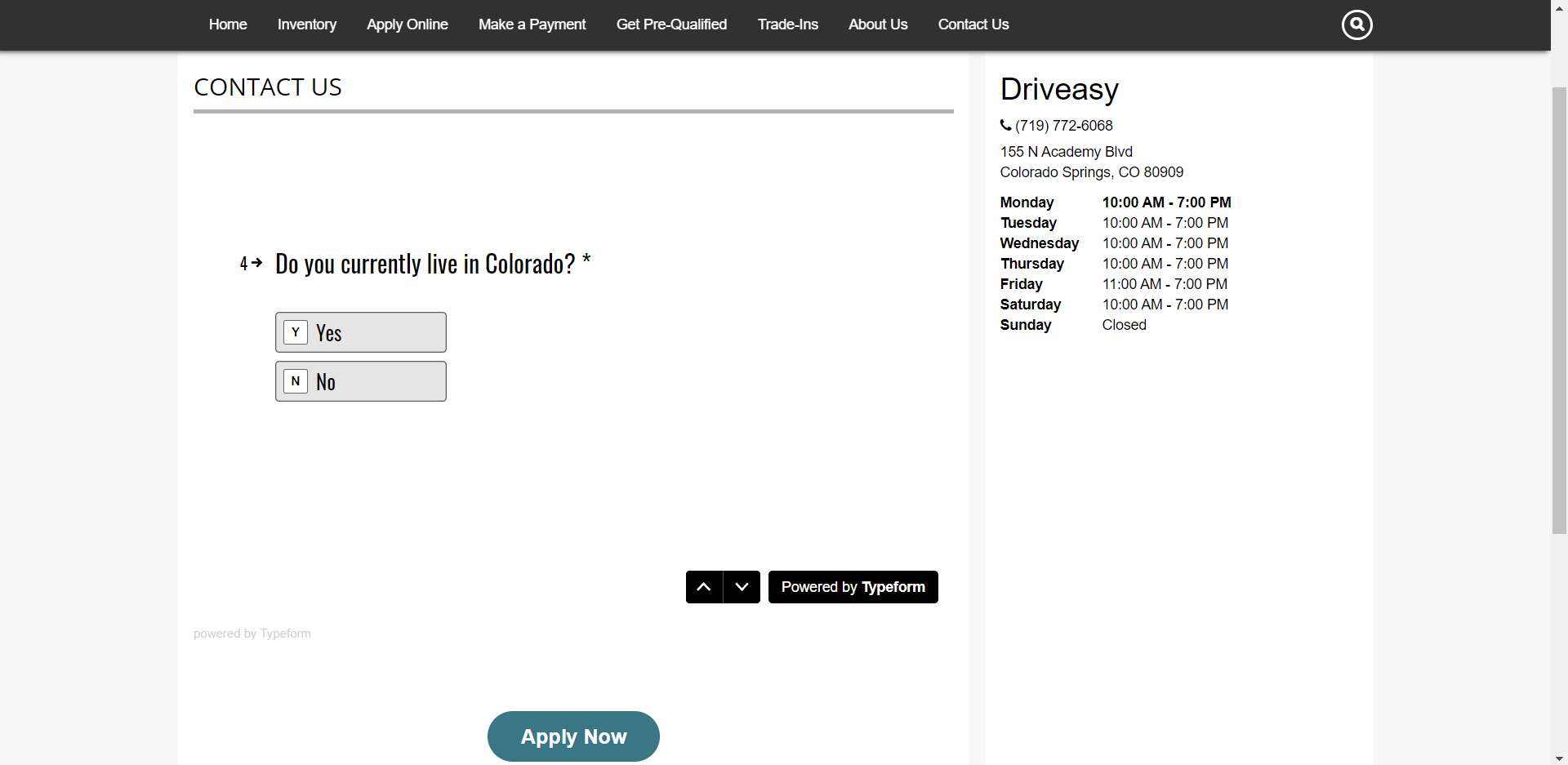 Driveasy is a pre-owned vehicle dealership based in Colorado Springs, Colorado, that offers vehicle financing to those with less than favorable credit. The company uses Typeform for its car loan pre-approval survey, an excellent example of a simple Typeform for lead generation.
Although the Driveasy credit pre-approval Typeform is billed as an "application," it is essentially just a lead generator for the company. Using approximately six questions, this Typeform example gathers the respondent's name, phone number, and income information. Once submitted, the respondent is told that a sales representative will follow up.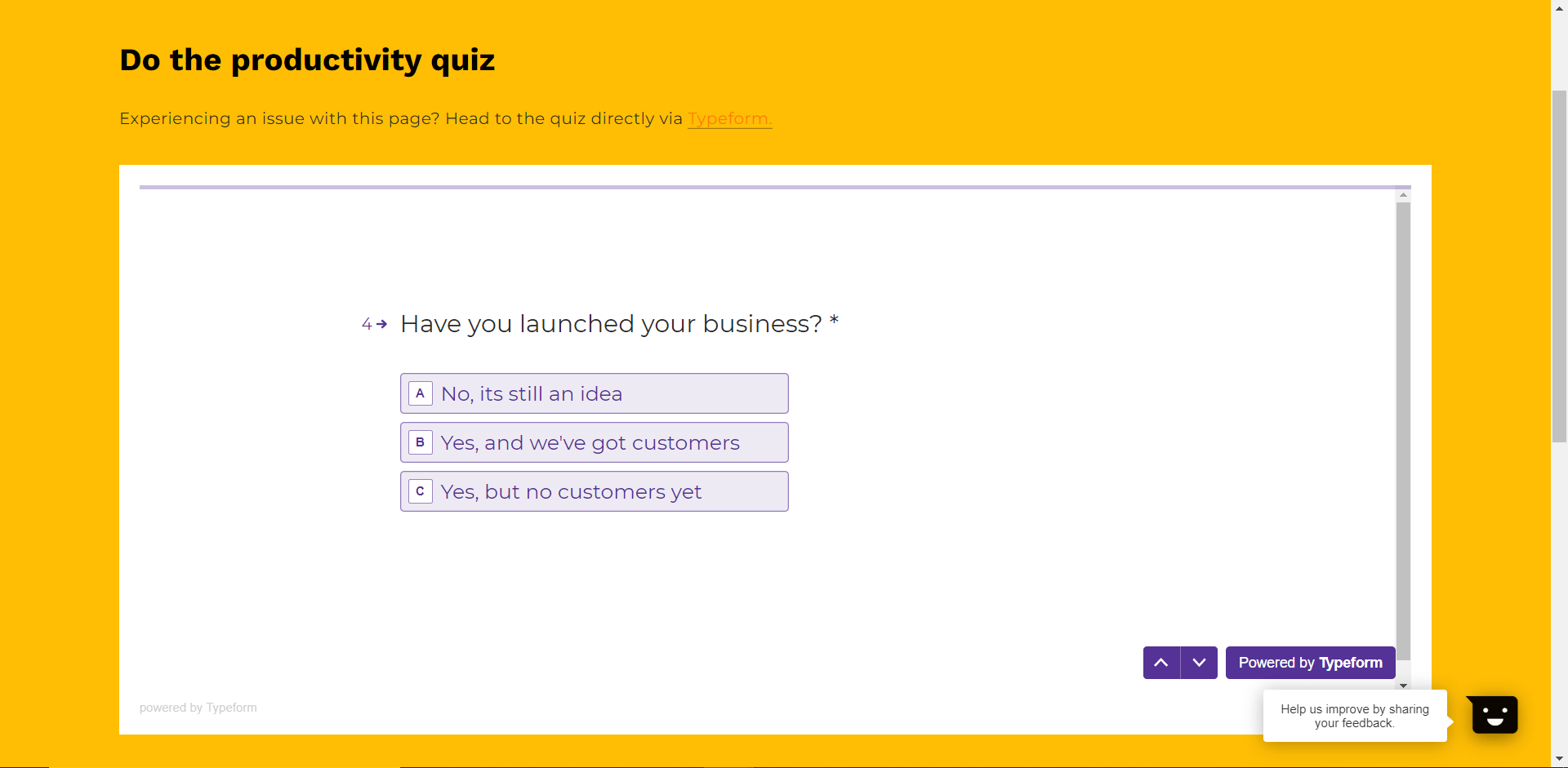 Black and Good is a community for Black leaders and entrepreneurs. The organization was created to bring black business owners worldwide together in an online community to connect, support, and amplify their work.
Black and Good offers a couple of quizzes that were created using Typeform. The Black and Good productivity quiz is a prime Typeform quiz example that uses conditional logic to tailor the quiz to respondents' answers and, in the end, helps the company better engage with its users and gather more sign-ups for its newsletter. This particular Typeform requires that the respondent agee to receive the Black and Good newsletter before being able to retrieve their productivity score.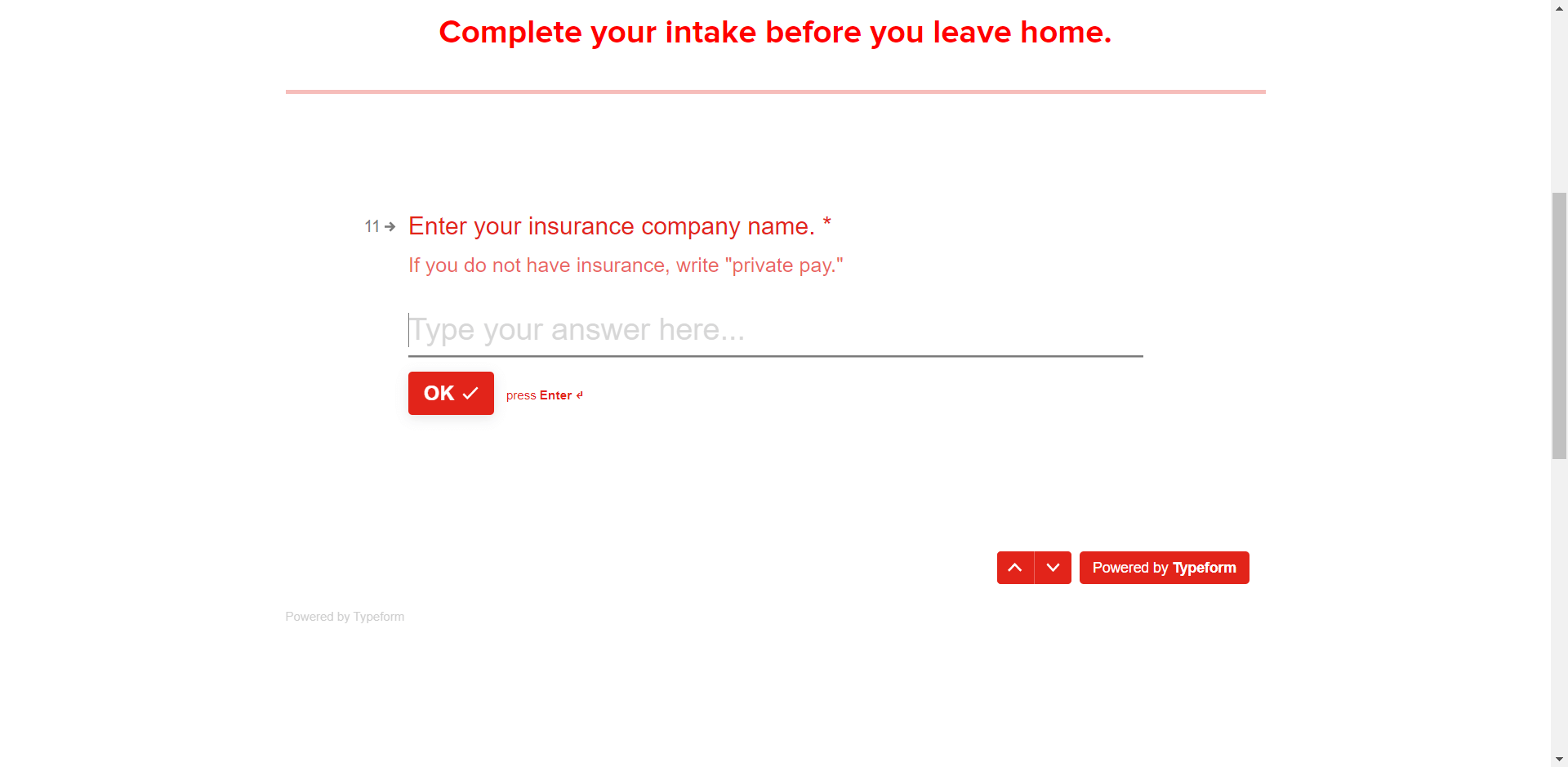 Express Family Care is a nurse practitioner-owned clinic located in Oklahoma City, Oklahoma, and the company uses Typeform as part of its online check-in process.
The company offers two different online check-in Typeforms. One was created for existing patients, and the other was made for new patients. The Express Family Care online check-in Typeform can decrease a patient's office wait time by allowing them to complete their intake forms before leaving home. This particular Typeform is an excellent example of how healthcare providers can improve patient care and service using Typeform.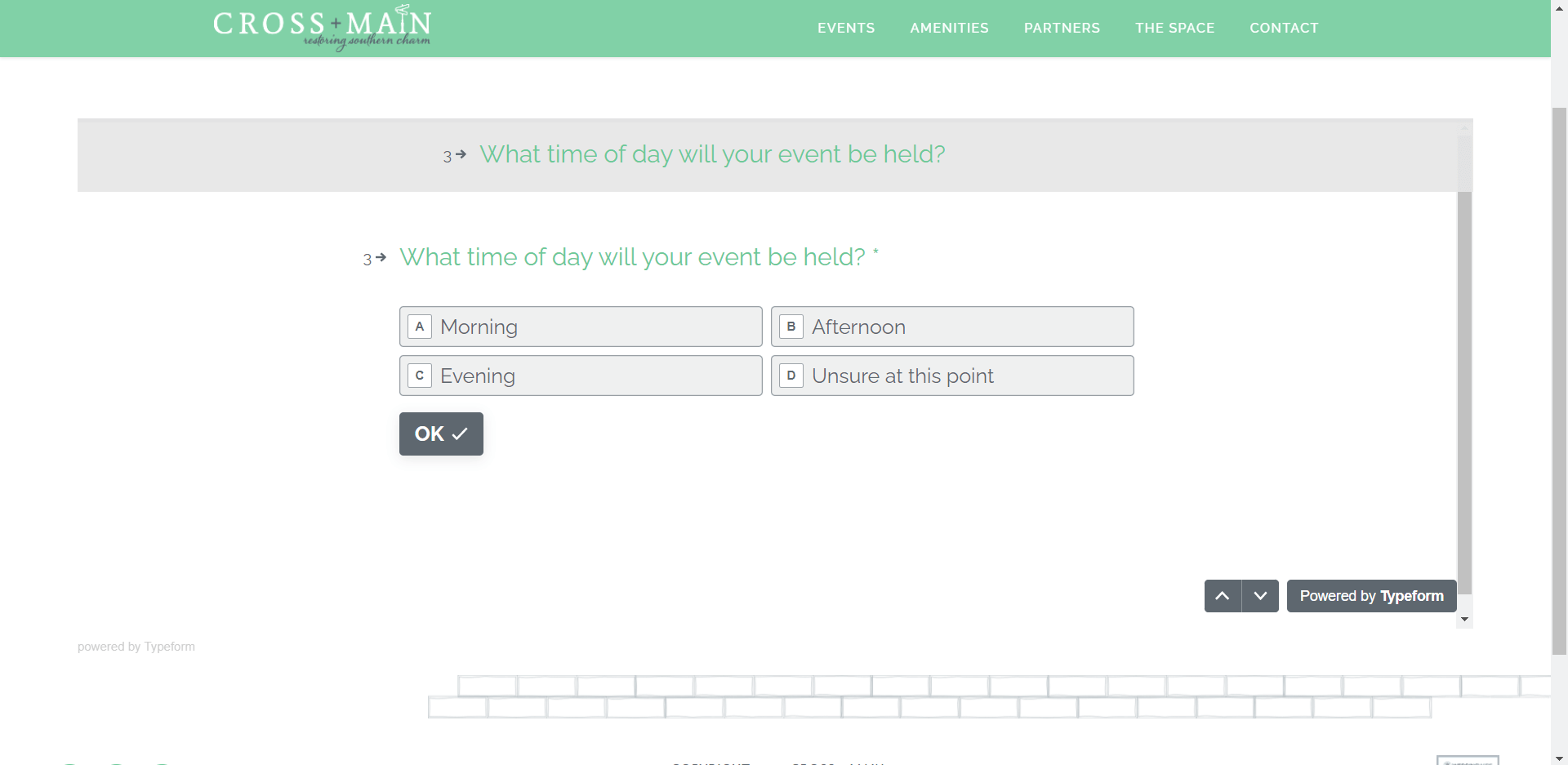 Cross+Main is an event and wedding venue located in downtown Youngsville, North Carolina, and is a division of Rocky Top Catering. The company offers various services for various events, including full-service catering and logistics planning. Cross+Main uses Typeform to gather information for those interested in booking the space.  
The Cross+Main Typeform is straightforward, gathering basic event details from the respondent, including the type of event they are planning, the proposed date and time, and the estimated number of guests. It also gathers contact information from the respondent, all of which is used by Cross+Main to expedite the planning process. This Typeform is an excellent example of how those in the service industry can use the popular form builder to gather basic information from prospective clients ahead of their first encounter.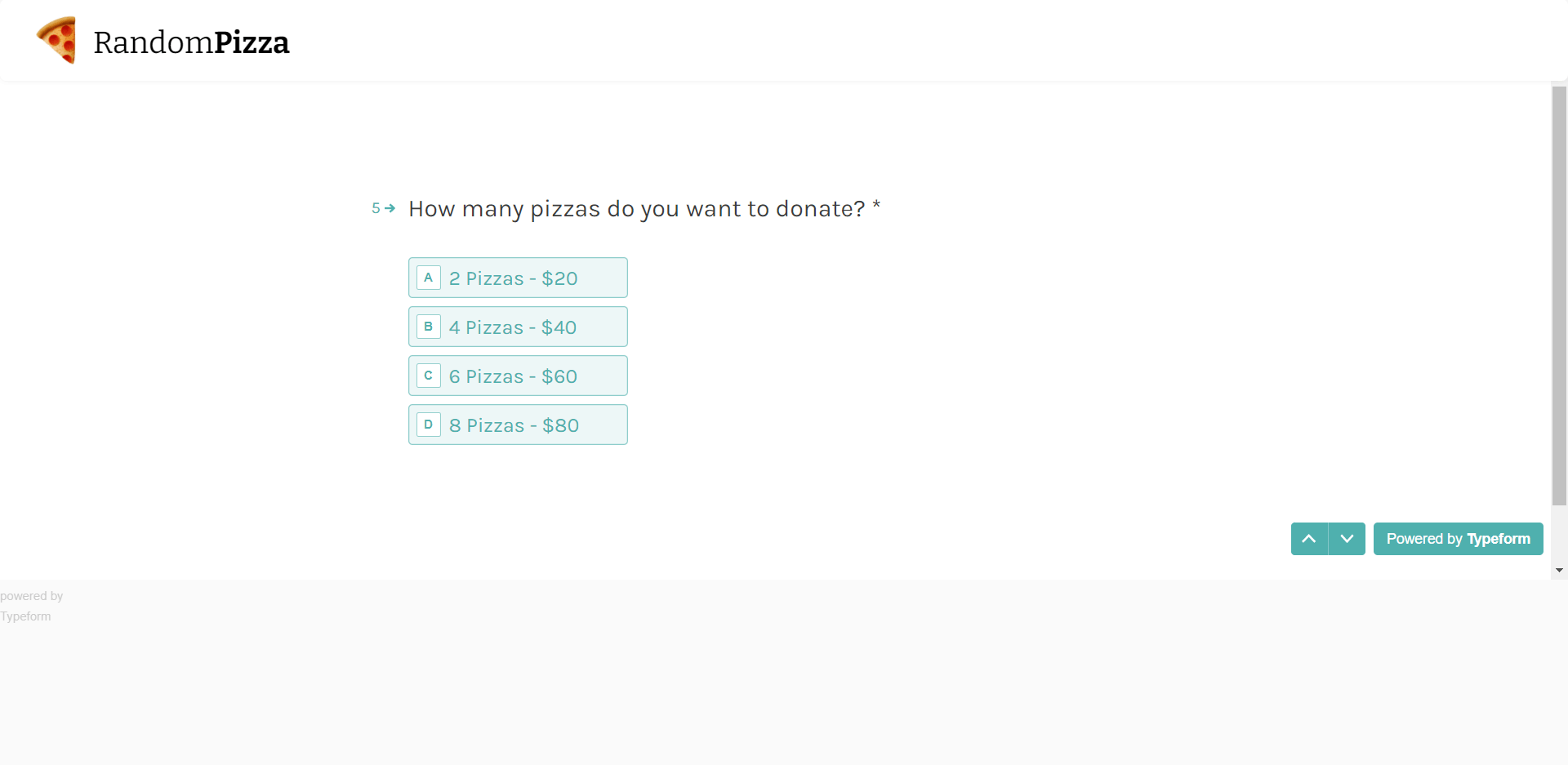 RandomPizza is a subscription-based service that randomly delivers two pizzas to your home from a random local pizza joint once a month. The company uses Typeform for its Black Lives Matter Pizza Form, which allows users to send pizzas to those marching for Black Lives Matter from the comfort of their homes. It is a way of saying thank you to those participating in the movement.
The BLM Pizza Form collects basic information from the donor and uses Stripe to collect the donation amount, which is then used to send pizzas to those marching in support of Black Lives Matter. This Typeform is the perfect example of how the software can be used to create forms for the easy collection of donations.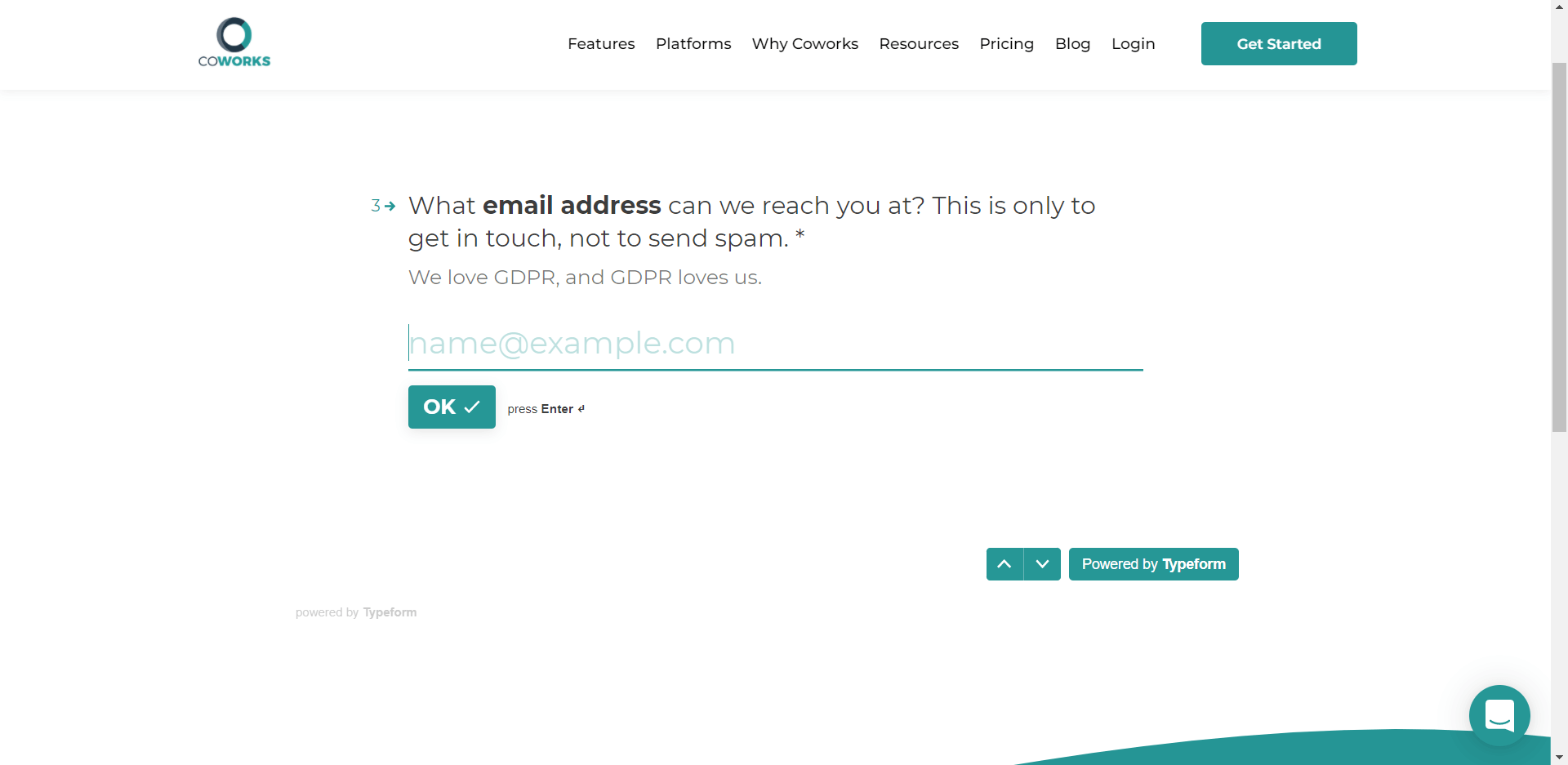 Coworks is a software solution that empowers coworking space operators using automation, analytics, and communication to optimize and enhance their business. Believing that flexible office space and coworking represent the future of our work lives, Coworks aims to create intuitive experiences for managers and members of these spaces.
Coworks uses Typeform's Registration Form template for its trial account registration. This Typeform example collects basic user information using seven basic questions that, when answered, open the door to a 30-day Coworks trial account.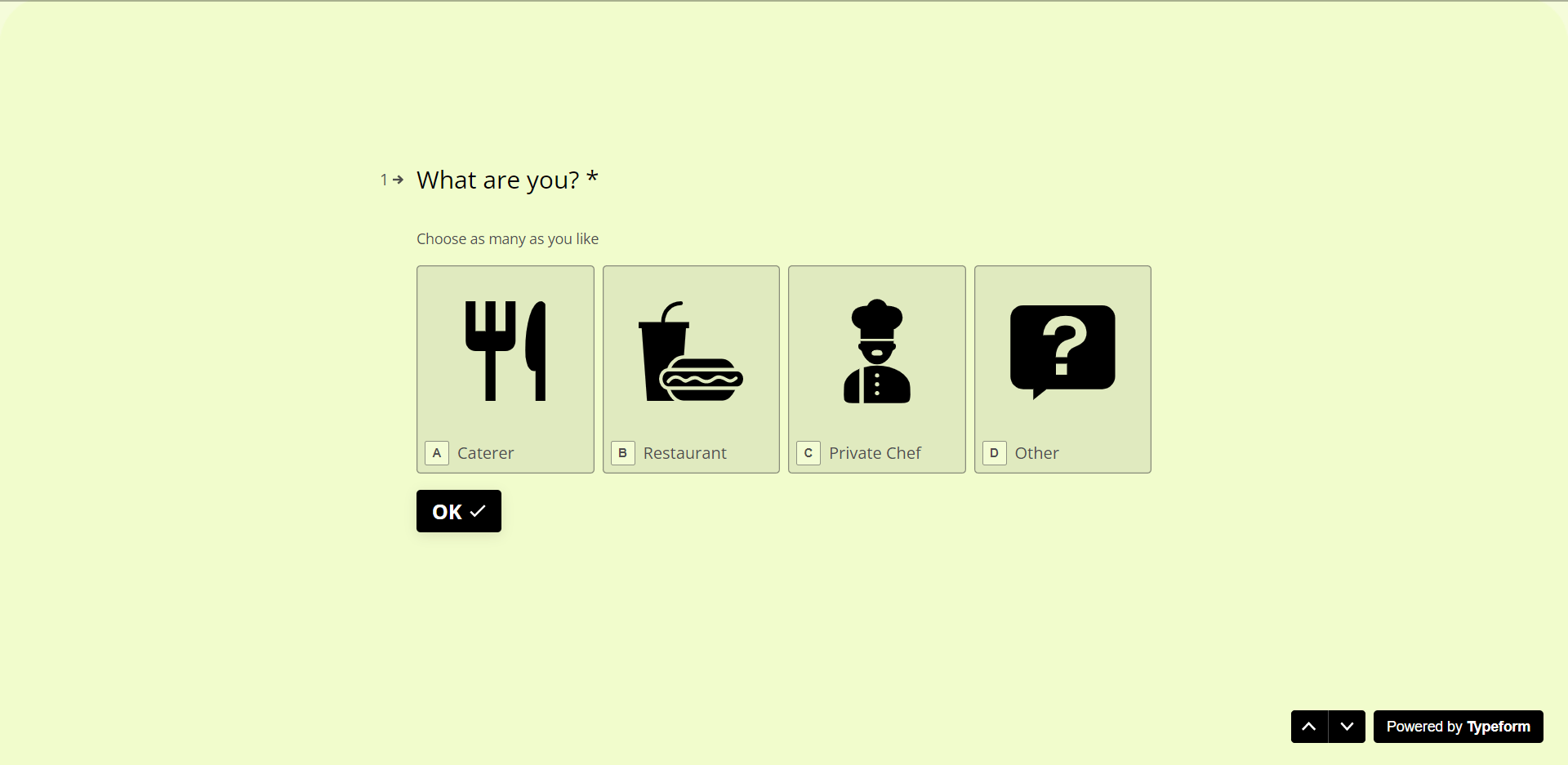 Ordo is a company that allows families and schools to order school lunches online from real chefs and enjoy them at school, served hot and individually wrapped. Ordo uses Typeform for its chef sign-up program, which invites local chefs, restaurants, and caterers to partner with the company to provide school lunches in their area.
This Typeform collects basic information from the survey respondent, which is used to vet the candidate and add them to a waiting list for future sign-ups in their area. It represents another excellent example of how a Typeform template can be customized to gather respondent information for any business or industry.