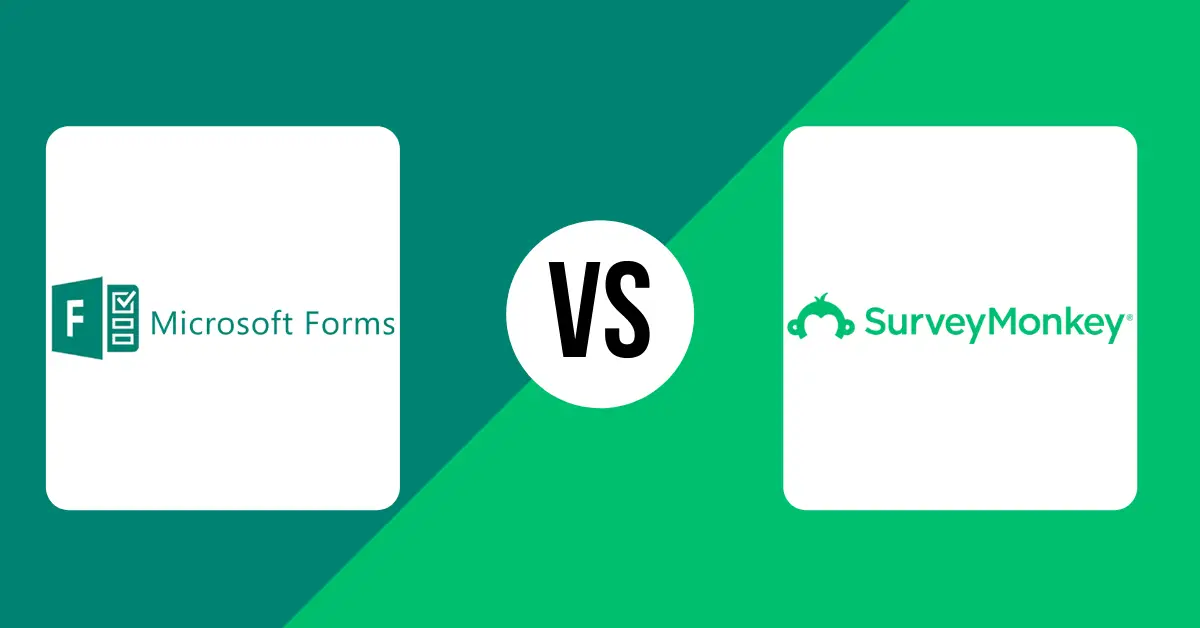 Practically every organization can benefit from using forms and surveys to collect valuable information from an audience.
However, choosing the best solution for your organization can be a daunting task. After all, with so many form and survey builders out there, sifting through all the options for the best choice for you can be exhausting. 
Nevertheless, Microsoft Forms and SurveyMonkey happen to be two of the most popular solutions. The question is, how do these two solutions compare?
In this post, you can discover the key differences between Microsoft Forms vs Survey Monkey so that you can choose the best solution for your organization.
About Microsoft Forms and SurveyMonkey
Microsoft Forms is an online form-building software solution that is part of the Microsoft Office 365 Suite. First released in June 2016, Microsoft Forms allows users to create pools, quizzes, and surveys, that respondents can access utilizing any browser and mobile device.
With Microsoft Forms, users can view real-time submissions, evaluate responses using built-in analytics, and export results to Microsoft Excel.
SurveyMonkey is one of the best-known survey platforms that aims to help you understand your customers better. With a robust set of features and tools, SurveyMonkey goes beyond allowing you to create simple surveys. It helps you measure brand awareness, test concepts, get direct input from your employees, and more. 
Templates
Microsoft Forms Templates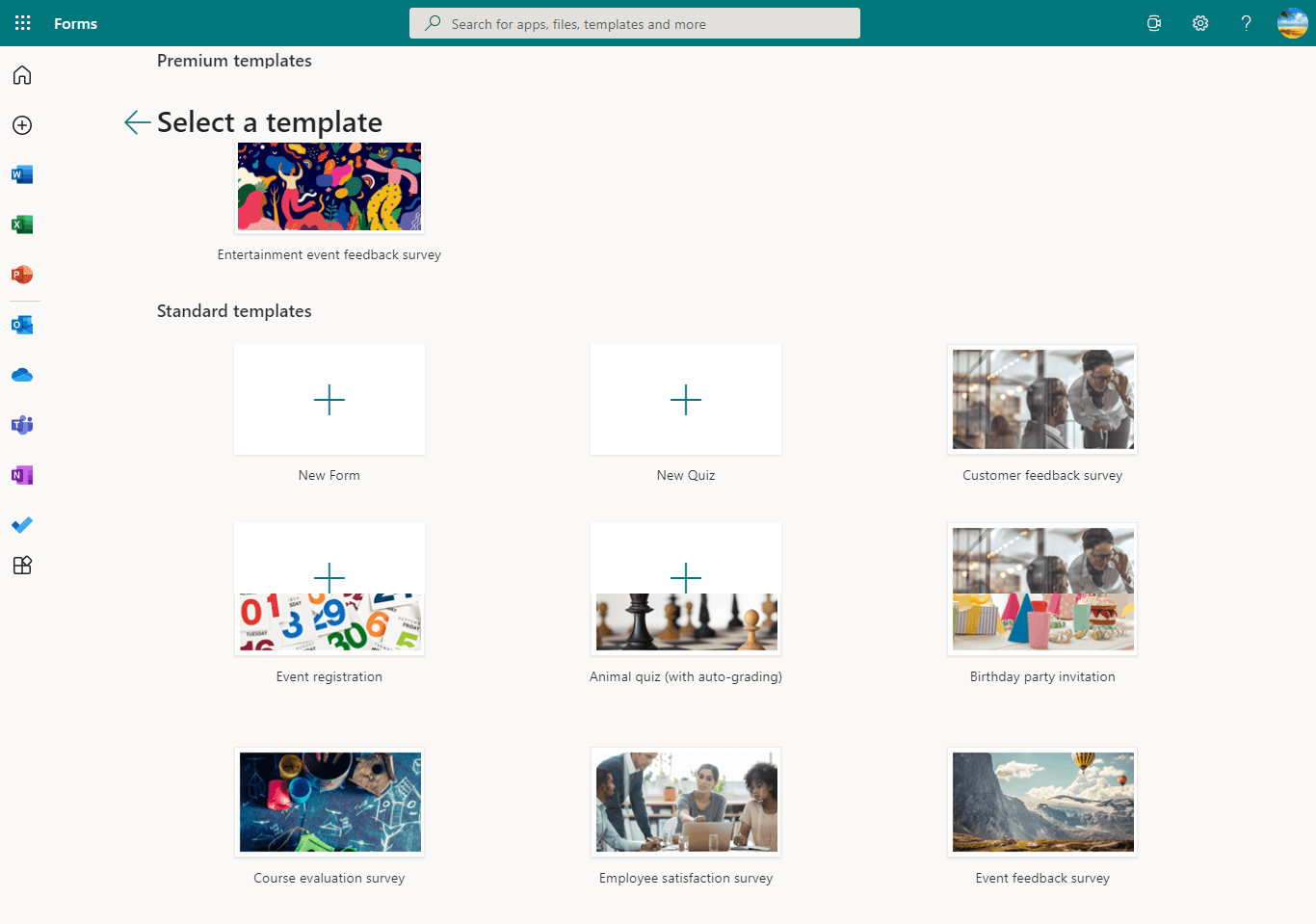 Microsoft Forms offers 26 fully-customizable form templates to create quizzes, surveys, feedback forms, registrations, RSVPs, and more.
The following is a list of these templates, each of which can be customized to meet a user's specific needs, opening up the possibility to create a form for nearly any occasion:
animal quiz (with automatic grading capabilities)

birthday party invitation (with RSVP)

community and cultural activities survey

course evaluation

consumer expectation survey

customer feedback form

employee satisfaction survey

event registration form

event feedback survey

food catering request form

holiday party invitation

fundraising feedback form

neighborhood feedback survey

nomination survey

new product survey

parental satisfaction survey

library satisfaction survey

software feedback survey

product pricing survey

remote learning sentiment survey

t-shirt sign-up form

volunteer satisfaction survey

wedding save the date form

website feedback survey
SurveyMonkey Templates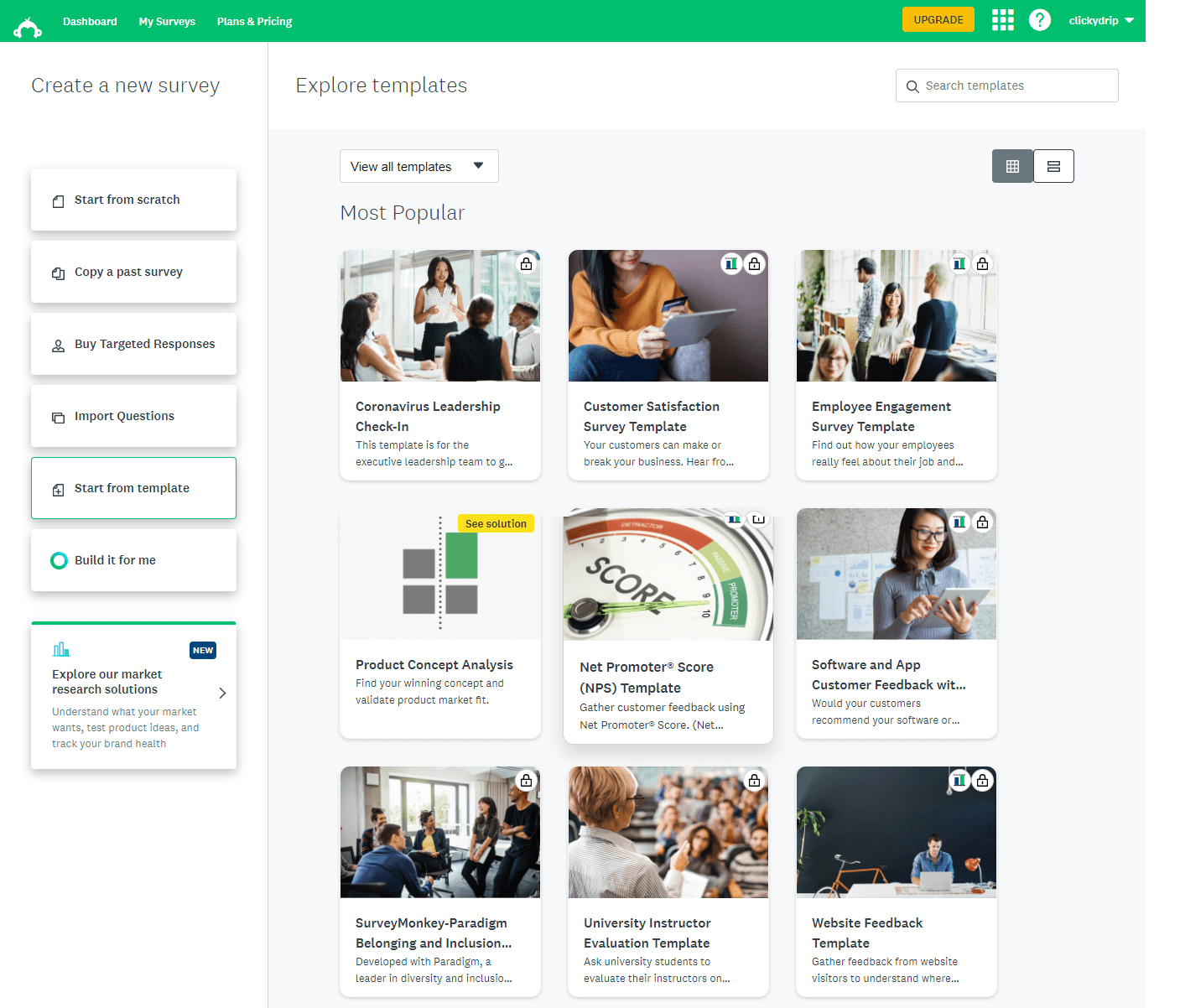 SurveyMonkey offers more than 250 easy-to-use templates that help users tackle an array of information-gathering tasks, from political polls and customer satisfaction surveys to market research and employee management. SurveyMonkey templates are divided into the following eight categories:
Employees:

More than 60 employee survey templates cover a wide range of HR-related topics, from employee evaluations and recruitment satisfaction polls to exit interviews and stakeholder satisfaction surveys.

Market Research:

There are 65 SurveyMonkey market research templates covering product surveys, brand awareness surveys, social media surveys, and much more.

Customers:

The nearly 30 customer templates focus on customer satisfaction and engagement. 

Education:

There are 29 SurveyMonkey education templates covering teacher evaluations, parental engagement, student engagement, course satisfaction, and more. 

Healthcare:

There are 24 healthcare surveys covering various healthcare-related topics, from mental health and personal hygiene to veterinary and personal fitness topics and more.

Events:

SurveyMonkey's ten event templates can be used for event planning, event feedback, and everything in between.

Nonprofit:

There are five templates created with nonprofit organizations in mind.

Other:

SurveyMonkey offers more than 40 different templates, categorized as "other," which target a range of users from political organizations, church groups, and neighborhood associations.
If one of these customizable templates does not meet a user's specific needs, SurveyMonkey allows them to create their own form from scratch.
Editor
Microsoft Forms Editor
The Microsoft Forms editor is straightforward and easy to use. Using the Microsoft Forms editor, users can customize themes, add background images, and change colors without the ability to change its underlying design. However, users can edit and add questions with several question options, including ratings, radio buttons, and text entries.
One exclusive feature that Microsoft Forms offers that differs from many solutions is the ability to add Likert inputs and reactions, which helps gather subjective opinions.
SurveyMonkey Templates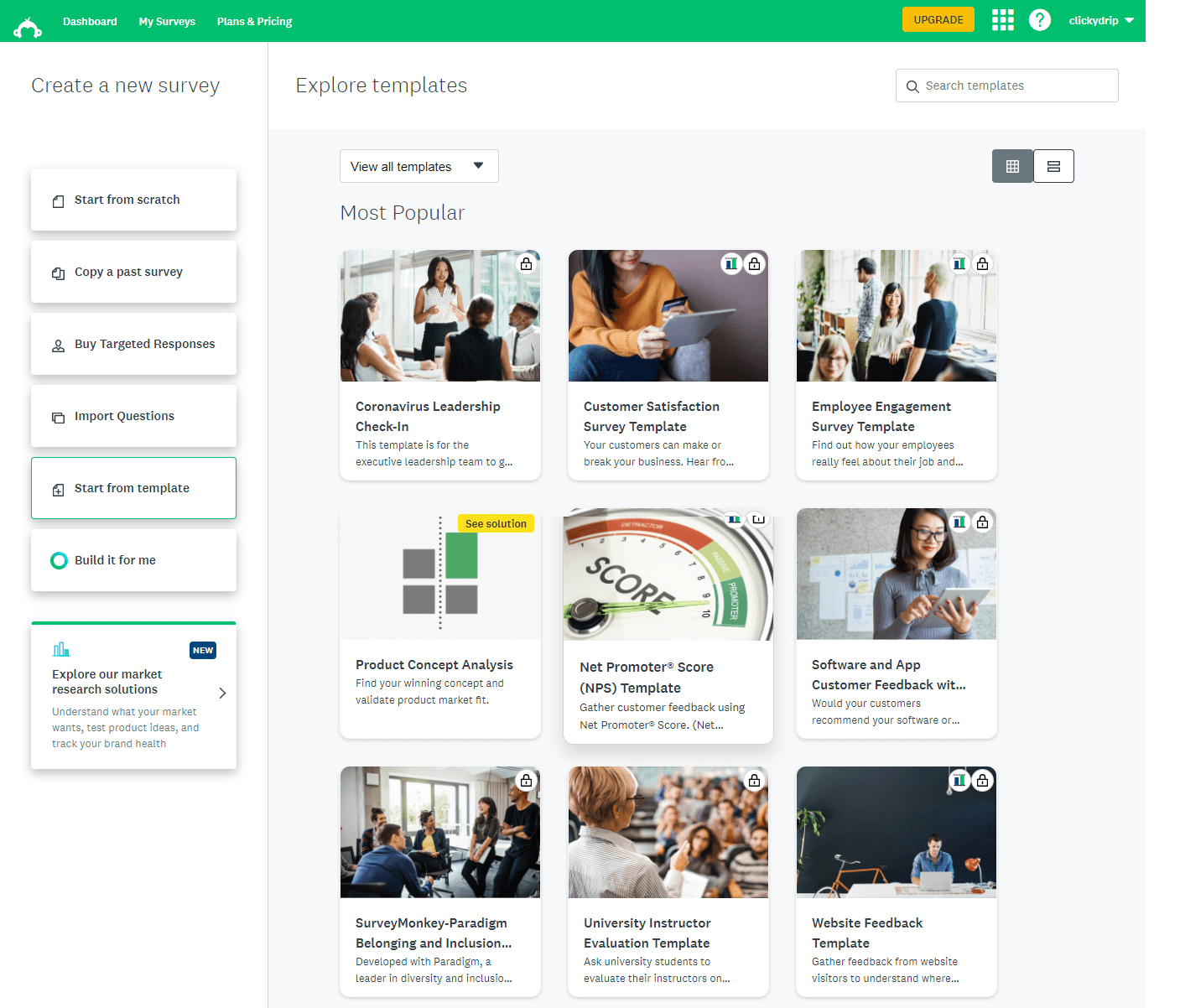 SurveyMonkey has all kinds of premade survey templates. For example, you can create different customer or employee satisfaction surveys, build a survey to learn more about your Net Promoter Score, or test out a product idea. 
There are also templates for event feedback, website feedback, and many more.
SurveyMonkey does a great job of organizing templates into categories so you can narrow down your search. Although SurveyMonkey's template selection may be limited for lower-tier plans, the templates are all nicely designed and have a modern look and feel.  
Related: 7 Best Form Builders with File Upload Functionality
Surveys and Conditional Logic
Microsoft Forms Surveys and Conditional Logic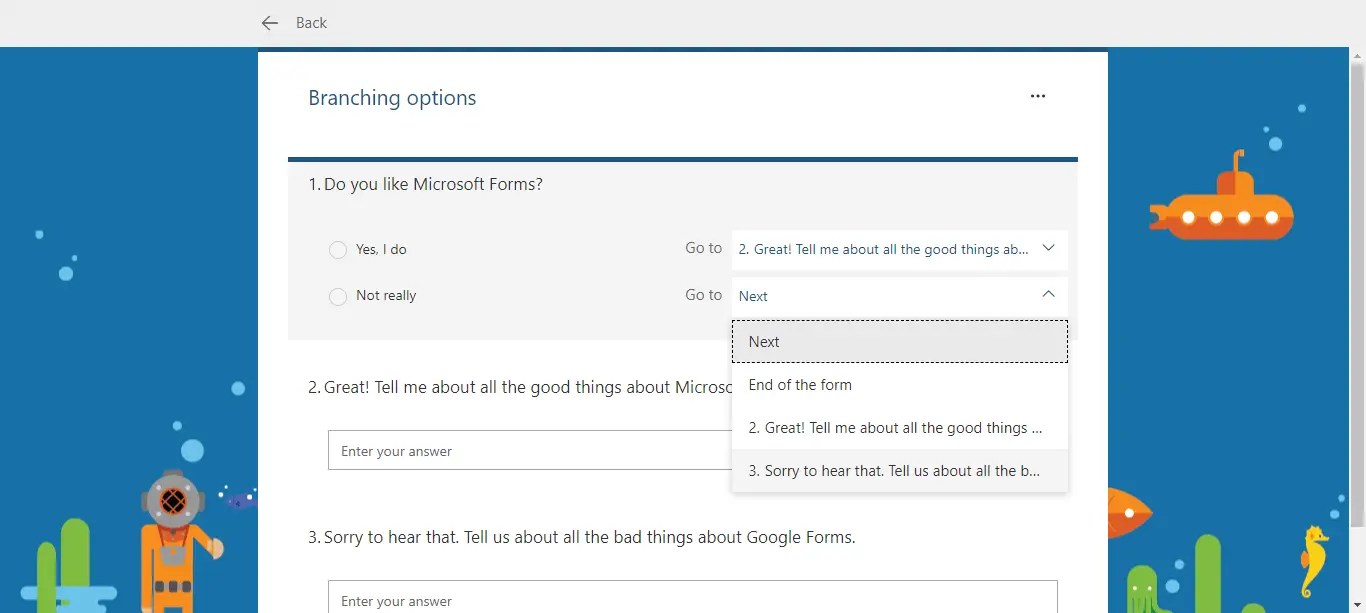 Microsoft Forms makes it relatively easy to put together simple surveys. There are a few survey templates that you can customize, or you can put together your own survey from scratch by adding questions one by one.
With Microsoft Forms, users can add branching logic to surveys and quizzes, allowing them to change according to responses to specific questions. When a quiz or survey branches, relevant questions can be tailored to the respondent. If a question does not apply, the respondent will be redirected to another set of questions, or an entire group of questions can be skipped altogether.
Relative to SurveyMonkey, Microsoft Forms has basic conditional logic. For many users, the conditional logic gets the job done, but for more sophisticated users, SurveyMonkey's conditional logic might be the better bet. 
SurveyMonkey Surveys and Conditional Logic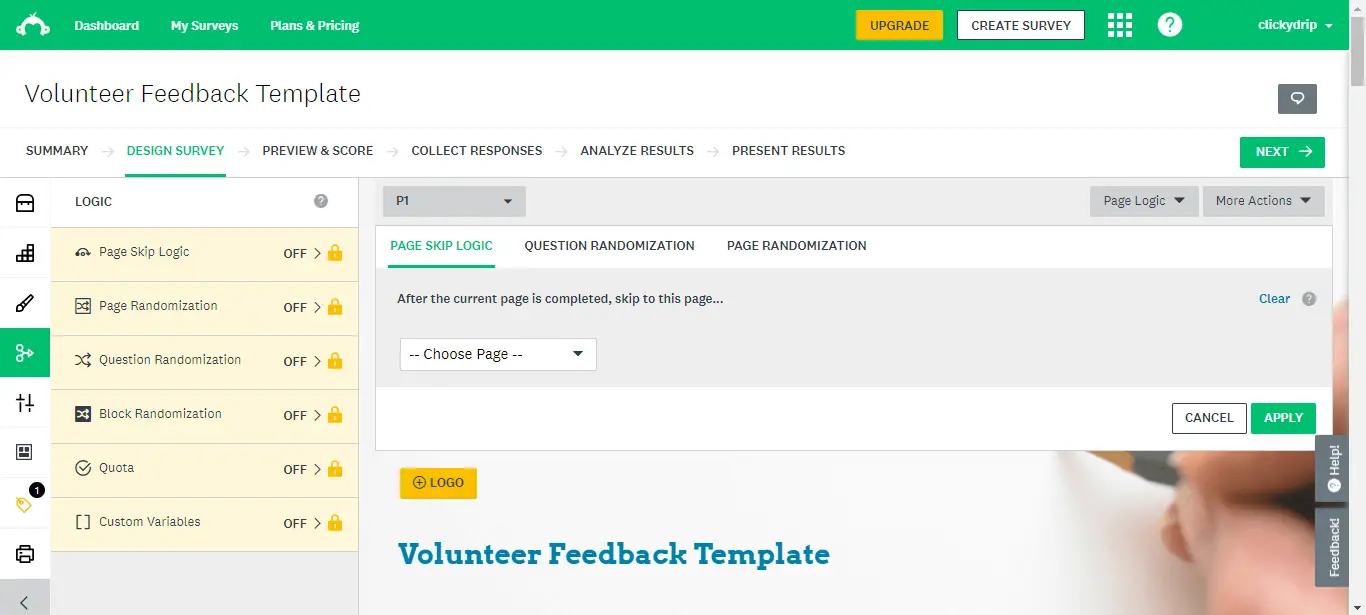 SurveyMonkey is the granddaddy of all survey creation programs, and the company essentially set the stage for what survey building software should look like. As such, SurveyMonkey has many unique features that help it maintain its status as a leader in survey-building software. 
For example, SurveyMonkey's Question Bank gives users a library of hundreds of pre-written questions which can be easily added to their survey in seconds. These relevant questions are written by SurveyMonkey's own survey methodologists and can help to ease the burden of finding relevant questions for your survey. Another great feature is the SurveyMonkey Genius which will score your survey and offer personalized recommendations to tweak it before sending.
SurveyMonkey also offers users a variety of conditional logic features that control survey behavior and enhance data collection. Notable logic features include Skip Logic, which changes the page or question a respondent sees next, based on their answer to the current question, and Advanced Branching, which applies logic based on multiple conditions, such as custom variables and data from contact information. SurveyMonkey's logic features make insight extraction easier by making the survey process smoother for respondents.
Reporting and Analytics
Microsoft Forms Reporting and Analytics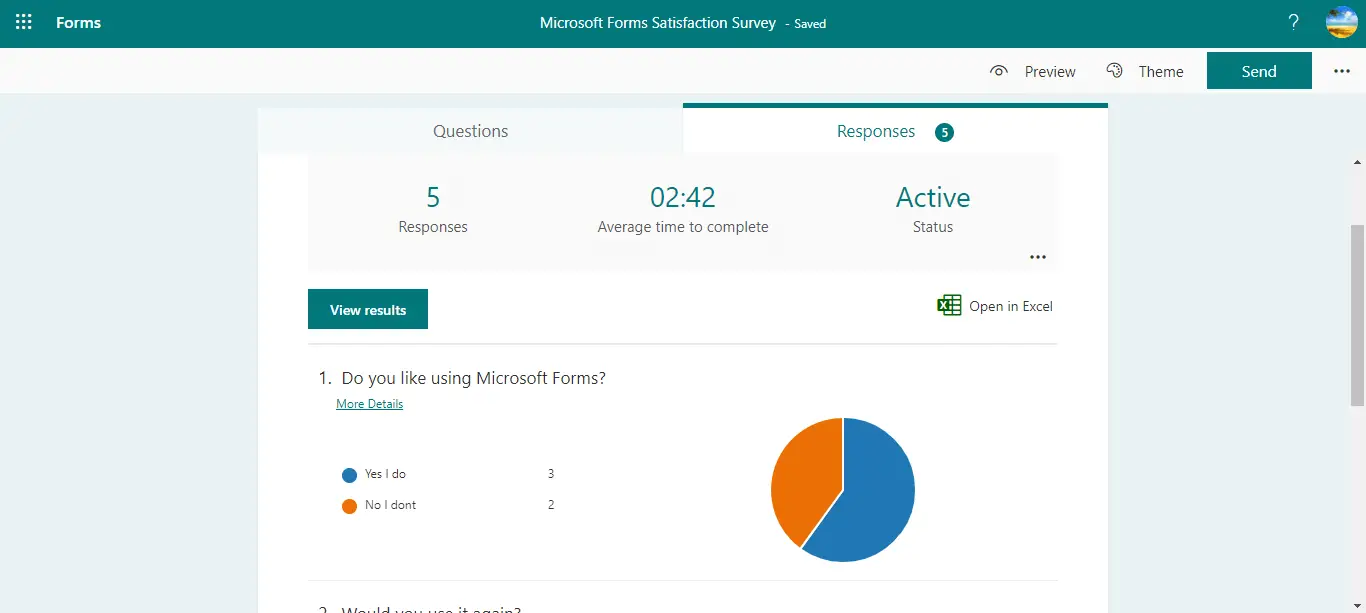 The Microsoft Forms reporting and analytics features rival premium form-building software. Microsoft Forms offers rich, real-time reporting that includes response summaries and individual results for surveys and other forms. Users also have access to intelligence-based data insight regarding responses to individual questions as well.
Form results can also be exported to Microsoft Excel and third-party applications for in-depth analysis. The Ideas feature from Microsoft Forms allows users can perform cross-distribution, association rule, correlation, and sentiment analysis.
SurveyMonkey Reporting and Analytics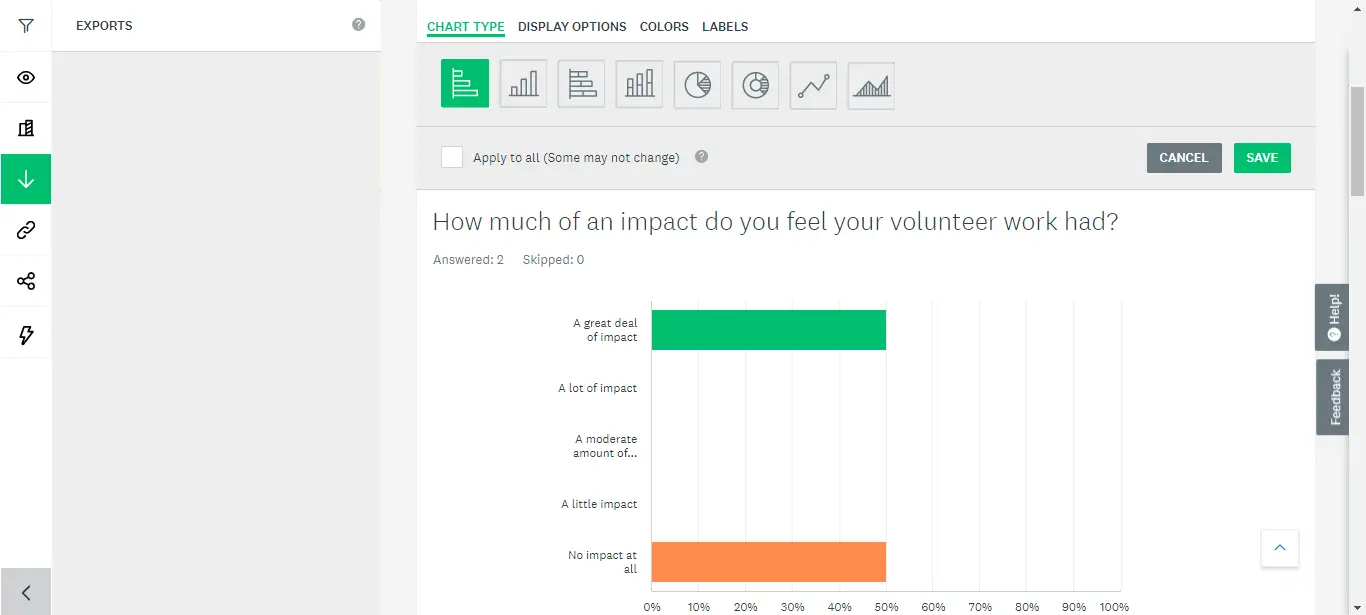 SurveyMonkey has relatively more in-depth analytics and reports. You can see question summaries, analyze individual responses, and get insights and data trends to see how your survey is completed over time. Additionally, you can customize how data is presented by displaying it in various charts and graphs. 
SurveyMonkey offers more export options on its paid plans so you can export your survey in .PDF, .XLS, .CSV, .PPTX, or SPSS format. Being able to download in PowerPoint format is fantastic if you need to present the data to team members in a polished and professional format. 
Integrations
Microsoft Forms Integrations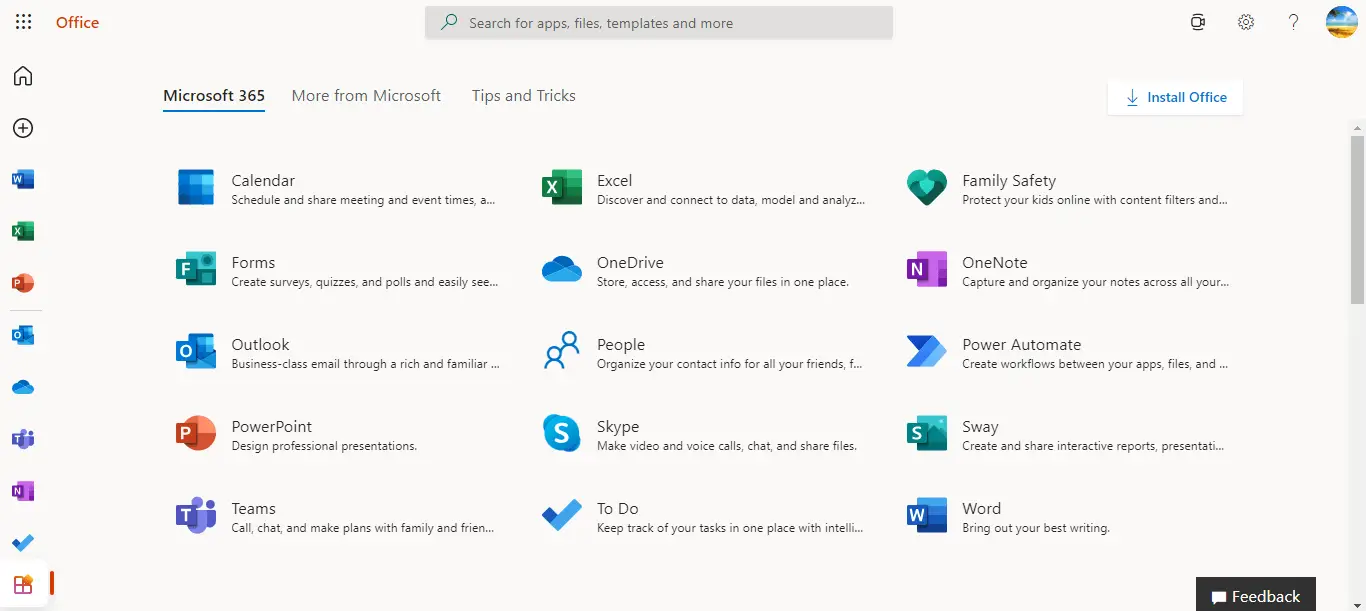 Microsoft Forms integrates deeply with the full suite of Office 365 applications providing a seamless experience for users to perform essential data collection tasks. For example, schools using OneNote as a teaching tool can embed Forms into class notebooks, evaluations, and quizzes as part of the online learning experience.
Similarly, a business can easily embed a forms-based pool into Outlook, allowing users to submit responses without leaving their email client. If that's not enough, Forms users can utilize Zapier to connect their Microsoft Office 365 with thousands of popular apps, including Calendly, WordPress, SanSan, Jotform, and more.
SurveyMonkey Integrations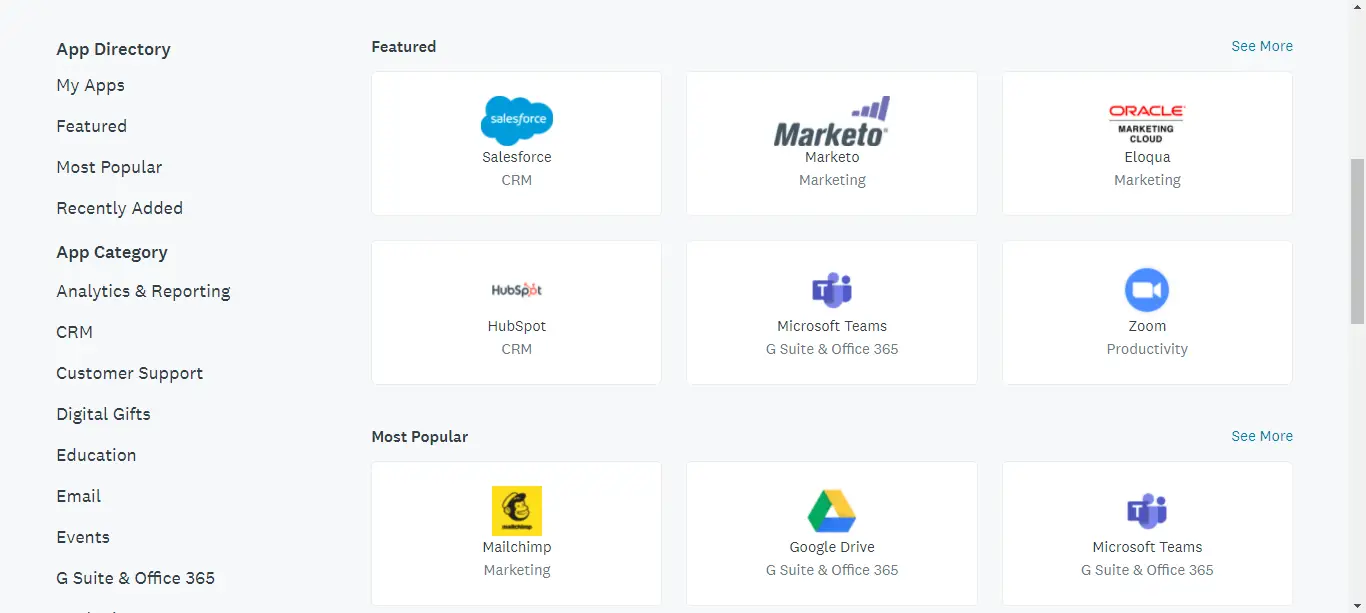 SurveyMonkey integrates with more than 100 apps and plug-ins to allow users to get the most from this survey building software. App and plug-on categories include CRM, analytics & reporting, customer support, email, productivity, marketing, social media, and more.
Some of the most popular apps that can integrate with SurveyMonkey include Salesforce, Oracle, Mailchimp, and Zoom, to name a few. Users can also incorporate SurveyMonkey with applications within G-Suite and Microsoft Office365. Its integration with Zapier opens SurveyMonkey up to connect with thousands more apps.
Dashboard Experience and Ease of Use
Microsoft Forms Dashboard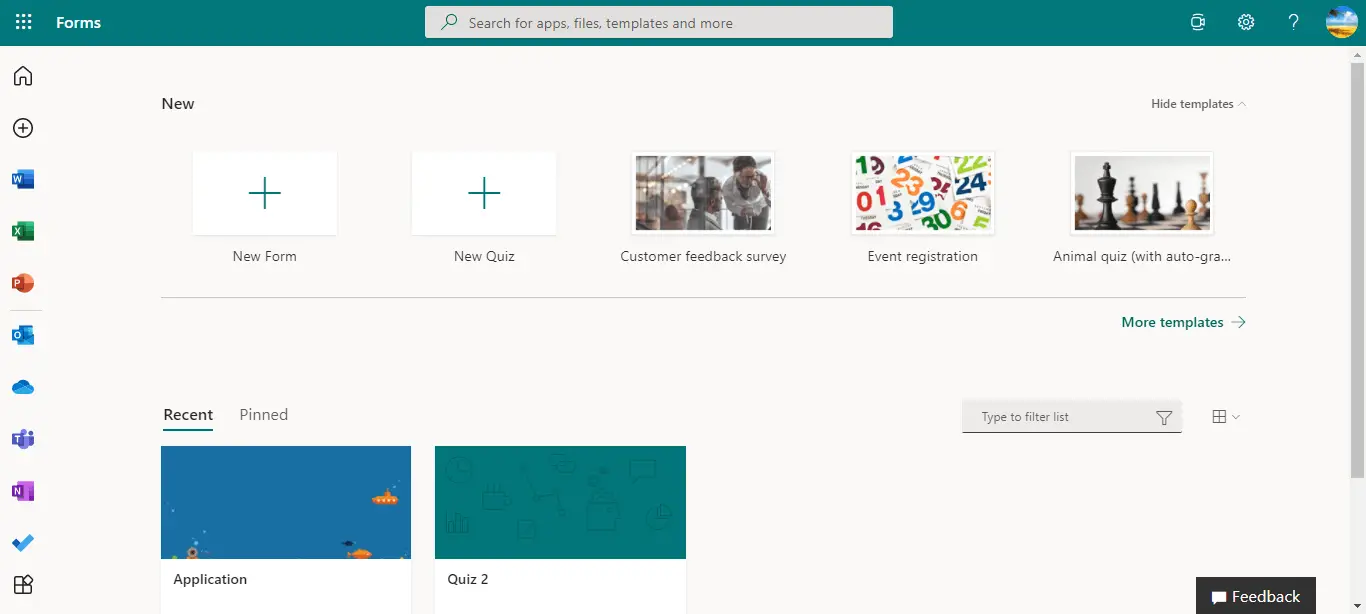 Unlike most premium form-building software tools, Microsoft Forms is not overly complicated. The Microsoft Forms dashboard experience is clean, straightforward, and easy to use. It offers users the ability to quickly create and launch surveys and other forms quickly and easily.
While it does lack a drag and drop interface, Microsoft Forms is still simple enough for even a child to navigate. The downside is that it does not offer many advanced features that you might find with premium software, but that's the trade-off for being incredibly user- and beginner-friendly. 
SurveyMonkey Dashboard
In contrast, SurveyMonkey feels much more polished and straightforward. The options are nicely laid out in a modern-looking dashboard. It's easy to create your surveys from scratch as well as customize premade templates. 
However, although SurveyMonkey is easy to use, platform is relatively more intricate in general compared to Microsoft Forms. SurveyMonkey has a bigger learning curve but at the same time it's a more sophisticated and powerful solution compared to Microsoft Forms. A bigger learning curve is always expected when working with a relatively more advanced solution. 
Pricing
Microsoft Forms Pricing
Microsoft Forms is free for anyone that has a Microsoft account. Those with paid Microsoft 365 Personal, Family, Business, or Enterprise accounts can unlock premium features, such as additional templates and an expanded number of respondents. A Microsoft 365 Business Basic account starts at $6 a month per user.
SurveyMonkey Pricing
SurveyMonkey offers three different pricing plan levels: Team, Individual, and Enterprise. Each of those levels has several pricing tiers which can be a little overwhelming. 
The main difference between each plan is the number of responses you can collect, support type, and overall features. For example, not all plans support conditional logic and question/answer piping features, and more. 
There's also a free plan for SurveyMonkey but its features are very limited. It's a good way to try out the platform and see for yourself what SurveyMonkey can do before making the jump to a paid plan.
Customer Support
Microsoft Forms Support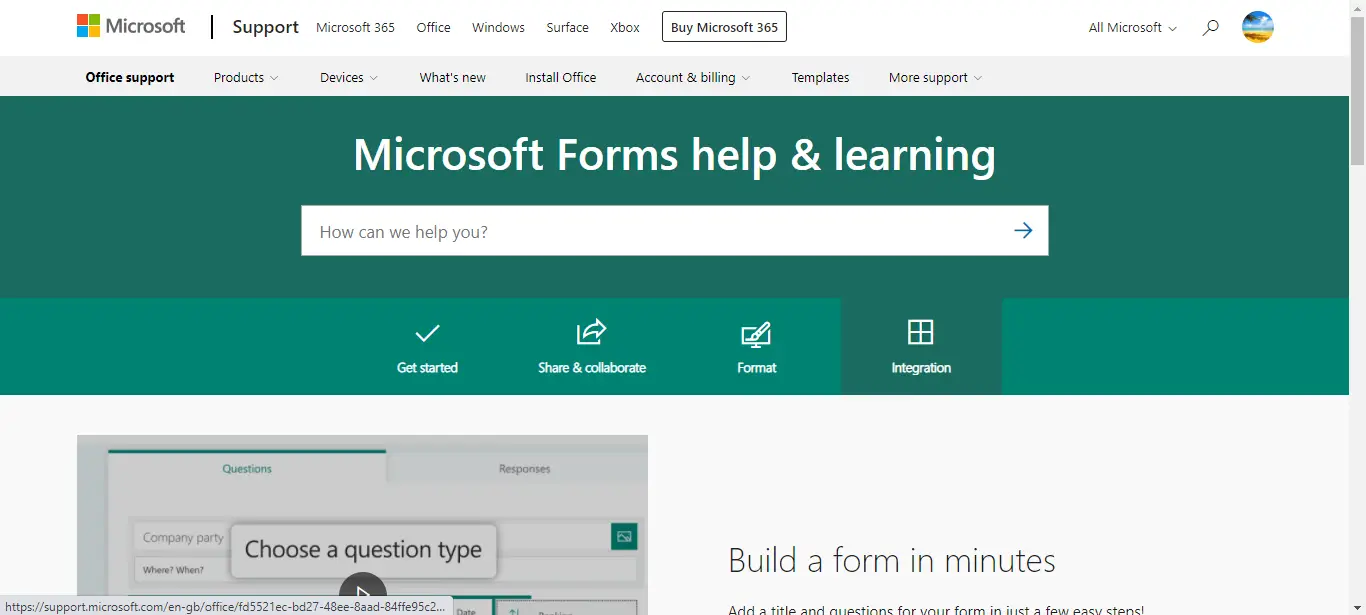 Microsoft offers a wide range of customer support options for all its products, including Microsoft Forms.
For one, there is a vast online database of valuable articles that provide solutions to users' most common problems. There is also a Microsoft community where users can rely on each other for support related to Microsoft products.  
There are also customer service phone numbers to call and online live chat support, but the best way to get customer support from Microsoft is by submitting an online help form.
SurveyMonkey Support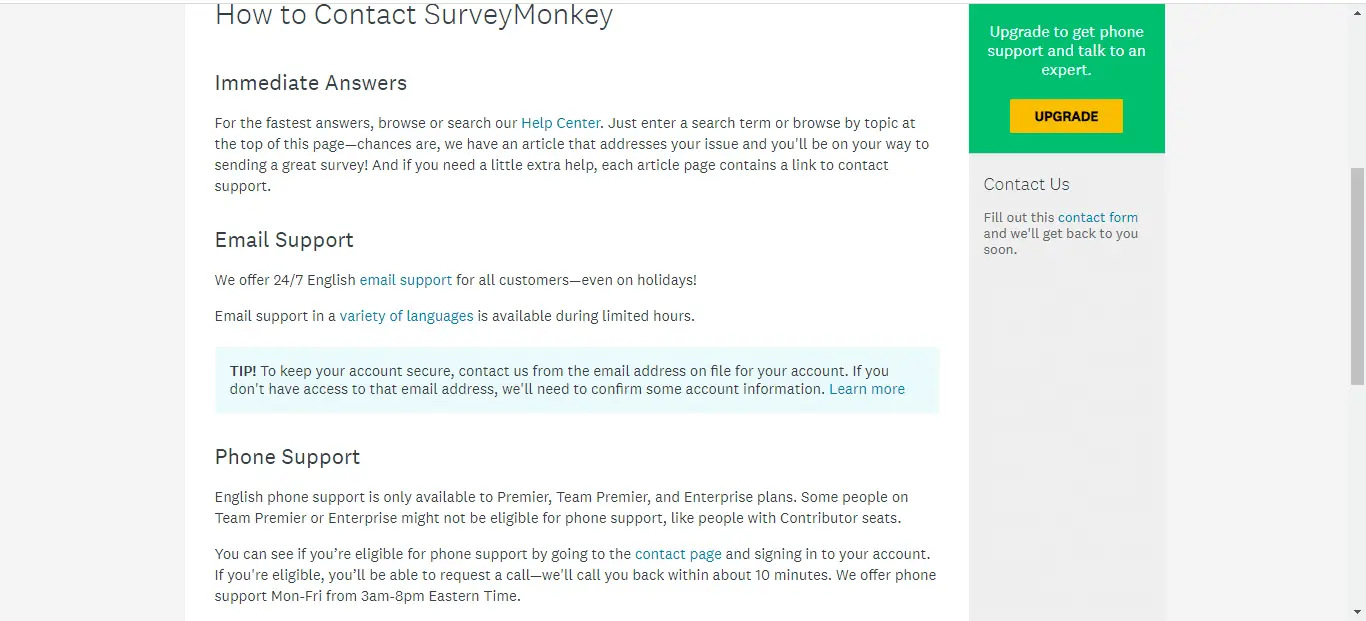 SurveyMonkey offers several support resources as well. For starters, they offer a help bot, email, and phone support. This depends on the plan that you sign up for. 
In addition to that, you'll find a detailed help center section that has dozens of articles and guides on everything related to using SurveyMonkey.
When to Choose Microsoft Forms vs SurveyMonkey
When it comes to choosing the best survey builder for your business, deciding between Microsoft Forms vs SurveyMonkey can be difficult. After all, both options have their unique strengths. 
Ultimately, Microsoft Forms is an excellent solution for those who want an affordable and easy-to-use solution. Compared to SurveyMonkey, Microsoft Forms has a much smaller learning curve and it only takes a few minutes of playing around with the software to figure it out. However, the cost of the platform's ease of use is that it's a relatively less sophisticated solution compared to SurveyMonkey and other survey builders. If you are a small business on a budget that needs a simple solution, Microsoft Forms is the way to go. 
On the other hand, if you are a business that can afford to build out your marketing tech stack, SurveyMonkey might be the better choice. SurveyMonkey is a relatively more sophisticated solution and comes with many powerful features that Microsoft Forms doesn't have. For instance, while Microsoft Forms has some conditional logic, it is nowhere near as advanced as SurveyMonkey's conditional logic. 
You can see how other form builders stack up to Microsoft Forms in the following comparisons:
Microsoft Forms vs Google Forms
You can see how other survey builders stack up to SurveyMonkey in the following comparisons: