An effective social media marketing strategy requires a solid understanding of your audience and a touch of creativity. 
However, while a strong digital marketing strategy is important, effectively managing your digital marketing strategy is just as important. In fact, for any entrepreneur or small business that takes social media marketing seriously, social media management tools are a must. 
Once merely post scheduling tools, these platforms have evolved to include more sophisticated features such as social media monitoring, approval workflows, and advanced analytics. 
Planoly and Hootsuite happen to be two extremely popular options, although they are utilized by slightly different user bases. 
In this Planoly vs Hootsuite post, we will discuss the key differences between the two platforms in terms of features, user experience, and who each tool is best suited for. 
About Planoly and Hootsuite
Planoly claims to be the first of its kind, an easy-to-use "visual planner" for Instagram. Brandy Pham founded the social media marketing company in 2016 to help creators manage their social presence and streamline workflows—without any unneeded complexity. 
Planoly's user base has grown to a whopping 5 million, no doubt thanks to its intuitive interface and entrepreneur-friendly pricing. On the other hand, Hootsuite is the biggest—and among the oldest—social media marketing tool. 
Founded in 2008 as a somewhat stripped-down Tweet scheduler, it has since expanded its functionality to help marketers run campaigns on multiple social platforms simultaneously. Hootsuite has also refreshed its once-dated interface, integrated social listening features, advertising campaigns, and expanded analytics.
Supported Social Network
| | | |
| --- | --- | --- |
| | Planoly | Hootsuite |
| Facebook | ✅ | ✅ |
| Twitter | ✅ | ✅ |
| LinkedIn | ❌ | ✅ |
| Instagram | ✅ | ✅ |
| Pinterest | ✅ | ✅ |
| Snapchat | ❌ | ❌ |
| TikTok | ❌ | ❌ |
Planoly is designed primarily for posting and scheduling on Instagram. The platform also supports Pinterest, as well as Facebook and Twitter. However, if you are interested in focusing heavily on marketing on Facebook and Twitter, Planoly might not be the best solution since Instagram scheduling and posting is really Planoly's bread and butter. The posting features for Facebook and Twitter aren't nearly as developed.
Hootsuite is compatible with all of the most popular social media platforms including Facebook, Twitter, LinkedIn, Instagram, and Pinterest. However, Hootsuite (as well as Planoly) doesn't support TikTok or Snapchat. Although this isn't a deal-breaker for most, it's important to note nevertheless.
Key Features 
The following are a few of the key features that both Planoly and Hootsuite share. 
Scheduling and calendar views
The ability to post and schedule posts in advance is the most integral feature of both of these platforms. Practically all social media platforms have calendar views that display what posts will be published and on what days. 
Planoly makes scheduling posts relatively quick and easy. The Collections tab allows you to easily take photos you have uploaded to the platform and schedule them as posts that are displayed in the Calendar tab right next to collections: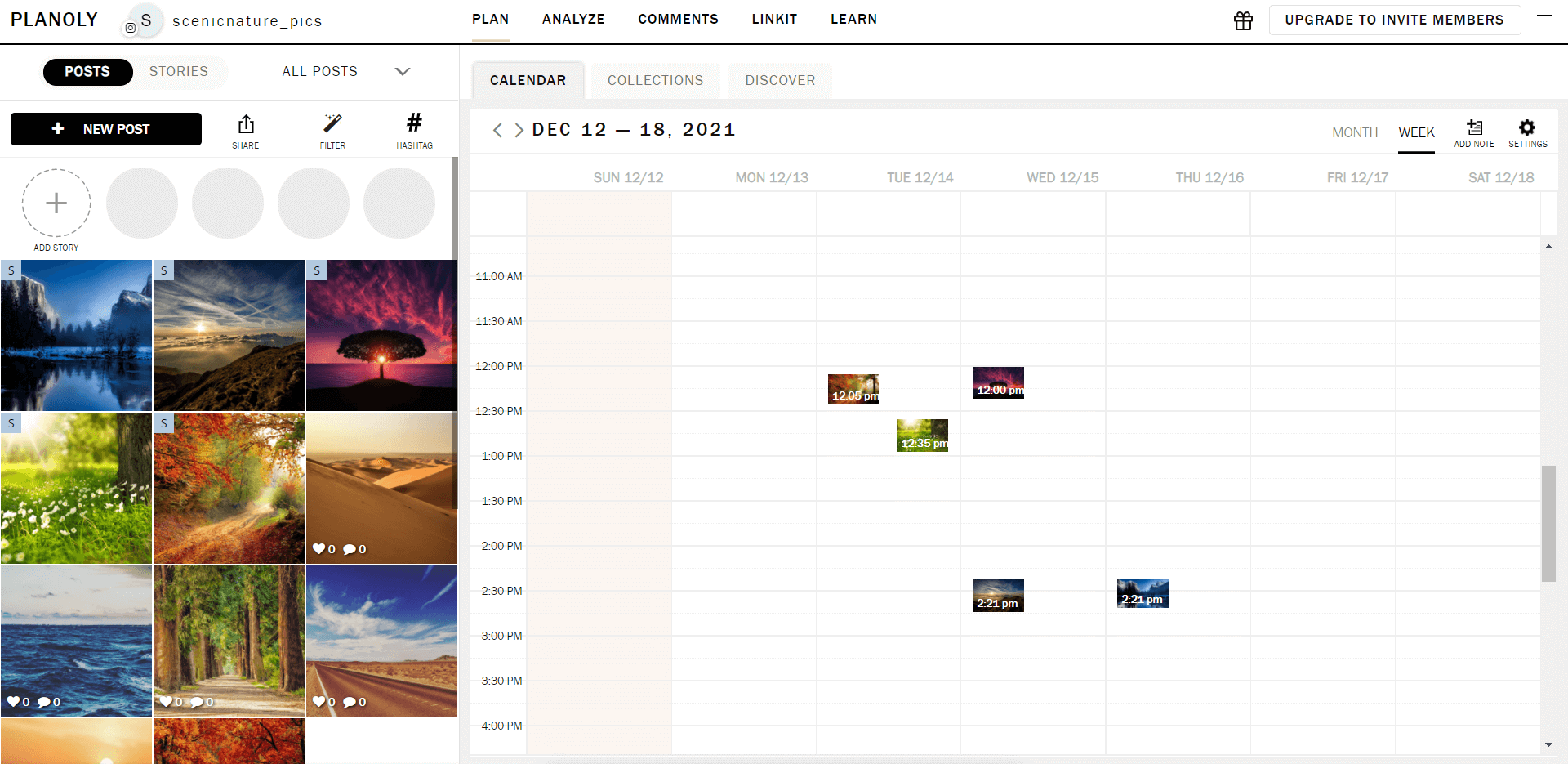 Related: Planoly Review: An Inside Look 
Whether you are looking at the monthly calendar view or the weekly calendar view, Planoly displays the exact time posts will be published. Conveniently, on the weekly view, scheduled posts are displayed with preview images so you know exactly what posts will be scheduled and when. 
Hootsuite has a similar post-scheduling process and calendar view. Once posts are scheduled, the calendar allows you to click and drag posts to different days and times if needed. Additionally, Hootsuite displays the recommended times to publish posts in the calendar itself, in order to maximize the amount of engagement you get per post.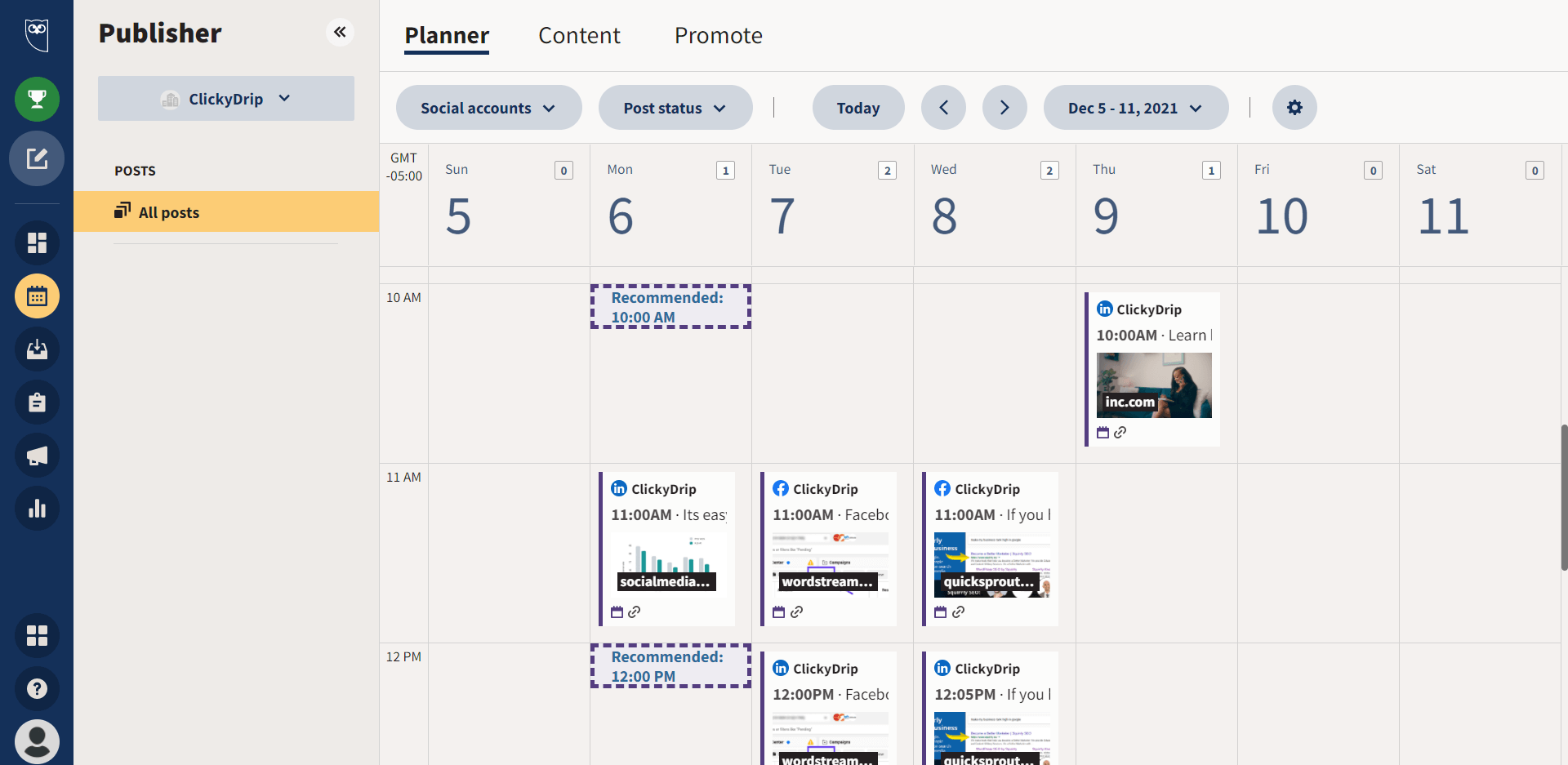 One key difference between Planoly and Hootsuite's calendar view is simply the design and layout of the calendar itself. Hootsuite's calendar view is more zoomed-in, which gives you only a limited view of the times when posts are scheduled to be published. This isn't necessarily a bad or good thing, but it's an important difference nevertheless. 
Social media monitoring 
Compared to Hootsuite, Planoly's social media monitoring features are more limited and less robust. 
Planoly allows you to view comments on your Instagram posts, sort these comments, and respond to comments directly from Planoly.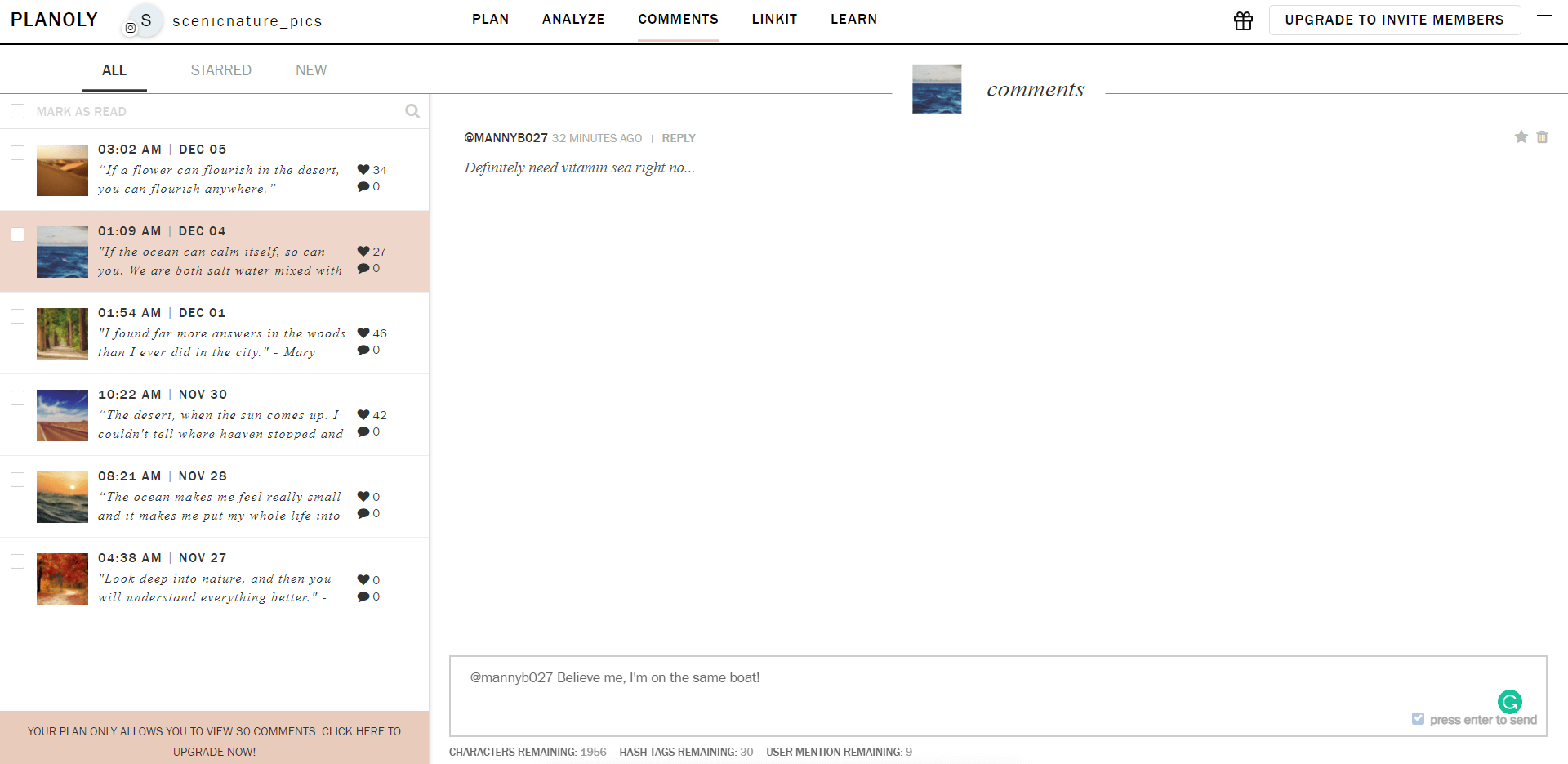 Additionally, you can use the discovery tag to search for Instagram profiles by username or search for posts using certain hashtags. This can be a good way to get inspiration for future posts. 
Hootsuite also gives you the ability to view comments on posts and respond directly from the dashboard. However, Hootsuite also gives you the ability to view and respond to direct messages, track brand mentions, view competitor activity and more. It has practically all the social listening features you could want from a social media management tool. Additionally, you can customize how you track this information by adding and arranging columns for each type of data you want to collect.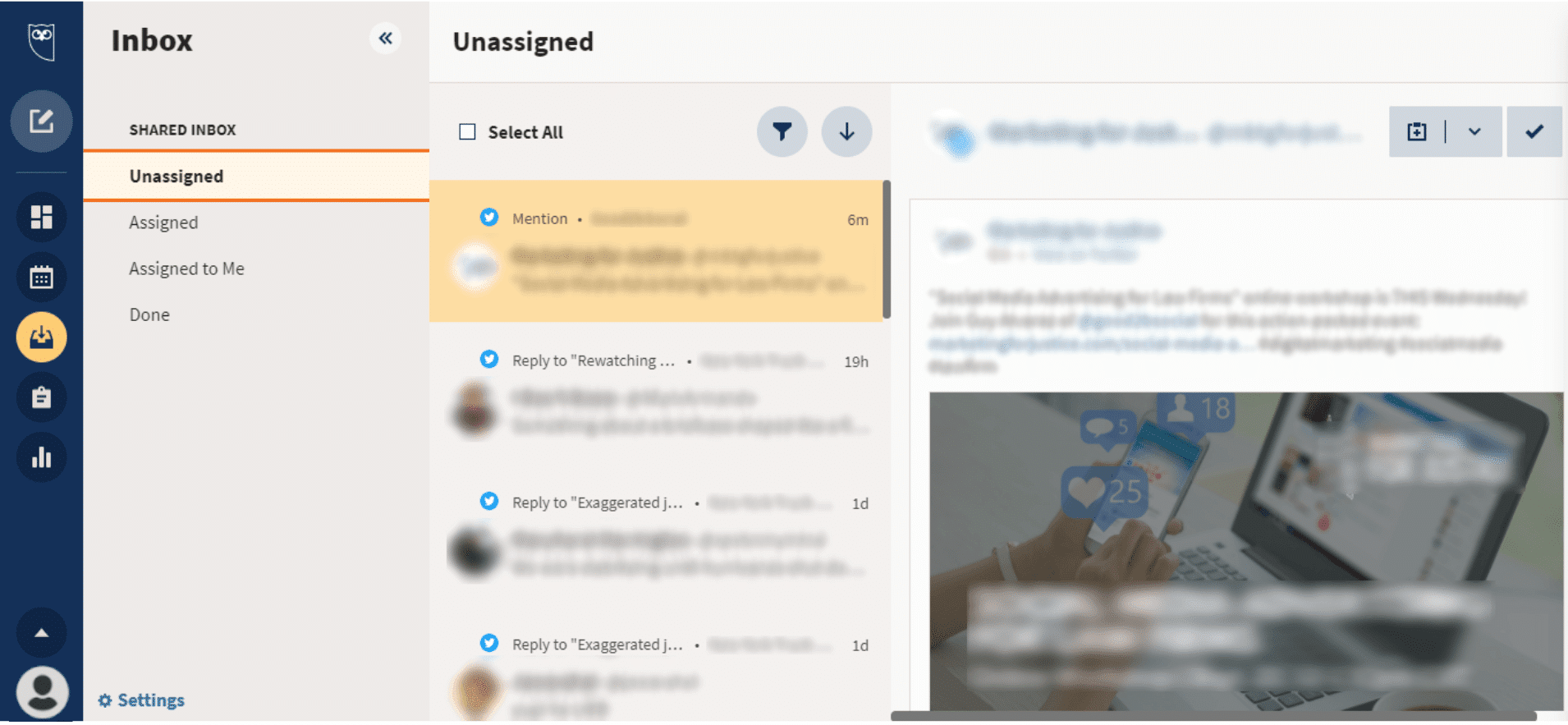 Media editing 
Given that Planoly is a social media management tool primarily for visual social media, it makes sense that it is equipped with media editing tools. With Planoly, you can edit images with a variety of different filters. 
However, compared to Hootsuite, Planoly's media editing options are somewhat limited.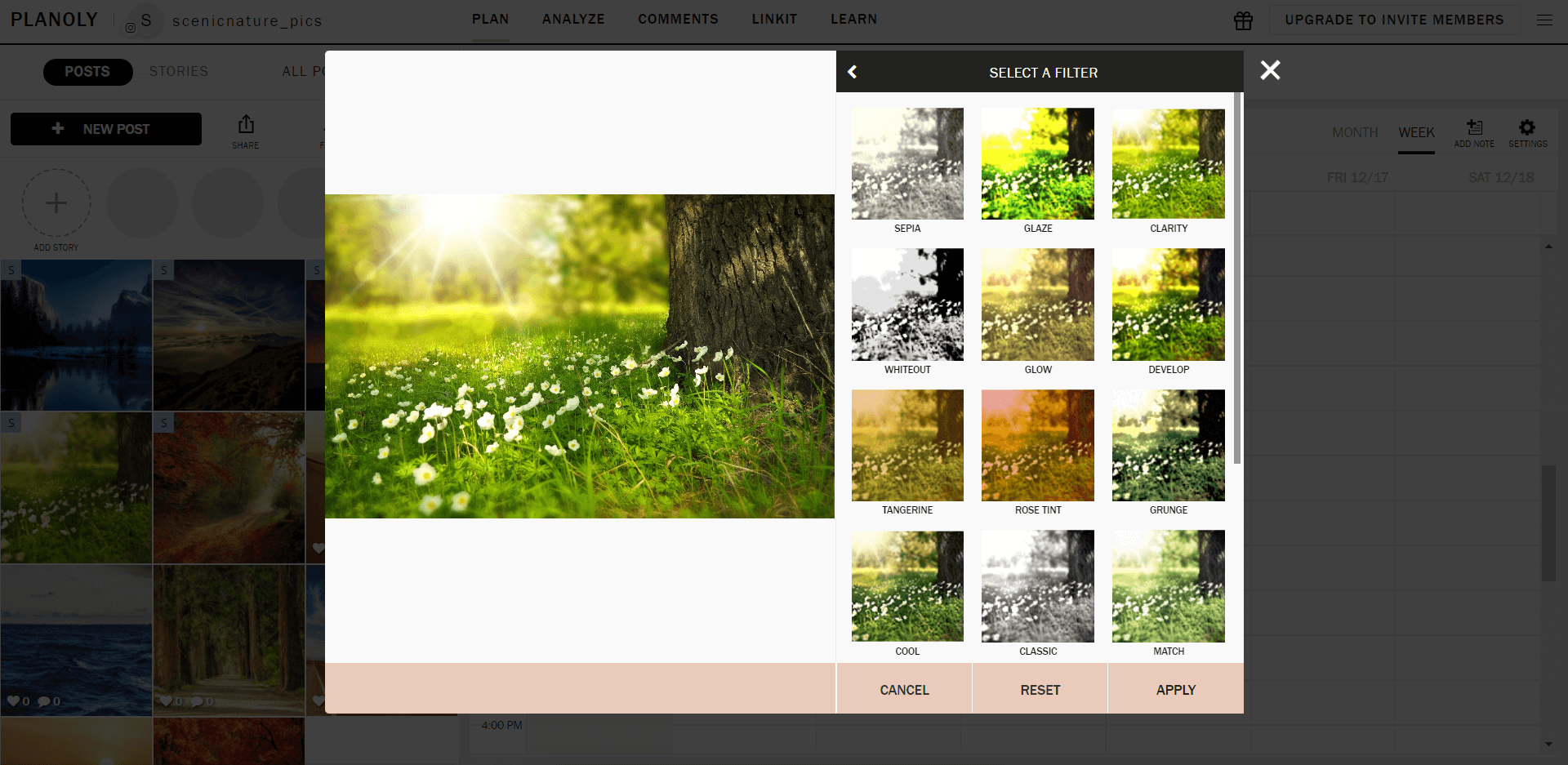 With Hootsuite, not only can you apply a variety of filters to your images, but you can also crop them, adjust color and brightness, and add text to your images as well. It's almost like there is a simplistic version of Canva right in your Hootsuite dashboard. 
This feature can be useful for editing posts on the fly, but for more design customizability, third-party editing tools like Photoshop would make more sense to use. 
Approach to Posting and Scheduling
Content scheduling functionality in Planoly is ultimately limited to Instagram and Pinterest, with no native support for Twitter or Facebook.
This may be sufficient for many influencers, as the two are the largest platforms for influencer marketing. Scheduling options for compatible platforms are complete but limited. Posts can be scheduled in advance and managed with calendar view—suggested posting times can help with timing.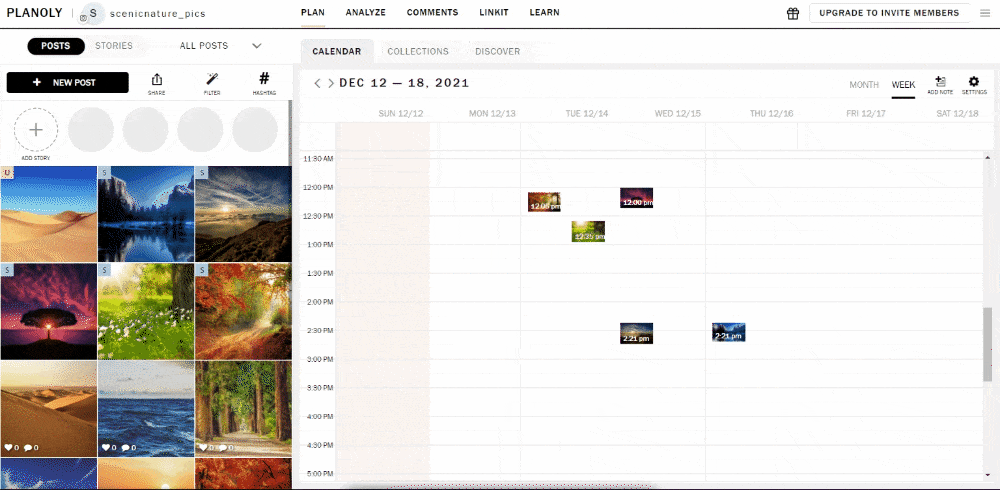 Notably, Planoly also offers extra functionality specifically for planning and scheduling Instagram stories—a mobile app called StoriesEdit.
With Hootsuite, you can create a post, add text and hashtags, and schedule a time, and make other configurations from a easy to use and logical post-builder: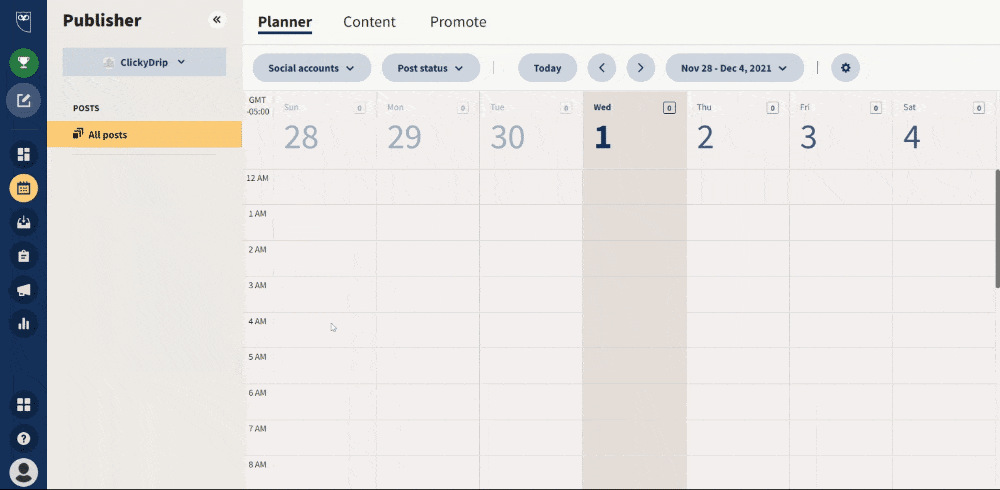 Hootsuite's calendar is an intuitive means to manage your upcoming content. You can drag and drop posts onto any date, revert to their draft form, delete them, or have them duplicated. 
Unfortunately, Hootsuite's free version limits you to two social accounts and five scheduled posts. Before April 2021, you could get three accounts and 30 simultaneously scheduled posts. 
Between the two, Hootsuite has the most sophisticated scheduling and publishing features. Planoly offers much simpler functionality that may be sufficient for influencers who work primarily on Instagram and Pinterest.
Dashboard Experience and Ease of Use 
Planoly is a visual platform above all else. Its slick, minimal, and intuitive UI makes for a great user experience.
Content can be organized via drag and drop grids, which you can sort by their published status, or leveraged hashtag. Its preview feature helps creators visualize their posts before publishing, which is excellent for vetting image content. 
Hootsuite's dashboard features a customizable multi-column layout. Columns can be customized to display your social media accounts or platform-specific features, like Twitter mentions, Facebook page messages, Instagram posts, and Twitter searches. 
But if you are tracking multiple streams for Twitter, for example, the interface can soon feel a bit cluttered. In the positive column, the aforementioned calendar view is a simple, attractive, and easy way to manage content in your publishing queue.
Reporting and Analytics
Analytics and reports on Planoly are simple but effective. Users get quick access to a "snapshot" view of engagement metrics like comments, likes, and mentions.
However, more in-depth visualizations are available for the higher tiers, and historical data is also limited across the cheaper tiers. The free version can only assess performance over the previous 30 days.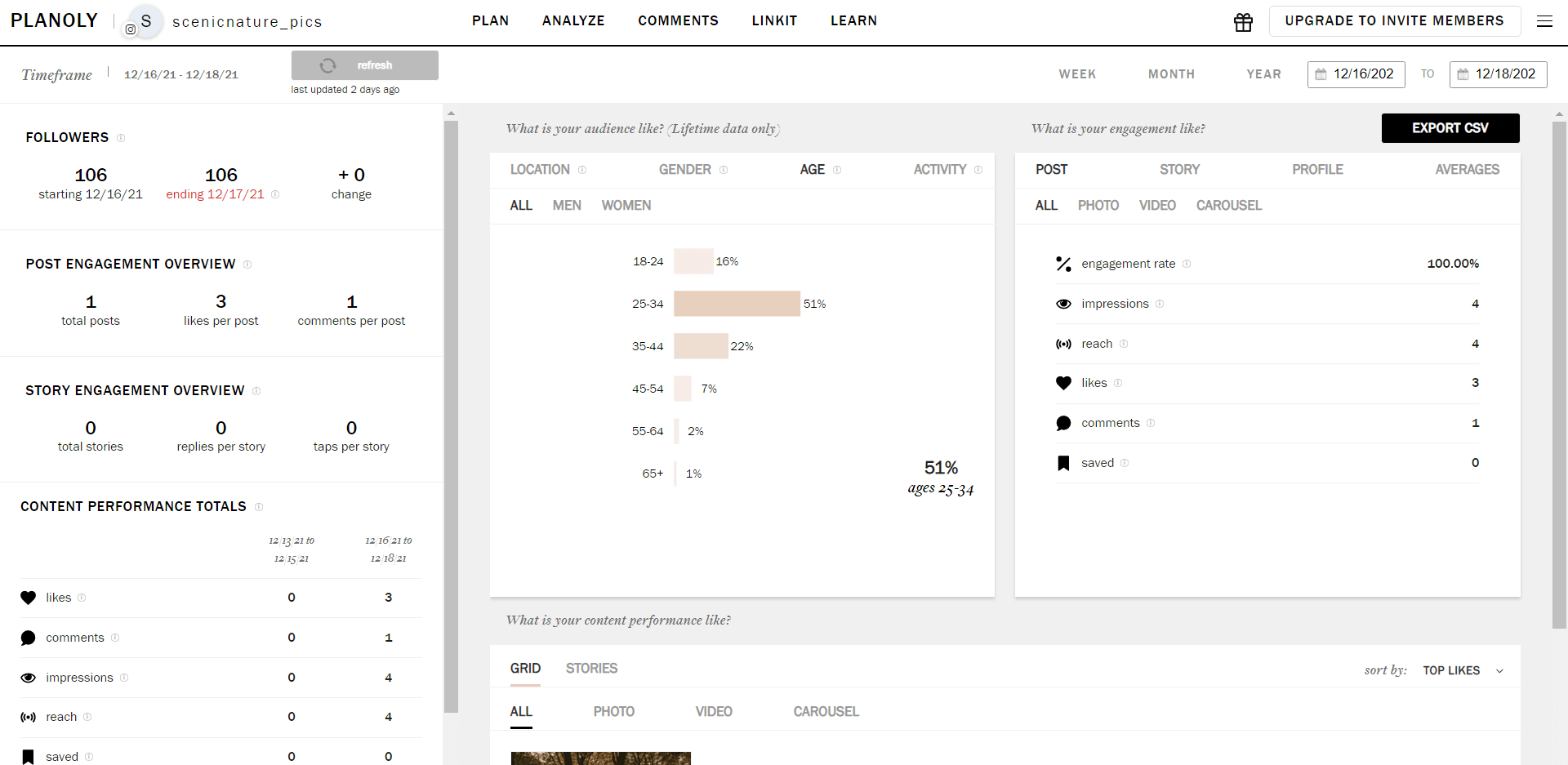 Hootsuite offers robust analytics and extensive report customization features. Its analytics tab presents pre-built reports across all major data categories—though your options vary depending on your pricing tier, with some reports only available in enterprise plans.
Clicking into each reveals a dashboard grid full of customizable modules. It's easy to configure these tiles with data sources and up to twelve visualization formats. Modules can display any range of data from almost every supported network like direct messages (Filterable by type), post engagement rates, content performance, and more. You can tag fellow team members to make sure they see relevant reports, or export in PDF format to share with clients and stakeholders.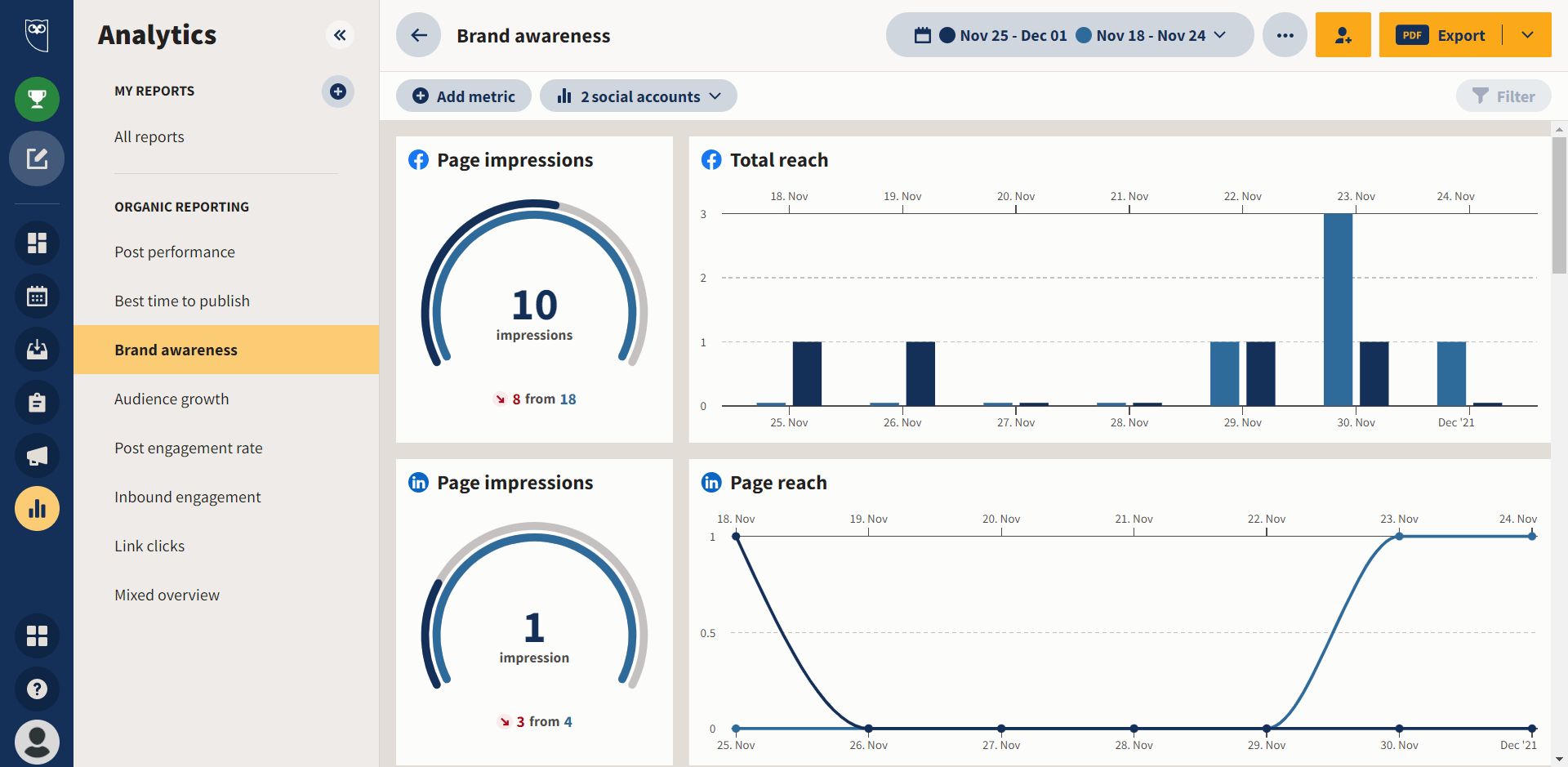 Reporting data is not available for Pinterest, however, and many advanced reports are only available with the business and enterprise package. While more limited than some enterprise-grade tools, the feedback is enough to help marketers optimize content for greater engagement and reach. 
Team Management
Planoly's design and pricing schemes aren't designed for large teams. Influencers often work solo and wouldn't have much need for cross-functional collaboration. The platform's custom pricing tier lets you add additional users but is overall tailored to one or two users and a few accounts.
That said, user reviewers noted the platform makes it easy to share works-in-progress with clients and relevant stakeholders.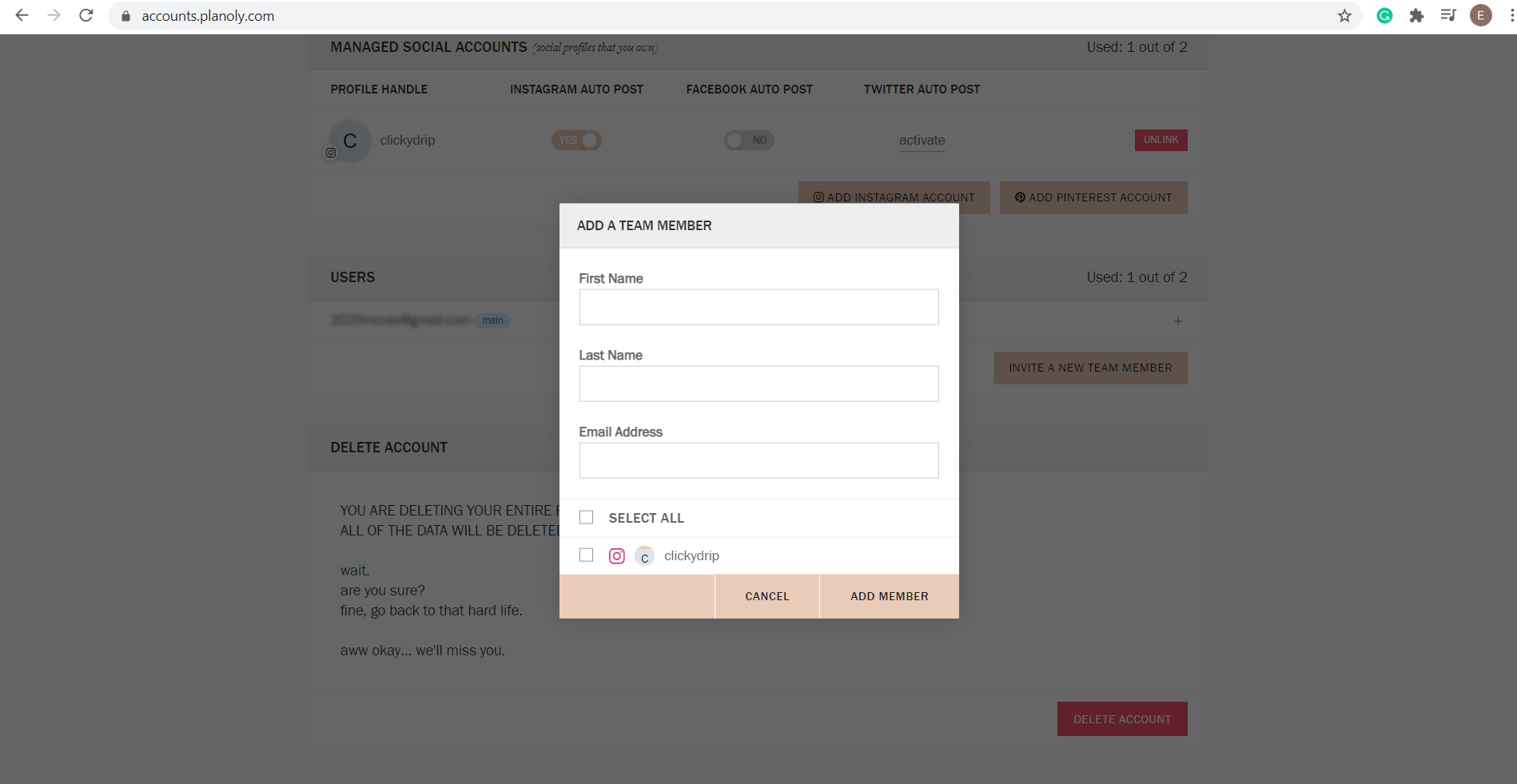 Team functionality in Hootsuite is far superior. Managers can assign roles for content creators, editors, and clients—it even includes handy functionality to let clients or stakeholders mark content approved. Managers can glean team productivity insights and track assigned and completed tasks.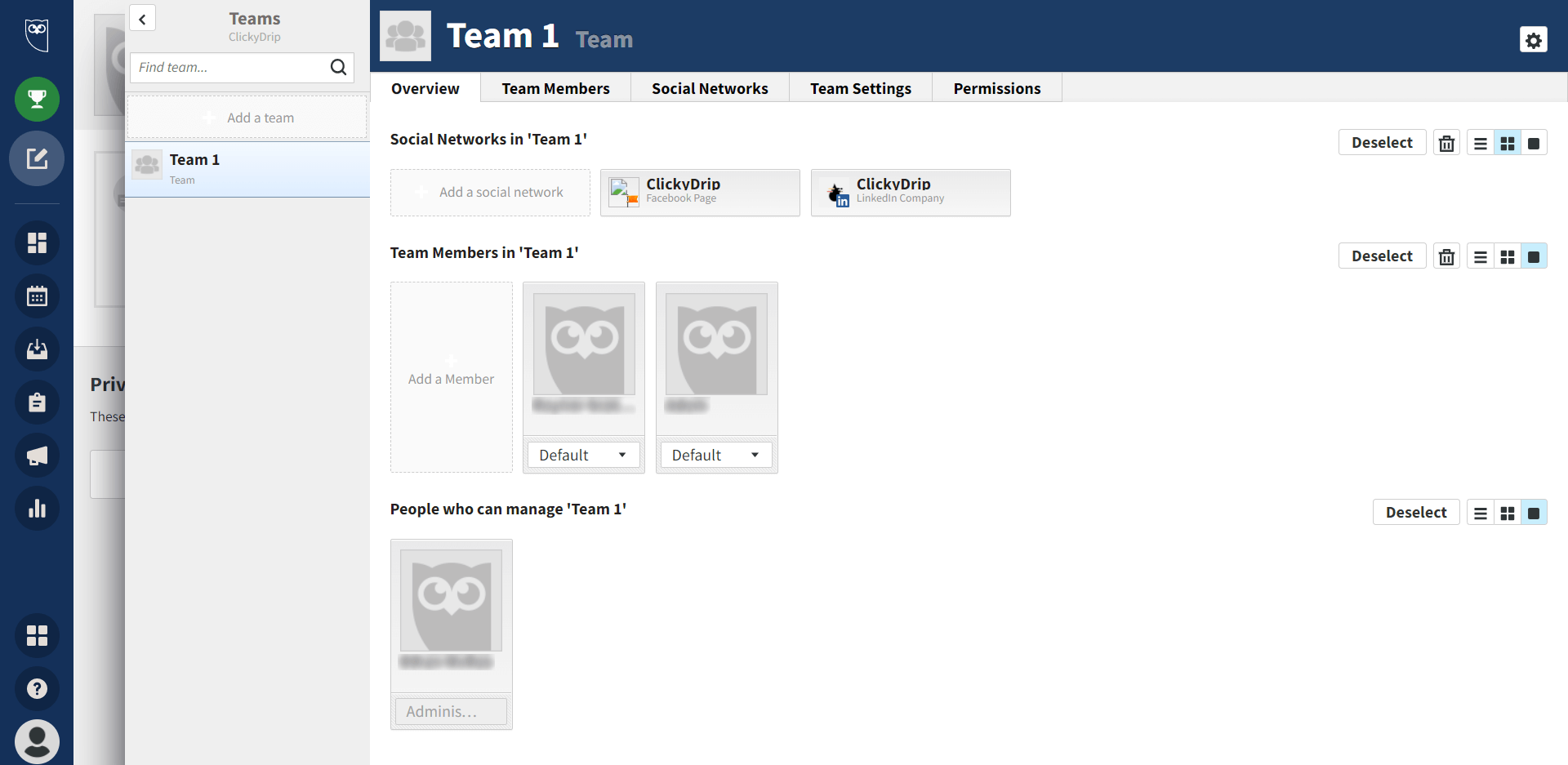 Such functionality comes at a high cost, however. To access the features above—and seat more than three users—you need to spend at least $7,200 upfront for a year of service. Ironically, these are not available in the "Team" tier. 
Pricing 
The upshot of Planoly's limited use case is its affordability. You'll be hard-pressed to find a tier that will break the bank. The following four make up the entirety of its offerings:
Free

: One user, two social profiles, 20 uploads per month per profile. The following four make up the entirety of its offerings:

Solo

: $7/month—one user, two profiles, one limited to 30 monthly uploads, unlimited for the other)

Duo

: $15/month—two users, two profiles, unlimited uploads

Custom

: $23+/month—3+ users, 3+ accounts, unlimited uploads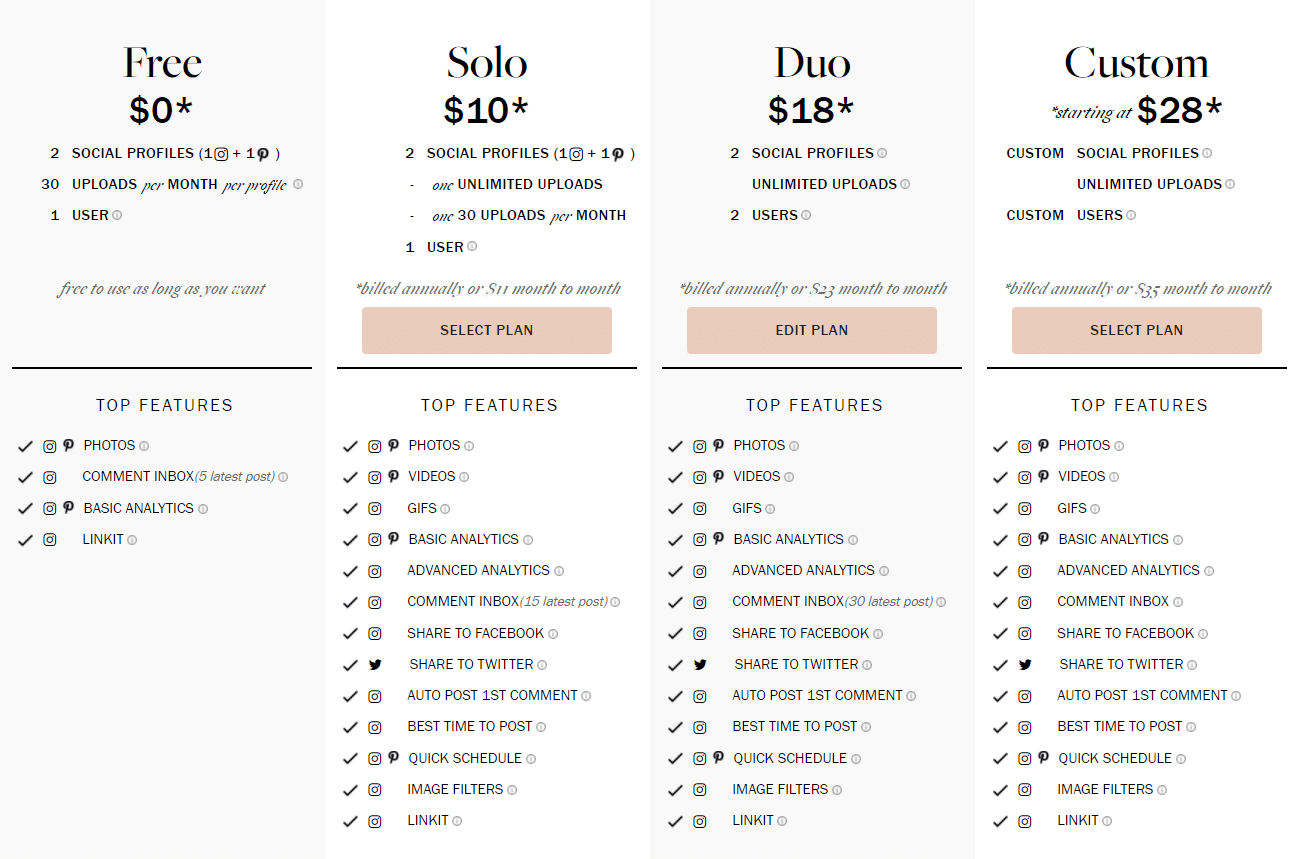 Planoly's pricing plans are generous—the entire feature set is available to all paid tiers (Albeit with some subtle limitations). The free version only comes with basic analytics, photo uploads, and the comment inbox. 
However, Planoly is less feasible for teams larger than three members, making it ideal for one or two users.
In contrast to Planoly, pricing just might be Hootsuite's most glaring issue. As the platform evolved, Hootsuite has steadily increased the price of its plans by a significant margin and reduced the functionality of its cheaper plans to boot. 
Like Planoly, four tiers with one free option are available. As of publishing, they include:
Professional

: $49/month—one user, ten social accounts

Team

: $129/month—three users, twenty accounts

Business:

$7,200/annually—five users, 35 accounts

Enterprise

: 18,000+/annually—five users (+ 1,800 for each additional user), 50+ accounts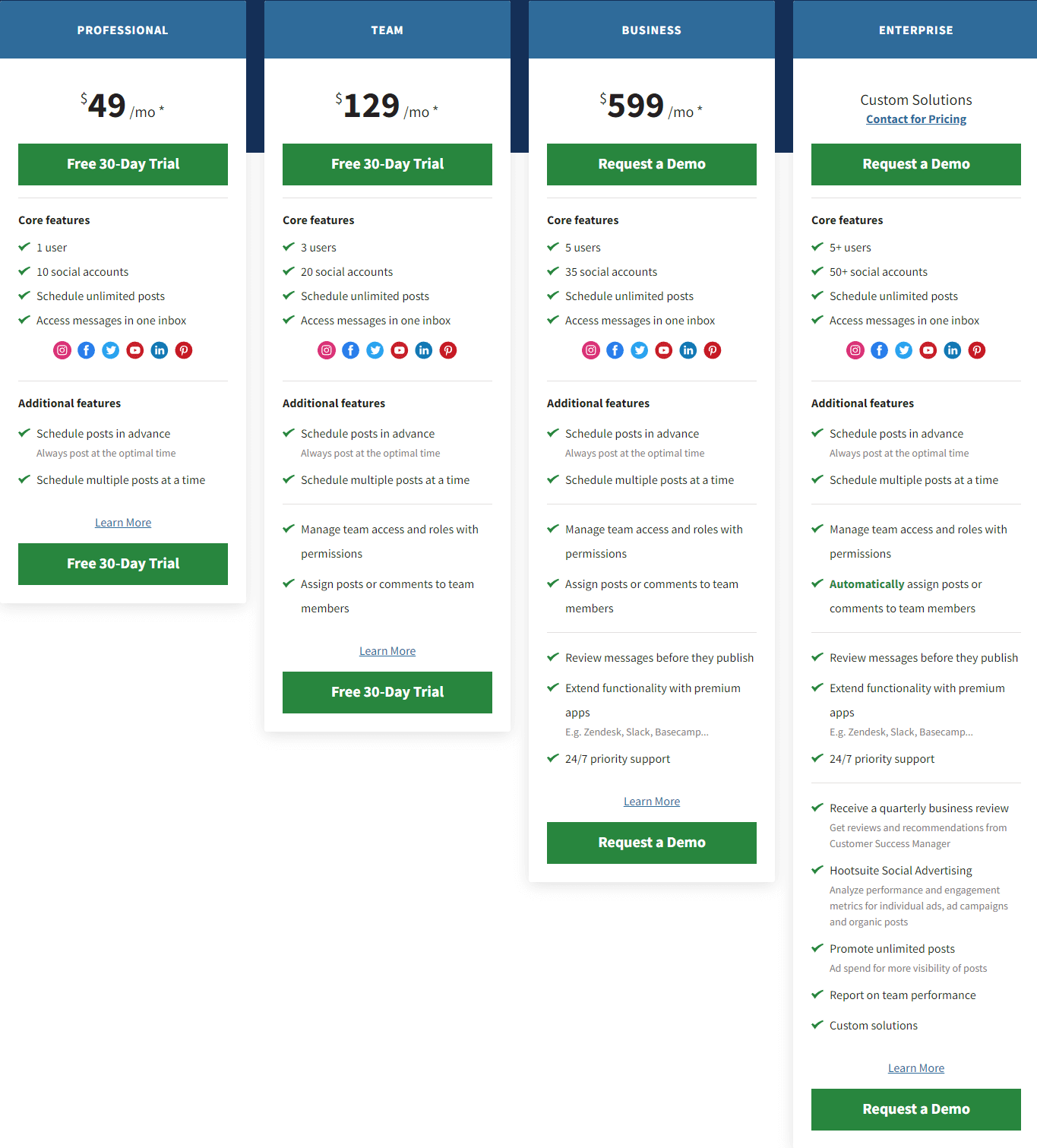 What's more, the lower tiers are particularly feature-barren, with many of Hootsuite's best functionality locked behind the business and enterprise plans (Which includes the content approval workflow, asset library, automated moderation, and 24/7 support).
For an enterprise-grade tool generally designed for collaboration, Hootsuite's pricing is aggressive. Neither Hootsuite nor Planoly may work for those who need a team-wide tool. 
Integrations
Limited social integrations aside, Planoly is interoperable with a range of influencer-preferred software.
A direct integration with the image creation app Canva complements two integrations with free stock photo repositories Upsplash and Pixels. Users also get access to a handful of complementary tools that expand its functionality to include, among other things, micro landing pages and digital storefronts.
Hootsuite, on the other hand, takes a more maximal approach. Over 100 popular marketing and digital media technology platforms are included. Zendesk's integration lets you manage help requests from users on Twitter and Facebook, while Hubspot's combines social media data with CRM to help gather detailed user profiles. Hootsuite's corporate page has a complete list.
Customer Support
Planoly hosts a great library of well-produced guides, video tutorials, and help desk content, also offering answers for a range of user questions and troubleshooting scenarios. Users can submit support tickets on their site or reach out on social media.
The Hootsuite Academy hosts many educational resources to educate users on social media strategy, in-platform account management, and reporting. Support options include highly-responsive support on Twitter and Facebook, anyone can submit a ticket at Hootsuite's help center,  while 24/7 "priority" support is available to professional and enterprise tier account holders.
When to Choose Planoly vs Hootsuite
When choosing between Planoly vs Hootsuite, consider what social media platforms are important to you. 
It's for good reason that Planoly is popular amongst aesthetically-minded and independent influencers on Instagram. It's a sleek and affordable tool that helps you create, publish, and manage your content and social activity end-to-end. 
Hootsuite is best for those that not only want to post on Instagram but also want to be able to post on practically all social media channels. Additionally, as you can probably tell from the pricing, Hootsuite is designed for small to large marketing teams and agencies that need to publish social media content at scale. 
You can see how other social media management tools stack up to Hootsuite in the following comparisons:
You can see how other social media management tools stack up to Planoly in the following comparisons: