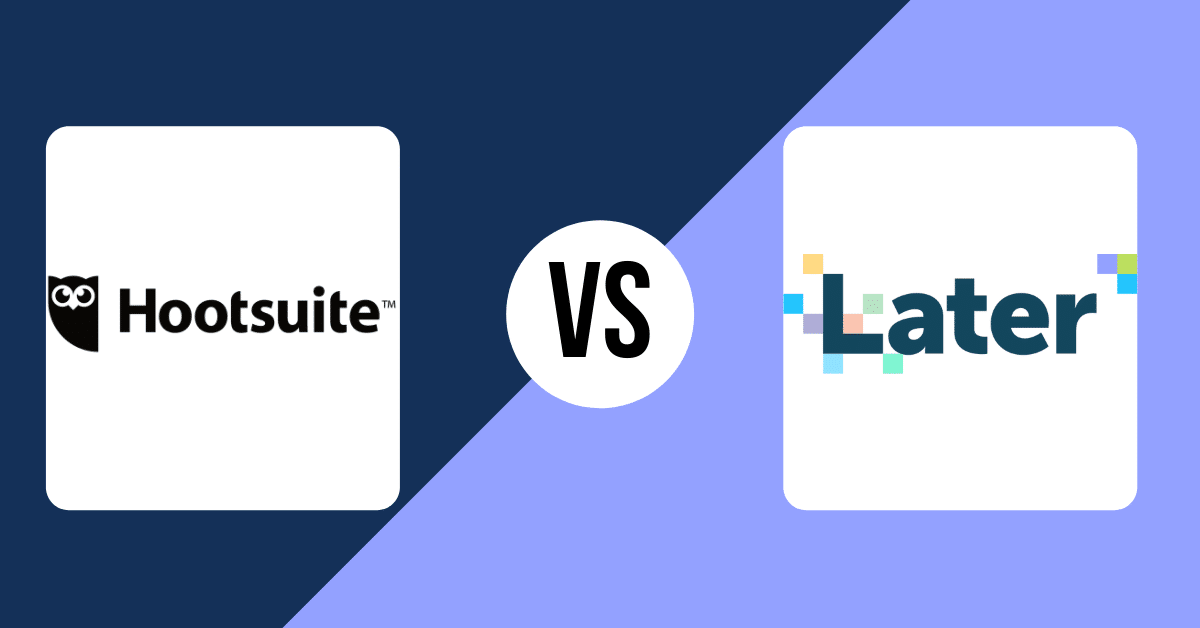 It didn't take long after the creation of social media for businesses to see the opportunity it presented — of reaching customers where they spend time online and marketing to them in a way that had never been done before.
Today, social media marketing is ubiquitous. Almost every business in the world uses it.
However, like any form of marketing, social media marketing can be incredibly time-consuming, especially if you're only doing it through the native social media platforms.
Thankfully, there are a number of social media management tools that allow the modern marketer to more quickly, more easily, and more effectively do social media marketing. Two of these most popular tools are Hootsuite and Later. 
In this post, we'll discuss Hootsuite vs Later in terms of features, user experience, pricing, and when you would want to pick each. 
About Hootsuite and Later
Hootsuite is one of the earliest platforms to make its way to the social media marketing space and it quickly became a giant in the industry. It has over 200,000 customers in over 200 countries, and it boasts big brands as customers — IKEA, Bacardi, Costco, and more. Today, Hootsuite is likely the most widely used social media management platform. 
Founded in 2014, Later came to the party years after Hootsuite, and established itself as a social media management platform specifically for Instagram. As far as Instagram social media marketing tools go, Later is certainly a leader in this sub-industry. However, over the years, Later started supporting other social media platforms including Facebook, Twitter, and Pinterest. 
Supported Social Networks
| | | |
| --- | --- | --- |
| | Hootsuite | Later |
| Facebook | ✅ | ✅ |
| Twitter | ✅ | ✅ |
| LinkedIn | ✅ | ✅ |
| Instagram | ✅ | ✅ |
| Pinterest | ✅ | ✅ |
| Snapchat | ❌ | ❌ |
| TikTok | ❌ | ✅ |
| Other Channels | YouTube | |
Hootsuite and Later support more or less all the same social networks. Each platform covers the most popular social media platforms including Facebook, Twitter, LinkedIn, Instagram, and Pinterest. 
However, the one social media platform that Later supports but Hootsuite doesn't is TikTok. This isn't a huge drawback for Hootsuite for most people given that TikTok is not the go-to social media platform for most companies (at least not yet anyway). However, if you are a company that focuses heavily on TikTok, it might make more sense to go with Later. 
Key Features
Both Hootsuite and Later have a number of key features that are essential to any social media marketing initiative.
Scheduling and Calendar Views
The main function of social media marketing tools is to schedule posts for multiple social media platforms. That being said, a calendar view that shows the days and times when posts are set to be published is a feature that is shared by practically all social media management tools. It's especially important to be able to move posts around in the calendar quickly and easily.
Hootsuite was one of the first platforms on the market, and its calendar view has been available since the beginning. You can easily see all your posts week by week, and you can move them around with a simple drag and drop.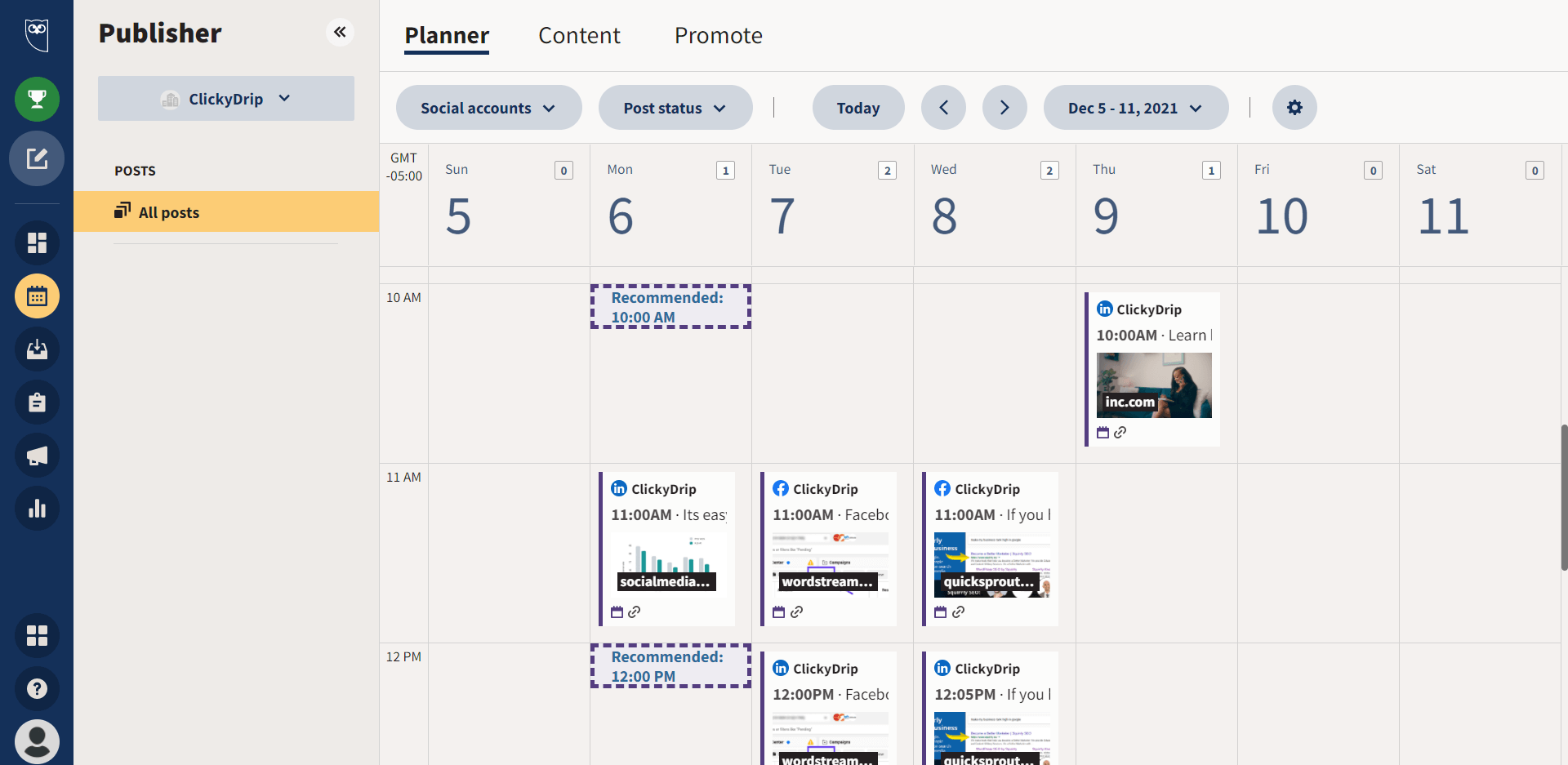 However, you're not able to see an entire month at a time, which is a significant drawback as most other social media marketing platforms allow this. 
Later allows you to see your calendar by week or by month. Just like with Hootsuite, you're able to drag and drop your posts from day to day, and you can easily change the times that the posts will post as well.
As far ease of use of the calendar scheduling feature goes, Later and Hootsuite are very comparable. However, in terms of aesthetics, one could argue that Later has a slightly cleaner and more modern-looking calendar view.
Related: 9 Best Later Alternatives  
Interaction Management
Interaction management is handled well in Hootsuite and is pretty robust. It has an "Inbox" function where you can see all your messages and comments in a number of platforms.
However, it's not clear how well this works for Instagram, so if your marketing is focused heavily on that platform, you might want to look at another option.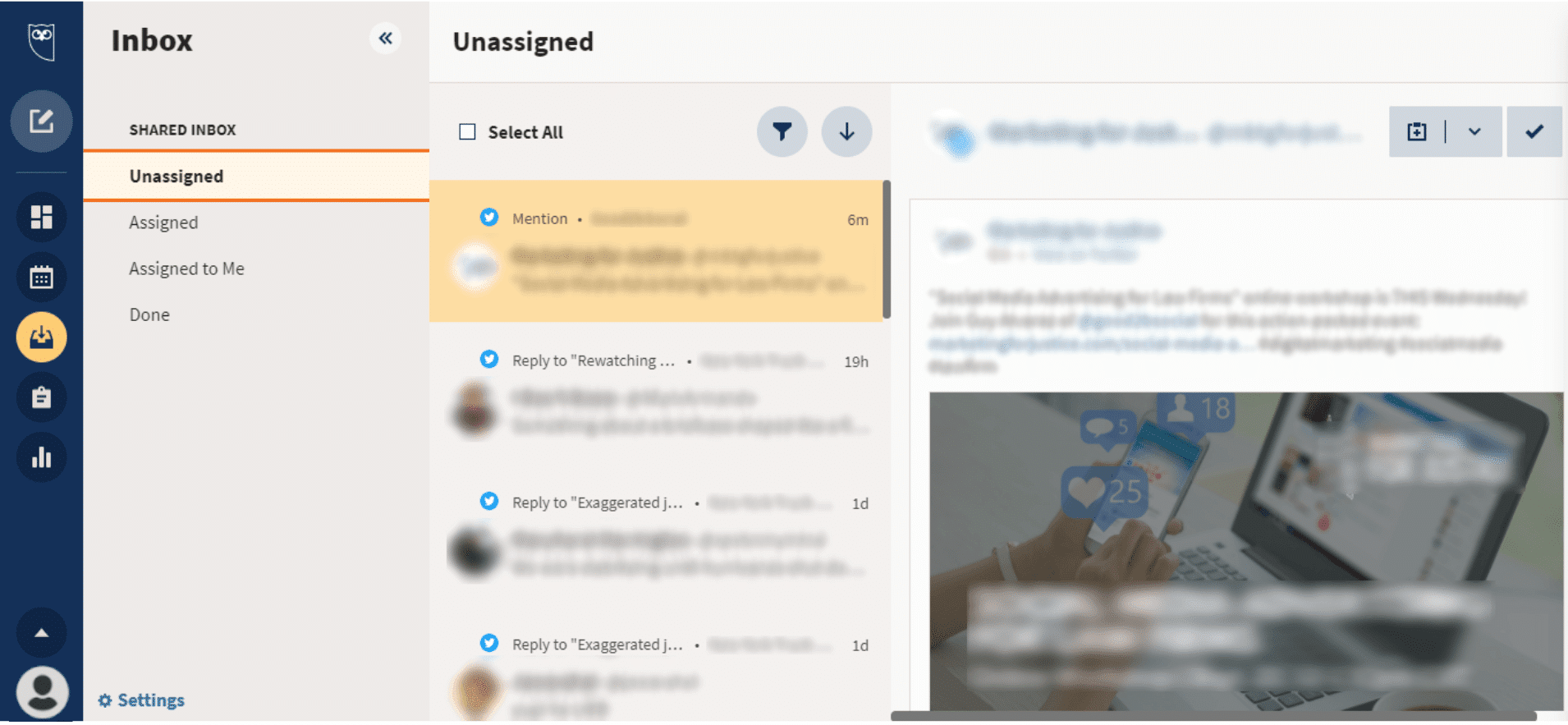 Later has a similar function that it calls "Conversations" where you can reply directly to Instagram comments and messages. Suffice to say that Later makes it far easier to manage these interactions on Instagram compared to Hootsuite.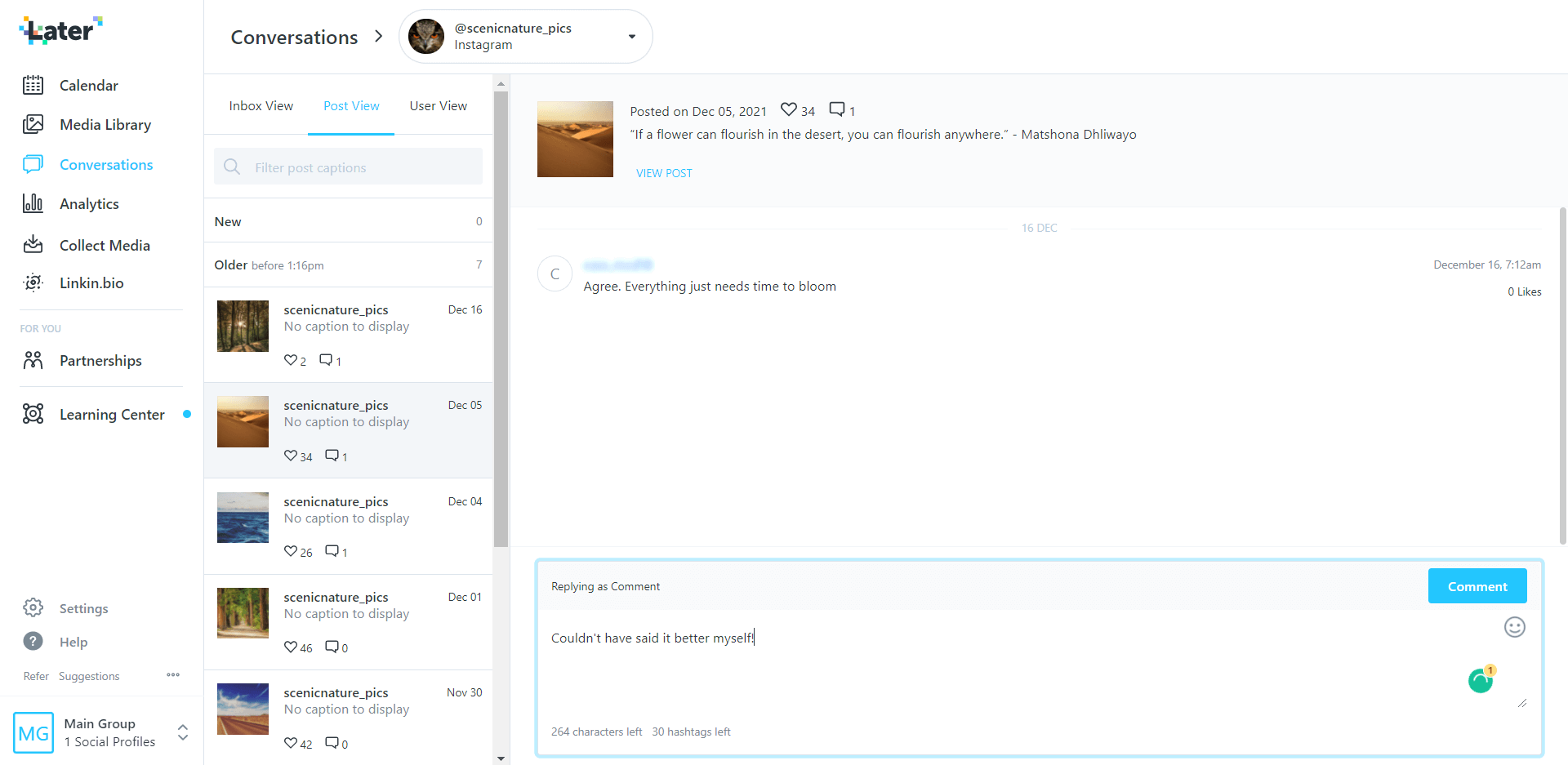 However, it doesn't do a great job when it comes to other social media platforms, so if you're looking to manage comments on many different platforms, Hootsuite is going to be a better bet.
Media Editing
Hootsuite likely has the most robust media editing features of any social media marketing platform on the market today. It allows you to do everything from cropping and rotation to adding filters, to adding text, filters, and even brush strokes.
Though of course, it's not going to be as robust as a program like Photoshop, it's got pretty much everything most people are going to need to be able to edit images directly within the platform.
Later's media editing is also very robust given that it's a platform best for Instagram marketing, but it just doesn't stand up well to Hootsuite. You can crop images, and you can add text and filters, but you're not able to do everything that Hootsuite does.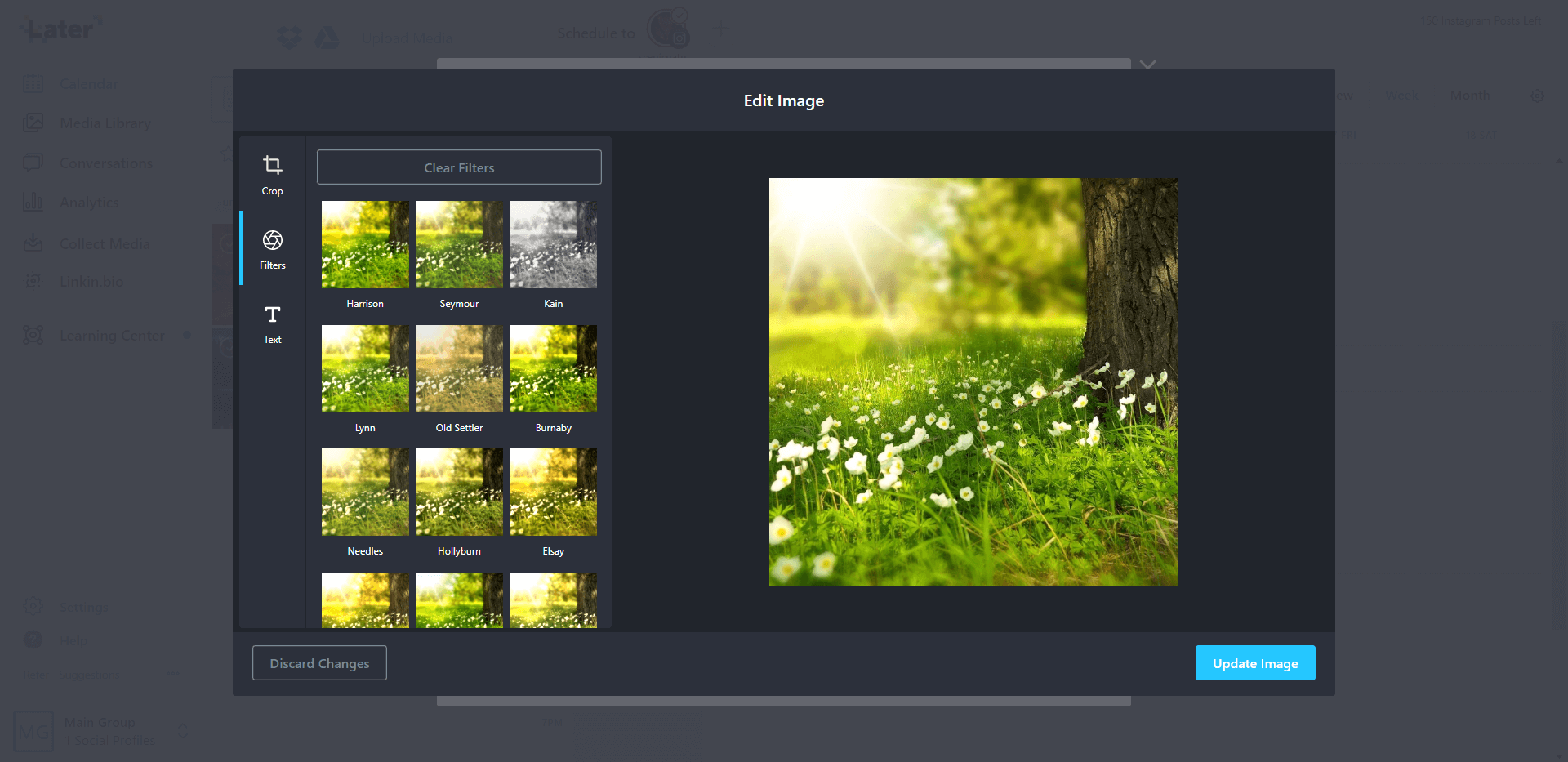 Social Media Monitoring
Hootsuite was one of the first creators of social media monitoring tools, and though there are other social media tools out there specifically designed for social media monitoring, the tool in Hootsuite is very robust.
It's called "Streams," and it allows you to determine what exactly you want to monitor, with a wide variety of options. For example, you can create a stream that looks for any mention of your brand or keywords that are related to your brand.
You can also monitor specific hashtags and comments, but the feature allows for far more than that. You can also monitor messages in different platforms, see scheduled posts in a linear view (rather than through the calendar), and more.
Unfortunately, Later doesn't have a robust social media monitoring feature like Hootsuite does. However, as previously mentioned, you can view Instagram comments, and posts you have been mentioned in. You can also search and view other Instagram profiles from Later, and you can discover posts by searching for hashtags as well. This can be a great way to get inspiration for future posts. 
Bio Link Tools
Hootsuite has a feature called "oneclick.bio" that allows you to "create a link tree from your dashboard."
You can create a landing page that links from your bio in Instagram with buttons that link to landing pages on your website, products on your store, or other pages on your website. You can include images from Instagram, and you can make an unlimited number of custom pages.
Later's comparable feature is called "Linkin.bio" and allows you to essentially do exactly the same thing. It's customizable, links to Instagram posts, has buttons, etc.
Approach to Posting and Scheduling
Hootsuite has perhaps one of the best approaches to posting and scheduling on the market, which is no surprise given how long they've had to refine the feature.
There's a simple button on the sidebar that you click to get started. You can choose if you want to make a social media post on a variety of platforms, a pin, or an Instagram story. It also allows you to use its legacy post creator if you're more comfortable using that.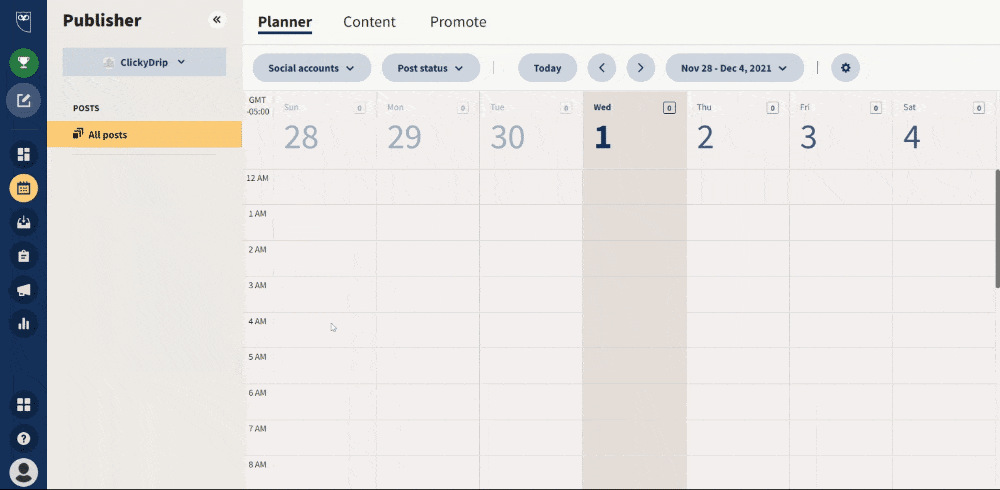 When you go into the post, you have a variety of options. You can choose to schedule your post on a single platform or several platforms. You can add in your content/hashtags/links, and you can add media, either your own or media provided by Pixabay (once you agree to the terms and services).
One of the big drawbacks is that you're not able to post the first comment on Instagram, which is a pretty huge drawback if your marketing is Instagram-focused. This is an ongoing theme with Hootsuite — it just came to Instagram too late in the game.
Later's approach is perhaps a bit simpler than Hootsuite's, so its slightly easier to use, but it's a little less robust for platforms other than Instagram.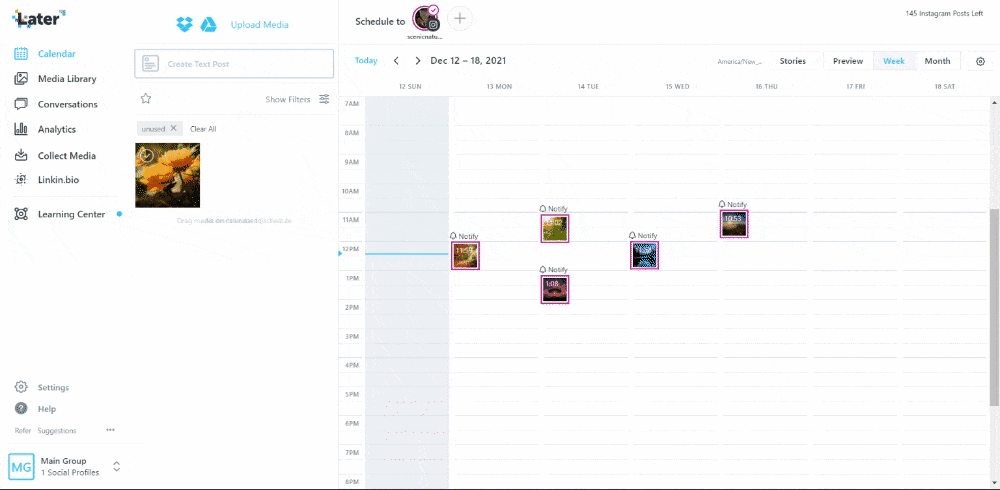 Its setup is a bit better than Hootsuite's because of these features for Instagram, but it's a little hard at first to figure out how it works. You have to start by clicking on your image, and then you get the option to put the post together.
For other platforms, like LinkedIn and Facebook, you can create text-only posts, though obviously using images is going to be more effective.
Dashboard Experience and Ease of Use
Hootsuite has a lot of features, but the dashboard is still pretty easy to use. They've had a lot of time to refine user experience over the years, and it shows.
First of all, the dashboard is beautiful and clean. No matter which feature you're using, it looks great.
Second, whether you're using the reporting function and advertising function or the calendar or streams function, you can easily find the sub-functions you're looking for on the sidebar. You won't struggle at all to figure the platform out, and even if you do, it has a great onboarding wizard to walk you through all the steps of using each feature.
Later's dashboard and user experience is also clean and simple. You have a simple sidebar with just a handful of options, and as you drill down, you either have a single function or you have a new menu at the top.
In either case, it's clear how to do everything you want to do. No features are hidden.
Reporting and Analytics
Hootsuite's analytics tab has a great deal of functionality, which makes sense given that the platform caters to agencies that manage a huge number of social media profiles for a number of clients.
You get access to all kinds of analytics, from the performance of individual posts to suggestions on the best times to publish based on the performance of your posts over time to brand awareness information, post engagement rate, and more.
You can see how often your links are clicked, how your inbound engagement is going, and you can get all of this in a variety of reports. Hootsuite is likely the most robust platform in terms of analytics that you're going to find, so if you're really focused on reporting, this is the platform for you.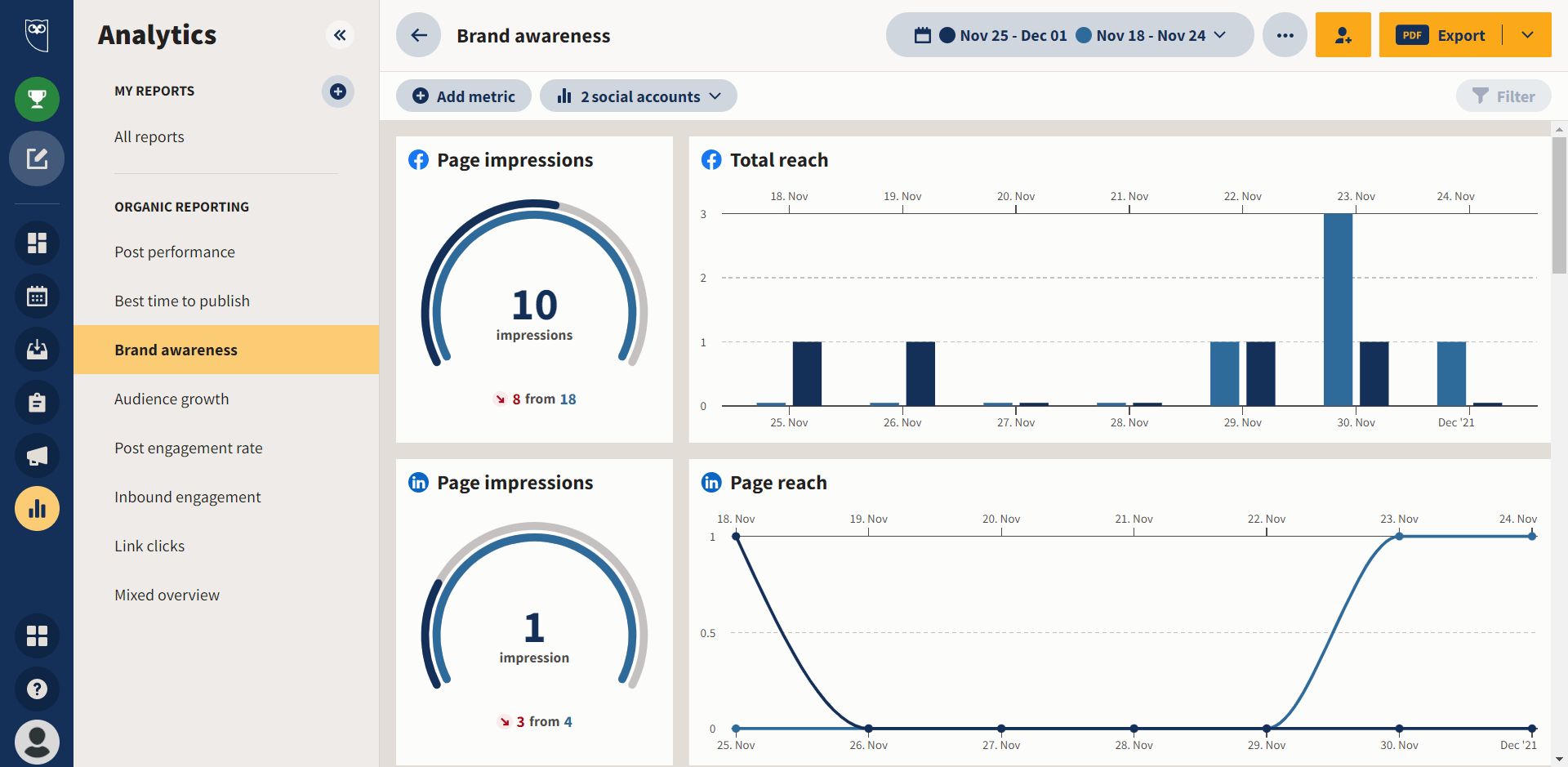 Similarly, Laters analytics dashboard is also very comprehensive. You can look at how individual posts are performing and get a high-level view of your overall performance. It also has a very useful demographics tab, so if you're interested in those kinds of stats, you'll get a good idea of that information.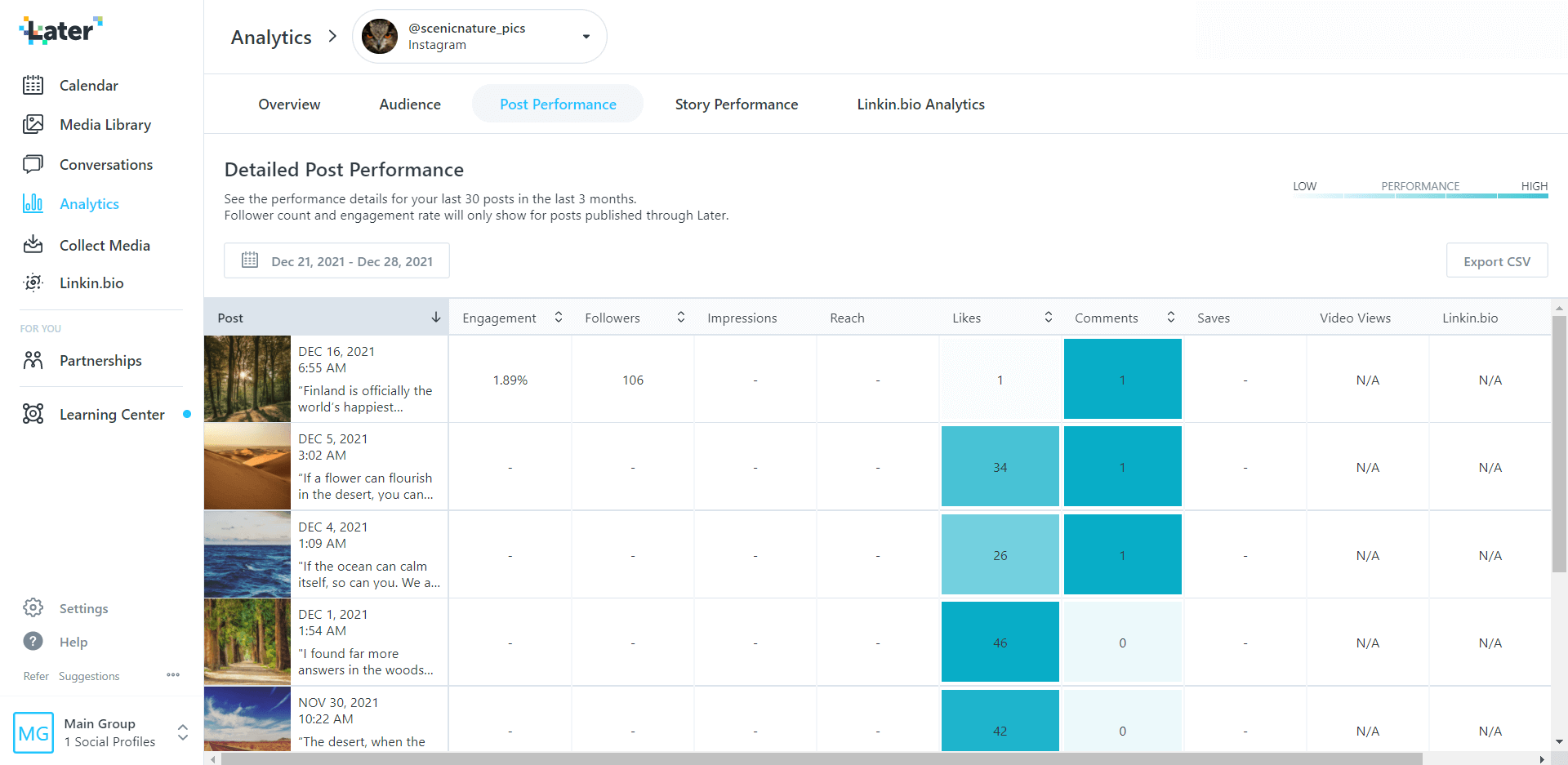 However, it's mostly just for Instagram and Pinterest, so if you're interested in the stats from other platforms, you'll want to use another social media management platform.
Team Management
Hootsuite has a robust team management function, which is to be expected from a platform that's used by so many agencies worldwide.
You can easily see what social network tasks are assigned to you, your assignments in general, and you can look at what you've already resolved. You can also look at different teams to see all assignments for a specific team, and you can also look at assignments for individual team members.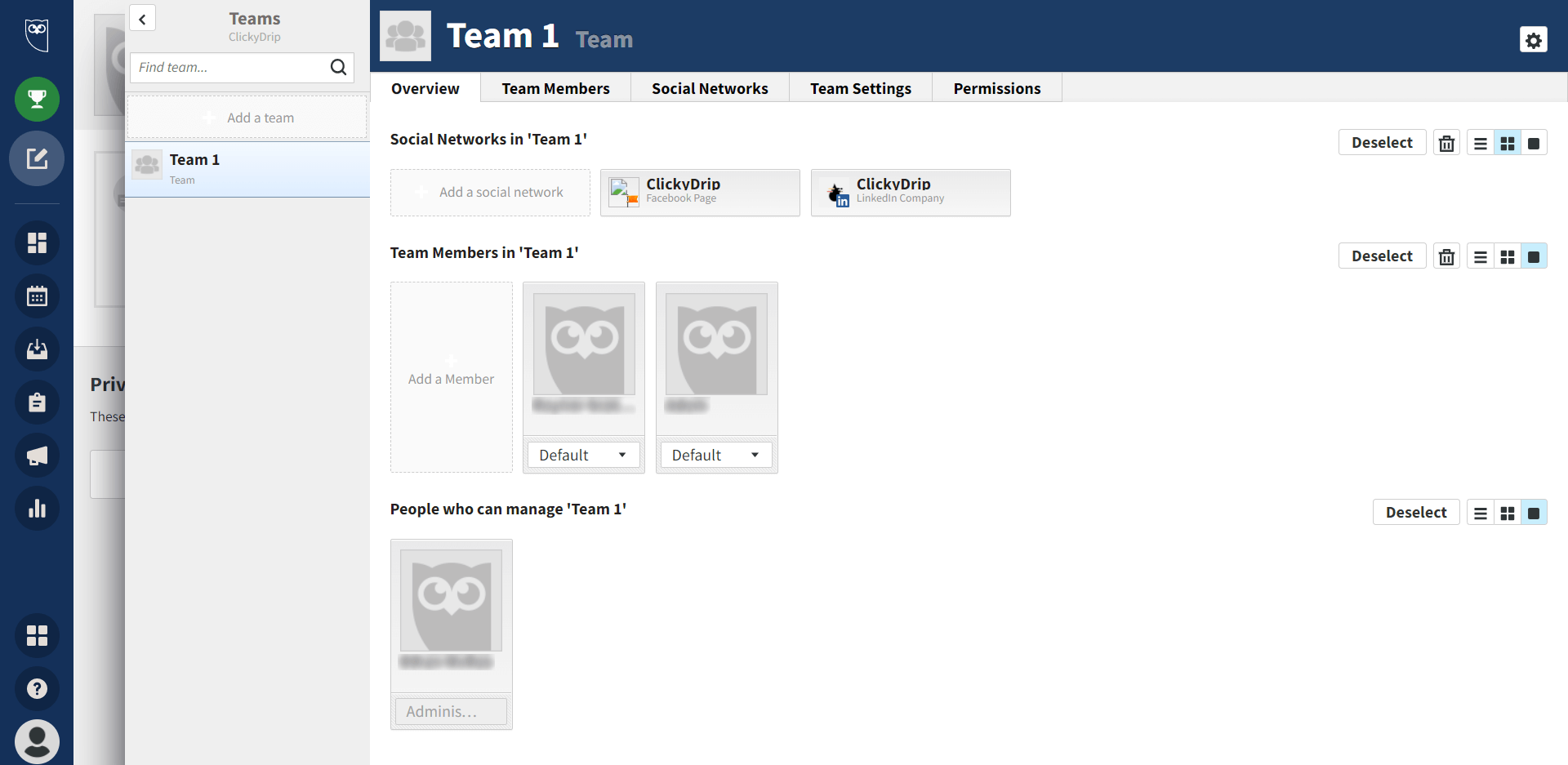 Later similarly has a robust team management system. You can assign users to different social media profiles. You can leave notes on your calendar for your team to review, and you can give different users different levels of access.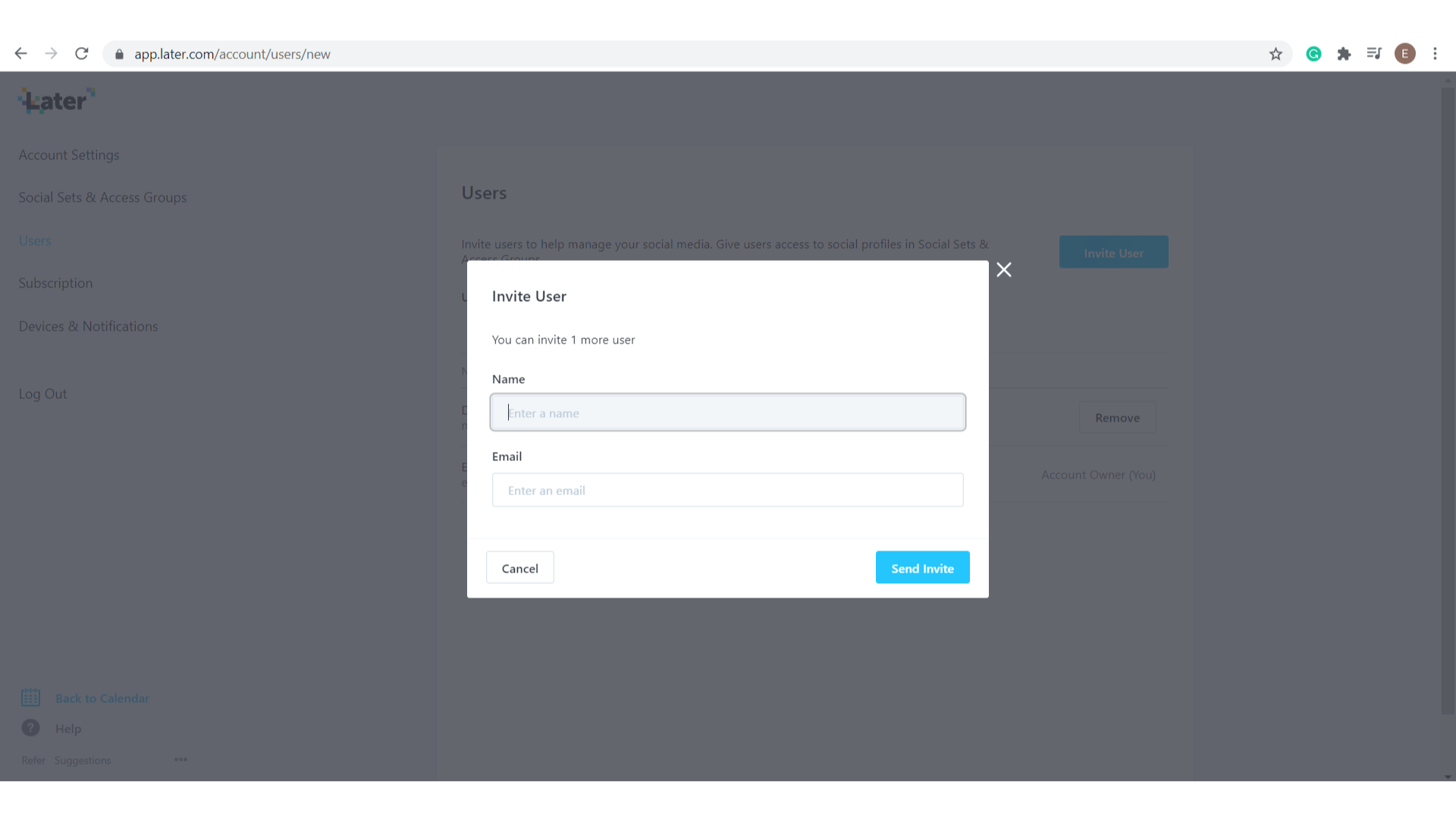 Pricing
Hootsuite isn't cheap, and it's easy to understand why — it has a huge number of features. For most businesses, the team option is going to be required (if you want to have more than one user). This bumps the price up to $129/month, which is pretty expensive as social media management platforms go.
If you want 5 users, you're looking at $599/month, which only an enterprise or a company that specifically manages social media for other businesses is going to need. It's extremely pricy in that respect, so you'll want to have a serious need for it to justify that kind of spending.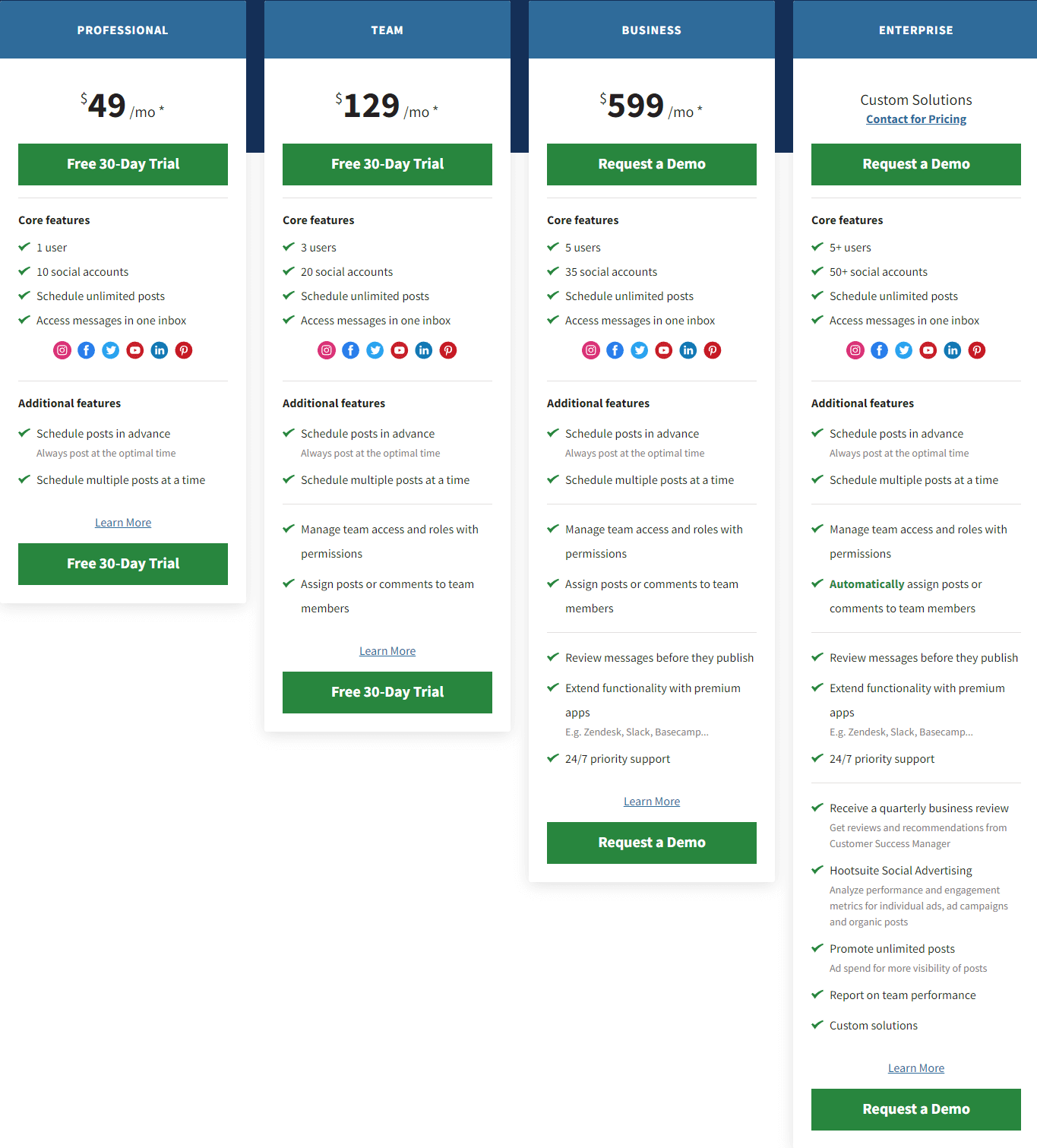 Later is much less expensive, but this also makes sense because it's basically an Instagram schedule platform with a few additional features. You're looking at about $25/month to get more than one user and to post 150 times/month for each social profile, which most businesses are unlikely to go over.
If you need more users, you're only looking at $40/month for 6 users, so the pricing blows Hootsuite out of the water in this respect. It's just a more affordable program, period.
Integrations
Hootsuite has a number of integrations and allows you to connect a number of apps, including many free apps. If you're willing to shell out the money, it also has access to paid apps, which is included in some of the more expensive plans. You can also integrate some compliance software if you need to.
Later has far fewer integrations, but it still allows you to integrate with automation apps like Zapier. Because it's mostly for Instagram, you don't really have to worry much about integrations like you would with Hootsuite.
Customer Support
Hootsuite is great when it comes to customer support. You can easily access their help center, but most people are going to want to skip this and talk to a person, which you can easily do right in the platform — you just click the chat option.
You can also tweet to support to get help, but what's really interesting is that this option lets you create the tweet right in the app, and even auto-fills some of the text of the tweet.
Later is harder to get ahold of. They also have a help center, which is of limited help, but there's no chat function, so the only way to get help is to send an email and hope they get back to you quickly.
When to Choose Hootsuite vs Later
Choosing between Hootsuite vs Later should come down to how large your team is and what social media platforms you want to focus on the most. 
Because of the pricing of Hootsuite, you're going to want to think hard before you invest in the platform. If you are serious about social media and don't mind shelling out the bucks, it's the way to go.
If you're running a social media marketing agency, or even a marketing agency in general, then Hootsuite is probably going to be your best option because it supports so many different social media platforms and has great analytics that allows you to easily show your clients how their investment is paying off.
If your focus is on Instagram, then you're going to want to choose Later. It's just better for Instagram, period. If you're serious about any of the other social media platforms out there, you have to keep in mind that Later doesn't work great for them.
You can see how other social media management tools stack up to Hootsuite in the following comparisons:
You can see how other social media management tools stack up to Later in the following comparisons: