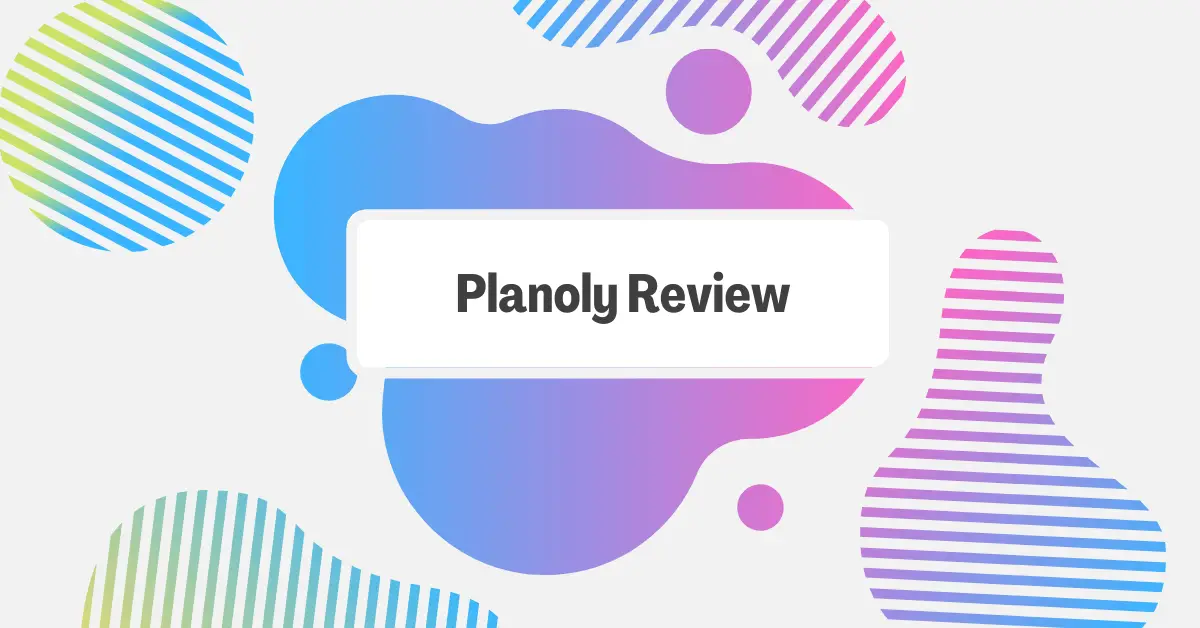 For influencers, business owners, or people that just want to take their social media game to the next level, Instagram and Pinterest planning, and scheduling tools can be incredibly advantageous. 
However, with so many software and apps out there to choose from, narrowing down the selection and choosing the best tool for you can be a challenge. 
But what about Planoly? 
Since Planoly made a big splash in the social media management tool scene in 2016, this platform has been the go-to platform for thousands of users. 
The question is… is this tool right for you? You'll find out soon enough. 
In this Planoly review, we take a deep dive into the platform's various features, benefits, and drawbacks.
What is Planoly Used For?
Planoly is visual planning software that lets Instagram, and Pinterest users plan and schedule posts. The platform is designed with a visual content planner that allows you to see when content will be posted throughout the month. Not only that, but you can upload photos or videos and edit them from the platform before scheduling the content or setting it live. Additionally, the platform provides valuable reporting and analytics that you and your team can take advantage of to improve your marketing strategy. 
While Planoly is commonly used as a desktop Instagram planner, there is a mobile app as well. 
While Planoly is most commonly associated with Instagram and Pinterest and is an official Instagram and Pinterest partner, the software also allows users to plan and schedule content for Facebook and Twitter.
Is Planoly Safe?
Planoly is absolutely a safe platform to use. Planoly is an official Instagram partner, which means that the platform has been verified by Instagram as compatible third-party technology that can be used hand-in-hand with Instagram. Given that Planoly is completely compliant with Instagram, you don't need to worry about Instagram banning your account by managing it with Planoly. 
Core Features of Planoly
The following section will look at six core features that make Planoly a popular social media management tool, particularly for marketers and small business owners who rely heavily on Instagram and Pinterest as part of their digital marketing campaign. 
Scheduling and Calendar Views
Planoly gives its users the ability to easily manage post scheduling through a visually rich calendar view on its mobile application and web-based dashboard. Its interface is easy-to-use and visually pleasing. It makes scheduling posts so simple that you may never want to post directly to Instagram or Pinterest ever again.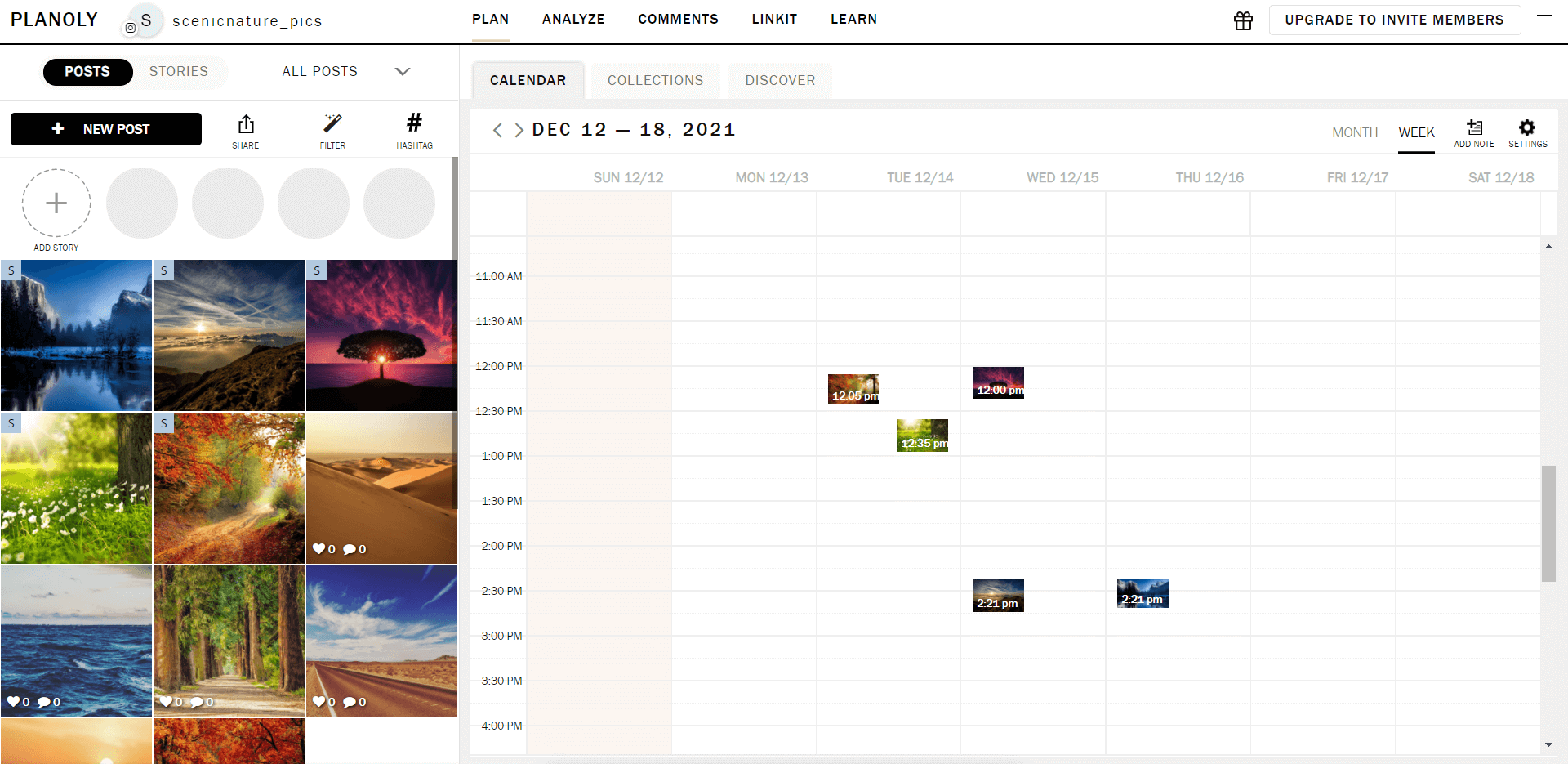 With Planoly's social calendar feature, you can do more than see a visual representation of your planned posts. The social calendar allows you to customize your social media planning calendar to include holidays and events to help you better plan future content. 
Planoly's social calendar allows you to add:
United States and global holiday and entertainment details

Planoly event details and RSVP

Post-analytics

Quick schedule dates

Calendar notes (enabling you to create reminders)
Because Planoly allows users to post to various social media platforms, the Planoly calendar view lets you see the overall big picture of your whole social media campaign in one clean and crisp view.
Post Planning and Drafts (Planoly Collections)
Planoly Collections, formerly known as Drafts, gives users a place to store their content for their grid and Instagram Stories prior to scheduling them for posting. The collections feature allows you to manage and organize drafts into folders, known as collections, depending on your individual content needs.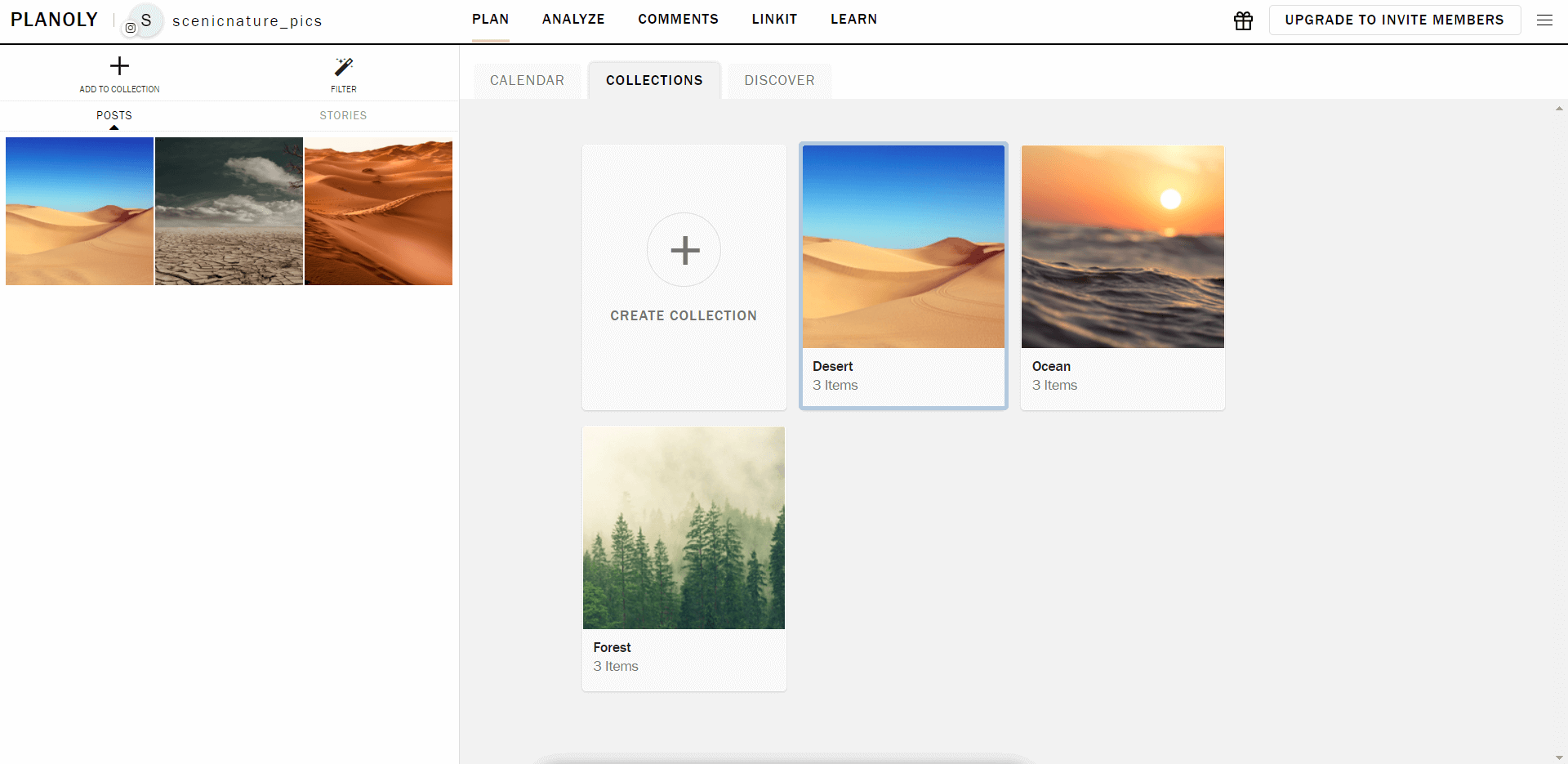 The organization possibilities are endless inside of the Planoly collection feature, so play around with it and figure out what works best for you. When you are ready to post or schedule the post, simply move it from the collection into your grid or story. 
Media Editing
Planoly offers users 18 different filter options through both its mobile app and its web-based dashboard, with a batch filtering option available. Unlike some of its competitors, Planoly does not offer photo editing options from within its software application beyond its filtering tool. However, the Planoly mobile app integrates with many popular media editing apps such as VSCO, Snapseed, Lightroom, etc.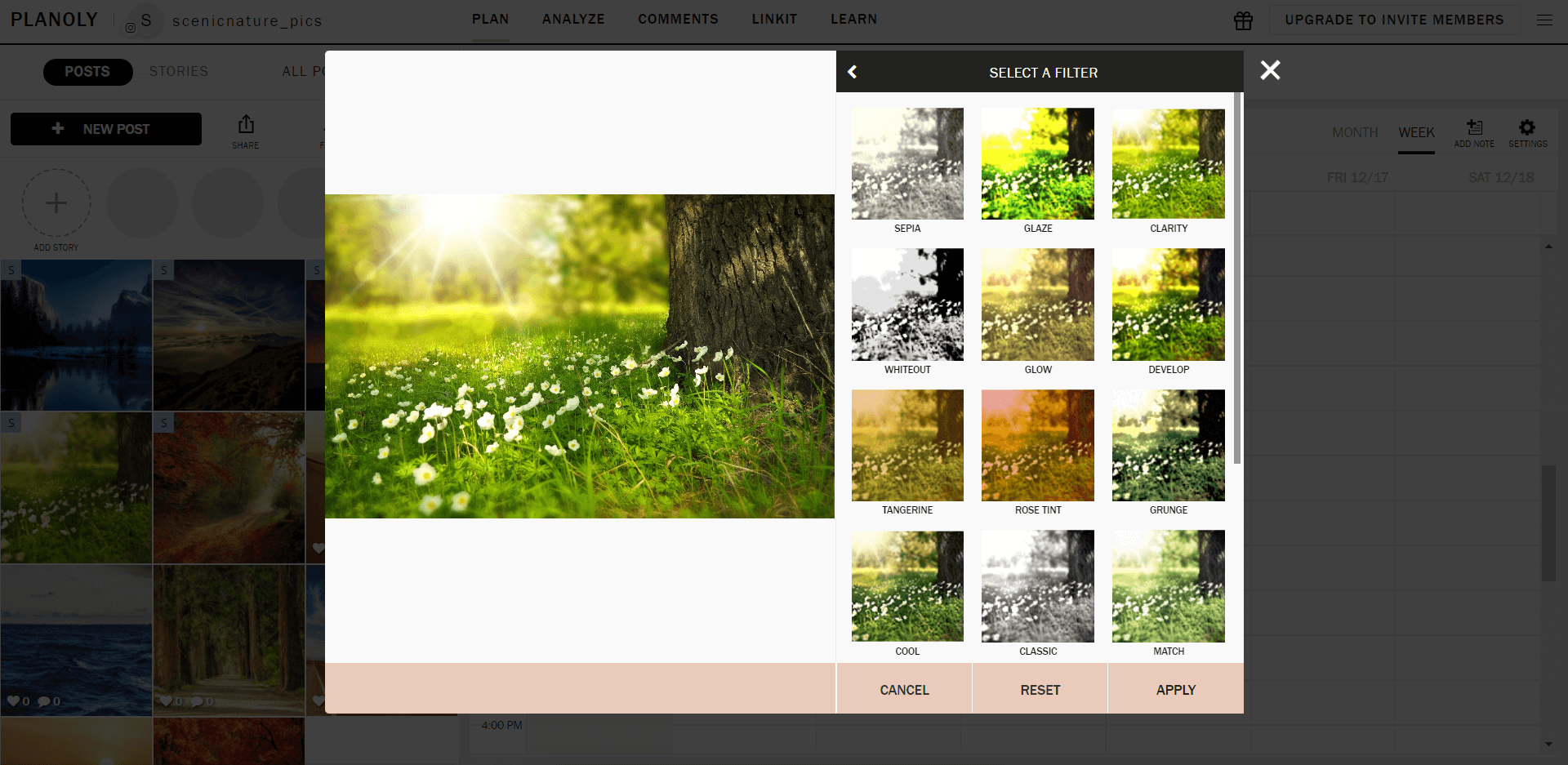 It is easy to add edited media straight to your Planoly grid when using these editing tools. Even if you edit serval images simultaneously, you can upload them directly to Planoly without ever leaving the editor you are using.
Inbox Management (Planoly Comment Inbox)
Planoly's comment inbox makes it easy for users to track and quickly reply to comments all in one place. The Planoly comment inbox works great on its mobile app and web-based dashboard.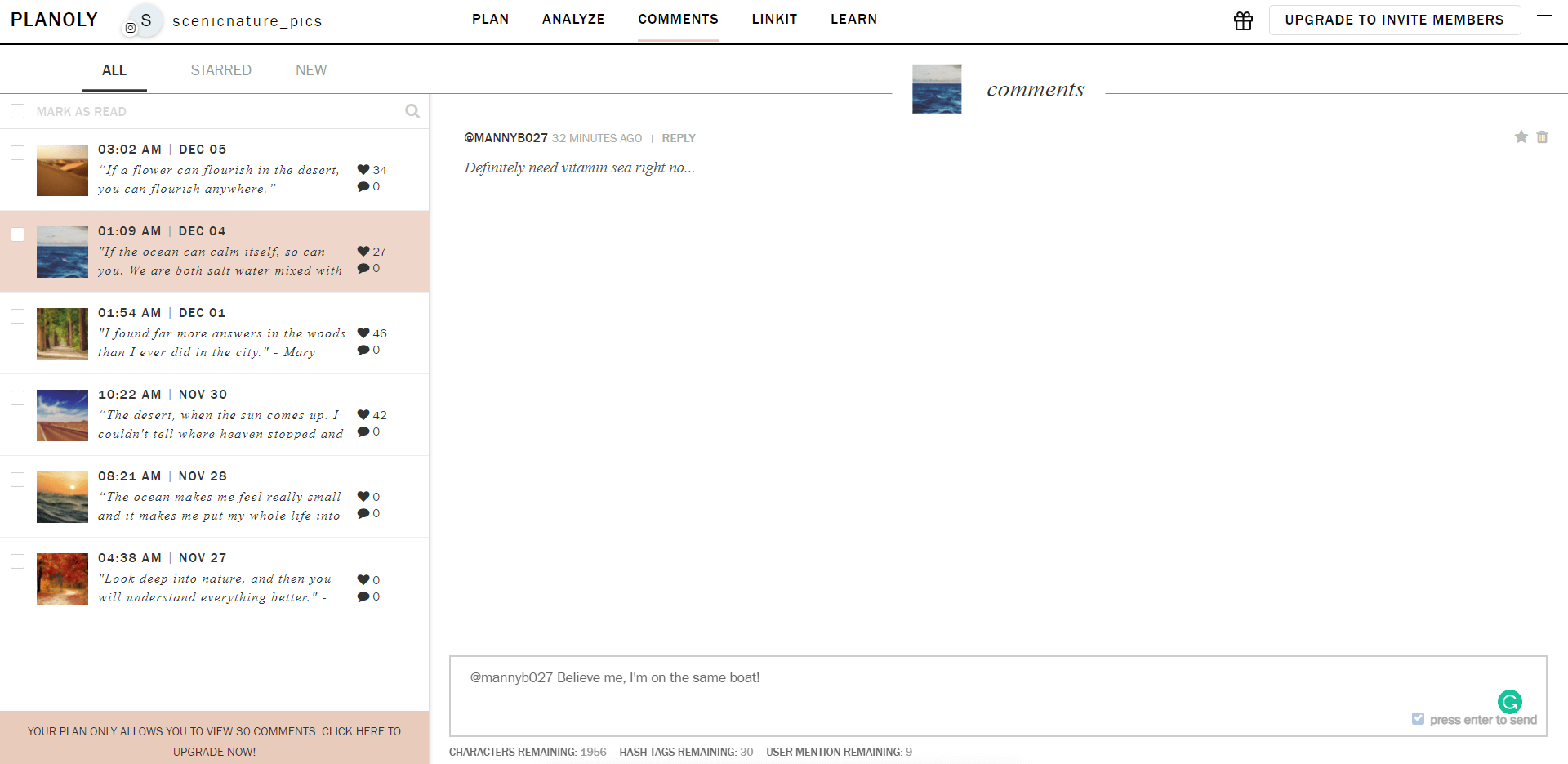 However, the Planoly comment inbox is not without its limitations, depending on the pricing plan that you choose. 
With Planoly's free plan, users can access comments from their last five posts. Any comments on posts beyond that limit will not appear in the comment inbox. The comment limit jumps to the previous 15 posts with Planoly's Solo plan and the previous 30 posts with Planoly's Duo plan. You'll have to sign up for Planoly's most expensive package, its Custom plan, for your comment inbox to display comments from all of your posts. 
Discovery Tools (Planoly Discover)
Planoly's Discover feature allows users to search for and find user-generated content on Instagram. Users can look for content using either a username or hashtag. However, only an Instagram Business or Creator Profile will appear with its username search. Planoly notes that Instagram sets the limitation in the username search.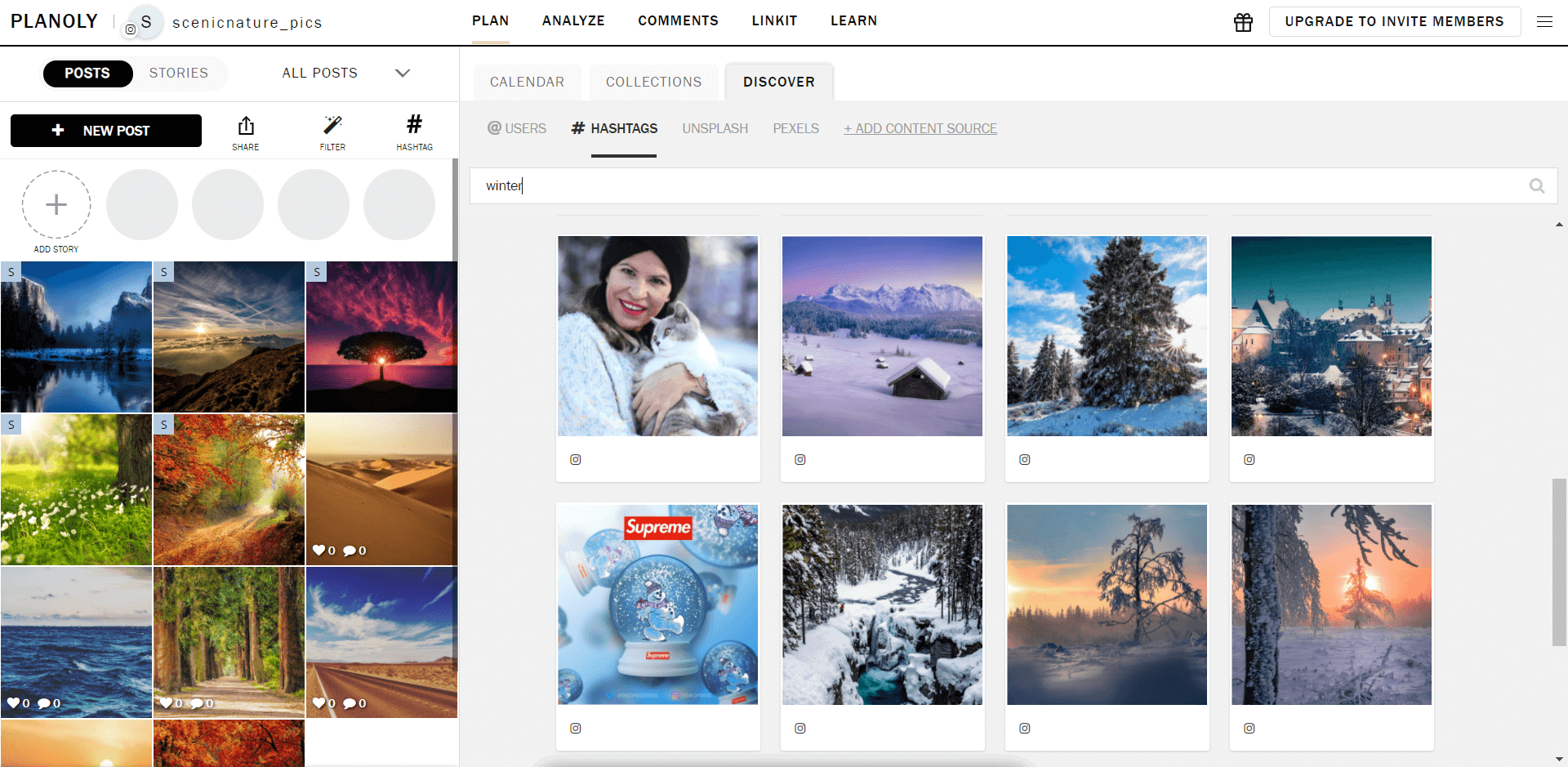 The purpose of Planoly Discover is to allow users to find content that can be used either for inspiration or for reposting. Using the Discover tool, users can also find an array of stock images free to use from both Unsplash and Pexels. The Discover tool is also preloaded with more than 300 templates that you can use to create content. 
Bio Link Tool (Planoly Linkit)
Linkit is a free tool built into the Planoly platform that allows users to easily create their own link in bio page and simplify their followers' browsing and shopping experience. Planoly describes the tool as the quickest way to bridge the gap between followers and brands.  
This bio link feature allows you to link the posts featured on your Instagram feedback to any URL. With Planoly Linkit, you can curate a custom gallery of your Instagram posts and attach links to your brand's website, blog article, or referral links.
This makes discovering your product and purchasing through an influencer or blogger's social media account easier and more efficient for your followers. Best of all, this free feature is available to all Planoly users.
Reporting and Analytics
Planoly offers a basic analytics web dashboard for Instagram and Pinterest. The free basic analytics feature allows you to review your content performance and strategically plan future posts. Planoly's Analyze feature enables users to view overall engagement rates, post likes, reach, impressions, saves, and more. Users can also choose to view analytics and data for a range of dates and by week, month, or year view for a quick overview. Free users with a personal or Business Instagram account can view basic Instagram insights. Paid users with Business Instagram accounts can view premium analytics beyond 12 months. Advanced analytics for Instagram is available with all paid packages.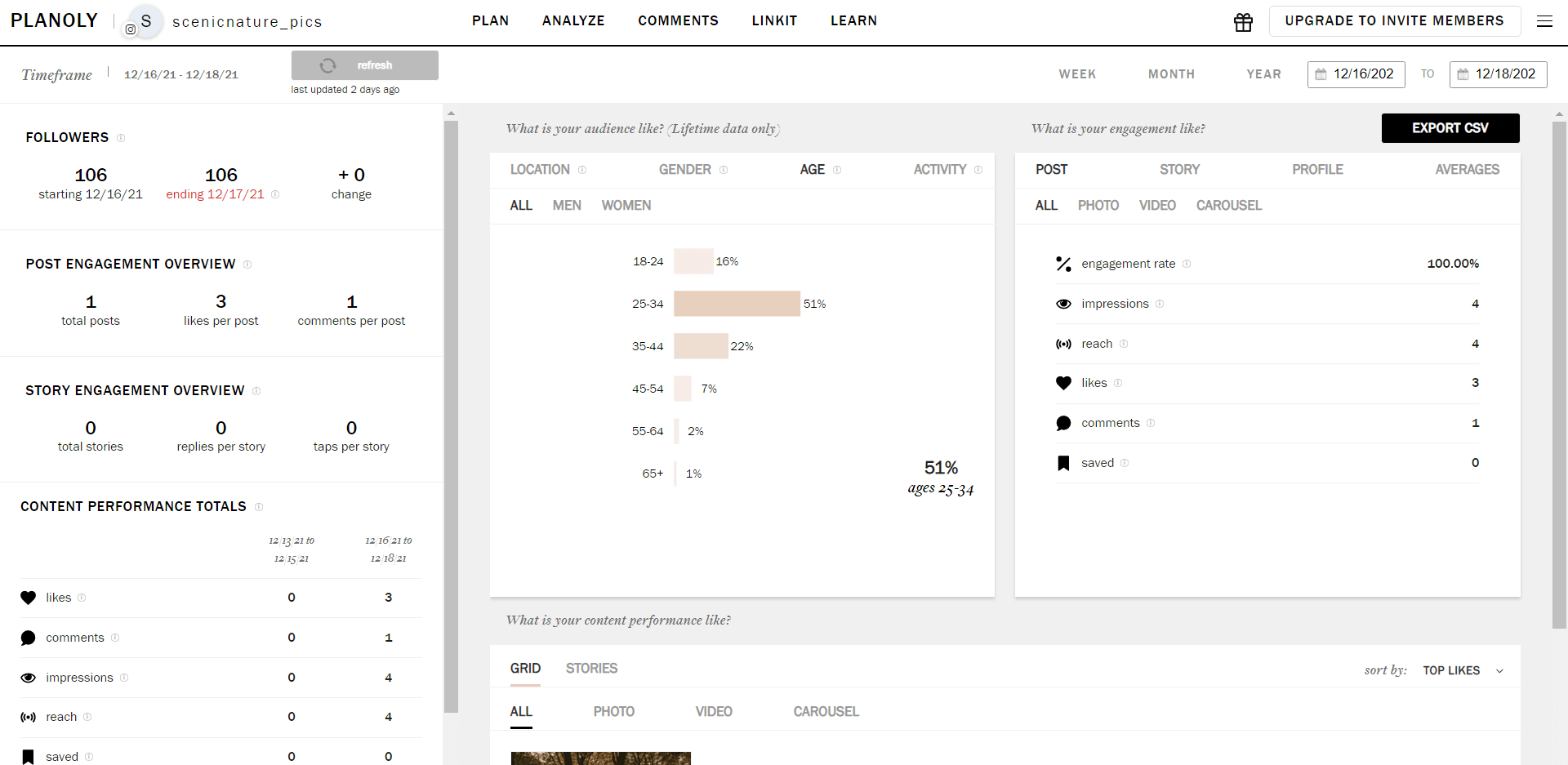 For Pinterest, Planoly allows you to view your total impressions, closeups, link clicks, saves, video views & average watch times for your most recent 100 Pins. Metrics can be viewed for the last seven or 30 days. Additional insights with no pin limit are available to paid Planoly users.
Planoly does not offer analytics specific to Facebook or Twitter. 
Dashboard Experience and Ease of Use
Since Planoly was the first visual planning software created for Instagram, it works best for those who rely on Instagram as their primary social media marketing channel. It was crafted to be a simple, clean, and easy-to-use Instagram planning dashboard in a desktop environment.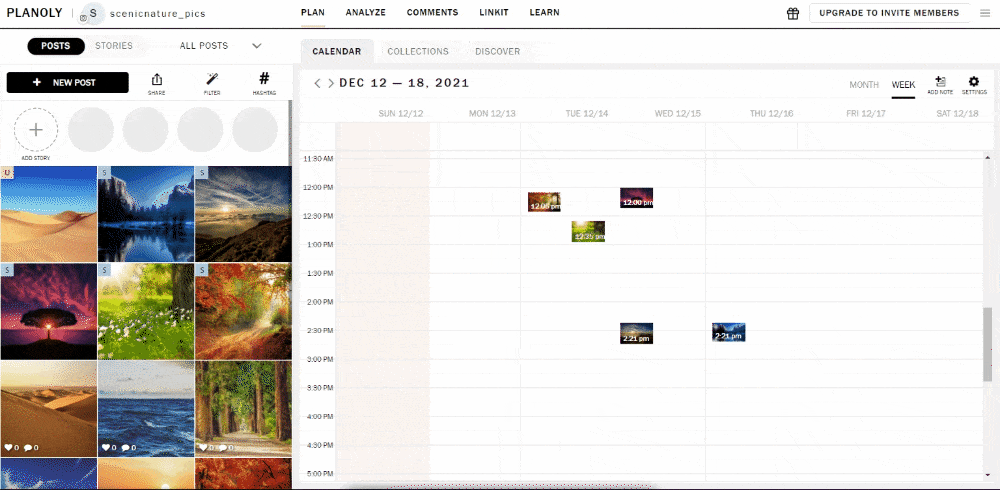 What began as an Instagram planner has grown into a tool that also simplifies social media marketing on Pinterest just as well, making it the perfect easy-to-use scheduling app for both platforms. Although it allows for posting on Facebook and Twitter, its features are not as developed or intuitive for those platforms.
The Planoly dashboard experience remains true to its original mission to be clean and easy to use. It is like having your favorite desk calendar come to life so that you can visually plan all of your social media posts. 
Although Planoly's mobile app is just as popular and widely used as its web-based dashboard, most users find the mobile app slightly cumbersome for big picture planning. Users tend to rely on it for analytics tracking and general calendar management. Even Planoly suggests that, to experience the best of its rich visual planning capabilities, you should use the web-based dashboard.
Team Management
Planoly is great for coordinating a team of social media managers. It has streamlined the social media management process for posting to Instagram and Pinterest by creating a system that allows administrators to assign specific tasks to individual team members.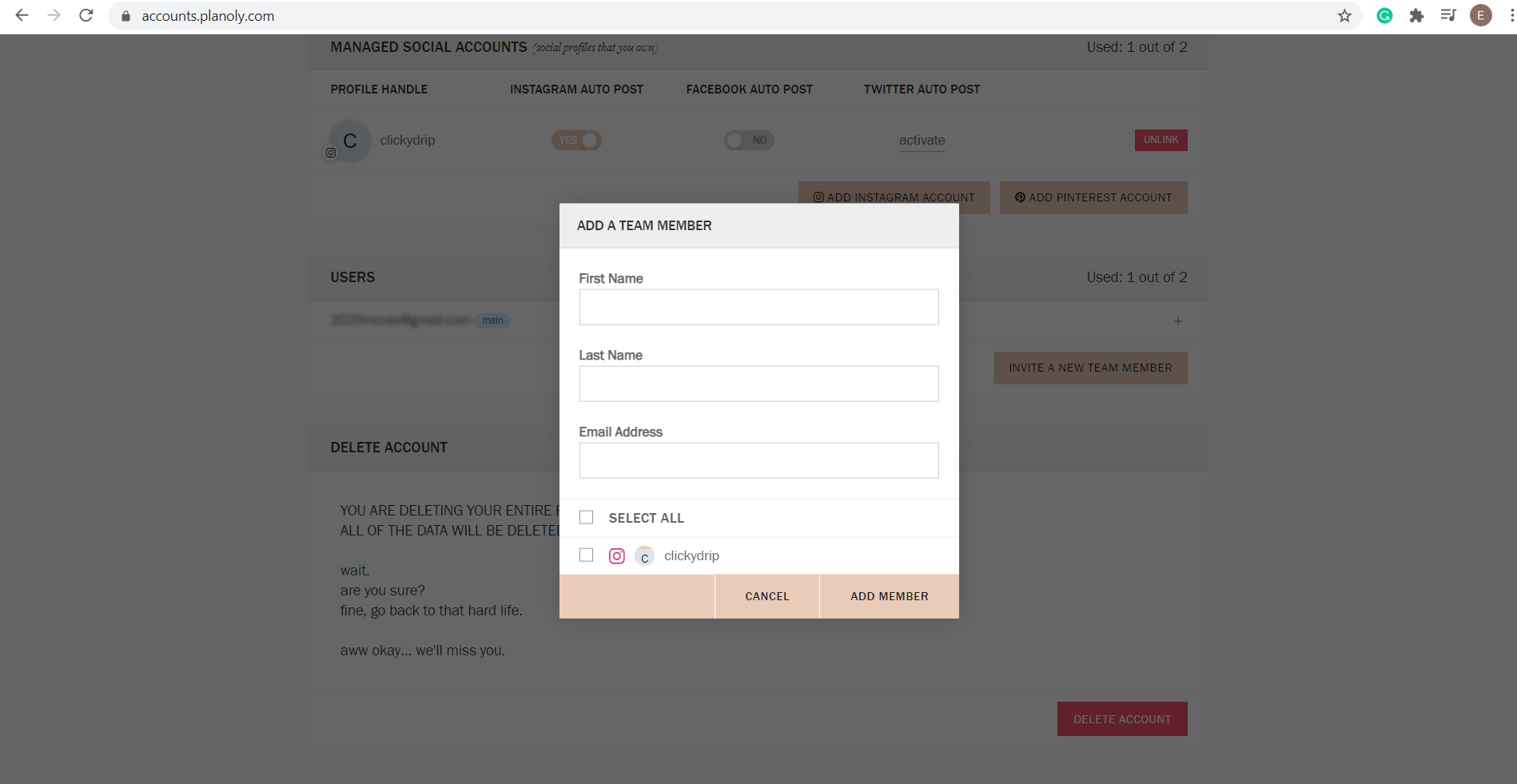 It is common to have different team members working on various aspects of the posting process. That's why PLANLOY allows account administrators to clearly define team member roles. This eliminates gaps and ensures that scheduling, posting, engagement, follow-up, and analysis are seamless.
Planoly's free plan and its Solo plan (which is its most affordable paid package) only allow for one user. The Planoly Duo plan allows for two users, and its base Custom plan allows for three users. Planoly will require you to pay $96 per year for each additional user for larger teams. 
Pricing
Planoly's free plan allows for a single user managing one Instagram profile and one Pinterest profile. With the free plan, users are limited to 30 posts per month, per profile. With its free plan, Planoly users may post photos only. Some of Planoly's most popular free package features include an inbox for comments on the five most recent posts, a basic analytics tool, and the Planoly Linkit tool. 
Paid Planoly plans are as follows:
Planoly Solo plan ($10/mo annually or $11/mo monthly):

The Solo plan comes with all free plan features but allows the user unlimited posting on one of their two social media accounts. It also provides for the posting of videos and gifs, advanced analytics, a comment inbox for the 15 most recent posts, the ability to share posts to Facebook and Twitter, auto-post first comments, a best time to post feature, a quick scheduling feature, 18 image filters, and posting to reels.

Planoly Duo plan ($18/mo annually or $23/mo monthly):

The Duo plan comes with all Solo plan offers but allows unlimited uploads across channels, the addition of a second user, and a comment inbox for 30 of the user's most recent posts.

Planoly Custom Plan (starts at $28/mo annually or $35/month monthly):

The Custom plan comes with all of the Duo plan features for three social media profiles with two users and a comment inbox for all posts. With Planoly's Custom plan, you can add additional social media profiles and users for $96 each per year.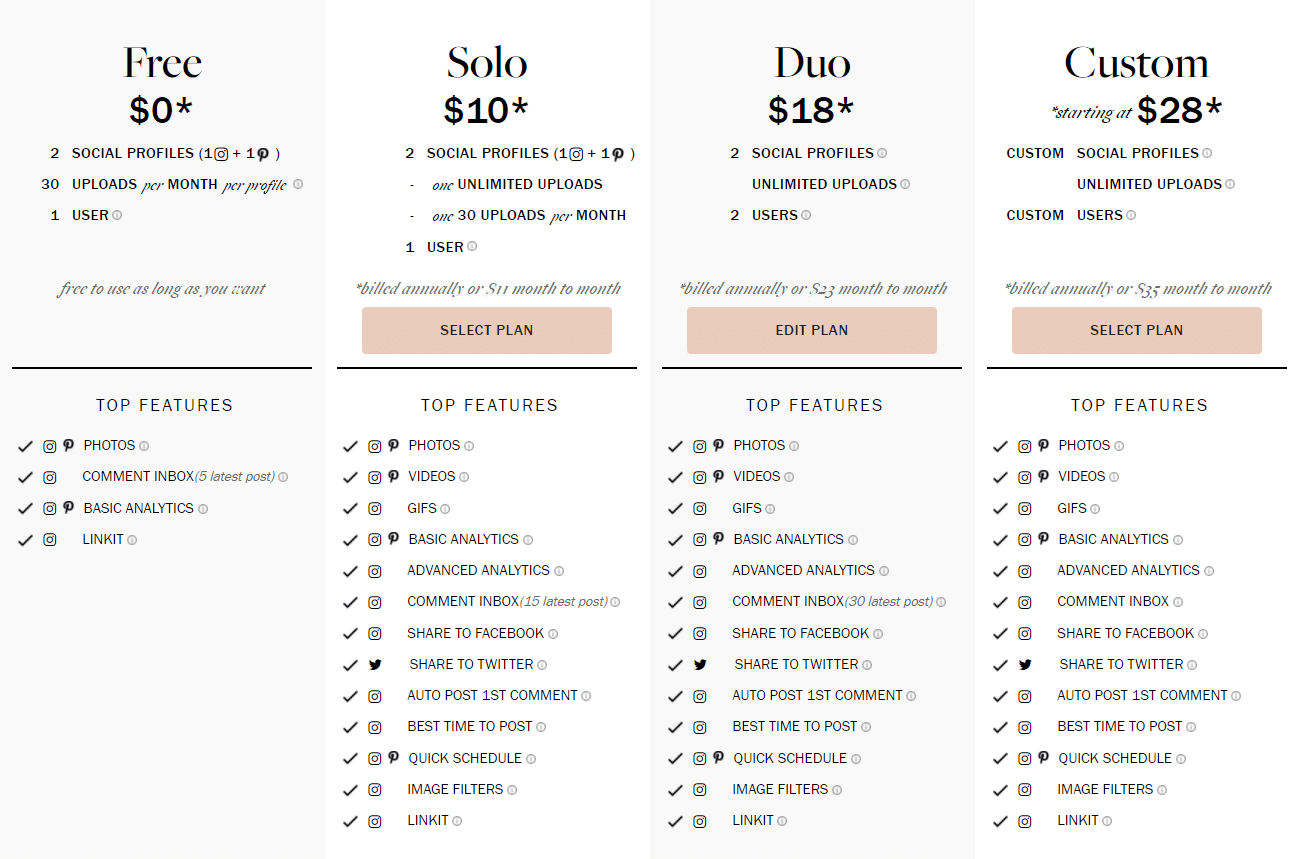 Customer Support
Planoly offers its users a vast knowledge base to address some of the most common user issues. This knowledge base can be found in the Planoly Learn section of the software and includes the Planoly Academy, which offers a host of tutorials that teach users the basics of the social media management software. It also features a Help guide, a Resource Library, and a Blog with topics such as IG Planner, Best Practices, Inspiration, Interviews, and News.
For users that cannot find the answers they are looking for Planoly offers support via the web using a standard contact form.
Planoly Pros and Cons 
Like any marketing software, Planoly has great benefits… but at the same time notable drawbacks as well. 
Planoly pros:
Intuitive and easy to use dashboard that doesn't have a steep learning curve 

Posting and scheduling process is straightforward and seamless, making it easy to upload and schedule content quickly

Clean and modern looking content calendar allows you to stay organized and view scheduled post in the future 

An official Instagram partner (platform is approved by Instagram, which gives user's peace of mind about its safety)

Responsive and easy to access on both desktop and mobile 

Team management features make it easy to collaborate on the platform with multiple team members

Relatively affordable compared to competing social media management tools 
Planoly cons:

 
Planoly can sometimes be a little glitchy which can be a minor frustration 

Photo editing features are a bit limited. If photo editing is a focus of yours, using Photoshop or Canva in conjunction with Planoly might be necessary

Analytics dashboard gives you helpful data on your social media performance but it doesn't display data in a very aesthetically pleasing way with charts and graphs 
How Planoly Stacks Up to Its Competitors
There are so many social media management and scheduling tools on the market to choose from. Aside from Planoly, social media marketers can choose from Tailwind, Preview, Hootsuite, Plann, and so many more. But perhaps the closest competitor to Planoly is Later. 
Later, which was previously known as Latergramme, was created as an Instagram scheduler at a Vancouver hackathon in 2014. It has since grown into a leading visual marketing platform for Instagram, Pinterest, Facebook, and Twitter. Both Planoly and Later are social media scheduling apps built with Instagram in mind, although both tools integrate with other popular platforms.  
Planoly and Later both offer an appealing visual interface that allows users to place pre-created posts in different parts of a calendar to get a better view of your "big picture" posting schedule. Both platforms enable content searches based on users, hashtags, and stock image services. 
From an e-commerce standpoint, Planoly and Later are both beneficial software tools. Later's Linkin.bio feature and Planoly's Linkit tool mirror each other, allowing for monetizing options using your Instagram profile. Both offer great analytics tools as well, depending on your pricing package. 
For more on the differences between these two software, see this Planoly vs Later analysis. 
Is Planoly Right for Me?
If you are a small to mid-sized business or influencer using Instagram and/or Pinterest as your main channel(s) for social media marketing, Planoly is an excellent solution for social media management and scheduling.
However, if you rely on social media channels like Facebook, Twitter or other social media for your digital marketing campaign or if you are a larger organization that needs social media management software that goes beyond scheduling and basic analytics, you may want to consider one of the more expensive alternatives, such as Hootsuite or Zoho Social.
Fortunately, with Planoly's free version, you can try the platform yourself without paying a dime. Although this Planoly review should give you a good idea if this platform is right for you, testing the platform yourself will help you know for sure.