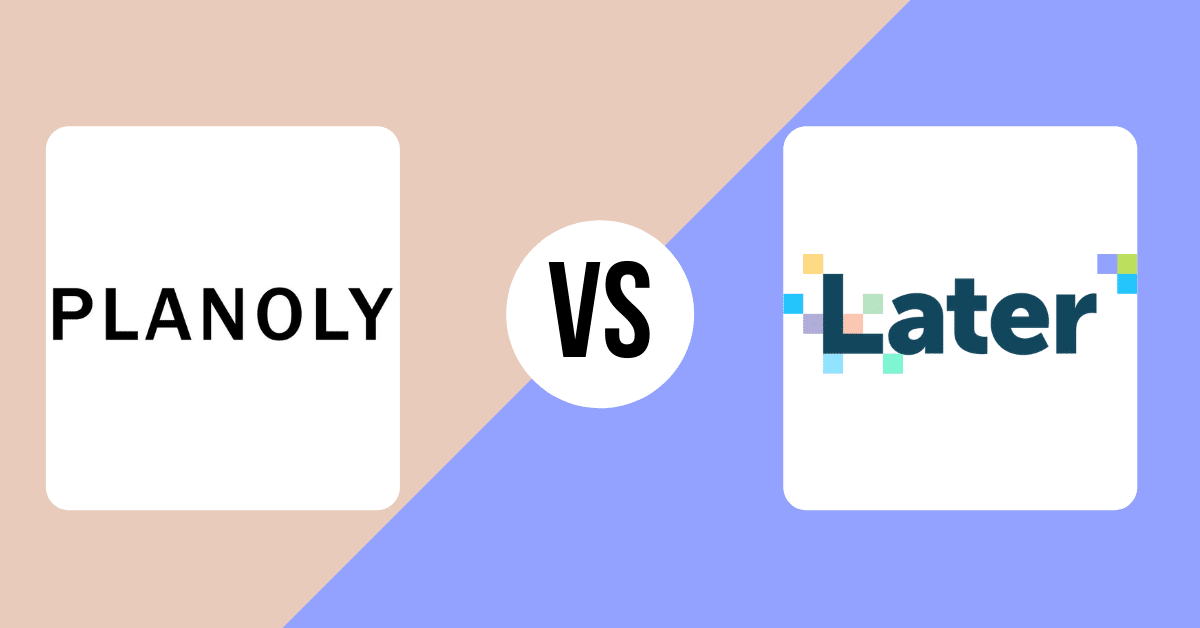 Social media has rocked the world of marketing in the last 10 years. Where once it was simply a way for people to gather and connect online, it's now become a huge part of people's daily lives, which is a boon for savvy marketers. 
Instagram and Pinterest, in particular, have opened out a whole new world of digital marketing opportunities especially for ecommerce brands and other companies that can benefit from exposure on these visual platforms. 
Inevitably, in tandem with the growing popularity of Instagram and similar platforms, numerous social media management tools have sprung up. Suffice to say that there are many options to choose from, and two of the most popular options are Planoly and Later. 
But what sets these two tools apart?
In this post, we will explore Planoly vs Later in terms of features, user experience, price, and who each tool is best for, so that you can choose the tool that makes the most sense for you. 
About Planoly and Later
Planoly was founded by a woman who spent a lot of time on Instagram for her jewelry brand and found it difficult to manage her marketing strategy with just the Instagram app alone.
As a result, she built Planoly to help entrepreneurs and businesses like hers to simply and quickly schedule and post Instagram content. It's now expanded to help businesses and entrepreneurs alike to post to Pinterest, Facebook, and Twitter alongside Instagram.
Later, formerly known as Latergramme, was founded a few years before Planoly (2014). The company claims to be the first-to-market Instagram scheduler and was also designed initially for Instagram. Much like Planoly, Later started off as a simple Instagram tool, but it gradually evolved to become more robust, and it became compatible with other social media platforms as it grew. 
Supported Social Networks
| | | |
| --- | --- | --- |
| | Planoly | Later |
| Facebook | ✅ | ✅ |
| Twitter | ✅ | ✅ |
| LinkedIn | ❌ | ✅ |
| Instagram | ✅ | ✅ |
| Pinterest | ✅ | ✅ |
| Snapchat | ❌ | ❌ |
| TikTok | ❌ | ✅ |
| Other Channels | | |
Planoly is able to cover all the major social media networks — at least, the older ones. Unfortunately, it doesn't have support for some of the newer social networks, like TikTok. If you're marketing to a younger audience, this could be a deal-breaker.
It's also notable that it doesn't include LinkedIn.
This makes sense given its history — it was created solely for Instagram at first and remains an Instagram-oriented tool — but the lack of support can be a major problem if you're marketing to professionals, as most of them can be found on LinkedIn.
However, if Instagram is your major marketing focus, then you'll definitely want to check out Planoly.
Later is able to support more social networks, including:
Instagram Business and Stories

Facebook

Twitter

Pinterest

LinkedIn

TikTok
As you can see, Later has a larger offering in terms of what's supported. It's especially important to note the support for TikTok. This platform has grown exponentially in the last year or two, so most brands need to jump on board to reach the younger audience it caters to.
Similarly, the support for LinkedIn is critical for many businesses — especially B2B businesses — because so many of their customers and leads can be found on this social network.
Though LinkedIn is becoming laxer in terms of content (and many fear it's becoming the new Facebook), it's still the go-to network for professionals. If you're a B2B business, Later is probably the platform for you.
Core Features
There are a number of core features that both platforms have. However, there are key differences between each platforms' version of the following features that are worth noting. 
Scheduling and Calendar Views
As you'd expect from any social media management tool, scheduling capabilities and calendar views are integral parts of both pieces of software. 
For Planoly, you'll find that the calendar is exactly what you'd expect it to be — you have a monthly view and a weekly view, and you can drill down into each post to make edits after they've been scheduled, and there's a simple button to click to create a post. You can also add a note to your calendar, which is a nice touch for those who want to add little reminders for post ideas or add other details.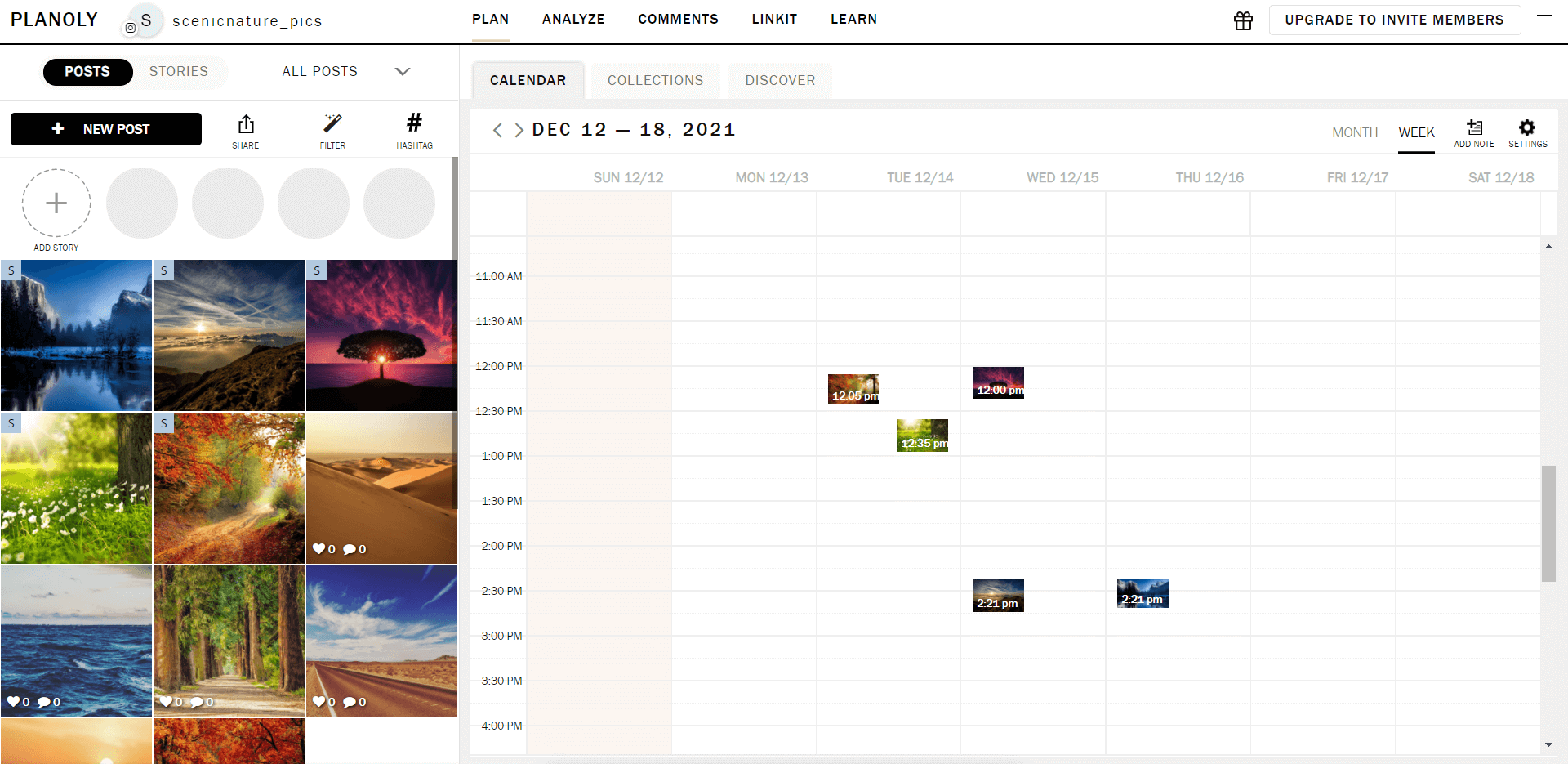 Later is similarly simple to use and the calendar dashboard looks strikingly similar as well. The calendar view allows you to see posts by month or by week, but it also lets you see by stories for Instagram, which is a nice feature if your social media strategy is heavily Instagram-focused.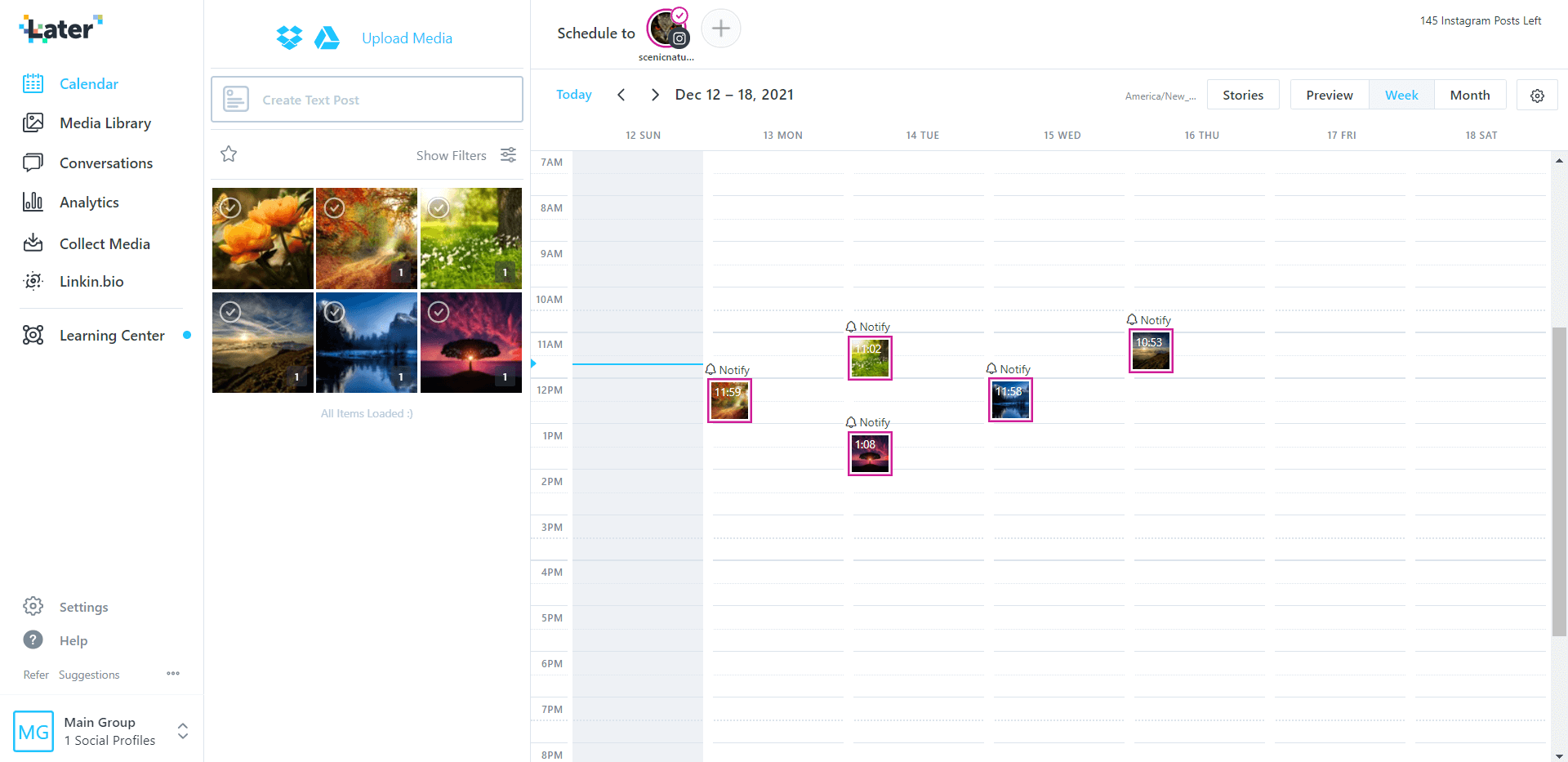 Media Library and Drafts
Planoly has what's called "collections" where you can add content and see how it would work visually before actually posting it. This is great for organizing future Instagram posts as it shows you exactly what you're going to see before you post it. You can organize your post drafts into collections, which are essentially folders of photos that share similar qualities.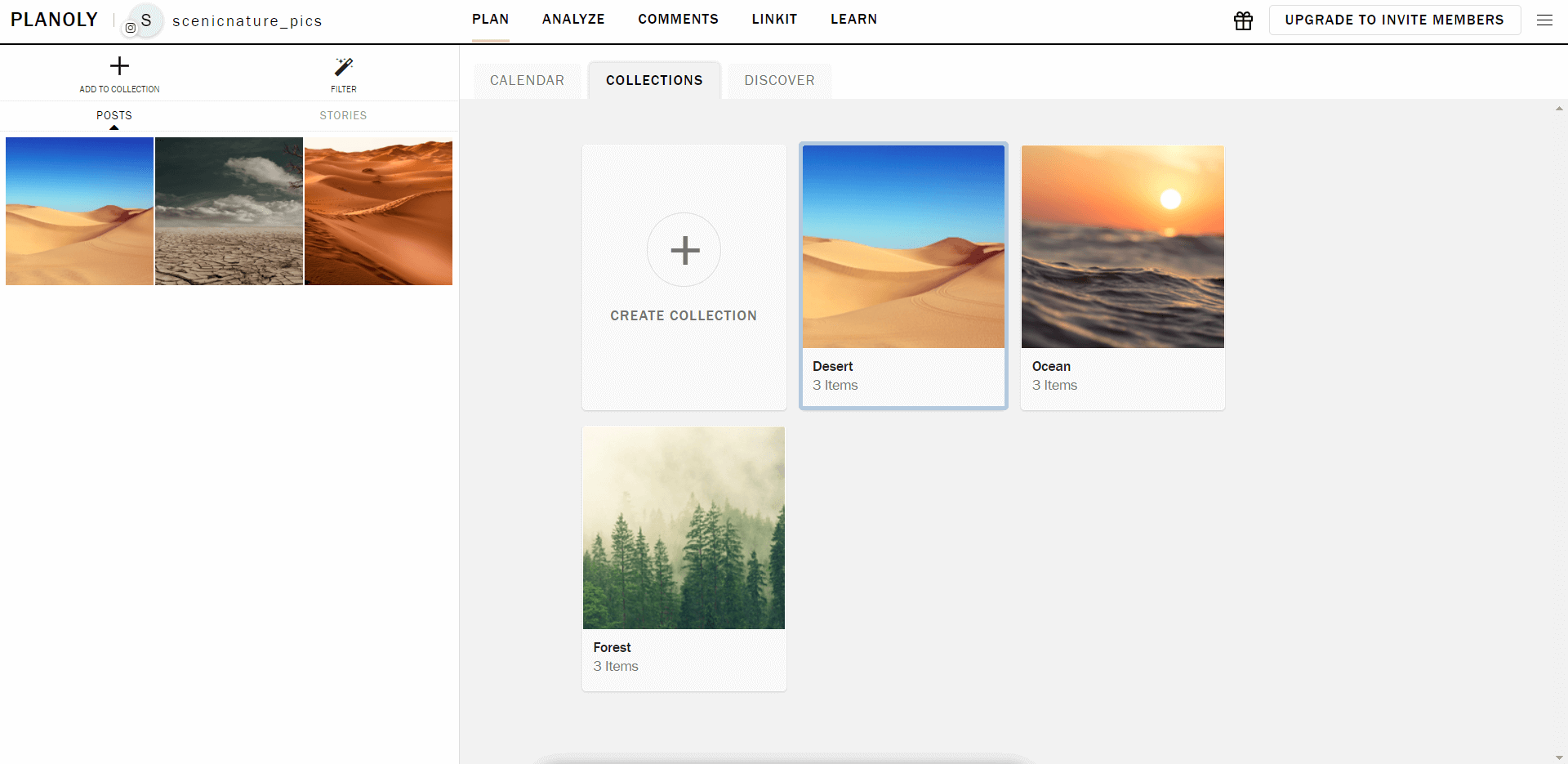 Related: Planoly Review: An Inside Look 
Later has a media library where you can upload all your photos. This makes it simple to schedule multiple posts across multiple platforms. You'll also be able to reuse content for more posts down the line after your original post. You can label and star your posts in order to keep track of all your content and plan what to post first.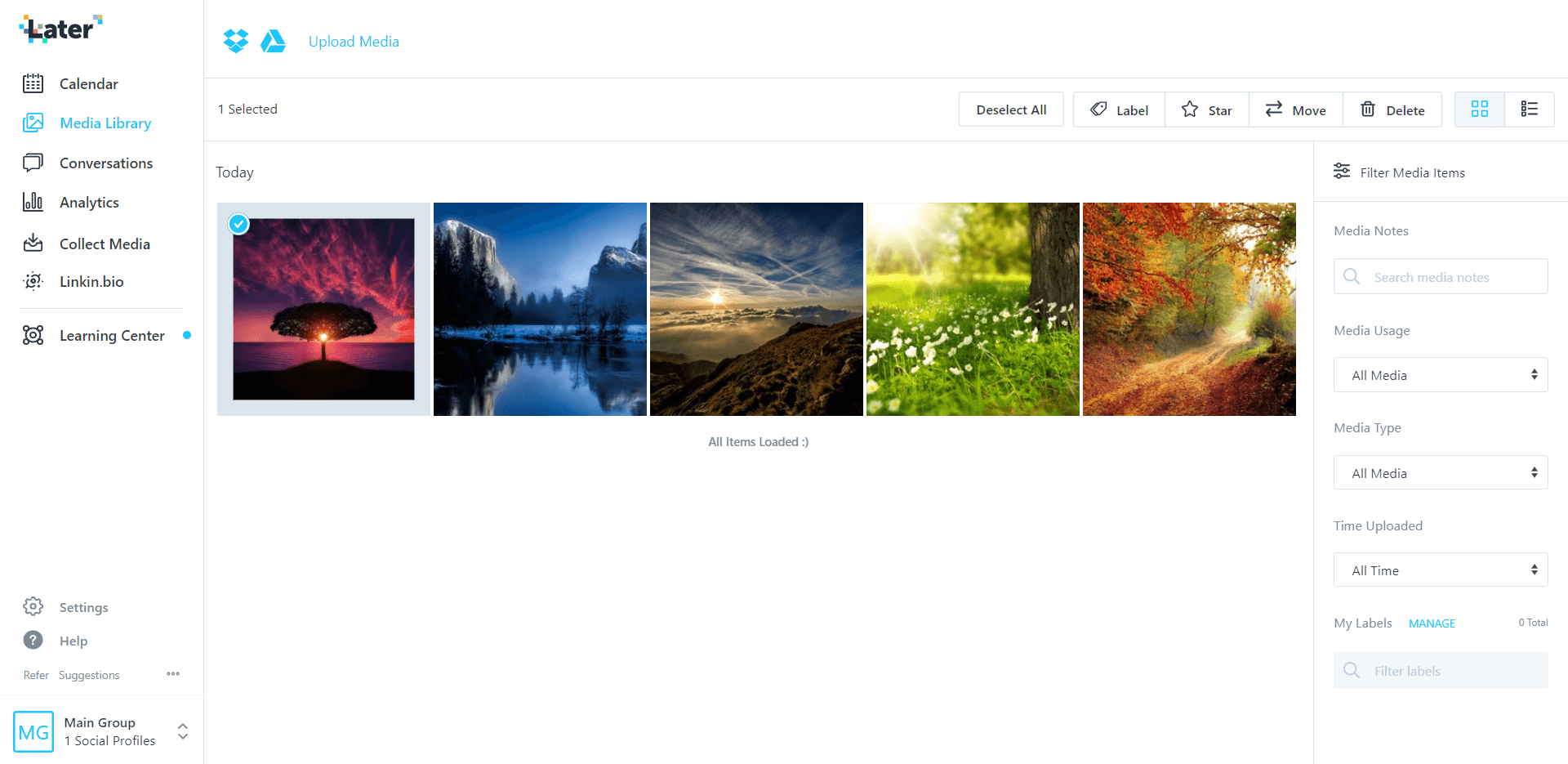 Social Media Monitoring
Planoly has a feature simply called "comments" where you can view and respond to comments on all your posts. Depending on the plan you get, you can either see comments on the 15 latest posts, 30 latest posts, or unlimited posts.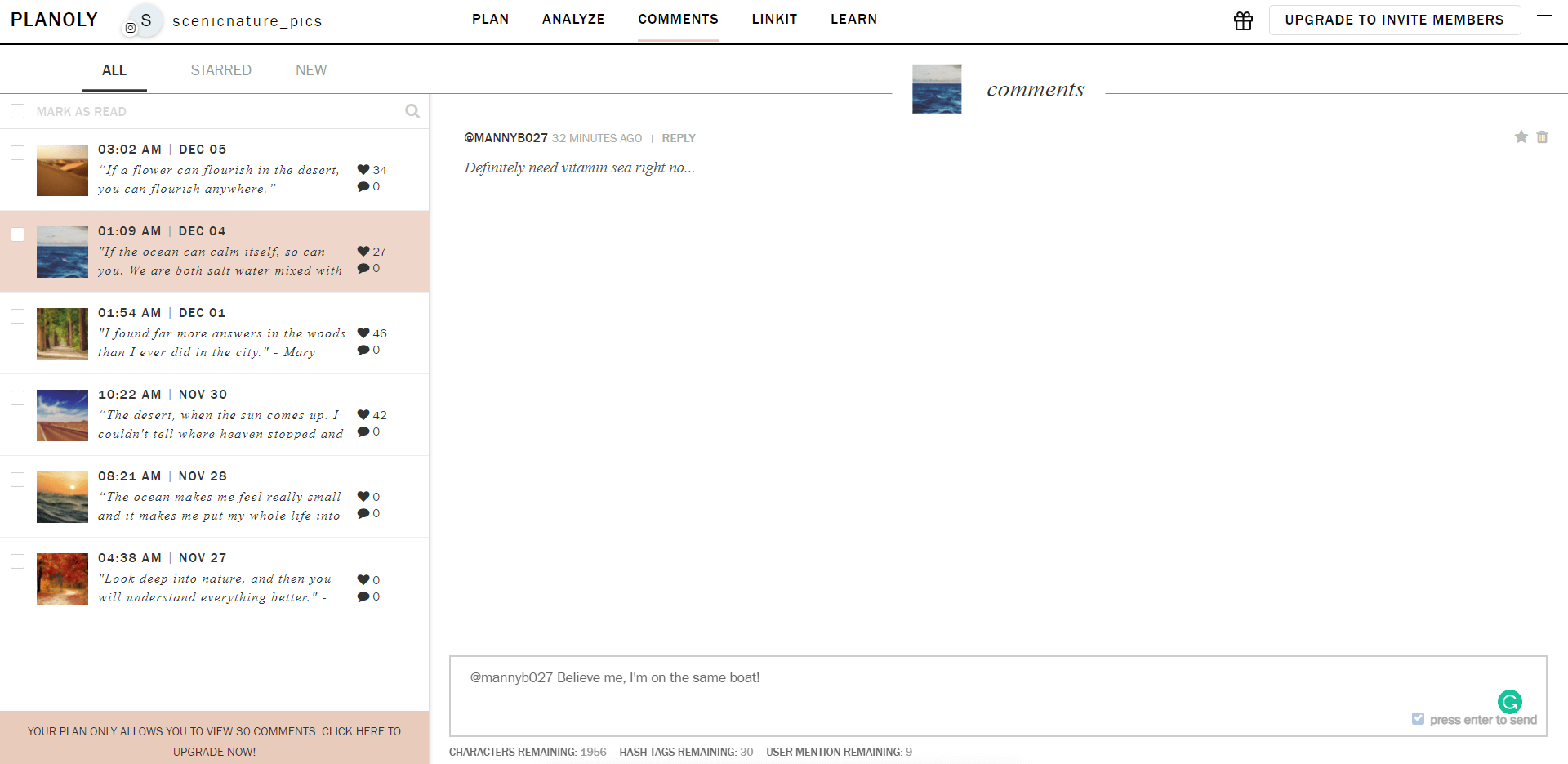 Later has a feature called "conversations" that lets you respond to Instagram. Similar to Planoly, you can view and reply to comments on your most recent posts. Because the platform is so Instagram-focused, it may not be the best choice if you have lots of comments to manage on a variety of platforms.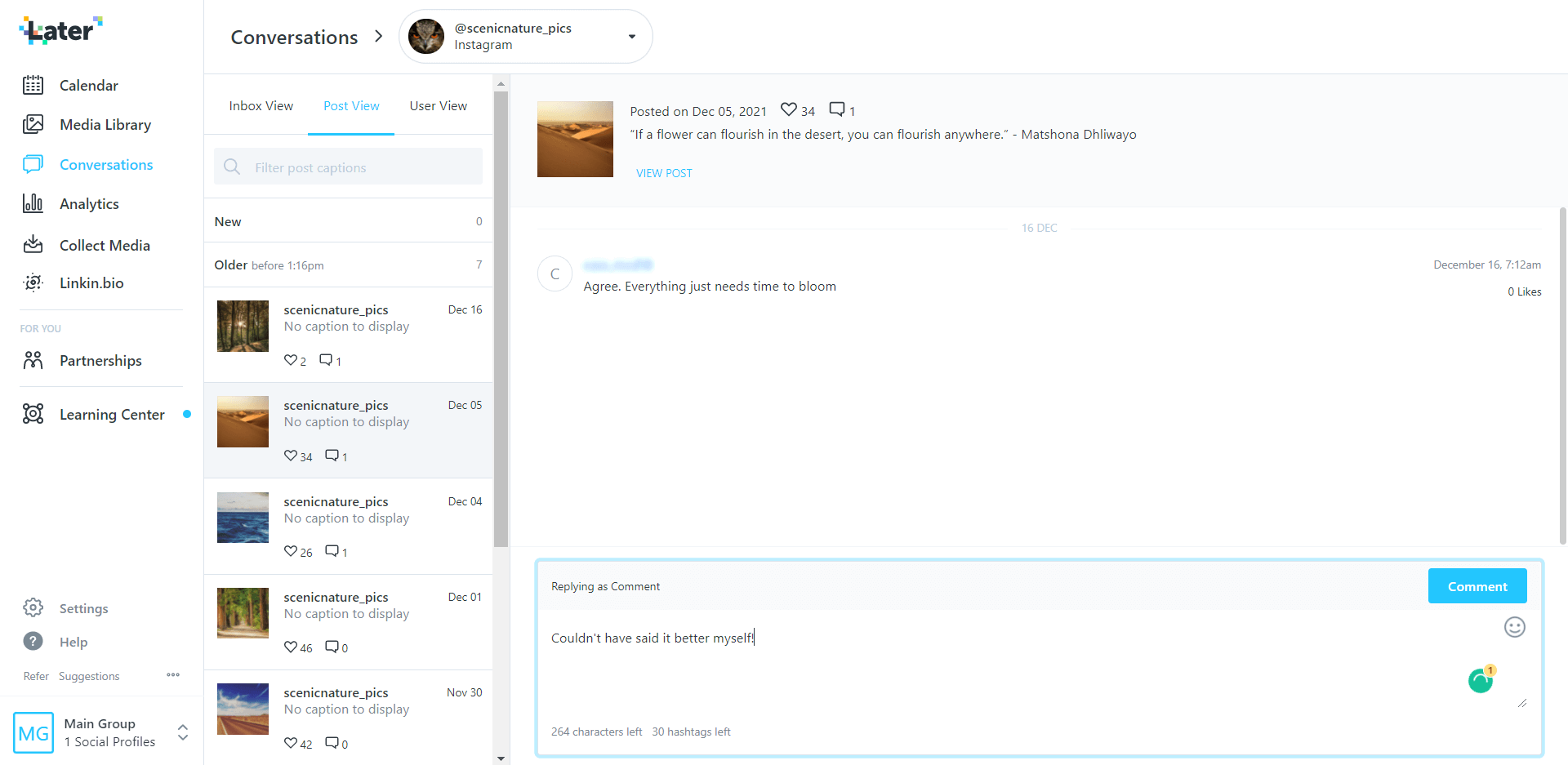 All in all, both dashboards for comments are very similar. 
Related: 9 Best Later Alternatives 
Discover
The "discover" function of Planoly is a fantastic tool for staying engaged with other brands and users. It allows you to search through user-generated content to find content that you can comment on or that you can reshare.
It's also great if you're stuck on what to share and need a little inspiration. You can search posts that use certain hashtags you are interested in.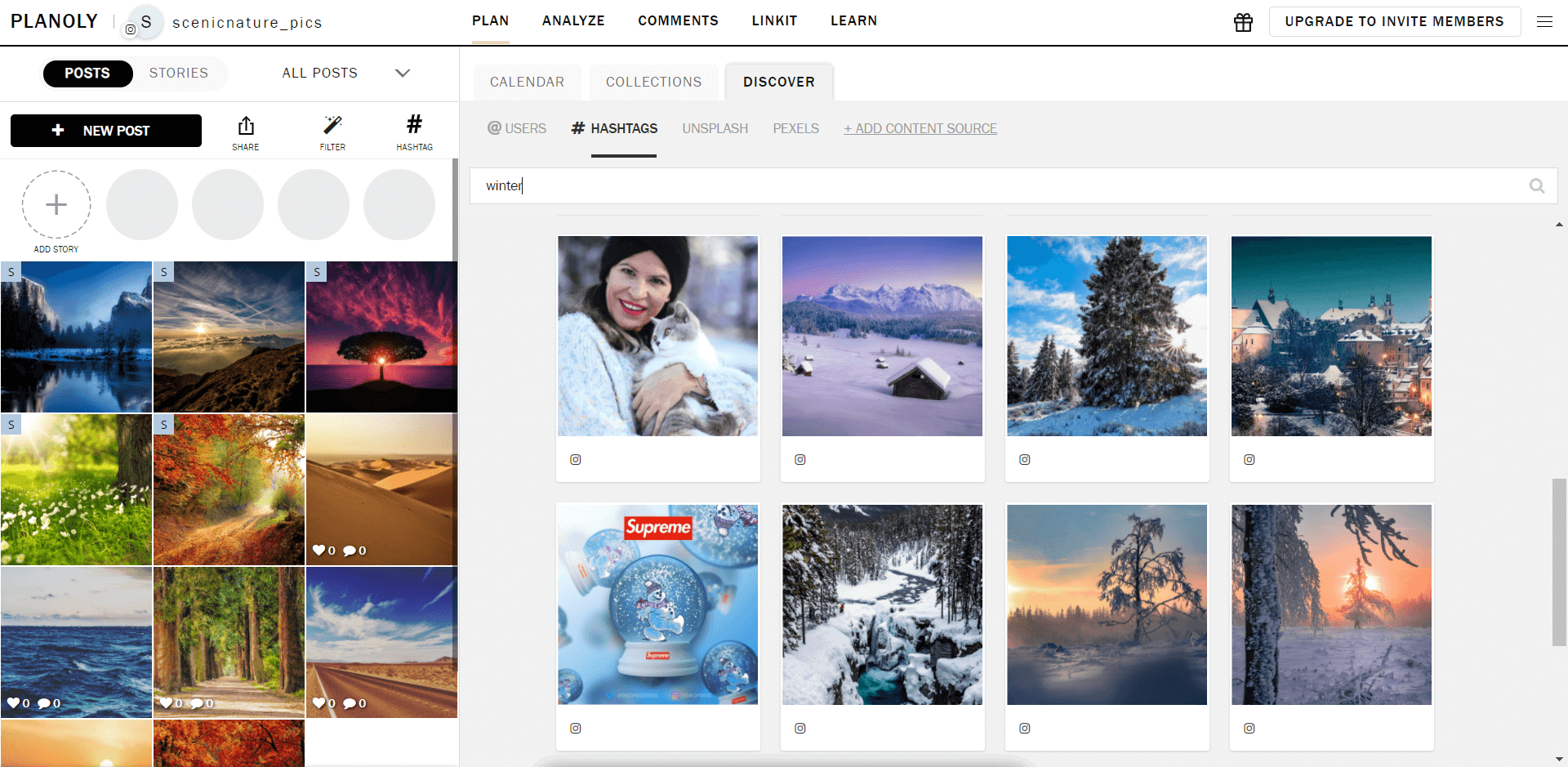 Later has a function called "collect media" where you can "collect and repost media from Instagram posts you've been tagged in." You can do the same thing with the "tags" function. Similar to Planoly, you can also search for posts that contain certain hashtags. 
Media Editing
Planoly allows you to edit media by adding filters to your images, but that's about it. Of course, you can edit all your posts and add hashtags and so forth, but if you want to edit your images in a more comprehensive manner, you'll have to use image-editing software.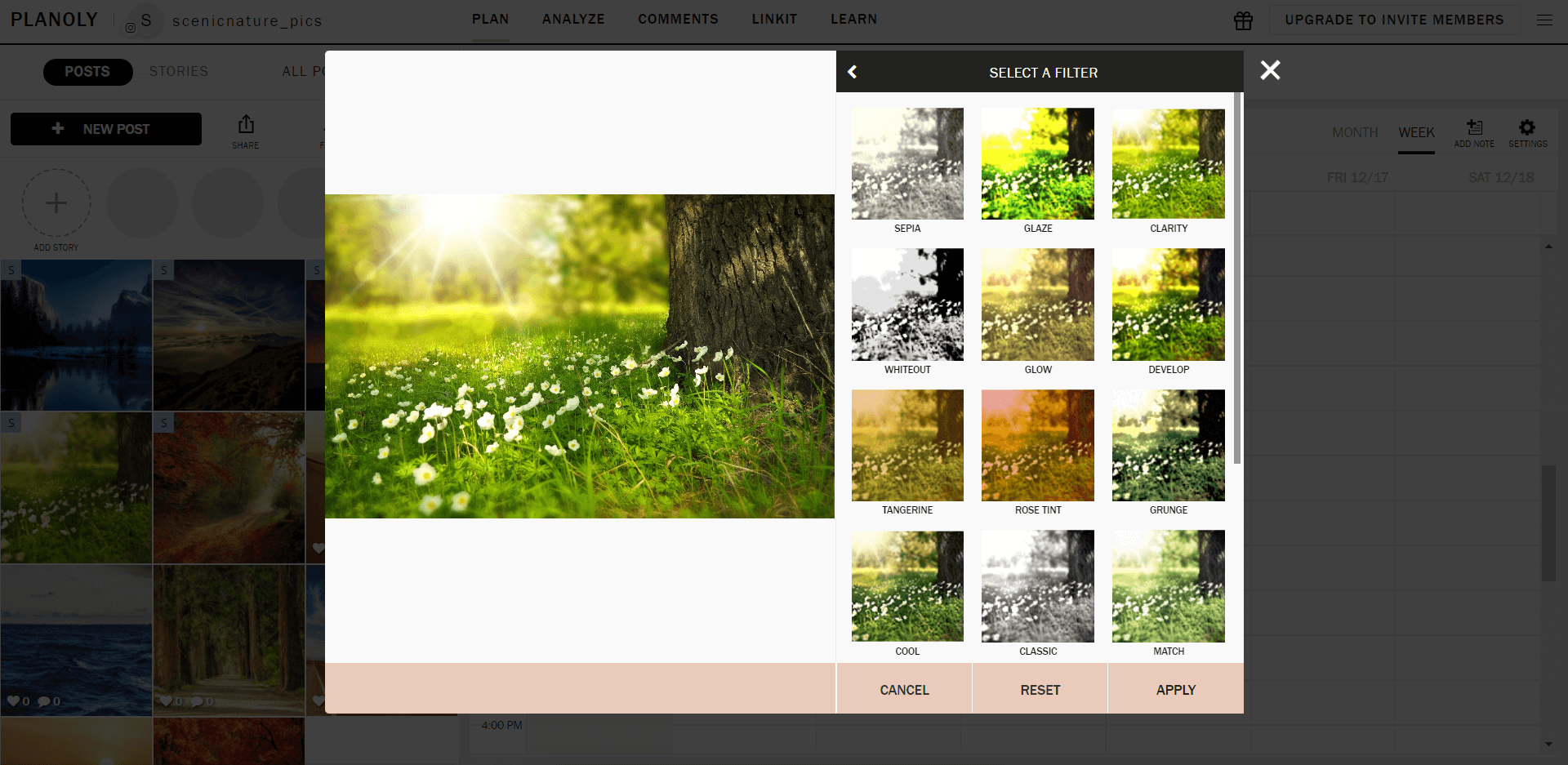 Later's media editing function is a bit more robust in comparison. You're able to crop images (and there are several predetermined cropping sizes), and you're able to add a variety of filters and text as well.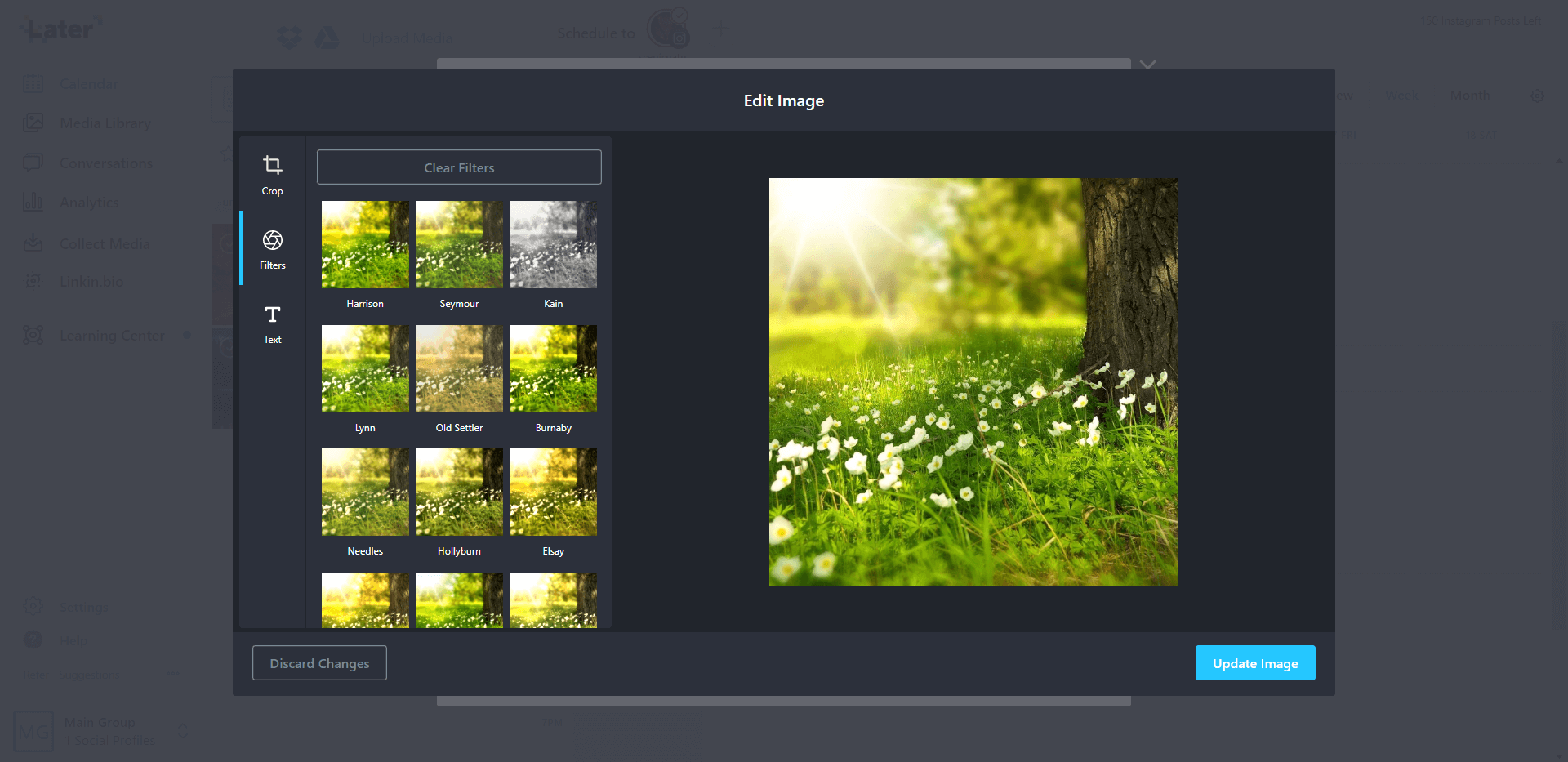 However, if you're wanting to do anything else to your images, you'll need to invest in a tool like Photoshop or Canva.
Bio Link Tools
Planoly has a feature called "linkit" where you can add a bio link page to your Instagram profile (which looks like a button) and also allows you to create featured posts and choose how you want to arrange posts.
It also has a feature called "sellit" that's specifically for ecommerce. You can tag products, create a product gallery, and embed a shoppable gallery on your blog or website.
Later's feature is called Linkin.bio and allows you to do many of the same things. You can customize your profile name and your bio, add buttons, choose your featured media, and create linked Instagram posts.
Approach to Posting and Scheduling
The approach to posting and scheduling for Planoly is fairly simple and easy. You simply click the "new post" button to start creating your post.
Then, you choose the source of your imagery. What's really great about this feature is that they've integrated with Canva, so if you use Canva for your images, you can grab them right out of that tool.
If you're posting lots of content regularly (or reposting content) then this is something you'll definitely want to check out.
However, in most cases, you're going to probably upload either directly from your computer or from something like Dropbox or Google Drive.
Once you've uploaded the imagery, you can choose to upload it as a carousel or as a single post, add content to the post (along with the first comment for hashtags, for example), and then post.
It's a clean experience and very intuitive. You can schedule the posts as far in advance as you want, and you can schedule many posts at once if you so choose.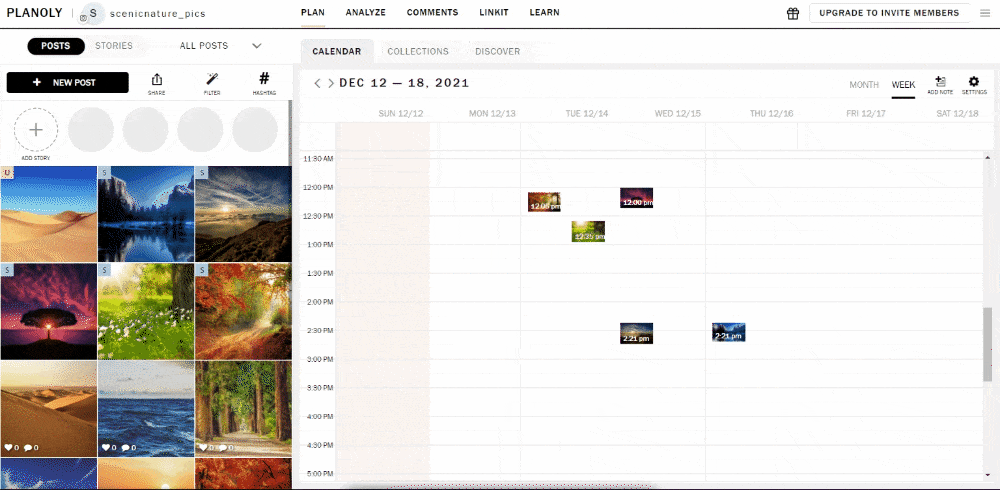 For Later, scheduling is very similar, but the tool is more robust in terms of scheduling for different platforms. As mentioned, Later supports more platforms, so if you're posting to Facebook or LinkedIn, for example, you can create a post that is solely text.
To schedule a post, you choose Calendar from the sidebar, and then either create a text-only post or upload media to create a media-based post. You can add captions, add hashtags, and add labels. Later also gives you the option to edit your post by applying filters or cropping your image before setting it live.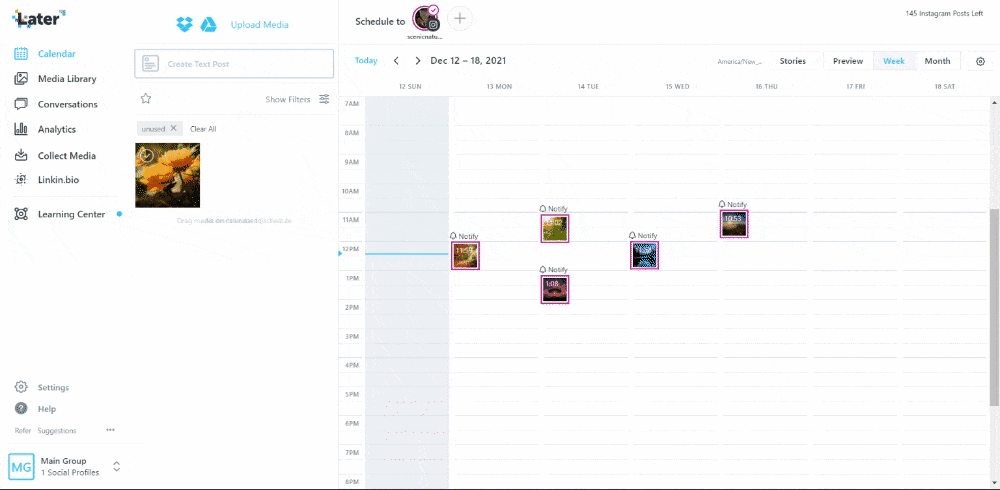 Once the post is created and scheduled, you can move it around on the calendar.
Dashboard Experience and Ease of Use
The Planoly dashboard is a great experience and very smooth. They've obviously done their UX homework. The default interface (called "plan") is the calendar and the ability to post.
There's a menu at the top of the page where you can scroll through the different options, like "analyze" where you can view your analytics, "comments" where you can, as the name implies, respond to all your comments, and then the "linkit" function.
There's also a "learn" button where you can access the help center and learn more about how to use the tool (and Instagram in general).
The one downside is that the platform can sometimes be a little glitchy, which can be a minor inconvenience for some. 
Later's dashboard also has a great user experience. The platform is very clean and modern looking which makes it very easy to get acclimated to the platform. It's less crowded than Planoly's dashboard, but it still has the same functionality, which means that you need to drill down through the menus to reach all the functions. 
Just like with Planoly, you have access to a media library, the conversations tab, analytics, a place to collect media, the Linkin.bio section, and a learning center. It's also simple to ask for help and change your settings.
Reporting and Analytics
Planoly's analytics tab gives you important information on how your posts are performing and how your account itself is performing. You can see things like how many people like your posts and if people are making purchases. You can also see your audience, post, and story engagement.
Planoly also gives you a breakdown of the age, gender, and location of your followers.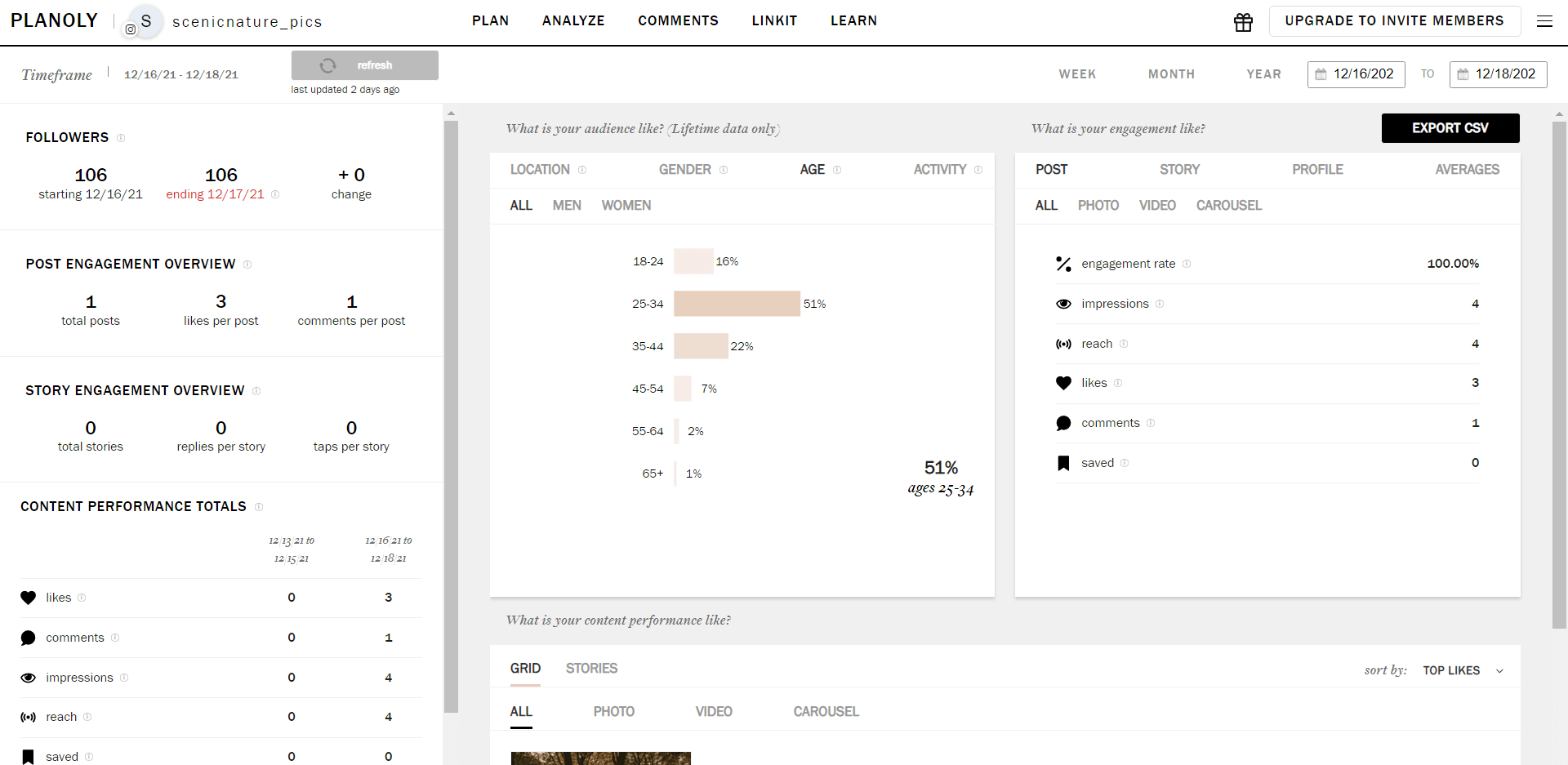 Later's analytics is a bit more robust. You can get insights into the demographics of your audience, see how individual posts are performing, see how stories are performing, and even analyze hashtags. 
The way that Later shows you your previous posts in a chart format and shows the breakdown of likes, impressions, comments and other key stat is incredibly convenient. It's a super comprehensive way to understand how your Instagram account has been performing as a whole recently.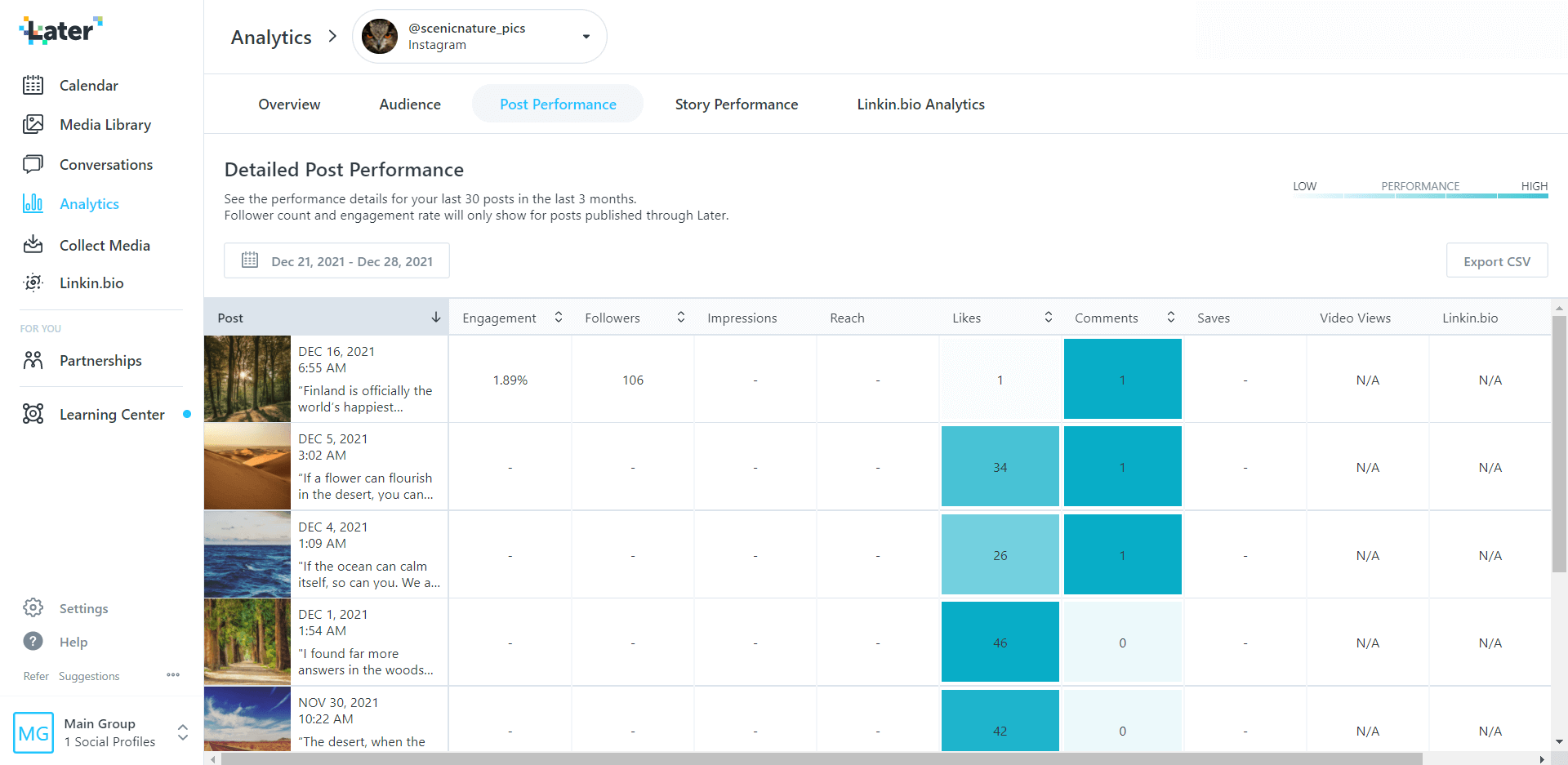 Team Management
Planoly has a very simple method of adding users and giving them permission to use the platform. However, you can only have up to 2 users unless you get a custom profile, at which point you have to pay for additional users.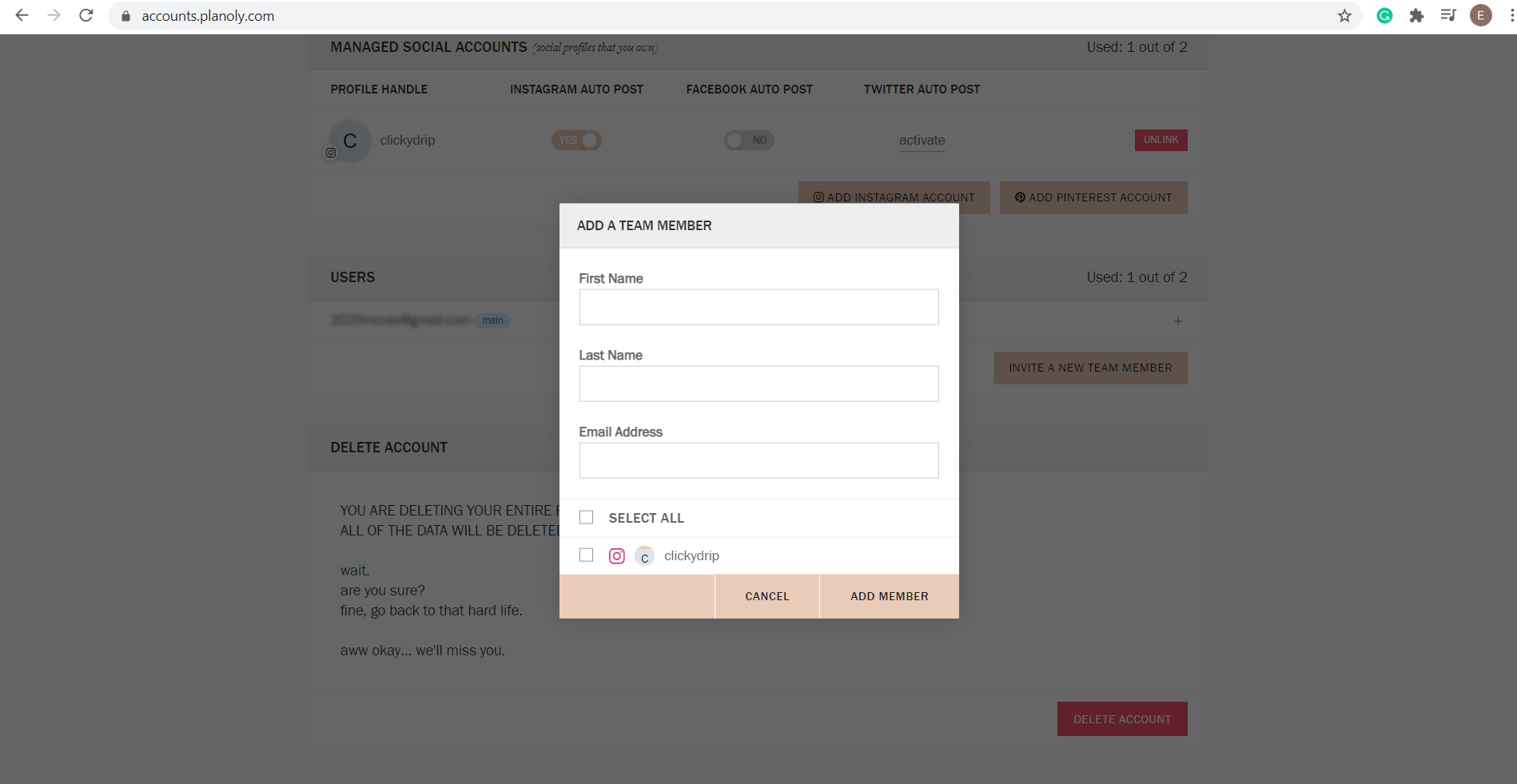 Later has a much better system of user management, with the ability to assign different users to different social media profiles alongside different levels of access. You can also leave notes in the calendar portion of the tool to your team to give them direction or instructions on posting.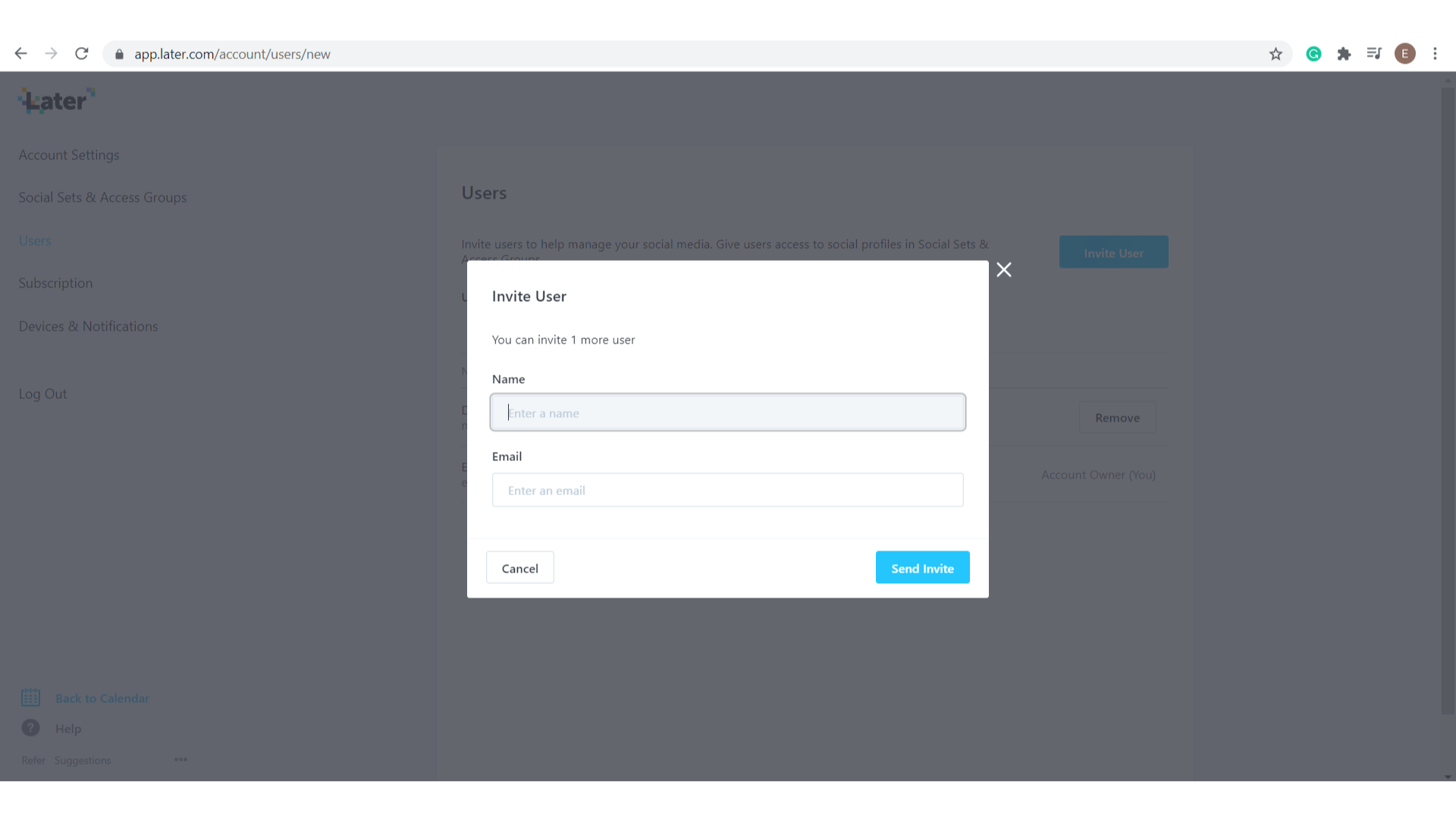 Based on the team management capabilities for both platforms, it seems as though Later might be better designed for small and mid-size teams than Planoly. 
Pricing
The pricing options are pretty comparable between the two. Planoly is the more cost-effective option, capping out at $28/month for the highest plan. However, if you want to add more than two social media profiles or more than two users, you're going to have to pay more money.
The prices include all features beyond the free version, but you have to keep in mind that you only have Pinterest and Instagram with the ability to share Instagram posts to Facebook and Twitter, so it's not like you have four profiles connected — just Instagram and Pinterest.
There are four options to choose from, and if you're running your social media yourself, the solo is likely all you need.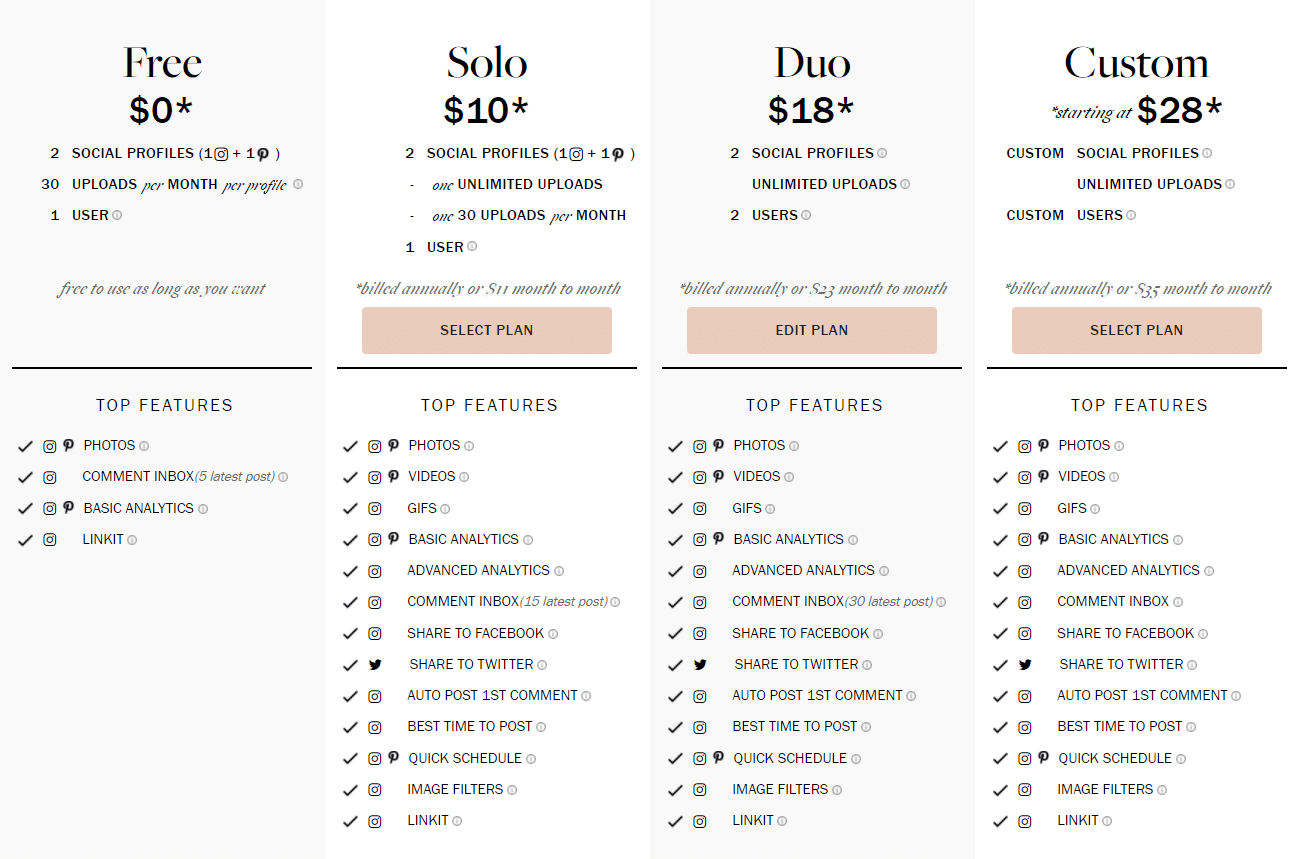 Later, on the other hand, has five different options, starting with free and going all the way up to advanced. The advanced option is not going to be required for most people because it's really more for large teams, with up to 6 users.
The big difference between the two is that Later allows you to have more social media profiles connected. However, one drawback is that you are limited to how many posts you can schedule per profile per month.
If you're planning on posting a large amount of content, you might want to consider another tool or pay for the advanced plan.
Integrations
Planoly has just a few integrations, the major one being its native integration with Canva that allows you to pull images from Canva, or create images in Canva, and then put them directly into Planoly.
Otherwise, there aren't too many integrations for Planoly beyond the obvious — integrations with Instagram, Pinterest, Twitter, and Facebook. Planoly also has a browser extension.
Later similarly has few integrations. You can connect it to Zapier and the other major social media platforms, but that's about it.
Customer Support
Like many social media tools, Planoly tries to get you to use their help center before you contact them. However, all it has is a basic search function and a few categories to choose from, so like most help centers, it's not very useful.
That being said, you can click their (sort of hidden) "get in touch" page to send them an email, but unfortunately, there isn't a chat function, so you're forced to send them an email and wait for them to respond.
Later's customer support is also lacking. They also have a help center, which is only somewhat useful, but just like Planoly, they don't have a chat function and instead require you to send them an email if you need help.
When to Choose Planoly vs Later
Despite the various differences between the two platforms, both are best to use if you are focused on Instagram or Pinterest. After all, both of these platforms were originally designed for Instagram, and even today, their features are best suited for Instagram marketing. 
You may want to go with Planoly if you manage your Instagram account on your own, for a few reasons. First, the platform costs slightly less than Later, which can make it more attractive to solopreneurs. Additionally, the team management capabilities aren't quite as developed as Later's team management features.
Later is the better choice for agencies or larger businesses because it allows you to have so many more users and has a more robust team management system. You'll also want to choose Later if you have any interest in marketing on TikTok or LinkedIn as Planoly doesn't allow for those two platforms.
Nevertheless, the two platforms are very similar and many ways and both are excellent for effective social media marketing. When choosing between Planoly vs Later, you can't go wrong with either option. 
You can see how other social media management tools stack up to Planoly in the following comparisons:
You can see how other social media management tools stack up to Later in the following comparisons: