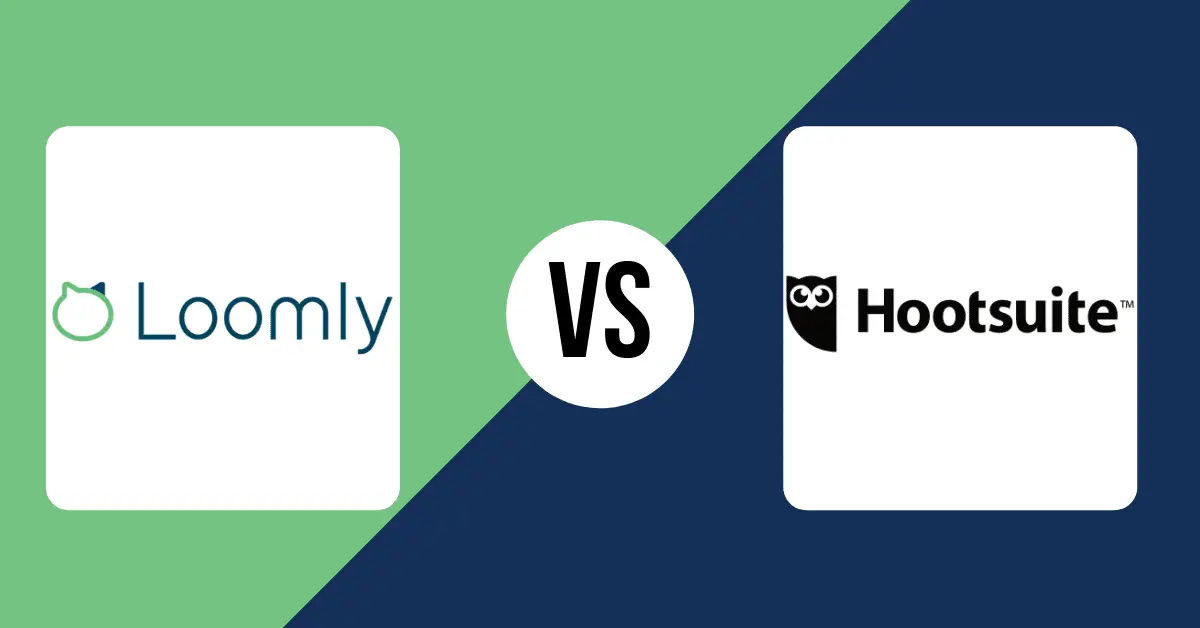 Social media calendar management tools have become an essential item in the digital marketer's toolbox. 
Because social media plays a critical role in digital marketing, companies must effectively manage multiple social network accounts to engage customers and build brand identity. These days, marketers need to plan social media posts weeks and, sometimes, months in advance and consider the big picture of the overall campaign. 
Working from one central application to make all of this magic happen is necessary for maximum efficiency and overall success. That's where social media calendar management tools come in. 
Loomly and Hootsuite are popular social media management tools built to address the scheduling management needs of digital marketers. Often, marketers are curious to know what sets them apart. 
This post will discuss Loomly vs Hootsuite in terms of features, pricing, and overall user experience so that you can decide which platform is best for your needs. 
About Loomly and Hootsuite
Loomly was created by two digital marketers, Thibaud and Noemie Clement, looking to solve social media management workflow issues. What started as a simple social media calendar has grown into a popular, feature-rich social media management solution used by marketers worldwide.
The original iteration of Hootsuite, known as BrightKit, was released in 2008 by the Vancouver-based digital agency Invoke Media. Created as an app that allowed Twitter users to manage multiple accounts from a single dashboard, the tool quickly went viral. Hootsuite has come a long way since then and now supports integrations for Twitter, Facebook, Instagram, LinkedIn, and YouTube.
Supported Social Networks
| | | |
| --- | --- | --- |
| | Loomly | Hootsuite |
| Facebook | ✅ | ✅ |
| Twitter | ✅ | ✅ |
| LinkedIn | ✅ | ✅ |
| Instagram | ✅ | ✅ |
| Pinterest | ✅ | ✅ |
| Snapchat | ✅ | ❌ |
| TikTok | ✅ | ❌ |
| Other Channels | Youtube | Youtube |
| | | |
Both Loomly and Hootsuite support the most popular social media management tools such as Facebook, Twitter, LinkedIn, and Instagram. However, Loomly is a bit more inclusive. The platform supports Snapchat and TikTok, which makes Loomly very unique given that the vast majority of social media management tools don't support either of these social media. 
However, while Loomly supports more social media platforms on paper, it's important to note that publishing capabilities for some social media platforms are a bit more limited compared to Hootsuite. For instance, although Loomly allows users to post on Instagram, posting on Instagram must be done through your business's Facebook page (assuming that you have a business Instagram account connected to your Facebook page). This is certainly a limitation that makes Loomly a less than optimal solution for some users.
Features that BOTH Loomly and Hootsuite have
Let's break down the most notable features of Loomly and Hootsuite, comparing each one so you can make an informed decision about which one will better suit the needs of you and your organization. We'll start by looking at what each social media management tool has in common. 
Multi-Profile Posting and Scheduling 
The core feature of Loomly, Hootsuite, and any other social media management tool for that matter, is the ability to schedule posts for multiple social media profiles at once. 
Loomly and Hootsuite let users manage multiple social media accounts from a singular dashboard and allow easy scheduling across various channels. Unlike other social media management software solutions, Loomly and Hootsuite have no limit on how many posts a user can create or schedule, regardless of the pricing plan.
Loomly has a relatively more involved process for posting or scheduling that involves going through a series of steps to select the social media channels of choice, writing the post, scheduling a time to publish, etc.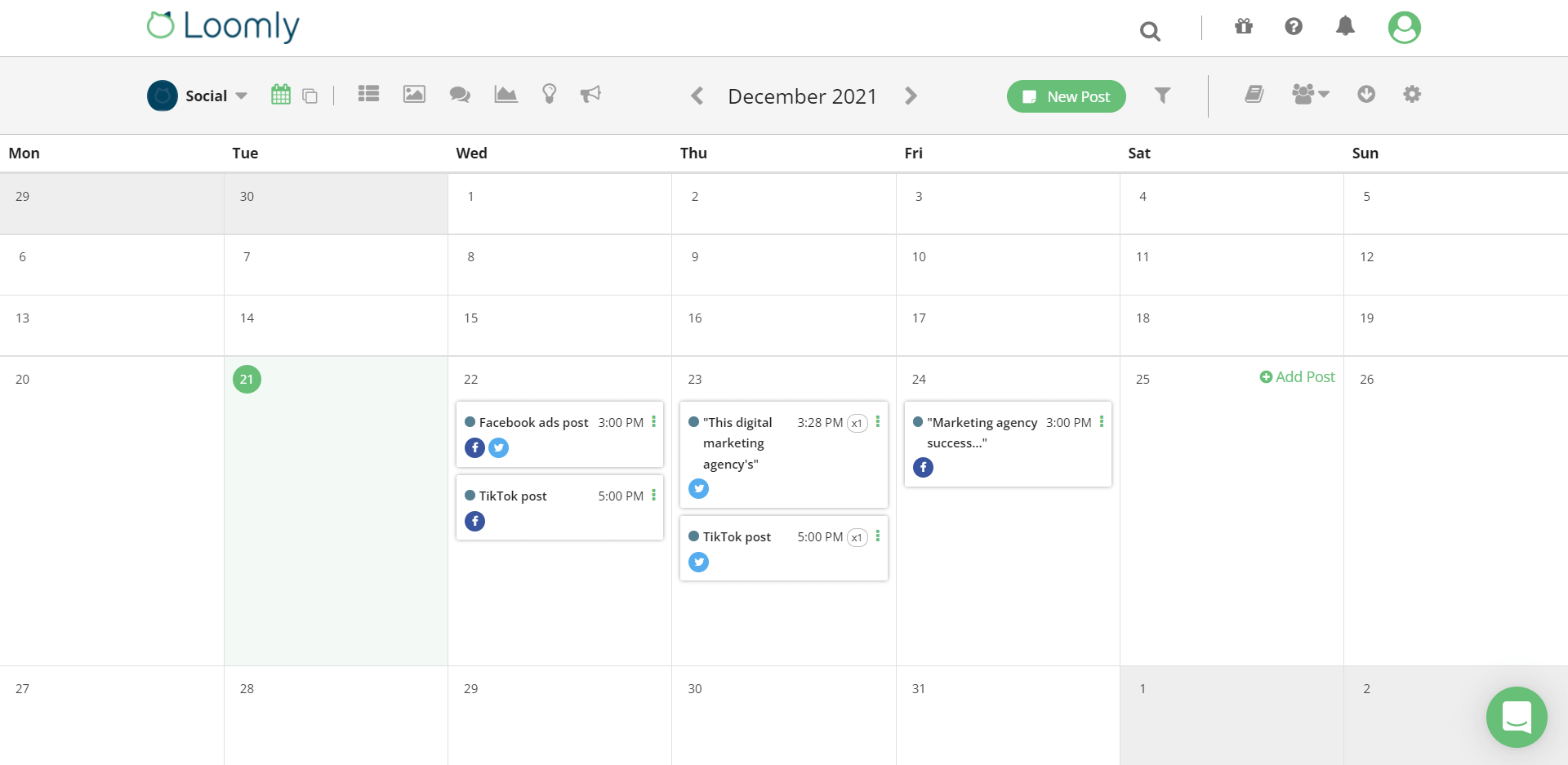 Hootsuite's process for scheduling doesn't require clicking through a series of steps which potentially makes it more efficient to schedule posts for some users.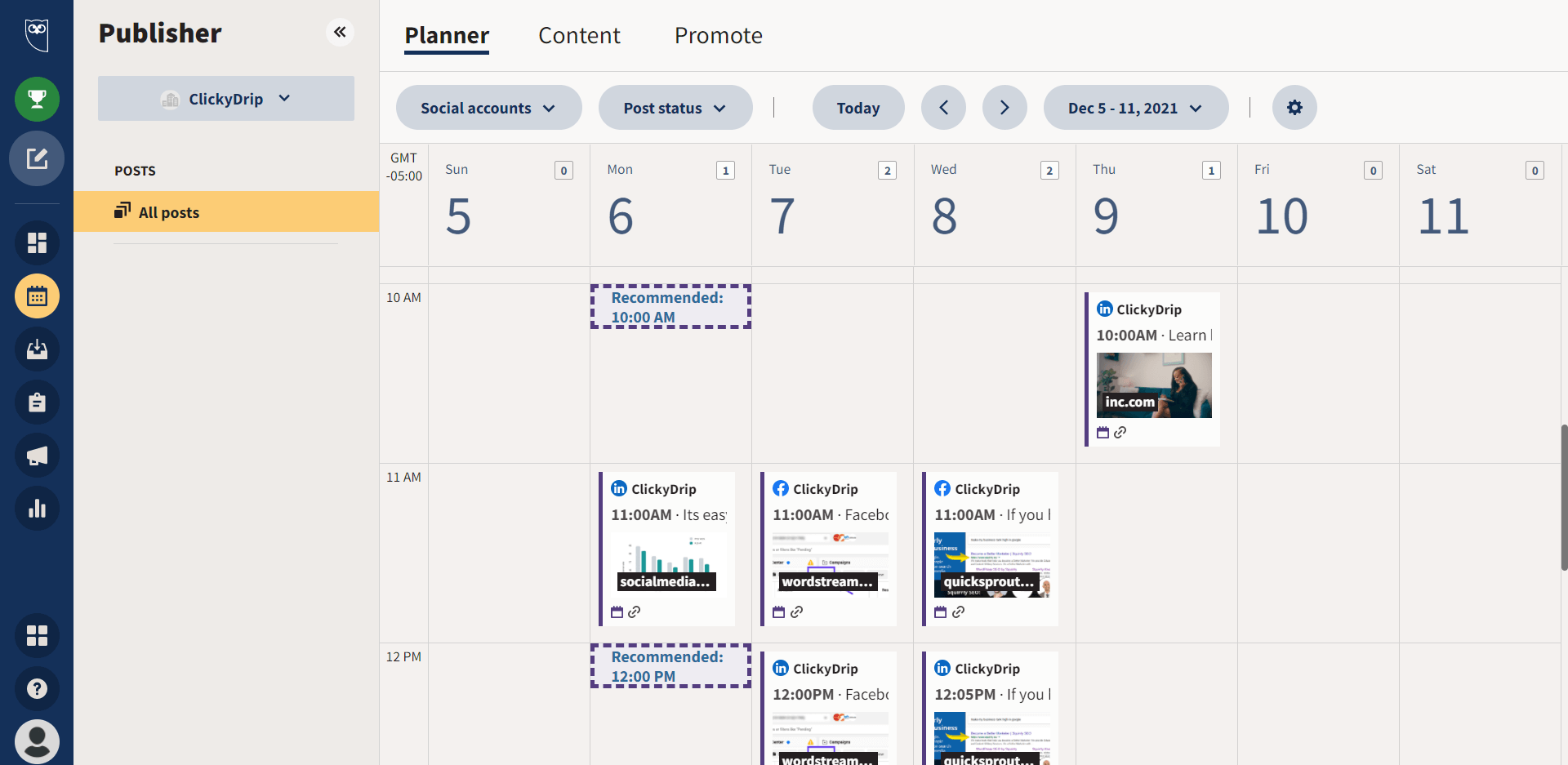 Interactions Management
Audience engagement is an integral part of any digital marketing campaign and is essential to the overall success of your brand. That's why both Loomly and Hootsuite offer users the ability to communicate with their audience in an efficient, streamlined manner.
With Loomly Interactions, you can reply to comments, mentions, and messages and develop ongoing conversations with audiences on Facebook, Twitter, Instagram, and LinkedIn. Loomly highlights unread comments & messages, so you always know which Interactions are awaiting a response. The Loomly Interactions feature is available to all users, regardless of plan.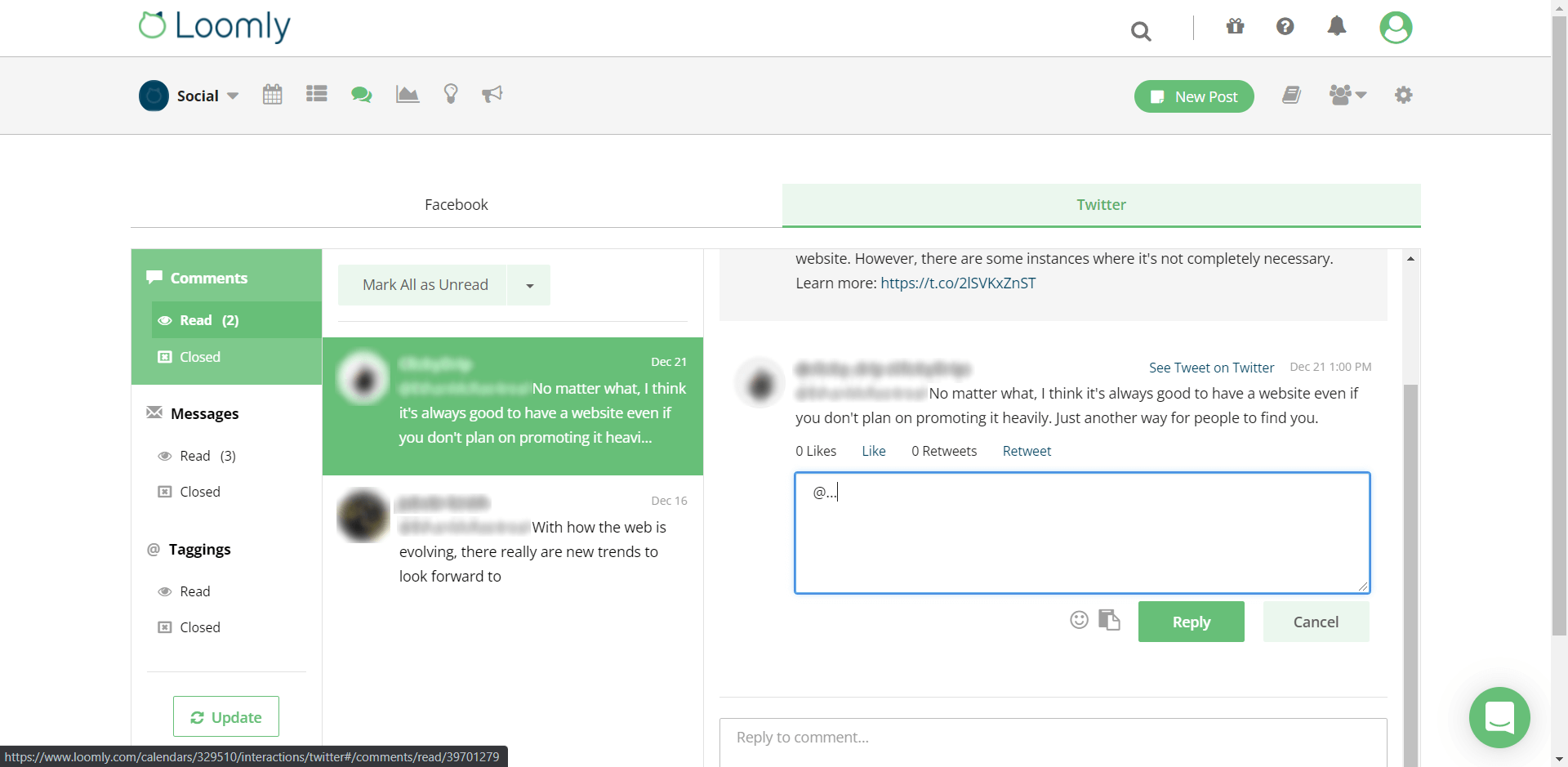 Related: 9 Best Loomly Alternatives
Similarly, the Hootsuite Inbox feature allows you to interact with your audience and customers by putting all of your private and public social messages into one location. Conversations are threaded, offering full context, allowing you to respond to each comment or message efficiently. This feature is only available to users with Hootsuite's Team or Business plan, the two highest-priced Hootsuite packages. 
Media editing
Both platforms have media editing features that allow you to crop, resize, apply filters and make other various edits to photos. 
Loomly's media editing feature (Loomly Studio) is an efficient tool that allows users to edit images from inside the Loomly post builder. Loomly Studio offers a healthy mix of editing options, and while it's not photoshop, it likely has enough editing capabilities for most social media marketers. 
Relative to Loomly, Hootsuite's media editing features may be a bit more sophisticated in some respects. There are copious filters and other settings that you can use to change the appearance of images. However, Loomly has more options for creating text to overlay on top of images. 
Ads Manager
With Loomly, users can create, preview, approve, and publish Facebook and Instagram Ads in various formats. Users can focus on specific campaign objectives and target custom audiences. Loomly Ads Manager also offers optimization tips when creating ads. 
Hootsuite Ads allows you to easily monitor and analyze the performance of your ad campaigns all through the familiar Hootsuite dashboard. The application enables easy collaboration with teams and clients and offers real-time insights and analytics to make your advertising campaign successful.
Custom Link Shortener
Both Loomly and Hootsuite give users the ability to shorten URLs from within the platform. Loom.ly lets users transform longer web addresses into short URLs when creating social media posts with Loomly. With Hootsuite, Ow.ly allows for link shortening and tracking from right inside the Hootsuite dashboard. 
Features that Loomly has (but Hootsuite doesn't)
Optimization Tips
Loomly provides its users with post optimization tips inside the post builder. It is a standard feature that offers insight into the best practices for creating specific social media posts. Once you have completed your post, Loomly will analyze it and provide valuable suggestions for improvement and optimization. These tips include the best times/dates to post, copywriting and formatting suggestions, readability tips and more.
Features that Hootsuite has (but Loomly doesn't)
Social Listening
Hootsuite's Social Listening feature allows users to track their social media platforms for mentions and conversations related to their brand and then analyzes them for more profound insight. Social listening, by definition, is different than social media monitoring. While social media monitoring looks at key metrics such as engagement rates and mentions, social listening goes beyond the numbers to measure moods, helping you better understand how people feel about you and your competition.
Approach to Posting and Scheduling
Loomly guided posting, and scheduling interface makes the tool easy to use for anyone, regardless of skill level. In just six easy steps, you can schedule your social media post across multiple channels, build your content, fine-tune it for specific channels, target your audience, and schedule/publish. You can also preview your social post before publishing.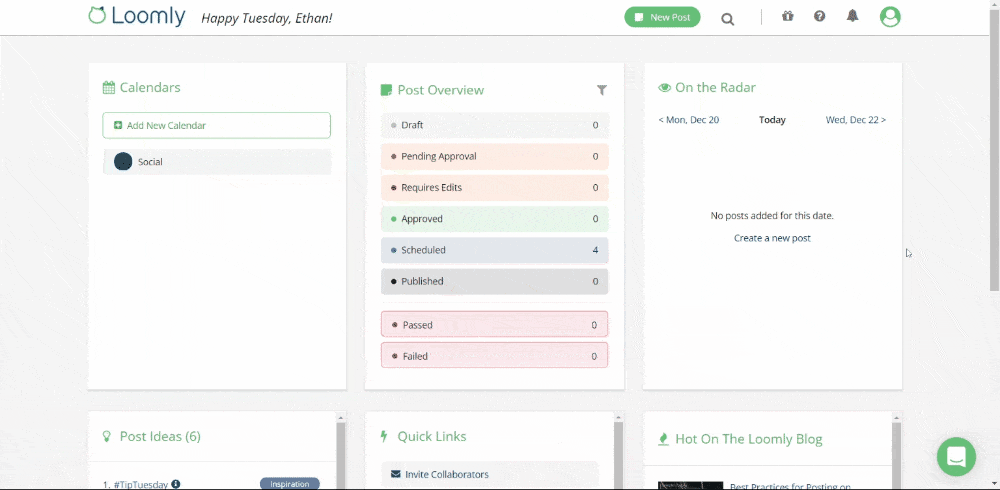 Hootsuite's social media scheduling doesn't involve a series of steps like Loomly, and it can take some getting used to for some users. The scheduling process is a bit more sophisticated, however, the complexity offers increased capability and functionality. Once you've set up your accounts and streams and taken the software for a test drive, Hootsuite is pretty straightforward.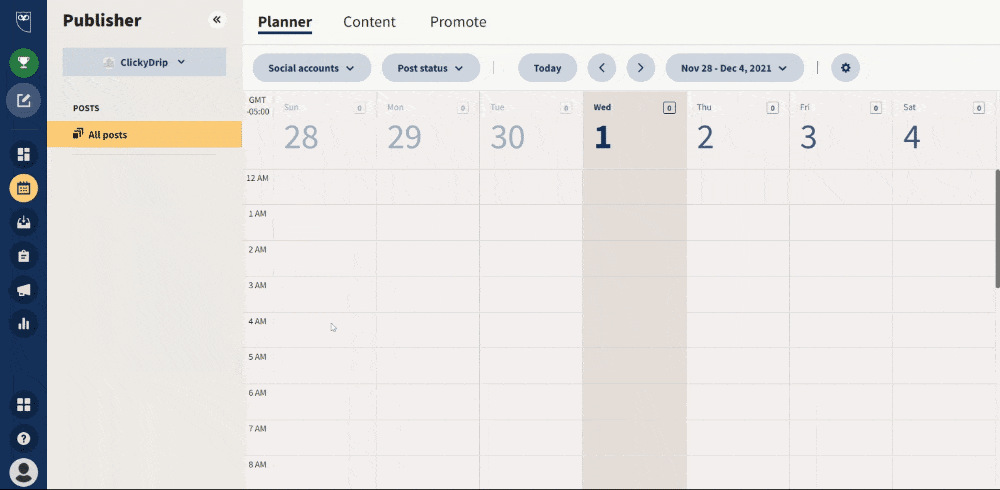 With Hootsuite, not only can you create new posts from scratch, but you can also easily share existing social content from your streams. That is a handy feature for users who rely on Twitter as part of their social media marketing campaign. Hootsuite also offers a Chrome extension that makes it easy to share content directly from the web. 
As far as scheduling and posting, Loomly and Hootsuite are both easy to use once you get acclimated. Loomly's guided post builder integrates so many great features in one place, allowing you to create the most successful post possible. However, Hootsuite's impressive stream feature and its value for Twitter marketers are simply unmatched.
Dashboard Experience and Ease of Use
There are significant differences between the Loomly and Hootsuite dashboard experience, each with its strengths and weaknesses. Loomly offers a feature-rich dashboard that lets users see their social media marketing calendar at a glance while offering workflow insights, post ideas, and more. Its nifty card view layout helps manage multiple clients and social media accounts across various platforms and lets users zero in on things that matter most to their marketing campaign. 
Hootsuite offers an entirely different user experience. The attractive dashboard allows you to view a timeline of Twitter accounts you follow, Instagram hashtags that you monitor, and Facebook mentions, and so much more. Although Loomly offers excellent tools for post-optimization, audience engagement, and a streamlined way to manage your social media calendar, it simply cannot compete with the deep-dive capabilities and social media monitoring that Hootsuite's streams can offer.  
On the other hand, if your main objective is calendar management and social media scheduling, you may be disappointed with the Hootsuite dashboard because it doesn't offer a way to view all your scheduled posts by default. 
Reporting and Analytics
Loomly's Basic Analytics feature is available to all users and provides value and engagement metrics for any posts published through the software.
The Advanced Analytics feature is only available with Loomly's Standard plan or higher, and it offers account-level stats such as total Facebook page likes and Instagram followers. Metrics such as reach, impressions, and engagement rates are also displayed. Users can also filter this data by date and compare reporting periods for growth measurement. Advanced Analytics will work for all social media posts, not just posts published with the software.
Hootsuite also offers basic reporting to all users, but it is more feature-rich than Loomly's Basic Analytics. For example, Hootsuite's basic reporting covers account-level statistics such as post counts, follower counts, and engagement overviews.
With Hootsuite's Professional plan and higher, users can build real-time deep-dive reports that show engagement measurements such as demographics and age groups. With the Enterprise plan, you can obtain information on how your social media management teams engage with your audience.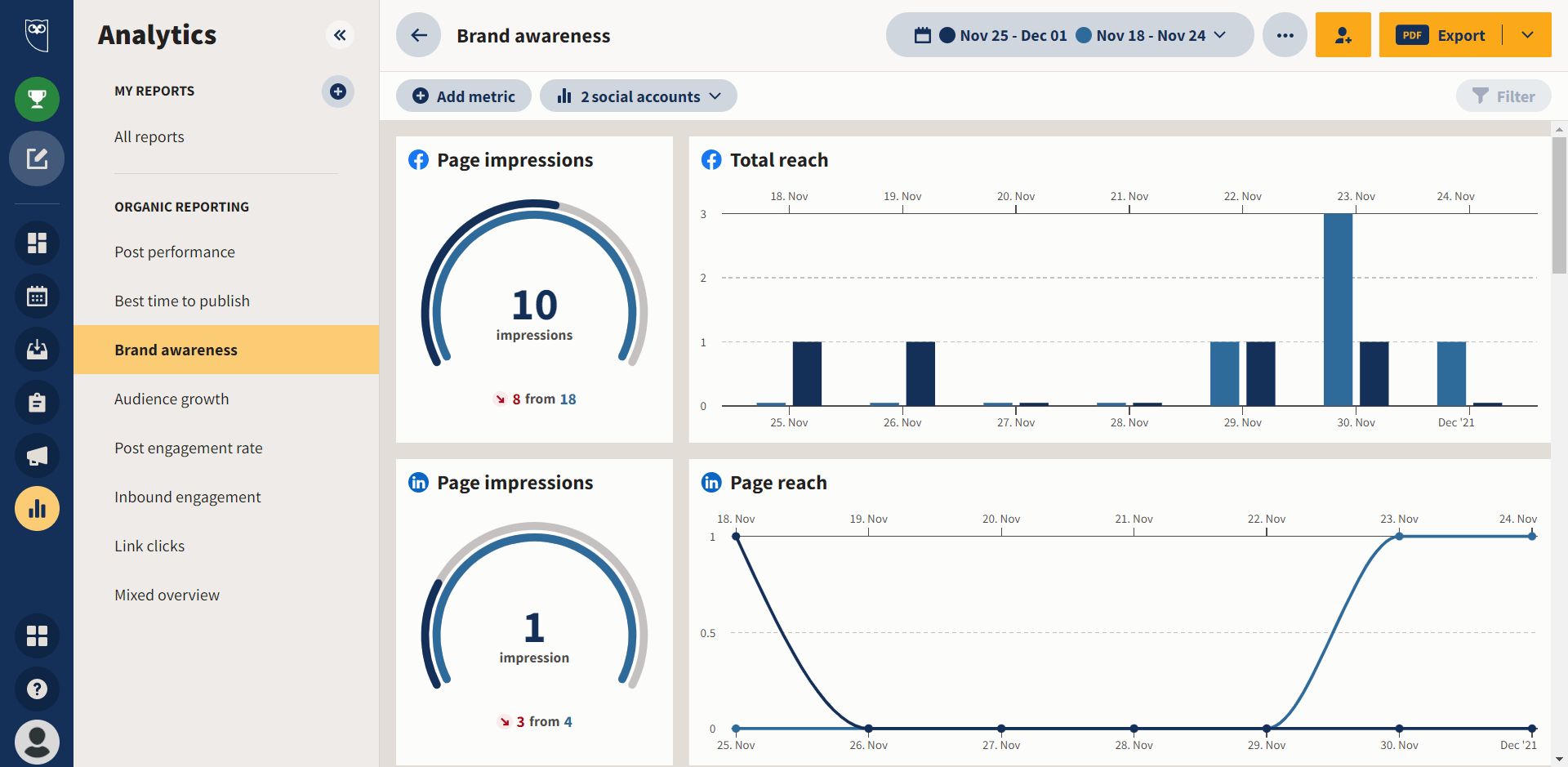 Team Management
Loomly's "Calendar Workflow" feature offers three workflow options based on the size of your marketing team. By default, Loomly uses its Original Workflow calendar, perfect for groups where more than one collaborator is responsible for the approval of posts. Within the Original Workflow, posts will not publish until every collaborator has signed off. Additional workflow calendars are available for Loomly teams with a single user charged with approvals and a workflow calendar option without approval restrictions. Loomly makes setting up collaboration easy as you can see below: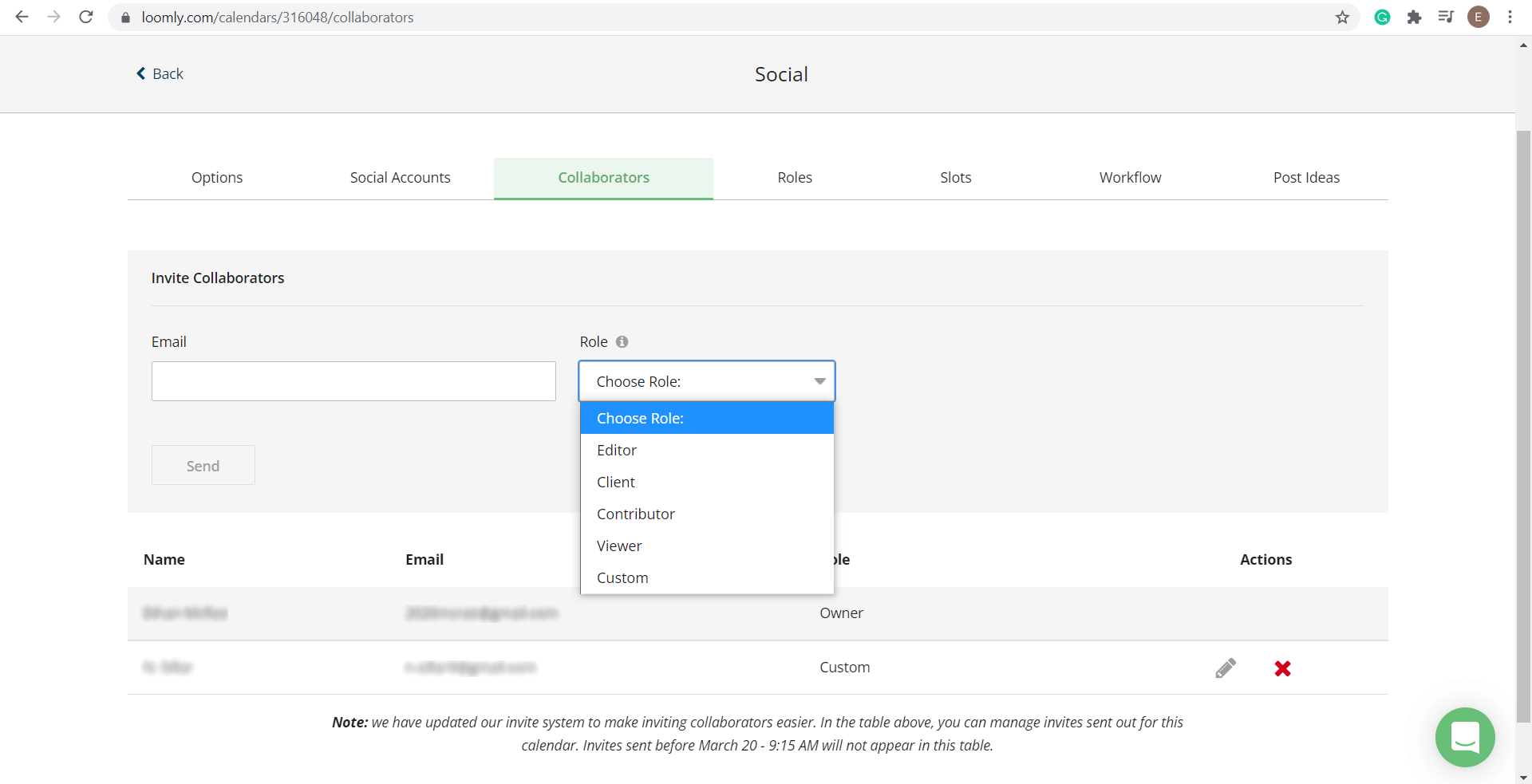 Hootsuite, on the other, gives users a broader range of tools, allowing them to break up team members into different categories. With Hootsuite, you can create and manage Team Members, groups of team members (Teams), and groups of teams (Organization), making large-scale marketing operations possible. For example, with Hootsuite, you can allow an outside agency to access one set of social media accounts while your in-house team manages the rest. Hootsuite is the perfect social media management solution for large-scale digital marketing teams.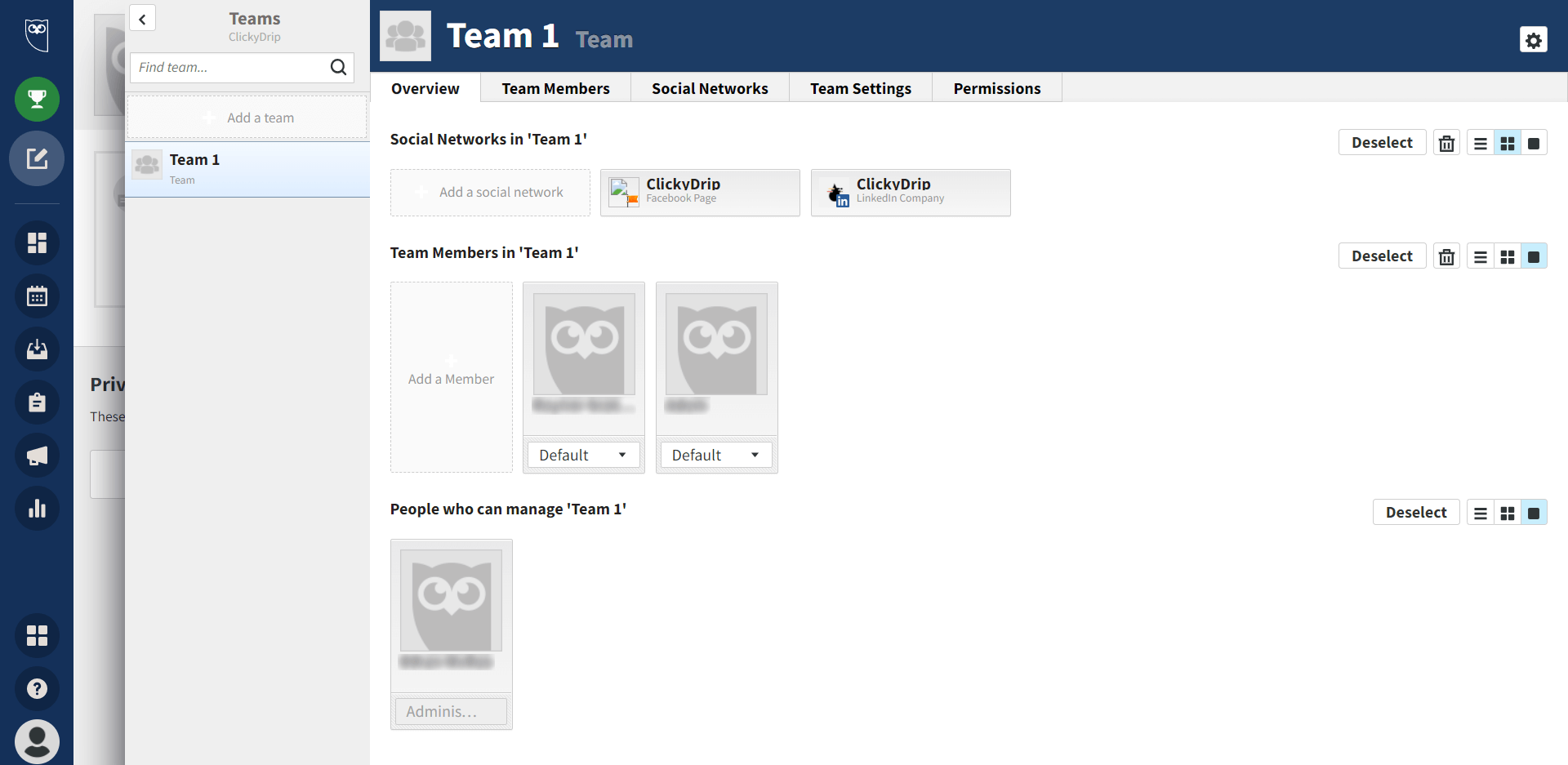 Pricing
Loomly users receive a free 15-day trial and five different pricing plans after that.   
Base plan ($25/mo. or $300/year): Loomly's Base plan allows up to two users on a single account, up to ten social media accounts, and a budget cap of $500 in ads. The Base plan includes core features, unlimited content, and hashtag suggestions.

Standard plan ($57/mo. or $684/year): Loomly's Standard plan allows up to six users on a single account, up to 20 social media accounts, and a budget cap of $1,000 in ads. The Standard plan offers additional features such as advanced analytics and content exporting.

Advanced plan ($119/mo. or $1428/year): Loomly's Advanced plan allows up to 16 users on a single account, up to 35 social media accounts, and a budget cap of $2,000 in ads. The Advanced plan offers additional features such as IM integration, custom roles, and custom workflows. 

Premium plan ($249/mo. or $2988/year): Loomly's Premium plan allows up to 26 users on a single account, up to 50 social media accounts, and a budget cap of $5,000 in ads. The Premium plan allows for custom branding.

Enterprise plan (request quote): The Enterprise plan is for more than 27 on a single account, allows for more than 51 social media accounts and has a budget cap of $10,000 in ads.
Hootsuite offers a free plan for individuals to manage their social media accounts and three paid plans for businesses. It provides a 30-day free trial on all pricing plans as well. 
Free plan ($0/mo.): Hootsuite's Free plan allows one social set (one social profile for each channel), 30 posts per profile, per month, and one user.

Professional plan ($49/mo.): Hootsuite's Professional plan allows one user, up to ten social media accounts, unlimited posts, and the ability to access all messages in a single inbox. It also allows the user to schedule posts in advance and schedule multiple posts at one time.

Team plan ($129/mo.): Hootsuite's Team plan allows up to three users, up to 20 social media accounts, unlimited posts, and the ability to access all messages in a single inbox. It also allows the user to schedule posts in advance, schedule multiple posts simultaneously, manage team access and roles with permissions, and assign posts or comments to team members.

Business plan ($40/mo.): Hootsuite's Business plan allows up to five users, up to 35 social media accounts, unlimited posts, and the ability to access all messages in a single inbox. It includes all of the Team plan features plus the ability to review messages before they publish. This plan also offers enhanced functionality by integrating premium apps like Zendesk, Slack, and Basecamp. The Business plan comes with 24/7 priority support.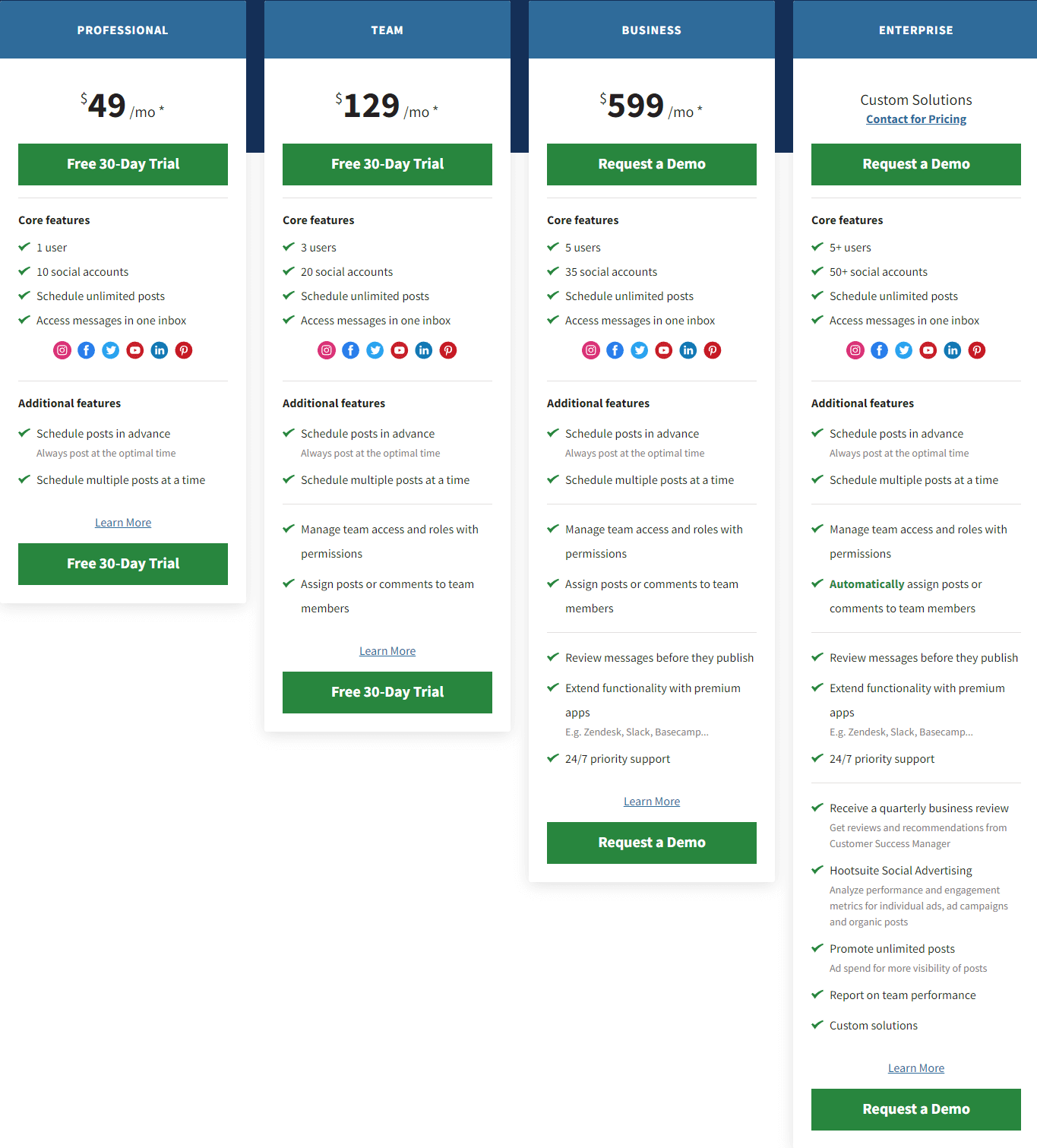 Integrations
Both Loomly and Hootsuite allow users to integrate popular apps to use with its social media marketing software. 
Loomly can integrate more than 4,000 popular apps through the Zapier workflow management software solution. This tool is free of charge for up to 100 tasks per month.  
Hootsuite allows users to connect with more than 250 apps and integrations within Hootsuite's complete ecosystem platform. Most integrations require a paid Hootsuite plan.
Customer Support
Loomly gives users a thorough tutorial and FAQ section, but if you can't find the answer you are looking for, you can contact the support desk through chat or email. Customer support is easy to reach with Loomly, and users often say that the support staff is friendly, helpful, and responsive to all users, regardless of their plan. 
Many people say that Hootsuite's customer service leaves a lot to be desired and say that competitors have a better track record of faster responses and more robust customer service options. Hootsuite's Help Center does have many articles, resources, and tutorials that can solve common problems and, if that doesn't help, you can submit a support ticket to the company's help desk. Be aware, however, that users often complain about the wait time.  
When to Choose Loomly vs Hootsuite
When choosing between Loomly vs Hootsuite, consider how sophisticated each platform is, the user experience of each, and the type of business each platform is suited for. 
If you are searching for affordable and straightforward social media calendar management software, Loomly is your best bet. Its core features, available with all plans, can be a valuable asset for you and your marketing team, especially if you manage a small-to-mid-sized operation. Loomly is easy to use and features simple workflow management options.
Hootsuite should be your social media marketing tool of choice if you run a large-scale social media marketing operation. Its workflow management tools shine when it comes to managing large teams or groups of teams. Hootsuite's ability to provide users with rich features that allow for in-depth social listening is essential for anyone looking to monitor their brand reputation across the social media landscape. 
You can see how other social media management tools stack up to Loomly in the following comparisons:
You can see how other social media management tools stack up to Hootsuite in the following comparisons: