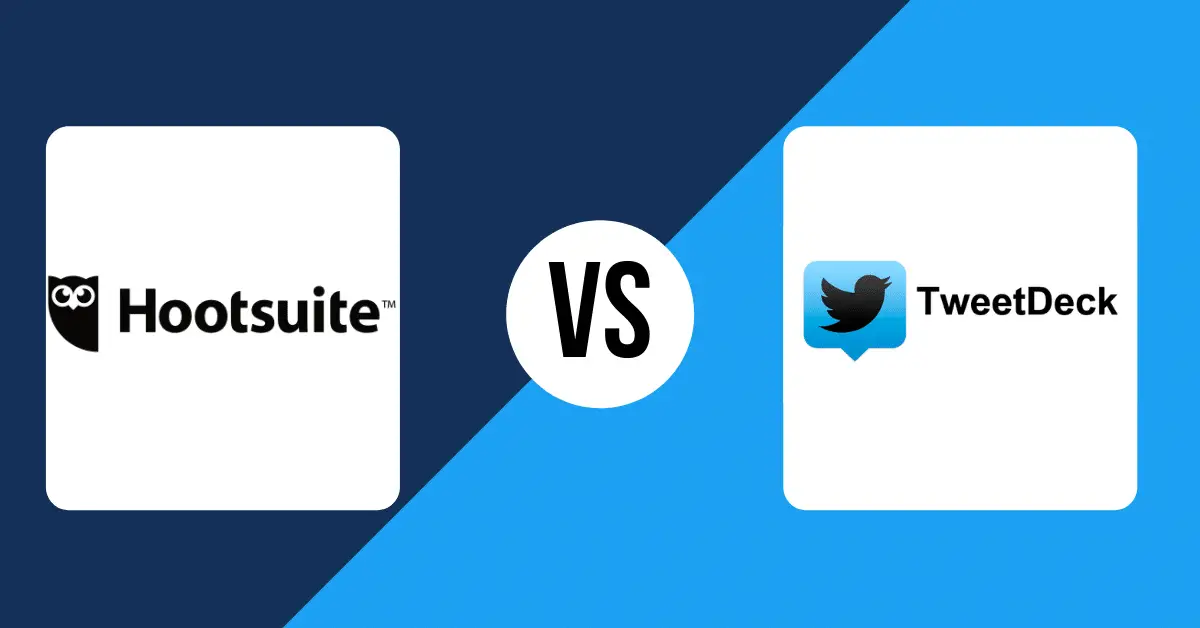 As social media of all kinds have exploded in popularity over the years, numerous social media tools have been created as well. 
Some of these tools are intended specifically for social media marketing and are equipped with all the necessary features to help you get as much engagement as possible from your posts. Other platforms are designed simply to enhance your experience viewing your own social media. 
Hootsuite and TweetDeck are two extremely popular social media tools. However, although they both have a huge customer base, they are fundamentally different in many ways. 
In this Hootsuite vs TweetDeck guide, we will explore the key differences between the two platforms in terms of features, capabilities, and who each tool is best for. 
About Hootsuite and TweetDeck
Hootsuite was founded in 2008 by current CEO Ryan Holmes. The app began as a comparatively stripped-down Tweet scheduler but has since expanded its functionality; now able to help marketers run simultaneous campaigns on multiple social networks. Over time it's improved its once-dated interface, integrated social listening features, advertising campaign management, and expanded its analytics. Currently, Hootsuite has captured 4.33 percent of the social media marketing market, according to Datanyze.
TweetDeck was released independently in 2008, built by developer Lain Dodsworth, at a time when there were limited options for social management tools.  The initial functionality presents users with a row of clear, customizable columns that display an array of different Twitter interactions, like timeline, direct messages, hashtags, search results. Over time, the company added compatibility for other social networks. However, those integrations were later cut after the company was acquired by Twitter and underwent numerous changes. 
Supported Social Networks 
As a non-exclusive app, Hootsuite lets social media managers operate several platforms at once. Currently, Hootsuite assists in the management of the  following networks: 
Facebook

Instagram

YouTube

LinkedIn

Twitter

Pinterest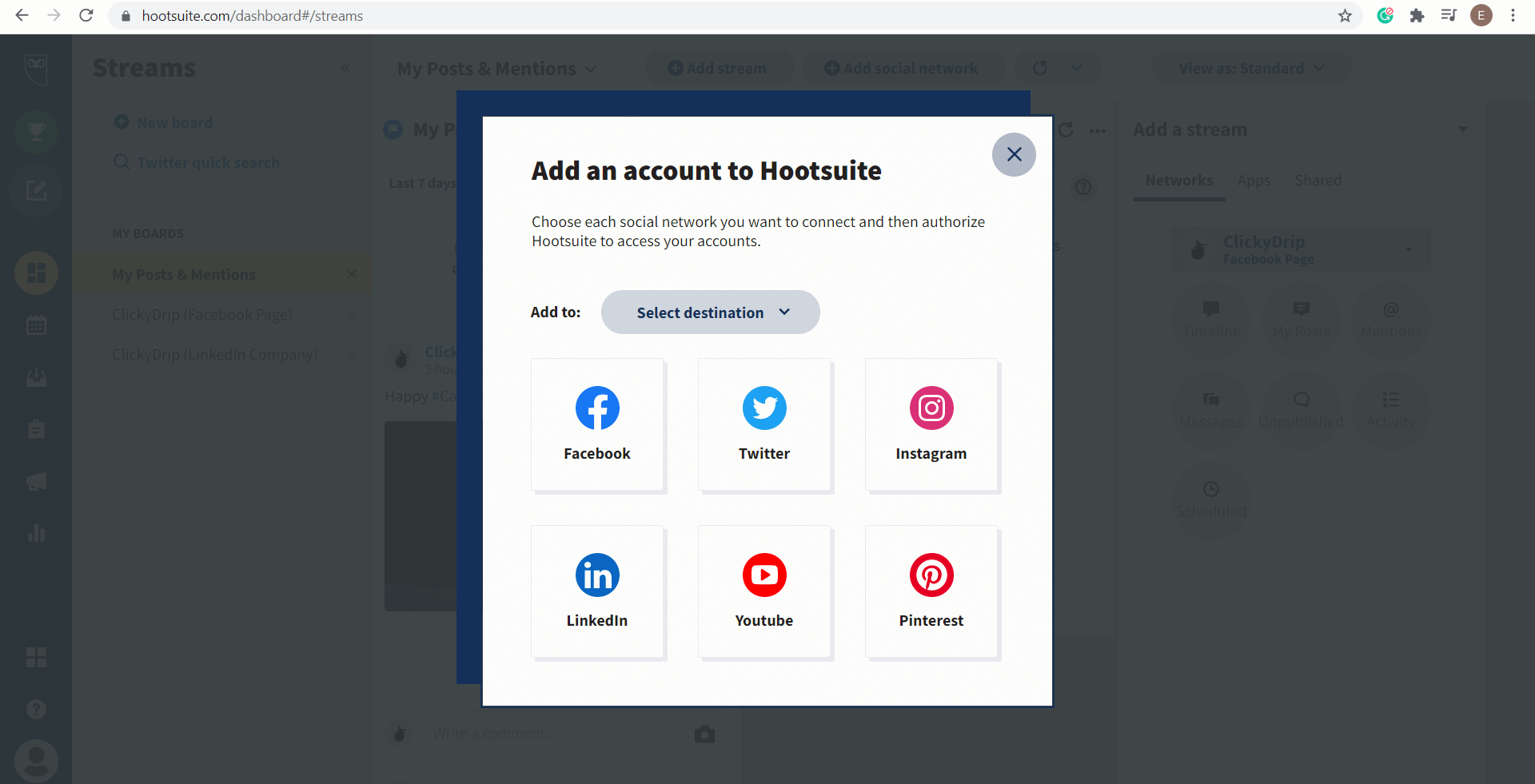 What's more, each platform's varying features and contexts are represented in Hootsuite's posting functionality. On Twitter, for instance, you can track mentions, keywords, hashtags, retweets, and likes. That's in addition to LinkedIn updates and scheduled posts and post scheduling on Instagram.
Tweetdeck is exclusive to Twitter. While Tweetdeck developed integrations with other platforms, Twitter removed them after the acquisition.
Core Features Shared by Both HootSuite and TweetDeck
In this section, we'll cover how well TweetDeck and Hootsuite implement the four social media management features most platforms share: scheduling, interaction management, social media monitoring, and link shortening.
Scheduling and Posting
Both Hootsuite and Tweetdeck let users manage multiple social media accounts from a single dashboard and offer post scheduling (TweetDeck users are limited to Twitter, of course, but can manage multiple Twitter accounts). Hootsuite has no limit on how many posts a user can schedule, regardless of the pricing plan. 
You can get a glimpse of how your Hootsuite calendar planner might look with a few posts scheduled for future dates below: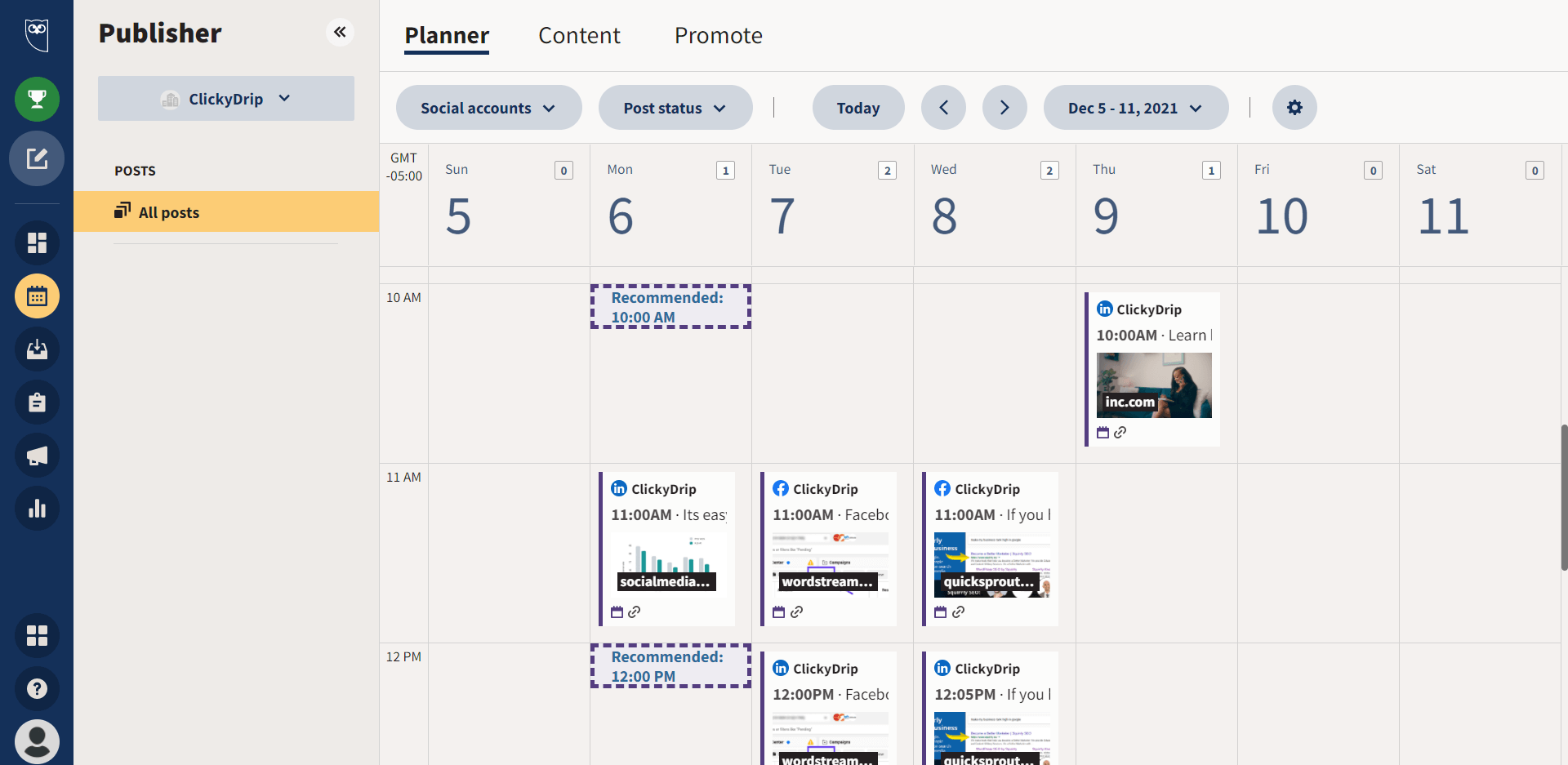 Similar to Hootsuite, Tweetdeck also allows you to post immediately from the platform or schedule posts in advance.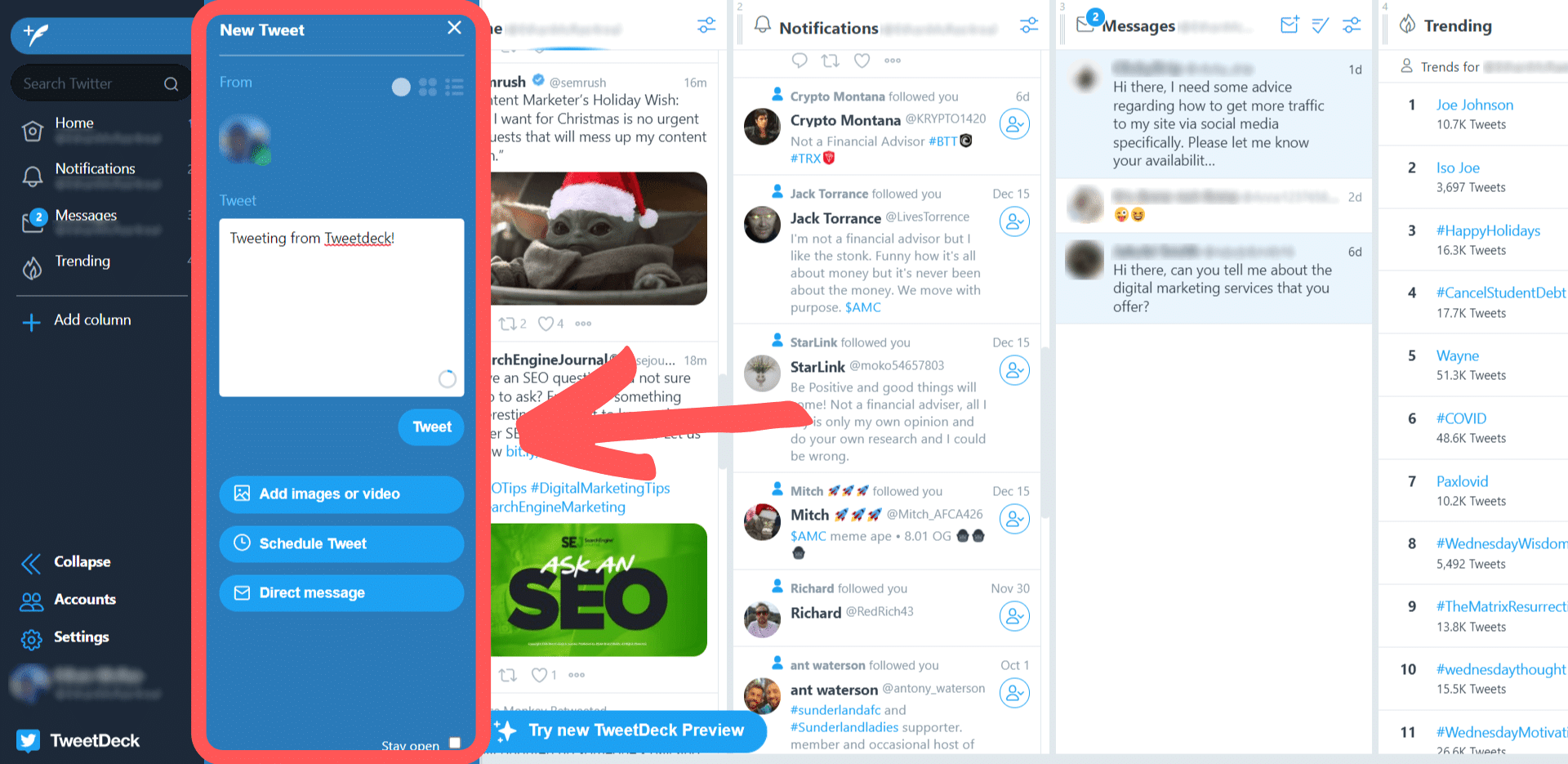 However, unlike Hootsuite, Tweetdeck doesn't display scheduled posts in a calendar planner view. Instead, you add a column in your Tweetdeck that will display all your scheduled posts in chronological order. 
Related: 9 Tools That are (Basically) Tweetdeck for Instagram
Interaction Management
Your private and public messages are funneled into one location—Hootsuite's inbox—which helps you interact in threaded, contextual conversations that engage with greater efficiency. It is, however, a feature exclusive to users on the team or business plans or Business plans, the highest-priced packages that Hootsuite offers.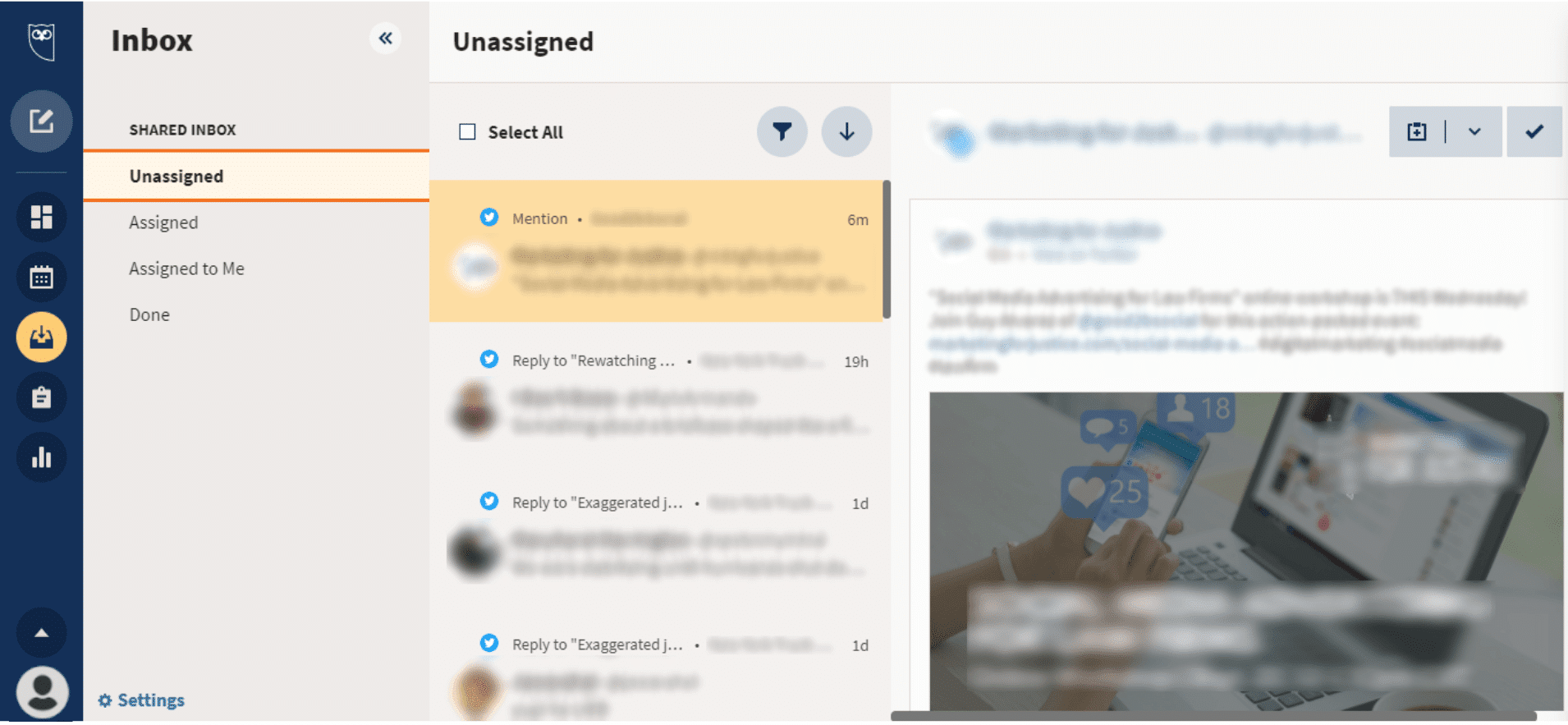 TweetDeck excels in interaction management on Twitter. It's easy to track interactions across accounts, peruse long threaded conversations, and the platform delivers context that helps marketers have more successful interactions.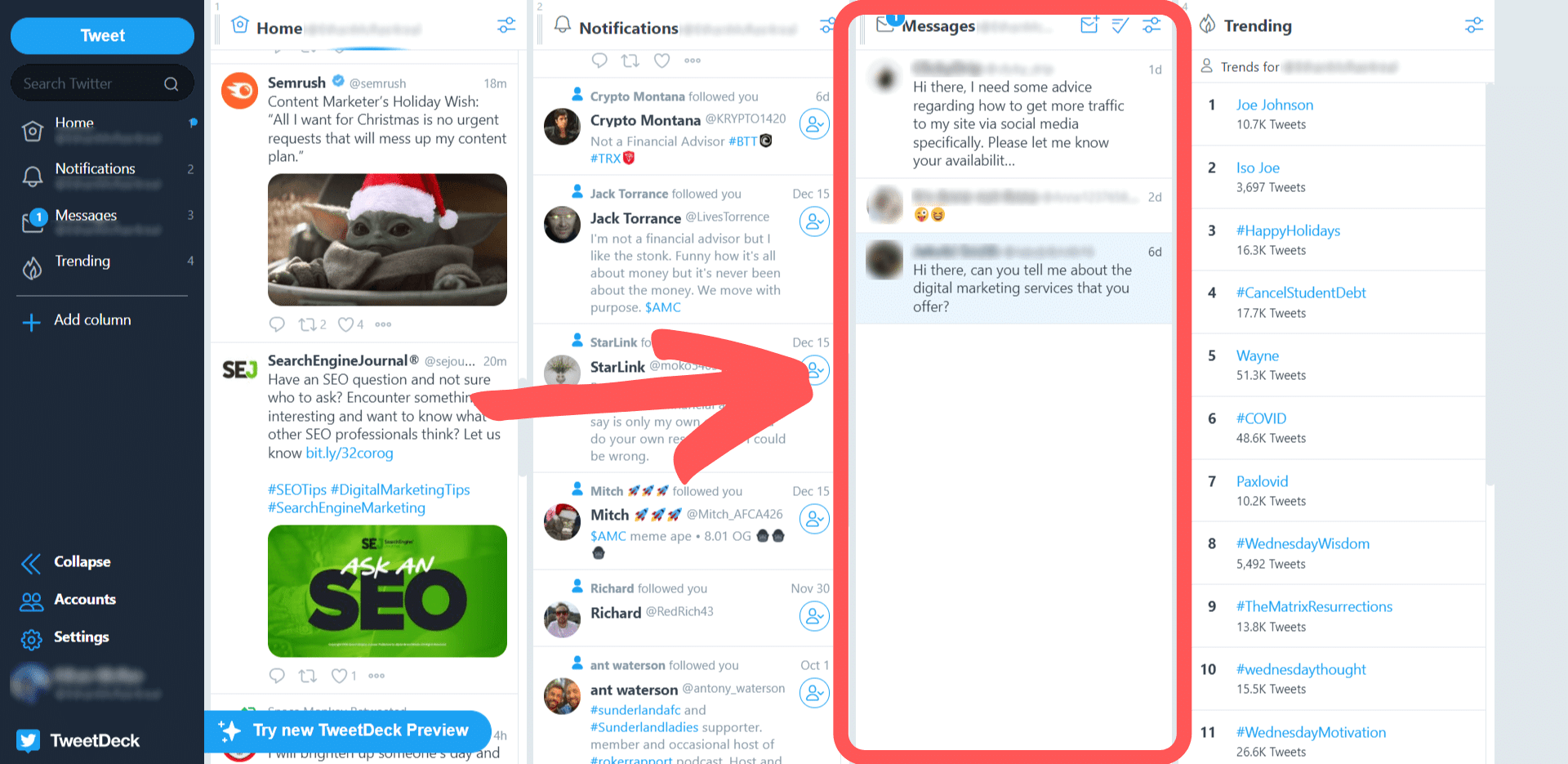 Social Media Monitoring
Hootsuite's grid format is ideal for social listening—a trait both platforms share. Users can add grid columns to monitor conversations, keywords, mentions, hashtags, and others. And you can respond to those discussions and comments from the same dashboard, making it an ultimately intuitive experience. At the same time, some find it cluttered and visually overwhelming. Unlike TweetDeck, Hootsuite can monitor the most prominent social media platforms.
Social listening is TweetDeck's bread and butter. Users can add columns to track retweets, replies, direct messages, and more. Numerous advanced search filters make it easy to gather intelligence. For instance, you can filter for retweets from users who have retweeted you, their geographic location, and positive or negative sentiment. It's intuitive, too. To screen for positive posts, include a happy emoticon following your search term.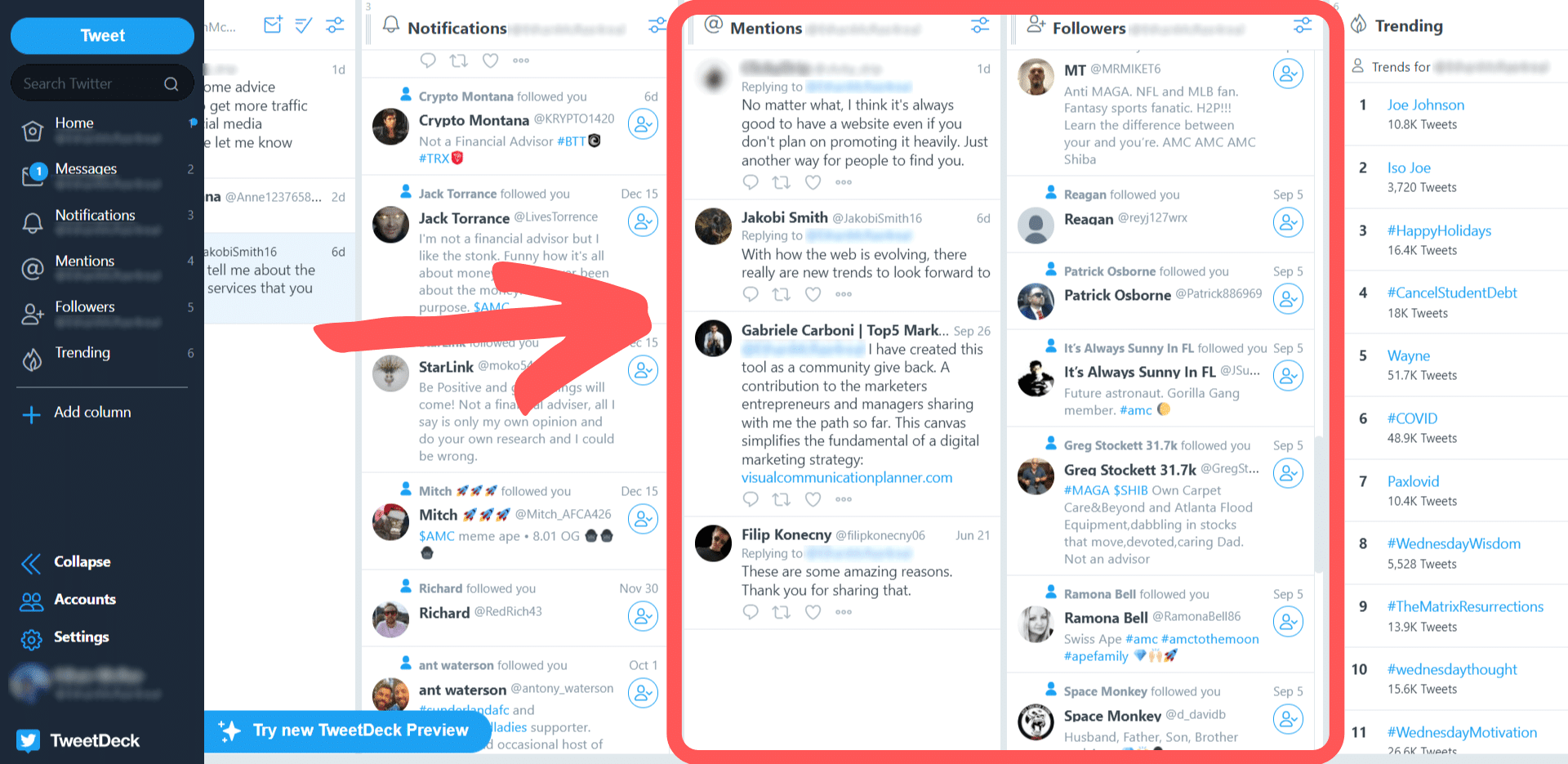 Link Shortening
Both Hootsuite and TweetDeck offer link shortening features, a must-have feature to conserve precious characters on Twitter. Hootsuite users can shorten their links by clicking a button at the bottom of the post-creation module. TweetDeck technically offers the same capability, though users must first go to settings and add a link shortening service—an altogether confusing process. Hootsuite is the clear winner in this case.
Approach to Posting and Scheduling
Hootsuite's post composer allows you to create, preview, schedule quickly and publish all of your social media content to Facebook, Twitter, LinkedIn, and Instagram from one location. 
In addition to creating posts from scratch, Hootsuite allows you to easily share social content that appears in your streams, making it especially useful for those who rely on retweets as a part of their social media marketing campaign. Hootsuite's Chrome extension makes it easy to share content directly from the web as well. 
TweetDeck's scheduling features set the app apart when it first hit the scene. The UI makes it easy to compose a Tweet and schedule it for any time in the future. Scheduling is as simple as logging in, clicking Tweet, confirming the correct account, and clicking the schedule tweet button for your preferred date and time.
It's also easy to edit or reschedule yet-to-be-published posts. And since it allows for simultaneous monitoring of your other accounts, you can publish a tweet to all at once. On the downside, TweetDeck currently lacks compatibility with common post formats. For instance, you can add images or videos to tweets, but not GIFs or polls (And no Twitter card functionality either).  
Dashboard Experience and Ease of Use 
Hootsuite's stream views allow you to see all the social media feeds that matter most to you and your organization. Post previews are incredibly effective and accurate to each social media platform.
Overall, Hootsuite is easy to use. The ability for multiple team members to schedule posts across various platforms is a feature that works flawlessly. Hootsuite is so simple to set up that you will be posting and scheduling to your channels within minutes.
TweetDeck excels in ease of use. User reviewers rate this feature high, and we tend to agree. It's straightforward to create an account, and you can create and schedule posts across multiple Twitter accounts within minutes. Seeing reactions to your posts in real-time—simultaneously across different accounts—is incredibly satisfying and rewarding. 
Much like Hootsuite, however, users often find the column layout to be overwhelming and busy. And the platform's technical limitations mean you can only check out the last 100 users who have retweeted content; far too little in most cases.
Reporting and Analytics
Hootsuite offers robust social media analytics and many customization features for reporting. The analytics tab presents users with pre-built reports in all data categories. Like much of Hootsuite, your options vary depending on your pricing tier, with many advanced reports only available in enterprise plans.
Clicking into each shows a dashboard grid full of customizable modules. You can configure such tiles with as many as twelve visualization formats and many data sources. Modules display data from almost every supported network.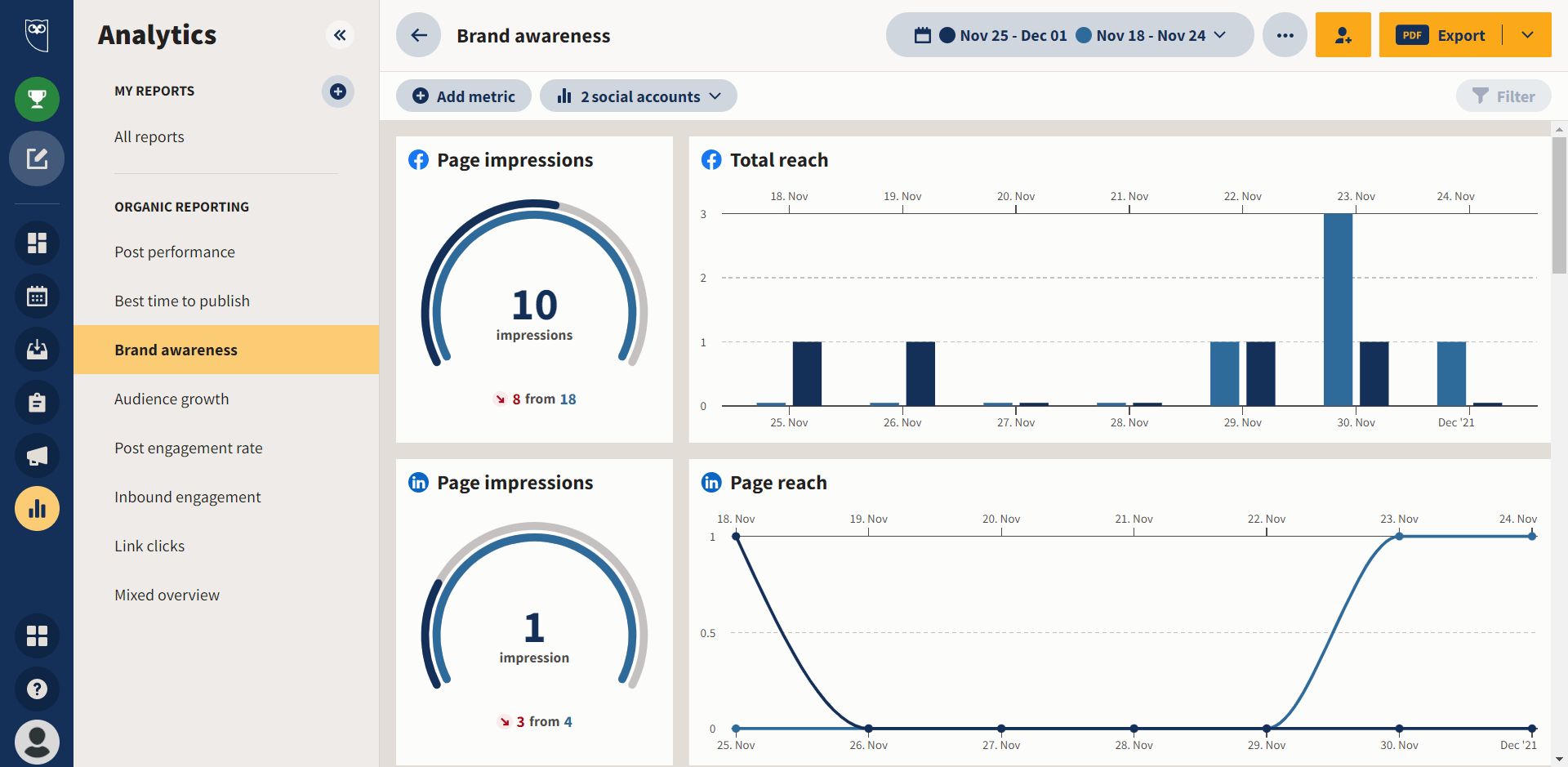 TweetDeck's analytics is nonexistent. Users will instead have to rely on Twitter's native analytics. That said, Twitter's analytics is extensive, especially for a free offering. You can track a host of performance metrics like impressions, likes, new follows, and many fascinating demographic filters, too. 
Break down your audience by income, occupation, buying behaviors, and other factors. Unfortunately, since Twitter has no native Google Analytics integration, you'll have to analyze these data across each Twitter account.
Team Management
As an enterprise-ready platform, Hootsuite also has a broad range of collaboration tools targeted towards small, medium, and large marketing teams. Managers can assign roles for content creators, editors, and clients, determining their access to brands, channels, or campaigns. Collaborative drafts let teams prepare and create posts before they go live. Managers can also glean team productivity insights and track assigned and completed tasks.
Though collaborative functionality comes at a high cost, you'll need to spend at least $7,200 upfront (For a year of service) for the above features and seat more than five users. Only three are available in Hootsuite's "Team" tier.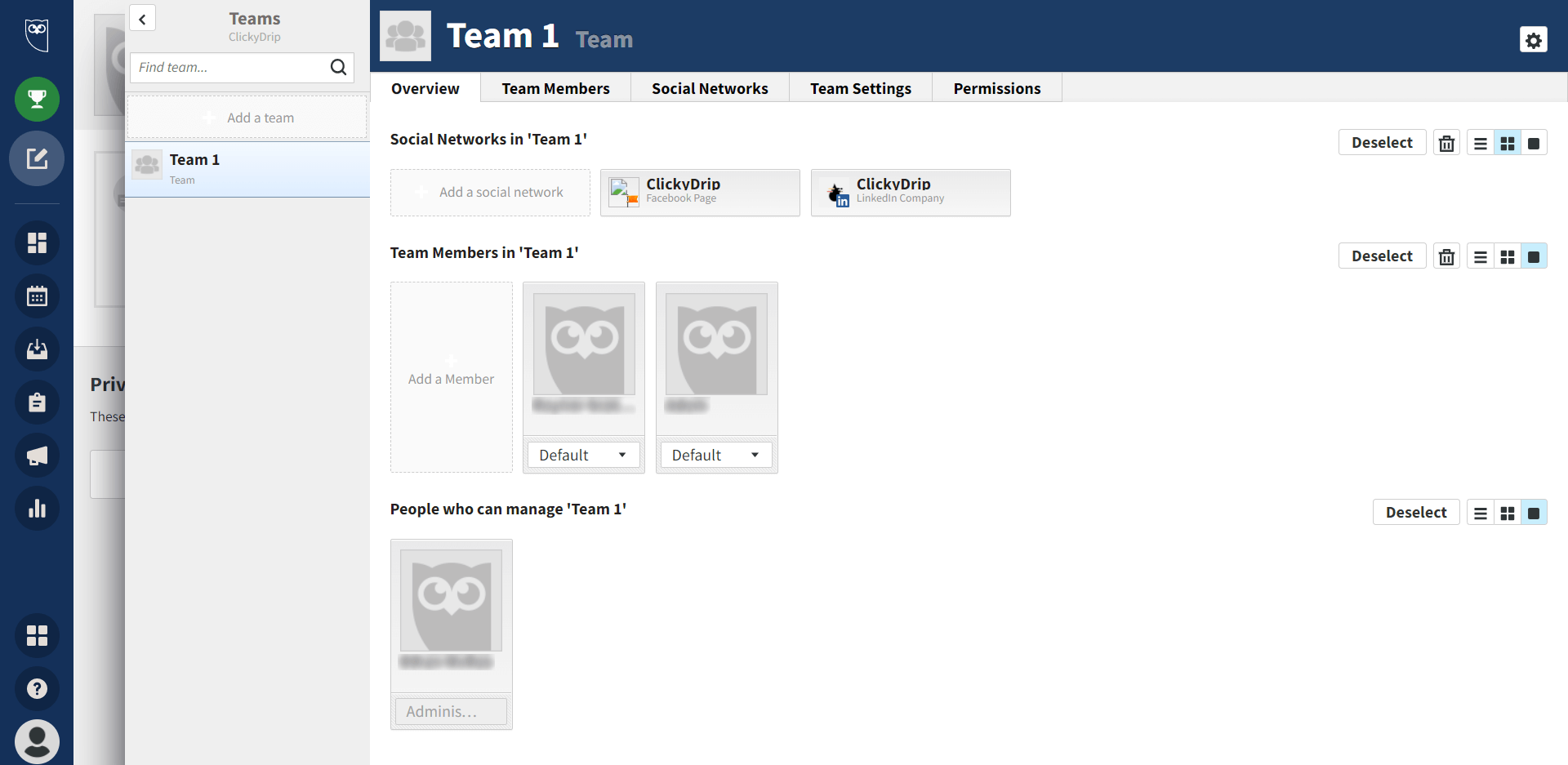 Additionally, Hootsuite allows you to set up workflows between team members in order to have social media posts systematically reviewed and approved by multiple team members. 
TweetDeck's teams feature lets managers and owners of the shared account add up to 200 team members.  Only the manages the password, phone number, and login verification settings. As an owner, you can assign users roles as admins or contributors. Contributors can publish and schedule tweets, build collections, and create lists. 
Admins can publish and schedule in addition to inviting new users as admins or contributors. At the same time, owners can do all the above but also manage passwords, login verification settings, and phone numbers.
Owners can also consult a list of everyone who has access, making it easy to change their roles and restrict access when necessary.
Related: Tweetbot vs Tweetdeck: 5 Key Differences
Pricing 
On top of supported social platforms, Hootsuite differentiates itself most from TweetDeck with its pricing scheme. Over time, Hootsuite has steadily increased the price of its plans by a significant margin while reducing the functionality of its cheaper and free plans to boot (The free version now allows only five scheduled messages as opposed to the previous limitation of 30).
Four tiers with one free option are available. As of publishing, they include:
Free

: One user, two social accounts,

five scheduled posts

Professional

: $49/month—one user, ten social accounts, unlimited scheduled posts

Team

: $129/month—three users, twenty accounts, unlimited scheduled posts

Business:

$7,200/annually—five users, 35 accounts, unlimited scheduled posts

Enterprise

: $18,000+/annually—five users (+ 1,800 for each additional user), 50+ accounts, unlimited scheduled posts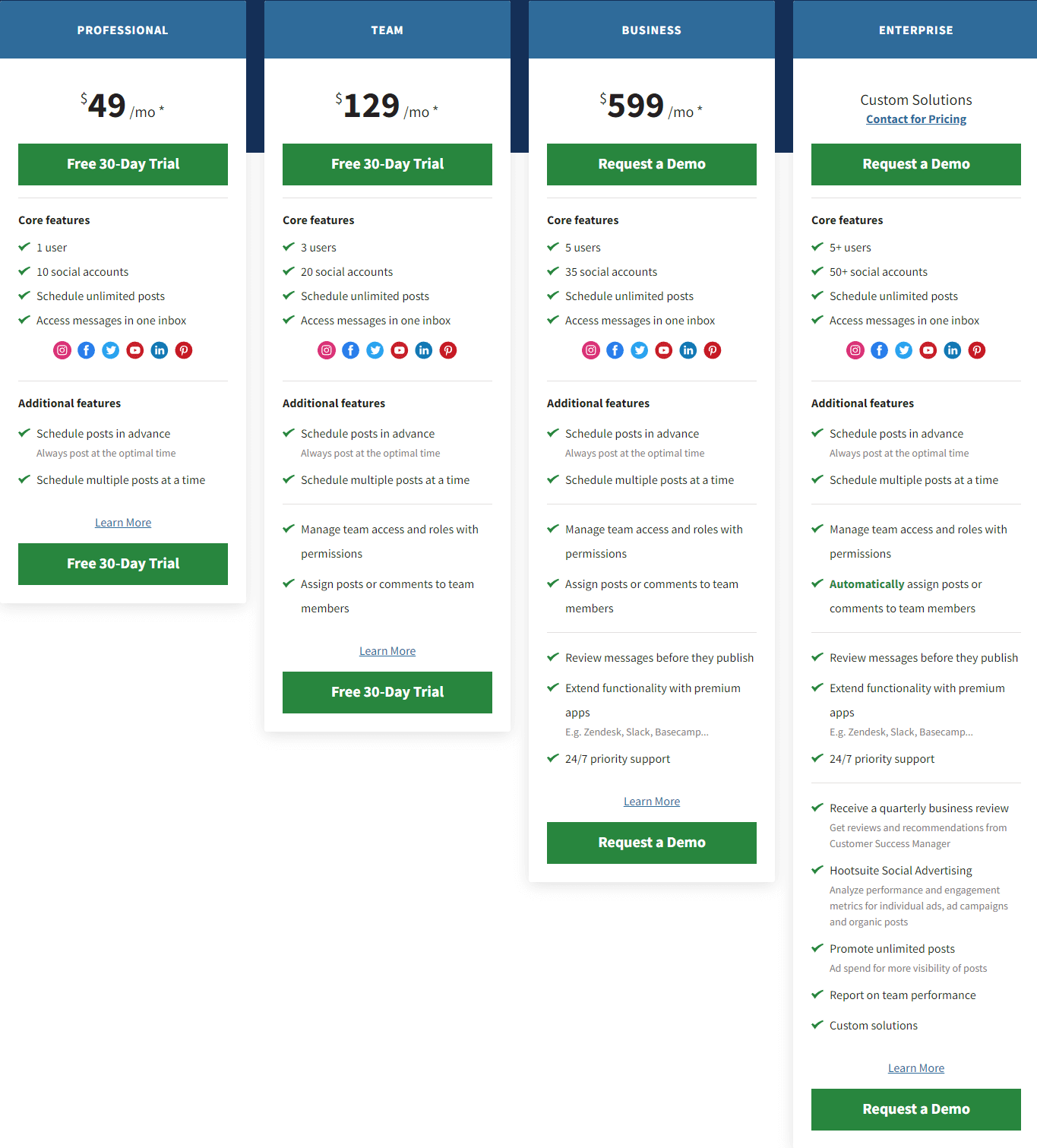 What's more, much of Hootsuite's best functionality is locked behind the business and enterprise plans, things like content approval workflow, asset library, automated moderation, and 24/7 support. For an enterprise-grade tool generally designed for collaboration, Hootsuite's pricing is aggressive. 
TweetDeck is a free app by nature, operating now as Twitter's no-cost dedicated tool for managing communications on the platform.
Integrations 
Hootsuite takes a maximal approach to integrations. In addition to its many supported social networks, many—but not all—popular marketing and digital media technology platforms support direct integrations—150 to be exact. A Zendesk integration helps users manage help requests on Twitter and Facebook, and CRM integrations can merge social media data with CRM for detailed user profiles. Note that most connections are not available with its free version. 
TweetDeck offers no integrations aside from its direct integration with Twitter. Users simply log in through their business account to create their new user profile. The web app is officially supported on most popular browsers, including Microsoft Edge, Apple's Safari, Google Chrome, and Mozilla's Firefox.
Customer Support 
The Hootsuite Academy hosts educational resources on everything from in-platform account management, reporting, and social media strategy. Users can submit a ticket for support on Twitter and Facebook, and anyone can submit a ticket at Hootsuite's help center. There's 24/7 "priority" support is available to professional and enterprise tier account holders, but overall wait times frequently get excruciating.
Much like other free software, TweetDeck's support is limited to helpdesk tickets and support center resources. These resources are high quality and cover use cases for all its features. User reviewers on G2 rated the quality of support an aggregated 7.9 out of 10, the same score given to Hootsuite.
When to Choose Hootsuite vs Tweetdeck
Between the two, Hootsuite is a much deeper and more sophisticated tool. Because it works for most social media, it can function as an all-in-one social media management tool for professionals and teams. That being said, when choosing between Hootsuite vs Tweetdeck, if you need to publish on social media other than Twitter, Hootsuite should be the obvious choice for you. 
On the other hand, TweetDeck is recomended for users who use Twitter exclusively or run a highly-specialized Twitter marketing strategy. TweetDeck is also great for casual Twitter users who might not necessarily be focused on getting as much engagement on their tweets as possible but rather would simply like a more customized viewing experience for their personal Twitter. 
You can see how other social media management tools stack up to Hootsuite in the following comparisons: