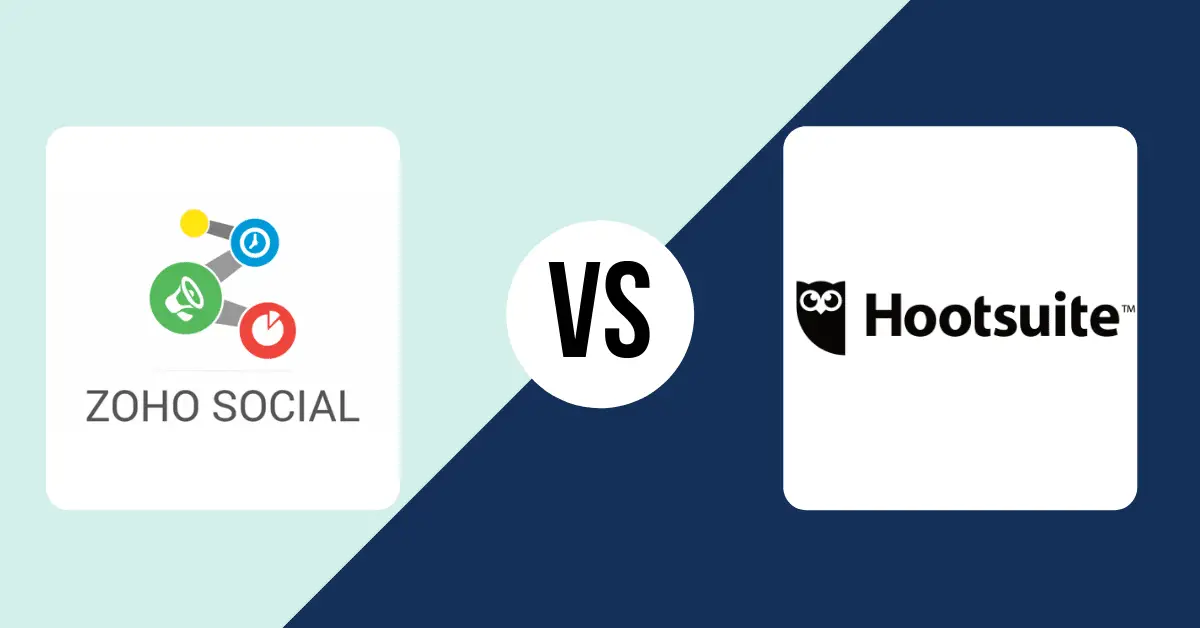 Coordinating and managing a social media marketing campaign while effectively running all other aspects of your small to mid-sized business can be challenging. That's why so many companies employ social media management software solutions to streamline efforts to engage with their audience and increase brand awareness. Thankfully, quite a few tools on the market can do just that.
With so many solutions available, choosing the right one can be a challenge. Some are tailor-made for companies with an in-house marketing team, while others are more appropriate for agencies that manage dozens of social media profiles. Others work better with one particular social media channel than another.
Suffice to say there is so much to consider when choosing the best social media management tool for you and your company.
Zoho Social and Hootsuite are two popular solutions many small to mid-size companies use to manage their social media presence. In this post, we will compare Zoho Social vs Hootsuite so that make an informed decision about which one is best suited for your unique needs.
About Zoho Social and Hootsuite
Zoho Social was created by Zoho Corporation, an Indian multinational tech company founded in 1996 that makes web-based business solutions. After long being established as a significant driving force in business management software, the company released Zoho Social to help businesses grow and manage their presence across social media networks. Zoho Social has since grown into a versatile solution that offers seamless social media scheduling and publishing, solid analytics, and social media listening capabilities.
In 2008, a Vancouver-based digital agency called Invoke Media released BrightKit, allowing users to manage multiple Twitter accounts from a single dashboard. BrightKit became extremely popular, and thus, the original version of Hootsuite, as it is known today, was born. Today, Hootsuite is more than just Twitter management software. It supports Facebook, Instagram, LinkedIn, and YouTube. It offers post scheduling, ad management, and social media listening features. 
Supported Social Networks
| | | |
| --- | --- | --- |
| | Zoho Social | Hootsuite |
| Facebook | ✅ | ✅ |
| Twitter | ✅ | ✅ |
| LinkedIn | ✅ | ✅ |
| Instagram | ✅ | ✅ |
| Pinterest | ❌ | ✅ |
| Snapchat | ❌ | ❌ |
| TikTok | ❌ | ❌ |
| Other Channels | Youtube | Youtube |
| | | |
As you can see, the two software support practically the same social media platforms. The only difference is Zoho social doesn't support Pinterest while Hootsuite does and Hootsuite doesn't support Google My Business while Zoho Social does. That being said, if Pinterest or Google My Business is a deal-breaker for you, choose your platform accordingly.
Core Features
This section will break down the core features that make Zoho Social and Hootsuite preferred social media management software solutions for users. We will compare and contrast each software solution related to each of these core features.
Scheduling and Posting
Zoho Social and Hootsuite both allow users to manage multiple social media accounts from a single dashboard and an easy way to schedule posts.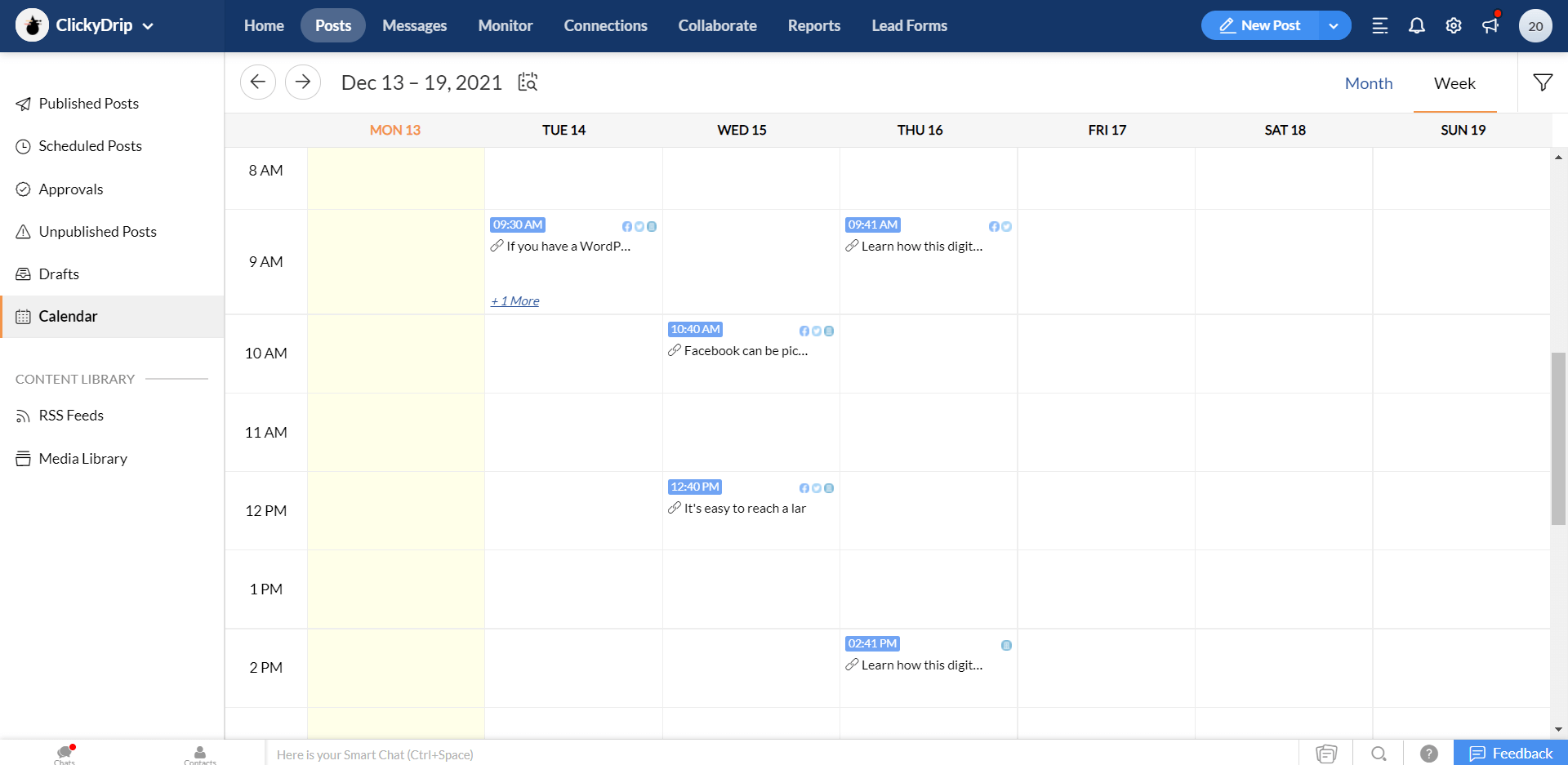 Hootsuite's planner feature is flexible, intuitive, and it's easy to move posts to different times in the calendar simply by clicking and dragging queued posts.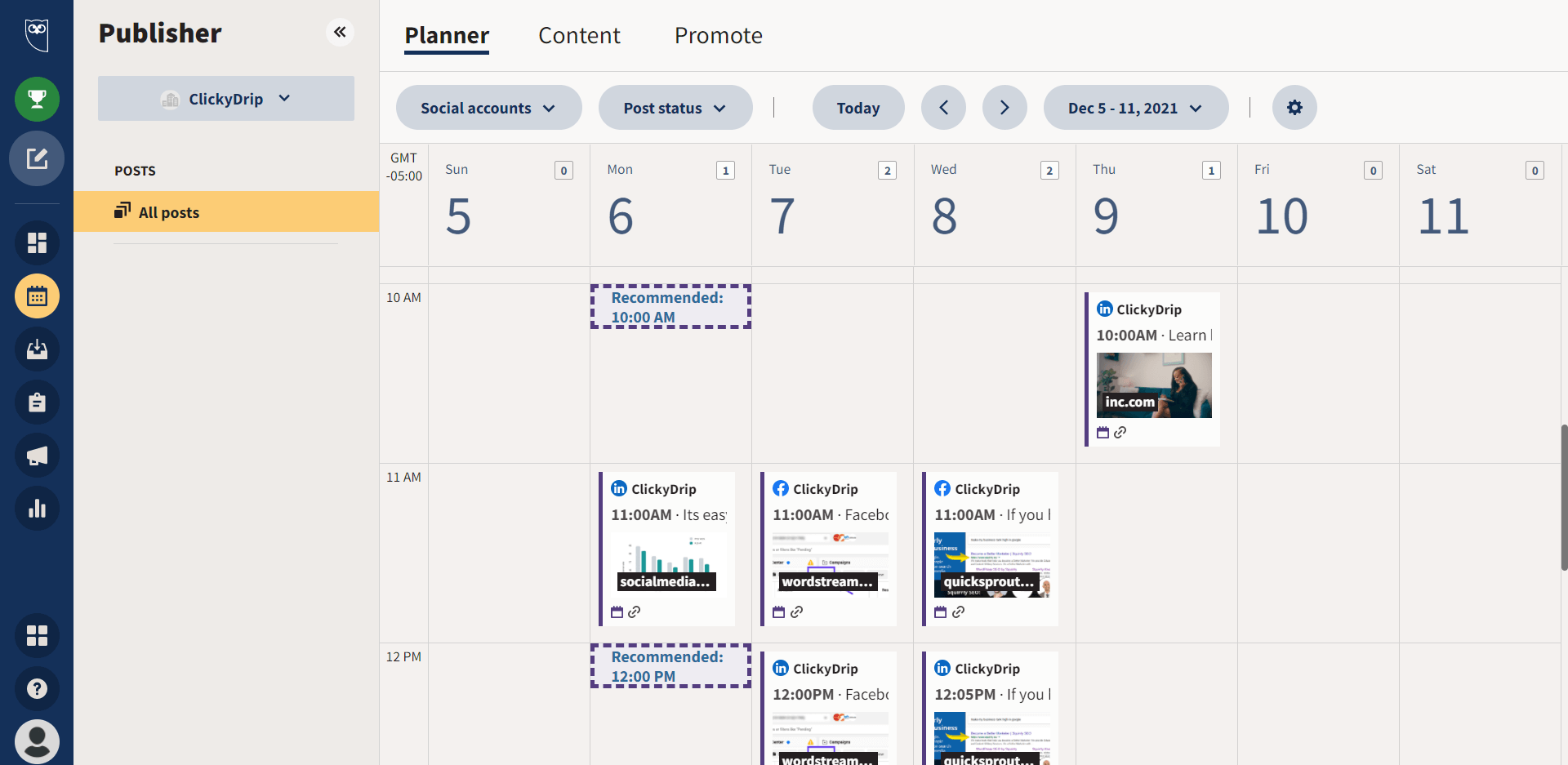 Zoho and Hootsuite have no limit on how many posts a user can schedule, regardless of the pricing plan. However, the Zoho Social bulk scheduler feature limits the user to 350 scheduled posts at one time.
Interaction Management
The ability to engage your audience is essential to overall success, and that kind of engagement is an integral part of an excellent digital marketing campaign. Both Zoho Social and Hootsuite help users manage this critical engagement by offering streamlined social media interaction management.
Zoho Social's direct messages feature allows you to reply inline to all the messages you receive via Facebook and Twitter. You can also take a deep dive into a user's social profile information, engagement stats and attach media to your responses. Zoho Social's live stream enables users to see company interactions as they occur, giving the user the ability to reply when it matters most. When combined with Zoho's popular CRM software, you can take your customer engagement to the next level.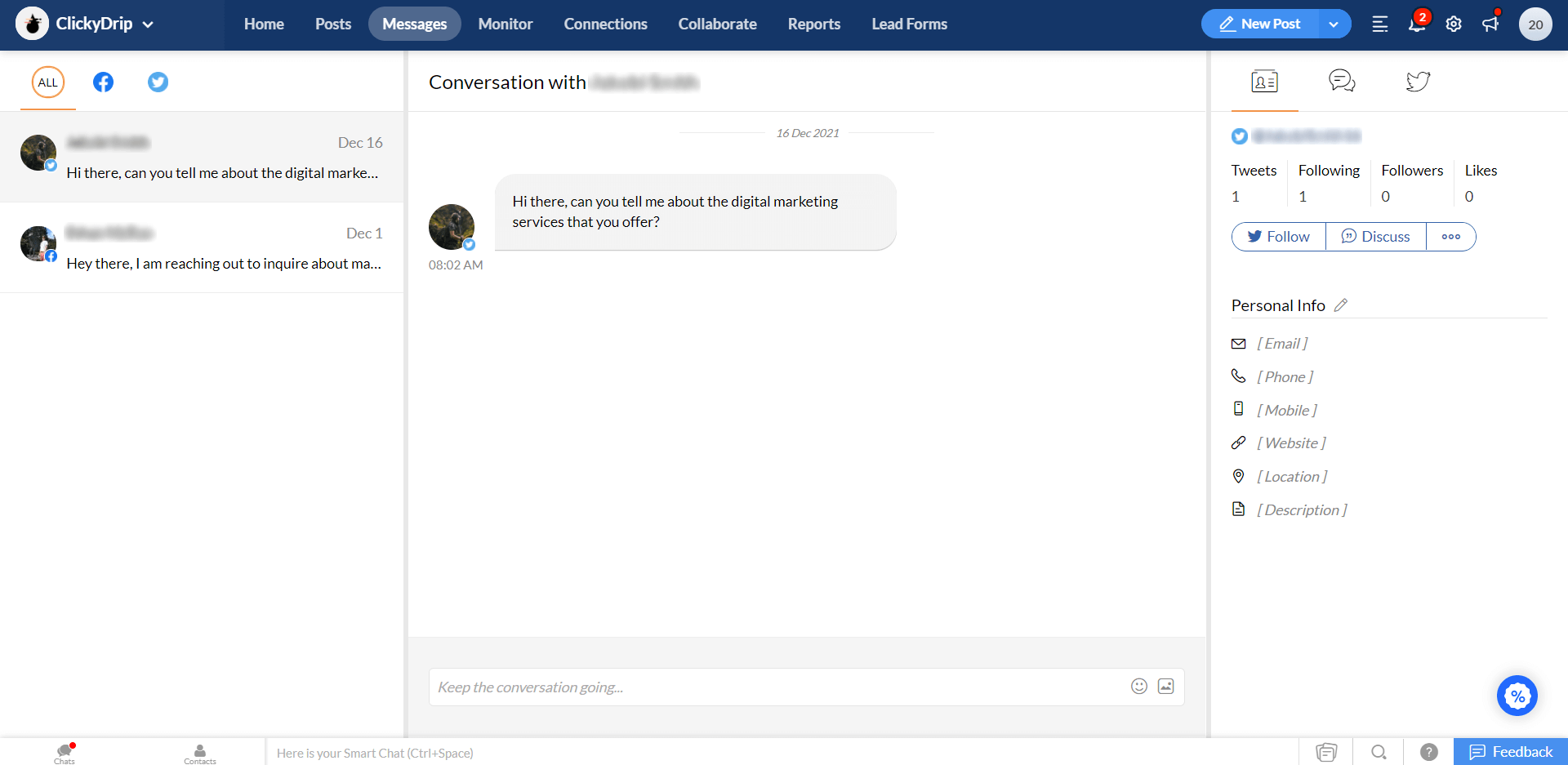 With the Hootsuite Inbox, all of your private and public social messages are funneled into one location, allowing you to seamlessly interact with your audience in threaded, contextual conversations that enable you to engage more efficiently. The Hootsuite Inbox feature is exclusive to users on the Hootsuite Team or Business plans, the highest-priced packages that Hootsuite offers.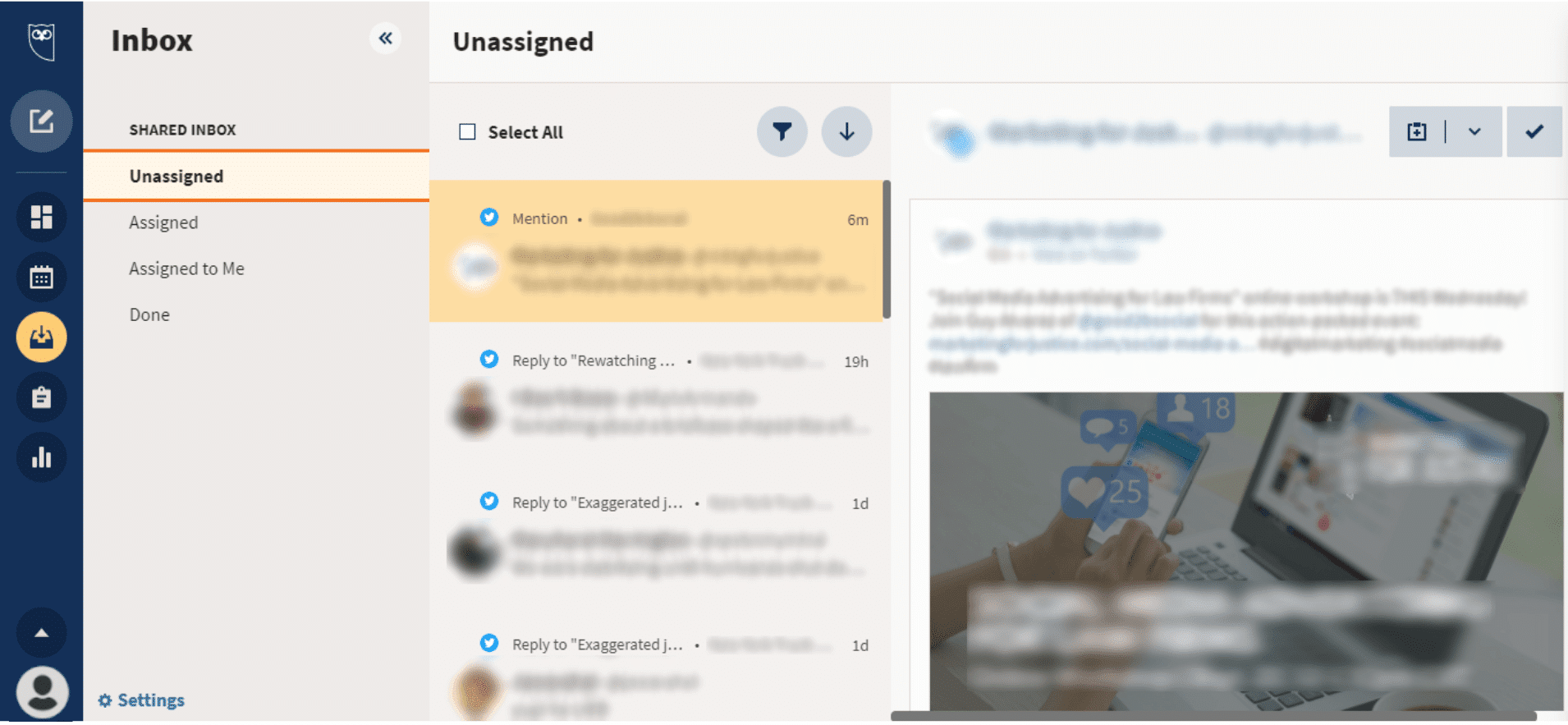 Social Media Monitoring
Zoho Social's Monitor tab allows you to track social media activity related to your company,  brand, product, or whatever else is important to you. The Monitor tab allows you to create multiple columns in a convenient display enabling you to track what people are saying, discover essential conversations, and ultimately garner new opportunities to learn, engage, help, and collaborate. Best of all, you can engage in real-time by liking, commenting, or retweeting them directly from each column.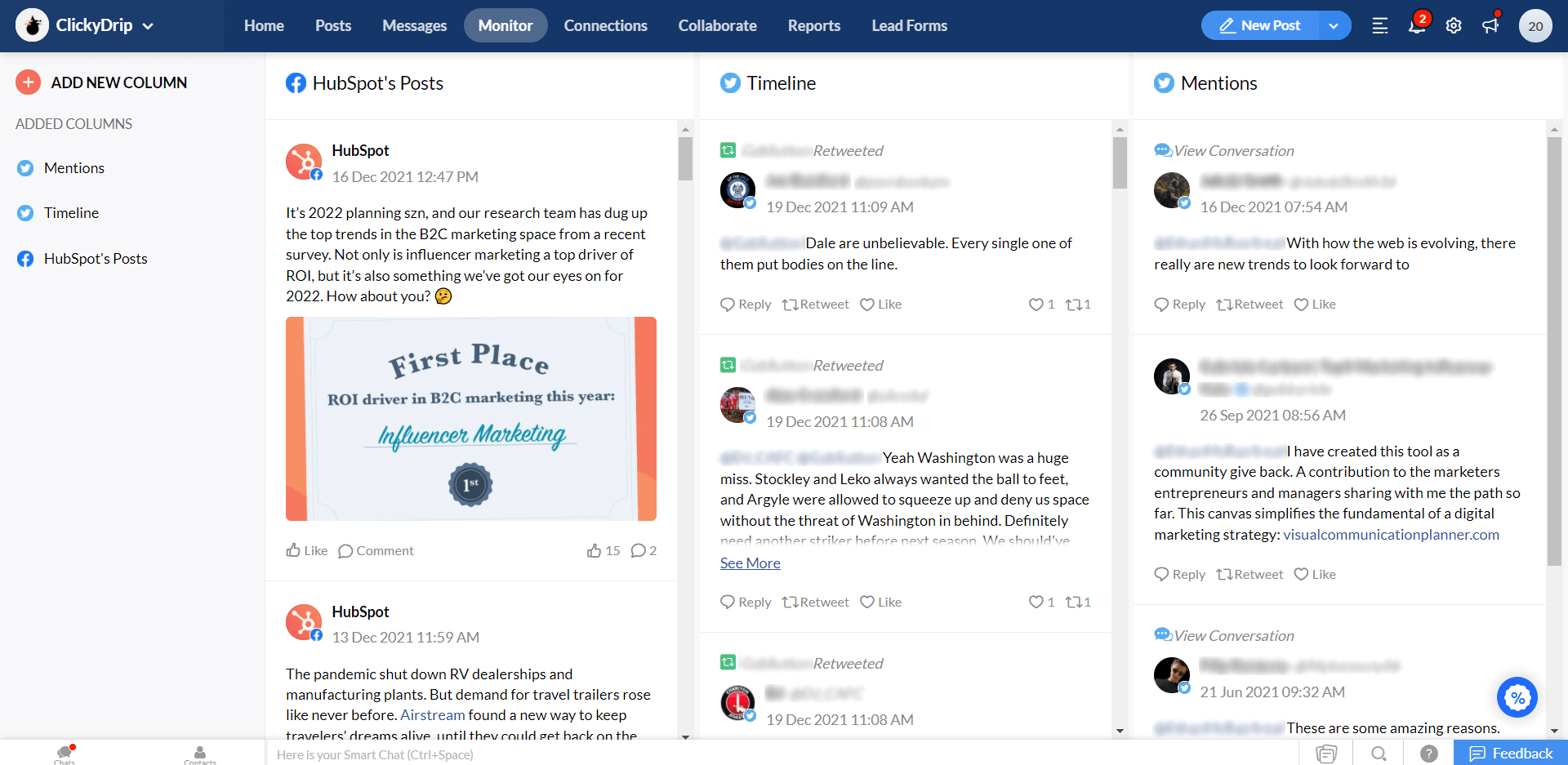 Hootsuite operates similarly, allowing you to set up social media streams that you can use to monitor conversations, keywords, mentions, hashtags, and more. From a single dashboard, you can watch those streams and respond to discussions and comments immediately. While Zoho Social only allows users to monitor Facebook and Twitter accounts, Hootsuite will enable you to create streams from LinkedIn, Instagram, and YouTube, allowing better monitoring across more social media channels.
Ads Manager
With Zoho Social, users can connect their Facebook ads account and run their advertising campaigns directly from the Zoho Social dashboard. From there, you can map your form fields and campaigns, capture leads, analyze ad performance, and push lead information to Zoho's CRM solution. Zoho Social's Lead Forms allow you to associate your leads with their social profiles on other networks so that you can view their social media updates, gain more insight, and engage with them more effectively.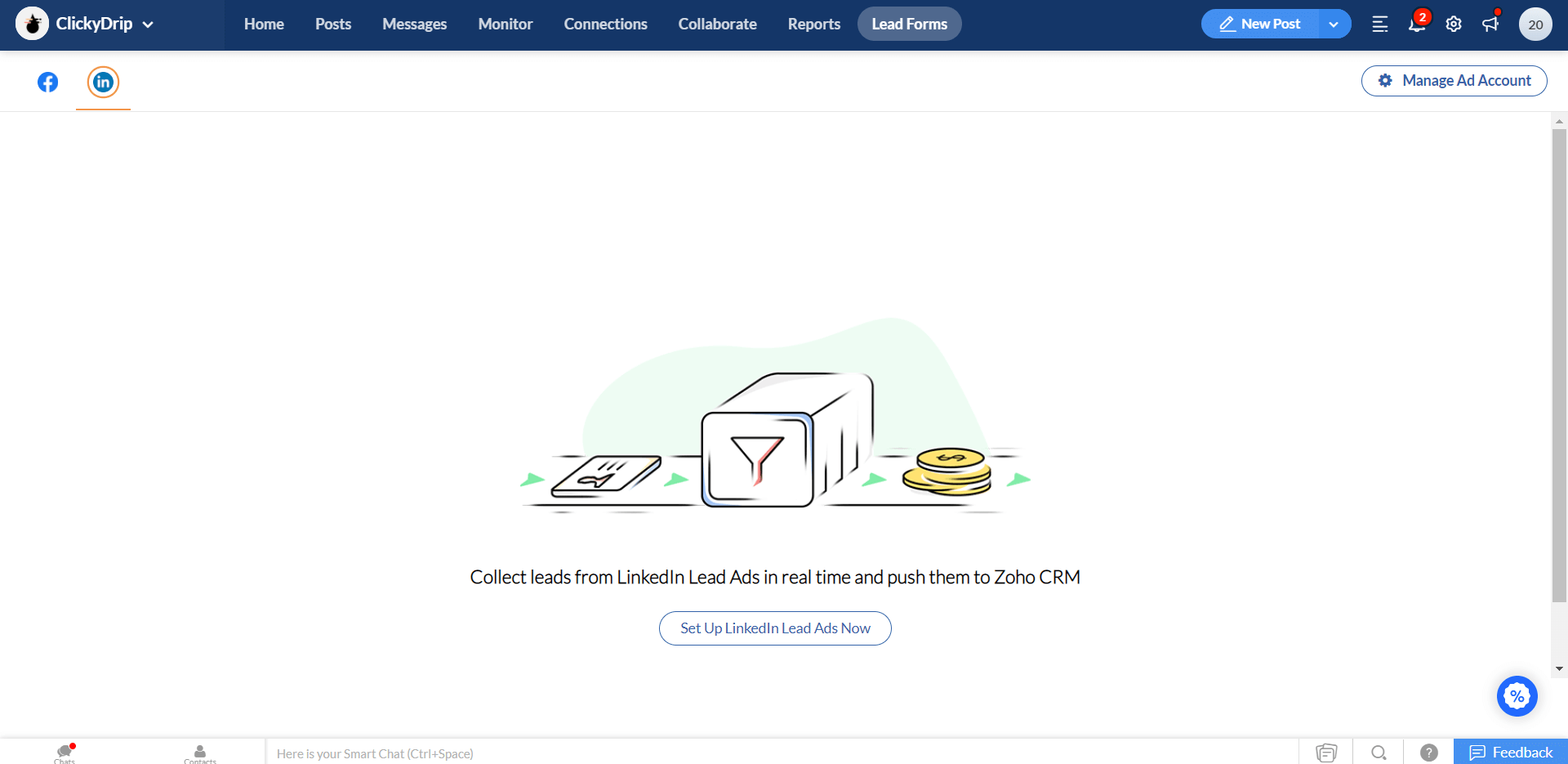 Hootsuite's Advertising feature simplifies campaigns by allowing you to boost both Facebook and LinkedIn posts quickly and efficiently through the familiar Hootsuite dashboard. You can also use a stream to monitor your ad campaigns and their stats right from Hootsuite. You can even create automated promotional campaigns that will automatically boost your Page posts for you. Hootsuite's Advertising feature also allows for easy collaboration with teams and clients, as well as real-time insights and analytics.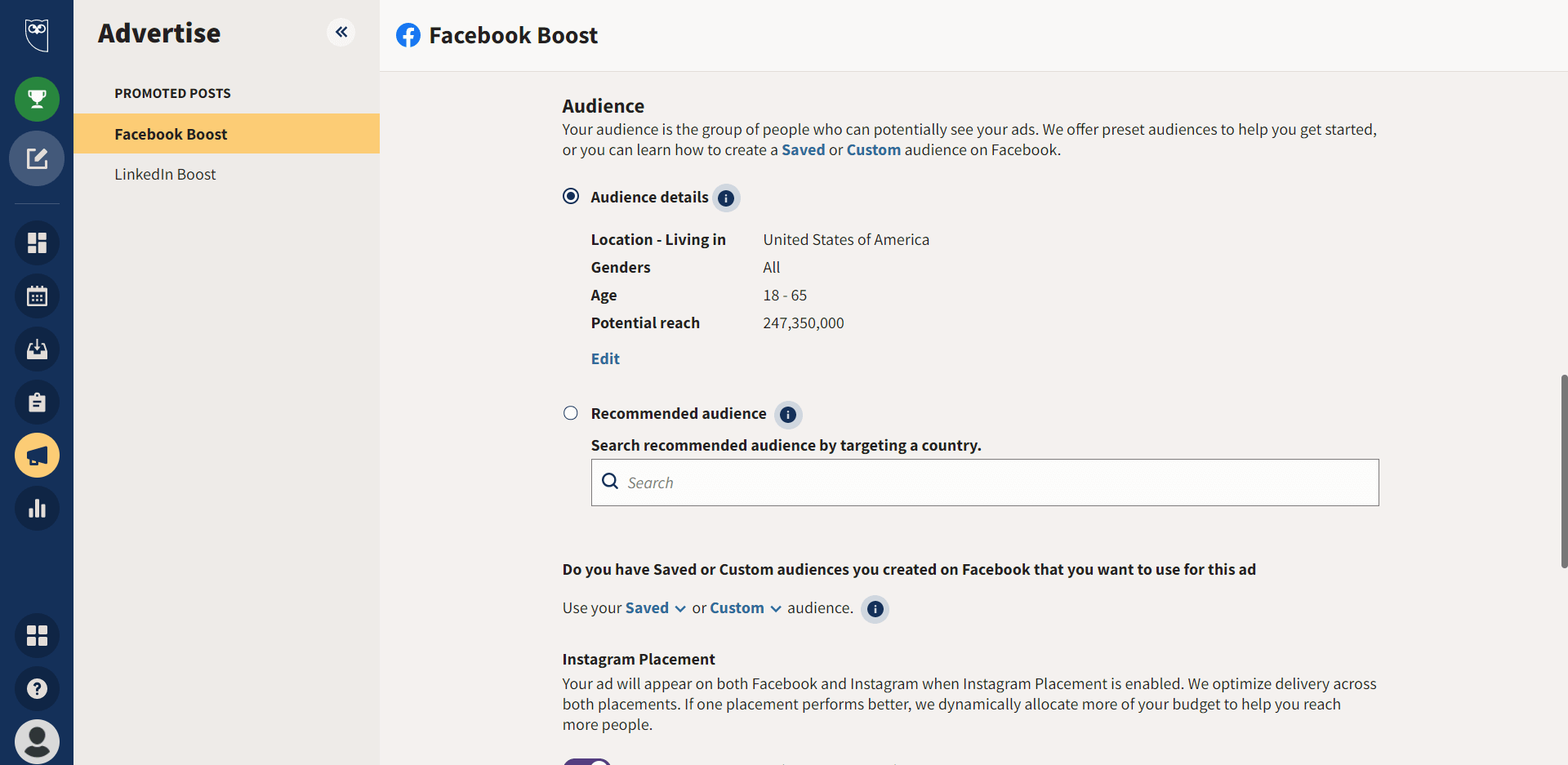 Approach to Posting and Scheduling
Zoho Social's post and scheduling platform put many other social media calendar management platforms to shame. Once your post is ready, you can select the date and time you want to publish using the calendar on the right side of your screen. The software will tell you the percentage of your audience you are likely to reach at that time.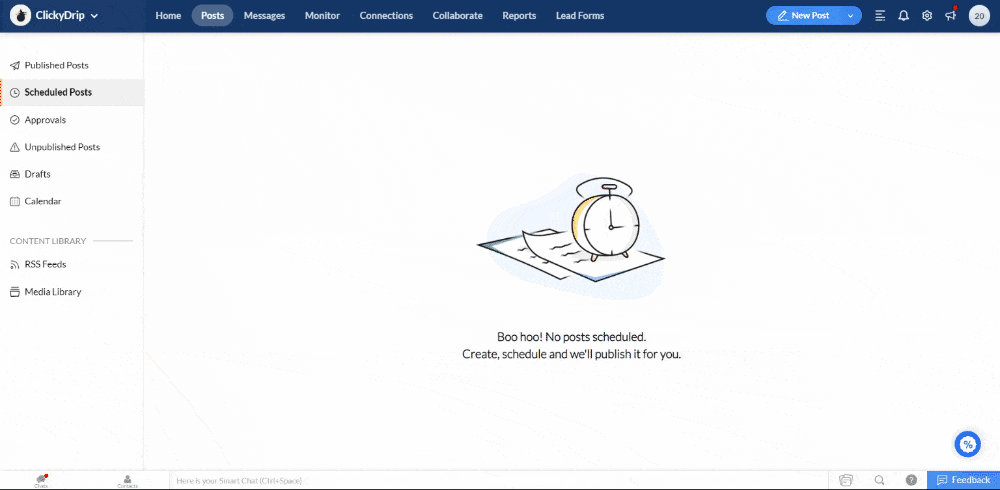 Zoho Social's post publishing offers the following:
Publish Now:

Your post goes live on all social channels you've selected when you select this option.

Custom Schedule:

A display calendar allows you to choose a date and time to schedule your post. If you publish to an Instagram Business Profile, you can choose to create a recurring post on a weekly or monthly basis.

CustomQ:

CustomQ is a form of post scheduling that can help you maintain a consistent posting schedule and avoid overlaps. This feature is only available with Zoho Social's Professional package.

SmartQ:

As you publish more content, Zoho Social's SmartQ feature will begin to predict the best time to post, based on audience engagement. This feature is only available with Zoho Social's Premium package.
Hootsuite's post composer allows you to easily create, preview, schedule, and publish all of your social media content to Facebook, Twitter, LinkedIn, and Instagram from one location.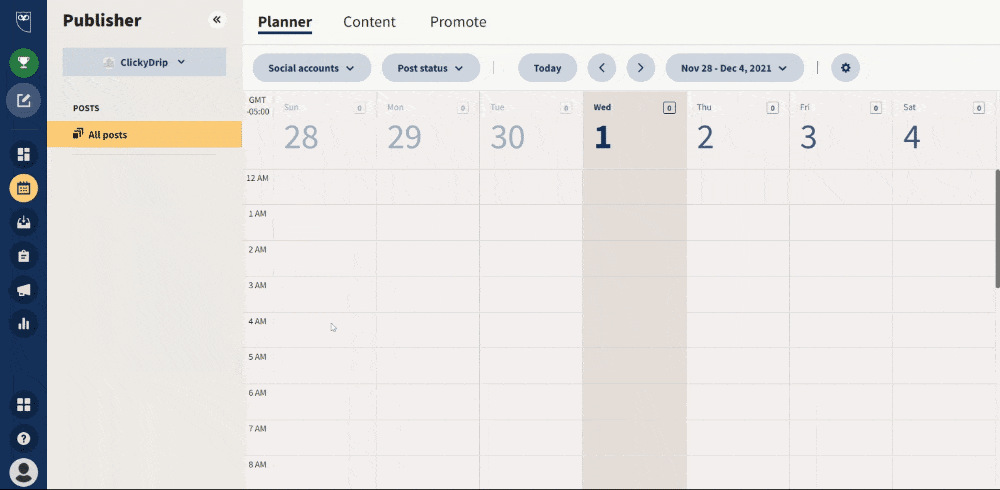 In addition to creating posts from scratch, Hootsuite allows you to easily share social content that appears in your streams, making it especially useful for those who rely on retweets as a part of their social media marketing campaign. Hootsuite's Chrome extension makes it easy to share content directly from the web as well. 
As far as scheduling and posting, Zoho Social and Hootsuite both get the job done and are straightforward. Zoho Social has the edge over Hootsuite based on its range of unique posting and scheduling features.
Dashboard Experience and Ease of Use
Zoho Social offers a smooth well-integrated dashboard experience with an uncluttered layout. The calendar view gives a clear picture of scheduled posts, and the post automation feature is easy to set up.
Its Brands add-on offers a seamless way to manage the social media accounts of multiple brands/businesses, which is perfect for digital marketers with numerous clients. Zoho Social also makes it easy to collaborate with your team to discuss new ideas, popular posts, reports, key influencers, and more.
Hootsuite's stream views allow you to see all the social media feeds that matter most to you and your organization. Post previews are incredibly effective and accurate to each social media platform.
Overall, Hootsuite is easy to use. The ability for multiple team members to schedule posts across various platforms is a feature that works flawlessly. Hootsuite is so simple to set up that you will be posting and scheduling to your channels within minutes.
Reporting and Analytics
With its reporting and analytics features, Zoho Social allows you to effectively analyze the impact of your social media strategy and create insightful reports to understand your audience better and track your overall performance. Its clean and crisp social media analytics dashboard is rich with great features that allow you to understand what's working best for your brand. The Reports dashboard gives insight into your audience, tracks your performance, and offers a clear understanding of your brand's reach. These features are available to all users. More detailed reporting comes with Zoho Social's higher-tier packages.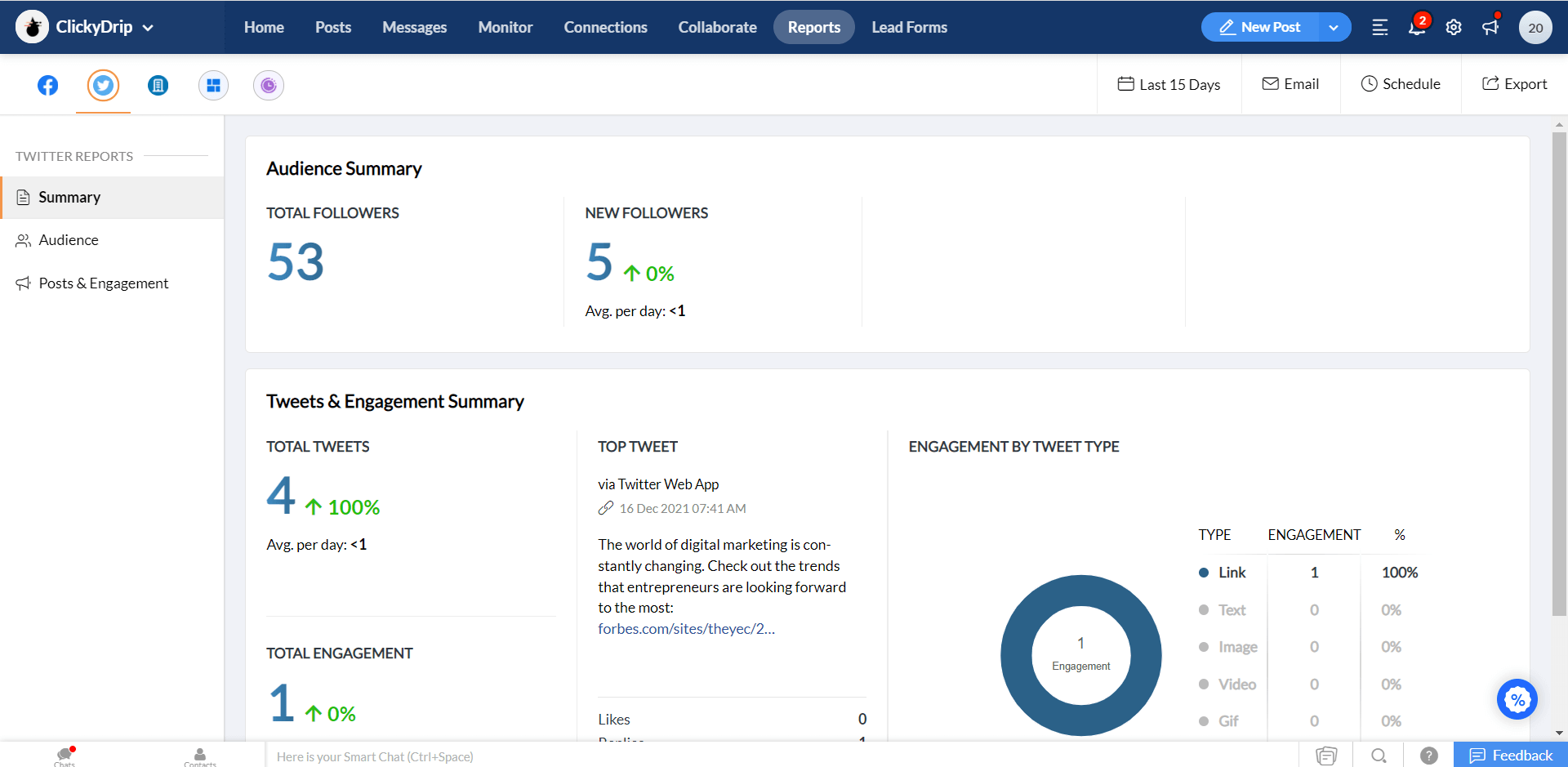 Hootsuite also offers basic reporting features to all users that cover account-level statistics like post and follower counts and engagement overviews. To build real-time deep-dive reports that show engagement measurements such as demographics and age groups, however, you'll have to purchase Hootsuite's Professional plan and higher. The Enterprise plan allows you to analyze information regarding your social media management team's audience engagement.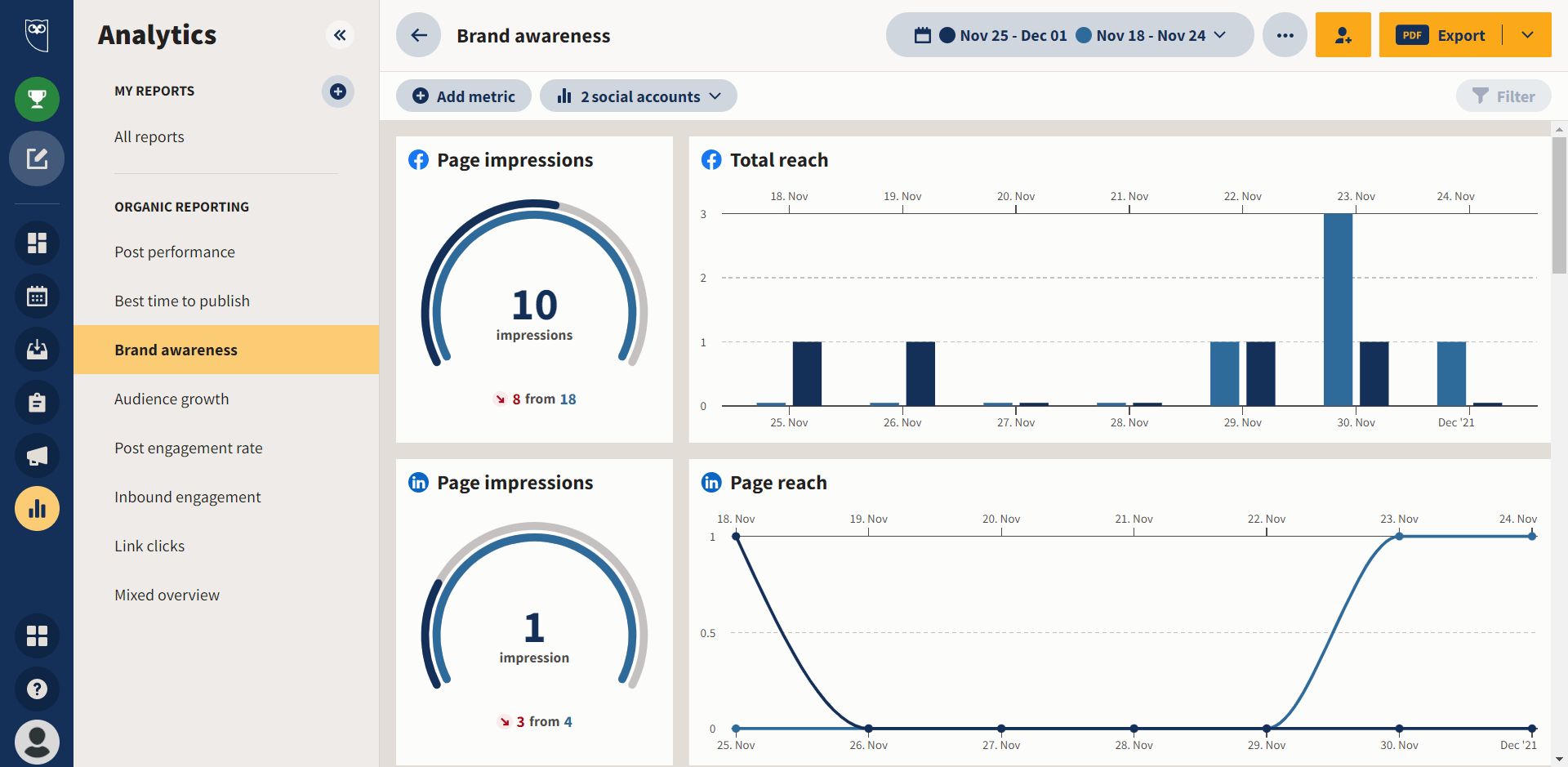 Team Management
Zoho Social offers a range of intelligent collaboration features to help you and your team save time and make decisions faster. The collaboration dashboard lets you assign specific roles for each team member and which brands, social channels, and features they can access, keeping the account owner in total control. Zoho Social's smooth interface allows teams to collaborate within a single tab to edit posts, approve drafts, and share copy ideas. You can even loop in your clients to get feedback on new drafts while keeping related discussions within your team private.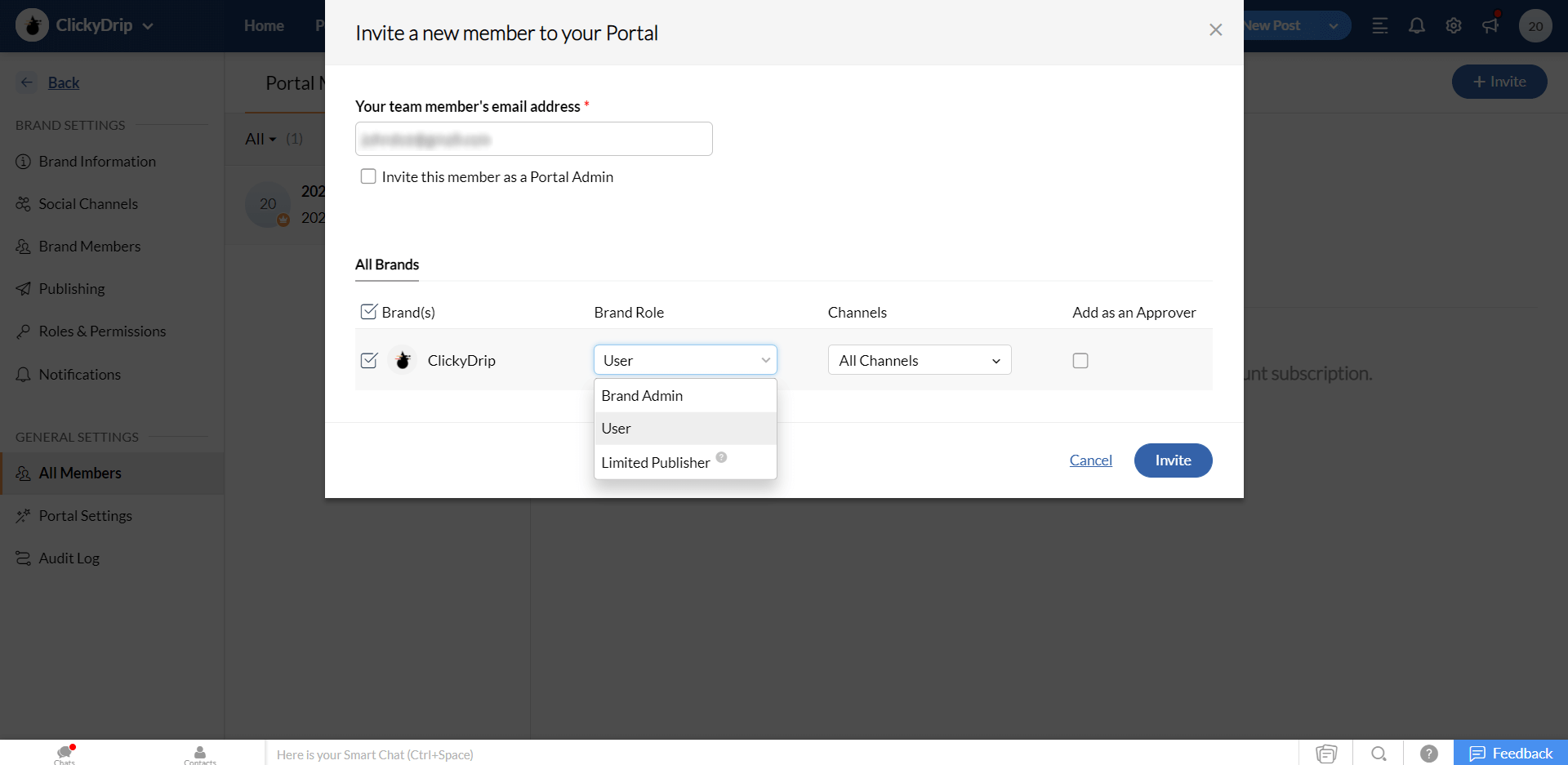 Hootsuite also features a broad range of collaboration tools and gives you the option of breaking up team members into different categories. From there, you can determine which individuals have access to what brands, channels, or campaigns. Teams can co-update Twitter, Facebook, and Linkedin channels without compromising security. With Hootsuite's Collaborative Drafts publishing feature, you can safely prepare and collaborate on posts before they go live. Hootsuite's collaboration features truly target large-scale digital marketing teams.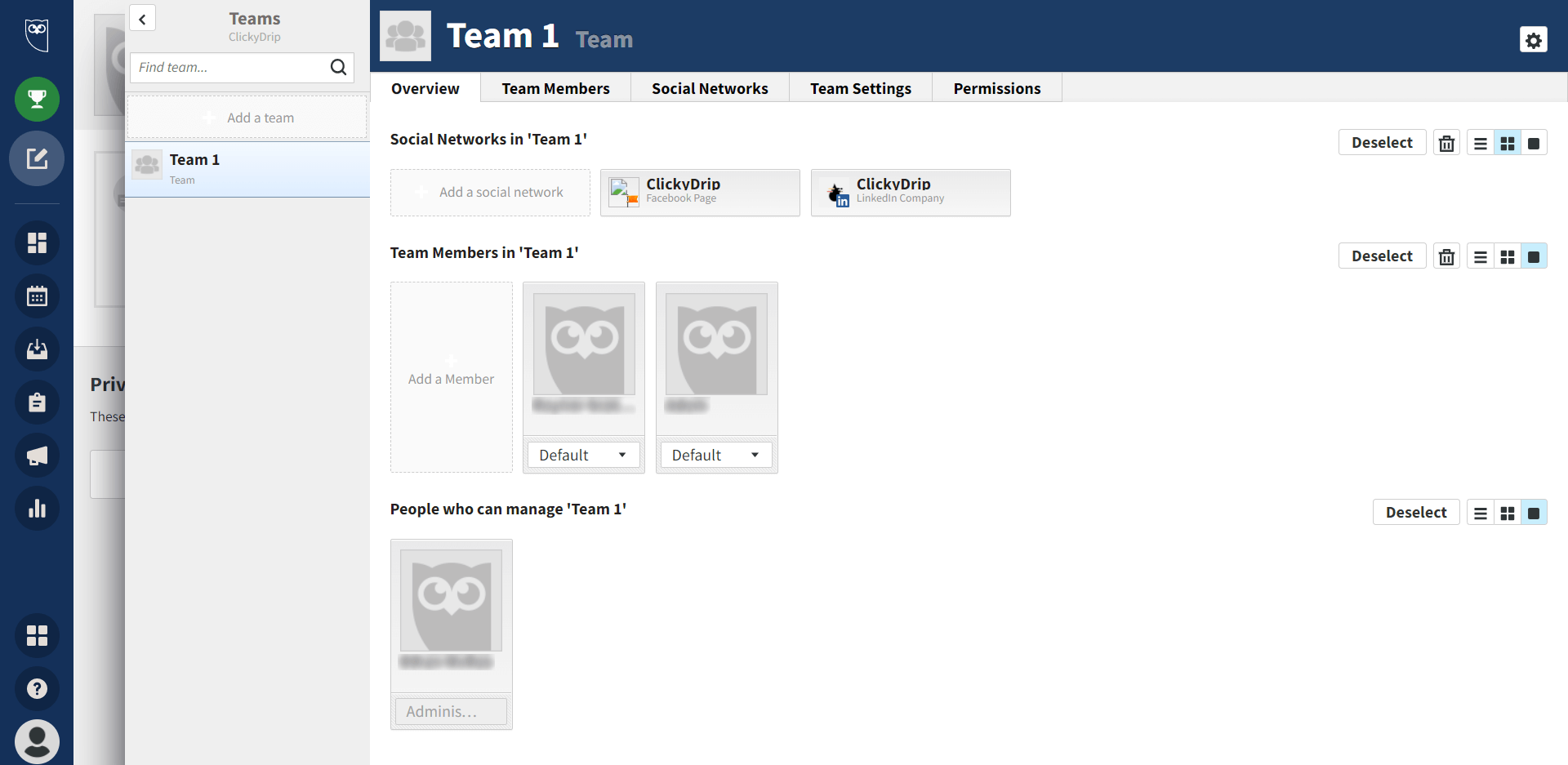 Pricing
Zoho Social offers a free plan that allows users to manage one brand. The social media management tool also provides a free 15-day free trial on its paid plans and two sets of pricing plans, one for businesses and one for agencies.
For Businesses  
Standard plan ($10/mo):

Zoho Social's Standard plan allows one brand (7 channels), one team member, 24/5 email support, multi-channel publishing, content scheduling, a publishing calendar for publishing and scheduling posts, zurl link shortener, an activity log, user tagging, summary reports, drafts, and Twitter location services. 

Professional plan ($30/mo):

Zoho Social's Professional plan comes with all features of the Standard plan plus live streaming, notifications, CustomQ, repeat posting, bulk scheduling, popular post and post insight analytics, Bit.ly link shortener, a media library, retweets scheduling, RSS feeds, Cloudpicker, messages, content pausing, account muting and blocking, connections, a monitoring dashboard, custom video thumbnail creation, and Instagram first comment services.

Premium plan ($40/mo.):

Zoho Social's Premium plan allows one brand (8 channels), three team members, and all the features of the Professional plan. The Premium plan also includes the SmartQ feature, content approvals, post export and discussion, team member audio/video chat, custom reports and report sharing, custom roles, content targeting. You can also access lead tools for Facebook & LinkedIn, Zoho CRM integration, Zoho Desk integration, CRM leads and contacts, and lead generation features.
For Agencies   
Agency plan ($230/mo, billed annually):

Zoho Social's Agency plan allows ten brands (80 channels), five team members, 24/5 email support, all premium features, plus client invites, portal customization, scheduling/emailing reports, agency-branded reports, and custom views and free logins for clients.

Agency+ plan ($330/mo, billed annually):

Zoho Social's Agency plan allows 20 brands (160 channels), five team members, 24/5 email support, and all Agency features.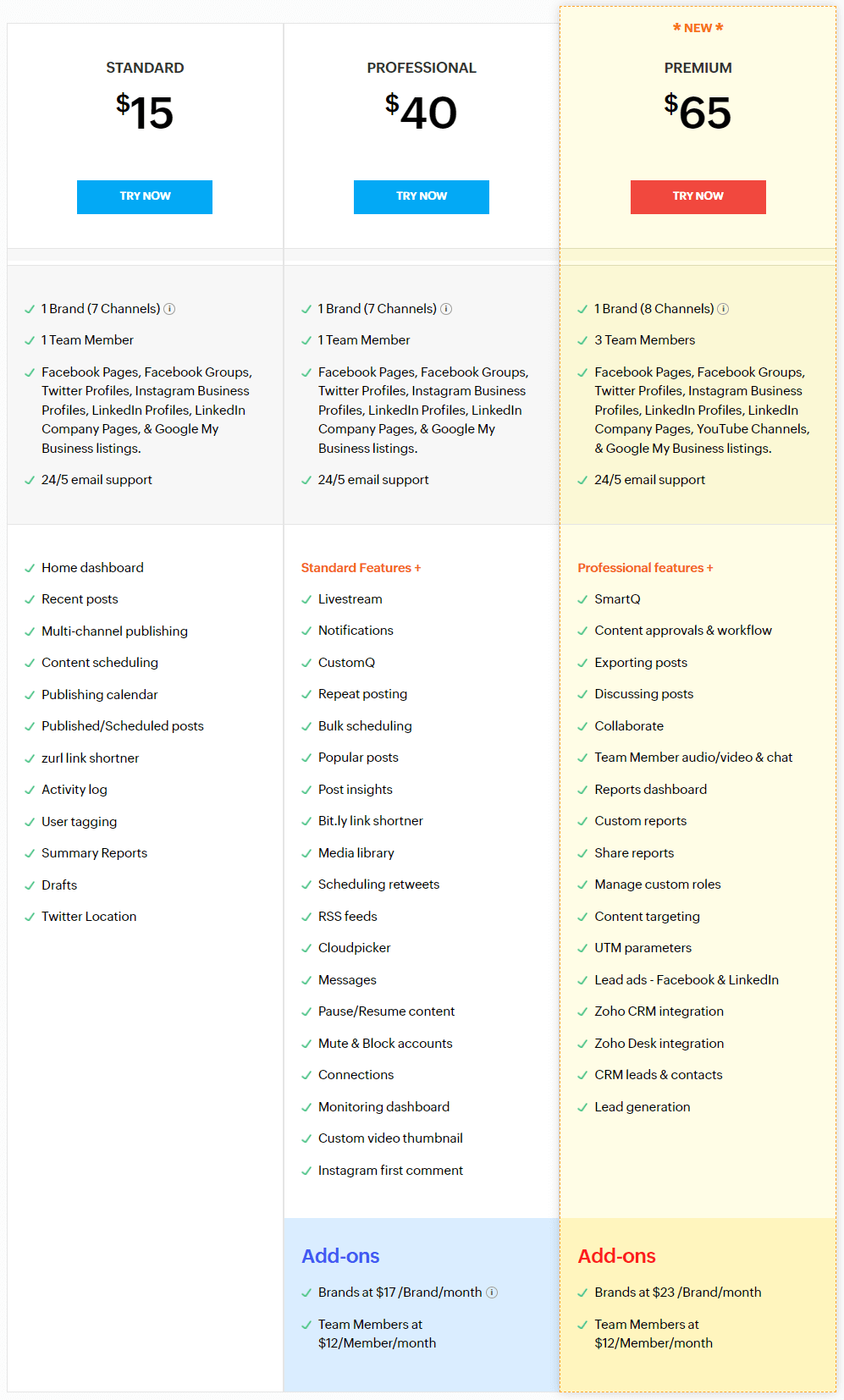 Hootsuite offers a free plan for individuals, as well as three paid plans for businesses. A 30-day free trial is available for all pricing plans. 
Free plan ($0/mo.):

Hootsuite's Free plan offers users one social set (one social profile per channel), 30 posts per profile a month, and access for a single user.

Professional plan ($49/mo.):

Hootsuite's Professional plan offers access for a single user, ten social media accounts with unlimited posts, access to all messages in a single inbox, advanced scheduling, and simultaneous multiple posts scheduling.

Team plan ($129/mo.):

Hootsuite's Team plan offers access for up to three users, 20 social media accounts with unlimited posts, access to all messages in a single inbox, advanced scheduling and simultaneous multiple posts scheduling, team access management, team roles with permissions, posts or comment assignments for team members.

Business plan ($599/mo.):

Hootsuite's Business plan offers access for up to five users, 35 social media accounts with unlimited posts, and access to all messages in a single inbox. It includes all of the Team plan features and the ability to review messages before they publish. The Team plan offers enhanced functionality and integrates premium apps like Zendesk, Slack, and Basecamp. The package also comes with 24/7 priority support.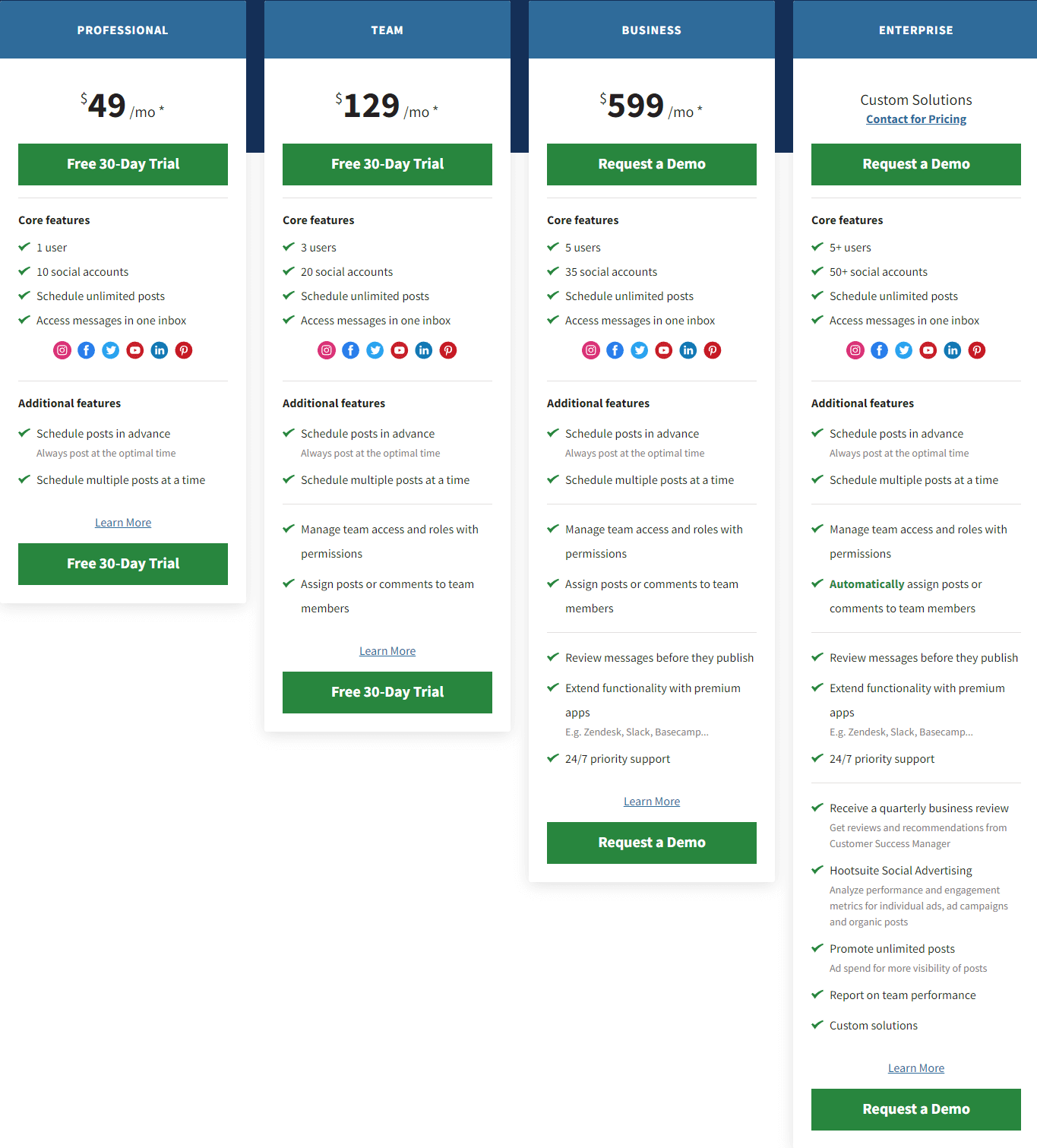 Integrations
Zoho Social integrates with some of the most popular apps using Zapier workflow management software. Zapier is free, allowing up to 100 tasks per month before a subscription is required. In addition, Zoho Social can seamlessly integrate with the entire suite of Zoho products when you purchase Zoho Social's premium plan.
Hootsuite's complete ecosystem platform allows you to integrate and connect with more than 250 apps inside the Hootsuite dashboard. Most connections are not available with Hootsuite's free plan.
Customer Support
All Zoho Social users have access to a helpful knowledge base, community support forum, and email support with a guaranteed response time of 24 hours. Zoho users can pay for additional support packages that offer features like phone and live chat support and fast email support time. Many users complain that Zoho's free customer support is not responsive or helpful enough.
Hootsuite's customer service also gets low marks from users. Although the platform's Help Center has many articles, resources, and tutorials to solve many common problems, users can always submit a support ticket to the company's help desk. Unfortunately, the wait time can be excruciating.
When to Choose Zoho Social vs Hootsuite
Overall, when comparing Zoho Social vs Hootsuite, Zoho Social is easier to use, set up, and administer. It also shines in terms of meeting a business's needs at a more reasonable price. For example, Zoho Social's Premium plan (its highest priced business package) at $40 a month runs circles around Hootsuite's lowest package, which costs $49 a month. Even Zoho Social's priciest package for agencies, at $330 a month, is more affordable than Hootsuite's most expensive package.
Hootsuite has its strengths, not the least of which is its excellent hashtag monitoring and social listening features. It has proven successful in helping brands manage social media better, from the smallest businesses to the largest enterprises in finance, healthcare, tech, higher-ed, and government industries.
Zoho Social bills itself as the alternative to Hootsuite, and it certainly does give Hootsuite a run for its money. It's a preferred option for small to mid-size companies with 1-200 employees. It offers social media management and support in many countries, including Asia, Australia, Canada, China, Europe, India, Latin America, Middle-East and Africa, UK, US. For anyone already using Zoho products, particularly its CRM software, Zoho Social is a no-brainer.
Hootsuite is great for large-scale social media marketing operations and can easily manage workflows for large teams or groups of teams. Hootsuite provides users with rich features that allow for the in-depth social listening essential for anyone who relies on monitoring brand reputation across the social media landscape.
You can see how other social media management tools stack up to Hootsuite in the following comparisons: