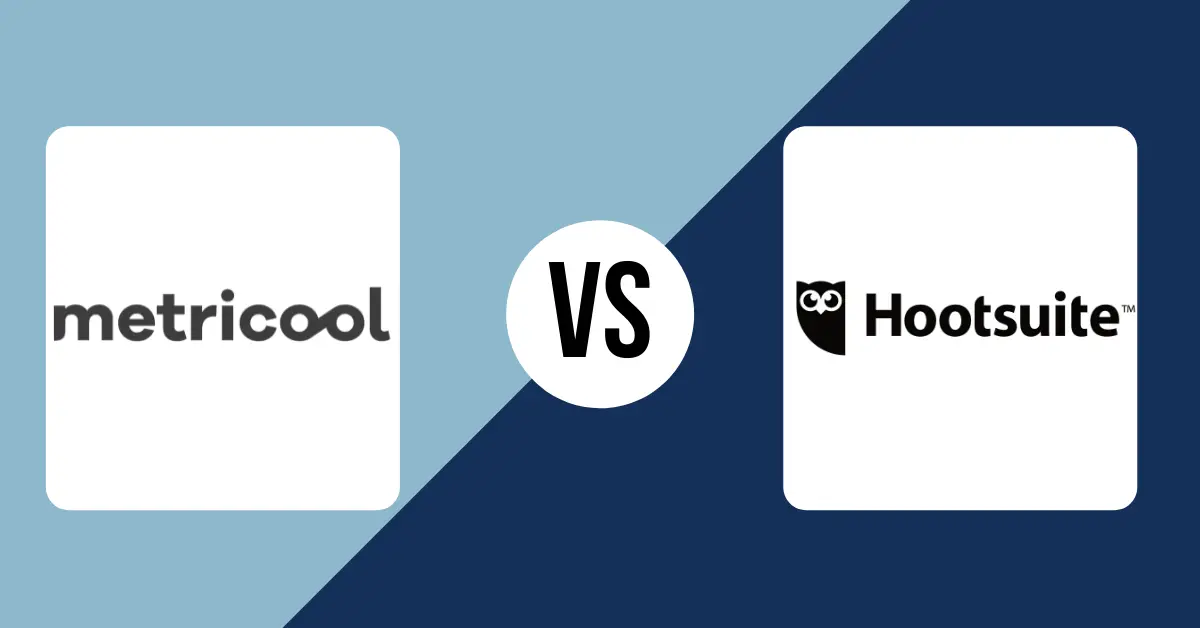 The social media landscape has become increasingly complex over the years. Not only have a wide array of platforms sprung up over the years, but the way that people interact on these platforms is constantly evolving as well. 
Fortunately, there are many social media management tools that can help your company tackle the ever-changing social media landscape. These tools can help you develop effective strategies, publish content and analyze the performance of your social media marketing efforts. 
Hootsuite and Metricool happen to be extremely powerful social media tools. However, there are some key differences between these platforms that are worth considering. 
In this post, we cover Metricool vs Hootsuite in terms of features, capabilities, and who each tool is best for, so that you can make the right choice for your business. 
About Metricool and HootSuite
Metricool is a relative newcomer in the marketplace—founded in 2015 by Juan Pablo Tejela and Laura Montells—in Madrid. First launched as a relatively stripped-down social media marketing tool, it has since expanded its functionality to include ad management and blog metrics, among other additions. Metricoolo currently has a four-star rating on G2, where user reviewers praise the UI, ad functionality, and its free version.
Founded in 2008 by now-CEO Ryan Holmes, Hootsuite started as a minimalistic Tweet scheduler. Since then, the platform has gone through several substantial updates, now helping marketers run many simultaneous campaigns across any number of social networks. It has also improved its social listening features, on top of its cleaner interface and expanded analytics. As of publishing, Hootsuite has captured approximately 4.33 percent of the marketplace.
Supported Social Networks
| | | |
| --- | --- | --- |
| | Hootsuite | Metricool |
| Facebook | ✅ | ✅ |
| Twitter | ✅ | ✅ |
| LinkedIn | ✅ | ✅ |
| Instagram | ✅ | ✅ |
| Pinterest | ✅ | ✅ |
| Snapchat | ❌ | ❌ |
| TikTok | ❌ | ✅ |
| Other Channels | YouTube | YouTube |
| | | |
| | | Twitch |
Hootsuite and Metricool support many of the same social media including Facebook, Twitter, LinkedIn, Instagram, and Pinterest. However, Metricool has a leg up on Hootsuite in terms of additional platforms that it integrates with. Metricool is a bit more inclusive and supports platforms like TikTok, Google My Business, and even Twitch. For many, these are nice to have integrations but not critical to have, but it's important to note this difference nevertheless.
Core Features Shared by Both Metricool and Hootsuite
How well do Metricool and Hootsuite implement the core functionality you'll likely rely on most?
In this section, we'll delve into the primary features of both, exploring how well each executes on scheduling, interaction management, and social media monitoring.
Scheduling and Posting
Both Metricool and Hootsuite allow the management of multiple social media accounts simultaneously. Both offer helpful calendar views and extensive post-scheduling options. However, Metricool's calendar view is better integrated, and additions like the URL shortener and emoji compatibility make it a solid offering.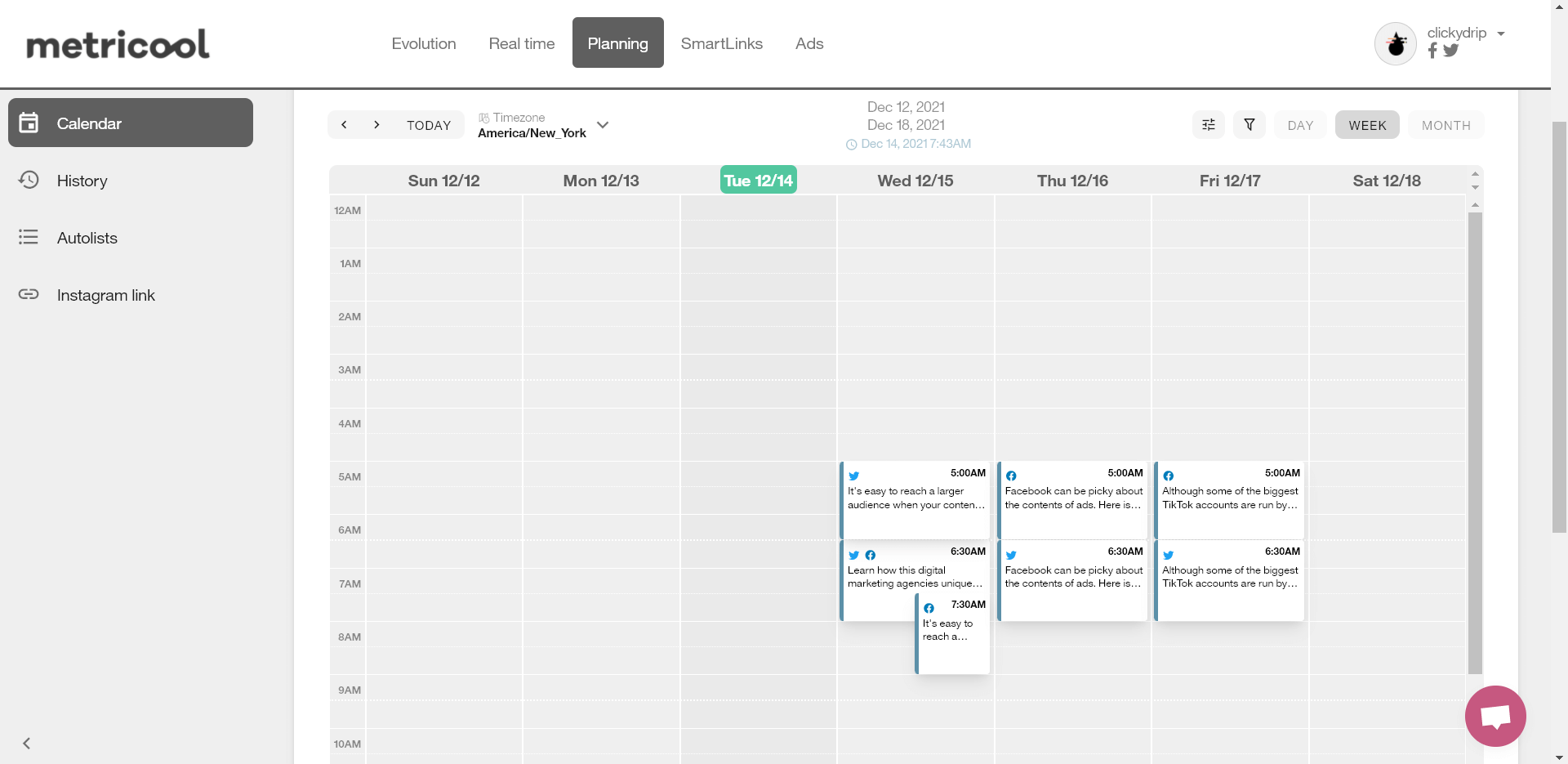 On the other hand, Hootsuite's post-scheduling options are a bit more comprehensive. The recommended publish times is a nice touch that can help you determine the best times to publish content.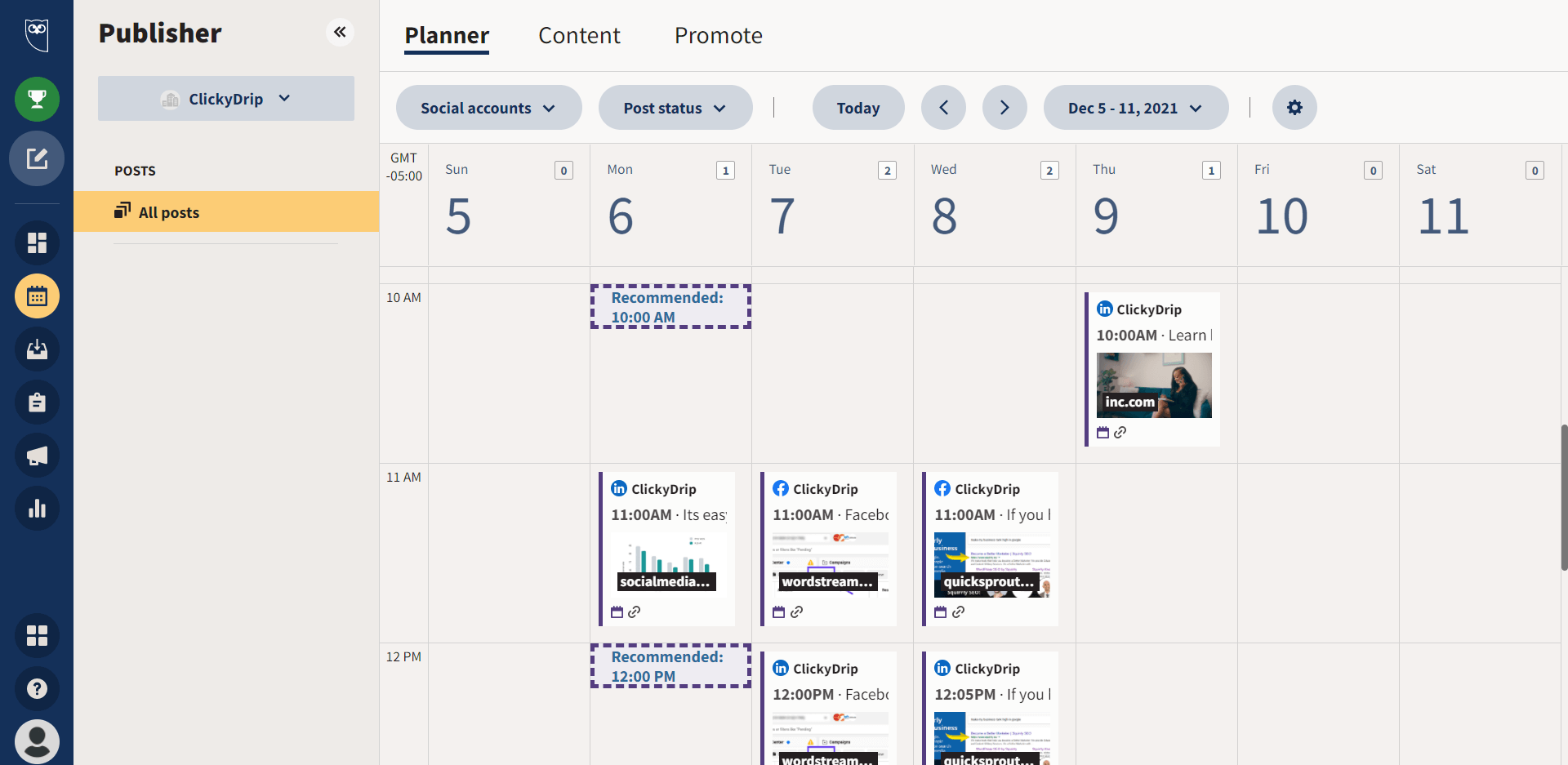 Interaction Management
Metricool's social inbox features leave a little to be desired. It's easy to track messages in the social inbox, but it lacks the depth typically seen in most social media platform tools.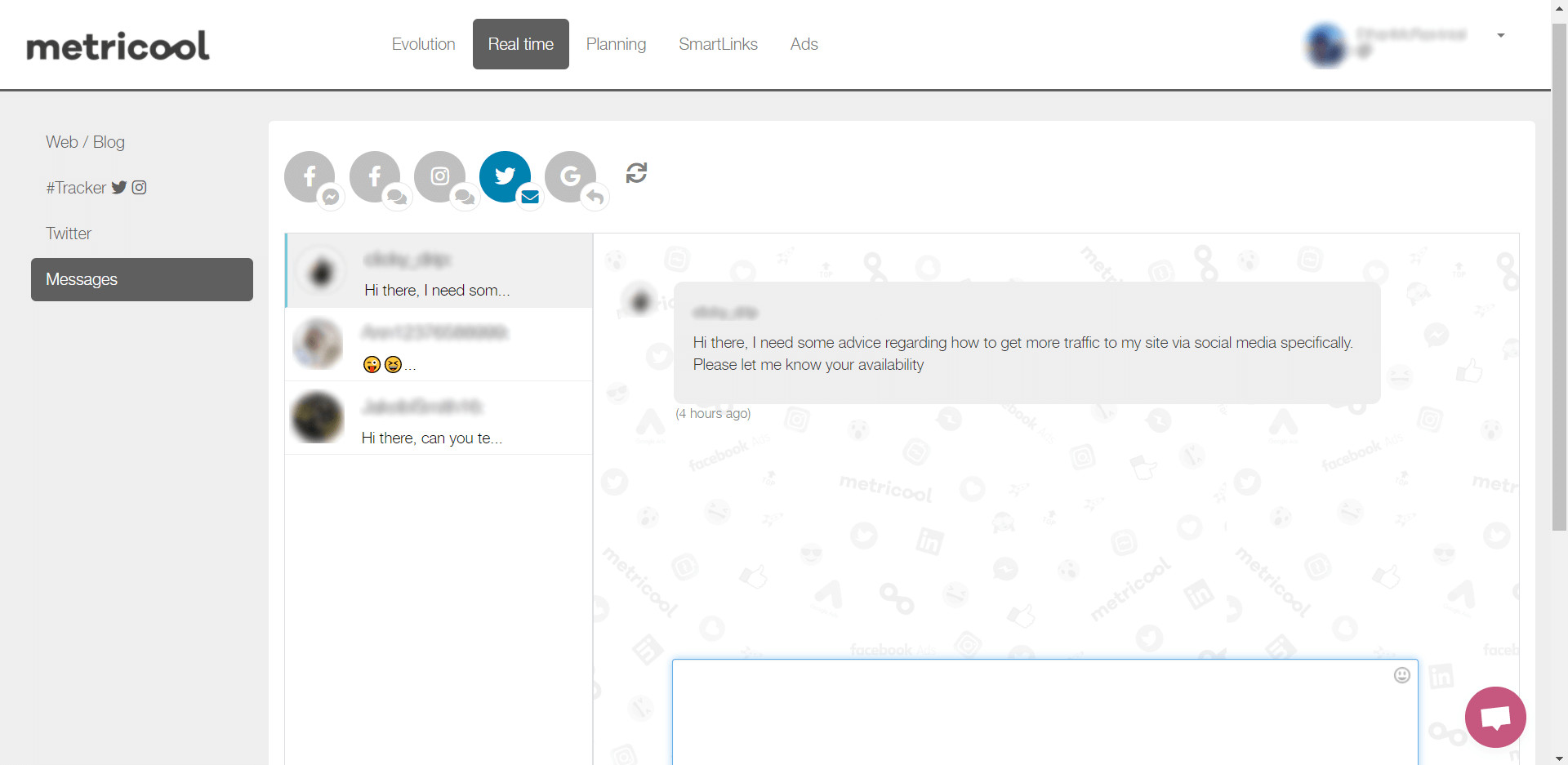 Hootsuite excels in interaction management. Hootsuite's inbox funnels private messages and public mentions into one place, facilitating seamless communication in threaded, contextual conversations. Again, it's yet another feature exclusive to team or business plans users.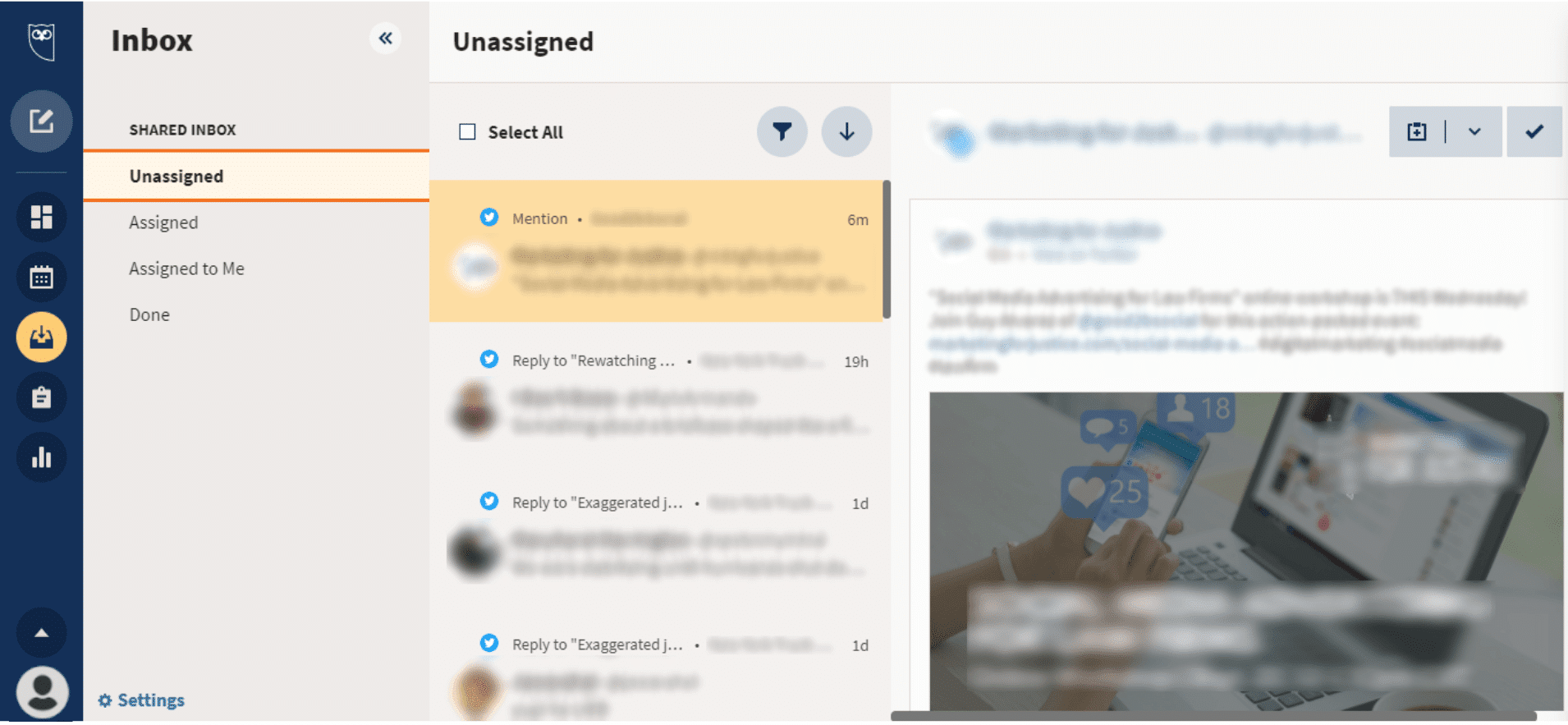 Social Media Monitoring
In terms of social media monitoring, Agorapulse is not only excellent at tracking engagement on your social media platforms, but also excels when it comes to tracking your competitors. Metricool is designed to make it easy to track key metrics of your competitors' social media accounts and compare them with your own social media accounts. Below is a simple example of how you can track competitors on Twitter: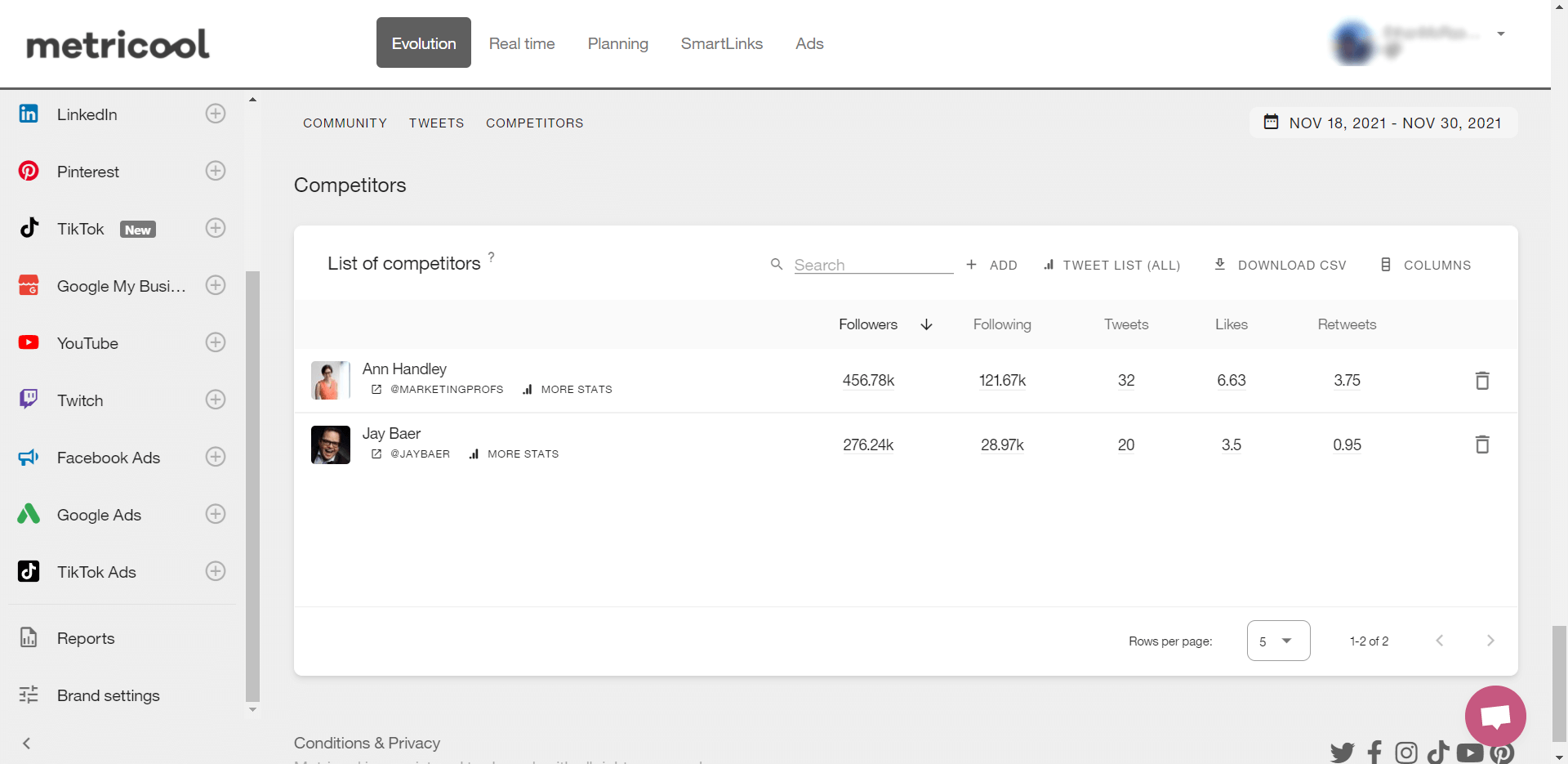 Hootsuite's grid format is ideal for social listening—a trait both platforms share. Users can add grid columns to monitor conversations, keywords, mentions, hashtags, etc. It's intuitive to respond to those discussions and comments within the same dashboard. 
At the same time, some find it cluttered and visually overwhelming. 
Ad Management
With Metricool, users can manage a handful of popular ad networks, including Facebook, Twitter, and TikTok. Users can monitor performance, get help with keyword research, ad campaign creation, and receive helpful recommendations for further optimizing their ad campaigns. In terms of ad management, Metricool is a bit more developed and sophisticated in this area.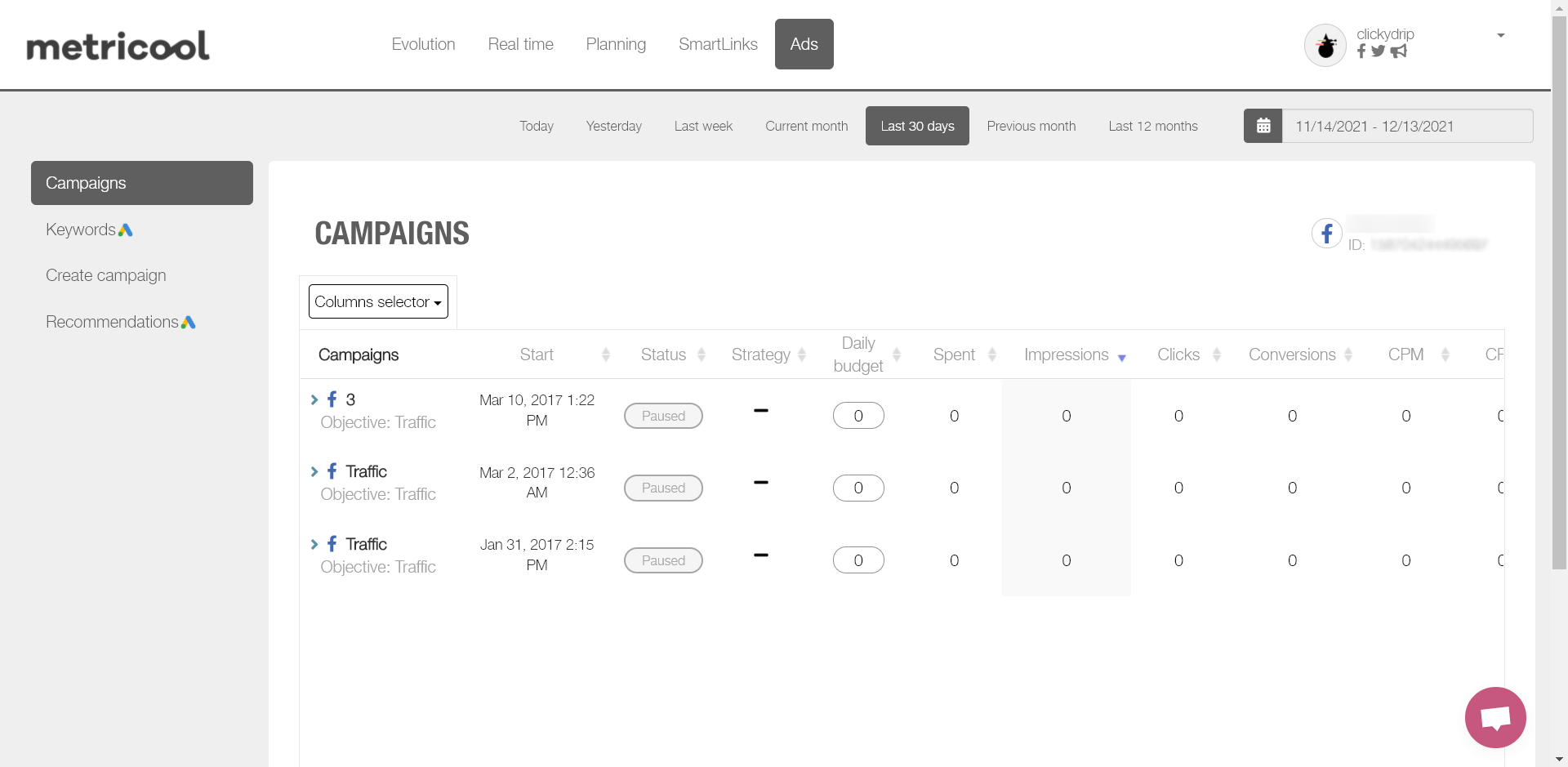 Hootsuite's ad functionality is compatible with three of the most competitive ad markets,  Facebook, Instagram, and Google. Users can manage campaigns and get help boosting their posts, analyzing metrics, and quickly create in-depth reports. All in all, it's powerful enough to replace most ad managers.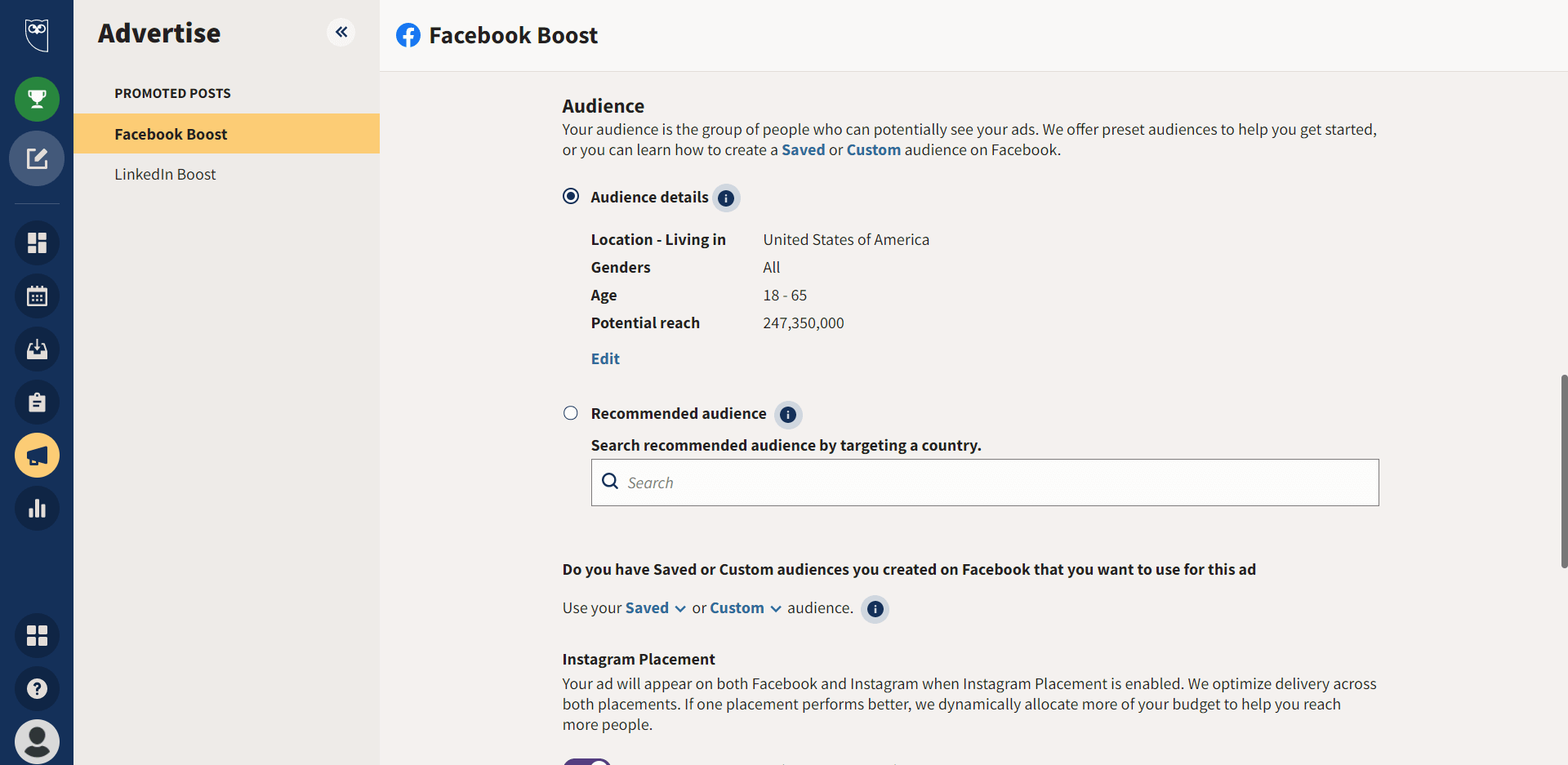 Approach to Posting and Scheduling
Metricool truly excels in planning. Users can schedule posts within the platform's elegant calendar planner, which shades in recommended posting times based on the particularities of each social platform. 
The post editor is simple and effective. Users get an accurate visual preview of each post that they can review prior to publishing, which greatly helps in reducing awkward formatting mistakes. Also, the handy autolist tab can schedule auto-posted content, which can be set to recur regularly.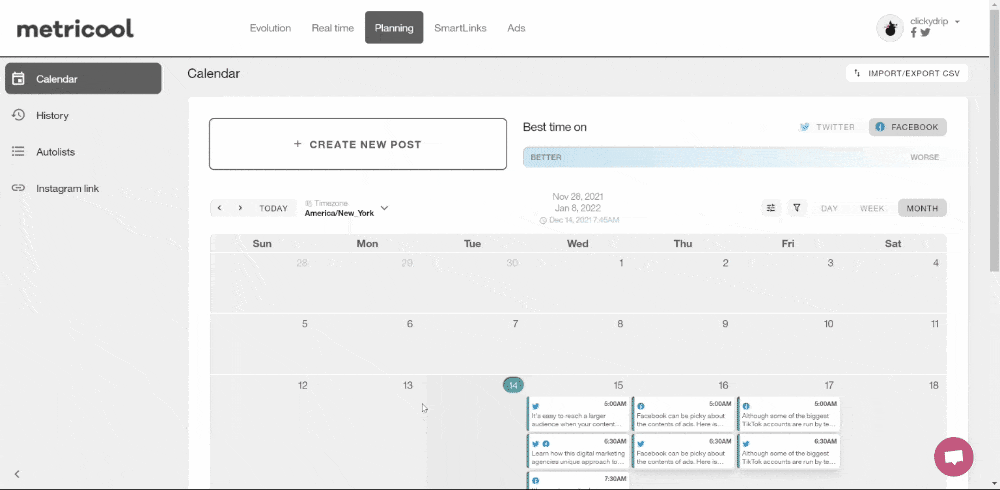 Hootsuite's is no slouch, and you can see the many years of consistent updates in what they well know to be their users' primary use case. The functionality is deep, and a calendar view is available, but it and the rest of the interface isn't as simple or well designed as its much younger competitor. 
Still, users of the post composer can create, schedule, preview, and publish content rapidly to one or any combination of compatible platforms—all from one location.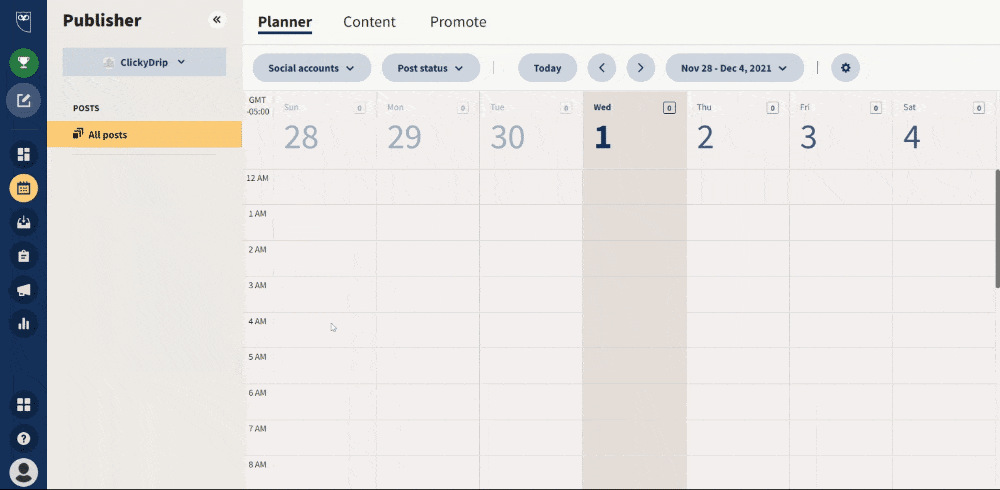 On top of post creation and scheduling, Hootsuite makes it easy for users to share content that appears in your streams, making it especially useful for those who rely on retweets as a part of their social media marketing campaign. And Hootsuite's Chrome extension is pretty good for scheduling an impromptu post in an instant. 
Dashboard Experience and Ease of Use
One of Metricool's slickest innovations over Hootsuite is its praiseworthy user interface, which notably does away with the endless vertical columns used in many social media marketing tools (including Hootsuite). Instead, it's tab-based, lending it an uncluttered look that makes it generally easier to focus on your specific task (although it all comes at the cost of a customizable dashboard).
Metricool's functionality is divided into five pages; evolution (Which displays metrics), real-time (For social listening), planning (Scheduling), advertising, and a relatively new addition, embeddable Instagram smart links. Metricool also hosts many context-specific options for the many supported networks, offering different reporting, scheduling, planning, and advertising features. 
Hootsuite played a large part in establishing the now nearly ubiquitous vertical column view. While it often suffers from visual bloat and overwhelm, the ability to create dense, customizable screens make it far more valuable for users who need to provide deep analytics reporting. 
Stream view is helpful for managing the social feeds that matter most to you and your organization, and post previews are incredibly effective and accurate to each platform. Its ease of use accommodates Hootsuite's collaboration features; multiple team members can efficiently schedule posts across various platforms.
Reporting and Analytics
Metricool excels on the reporting front. Because you can connect your blog, it's great for social media marketers who publish as a part of their content strategies. You can look at crucial web performance metrics for details on traffic sources, clicks, and others. This is a huge benefit, as social media is most often used as a promotional front to drive users deeper into your web presence. In addition, Metricool also provides a comprehensive ad metrics set.
Its social metrics are comprehensive, too, offering bright, clean, and customizable graphs. 
Available metrics differ from platform to platform; for instance, you'll find demographic data for your Facebook accounts, for instance, revenue generation for your YouTube channel, and impressions on all your Tweets. Also, Google Data Studio users will be happy to know that you can easily import Metricool data from over 25 sources.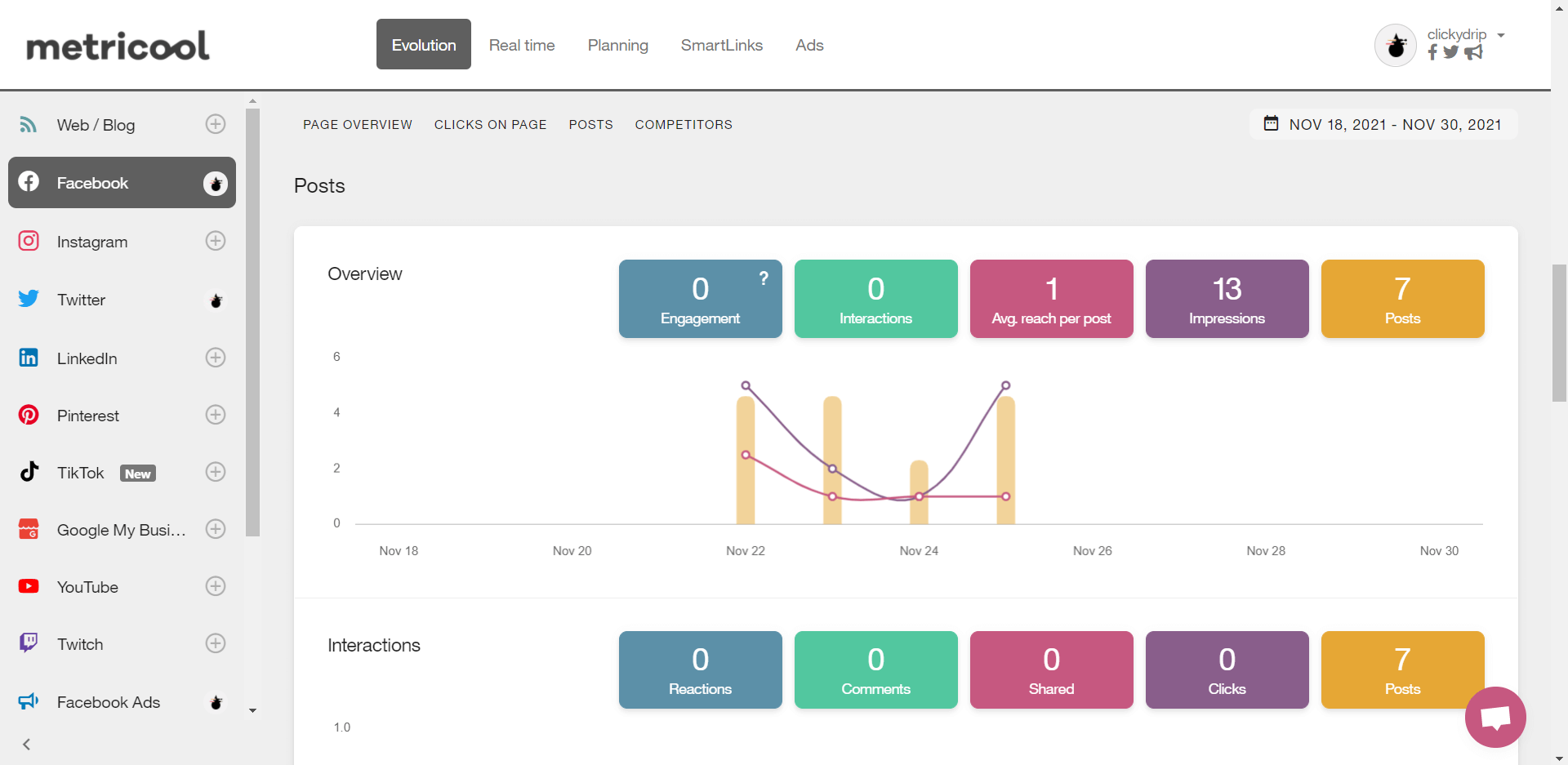 Hootsuite has fairly extensive social analytics and numerous customization options. Clicking the analytics tab displays pre-constructed reports in a range of data categories. Each shows off a grid full of customizable modules. You can configure these tile—up to twelve visualization formats and many more data sources. 
Of course, your options depend largely upon your pricing tier. A significant portion of Hootsuite's analytics features and advanced reports are available exclusively to enterprise plan owners.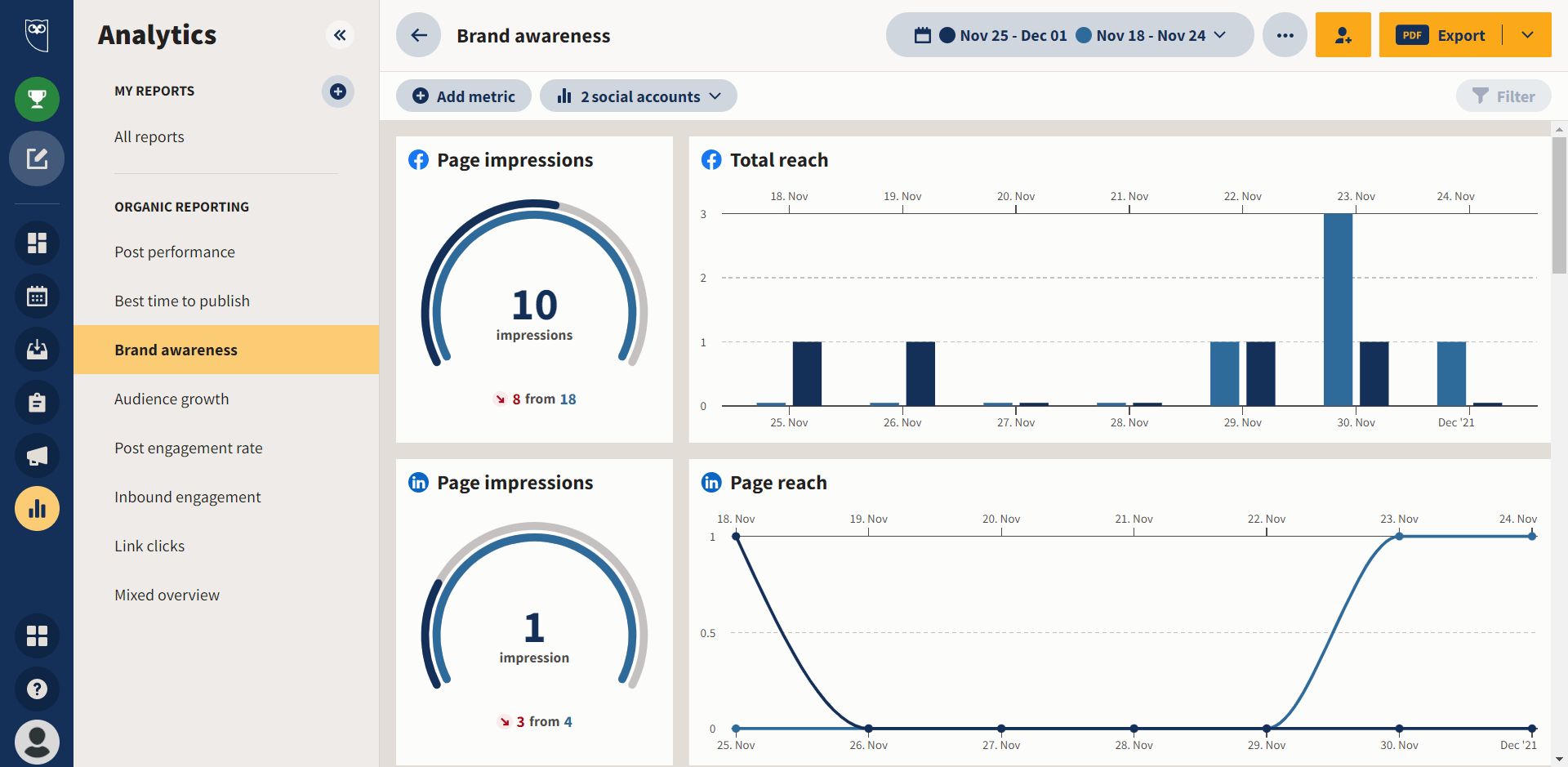 Team Management 
Team member management is offered on Metricool—for those who purchase any of the three top tiers—and access is granted to an unlimited number of team members. 
It's simple to add team members and assign up to three roles. They are as follows: 
Read Only

: Access to metrics but not posting or account functions

Can Publish

: Access to metrics and content planning, and account functions

Manager

: Access to data, plan information, social posting, but no account settings access

Admin

: One per account, has total access, can assign roles, and manage account settings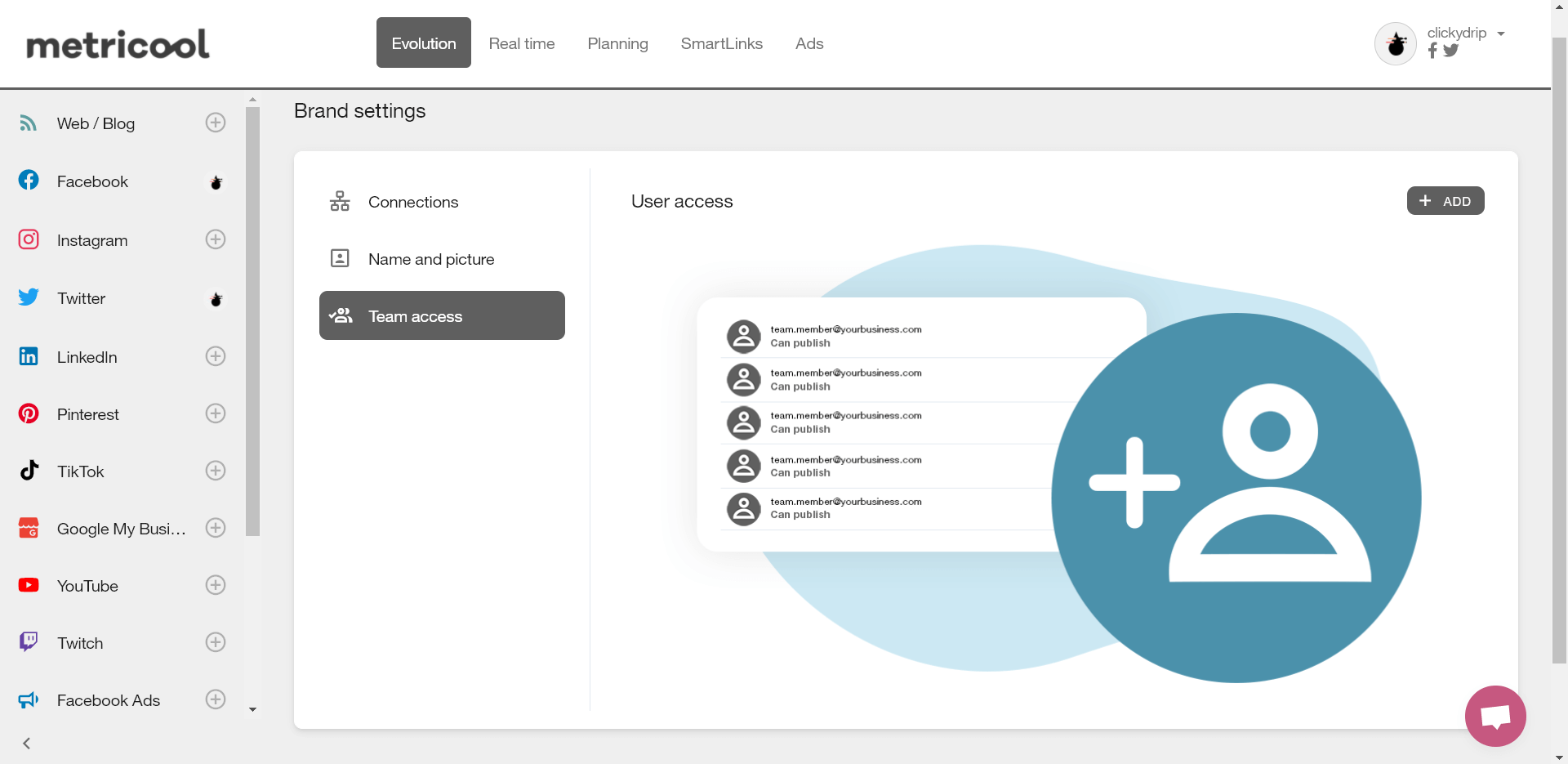 Hootsuite is above all an enterprise-grade tool, and as such has fairly extensive collaboration features targeted towards substantial marketing teams. Managers can assign roles for content creators, editors, and clients, determining their access to publishing options (Including individual channels) and access account details.
Drafts can be created and edited collaboratively, letting teams create and prepare posts in the same interface; long before they're to be published. Team productivity insights are available to managers, allowing them to assign tasks and track their completion.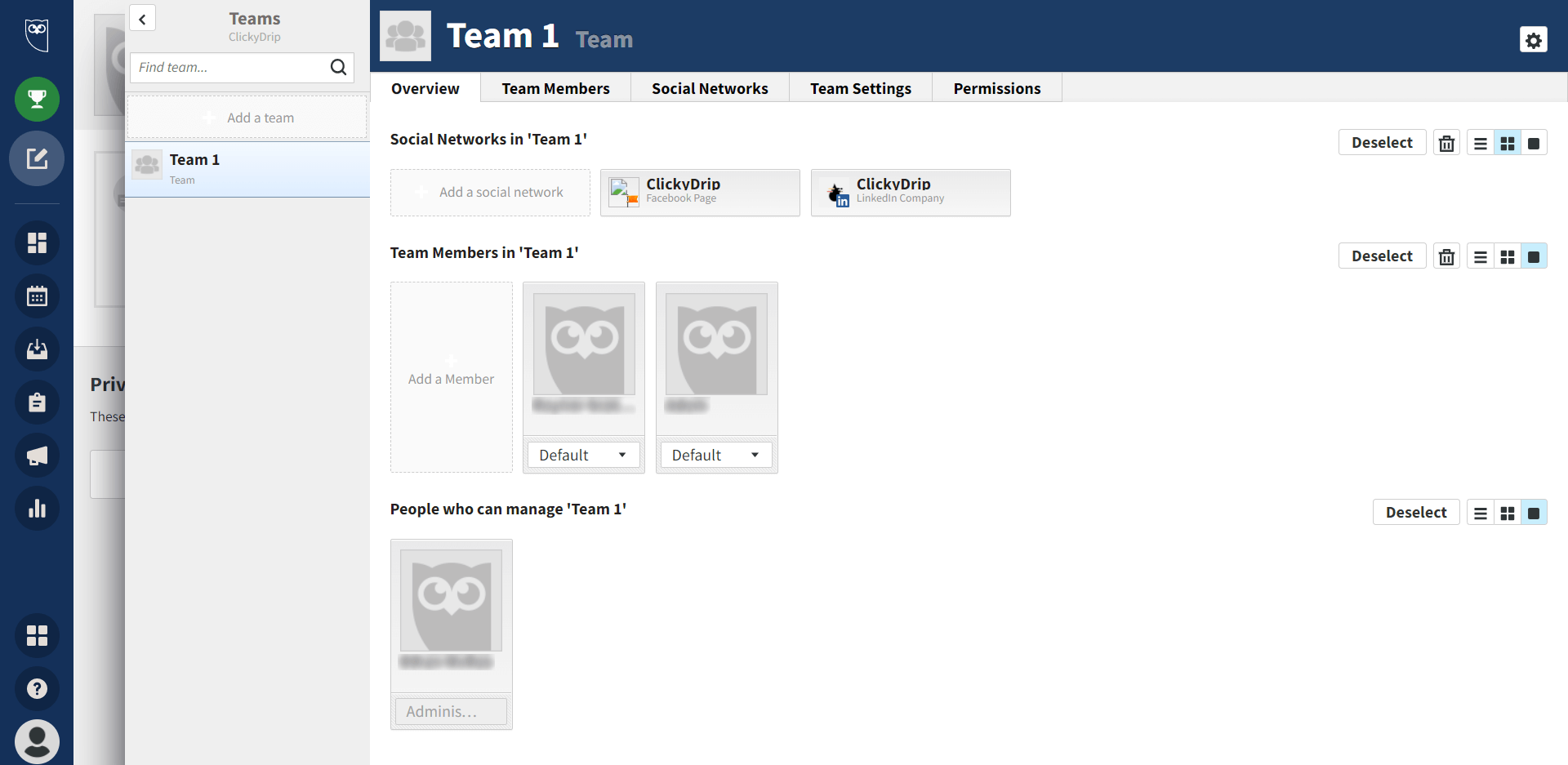 Collaborative functionality is pricy, though. You'll have to fork over at least $7,200 upfront—which covers a full year of service—for collaborative features and more than five user seats. However, for large teams at large companies, this option could be within budget.  
Pricing 
Metricool is a relatively affordable social media marketing platform, especially compared to older players like HootSuite. And unfortunately, its feature set greatly varies by price point. 
Metricool's  six pricing tiers are, as follows:
Free

: One brand, one team member, 50 posts one account for each platform, including ad platforms. No data studio, reports, customizable templates, or APIs. Three months of metrics storage, two months of historical data access. 

Pro 5

: $12/month. Five brands, one team member, unlimited posts, five accounts. Includes reports, unlimited metrics storage, two months of historical data access. No data studio, API access, or customizable templates. 

Pro 10

: $19/month. 10 brands, one team member, 10 accounts. Includes reports, unlimited metrics storage, and two months of historical data access.

Team 15

$35/month. 15 brands, unlimited team members, unlimited posts, 15 accounts. Includes data studio, reports, customizable templates, API access, and two months of data storage.

Team 25

:  $55/month. 25 brands, unlimited team members, unlimited posts, 25 accounts. Includes data studio, reports, customizable templates, API access, and two months of data storage.

Enterprise

: $119/month. 50 brands, unlimited team members, unlimited posts, 50 accounts. Includes data studio, reports, customizable templates, API access, white labeling, and two months of data storage.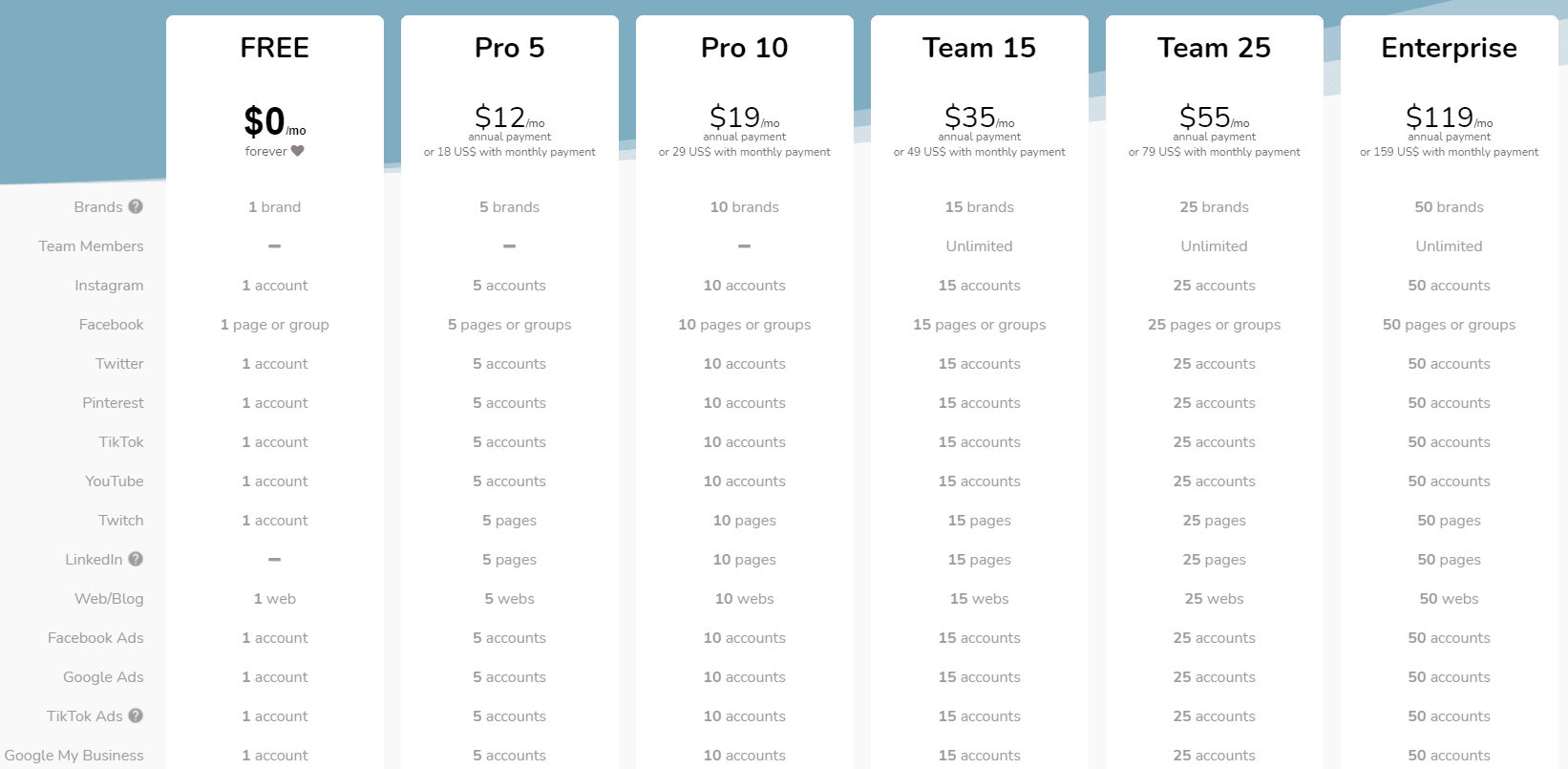 There's no sugarcoating it, a Hootsuite license can get expensive. The company has, much to the chagrin of its user base, steadily increased the price of its plans while reducing the functionality of its cheaper and free plans (One understandable gripe: The free version now allows only five scheduled messages as opposed to the previous limitation of 30).
That said, Hootsuite is a fully-featured enterprise platform. Whether the pricing on the more expensive tiers is justifiable ultimately depends on your budget and needs. 
As of publishing, the company's five tiers include the following:
Free

: One user, two social accounts, five scheduled posts.

Professional

: $49/month. One user, ten social accounts, unlimited scheduled posts.

Team

: $129/month. Three users, twenty accounts, unlimited scheduled posts.

Business

: $7,200/annually. Five users, 35 accounts, unlimited scheduled posts.

Enterprise

: 18,000+/annually. Five users—plus $1,800 for each additional—50+ accounts, unlimited scheduled posts.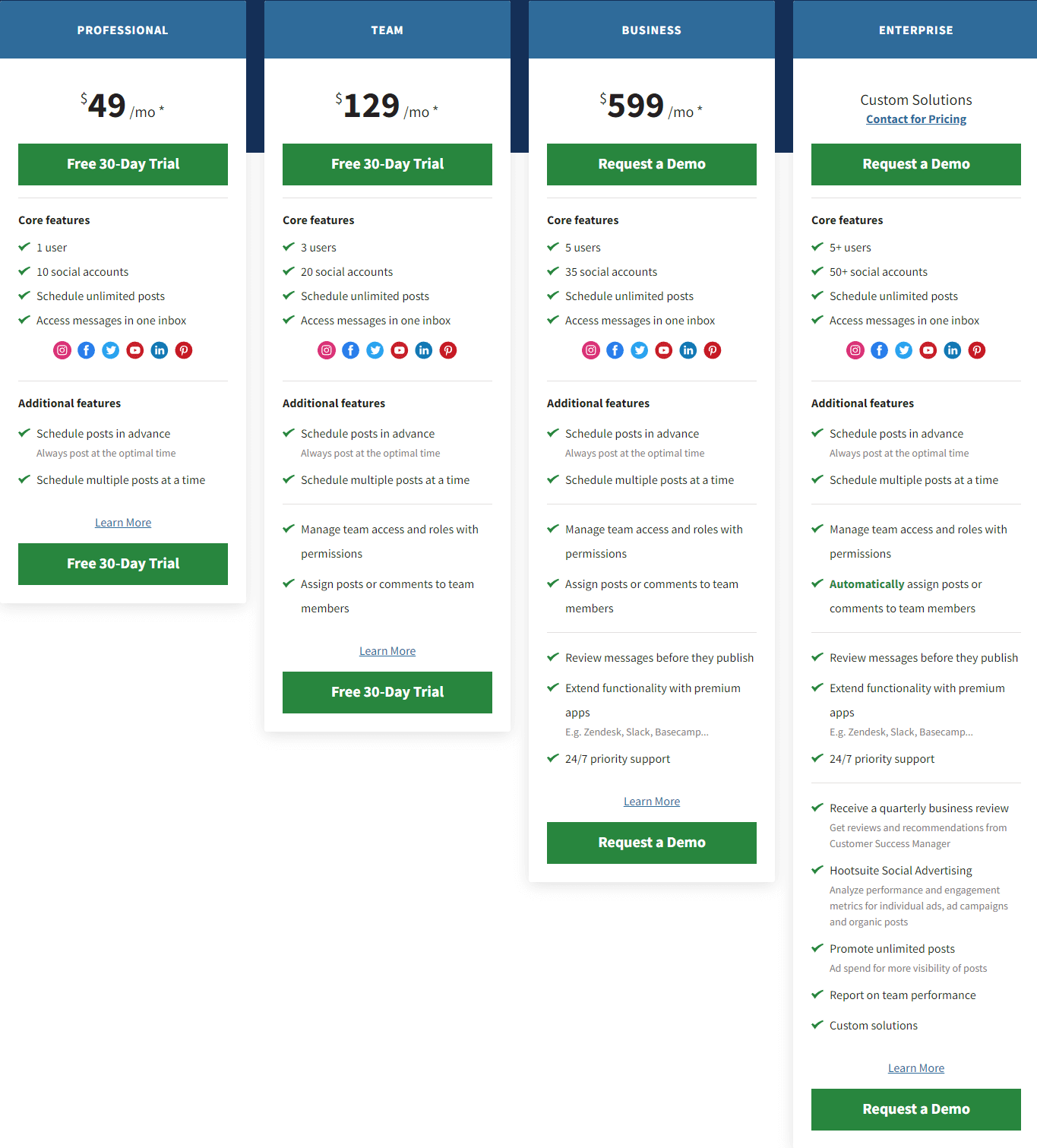 Much of Hootsuite's best functionality is exclusive to their business and enterprise tiers. That includes the content approval workflow, asset library, automated moderation, and 24/7 support. All told, it's aggressive pricing even for an enterprise-grade tool. 
Integrations
Metricool's integrations are somewhat limited but include a handful of substantial options. As a qualified Google partner, it integrates with specific platforms in the suite, like Google Ads and Google My Business. You can manage your Google, Facebook, and TikTok ad campaigns and enjoy comprehensive analytics. 
Users can additionally funnel data to Google Data Studio with the help of a great direct—though it's exclusive to their enterprise and team price tiers. 
Hootsuite, on the other hand, is an integrations powerhouse. Many—but not all—high-profile technology platforms support direct integrations, which greatly expand the software's functionality. All totaled, there are 150 in number. For instance, a Zendesk integration enables the management of help requests on Twitter and Facebook, Pinterest while CRM integrations can help create juicy user profiles. As with many of Hootsuite's best features, though, most connections are not available in the free version. 
Customer Support
Metricool doesn't offer a wide range of support options, though many user reviews have praised the quality of its support. They host a contact form page that typically gets quick responses, in addition to a convenient and responsive chat window available in the help center. 
For support, users can submit a ticket on Hootsuite's help center, in addition to its Twitter and Facebook presence. Around-the-clock "priority" support is offered to the highest two price tiers, though your wait may be excruciating. Thankfully, the Hootsuite Academy hosts educational resources on everything from in-platform account management to reporting and social media strategy. 
When to Choose Metricool vs Hootsuite
When choosing between Metricool vs Hootsuite, it's important to take note of the features each platform has but it's also very important to choose the solution that's appropriate for your team's size. 
Hootsuite is a much deeper tool that better facilitates collaboration and data analysis, and is undeniably a superior choice for those looking for a well-rounded, feature-complete tool. However, its cost will be prohibitive to some, especially those who need access for more than three staff members but can't pay for an enterprise-sized bill. 
But for individuals and small teams of social managers looking for a sleek and straightforward tool to quickly and intuitively schedule posts and manage ads across an extremely wide array of platforms, Metricool is an excellent choice.
You can see how other social media management tools stack up to Hootsuite in the following comparisons: