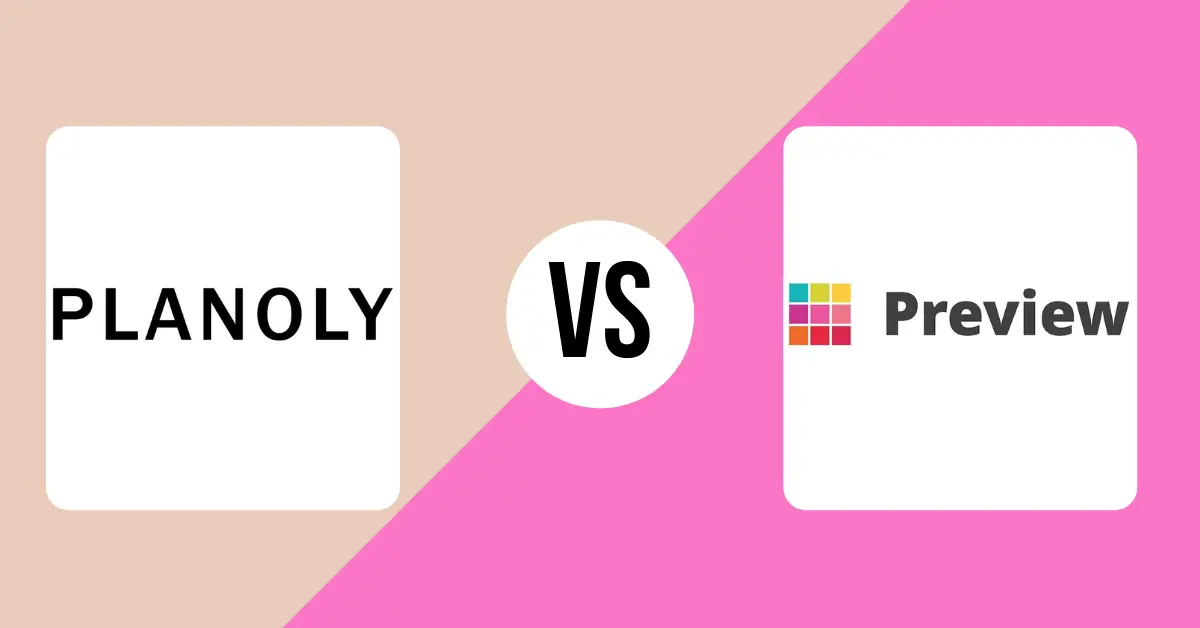 It's safe to say that visual social media platforms like Instagram are here to stay. And with a sound strategy, you can get huge exposure on these social media platforms whether it be for your business or personal brand. 
However, without using social media management tools, it can be very difficult to organize and manage a social media strategy. Without these tools, you can no ability to plan and schedule posts in advance, edit images, and view reporting on your Instagram account's performance. 
While there are numerous social media marketing tools for Instagram, Planoly and Preview happen to be two of the most widely used tools of their kind. 
In this post, we compare Planoly vs Preview in terms of features, pricing, and overall user experience. 
About Planoly and Preview
Planoly, touted as the first visual Instagram planner, launched in 2016. The platform's mission was to help brands and creators visually plan and schedule their Instagram posts. In short, the company's founder, Brandy Pham, wanted to build an application that integrated content scheduling and social strategies, giving users more time to live their lives.
What started as a side project for two entrepreneurs, the creators of the Preview app, has grown into a community of users that is 100 million strong, making Preview one of the most used Instagram planners in the world. The team dedicates itself to maintaining its place as the most powerful Instagram management tool on the market.
Supported Social Networks
Both Planoly and Preview are social media scheduling apps designed specifically for Instagram. 
Over time, Planoly added Pinterest, Facebook, and Twitter to its roster of supported networks. Though, admittedly, it's not as practical for marketing on Facebook and Twitter as some of the other social media management tools on the market today. Instagram and Pinterest are the platform's bread and butter. 
Preview, on the other hand, supports Instagram, and Instagram only.
Core Features of Planoly and Preview
This section will break down the core features that both Planoly and Preview have in common. By comparing and contrasting these features in each tool, you can better decide which one will best meet your social media scheduling needs.
Scheduling and Calendar Views
Both Planoly and Preview offer easy scheduling management and visually rich calendar views in their mobile app and desktop versions. However, the desktop version of Preview's scheduling software is only available to premium users.
Planoly has a visually-pleasing and easy-to-use interface that makes scheduling posts so simple that users often say it makes them never want to post directly to Instagram ever again. Since Planoly allows you to post to multiple social media platforms, its calendar view lets you see the big picture of your entire social media campaign.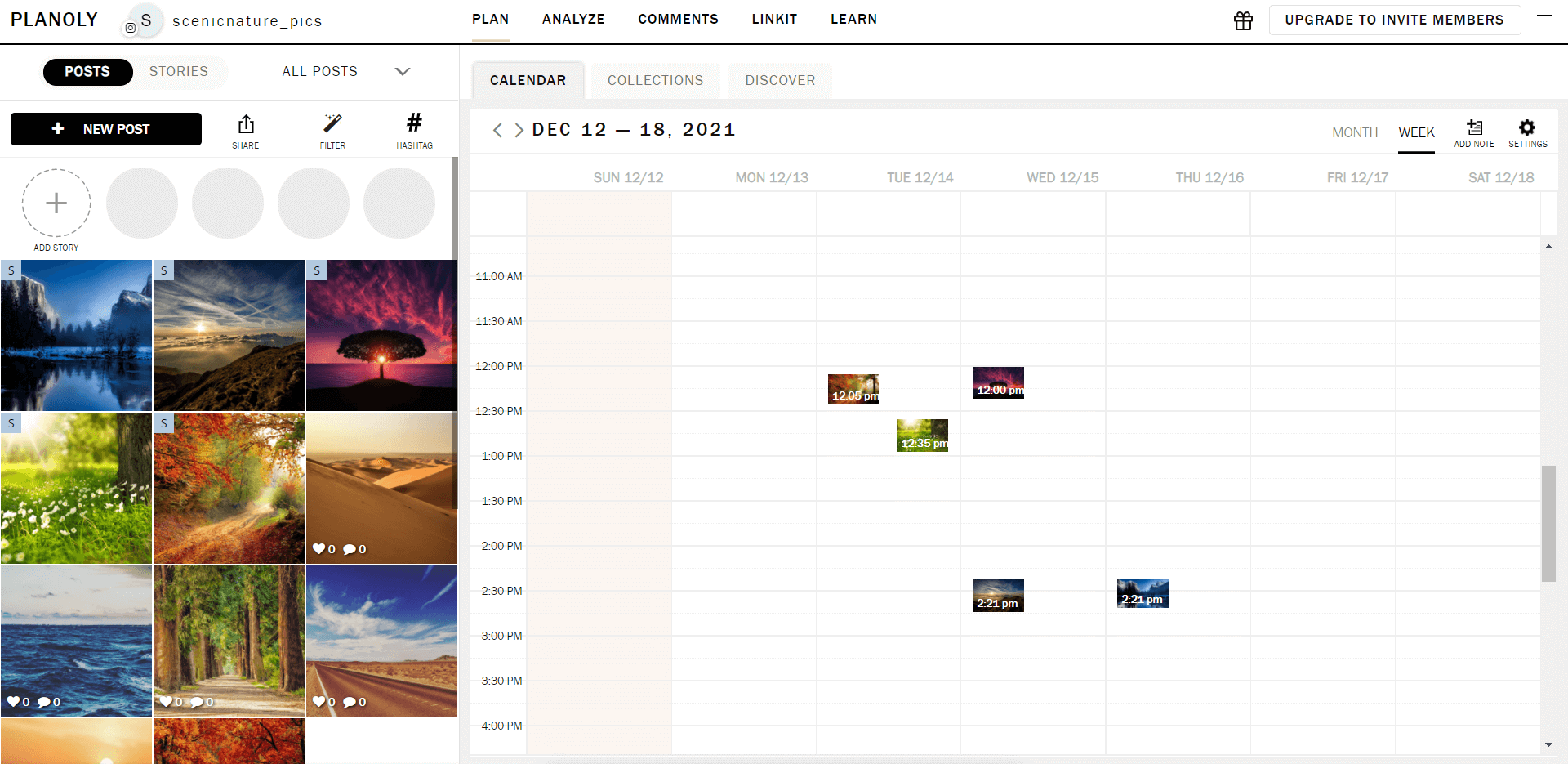 Preview's calendar view allows users to see their planned Instagram posts for the day, week, and month in an easy-to-manage calendar interface. Managing your calendar and scheduling posts is incredibly easy using the mobile app.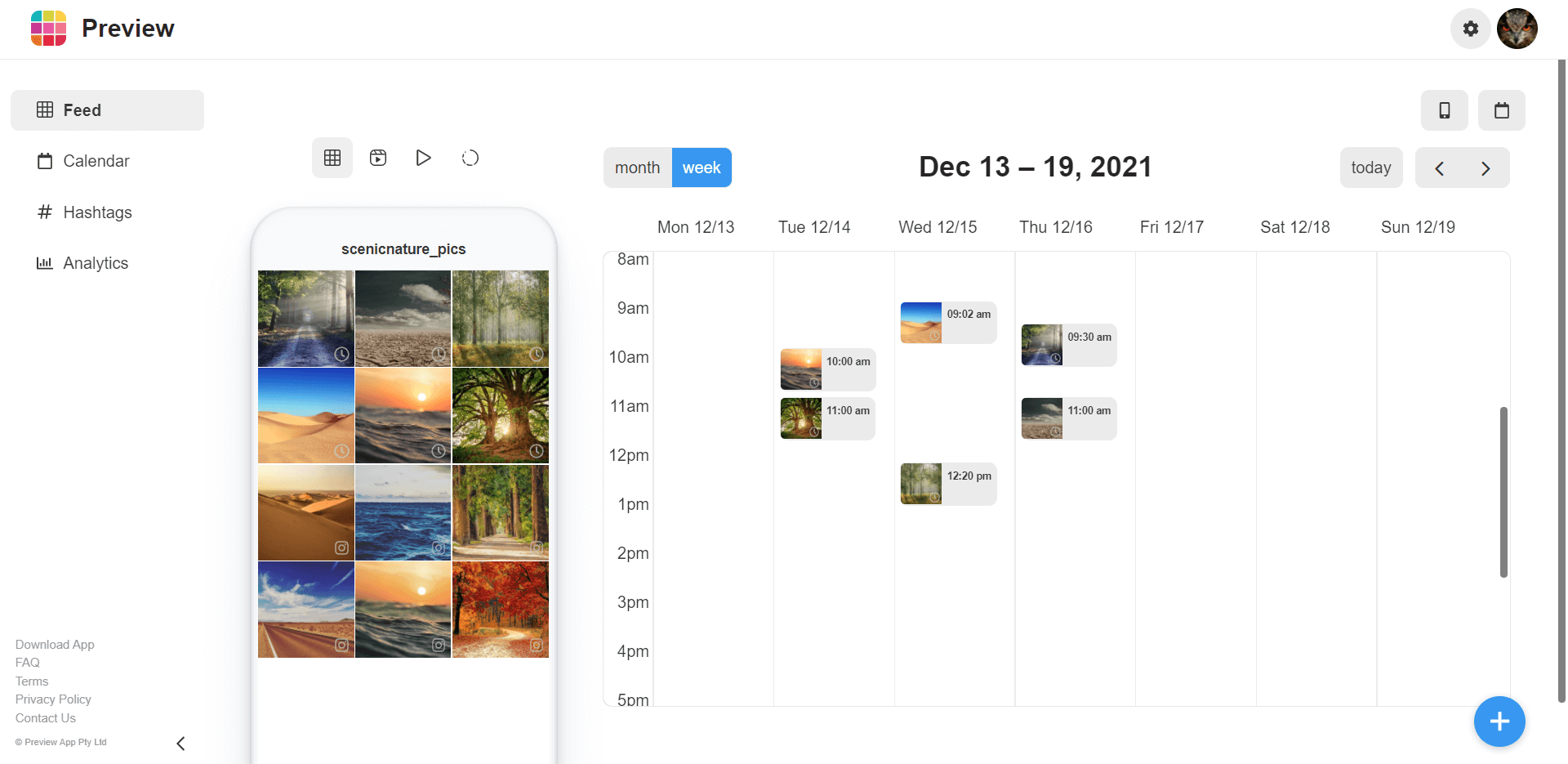 Media Editing
Planoly offers filtering through its mobile app and desktop dashboard, offering 18 different filter options. Users can also batch filter photos as well. Although the software does not provide other editing options, the mobile app does integrate with popular editing apps like Snapseed, Lightroom, VSCO, and others. Users can add photos straight to the Planoly grid from those editing apps. Even if you are editing several images simultaneously, you can upload them to Planoly without leaving the editing app.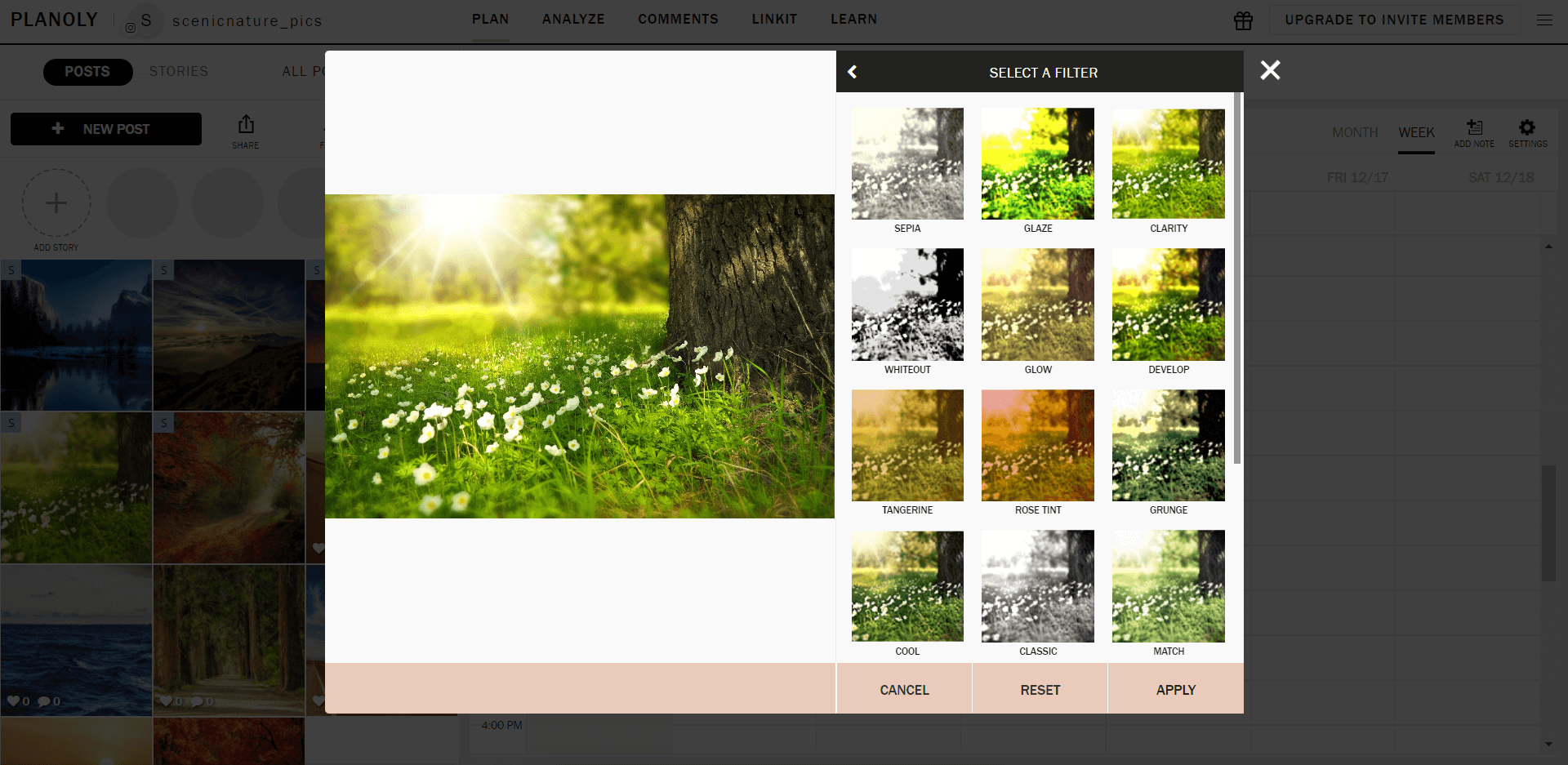 Related: Planoly Review: An Inside Look 
On the other hand, Preview offers a wide range of editing options within the software. Editing tools include adjustment, orientation, cropping, enhancement, sharpness, blur, focus, vignette, text, draw, stickers, frames, overlays, blemish, whiten, red eyes, splash, and filters. These features are available for free inside Preview's Instagram Photo Editor, and many users say that it is the best Instagram editing app on the market.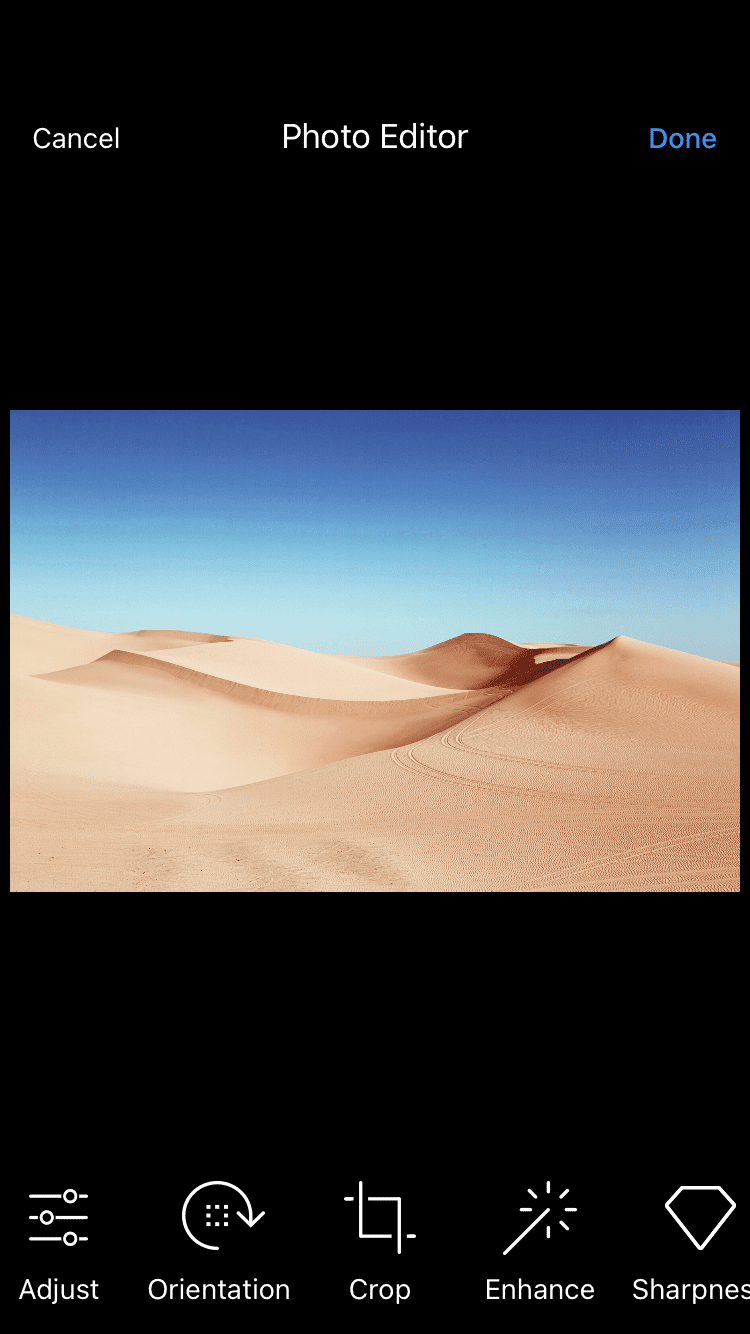 Related: Preview App Review: Is it the Best Instagram Planner?
Discovery Tools
Planoly offers Discover, a feature that allows you to search for user-generated content on Instagram. You can search for content using a username or hashtag. However, only an Instagram Business or Creator Profiles will appear in the username search. That is a limitation set by Instagram, not Planoly. Using the Discover tool, you can also search for free use images from Unsplash and Pexels. Discover is used to find content that you can use for inspiration or repost.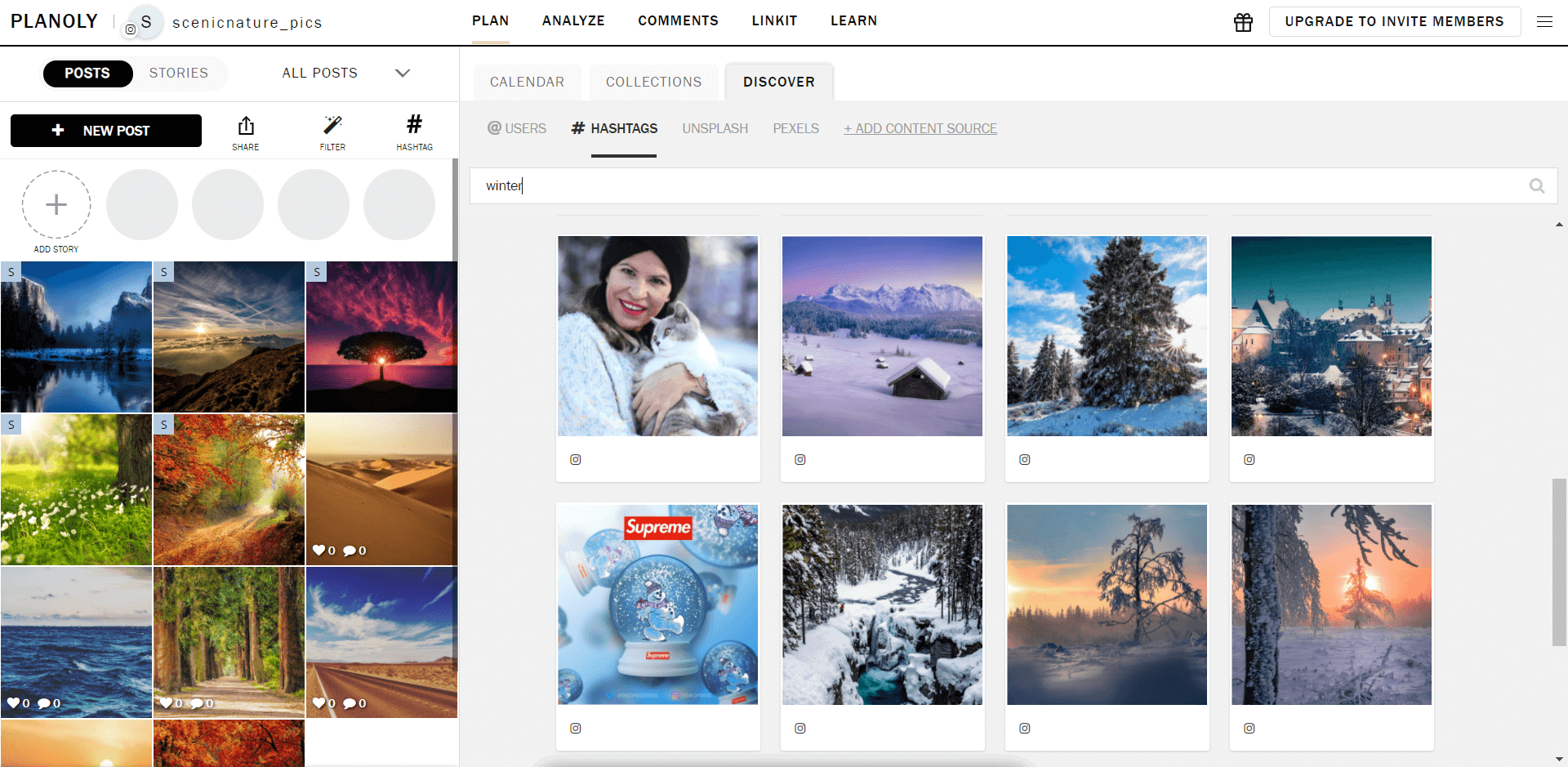 Preview helps you discover great content through its many great hashtag tools, including Preview's Hashtag Finder, which allows users to search for hashtags by category, country, and Instagram community. Preview's Hashtag Communities feature lets users find more content by enabling them to embark on a dive deep into Instagram communities.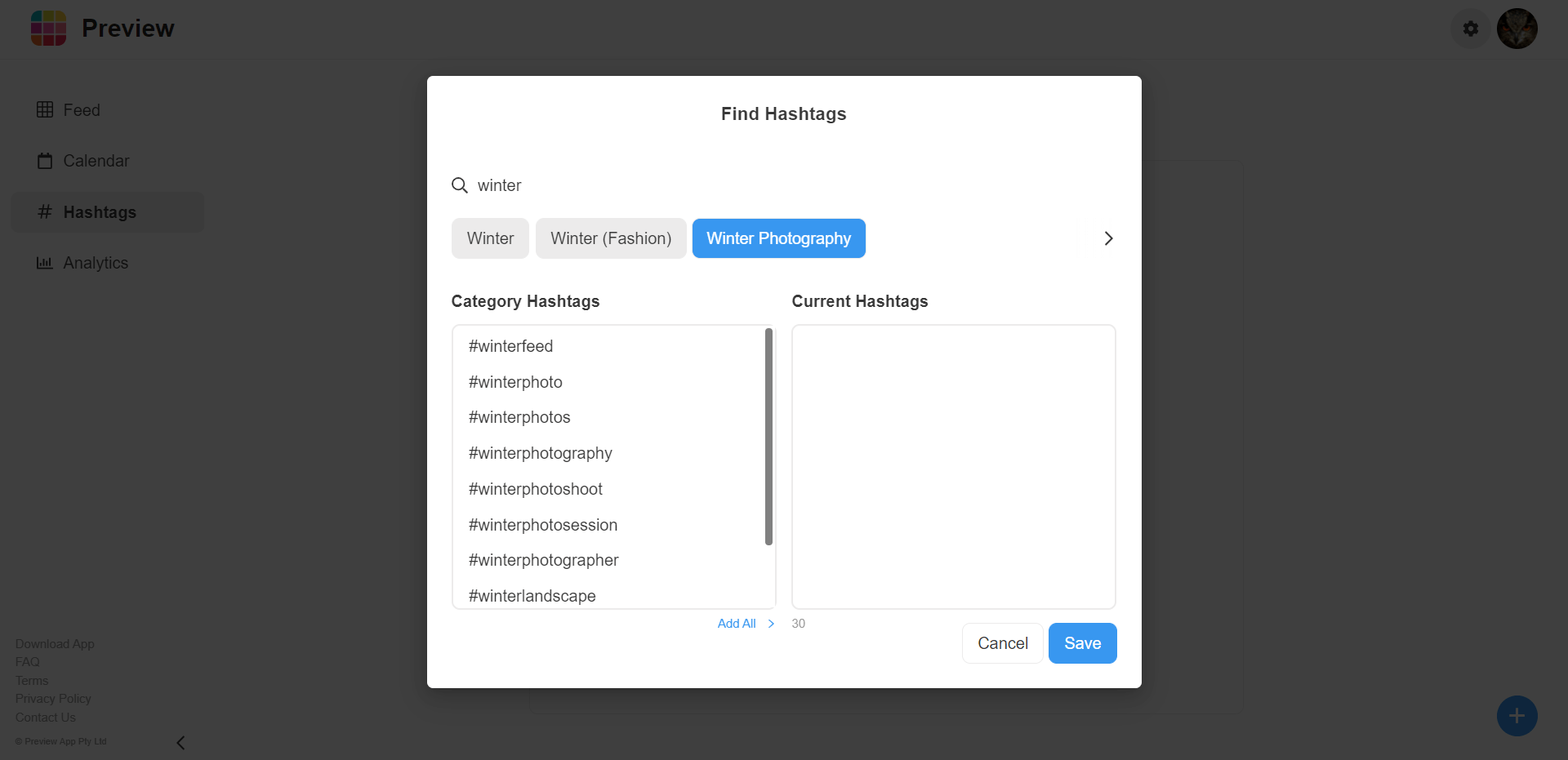 Approach to Posting and Scheduling
Planoly allows users to visually plan & schedule content for Instagram, Pinterest, Facebook, Twitter. Once you get used to it, posting and scheduling across all social media channels is a breeze. In addition to standard posts, Planoly also allows users to schedule Instagram stories and reels.
Planoly also offers auto-posting features. Auto-post is only available for Instagram Business accounts and is not available for Personal and Creator accounts. With Planoly, users can also upload, plan, and schedule content to auto-post to Facebook Business Pages when auto-posting to an Instagram Business Account.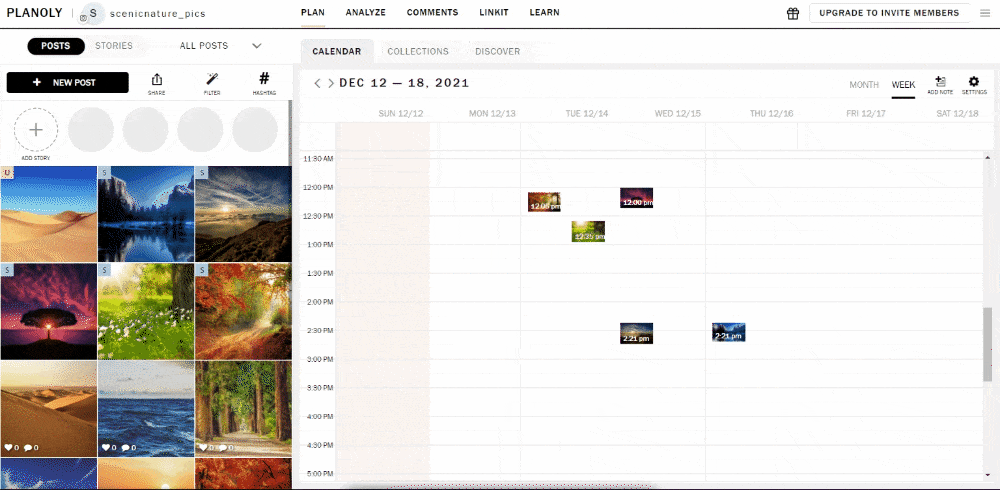 Preview allows users to seamlessly create, post, and schedule Instagram posts, stories, and reels. Preview's Carousel feature for Instagram will enable you to schedule multiple photos and videos in one post. In fact, unlike most other scheduling tools, with Preview, you can schedule an unlimited number of posts (including images, videos, and carousels), absolutely free. Preview allows you to see what your Instagram feed will look like before posting. If needed, users can easily schedule more than 50 posts in a matter of minutes.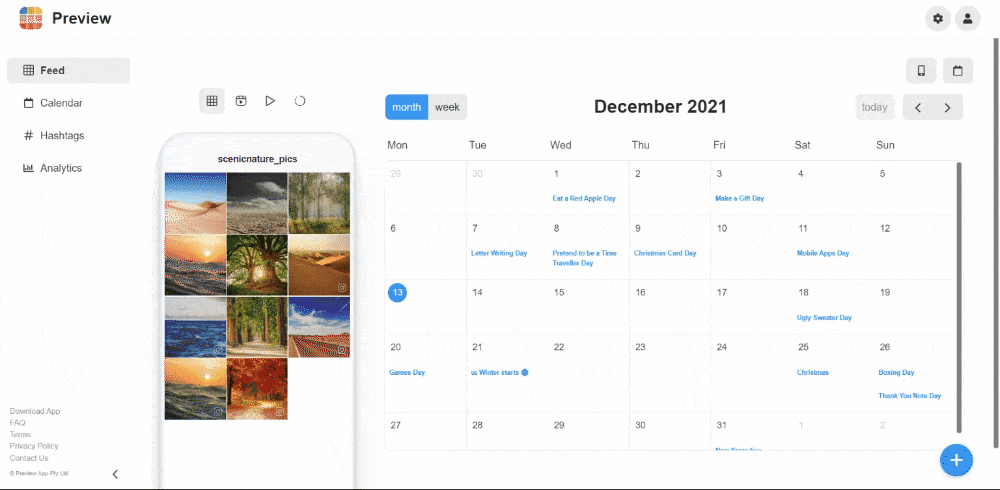 Dashboard Experience and Ease of Use
Planoly was the first visual planner created for Instagram. It was crafted to be simple, clean, and easy to use in a desktop environment. What began as an Instagram planner has grown into a tool that simplifies social media marketing on Pinterest, Facebook, and Twitter as well. Its dashboard experience remains true to that original mission. 
Although the Planoly mobile app is just as popular as its desktop software, most people use it for analytics tracking and general calendar management. To experience the rich visual planning capabilities, even Planoly suggests using the desktop application.
On the other hand, Preview seems best suited for use as a mobile app. Although the premium version of the software allows for dashboard access, the mobile application is preferred by users. Fortunately, whether you choose to use the mobile app version or the desktop version, the tool is incredibly intuitive. 
The all-in-one tool will help you predict what your feed will look like before you press share. It allows users to drag-and-drop photos and videos into the layout and set the day and time of your post. It's easy to navigate and incredibly useful.
Reporting and Analytics
Planoly offers an analytics web dashboard for Instagram that lets users review content performance and help with future strategic planning. Planoly Analyze allows you to view your overall engagement rates, view Instagram post likes, reach, impressions, saves, and more. From a drop-down menu, you can choose to view analytics and data for the desired date range or select a week, month, or year view for a quick overview. Free users with personal or Business Instagram accounts can view basic Instagram insights, while paid users with Business Instagram accounts can view premium analytics beyond 12 months.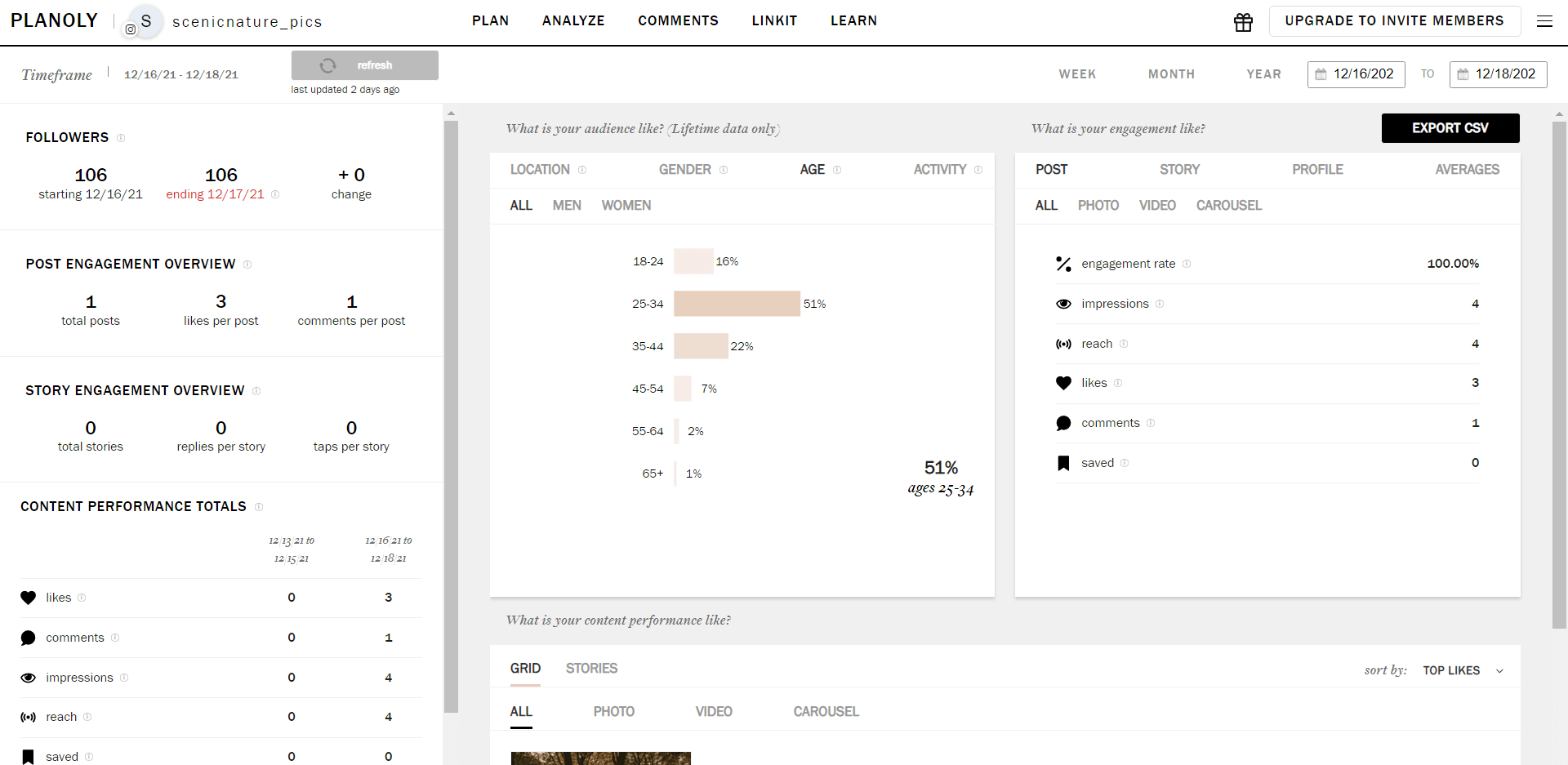 With Preview's analytics features, you can take a deep dive into your most valuable data using the mobile app. Preview allows you to see your Instagram insights, post performance, engagement growth, best times to post data, hashtag analytics, and best hashtag groups. It also offers the Analyzer, a tool that allows you to see the Instagram analytics of other people. The Analyzer tool is handy if you want to keep tabs on your competitors.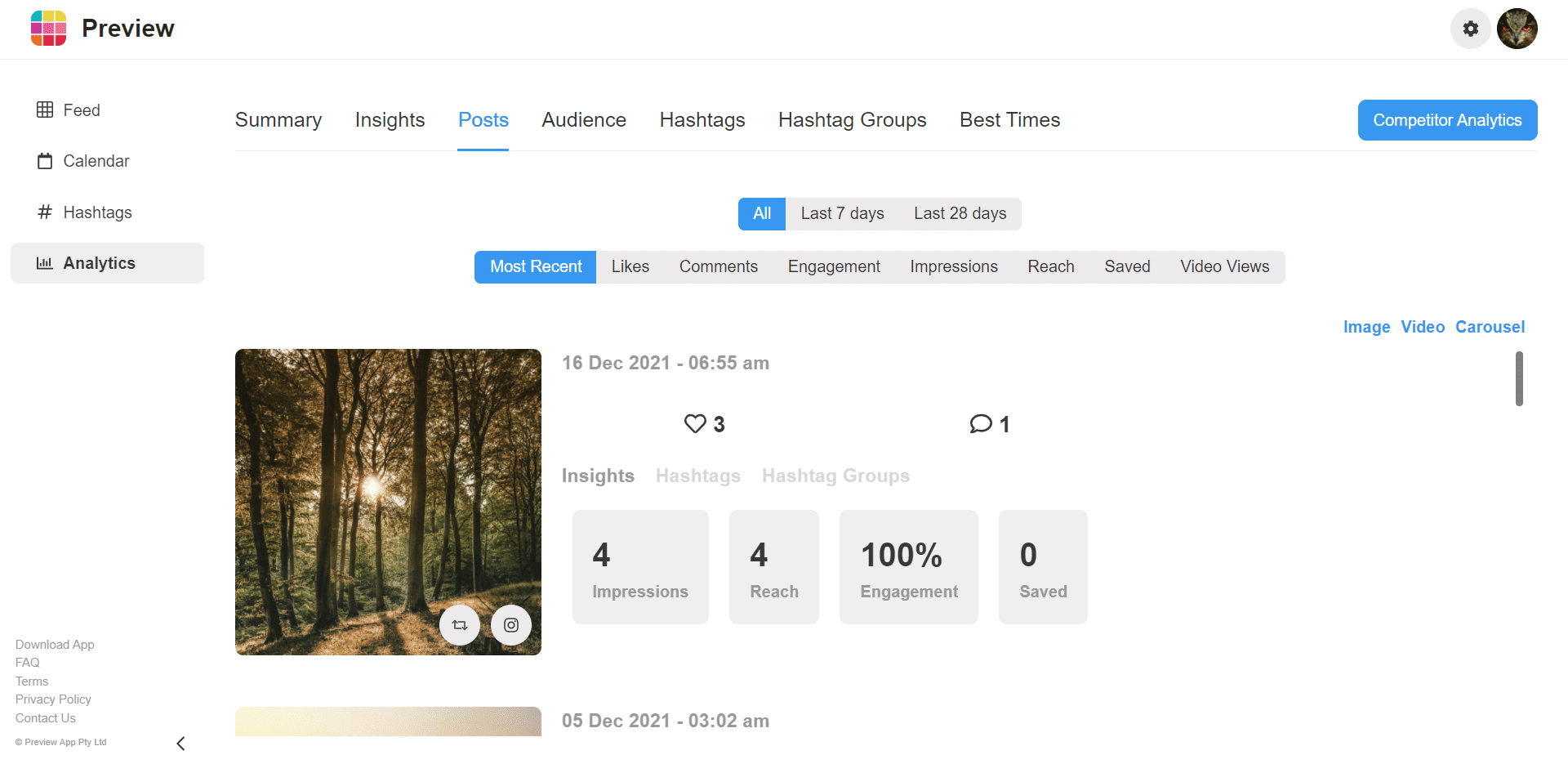 Team Management
When it comes to coordinating a team of social media managers, Planoly has you covered. The social media management software has streamlined the entire process of Instagram posting for the team by creating a system that allows the administrator to assign team members to specific tasks.
It is not uncommon for a company to want different team members to work on various aspects of the posting process. Planoly allows administrators to clearly define each team member's responsibility to eliminate gaps and ensure that posting, engagement, follow-up, and analysis are seamless.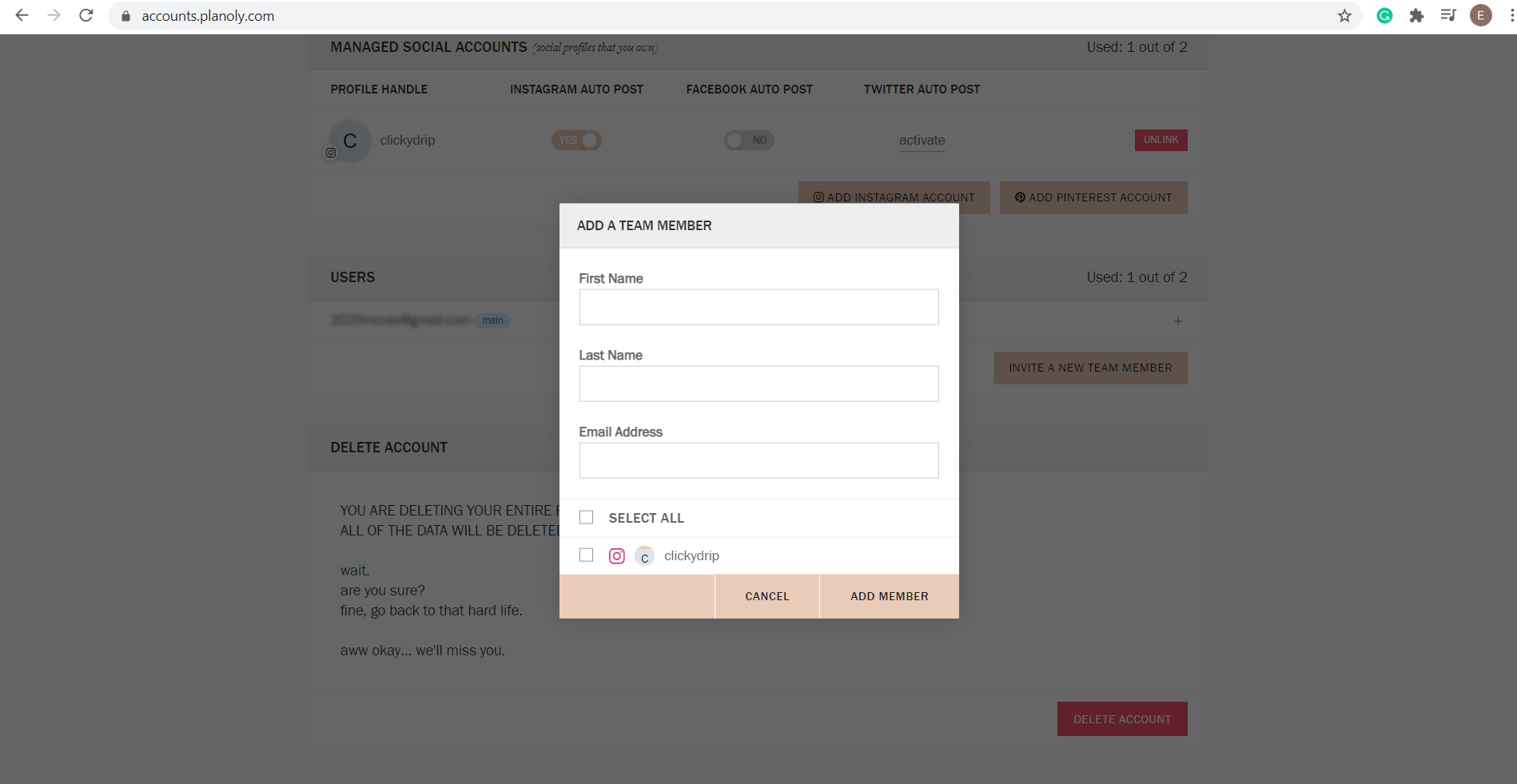 Preview's Team feature allows you and your team members to simultaneously work together on your Instagram feed. The feature enables users to plan, design, and manage an Instagram account, edit photos, rearrange post order, plan and test hashtags, repost, and more. The Team feature from Preview is only available to premium users.
Preview administrators can set limits on team members based on three categories: feed editing, analytics viewing, and notifications. For example, you can have a team member who only has analytics reporting access.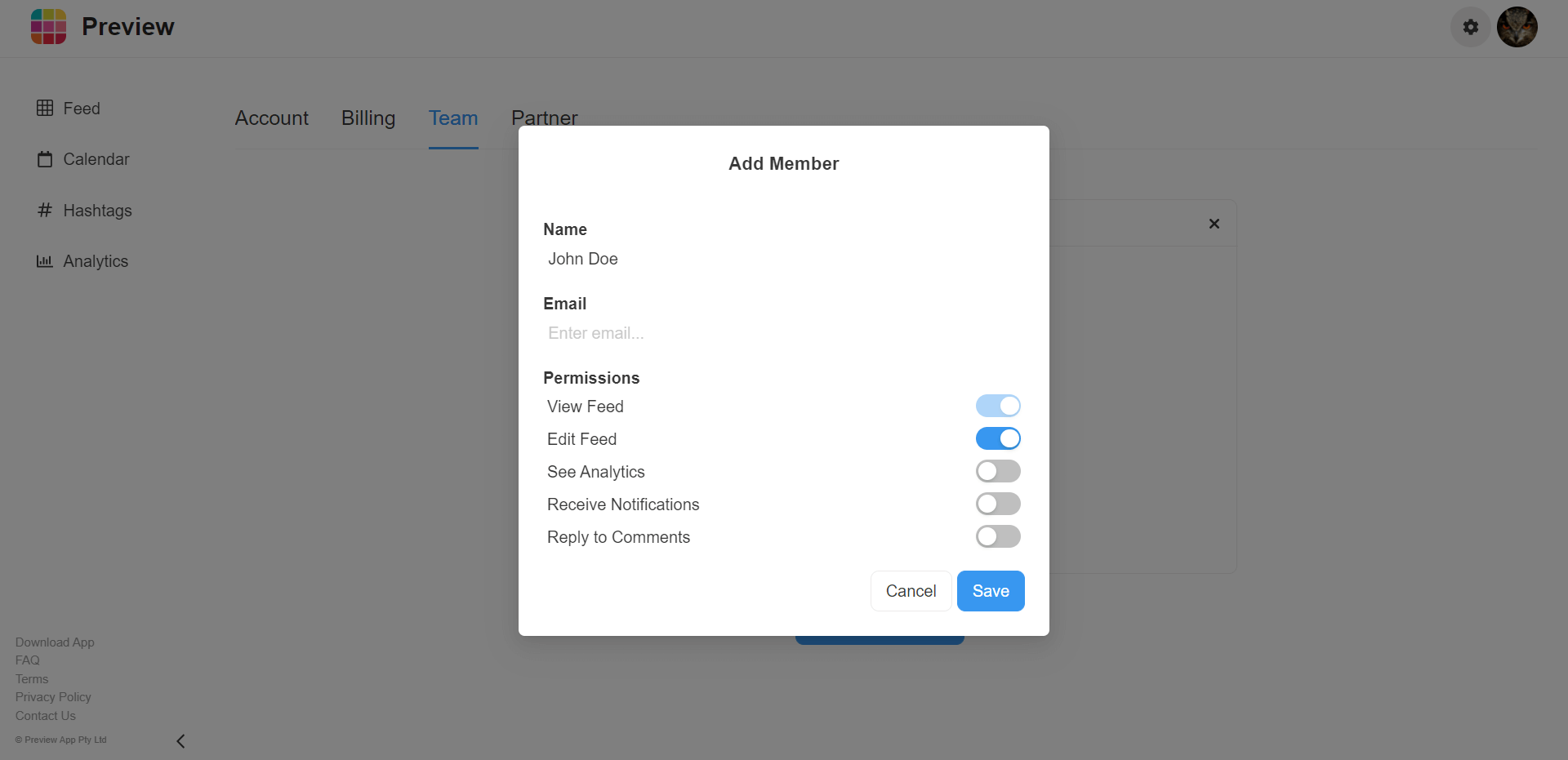 Pricing
Planoly offers a free plan which allows a single user to manage one Instagram profile and one Pinterest profile using the software. The free plan limits the number of uploads per month, per profile, to 30. The free plan allows users to post photos only. Popular features include a comment inbox for the five most recent posts, basic analytics, and Linkit. Linkit is Planoly's free tool that lets you create a clickable gallery of select Instagram posts that can drive traffic to your website, product pages, blog posts, and more.
Paid pricing plans are as follows:
Solo plan ($10/mo billed annually or $11/mo billed monthly):

Planoly's Solo plan allows everything the free plan offers but lets the user choose one of their two social media counts for unlimited posting. It also allows the user to post videos and gifs, in addition to photos, advanced analytics tools, a comment inbox for 15 most recent posts, the ability to share to Facebook and Twitter, auto-post first comment, a best time to post feature, a quick schedule feature, image filters, and reels posting.

Duo plan ($18/mo billed annually or $23/mo billed monthly):

Planoly's Duo plan allows everything the Solo plan offers but allows for unlimited uploads across channels, up to two users, and a comment inbox for 30 most recent posts.

Custom Plan (starting at $28/mo billed annually or $35/month billed monthly):

Planoly's Custom plan offers all of the Duo plan features for three social media profiles with two users and an unlimited post comment inbox. Additional social media profiles and users can be added for $96 each per year.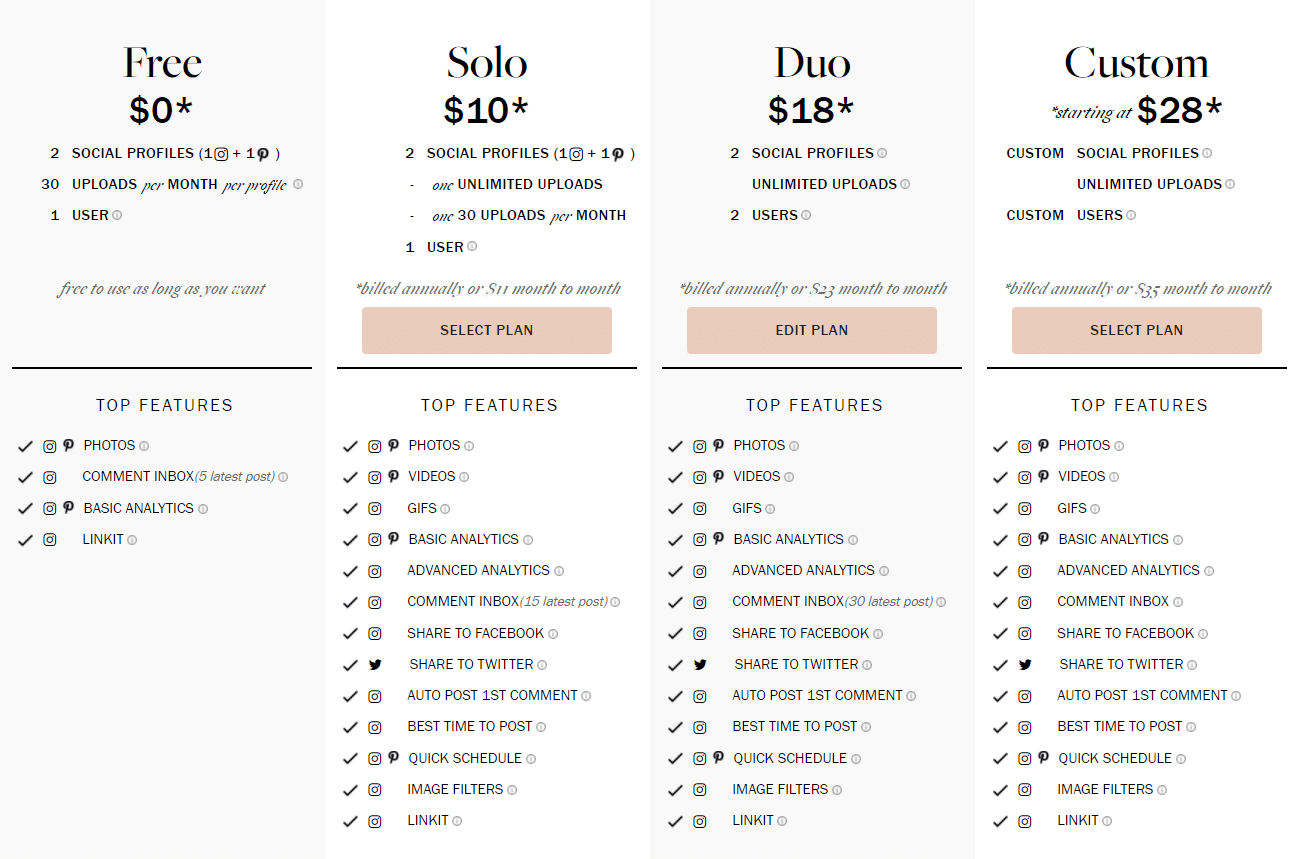 With Preview, all plans, including its free plan, come with drag and drop, unlimited posts, filters, photo editor, hashtag groups manager, stock photos, and the ability to post photo, video, and carousel posts. The free plan from Preview allows for one user with one device, unlimited posts, reels planner, two filter packs, basic analytics, the ability to reply to comments, and font options.
The Preview paid plans are as follows:
Pro plan ($6.67/mo billed annually):

Preview's Pro plan features everything the free plan offers plus all filter packs, full analytics, tested hashtags, hashtag analytics, reposting, all font options, and image splitter.

Premium plan ($12.50/mo billed annually):

Preview's Premium plan features everything the Pro plan offers plus unlimited users, auto-posting, Insta Story planner, unlimited reels + IGTV planner, competitor Analytics, 3,000 caption ideas, a desktop version, unlimited devices, team features, and backup.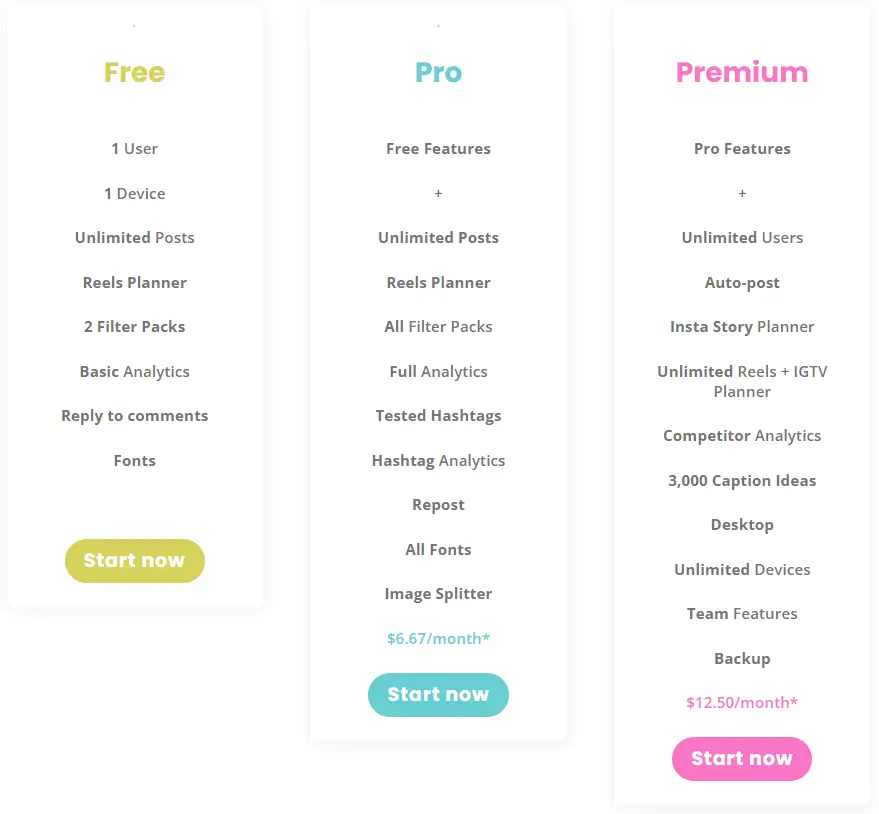 Integrations
When it comes to integrating beyond the social media channels that it works with, Planoly is seriously lacking. The Planoly mobile app does integrate with popular editing apps like Snapseed, Lightroom, VSCO, and others. It also integrates with Canva, a graphic design platform commonly used to create social media graphics and other visual content.
For integration with other apps, Preview is even worse. The app does not integrate with any platforms beyond Instagram.
Customer Support
Planoly encourages users to search its vast knowledge base to answer some of the most common user questions. However, the app also offers support via the web using a standard contact form. Similarly, Preview provides a FAQ section on its website that answers some of the most common questions about the app. If that doesn't do the trick, you can reach out to Preview via email.
When to choose Planoly vs Preview
Preview is suited for the small business owner or brand influencer running their Instagram marketing efforts straight from their mobile device. Although Preview does offer a desktop version for Premium customers, many people have an easier time managing their accounts with the app.
Additionally, although Preview does offer collaboration options, they don't measure up when compared with Planoly. That being said, if you are a one-person team Preview might be the better choice for you. 
Planoly's desktop software is sleek, clean, and easy to use. It is the perfect solution for small businesses that rely on visual-rich posts on Instagram and Pinterest to market their product or service. Although cumbersome, the ability to cross-post to Facebook and Twitter is a bonus, especially if they are not your main social media marketing channels. Its collaborative features are also conducive to managing your social media with a team. 
Both apps are easy to use, particularly when it comes to Instagram posting and scheduling. Preview might be more feature-rich, but it is only worth it if you plan to do most of your Instagram scheduling from a mobile device. Planoly costs a bit more from a pricing perspective, however, its unique features make it worth the cost for many users. 
You can see how other social media management tools stack up to Planoly in the following comparisons: