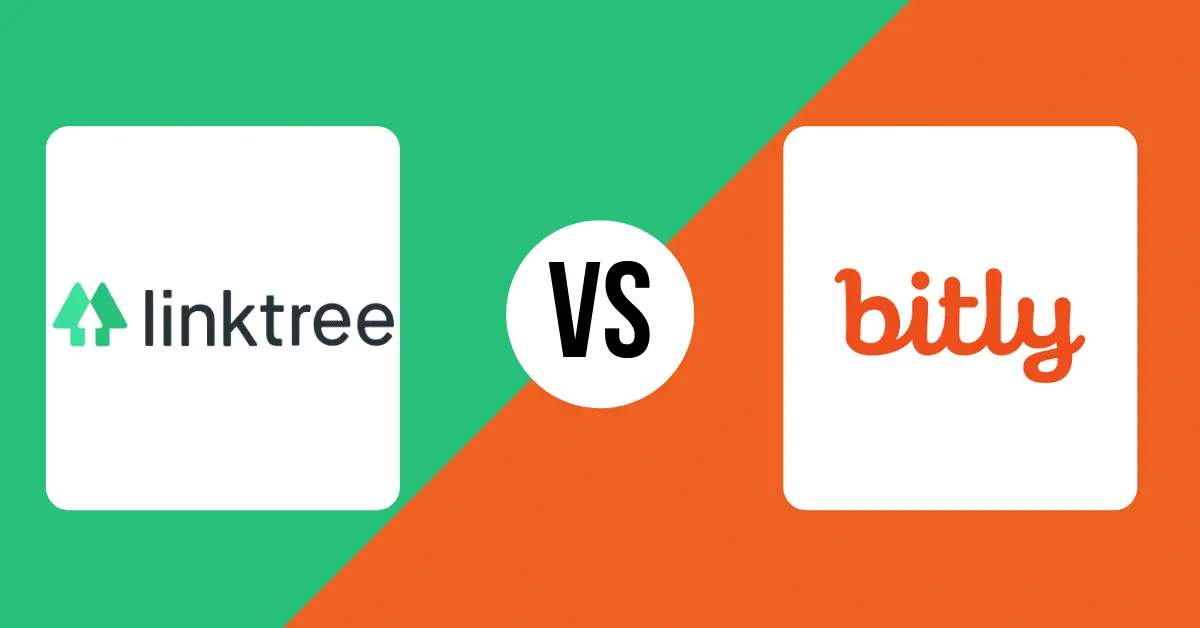 Link management is all about strategically placing links and tracking their performance. Whether you are part of a small business, a large business, or an influencer, chances are that you can greatly benefit from link management tools. 
However, certain link tools have different use cases.
Take Linktree and Bitly for instance. These two platforms are extremely popular and highly effective. However, there are many misconceptions about what these tools actually do. 
In this post, we will discuss Linktree vs Bitly in terms of the most significant differences between the platforms and how you can make the best use of both. 
Linktree and Bitly: What is the Biggest Difference?
Linktree and Bitly have fundamentally different purposes. 
Linktree is a platform that allows you to create simple landing pages to display various links. This tool was born out of the need to be able to display multiple links in the bio section of social media like Instagram that only allows one single link. By putting a link to your Linktree page in your Instagram bio, you can give your followers access to whatever links you choose to put in your Linktree page. Links to other social media, personal blogs, e-commerce stores, affiliated brands, and charity websites are all very popular. 
Bitly serves a different purpose. Bitly allows its users to shorten links, brand links with your company name, and track their performance. With Bitly, you can make lengthy URLs with strings of random characters more appealing to click on by editing the URLs with your brand name. The platform's reporting gives you valuable insights on where online people are finding your links, how many times your links have been shared, and more.
Linktree – Key Features
Linktree starts you off with a solid interface. The first thing you'll notice is that you have a link right away, and this link leads to your bio landing page.
Custom Landing Pages
The custom landing page enables you to provide your users with a range of links of your choice. Not only are these landing pages a great way for you to manage the various links that are important to you, but these landing pages also allow you to promptly display links of your choice for your followers to easily access.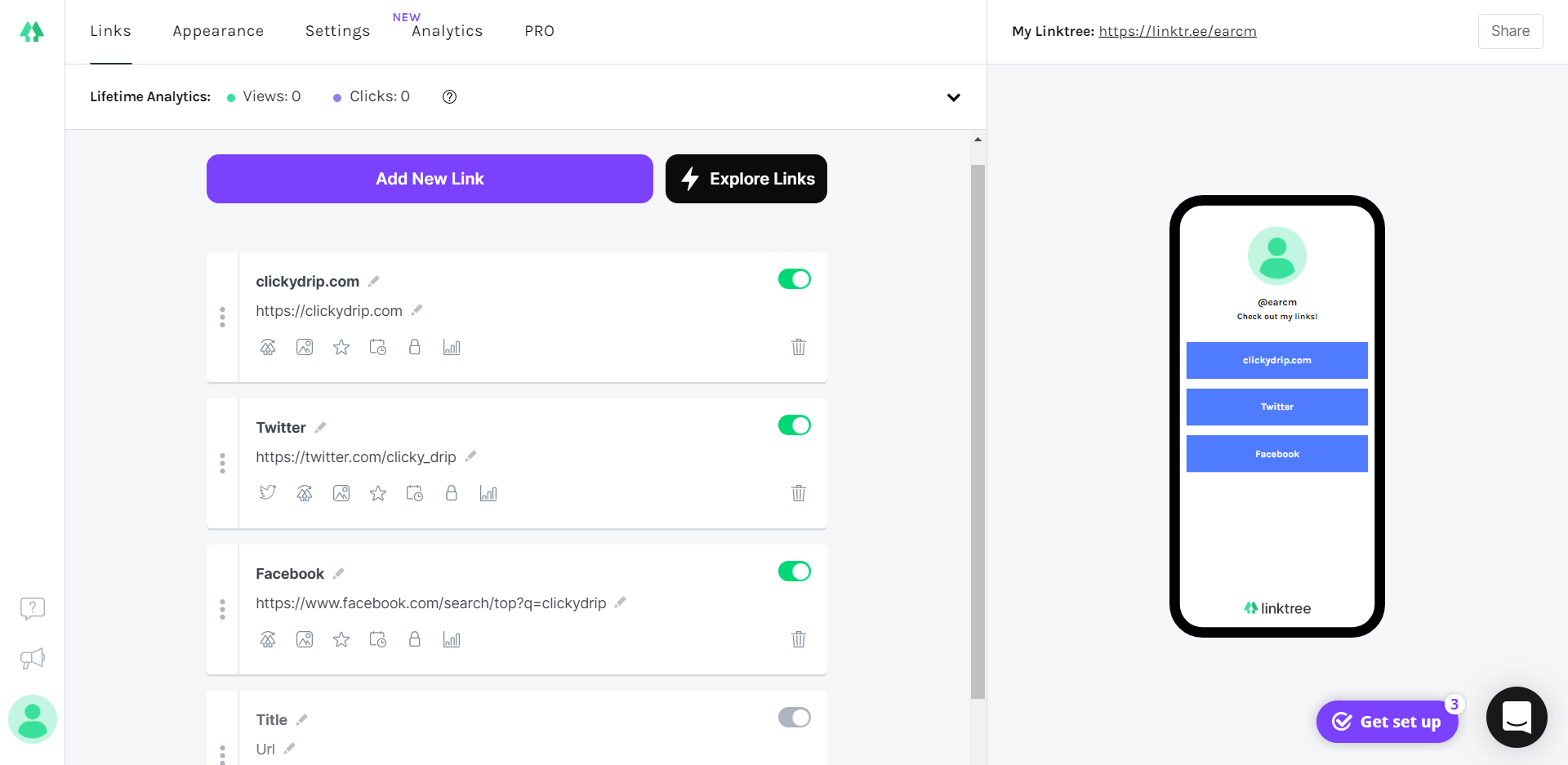 Link Types
Linktree also offers a wide range of link types that you can access with the pro version of Linktree:
Leap: Enables users to bypass your Linktree page

Thumbnail/Icon: Enables you to add a unique image with a link

Priority: This allows you to highlight priority links that contain your most essential focuses

Scheduled: Links that can be scheduled to show up at a certain time

Gated links: Enables you to require a code for people to access the site (This can also limit people who are below specific ages)
Additionally, aside from Linktree's standard links, the platform offers a few other types of links for more specific purposes that you can access with the free version of the tool: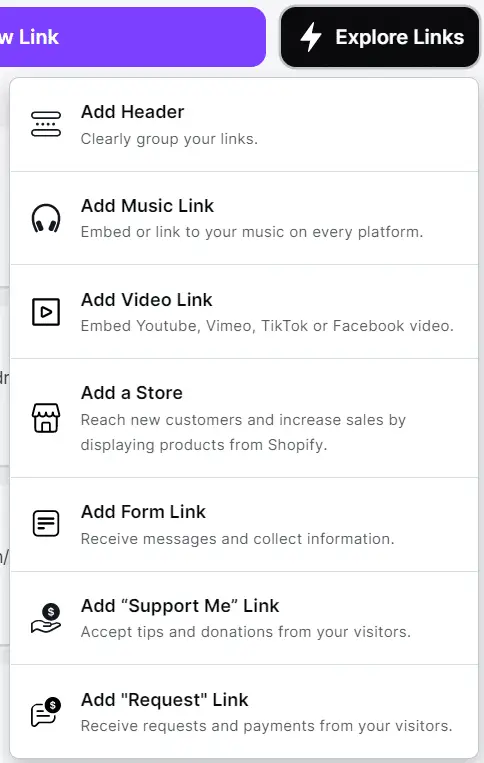 Linktree enables custom URLs for a wide range of social media, developer platforms, and store pages. Platforms like Spotify, the Google Play Store, and Instagram are just a few examples.
Related: Linktree: Everything you Need to Know
Themes and Customization
As a free user, Linktree will allow you to access a small number of customized backgrounds for your landing page. The custom backgrounds will enable you to pick something with a bit of personality. With the premium version, you can get access to more themes, customizable buttons, a selection of fonts, and the ability to add your own photos as background options.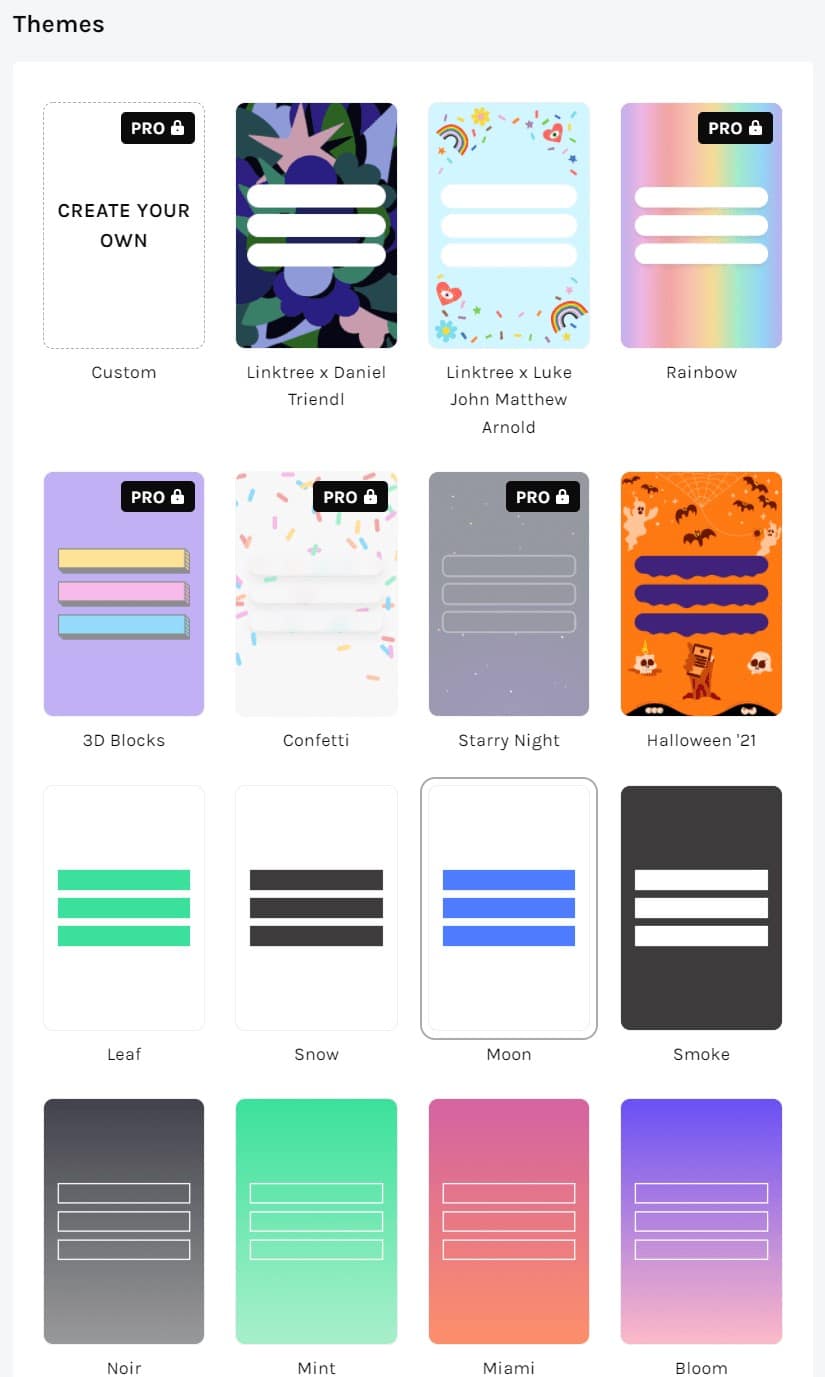 Reporting and Analytics
Linktree enables you to gather simple analytics under the free version of their platform. Advanced analytics will allow you to see complete breakdowns to see what Calls To Action (CTAs) are working for you.
You can also break down data by periods, click-through rate (CTR), locations, and payments. Time-based breakdowns require the premium version, but lifetime data is available for free.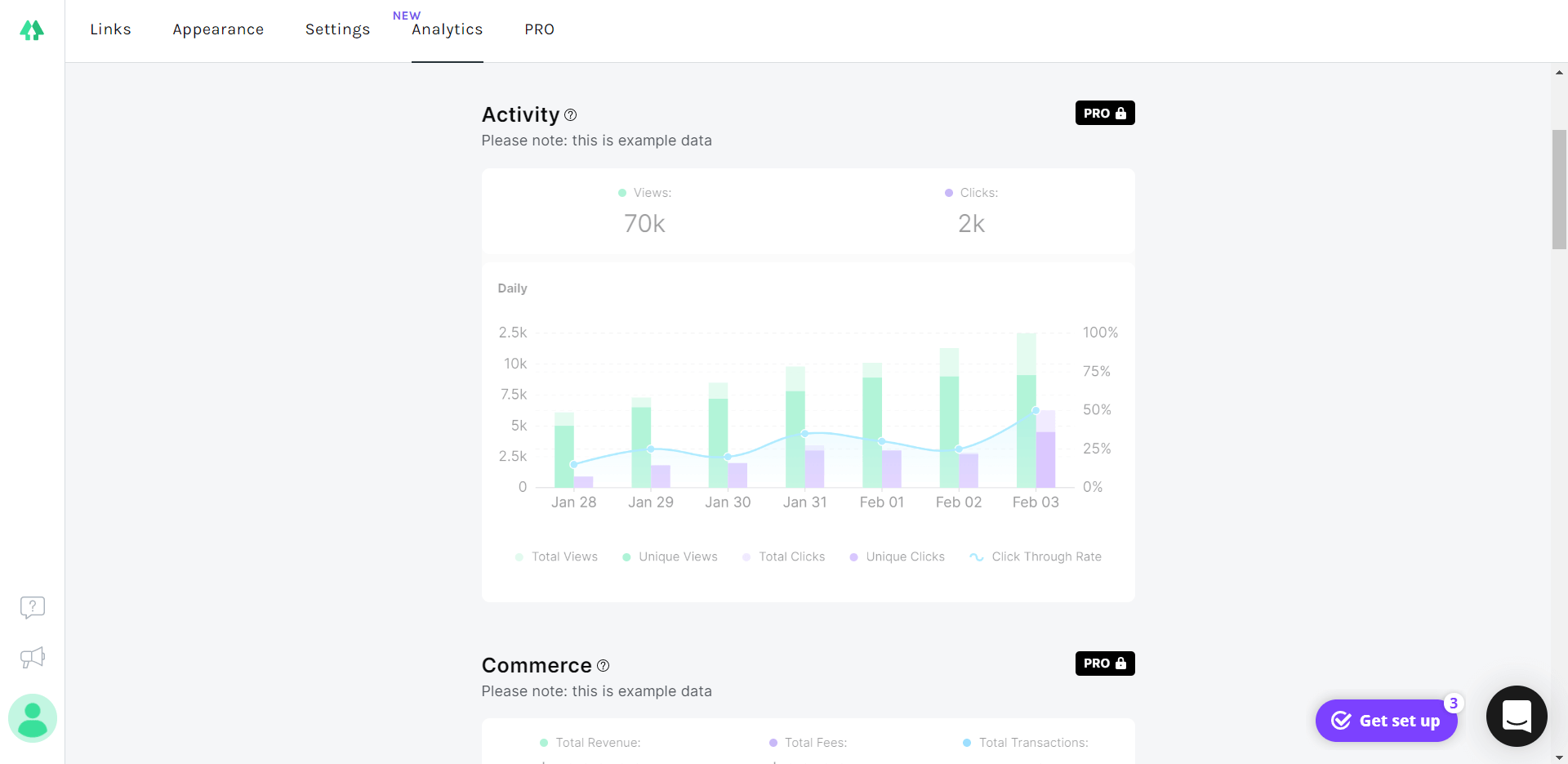 Looking for more bio link tool options? Check out this post on free bio link tools like Linktree. 
Bitly – Key Features
Although Bitly's features might seem basic, when used properly they can be extremely powerful. 
URL Shortener and Branded Links
One of the greatest benefits of Bitly is its ability to shrink long URLs. This can be extremely helpful for social media marketing on platforms like Twitter that have a limited character allowance. 
Not only can you shorten URLs, but you can brand them as well. 
Bitly allows you to post anywhere from 1,500 to 10 thousand branded links. Branding a link simply means taking a URL that isn't very descriptive, such as one with a string of random numbers and characters at the end, and modifying the back half with something more descriptive. See the example below: 
Effective link branding results in more click-throughs since people know exactly where the link will take them.
Campaign Management and Analytics
Bitly's link tracking capabilities allows you to analyze the clicks through your Bitly links. Bit.ly also allows you to track via UTMs (Urchin Traffic Monitors), allowing you to see important details regarding your links' performance. 
Here are the UTMs they track:
Source: Where the web traffic is coming from (banner ads, social media posts, etc.)

Medium: How the user receives the link (social media, email newsletter, etc.)

Term: What keywords are associated with the link ]

Content: Details on how they receive the link (video, on the top of a post, on the bottom, etc.)

Campaign: Whether the link was clicked as associated with a specific social campaign (i.e., a campaign running on a 10% discount for shares)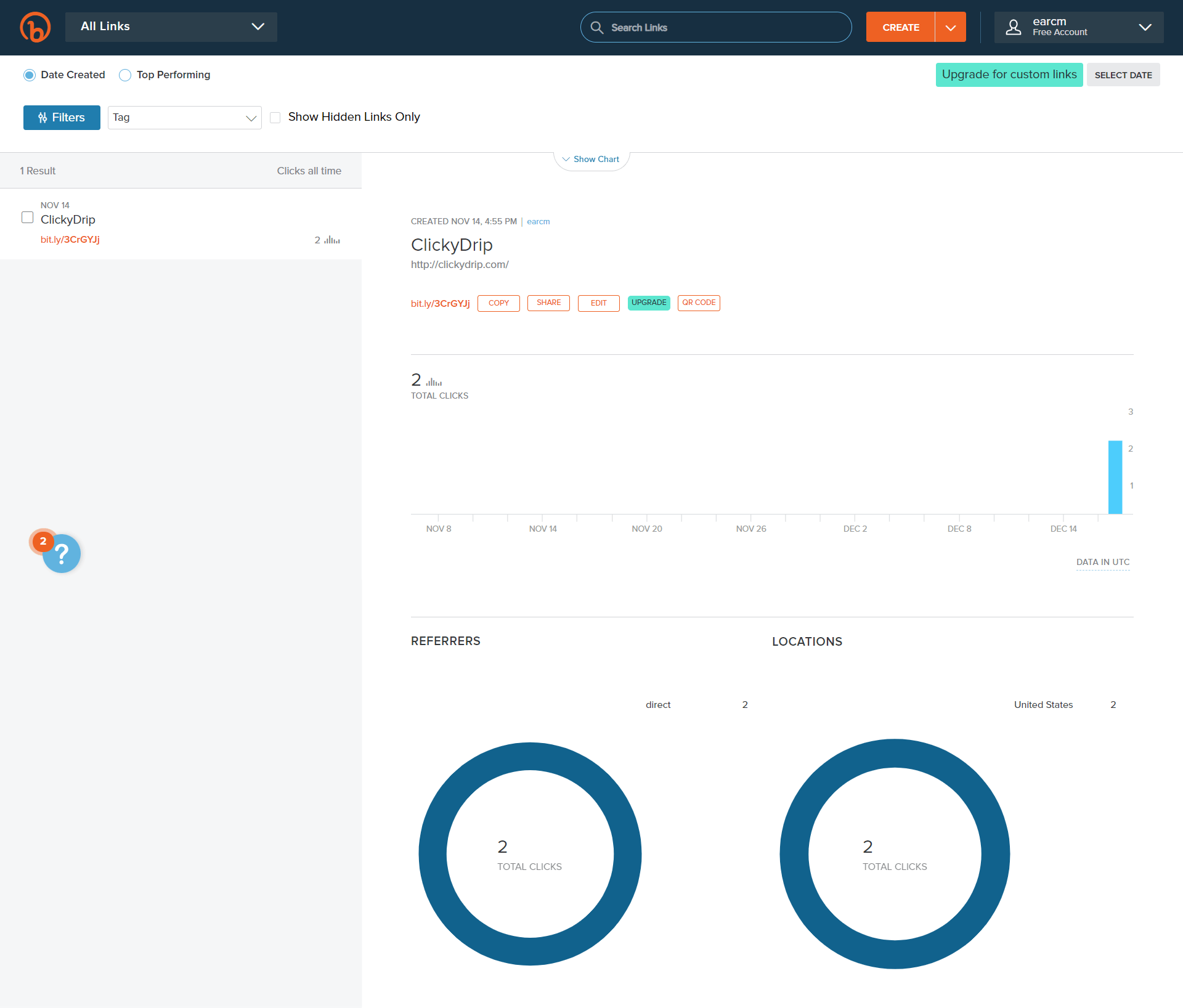 Much like Linktree, Bitly allows you to track lifetime changes across your links for free. However, you will need the paid version to create campaigns or track specific changes.
Link Management
For what it's worth, Bitly is an excellent tool for keeping track of the various links your company is using. If you have dozens of links that you are tracking, it can be extremely helpful to use Bitly to view the performance of your various campaigns side by side in one platform. 
Pricing Comparison
Both have different pricing schemes for different needs.
Starting with Linktree, you have three options:
Free

Pro: $6 per month

Enterprise: Changes on a case-by-case basis
Paid players of Linktree get more themes, styles, and better link options. You also have much deeper analysis opportunities, including individual link analysis, CTR, and average time to click.
Bitly has a higher upfront cost with these four options:
Free (if you want Bitly's branding on your URLs)

Basic: $29 per month with annual payment ($35 monthly)

Premium: $199 per month with yearly fee ($300 monthly)

Enterprise: Requires a custom quote from Bitly
The main difference between pricing plans is the inclusion of extra branded links. These branded links go from 1,500 to 3,000 and over 10 thousand, respectively.
Bitly also integrates with more third-party applications under its premium features, something that Linktree does not have.
Linktree vs Bitly: Which is best for me? 
The platform that is best for you largely depends on your needs. 
Linktree is better for those who need a simple web page to display links for their social media followers. Overall, Linktree is best for social media influencers and brands with substantial followings on Instagram, TikTok, or other social media platforms that only allow for one link in the bio section of the platform. 
Bitly excels at providing data-driven decisions through the creation of campaigns and tracking of UTMs. Finding out where the traffic comes from enables you to make data-backed marketing decisions. That being said, Bitly is good for businesses large and small that want to track the performance of their links and also be able to brand links as well. Additionally, integrations with major platforms like Salesforce and Twilio also make Bitly very appealing to companies already on these platforms.
You can see how other bio link tools stack up to Linktree in the following comparisons: