Bio links tools serve an extremely simple purpose- to display multiple links to sites of your choice that are easily accessible for your social media followers. 
Nevertheless, there are numerous bio link tools that you can choose from. Each of these tools has different features and themes that can dramatically affect how effective they are. 
Linktree and Campsite happen to be two of the best bio link tools available. While they are strikingly similar in many ways, depending on the circumstances and your goals, you may want to use one tool over the other. 
In this Linktree vs Campsite post, we will compare the two platforms in terms of features and user experience so that you can determine what tool is best for you. 
About Linktree and Campsite
Linktree was established in 2016 and was one of the very first bio link tools. The tool rapidly became popular and as a result, the website crashed due to having over three thousand users overnight.
Campsite was founded two years after in Milwaukee. Big names like Dell and MSI are known to use this platform. The company lacks the same clout as Linktree but has many features that are just as powerful. 
How Does Linktree Work? A Brief Dashboard Walkthrough…
After clicking the "free sign up" button, you first see the dashboard to add your links. You can add unlimited links from the first page you visit. Compared to Tap Bio, Linktree is more flexible regarding different link types. Linktree's free version has the following link types available: 
Music links:

Links for music from Spotify, Soundcloud, and other platforms that can be played from your page

Video links: E

mbedded videos from YouTube, TikTok, and other sources

Store link: For d

isplaying products from ecommerce stores 

Form link: F

or collecting email addresses

Support me link:

Can be used to collect donations for a cause 

Request link: F

or receiving requests and payments from visitors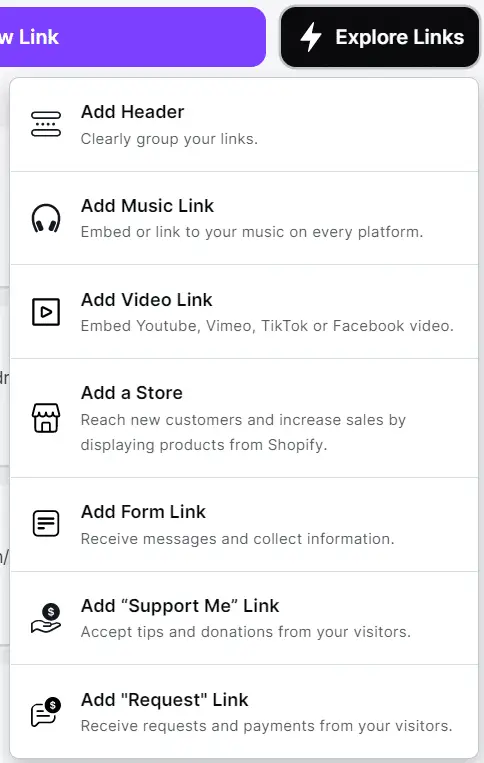 Linktree Pro subscribers have access to these additional link types:
Leap links

: Can be used to forward visitors directly to a destination, bypassing your Linktree altogether

Priority links

: A great way to highlight your most important links 

Schedule links

: This gives you the ability to schedule when you want your links to appear

Gated links

: These links require visitors to enter a password of some sort to click through them 
You can also add thumbnails or icons to your links to customize them further and view analytics for each link displayed. 
Once you are done adding the links of your choice, you can move on to the appearance tab to customize the design for your landing page. Here you can add your profile pic, and add your bio text as well.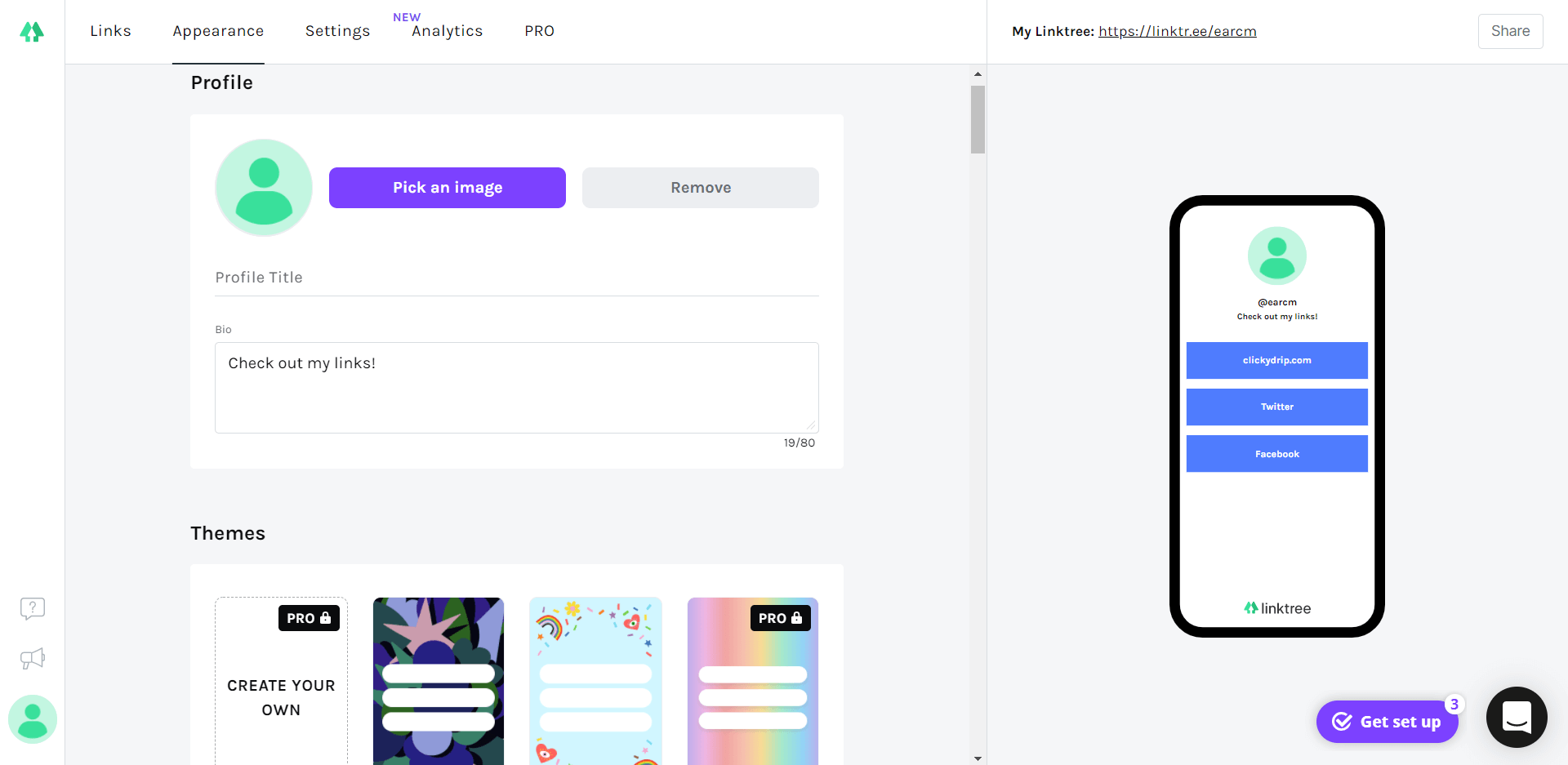 At this point, you can choose the theme that you would like to use for your page. Fortunately, there are a few options that come with the free plan, but there are many more designs that you can access with the paid version. Each theme has a different design, color scheme and button shapes for your links.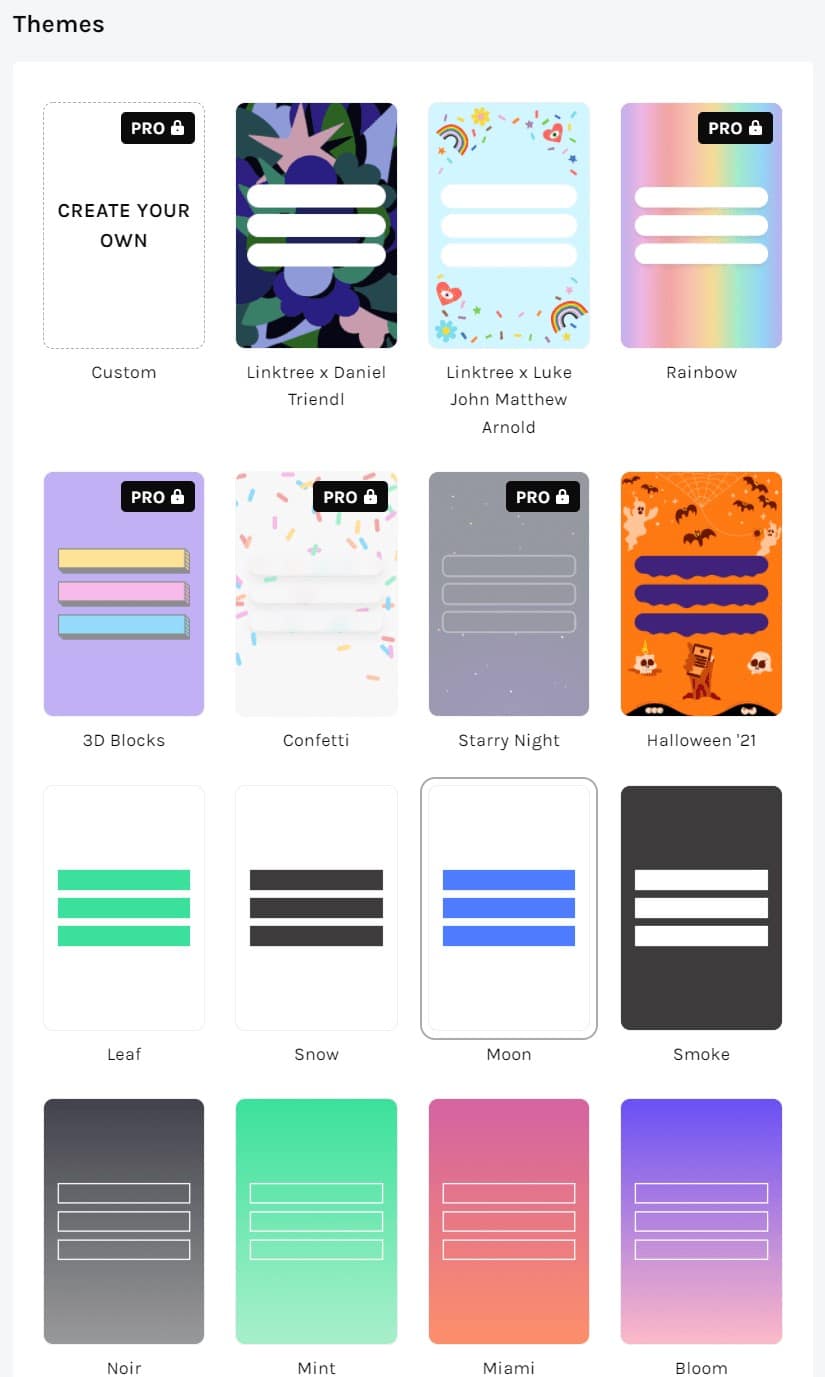 After you have chosen your theme of choice, you can move on to the settings tab. This is where you can configure settings such as mailing list integrations, ecommerce integrations, social icons, and more.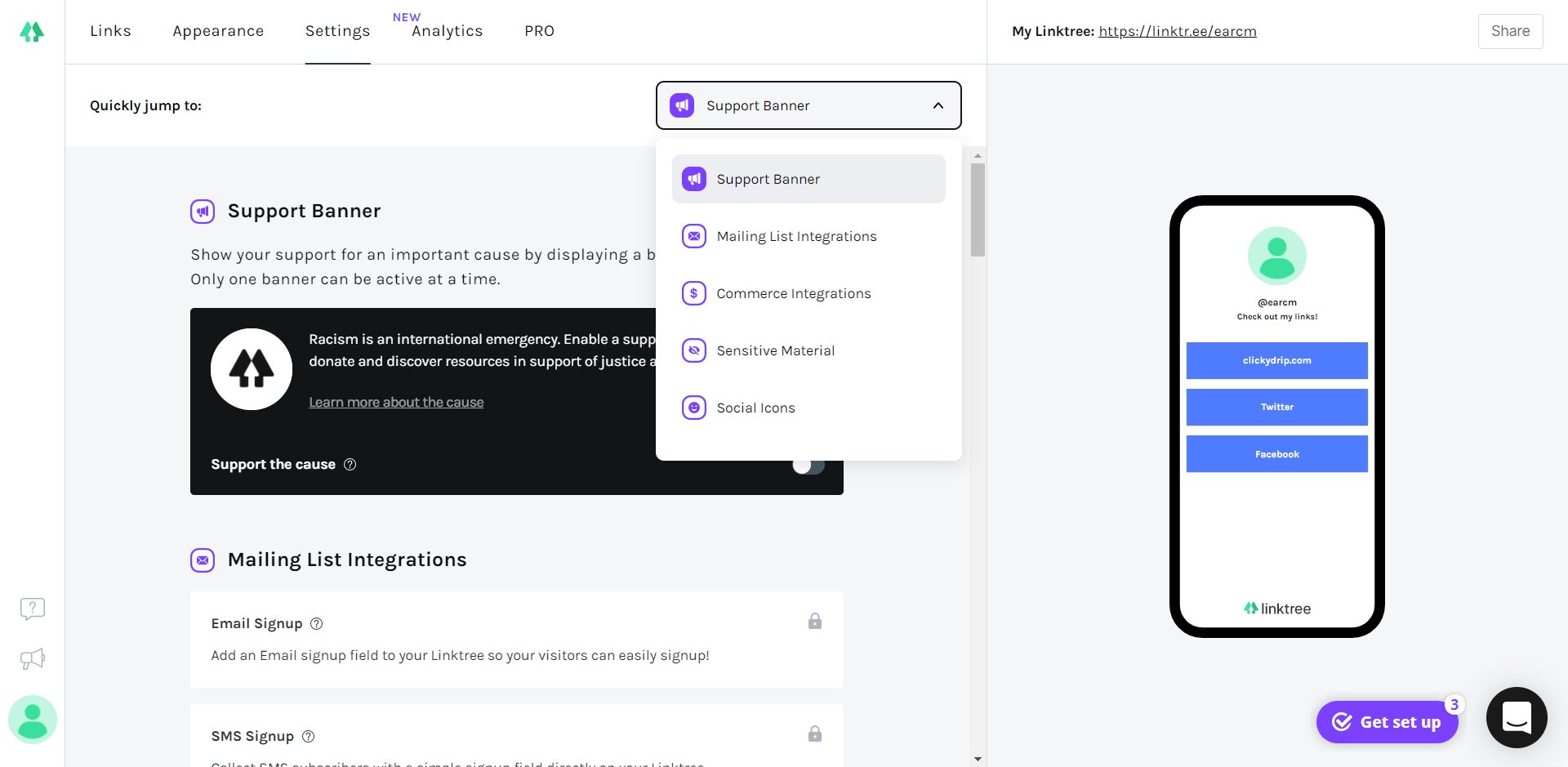 Upon clicking to the analytics tab, you can view the performance of your links in terms of visits to your LinkedIn page and the number of clicks for each link. With the pro version, you can unlock valuable statistics such the referral source for Linktree page visits (where on the web visitors have come from to view your Linktree page), and more.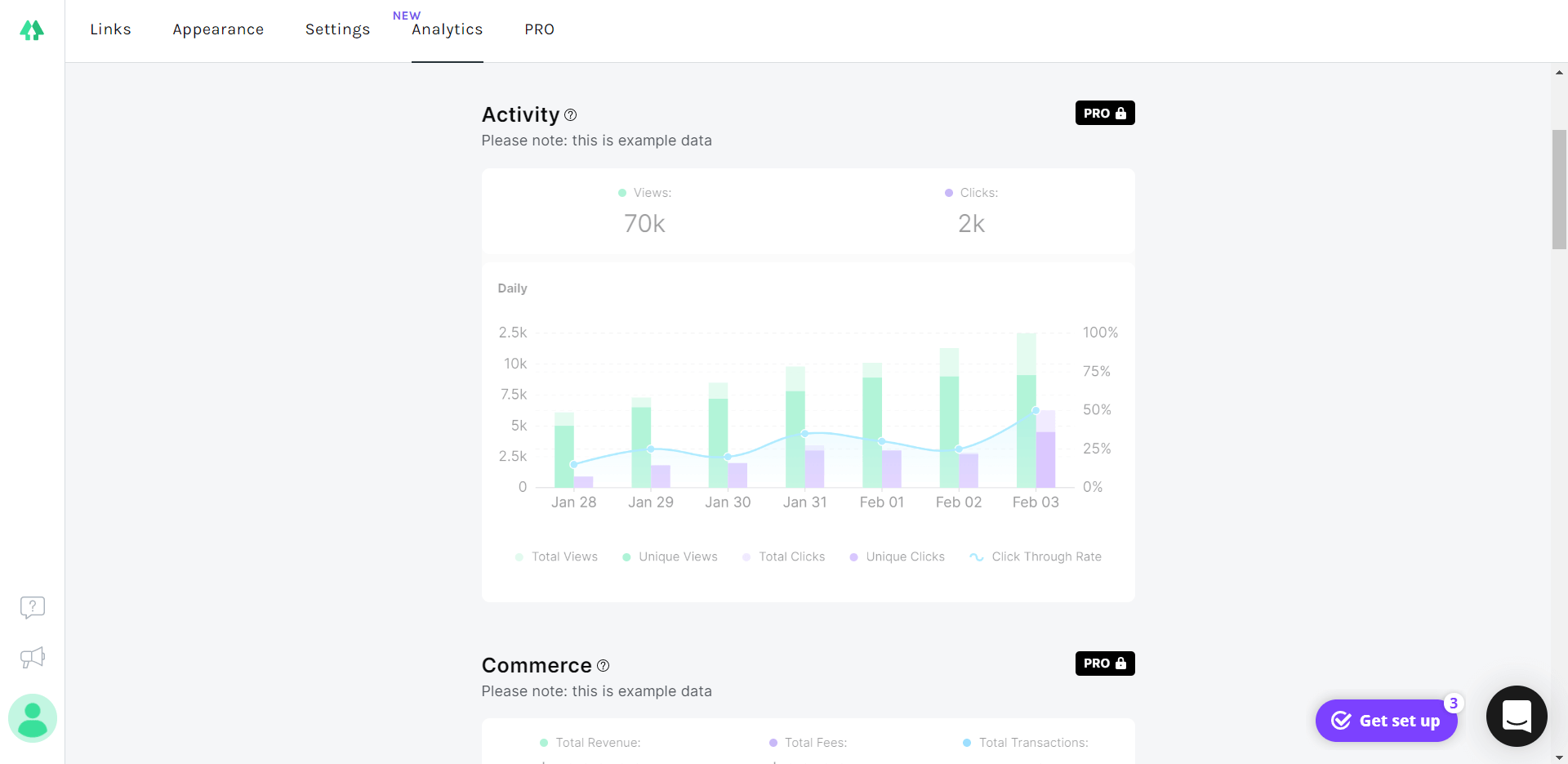 How Does Campsite Work? A Brief Dashboard Walkthrough…
Like Linktree, Campsite allows you to create an account by clicking a "Get Started Free" button. Campsite has simple Google or Facebook integration, and you can also fill in the form. 
Campsite starts immediately by offering you their free plan or pro plan. Like Linktree, Pro members access enhanced analytics, more integrations, and better link types. We'll discuss pricing in a later section. 
The general idea of the dashboard is incredibly similar to Linktree's, with the ability to add links on the left side. Meanwhile, any changes you make are those you can see on the right side of the screen in mobile format. 
The main dashboard that you arrive at after signing up is where you can add your links.
Most users take advantage of standard links, which are just basic links directed to other websites. Standard links also give you the option to schedule from a button below the URL entry section, however, this feature comes with the paid version.
Campsite gives you access to two advanced link types:
Carousel link

: A cluster of multiple links through images in a carousel format (you scroll left or right between different photos).

Carousels enable you to embed banner images (1300 x 900 px), which can be great for advertising, but you'll need to pay for pro access.
Embed link

: A link allowing you to embed your Facebook page, Spotify music, Twitch profile, Vimeo link, or YouTube page. 
The carousel and embed links will be under a green drop-down arrow just to the right of the "Add New Link +" button. You will also see an option for a divider, enabling you to categorize different links. 
If you have a free account, you'll find four additional locked features as well:
Email signup

: this feature enables the user to input their email to join your email list

Feed

: This allows you to add a feed of blog posts or many social platforms updates. Supported platforms include YouTube, WordPress, Blogger, Medium, Shopify blog, Squarespace, Tumblr, and Wix. 

Form:

Allows users to enter their contact information for your information collection efforts.

Title

: This allows you to add a label to provide context for any links category below.
To access Campsite's other features, you'll need to click on your profile name: the "@YourNameHere" along the top. 
From there, you'll be able to see a drop down for appearance, settings, collaborators, and URLs and Domain tabs. 
The appearance section basically allows you to add your profile picture, bio text, change the button settings, select a theme, and change other miscellaneous settings.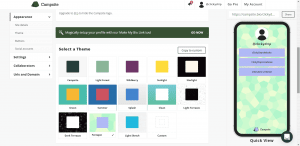 In the settings tab, you can connect Google and Instagram social accounts, and integrate your account with various other platforms.
Additionally, you can view the analytics for your page here as well, although this might seem like an unlikely spot for this information.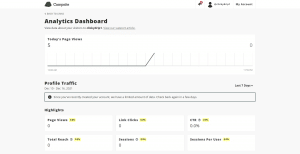 The Collaborators section lets you control who has access to your profile, which can be handy if you have a social media manager. This feature is available with the paid version of the tool.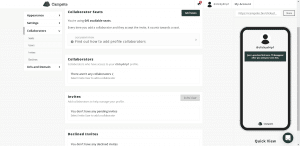 The "URLs and Domain" section lets you see your campsite URL. Pro members might also apply a custom domain and add additional subdomains. You can also add meta tags on this section to inform Google about the topics of your link bio page.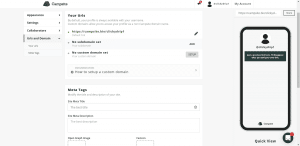 Overall, Campsite's dashboard is a bit dated compared to the sleek modernness of Linktree. However, it is still perfectly functional. 
Appearance and Aesthetics
Linktree offers numerous themes. Each theme has a different color scheme, design, and even the buttons for links have different shapes with certain themes. 
The paid version gives you access to additional themes, as well as different font options, and even different button styles as well. Additionally, with the paid version, you can upload your own background images of your choice. All in all, as far as bio link tools go, with Linktree you have tons of flexibility over the design of your page. 
The themes for Linktree are modern and stylish. Chances are that you can find a theme that matches the aesthetic of your Instagram account. To see how Linktree users can take advantage of the platform's themes and customizability, check out these Linktree examples. 
Unlike Linktree, Campsite makes all its themes available on the free version. However, there are noticeably fewer themes that you can choose from. 
There are 13 default themes available. However, there are plenty of ways you can design and modify these theme. Custom themes allow you to control the following:
Font family (both buttons and general)

Background color and text color (within buttons and outside of buttons) 

Showing the top border and choosing its color 

Displaying the profile image border and choosing its color

Font weight of buttons

Image size (between large and small) and style (square or circle) 

Background and border colors (with mouse hovering and not hovering)

Carousel background color and loading icon color

Social accounts standard color and hovering color 

The position (top or bottom) of your social accounts 
Campsite provides all of this without requiring payment for premium plans. Meanwhile, Linktree limits the amount of customization based on whether you pay them. However, the downside is that the themes have relatively basic designs compared to the ones included with Linktree.  
Pricing
On a pricing comparison, Linktree is the somewhat cheaper option when paying month-to-month and annually
Linktree offers the following two options:
Campsite also seems to take inspiration from Linktree regarding its pricing plans. It offers these two options: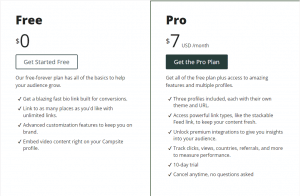 Campsite allows you to try premium services with a ten-day free trial. 
When to Choose Linktree vs Campsite 
Linktree and Campsite both have very similar features and they are equally robust. Moreover, the premium versions of the tools practically cost the same. However, depending on your preferences, one might be the better options for you. 
Ultimately, Campsite is great for those who want some solid theme options and design customizability without needing to pay for the Pro version. Additionally, the carousel and banner features are unique to Campsite and could be a compelling reason to move forward with this option. 
Linktree, on the other hand, slightly more flexible in terms of design and includes more theme options. The theme options Linktree offers are also arguably more stylish and engaging, which potentially makes Linktree a better choice for those who value how their links are displayed over everything else. 
If you are still on the fence when choosing between Linktree vs Campsite, keep in mind that both platforms have free versions. You can test both out without paying a dime to see which one you like the most. 
You can see how other bio link tools stack up to Linktree in the following comparisons: