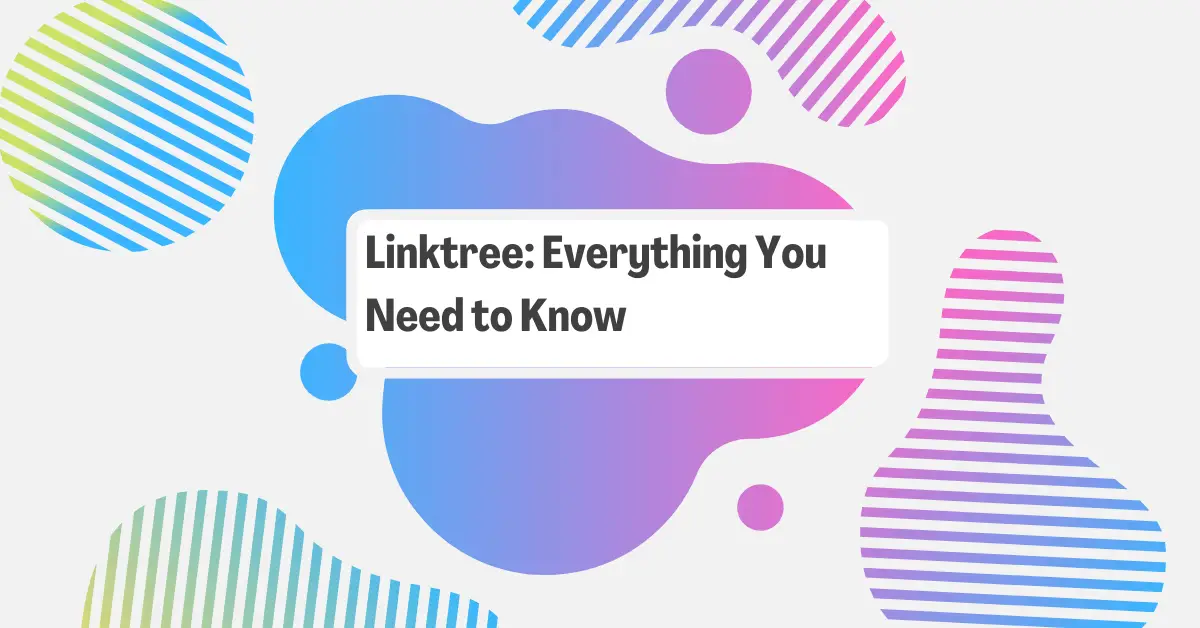 Linktree has exploded in popularity in just a few short years. This tool is without a doubt a leader in the bio link page space and is likely the most popular of its kind.

However, despite its widespread use, Linktree is still new to many people. 
If this sounds like you, don't fret. 
In this post, we will cover exactly what Linktree is, how it is used, and address many common questions regarding the platform. 
What is Linktree Used For? 
Linktree is a simple landing page builder used for sharing multiple links from a single webpage. Since social media like Instagram only allow a single link in the bio section of an Instagram account, people will use a Linktree link that opens up to various other links of their choosing. 
Linktree is essentially a gateway from social media like Instagram to other websites, forms, or apps.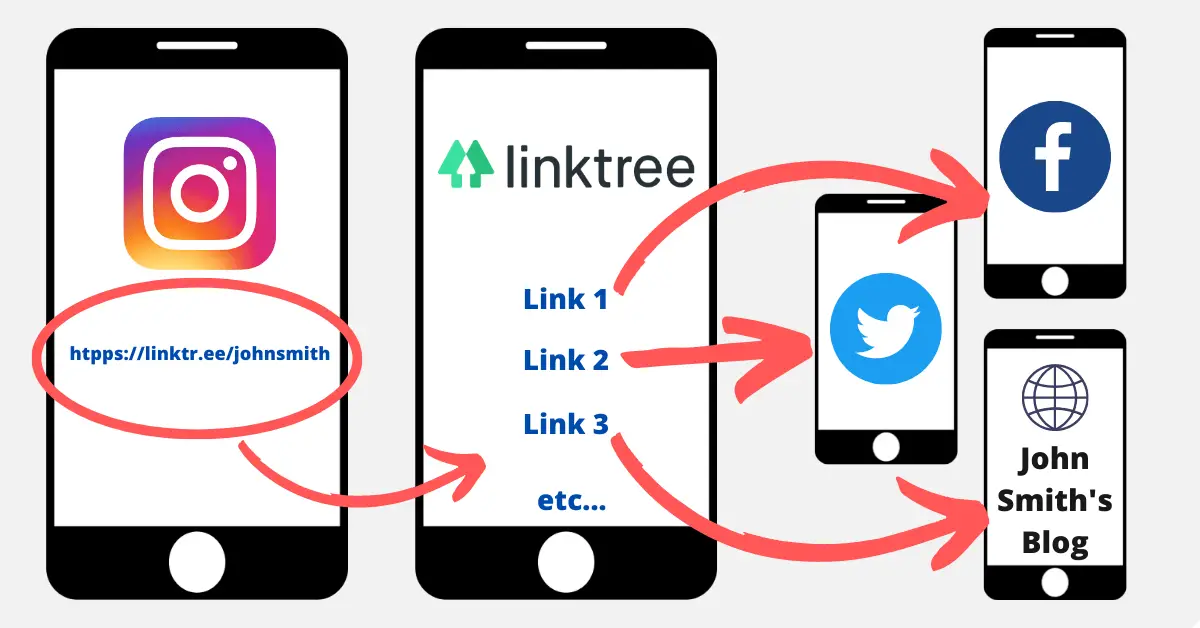 Most users utilize Linktree to display their various other social media accounts to make it easier for their followers on one account to find them across other platforms. However, Linktree is also often used for promoting the following: 
A company that you own or work for

Your blog or website 

A charity or cause 

A brand that you are affiliated with or represent 

A portfolio of your artwork or photography 

An email sign up form for collecting leads 

An app that people can interact with you on 

A library of music you have created 
Suffice to say that Linktree is an extremely versatile platform.
How Does Linktree Work
Linktree works as a way for you to promote multiple links through a single web page on Instagram or other social media. In order to do this, first, create a Linktree page with links of your choosing, then add the link to your Linktree page to the bio of your Instagram or other social media. 
A more in-depth overview of how to do this can be found below: 
Upon signing up for Linktree, you will get taken to the links dashboard where you add links of your choosing. You can switch between various link types (priority links, gated links, schedule links etc.) and you can also arrange the order of your links as you wish.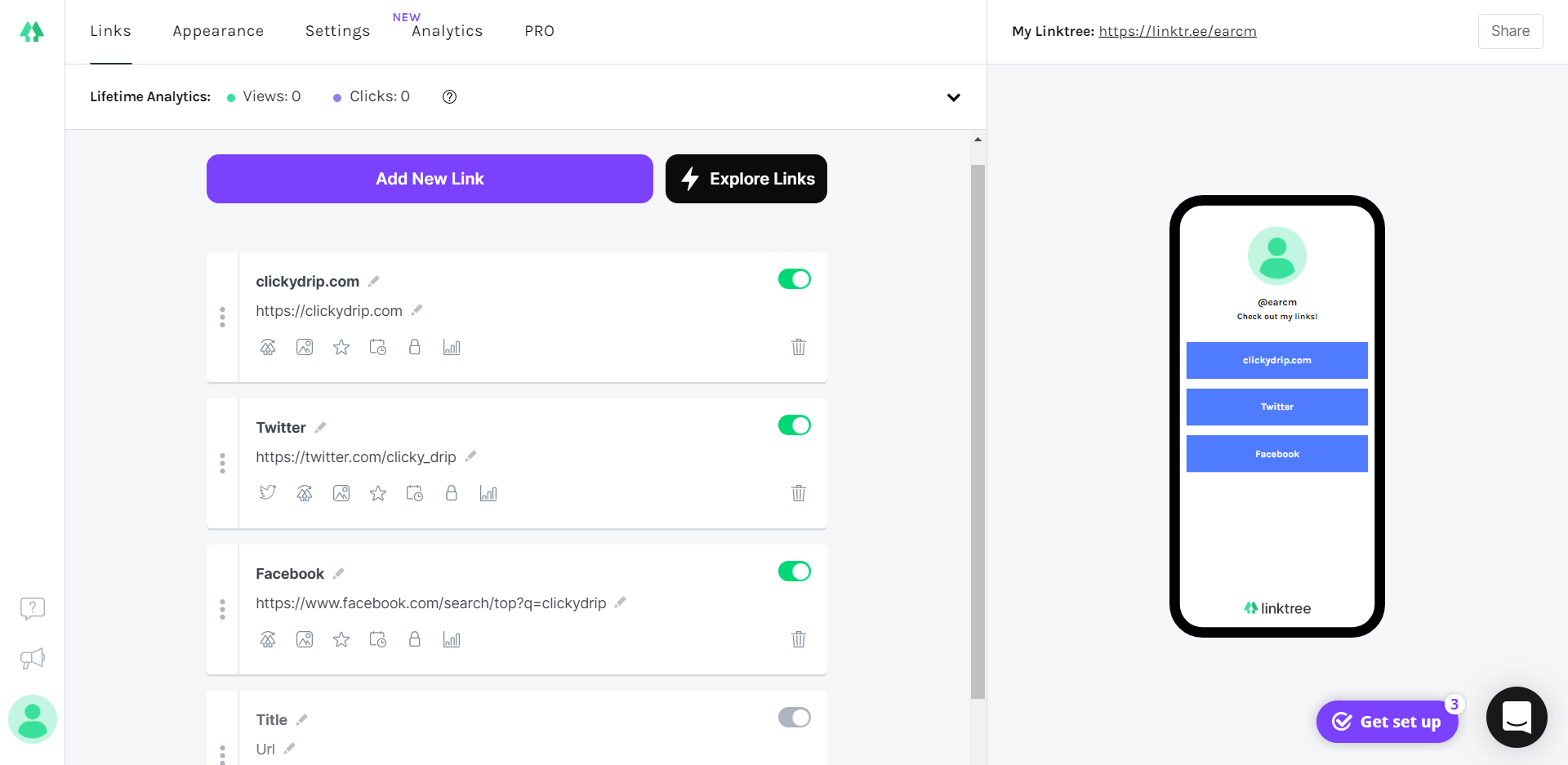 The appearance tab will allow you to switch between various themes and backgrounds and also give you the ability to customize buttons and fonts.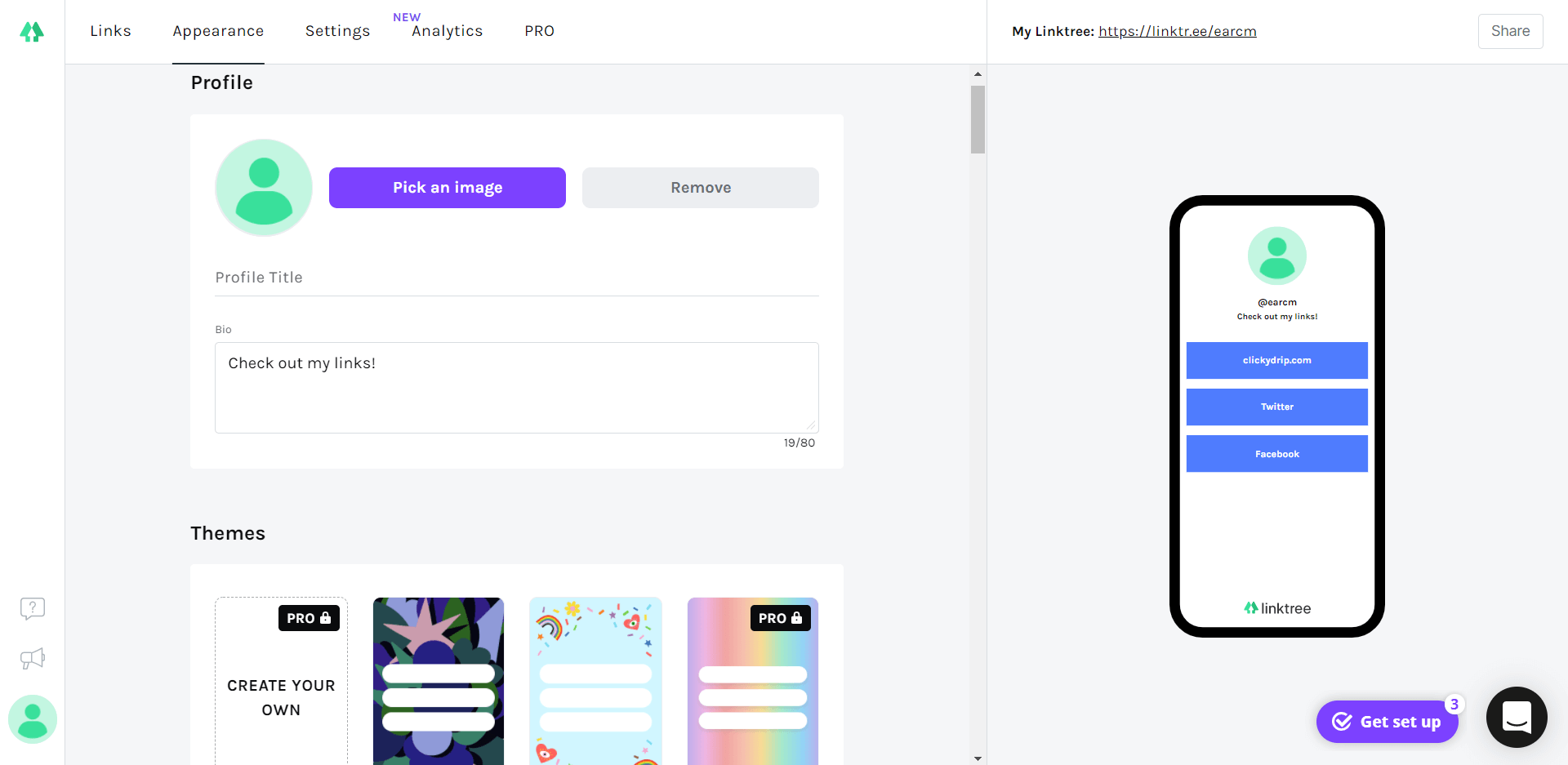 The setting tab is where you can integrate various apps with Linktree and make other configurations.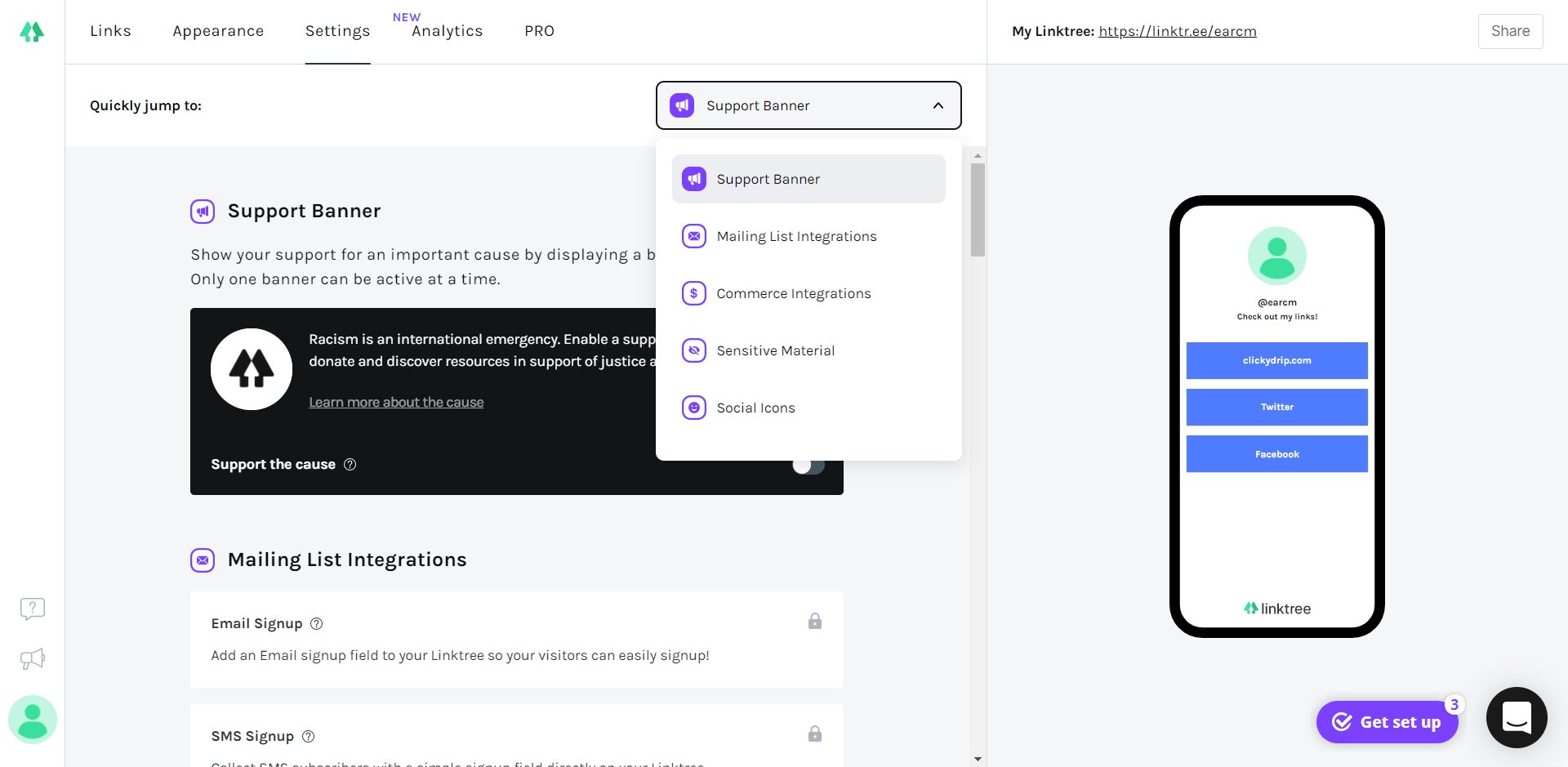 And lastly, the Analytics tab allows you to view key statistics such as the number of views your Linktree page has received, the number of link clicks, the social media channels that visitors are coming from, and much more.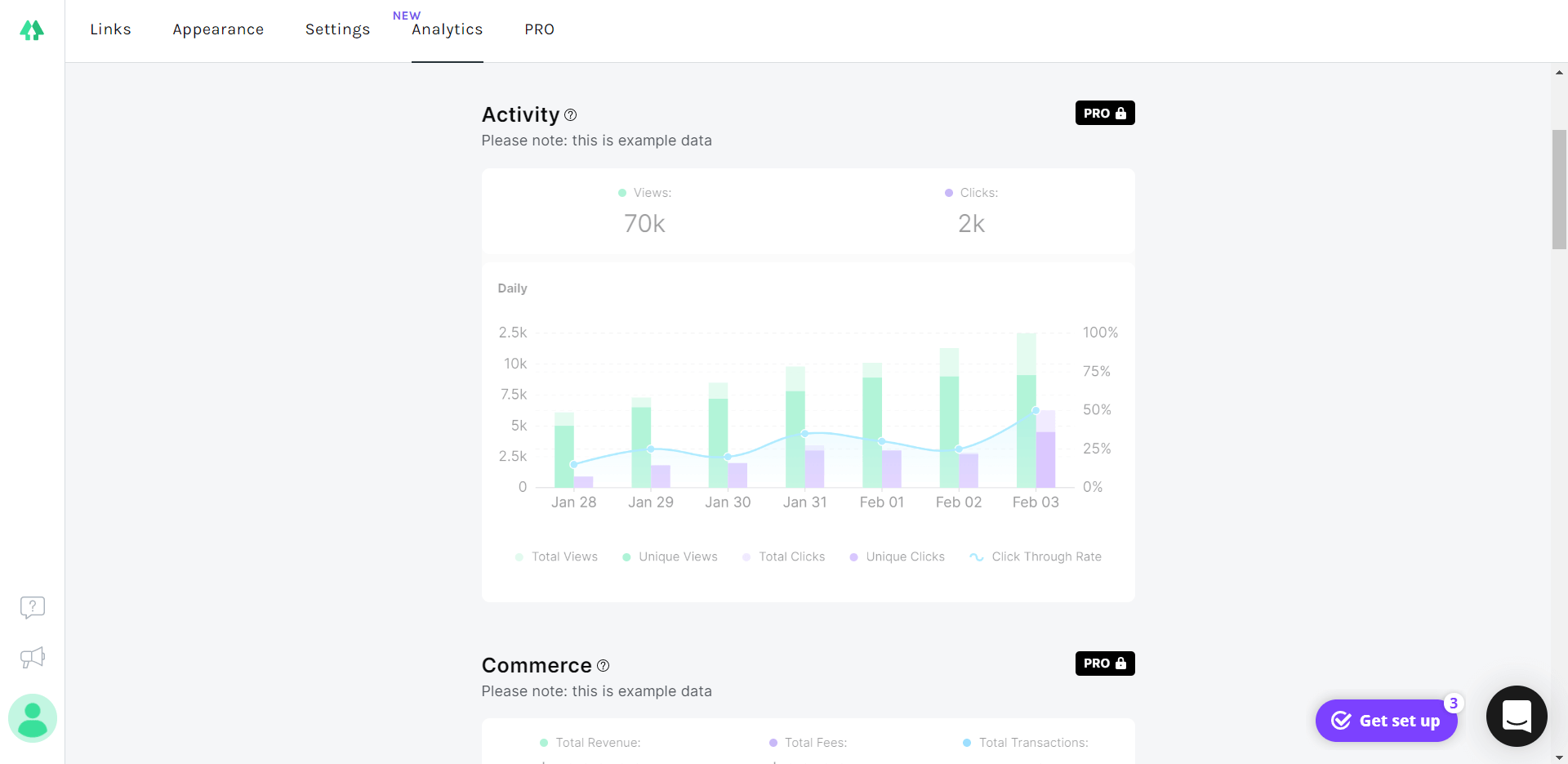 When you are ready to share your Linktree link, you can click the "Share" button in the upper right-hand corner to copy it. From there, log into your Instagram or social media of choice, and add the link to the bio section of your profile. 
Is Linktree Free? 
Linktree has a free version of its tool with basic features that are suitable for most casual users. You can sign up in seconds with your email. 
The premium version costs $6 per month. The premium version includes additional features such as additional link types, extra customizability, more analytics, and extra integrations. 
More specifically, with the premium version you can:
Schedule links to turn off and on at specific times 

Create priority links that stand out with animation and styling

Access premium themes

Customize button fonts and styles 

Create custom backgrounds 

Access analytics that shows the number of views, clicks, channels where people have found your page, and more

Access integrations like Mailchimp, Google Sheets, Zapier and more
However, there are other features you can access with the premium version as well.
Is Linktree Safe 
Linktree is perfectly safe to use. According to Linktree's privacy policy, the company has appropriate security measures to ensure your personal data is not accessed in an unauthorized way (stolen). Additionally, The website is secure, meaning that hackers can't view or steal credit card information if pay for the premium version.
On the other hand, many social media users want to know if Linktree is safe to click. In short, Linktree is safe to click on and it won't transfer viruses to your phone or computer.  
In 2018, Linktree was reportedly banned from Instagram for "breaking community standards". Instagram viewed Linktree as a way for users to promote links through Instagram that aren't approved by Instagram itself. Since Instagram revoked this decision, users have been able to post Linktree links freely on their Instagram accounts. 
Why is Linktree so popular?
Although Linktree is widely used, it certainly isn't the only bio link tool. There are dozens of other bio link/link in bio tools that you can use. 
So the question "Why is Linktree so popular?". 
Linktree was one of the first bio link tools and due to its ease of use and customizability, it quickly became a leader in the new and emerging bio link tool space. The use among influential Instagram accounts of celebrities and small-time Instagram influencers alike quickly gave Linktree the clout it needed to amass a large user base quickly. 
Fortunately, many of these tools are completely free. 
Linktree Free Alternatives 
There are other bio link tools that have comparable features to Linktree's premium version, yet are completely free. 
A few of these Linktree free alternatives include:
Linkin.bio 

Campsite

Tap.bio 

Milkshake

Bio.fm

Contactinbio

Linkfolio 
You can learn more about these tools as well as many other free bio link tools here. 
Final Words 
As long as social media like Instagram and TikTok are around, chances are the so will Linktree. That being said, if you think that Linktree might be of use to you, try it out for free and decide for yourself. 
However, once you sign up, you may feel as though you need some inspiration. Fortunately, there are numerous Linktree examples out there from small-time influencers to big-time celebrities. 
Check them out and see what Linktree design resonates with you.