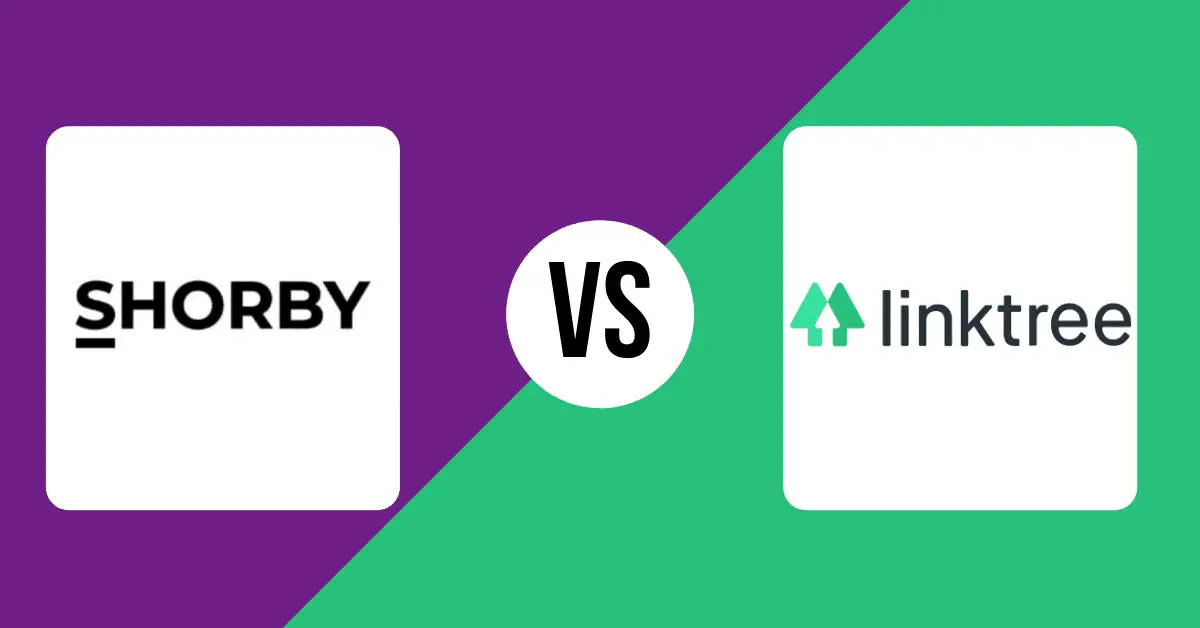 As social media such as Instagram grows increasingly popular, bio link tools have also become widely used as well. 
Shorby and Linktree in particular are some of the most well-known tools of their kind. 
However, while the function of these tools is simple, there are key differences between these platforms that are worth taking note of. 
In this post, we will discuss the differences between Shorby vs Linktree in terms of features, user experience, and designs of the bio link pages you can create with each. 
Lets dive in. 
About Shorby and Linktree
Bio link tools, also known as link in bio tools, are platforms that are capable of creating simple landing pages to display links to social media profiles, blogs, e-commerce stores, or any other websites for that matter. 
Shorby and Linktree are just two of the dozens of bio link tools out there.
Shorby is less popular of the two platforms, coming on and off AppSumo over its few years of release.
Linktree was established years earlier (released in 2016) and is certainly a bit more well-known. Linktree was featured by CNBC's "Upstart 100" as one of the most intriguing young startups.
How Does Shorby Work? A Brief Walkthrough of the Dashboard
By going straight to Shorby.com, you will get directed towards the login/sign-up page where you can sign up for an account. Upon getting an account you will be directed to the main dashboard where you can either shorten a link by pasting it in the box to the right, or create a page by clicking the +Create button to the left.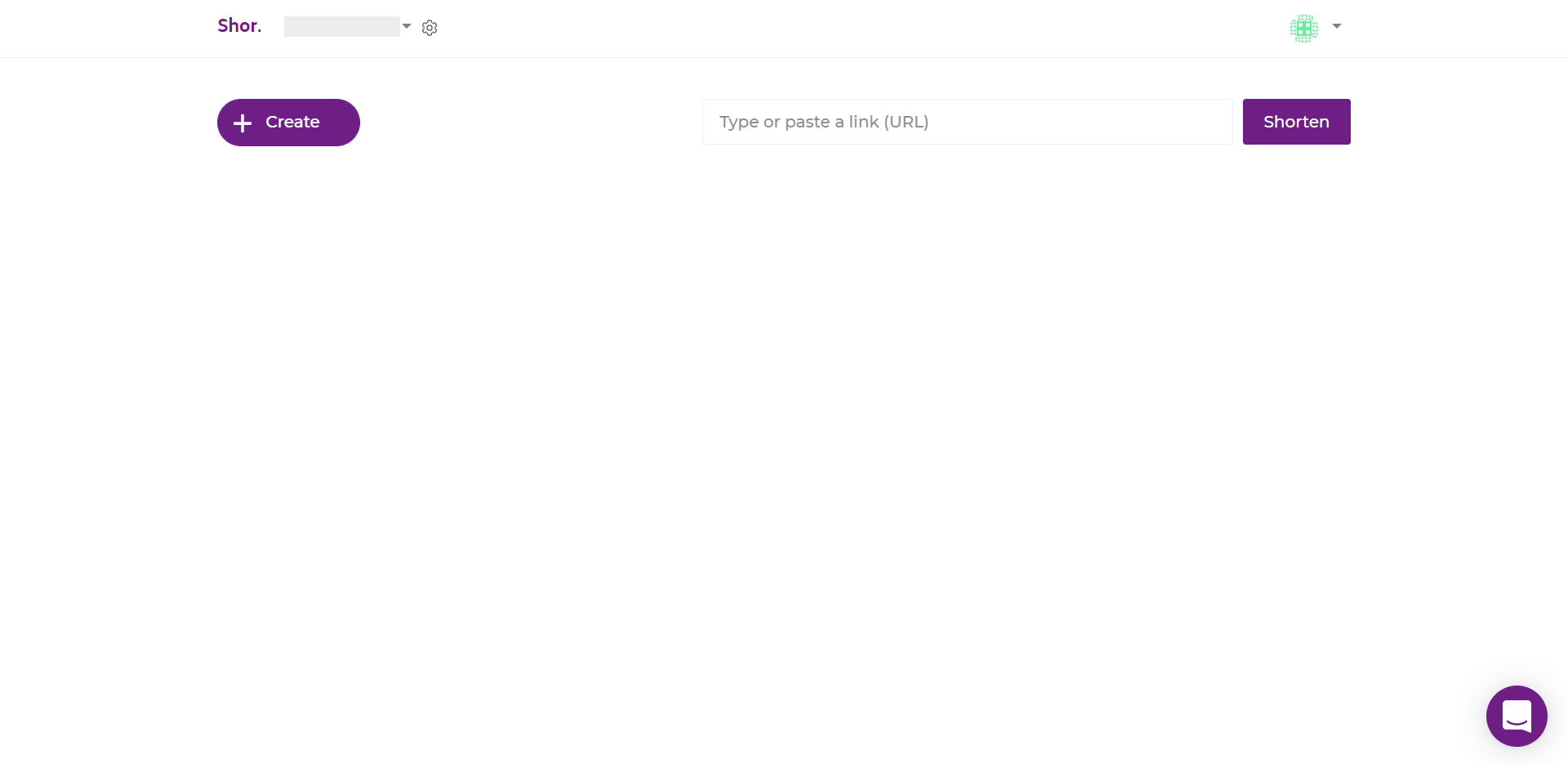 Upon clicking +Create, a drop-down will give you the option to create a page, a short link or a messenger link. For this example, we will create a page. Upon clicking the page option you are taken to a dashboard where you can design your page: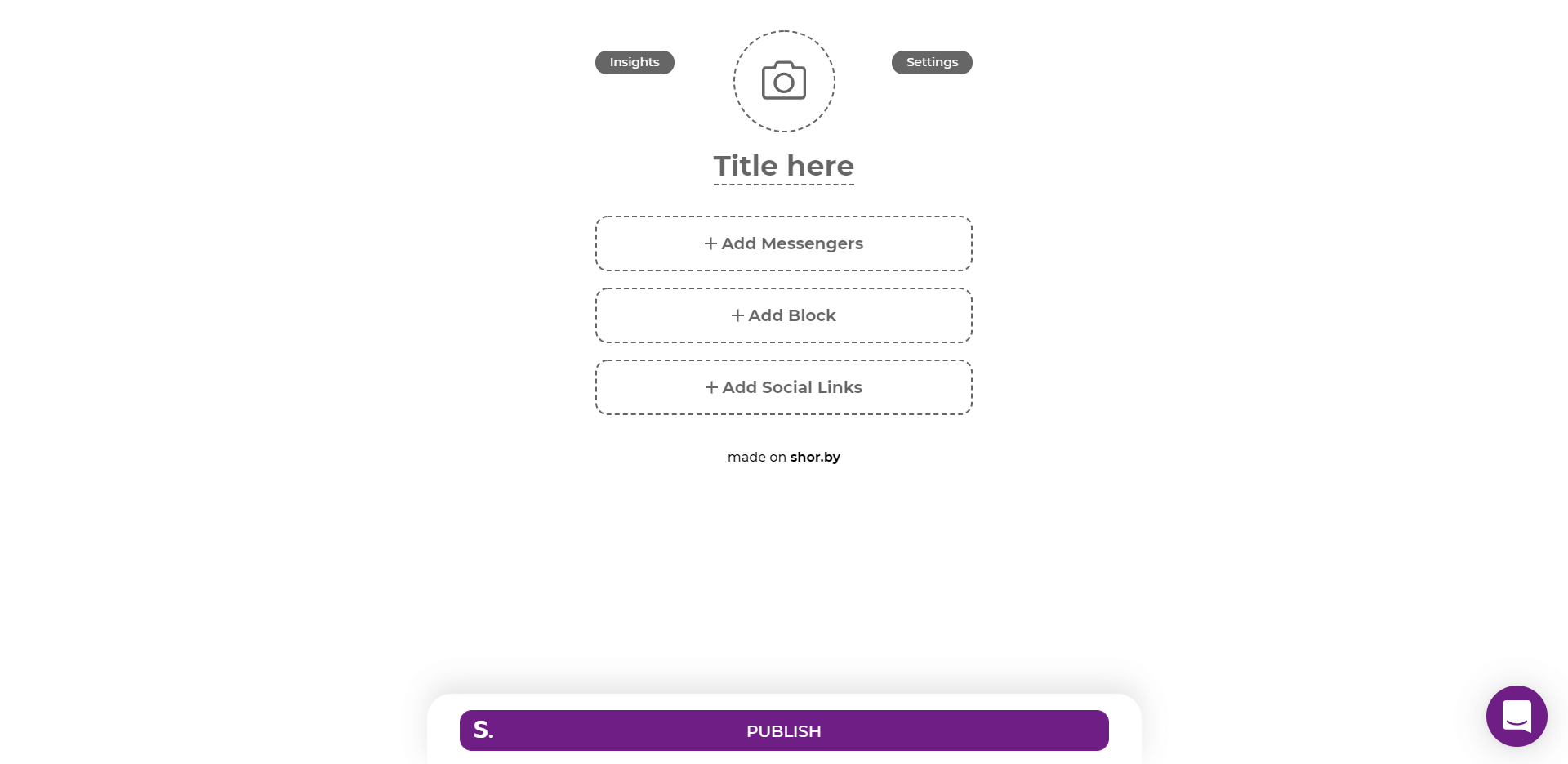 In addition to adding a title and an image, you can add three items: 
Messengers: Allows you to add multiple messenger types, including Facebook Telegram, Skype, Viber, Email, Phone number, or WhatsApp.

Block: Allows you to add a button (leading to any custom link), a subtitle with text, a dynamic RSS feed, or a countdown clock.

Social Links: Allows you to add your social media profiles
Clicking setting will bring you to a few options for adjusting the appearance, creating a bio link alias, and adding tracking pixels. As far as themes go, Shorby has a nice selection of color schemes to choose from. You can see the purple/red theme displayed below: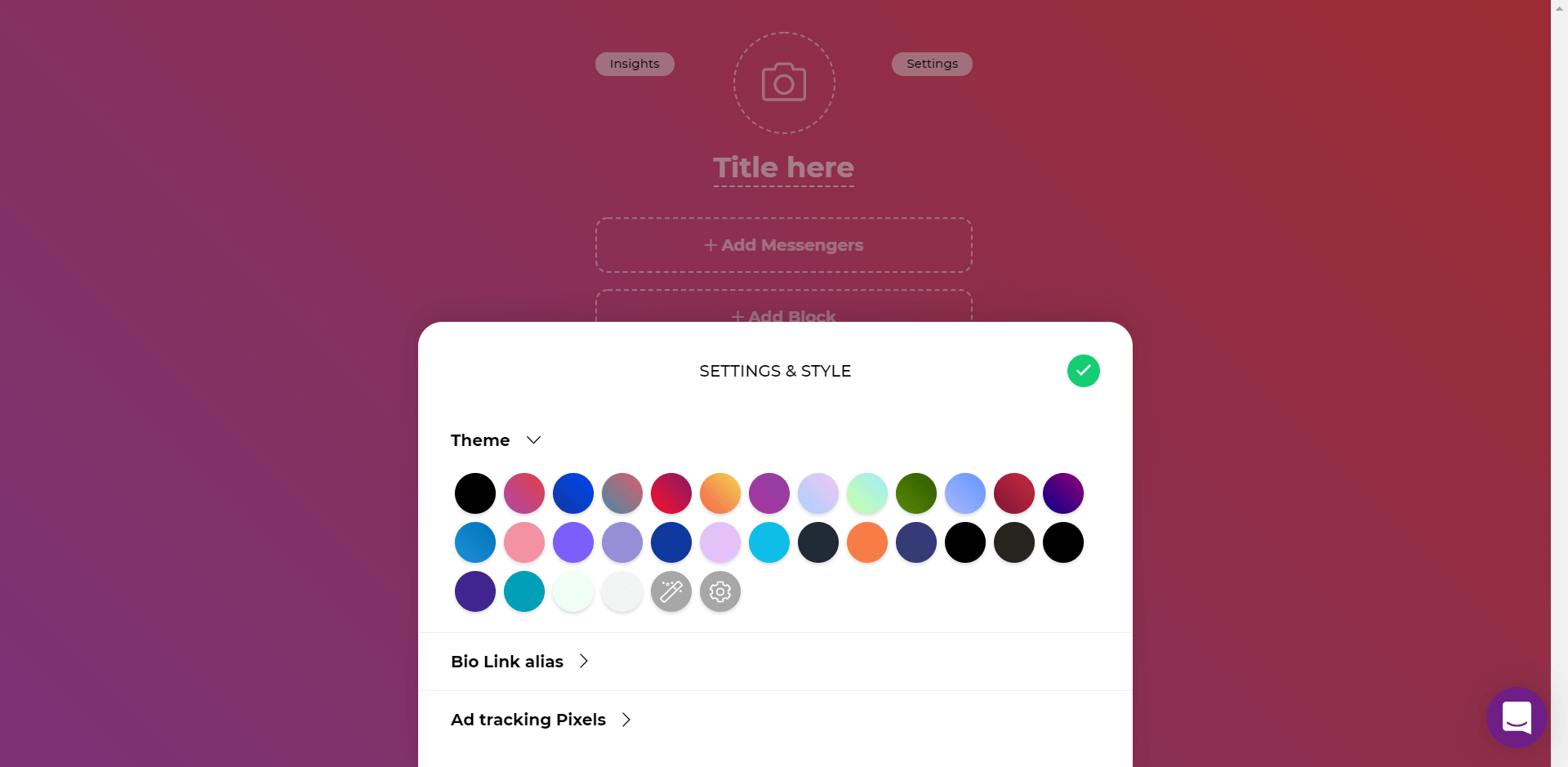 You can dive further into the appearance settings and make even more customizations to the design by clicking on the gear icon within themes: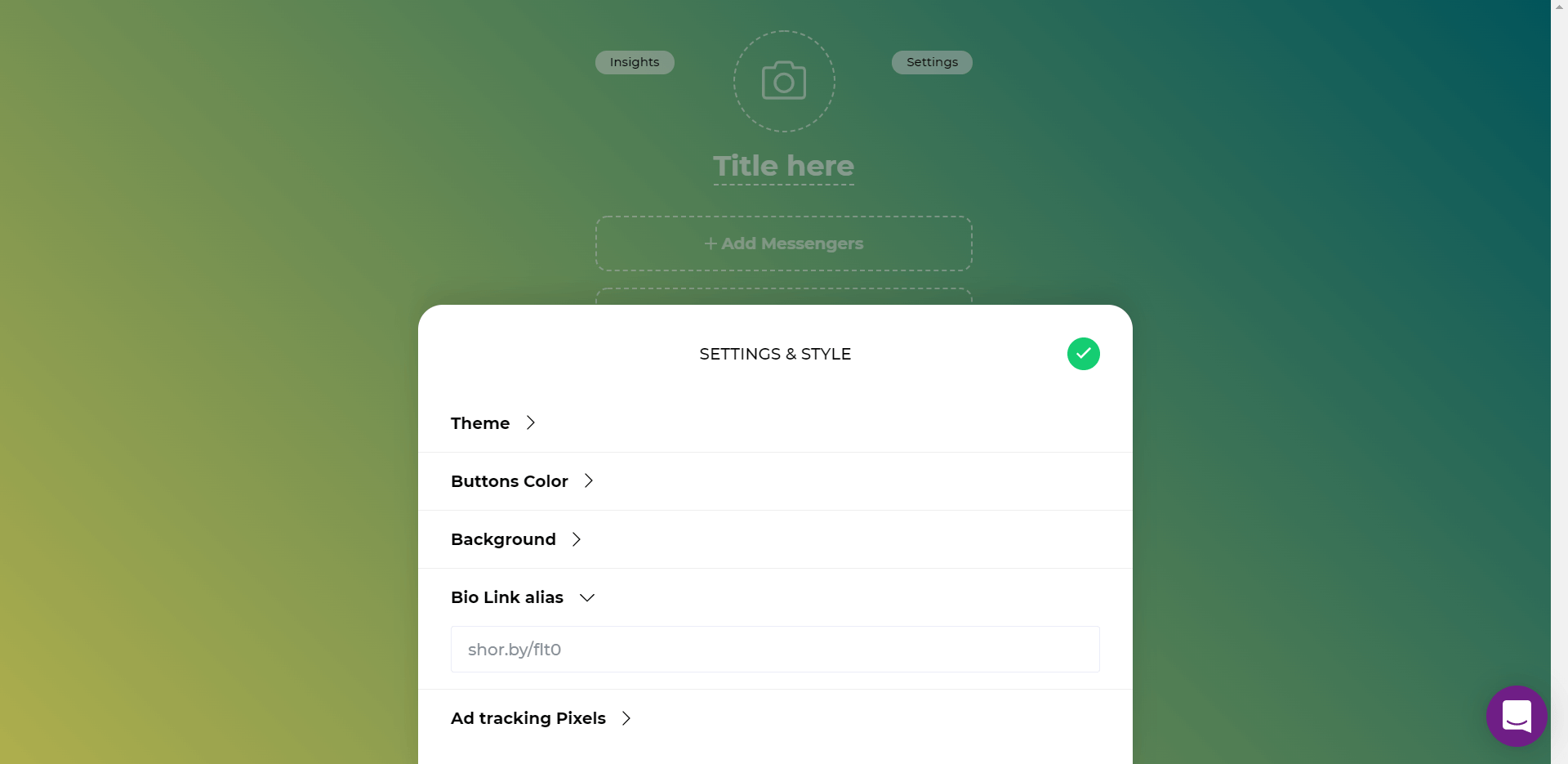 Here you can change the button color and background and more. 
Lastly, if you are working with a team of marketers, you can give these individuals permission to access the dashboard by adding their emails in the settings tab. 
Ultimately, Shorby's minimalistic user interface makes it incredibly easy to put together pages relatively quickly. 
How Does Linktree Work? A Brief Walkthrough of the Dashboard
Upon signing up for Linktree you are presented with the four tabs of the platform: Links, Appearance, Settings and Analytics. You will initially arrive at the Links tab where you can (you guessed it), add your links of choice.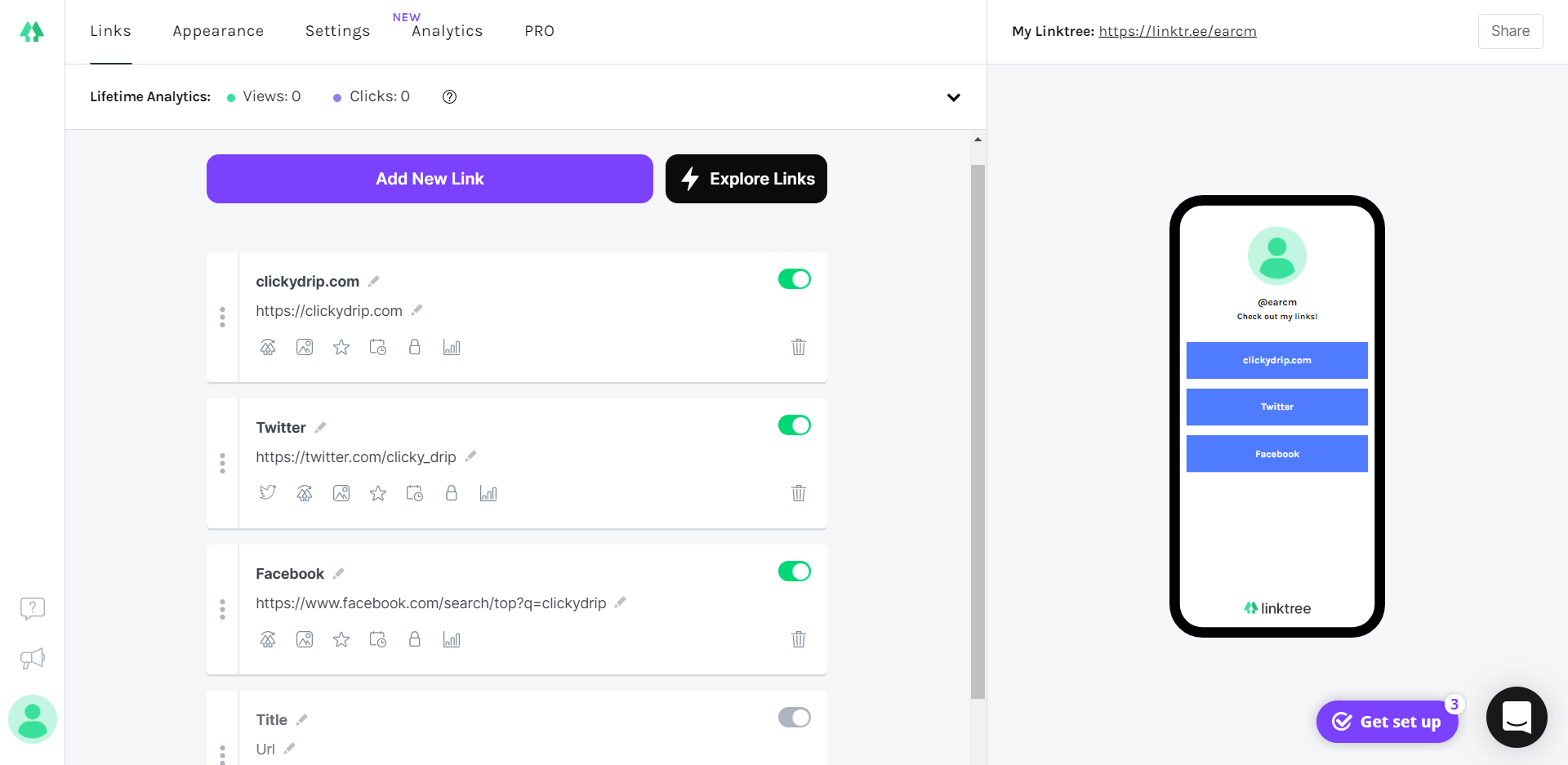 Linktree gives you the following link options: 
Music links (Links to take visitors to Spotify, Soundcloud or similar platforms)

Video links (Adding videos from YouTube or other video players)

Store link (For showcasing products from your ecommerce store)

Form link (Links that direct visitors to a form to collect their information)

Support me link (Allow you to collect donations from visitors)

Request link (for taking payments from visitors)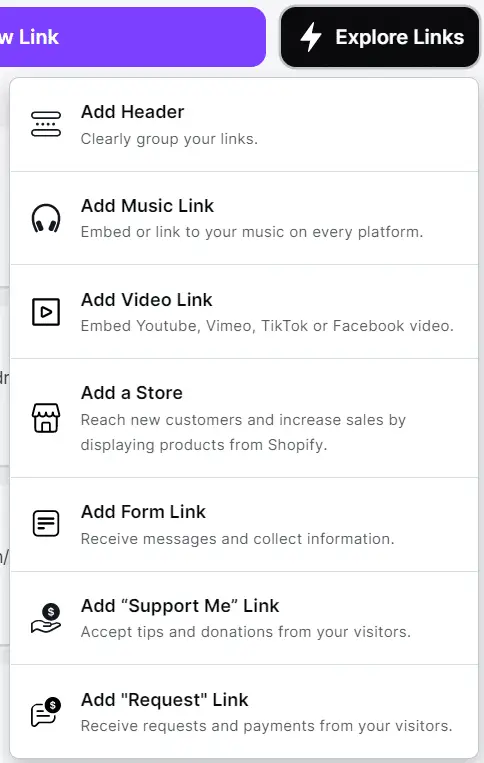 With Linktree pro, you are granted additional link options:
Leap links:

These links direct visitors right to their destination while bypassing Linktree altogether. 

Priority links: These links allow you to put certain links front and center that you want to showcase.

Schedule links: These links can be scheduled to go live at certain times.

Gated links: These links simply require a password in order for visitors to access the destination. 
To customize your links you can add thumbnails or icons to them. 
A preview of how your Linktree page will look will display on the right side of the dashboard. Changes you make will show up in real-time. 
After setting up all the links of your choice, you can move on to the appearance tab.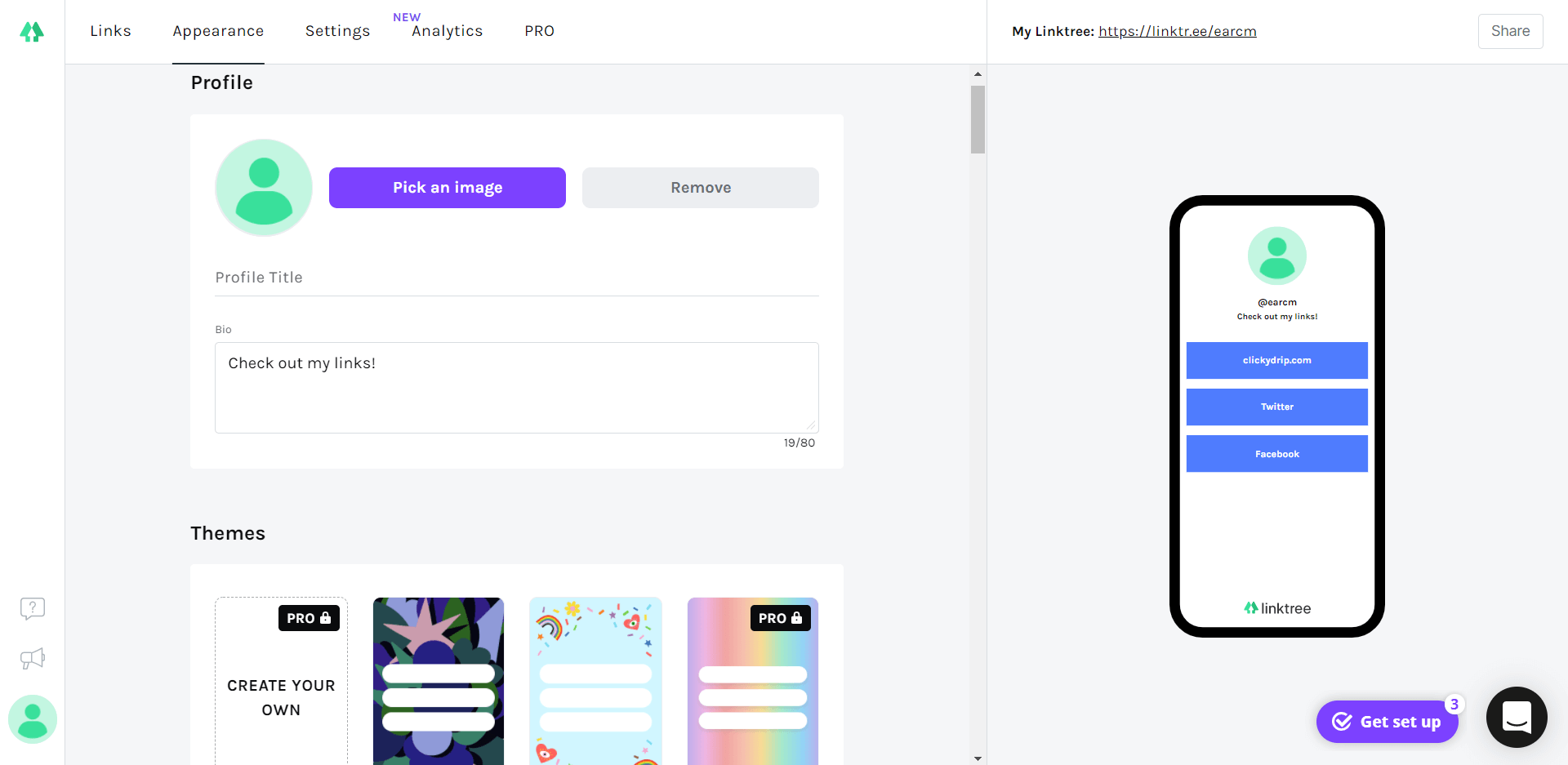 From here you can add your bio, your profile pic, and your profile title. 
At this point, you can choose the theme that you like the most. Themes are simply the background for your links and they each feature different designs, colors, and button styles for your links. There is a healthy selection of free themes and plenty of paid themes as well that you can access by subscribing to Linktree Pro.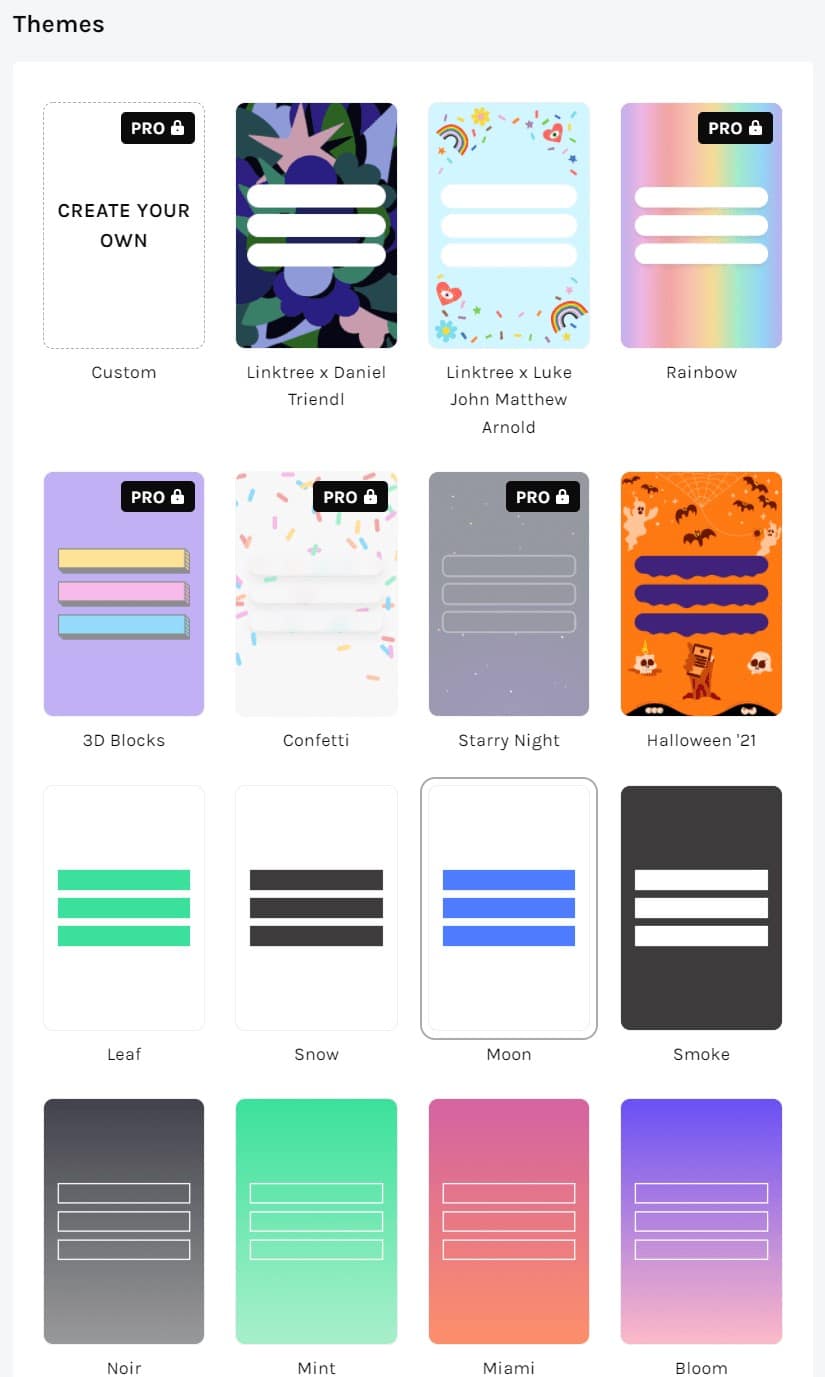 The paid version also grants you various custom button options for links and font options as well. 
After you have set up the theme for your Linktree page, you can move onto the setting tab.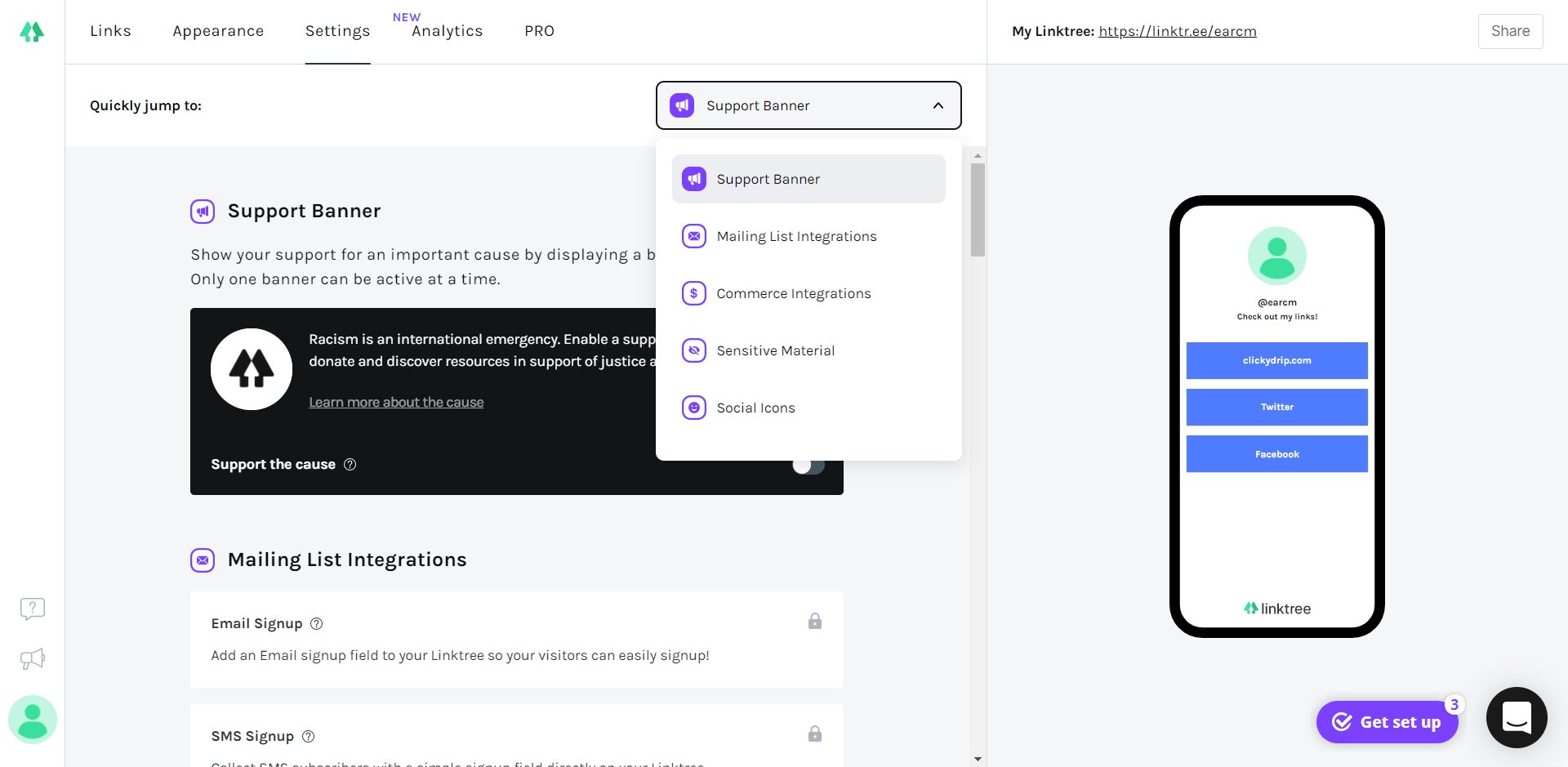 The settings tab basically allows you to integrate Linktree with various other platforms. 
At any point, when you are ready to share your link, you can simply copy the URL that is displayed in the upper right-hand corner of the dashboard. 
Add your Linktree link to the bio of your social media tool of choice. From there, you can monitor the performance of your Linktree page by viewing the analytics tab in Linktree. Here you can see basic statistics such as link views and link clicks, however the pro version gives you way more depth of analytics.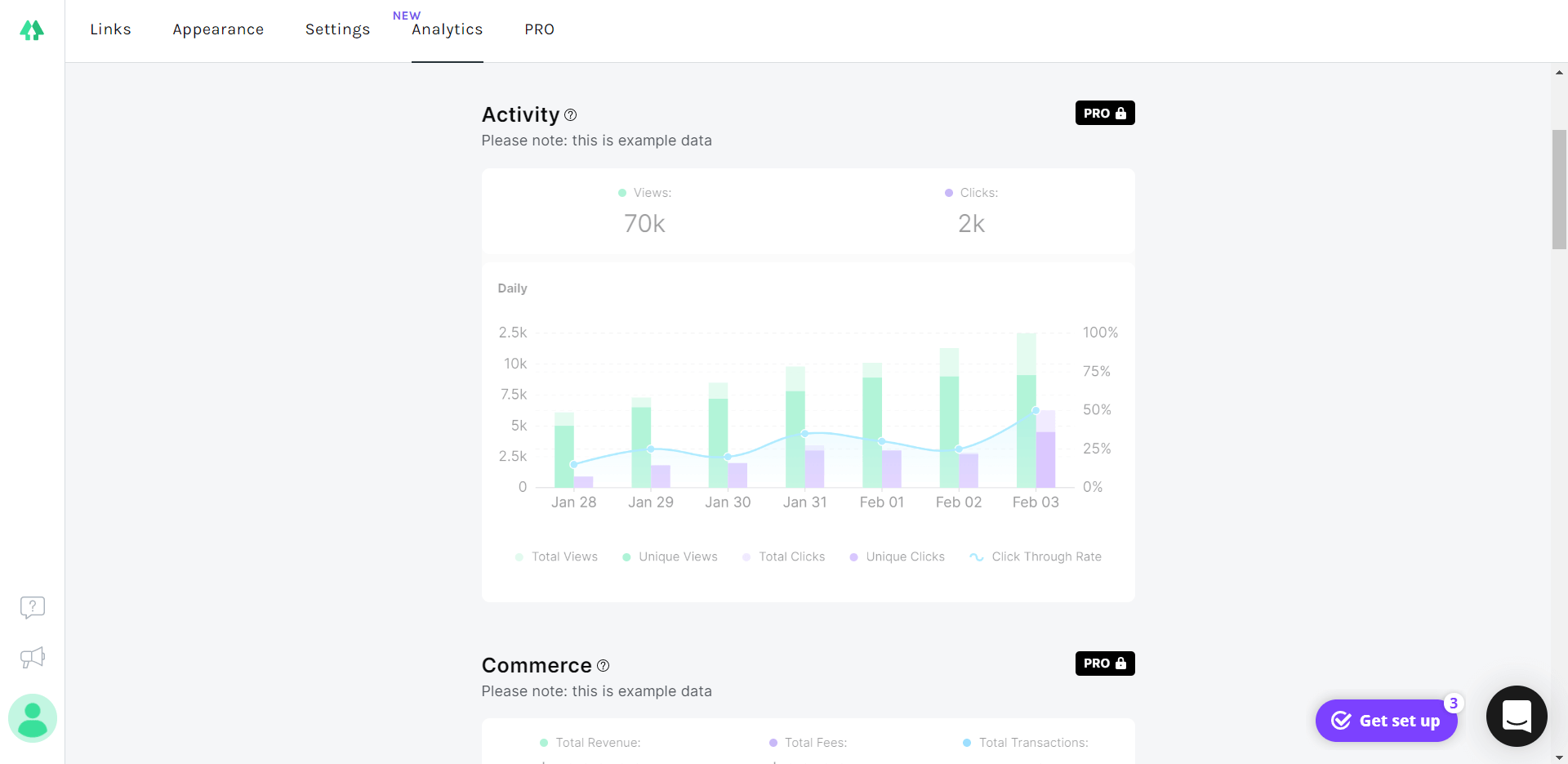 Appearance and Aesthetics
With an appearance comparison, you'll find that Shorby is great from an initial look. Much of this comes from its visually engaging interface, enabling you to see how visitors see your landing page.
Inserting a countdown and having links with small "pop animations" also gives you an excellent opportunity to engage with your viewers. This can make your pages incredibly effective at generating sales or encouraging subscriptions.
Linktree excels at creating more visually engaging static content. Linktree's selection of pre-built themes makes it incredibly easy to build out visually pleasing bio link pages. Shorby allows you to change the background color of your bio link cards, however, it doesn't have prebuilt themes with fun designs the way that Linktree does. From a design standpoint, this is certainly a downside of Shorby. 
To see how Linktree users can take advantage of the platform's themes and customizability, check out these Linktree examples.
Pricing Comparison
When comparing pricing between the two systems, Shorby is a bit more expensive. The platform's plans go as follows: 
Rocket Subscription – $15 per month ($12 per month if you pay annually)

Pro Subscription – $29 per month ($25 /mo for one year)

Agency Subscription – $99 per month ($82 /mo for one year)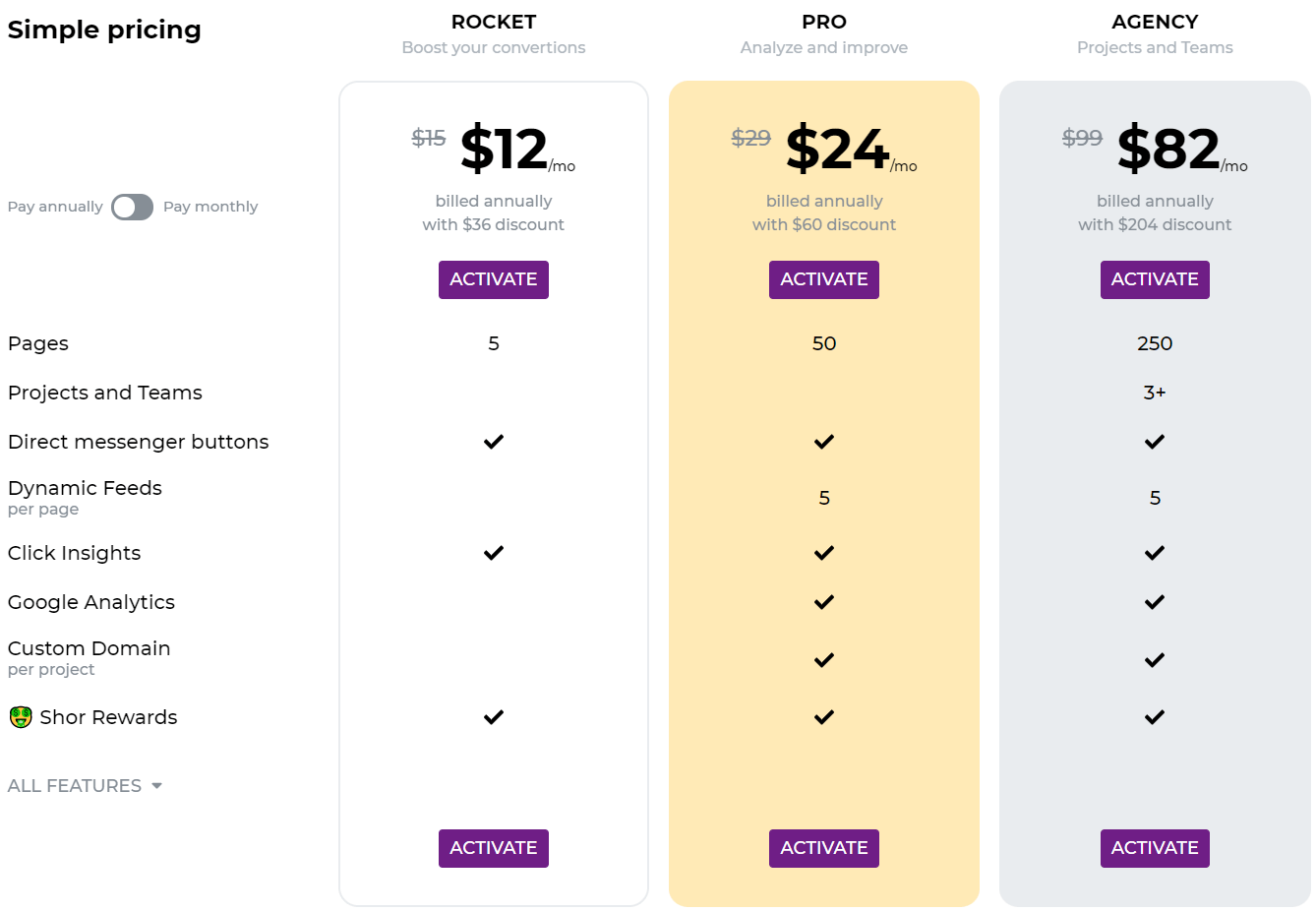 Unlike Linktree, Shorby allows you to create multiple link pages while Linktree just gives you one. This is one of the key differences between the platforms that add to Shorby's cost. The ability to create numerous pages is excellent for agencies that manage many clients and need to create customized bio link pages for each. 
Shorby also allows you to insert more visually (or audibly) engaging content at higher pricing plans. Your feeds can include YouTube videos, Shopify links, and podcasts links under premium areas.
Linktree's pricing plans cost substantially less. Linktree offers support for two pricing platforms:
A free version 

A $6 per month version
The $6 version comes with various integration options, more enhanced linking features (gated and scheduled links), premium themes, more customizability options, and more. 
When to Choose Shorby vs Linktree 
Which of the two bio link tool options is better for you? 
Shorby is much better when it comes to managing multiple bio link pages. If you manage multiple brands or clients Shorby makes it easy to create numerous customized pages for each. The ability to add team members to the dashboard so that they can work on projects alongside you is great for teams. 
Linktree is better for influencers and social media users who only really need one bio link page. Additionally, Linktree is a markedly more affordable solution. Unlike Shorby, Linktree offers a free version, and Linktree's paid plan is a fraction of Shorby's cheapest plan as well. 
Ultimately, when choosing between Shorby vs Linktree, the tool that is best for you should come down to how many bio link pages you plan on creating and what your budget is.
Although Shorby doesn't have a free version, it does have a free trial. That being said, if you still aren't sure about which tool is best for you, you can try both tools for free and see for yourself. 
You can see how other bio link tools stack up to Linktree in the following comparisons: