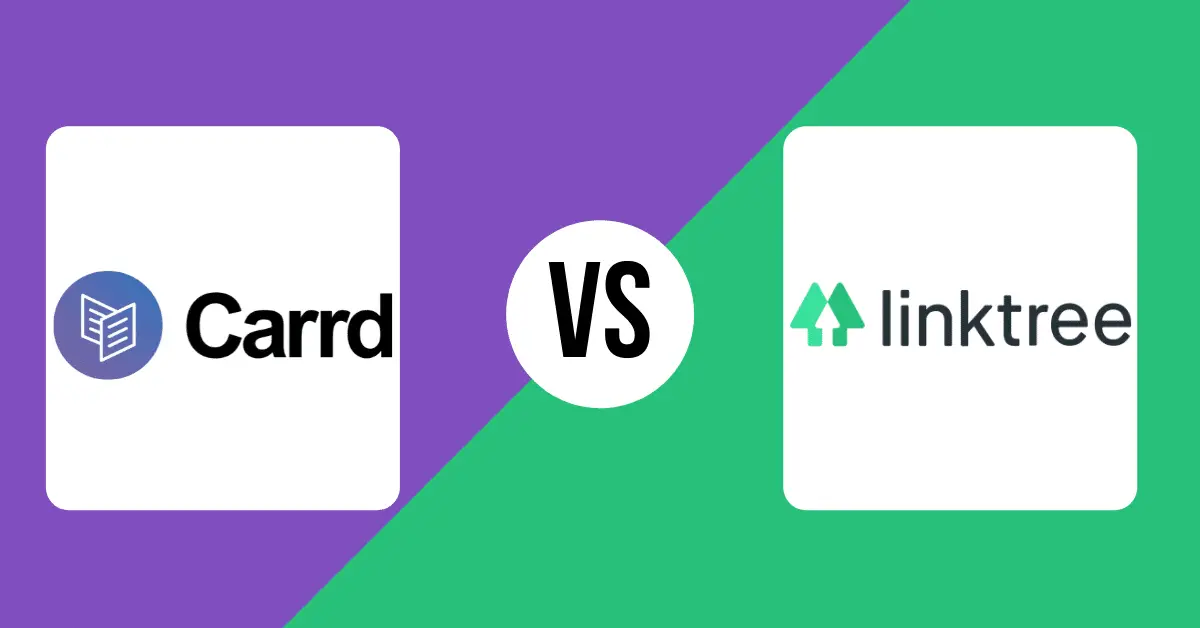 Social media is a powerful marketing channel. With a strategic marketing plan, you can reach a large audience through social media to promote your business, or you can simply focus on growing your personal social media account. 
However, one of the biggest limitations of social media such as Instagram is that you can only include one link in the bio section of your profile. This makes it very difficult to promote multiple links to other social media, your blog, e-commerce store, brands or other websites… unless, of course… you use a bio link tool.  
Fortunately, there are many bio link tools that you can choose from. Carrd and Linktree are two of the best. 
In this post, we'll compare Carrd vs Linktree in terms of features, ease of use, and price so that you can determine which platform is best for you.
The biggest difference between Carrd and Linktree
Carrd started out as a side project meant to challenge the skills of its developer AJ (who doesn't seem to want to disclose his full name). After years of working in web design, @ajlkn decided to build a simple website builder whose sole purpose was to make it easy to create a one-page profile website, an online business card of sorts. And so, Carrd was born. 
Linktree, on the other hand, was born out of frustration with having to endlessly update the link in the bio to accurately reflect important information. The brothers Alex and Anthony Zaccaria and their business partner Nick Humphreys came up with their own solution, Linktree or what marketers call a 'bio link tool'. 
There is one fundamental difference between Carrd and Linktree.
Ultimately, Carrd is more versatile. You can use it to create not only bio link pages but also websites for multiple purposes. You can use Carrd to create a one-page website to show links in bio, display a portfolio of art, collect leads, a profile page and more. In addition to that, Carrd is also more customizable than Linktree in terms of design.
Linktree basically has one use: displaying links in your social media bio.  Not only does it offer premade templates that you can use as a starting point but you can also customize buttons, fonts, and more. 
Want a more customizable bio link tool? Use Wix for free!
How Does Carrd Work? A Brief Walkthrough of the Dashboard…
When getting started with Carrd, you first are prompted to choose a template. Fortunately, you don't even need to provide your email address to get started.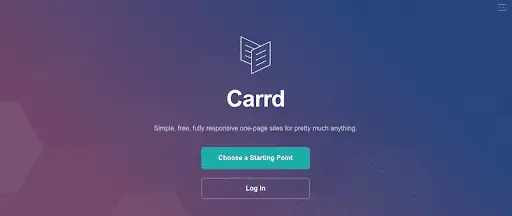 You can filter the available templates depending on the purpose of your page or you can simply scroll down the page to select a template. You'll see a mix of free and paid templates with different designs.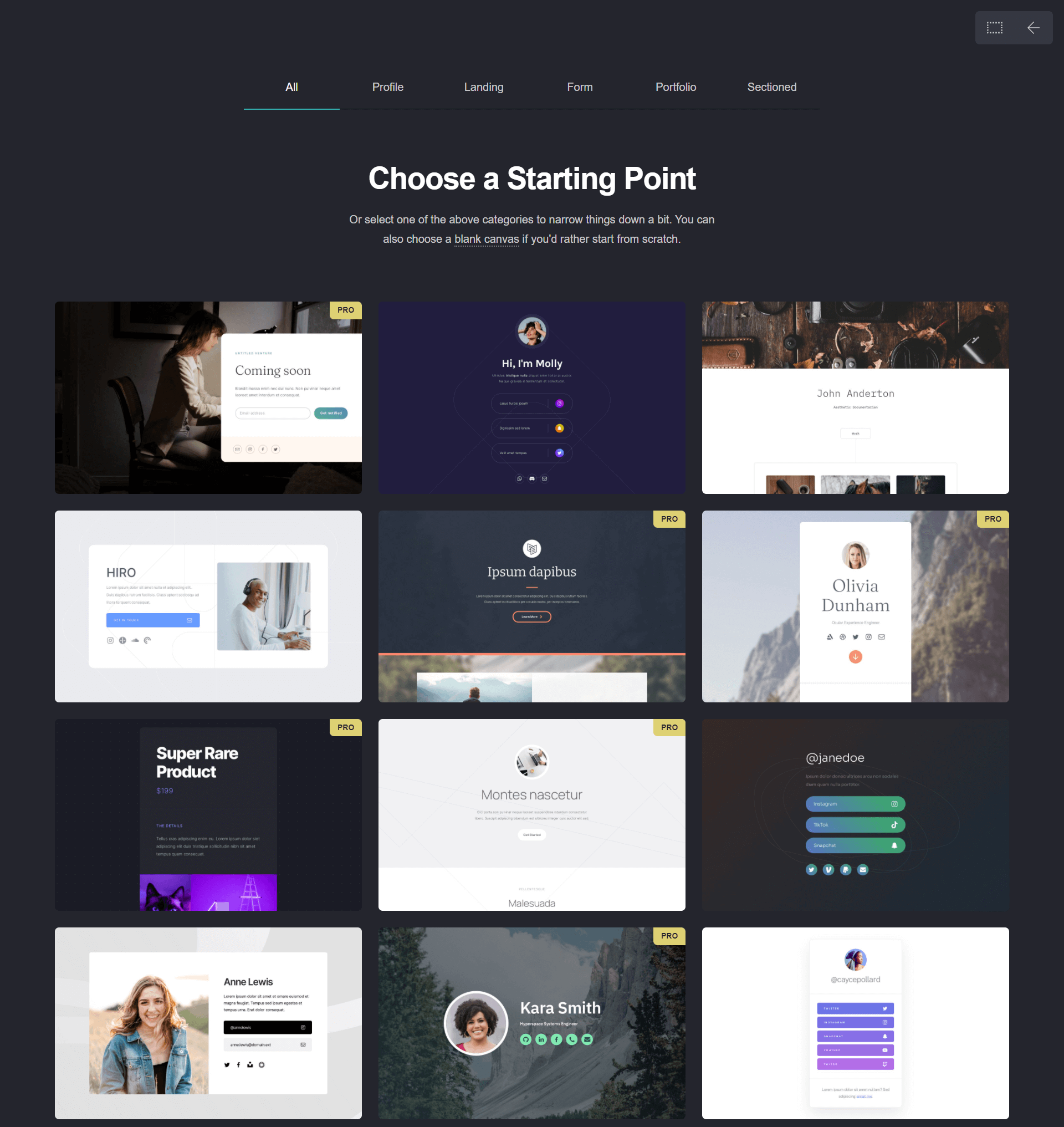 Once you've chosen a template, you'll be able to start customizing your design. The dashboard has a very clean and simple look. There's one menu at the top right corner and you'll use it to add various elements to your page, including: 
Text

Images

Video

Links

Buttons

Icons

Tables

Timers

And more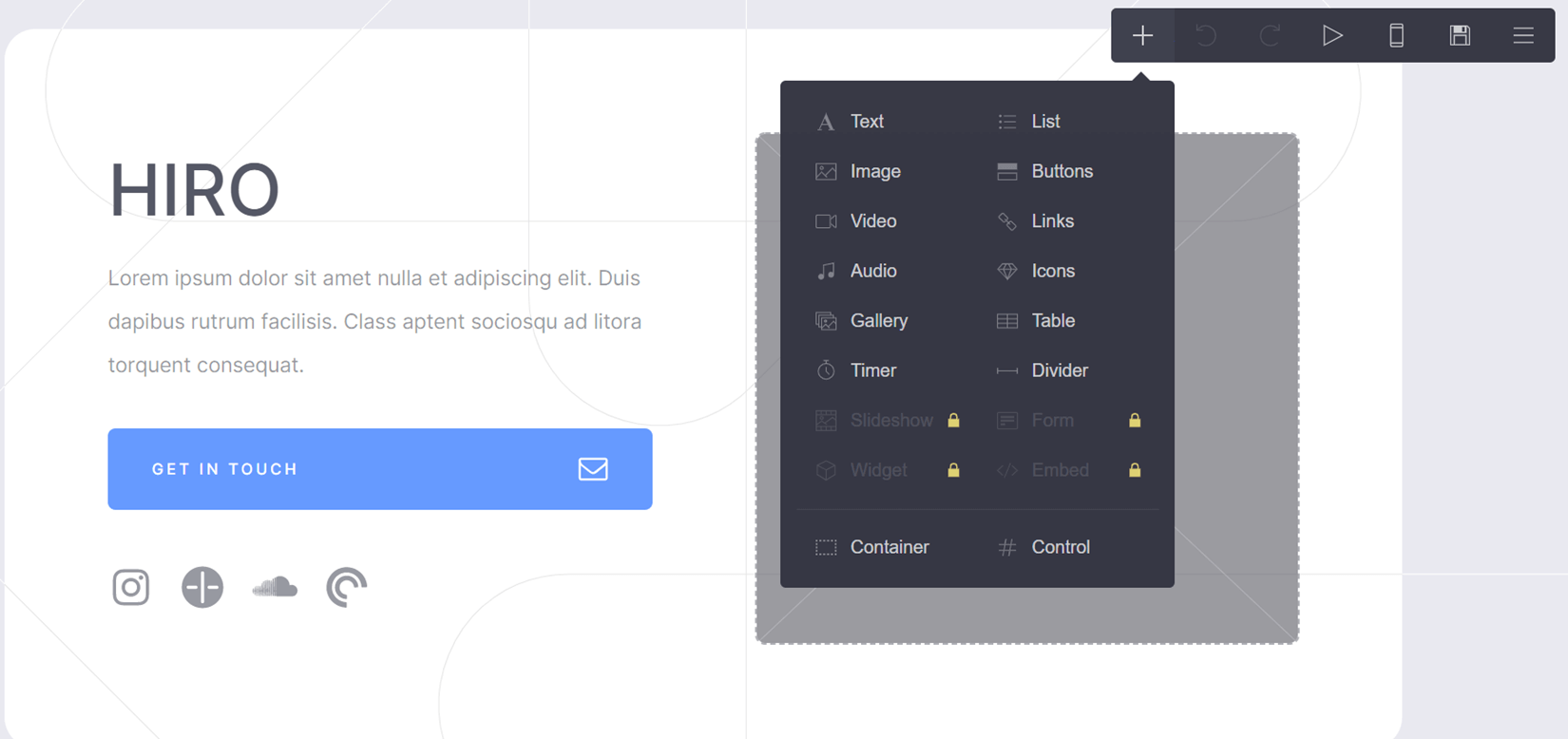 Adding an element to the page is as simple as clicking the desired element and it will instantly appear on the page. Conveniently, you can drag and drop certain edits onto your page and rearrange them as you wish. 
You'll also use the top-right menu to undo or redo any changes, preview the animations, see how your page looks on mobile, and publish your page. You can also change the background of the page as well as start over if you're not happy with the design. 
You can see a full view of the various menu options and what you can do with them here: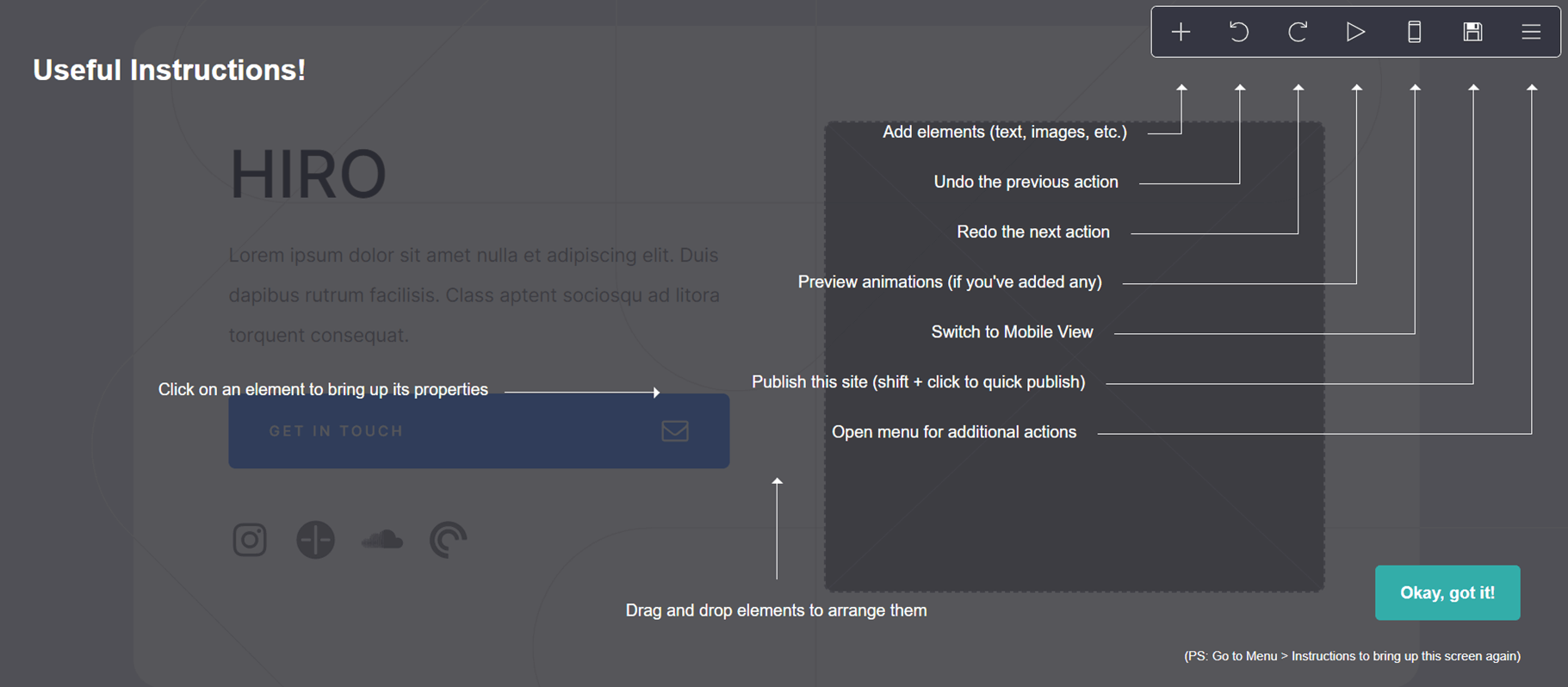 As you start adding elements to the page, clicking on them will reveal an additional menu on the top left. This menu will give you options for individual elements that you've added to the page. Using this menu also allows you to access the appearance settings where you can change colors, fonts, spacing, and other options. 
For those that have a technical background, Carrd also gives you the ability edit CSS code for the site and add your own CSS code. This is a great feature for those that want complete control over the customization of their site. 
When you're done customizing your page, click on Publish. You'll then have the option to create an account, and choose how to publish your page: 
You can use a carrd.co url

Set up a custom domain

Save the page as a template

Save the page as an online draft
Keep in mind that using a custom domain and saving the page as a template requires you to upgrade to a pro plan.
Related: Carrd: What is this page builder all about
How Does Linktree Work? A Brief Walkthrough of the Dashboard
If you want to explore Linktree and see what it has to offer, the first thing you need to do is sign up for an account. Simply add your username, enter your email, set your password, and you're set. You'll then be in your Linktree dashboard where you can start adding your links.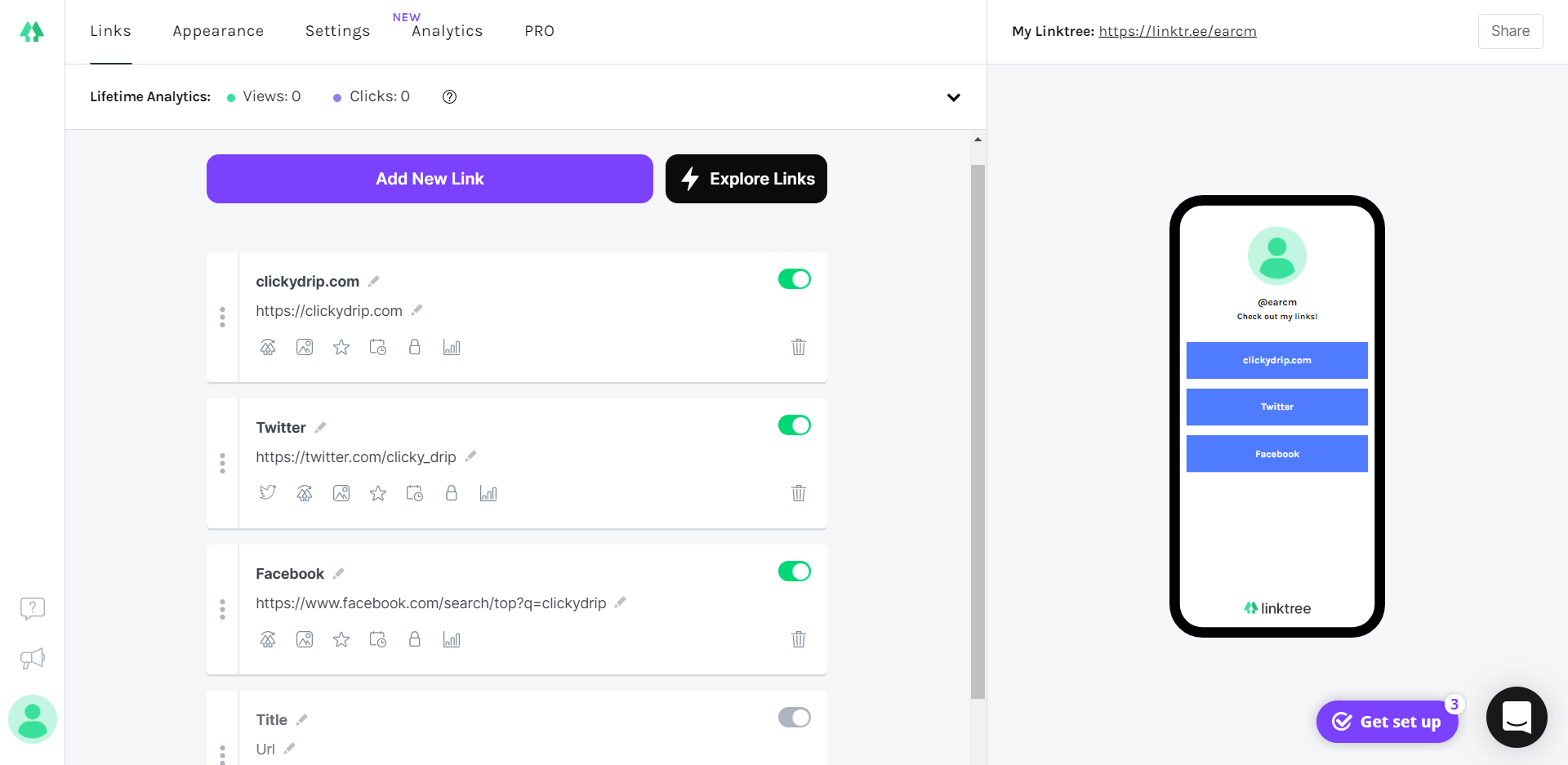 You can add as many links as you see fit and Linktree is very flexible when it comes to types of links you can add to your page. Besides links to other social media profiles or websites you can also add the following links: 
Music links (Music from Spotify or other music platforms that can be played from your page)

Video links (Embedded YouTube videos or videos from other platforms)

Store links (Gives you the ability to display products from your e-commerce store)

Form links (Links to forms to collect email addresses)

Support me links (For collecting donations)

Request links (For receiving requests and payments from visitors)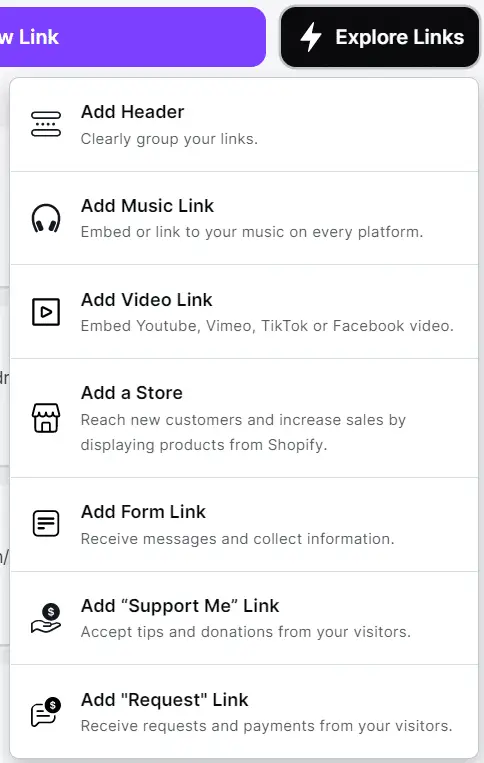 In addition to that, if you opt to upgrade to Linktree's pro plan, you can also add the following links: 
Leap links that allow you to forward all visitors directly to a destination and skip your Linktree page altogether.
Priority links that you can use to highlight your most important links.
Schedule links that allow you to schedule when your links go live.
Gated links that have to be unlocked by providing a code, entering a date of birth or by acknowledging that the information that the link takes you to is sensitive. 
In addition to that, you can also add thumbnails and icons to your links as well as view in-depth analytics for each link that you've added. 
You can preview how your page will look on mobile devices at any time as the mobile view is placed on the right side of your dashboard. It updates as you're making edits to your Linktree page so you can always see an up-to-date version.
Once you're happy with how your links show up on the page, you can use the Appearance tab to customize how your page looks. These options allow you to add your profile pic, your profile title, and add a bio.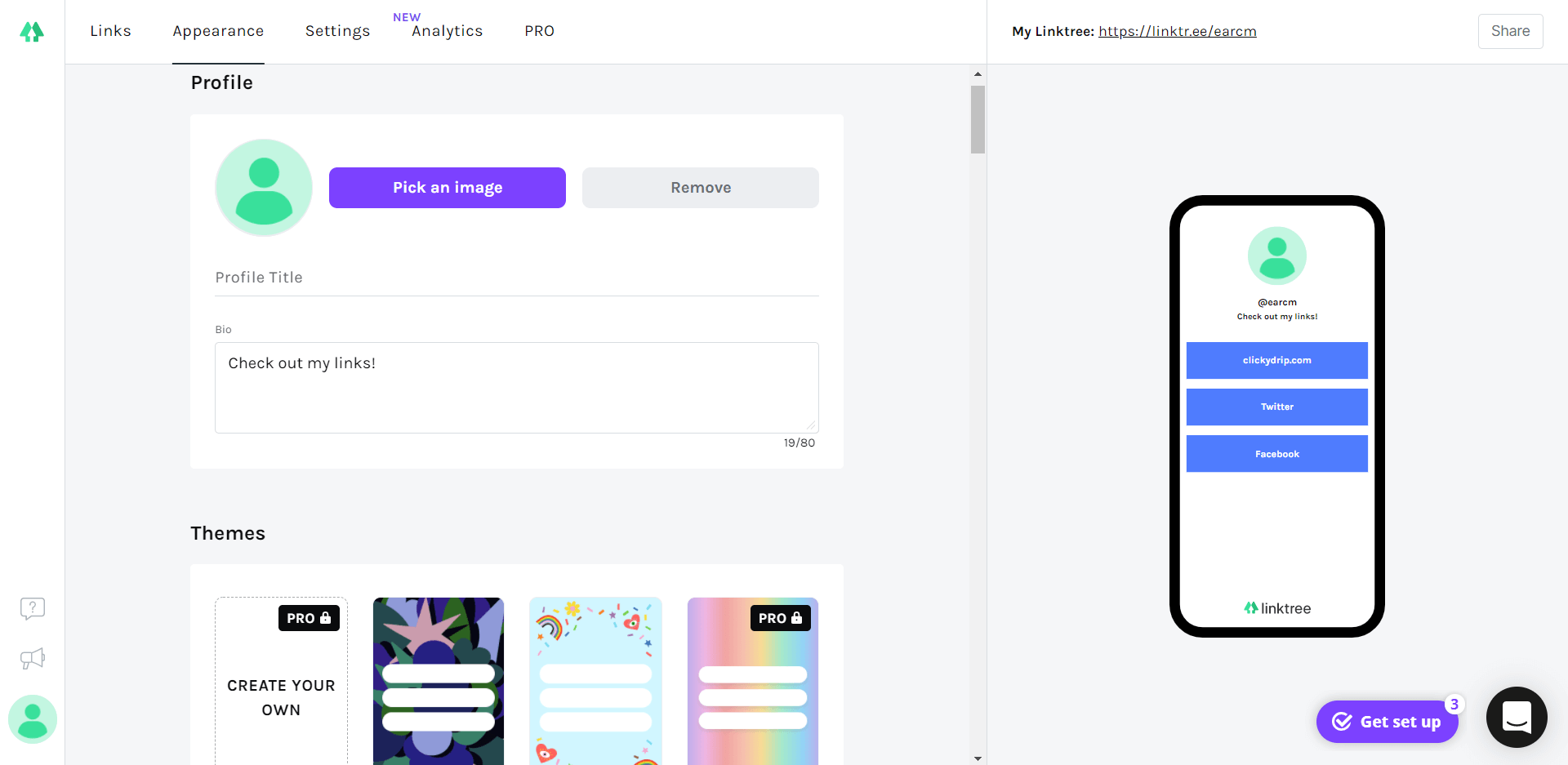 From here you can choose the theme you'd like for your page. There are about a dozen themes to choose from on the free version while the paid version gives you a lot more options for themes and background as well as button designs and fonts.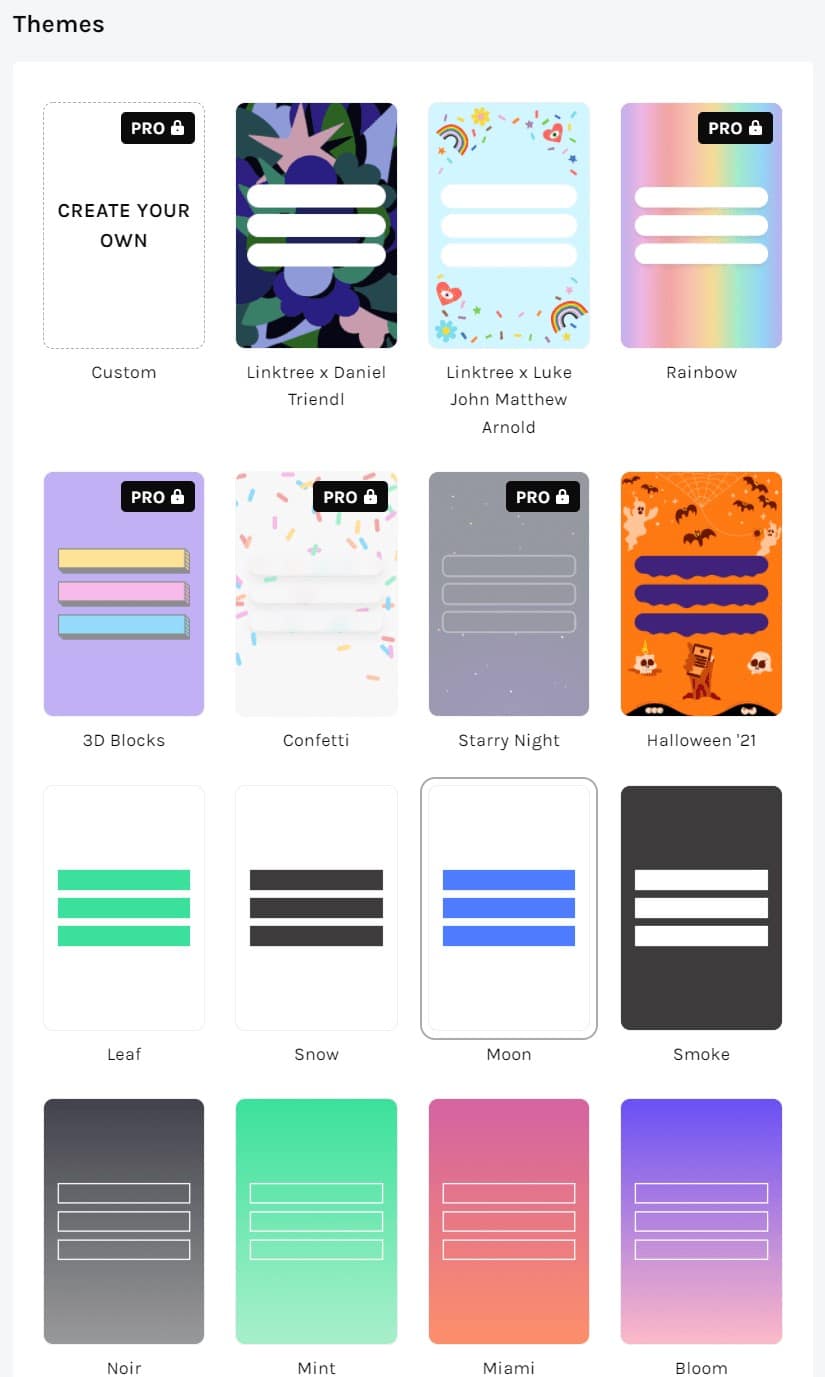 When you're happy with the appearance of your page, you can move onto the Settings tab. Here, you can configure options such as eCommerce or e-mail list integrations, and more.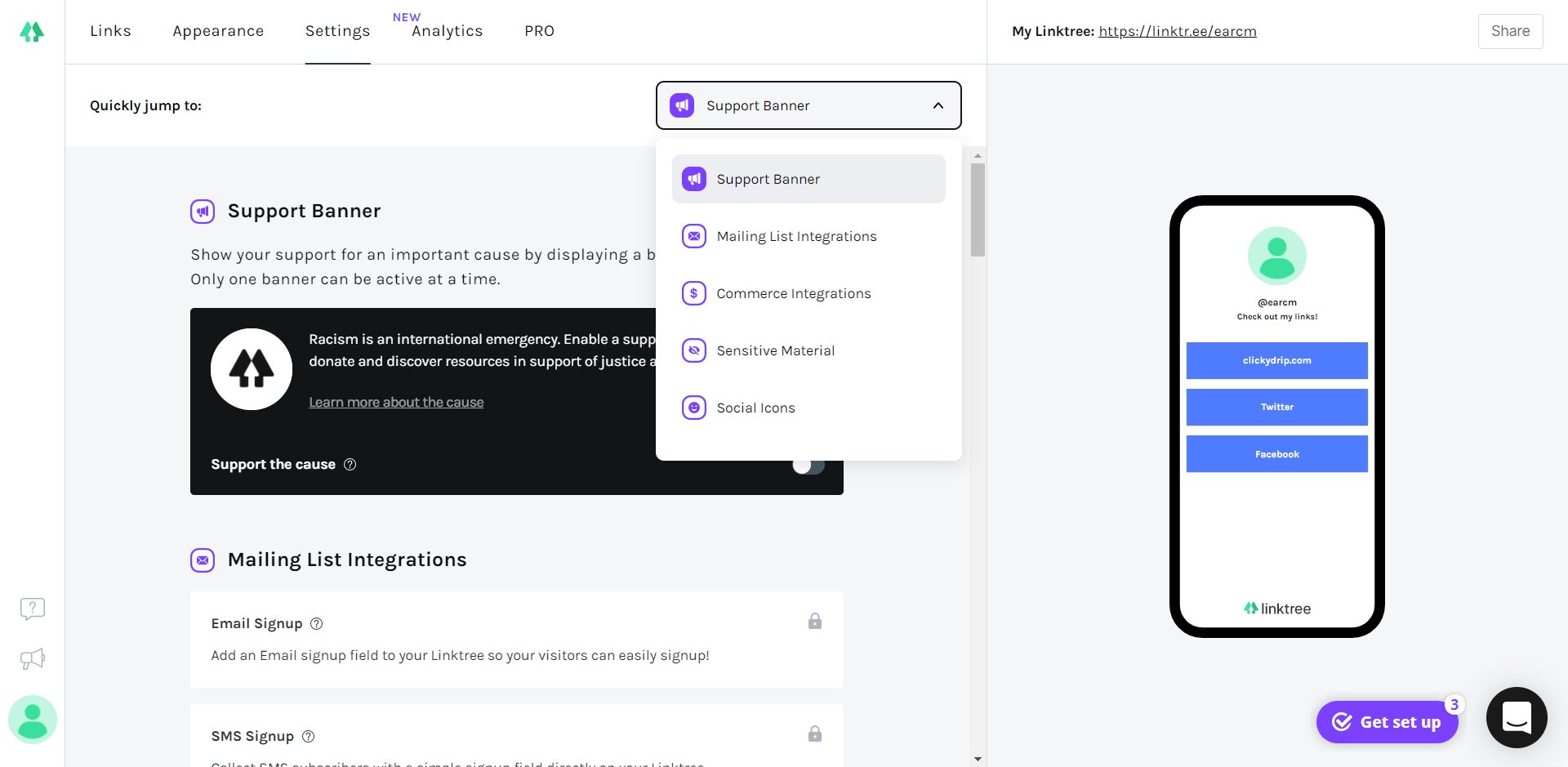 Once you're happy with everything, the only thing left to do is grab the URL of your Linktree page from the upper right corner of the dashboard. 
Although it might not be relevant to you at first, once you have promoted your Linktree link on social media for a little while, you can view the performance of your marketing efforts in the analytics tab. Here you can find information such as the number of people who have landing on your Linktree page, number of clicks, and from what sources people have come from (TikTok, Instagram, or other social media).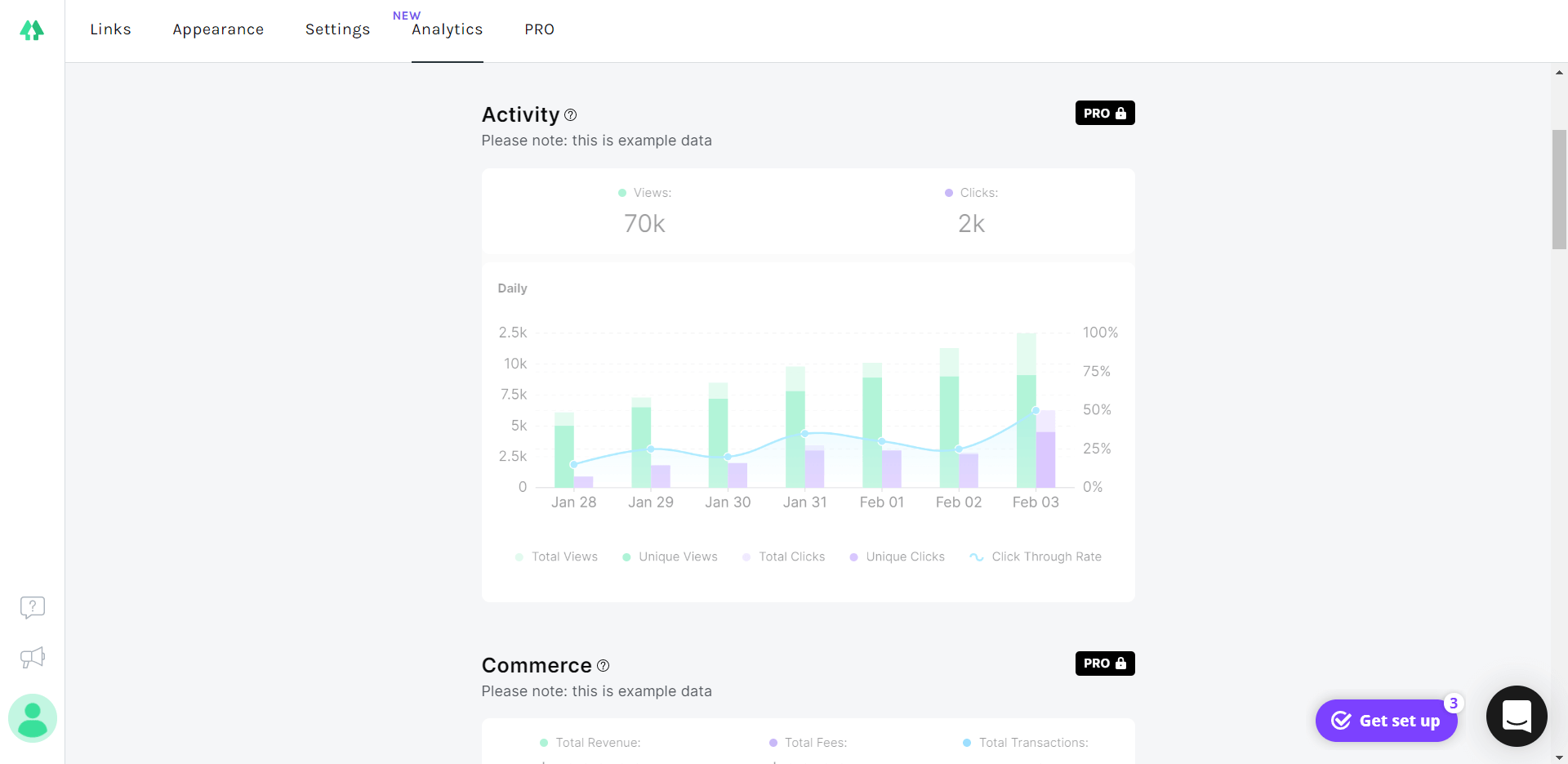 Want a more customizable bio link tool? Use Wix for free!
Aesthetics and Appearance
In terms of aesthetics and appearance, Carrd has a slight advantage. For starters, it offers more templates to choose from and they all feature a different look. However, some of the templates do look similar to Linktree's options. As mentioned earlier, Carrd is also more customizable, even on the free version. Not only can you change the colors and the fonts of each individual element but you can also upload an image or choose a background color for the entire page. On top of that, Carrd offers more layout options through its templates so you have more creative freedom there. 
As far as Linktree goes, the only option you have on the free version is to choose a different theme for your Linktree page. Everything else such as choosing the colors for your buttons, using a different font, uploading a custom background, and more is available on the premium version. However, keep in mind that while it is possible to create a custom look for your Linktree page, the basic layout is the same: a stack of links with your profile photo at the top. 
To see how Linktree users can take advantage of the platform's themes and customizability, check out these Linktree examples.
Pricing
As mentioned earlier, Carrd has a free plan that you can use to create your link in the bio page. The free plan gives you access to all of the Carrd's core features and allows you to build up to three sites, which is useful if you have multiple brands to promote. 
Carrd's paid plan is extremely affordable at $19/year and it unlocks a few extra options: 
The ability to add more sites

Custom domain

The ability to add contact and signup forms

Integration with third-party tools and widgets (PayPal, Stripe, Typeform, etc.)

Google Analytics integration

The ability to remove Carrd's branding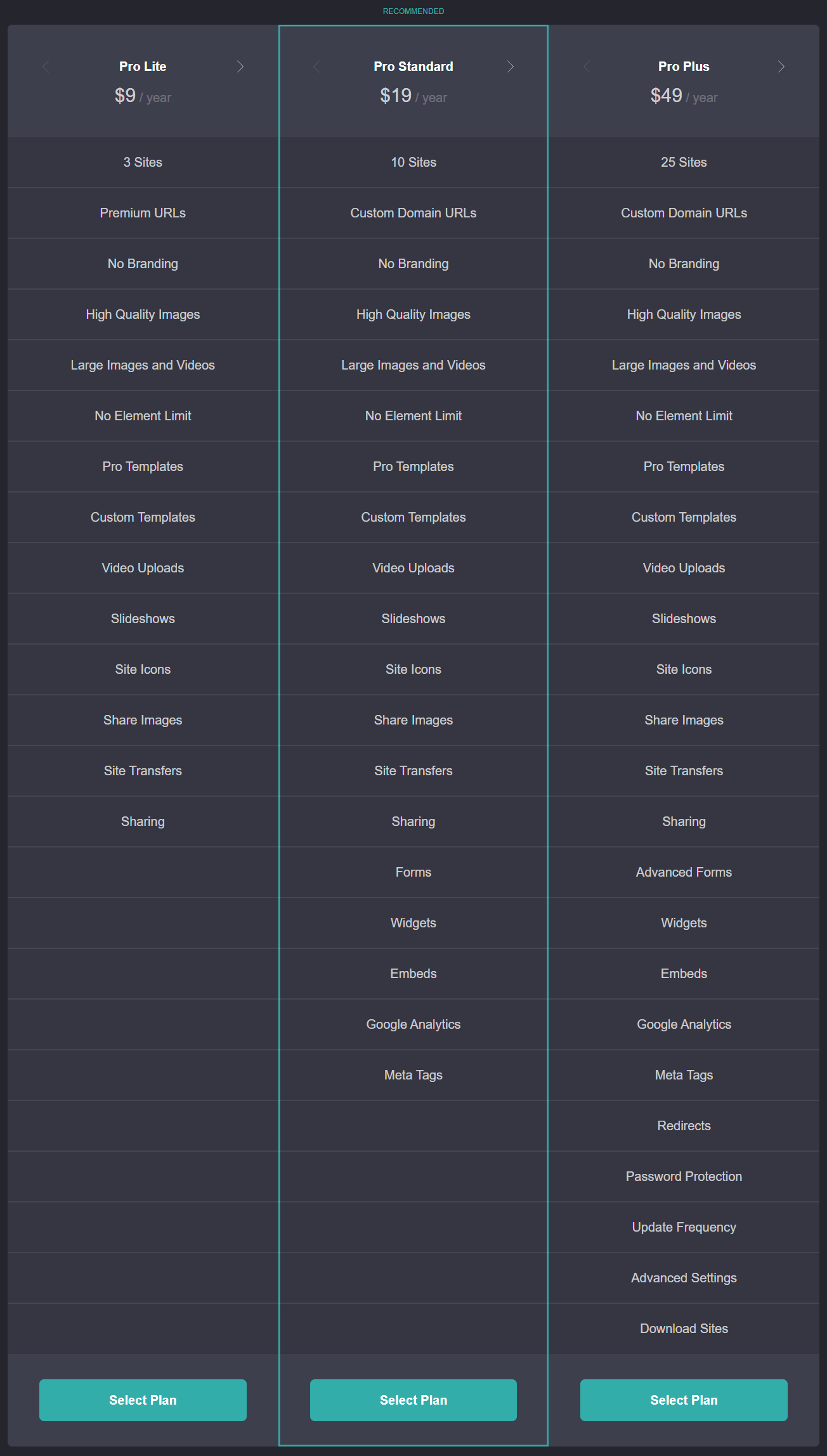 As far as Linktree goes, you can get started for free and include as many links as you want on your page as well as collect payments, tips, and add videos to your links. The downside of the free plan is that you're limited in terms of customization. 
Paid plan starts at $6/mo and it gives you access to features such as: 
Advanced customization options

Integration with other tools and services

Link Scheduling, Priority Links, and Leap Link functionality

More detailed analytics

The ability to collect emails and phone numbers from your audience
Want a more customizable bio link tool? Use Wix for free!
When to Choose Carrd vs Linktree
Both Carrd and Linktree are viable choices to help you build your link in the bio page. Carrd is a great option if you want the following: 
a more flexible solution that's more customizable and offers more templates

a free tool that still has decent features

a more affordable tool compared to Linktree
Linktree might be the perfect fit for you, especially if: 
You want a solution specifically for displaying links 

You want to keep track of how each of your link is performing

You just want something that works without spending too much time on design

You want a solution with more link options
In the end, choosing between Carrd vs Linktree may come down to what features you value the most. However, considering that both tools have free versions, it can make complete sense to test out both tools for free to determine which one is best for you. 
You can see how other bio link tools stack up to Linktree in the following comparisons: