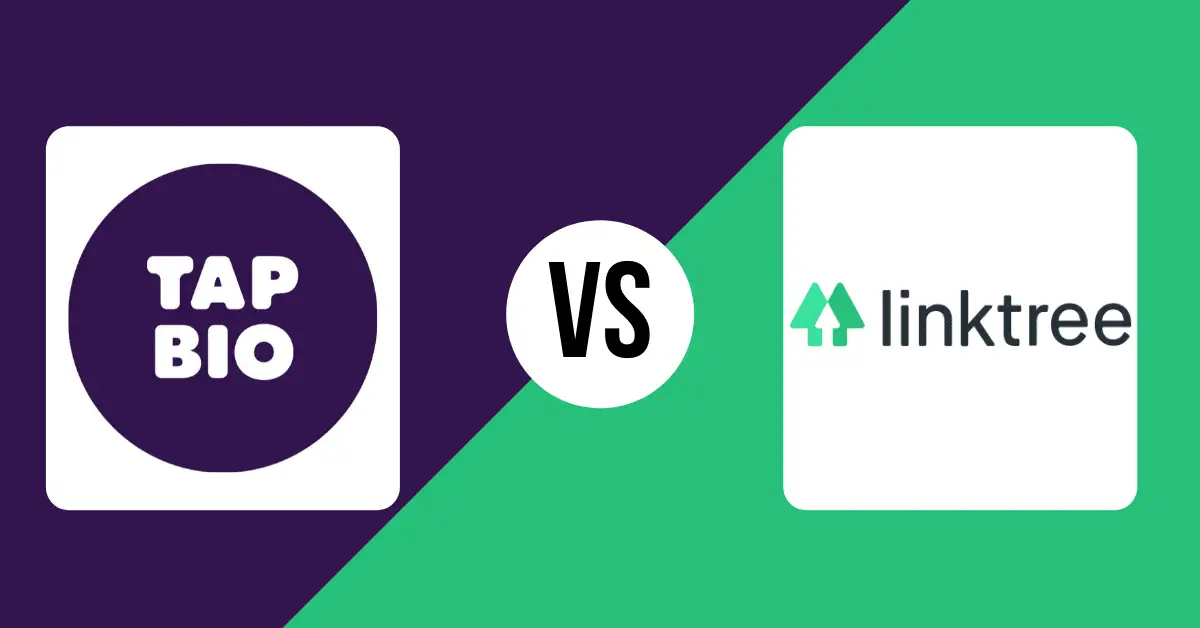 Social media is a powerful marketing tool for both influencers and businesses alike. And in order to create the most engaging social media presence to build your following, using the right tools is key. 
Fortunately, one of the simplest yet powerful tools you can use are bio link tools. These tools are a convenient and accessible way to display links of your choice in one central location for your followers to view. 
Although there are numerous link in bio tools out there, Tap Bio and Linktree are two of the most populaar. And while they serve the same purpose, there are some key differences to take note of. 
In this post, you can discover the key differences between Tap Bio vs Linktree so that you can decide which platform is right for you.  
About Tap Bio and Linktree 
Like many similar link in bio tools, Tap Bio was born out of the need for Instagrammers to be able to have multiple links in their profiles since Instagram only allows one bio link. Launched in 2018, Tap Bio is a relatively new player in the bio link scene. 
Linktree on the other hand was created in 2016 and is by far one of the most popular bio link tools. The company has over 18 million users and is widely used among small-time influencers to the most recognizable celebrities. In 2020, the company was listed on Fast Company's 'Most Innovative Companies list.
How does Tap Bio work? A brief walkthrough of the dashboard…
Upon signing up for Tap Bio by inputting your email and adding your username of choice (which will be used to create your bio link), you will be prompted to add a card. 
A card is basically a web page designed for a certain purpose. The available cards include: 
Simple: A card with one link for promoting a single call to action

Links: This card allows you to add multiple links to your social media, blog, ecommerce store, or any other websites of your choice

Email collection: Collect email addresses and grow your mailing list (once you have integrated with Mailchimp, Constant Contact, or another email marketing platform) 

Twitter: A card for displaying your Twitter posts with links 

YouTube: A card for featuring YouTube videos from your channel

Image Gallery: A card featuring images and gifs with links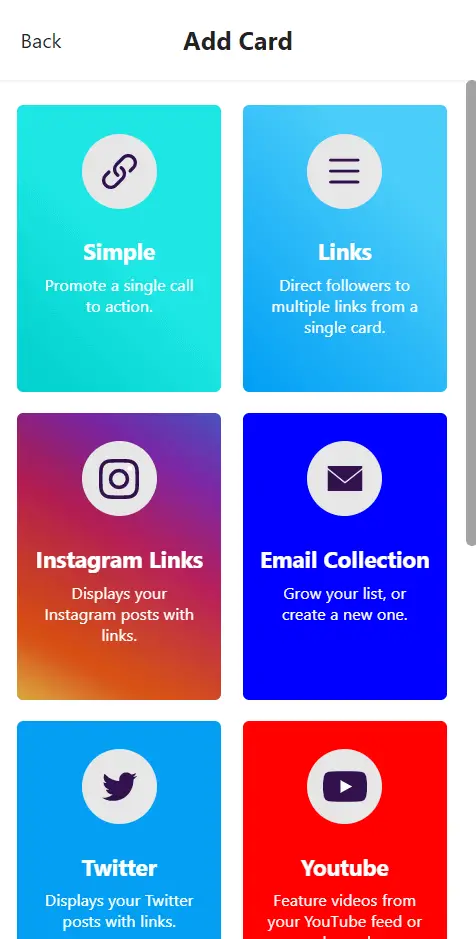 Once you have selected your card you will then get taken to a what-you-see-is-what-you-get interface where you can customize your card. 
The most obvious way to customize your card is by adding links (if your card of choice will allow it) and changing what the text says for the button on each link.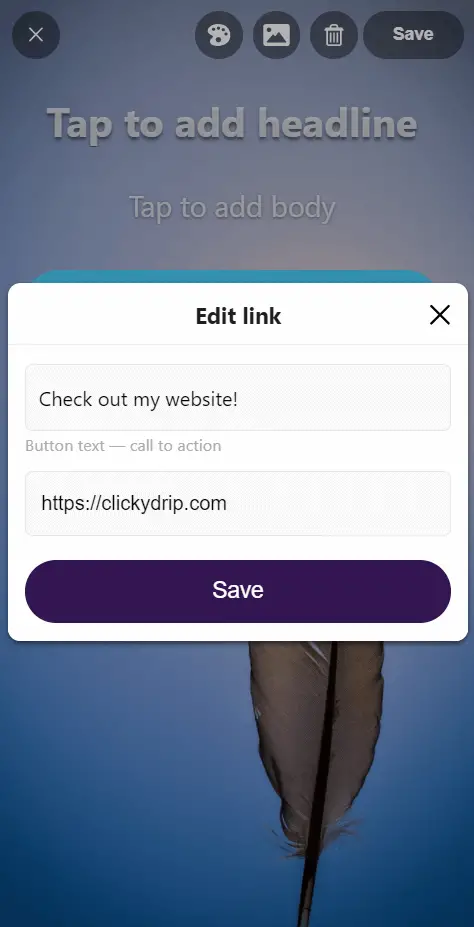 As far as the appearance of the card goes, you can do one of two things:
You can change the background color of the card from a color pallet, and display a background overlay as well which is essentially a second background color that blends into the first selected background color.

You can upload a photo to use as your background. It's best to use a portrait photo rather than a landscape, as a landscape photo will need to be zoomed-in in order to fit the portrait frame. This can affect the quality of the photo. The card below shows a photo that was uploaded.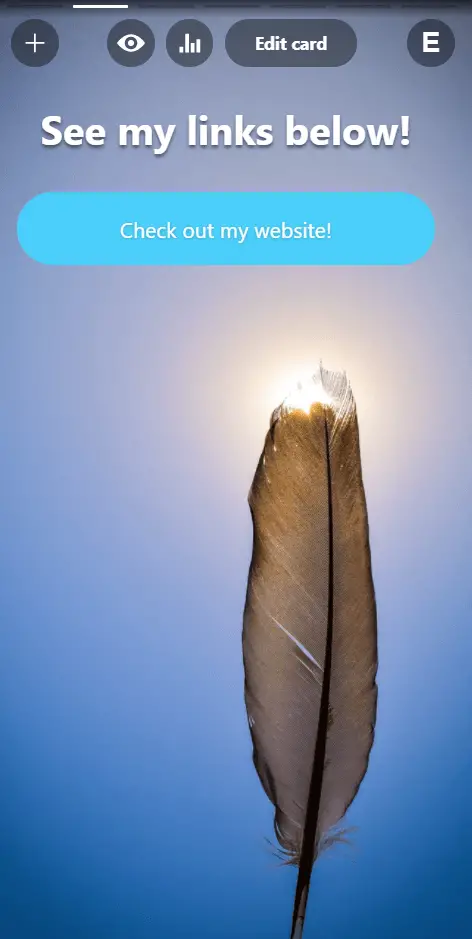 You also have the ability to add multiple cards, which gives visitors the opportunity to swipe through your tap bio and explore the different links you may have published and the various call to actions you may have included. 
Once you are satisfied with your card, you can go ahead and publish. 
After you put your Tap bio in your social media bio, you can measure the performance with the analytics tab. You can get basic data such as the number of link clicks and impressions per day, per week, and per month.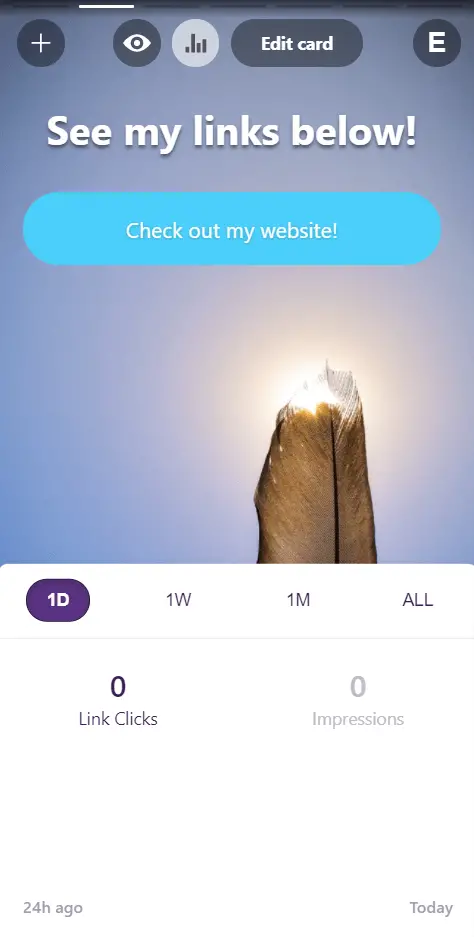 How Does Linktree Work? A Brief Walkthrough of the Dashboard
Upon signing up for Linktree by adding your username of choice, email, and password, you are presented with the dashboard where you can add your links.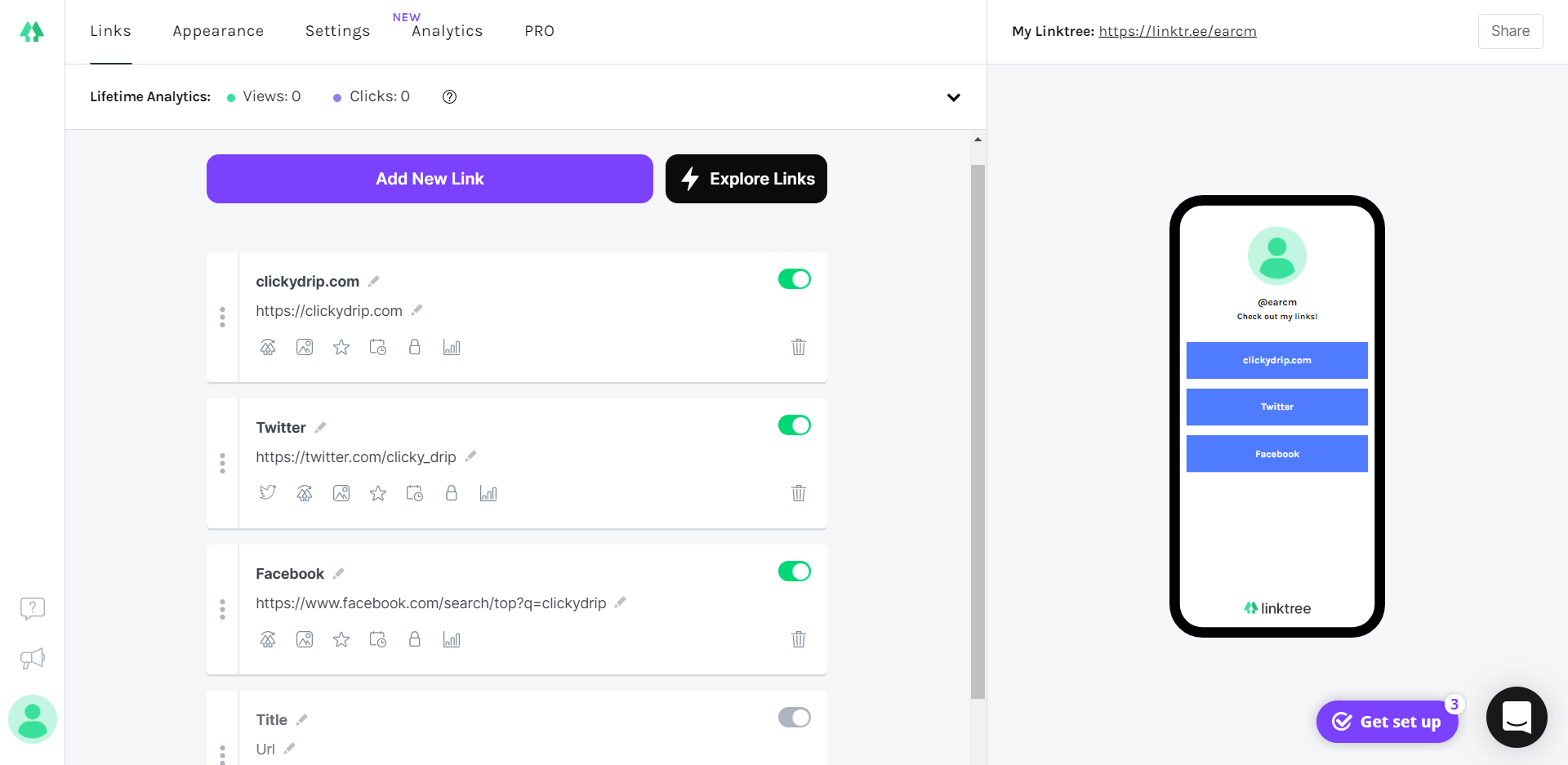 You are prompted to add however many links you see fit. Compared to Tap Bio, Linktree is a bit more flexible when it comes to the type of links you can add to your page. Aside from simple links to social media or websites you can add the following links: 
Music links (music from Spotify and other platforms that visitors can play from your page)

Video links (embedded videos from YouTube and other platforms that can be played from the page)

Store link (the ability to display products from your ecommerce store)

Form link (for collecting contact info from visitors via a form)

Support me link (for collecting tips and donations from visitors)

Request link (for receiving requests and payments from visitors)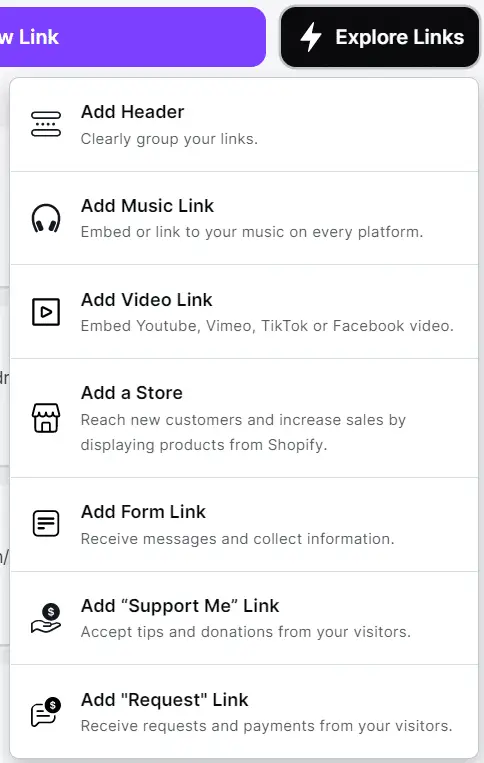 With Linktree pro, you can also further customize your links with the following link options:
Leap links:

These links give you the ability to forward all visitors directly to a destination, bypassing your Linktree altogether.

Priority links: This option allows you to highlight your most important links.

Schedule links: This option gives you the ability to schedule when your links go live.

Gated links: These links must be unlocked by providing a code, entering a date of birth or by acknowledging that the information that the link takes you to is sensitive. 
Additionally, you can add thumbnails or icons to your links to further customize them. 
Conveniently, the way your page will look on mobile is displayed on the right side of the dashboard (if you are using a desktop) and changes in real-time according to the edits you make. 
Once you are satisfied with how your links are arranged on your page, you can move on to the appearance tab.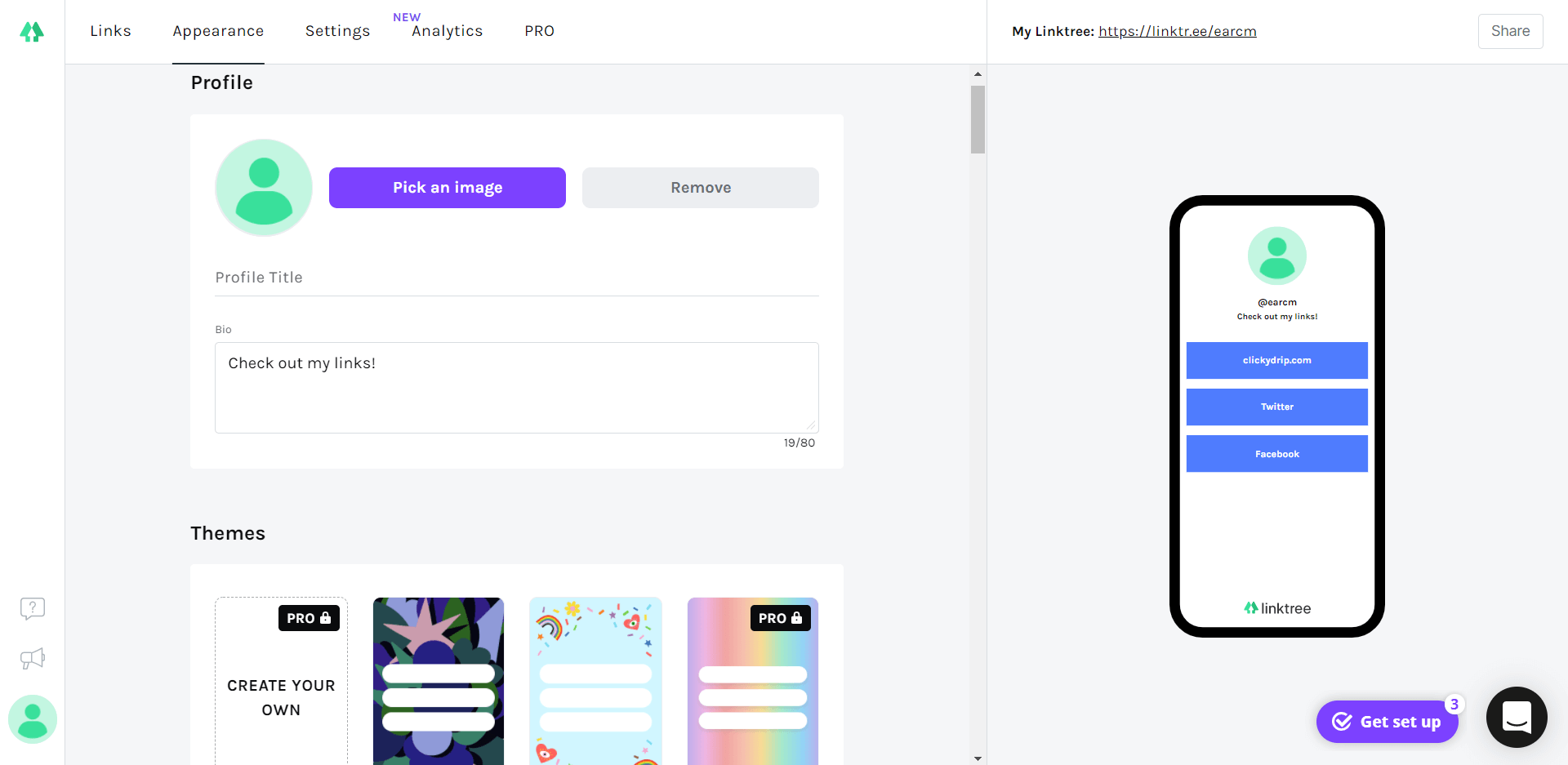 Here you can choose your profile pic, your profile title, and add a bio. Typically bios say something along the lines of "check out my links!".
From there you can choose the theme you would like to use to display your links. Each theme has a different color scheme and different shapes for the buttons for your links. The free version gives you about a dozen themes while the paid version gives you many more options for themes and backgrounds as well.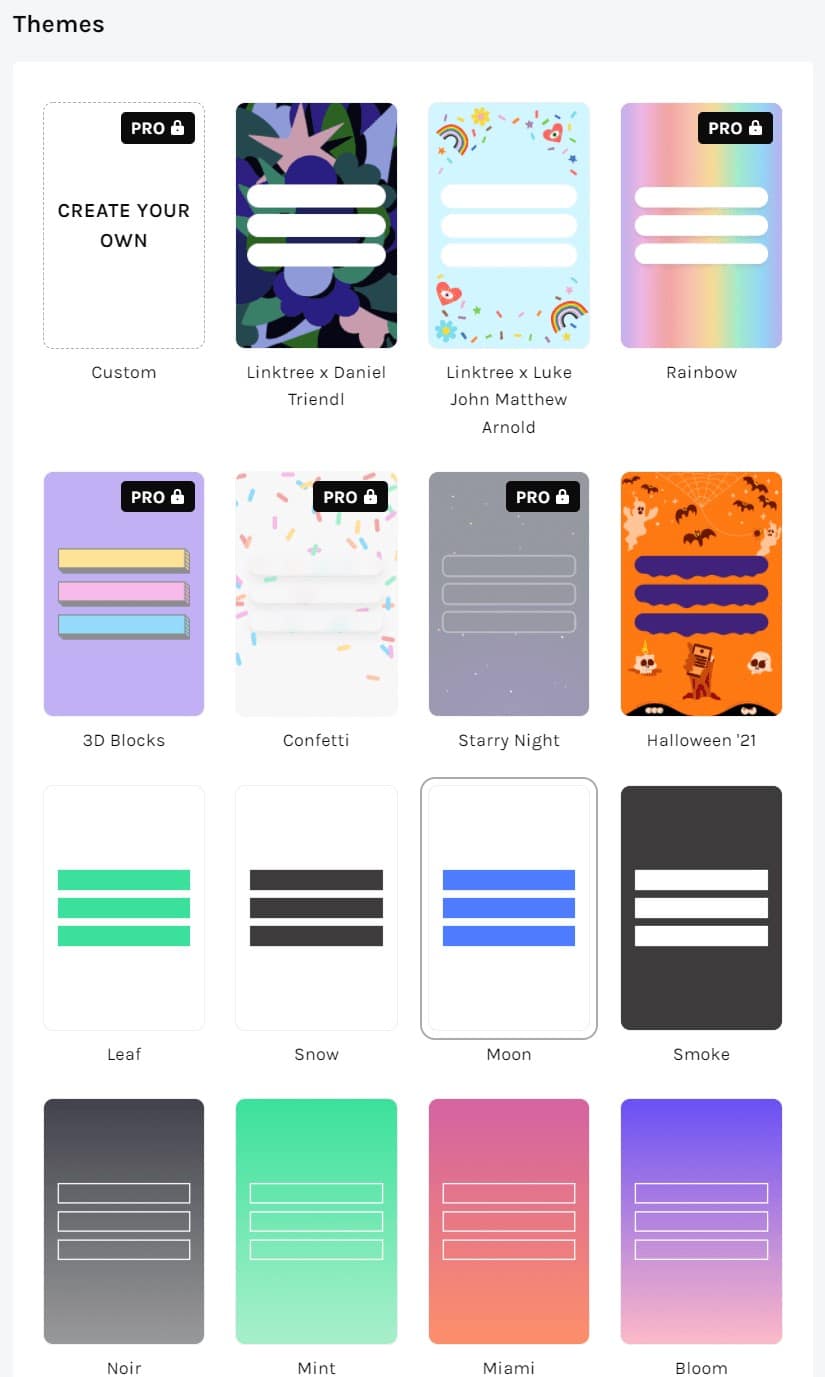 Additionally, the paid version unlocks various button designs and fonts that you can choose from to further customize your page. 
Once you are happy with the appearance of your page, you can move onto the setting tab.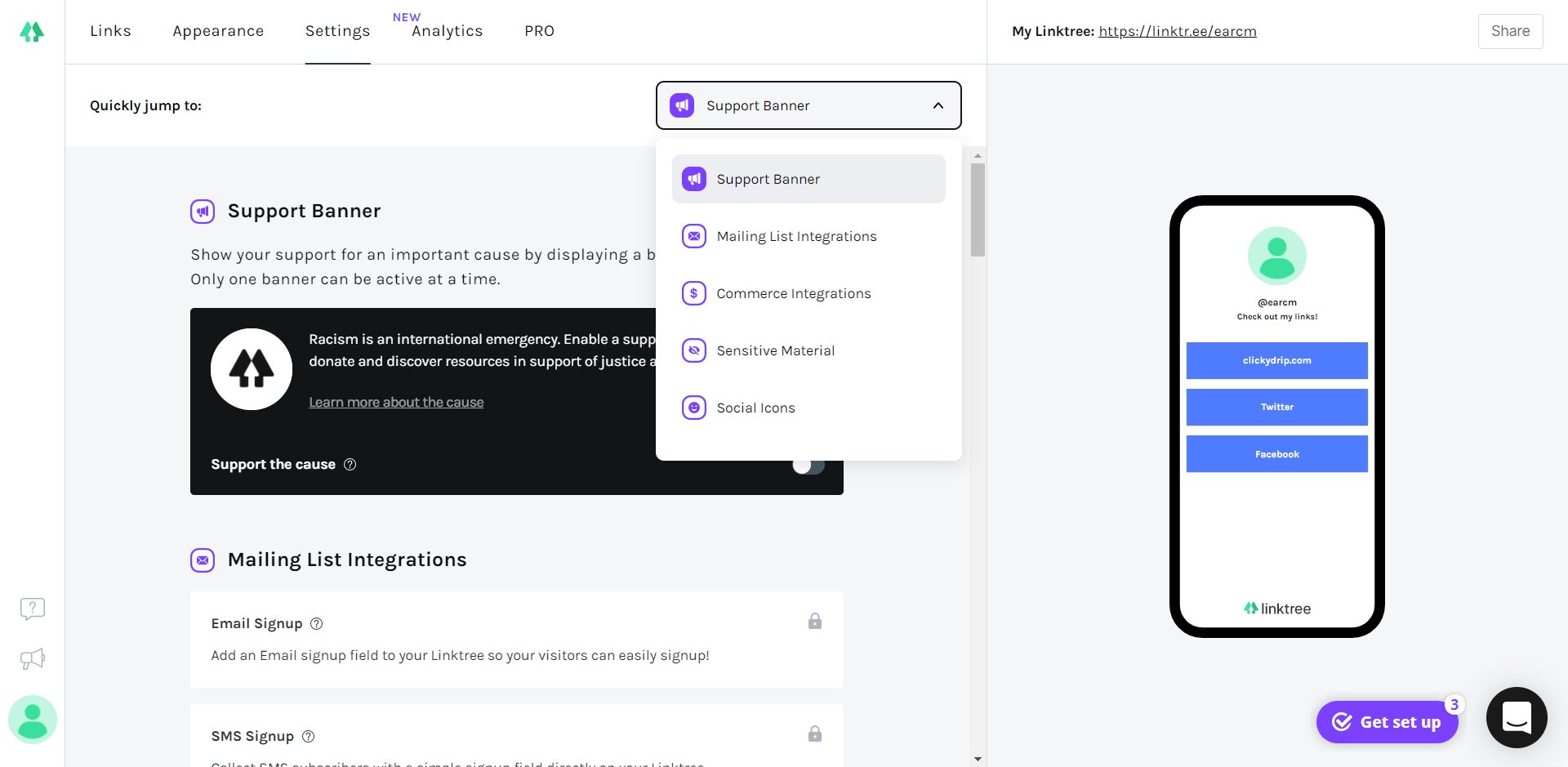 Here you can configure various settings for your page such as ecommerce integrations, mailing list integrations, social icons, and more. 
Once you are ready to share your page, can simply grab the URL that you can find in the upper right corner of the dashboard. 
Lastly, after promoting your Linktree link, you can view how your link is performing by accessing the analytics tab. Here you can view some basic (but really good to know) statistics such as link views and link clicks.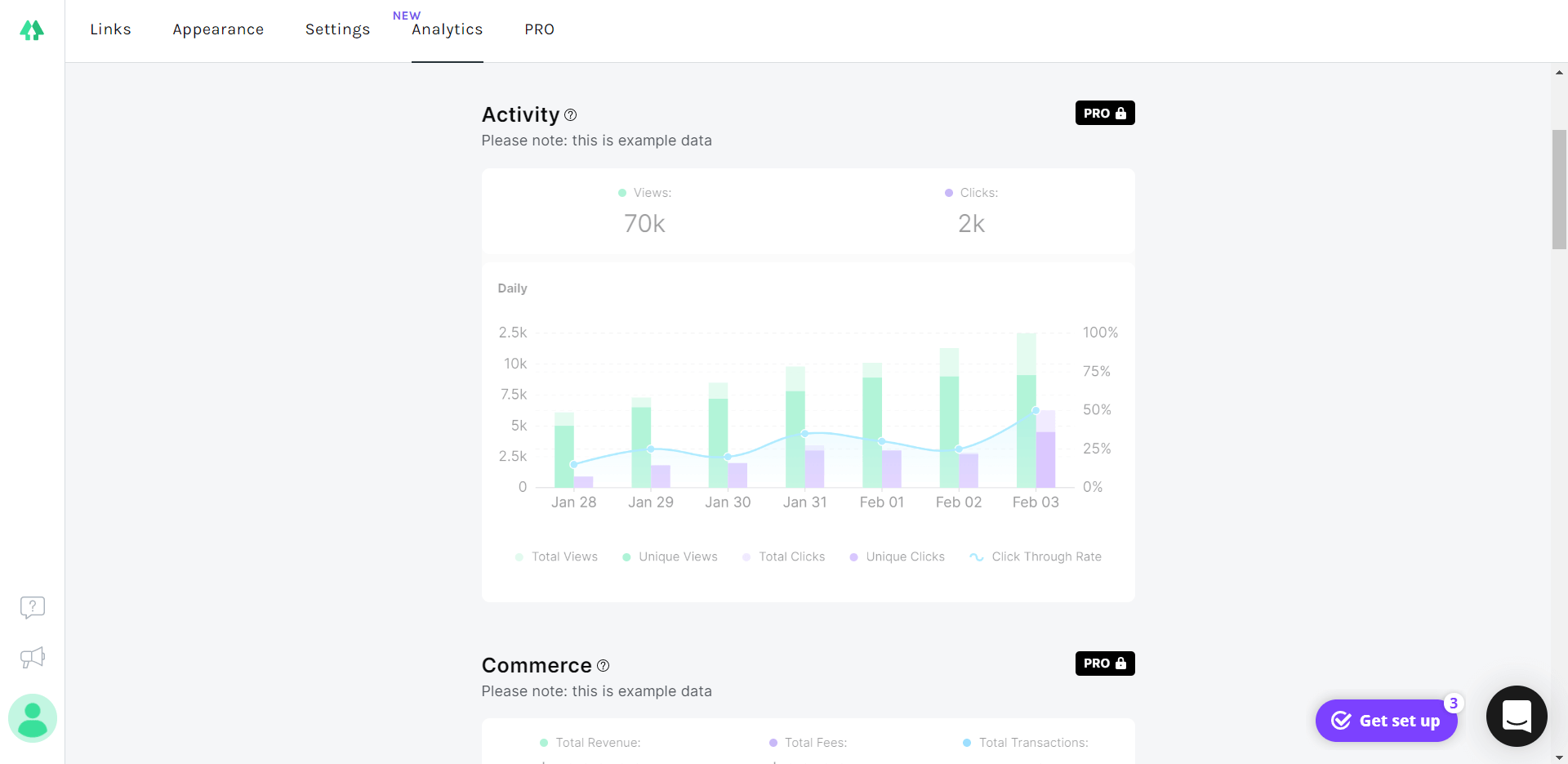 Related: Linktree: Everything you Need to Know
Appearance and aesthetics 
Aside from the links included in your pages, the appearance of your bio link pages is the most important aspect of your page. 
That being said, the themes or cards available in each platform should be seriously considered before moving forward with either solution. 
As previously mentioned, Tap Bio allows you to add cards. You can edit your cards appearance by changing the background color, you can create shading from one color to another, and you can change the button color of your links. Alternatively, you can upload an image to use as your background. 
This level of customizability is all some users need for the sake of displaying just a few links. However, with Tap Bio you are extremely limited in how you can design your cards compared to Linktree. 
With linktree there are far more options for customizing your page. For one, unlike Tap bio, you can select predesigned color schemes for your card from an arrow of different designs. 
Not only that, but with the pro version you have access to animated backgrounds, you can choose from an array of different link button designs, and you can choose from an array of fonts as well. 
Simply put, more customizability means more ability to design your page exactly the way you want it to look. Fortunately, Linktree gives you that flexibility. 
Pricing
Tap Bio pricing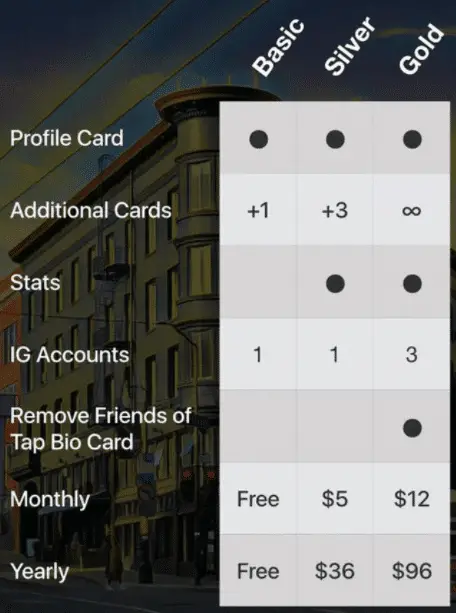 Tap Bio has three levels of membership (Basic, Silver, and Gold). 
The Basic membership is free and allows for one account and one additional card. 
The Silver membership is $5/month or $36/year and still only allows for one account, but you can have three additional cards. You will also receive account stats information, which can be very helpful. 
The highest membership level—Gold— is $12/month or $96/year and allows three Instagram accounts with unlimited additional cards. You also get the stats information and have the additional benefit of being able to use the 'Remove Friends of Tap Bio' card. 
Linktree pricing
Linktree begins as a free service as well. 
The free level allows for one account and one other card. 
The Pro version is $6/month and gives you access to priority links and advanced analytics and reporting. 
Linktree Pro also gives you advanced customization, custom themes, fonts, and styles, background videos, priority support, and extra features like payment and email collection. 
This level also allows you to use integration features with other sites such as Mailchimp and Twitch. Linktree Pro also removes the Linktree logo from your page. 
When to Choose Tap Bio vs Linktree
Tap Bio and Linktree share the same basic functionality and are more or less equally affordable. Determining whether Tap Bio vs Linktree is best for you comes down to how much you value the two biggest differences between the platforms.  
The first big difference is the features of the platforms. Linktree gives you far more bells and whistles than Tap Bio, which is a relatively simple platform in comparison. Features such as the different links (priority links, leap links, schedule links etc.) are a nice touch that paid users enjoy. 
The second big difference is the designability of the pages you can create with the platforms. Linktree's vast template selection, button customization, and an array of fonts are all convenient design features that can dramatically change the appearance of your page, yet Tap Bio doesn't have these features, and the customization of the page designs are limited as a result. 
In light of this, if features and designability are important to you, Linktree is probably your best bet. However, for a more simplistic and perhaps easier to use solution, Tap Bio may be the way to go.
You can see how other bio link tools stack up to Linktree in the following comparisons: