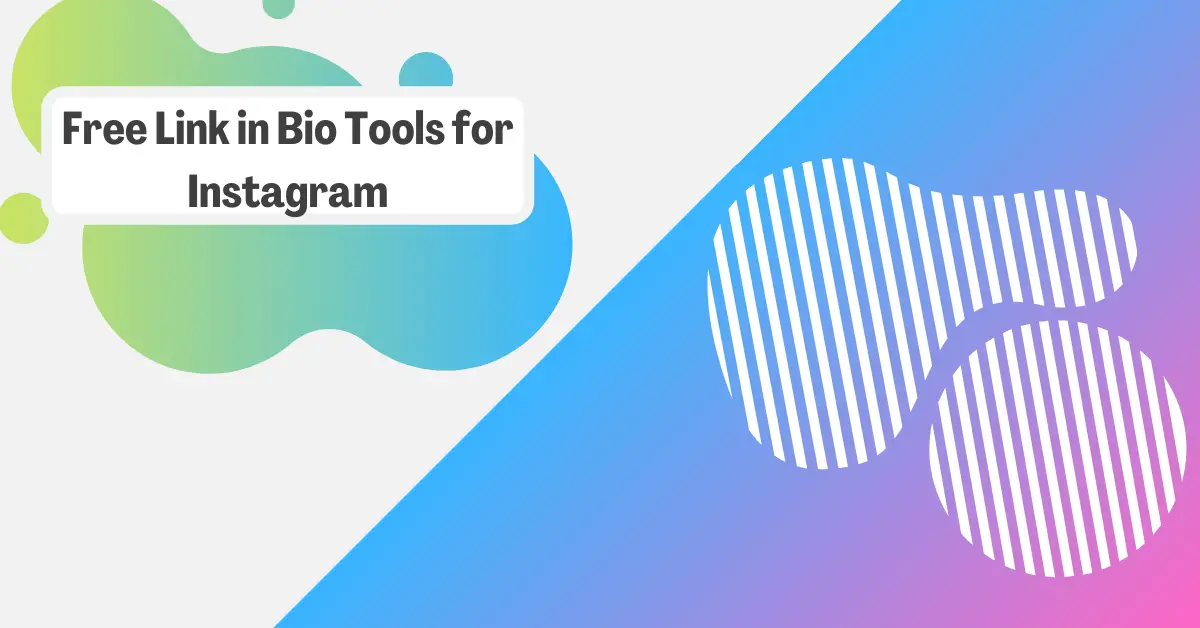 Bio links tools are an excellent way to direct your Instagram followers to your blog, affiliated brands, charities, or any other websites of your choice. 
However, given that these tools are relatively simple, it's no surprise that many people would prefer to simply use a fremium version over paid plans. 
After all, for those that just want to display links and aren't interested in any extra bells and whistles, paying for premium features just wouldn't make sense. 
Fortunately, there are plenty of free link in bio tools for Instagram that you can choose from. 
Let's dive in… 
Linktree

Linktree lets its users create an easily customized personal landing page to link all vital content they want to share with social media followers. It is a valuable tool that helps circumvent Instagram's single link in bio issue.
Whether it's offering up your latest articles, blog posts, videos, and website updates, or links to your online store or other social media posts, your Linktree page serves as a launchpad for users to access your entire online presence. Linktree also offers a range of great features that can help boost audience engagement.
Features
With a Linktree account, users can:
Publish unlimited links and customize their Linktree page using a selection of built-in themes and powerful integrations.

Access useful analytics to track views, link clicks, and more.

Embed videos into their Linktree page.

Collect payments for tips, donations, and services.

Access advanced link customization features such as Link Scheduling, Priority Links, and Leap Link functionality.

Collect contact information from visitors.
Linkin.bio by Later

Linkin.bio is like having a micro-website built into your Instagram profile. It allows users to turn every Instagram post into a clickable, shoppable image. With Linkin.bio, users can highlight their most important content so that their audience can find the content that matters most to them, every time. The Linkin.bio tool comes with Later, a social media management tool that offers an array of digital marketing and management features that go far beyond a workaround for Instagram's link in bio issue. 
Features
With Linkin.bio, users can:
Increase engagement, traffic, signups, conversions, and revenue right from their Instagram account.

Direct their followers to specific products and content directly from Instagram posts.

Integrate Bit.ly or Google Analytics (UTM Tags) features to track value and traffic from specific Instagram posts.

Build relationships with links to partners and collaborators.
Campsite 

Campsite stretches a user's Instagram link in bio to the limits by allowing its users to create a social landing page that offers high-conversions within just a few minutes of signup. With Campsite, which calls itself "your social bio link outfitter," users can immediately share essential content with their Instagram followers.
Features
With Campsite, users can:
Quickly and easily create a bio link designed for conversions. 

The ability to post unlimited links, allowing connection to as much or as little content as they see fit. 

Access an array of advanced customization features so they can stay on brand. 

Embed video content into their Campsite profile.

Utilize advanced analytics tools to gain audience insight and clicks. 
About.me
About.me is a powerful social networking platform that helps users build a personalized, publicly available online presence. It is an easy-to-use, convenient platform that lets users organize and present a comprehensive collection of web properties about them, their business, or their brand. Internet users can access a user's About.me page without registering for an account. The platform serves as an excellent tool for addressing Instagram's single link in bio restriction.  
Features
With About.me, users can:
Create a customized email signature and a spotlight button (call to action).

Capture leads and book meetings using your Google account.

Access additional page features, including testimonials, portfolios, videos, and more.

Gain insights through page states and visitor details using Google Analytics features.
Milkshake
Milkshake is an Android and iOS app that allows users to build a simple website right from their phone. Milkshake uses "cards," which are a user's website pages. Cards are swiped just like an Instagram Story. Cards are customizable and can feature text, images, YouTube videos, blog posts, links, contact details, and more. After creating a website with Milkshake, a user can add the link to their Instagram Bio.
Features
With Milkshake, users can:
Customize their website to reflect their brand identity with colors, fonts, logos, and images.

Create multiple Milkshake websites for their different Instagram accounts and easily switch between them. 

Gain powerful insights by analyzing daily, and monthly card views and link clicks. 
Tap Bio
Tap Bio is another Instagram link in bio tool that lets users create a personalized and branded website using a card format. With Tap Bio, users can create cards that feature links, pictures, messages, or anything else that they want to share with their Instagram audience. A Tap Bio link resides in a user's Instagram bio and gives audiences a direct path to their website, social media profiles, and other online content. 
Features
With Tap Bio, users can
Customize their profile card and create multiple cards to reflect their unique style and brand identity.

Access vital Tap Bio stats for a deeper understanding of their audience. 

Create multiple Tap Bio profiles for multiple Instagram accounts 
Linkfolio
LinkFolio allows users to build beautiful, branded portfolios in just a few easy steps. A Linkfolio is accessible through a single link posted in an Instagram bio to drive traffic, monitor growth, sell products, and build brands, all from one central location. LinkFolio is part of the FramePick lineup. Framepick offers a complete toolkit of brand management tools including the FamePick Media Kit, FP insights, Knowledge Hub and Brand Outreach. 
Features
With Linkfolio, users can
Create a fully customizable portfolio to reflect their personal brand.

Post unlimited links from a single URL and direct followers to highlighted content.

Access important Instagram analytics and track best-performing posts, audience breakdowns, channel insights, and more.

View Linfolio stats such as page visits and link tracking.
Feedlink
Feedlink is a simple link that you can put in your Instagram bio (or anywhere really) that allows you to turn your Instagram feed into a marketing machine. What's really cool about Feedlink is that it turns your Instagram feed into a series of clickable posts while still looking exactly like an Instagram grid.
Features
With Feedlink, users can
Turn each Instagram post into a clickable Image

Link to any page on a website

Add a button to each Instagram post

Move posts around into any order they want

Add a TikTok feed
Lnk.bio
Lnk.bio is designed not just for Instagram, but its a great free tool for TikTok and YouTube as well—basically, anywhere you have a link in your bio, you can put Lnk.bio. Lnk.bio is one of the more robust free bio link tools on the list, but it does have paid versions that allow you to get access to some of the cooler features, like scheduling links, stats and tracking, and Instagram grid mirrors.
Features
With Lnk.bio, users can
Add links to anything, including YouTube videos

Add images to go along with the links

Move links around in any order

Pin the most important link to the top
Contactinbio
Contactinbio is essentially Linktree with added features. Just like with Linktree, you can create a custom landing page with tons of links to practically any kind of content you can think of. One of the biggest differences between the two is that you can add links to messaging apps.
Features
With Contactinbio, users can
Add all their social media links as clickable icons

Add links to tons of messaging apps

Add links to both music services and payment services

Add products with links so that users can quickly purchase products
C8ke
C8ke is one of the most robust link in bio tools on this list, if not the most robust. It has an incredible number of features in the free version. It allows users to create a clickable link that can be placed anywhere—Instagram bio is the obvious choice, but any other social media platform will work. You get a customizable landing page that looks much better than anything the free version of Linktree can offer.
Features
With C8ke, users can
Add as many links to the landing page as they want

Customize the colors and background of the landing page

Integrate with Instagram feed and add clickable posts on the landing page in a grid format

Add social links and a search box
Bio.fm

While bio.fm does have a free plan, it's pretty limited, and the UI is very confusing. However, once you get the hang of it, you can add just about any type of content you can think of. Unfortunately, with the free version, you can't do much in terms of editing the look and feel, and the colors and background are pretty basic.
Features
With Bio.fm, users can
Add a few blocks with links to any pages they want

Link to a number of social media profiles

Add gifs using Giphy

Add LinkedIn, Spotify, Medium, Twitter, and even polls and newsletter subscriptions
Willow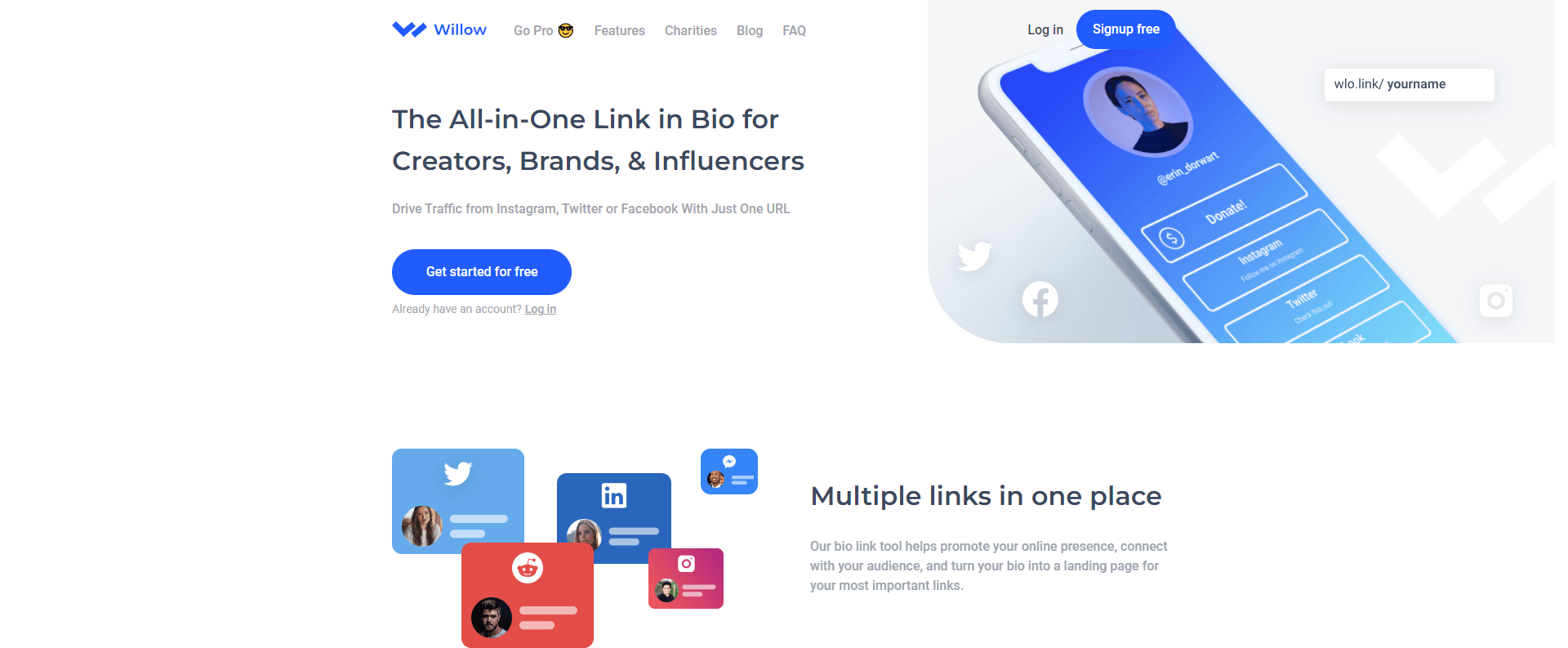 What's great about Willow is that it allows for unlimited links in the free version. Unlike some of the other options, you get access to a number of beautiful themes that you can use right away. You get a link-filled page, so it's not quite like some of the other options that let you create an Instagram grid.
Features
With Willow, users can
Choose from 10 pre-designed themes or create a custom theme

Add social icons for every social media profile you have

Accept tips directly from your Willow landing page with no processing fees
Url.bio
Url.bio is a pretty standard bio link tool. It's targeted at TikTok users, but pretty much anyone can use it. It creates a single landing page that you can fill with unlimited links, and it's pretty customizable, so you can change the look and feel and match your brand color scheme.
Features
With url.bio, users can
Add as many links as they want to their landing page

Customize the thumbnails of your links and their colors

Schedule links and prioritize links

Get predesigned and custom themes
Final words 
As you can see, there are many free link in bio tools for Instagram that you can choose from. Fortunately, because these tools are free, you can try out two or three of the tools you are most interested in to see which one might be the best choice for you. Best of luck!