Social media can be overwhelming. Between coming up with engaging content ideas, making sure to post regularly and analyzing past results to improve future performance, there is a lot to consider when it comes to social media success. 
Fortunately, social media management tools like Later can make social media marketing more manageable. However, while Later is an excellent platform, it's not the best solution for everyone. 
If you feel as though Later isn't the best solution for you, we have you covered. 
In this post we discuss 9 excellent Later alternatives that are comparable in terms of features, user experience and cost. 
Planoly

Planoly was first founded as an Instagram visual planner. And while it now supports Pinterest and can connect with Facebook and Twitter, it's Instagram planning and scheduling abilities are still its greatest strength.  
The tool offers a range of functionality that makes it easier to create, schedule, and preview visual-heavy social media content. 
Complimentary add-ons round out the package well, greatly expanding the app's use case. Users can, for instance, set up an ecommerce storefront integrated into their Instagram profile, use a dedicated Instagram Stories editor, and embed links in their Instagram, among many others. 
Pricing
Planoly's pricing is divided into four tiers—including a free version. The free version is great for casual users, as it allows for two social profiles and twenty total posts per month per profile. As the plans become more expensive, they allow for more users, more profiles and posting without limits. Pricing starts at $10/month. 
Overall, Planoly is an excellent choice for small teams who primarily work on Instagram and Pinterest—especially influencers.
For more information on how Planoly stacks up to Later, view this Planoly vs Later analysis.
Preview

Preview is a super simple application that nails its basic functionality—while lacking extensive features, its clean interface helps users visually plan and schedule basic posts from their phone.
As an Instagram planner, it delivers on image creation and editing, featuring a clean and extensive image editing function. Additionally, there's an entire library of themed features to select from. The drag-and-drop interface helps you organize your feed—you can upload videos and albums, too.  
Collaboration features are solid as well; admins can assign roles with specific permissions, collaborate and comment on post composition—all without per-seat pricing. What's more, the auto-posting features are great, helping users parse out images in their queue at their discretion, and the suggested caption ideas offer a cure for writer's block.
It's a tool best suited for creative professionals focused on Instagram—especially those on a limited budget. 
Pricing
Similar to Planoly, Preview has a free version that allows for one user, however, there are no restrictions on the number of posts you can publish even on the free version. The paid plans offer features such as the Instagram story planner, additional scheduling options, additional filters, and more sophisticated analytics. 
Pricing starts at $6.67/month.
Plann

Plann is another visual Instagram planner, distinctly featuring an easy-to-use drag-and-drop interface with automated cross-posting—all of which helps it manage multiple platforms at once. Its visual nature means it's best fit for Instagram and other image-heavy social media accounts (Though It's also compatible with Pinterest, Facebook, LinkedIn and even TikTok). 
Scheduling is a breeze. It's easy to upload images from your device, Google Drive, Dropbox, or from three integrated royalty-free stock sites (A great little feature). There's a Canva integration, too, which lets you upload the creations you've saved to your account. 
Users can opt for a visual content calendar to help schedule social media posts, blog posts, and email newsletters—and arrange them in the perfect order. Handy hashtag storage enables you to track and reuse your best tags.
It's an overall great choice for heavy Instagram social media managers, where the affordable pricing and attractive tools make a great deal of difference.
Pricing

 
All paid plans include more functionality, auto-posting and extra scheduling options, cross-posting, advanced Instagram analytics, suggested captions, and customizable brand calendars. However, there is a free plan as well that might be suitable for casual users. 
All in all, Plann is relatively more affordable than most social media schedulers. For the number of users you can have on the platform for each plan, the platform gives you great bang for your buck.
Paid plans start at $7 per month. 
Loomly
Loomly is a collaboration-forward social media scheduler and analytics tool, featuring perhaps the most integrations of all tools on this list. In addition to standards like Facebook, Twitter, Instagram, Pinterest, and LinkedIn, it also integrates with Google My Business, YouTube, Snapchat, Giphy, and Zapier. 
While these integrations are extensive, Loomly is best equipped for Instagram and other visual platforms. As such, it's well equipped for marketers looking to plan, create, and schedule high-quality imagery. 
Generously, Loomly doesn't limit the number of allowable scheduled posts regardless of pricing plan. The included calendar view is a nice touch, making the selection of proper dates and times easy and flexible. You can even label posts with titles to better organize and recall them.
The content editor is handy. Post optimization tips are displayed, and they give great insights on how best to create, format, and publish specific social media posts. And the included Loomly Studio allows you to apply a variety of filters to images and offers a review and approval collaboration workflow that lets users comment on posts and ads.
Pricing
Unfortunately, Loomly doesn't have a free plan but there is a 15-day trial is available. However, the platform is a bit more expensive than Later is given that it's best for small to mid-size businesses. The paid plans start at $25/month for two users while Later starts at $8/month. However, one could argue that the platform's robust features justify the price. 
For more information on how Loomly stacks up to Later, view this Loomly vs Later analysis.
Sked Social/Schedugram

Sked Social, formerly known as Schedugram, is another entry in the subset of Instagram-focused social media schedulers. The user experience is slick, with a visually friendly and intuitive interface that connects users with a wide range of posting and scheduling options. 
Instagram functionality is deep, too. It's easy to create and post more advanced posting types like Instagram Stories and carousel posts—it's easy with the visual calendar planner.
Sked, unfortunately, garnered a great deal of criticism in user reviews for bugs±—things like stories posted out of order, seemingly arbitrary cropping, and some not getting posted altogether.
Pricing
While there is no free version available, there is a seven-day trial. The first paid plan grants you up to three Instagram accounts and one profile for all other social media platforms. The more expensive plans allow for unlimited users, making the platform an excellent solution for agencies and big teams. 
Pricing starts at $25/Month.
Unum
Unum is an excellent visual editor and social media scheduler tailor-made for visual networks like Instagram, Pinterest, and TikTok. Quite possibly the best-designed tool on this list, Unum is all about facilitating a gorgeous and holistic Instagram presence, with great visual post creation templates, hashtag storage, and assorted planning tools. 
Image editing and creation are extensive and organic-feeling. There's a selective color mode for finger painting, blurring tools for quick reference, cropping, blemish removal, and graphic creation options like text, overlays, and meme fonts. Swipe right or left lets you instantly undo or redo—a clever UI touch.
All this makes it easy to plan larger grid collages as well as schedule your standard bread-and-butter posts.
Users either leverage the company's slick web app or mobile application, both of which offer comparably slick experiences—though many users complain about the quality and stability of the Android app. There's also a free marketplace for design and content ideas—in addition to loads of advice and guidance on content creation and promotion. 
It's also worth noting a quirk in their terms of service that has many users upset. Reviewers complain that the content terms grant the company full license to leverage any and all content created on the platform (Users still retain full ownership).
Pricing
This Later alternative offers a free basic plan, which features a stripped-down feature set and a limited number of monthly schedulable posts. All features are unlocked for all paid plans, the price of which depends on either the number of users or integrations. However, paid plans are relatively inexpensive compared to many other platforms of its kind. With the most affordable paid version you get full access to design tools, publishing tools, and autopilot posting. 
Pricing starts at $13.98/month. 
Hootsuite

Hootsuite played a large part in establishing the now nearly ubiquitous vertical column view common to many of today's schedulers. Ultimately, your enjoyment of Hootsuite will come down to your interface preference. 
For users who need to provide deep analytics reporting, the ability to create dense, customizable screens is hugely valuable. Users can simply add additional grid columns for a wide range of purposes—monitor conversations, keywords, mentions, hashtags, etc.
However, it frequently leads to visual bloat and overwhelm. While it features a handy calendar view for a more clean visual experience, it's nearly as functional and well designed as tools designed from the ground up for a calendar-based scheduling UI.
Hootsuite has an extensive feature set to match its age, supporting numerous platform-specific features and contexts. For example, you can track mentions, keywords, hashtags, retweets, and likes on Twitter—in addition to LinkedIn updates and post scheduling on Instagram.
Hootsuite excels in interaction management. Hootsuite's inbox funnels private and public messages into one place, facilitating seamless communication in threaded, contextual conversations.
Pricing
Hootsuite is a bit more expensive than other platforms of its kind given that it is a solution that is designed for large teams. The lower pricing tiers are particularly feature-barren—much of the best functionality is locked behind the business and enterprise plans—including the content approval workflow, asset library, automated moderation, and support.
While there is no free version, there is a 30 day trial that you can take advantage of to test the platform. 
Paid plans start at $49/month for a single user. 
For more information on how Hootsuite stacks up to Later, view this Hootsuite vs Later analysis.
Pallyy

Pally pitches itself as the best social media scheduling tool for social media agencies. In a number of ways, it delivers on that promise. It's perfect for managing multiple accounts across various clients—and doing so relatively affordably. Users pay only $15 for each additional set of social media accounts.
But while it's compatible with a wide range of platforms—including Facebook, Twitter, LinkedIn, Google My Business & Pinterest—it's more of an Instagram manager than a social media scheduler. 
That said, Instagram functionality is deep; auto-publish stories, videos, first comment tagging, and a deep stock image and video library, on top of auto-generated captions. The reporting dashboard is also customizable, and there's decent options for competitor tracking, hashtag research, comment management, and a handy Instagram bio link tool.
It's true that Instagram is among the most work-intensive platforms to manage, so this focus isn't inherently limiting—still, other social media managers are much better at switching contexts and taking advantage of platform-specific functionality for more text-based networks.
It's an overall great tool, complete with a sleek user-friendly interface, excellent customer service, and powerful scheduling tools. 
Price
Pallyy has a free version that may be suitable for casual users. It allows for one set of social profiles, 15 scheduled posts at a time, a feed planner and basic reports. For single users, this plan might make sense but for agencies that need access to additional social profiles, the paid plan is the way to go. Fortunately, with the paid plan, there is no limit on the number of posts you can schedule. 
Pricing starts at $15/month. 
Buffer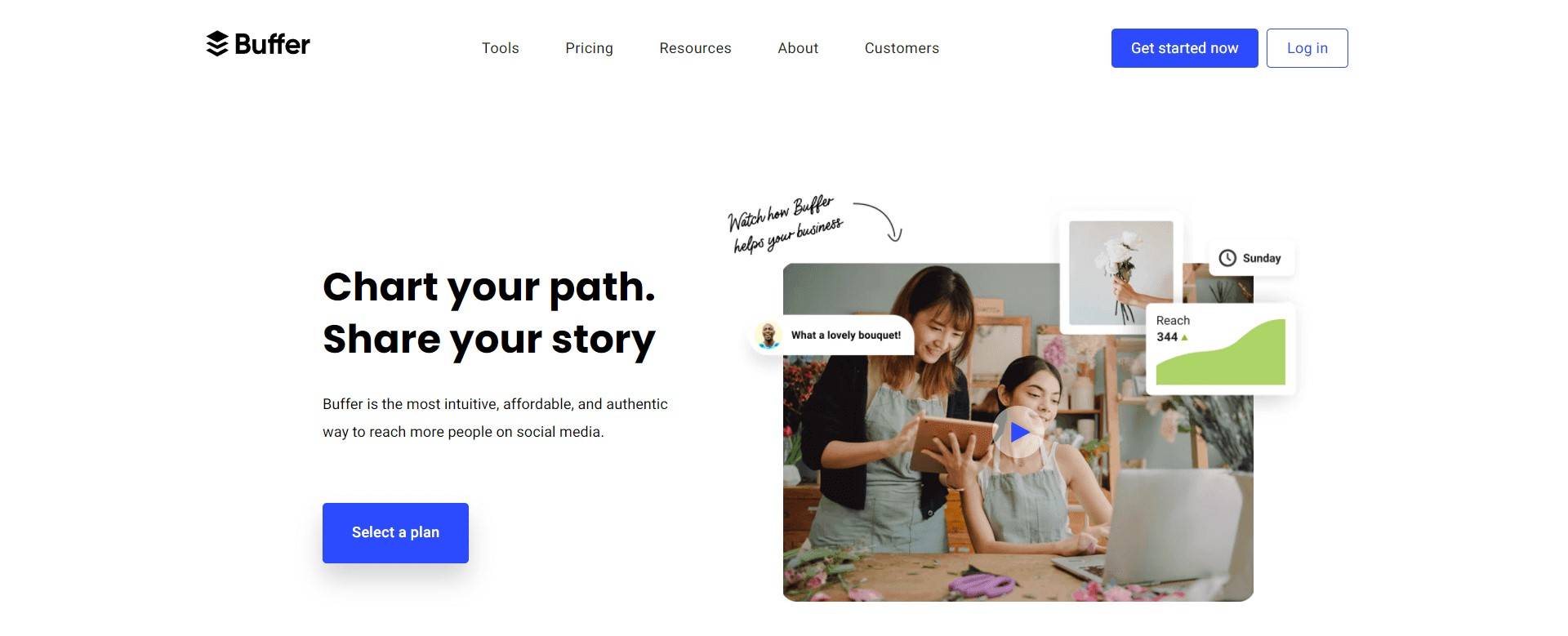 Buffer is among the larger and better regarded social media managers on this list. And for good reason, elegant design, extensive functionality, and reasonably priced—so long as you don't need to publish across dozens of channels or are limited by 2,000 scheduled posts.
Buffer is excellent at the fundamentals, making it extremely simple to publish and schedule—post composition a breeze owing to the calendar, drag-and-drop editor, and optimal scheduling suggestions.
Analytics are among Buffer's greatest strengths. Users can pull a wide range of data and choose among a number of visualization options—working well for at-a-glance updates as well as deep dives into follower behavior.
That broad support comes with limited functionality for certain networks. You can't, for instance, schedule or post carousel photos on Instagram or Linkedin. Neither is there Twitter threat functionality, and some users reported trouble adding four or more photos to a scheduled Instagram account.
Other advanced features are available as add-ons, like the collaboration-focused team pack and Buffer Reply, a social listening and communication platform.
Price
Of all the Later competitors discussed in this post, the paid plan for Buffer is the most affordable option. Starting at just $5/month, Buffer is a great solution for single users who are on a budget. However, there is a free version as well that includes basic publishing features and three social profiles. 
For more information on how Buffer stacks up to Later, view this Buffer vs Later analysis.
Find the Right Tool for the Job
That concludes our list of the nine best Later alternatives for social media marketing. Selecting the right tool for the job, you'll need to balance your must-have social networks with your collaboration needs, depth of analytics, and social listening ability.