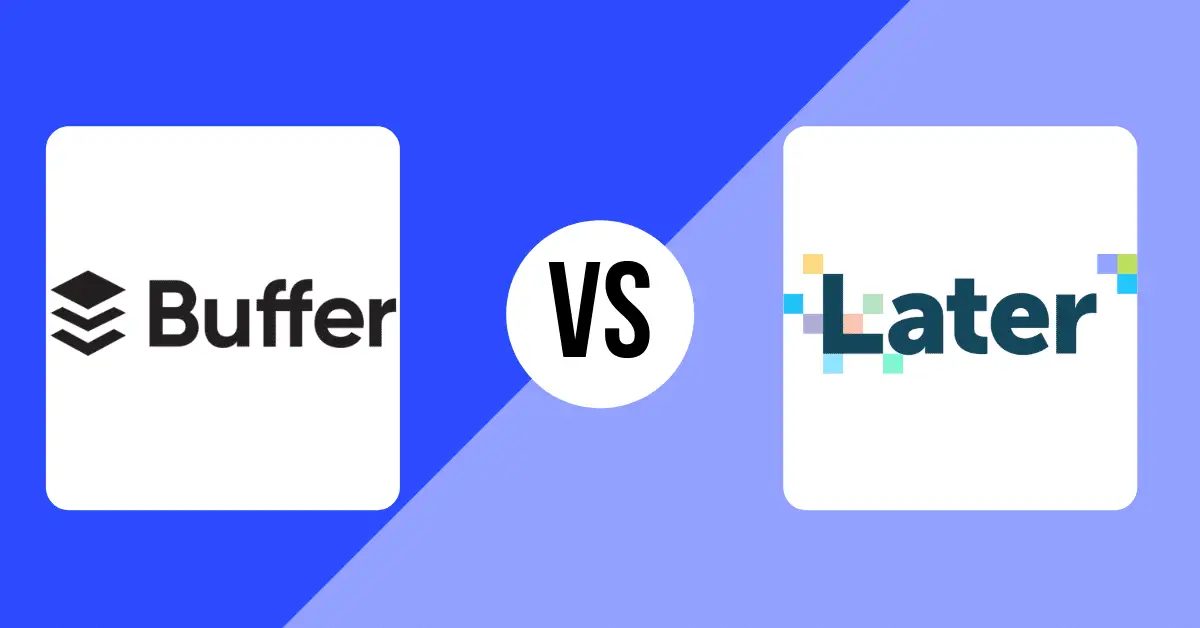 Literally billions of people use social media. And with thousands of businesses using social media as a way to distribute their content, it's important to have an effective and well-managed social media strategy to cut through the noise and reach your target audience. 
Fortunately, social media management tools can help with just that. Social media management tools can help you create, plan and schedule highly engaging posts. 
However, as social media has grown in popularity, so has the number of social media management tools. Platforms such as Buffer and Later have become particularly popular. 
But what sets these platforms apart? 
In this post, we discuss the differences between Buffer vs Later in terms of their efficacy, who the tools are best for, their pricing, and more.
About Buffer and Later
Buffer is a social media management platform that's both high quality and trusted by brands around the world. Some of the big brands that use Buffer include Burrow and Food52.
Because Buffer is an "official marketing partner" with Facebook, Pinterest, and LinkedIn, it's able to offer a variety of important features tailored to each platform.
Later is similar in that it's a social media management platform that also boasts many large brands as clients, including Patagonia, Showtime, and The Wall Street Journal.
Later was founded in 2014 and was originally called Latergramme. It can be used for Instagram, Facebook, Twitter, and Pinterest. However, it is most widely used specifically for Instagram. 
Supported Social Networks
| | | |
| --- | --- | --- |
| | Buffer | Later |
| Facebook | ✅ | ✅ |
| Twitter | ✅ | ✅ |
| LinkedIn | ✅ | ✅ |
| Instagram | ✅ | ✅ |
| Pinterest | ✅ | ✅ |
| Snapchat | ❌ | ❌ |
| TikTok | ❌ | ✅ |
Buffer and Later support most of the same social media platforms with the exception of TikTok. Later happens to support TikTok while Buffer does not. In fact, Later is one of the few social media management platforms that currently support TikTok. This, of course, truly sets TikTok apart from the pack, and if TikTok, in particular, is important to you, then Later might be the best platform for you.
Additionally, it's worth noting that while Buffer and Later support the most popular social media platforms (Facebook, Twitter, LinkedIn, and Instagram), these social media marketing tools don't support Snapchat. Although Snapchat isn't a deal-breaker for the vast majority of marketers, if this integration is important to you, then neither platform may be a good choice.
Most Notable Features
While both Buffer and Later have a wide variety of features, there are a few key differences between each platforms' features.
Here's what you need to know.
Key features that BOTH Buffer and Later have
Multi-profile posting and calendar views 
Both Buffer and Later allow you to post and schedule posts in advance that will show up in a content calendar. However, there are a few slight differences between how to schedule posts with each platform and how they appear in the respective content calendars.
Buffer's content calendar is a relatively new feature for the platform. In fact, it is currently still in beta. Nevertheless, it is still very functional.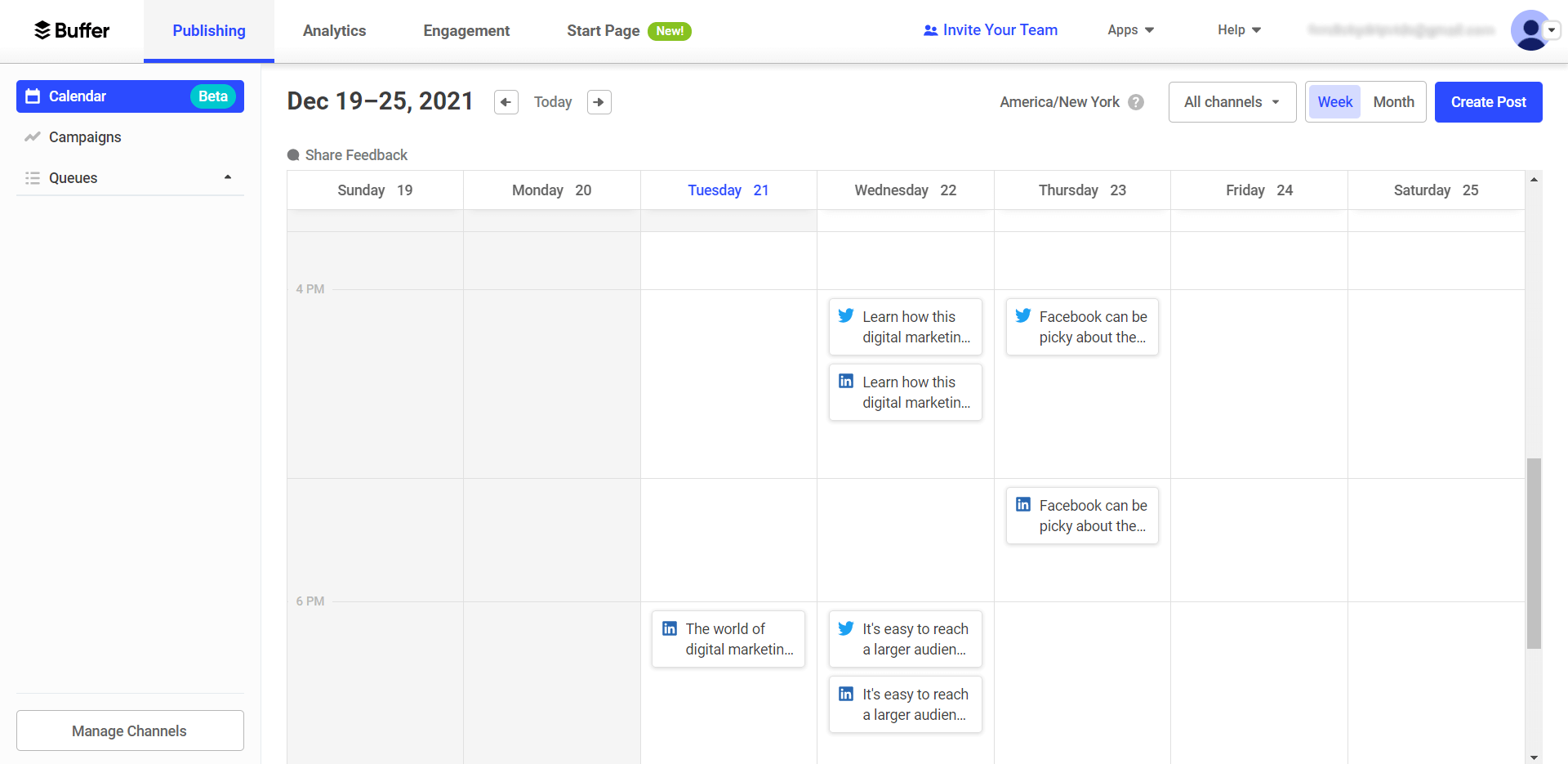 Once your posts are scheduled in your calendar, you can move the post blocks around to different times by simply clicking and dragging the blocks. 
Later's content calendar view looks similar to Buffer's, but one could argue it looks a bit more clean and minimalistic. Like Buffer, you can switch between a monthly view of your scheduled content and a weekly view.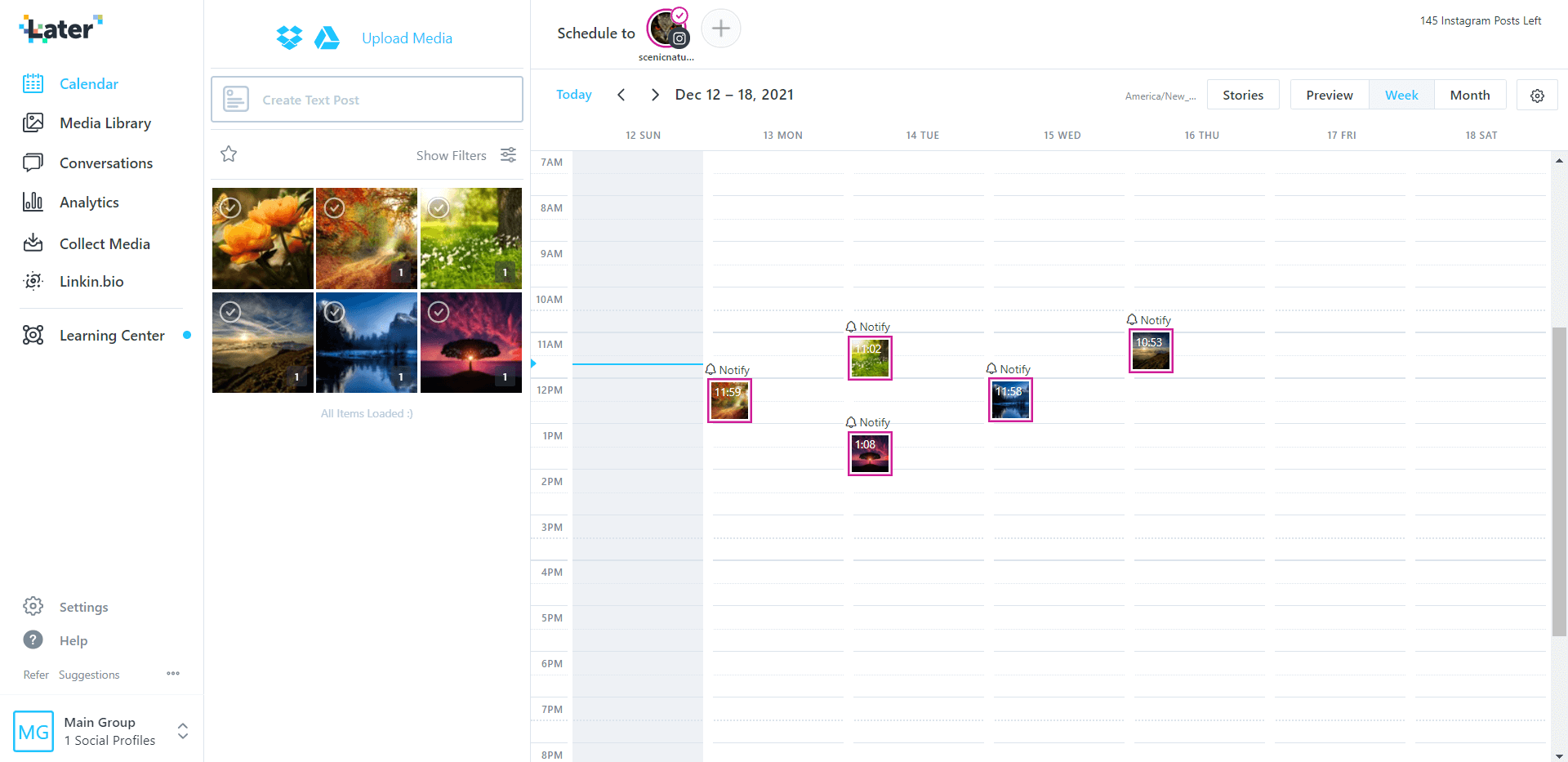 One feature on Later's calendar view that Buffer doesn't have is the stories tab which allows you to see scheduled Instagram stories.
Related: 9 Best Later Alternatives 
Interaction management 
Buffer and Later both display Instagram comments and allow you to respond to them directly from each platform. 
Buffer has a very simple and easy-to-use comment management interface. The platform makes it easy to quickly reply to messages and easily add emojis to your comments as well.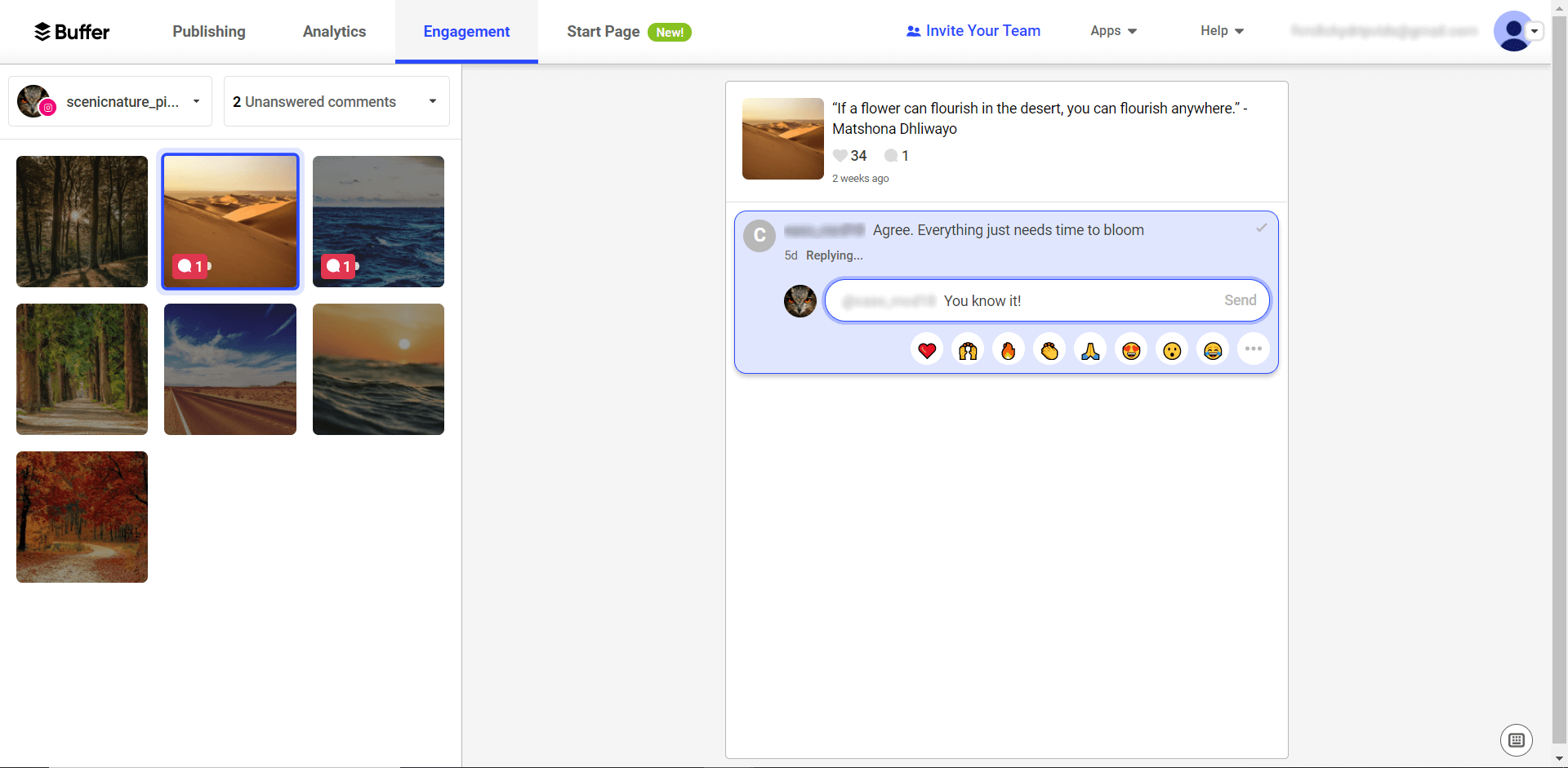 Later's version of this dashboard is similar. The key difference, however, is that Later allows you to filter comments by either inbox view, post view, or user view.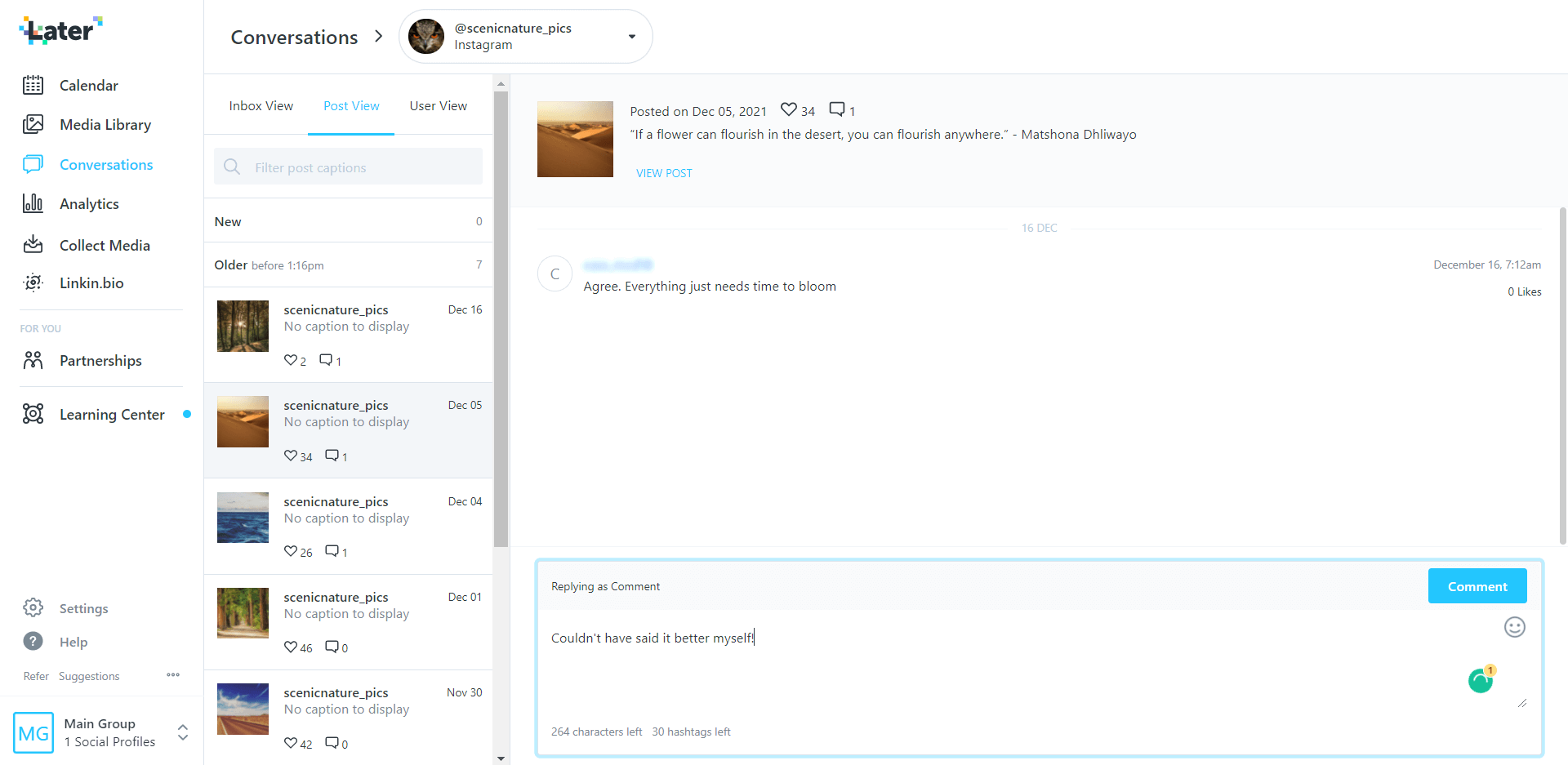 Instagram-specific features
Both platforms have features tailored specifically for Instagram marketing. A handful of these features include:
Instagram first comment: This feature allows you to schedule the first comment after your post. Rather than manually going into Instagram and adding the first comment yourself, you can have this comment scheduled as soon as your post goes live
Instagram tagging: Rather than manually adding your location and user tags in Instagram after publishing a post, you can set these details up directly in each platform
Instagram stories scheduling: Both platforms allow you to conveniently plan, schedule, and post Instagram stories. This is certainly a unique feature that not all social media platforms have. 
Bio Link Pages
Both platforms allow you to create bio link pages that you can add to your social media bios. 
In Later, they're called Linkin.bio, and in Buffer, they're just simply called landing pages. Later allows for a bit more customization, including adding buttons that are more likely to induce customers to click.
Features that Buffer has (but Later doesn't)
It's rare that any social media management tool will have every possible feature, so there are a few that are unique to each platform. Here's Buffer's unique features.
Custom workflows 
Depending on the size of your business, you may or may not need more than one user.
If you have a social media team of multiple people, then Buffer might be your best choice as it allows you to create custom workflows to coordinate and prioritize work for each user. With these workflows, you can have one or more people review and approve posts before they get published.
Link shortener
Link shorterners are useful if you create a custom link shorteners so that you don't have really long links in your content. It just makes users more likely to click, so they're useful in that respect.
You don't need them per se, but the feature is nice to have.
Features that Later has (but Buffer doesn't)
Later is focused heavily on imagery, so it's no surprise that it has robust features for media.
Media editing
Though you can certainly get your own media editing program (and there are many out there besides Photoshop), it's nice to be able to edit your media directly in Later. Not a huge game changer, but nice to have. With this feature, you can add text to images, and apply various filters to images as well. 
Stock photo library
Just like media editing, there are other ways of getting access to high-quality stock photos, but having them within the platform speeds up your ability to create great posts, so it's another nice-to-have feature.
Approach to posting and scheduling
Buffer has a number of ways to post and schedule posts. 
First, if you're more familiar with calendar-type scheduling functions, Buffer allows you to schedule posts directly through the calendar view simply by clicking on a time on your calendar that you want to schedule a post for. Alternatively, you can "Create Post" In the upper right and go through the series of steps to publish or schedule your post like so: 
Later focuses exclusively on the calendar posting model, so if you're familiar with programs like Hootsuite, you'll be comfortable using Later.
Later is conveniently allows you to either start with your imagery/videos or to start with text, so you can work in whatever manner is more comfortable to you.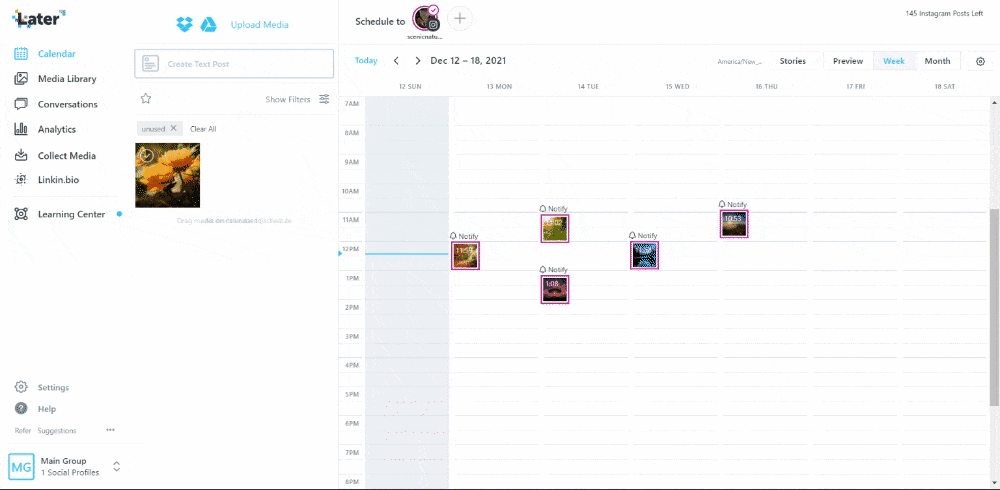 Dashboard experience and ease of use
Buffer's dashboard is simple, easy to use, and provides a great user experience. We were hard-pressed to come up with any drawbacks, though depending on how you like to use social media management tools, you might find Buffer a little annoying because it silos some functionality, like the analytics and the engagement.
You might prefer to engage directly on comments through publishing, but that's just not available with Buffer.
Later's dashboard is similarly easy to use and provides a great user experience. It doesn't silo features, but rather has you drill down in each of the six options on the sidebar. Overall, it's a clean dashboard, and its intuitive for the most part. However, it has a few extra features than Buffer that might take some getting used to. 
Reporting and analytics
Because of the way that Buffer silos some of its features, it's actually pretty easy to access the analytics. It's all in one place, so you can simply click the "analytics" tab to find what you're looking for.
Like most social media management platforms, the analytics show you metrics like your total number of followers, total impressions across platforms, and engagement. You can create new reports for different metrics, and you can look at how each social media platform is performing (along with how individual posts are performing).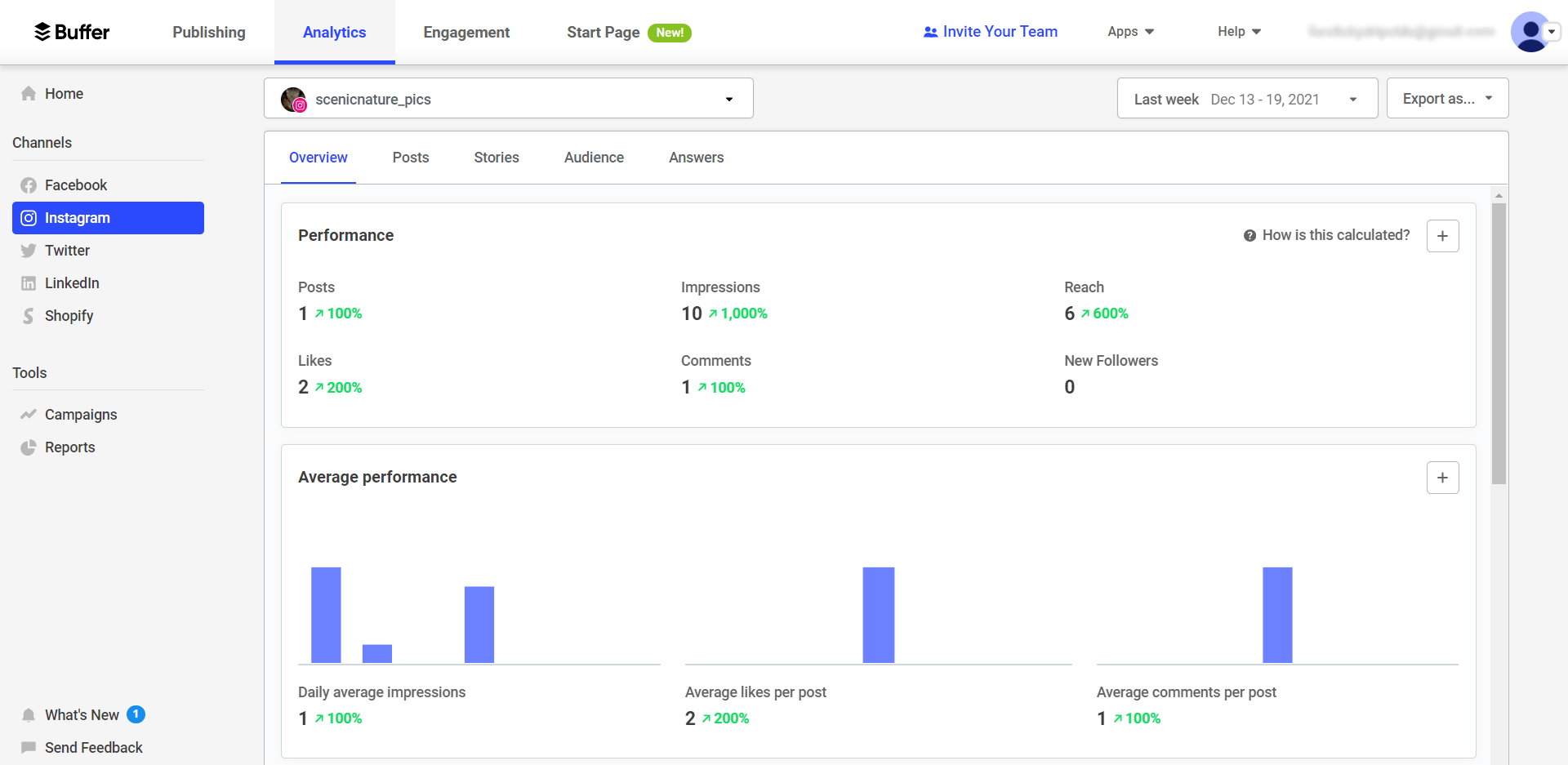 Later's analytics are similarly easy to use. You simply click the analytics tab, and you're in. 
What's nice about Later is that its analytics is a little more robust than Buffer's, allowing you to do everything Buffer does on top of looking at Instagram Story performance and how your Linkin.bio landing pages are performing. 
You can also look at individual profile growth, individual post performance, and engagement with your audience.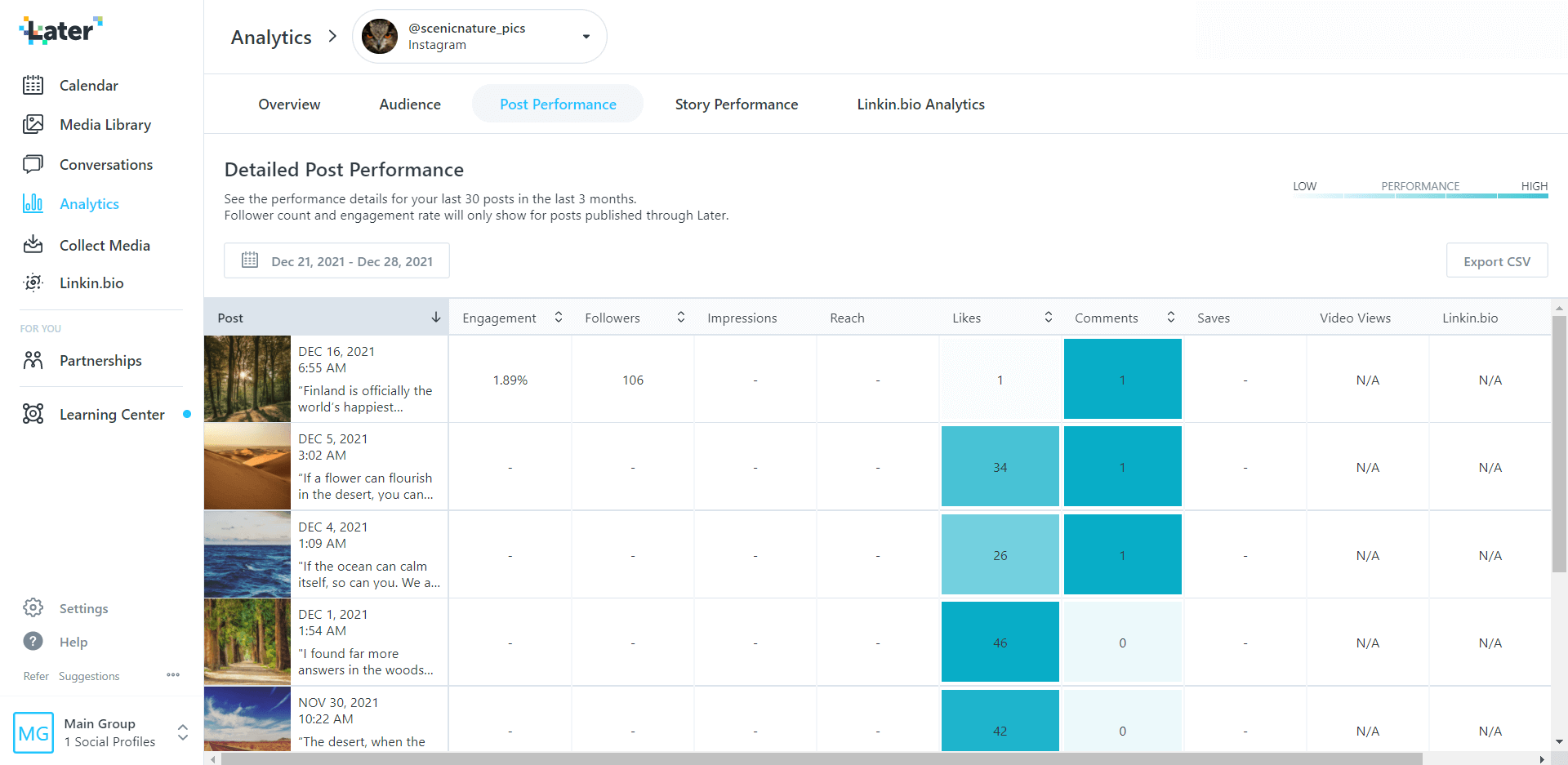 Team management
Buffer does a good job of team management, though you have to pay extra for adding team members (which is expected). Of course, if you have a small social media team, this won't be much of a drawback.
What's nice about Buffer is that it allows you to give access to individual channels for different team members. This ability to assign permissions become important for larger teams.
As you might expect, you can set up workflows, allowing people to create and approve drafts.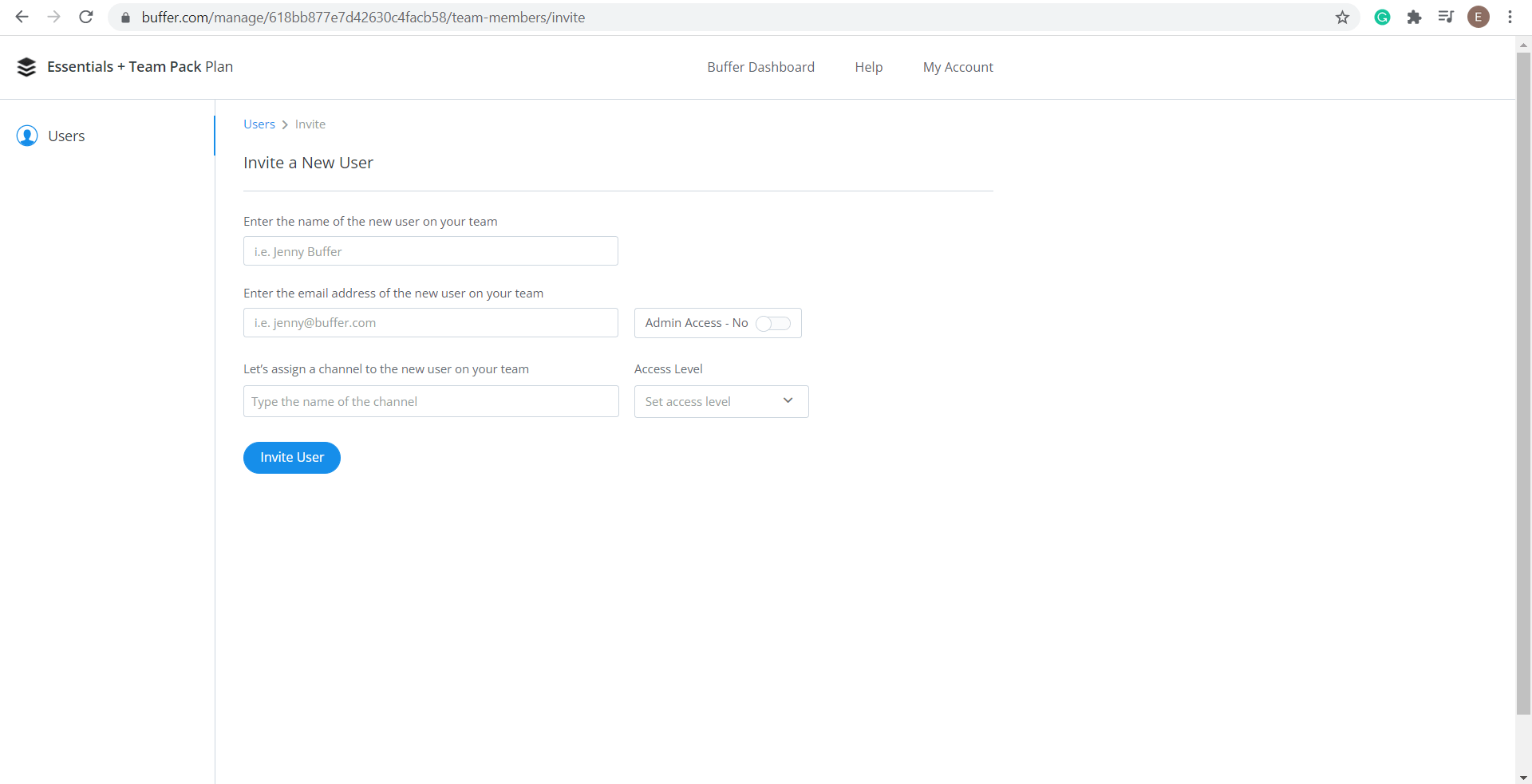 Later isn't much different in terms of functionality. You're able to give different permissions to team members, ensuring that only those team members you want working on a particular platform are able to do so.
You're also able to leave notes for your team in the calendar, which is nice to have, and you can share your calendars with your teammates.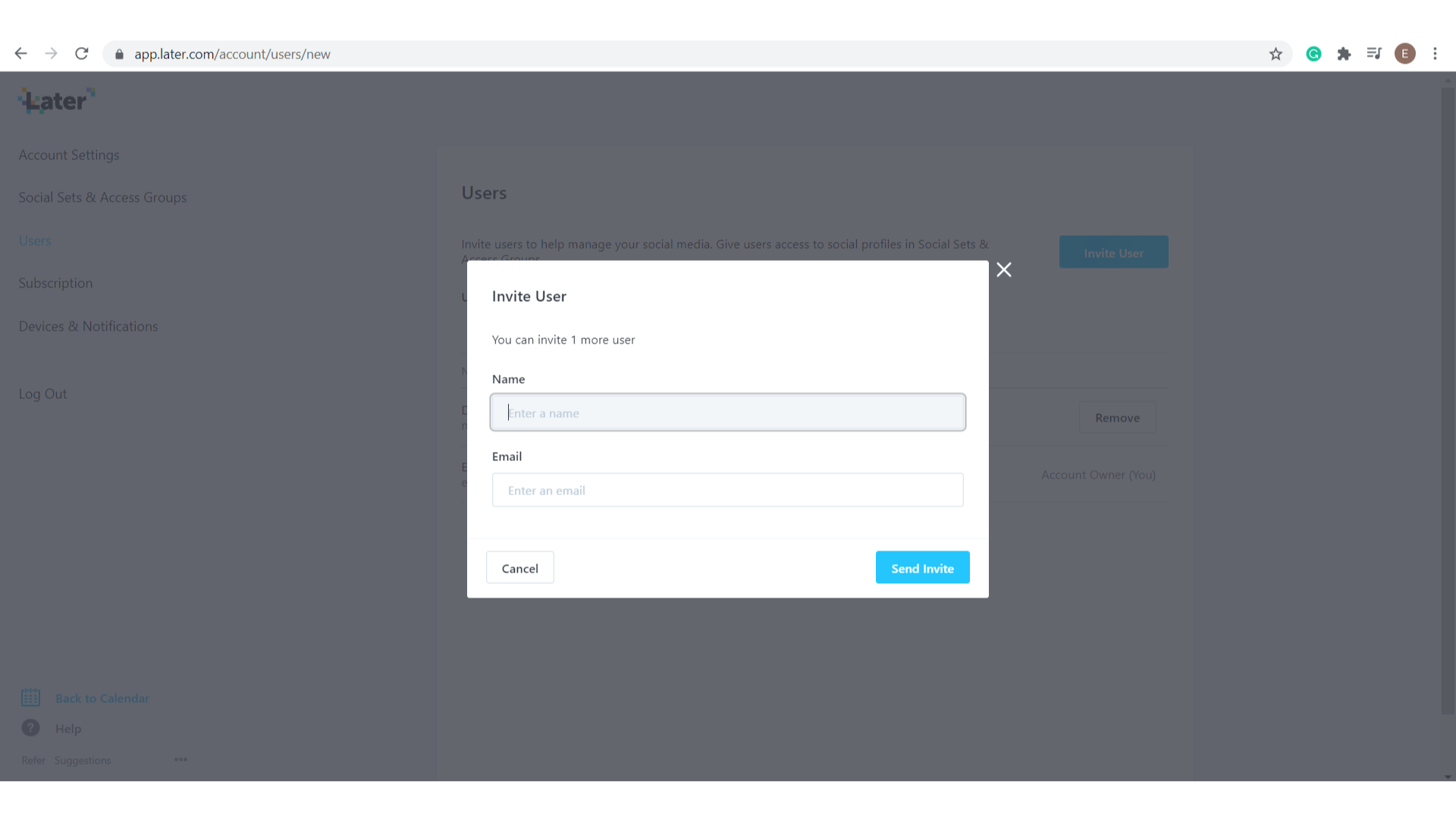 However, one of the most important differences between the platforms in terms of team management is that Buffer allows you to create approval workflows while Later lacks this feature. 
Pricing
Buffer has a free version that's good if you're just an individual with a handful of profiles to manage, but for anyone who's serious about managing their social media, especially if you need to have a team managing the accounts, then you'll want to pay for the Essentials plan.
You'll also need the Team Pack if you want to have additional team members (and clients for marketing firms who manage multiple profiles for multiple clients).
At $60/year with a 14-day free trial, the Essentials pack is at least worth a try if you're not quite sold on the platform. You have to pay an additional $5/month for every social media profile you add, so keep that in mind if you have a lot of social media profiles.
For most businesses, this won't be a problem as they only have a handful of profiles.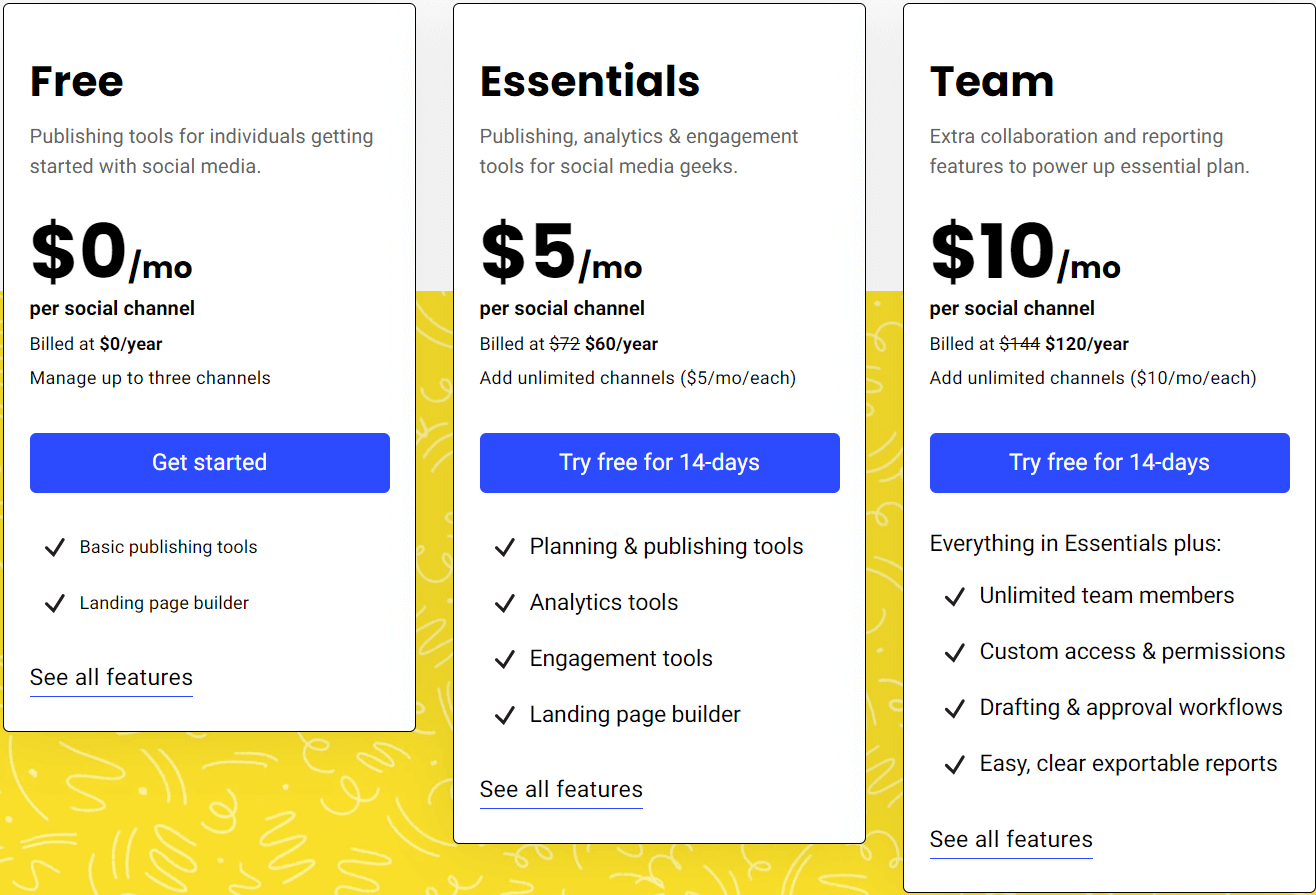 Later has a lot more options when it comes to the plan you choose — a lot more. No matter what you need, you're going to find a plan that works for you.
Plans start for at $0/month and go all the way up to $40/month, but if you have a lot of profiles to manage, then the price goes up pretty quickly. Essentially, you have to pay another $40/month for each set of profiles (which includes one of each available social media profile), but this only matters if you're an agency managing a lot of client's social media.
The bigger problem with Later is that, unless you get the most expensive plan, you're limited in how many posts you can post per month. If you're serious about social media, you might have to pay a lot more than you want just for the privilege of posting a lot more than normal.
If you want to add multiple users, it's $5/user.
Integrations
Buffer has no problems when it comes to integrations, with over 30 third-party integrations with many different apps. This can be particularly useful if you use many different apps to manage your social media.
Importantly, it integrates with Google Analytics. This is particularly important to understand how your landing pages that you create in Buffer are working.
You'll want to see if that traffic is actually converting, especially if you run an ecommerce store, so connecting the two is critical to gaining that understanding.
Later doesn't have nearly as many integrations. Obviously it integrates with all the major social media platforms, but beyond that, there isn't much support for other apps.
Still, Later has some basic integrations, like with Zapier, so unless you're using tons of different apps as part of your marketing initiatives, it's likely not something to work about.
Customer Support
Buffer is okay when it comes to customer support, though the main way to contact them is through social media, which makes sense in a way.
You can also open tickets with them if you're having issues, and they do have a help center that you can use if you want to try to figure out your issues on your own.
When it comes to Later, the customer support on the website is severely lacking. Sure, they have a help center, but it doesn't have a clear way to contact them for actual support — it's just a lot of different topics you can search to try to fix your issue.
However, if you've got the program, then you can chat with support by sending them an email, but overall, getting help is clunky.
When to Choose Buffer vs Later 
When choosing between Buffer vs Later, consider the size of your organization and the social media management features that are most important to you.
Buffer is perfect for small organizations and teams. Given the workflow feature, it is very easy to create approval workflows between multiple team members. It supports almost all social media with the exception of TikTok, and the platform is incredibly easy to use. However, the cost of its ease of use is that some of its features are less sophisticated than Later's features.
Later is an excellent platform if you are interested in marketing on Instagram over other social media platforms. Although Later supports other social media platforms, the platform originally was designed for Instagram, and thus, its Instagram-specific features are the most robust. A nice bonus of Later is that it's also TikTok compatible, which is a rare feature among social media management tools. 
You can see how other social media management tools stack up to Buffer in the following comparisons:
You can see how other social media management tools stack up to Later in the following comparisons: