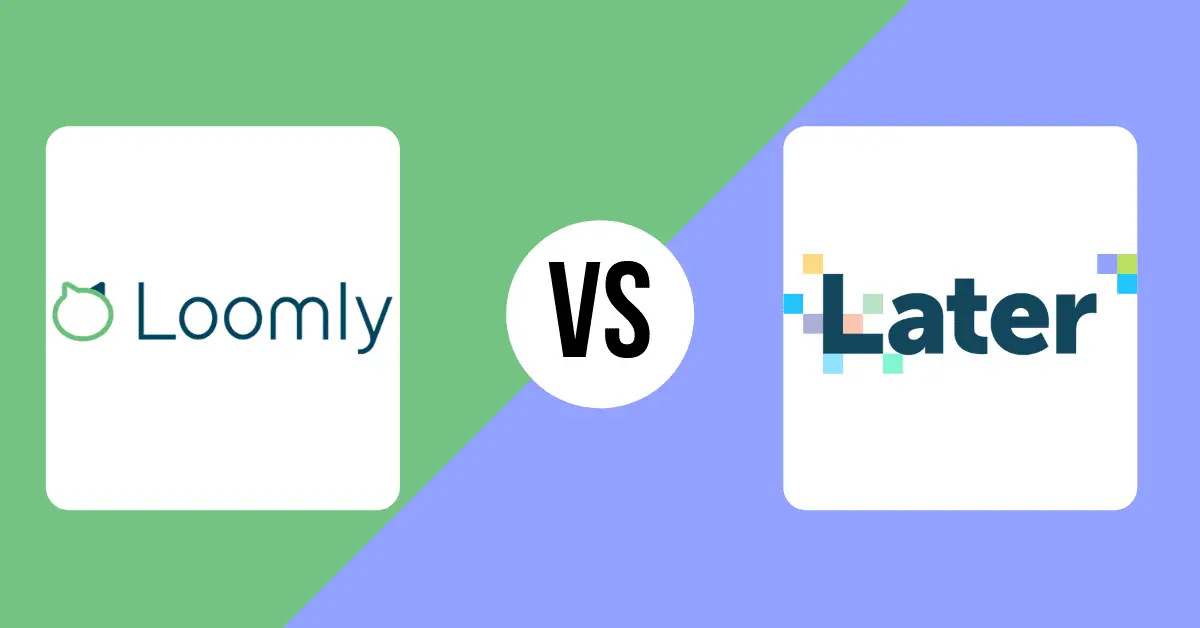 Social media marketing is a powerful way to create brand awareness and to drive traffic to your website. 
However, managing your brand identity and marketing efforts across the social media landscape can be challenging. If you're not using the right tools, your wasted efforts may be costing you valuable time and resources.
Thankfully, several helpful software solutions can help you and your team regain control of your social media marketing campaign through improved collaboration and streamlining.
In this post, we will compare Loomly vs Later, two popular social media management software options, so that you can choose which one is right for you and your team.
About Loomly and Later
Thibaud and Noemie Clement, a pair of social media marketers frustrated with how their marketing campaigns were organized, created Loomly as a simple social media calendar. Since its introduction in 2015, Loomly has become more versatile with each new release while staying true to its mission of creating a simple, well-structured social media management solution.
Later (formerly known as Latergramme) was created as an easy-to-use Instagram scheduler at a Vancouver hackathon in 2014. It has since grown into one of the leading visual marketing platforms for Instagram, Pinterest, Facebook, and Twitter.
Supported Social Networks
| | | |
| --- | --- | --- |
| | Loomly | Later |
| Facebook | ✅ | ✅ |
| Twitter | ✅ | ✅ |
| LinkedIn | ✅ | ✅ |
| Instagram | ✅ | ✅ |
| Pinterest | ✅ | ✅ |
| Snapchat | ✅ | ❌ |
| TikTok | ✅ | ✅ |
| Other Channels | Youtube | |
| | | |
Both tools support Facebook, Instagram, Twitter, Pinterest, LinkedIn, and TikTok. However, Loomly is more inclusive, supporting Google My Business, YouTube, and Snapchat.
Later was built as an Instagram scheduler, and the company touts its software as the #1 Instagram scheduler on the market. Marketers who use the tool rave about its seamless compatibility with Instagram. Loomly users often express disappointment that the software doesn't allow direct posting or story creation for Instagram.
Later tends to be more popular among those who rely on visually rich digital marketing campaigns on Instagram. Marketers who rely more on other social media channels seem to prefer Loomly. 
Most notable features 
In this section, we will break down the most notable features that both tools have to offer. We will compare and contrast each one, so you can decide which one better suits your needs. Before we look at their differences, let's start by noting what they have in common. 
Features that BOTH Loomly and Later have
Multi-Profile Scheduling and Calendar Views 
Both tools allow users to manage multiple social media accounts from one place. Both allow seamless scheduling across channels. With Loomly, there is no limit on the number of posts you can create or schedule, regardless of your pricing plan. Later limits the number of posts per social profile on all but its Advanced plan, which allows unlimited posting. 
Conveniently, both platforms display scheduled posts in a calendar view.
Loomly's calendar view allows you to label posts with titles as a reminder of what they are about, which is a nice touch. However, the inability to change the monthly calendar view to just a weekly calendar view is a minor drawback.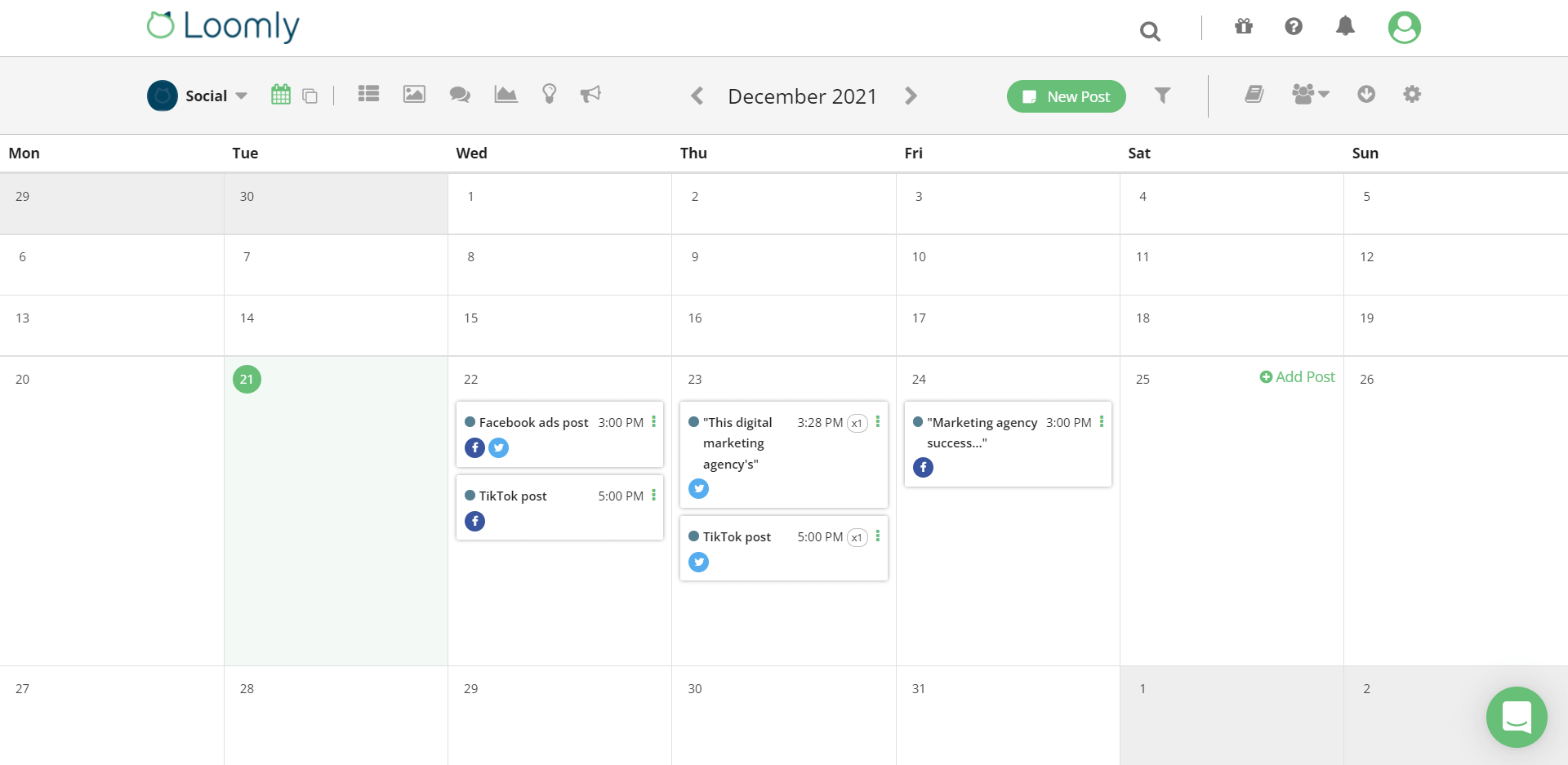 Related: 9 Best Loomly Alternatives
Later's calendar view, on the other hand, is slightly more clean and modern looking. The ability to see Instagram stories on your calendar is a nice touch for those who are focused on Instagram marketing specifically.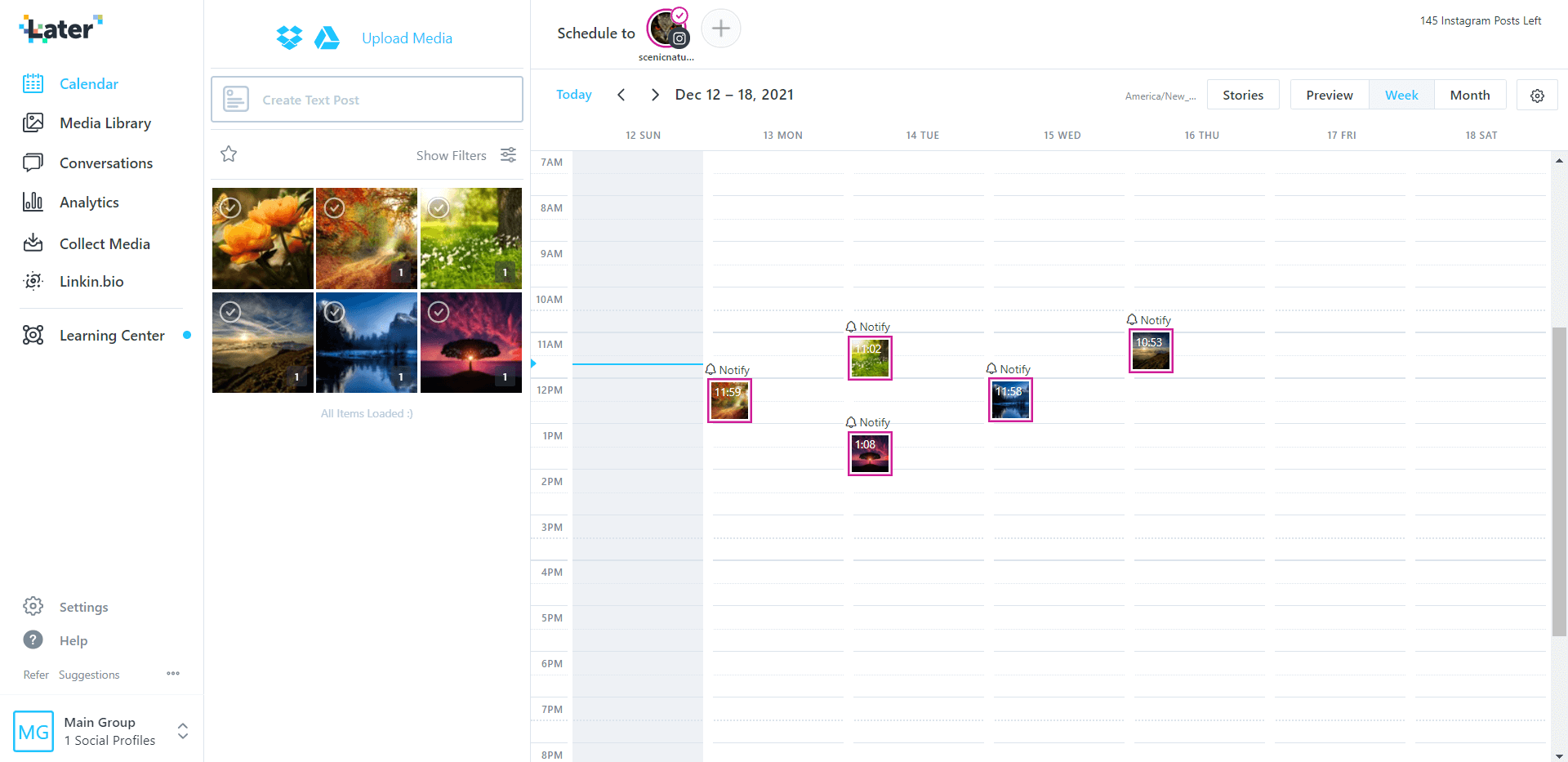 Interactions Management
Directly communicating with your audience is essential to social media engagement and overall success. While both tools both offer quality audience interaction management, Later is more limited in scope.
Loomly offers a simple community management system to all users, regardless of plan, that allows them to respond to followers on Facebook, Twitter, Instagram, and LinkedIn. Specifically, the Interactions feature lets you respond to:
Facebook comments, mentions, and direct messages on Facebook pages.

Instagram comments and tags on Business and Creator accounts, as well as direct messages on Business accounts.

Twitter comments, mentions, and messages.

LinkedIn comments for profiles and company pages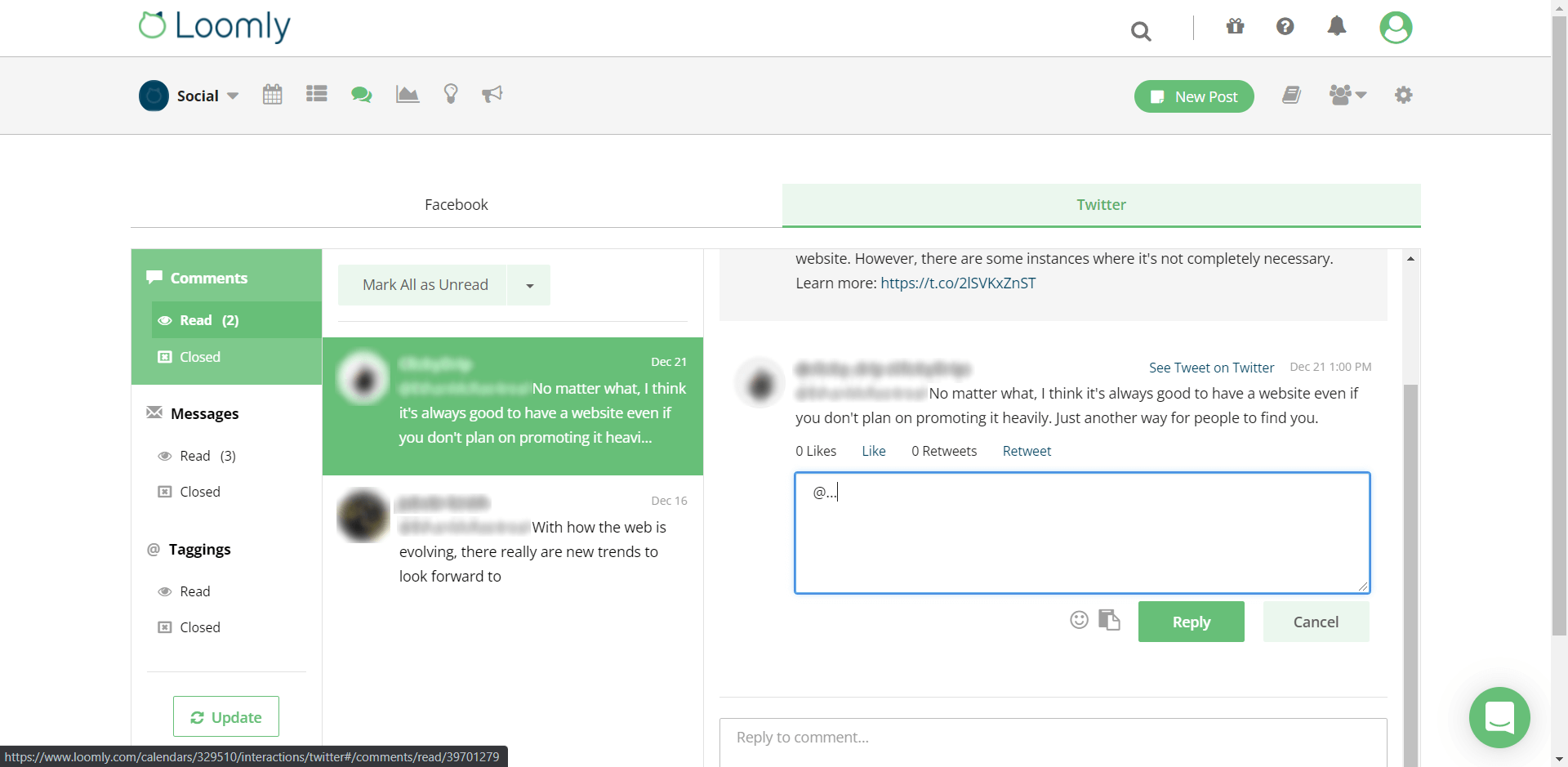 With the Later Conversations feature, you can view all of their most recent Instagram comments in a single feed. The "Conversations" feature only works with an Instagram account and is only available with Later's "Growth" and "Advanced" plans.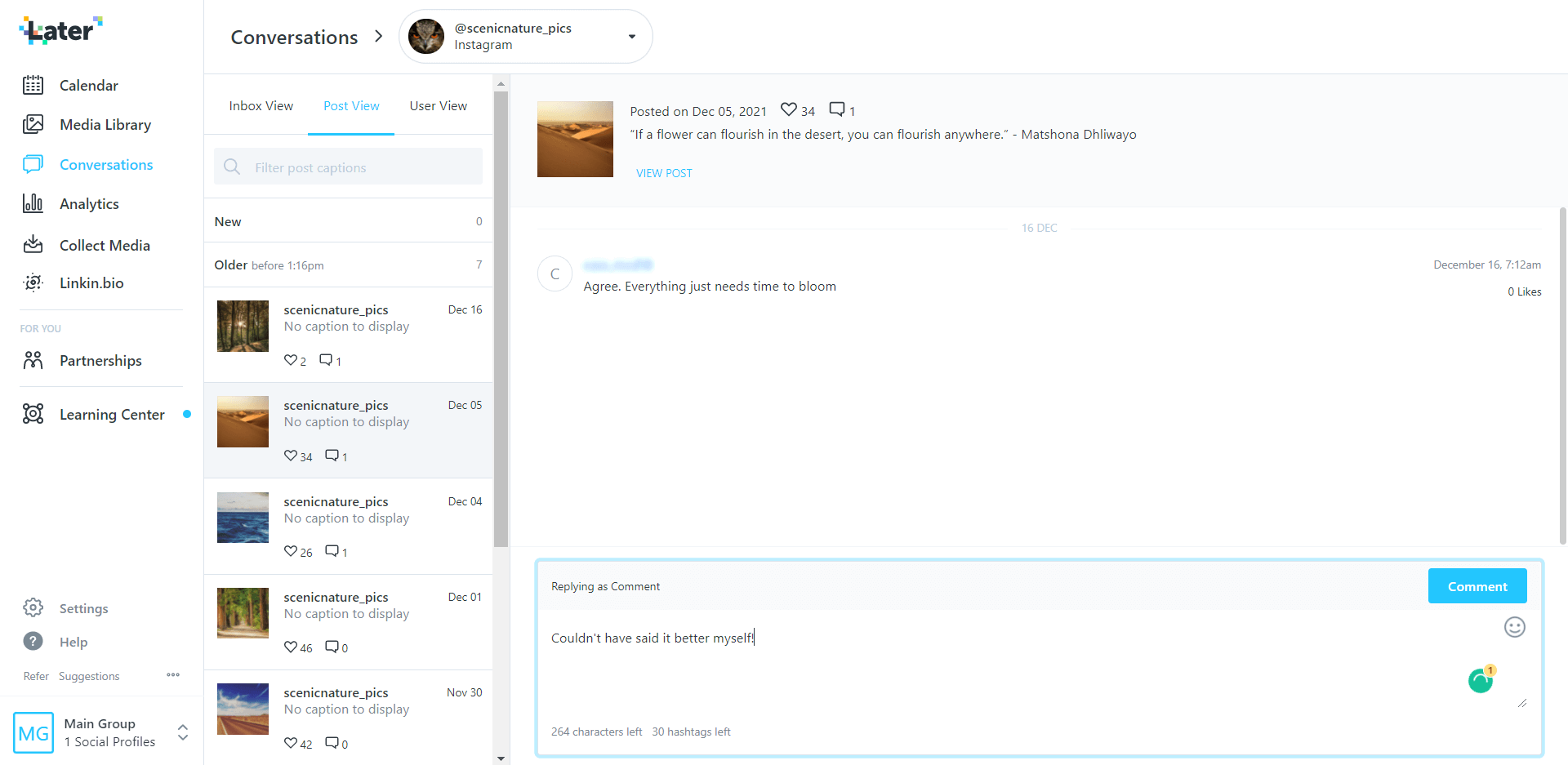 Related: 9 Best Later Alternatives
Media editing
Both platforms allow you to crop, apply filters, and add text to images you upload. This can be a particularly powerful feature if you are focused on visual social media platforms like Instagram. 
Loomly Studio conveniently allows you to apply a variety of filters to images, and unlike Later, there are even brightness and color adjustment options as well. Additionally, compared to Loomly's version of the feature, there are more text editing options as well. There are more fonts and even fun text graphics that you can select as well. 
Later's media editing is a bit more minimalistic compared to Loomly, however, it still has enough customizability options for most users. For those that really want to take their image editing to the next level, software like photoshop would be a much better solution.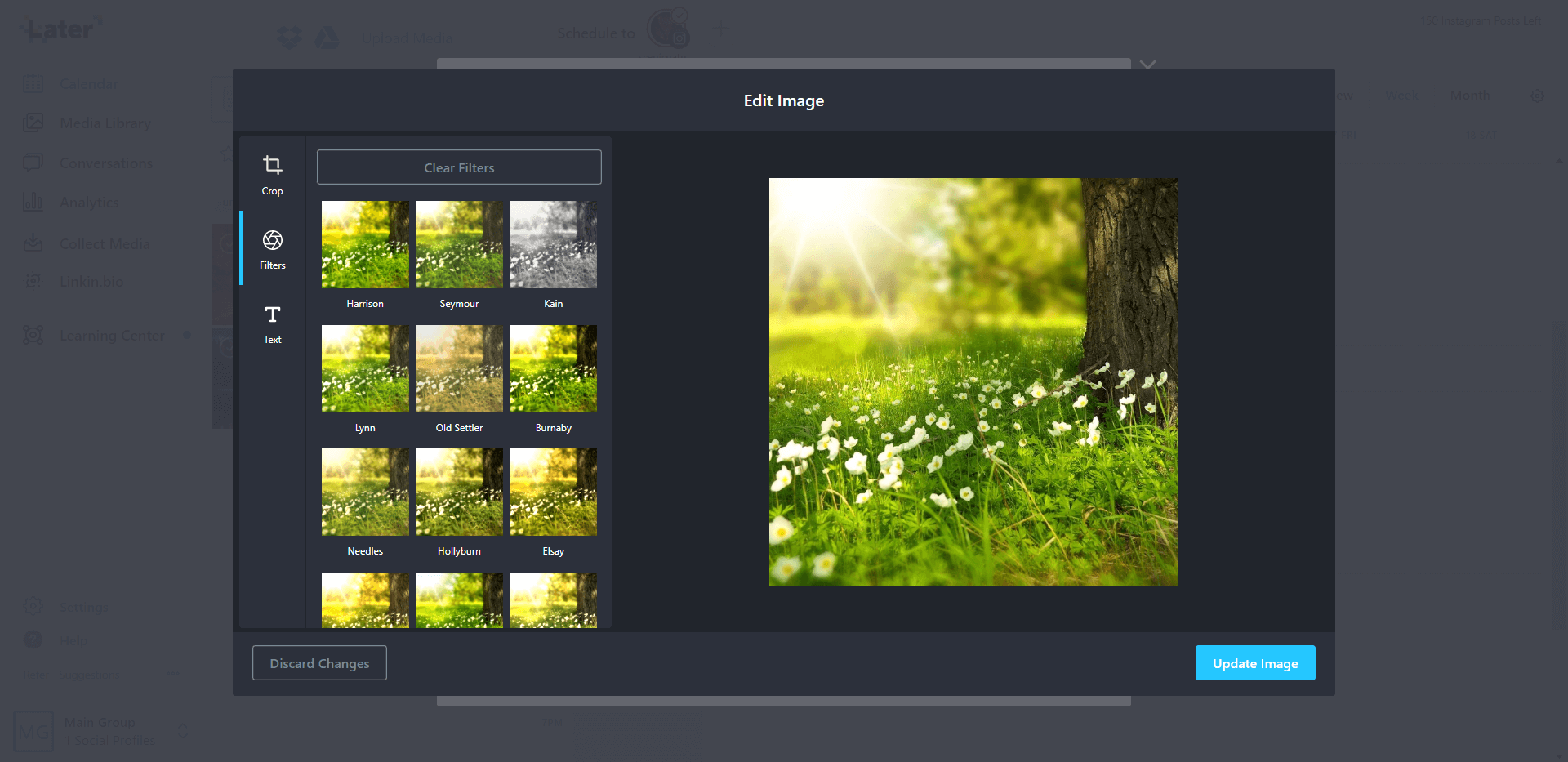 Hashtag Suggestions
Hashtags are an integral part of social media marketing. They draw attention to your posts and encourage interaction. Coming up with the right hashtags isn't always easy. Thankfully both tools offer hashtag suggestions to all users, regardless of their plan. 
Features that Loomly has (but Later doesn't)
Post Ideas
Post Ideas keeps your creative juices flowing by offering universal post ideas based on date-specific events such as celebrations and holidays, popular day of the week hashtags, Twitter Trends, and RSS Feeds. It also offers post ideas customized for your business, like product launches and sales, upcoming industry or regional events, and corporate milestones.
Optimization Tips
Post optimization tips are another standard feature inside post builder, providing insight into how best to create, format, and publish specific social media posts. Once created, Loomly analyzes your post and offers specific suggestions to improve and optimize it. Tips include optimal post date/time, copy suggestions, formatting suggestions, and more.
Custom Workflows
Custom Workflow allows you to automate team workflow by using assignment "Triggers" and conditional "Guards." With "Triggers" you can automatically assign team members to certain tasks. "Guards" allow you to choose which collaborators must take action on posts before they are published. This feature is only available with Loomly's Advanced and Premium plans.
Ads Manager
Loomly Ads Manager allows you to create, preview, approve and push Facebook and Instagram Ads to Facebook. You can focus on specific campaign objectives, launch in various formats, and target custom audiences. Ads Manager also offers ad optimization tips. 
Features that Later has (but Loomly doesn't)
Instagram Best Time to Post
Calculating the best time to post on Instagram has always been a daunting task. Later's "Best Time to Post" feature makes it easy to decide when to schedule your Instagram posts for maximum engagement. This feature is also only available with a paid plan.
Linkin.bio
Later's unique Linkin.bio feature helps you drive more traffic to your website and increase sales. It's like a mini-website built into your Instagram profile that turns posts into clickable, shoppable images. With its added "Blocks" highlighting feature, Linkin.bio makes it easy to point users toward your most important content. This feature is only available with paid plans.
Approach to Posting and Scheduling
Loomly offers step-by-step posting and scheduling that is easy for anyone at any skill level. You can schedule your post across multiple social media channels, create your content, fine-tune that content for specific channels, target specific user groups, and schedule or publish, in six easy steps. The ability to preview your post before it publishes is particularly useful.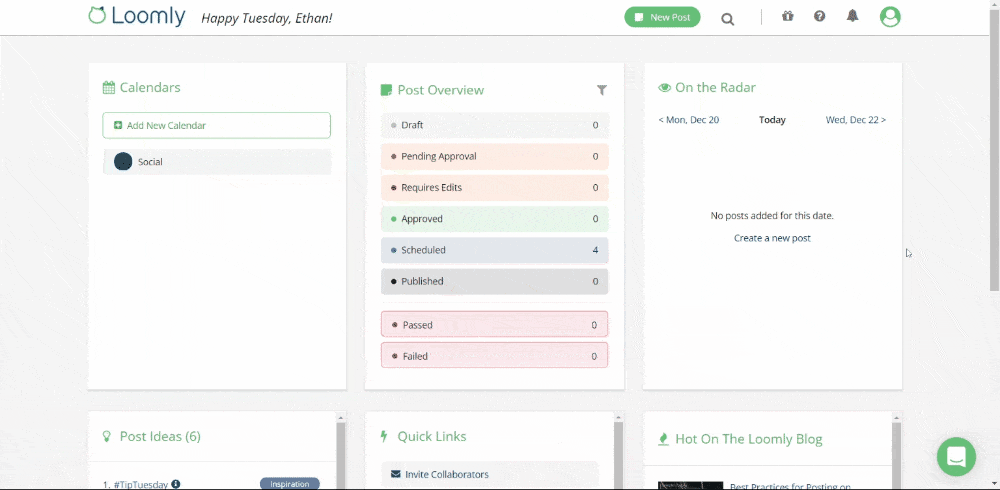 Later also makes it very easy to set up a post, and since you don't need to go through a series of steps to schedule a post like Loomly, this scheduling and posting approach is more efficient. It is also very convenient that you can schedule posts right from the visual calendar and drag and drop to rearrange posts in the calendar as you go.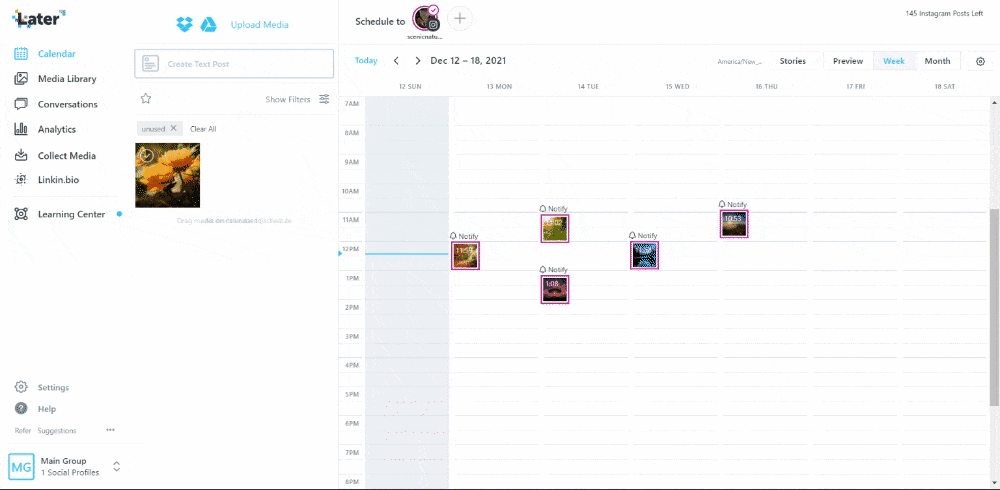 When it comes to scheduling and posting, Loomly and Later are easy to use once you get the hang of them. The Loomly step-by-step post builder integrates all of its great features in one place, allowing you to create the most successful post possible. Later's calendar view and drag-and-drop approach bring context to visually rich social media marketing campaigns.
Dashboard Experience and Ease of Use
The differences between Loomly and Later are clear when you first log in and view your dashboard. Loomly's feature-rich dashboard not only lets you see your social media marketing campaign at a glance but also offers workflow insights, post ideas, and so much more. Its card view layout allows you to zero in on the things that matter most to your campaign. The dashboard layout is helpful when managing multiple clients and social media accounts across platforms.
When you log in to Later, you are in calendar view. Here, you can plan a month of social media posts in a matter of minutes, and scheduling is as simple as dragging-and-dropping. That is useful for planning and visualizing the big picture of your social media marketing campaign but it's more limited in comparison to Loomly's feature-rich dashboard, especially if you haven't subscribed to one of Later's paid plans.
Reporting and Analytics
Loomly offers Basic Analytics to all users, providing value and engagement metrics for posts published using its software. Advanced Analytics is available with Loomly's Standard plan and higher. It offers account-level statistics like total page likes on Facebook and followers on Instagram. It also displays engagement metrics like reach, impressions, and engagement rates. You can also filter data by date and compare two periods of time to measure growth. Advanced Analytics works for all posts, not just those published through Loomly.
When it comes to Instagram marketing campaigns, Later has you covered. Its Instagram Analytics feature allows you to monitor overall performance, measure growth, and discover what's driving engagement. With the Linkin.bio feature enabled, you can even track the total number of visits and clicks to your website from Instagram. The analytics tool seamlessly integrates into your workflow so you can apply insights when scheduling your Instagram posts. Unfortunately, Later's analytics tools only support Instagram. Its Free and Starter plans include Analytics Lite, while Growth or Advanced plans are required to access all analytics features.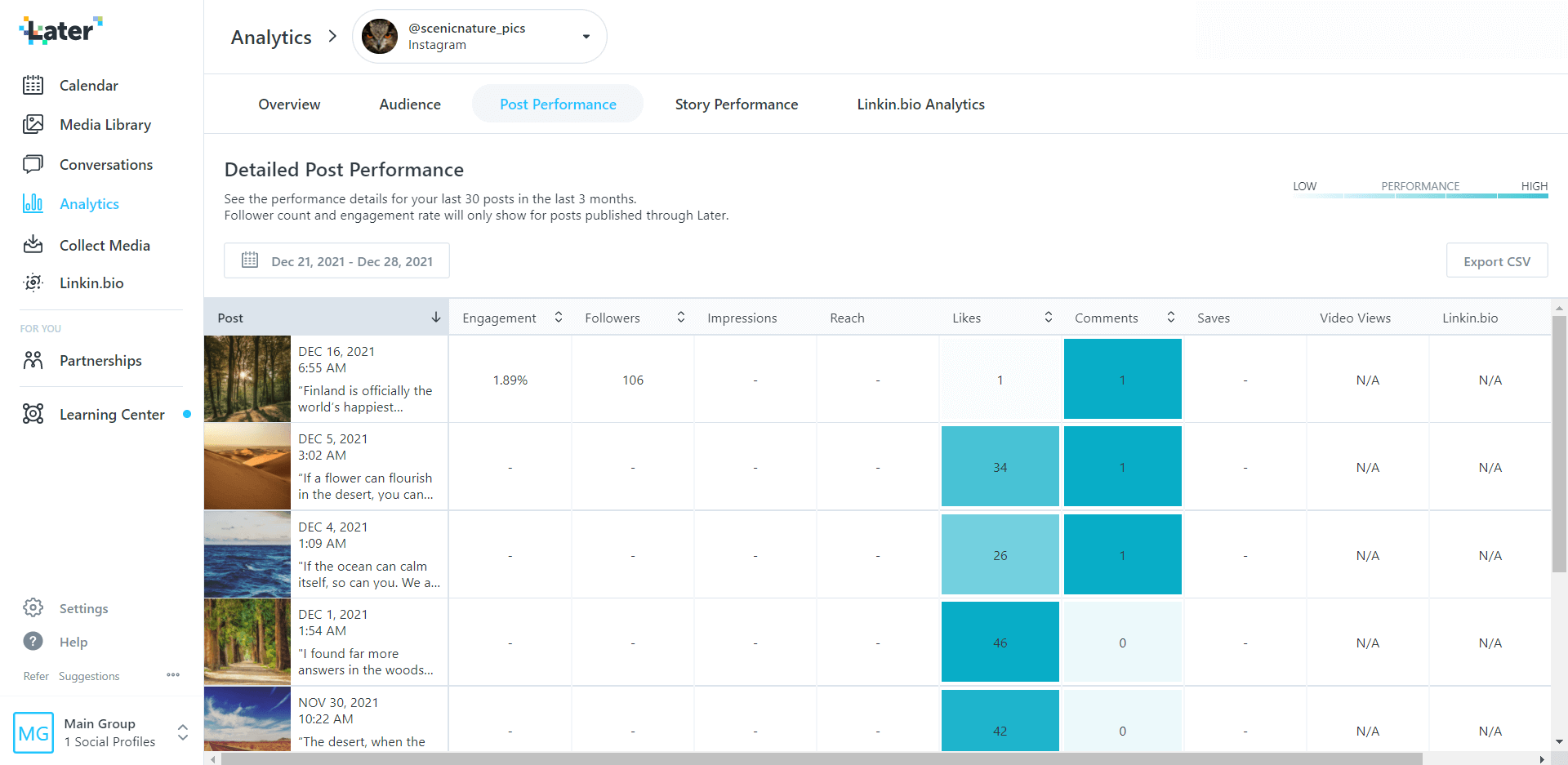 Team Management
Loomly offers a range of "Calendar Workflow" options that you can tailor to your needs based on how many collaborators are involved in your digital marketing campaign. By default, Loomly's Original Workflow calendar is pre-selected and is ideal for teams with more than 1 collaborator responsible for approvals. In this workflow calendar, posts will be managed by collaborators and won't publish until all collaborators have signed off. Loomly offers additional workflow calendars for teams with a single collaborator charged with approvals as well as a calendar without any approval restrictions.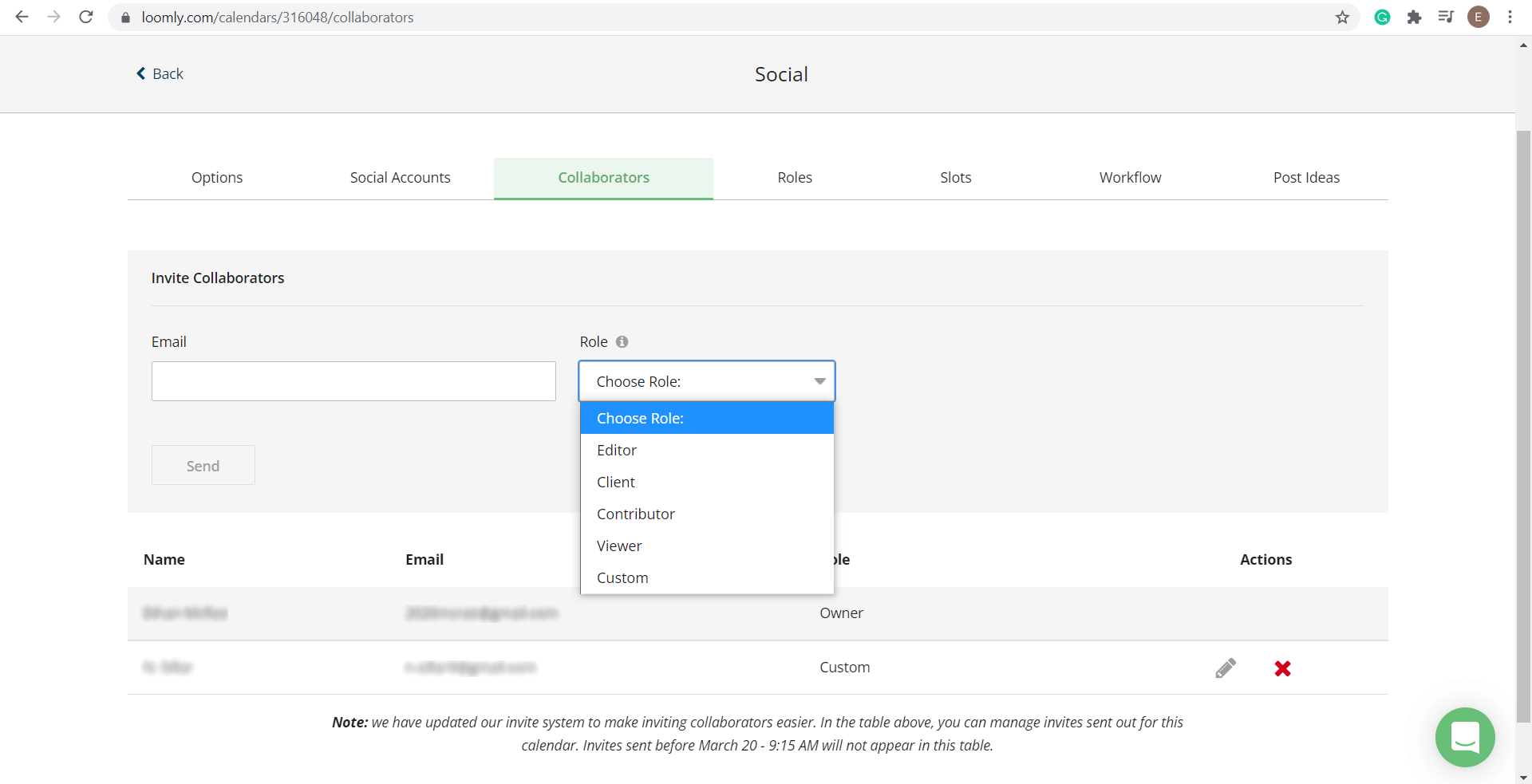 When it comes to team management, collaboration, and workflow environment, Later leaves much to be desired, especially when compared to Loomly. Sure, Later allows you to share your calendars with clients or team members, whether they use Later or not, and the recipient can view all your scheduled posts in a web browser on their phone or desktop. This feature is great if you need to get more eyes on your social media marketing schedule for approval, but it hardly streamlines workflows in the way that Loomly does.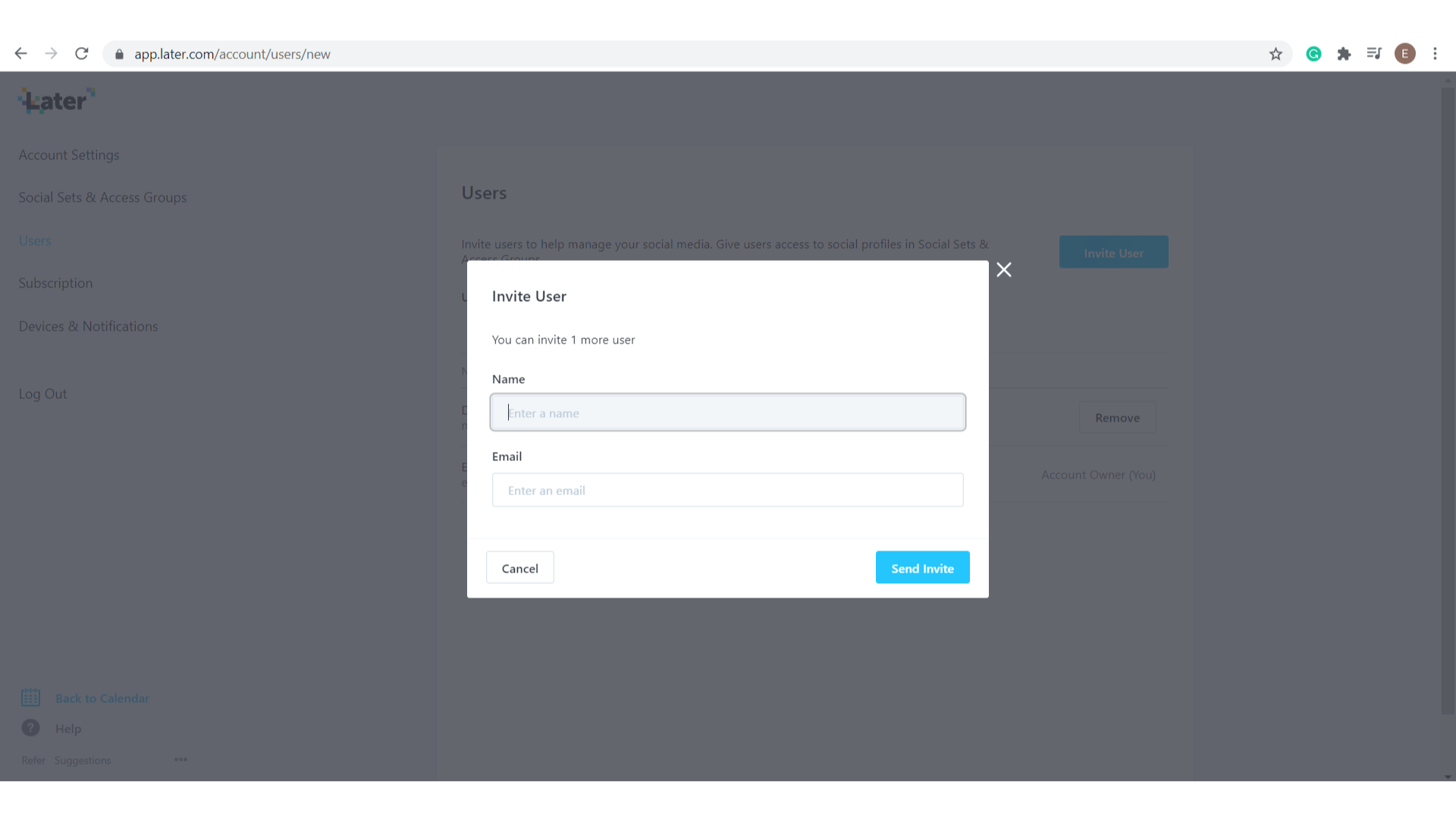 Pricing
Loomly offers a free 15-day trial for new users and 5 different pricing packages.  
Base ($26/mo. or $312/year): Allows up to 2 users on one account, up to 10 social accounts, and an ad budget cap of $500. Core features, unlimited content, and hashtag suggestions are included.

Standard ($59/mo. or $708/year): Allows up to 6 users on one account, up to 20 social accounts, and an ad budget cap of $1,000. Additional features include advanced analytics and content export.

Advanced ($129/mo. or $1,548/year): Allows up to 14 users on one account, up to 35 social accounts, and an ad budget cap of $2,000. Additional features include IM integrations, custom roles, custom workflow.

Premium ($269/mo. or $3228/year): Allows up to 30 users on one account, up to 50 social accounts, and an ad budget cap of $5,000. Additional features include custom branding.

Enterprise Package (request quote): Allows up to 31+ users on one account, up to 51+ social accounts, and an ad budget cap of $10,000.
Later offers a free 14-day trial on all of its packages, as well as a base package that is free forever.
Free ($0): Allows 1 social set (1 social media profile for each supported channel), up to 10 posts per profile per month, 1 user.

Basics ($8/mo.): Allows 1 social set (1 social media profile for each supported channel), up to 30 posts per profile per month, 1 user.

Starter ($15/mo.): Allows 1 social set (1 social media profile for each supported channel), up to 60 posts per profile per month, 1 user. Available add-ons include additional social sets ($15/mo. each) and additional users ($5/mo. each)

Growth ($25/mo.): Allows 1 social set (1 social media profile for each supported channel), up to 150 posts per profile per month, 3 users. Available add-ons include additional social sets ($25/mo. each) and additional users ($5/mo. each)

Advanced ($40/mo.): Allows 1 social set (1 social media profile for each supported channel), up to unlimited posts, 6 users. Available add-ons include additional social sets ($40/mo. each) and additional users ($5/mo. each)
Integrations
Both Loomly and Later allow you to integrate its social media marketing software with more than 4,000 popular apps using Zapier workflow management software. Zapier is free for up to 100 tasks per month before a subscription is required.  
Customer Support
Loomly is simple to use. But, if you lose your way, it offers a thorough tutorial and FAQ section. If you cannot find an answer to your question, you can contact support via chat and email. These resources are easy to find. Users report that the support staff is helpful, friendly, and quick to respond, regardless of your pricing package.
Finding the right path to getting the answer you need is not always easy with Later. Later wants you to exhaust every avenue before reaching out for support, including a push to join the Later Community. Unfortunately, it requires separate login credentials. While that is not the biggest deal, it seems like another useless hoop, especially when compared to Loomly.  Loomly actively encourages users to reach out,  even to say, "Hello!" 
When to Choose Loomly vs Later
When it comes to getting the most for your money, Loomly wins, hands-down. Although Loomly does not offer a free subscription option, its core features, available with all plans, are far more valuable than anything Later's free subscription can offer. Loomly is also easier to use and features more options for workflow management for larger teams.
Later is your best bet if your Instagram presence dominates your social media marketing campaign. After all, the software was built specifically for Instagram and remains true to its mission to be the best Instagram marketing software available. Loomly can't measure up to the many Instagram-specific features and options offered by Later.
However, when choosing between Loomly vs Later, both options are excellent, and if you are still on the fence, it might make sense to try them both out. 
You can see how other social media management tools stack up to Loomly in the following comparisons:
You can see how other social media management tools stack up to Later in the following comparisons: