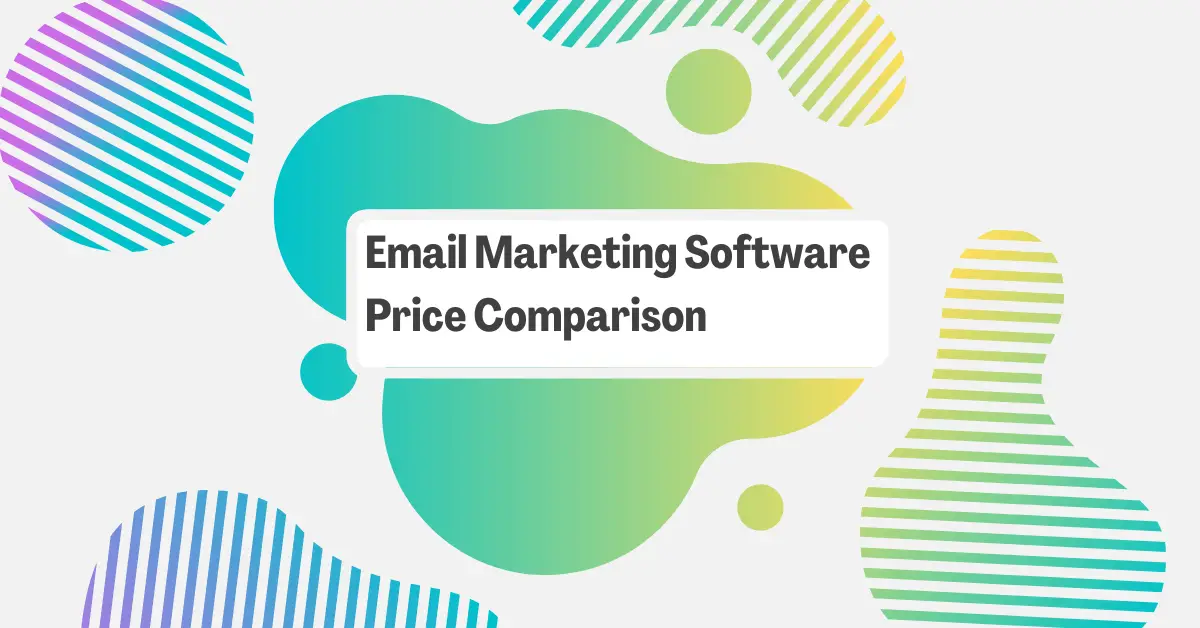 In addition to features and capabilities, pricing is undeniably one of the most important things to consider when evaluating email marketing software. In fact, for businesses on a tight budget, pricing my be the MOST important aspect to consider.
However, with dozens of email marketing solutions to choose from, it can be extremely time consuming to review the cost of each.
Fortunately, this guide makes it easier to critical research on the most popular email marketing tools.
This email marketing software price comparison guide covers the cost of every major EMS so that you can make an informed buying decision.
But before we delve into our analysis of pricing for different email software, its important to understand how email marketing software is priced in the first place.
The 2 types of email marketing software pricing structures
The way that email marketing software is priced varies from platform to platform and its important to understand the difference between pricing models. There are two main pricing models that email marketing solutions adhere to.
1. Pricing based on number of subscribers
Most email marketing solutions determine the price you pay for their service based on the number of email subscribers you have.
Take Mailchimp for example; one of the most recognizable email marketing solutions. Lets say that you want to start using Mailchimp's Essentials plan and you have 2500 email subscribers that have signed up for your companies newsletter through your website. At 2,500 subscribers you would pay $30.99 per month with Mailchimp's Essentials plan.

As your email list grows to be larger than 2500 subscribers you will need to upgrade to the next pricing tier. However, the more email subscribers you collect, the more revenue you will be able to theoretically generate in order justify the extra cost of the email marketing service.
Many email marketing platforms including mailchimp, have multiple pricing plans that you can choose. Typically, these email marketing solutions will offer a "starter" type plan that will offer basic email marketing features for a relatively affordable price. The next step up may offer more advanced features in addition to the basic starter plan's features, but will cost comparably more for the same number of subscribers.
Continuing with our Mailchimp example, Mailchimp offers 4 pricing plans: Free, Essentials, Standard, and Premium.
Mailchimp's free plan costs nothing and offers a few limited email marketing features.
The Essentials (starting at $9.99/month) offers everything included in the free plan as well as a few additional features such as the entire library of email templates, A/B testing, and 24/7 support.
The Standard plan (starting at $14.99/month) offers everything in the Essentials plan as well as a few additional features such as behavioral targeting, custom email templates and more.
The Premium plan is relatively more expensive than the Standard plan and offers more features.
You get the picture.
2. Pricing based on number of emails sent per month
While the vast majority of email marketing solutions determine pricing based on the number of subscribers that you have, there are a few email marketing solutions that determine pricing based on the number of emails sent per month.
Take Sendinblue for example; a popular email marketing solutions that is one of the few email marketing platforms that subscribes to "pricing based on emails sent" pricing.
With Sendinblue's Premium plan, you would pay $65 per month to send up to 20,000 emails monthly.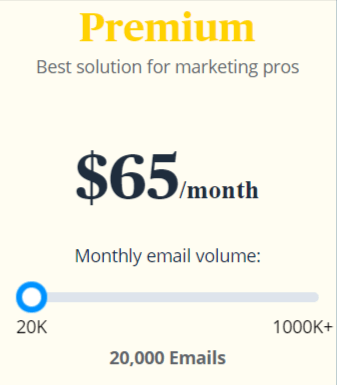 In light of this, by subscribing to this plan with about 5,000 subscribers you could send an email campaign to all your subscribers every week.
Additionally, some email marketing solutions offer pay-as you-go pricing plans, which is another "email-based" pricing model. These pricing plans allow you to buy email credits that you can use to send emails whenever you want. One credit typically equates to one email sent. That being said, if you purchased 1,000 credits you could send 1,000 emails total whenever you wanted. You could use those email credits all at once for one big campaign or you could send smaller campaigns a few dozen email subscribers at a time over the course of a few months.
Typically these plans are used by companies that only send out email campaigns once in a while such as seasonal or quarterly newsletters. By subscribing to this type of pricing model, companies don't need to pay monthly fees for the months where they might not send any emails at all.
Mailchimp offers this type of pricing as well as other solutions that will be discussed later on.
Most affordable email marketing: A comparison of 7 software pricing
If affordability is important to you, you can find the lowest cost email marketing platforms here.
Before we get into the data on the most affordable email marketing solutions, its important to note that the email marketing platform with the lowest cost at 500 subscribers might not necessarily have the lowest cost at 10,000 subscribers. That being said, its difficult to pin-point exactly what email marketing solution is most affordable because the affordably "rank" of these solutions fluctuates as you account for more subscribers.
However, given that roughly 99% of all businesses are considered small businesses 1(LINK  ) and that 43% of small businesses have 500 or fewer subscribers2, it should be fair to say that the vast majority of businesses in general have less than 5,000 email subscribers.
In light of this, in order to determine which email marketing platforms are most affordable for the majority of businesses, we selected 7 of the most affordable email marketing solutions based on the cost of their email marketing pricing from the range of 500 to 5000 subscribers.*
The following 7 solutions made the cut:
   

Moosend (most affordable)

   

Mailerlite

   

Icontact

   

Sendpulse

   

SendX

   

Pabbly

   

GetResponse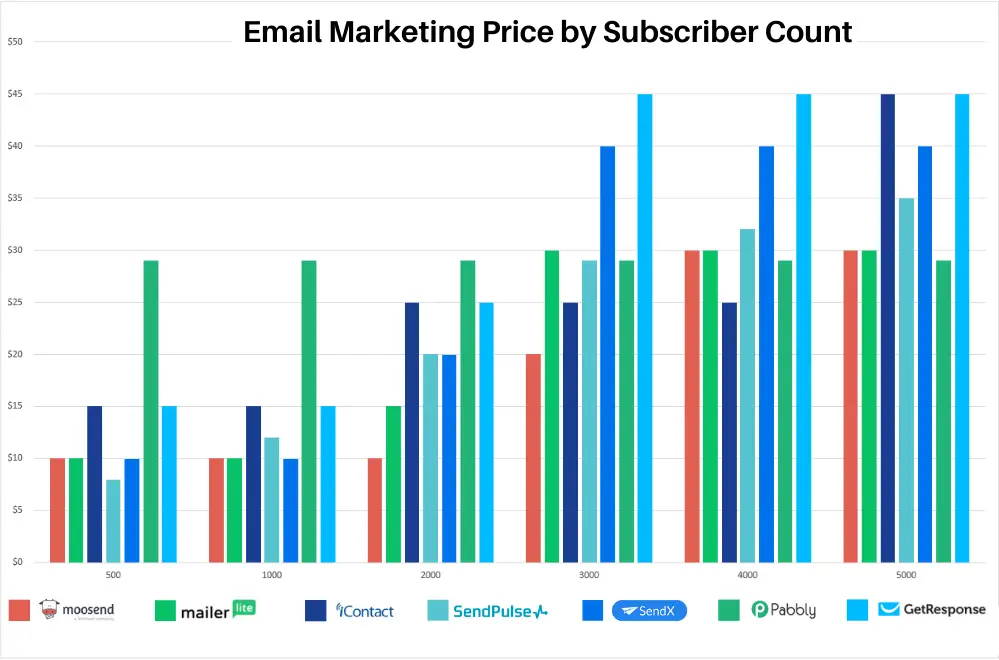 Moosend
While Moosend isn't always the lowest cost email marketing tool at every given number of subscribers, this platform overall comes out to be the most cost effective in the 500 to 5000 subscriber range.
Notable feature: Very clean, modern and intuitive user interface makes it great for beginners.
Mailerlite
Mailerlite is an extremely close second. This software is just ever so slightly more expensive than Moosend.
Notable feature: A generously feature-rich free version that allows you to send up to 12,000 emails a month before upgrading.
Icontact
Coming at number three, Icontact is very middle of pack at any given number of subscribers with the exception of the 4,000 subscriber count. This platform happens to outperform its competition at this one number of subscribers.
Notable feature: RFM (Recency Frequency Monetary) method allows you to segment subscribers based on buying behavior and track the profitability of segments
Sendpulse
Sendpulse is also middle of the pack but happens to be the most affordable choice at the lowest subscriber count, making it the most affordable solution for small businesses that don't have many subscribers or none at all.
SendX
SendX happens to be one of the more affordable options at lower subscriber counts but gets relatively more expensive than its competitors at higher subscriber counts.
Notable feature: Advanced analytics reports such as the heatmap report to see where on your email your subscribers are clicking visually.
Pabbly
Pabbly costs $29 at every subscriber count from 500 to 5000 subscribers. Unlike any of its competitors its pricing doesn't fluctuate at all.
Notable feature: Built in SMTP server makes for an impressive 98% email delivery according to pabbly
GetResponse
GetResponse is relatively affordable at 300-2000 subscribers but the pricing jumps up a bit at the 3,000 subscriber level.   
Great value email marketing pricing: A comparison of another 7 software
By labeling these platforms as "great value" this isn't to imply that the previous 7 most affordable tools don't have great value as well. The following platforms simply tend to have strong features and capabilities to justify their comparably higher cost. For those who want a powerful and dependable email marketing solution, any of the following are great choices.
The following 7 solutions include:
Campaign monitor

Mailchimp

Aweber

Omnisend

Convertkit

Constant Contact

ActiveCampaign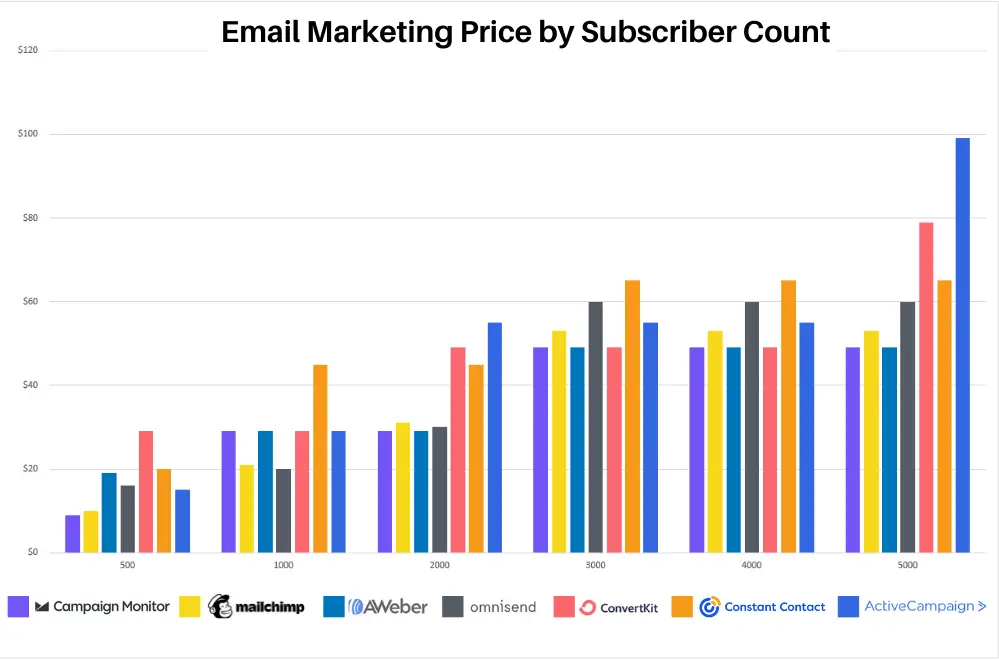 Campaign monitor
Of these 7 solutions, on average campaign monitor comes out on top as lowest cost of the bunch in this subscriber count range. Starting at just $9 dollars a month for 500 subscriber, campaign monitor is a very affordable solution for any business that doesn't have too many subscribers.
Notable feature: Powerful analytics gives you deep insights into how your audience is engaging with your emails.
Mailchimp
Alternatively, Mailchimp is likely the most recognizable email marketing solution. This software giant has been dominating the email marketing game for two decades now.
Notable feature: A slew of features that compliment the core email marketing platform such as landing pages, sign up forms, and social media management. Mailchimp is also an email marketing platform with a CRM.
Aweber
Similar to Mailchimp, Aweber is one of the oldest email marketing tools. Its had over two decades to refine its email marketing platform.
Notable feature: The platform directly integrates with a massive variety of other marketing tools, allowing it to fit right in with your marketing stack.
Omnisend
Omnisend offers great value for its cost. Given its features, this platform is a favorite among ecommerce companies in particular.
Notable feature: Powerful SMS and marketing automation for streamlining marketing at scale.
Convertkit
Convertkit is an intuitive email marketing platform widely used by bloggers, artists, musicians and other creators.
Notable feature: Beautifully designed email templates and the drag and drop email editor makes for excellent email template customizability
Constant Contact
Similar to Mailchimp, Constant Contact has expanded its platform beyond just email marketing and offers complementary features such as ad management and a website builder.
Notable feature: Extremely easy to use for businesses just getting started with email marketing
Active Campaign
Active campaign is the most expensive option compared to the other options, however the robustness of the platform certainly justifies its price
Notable feature: Extremely powerful marketing automation for personalization at scale
Pay-as-you-go email marketing pricing options 
While most business interested in investing in email marketing software plan on regularly sending email campaigns, others that don't need to send email campaigns as frequently may be interested in pay-as-you-go email plans. Ultimately for infrequent senders, these plans can be extremely cost-effective.
However, not all email marketing platforms offer this option. In fact only a handful of email marketing platforms do. The following are 7 of the few recognizable email marketing solutions with pay-as-you-go pricing. With the exception of vertical response, these platforms have all been mentioned previously.
   

Moosend

   

Sendpulse

   

Sendinblue

   

Campaign monitor

   

Vertical response

   

SendX

   

Mailchimp
The following chart displays the cost of each of the solutions for a 10,000 emails credit package.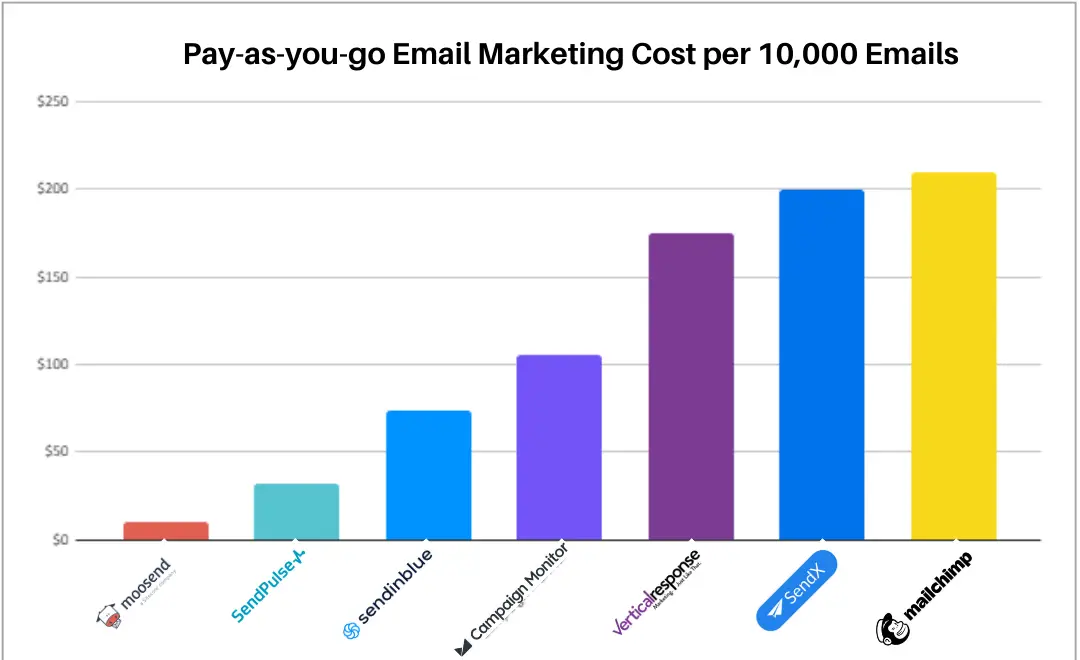 Considering that Moosend has the most affordable monthly billing email marketing plan (as discussed previously), its not too surprising that the pay-as-you-go plan is the most affordable as well.
What IS surprising, however, is how grossly more cost effective moosends pay-as-you-go plan is compared to its competition. The next closest competitor is sendpulse which is roughly three times more expensive. The next closest competitor after that is sendinblue which is roughly seven times more expensive.
Important considerations when evaluating email marketing pricing
In addition to the raw email marketing pricing, there are other factors to take into account that can influence how much you pay for your email marketing service.
Free plan or free trials
Typically email marketing software offers free plans (freemiums) or free trials.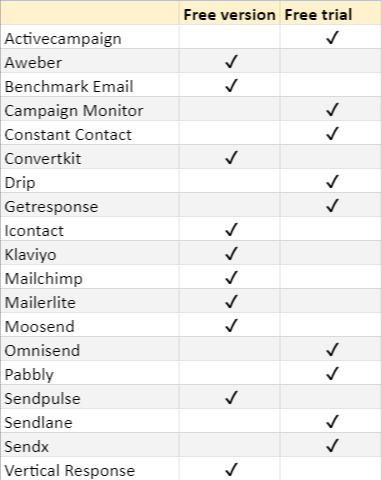 Free versions of typically allow you to use email marketing platforms at not cost, but with various limitations. Often you are limited in terms of what features you have access to and you are typically limited in how many contacts you can have or how many email subscribers you can market to every month.
On the other hand, free trials may grant you full access to the email marketing platform without any limitations. With these free trials you can experience the platform in its entirety, but of course… only for a limited time; typically only for 14 days or 30 days.
Regardless, both free trials and free versions are intended to help you determine if the email marketing tool in question is worth investing in. By subscribing to a few email marketing tools' free version/free trials you can determine which one meets your needs at no risk.
For some companies, free email marketing plans are perfect for their needs. These companies typically
     

have relatively small email lists

     

practice a simple email marketing approach

     

don't need any fancy bells and whistles features
However for companies who want to take their email marketing to the next level, upgrading to the paid versions of tools is necessary.
Annual discounts
To incentivize customers to pay for yearly contracts, many email marketing solutions offer discounts on annual billing.
The majority of businesses pay for month to month billing. However, if you plan on using an email marketing software for the long term, the annual discount can result in huge savings for your company.
To know if a software's annual billing is worth paying for, it may be best to use the platform for a month or two to see if its right for you first.  
You can see the annual discounts (in terms of percentage of monthly savings) for 20 of the most popular email marketing tools below. Most have been discussed previously.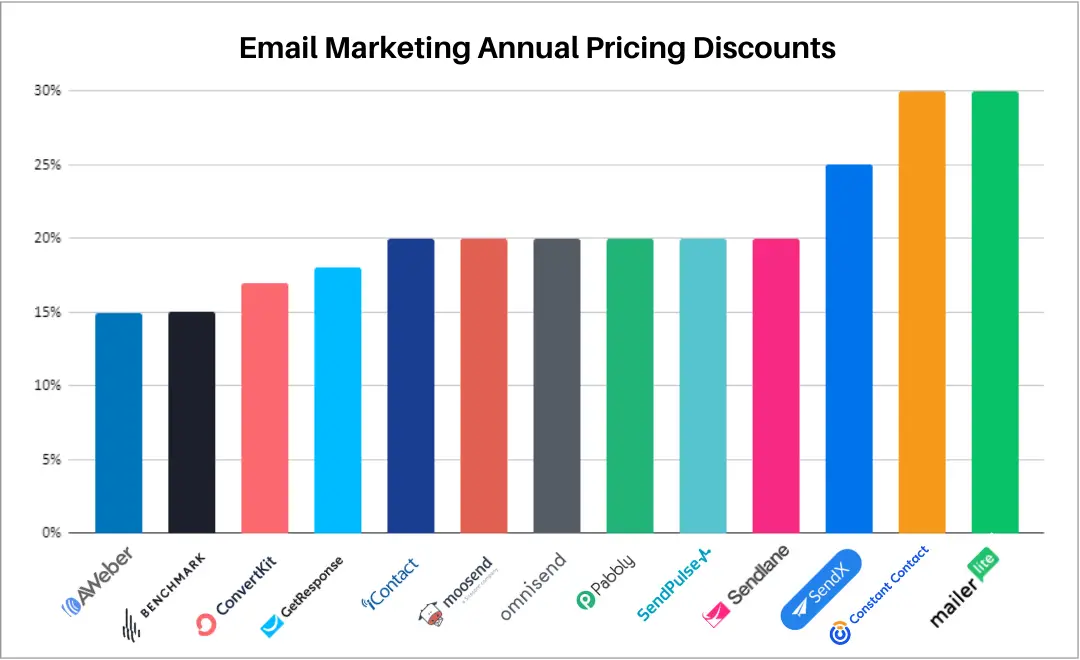 Surprisingly, for how popular Mailchimp it is one of the few email marketing platforms that doesn't have an annual discount.
On the other end of the spectrum, Mailerlite and Constant Contact are two platforms that stand out from the crowd with generous 30% annual discounts. Most other tools hover at around 20%.
You certainly shouldn't choose a platform solely based on the how good the annual discount is. However, its something that's certainly worth keeping in mind if you plan on doing email marketing for the long run.
Other discounts
In addition to annual discounts, email marketing tools often give other discounts.
For instance, its common for email marketing tools to offer nonprofit discounts. The best email marketing tools for nonprofits offer 20-30% discounts, which can be extremely helpful for these organizations that may have tight budgets.
Other discounts that some platforms offer include:
     

Security discounts: Discount when you set up two-factor authentication for the account owners and admins to encourage good account security practices

     

Student discounts: Student organizations at colleges may be eligible for discounts

     

Promotions: Promotions on certain days of the year like holidays or black Friday can make email marketing extremely affordable for those willing to wait
A word on "All-in-one" marketing solutions pricing
There are various platforms that market themselves as comprehensive, all-in-one marketing solutions that have email marketing capabilities as well as a slew of other marketing features. A few examples of these platforms include
     

HubSpot

     

Keap (formerly Infusionsoft)

     

Ontraport

     

Kartra

     

Wishpond

     

Kajabi

     

Engagebay
Not only do these platforms offer email marketing, but many of them also offer other tools such as landing pages, live chat, forms, chat bots, social media management, paid ad management, SEO tools, sales funnel tools, CRM, analytics and more.
Now to be fair, many email marketing solutions such as Constant Contact offer many of these features as well just like all-in-one solutions. However, the distinction is that tools like Constant Contact consider themselves software with email marketing functionality at its core, but happen to have a few additional complementary features. Typically these additional features aren't nearly as powerful as the core email marketing feature.
All-in-one solutions such as HubSpot market themselves tools that can do it all. These platforms claim that they have email marketing capabilities, but that their additional features are just as significant.

This is the most important distinction to consider between tools like Constant Contact vs HubSpot.
As far as pricing goes for these all-in-one tools, it can be difficult to compare the pricing between these platforms considering you have to take into account many variables when assessing these tools. Instead of comparing just email marketing, you have to take into account the value of numerous other features.
That being said, although these tools have email marketing capabilities, they truly are their own class of software. It wouldn't make sense to compare the one dimensional email marketing tools like campaign monitor pricing to that of all-in-one email marketing tools pricing. Doing so would be a lot like comparing apples to… not oranges… but to an entire fruit basket.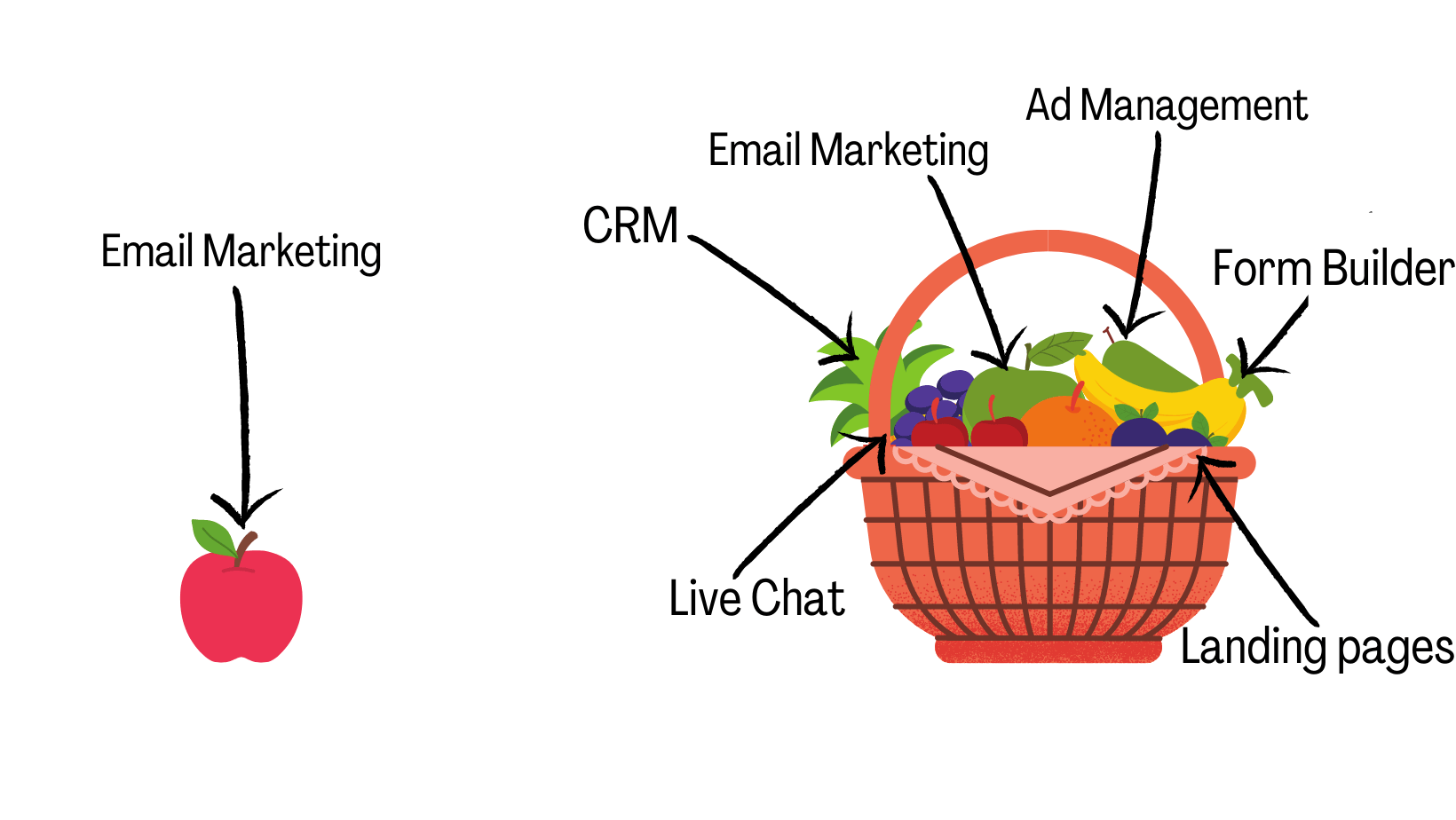 The bottom line is that it probably isn't sensible to compare all-in-one solutions to strictly email marketing solutions. However, if you are in need to platforms that can do it all, these all-in-one solutions are certainly worth looking into.
Related: Email Marketing vs Digital Marketing: A Plain English Explanation
Final words: what to consider ASIDE from pricing
While pricing is extremely important to consider, its just as important to consider the features of any given software, and how they will help you accomplish your business goals. Signing up for the cheapest email marketing tool available might save you a ton of money… but if it simply cant do what's necessary to grow your business, then perhaps its not saving you a ton of money but costing your business thousands of dollars a year instead. The features and capabilities of any given email marketing tool is probably more important to consider than pricing.
That being said, before even looking at any solutions, it can be helpful to jot down a handful of features that your business needs or values. For instance, lets say that you need an email marketing tool with strong marketing automation and perhaps a landing page builder to build your email list. With that in mind, look for the tools that excel in the area of marketing automation, as well as email marketing tools with landing page builders.
Evaluating software based on specific criteria this way can make sifting through the dozens of email marketing options much more manageable.
---
Methods
For the software discussed in this email marketing software price comparison guide, the most affordable tier plans were discussed. For example, if an email marketing tool has a starter tier, a professional tier, and an enterprise tier plan, the starter tier would be the only plan taken into consideration. However, if when analyzing pricing for relatively high subscriber counts for any given tool, if the tool requires that you upgrade to the next tier plan for that number of subscribers, that next tier's pricing would be taken into account.
*For most affordable email marketing solutions discussion, pricing affordability "rank" was determined by adding up 10 pricing points for at each tool's subscriber count from 500-5000 subscribers in 500 subscriber intervals for 20 popular email marketing tools. The total values for these tools were compared to determine which software is "most affordable".
The full list of email marketing software analyzed include:
ActiveCampaign, Aweber, Benchmark Email, Campaign Monitor, Constant Contact, Convertkit, Drip, GetResponse, Icontact, Klaviyo, Mailchimp, MailerLite, Moosend, Omnisend, Pabbly, SendinBlue, SendPulse, SendLane, SendX, and Vertical Response. 
https://smallbiztrends.com/small-business-statistics#:~:text=What%20percent%20of%20businesses%20are,businesses%20employ%2059.9%20million%20people

.