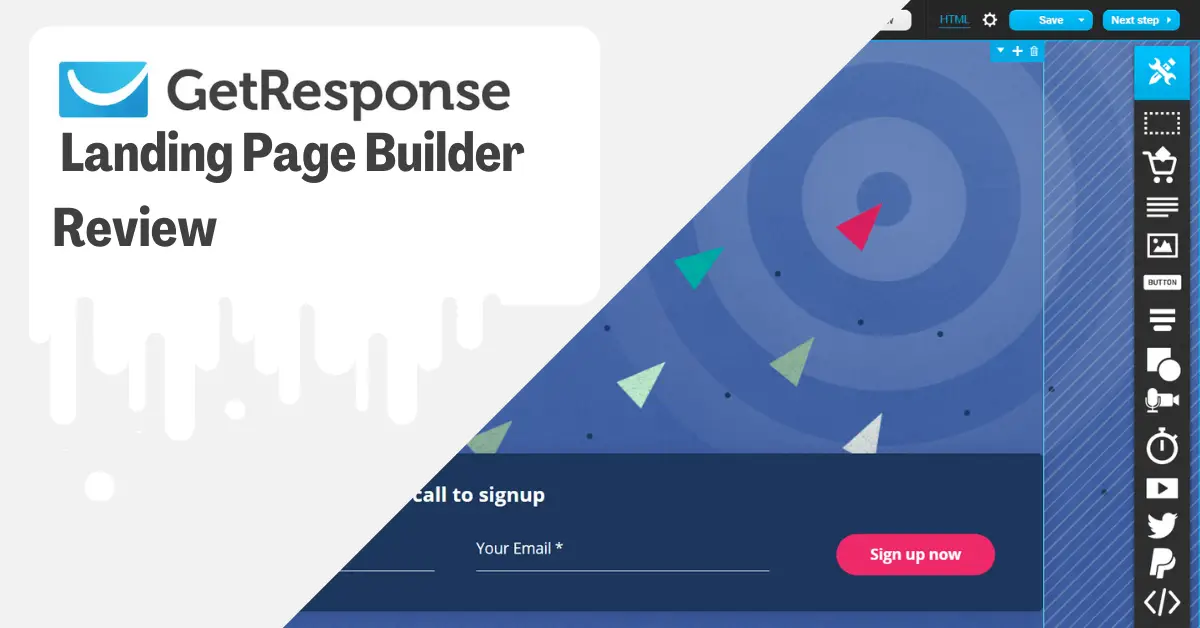 Given that capturing email subscribers and sending emails go hand in hand, it makes sense that most reputable email marketing services have landing page builder features. If you are focused on building your subscriber list, this feature should be one of the most important aspects to consider when evaluating email marketing platforms.
GetResponse happens to have a powerful landing page builder. While other email marketing solutions have relatively basic and limited landing page builders, GetResponse sets itself apart in this respect.
This GetResponse landing page builder review covers everything you could possibly want to know about one of GetResponse's strongest features.
GetResponse most notable landing page features
GetResponse has a few features that truly set its landing page builder apart from most other email marketing tools with landing page builders.
Fortunately, you can get the same advanced landing page features with all of GetResponse's pricing plans.
Flexible drag-and-drop editor
While many other email marketing tools have drag-and-drop landing page editors, few of them are as flexible as GetResponse's drag-and-drop editor. Unlike other tools, GetResponse doesn't give you designated placeholders for certain content elements like headers or text. Instead, you are free to drag and drop a variety of content blocks wherever you see fit on your landing page. Additionally, you can resize, and even overlay content blocks on top of each other. The flexibility of the landing page builder is similar to that of professional graphic design tools like Canva.
Popups
GetResponse allows you to add popups to your landing pages to drive more conversions. You can choose from a generous 6 different types of popup forms including:
Signup forms: Basic pop up forms
Exit popups: Forms are triggered when users mouse over to close out of landing page
Download form: Pop up form for downloading a lead magnet like an ebook 
Fixed bar: A unobtrusive bar pops up to capture leads
Image form: Popup form with an image
Scroll form: Popup form that appears in the corner of your landing page and stays in place as users scroll down your landing page.
You may edit your popup in its very own drag-and-drop editor. This editor is practically the same as the drag-and-drop landing page builder. You may adjust settings such as background color, delay, and effects.
Ecommerce tools
Ecommerce platform integrations enable you to sell products directly from your landing pages. By adding ecommerce blocks to your landing pages you can promote your physical products and facilitate sales transactions. You can connect GetResponse with the most popular ecommerce platforms including Etsy, Shopify, BigCommerce, Magento, and WooCommerce.
Alternatively, if you sell a product such as an online course or a service of some sort, you can integrate with various payment processors instead. A few of these payment processors include PayPal, Square, and Stripe.
By selling your products through your landing pages it's easy to create sales funnels.
A/B split testing
GetResponse's A/B split testing feature is incredibly powerful. The platform allows you to test 10 design variations of a landing page under the same URL. When promoting your landing page, GetResponse will automatically direct visitors to the variants and give you valuable performance data for each.
The platform makes setting up A/B split testing extremely easy as well. You can simply add new variants of your landing page in the drag-and-drop editor. From there you can seamlessly click back and forth between your variants to make changes to each.
Tracking and Analytics
GetResponse gives you reporting on the performance of your landing pages. However, for more in-depth analytics and remarketing you can integrate GetResponse with numerous platforms including Google Ads, Google Analytics, Facebook Pixel, Bing Ads, Kissmetrics, Mixpanel and more.
Creating a landing page with GetResponse
The process of building a landing page with GetResponse is pretty straight-forward. Given how intuitive the user-interface is, even GetResponse's most advanced landing page builder features aren't difficult to get acclimated to.
Choosing a template
Upon creating a new landing page you will be taken to a gallery view where you can choose a landing page template.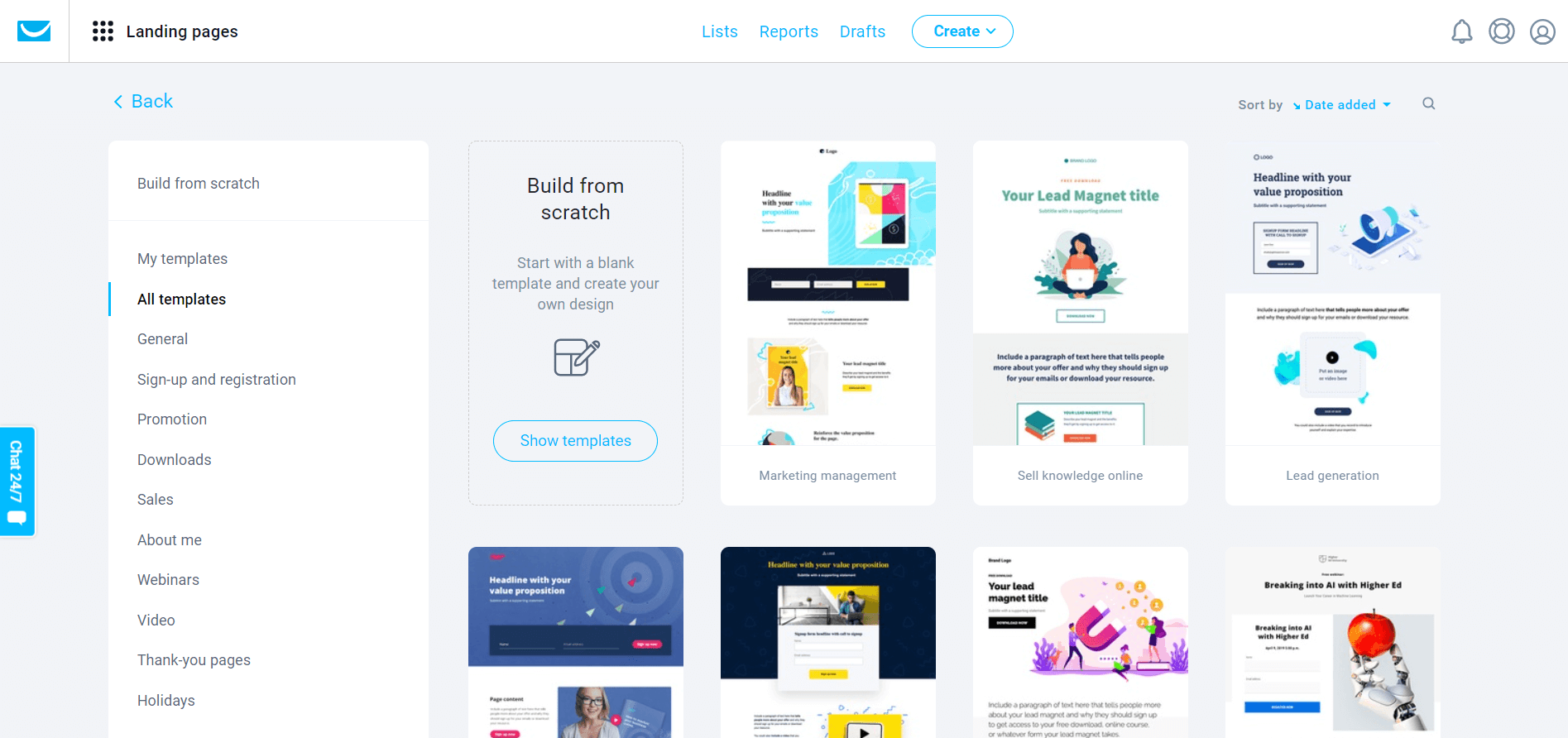 GetResponse has over 200 landing page templates to choose from. These landing page templates are professionally designed for numerous industries such as real estate, fitness, SAAS, ecommerce, nonprofit, and more. These templates are also designed for many different purposes such as promoting webinars, hosting videos, generating sales, and more.
Alternatively, you can build a landing page from scratch by selecting one of the "Plain" templates.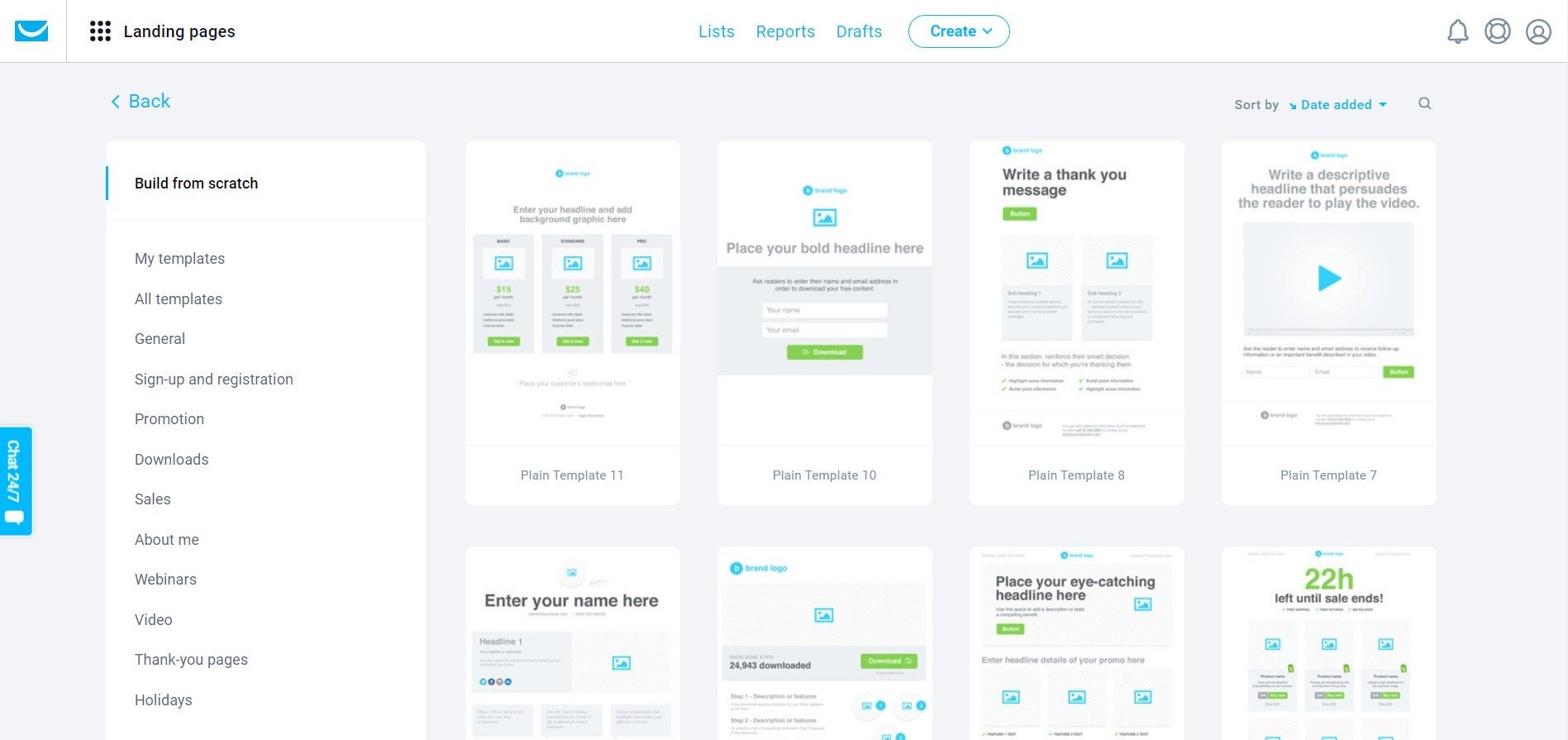 As you can see, these landing page templates are a bit more basic and are designed to be heavily customized. On the other hand, the predesigned landing page templates only require minor edits such as changing the text, adding a company logo, etc. 
Every landing page template is designed with an opt-in form for collecting leads. Naturally, each landing page template comes with a subsequent thank you page that subscribers automatically get directed to after they submit their information. These thank you pages conveniently match the design of their respective landing page templates.  
Conveniently, you can design landing page templates and then save them under "my templates" so that you can conveniently reuse the design you created time and time again.
Editing your landing page
Once you have selected your landing page template you will be taken to a landing page editor where you can design your landing page however you see fit.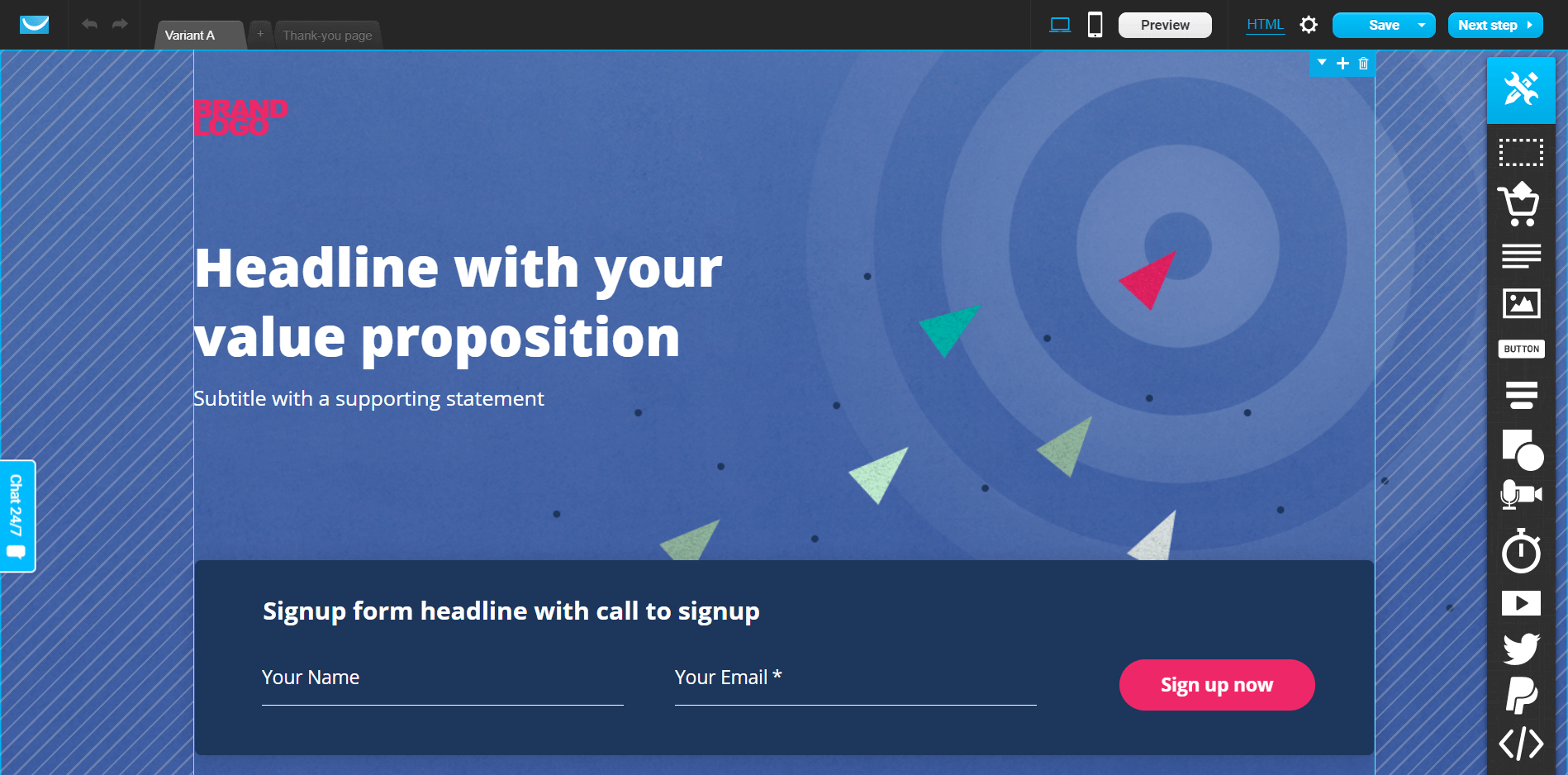 As mentioned, the landing page builder is extremely flexible. There are no limits to where you can move content blocks on your landing page. You can even resize images and overlay elements on top of each other (such as adding text over images). Additionally, as you drag elements, GetResponse will give you pixel measurement indicators in real-time to guide your designing process.

These measurement indicators help to make your landing page design more symmetrical and aesthetically pleasing.
Other important aspects of the landing page editor to consider are pointed out below: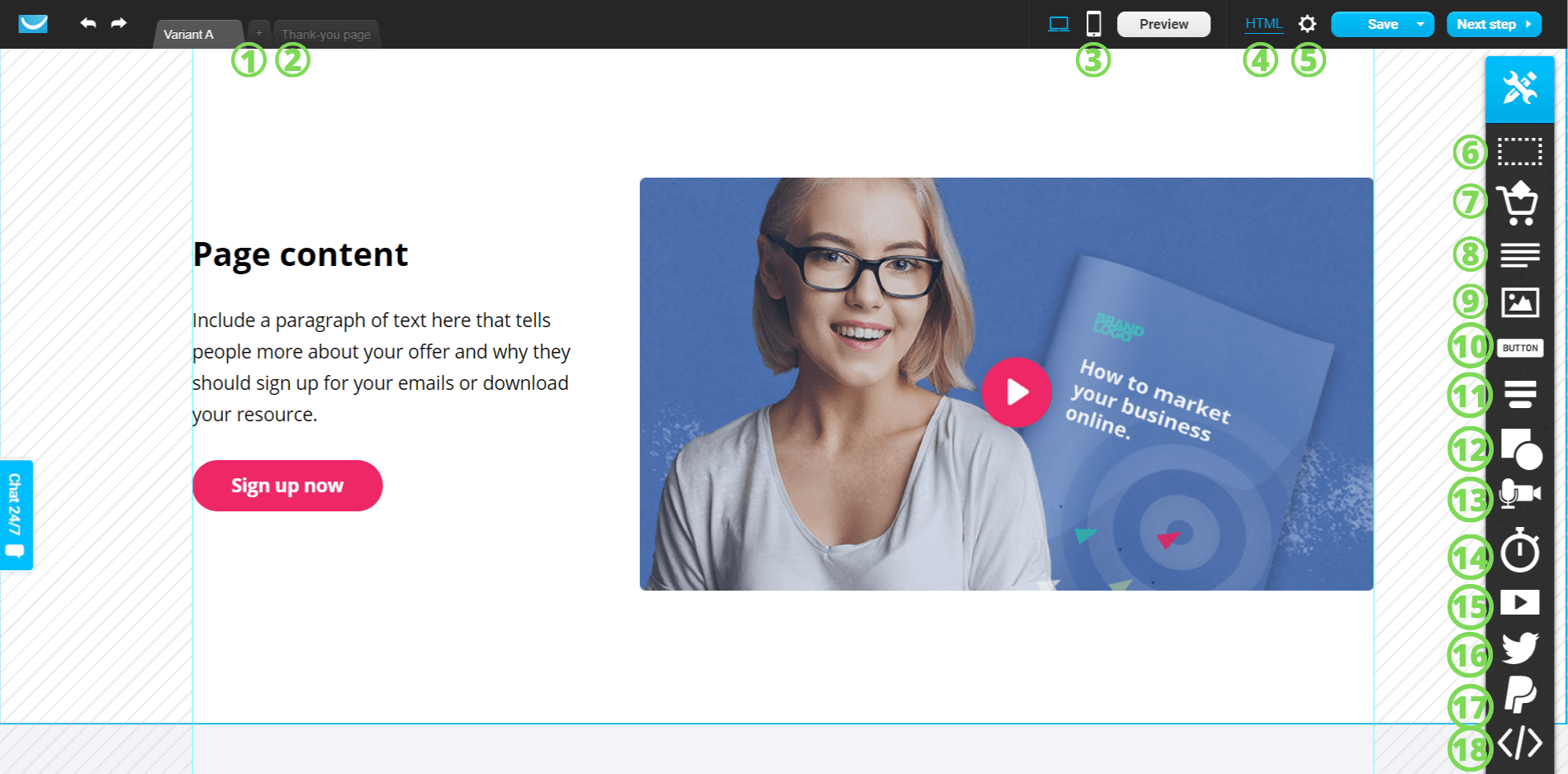 1. "+": Add a duplicate (variant) of your landing page that can be tweaked for A/B split testing.
2. Thank-you page: You may switch to the editor view of the thank you page. This is the page that visitors will be taken to after submitting their information on your landing page.
3. Mobile view: Switch to the mobile view of your landing page where you can design your landing page so that it renders properly for mobile users.
4. HTML: Edit your landing page's raw HTML code.
5. Settings: Edit various SEO settings.
6. White space: Add a white space divider.
7. Shopping cart: Feature a product from your ecommerce store.
8. Text: Add a text block.
9. Image: Add an image block.
10. Button: Add a CTA button to direct visitors to a webpage of your choice.
11. Form: Add either a static form or popup form.
12. Shapes: Add various shapes like circles and squares.
13. Webinars: Add a webinar to your landing page.
14. Countdown timer: Add a countdown timer to create urgency for your offer.
15. Video: Add a video.
16. Social media sharing: Add social media sharing buttons for LinkedIn, Facebook, Twitter, and Pinterest.
17. Payment integration: Add a buy now button for a payment processor such as PayPal.
18. Custom code: Add an HTML, CSS, or JavaScript code block to your landing page.
Adjusting settings
Once you are done editing your landing page you will get taken to a page where you can adjust various settings for your landing page.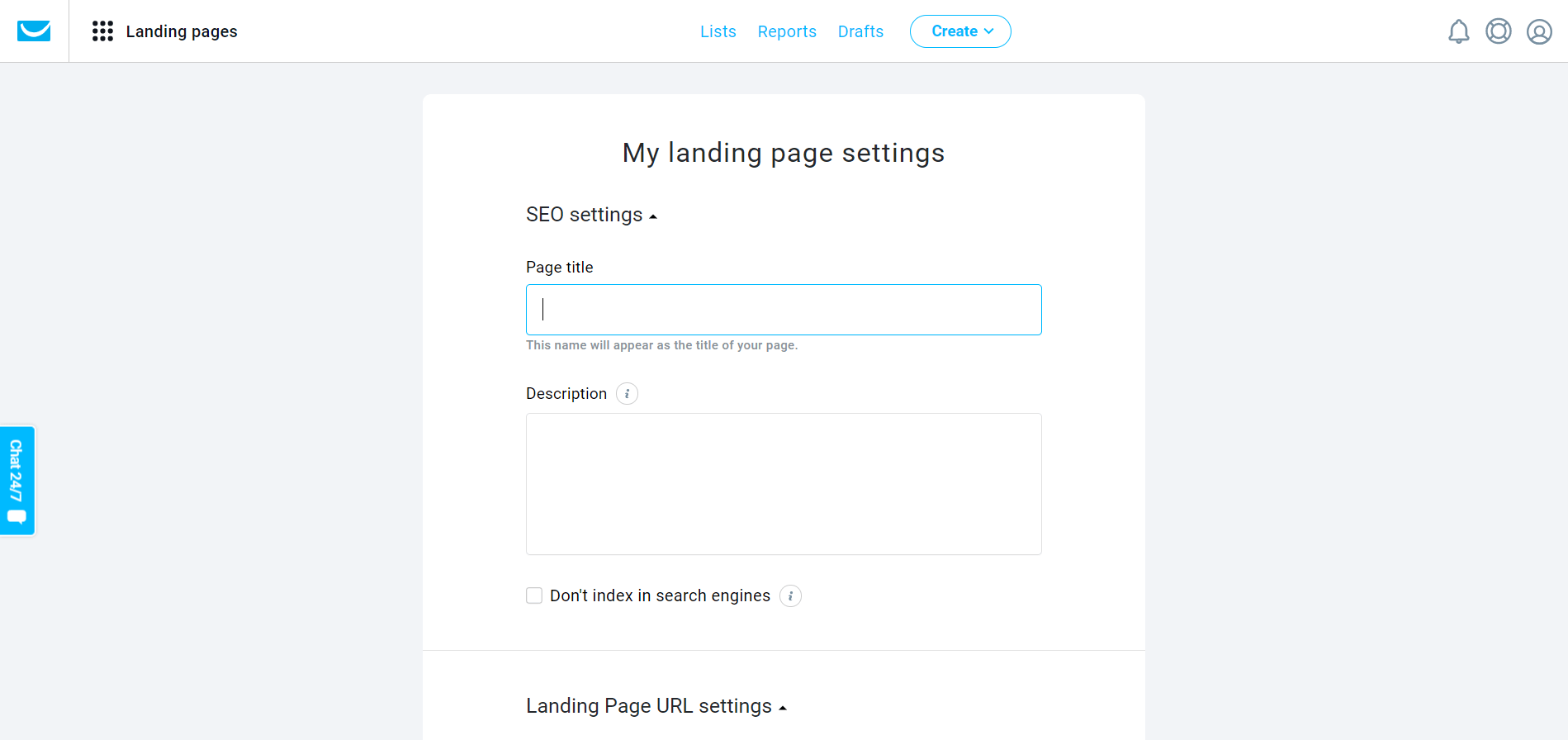 Here you can adjust SEO settings such as your landing pages meta title and meta description that will appear in search engine results pages.
Secondly, you can change your landing page URL. By default, you will be given a GetResponse subdomain for your landing page. However, you can connect your website's domain to your landing page, to make your landing page appear a bit more professional.
Lastly, you can adjust analytics, remarking, and conversion tracking settings as well.
GetResponse landing page builder: Pros and Cons
Pros
Intuitive user interface makes building landing pages very easy even for beginners

Vast selection of professionally designed, high converting landing page templates

Extremely feature-rich landing page editor

Flexible editor makes for very customizable landing pages

Unique content blocks such as countdown timers and ecommerce products

Numerous tracking options

Unlimited landing pages for all pricing plans
Cons
No free GetResonse plans. Pricing starts at $15/month (for month to month billing)

Mobile versions of landing pages can be completely jumbled, and as a result, reconfiguring landing pages for mobile can be time-consuming. It would be nice if the desktop version of landing pages could translate to the mobile version better.

Gallery view of landing page templates only shows the top part of templates. You can't see the full landing page until moving to the editor. This is a minor inconvenience.
Landing pages and the GetResponse WordPress plugin
GetResponse's WordPress plugin is great to have if your website is hosted on WordPress. This plugin allows you to create email workflows based on URLs visited on your website, and build opt-in forms for your blog. More importantly, you can use the plugin to host landing pages as well.
This WordPress plugin automatically loads data from your GetResponse account into WordPress. In other words, when you create a landing page in the GetResponse platform, you can seamlessly transfer that landing page to the GetResponse WordPress plugin. From there, you can easily publish your landing page on your website's domain.
For those that prefer to manage their lead generation efforts from WordPress, this plugin is extremely convenient.
Final words
After using and reviewing numerous email marketing software landing page builders, it's fair to say that GetResponse has one of the best landing page builders overall.
Other platforms such as Mailchimp offer a comparably limited selection of landing page templates and their landing page editors are significantly less flexible.
At the end of the day, if building up your subscriber list is a focus for you, GetResponse's landing pages can be a huge help.