Pay as you go email marketing plans are often overlooked. However, there are some key advantages to these pricing plans.
These plans are perfect for doing email campaigns somewhat infrequently. Perhaps you only need to send out seasonal newsletters or if email marketing just isn't something you want to regularly spend time on. In these cases, pay-as-you-go email plans are ideal because you only need to pay for how many emails you need to send at any given time.
By taking advantage of these plans as opposed to monthly billing, you can save a ton of money if you don't do email campaigns regularly. Not only that, but by avoiding monthly billing and annual contracts, you don't need to be married to one email marketing tool. 
However, not all email marketing software offers pay-as-you-go plans. In fact, only a select few email marketing platforms give you this option.
This post discusses the top 7 best pay-as-you-go email marketing software ranked in terms of affordability. 
But before we delve into the details on these email marketing software, it's important to understand how the pricing for these tools compare. Below you can see how much it costs to buy 10,000 emails with the most affordable plan (if the given tool has multiple plans) for each email marketing software. 
Obviously, there is a big difference in terms of price for the most affordable pay-as-you-go email marketing platform and the most expensive, however, there are different features and capabilities that you get with each platform that are worth taking into consideration.
Let's dive in…  
| | | | | |
| --- | --- | --- | --- | --- |
| Email marketing tool | Free version? | Starting price | Pros | Cons |
| Brevo (formerly Sendinblue) | ✅ | $25.00 | Great range of transactional email and automation features as well as SMS messaging | Some of the email templates are a bit dated and the selection isn't as large as other solutions |
| Sendpulse | ✅ | $8.00 | Extremely affordable pay-as-you-go solution and built-in email verifier ensures great email deliverability | The CRM feature is good but not nearly as developed as stand-alone CRM solutions like HubSpot or Salesforce |
| Moosend | ✅ | $10.00 | Most affordable pay-as-you-go solution and has an incredibly easy to use user interface | Additional features aside from the core email marketing functionality are limited and not super flexible |
| Campaign Monitor | ❌ | $9.00 | Large selection of beautifully designed email templates | Limited support options (especially with the two lowest-cost plans) |
| Vertical Reponse | ❌ | $11.00 | Intuitive contact management features make it easy to quickly get your account ready to send emails | Email editor is slightly dated and can be clunky to work with |
| SendX | ❌ | $9.99 | Various pre-built triggers make setting up simple automation quick and easy | Segmentation and personalization options are somewhat limited |
| Mailchimp | ✅ | $9.99 | Huge range of features means that Mailchimp can be used for comprehensive marketing campaigns | While there are numerous features, some are simplistic and not very flexible such as form builder. |
1. Brevo (formerly Sendinblue)
Brevo (formerly Sendinblue) is another intuitive email marketing platform for both email and SMS marketing campaigns. You can send regular broadcasts and campaigns as well as set up automated campaigns. You can also trigger emails to be sent based on user behavior or engagement. 
Brevo comes with a built-in CRM so you can keep track of all your customers and follow up at the right time. You can segment your email list to send more targeted campaigns and increase your clickthrough and conversion rate. Additionally, Brevo allows you to create landing pages as well as sign-up forms. 
If you only send emails sporadically, Brevo offers pay-as-you-go pricing starting at $40 for 5000 emails. Credits don't expire but they include only the features available on the Lite plan, including Lite+ add-on. This means you'll get no daily sending limit, A/B testing, the ability to remove Brevo logo, and advanced statistics. However, you'll miss out on send time optimization, landing page builder, and the ability to create and manage Facebook ads directly from your Brevo account.
2. Moosend
Moosend offers email marketing services for both big and small businesses. It caters to eCommerce, travel, publishers, and agencies. You can easily send newsletters as well as automated campaigns, create subscription forms and landing pages, and see a detailed report and analytics for each email campaign you send. 
The platform offers a drag-and-drop email editor, the ability to segment your list and send more targeted emails, and the ability to A/B test your campaigns to improve your clickthrough, open, and conversion rates. In addition to that, you can easily personalize your emails.
When it comes to pricing, Moosend offers the ability to pay only when you send an email campaign. The best part about it is that your credits don't expire so you can email your list as often or as little as you'd like. You also get all the features that are available on the pro plan and there is no limit on the number of subscribers. Pricing for credits starts at $1 for 1000 credits which allows you to send 1000 emails. 
3. Sendpulse

Sendpulse is an omni-channel marketing platform. You can send email marketing campaigns as well as create SMS messaging campaigns. This allows you to reach your audience from multiple channels and you can even create chatbots for Facebook and Telegram. In addition to that, Sendpulse allows you to set up web notifications that go out to your subscribers as soon as your site gets updated.
You can use their drag and drop editor to create your email templates. Each campaign allows you to view detailed stats about its performance. Email campaigns can be sent as one-off broadcasts, automated series, or triggered based on user actions, behavior, or other conditions. 
On top of regular pricing, Sendpulse offers pay as you go pricing. Pay as you go pricing is available for each of their pricing plans so you don't have to worry about missing features. In other words, you'll get the same features that your preferred plan includes whether you opt for standard pricing or pay as you go model. Credits are valid for 12 months after purchase. It's worth mentioning that you can use Sendpulse for free if you have up to 500 subscribers. After that, pay as you go pricing starts at $32 for 10000 emails for their standard plan. 
4. Campaign Monitor
Campaign Monitor prides itself on its drag and drop email editor and stunning email templates. It integrates with hundreds of pre-built apps so you can seamlessly connect your online store, CRM, or website. The platform allows you to send automated email campaigns, triggered emails, and regular broadcasts. You can drive urgency by adding a countdown timer to your emails which is perfect when you want to send a time-sensitive campaign. 
Campaign Monitor comes with the ability to segment your list and add personalization into your emails to drive engagement and boost your revenue. A standout feature is the Link Review that automatically points out a broken link in your email. In addition to that, although you can't build landing pages with Campaign Monitor, you can create signup forms and see detailed analytics about each of your campaigns. It's also worth mentioning that Campaign Monitor allows you to send branded transactional emails. 
When it comes to pricing, Campaign Monitor offers regular pricing as well as pay as you go pricing. Pay as you go pricing starts at $5/campaign + $0.01/recipient. There is no monthly subscription to worry about and you're not limited in terms of subscribers. Keep in mind that the website doesn't explicitly mention which features are available with their pay as you go pricing so you might want to get in touch with their support team before signing up. 
5. VerticalResponse
VerticalResponse touts itself as the platform that makes email marketing easy. You can create beautiful emails for your regular broadcasts and automated emails. A standout feature is the ability to easily change the styling theme of your email. You can update colors and fonts with a single click. This solution also allow you to send your email at the perfect time and create follow-up emails based on various conditions. The dashboard allows you to see open rates, clicks, devices, locations, and more for each campaign you send. You can even design and send surveys to learn more about your audience. 
When it comes to pricing, VerticalResponse has affordable plans and pay as you go pricing model. Pricing starts at $0.025/email if you want to buy between 1-1000 email credits. It's worth mentioning that the mailable contracts limit is based on the total number of credits purchased. However, even if you choose pay as you go pricing, you'll get all the features that VerticalResponse has to offer. In addition to that, the more email credits you purchase, the lower the price which means you'll pay less if you have a bigger list or want to send more emails. 
6. SendX
SendX is an affordable email marketing platform that helps you stay in touch with your subscribers as well as grow your email list. The solution offers the ability to create signup forms as well as landing pages. You can send broadcasts and automated email campaigns. 
Emails can be triggered based on engagement and user activity. You also get powerful analytics to track the performance of each of your email campaigns. SendX has a drag and drop email editor as well as premade templates that you can use as a starting point. You can use personalization tags, add countdown timers, insert images, and more. In addition to that, you can choose between 500,000 stock photos to include in your email campaigns.
When it comes to pricing, SendX is definitely one of the more affordable tools out there. The solution charges you only for the number of subscribers you have and allow for unlimited sending. Pricing for their plans starts at $9.99/mo for up to 1000 subscribers for monthly billing. As for pay-as-you-go pricing, SendX offers a pay as you go option, however, the company isn't as transparent its pay as you go pricing model as some other email marketing tools. You must get in touch via the live chat on the companies website for a quote for pay as you go pricing. 
7. Mailchimp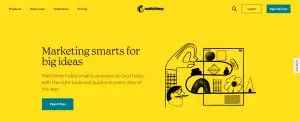 Mailchimp is one of the most popular email marketing platforms around. It allows you to not only send email marketing campaigns but it also includes a simple website builder perfect for those who are just getting started with their email marketing. In terms of marketing, Mailchimp allows you to reach your customers on multiple platforms. You can send email campaigns as well as create ad campaigns and social media campaigns.
Mailchimp allows you to create customer journeys or automated campaigns that go out based on various triggers such as an abandoned cart, user engagement, and more. You can create landing pages as well as sign up forms to encourage people to sign up for your list. On top of that, you can send both regular emails and transactional emails. 
When it comes to pricing, Mailchimp offers standard plans and pay as you go pricing that's perfect for infrequent senders. Pay as you go pricing offers all of the same features that are offered on Mailchimp's Essential plan. This includes all email templates, multi-step customer journeys, and A/B testing. Credits expire after 12 months and you can choose between several different options. The least amount of credits you can buy is 5000. Each credit equals one email send. The price for this plan is $160. The most expensive plan is 25,000,000 credits for $10,500. 
Final words
Pay-as-you-go email marketing services are excellent if you are sending emails only from time to time. However, it's important to keep in mind that if you are using these platforms frequently (say once a month), it very well may be cheaper, and less of a hassle to just sign up for a monthly billing email marketing pricing plan. 
In light of this, it can be helpful to try to forecast roughly how many emails you will send in the next 12 months and then do a pricing comparison of paying for the subscription plan for the year vs paying for a set number of emails.