Email marketing is a highly effective way for nonprofits to connect with their supporters.
With a sound email marketing strategy, your nonprofit can collect more donations from donors, and keep volunteers and supporters updated on your latest efforts.
However, choosing the right email marketing software for your nonprofit is just as important as devising your email marketing strategy itself. After all, choosing the wrong platform for your needs can cost your organization tons of headache and money.
This post covers the 8 best email marketing software for nonprofits.
But before we discuss these software, it's important to know what actually makes an email marketing tool good for nonprofits in the first place…
What makes an email marketing service good for nonprofits?
While organizations can utilize pretty much any email marketing software, some solutions are certainly better than others for nonprofits, charities, and NGOs.
Some of the criteria nonprofits should look for in email marketing software includes:
     

Free plans and pricing discounts

     

Ease of use

     

Features
Free plans and pricing discounts
It's no secret that nonprofits often have limited budgets to work with. Naturally, it's important for most organizations to find affordable solutions.
Fortunately, many email marketing tools have free plans. These free plans tend to have limited features and may have an email subscriber limit before you need to upgrade to a paid plan. However, for nonprofits that are just starting to build an email list and don't need any advanced paid features, these plans can be perfect.
However, for larger organizations that require more advanced email marketing features and have sizable subscriber bases, paid plans may be the only option. Luckily, although email marketing software pricing varies, many email marketing software offer pricing discounts for nonprofits.
Refer to the chart below for the nonprofit pricing discounts offered by some of the most popular email marketing platforms for nonprofits: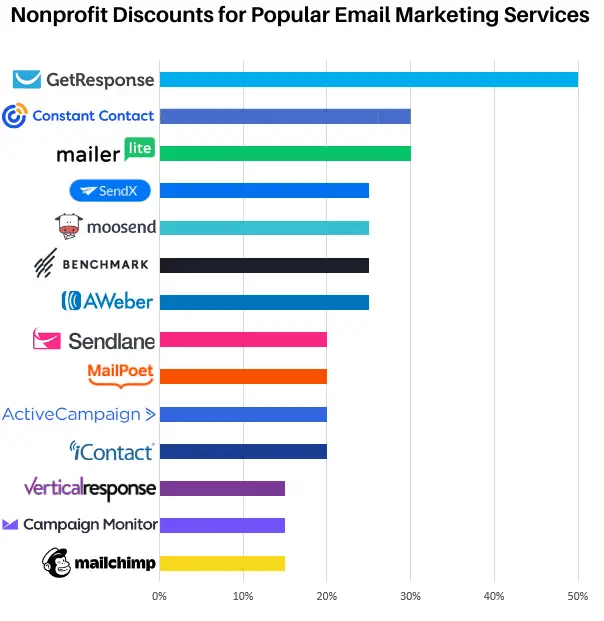 *GetResponse and Constant Contact have two tiers of nonprofit discounts. The chart reflects the highest discounted rate tier. 
Even the smallest of discounts can be hugely advantageous for nonprofits over the long run.
Ease of use
Some email marketing platforms are extremely intuitive. Others have a much steeper learning curve in order to use effectively.
Given that nonprofits often don't have employees with expertise in sophisticated marketing technology, it's important to look for email marketing solutions that are easy to work with.
Fortunately, given that many platforms have free versions, it's easy to experiment with multiple platforms to see which one you prefer the most without paying a dime.
Features
An email marketing service's features are arguably the most important thing you should consider. After all, you can invest in the most powerful email marketing solution with the most affordable pricing ever, but if it doesn't have the features your nonprofit needs then it's probably not worth your time.
However, the features that are important to you should depend on the needs of your nonprofit. Ultimately, the needs of every nonprofit are slightly different.
For instance, if you are interested in creating beautiful email templates to send to your supporters, you should invest in a solution with a powerful drag-and-drop email builder. Alternatively, if your nonprofit sells physical products, you probably should invest in an email marketing solution designed for ecommerce.
Don't worry though. We'll get into which solution is best for what in just a second.
8 best email marketing tools for nonprofits
The following software have been selected with the criteria outlined previously (free versions and pricing discounts, ease of use, and features) in mind.
| | | | | |
| --- | --- | --- | --- | --- |
| Email marketing tool | Free version? | Starting price | Pros | Cons |
| Getresponse | ✅ | $15.00 | Excellent solution for businesses of all sizes and has many unique features (such as a webinar builder). | Software that GetResponse integrates with is limited. Third-part solutions like Zapier are needed for many integrations. |
| Mailerlite | ✅ | $10.00 | Clean, minimalist, and modern user interface makes for a great user experience | Lacks some of the advanced capabilities that other solutions have which can make it hard to scale |
| Constant Contact | ❌ | $20.00 | Easy to use solution yet still has powerful contact management features for managing growing email lists. | May be a bit pricey given some of its relatively basic features such as marketing automation |
| AWeber | ✅ | $19.99 | One of the oldest, most trusted, and well-established email marketing solutions | Email editor and landing page builder are a bit clunky and cumbersome to work with |
| Moosend | ✅ | $10.00 | An affordable solution with a very small learning curve that's great for businesses that have never tried email marketing before | Additional features aside from the core email marketing functionality are limited and not super flexible |
| Mailchimp | ✅ | $9.00 | Huge range of features for a relatively affordable price. Free plan is very generous in terms of features. | While there are numerous features, some are simplistic and not very flexible such as the form builder. |
| Benchmark | ✅ | $13.00 | Very accessible and highly regarded customer support and knowledge base | Email editor can be laggy and glitchy which can be frustrating when designing emails |
| ActiveCampaign | ❌ | $15.00 | Extremely powerful marketing automation and is a great solution for businesses looking to scale quickly | A steep learning curve for those who haven't used email marketing or automation technology before |
GetResponse
GetResponse offers email marketing, landing pages, and conversion funnels for all types of businesses. Some of the company's most well-known clients include Stripe, IKEA, and Zendesk, but they also have pricing plans and features suitable for smaller organizations and startups.
The email marketing tool provides base templates and design modules for sending out emails, but the true power of GetResponse comes from its unique features for marketing webinars or building sales funnels. You can even implement and integrate web push notifications and paid ads to round out your marketing strategy. 
When it comes to nonprofits, GetResponse offers several discounted pricing plans for 30-50% off the standard rates. These plans include all GetResponse features such as marketing automation, conversion funnels, and email marketing. You also gain access to 24/7 live chat support. The 50% off plan asks for you to put a GetResponse partnership logo on your site, but it gets you a much better discount and free admission to the GetResponse University and Certification program. Overall, GetResponse is the best email marketing software for nonprofits since this discount is significantly better than the competition. And they cater to nonprofits by creating newsletter templates just for charitable organizations. 
You must apply on this page to be considered for the nonprofit program and discounts. The application asks you to register your organization in a program called TechSoup to verify your NGO status. It usually takes about 10 days to verify, after which you can select discounts in the TechSoup dashboard. 
MailerLite 
MailerLite boasts an impressive set of features with options for email campaigns, pop ups, automations, and surveys. You can also generate full websites and utilize one system for collecting emails, building landing pages, and driving conversations with the pop ups and surveys. MailerLite stands out from its competitors in that it has an extremely simple and easy-to-use platform while still offering a range of powerful features. 
The company has over 1 million customers, some of which are individual creatives, while others are agencies and growing businesses. Some of the larger customers include BoredPanda, GoPro, and BMW. 
A simple 30% discount applies to all nonprofits that sign up for MailerLite. You receive access to nonprofit landing pages and newsletter templates, along with options to improve your website with help from specific website and pop up designs for this particular industry. It's also worth mentioning that MailerLite has a free plan that works well for nonprofits on a tight budget. That particular plan allows for up to 1,000 subscribers and 12,000 emails per month.  
The process of signing up as a nonprofit involves going to this Sign Up page, creating an account, and specifying that you're a nonprofit when they ask. That makes you eligible for the discount, but MailerLite has a process for verifying the legitimacy of your claim. 
Constant Contact 
As one of the most popular email marketing tools, Constant Contact offers a full suite of tools designed to complete your marketing efforts in one location. This includes email marketing with automation and templates, ecommerce website building, social ads, and much more. Overall, Contact Contact has something for every business, considering you can configure segmentation and automation through email marketing, then take your website to the next level with a logo maker, social posting tools, and a module for making Google Ads. 
The nonprofit discount ranges from 20-30% off regular pricing plans. The 20% off plan gets applied when you prepay for six months. The 30% discount applies for 12-month prepaid plans.
We like it as one of the best email marketing software for nonprofits because of the large discount, the helpful blog posts intended for nonprofits, and the dedicated module for collecting donations for fundraising efforts (which works hand-in-hand with the event management tool). Finally, Constant Contact has a Nonprofit Hub in its community forum to chat with other organizations using the system. 
Go to this page to learn how to submit the required documents to prove your nonprofit status. You can submit through the online portal or send in an email or fax. You will then see a Rejected or Approved notification after 24-48 hours. The billing team is available to answer all questions about nonprofit applications. Otherwise, the entire process is automated online. 
AWeber 
The AWeber email marketing platform features a myriad of features from prebuilt templates to landing pages, and web push notifications to advanced segmentation. They even have donation and ecommerce landing page builders with options to track the incoming flow of money and generate reports to share with other stakeholders. AWeber has a long list of enterprise clients, however, small nonprofit organizations such as churches, political organizations, and charities enjoy the platform as well. 
AWeber serves as an excellent choice for nonprofits due to its fee structure and the wide variety of offerings just for nonprofits. For example, all nonprofits start their plans with three free months. Nonprofits also receive a 25% off discount once that initial free period ends after three months. Additionally, if you have less than 500 subscribers, you can take advantage of AWeber's free plan.
In terms of resources, AWeber offers an extensive PDF guide for learning how to run your email marketing campaigns as nonprofits and charities. Other than that, the ecommerce modules and form creators come in handy for collecting donations. 
To sign up for the nonprofit program from AWeber, fill out the online order form. They ask you to print out the form and fax it to this number: (+1) 215-701-8733. They also request you include all 501(c)(3) paperwork with the fax. 
Moosend

 
Moosend has a long list of agency, retail, and publishing customers, with top names like Vogue, GQ, and Domino's Pizza. Some nonprofits that use Moosend include WWF, TedX, and Make-A-Wish. Overall, Moosend does a wonderful job of simplifying email marketing, with an all-in-one marketing platform and a beautiful dashboard with drag-and-drop editing, A/B testing, and list segmentation. You receive email automation templates and highly advanced personalization settings to make more of an impact when reaching out for donations or collecting event lists. 
Moosend is a respectable email marketing software for nonprofits, seeing as how it offers a 25% discount for all purchases made from Moosend, as long as you provide valid verification information. There's also a free plan with unlimited emails to keep costs low for smaller nonprofits or those on a budget. The blog provides an in-depth outline of the features that help out nonprofits, such as fundraising campaigns, personalization, and segmentation for specific supporters. 
To gain access to the nonprofit discount, go to the pricing page and sign up for the plan you want, just like any other customer. It's best to sign up for the free plan to begin, since you must then contact the Moosend customer support team to ask for the price reduction. They take care of the discount for you, after which you will see it in your payment dashboard.
Nonprofit pricing discounts aside, it's also worth mentioning that Moosend also has incredibly an affordable pay-as-you-go email marketing plan for occasional email senders. 
Mailchimp

 
Mailchimp is quite possibly the most popular email marketing tool, with an all-in-one email marketing and growth platform that includes a large collection of beautiful templates for businesses and nonprofits. The features work well for all business sizes, and you can scale up quickly by adding elements like multi-step customer journeys, A/B testing, and behavioral targeting. Notable customers include Vimeo, TED, and New Belgium Brewing. 
The brand does offer a nonprofit discount of 15%. That's not quite as generous as most of the competition, but Mailchimp has an impressive collection of free features you can't find anywhere else. Therefore, you can manage an email list of up to 2,000 users and still get to use items like landing pages, forms, and the marketing CRM, all for free. You can also find an in-depth marketing guide for nonprofits on the company's website where Mailchimp provides information on running your marketing campaigns and finding other inexpensive tools to keep costs low. 
All nonprofits must prove their status by going to the Contact Form and selecting Billing and Nonprofit Discount Requests. You submit an application and receive approval or denial after a review. All US nonprofits must provide a 501(c)(3) form by scanning it and submitting it with your application. They ask that international nonprofits send a link to the organization's website. After that, they may ask for additional proof on a case-by-case basis. 
Benchmark 
Benchmark combines simple metrics and transparency in its dashboard to provide you with growth rates for your lists, reputation health stats, and quick automation tools for collecting new donors and members with forms and payment processing integrations. Some popular brands that use Benchmark include Audi, Curves, and Re/Max. 
As an excellent email marketing platform for nonprofits, Benchmark offers a free plan with basic email marketing, reporting, and lead generation, that has a limit of 250 email sends per month. That's somewhat limited, but smaller nonprofits should find this suitable. Besides that, a nonprofit discount knocks 25% off your full-priced plan, assuming you provide proof that you're a registered nonprofit. The discount isn't as great as some competitors, but the starting pricing is usually lower with Benchmark, so you could actually end up paying less, even though the discount doesn't sound as desirable. 
The company has a full guide on how to apply for the nonprofit discount. It details how you submit a request to the customer support email, include a specific subject line, and attach a copy of your 501(c) form. You should also include your Benchmark email username in the email, meaning you need to create an account before applying. 
ActiveCampaign
ActiveCampaign does the trick for nonprofits and regular businesses in search of more robust marketing automation features. It offers marketing automation, sales automation, and even a module for expediting your customer service process. The platform offers an omni-channel system with support for social media posting, web personalization, and even text messages. It includes machine learning to focus on contributors who are more likely to keep donating or spending money for your organization. 
The nonprofit discount from ActiveCampaign gets you 20% off the standard price for whichever plan you choose. Pair this with a CRM that works great for nonprofits to generate the perfect marketing automation system to keep track of loyal donors and bring in more money in the future. The company also has a decent number of blog posts that talk about nonprofit earning options and how to market your charity. 
The nonprofit discount requires proof of your nonprofit status. New customers must send an email to sales@activecampaign.com to provide the documentation and get set up with the discount. Previously registered customers can contact help@activecampaign.com to make the switch to the nonprofit plan. 
Final words
As some of the best email marketing services for nonprofits, it's hard to go wrong with any of these solutions. 
However, when evaluating software, it may be best to try a few platforms out at once. You don't necessarily need to send emails out with each platform, but if you use the free version or free trial of a few platforms, and go through the motions of email marketing tasks with each, you can get a feel for what platform is right for you. After all, the features and the "feel" of a platform are extremely important to consider.
Additionally, while email marketing pricing discounts for nonprofits are important to consider, it's important to not get too hung up on this detail. While a discount is nice, the biggest discount in the world doesn't make up for the lack of features or functionality you may need to succeed in your email marketing efforts.