Given that managing business contacts and email marketing often go hand in hand, naturally, CRMs often integrate with popular email marketing platforms. 
However, using two tools for email marketing and managing contacts can be problematic for a few reasons. 
For one, there is a good chance that using two platforms will be more expensive than using just one. Secondly, it can be terribly inconvenient to jump back and forth between two systems. Additionally, integrations aren't perfect, and if your integration happened to break, it can be quite cumbersome figuring out what data fell through the cracks. 
Fortunately, there are a few email marketing platforms that have a built-in CRM. By taking advantage of these platforms, your small business can benefit from having both features under the same roof. 
Here you can discover 8 of the best CRM and email marketing software for small businesses.
| | | | | |
| --- | --- | --- | --- | --- |
| Email marketing tool | Free version? | Starting price | Pros | Cons |
| ActiveCampaign | ❌ | $15.00 | Extremely powerful marketing automation and is a great solution for businesses looking to scale quickly | Reporting is somewhat basic and the option to create custom reports would be a nice addition |
| Sendinblue | ✅ | $25.00 | Great range of transactional email and automation features as well as SMS messaging | Some of the email templates are a bit dated and the selection isn't as large as other solutions |
| HubSpot | ✅ | $50.00 | In addition to the CRM and email marketing features, HubSpot includes practically every marketing tool you could want from a platform (landing pages, forms, chatbots, etc.) | To use HubSpot to its full potential, the professional plan is necessary, which is a large price increase from the starter plan. |
| Drip | ❌ | $19.00 | Powerful automation, contact management, and integrations specifically for ecommerce brands | May not be cost-effective for low volume email senders |
| GetReponse MAX | ❌ | Custom | Unique in that its easy enough to use for a small business with limited expertise but advanced enough for larger businesses as well | CRM isn't as flexible as many other solutions |
| Mailchimp | ✅ | $9.99 | Huge range of features means that Mailchimp can be used for comprehensive marketing campaigns | While there are numerous features, some are simplistic and not very flexible such as form builder. |
| Ontraport | ❌ | $79.00 | CRM is extremely customizable and the flexibility makes it easy to scale with the platform | User interface is a very basic design that's not necessarily easy to navigate |
| Keap | ❌ | $79.00 | Visual workflow builder is extremely customizable for both sales and marketing activities | Steep learning curve for some users since the platform has many parts that work together |
1. ActiveCampaign
ActiveCampaign touts itself as the #1 platform for marketing automation for eCommerce, B2C, and B2B companies. It offers powerful automation capabilities, SMS messaging, site tracking and messaging, and more. Without a doubt, ActiveCampaign is one of the most powerful CRM and email marketing software. 
ActiveCampaign's CRM
ActiveCampaign has a very robust CRM and sales management system. You can easily automate lead prioritization and contact management with features such as: 
Automatic lead management and scoring

Setup sales team notifications 

Create deals easily from Gmail or Outlook inbox

Create notes and tasks associated with individual contacts

Integrate your CRM with other tools like Facebook, Unbounce, and more
Plus, there's a mobile app to help you manage your contacts and deals on the go and stay on top of your sales cycle.
ActiveCampaign Email Marketing
When it comes to email marketing, ActiveCampaign makes it easy to send targeted and personalized messages to your subscribers. It includes features such as visual automations and goals and the ability to tag subscribers based on actions they take. 
You can send automated and one-time campaigns. A few notable features include: 
Campaigns can be triggered via numerous conditions such as subscriber added a tag, purchased a product, accomplished a goal, visited a page on your site, etc.

Create campaigns based on contact activity from CRM

Dozens of built-in email templates and a marketplace where you can browse and import email marketing automations
Pricing starts at $49/mo billed yearly and you can test out all of the features with a 14-day free trial. 
2. Sendinblue
Sendinblue is an intuitive all-in-one platform dedicated to helping you grow your business with the right sales tools and automations. Sendinblue caters to a variety of industries, including agencies, eCommerce stores, and startups. However, it can also cover the needs of bigger enterprises. 
Sendinblue's CRM
Sendinblue is one of the rare platforms that offers CRM functionality on their free plan. You can manage all your contacts in one place and organize your contacts into lists based on similar characteristics, where they came from, step in the funnel, and more.  
Notable features include: 
Store all relevant contact information in one place

Add notes and documents to your CRM

Create tasks and assign them to your team members

Create email automations based on contact activity
Sendinblue Email Marketing
One of the best features that Sendinblue has to offer is the ability to create a professional and modern email. You can use premade email templates or start from scratch and build your own. Other notable features include: 
Advanced email personalization options

Support for dynamic text

Tag subscribers and create segments that make sense for your business

A/B testing and send time optimization
Sendinblue offers a free plan that includes CRM but note that you'll be limited to sending 300 emails/day and the emails will have Sendinblue's branding. Pricing starts at $19/mo. 
3. HubSpot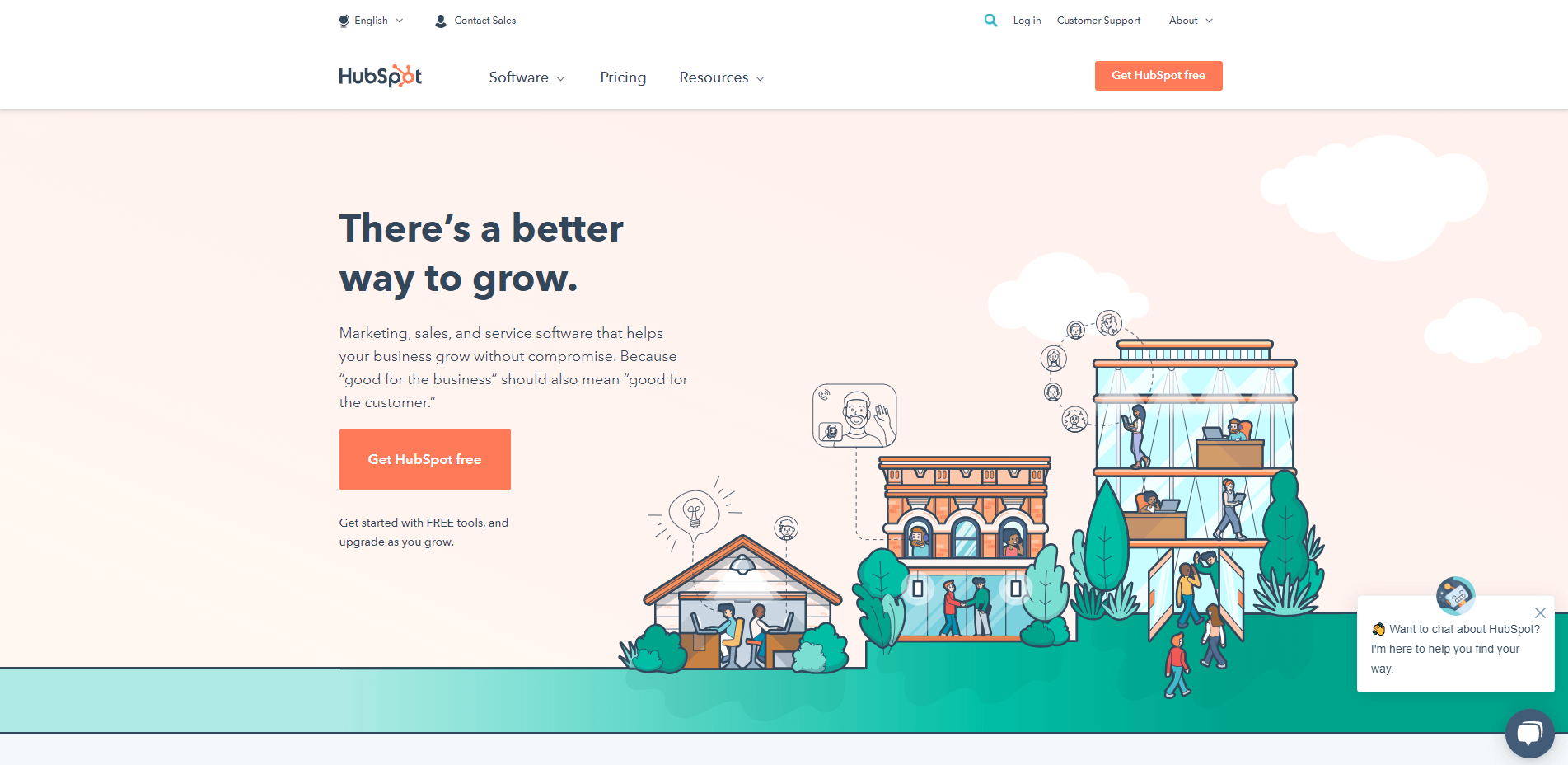 HubSpot is another platform that offers free CRM with email marketing. The platform has an easy to use interface that allows you to instantly see what stage each contact is in. You can create and run powerful inbound marketing campaigns. 
HubSpot's CRM
HubSpot's CRM is a pretty robust platform. Not only can you keep track of all your clients, leads, and customers but you can also enter all the relevant information about them. The CRM integrates with Gmail and Outlook. You can also capture details after each conversation. 
Key features include: 
Call tracking and recording that you can do straight from your browser

Build your own content template library for easier communication

Email tracking so you can follow up at the right time

Reporting dashboard so you can see every detail at a glance 
HubSpot Email Marketing
HubSpot's email marketing tools are included for free on every plan. The only difference is that you get access to more advanced features such as automation and sequences with paid plans. Key features include: 
Built-in email templates that you can use as a starting point

Numerous email automation options 

Personalize emails for better click-through rates

A/B tests and analytics to help you optimize your emails

Form and landing page builder to capture subscribers and leads
As mentioned earlier, HubSpot offers a free plan for their CRM and email marketing tools. However, note that the free plan doesn't include automation. Paid plans start at $45/mo. 
4. Drip

 
Drip is a marketing platform built with eCommerce businesses in mind. The platform offers lead ads and forms that allow you to capture your visitor's information. You can then use Drip's features to nurture the relationship and turn subscribers into repeat buyers. 
Drip's CRM
Drip's CRM offers a whole suite of useful tools for eCommerce businesses. You can create dynamic audiences based on customer actions. Created segments update each time a contact performs an action on your store so you can easily understand what they're browsing, clicking, buying, and more.  
Key Features include: 
Tag customers with custom fields to create dynamic audiences 

Send personalized messages

See which emails are driving revenue

Built-in analytics to help you understand your customers better
Drip Email Marketing
When it comes to email marketing, Drip's tools will help you create high-converting, personalized emails. You can send abandoned cart emails, offer discount codes, show products in your store based on customer data, and more. 
Notable features include: 
Recommend products based on past purchases

Send automated messages based on customer behavior

A/B testing to help you optimize your emails

Visual automations builder

Built-in email templates and workflow templates
As far as pricing goes, Drip offers a 14-day free trial to test out all of its features. Their plans start at $19/mo for up to 500 contacts. 
5. GetResponse MAX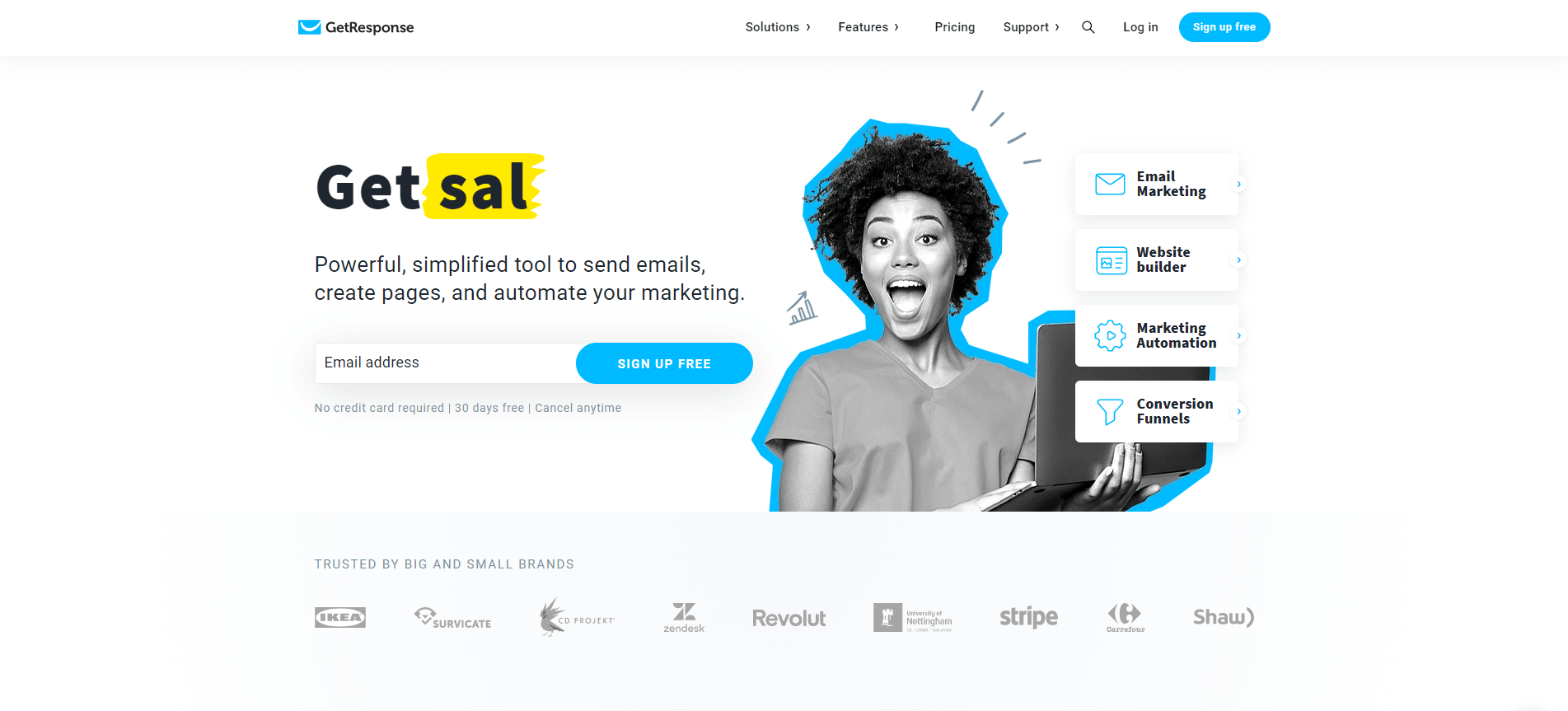 GetResponse MAX is a well-known name in the email marketing industry. They help you manage your entire customer journey: from landing page templates to transactional emails, and marketing automation. It's an all in one marketing platform that caters to various industries looking to manage and nurture their leads and subscribers. And unlike the basic version of GetResponse, GetResponse MAX is an enterprise-level solution that comes with a CRM built-in. Let's talk more about that now.
GetResponse MAX's CRM
The CRM offered by GetResponse MAX offers the same features as other similar CRM platforms. You can see your entire sales pipeline and easily create tasks and notes associated with your contacts. 
Notable features include: 
Create custom pipeline stages to keep track of your leads

Set the lead owner, deal value, and close date

Use the CRM calendar to follow up at the right time with each lead

Build workflows to match customer's stage and increase your conversion rate
GetResponse MAX Email Marketing
When it comes to email marketing, GetResponse MAXdoesn't disappoint. You'll benefit from the ability to send one-time and automated campaigns as well as built-in email templates. The drag and drop email builder is easy to use, if you prefer to build your campaigns from scratch. 
Notable features include: 
Build complete customer profiles to better understand your customers

Group contacts based on similar or common characteristics

Send personalized messages based on subscriber preferences

Send time optimization and 99% deliverability

A/B test different elements of your emails
As far as pricing goes, prices aren't listed on the official website. However, you can book a demo of the platform to see if it meets your needs. 
6. Mailchimp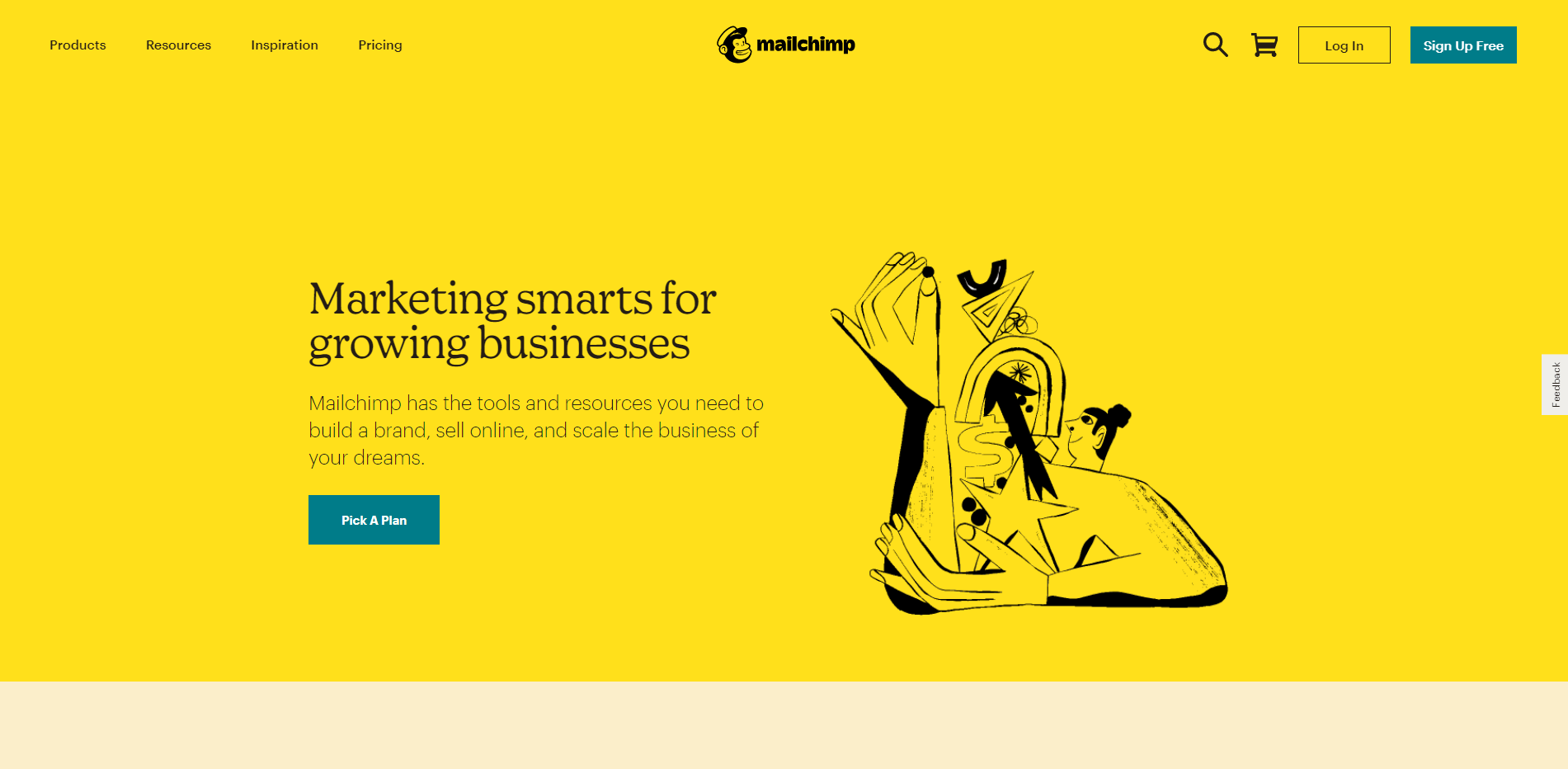 Mailchimp is one of the most popular marketing platforms around. It's another all-in-one platform that facilitates lead and contact management, marketing automations, social ads, and more. 
Mailchimp's CRM
Thanks to Mailchimp's CRM, you can get to know your audience better and send them more personal messages that drive them to action. What's nice about Mailchimp is that it offers the CRM features even on their free plan. 
Notable features include: 
Connect all your contacts data and create ready-made segments

Create your own tags and segments to filter your audience

Set up automated messages to trigger based on specific segments or tags

Use the built-in behavioral targeting and personalization tools to send more targeted emails
Mailchimp Email Marketing
Mailchimp offers an easy to use email builder with drag and drop functionality to help you create branded email campaigns. You can also use their built-in templates to send one-time and automated campaigns. 
Notable features include: 
Manage all your content and images within Mailchimp

Set up single-step automations or build adaptable customer journeys 

Keep track of open rates and clicks with built-in analytics dashboard

Mobile app to create and manage your campaigns on the go
Mailchimp offers a free plan for up to 2000 subscribers. Keep in mind that the free plan is limited to one-step audience journey's and 1 audience.  The pricing for paid plans starts at $9.99/mo for up to 500 subscribers. 
7. Ontraport
Ontraport markets itself as the best marketing platform for growing businesses. This CRM and email marketing software offers a variety of complementary features such as payment gateways, landing pages, a membership site builder, and more. 
Ontraport's CRM
Ontraport's CRM offers a flexible way of managing your contacts. You can create custom stages and organize contacts in a way that makes sense for your business. Notable features include: 
Capture every action a visitor takes on your website

Assign tasks and automate contact follow up

Track multiple pipelines at once 

Give your team access only to the data they need
Ontraport Email Marketing
Since Ontraport has a built-in CRM, they take full advantage of that to allow you to create powerful email marketing automations. In other words, you can segment your contacts and send more effective marketing campaigns.
Notable features include: 
Create visual automations

Built-in template library to use as a starting point

Send marketing messages via emails, calls or SMS messages

Detailed analytics and campaign reports
Ontraport is one of the more expensive tools on this list. Pricing starts at $79/mo for up to 1000 contacts but they do offer a 14-day free trial so you can see if their features meet your needs. You can also sign up for a demo to see how the tool works. 
8. Keap
Keap (formerly known as InfusionSoft) is an all-in-one marketing platform that brings together CRM, email marketing, and sales automation. The platform caters to various industries, including solopreneurs, small businesses, eCommerce stores, and more. 
Keap's CRM
With Keap's CRM, you can easily keep all your contact information in one place. It integrates with Gmail and Outlook so you can easily update contact information with each email you send. 
Notable features include: 
Integration with numerous platforms

Set up an automatic process for contact and lead follow up

Built-in email follow up templates

Access any shared files, documents, images, contracts, and proposals instantly
Keap Email Marketing
Keap's email marketing platform allows you to send targeted one-time and automated campaigns. You can use the information gathered within your CRM to send more personalized emails and segment your audience in a way that works with you. 
Notable features include: 
Extensive library of email templates that are easy to customize

Organize your contacts by industry, interactions, and more

Detailed email campaign reporting

Built-in A/B testing

Automatic spam checks to ensure deliverability
Keap offers a 14-day free trial to test out all of their features. Pricing starts at $79/mo for up to 500 contacts. 
Final Words
Finding the right marketing platform for your small business might seem like a challenge. After all, choosing a platform that doesn't quite have the capabilities you need can lead to lots of headaches later down the road. 
Fortunately, many of these platforms have free versions or free trials that you can take advantage of to determine which one might be best for you. Even logging in, exploring all the features, and going through the motions of doing marketing tasks with a few of these platforms can help you narrow down your search. 
Whatever CRM and email marketing combo you go with, make sure everyone on your team gets acclimated to the platform as soon as you get started.