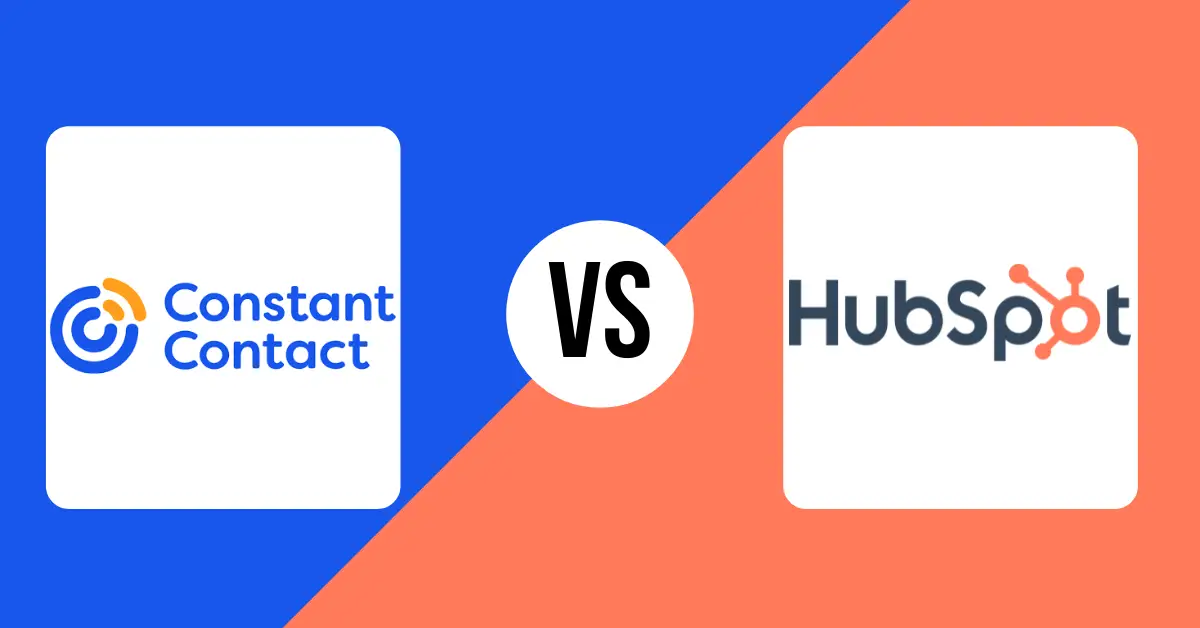 With so many email marketing tools out there, you don't want to waste your time evaluating ones that don't fit your needs.
Both Constant Contact and HubSpot are aimed towards small businesses to mid-size businesses that need email marketing and more. That "more" may include a website builder, social media management features, and other marketing tools that businesses often need.
But if all you're looking for is a simple email marketing platform that only does email marketing, these 2 tools will be overkill. Instead, look at other popular options like AWeber and MailerLite.
If you're still with us, we're going to look at the main email marketing features that both Constant Contact and HubSpot offer, and which one is most suited for your use case and budget.
About Constant Contact and HubSpot
Constant Contact might just be the oldest email marketing platform. It started as a home business (an attic to be precise) in 1995 to help small businesses start marketing online. The company has retained that vision even as it's grown to include a complete website builder with e-commerce features on top of email marketing.
Launched in 2005, HubSpot has continued to offer more and more features for small businesses that want to focus on inbound marketing. It's grown so much that HubSpot had an IPO in 2014, and sends over 1 billion emails for customers each month.
HubSpot is another company that really found its niche early on. The entire concept of "inbound marketing" is typically attributed to HubSpot. 
Email marketing is just one part of the "marketing hub" that HubSpot offers. While you don't have to use them, HubSpot also has a sales, customer service, CMS, and operations hubs. We'll be focusing on the email marketing features in the marketing hub in this review, but be aware that the other features are there if you need them.
Features
Email Templates and Editor
Constant Contact has a huge library of well over 100 email templates to start with. Overall they feature mostly modern designs and you shouldn't need to modify them too heavily.
The email editor itself is simple but polished.
It features a smooth drag-and-drop interface, and there are no issues moving around elements in the email.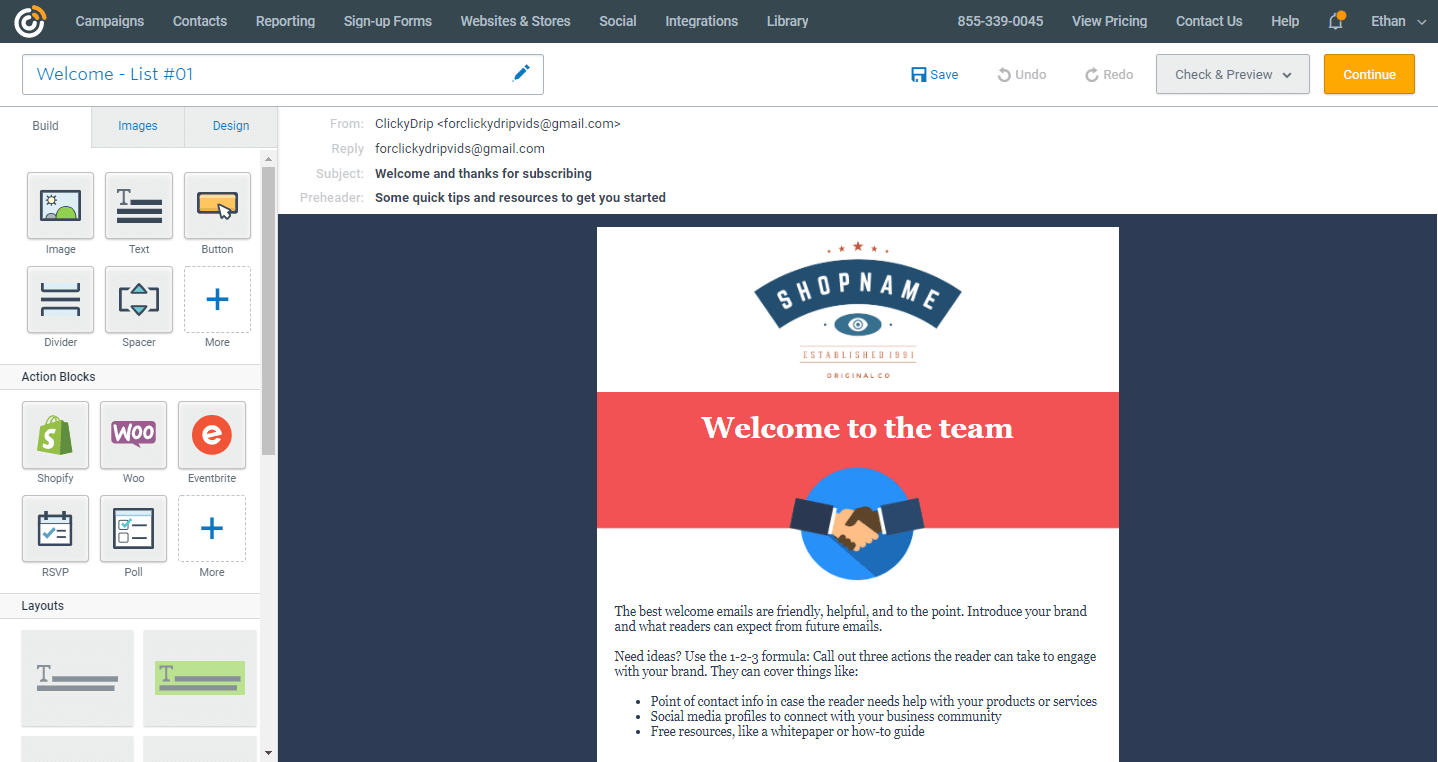 The one minor complaint you might have is that there's not a huge selection of blocks to insert into emails.
All the basic ones like text, images, and buttons are all there. However, there's no blocks like social media buttons or coupons that some other email marketing tools provide.
HubSpot's email editor is similar in a lot of ways. It's very polished and easy to use, and has almost the exact same block and styling options.
When it comes to templates, only a few basic ones are available on the free plan. The rest of the "premium" templates look decent overall, but quite a few look dated.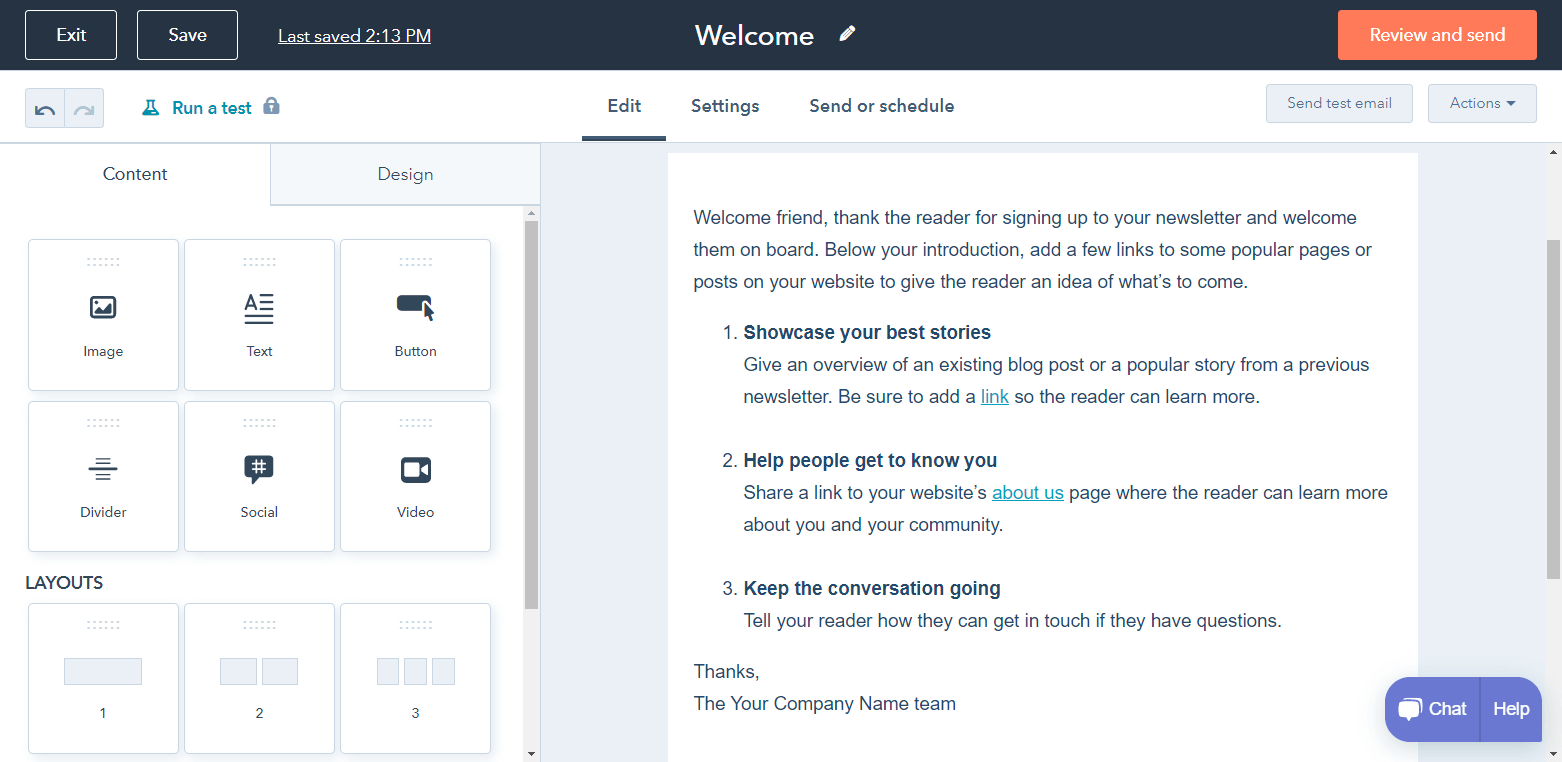 On both platforms you can preview your emails and send a test email before saving them or scheduling them.
List Management
We've got mixed feelings about list management on Constant Contact. It does a lot right, but a few things feel clunky.
To start with, there are no limitations on how many lists you can create or subscribers you can have (as long as you pay for them). It's easy to view the contacts on each list.
However, the "tags" feature isn't the most useful. You can only apply them when a new subscriber joins, but not easily retroactively.
The biggest strength by far is being able to create segments of subscribers. There are pre-built segments like the most and least engaged contacts, but you can also build your own segments.

You can create segments based on activity like opening emails or clicking links, and also specify whether the condition needs to be met in a time frame like just the last email, or any of the last 5 emails.
List management on HubSpot is comparably more powerful, but also can be a bit overwhelming at first.
When viewing contacts, there's a huge list of filters you can apply based on any information you've collected about contacts and their activity.
This includes filters like purchase dates, email engagement, link clicks, and almost any other thing you can think of.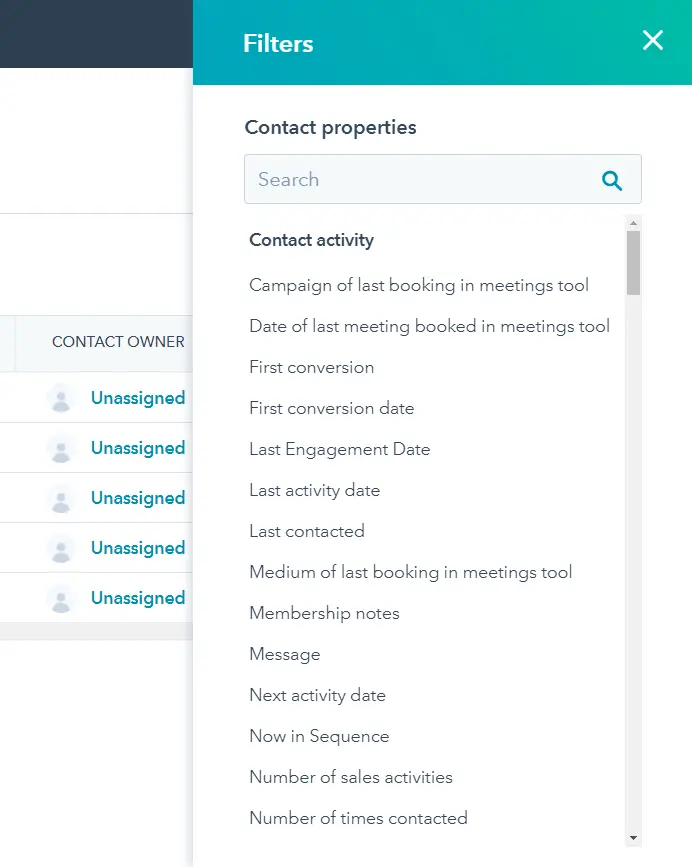 This has the potential to help you identify laser targeted segments using information from other parts of your sales funnel if you use those features of HubSpot.
The one awkward part is that once you've filtered your list based on these conditions, your only segmentation option is to add them to a new list. With heavy segmentation, you can end up with a huge messy collection of contact lists.
Marketing Automation
Marketing automation features are one of the weakest parts of Constant Contact. To be fair, the platform is mainly geared towards basic marketing tools for small businesses, and not many of them need much in the way of automation.
The workflow builder is quite easy to use, but basically all you can build is a basic autoresponder (i.e. time delay between emails).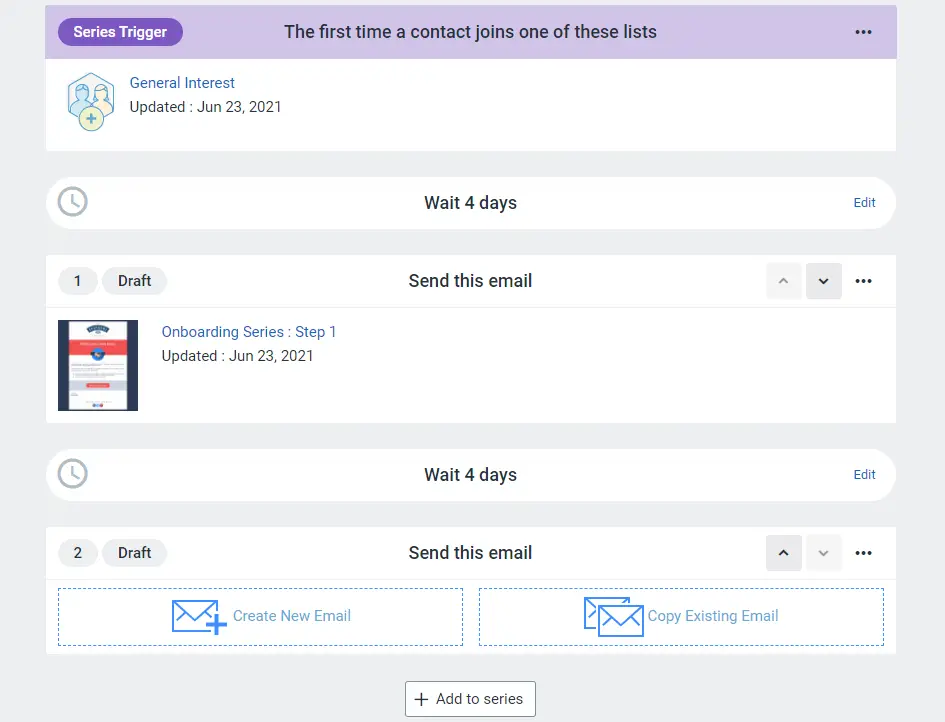 There's no easy way to create different segments that receive different emails based on activity (e.g. link click, email open) during a sequence.
You can start off a new series based on joining a list, making a purchase, or clicking a link in an email. So technically you could join a whole bunch of these workflows together, but that will get incredibly messy quickly.
HubSpot does offer powerful email automation, which you can access with the Professional Marketing Hub plan. 
With the automation feature, you'll be able to build complex workflows based on a wide variety or actions and triggers including:
Email opens or clicks

Time delay

Lifecycle stage

Purchases
You can build nested if/then branches that lead to different targeted email sequences.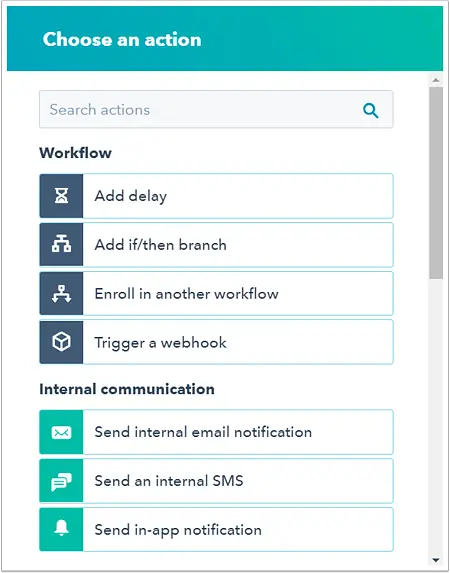 In short, HubSpot offers email automation features on par with any other email marketing tool out there, the big question is just whether or not you can afford it.
Forms and Lead Generation
Constant Contact offers multiple types of forms, including the standard inline and pop-up varieties.
Note that you don't get access to sign-up forms on the cheapest plan.

But the editor is nice, and the standard theme is good enough to embed on any website and not look out of place. You can customize most aspects of the form's appearance without much trouble.
HubSpot offers even more form type options:
Embedded (inline)

Pop-up

Slide-in

Drop down
The default form is fairly basic, but looks nice. You can customize all the fields and styles without much trouble.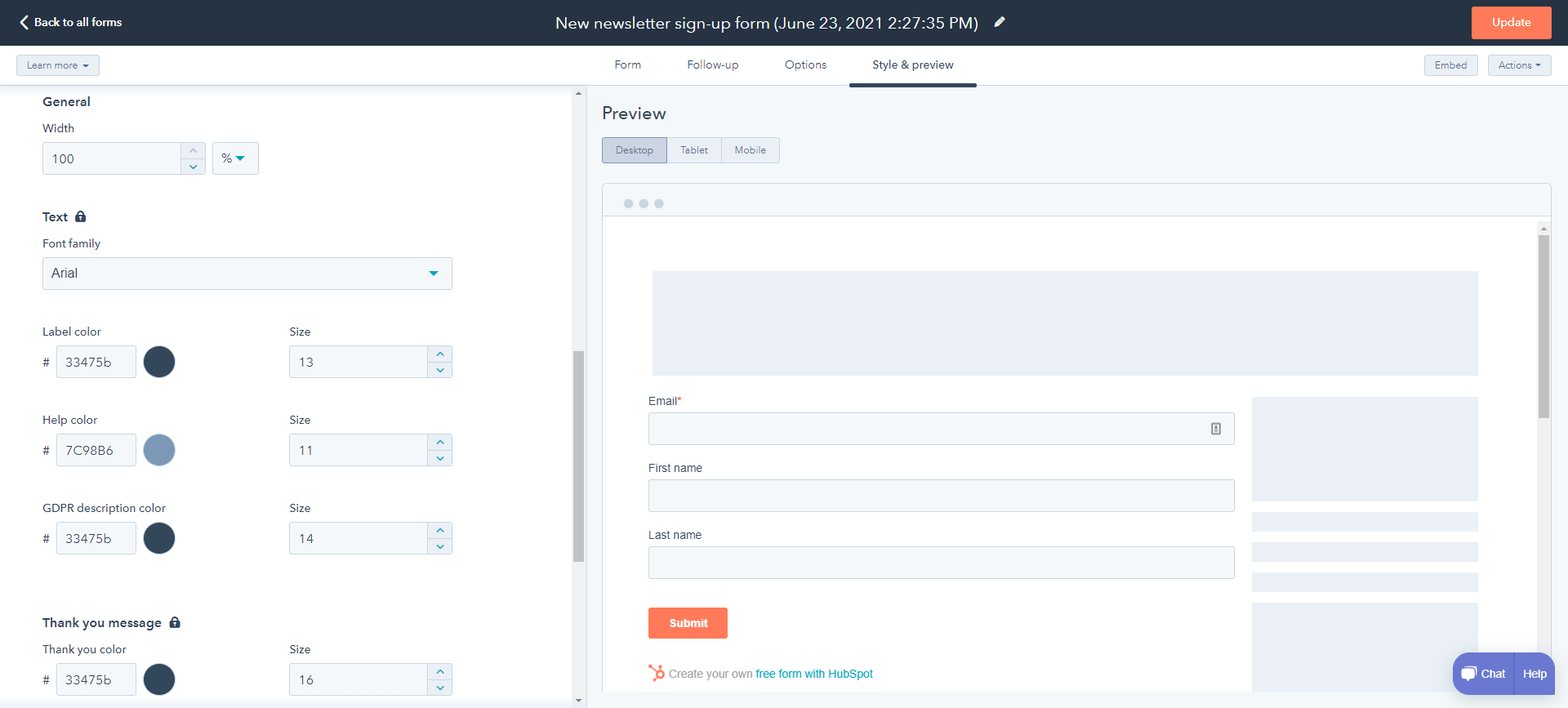 The editor also has a few nice features like being able to preview what the form would actually look like on a page on desktop, tablet, or mobile.
Reporting and Analytics
We're quite impressed with the reporting options on Constant Contact.
On top of basic engagement reports (email sends, email opens, link clicks), there's a lot more.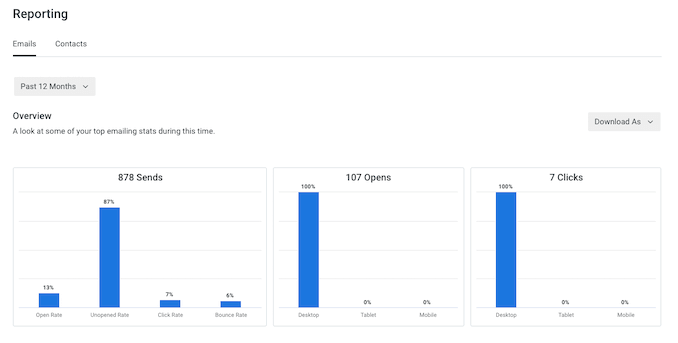 You can view engagement rates by device types, compare campaign performances head-to-head, and there are also click-tracking heat maps. A heat map can help you identify which parts of your emails get the most attention so you can put your most important call to actions there.
Similarly, HubSpot offers detailed analytics. The amount of data available will depend on if you use other features on HubSpot besides email marketing.
If you're just using email marketing on HubSpot, you'll get access to basic engagement statistics like open and click rates, plus deliverability information and an HTML click map (similar to a heat map). Not many platforms offer click or heat maps, but both Constant Contact and HubSpot do.
On paid plans, you get access to even more cool data like how much time was spent reading emails, and you can break down data by email client (except for Gmail, who doesn't provide this data).
Overall, the reporting features on both these platforms is among the best we've seen across any email marketing tools.
Pricing
There's no free plan on Constant Contact, but there is a 60 day free trial. That's not great for brand new businesses, but if you already have a decent list started, you should expect to invest a bit in email marketing anyways.
The overall cost for a plan with email marketing features depends on your list size, but is relatively expensive compared to alternatives like AWeber that only have email marketing features.
Another potential obstacle is that the cheapest Constant Contact plan is only for the website builder. If you want to get access to email marketing, you have to upgrade to the next level up. This is why if you're not using the website builder, it's hard to get enough value out of Constant Contact.
On all plans, you get access to all the email templates and both phone and chat support.
HubSpot does offer a solid free plan that comes with most features (email marketing, landing pages, live chat, etc.) other than the advanced ones and 1-on-1 support. Note that HubSpot branding appears on all forms and emails on a free plan.
If you do upgrade to a paid plan, you get rid of the branding and can send up to 10,000 emails per month. While this base cost is less than a comparative plan on Constant Contact, it gets much more expensive when you need to send more than that limit.
At that point, you're forced to upgrade further to a much more expensive plan, although it does come with additional features like email marketing automation, surveys, polls, and coupons.
In both cases, getting value depends on making good use of other features in the suite of small business tools that both Constant Contact and HubSpot offers.
Refer to this email marketing pricing comparison resource for some of the best email marketing services for a more thorough email marketing pricing discussion. 
Ease of Use
Constant Contact has a recently re-designed user interface that's intuitive to use. All the editors (emails, forms) are smooth and easy to customize.
And if you get stuck anywhere, there's a convenient little pop-up search bubble that you can almost always find help with. Other than the minor issues we've mentioned before, Constant Contact is very easy to get used to.
HubSpot is also well designed, but there's a lot of stuff.
Account setup takes quite a while, and even then there are features from sales or customer service that clutter up the screen that you may not even need.
There is a guided tour when you first register, but even then there's a learning curve to figuring out where everything is in HubSpot and how it works. With that being said, if you have a lot of experience with email marketing tools, finding most features should be fairly intuitive.
Deliverability
Both platforms send tons of emails every month, which you can't do with poor deliverability.
Contact Contact claims a 97% email deliverability rate from internal measurements, while EmailToolTester's deliverability tests puts them right around 90%. That's not a big difference and can be explained by small measurement differences.
While HubSpot doesn't have a publicly mentioned deliverability rate, EmailToolTester has them right around 90% as well.
Both platforms have similar rates that are a bit above average when compared to other major email marketing platforms. 
The biggest factor in whether your emails end up in your subscriber's inbox or junk will depend on your emails themselves, not the infrastructure of these 2 platforms.
Integrations
Constant Contact has a library of over 350 integrations. That includes just about every popular software you can think of (e.g. WordPress, Shopify, Live Chat), even HubSpot.
The internal integration page is a bit misleading, claiming 3,500+ integrations, since it includes all the Zapier plugins.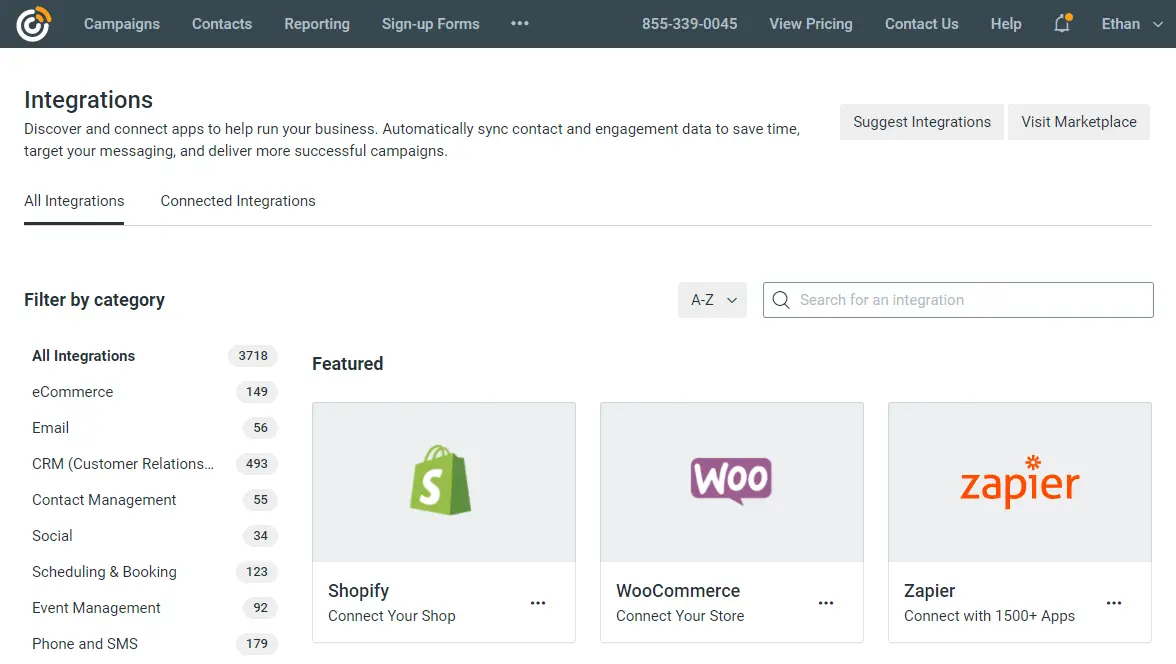 Regardless, if Constant Contact doesn't have a particular integration, it's unlikely that any other email marketing tool does.
You can say the exact same for HubSpot, as they have just about 500 integrations.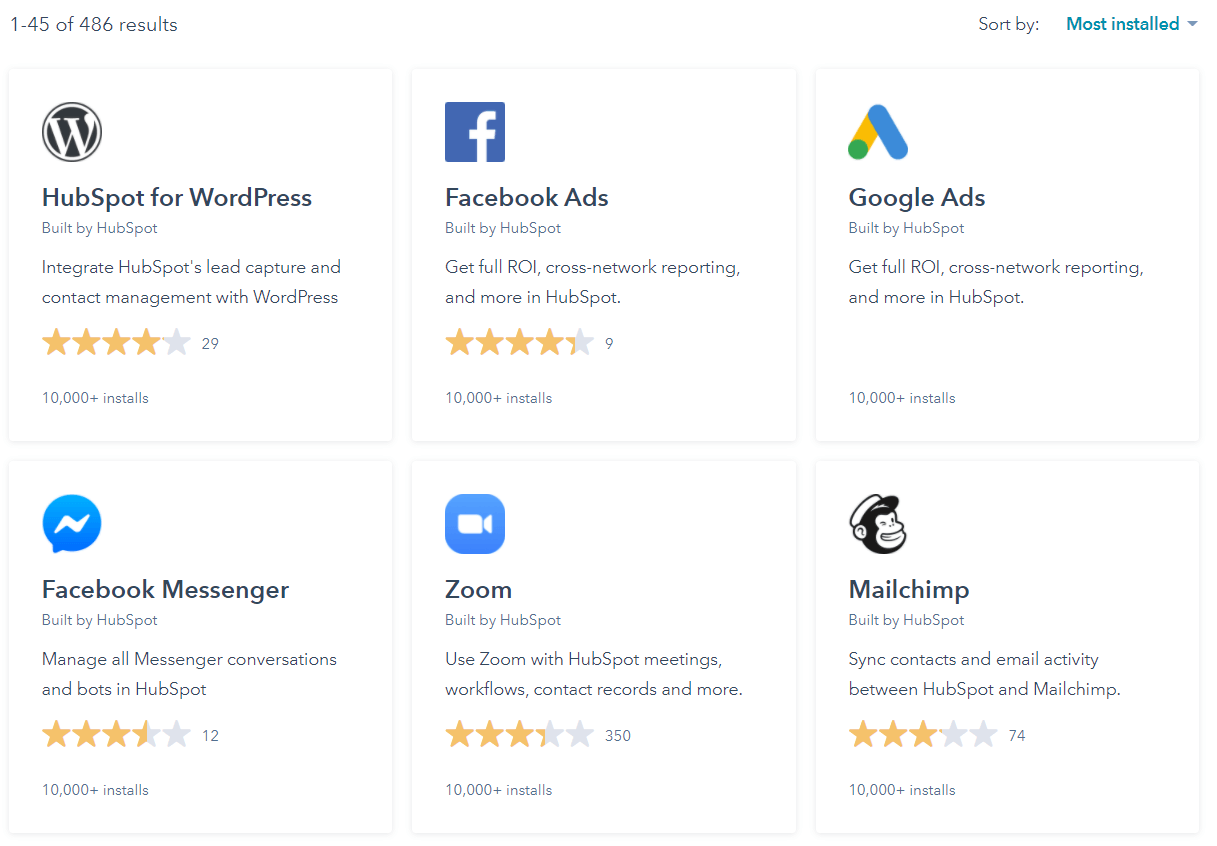 Unfortunately, as you can see from the ratings above, not all integrations are as smooth as desired. You might want to take a look at recent reviews for any particular integrations that you're interested in.
Customer Support
Every plan on Constant contact includes both chat and phone support. You can also get a marketing advisor as an add-on if you're willing to pay for the extra help.
In addition, the knowledgebase is as thorough as we've seen on any other platform. There are over 100 video tutorials and hundreds of written help articles.
HubSpot offers email and chat support on all paid plans, and you can get access to phone support if you upgrade further.
As the founders of inbound marketing, it's not surprising that HubSpot has a solid knowledgebase. There's also a fairly active community for help on not just using HubSpot, but business strategy in general.
Finally, HubSpot also has an academy where you can take short marketing courses and even earn a certification.
When to Choose Each: Constant Contact vs HubSpot
As mentioned, these are both established email marketing providers that can give you great value if you use enough of their features.
If you're looking for a platform that lets you build a simple website and offers easy to use email marketing features, Constant Contact is the clear choice for you.
If you're looking for a platform where you can work with multiple employees on email marketing, sales, and customer service, HubSpot starts to make a lot of sense. Even if you're just starting a small business, the free plan can be a solid choice to get started, and then you can see if you'll grow into the other features as you go.
You can see how other email marketing tools stack up to HubSpot in the following comparisons:
Related: Convertkit vs HubSpot
Related: 40+ B2B Email Marketing Statistics That Might Surprise You