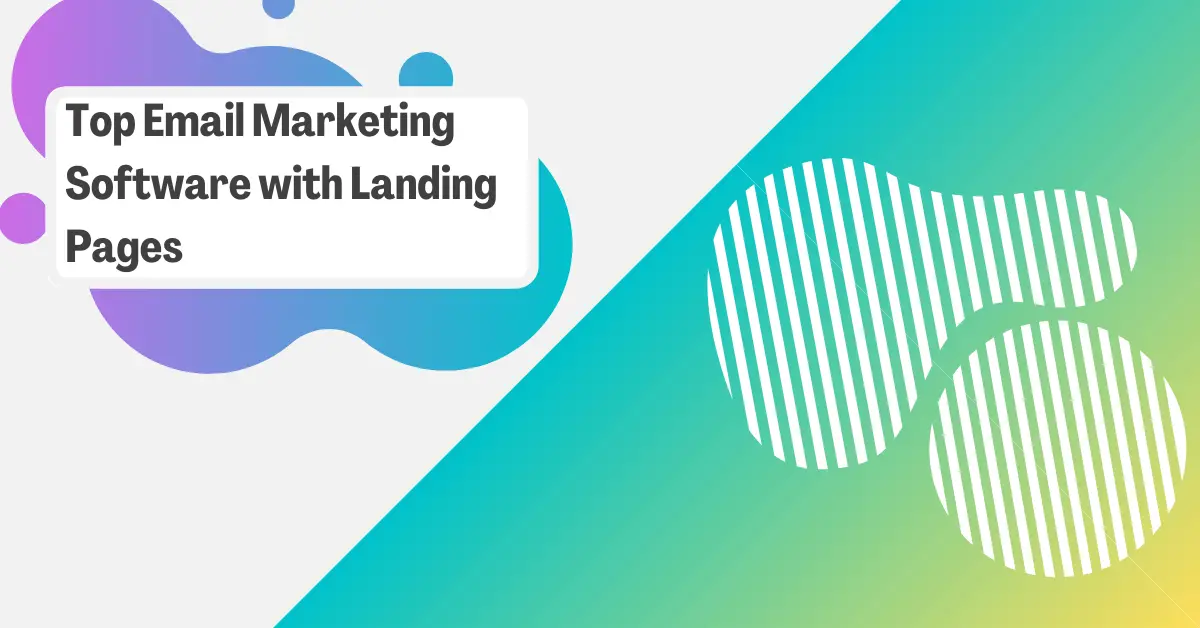 There are dozens of email marketing platforms out there. However, many of these tools are only good at doing just one thing; bulk sending emails. Few have excellent email marketing ability AND landing page builders.
Nevertheless, the ability to use your email marketing software to create landing pages to capture email addresses is extremely advantageous. After all, capturing email addresses and email marketing obviously go hand in hand.
That being said, if lead generation is important to you, choosing an email marketing platform with a strong landing page builder is your best bet.
In this post, you can discover 7 of the top email marketing software with landing page builders.
GetResponse

– top pick!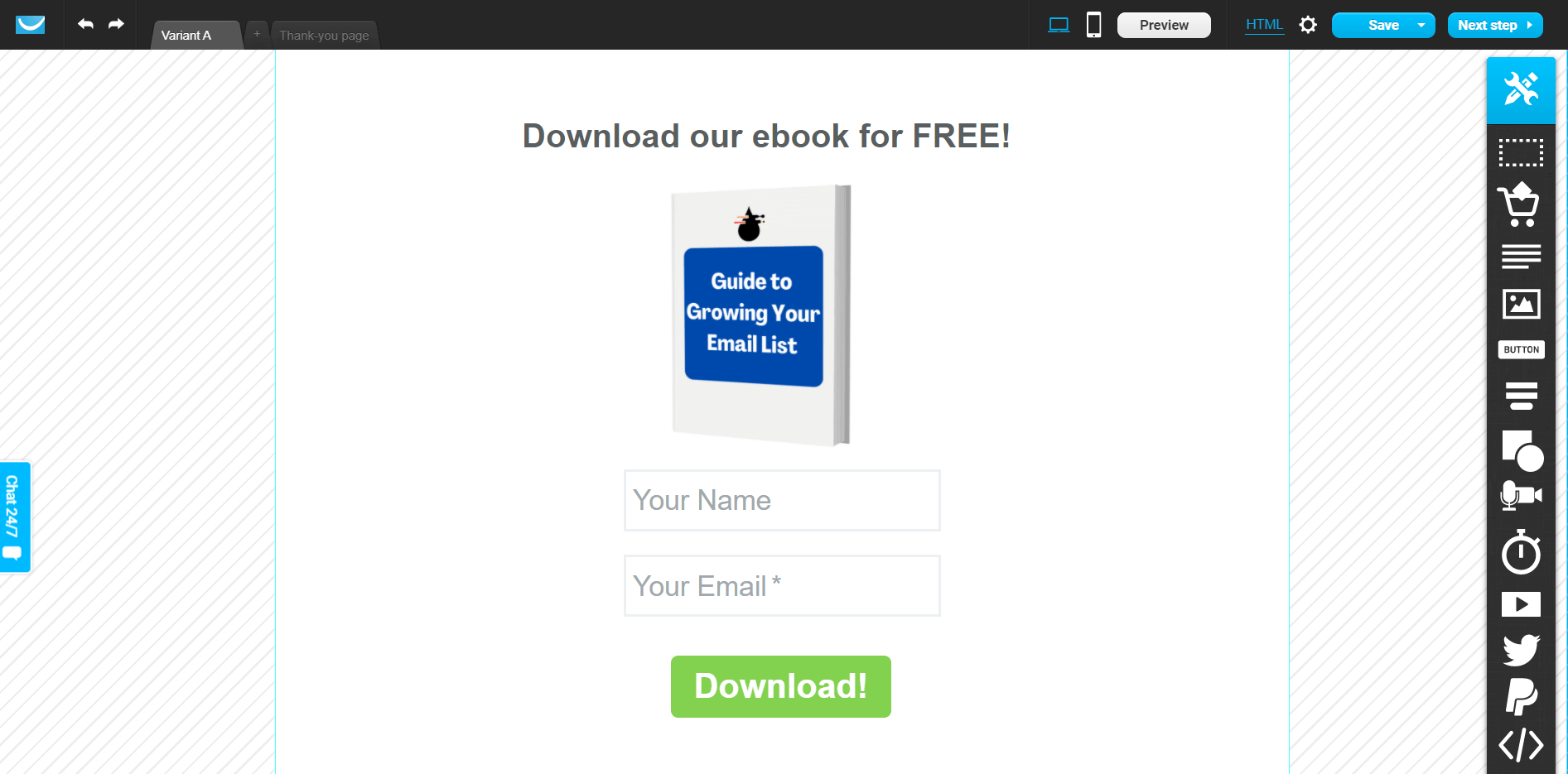 GetResponse sets itself apart from other email marketing tools in that it has many unique features such as a sales funnel builder, and a webinar builder. This platform also happens to have an exceptionally powerful landing page builder, making it our top pick.
Arguably the biggest draw of GetResponse's landing page builder is the editor's flexibility. While many other email marketing tools have designated placeholders for content blocks, with Getresponse you can move content blocks wherever you see fit on your landing page. The flexibility of this landing page builder is comparable to that of Canva and other graphic design tools. 
Additionally, GetResponse has a variety of unique elements that you can add to landing pages such as countdown timers and popup forms. However, despite the advanced customizability of GetResponse's landing page builder, the platform is still extremely easy to work with.
While the landing page builder (and GetResponse's email marketing features) are strong, one of the few downsides of GetResponse is that it doesn't have a free version.
MailerLite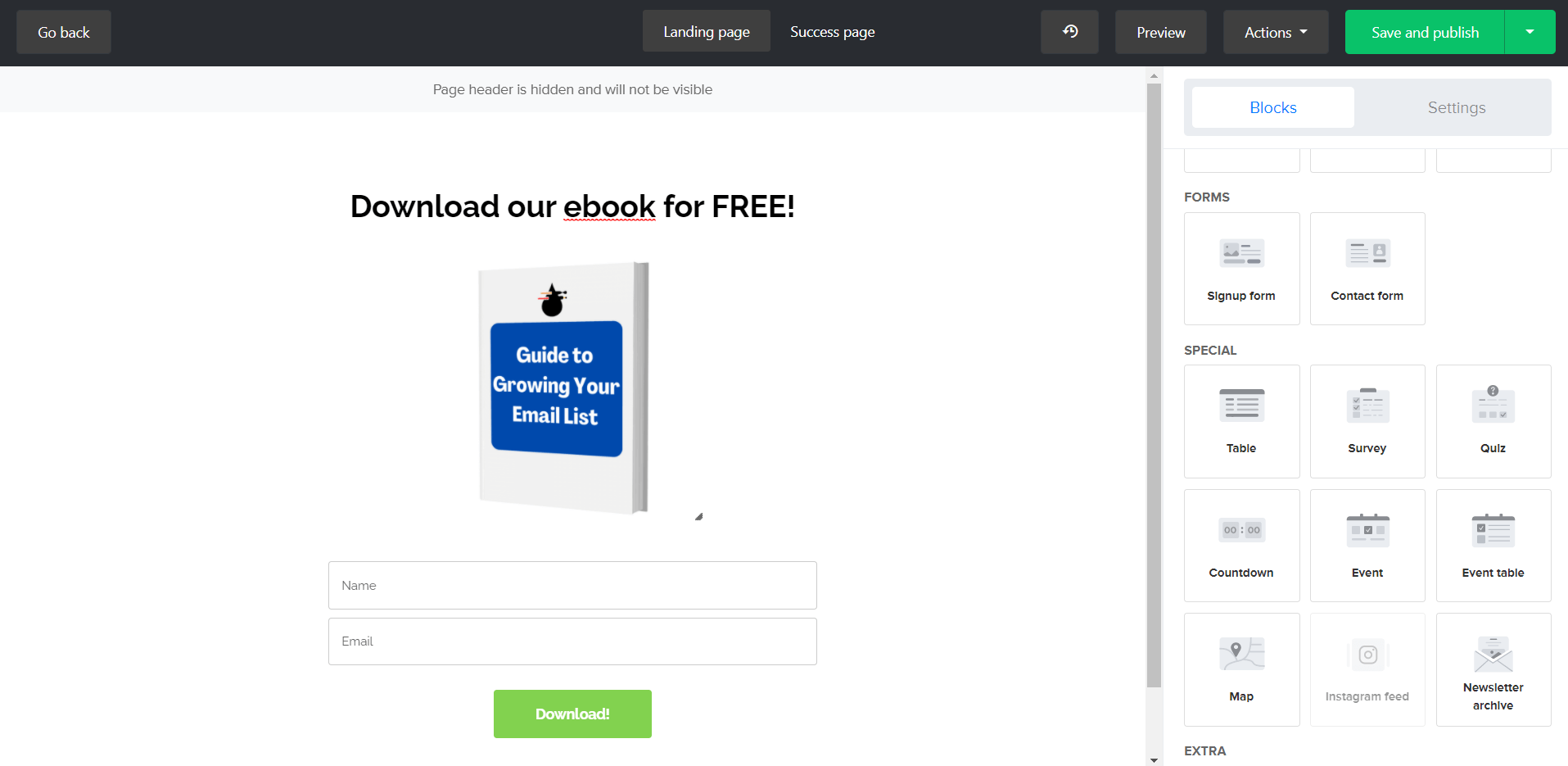 MailerLite is a powerful email marketing tool and yet, it's quite affordable compared to many of its competition. As a relatively new player in the email marketing game, MailerLite offers a refreshingly clean and modern user interface that makes effective email marketing easy even for beginners.
This email marketing platform is extremely generous in terms of the features it includes in its free plan. With both free and premium plans, you can host up to 5 landing pages, which is more than enough for many marketers. By upgrading to the $10/month Sites Pro add-on, you can host unlimited landing pages.
MailerLite offers a great selection of engaging landing page templates. Moreover, the landing page editor has very unique content blocks such as an event table, survey, quiz, map, countdown timer, and more.
However, the most glaring downside is the limited customizability of the landing page designs. While the templates look great, you can't move around landing page blocks as freely as you can with other landing page builders.
Constant Contact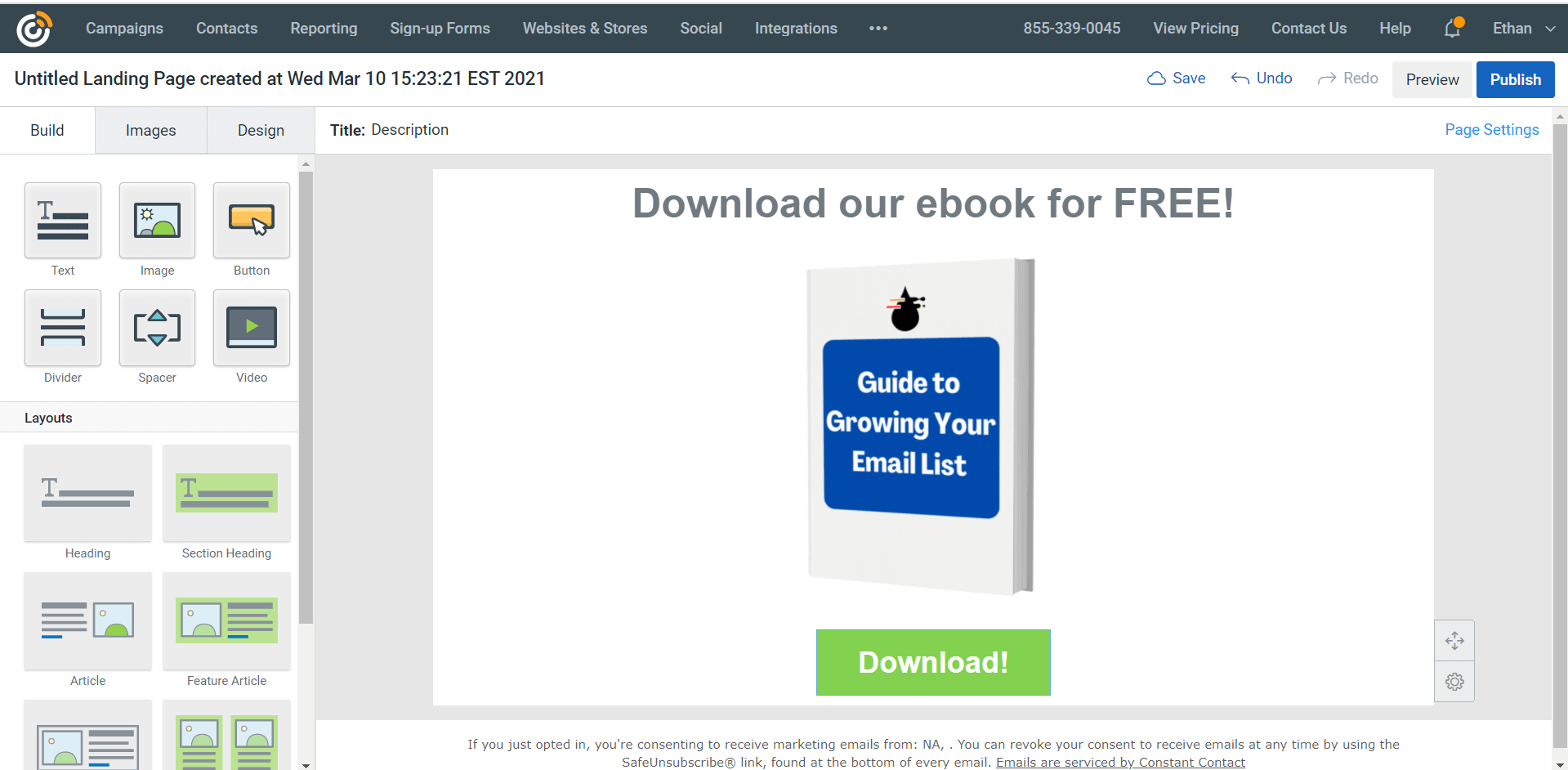 Founded in 1995, Constant Contact is one of the oldest email marketing tools. While this platform has fantastic email marketing features, Constant Contact has expanded its platform by adding new features such as social media posting, paid ads management, a ecommerce store builder, and more.  
Constant Contact's landing page editor is incredibly easy to use. The drag-and-drop editor allows you to add elements such as images and text and adjust their size and spacing between other elements with a few clicks.
This email marketing platform sets itself apart from most of its competition given that it has "shoppable landing pages". These landing pages are designed to feature and sell your products (once you have set up your Constant Contact Online Store). Shoppable landing pages are essentially landing pages with payment gateways.
Unfortunately, while Constant Contact's landing page editor is easy to use, the downside is it's much less flexible than GetResponse and other competitors. The template selection is relatively limited as well.
For more examples of Constant Contact landing pages see this post!
Mailchimp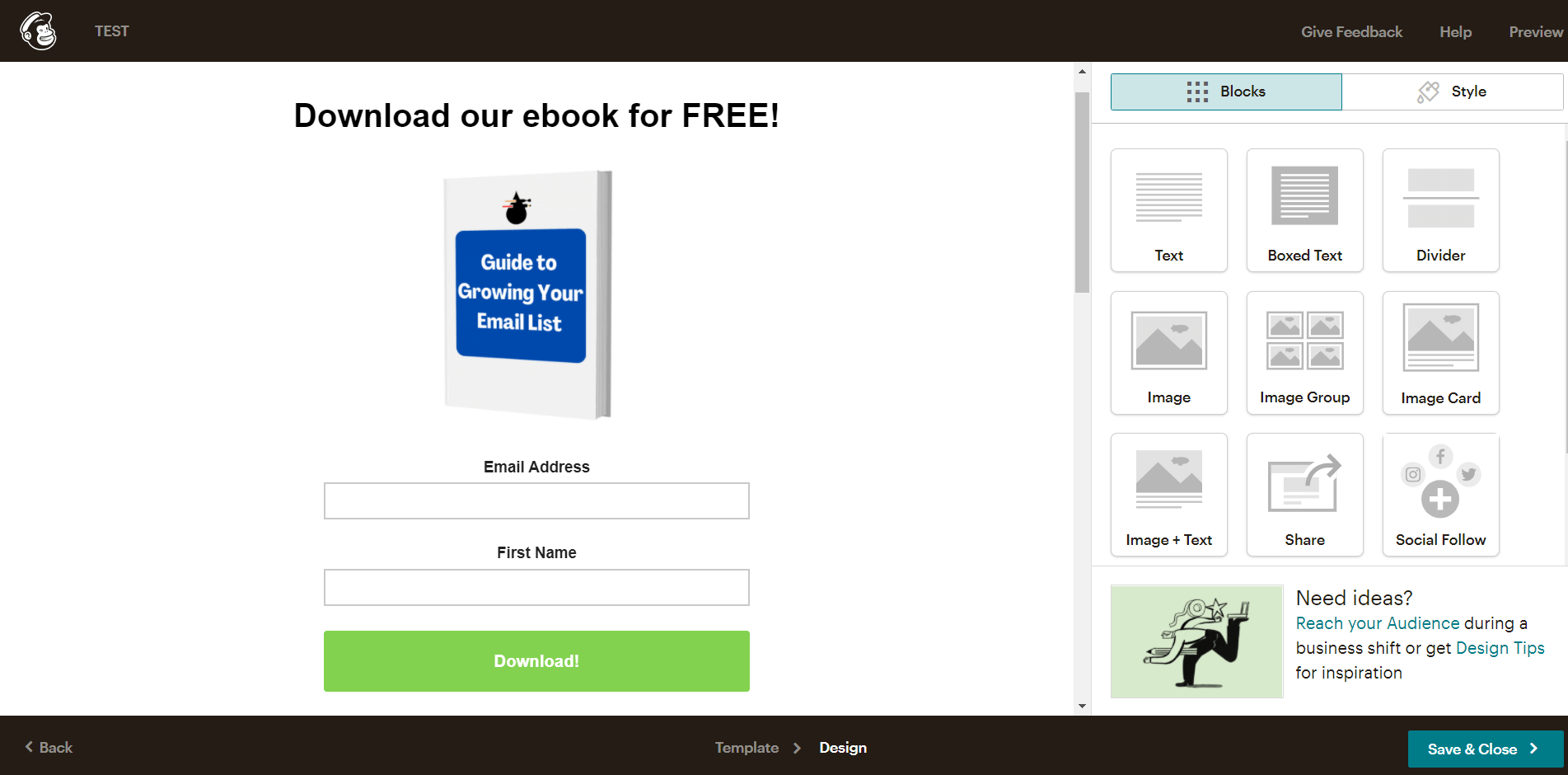 Mailchimp is likely the most popular email marketing platform and has been praised by small businesses for two decades. This software giant offers powerful automation options and numerous professionally designed email templates. Similar to Constant Contact, Mailchimp evolved to become more than just an email marketing platform. This tool offers numerous additional features such as a marketing CRM, social media management, and… you guessed it… landing pages.
Like MailerLite, Mailchimp's landing page builder comes with the free version of the platform. Mailchimp's landing page editor isn't super advanced compared to email marketing tools like GetResponse. However, this might not necessarily be a bad thing for businesses looking for straightforward and intuitive landing page builders without any extra bells and whistles.
Perhaps the biggest downside of Mailchimp's landing page builder is it only offers 8 templates. You can customize these templates however you see fit, but it would be nice if there was a larger selection. Additionally, compared to other tools, the customizability of opt-in forms on the landing page is limited.
Active Campaign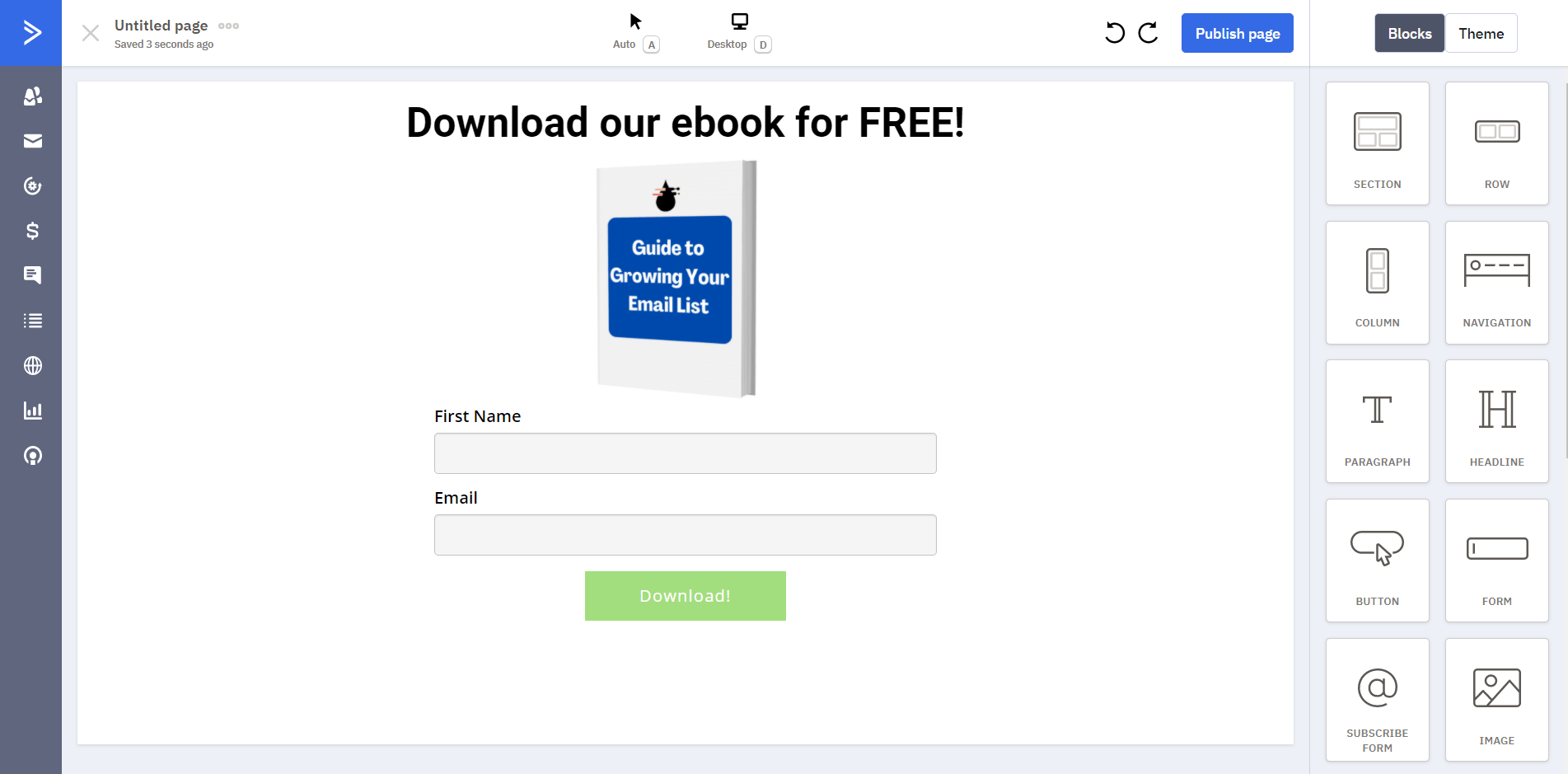 Active Campaign is an extremely robust email marketing tool. This platform is known for its advanced features such as marketing automation, machine learning, and lead scoring. Given Active Campaign is an email marketing tool with a built-in CRM, this platform is excellent for companies with sales teams.
Active Campaign has a variety of landing page templates that are tailored to a variety of industries from fitness and construction. Not only is the selection sizable but the templates are modern and well-designed as well.
Relative to other email marketing tools with landing page builders, creating landing pages with Active Campaign is a bit more involved. In the landing page editor, you must first build out the "frame" of your landing pages by clicking and dragging sections such as rows and columns. Only after you have these sections in place can you add content blocks like text and images. This style of landing page editor can allow for more customizability. However, on the other hand, the landing page editor is relatively more complicated than most.
One of the biggest downsides of Active Campaign is it's on the expensive side. To access the landing page builder you must subscribe to the Plus plan which starts at $49/month.
AWeber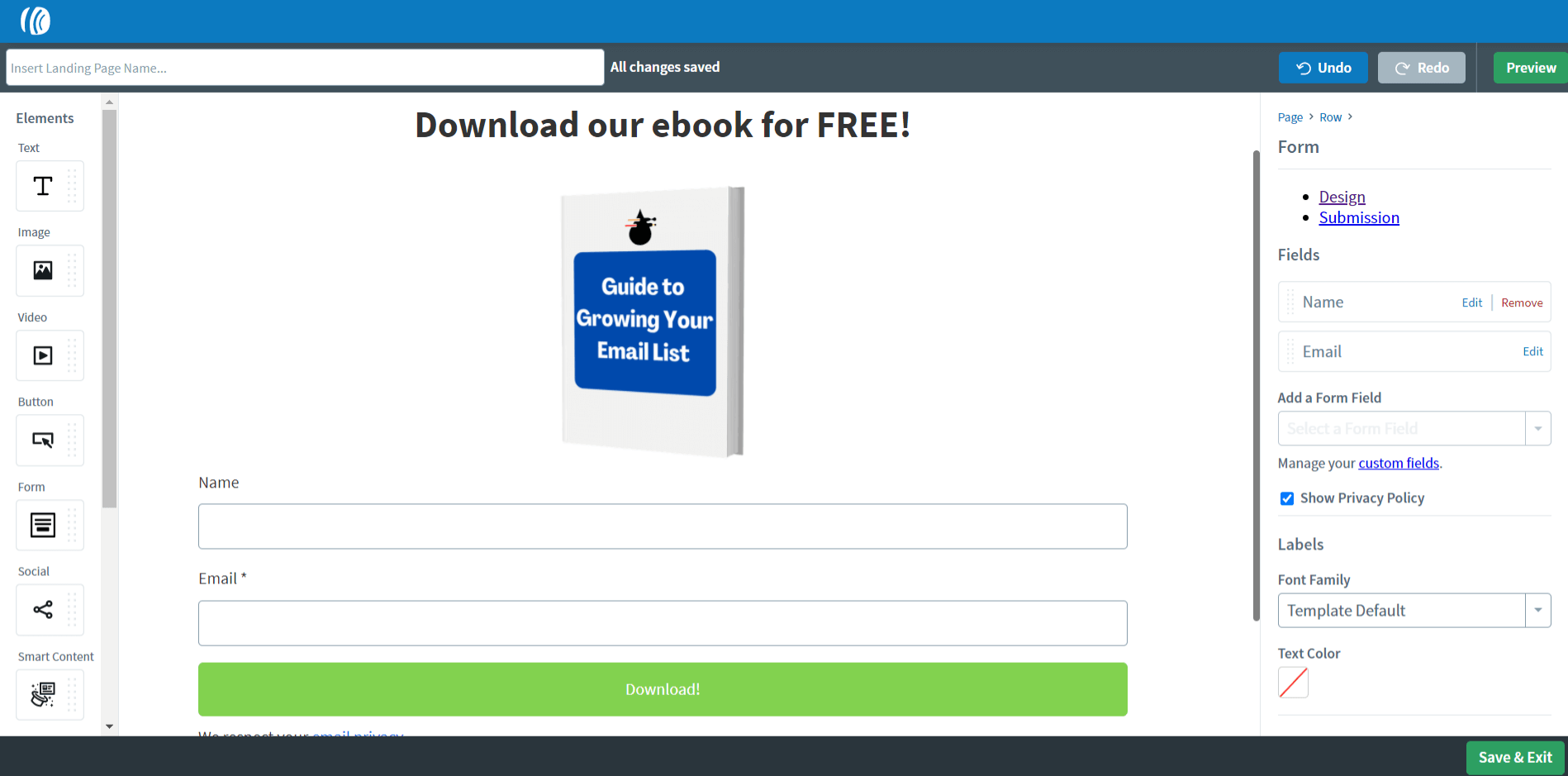 AWeber is another well-established email marketing tool. Like Mailchimp and Constant Contact, this platform has been around for over 20 years. AWeber has all the essential email marketing features for small businesses as well as some more advanced features such as marketing automation.
Like any decent landing page builder, AWeber's landing page editor offers all the basic content blocks such as text, image, and video. However, it also has more advanced content blocks such as an ecommerce payment gateway, popup forms, and most notably "smart content". Smart content essentially allows you to host dynamic and interactive content on your landing pages by simply adding a hyperlink for that content. For instance, you could ad a TikTok video, a SoundCloud song snippet, an Instagram photo, or a Fiverr service page. The numerous possibilities make AWeber's landing pages extremely versatile.
However, while there are certainly some pros to AWeber's platform, there undoubtedly are downsides. AWeber's landing page builder (as well as the platform as a whole) can be buggy. For instance, sometimes various buttons are unresponsive and laggy. Obviously, this can make for a poor user experience.
HubSpot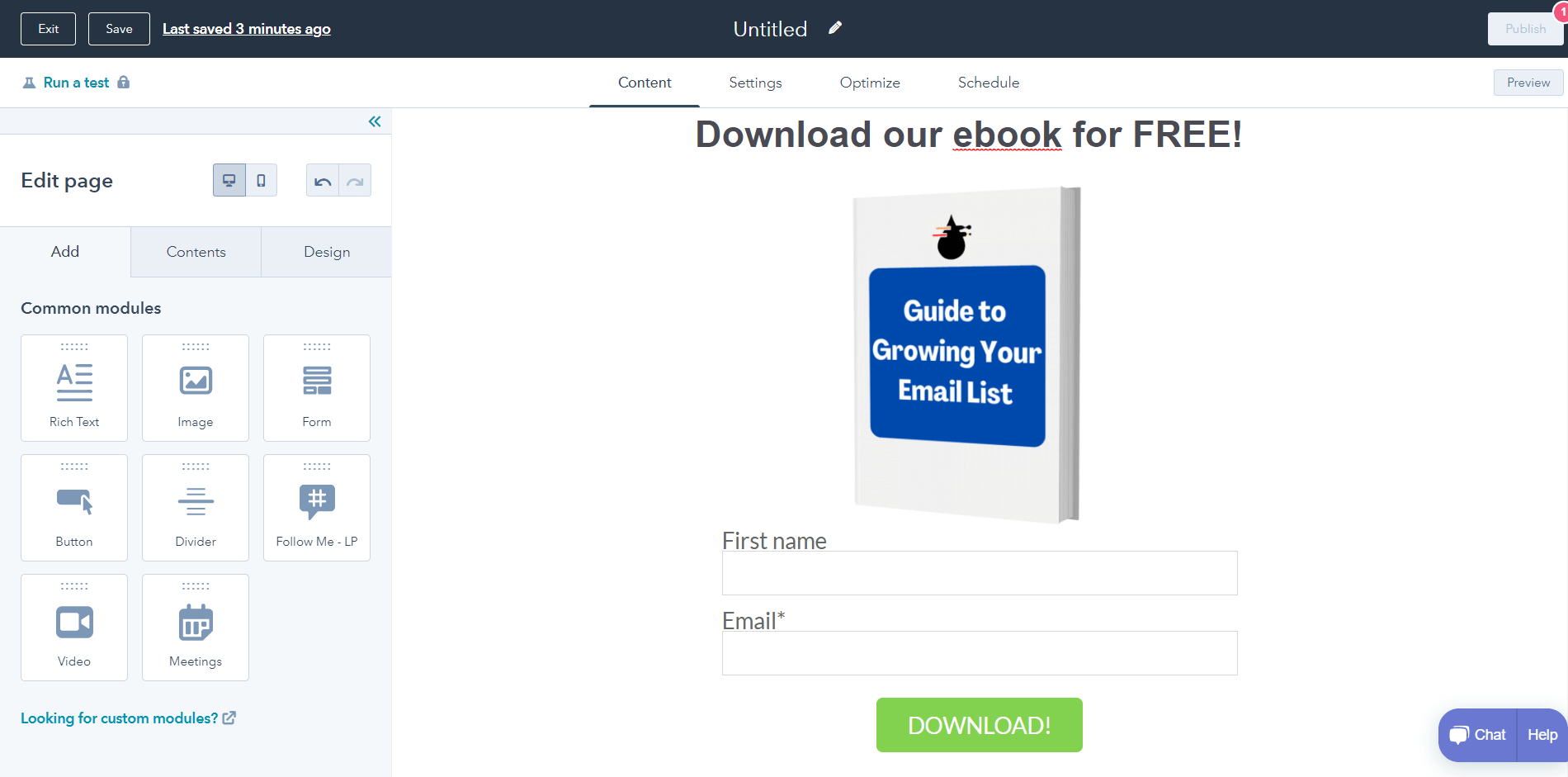 Not only does HubSpot have powerful email marketing, but a slew of additional marketing features such as landing pages, live chat, conversational bots, ad retargeting, social media management, SEO tools, and more. HubSpot is essentially an all-in-one platform that provides fast-growing businesses with practically every digital marketing feature under the sun. Fortunately, HubSpot offers its landing page builder (as well as numerous other features) in its free plan.
HubSpot's landing page builder has numerous advanced features such as personalization, template swapping, SEO suggestions, and powerful analytics.
The landing page editor is riddled with numerous settings that you don't get with most other tools. For instance, there is a lazy load images option for making your landing pages load faster. Additionally, because of the HubSpot/Canva partnership, there is a "design with Canva" feature that allows you to design images from a Canva popup editor.
While HubSpot's landing page builder is sophisticated, there are some limitations. For one, there isn't a super generous selection of content block options. Additionally, to get advanced landing page features you need to upgrade to the Marketing Hub Professional plan which starts at $800 per month. Obviously, this isn't affordable for most small businesses.
Final words
Not all email marketing platforms are capable of building landing pages. For instance, Campaign Monitor doesn't have a landing page builder feature. 
However, landing pages are one of the most important features to consider (aside from the email marketing capabilities of the tool, which is, of course, are most important to consider). Given that landing pages are one of the most powerful ways to build an email list, it makes complete sense that email marketing tools commonly offer this feature. Additionally, by collecting both email analytics and email capture analytics under the same platform you can get a complete overview of your business's email-related marketing efforts. That being said, if lead generation is important to you, it's best to consider email marketing tools with strong landing page builders. 
On the other hand, it's important to consider other email marketing features as well. The landing page builder is just one of the many features that reputable email marketing solutions have.