Getting started with digital marketing can feel overwhelming. With little prior internet marketing experience, trying to wrap your head around the various digital marketing terminology is no easy task.  
Given the popularity of email marketing, many businesses have questions regarding this marketing channel and how it relates to digital marketing as a whole. 
Furthermore, many want to know what the difference is between email marketing vs digital marketing. 
Simply put, email marketing is the process of sending emails to promote your business– typically to a large group of email subscribers. On the other hand, digital marketing is a broad term for all digital marketing activities including, but certainly not limited to email marketing. In other words, email marketing is a "part" of digital marketing.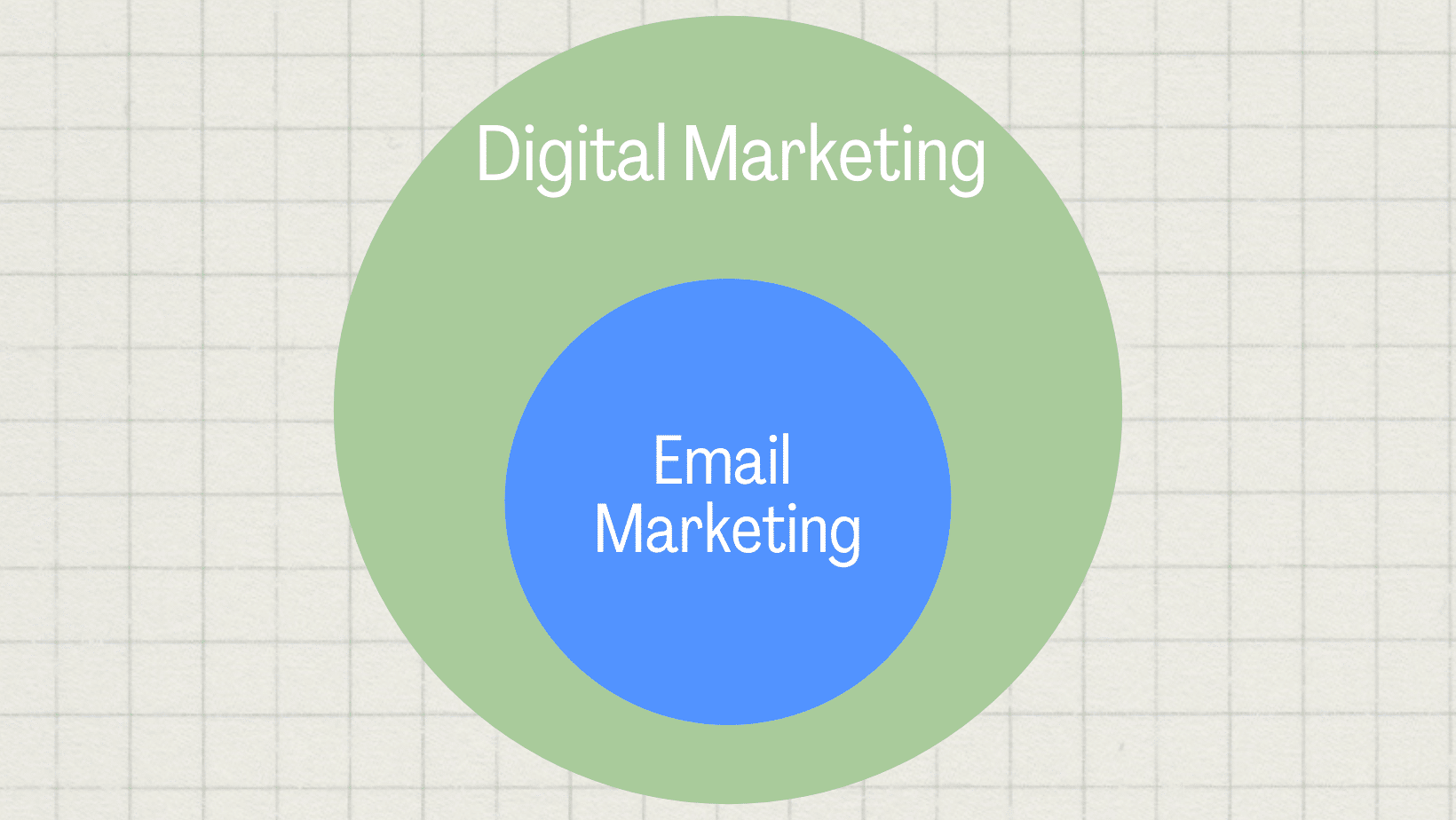 Other digital marketing channels, include social media, search engine optimization, paid social media marketing, pay-per-click advertising, video marketing, and SMS (text messages) to name just a few. 
What is Digital Marketing
Digital marketing refers to the use of the Internet and other forms of digital communication to promote your brand and business. Digital marketing is also often referred to as online marketing. 
In a nutshell, digital marketing campaigns can typically appear on computers, phones, and tablets. Anything from online video to display ads and social media posts can be turned into a digital marketing campaign. 
Digital marketing is often compared to traditional marketing. The main difference between the two is the medium through which your marketing campaign is delivered. Traditional marketing uses print ads, billboards, and direct mail. TV ads are also considered a part of traditional marketing strategies even though TV is a digital medium.
Traditional marketing still plays a role in the consumer's life although research skews in favor of digital marketing here. According to the Pew research center, "[…]31% of adult Americans are online almost constantly while 85% of Americans go online on a daily basis."
In addition to that, digital marketing also relies in part on your everyday use of the Internet to reach you. This is known as retargeting and it's not a new concept. However, digital marketing cleverly takes advantage of it by subtly incorporating marketing messages into every digital channel.
The Different Types of Digital Marketing
Digital marketing includes several different strategies. A few popular types of digital marketing include: 
SEO

— stands for Search Engine Optimization and it involves optimizing your website and content such as blog posts to rank better in search engines. 

SEM

— it stands for Search Engine Marketing and it involves using paid ads that appear on search engine results pages to promote your products and services.

Social media

— involves marketing your business on social media platforms such as Facebook, Instagram, LinkedIn, and other platforms.

Paid social media marketing— this includes marketing your business using paid ads on various social media platforms. Facebook and Instagram ads, Pinterest Promoted Pins, Linkedin and Twitter ads are just some of the options available.
Video marketing

— encompasses using videos in your marketing campaigns. Videos can be long or short and they can be used to build brand reputation, build customer rapport, and promote your products and services.

SMS marketing

— refers to sending promotional campaigns or transaction messages via text messages. 
Of course, we can't forget email marketing but don't forget that you can effectively do email marketing without the help of other digital marketing strategies mentioned above. 
Benefits of Digital Marketing 
One of the biggest benefits of digital marketing is that you can reach a much broader audience than with traditional marketing. However, there are a few other benefits to consider: 
Cost efficiency

— if you're running an ad in your local newspaper, your ad will "expire" the minute a new edition of the newspaper has been published. This means you have to continually renew it, at a pretty steep price. But a blog post written last month can continue bringing you traffic for years to come.

Easier personalization

— since digital marketing relies on gathering user data, you can get a much better picture of your customer's preferences. This allows you to create highly personal marketing campaigns that your customers can easily relate to. And when your marketing is

relatable

,

it's easier to make a sale.  

Real-time communication with customers

— every social media post and even every email you send as a part of your marketing strategy gives you an opportunity to communicate with your customers in real time. 

Quantifiable results — lastly, tracking the success of your digital marketing campaigns is a lot easier thanks to tools like Google Analytics. 
What is Email Marketing 
Email marketing is a form of digital marketing that uses email to promote your products and services. Email marketing can include relationship-building emails such as newsletters as well as more targeted emails such as promotional or launch emails. 
The very first email marketing campaign was sent back in 1978 and it resulted in $13 million in sales from only 400 subscribers. Since then and with the evolution of the Internet, email marketing has exploded in popularity and remains one of the few digital marketing channels with the best return on investment. 
The rise in popularity of email marketing has also led to the establishment of numerous rules and regulations that need to be followed when you're sending out email campaigns. This includes the CAN-SPAM act of 2003, UK's Data Protection Act, and the more recent EU's GDPR law.
Different Ways You Can Do Email Marketing
There are several ways to do email marketing. 
Newsletters
Newsletters are regular email campaigns that you typically send on a regular schedule. Newsletters can include different types of content: from sharing links to your latest blog post to including what's new in your store. These emails help you nurture your leads further and continue to build the know, like, and trust factor. Statistics on newsletter emails show other benefits as well. 
Promotional Emails
You'll send a promotional email when you want to promote a specific course, service, or a product. These are usually one-off, time-sensitive emails that can help you drive sales. In some cases, you might even include a special discount code to incentivize your subscribers to make a purchase.
Transactional Emails
Transactional emails facilitate communications about commercial transactions. This includes order confirmation emails, order processing updates, shipping updates and notifications, refund updates, and similar. 
Lead Nurturing Email Series
A lead nurturing email sequence is a series of 5-7 emails that you send to new leads or new subscribers when they first join your list. You'll typically stagger this out over a period of one week or longer and use it to get your leads more familiar with your brand. 
Launch Email Campaigns
Lastly, launch email campaigns are a series of emails you send when you're launching a new product or service. It can be a short sequence of 3-5 emails but it can also be longer. It's sent during your launch period and it's meant to build excitement with your audience and get them to make a purchase. 
Benefits of email marketing 
Email marketing has its own set of benefits and advantages. The most notable benefit is that email marketing campaigns have a great ROI. According to a study from 2015, for every $1 spent, email marketing can generate $38. Other benefits of email marketing include: 
Drives traffic to your website

— if you include links to your website, products, and blog posts, your subscribers can click on them which leads to more traffic to your website.

Leads to sales

— have a holiday sale coming up? Let your subscribers know and include a discount code to encourage them to make a purchase.

Customer loyalty

— you can use email marketing to nurture your leads and subscribers at every stage of their customer journey. From onboarding to customer retention, email helps you turn visitors into loyal customers.

You own your email list

— unlike social media, you have complete control over when your subscribers see your email. You don't have to worry about algorithms and most importantly, you can take your list with you and always have a direct line of communication with your customers.

Targeted campaigns

— almost every email marketing platform allows you to segment and categorize your subscribers. You can use this to send campaigns based on their interests which can lead to better open, click-through, and conversion rates. 
Final words
Hopefully, by this point you understand the difference between email marketing vs digital marketing. 
When it comes to your marketing strategy, email marketing can and should be a part of it. However, you should also use other channels mentioned in this post as well. After all, you can't really do email marketing if no one is coming to your website or landing page. 
That's where other digital marketing strategies come in handy. Use social media, SEO, paid ads, and other methods mentioned in the article to drive traffic to your website and landing pages so you can enjoy all the benefits email marketing has to offer.