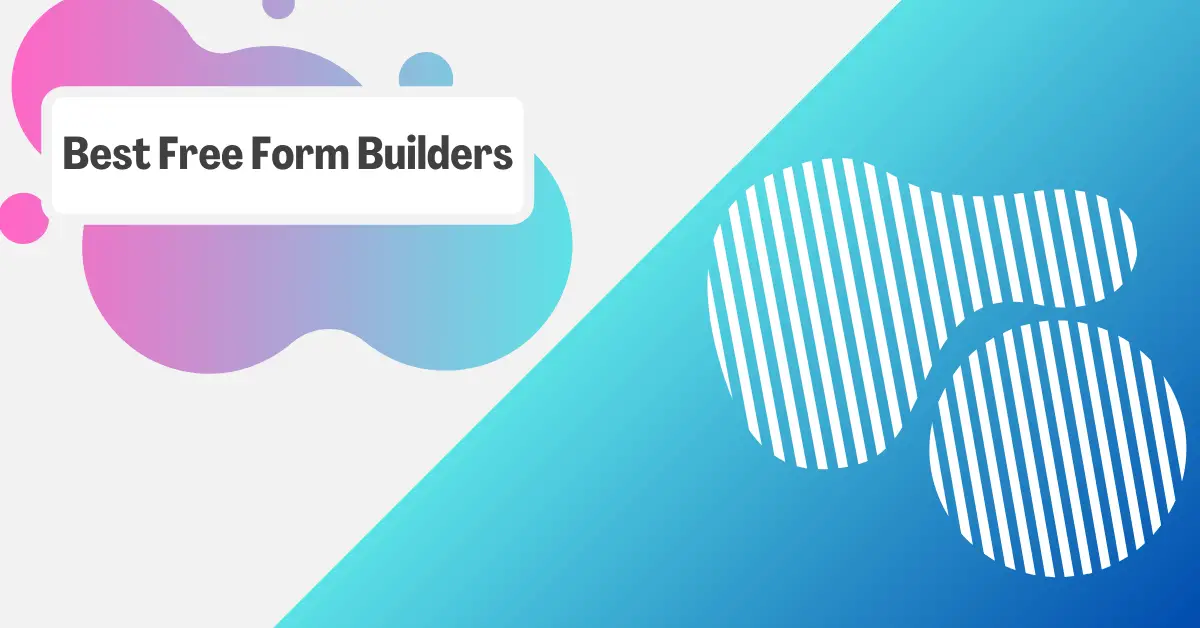 For collecting information from audiences at scale, a good form builder is a must.  
The good news is that there are numerous form builder solutions to choose from. However, on the other hand, not all of these solutions are affordable for all organizations. After all, some of these platforms start out at $50+ per month, and for some organizations, this cost is just out of budget. 
Fortunately, there are a few free form builder software solutions that you can take advantage of. 
In this post, you can discover 11 of the best free form builders.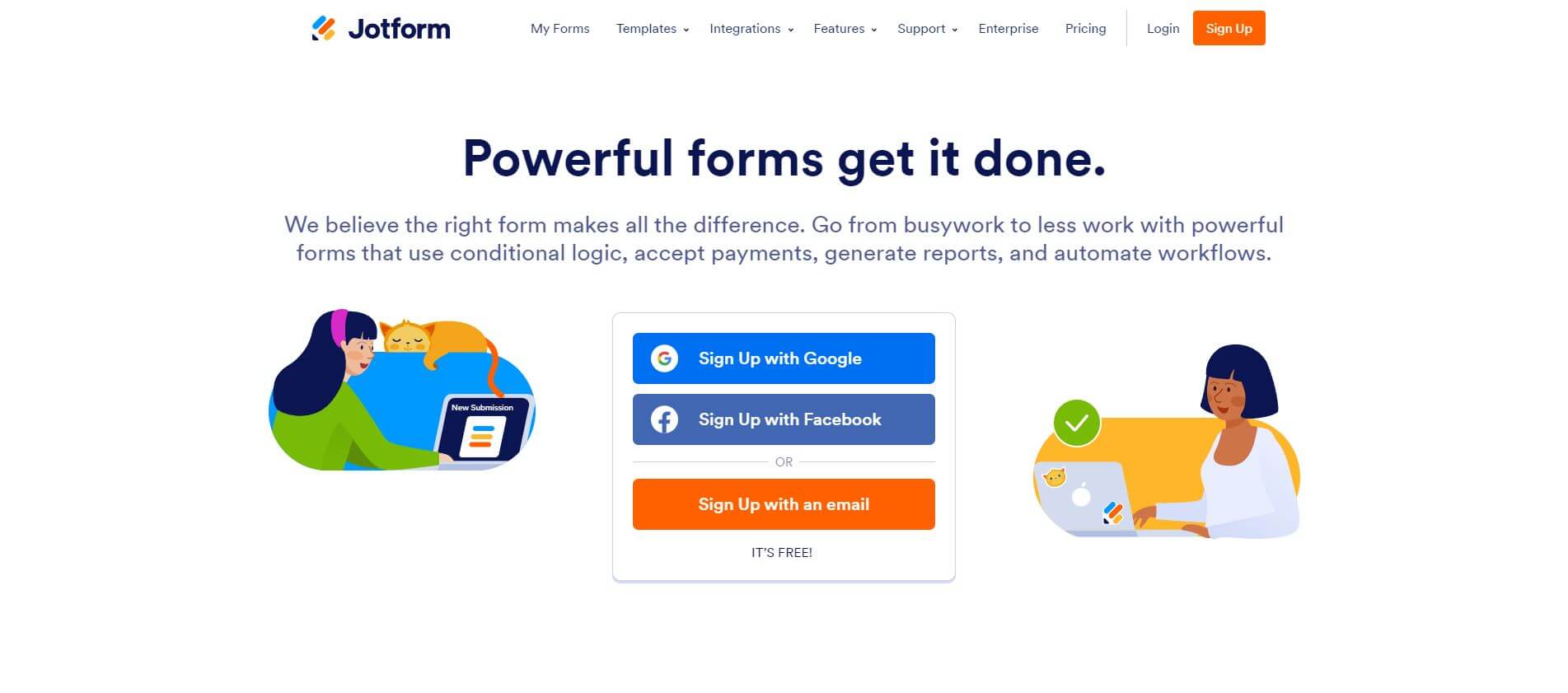 When it comes to free form builders, Jotform is truly a feature-rich solution. Although there are use limits to the software's free version, all of Jotform's great features are available.
The free version of Jotform allows users to build as many as five forms, record up to 100 submissions per month, access 100 MB of storage space, 1,000 monthly form views, 100 form fields, and ten monthly payment submissions.
Jotform also features an array of conditional logic options, including the ability to skip or hide a page, perform complex calculations, show and hide form fields, and more. This form-building software solution integrates with popular payment services like PayPal, Square, and Stripe 
With Jotform, users have access to a library that features more than 250 form templates which can be used to create a whole host of online forms, including product order forms, registration forms, contact forms, file upload forms, membership forms, and more. These templates are fully customizable, and an easy-to-navigate drag-and-drop user interface makes field editing straightforward and clear.
Paid plans will allow users to remove JotForm branding, take advantage of Health Insurance Portability & Accountability Act (HIPAA) compliance, and increase limits. 

Cognito Forms is a superior form-building solution with great standard features, perfect for small businesses on a tight budget. The free version of Cognito Forms allows file uploads, multi-page forms, rating scale, repeating selections, calculations, conditional logic, and exporting capabilities. With a free "individual" account from Cognito Forms, an individual user has access to an unlimited number of forms, 500 entries per month, the ability to accept payments via Stripe, and up to 100 MB of storage. The generous number of form entries per month qualifies Cognito Forms as one of the best free form builders. 
This popular online form builder balances uniquely powerful capabilities with particular ease of use, enabling anyone to simplify complicated and time-consuming processes. Cognito Forms offers nearly 200 free form templates that can be fully customized using a simple drag and drop user interface to create unique, beautiful online forms. Adding conditional logic and calculation options makes work automation a breeze.
Cognito Forms also offers its users a Wufoo import tool. This feature allows existing users of one of its major competitors, Wufoo, to easily import existing forms and data to their Cognito Forms account from their Wufoo account.
To unlock features like electronic signatures, removing Cognito Forms branding, bulk file downloads, and integrations with third-party apps, users will have to opt for a paid version of this form-building software solution.
Related: 7 Best Form Builders with File Upload Functionality
Google Forms is a no-frills yet incredibly versatile free online form-building solution popular for creating surveys, quizzes, online event registrations, and more. As part of Google's web-based applications suite, Google Forms integrates seamlessly with other Google tools such as Google Slides, Google Sheets, and Google Docs.
Although the Google Forms library offers only 17 pre-designed form templates and very few design customization options, users can edit color palettes and background images, accept limited file uploads and edit nine form fields. Users can choose from question types like short answers, fill-ins, multiple-choice, dropdowns, and tick boxes. Users can also easily customize their forms to set response limits and restrictions.
Google Forms does offer several conditional logic features, but they are quite limited. However, with Google Forms, users can still set up basic conditional logic tasks such as sending respondents to specific pages based on responses to particular questions.
When combined with Google Sheets, downloading reporting and analytics data is easy.
The Google Forms drag-and-drop editor is so easy to navigate that children often use it in classroom settings, and even the least tech-savvy users can have an online form up and running in just minutes.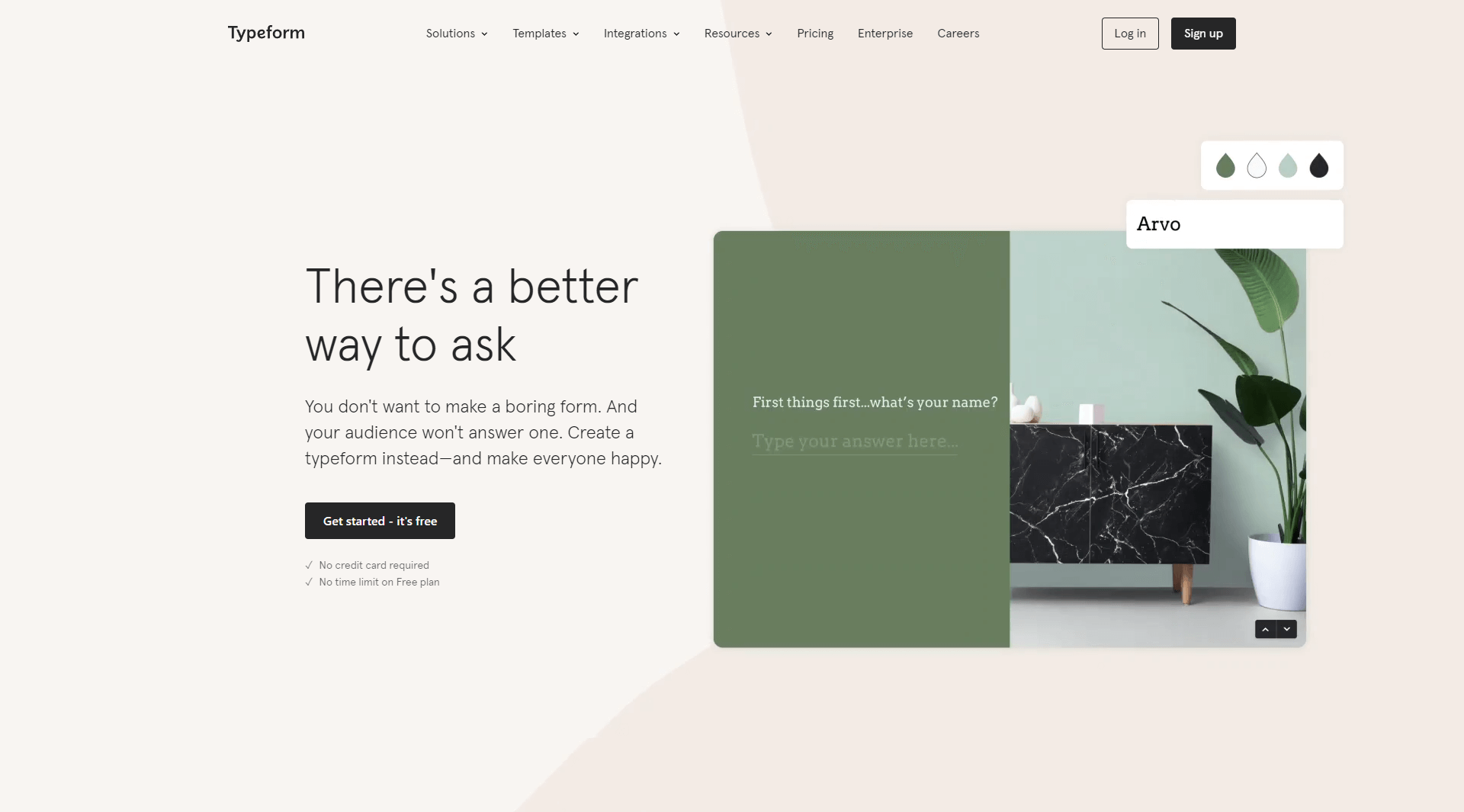 With a free Typeform account, users can create as many Typeforms as they wish. They can choose one of the more than 600 templates in the Typeform library to develop a range of fully customizable forms with up to ten questions and ten responses per month.
Form templates include giveaways, polls, lead generation, questionnaires, surveys, quizzes, and others. Typeform customization options include the ability to change question layouts, edit overall designs & themes, and set up conditional logic. 
Typeform allows users to use conditional logic for branching, calculation, variables, showing and hiding fields, and creating customized endings. Users even have access to basic reports and metrics inside the Typeform results panel, which can be exported into a spreadsheet for use with other software.
Users can embed their Typeforms into their websites, get notifications each time online forms are completed, and boost performance by integrating with third-party applications like Airtable, Mailchimp, Slack, Zapier, Google Sheets, and more. With Typeform, users can also set response limits, schedule close dates, show closed messages to respondents, and more.
Typeform's free version is a holistic form-building solution that packs a lot of punch. To unlock free plan limits, users can opt for a paid plan which starts as low as $25 per month.
Related: 7 Best Payment Form Builders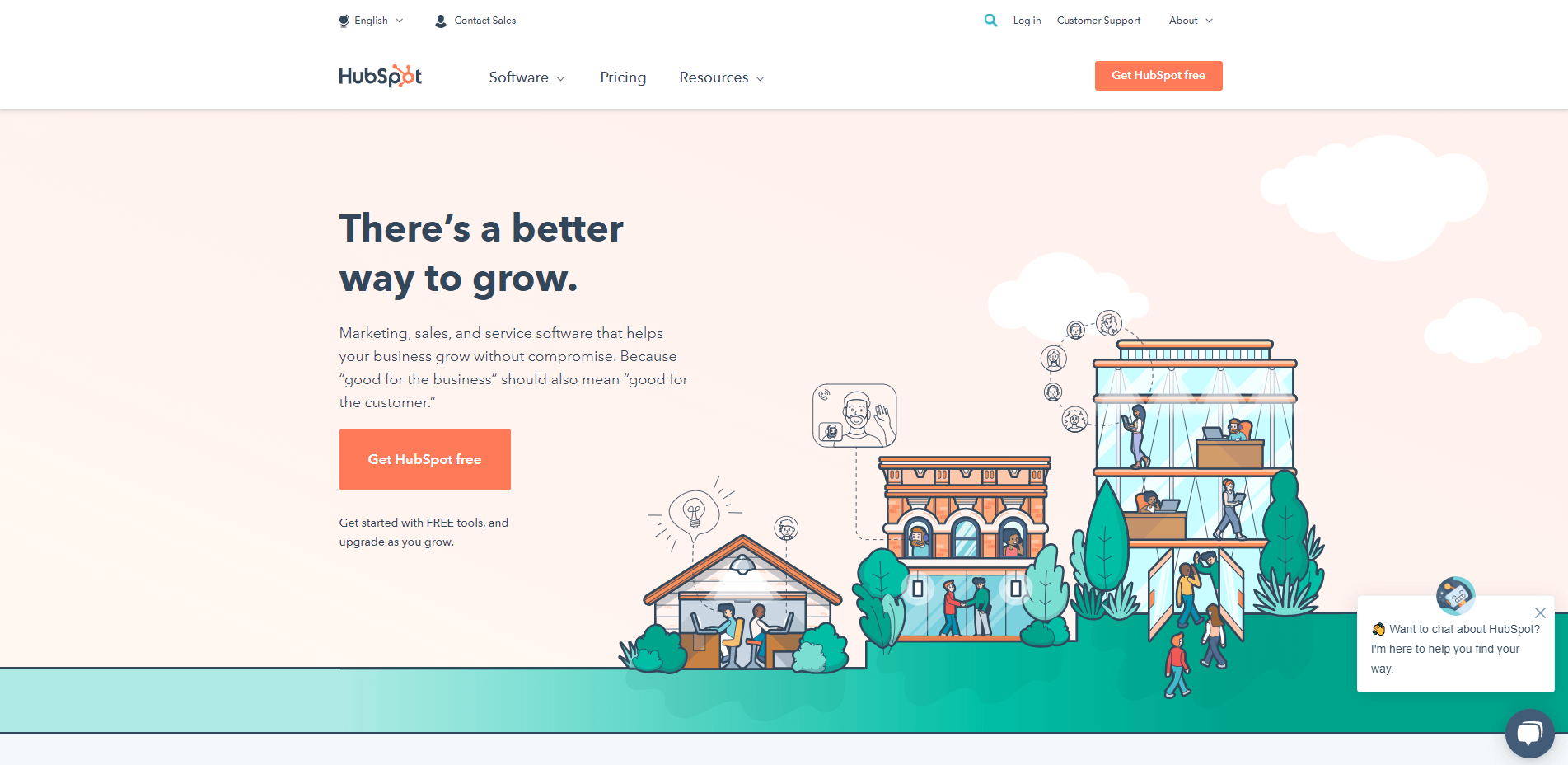 The HubSpot online form-building solution is part of the brand's all-in-one marketing platform featuring customer relationship management (CRM) tools, email marketing solutions, and other marketing and sales features. Hubspot's form builder can be used to create custom forms that can seamlessly integrate with the HubSpot suite of applications to help users easily collect the information they need. 
HubSpot is so much more than just a form builder. This CRM software solution offers small businesses the ability to go head-to-head with larger companies. Best of all, its marketing automation platform, including its form builder, is free and easy to use. Users can bring their form building to the next level with its marketing automation features by setting up automatic email follow-ups with respondents.
While HubSpot forms don't have all of the features of some of the other popular form-building solutions on the market, the product shines when combined with the different solutions in the HubSpot suite.
A paid plan from HubSpot allows users to remove HubSpot branding and access other form features. When users opt for a HubSpot professional or enterprise-level plan, they can create smart forms that adapt to a respondent's browsing history and access additional analytics tools.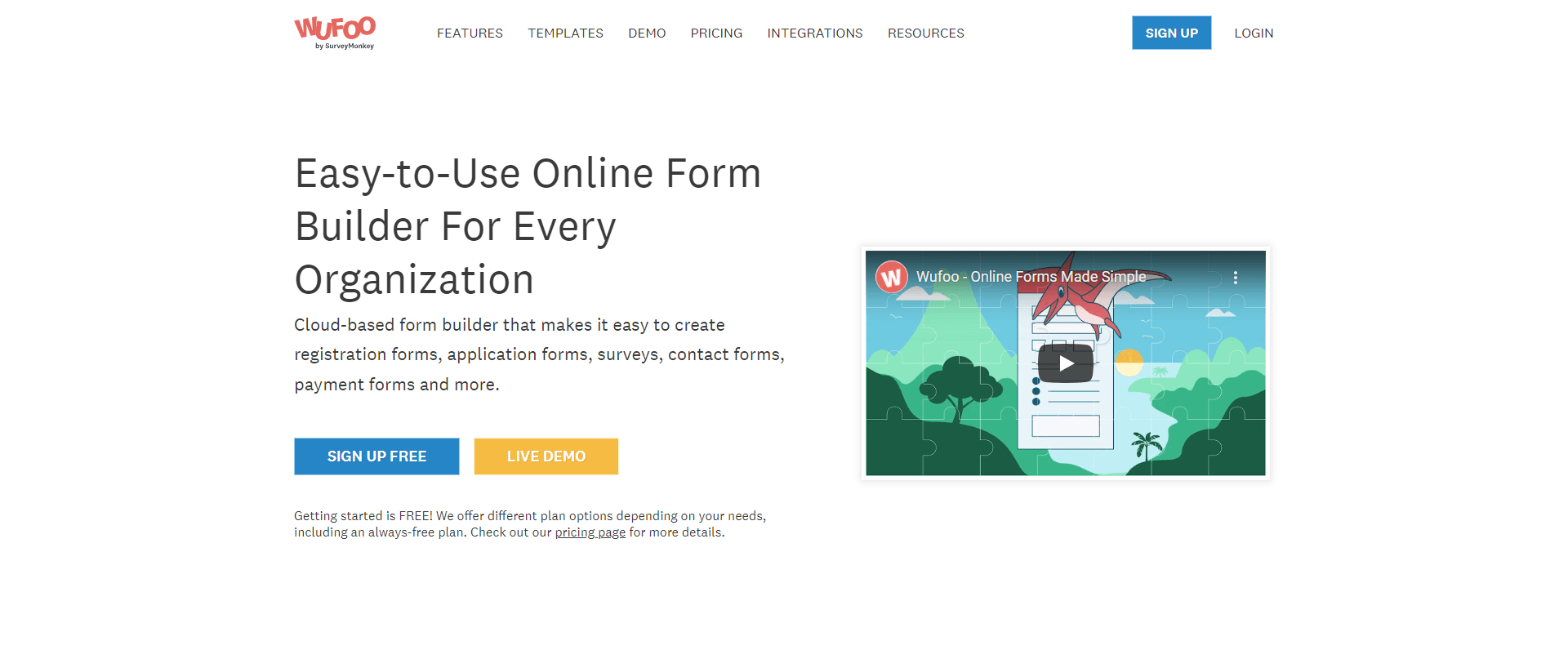 Wufoo is a cloud-based form builder from SurveyMonkey and a popular choice among small businesses and large corporations alike. There are more than 400 templates available in the Wufoo forms gallery, which are fully customizable. 
With a user-friendly, simple drag and drop interface, Wufoo allows users to create lead generation forms, online order forms, registration forms, surveys, online tracking forms, contact forms, and more. Users can start any form from scratch and add their own fields or customize one of the available Wufoo templates.
Wufoo offers advanced field customization allowing users to rename fields, add ranges, show and hide fields to certain respondents, add placeholder text, and more. Other popular Wufoo features include payment service integration, captcha spam protection, IP address collection, and Google Analytics form tracking. Wufoo integrates with more than 2,000 other software solutions, making it a truly holistic form-building software solution. 
The free version of Wufoo's online form building software allows its users to create five forms with ten fields each and collect up to 100 responses per month, with limited features. To begin unlocking Wufoo features, like branding and automated workflows, users will need to purchase a paid plan starting at around $14 per month. 
Formerly known as 123ContactForm, 123FormBuilder is a form-building software solution that has been in use for more than a decade. In that time, it has helped thousands of businesses worldwide, big and small, to build and deploy online forms. 
Taken at face value, 123FormBuilder is similar to Wufoo. Using a drag & drop interface, 123FormBuilder allows users to create online forms and surveys without the need for any coding knowledge and offers more than 2000 pre-designed, customizable templates. It integrates with more than 80 useful applications, including PayPal, Mailchimp, Salesforce, and others.
One feature that sets 123FormBuilder apart from other free form building software solutions is its connection to Wix and Weebly. Users who have used either of these platforms to create their online presence will find it easy to embed their 123FormBuilder form without the need for any technical knowledge. 
With a 123FormBuilder free account, an individual user can create up to five forms, accept up to 100 submissions, and integrate as many as three third-party applications. To unlock those limits, users must sign on for one of 123FormBuilder's paid plans which start at $19.99 a month.
FormCrafts is a popular online form builder that allows users to create contact forms, newsletters, job application forms, surveys, quizzes, and more. In addition to the stand-alone web-based version of FormCrafts, the online form building tool is also available as a free WordPress plugin for premium WordPress users. Beyond the WordPress plugin, FormCrafts does not offer a free version of its software but offers a 21-day free trial.
FormCrafts is an English-language-only form builder that is incredibly easy to use. Although it offers less than forty templates, they are fully customizable to meet every need imaginable using the clear and intuitive FormCrafts dashboard. Users can modify layouts and colors, add pages, and add different field types. Forms can be shared via direct and custom links or embedded in websites as popups or inline forms.
Perhaps the most desirable FormCrafts feature is its analytics tool. The analytics tab in the FormCrafts dashboard allows users to view completion rates, submissions, payments, and more. FormCrafts analytics is available to users regardless of their plan level and makes reviewing and understanding form performance easy and simple. FormCrafts integrates well with leading email marketing solutions like AWeber, HubSpot, and MailChimp, making it for users to turn respondents into new subscribers and contacts.
forms.app is an online form-building platform that enables users to easily create online forms, quizzes, and surveys, quickly and easily, without even having to register. With forms.app users can create online forms in minutes, even from a mobile device, share them across various platforms and receive responses instantly.
forms.app is an app-based form builder that allows users to collect data in various formats like date, number, and image through each field of their form. The application offers a variety of sophisticated form fields like grid, selection matrix, product basket, picture selection, single or multiple selection, opinion scale, and others. It is as simple as clicking the "add a field" button and selecting the form of your choice. The form's field order can be changed using the simple forms.app drag-and-drop interface.
forms.app offers a generous "free forever" plan that gives users the ability to create up to ten forms, collect 150 form responses a month, 1,000 form views a month, storage for 1,000 responses, 100 MB of file space, 20 payment collections a month, and 25 email notifications a month. Its free plan includes all app features and allows its users to collect more responses than any other form builder without being a paid user. The forms.app paid packages come with more capacity and support priority.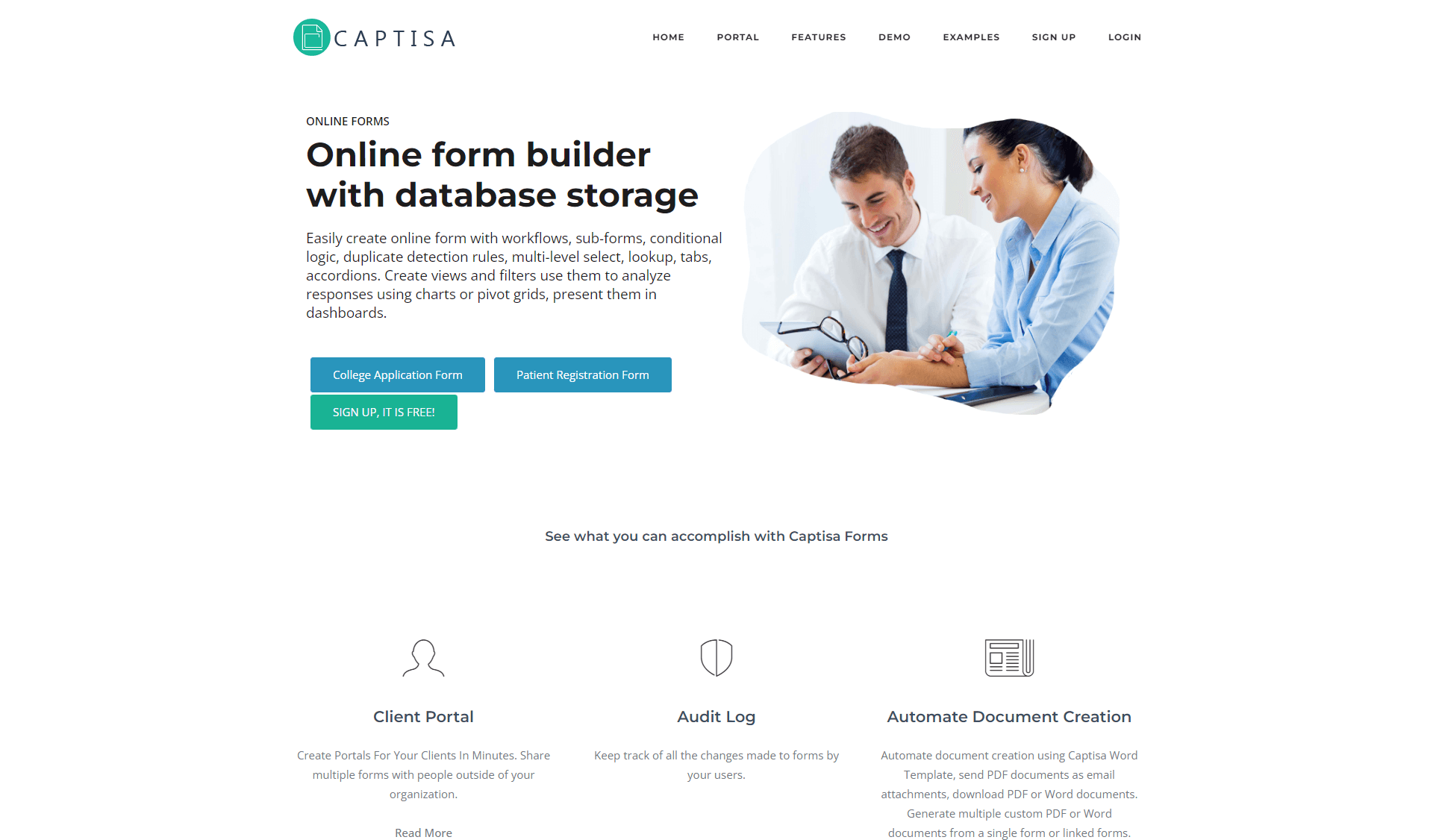 Captisa Forms is a free online form builder with database storage that can easily build online forms with workflows, conditional logic, multi-level select features, sub-forms, lookup, tabs, duplicate detection rules, and accordions. Users can create views and filters, which can be used to analyze present responses using eye-catching charts or pivot grids.
Captisa Forms offers a vast library of pre-designed online form templates which can be customized to suit a user's specific needs using an easy drag-and-drop form builder.
With Captisa Forms, users can register guests for an event, manage job applicants, conduct customer surveys, generate leads, or build a customized online form to fit their exact needs.
This online form-building software solution allows users complete control over the look and feel of their form, including form dimensions, number of columns, column widths, and more. Captisa features powerful filters that allow users to specify the specific data they want to show. It also offers deep collaboration where users can define team roles and limit access for specific team members.
Captisa Forms is so easy to use that you'll be collecting online submissions in no time.
Formplus is an online form-building software solution that offers superb data collection for teams, both large and small. Its free plan provides a single user with three forms a month, 50 submissions a month, 1,000 form views, 100MB of storage, and more than 3,000 integrations.
With formplus, users can design beautiful online surveys to gain insight and collect data from employees, customers, and more. Users can manage registrations, accept payment, and process applications using the software's customization options. formplus can also be used to create downloadable pdf documents like questionnaires, quizzes, legal contracts, etc.
This powerful form-building software solution offers more than 20 field types and hundreds of pre-designed form templates to choose from, giving users the ability to quickly and easily create well-tailored online forms optimized for mobile. With formplus analytics, users can create graphs from form entries, translate data into charts through key metrics, monitor performance, and identify traffic locations. With formplus collaboration tools, users can invite their team, assign roles and permissions to members, and allow them to edit, view, or share their forms in no time.
Conclusion
The creation of online forms was once a tedious, resource-intensive endeavor. These days, however, with so many great free form builders on the market, building, launching, and collecting data from online forms has never been simpler and more efficient.
The best free form builders discussed on this list are feature-rich, easy to use, and offer an array of great options that will have your forms up and running in no time. Now, it comes down to deciding which one will best suit your particular needs. Thankfully, since they all offer a free version of their software, you can give them a spin without any real risk.