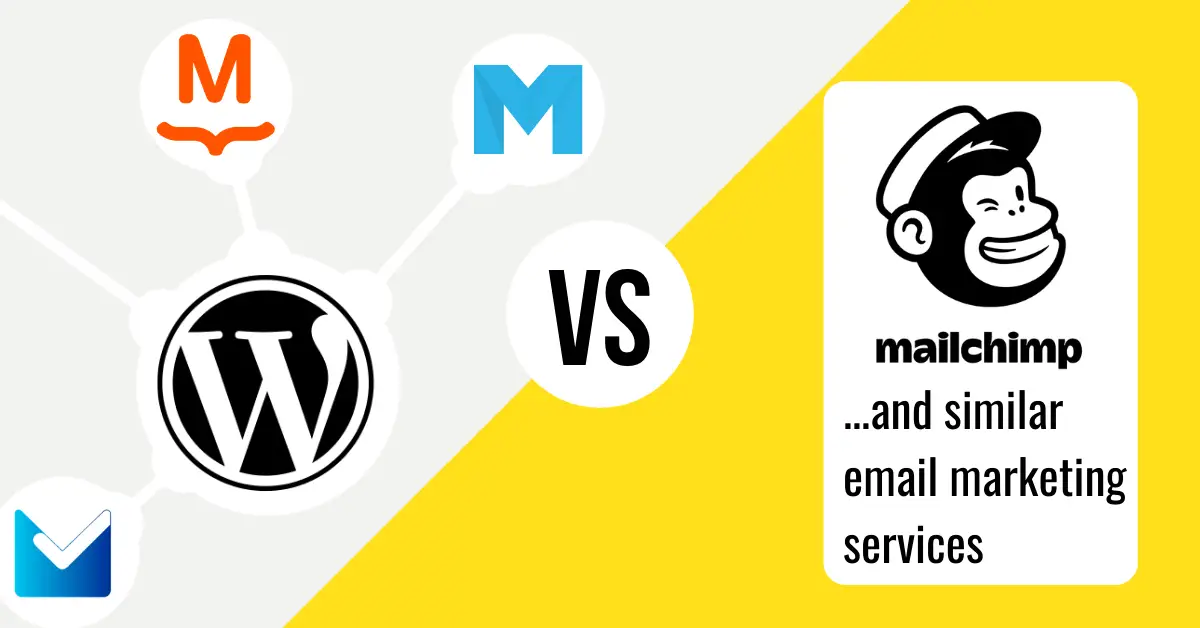 Finding the best email marketing solution for your WordPress site can be overwhelming. There are tons of services to choose from.
For instance, you can choose to go with a WordPress newsletter plugin like MailPoet or a traditional email marketing service like Mailchimp.
However, before you make a decision, it's important to understand the difference between these types of platforms and the benefits and drawbacks of each. After all, choosing the wrong email marketing tool for your WordPress site can lead to headaches later down the road.
This post clears the air on the key differences between WordPress newsletter plugins and traditional email marketing services such as Mailchimp so that you can determine which option is best for you.
WordPress newsletter plugins vs "traditional" email marketing services
WordPress newsletter plugins are email marketing solutions specifically designed for WordPress.
The beauty of these tools is that you can access them completely through WordPress. Everything from installing these plugins to sending emails to your subscribers is done without ever leaving your WordPress dashboard.
One of the biggest draws of these tools is their simplicity.
MailPoet is likely the most well-established WordPress email marketing plugin. Founded in 2011, the plugin has gone through countless improvements and today the third version of the tool is available: MailPoet 3.1
Similar popular WordPress newsletter plugins include:
Mailster

MailOptin

Jackmail
Traditional email marketing services such on the other hand are a bit different.
By "traditional" I mean email marketing solutions that you would access outside of WordPress. These platforms have been around since before WordPress even existed. Generally speaking, these are robust platforms that often offer advanced email marketing capabilities.
Mailchimp is one of the most well-known email marketing services. Designed for small businesses, Mailchimp is an affordable yet powerful tool for engaging subscribers. Over the years Mailchimp has begun offering additional products such as a landing page builder and marketing CRM.
Similar email marketing solutions for small businesses include
MailerLite

ConvertKit

Constant Contact

GetResponse
Now it's time to get into the nitty-gritty. We will discuss the key differences between WordPress newsletter plugins and traditional email marketing services in terms of their reliability, features, ease of use, and affordability.
Related: Mailerlite vs MailPoet: Which is best?
1. Reliability
Simply put, email marketing solutions such as Mailchimp tend to be much more reliable than many WordPress email marketing plugins. Newsletter plugins often have poor deliverability, email limits, and email delays.
To say why a somewhat technical explanation is needed. Bear with me for a second…
WordPress is written in PHP (a coding language). PHP has a built-in mail function that allows you to send emails through your web host.2 Many WordPress newsletter plugins enable you to send emails using this mail function.
However, sending emails using a newsletter plugin that relies on PHP could likely land your emails in your recipients' SPAM folder.
Email providers like Gmail or Yahoo have spam catching tools that detect your sending IP address in their database. When you are using a shared hosting platform for your website, your website is built on the same IP address as numerous other websites. Any spammy email activity by one person on that server can trigger spam catchers on email providers. Your email deliverability can suffer as a result.3
Other newsletter plugins let you send emails through third-party SMTP services instead of PHP. Sending your emails through SMTP is much more reliable than sending your emails via PHP.4 The downside is that you will need to also install another plugin such as SendGrid or Amazon SES to facilitate sending your emails. Doing so can complicate things and add additional cost depending on which service you go with.
Email marketing services like Mailchimp handle things much differently. These platforms have servers built for the sole purpose of sending emails in bulk in a timely fashion. On top of that, these companies employ skilled developers that monitor email deliverability 24/7 to ensure their service is reliable as it possibly can be. Given that deliverability is vitally important, these companies follow strict protocols to make sure your emails aren't getting sent to the spam folder.5
Suffice to say that professional email marketing services like Mailchimp are much more dependable than most WordPress newsletter plugins.
There are some exceptions though…
Take MailPoet for instance. Unlike other email marketing plugins, MailPoet has its very own email sending service just like Mailerlite, Constant Contact, or any other email marketing platform used outside of WordPress. This means no sending emails via PHP or SMTP. Because MailPoet manages its very own servers extremely well, the company boasts a 98.5% deliverability rate.6
2. Features
WordPress newsletter plugins and traditional email marketing solutions are generally very different in terms of the features they offer. Let's dive into the typical WordPress email plugin features first shall we?
While some newsletter plugins offer more features than others, most have the following features:
Email templates and drag-and-drop builders: Many email plugins offer a handful of professionally designed, aesthetically pleasing templates. For instance, check out Jackmail's template selection below.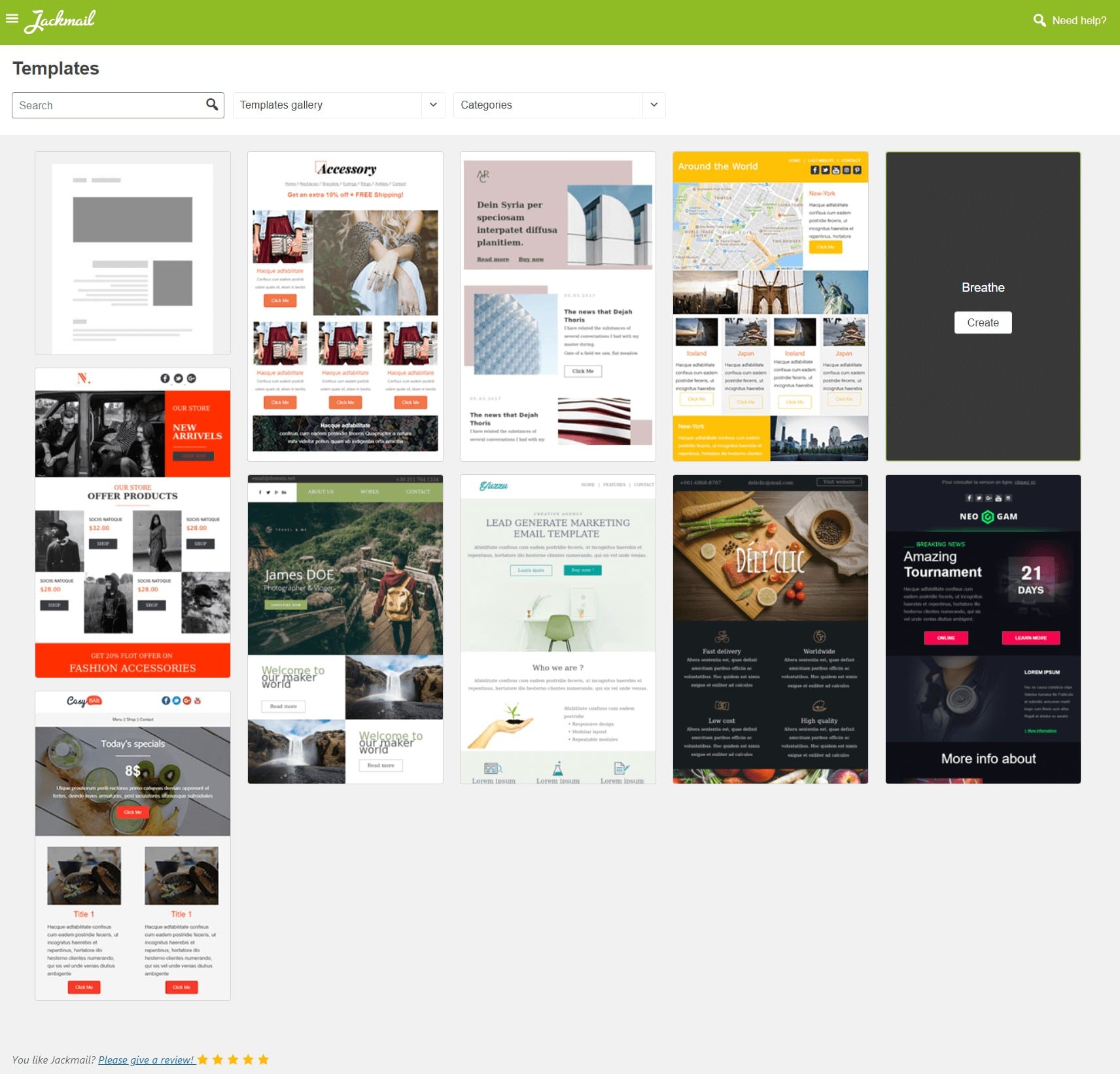 These plugins also often have drag and drop email editors. These editors give you a ton of flexibility to customize your emails however you see fit by adding elements like text, images, and buttons in whatever configurations you would like. You can see Jackmail's drag-and-drop builder below.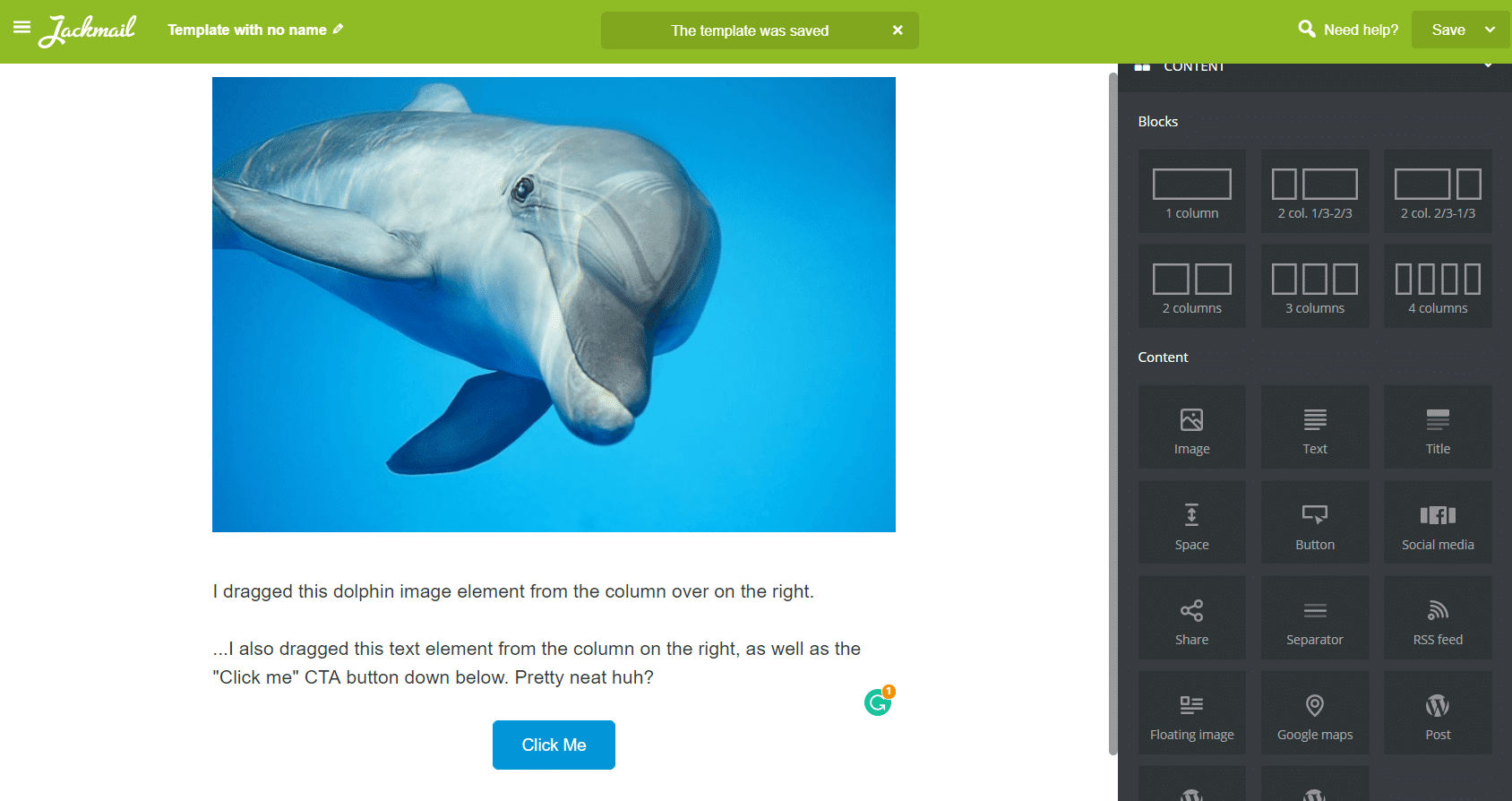 Again, this is all done entirely through your WordPress dashboard.
Landing pages and forms: In addition to their email sending abilities, newsletter plugins often have landing page and form builders as well.
Given that collecting email subscribers through forms and sending emails go hand in hand, it makes sense that many of these plugins have this feature. Mailster allows you to easily whip up simple forms and landing pages for your WordPress site like the one I created below.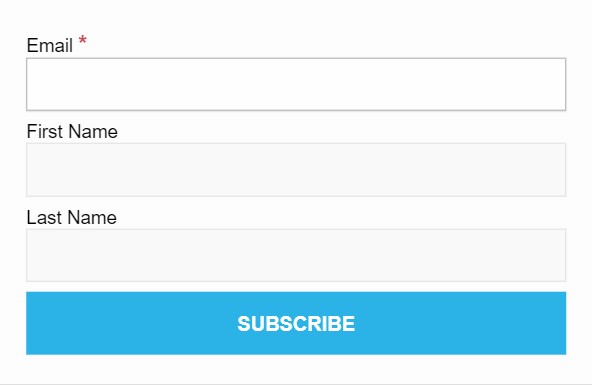 Related: 11 Best Mailchimp Popup WordPress Plugins 
Email automation: Most popular email plugins can be set up for email automations. This way you can have emails sent out automatically whenever your subscribers trigger these automations.
MailPoet happens to have many email automation options. For instance, you can use MailPoet to set up
Welcome emails when subscriber join your list

Drip campaigns where emails are sent out one after the other automatically

Abandoned Cart emails for your WooCommerce store

Last WordPress blog post notifications

Emails on a particular date like a subscribers birthday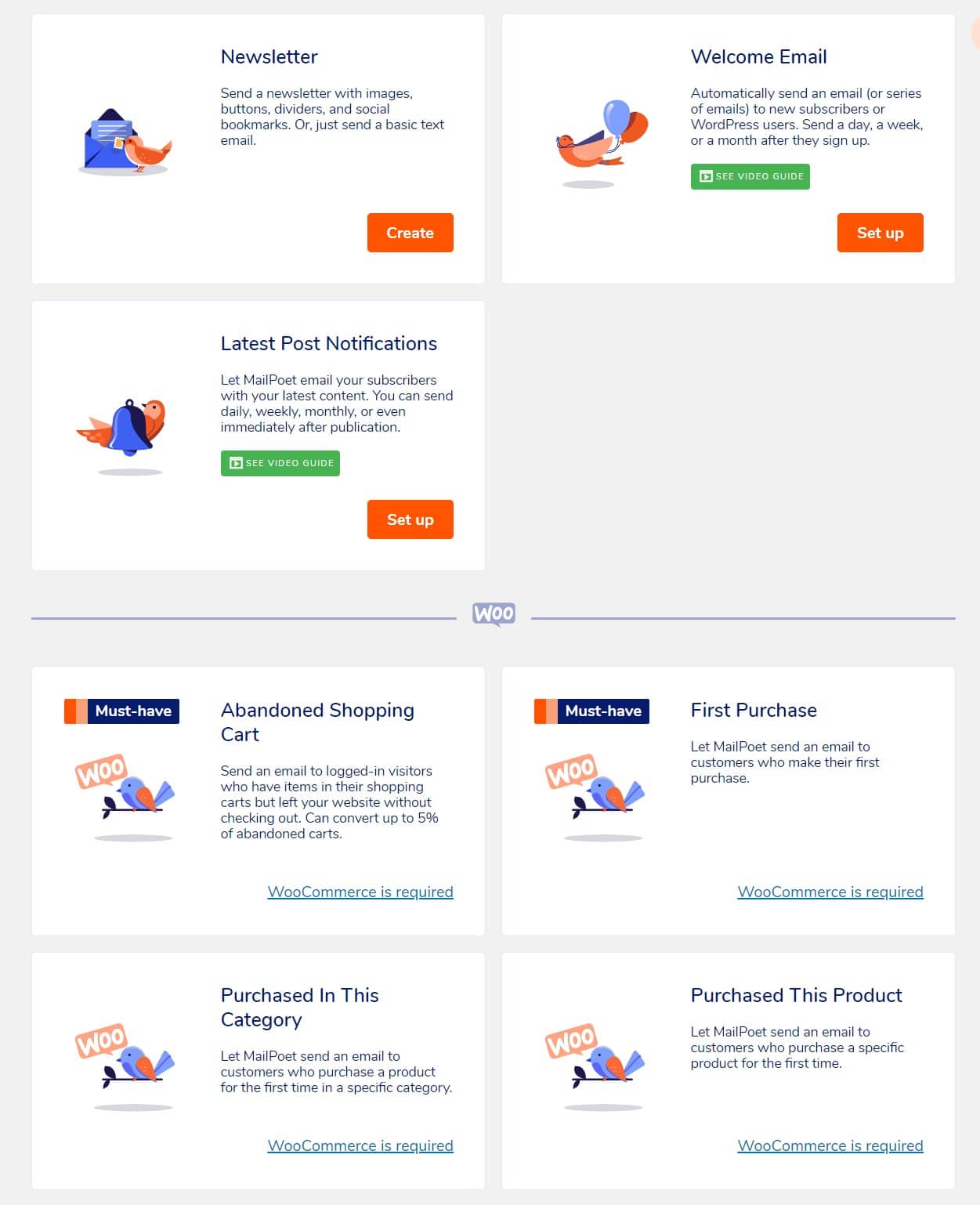 Some WordPress email marketing plugins also have contact management, segmentation, reporting, and analytics.
Traditional email marketing tools such as Mailchimp tend to have these same features as WordPress email marketing tools (and additional features like A/B split testing as well). However, solutions like Mailchimp tend to have significantly more advanced features. Most WordPress email marketing plugin features are extremely limited in comparison.
Take segmentation for instance. Email segmentation involves dividing email subscribers based on a set of criteria for more personalized outreach.
WordPress email plugins tend to have extremely limited segmentation options (if any at all). You can expect basic segmentations like below.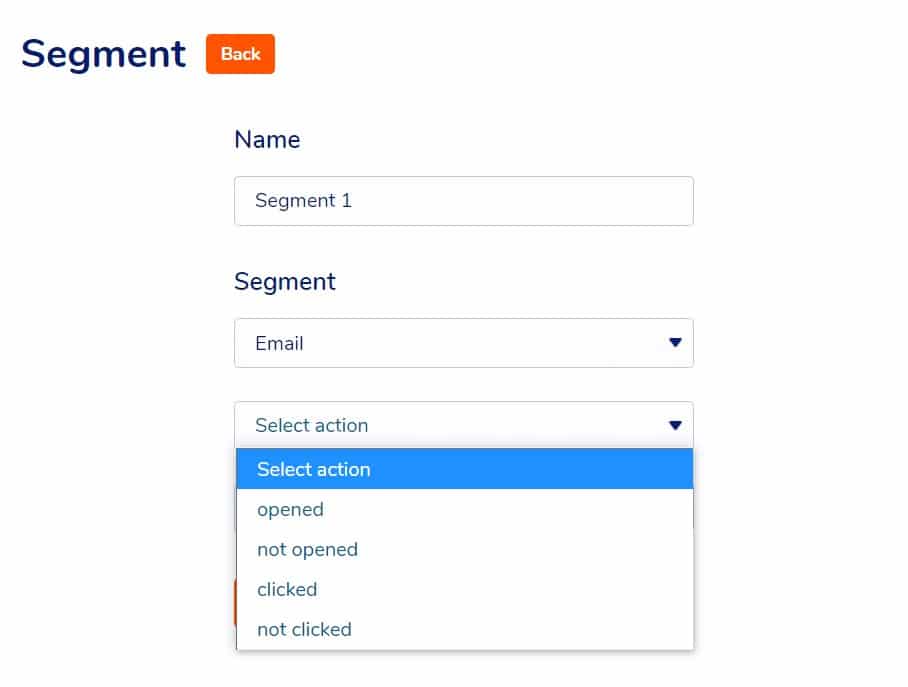 MailPoet's segmentation feature in WordPress
As you can see, you can send an email based on which subscribers opened, didn't open, clicked, or didn't click in a specific previous email sent. For example, you could send an email specifically to subscribers that opened your last email.
Mailchimp on the other hand offers much more sophisticated email segmentation.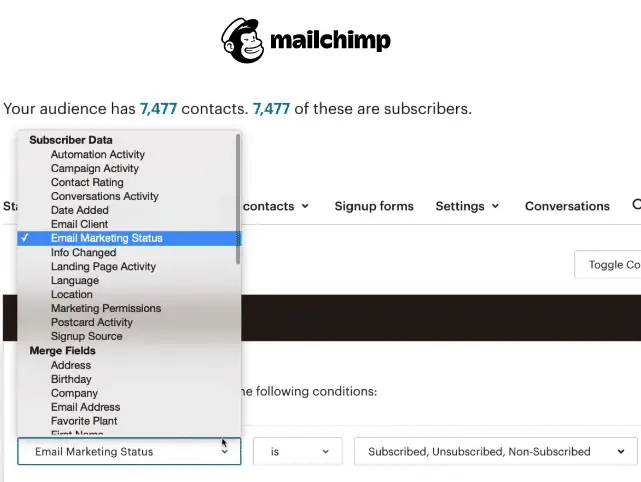 For instance, depending on the Mailchimp plan you go with, you can segment subscribers based on
Date added

Sign up source

Language

Location

Predicted age range

Links clicked on website
And this is just the tip of the iceberg. There are hundreds of conditions to choose from. You may also use one condition or up to five conditions to segment your list.
For example, you can send an email to subscribers who 1.) didn't open your last email, 2.) were added to your list three months ago, 3.) signed up through a specific landing page on your website, and 4.) live in New York.
Talk about personalized email outreach huh?
Segmentations aside, Mailchimp and similar platforms are also way more advanced in terms of automation, email design, analytics, and much much more.
Related: Guide to Choosing the Best WordPress Newsletter Plugin for Your Site 
3. Ease of use
While email marketing platforms like Mailchimp are generally more dependable and feature-rich than most newsletter plugins, as far as ease of use goes, WordPress newsletter plugins undoubtedly come out on top.
For the most part, WordPress newsletter plugins are relatively basic and as a result, there isn't much of a learning curve to these tools. After all, you use these tools within WordPress so you don't need to get acclimated to a completely new interface. As long as you are familiar with WordPress, figuring out these tools won't be much of a challenge at all. As soon as you install the plugin you can send your first email in a matter of minutes. Simple WordPress newsletter plugins can make email marketing a breeze. 
Additionally, there is something to be said about the convenience of these plugins. By using newsletter plugins you don't need to jump back and forth between tabs to reach out to your subscribers.
Email marketing platforms like Mailchimp on the other hand tend to have a steeper learning curve. Although these tools have interfaces that are designed to be intuitive as possible, the numerous features can be daunting at first. It's necessary to explore these platforms a bit before diving right into sending emails.
However, in the long run, it might be worth spending some time upfront figuring out these tools for their advanced email marketing capabilities.
4. Pricing
Aside from the functionality of email marketing tools, affordability is certainly worth considering.
WordPress newsletter plugins' pricing structures are generally very different from the pricing of email marketing solutions like Mailchimp. These companies often offer lifetime deals for their services meaning you only pay once to use these services indefinitely.
Some of the pricing plans for popular newsletter plugins are listed as follows:
Mailster
$59 lifetime deal including future updates and 6 months of support from Everpress (creator of Mailster)
MailOptin
$79 per year Standard plan allows you to use lead generation forms for one site

$199 per year Pro plan allows you to use lead generation forms, email automation, and newsletters for three sites

$299 per year Agency plan allows you to use lead generation forms, email automation, and newsletters for unlimited websites
The Newsletter Plugin
$65 lifetime Blogger plan allows you to install the plugin on three different websites and offers one year of updates

$249 lifetime Agency plan allows you to install the plugin on unlimited websites and offers one year of updates
Jackmail
$49 lifetime Basic plan for up to 20,000 emails per month

$89 lifetime Optimum plan for up to 50,000 emails per month

$139 lifetime Pro plan for up to 100,000 emails per month
Suffice to say that these popular plugins are relatively affordable email marketing solutions. With a one-time payment of about $49-65, you can have full email marketing capabilities for your WordPress site.
While this investment might seem expensive initially, over time this can be a very cost-effective solution compared to email marketing solutions like Mailchimp that charge recurring payments.
MailPoet pricing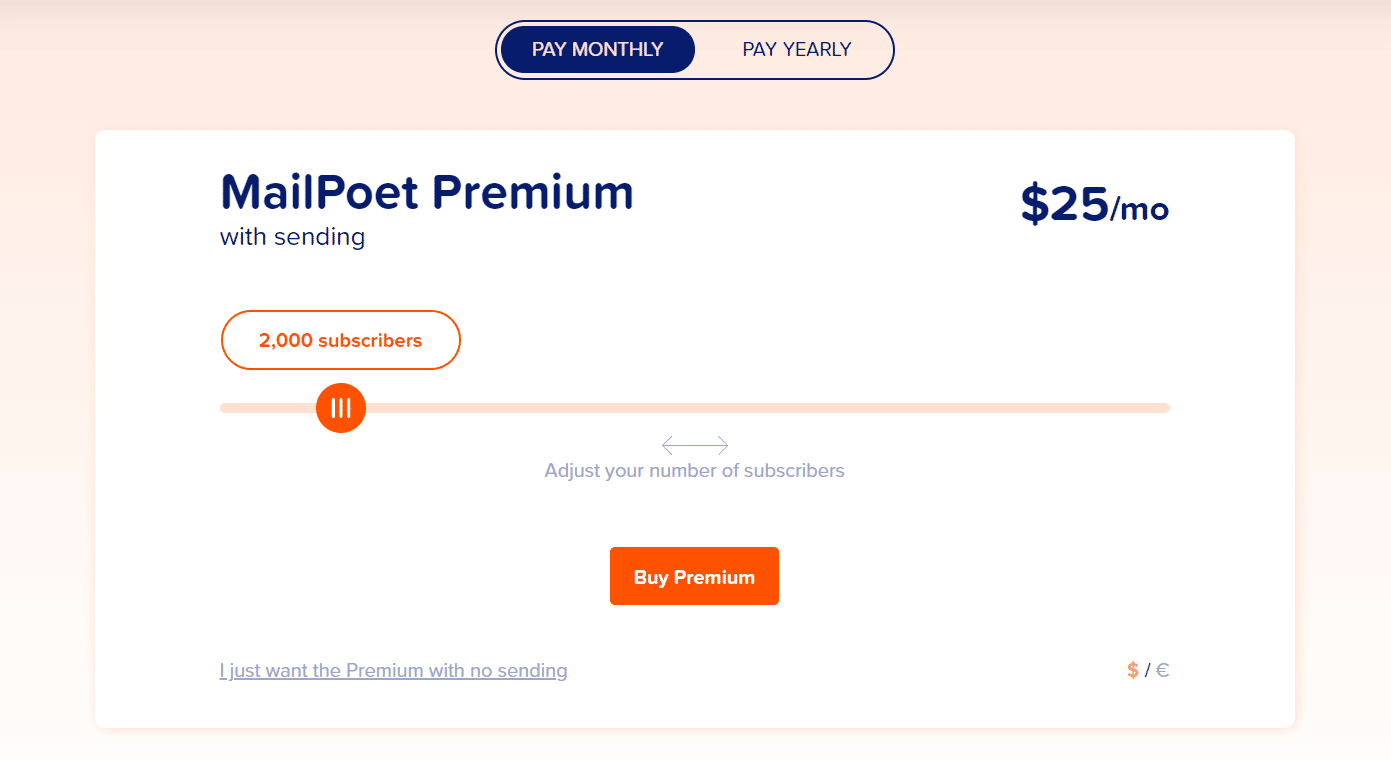 MailPoet is a bit of an anomaly as far as email marketing plugin pricing goes. The platform offers premium pricing with and without MailPoet's sending service.
The premium plan WITHOUT MailPoet's sending service starts at $149 per year for one website. Without using MailPoet's sending service you will need to send emails through your web host (PHP) or SMTP.

The premium plan WITH MailPoet's sending service is completely free for sending emails to 1,000 subscribers or less. With over 1,000 subscribers MailPoet's pricing starts at $15 per month and increases incrementally as you add more subscribers.
Some of the key benefits of both MailPoet's premium plans include
Unlimited emails through MailPoet

Landing pages and forms

Email automation

Professionally designed newsletter templates

Advanced analytics
Related: MailPoet vs Mailster: Which is Best
Mailchimp pricing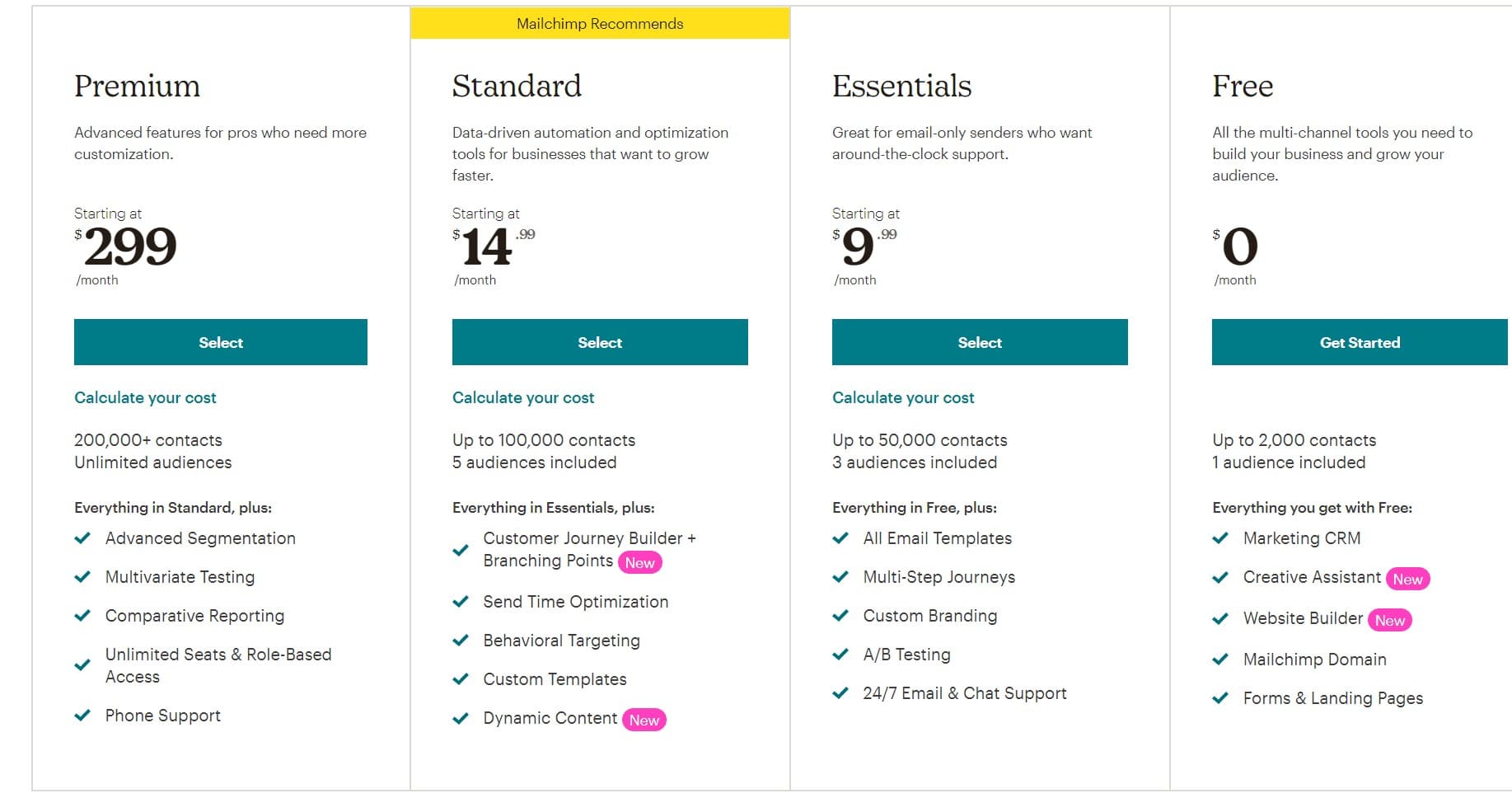 Mailchimp has pricing based on the number of subscribers as well as features.
Free plan
$0 per month

Subscribers: up to 2,000
The free plan gives you basic features such as basic email templates, segmentation, behavioral targeting, and analytics
Essentials plan
Starting price: $9.99 per month

Subscribers: up to 50,000
The Essentials plan gives you all the Free plan features and additional features such as A/B testing, prebuilt templates, and 24/7 support
Standard plan
Starting price: $14.99 per month

Subscribers: up to 100,000
The Standard plan gives you all the features of the Essential plan and additional features such as behavior-based automation and other advanced audience insights
Premium plan
Starting price: $299 per month

Subscribers: 200,000+
The Premium plan gives you all the features of the Standard plan and additional features such as unlimited audiences and multivariate testing.
Similar email marketing solutions such as Constant Contact and Mailerlite have comparable pricing structures.
It's fair to say that compared to MailPoet, Mailchimp seems to be a much more affordable solution in terms of cost per subscriber. After all, at 2,000 subscribers Mailchimp costs $9.99 per month and MailPoet (with sending) costs $21 per month. Not only that but Mailchimp is a much more robust platform in general.
Who is each type of platform best for?
Ultimately, the ideal users for WordPress email plugins vs email marketing services like Mailchimp are very different.
If you are the type of person who values simplicity and would appreciate the convenience of using an email marketing service within your WordPress dashboard, then email newsletter plugins might be the best choice for you.
For some WordPress users, the poor dependability of some of these plugins isn't much of an issue. If you are only sending out a newsletter to your subscribers occasionally, then issues like sending delays might not be much of a concern.
On the other hand, if you are interested in relatively more feature-rich and dependable email marketing solutions, platforms such as Mailchimp would be your best bet. While the learning curve might be steeper for these platforms, if you plan on taking your email marketing seriously, these platforms are certainly worth getting acclimated to.
---