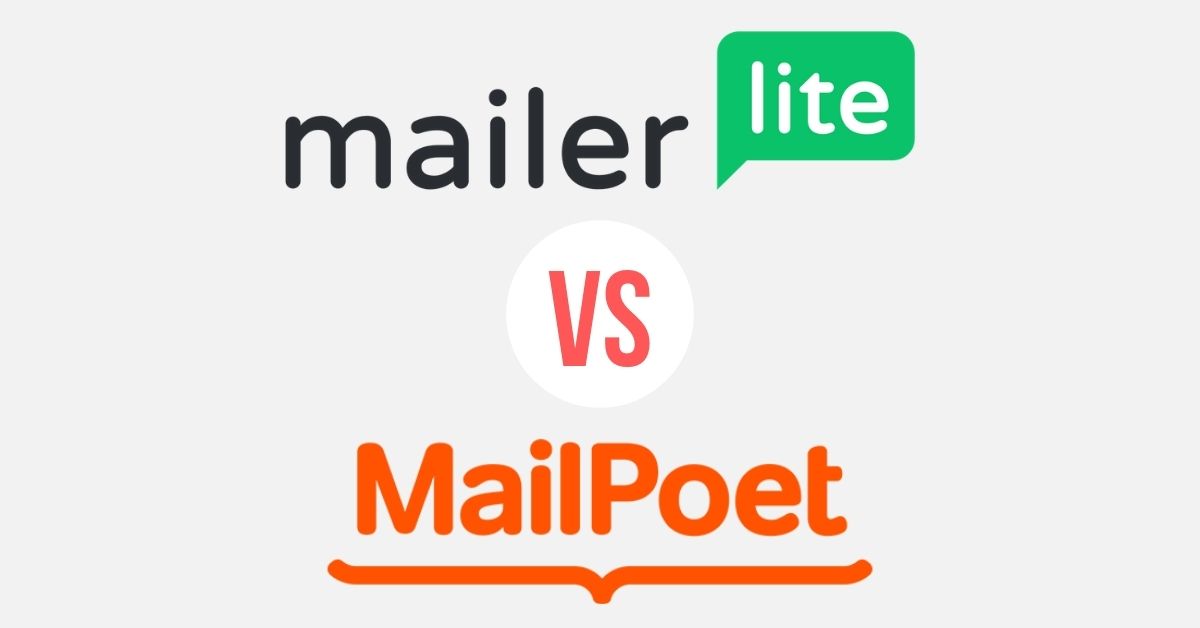 MailerLite and MailPoet (and other WordPress plugins) are both dependable email marketing tools that are extremely affordable.
However, although these tools are similar in many ways, they are built for slightly different types of marketers. Depending on your budget and your marketing needs you might be better off working with one over the other.
In this MailerLite vs. MailPoet guide, we will go over the features of each marketing tool and discuss who they are best suited for. Additionally, we will briefly discuss other WordPress email marketing tools similar to MailPoet and how they stack up compared to MailerLite.
What is MailerLite?
MailerLite is a cloud-based email marketing platform. Over the past few years, MailerLite has exploded in popularity and it is on track to becoming one of the most widely used email marketing tools for small businesses.
What makes MailerLite stand out from the crowd is its powerful capabilities for a relatively inexpensive monthly price. Yet, MailerLite is just as feature-rich as many of its more expensive competitors. For instance, like any reputable email marketing tool, with MailerLite you can
Automate email sequences

Set up autoresponders

Segment your email subscribers

Manage and export subscriber lists

Design email templates

Dozens of newsletter templates

Track and analyze results

Drag-and-drop landing page and popup builder

Integrate with a variety of other tools
…and more. Although MailerLite isn't as robust or flexible as many of its more expensive competitors, it has the functionality needed for effective email marketing campaigns.
What is MailPoet?
Unlike email marketing platforms like MailerLite, MailPoet is a WordPress plugin. That being said, MailPoet allows you to create and send emails in your WordPress dashboard.
As far as newsletter WordPress plugins go, MailPoet is undoubtedly a leader in this space. What makes MailPoet stand out is its ease of use and convenience given that you don't need to leave your WordPress dashboard to use it. There is no need to learn a complicated interface. With MailPoet you can practically do everything that MailerLite can. With MailPoet you can
Set up autoresponders

Segment your email subscribers

Manage and export subscriber lists

Design email layouts

Track and analyze results
HOWEVER, although MailPoet has great functionality for a plugin, it is not nearly as advanced or flexible as its email marketing platforms competitors like MailerLite, MailChimp or AWeber. Generally speaking, WordPress newsletter plugins aren't as robust as email marketing platforms. 
Other plugins similar to MailPoet include…
MailMunch

Mailster

Email Subscribers and Newsletters

ALO easy mail newsletter

SendPress

Automate Woo
Pricing

*Pricing is based on month by month pricing as opposed to yearly plans
MailerLite and MailPoet have somewhat similar pricing structures.
MailerLite has a free version of its tools that provides most of the premium features except for a handful of features such as live chat, and newsletter templates. Even with the free version, you can create relatively advanced email campaigns with automation and segmentation features.
One of the greatest benefits of MailerLite's paid plans is that you get access to all the premium features at every pricing level. Unlike many other tools that force you to move up to a more expensive plan every time you want access to more advanced features, MailerLite provides all premium features for all paid plans. Even at the lowest level price ($10), you have access to premium features.
MailPoet's free version on the other hand provides all the premium features such as analytics and customer support for up to 1,000 subscribers. Unlike MailerLite you can use MailPoet's premium features for free.
However, once you accumulate more than 1,000 subscribers, your price per month will be significantly higher per subscriber compared to MailerLite. In fact, you can expect to pay about twice as much per month with MailPoet than with MailerLite.
Ease of use
One of both MailerLite and MailPoet's greatest strengths is they are extremely easy to use.
MailerLite is designed to be as intuitive as possible. No technical skill is required at all and it is easy to figure out the platform in just a matter of minutes. Furthermore, there is a whole library of tutorial videos on the Mailerite website if you ever need help.
MailPoet is arguably just as easy to use. Additionally, being able to use MailPoet within your WordPress website is extremely convenient and can help you stay organized. However, it is important to note the MailPoet is much more simple than MailerLite. The features just aren't as advanced and the functionality is a bit more limited. The downside to MailPoet's simplicity is the lack of flexibility that you get with more advanced platforms like MailerLite.
Related: MailerLite vs Flodesk: Which is better
Features
As far as features go, both platforms have similar features.
However, it is safe to say that MailerLite has much more advanced features compared to MailPoet.
For instance, both tools have an email opt-in form builder. MailPoet's email opt-in form builder works perfectly fine but you can really only create basic-looking forms. You can choose to include a few fields like name, last name, email, etc. You can also choose where you want your form on your website, but other than that, there isn't much else you can do to customize your opt-in forms.
With MailerLite on the other hand you are able to drag and drop the blocks you would like to incorporate in your opt-in forms, landing pages and popups such as text, images, and videos. You can change the color scheme, the layout, fonts, and more. The point is that you have much more freedom to customize your forms the way you want.
MailerLite or MailPoet: Which is best for me?
Ultimately, if you are a small business owner or blogger that really just wants to keep things as simple as possible and use an email marketing tool with just the very basic features, I would recommend MailPoet. You won't need to worry about complicating things by using another marketing tool outside of your WordPress dashboard.
On the other hand, if you want more control over your email marketing campaigns as you could like more advanced functionality, MailerLite would be the right choice for you.
In choosing between these tools, I would recommend you don't get too caught up on price if you are just starting to build an email list. After all, each tool is free if you have less than 1000 subscribers. I would recommend you make a decision based on how much functionality you want in your email marketing tool.
You can see how other email marketing tools stack up to MailerLite in the following comparisons:
You can see how other email marketing tools stack up to MailPoet in the following comparisons: