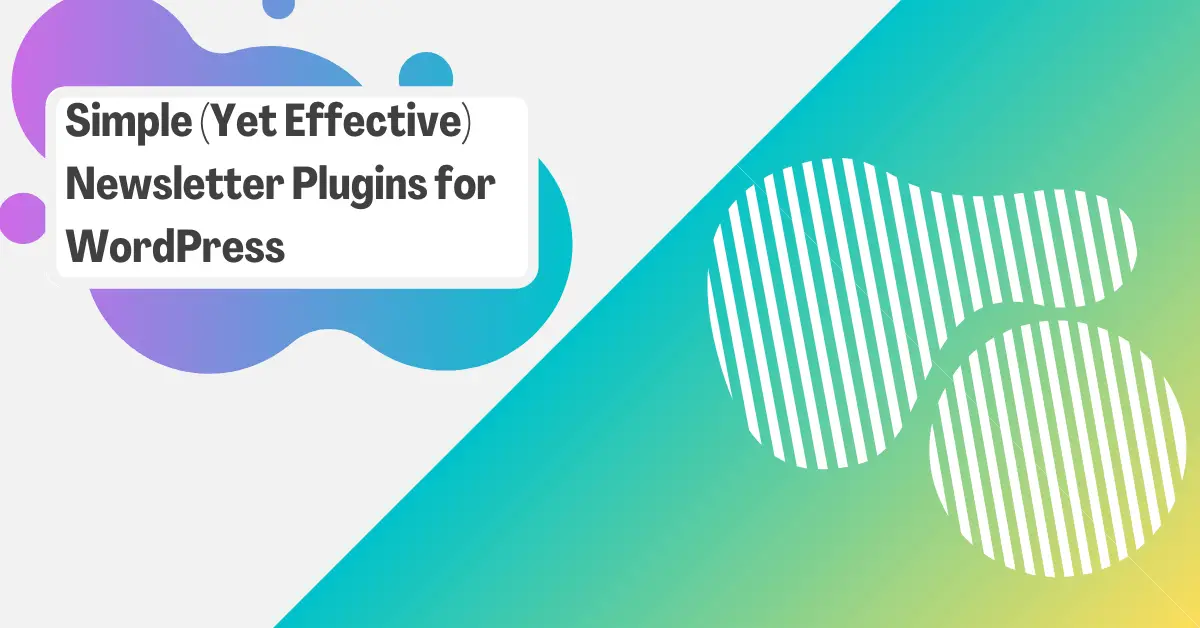 Email marketing is a powerful way to engage with your website's audience. Through regular email outreach, you can drive more traffic to your website, make more sales and grow your business.
Fortunately, with WordPress newsletter plugins you can build your email list and also conveniently send emails right from your WordPress dashboard.
However, not all WordPress newsletter plugins are the same. Some are designed for developers and thus, tend to be extremely difficult to use for most people. Other newsletter plugins have various advanced features and capabilities that can only complicate email marketing for many WordPress users. Fortunately, there are a few newsletter plugins that only offer essential email marketing features. As a result, they are extremely simple and intuitive for everyone.
Here you can discover 9 simple newsletter plugins for WordPress you can get started with today.
Note: WordPress newsletter plugins can be categorized as either two types of tools:
email marketing plugins
, which allow you to send emails from your WordPress dashboard, or
form builder plugins
, which allow you to collect emails from your website. This post discusses both types of WordPress newsletter plugins.
MailPoet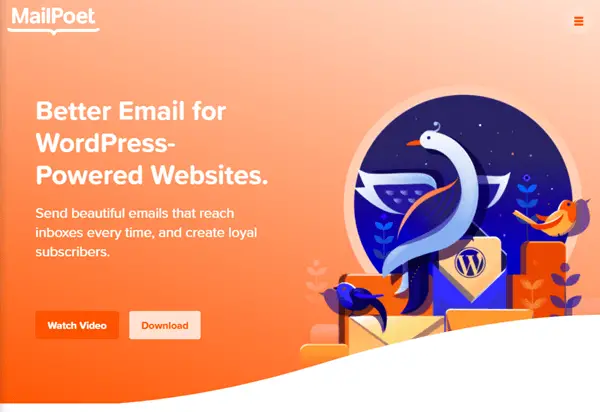 Type: Email marketing and form builder plugin
Free version: Available
Likely the most popular of the newsletter plugins for WordPress, MailPoet provides a sleek and simple interface for sending and designing emails directly from your WordPress dashboard. It features ready-made templates and a delivery system that utilizes its own email server. This means that you benefit from improved delivery rates, and there's no need to go through the tedious process of configuring your own SMTP, contrary to most competitors. 
MailPoet thrives on simplicity, ranging from its unlimited email sending service to the professional email subscription forms you can quickly add to your site. It also only takes a few minutes to link your WordPress site or WooCommerce store to an automated sending schedule, along with a rapid newsletter designer. 
OptinMonster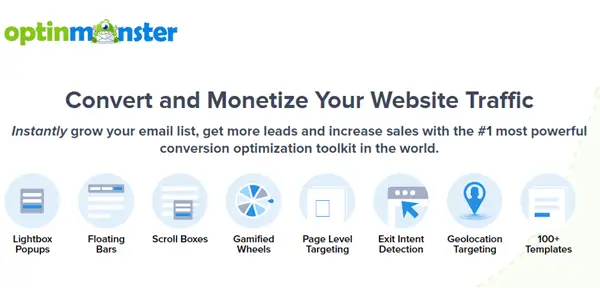 Type: Form builder
Free version: Not Available
OptinMonster doesn't have a free version, but it's a premium newsletter plugin for a reason. You're provided with quick tools for building a myriad of forms, including lightbox popups, scroll boxes, and floating bars. It also provides interesting ways to engage users and bring in more subscribers, like with the gamified wheel system or the geolocation targeting. 
Many premium WordPress plugins have complicated and bloated designs, but that's not the case with OptinMonster. It provides a wonderful drag-and-drop email builder for beginners and includes rich targeting features that aren't too difficult to understand. Furthermore, you gain access to simplified analytics and testing tools, like A/B testing and smart campaigns, which are often much harder to comprehend in other plugins.  
Popup Builder 

Type: Form builder
Free version: Available
The Popup Builder plugin from Sygnoos enables you to feed email addresses to your newsletter list with help from attention-grabbing popups. We like it as an easy newsletter tool since it only takes a few moments to implement these popups, and you can send a newsletter directly from the popup builder. This simple newsletter plugin for WordPress includes a large collection of customization tools for repetitive, sound-making, or animated popups without having to know anything about coding. 
What's more, is that you choose from premade popup templates to implement them on your site in a matter of seconds. Some unique popup templates include ones for Facebook and email subscriptions, along with options with videos, images, and countdown timers.
It also integrates well with third-party form builders such as Gravity Forms, Ninja Forms, and Contact Form 7. Additionally, this plugin integrates with many popular email marketing software as well. In fact, it's regarded as one of the best Mailchimp popup WordPress plugins. 
SendPress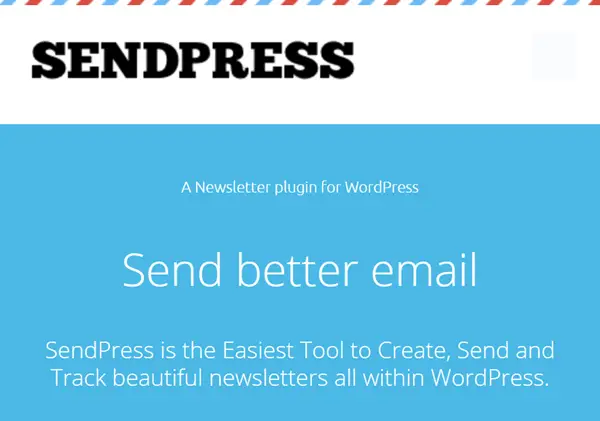 Type: Email marketing
Free version: Available
If you're interested in an easy, modern interface without too many bells and whistles, SendPress may end up being your favorite of the newsletter plugins for WordPress. All SendPress features are situated within the WordPress dashboard, and you can opt for a hosted email solution without the need for your own SMTP configuration. 
SendPress also includes unique elements like spam testing and security audits, all automated without you having to do anything. We also like that SendPress syncs with your WordPress subscriber lists to ensure all website users end up on your newsletter list. Along with a fast and simple email editor, tracking, and no limits, you can't go wrong with SendPress as a no-frills newsletter plugin. 
Mailmunch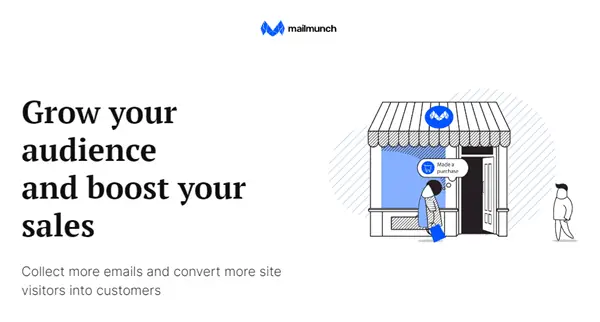 Type: Form builder
Free version: available
Mailmunch offers lead capture and email marketing products rich with autoresponders, email broadcasts, and drip campaigns. The drag-and-drop builder boasts intuitive design modules for making newsletters, and you can complete other tasks with ease, like attaching files or generating custom fonts to match your brand. 
Mailmunch includes ready-made landing pages and popup forms that link to your email lists, and you can choose from hundreds of beautiful, responsive templates for newsletters and automated welcome messages. The feature list is actually kept to a minimum to stick to the essentials. For instance, you can grab an email template within seconds, upload royalty-free photos in the dashboard, and customize the building blocks, all without wasting too much time prior to sending. 
Related: Mailmunch vs Mailchimp: Which is Best?
Jackmail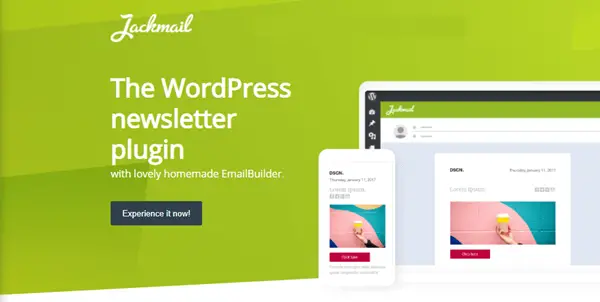 Type: Email marketing
Free version: Not available
Jackmail is one of the simplest newsletter plugins for WordPress for a few reasons. First of all, it doesn't force you to integrate with a third-party SMTP, unlike many newsletter plugins. Jackmail's email builder has an intuitive drag-and-drop interface, and it provides modern, industry-specific templates so you never have to design from scratch. Additionally, the plugin also connects to various other WordPress plugins, like WooCommerce and Ninja Forms, to sync data across the plugins and maintain an improved workflow. 
Along with all that, Jackmail boasts an automated workflow for triggering newsletters based on specific dates or events that occur on your website. You can also clone those newsletters for later use, instead of building a new one every time. We also enjoy the simplicity of the contact list, seeing as how it offers a quick import tool and rapid syncing with other plugins and contact management software. 
Email Subscribers and Newsletters

Type: Email marketing and form builder
Free version: Available
The Email Subscribers and Newsletters plugin features an effective email marketing and newsletter system that runs directly from the WordPress dashboard and works well for publishers that want to send automatic updates for all new blog posts. This plugin caters to the everyday blogger and marketer, as it provides a clean email collection form to place anywhere on your website. 
The automated nature of the plugin is where it stands out, as it provides automatic welcome emails, post notifications, and unsubscribe links. The powerful, yet simple automation tools expand into the premium version, with options for autoresponder sequences, email list cleanup, and spam score checking.
Sumo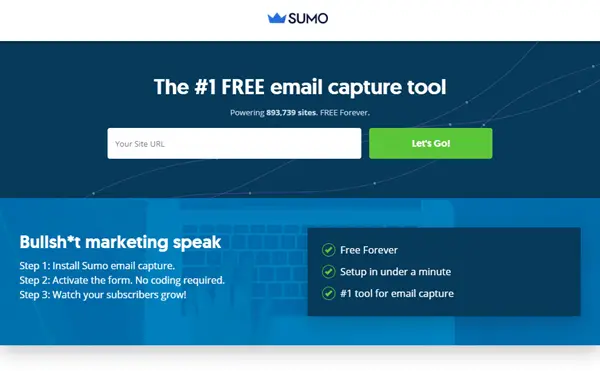 Type: Form builder
Free version: Not available
The Sumo brand produces a strong library of plugins and integrations for email marketing and lead capture practices. The Sumo email capture tool installs and activates on your website without the need for coding knowledge. After that, it provides an instant email capture module with options to customize the form and where it appears on your site. 
It's ideal for bloggers, small businesses, and online stores that want to run simplified email marketing campaigns, since the process is fast and it provides attractive forms and emails without distracting or annoying your visitors. In short, Sumo helps you configure a sleek welcome mat or popup form, then you can link it to social sharing buttons, and on-site analytics. As you collect email addresses, Sumo integrates with popular email marketing tools like AWeber, MailChimp, and GetResponse for designing your emails and sending them out.  
Mailoptin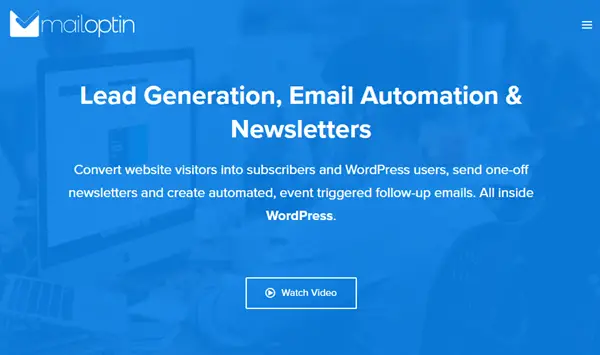 Type: Email marketing and form builder
Free version: Not available
Mailoptin is one of the easier-to-use newsletter plugins for WordPress because of its triggered and automated newsletters and follow-up emails. We also enjoy the numerous, pre-made form display options like notification bars and slide-ins. 
The automation works by asking you to link your website. It then pulls new posts and custom post types and sends out updates to your subscribers on other email marketing software. Mailoptin lets you segment with a few clicks and post based on a calendar for a more regular schedule.
Along with integrations with the likes of MailChimp and MailerLite, and the ability to rapidly build email newsletters, the Mailoptin plugin does the trick for bloggers who already utilize another third-party email marketing program. Given 
Final word
Ease of use is an important attribute to consider in email marketing tools. For these simple newsletter plugins for WordPress, this characteristic is certainly a strength. 
However, although these newsletter plugins are easy to use, ease of use isn't the only thing you should look for in these tools. The core features of these tools just as important to consider as well. After all, what good is an easy-to-use email marketing tool if it can't do what you need it to do for your business?
Additionally, if you are interested in a more robust email marketing solution, it may make sense to evaluate more powerful email marketing solutions like Mailchimp or Constant Contact. While these platforms are more complex, they are certainly more robust.