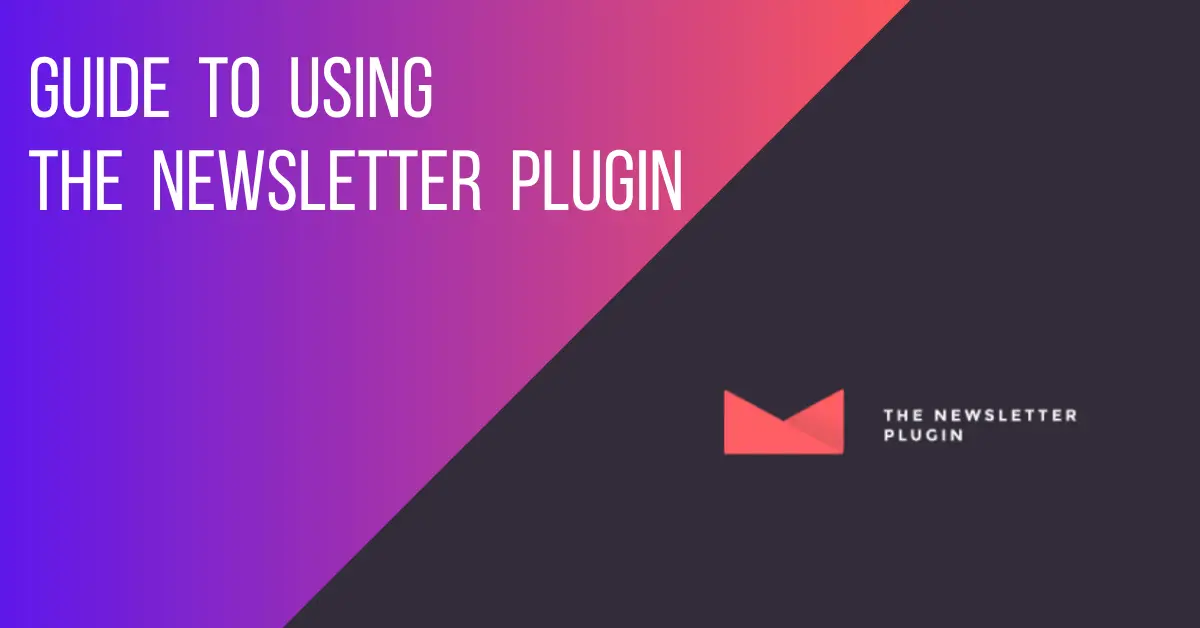 Email newsletters are an excellent way to connect with your WordPress site's visitors. After all, email marketing gives you the opportunity to directly speak to your site's followers in a very personalized way.
With Newsletter (The Newsletter Plugin) you can conveniently send emails right from your WordPress dashboard. This plugin is one of the most well establish WordPress newsletter plugins available and is currently used by over 300,000 websites. For a dependable means to reach your subscribers, Newsletter is an excellent choice.
However, there are many facets to this plugin that you may want to understand before you get started with it.
This comprehensive guide covers everything you need to know about how to use Newsletter in WordPress from setting the plugin up to sending out newsletters.
NOTE: This plugin has a free version and a premium version that starts at a $92 one-time payment. While the free version is adequate for many, the premium version has advanced features for much more effective email marketing. The premium version is certainly recommended if you want to take your email marketing seriously.
Installing Newsletter
There are two ways you can install The Newsletter Plugin.
The first way is by going directly to Newsletter's website and downloading the plugin's free version from the site and uploading it to WordPress.

If you are interested in the premium version, you may go to this page, purchase the plugin, and upload it to your WordPress site.
The second way is simply by searching the plugin in your WordPress dashboard, installing and then activating the plugin. For installing the free version, this is the easiest method to get the tool.
Setting up The Newsletter Plugin
Once you install the plugin you will be prompted to go through a basic set up process. Before learning how to use The Newsletter Plugin in WordPress, its important to go through this set up first. 
Basic set up walk-through
The basic set up should take less than 5 minutes. Click the green "Next" button to get started.
1st step: Sender
Choose the name and email address you would like to send your newsletters from. Your subscribers will be able to see both pieces of information so choose carefully. Often people use their company name and company email address.
2nd step: Subscription Forms
You may choose to add a field in your subscription forms for your subscriber's name in addition to their email address. Additionally, you can add a privacy checkbox and you may also change the subscription button label to something other than "Subscribe".
3rd step: Subscribe and Edit page creation
You don't need to configure anything here: this is just a confirmation that pages have been created where visitors can subscribe and edit their preferences.
4th step: Time for some tests!
Here you can enter an email address and click "send test message". Check your email to make sure the plugin is delivering emails. If you don't see the test email in your inbox, you may troubleshoot the issue by using this resource here.
5th step: Add Newsletter widget to sidebar
This step will take you to take you to your widget settings where you can add the Newsletter subscription form to your sidebar. You can choose to set this up or simply press "Next" if you would rather skip this step.
6th step: Hooooray!
The final step simply confirms that the setup is complete.
At this point, you should be ready to add subscribers and send newsletters. However, for better email deliverability, you may want to consider setting up an SMTP server.
Using SMTP to send your emails (PREMIUM feature)
By default, Newsletter delivers emails using your web host's servers. However, using your webhost to deliver emails is an inherently unreliable way to deliver emails to your subscribers.1 Email service providers like Gmail and Yahoo often mark emails delivered through your web host as spam. Furthermore, most web hosts limit the number of emails you can send at once. For more information on email delivery methods for WordPress newsletter plugins refer to The Guide to Choosing a WordPress Newsletter Plugin.
Sending emails through third-party SMTP makes for much better email deliverability. Newsletter's premium plan allows you to integrate the plugin with the following SMTP servers:
Sendinblue

SendGrid

Mailjet

Amazon SES

Mailgun

ElasticEmail

Sparkpost
To integrate a SMTP server with Newsletter, you will need to first get an account with a SMTP server of your choice. SendGrid for instance is a great choice given that you can send 100 emails a day for free.
Once you have registered your SMTP server account, go over to the "Addons manager" in the Newsletter dashboard.
Scroll down and select the mail delivery service of your choice. For this example we will install SendGrid.
Once the addon is installed go to the SendGrid addon, and add your SendGrid account API Key, enable the integration and click "Save". You should now be ready to send emails through SendGrid SMTP.
Creating lists
Creating email lists is an excellent way to organize your subscribers based on shared characteristics. Using lists can make for much more personalized outreach.
To create a list, go to "List building" on the top menu of the plugin dashboard and select "Lists".
From here you can create up to 40 lists. You can adjust the various setting for each list:
Setting a list to "Public": Public lists allows subscribers to control which lists they are a part of by updating their personal preferences
Setting a list to "Private": Private lists allow only the site owner to add or remove subscribers from that list. These lists are used internally when you want to categorize subscribers for more targeted email outreach (for instance making a retargeting list only for subscribers who have previously opened an email).
"Enforced" option: When the "Enforced" checkbox is ticked, all new subscribers will automatically be added to that list.
Adding subscribers
To add subscribers, go to the Subscribers dashboard in the Newsletter plugin. 
From here you can either add subscribers manually one by one, or import an entire list.
Adding subscribers one by one
To add subscribers one by one, click the blue "Add a Subscriber" button. You will be prompted to add the email address of your subscriber you wish to add.
Once you add the email you will get taken to the next step where you can add a first name, last name, gender, and a slew of other details. You may configure them to your liking.
By going to the "Lists" tab you can select the list you want your new subscriber to fall under if you have created multiple lists.
Uploading a list of subsribers
To upload a list of subscribers, go up to the subscribers drop-down menu and click "Import".

From here you can upload a CSV file of the subscribers you want to import. Alternatively, you can copy and paste CSV text. The plugin provides some instructions on how to enter this information.
Additionally, you can choose what list you want your subscribers to fall under if you have multiple lists.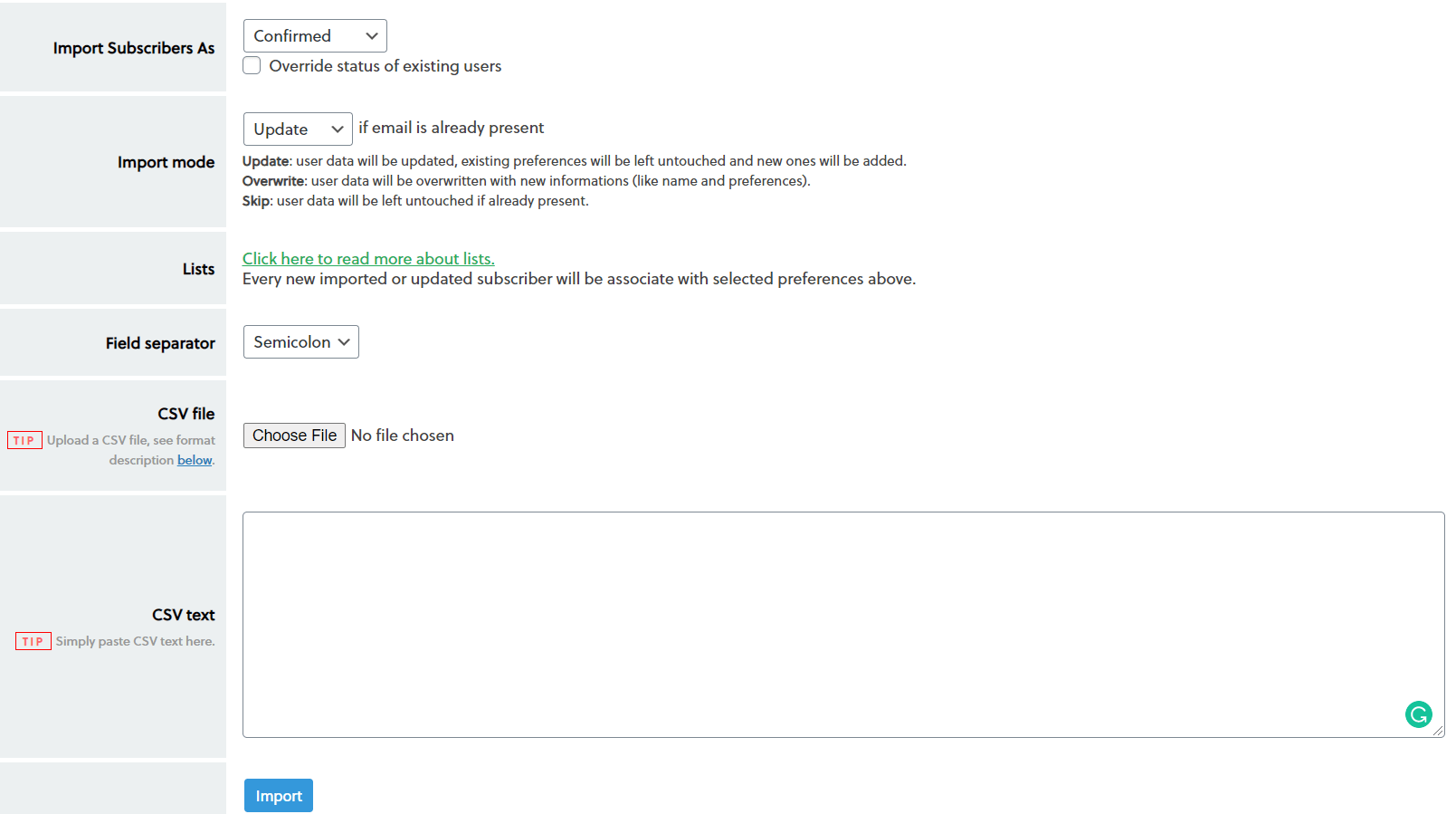 Sending out a newsletter
To send out a newsletter,  go to the "Newsletters" dashboard.
Click "New newsletter".
At this point, you will have the option to build out your newsletter a few different ways. You may select one of the following:
Responsive Drag and Drop Composer

<>Raw HTML

Classic Themes

Automated (premium feature)
Responsive Drag and Drop Composer: After selecting this option you will be able to pick one of the following email template types:
Simple Call To Action

Invite to an event

A big announcement

Last news from your blog

A big offer

Product

Your favorite band tour dates

Story or full article

Start an empty project (blank template)
Naturally, each email template is designed for a specific purpose. For instance, the Simple Call To Action template in the image below is designed for conversions.
Once you choose an email template you will be taken to an email editor or what the plugin refers to as "The Newsletter Plugin Composer". The drag-and-drop editor allows you drag content blocks such as images, text, and CTA buttons wherever you see fit in your email. In this view you can choose your newsletter subject line as well.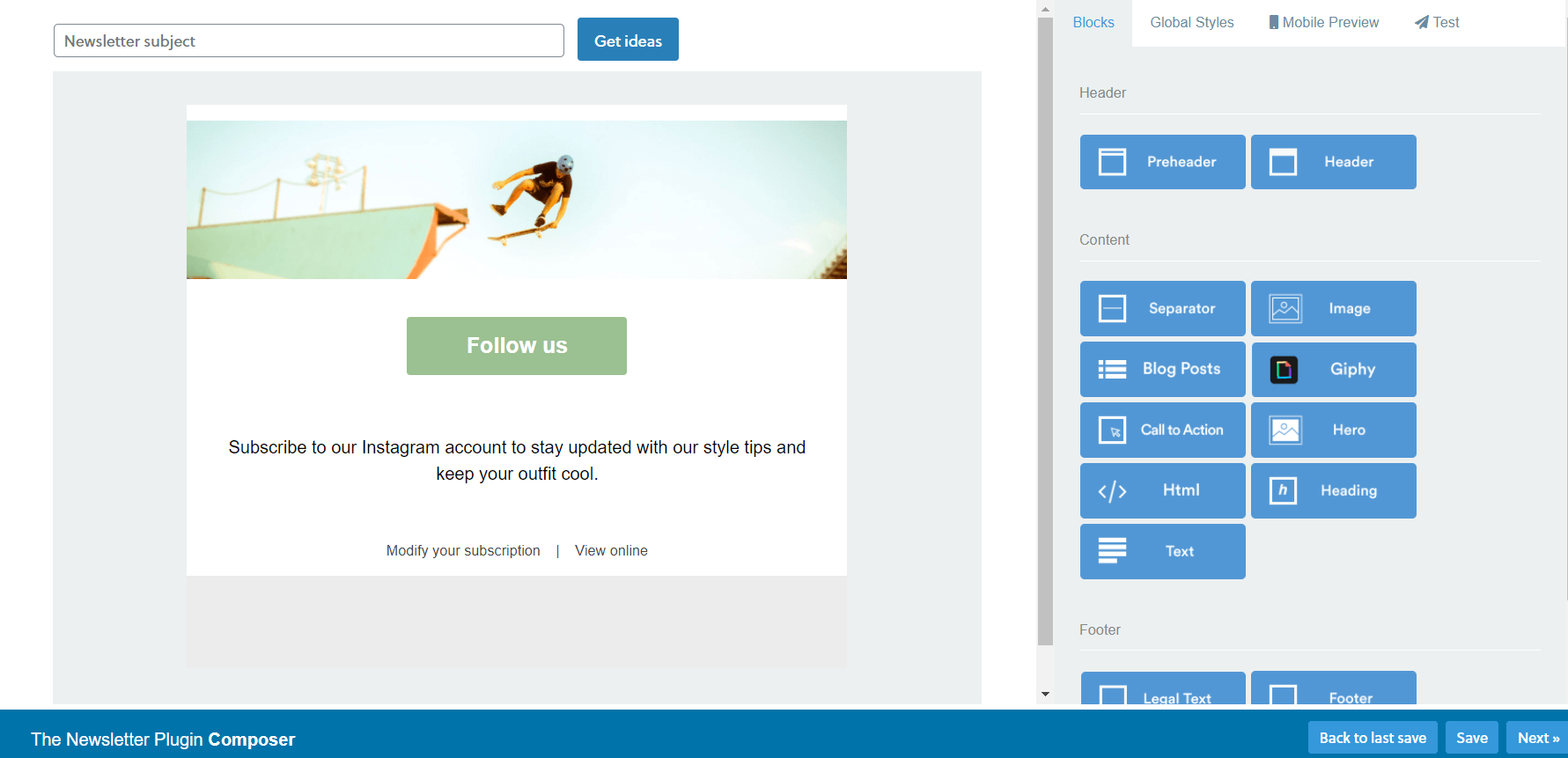 Next you can adjust sending options. You can select which email list to send to if you have multiple lists, the status of subscribers (confirmed subscribers vs not confirmed), and more. You may click the preview tab to see what the email looks like in desktop view as well as mobile.
You may choose to send your newsletter immediately or schedule a day and time.
Raw HTML: The Raw HTML editor allows you to build out emails completely from scratch using HTML code. For developers or others tech-savvy individuals, this is a great way to build out emails
Classic Themes: You have the option to edit prebuilt templates. These templates tend to be well designed and likely don't need to be edited in terms of aesthetics. That being said, you don't get the same drag and drop functionality as you do with Responsive Drag and Drop Composer.
Extended composer blocks (PREMIUM feature)
The Extended Composer Blocks addon allows you to add additional content blocks that you wouldn't get with the free version. These additional content blocks include:
Full post block: Allows you to insert an entire blog post into your email
Gallery block: Insert as many as 10 images into your email
List block: Create a list of items
Video block: Insert videos from video sharing platforms such as YouTube or Vimeo
Newsletter automation
With the free version, the newsletter plugin gives you a few basic email automation features.
By going to the top menu of the Newsletter dashboard and selecting "List Builder" and then "Subscription" you can see the email autoresponder settings set up by default as follows:
Repeated subscriptions message gets sent out automatically when a subscriber subscribes twice

Welcome emails get sent out confirming your subscribers' subscription to your newsletter

Activation emails get sent out when you have a double opt-in set up
You can disable these emails or modify their messages.
However, for more sophisticated automation, you will need to get the premium version.
Advanced automation (PREMIUM feature)
With Newsletter's premium addons you have many more automation options.
With the Automated addon, you can send out regular newsletters your recent blog post content automatically. You can specify which list you want these emails to go to and exactly when in the week or month you want these emails to get sent. Additionally, you can have multiple channels with different content and schedules for each.
This is a great feature for anyone who blogs fairly regularly. For instance, if you have a travel blog where you make posts a few times a week, perhaps you would want your blog content for the week to get sent out to your subscribers every Sunday to recap your weekly adventures.
With the Autoresponder addon, you can create drip campaigns (multiple emails scheduled to be sent out at set intervals).
This feature can be extremely powerful if you want to send out a series of lessons, nurture campaigns or any other sequence of emails.
Setting up Newsletter forms
As mentioned, in the basic setup process the plugin allows you to adjust the basic settings for your subscribe form. For instance, you can choose to add a name field and a privacy checkbox.
However, you can certainly customize your forms more. To do so, go to the list building drop-down menu at the top of your dashboard and select "Subscription Form Fields, Buttons, Labels"
From here you can adjust the same settings as in the set up process but many additional setting as well. For instance can
Change the default error message when an email address is incorrect

Changing field labels (for example changing "Last name" to "Favorite color" if you so wish)

Adjust rules for fields (for example making the last name optional or required)

Adding numerous additional fields (for example, Gender)

Adjusting privacy checkbox settings (for example adding privacy policy URL)
Once you are done adjusting your settings, click "Save". From here, if you haven't already done so, go to your WordPress widgets dashboard and drag the Newsletter widget into the Main Sidebar.
This newsletter form will reflect all the changes you have made to it on your website.
Alternatively, you may add the "Newsletter minimal" widget which is just a basic default newsletter widget with one field for email.
Integrating with form builders (PREMIUM feature)
While Newsletter's form builder is fully functional, it is pretty limited in terms of customizing design. You can certainly customize your form design by building out forms using HTML, however for those who aren't developers, this can be incredibly difficult.
Fortunately, with Newsletter's premium version you can integrate with other form builder plugins that give you much more customizability over your forms. These form builders include Contact Form 7, Ninja Forms, and WP Forms.
Take WP Forms for instance.
With this plugin you can choose from over 100 professionally designed form templates and use the drag-and-drop builder to build out your forms. WP Forms makes it incredibly easy to build out beautiful forms in just minutes. With this integration your subscribers will automatically get added to a list of your choice in your Newsletter dashboard.
Reporting
Newsletter gives you basic reporting for your email campaigns. You can access reporting by going to the Newsletters dashboard.
From here you can click on "Statistics" of any Newsletter you sent out in the past to view reporting for that campaign.
From here you can see a few basic statistics such as
Reach: The number of people who have received your email
Opens: The percentage and number of people who have opened your email
Clicks: The percentage of people who have clicked a link in your email
Reports (PREMIUM feature)
The premium reports feature allows you to more easily access data from your various campaigns. You can also view a few additional metrics that you wouldn't get with the free version.
Additionally, given the aesthetically pleasing charts and graphs displayed in this dashboard, it can be much easier to understand the performance of your email marketing.
The premium version also allows you to integrate with Google Analytics for even deeper insights.
Final words
Hopefully by now you have a better idea of how to use The Newsletter Plugin in WordPress. Given that the platform is open source, the platform is more flexible than other email marketing solutions. Ultimately the plugin is a great open source alternative to Mailchimp and other "traditional" email marketing solutions.  
However, Newsletter is just one of the many powerful WordPress plugins. For more information about two other fantastic email marketing plugins refer to this post on MailPoet vs Mailster. 
---