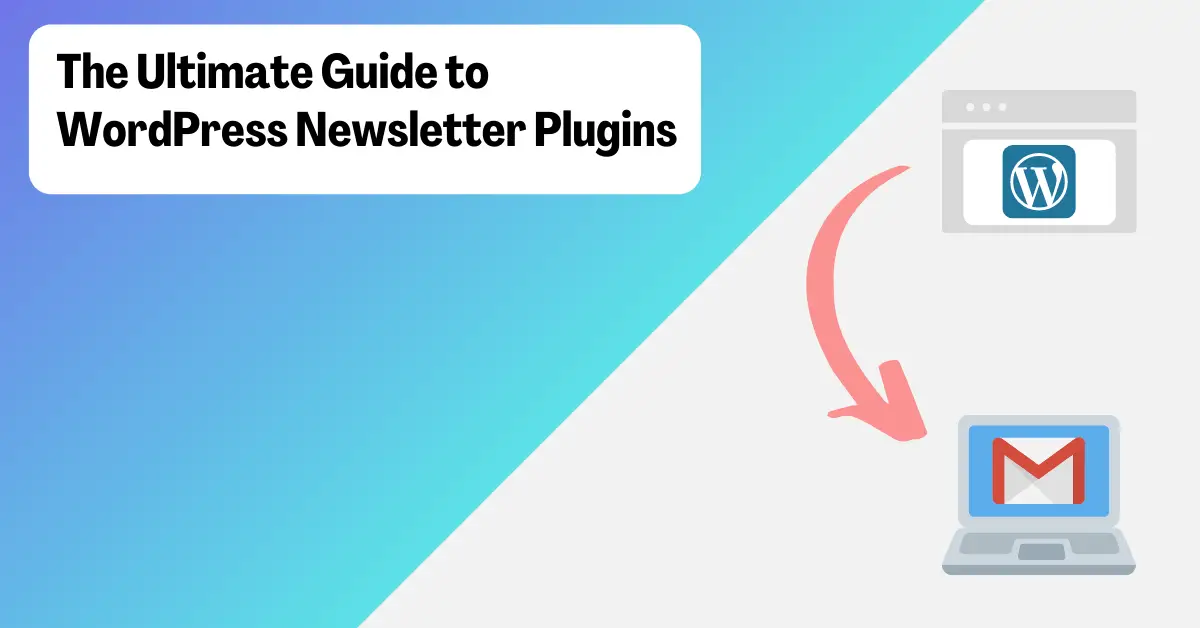 Email is one of the most powerful marketing channels. Most visitors will spend a few minutes on your site and then will never be seen again, but by capturing visitors' email addresses, you have an opportunity to reconnect with them later on.
Using WordPress newsletter plugins is arguably the most convenient way to build an email list and send emails as well. After all, you can do so without ever even leaving your WordPress dashboard!
However, choosing the best WordPress email plugin(s) for your site can be a real challenge. There are dozens of options and some newsletter plugins are fundamentally different from others.
This post gives a detailed explanation of the different types of WordPress newsletter plugins and how they are used. By understanding what sets these tools apart you can determine the best WordPress newsletter plugin for your site.
The 2 types of WordPress newsletter plugins
In general WordPress newsletter plugins fall into two buckets:
Form builder plugins: These plugins allow you to create forms for your WordPress site to collect email addresses and build email lists. Plugins strictly designed for email list building require you to use another tool to actually reach out to your subscribers. Often these plugins can integrate with numerous email marketing tools.
Email marketing plugins: These plugins enable you to send emails to your newsletter subscribers right from your WordPress dashboard. Often, they have segmentation, automation, and reporting features for more effective email outreach.
Some newsletter plugins even have features for both collecting email addresses and sending emails to subscribers.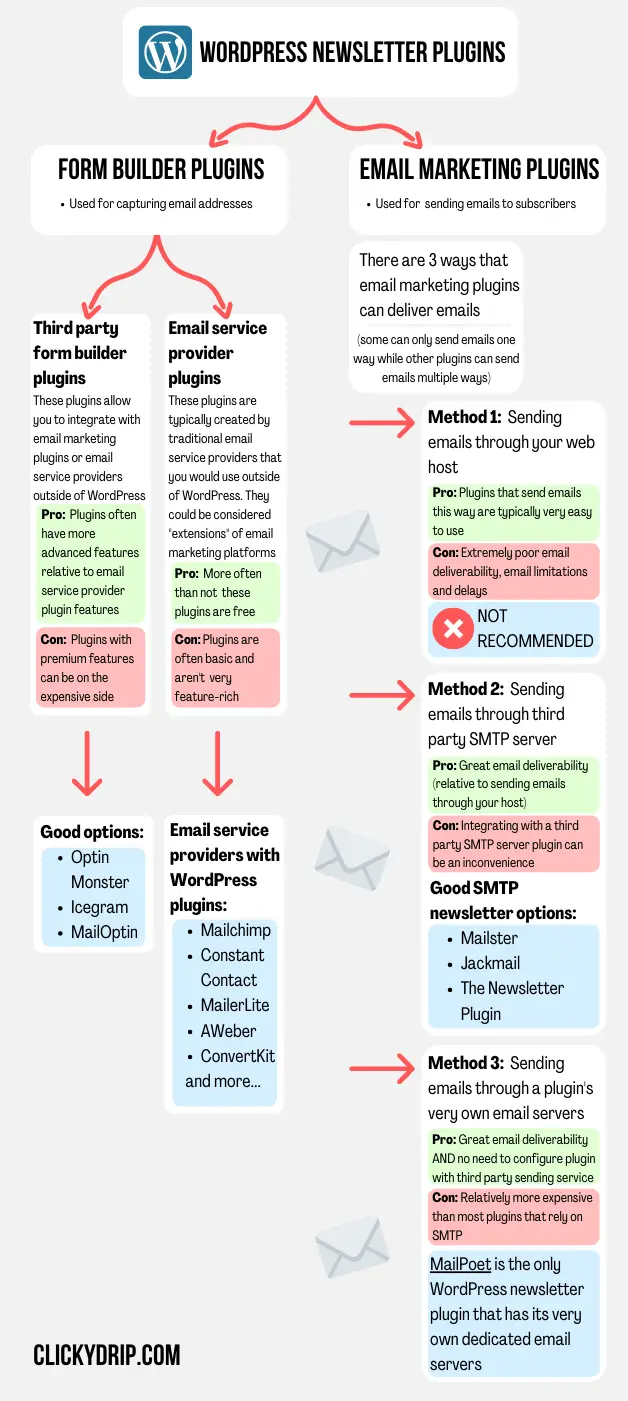 *the email marketing plugins listed in the infographic above also have form builder features as well. However, some are more advanced than others.
Form Builder Plugins 
Form builder plugins often allow you to build a variety of different forms using drag-and-drop editors. Once you have created a form you can easily embed it on your site and prompt your website visitors to opt-in to your mailing list.
These form builders typically integrate with email marketing tools that enable you to send emails to your subscribers. When your form builder is connected with your email marketing tool, your subscribers you collect from your forms automatically get added to your newsletter list within your email marketing tool. 
Many "traditional" email service providers that you would use outside of WordPress such as Mailchimp, Constant Contact, MailerLite, AWeber, ConvertKit, and GetResponse have their very own WordPress form builder plugins. That being said, if you are already using an email marketing tool such as Constant Contact, there is a good chance that it has a WordPress plugin for list building.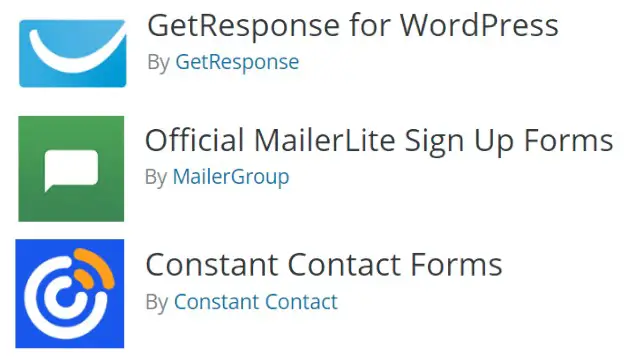 The benefit of these plugins is they are typically completely free. They also tend to be very easy to set up and use.
The downside is that these plugins often aren't very feature-rich or customizable. Typically, these plugins will allow you to build basic forms but don't have advanced features. 
On the other hand, there are other "universal" form builder plugins that can integrate with almost any email service provider. 
On the other hand, there is another variety of form builder plugins that can integrate with any email service provider. These plugins could be considered third party form builder plugins. The benefit of using these plugins is that they tend to be very feature-rich and customizable. For instance, with these tools, you can build a variety of different forms (in-line forms, pop up forms, slide-in forms, etc.), and have advanced features such as A/B split testing or exit intent detection. The downside is that the premium form builders with these advanced features tend to be paid tools.
You find a few excellent form builder options below.
Good Form builder plugin options
Optin Monster

Starting price: $14 per month (billed annually). No free version is available.
Optin Monster is arguably the most highly regarded premium lead-generation WordPress plugins.
For good reason too. Optin Monster has many advanced features that set it apart from many other form builder plugins. Some of these advanced features include:
MonsterLinks: With this feature, you can have an opt-in form pop up whenever visitors click on certain links or images on your site.

Geo-location targeting: This allows you to personalize campaigns based on your visitors' location.

Exit-intent technology: Plugin detects visitors' mouse behavior and shows them targeted messaging right as they are leaving your site

A/B split testing: Test certain variables on your forms to improve conversions
While this Optin Monster isn't the cheapest form builder plugin, it has advanced functionality for anyone that wants to take their lead generation seriously.
Icegram

Starting price: $2.25 per month (billed as $27 annually). Free version offered with limited features.
Like Optin Monster, Icegram is also a drag-and-drop form builder with many advanced features. One of the greatest draws of this plugin is that it's incredibly easy to use. It's also great for collecting email subscribers for free.
Icegram also has a wide variety of form types (12 to be exact) including pop-ups, floating action bar, inline-block, and sidebar to name a few. Additionally, the plugin has numerous professionally designed templates that you can use right away.
One of the downsides of Icegram is that you can't integrate with certain email service providers unless you upgrade to some of the more expensive tiers. However, even the most expensive plan is still relatively affordable, and for many, the advanced functionality justifies the cost.
MailOptin

Starting price: $79 per year. No free version available.
MailOptin is an extremely customizable form builder. The tool is particularly flexible in terms of display rules and trigger options for pop up forms.
For instance, you can configure when to display a popup
after a certain number of seconds

after a visitor has scrolled down a percentage of the page

after a visitor has viewed a certain number of pages

specifically when users are using ad block

when visitors visit specific pages
And this is only scratching the surface of the plugin's capabilities. However, although MailOptin gives you lots of options to work with, it's a relatively simple WordPress newsletter plugin. The sensibly laid out user interface makes the tool incredibly easy to work with. 
While MailOptin shines the most when it comes to its form builder, it also has a basic email automation feature as well. Additionally, just like Icegram and Optin Monster, the plugin can easily integrate with most popular email service providers.
Email Marketing Plugins
Email marketing plugins are designed to mass send emails to your subscribers. While these plugins might seem similar on the surface, they can be fundamentally different.
The 3 ways email marketing plugins deliver emails
Email marketing plugins can be categorized based on the three ways in which they deliver emails:
Using your web host (PHP mail)

Using a third-party SMTP (Simple Mail Transfer Protocol) service

Using their own email servers
Some plugins can only send emails one way while others can send emails multiple ways.
"Why does it matter?" you might ask.
Ultimately, how emails are delivered can make a huge difference in terms of email deliverability and the timing of your emails. Some sending methods are certainly more reliable and effective than others.
That being said, how these plugins send their emails should be the MOST important thing to consider when looking into WordPress newsletter plugins. After all, what good is a WordPress email plugin if it cant dependably deliver emails to your subscribers inbox?
Method 1: Sending emails through your web host (PHP mail)

Newsletter plugins that send mail through your web host are one of the most popular types of email marketing plugins.
These plugins are typically easy to set up and as a result, you can get started sending emails relatively quickly. Additionally, given that these plugins are often designed to be beginner-friendly, there typically isn't a very steep learning curve.
However, although the ease of use is a noteworthy benefit of these plugins, there is a glaring downside to using these plugins: poor email deliverability, delays, and limitations.
To understand why this is the case, it's important to know how these plugins send emails…
How sending emails with your web host works (and why it isn't a dependable email sending method)
WordPress is written using PHP, which is a programming language. PHP has a built-in mail function that makes it possible to send emails through your web host.1  
When you send an email through a newsletter plugin that relies on the PHP mail function, the request first gets carried out to the web host. The web host then processes the request sends out the email to your subscribers.2 
However, while sending bulk emails this way is certainly possible, it's not the most effective way to reach out to your subscribers.
Email providers (such as Gmail, Yahoo, and Outlook) have spam filters that pick up on your sending IP address and store that information in their databases. When you use a shared hosting platform for your WordPress site, your website is built on the same IP address as many other websites. In turn, if just one person on that server triggers an email provider's spam filters (by sending spammy emails of course), that email provider can blacklist your website's IP address. From there on out, all your future emails will end up in your subscriber's spam folder.3  
Ultimately, even if you don't send spammy emails, the recklessness of just one person on your web host's server can be absolutely detrimental to your newsletter plugin's email deliverability.
On top of that, many web hosts limit the number of emails you can send at a time. For instance, Bluehost's default limit is 150 emails per hour.4 That being said, if you have 5,000 subscribers it would take about 33 hours to send one single email to all your subscribers with Bluehost. Imagine sending a flash sales promotion email: by the time the last of your subscribers receive your email your sale might be over!
Consensus: Don't send emails with your web host
Although plugins that rely on the PHP mail function are easy to use, they are inherently undependable. The extremely poor email delivery, and sending delays almost certainly outweigh any positive aspects of these plugins.
After all, an email marketing tool is useless if can't reliably land emails in your subscriber's inbox. That being said, using this means of sending emails is not advisable.
NOTE: It is important to note that many WordPress newsletter plugins that send emails through web hosts don't exclusively send emails this way. There are numerous WordPress plugins that also allow you to send emails using SMTP.
Sending emails using SMTP is a much more reliable way to send emails compared to sending emails through your host. In turn, it's a much more preferable method. 
Method 2: Sending emails using third party SMTP servers

SMTP or Simple Mail Transfer Protocol provides instructions for exchanging information between email servers and clients.5 In other words, SMTP servers facilitate the sending of emails from email marketing tools to your subscribers' inbox. You can think of SMTP servers as digital postmen.
To send emails through SMTP you would need to configure a WordPress email marketing plugin with a third-party SMTP service plugin. Some examples of these third-party SMTP services include Sendgrid, Amazon SES, and Mailgun.
Once everything is set up properly, when you send an email with your newsletter plugin, that request will be processed and delivered to your subscribers through your SMTP service plugin.
Benefits and disadvantages of sending emails through SMTP servers
The key benefit of using SMTP is it's a much more secure and reliable way to send emails compared to sending emails through your host.6 In turn, using SMTP servers to send emails often makes for great email deliverability.
Additionally, newsletter plugins that use SMTP often don't have limits on the number of email subscribers you can have or the number of email campaigns you can send. This is a huge benefit for anyone that has large subscriber base.
Many of these newsletter plugins are also free, or at the very least charge an affordable lifetime fee for their use. However, SMTP service plugins often have a monthly subscription fee depending on how many emails you plan to send every month.
Take Sendgrid for instance. With Sendgrid you can send 100 emails a day for free but for any more than that pricing starts at $14.95 per month.7 Using third-party SMTP service plugins like SendGrid is one of the most affordable ways to send emails in bulk.
However, there are certainly drawbacks to using SMTP to send emails in your WordPress dashboard. The most obvious disadvantage is the complication that comes with to setting up two plugins and syncing them together in order to send emails to your subscribers. Configuring these plugins can seem tedious for some and obviously juggling multiple tools to send emails isn't as convenient as using just one plugin.
Good SMTP newsletter plugin options
Mailster

Pricing: $59 one-time payment
Mailster is one of the most feature-rich WordPress newsletter plugins out there.
The plugin's segmentation abilities allow you to choose from dozens of conditions to personalize your outreach. Mailster's autoresponder allows you to set up last post notifications, welcome emails when subscribers join your newsletter, and much more.
One of Mailster's most unique features is user ratings. User ratings are calculated based on opens, clicks, bounces, and unsubscribes. In short, the more opens and clicks a user does, the higher their rating becomes. Segmenting subscribers based on user ratings is an excellent way to target users that have been responding positively and thus, are more likely to convert.
The one criticism of Mailster is that although it's very powerful it's slightly less intuitive than some of its competitors.
Mailster can connect with all the most popular SMTP servers such as Amazon SES, SparkPost, SendGrid, Mandrill and Mailgun.
Related: MailPoet vs Mailster: Which is Best?
Jackmail

Pricing: $69 per month for 5,000 emails. Pricing increases as you send more emails.
Jackmail is a powerful yet intuitive newsletter plugin.
One thing that sets apart Jackmail from all other newsletter plugins is that it has its very own built-in SMTP server. This means that you don't need to worry about integrating the plugin with third party SMTP providers: Jackmail is a convenient all-in-one package.
Another feature that makes Jackmail stand out is its wide selection of aesthetically pleasing templates. These professionally designed templates are sure to help your newsletter stand out in your subscribers' inbox.
The downside of Jackmail is its pricing. As far as email marketing tools, go Jackmail is on the expensive side.
Newsletter (The Newsletter Plugin)

Pricing: $65 one time payment
Newsletter is one of the most popular WordPress newsletter plugins. This tool allows you to send unlimited newsletters to unlimited subscribers for a reasonable one-time payment.
One thing that makes Newsletter really stand out of the crowd is its newsletter editor. Not only is the drag-and-drop editor incredibly easy to use but it gives you tons of customizability as well. You can add a wide variety of content blocks such as video, images, CTAs and easily change the positioning of your elements as well.
Additionally, the plugin has dozens of integrations. Aside from being able to integrate with the most popular SMTP services, you can integrate with popular form builders as well.
Method 3: Sending emails through a plugin's very own email servers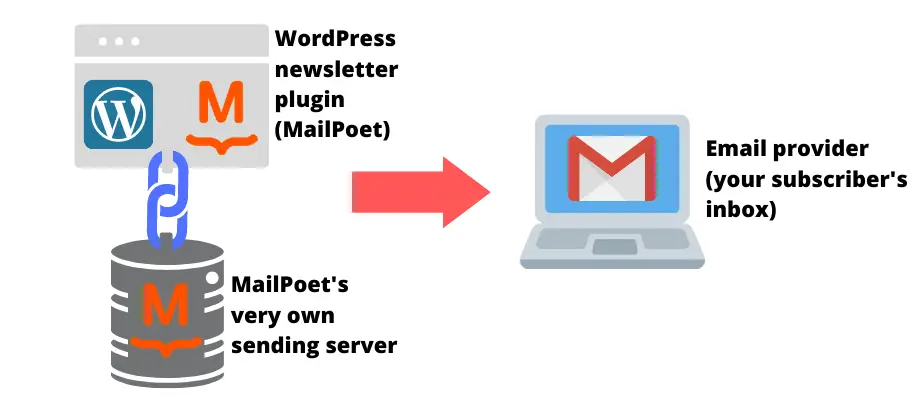 It's possible for email marketing plugins to send emails through their own email servers. Sending emails this way is deemed to be the most dependable way to deliver emails to your subscribers' inbox.
There is actually only one WordPress newsletter plugin that has its very own email delivery infrastructure: MailPoet. MailPoet's sending service allows you to directly send emails to your subscribers like you would with traditional email marketing services that you would use outside of WordPress. In this respect, this WordPress newsletter plugin is very similar to services such as Mailchimp or Constant Contact.

Given that you don't need to set up MailPoet with a third-party SMTP server, this plugin is much more straightforward to use than many of its SMTP newsletter competitors. You can build your email list, send emails in bulk and track your results all in one place. Not only that but the plugin boasts a 98.5% deliverability rate which about as good as you can hope for.8 However, MailPoet also gives you the option to send emails through your host or through third party SMTP plugins as well.
The only downside of using this plugin is that its not as affordable as most WordPress newsletter plugins that rely on SMTP for sending emails in bulk. MailPoets pricing (with MailPoet sending service) is free for 1000 subscribers or less. For sending emails to over 1000 subscribers MailPoets pricing starts at $15 per month and increases incrementally as you add more subscribers. On the other hand, many newsletter plugins that rely on SMTP are free or charge a reasonable one-time fee. Popular third-party SMTP services typically allow you to send emails to thousands of subscribers a month at just a fraction of MailPoet's monthly cost.
Final words: A brief summary
WordPress newsletter plugins can be lumped into two categories: form builders and email marketing plugins.
As far as form builders go, you can either get a third party form builder that can integrate with your email service provider (ESP), or you can get a form builder created by an email service provider. Third-party form builder plugins are often more feature-rich but are often paid tools. Form builders are often free but often tend to have basic features relative to paid third-party form builders. 
Email marketing can send emails in three different ways:
1.) Using your web host: Because sending emails through your host typically results in poor email deliverability, this method isn't recommended.
2.) Using a third-party SMTP server: A dependable way to send emails but using an additional third-party plugin can complicate things
3.) Using a plugin's own email servers: A dependable way to send emails AND no need to configure the plugin with an additional third party email sending plugin. MailPoet is the only email marketing plugin that has its own sending server.
The ball is in your court now. Download the plugin of your choice and start carrying out your email marketing plans!